Have you been looking forward to the April Meal Plan? Here is the April Vegetarian Meal Plan ready for you, with lots of delicious entrees, sides and desserts.
We have sprung into Spring and hence you will find lots of wonderful dishes in this meal plan. You will find a variety of vegetables, curries, pasta and rice dishes in this meal plan.
To round it off, check out the options for side dishes and desserts!
Check out the latest meal plan here – Instant Pot Vegetarian Meal Plan.
April Meal Plan
Main Dishes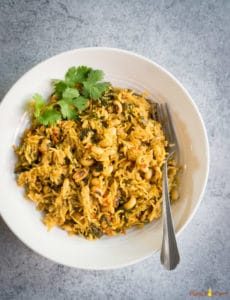 A healthy and wholesome dish, perfect for weeknight meals.

A restaurant favorite Paneer Butter Masala, made with chunks of paneer or cottage cheese cooked in a mildly spiced tomato gravy.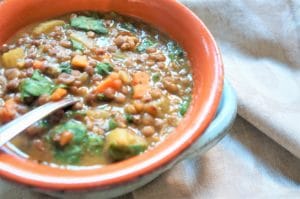 Get cozy with this nutritious and easy to make vegan brown lentil soup.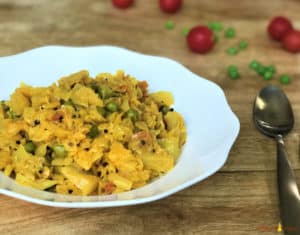 Cabbage and Green Peas cooked with garlic, tomato and spices is an easy vegan & gluten free curry.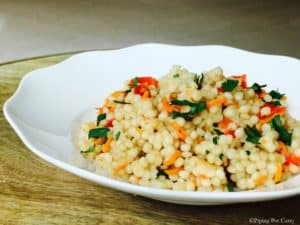 Israeli Couscous cooked with vegetables of choice in Instant Pot or Pressure Cooker. Enjoy it as a side or salad.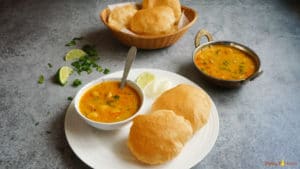 Dahi Vale Aloo is made with just two main ingredients, potatoes and yogurt, tempered with cumin seeds, ginger and flavorful spices.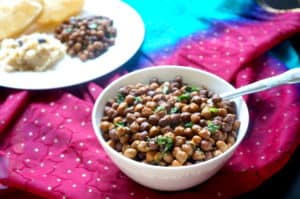 A vegan, gluten free and high protein black chickpea stir-fry.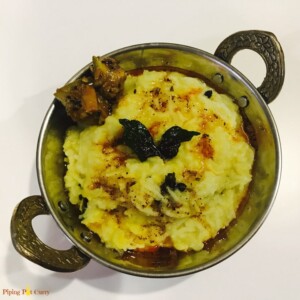 Moong Dal Khichdi (Kitchari) is a simple dish made with rice and lentils, tempered in ghee with cumin seeds.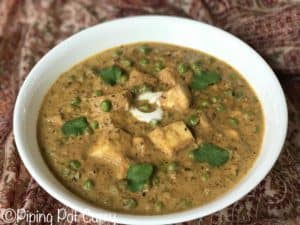 Restaurant style Green Peas and Indian Cottage Cheese Curry.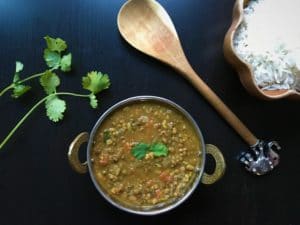 A delicious creamy lentil soup that is easy and quick to make in a pressure cooker.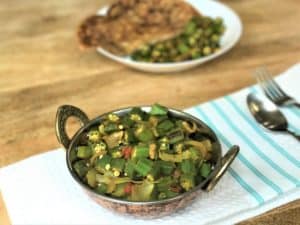 Okra cooked with onions, tomato, garlic and spices. Perfectly cooked with no slimy texture of okra.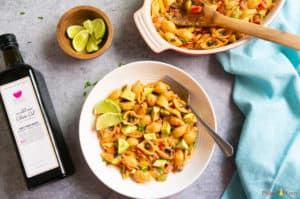 Loaded with veggies and lots of flavor, this Vegetarian Fajita Pasta is our favorite pasta dinner.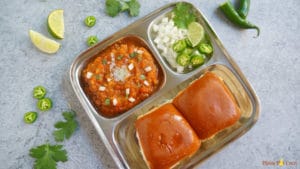 April 13 – Saturday
Pav Bhaji
A spiced mashed vegetable curry topped with chopped onions, cilantro, lemon and enjoyed with dinner rolls.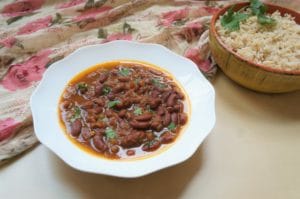 Red kidney beans cooked with onions, tomatoes, ginger, garlic along with aromatic spices. Make it a meal with pot-in-pot Brown Rice.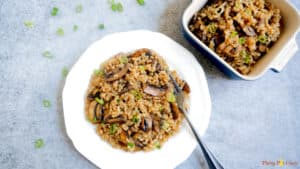 A flavorful one-pot dish with just 5 main ingredients for the mushroom lovers.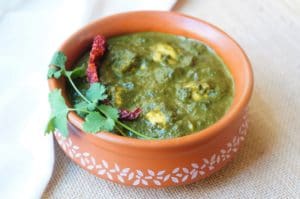 Spinach and cottage cheese curry made as a one-pot dish, super easy and delicious!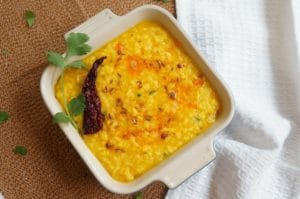 A quick, easy and low-calorie nutritious lentil soup.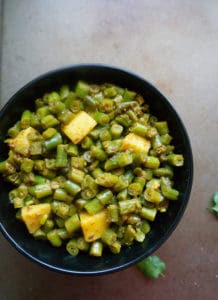 Less than 15 minutes and a quick 4-step recipe to make this delicious Aloo Beans in the instant pot.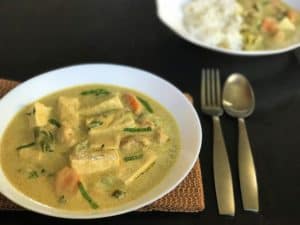 This vegan and gluten free green curry is so creamy and perfect to enjoy over jasmine rice.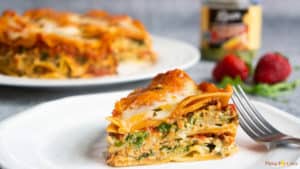 A healthy vegetarian lasagna with lots of fresh spinach, marinated artichokes and cheese layered between noodles.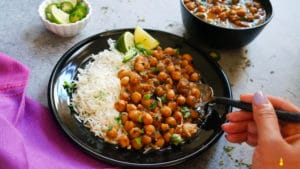 This one-pot recipe for the authentic Chana Masala. A healthy protein-rich vegan and gluten free chickpea recipe.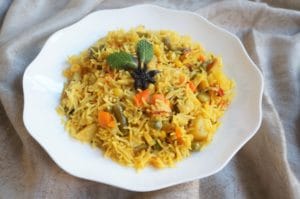 A one-pot recipe for the authentic Chana Masala, a healthy protein-rich vegan and gluten free chickpea recipe.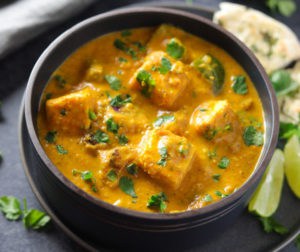 A flavorful and aromatic curry, made with marinated and grilled paneer cubes simmered in a rich onion tomato gravy along with warm spices.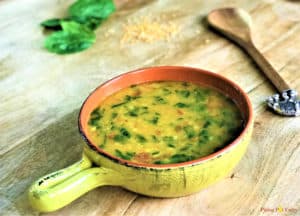 A comforting lentil dish with added spinach. Perfect to enjoy with rice or as a soup.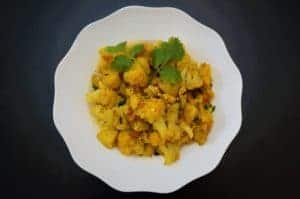 April 25 – Thursday
Aloo Gobi
A healthy & delicious potato and cauliflower stir fry made in just 20 minutes. Vegan & Gluten Free.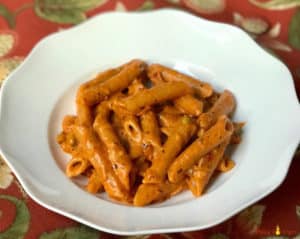 Kid-Friendly one-pot penne in tomato cream sauce made in Instant Pot.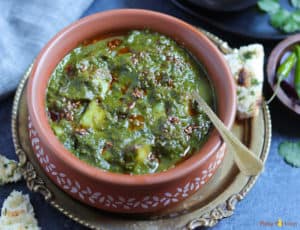 April 27 – Saturday
Saag Aloo
This is a simplified one-pot version of the authentic Saag Aloo, which takes just 30 minutes to prepare.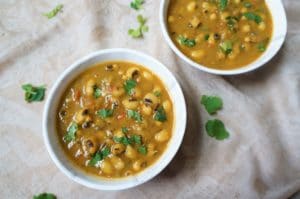 Black Eyed Peas Curry (Lobhia Masala) made in an onion-tomato gravy, along with lots of ginger, garlic and aromatic spices.
A simple, healthy and delicious Bulgur or cracked wheat pilaf cooked with lots of veggies.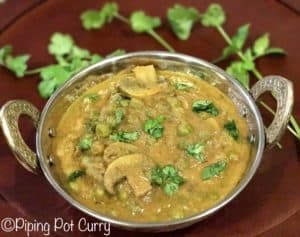 Green Peas and Mushroom curry made in a creamy onion and tomato gravy.
Side Dishes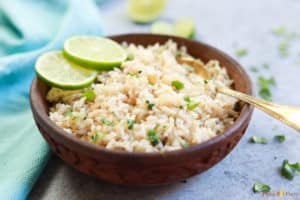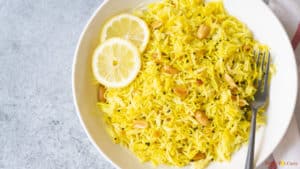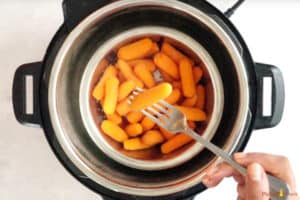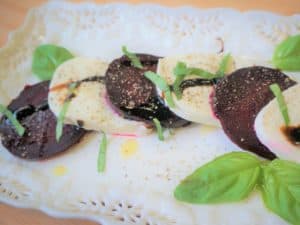 Desserts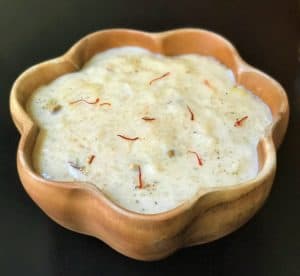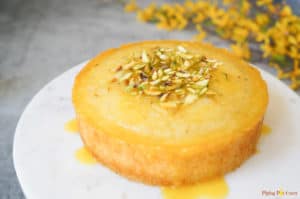 Follow the Instant Pot Meal Plan Series
Each month I publish a new, updated Instant Pot Meal Plan. So don't miss out on seeing what wonderful dishes I've included in my latest one.