GIVEAWAY ENDED!  Thank you for participating.
I am so excited to share this giveaway for 3 Instant Pot Accessory sets from Imperial Lot. Just in time for the holidays! Enter here!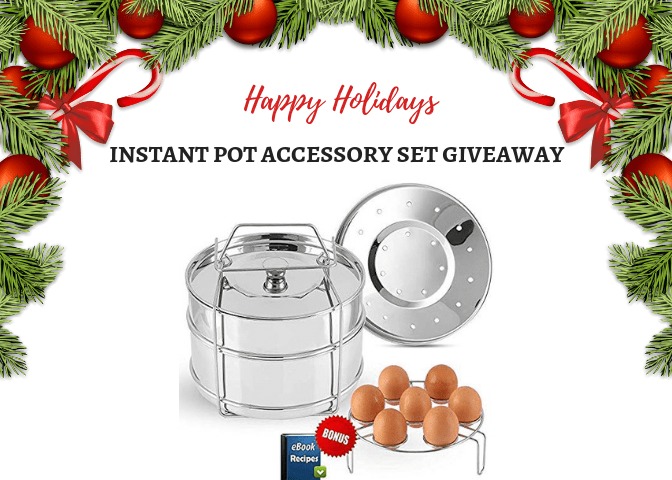 I know this Instant Pot Accessory Set won't fit in a Christmas stocking, unless of course if you have a really really LARGE one!  Nonetheless, it is one of the best gift for you or a loved one who is an Instant Pot Lover. I am so excited that you will be able to cook and share wonderful dishes cooked in the Instant Pot with your family and friends during the holidays!
This giveaway is open to anyone in the US (except Alaska, Hawaii), over 18 years of age. The giveaway will be open on December 18 and will end on December 24 10am Pacific time.
Go directly to the enter the giveaway at the end of this post
Why I like this Instant Pot Accessory Set?
I recently tried this Instant Pot Accessory Set from Imperial Lot when they sent me one to try. It is –
Best Christmas gift for Instant Pot Lovers where they can Double Cook 2 dishes at a time, even in Saute Mode (Cook like Thai Chicken Curry in Sauté mode and place the egg rack and then 1 pan with rice). With this Accessory set makes complete meal in one go in One POT!
It has the Largest Pan size in the market (3″ and 2.5″) and perfectly fits 6QT. Cooks upto 3 cups of rice with 1: 1.5 ratio
Free Egg Rack, which can used as a Trivet and would be extremely handy to double cook in Saute Mode
2 Lids to choose from to Store, Reheat, Steam with additional steaming holes.
Great Quality and ever Lasting Food Grade steel quality with 24 guage thickness. Cleans easy and non stick, extremely handy to steam Fish and veggies with seasoning!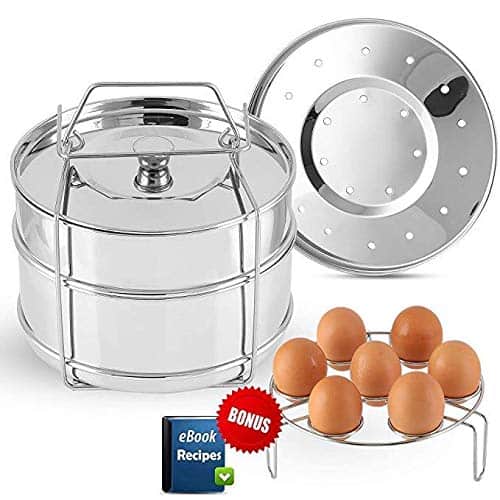 I can attest that I found the quality of the stackable containers to be even better than the one I had got before. The size was larger so there is more space to cook rice with it.
The best part is – all the useful accessories in one box. I use the stackable containers and trivet the most. So it is wonderful that they have packages them all together in one box.
To buy this accessory set on Amazon, click here! Even better, enter the giveaway 🙂
I love to make rice with the pot-in-pot method. I feel it cook better and are not sticky or mushy at the bottom of the pot. Here are some of my favorite recipes where I use stackable containers:
So…
If you want the accessory set for yourself….
If you want to gift one to a loved one…
ENTER the giveaway…by following the steps in the giveaway below!
Note: When you sign up, you will also be subscribed to Piping Pot Curry's newsletter where you can hear about more delicious recipes and more giveaways. We will never spam you about anything else!
To get multiple entries, follow us on social media. You will get an additional entry for every location you follow us. This is completely optional, however will increase your chances of winning.
And just for fun…comment below with your favorite Instant Pot dish.
THANK YOU for signing up and visiting my blog.
Hurry up!  The deadline to enter is December 24 10am, Pacific time.
Happy holidays, and good luck!
Follow these simple steps to enter the Giveaway