Many readers have asked me for my favorite kitchen gadgets, so I am sharing them here for easy access. These are mostly the large kitchen appliances I use for all my cooking, Indian and global dishes. This list is perfect for the home cook or the soon-to-be-married, or anyone who loves kitchen gadgets.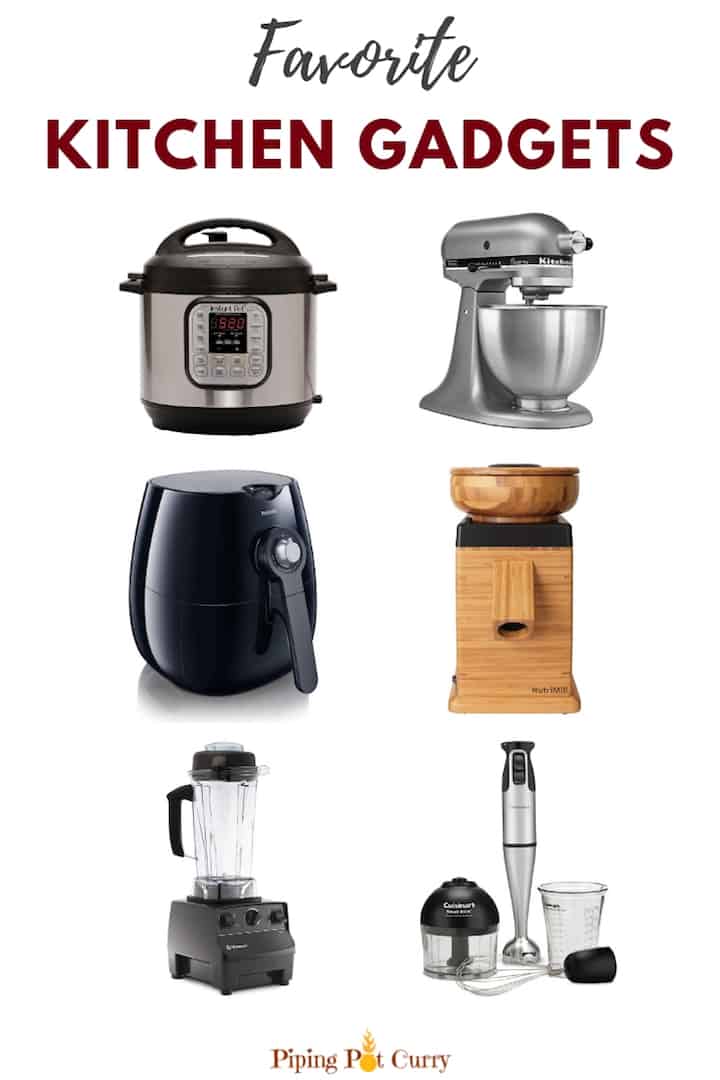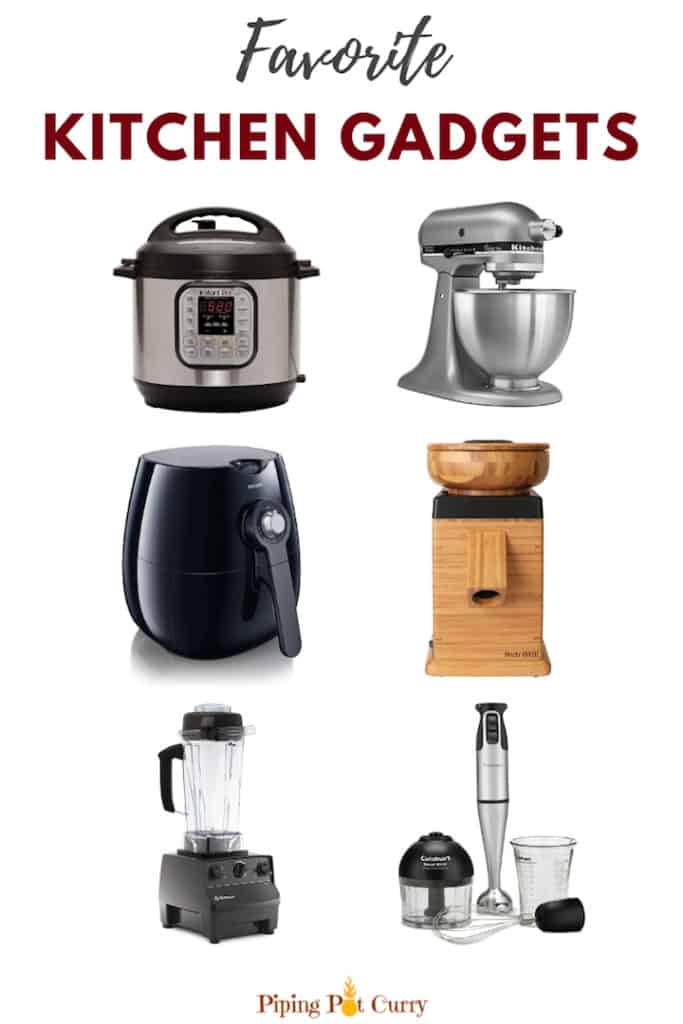 You can also find them all on my Amazon store.
We have been pressure cooking our food for a long time. With the advent of the Instant Pot, this has become so much more safer. Instant Pot has certainly replaced the stovetop pressure cookers in my kitchen. See many Instant Pot recipes on the blog.
I love fried food, who doesn't? However as we all know it is not very healthy, we don't eat much of it. With air frying, you can enjoy many of your favorite foods guilt-free. Another big advantage we have had with using the air fryer is that we are eating lot more veggies. Yes...you read that right! It is so easy to cook veggies in the air fryer, we are doing a lot more of it, and they are so delicious. Check out Air Fryer recipes on the blog.
We use our blender almost everyday. Start the day with smoothies and milkshakes, then use it for grinding onions or tomatoes to make a curry, or use it to grind idli/dosa batter and finally to make nut butters. I have heard the vitamix can also make dough, but I am still to try that. Check out the few Vitamix recipes I have shared.
This is one gadget a must have for Indian kitchens. I make roti or paratha almost everyday. The most boring part of that for my is making the dough. But with the kitchenaid stand mixer that is not a problem anymore. I use it every other day to make dough. Other things I use the kitchenaid stand mixer is for baking mixes.
Even though I have the Vitamin blender, I find this hand blender a must in the kitchen. It is useful for curry, lentils, soup or dessert that I want to blend right in the pot. No need to transfer to the blender and then back to the pot. Especially with the instant pot now, I am making a lot of one-pot dishes that are great to blend in the pot itself, such as Butter Chicken, Tomato Soup or Carrot Pudding.
We have been enjoying freshly milled flour from the Nutrimill Harvest to bake and make Indian breads. After using the freshly milled flour, it is hard to go back to store bought flour. Here are two recipes where I have used Nutrimill - Healthy Whole Wheat Pumpkin Oatmeal Muffins, Vegan Chickpea Squash Fritters.
I like this digital scale for baking where exact measurements are important.
Looking for gifts for the holiday season, check out my gift guide for the home cook!