One-pot Black-Eyed Peas and Spinach Rice is a healthy and wholesome dish, perfect for weeknight meals. This vegan and gluten-free dish is easy to make in the Instant Pot or Pressure Cooker.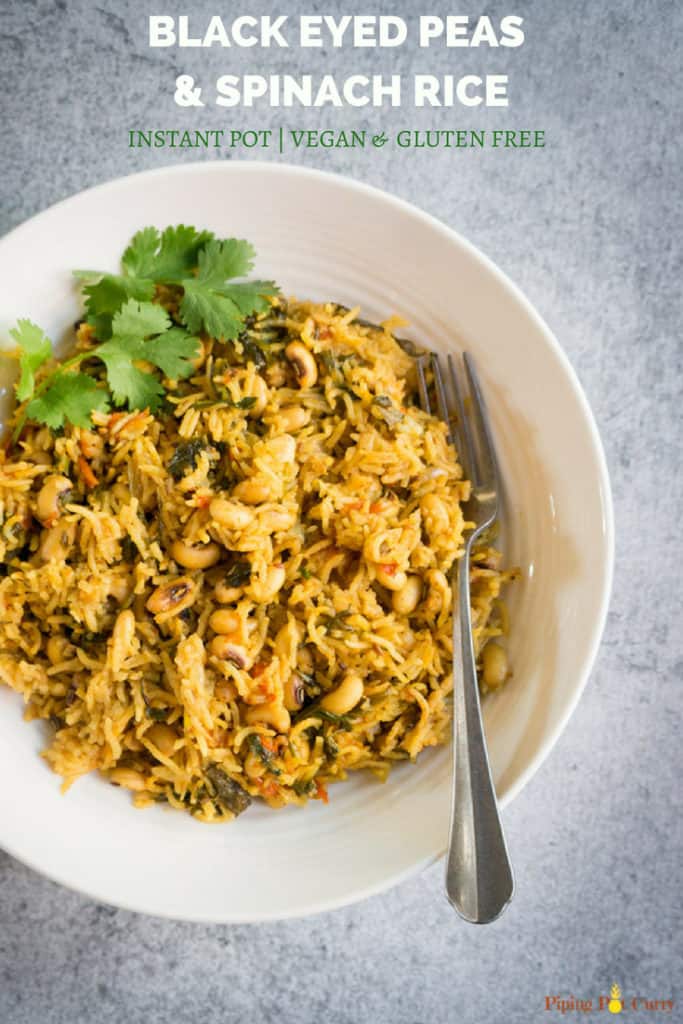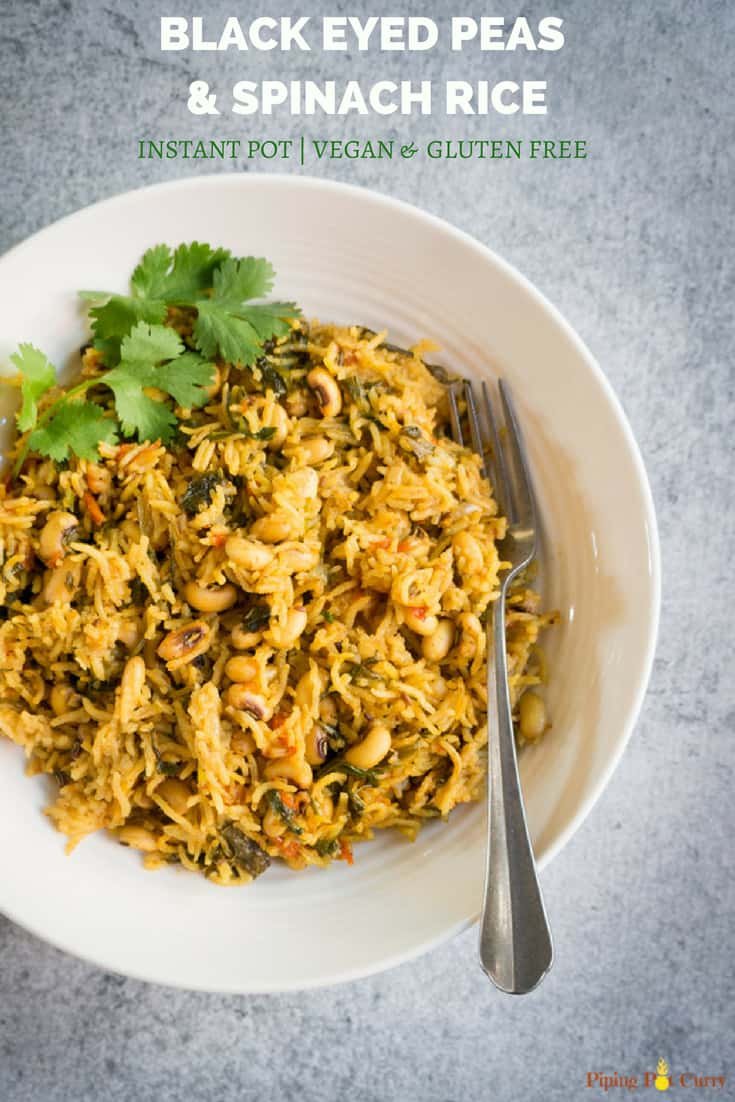 I am always looking for one-pot recipes where I can include protein and vegetables together. These are perfect for weeknights, so you don't have to cook multiple things and can have dinner ready in just 30 minutes.
When my friend Khushboo Murarka suggested this recipe in the Instant Pot, I was excited to try it for dinner. Pairing a legume with rice and vegetables is a great option for a complete vegetarian meal. Let's say this is real comfort food that is good for you. We will make this in an Indian style but with some basic spices that most would have in their pantry.
When I sat to write this recipe, I realized this is very similar to a vegan variation of Hoppin' John. Hoppin' John, also known as Carolina Peas and Rice is a peas and rice dish served in the Southern United States. It is said that eating it on New Year's Day brings a prosperous year filled with luck. Even though we are not anywhere close to new year, I think this is perfect comfort food that you will enjoy!
If you enjoy black-eyed peas, don't forget to check out my Black-eyed Peas Curry recipe. It is a popular dishes in North India, also known as Lobhia Masala.
How to make Black eyed Peas & Spinach Rice in Pressure Cooker?
This is an easy to make one-pot dish in the Instant Pot. Start with some oil and whole spices. I only added cumin seeds and cinnamon, but other whole spices such as cloves, cardamom and black pepper corns would be great additions too.
Then add onions, ginger, garlic and saute for a few minutes. After that, add tomatoes and spices.
Pro-tip: The above are common steps in many recipes. Many times I also bulk cook onion, ginger, garlic and tomatoes for a week, so that I can make any rice, lentils or curry quickly on a weeknight.
From this point, this is a dump-and-go recipe – Add the black eyed peas, rice, spinach and water. Stir them all and cook on rice mode.
I soaked the black eyed peas overnight, but 4 hours of soaking will work too. Typically I cook rice on high pressure for 4 minutes, but for this recipe, I used the Rice mode which gives the black eyed peas enough time to cook well.
The below pictures showing the how the rice looked before pressure cooking, after pressure cooking, then stirred and served.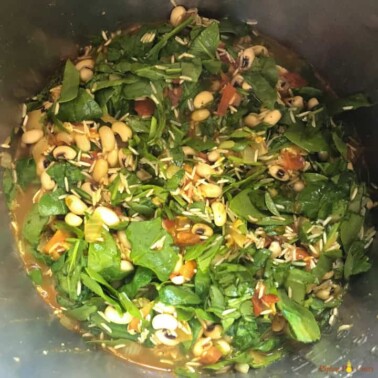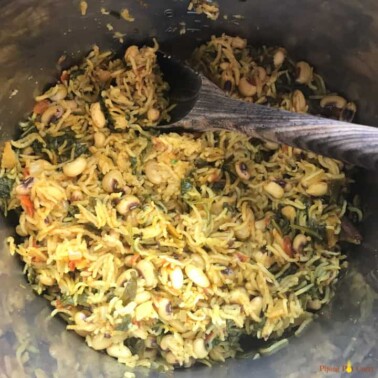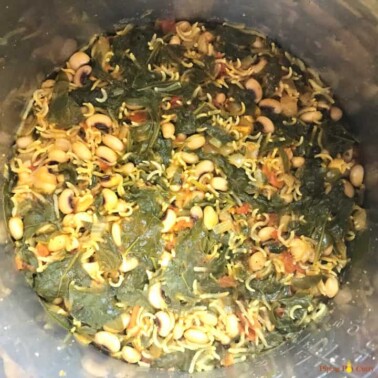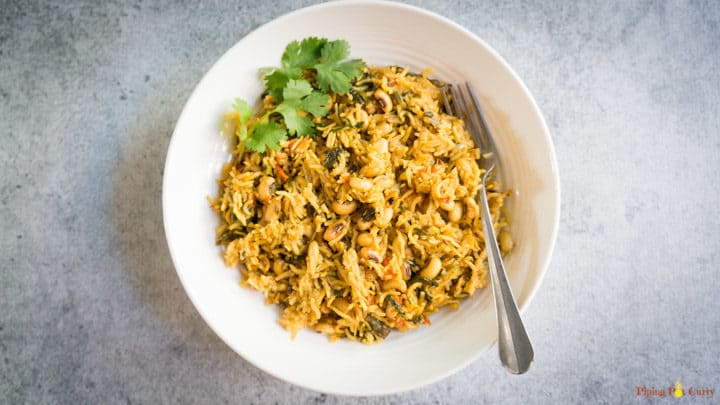 You can also add other veggies to this rice pilaf. I add a number of veggies to my Vegetable Pulao, such as carrots, green beans, peas, and corn.
Enjoy this pilaf with a side of yogurt or raita.
If you like this combination of lentils/beans and rice as one-pot meals, check out this Instant Pot Mujadara recipe. It is a one-pot version of the popular Lebanese lentils and rice.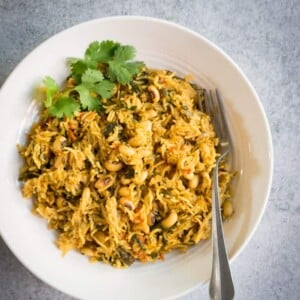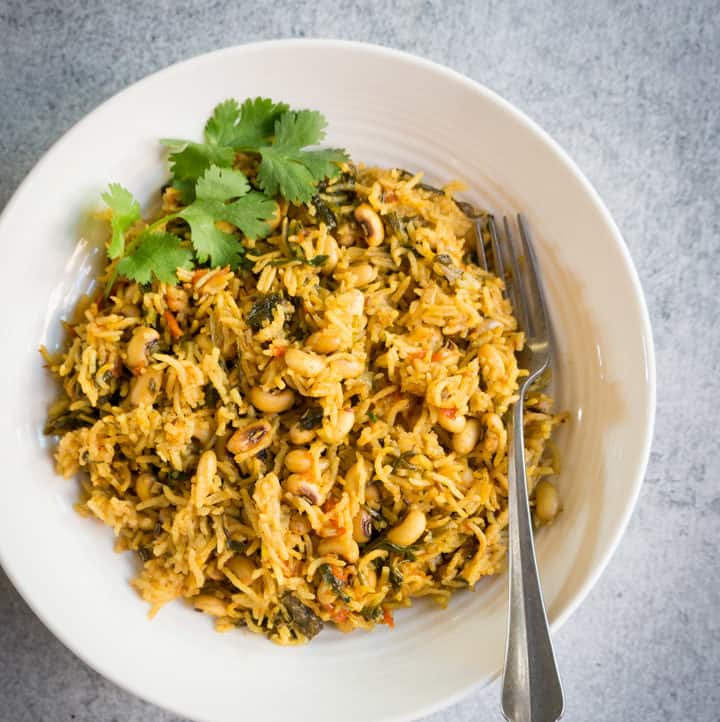 Instant Pot Black eyed peas and Spinach Rice
One-pot Black-Eyed Peas and Spinach Rice is a healthy and wholesome dish, perfect for weeknight meals. This vegetarian and gluten free dish is easy to make in the Instant Pot.
Instructions
Start the pressure cooker in sauté mode and heat it. Add oil, cumin seeds and cinnamon. Sauté them for 30 seconds until the cumin seeds change color.


Add onion, ginger and garlic. Sauté for 2-3 minutes until onion turn transparent.


Add tomato and spices. Mix well.


Add black eyed peas, rice, water and spinach. Stir well. If anything is stuck to the bottom of the pot, deglaze it. Close the lid with vent in sealing position.

Change the instant pot setting to RICE mode (or Pressure cook at low pressure for 12 mins). Note: For me the Rice mode set for 12 minutes.


When the instant pot beeps, do a 10 minute NPR. This means let the pressure release naturally for 10 minutes, then release the pressure manually.


Fluff the rice gently. Enjoy with homemade yogurt or raita.

Note: Remove the insert from the instant pot, so the lower layer of rice does not overcook from the hot base.
Notes
Vegan Variation: To make this vegan, skip ghee and use your preferred plant based oil.
Rice mode: The Rice mode in Instant Pot sets the cooking time itself, depending on the quantity of rice in the pot. For one of the readers, it set the time to 10 minutes, which would work too.
This recipe was created in a 6qt Instant Pot DUO60 Multi-use Pressure Cooker.
Nutrition
Calories:
309
kcal
Carbohydrates:
51
g
Protein:
7
g
Fat:
8
g
Saturated Fat:
4
g
Cholesterol:
19
mg
Sodium:
32
mg
Potassium:
382
mg
Fiber:
4
g
Sugar:
3
g
Vitamin A:
1815
IU
Vitamin C:
12.9
mg
Calcium:
70
mg
Iron:
2.3
mg
Check out other Instant Pot Rice recipes you might enjoy: