Are you looking for gifts to give during the holidays? Here I am sharing my favorite gifts for foodies and home cooks!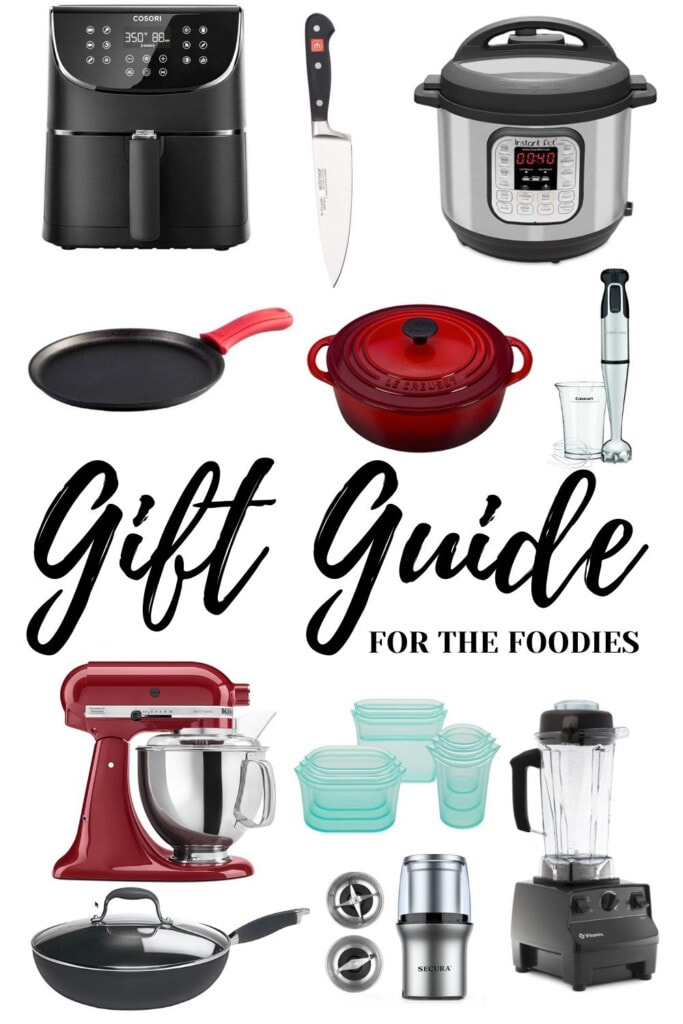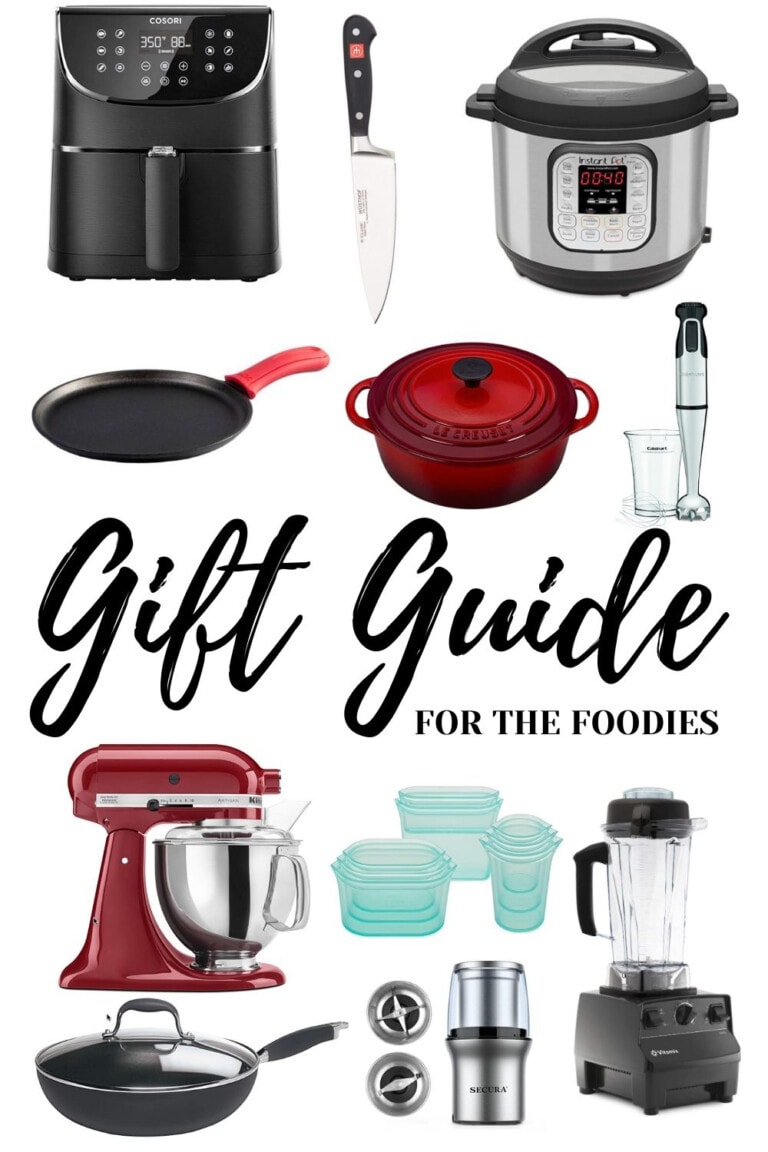 I have shared all the things I love, so you don't have to spend the time looking for gifts. This guide is focused on gifts for home chefs and bakers!
I hope this list will make gift searching easier for you 🙂
1. Electric Pressure Cooker (Instant Pot) – As you know, I am a big fan of the Instant Pot. I use my Instant Pot almost everyday, and it has made cooking so much easier for me. I highly recommend the 6 Qt DUO model. If you are confused about which instant pot to buy, check out my buying guide. Mealthy Multipot and Instant Pot are now also available in India.
2. Air Fryer (Cosori)– This is the second gadget used most frequently in my kitchen. It is perfect to make healthier foods, with very little oil. I love to make veggie side dishes in my air fryer. It is also perfect for reheating.
3. Immersion Blender (Cuisinart) – This hand blender is a perfect accompaniment to the instant pot. You can easily blend soups and curries right in the pot. I have been using this blender since a long long time before instant pot even existed, so definitely a great gift and within budget.
4. Stand Mixer (Kitchenaid)– If you make dough often or love baking, you will love this stand mixer. I simply cannot live without it anymore! If you are considering it, check out my guide for how to choose the right kitchenaid model for your needs.
5. Blender (Vitamix)– We use our blender almost everyday. Start the day with smoothies, then use it for grinding onions or tomatoes to make a curry, or use it to grind lentils and finally to make nut butters. I find Vitamix to be very easy to use and clean.
6. Spice Grinder (Secura) – For small quantity grinding needs, I love this secure spice grinder. It comes with 2 jars, one for wet ingredients and another for dry grinding. I use it the most to make homemade spice blends in small quantities.
7. Chopper (Mueller) – If you want to chop veggies easily and uniformly, use this chopper. I use it to chop onions, or bell peppers for salads or salsa.
8. Nutrimill Harvest Grain Mill – We have been enjoying freshly milled flour from the Nutrimill Harvest to bake and make Indian breads.
9. Le Creuset Dutch Oven – These dutch oven's are a must have in every kitchen. They look gorgeous and last forever, which makes them a perfect gift!
10. Analon pan – This is one stir fry pan I use most often. It is large and works great to saute and roast veggies or make a curry. I love that it has a glass lid along with it. It is a great gift, which I also gave to my mom this year.
11. Lodge cast iron skillet – A good cast iron skillet is a must-have. This pre-seasoned skillet with handle is perfect to use in the oven, on the stove or the grill. I use it the most to make eggs every morning!
12. Lodge cast iron griddle – This griddle is perfect to cook any food, but it is best to make the most crispy dosa's (South Indian crepe).
13. Wusthof Chef's Knife – I recently got this chef's knife and have totally fallen in love with it.
14. Ziptop Containers – If you want to avoid using plastic containers or ziploc bags, these ziptop reusable containers are fantastic. They can stand up, stay open, and zip shut and are freezer, microwave, and dishwasher safe. They are available in a variety of sets and colors. Use coupon code "PIPINGPOTCURRY" for an additional 15% off.
15. Digital Thermometer (Thermapen) – A food grade digital thermometer is essential for a novice cook to make sure that meats are cooked to the right temperature. It is also helpful if you are new to making yogurt at home.
16. Kitchen Scale – I like this digital scale for baking where exact 6easurements are important.
17. Nordic Ware Bundt Pan – I have been eyeing this bundt pan for a while and finally got it to make pretty cakes in the instant pot.
18. Sabatier Ladle Set – I got this ladle set from Costco and absolutely love it. It has long handles and is great to use the instant pot.
19. Garlic Press – This has been an easy to use garlic press. It is a great stocking stuffer.
20. Faberware peeler – Who doesn't want a good peeler. After trying multiple, I find this one to be the most convenient to use.
21. Microplane – A good microplane is so useful to zest citrus fruits, and also grate cheese.
I hope you find this list of gift guide helpful as you look for gift options for your loved ones! Comment below and share your favorite gifts for foodies.
Check out my favorite instant pot accessories if you are looking for gifts for an instant pot lover.