It's important to have the right tools to prepare your meals faster and easier. A stand mixer can help knead dough and whip ingredients together. Learn about how to choose the right stand mixer that is best for your kitchen.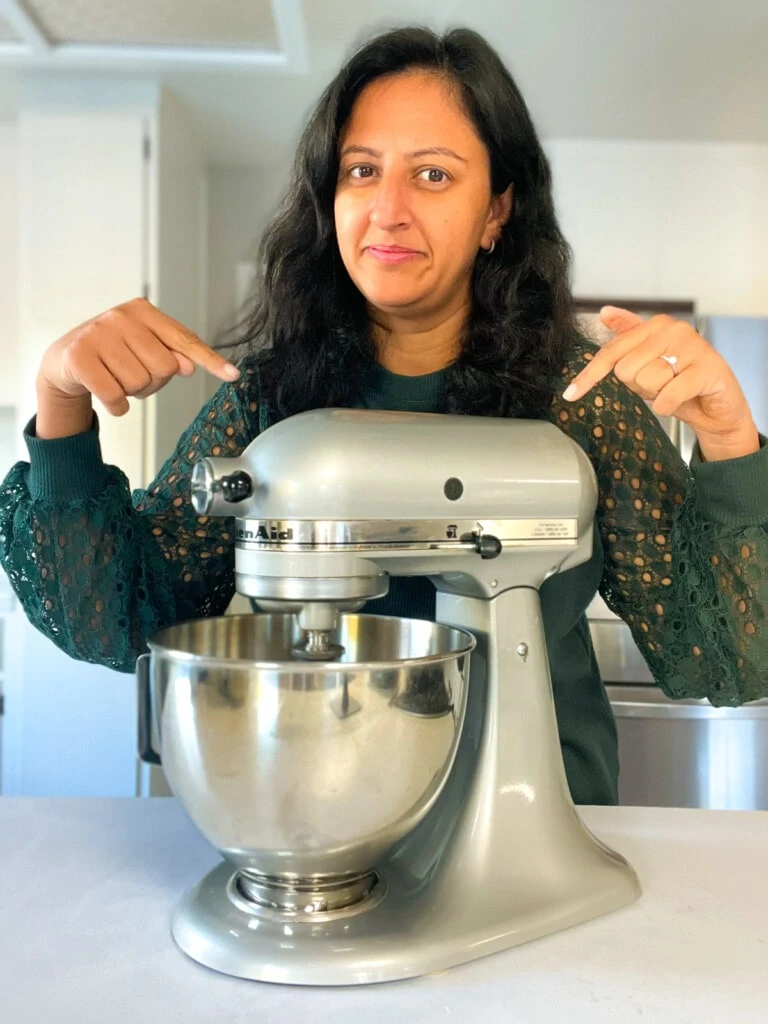 When it comes to deciding the list of must-have kitchen appliances, a stand mixer tops the list for me (along with the Instant pot and air fryer).
Stand mixers are most popular to help with baking needs, however I use them a lot to make dough (for Indian flatbreads - roti/paratha/naan). That makes it one of the most used appliance in my kitchen.
That said, it is also one of the biggest investments you will make - in money and counter space. There are many stand mixers out there, and also many options with the most popular kitchenaid stand mixer.
I have been using my kitchenaid stand mixer for almost 5 years now, and love it. I got mine from Costco, and it is just as solid even after 5 years. In this post, I will break down what you should consider when buying a stand mixer - Type, Size, Bowl and Power.
What is a Stand Mixer?
A stand mixer is a heavy-duty electric mixer built into a stationary stand with a bowl. Stand mixers can usually mix, whip and knead. They can whip large quantities of ingredients for a long time at a desired speed.
Most stand mixers have multiple speeds and offer hands-free operation. With additional accessories, they can also shred meat, make pasta, ice-cream and more.
The basic kitchenaid stand mixer comes with three attachments: paddle, whisk and dough hook. These serve most of the common uses for a stand mixer.
One of the uses that is not as popular is making any kind of dough. It works wonders for Indian breads like roti, paratha, or naan. You can get ready your dough ready in minutes with my roti dough recipe using a stand mixer.
Why Buy a Stand Mixer?
A simple answer - Less mess and less time spent in the kitchen.
Many might consider stand mixers a splurge, however they do make life so much easier for a busy mom like me. I often don't have the time (or the patience) to knead dough everyday or to be straining my hand whipping cream with a hand mixer. And if you have a hand/wrist injury or disability, this would be an indispensable gadget.
I love that I can set the stand mixer to make dough, while I continue to prepare the other parts of the meal. If you know about Indian cooking, the flatbreads are an integral part of the meal, and mostly made fresh everyday. For me, the kitchenaid has been a game changer, as making dough was the most tedious part if making fresh roti/parathas for me.
It is also less messy and easy to clean up later as all the ingredients stay right in the bowl no matter how fast it churns.
Are Any Stand Mixers Better Than Kitchenaid?
While all stand mixers provide the same basic function of holding the bowl and whisking, some slight differences are still there. Because a stand mixer is an appliance that will have for a very long time. With so many brands out there, it might be challenging to decide which stand mixer to buy as they come in a whole lot of sizes, functions, and models.
I decided to choose the most popular Kitchenaid brand stand mixer, as they have stood the test of time. I have one since more than 5 years now, and it is still going strong. Definitely a good investment!
What To Look For When Buying a Stand Mixer?
The below guide will give you the list of things to consider or choose when buying a kitchenaid stand mixer.
You want to choose - type, size, bowl, power and color.
And also consider the basic question about - will it fit under your cabinets, and storage. Let's get started!
Type
The KitchenAid Stand Mixer is typically categorized into two kinds: the tilt-head and bowl-lift.
The main difference between the two designs is the way the bowl is attached and accessed.
The tilt-head model allow the mixer's head to pull back, and the bowl is fixed to the base of the stand mixer. They come in three sizes of 3.5, 4.5, and 5-quart.
The height of the tilt-head model is less and easier to fit under standard sized cabinets. I typically pull the mixer out from under the cabinet to the edge of the counter when using and then push it back once done.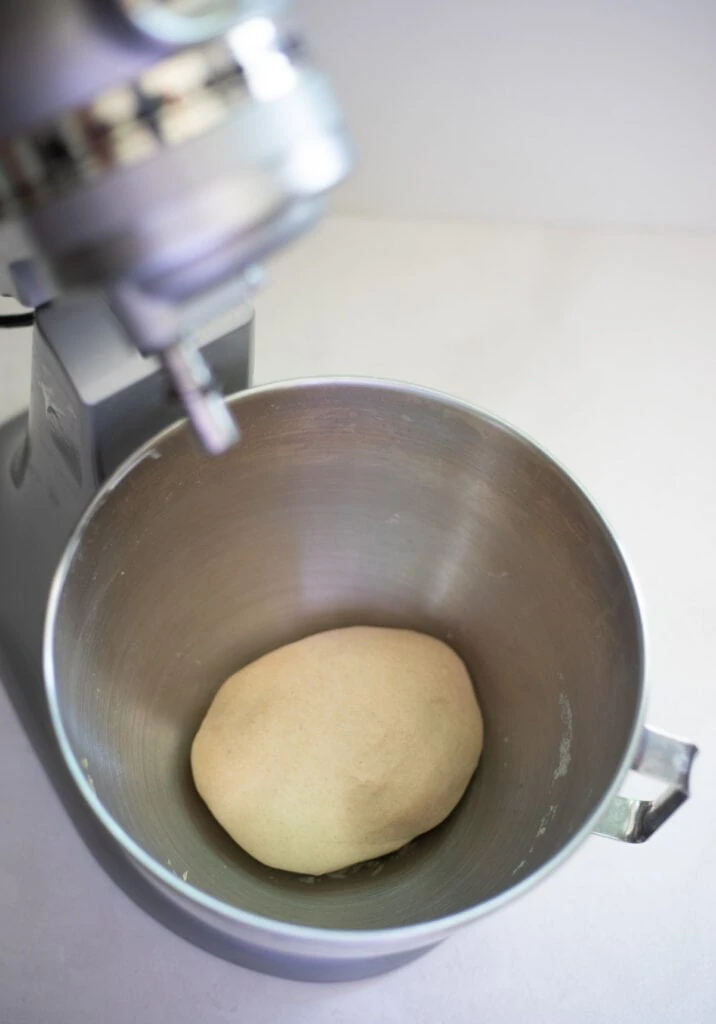 In the bowl-lift model, the bowl can be extracted with a lever, and the head stays in position. The bowl is attached to two sturdy arms for stability and support when mixing heavy dense ingredients. They are popular in 6, 7qt sizes.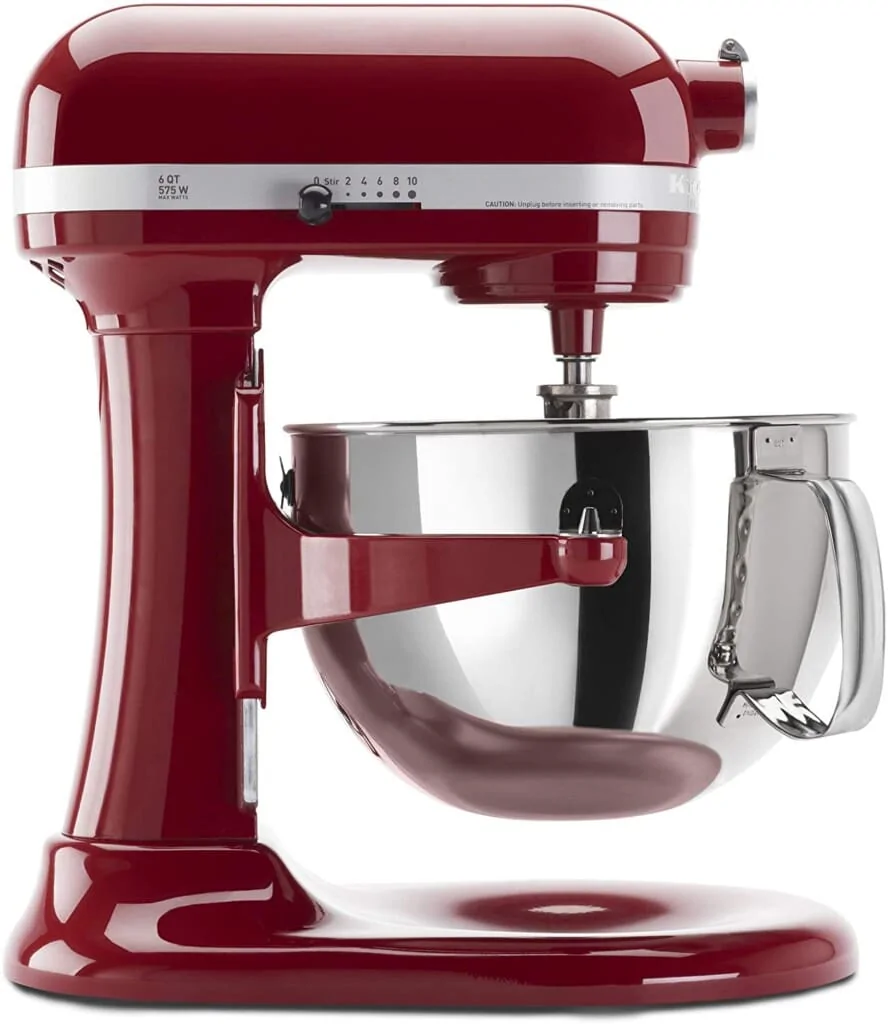 The tilt-head model is about 14 inches in height, and bowl-lift mixers are around 16-17 inches.
Size
The kitchenaid stand mixers range from 3.5 to 7 quart in capacity.
3.5 quart: This is the mini series. If you are going to use the mixer once in a while, or have less counter space and want to store it away after use, then this might be a good choice.
4.5-5 quart: This is the most popular size. The classic model has 4.5 qt size and the artisan model 5qt.
I got the 4.5 quarts from Costco, however recently I am seeing 5 quart to be more easily available everywhere. They do have deals every now and then (also at best buy).
Pro-tip: People always talk about how much more you can make. However I also looked at the minimum I can make in the kitchenaid mixer. With this 4.5-5 quart size, you can make dough with 2 cups of flour (perfect for 1-2 meals). However with a larger 6 quart bowl, you have to use a minimum of 3.5-4 cups of flour to make dough.
So if you like to make dough fresh like me, 4.5-5 quart might be a better size for you!
6-7 quart: But if you like making two or three batches of bread or cookies, then you go for the KitchenAid Professional Series; which is 6-7 quarts. They are also quite heavy, so you might have to keep them on the counter all the time.
My opinion: Skip the mini, and go for at least the 4-5qt size. And if you bake large batches, definitely choose the 6qt.
Glass bowl vs Stainless Steel bowl
Now that we have spoken about the size, the next important decision you need to make is the type of bowl you need to choose.
You can choose from a glass bowl or stainless steel bowl.
With little kids in the house, I felt the steel bowl is a safer choice. I don't need to be too careful with it, and it is stress-free cleaning without the worry of the bowl slipping.
On the other hand, a glass bowl looks pretty. So go for whatever you prefer. You can always buy a second bowl too.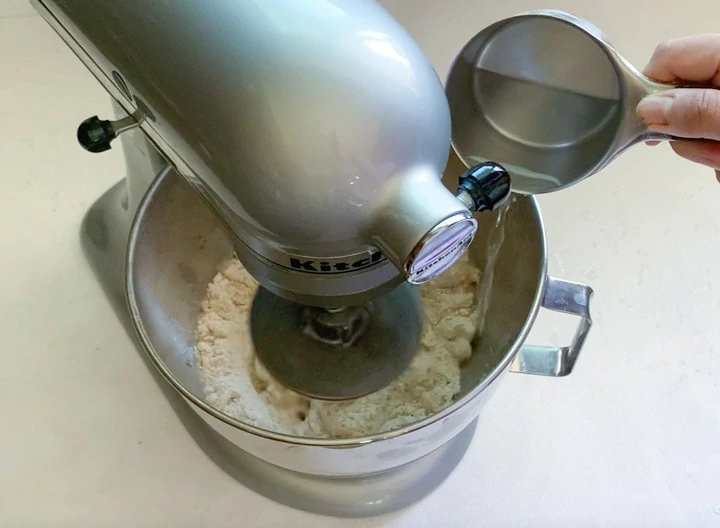 My opinion: If there are little kids in the house and you are worried about the glass bowl, choose the stainless steel option.
Color
Even though not one of the most important criteria, it is critical for some that the perfect mixer is the one that matches their home decor.
The artisan and professional models come in a variety if colors to choose from. So look for the perfect piece for your kitchen!
Wattage / Power:
The KitchenAid Stand Mixer starts with 250 watts in the Classic series and can go up to 1.3 Horsepower in the Pro series.
My kitchenaid mixer has 325 watt power and has been a good fit for our needs. If you are looking for higher needs for quantity, and power, then check the Pro and Professional series.
My opinion: Go for medium-to-high power, which means Artisan series at a minimum.
Attachments
What comes with your KitchenAid Stand Mixer? Every stand mixer comes with the standard set of a fitted mixing bowl, whisk and paddle attachment (the finish may differ according to the model), and a dough hook.
Some models like Artisan and Pro 600 come with extra accessories like a pouring shield to prevent spillage. Also, every model has 10 speeds for mixing the ingredients.
What additional accessories can you buy? KitchenAid offers 12 additional attachments that you can purchase separately as per your cooking needs. These attachments can turn your stand mixer into a multi-function appliance. There are attachments for - spiralizer, pasta making, meat shredder/grinder and ice-cream maker.
My opinion: Basic attachments that come with the mixer are a great start. Use it for some time, before adding more accessories.
Choose The Model: Classic, Artisan or Professional
The Classic Series
The KitchenAid Stand mixer Classic model comes only in white 4.5 quart bowl capacity and has two types with a slight difference in power.
This makes them great for smaller families, and those that only bake occasionally. You can get all attachments for this kitchenaid.
Upgrade: The Artisan Series (My choice)
This is the most popular series of Kitchenaid mixers.
They have a 5qt bowl capacity, tilt-head model and 32+ color choices, and finishes, and bowl options.
Note: There is an Artisan mini 3.5 quart option if you are looking for a mini in multiple colors.
Heavyweight: Professional Series
This has 6-7 quart bowl capacity, that is good for up to 14 cups of flour. They have higher power starting from 575 watts to 1.3 hp.
They come only in the bowl-lift design, and are 16.5 inches tall. They are heavy and would need dedicated counter space.
For a detailed comparison, check it out the chart on the kitchenaid website here.
I hope you found this guide helpful! Let me know in comments if you have any more questions.
Oh...and I have seen lots of great deals at costco throughout the year and amazing deals during Black Friday at Best Buy in the past. So keep an eye out or follow me on instagram to hear about any deals during the holiday season.
Below are some more helpful resources: