How to Boil or Steam Potatoes in the Instant Pot? This is part of the Instant Pot Cooking Basics series. Potatoes are perfect to steam in a pressure cooker, and it takes less an 30 minutes to get perfectly cooked potatoes. I use boiled potatoes in many dishes, such as potato peas curry, spiced mashed potatoes.
I had always boiled potatoes in my stovetop pressure cooker, however it did need some monitoring. With the instant pot, just set the time and do a natural pressure release, while I can do other chores.
Having pre-boiled potatoes at hand is great for meal planning. I can then use them as needed to make quick meals. Some interesting indian dishes you can make with boiled potatoes:
Mumbai Vada Pav which is the popular Indian style burger.
Savory Potato Puffs – This is very similar to the paneer puffs I have shared before. Just use boiled potatoes in place of paneer.
How to Steam Potatoes in the Instant Pot?
It is as easy as it gets. Just place the potatoes on a trivet. Add some water to the pot. Hit the Steam button. Adjust the time based on the size of the potatoes. It usually takes between 8 to 15 minutes depending on size of potatoes. For potatoes about 7 oz in weight, I steamed for 10 minutes. If potatoes are about 9 oz, then steam for 12 minutes. You get the idea!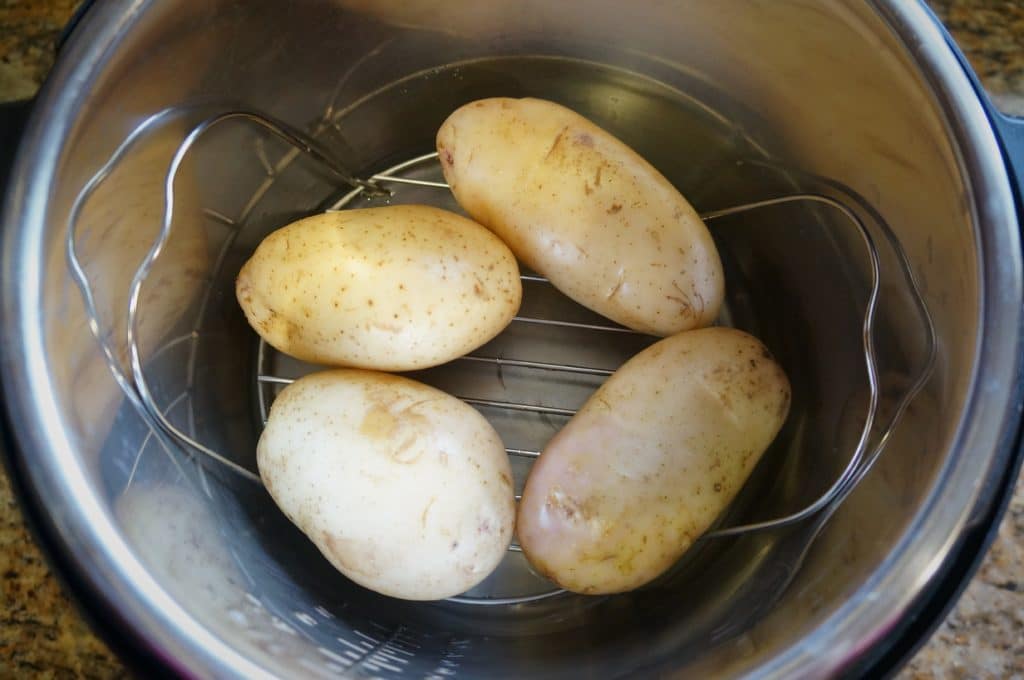 If you want to boil potatoes while cooking something else in the main pot, then I suggest to use the mode needed for what you are cooking in the main pot. The Steam function works best when food is being steamed on a trivet. It increases the temperature inside the pot very fast, as it does not expect to have any food directly in contact with the bottom of the pot.
Try these easy steamed potatoes and don't forget to share how you used them!
Check out other instant pot cooking basics:
How to Boil Potatoes in Instant Pot?
Quick and easy way to steam or boil potatoes in the pressure cooker.
Ingredients
4

Russet Potatoes

about 7oz each

1

cup

Water
Instructions
Clean potatoes with water. Add 1 cup water in the instant pot steel insert. Place trivet and place potatoes on top of the trivet. Close lid with vent in sealing position.

Pressure cook on Steam mode at high pressure for 10 mins.

When the instant pot beeps, let the pressure release naturally. If in a hurry, you can release pressure 10 minutes after the beep.

Remove the potatoes from the instant pot to stop additional cooking.
Recipe Notes
Adjust time between 8-15 mins depending on size of potatoes. For example, if the potatoes are about 9 oz each, then steam for 12 mins.
If you like this recipe, follow our Facebook page to get more such recipes.  Share the recipe on facebook, twitter or instagram with #pipingpotcurry.
Pin it for later: 
Disclosure: This post contains affiliate links, which means I can earn a small commission if you purchase through the link at no additional cost to you. Thank you for your support!