One of the reasons to love the instant pot is perfectly cooked rice. Being a north indian, I prefer white basmati rice over any other variety of rice. You don't need to keep that extra rice cooker anymore and can free the counter space. Try this perfect Instant Pot Basmati Rice.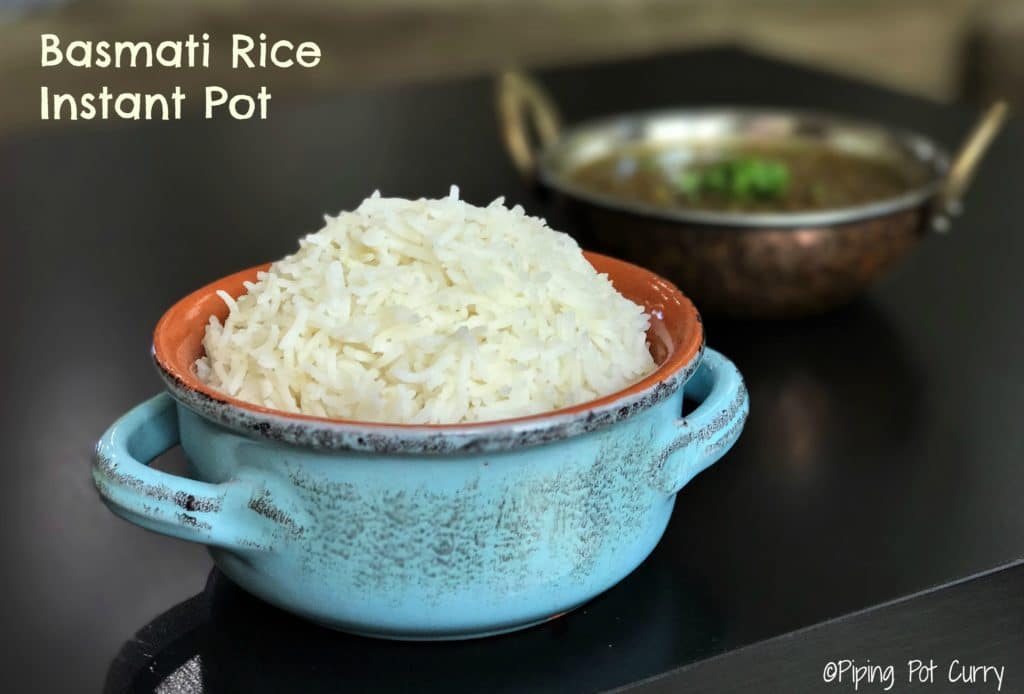 What is Basmati Rice?
Basmati is a variety of long, slender-grained aromatic rice from the Indian subcontinent. This variety has gotten very popular all over the world, with India and Pakistan being the largest exporters of this rice.
How to cook perfect Instant Pot Basmati Rice?
Cooking rice needs perfection on the amount of water and time. With this recipe, you can make perfectly cooked basmati rice. Just soak the rice, 4 minutes manual in the instant pot and 5 minutes natural pressure release. Sounds easy…it actually is!
I like to have rice al dente, and separate. I don't like sticky or mushy rice. That said, everyone has different preferences for rice, so feel free to adjust the recipe to your taste.
I soaked the rice for about an hour and used a rice to water ratio of 1:1. Soaking for 15-20 minutes or not soaking them works too. Although researchers say that soaking rice overnight helps reduce toxins by 80%. If you have the time, soak them and rinse before cooking. That said, there have been times when I have forgotten to soak the rice, they still come out great. If you end up not soaking the rice, then you can increase the rice to water ratio to 1:1.25 cup.
Traditionally cooked basmati rice in a saucepan needs double the water amount than the rice. However in the instant pot, less water is enough to get perfectly cooked rice.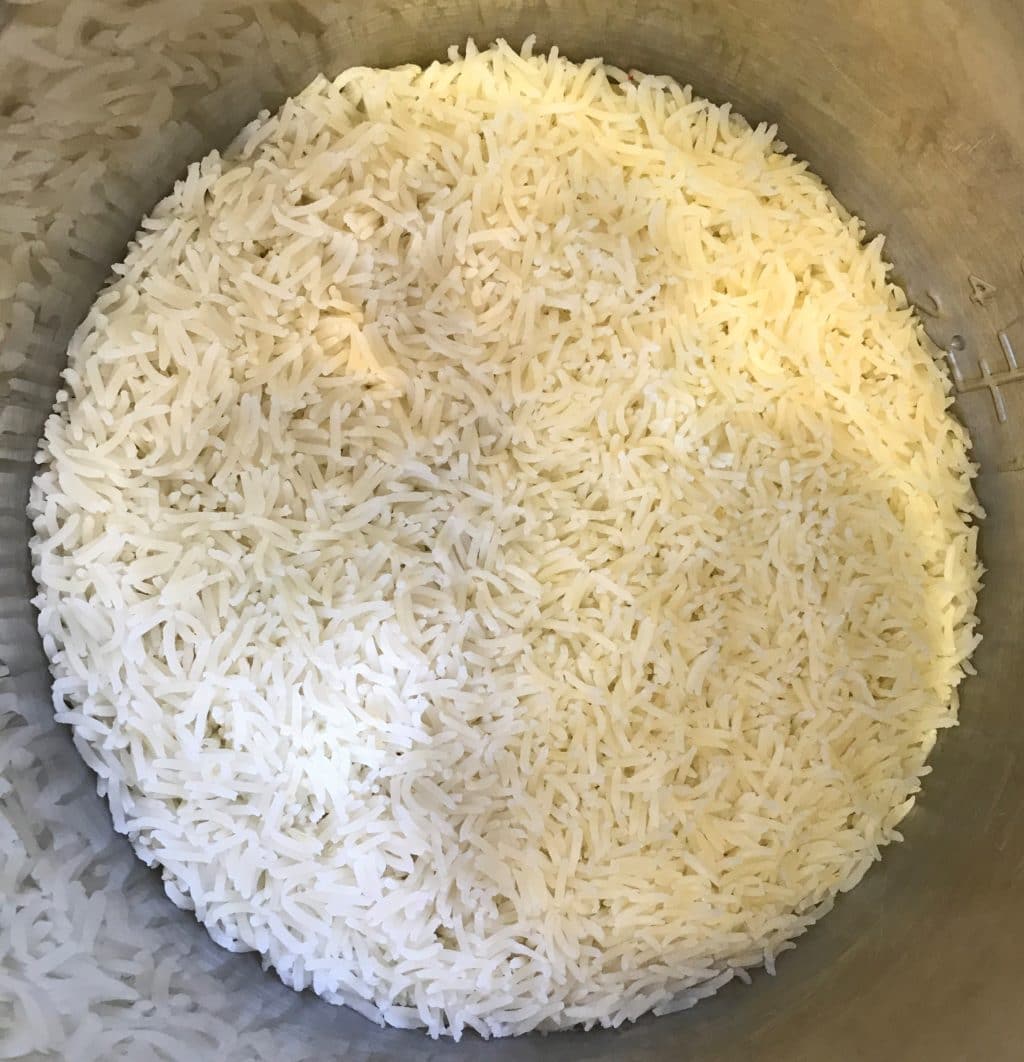 Main things to remember for perfect Basmati Rice
Option 1 (posted in recipe)

Option 2

Soaking Rice

1 hour

No soaking

Rice to water ratio

1:1

1:1.25

Pressure Cook / Manual

(High pressure, vent sealed)

4 minutes

4 minutes

Pressure Release

5 minute NPR

5 minute NPR
Enjoy this perfect basmati rice with any Indian curry such as Chole Masala, Chicken Curry, and Dal Makhani. This recipe works perfectly if cooking rice in the main pot.
If you are doing pot-in-pot (PIP), then you need to cook for additional time. Check out the pot-in-pot rice recipe.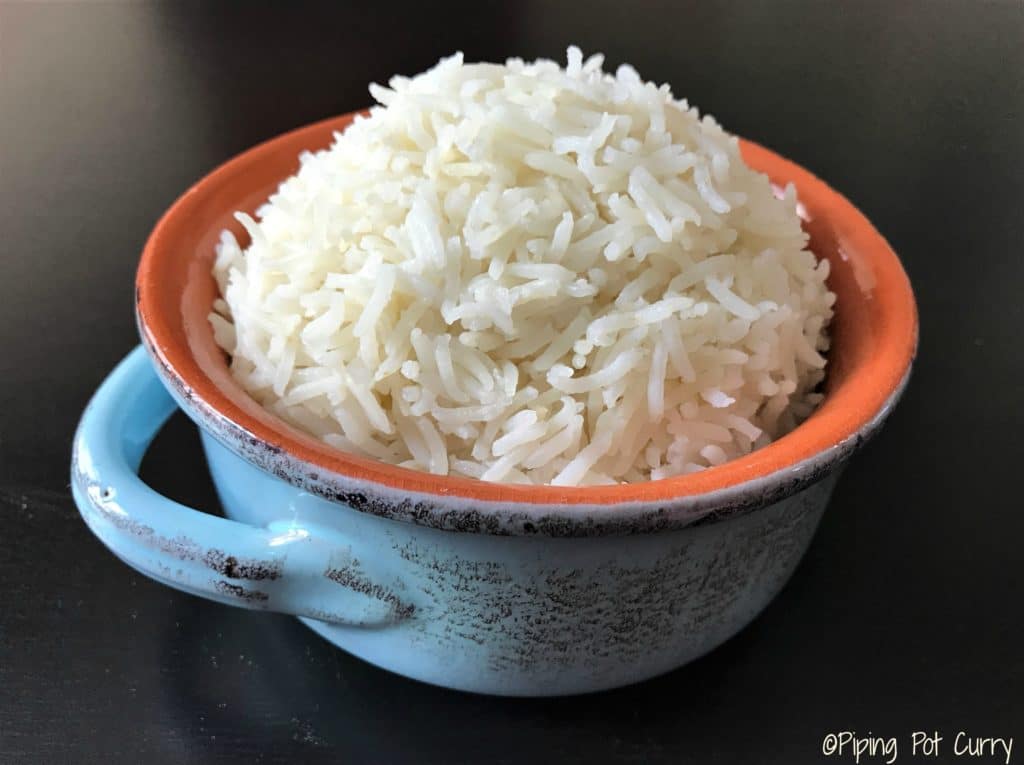 Try out the basmati rice, and let me know if this works for you. A simple variation of basmati rice is Jeera or Cumin rice.
Want to make Brown Rice in the Instant Pot? Check out the recipe here.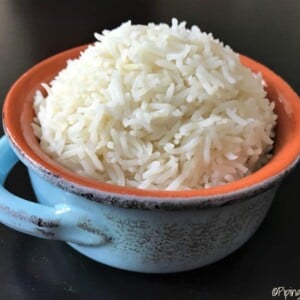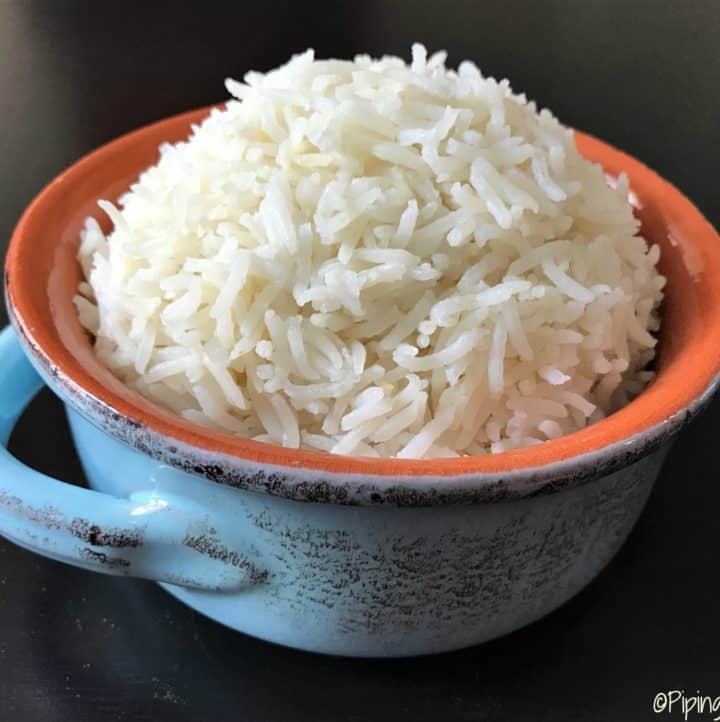 Basmati Rice – Instant Pot Pressure Cooker
Perfectly cooked Indian Basmati rice made in an instant pot or pressure cooker.
Instructions
Wash basmati rice until the water runs clear. If soaking, soak the rice in excess water for 1 hour. After the soaking time is done, rinse the rice.

Add the water and rice to the instant pot. If using, add the ghee and salt. Start the instant pot in manual or pressure cook mode for 4 minutes at high pressure with vent in sealing position.

When the instant pot beeps, do 5 minutes natural pressure release, which means release the pressure manually 5 minutes after the instant pot beeps.

Fluff the rice with a ladle or fork. Let them stand for 5 more minutes.

Rice is ready to be served with your favorite curry.
Video
Notes
I add 1:1 rice to water ratio in this recipe as I soaked the rice. You could change the rice to water ratio to 1:1.25 if not soaking the rice.
If you like very soft rice, then you can increase the water to 1.5 cups for 1 cup of rice.
This recipe was created in a 6qt Instant Pot DUO60 Multi-use Programmable Pressure Cooker.
Nutrition
Calories:
359
kcal
Carbohydrates:
73
g
Protein:
6
g
Fat:
3
g
Saturated Fat:
1
g
Cholesterol:
6
mg
Sodium:
592
mg
Potassium:
106
mg
Fiber:
1
g
Calcium:
26
mg
Iron:
0.7
mg