Try cooking Chickpeas / Garbanzo beans in the pressure cooker or instant pot. They are quick and hands free. And guess what, you don't have to use the high-sodium canned chickpeas anymore. While doing that, also save on some money…honey!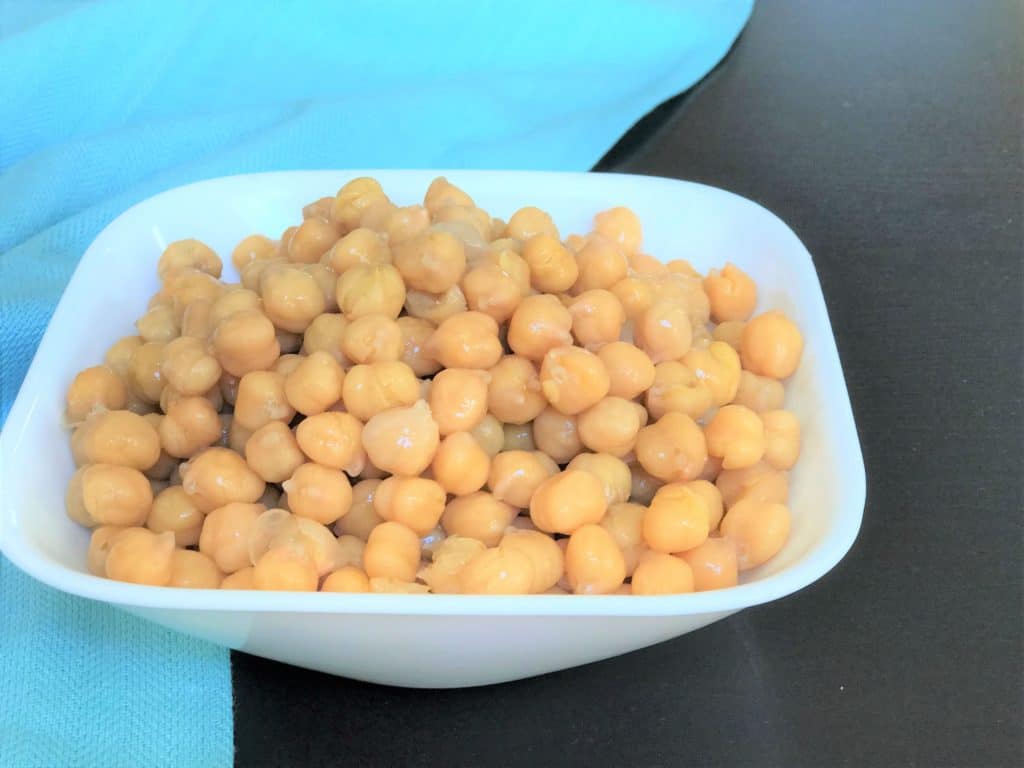 I grew up in India, where growing up I had never seen a can of chickpeas. I know, surprising…right? But in India, everyone just uses their pressure cooker (stovetop) to cook chickpeas from dried ones. They are cheaper and healthier.
Then I came to Chicago for work and realized the abundance of canned products. At first, it seemed exciting that I could use a can of chickpeas and not have to wait to boil them.
But then, I started reading nutrition labels and realized the downside of the cans. Quickly, I moved back to the traditional methods. And so will you, after realizing how easy it is to cook chickpeas in an instant pot.
Make these perfectly cooked chickpeas, store them in the refrigerator for up to a week, or freeze them in small batches. So you have them handy for any recipe that calls for chickpeas.
I like to make salads with these chickpeas. Another great way to use these chickpeas is in a pulao or biryani. You add protein with the rice and add some veggies to make it a complete meal. Or make hummus…Yum!
Chickpeas Nutrition
Chickpeas are a popular legume across nearly every continent, which is not surprising, looking at the benefits and nutritional content of chickpeas.
They are a powerhouse of nutrients packed with plant-based protein, dietary fiber, and carbohydrates. One cup of boiled chickpeas has 269 calories, with 45 grams of carbohydrates, 4.5 grams of protein, and a whopping 12.5 grams of fiber.
How to cook chickpeas in Instant Pot?
You can either soak the chickpeas or just cook them right away. However, the difference is how long they take to cook. Unsoaked chickpeas take about 40 minutes to cook under pressure, while soaked chickpeas take 20 minutes.
As you can see, there is a significant time difference. I prefer to soak the chickpeas and reduce the cooking time (save some electricity too!).
I also like to add some salt when cooking chickpeas, but that is totally optional. This also means I reduce the salt used in the dish that I prepare with the cooked chickpeas. Optionally, you can also add garlic and/or bay leaves when cooking.
I cooked these chickpeas in an instant pot, but you can use any pressure cooker. Just add the chickpeas and water to the pressure cooker and set it to cook at high pressure for the required time. I use a 1:3 chickpea to water ratio.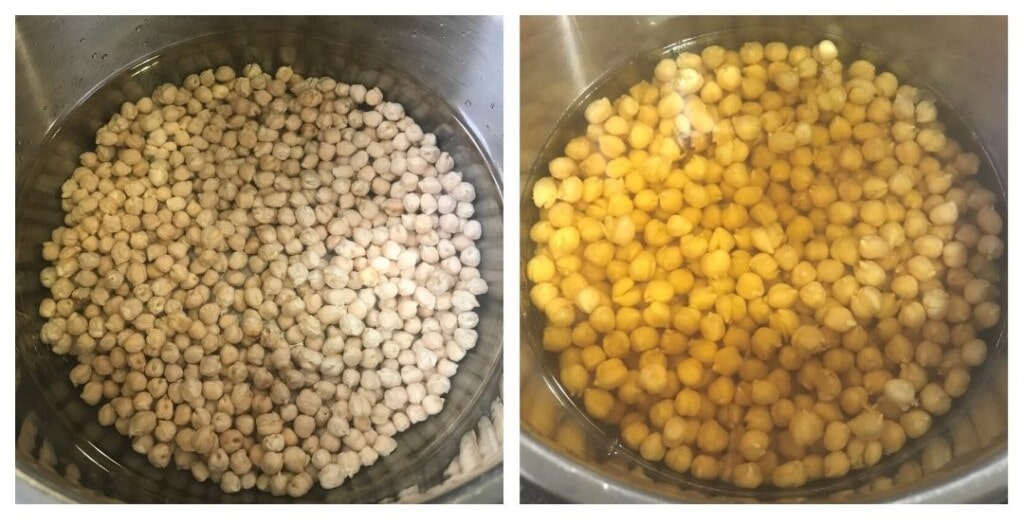 One cup of dried chickpeas yields just more than 2.5 cups of cooked chickpeas. You can drain the leftover water after cooking the chickpeas or use it as a broth in a soup or curry.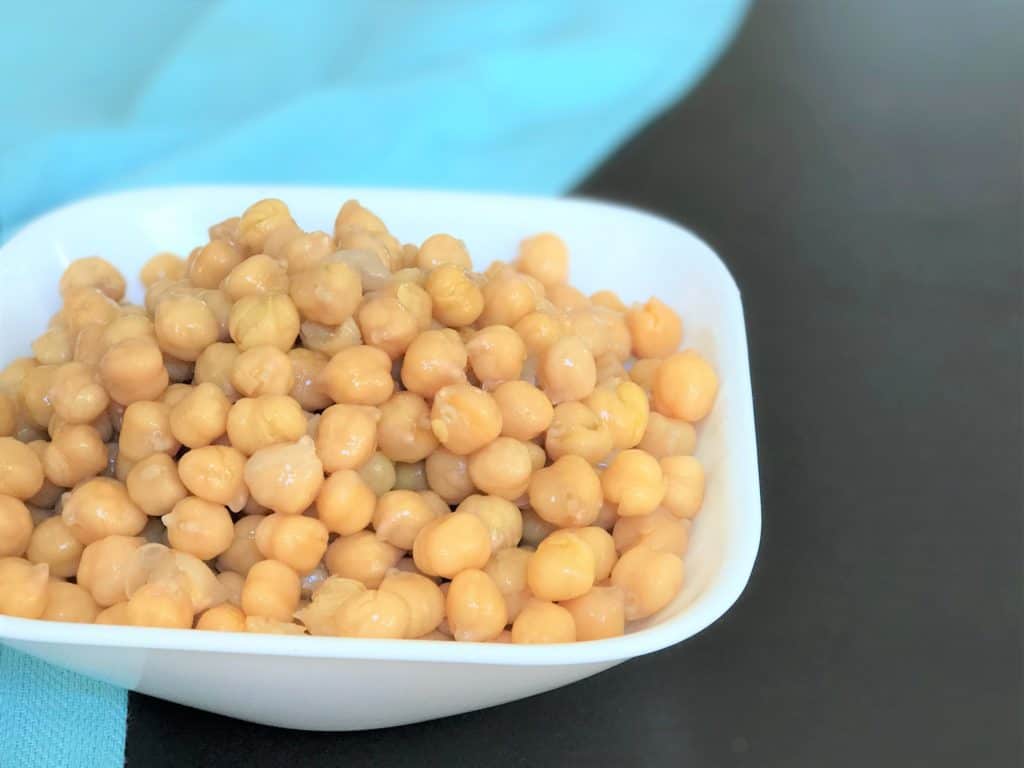 Enjoy the chickpeas in a salad or pilaf or in your favorite hummus.
If you are looking for more chickpea recipes, check out Chana Masala, made in the pressure cooker. Some readers asked about Black Chickpeas. Here is the recipe for Kala Chana Curry.
Check out other Instant Pot basics recipes – Amazing Steamed Broccoli, Pumpkin Puree, No-boil Yogurt, and Cooking Beets in the Instant Pot.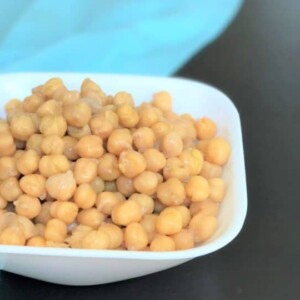 Instant Pot Chickpeas Recipe (Pressure Cooker)
Easy and healthy Chickpeas cooked in a pressure cooker. Better than canned and quick to make. Enjoy in a salad or pilaf or hummus.
Instructions
Rinse the chickpeas in ample water using a colander.

Soak the chickpeas in water overnight or for 4 hours. (optional)


Add the chickpeas along with the water to the instant pot insert. Add salt (optional). Close the lid with vent in sealing position.


Set the Instant Pot to High Pressure, and adjust the timer to 20 minutes (40 minutes if using unsoaked chickpeas)


When the cooking time is up, turn off the Instant Pot and do a 10 minute NPR, which means release the pressure manually 10 minutes after the beep.


Strain the liquid and refrigerate or freeze the chickpeas in small batches.

Notes
The cooking time can vary depending on the quality of the chickpeas. This time has worked best for me in the many times I have cooked chickpeas.
In general, cooking time does not change if you half or double this recipe.
Optionally you can add garlic and bay leaves while cooking chickpeas.
Nutrition
Serving:
81
g
Calories:
302
kcal
Carbohydrates:
50.36
g
Protein:
16.38
g
Fat:
4.83
g
Saturated Fat:
0.482
g
Sodium:
484
mg
Potassium:
574
mg
Fiber:
9.8
g
Sugar:
8.56
g
Vitamin A:
100
IU
Vitamin C:
3.3
mg
Calcium:
50
mg
Iron:
3.4
mg