Air fryers are all the rage these days. I get this asked all the time "which one should I buy?" So here I am sharing some things to consider when choosing an air fryer.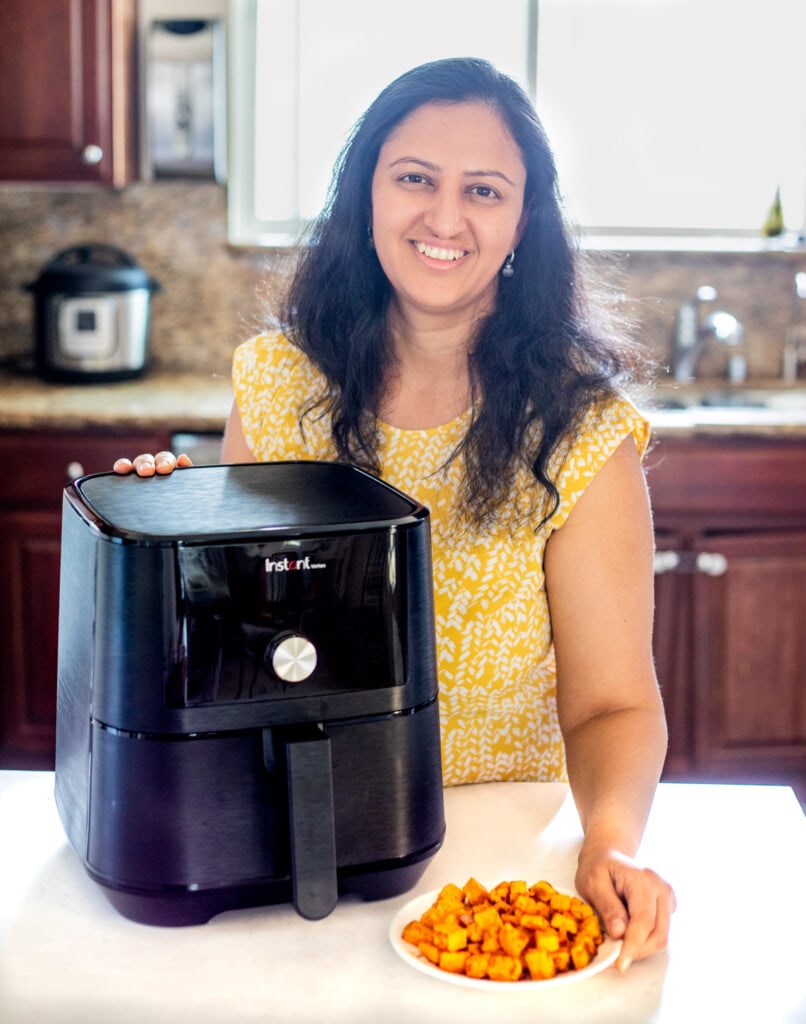 I am a huge kitchen gadget geek!! Especially when they make my cooking faster and easier. Instant pot is on the top of the list, and a second close is the air fryer, and the third is a kitchenaid stand mixer.
There are many times when I am cooking a curry in the instant pot, and roasting veggies in the air fryer, and making dough in the kitchenaid all at the same time, and dinner is ready in less than 30 minutes. Yes, it is possible!
Air Fryers are amazing! I love that it can make easy side dishes such as roasted vegetables, or even main dishes such as chicken, with a fraction of the oil, and in less than half the time of cooking in the oven. I also find that air frying is one of the best ways to reheat crispy foods or pizza, and it is the best way to cook up frozen appetizers.
It definitely has been worth it, and I use it almost every day. Which means my air fryer does deserves the space on my countertop.
What Is an Air Fryer?
Air fryer is the small kitchen gadget that has gained a lot of popularily recently. It is similar to a convection oven, but typically smaller in size.
How does an Air Fryer work?
Air Fryers work by circulating hot air. They have an heating element and fan inside on the top. The hot air circulates around the food in the basket and helps cook the food. The food gets crispy from the hot air without using much oil.
Food cooked in an air fryer is similar to roasting in the oven (not as much similar to deep frying).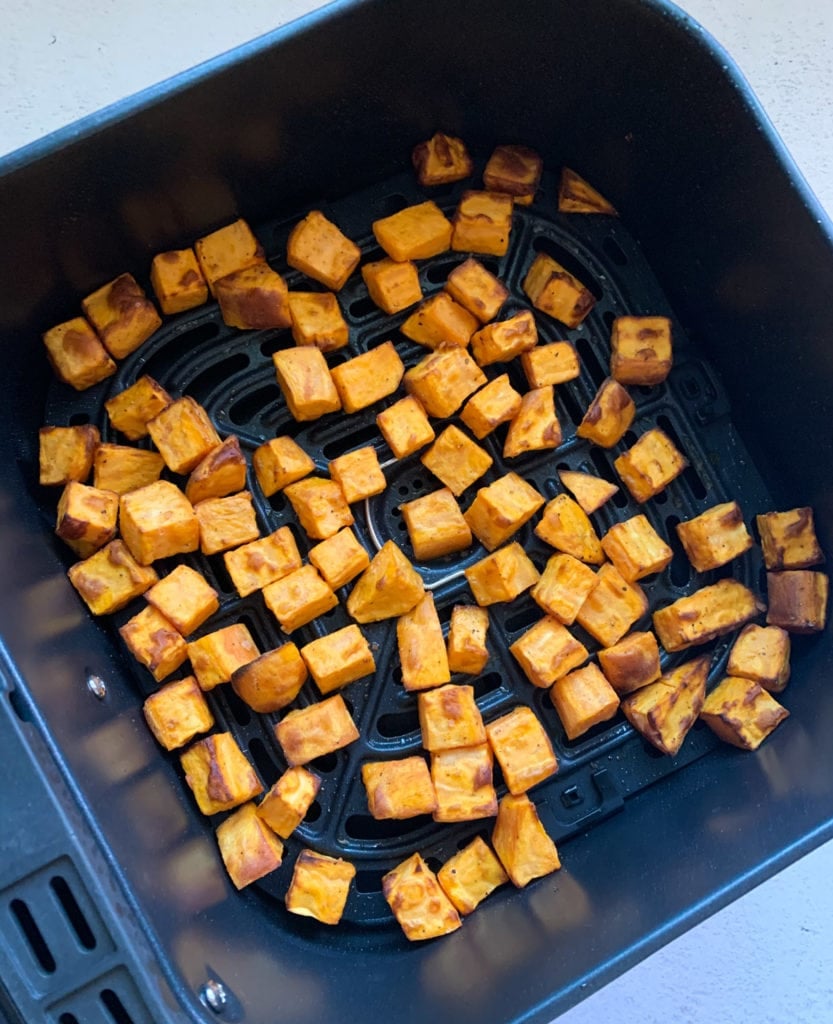 Check out my guide for how to use an air fryer.
Air Frying vs Deep Frying
Let's get it out there "air frying does not completely replace deep frying". Even though air fryers do a pretty good job crisping food, some things are still best to deep fry. eg. things that have a thin batter.
I always say that air frying is closer to baking or roasting in the oven, but is much quicker. The result is similar to roasting foods, making them light and crispy.
Comparing the two:
Deep frying uses a lot of oil, and the foods ideally need to be submerged in the oil. While air fryers can work with as less as a teaspoon of oil, so they can be considered healthier.
Deep fried food is crispier compared to air fried food. Air fried might seem a little dry compared to deep fried food, as typically much lesser oil is used.
Air fryer can be used for roasting, grilling, or even baking muffins or desserts. While a deep fryer can only be used for deep frying.
You cannot air fry light foods which might fly in the air fryer due to the circulating hot air. eg. popcorn or Indian papadum.
Air Fryer vs Convection Oven
You might be wondering if an air fryer is the same as a convection oven?
Well, technically it is. An air fryer is simply a smaller convection oven.
Air Fryer doesn't actually fry food, but rather makes it crisp by circulating hot air around the food, which makes it crispy.
Convection cooking does the same – there is a fan inside the oven which forces hot air around the food to make it crispy.
In the air fryer, as they are smaller, the fan is closer to the food which makes the food even crispier (not as much as deep frying), and even more quicker than the convection oven.
Air Fryer vs Oven
Traditional ovens are a little different than a convection oven, in that they dont have a fan to circulate the hot air. Ovens have a heating element at the bottom of the oven, and hot air rises up inside the oven cooking the food.
Air fryers have a heating element, and a fan similar to a convection oven to circulate hot air around the food. Air fryers are also much smaller in size, so the hot air is much more concentrated. This can result in faster cooking and crispier food.
Comparing the two:
It is not required to preheat an air fryer. Though it is best to preheat for some recipes. That said, preheating an air fryer takes just a 3-4 minutes compared to 10+ minutes for a traditional oven.
If using a basket style air fryer, you can skip the step of wearing gloves to handle the hot baking tray. You can hold the basket handle with your hands, and transfer the food easily by turning the basket.
Air fryers cook food in less than half the time compared to ovens, due to their smaller size.
On the other hand, ovens can cook large quantities at once. Typically air fryers are smaller in size, and depending on the need you might have o make multiple batches of food.
Air fryers are noisy. I have heard from friends that they have returned the air fryer as they did not think it will be as noisy.
What Are The Different Types Of Air Fryers?
Air fryers come in various shapes and sizes. I will categorize them in 3 main types:
1. Classic Air Fryers (with a basket)
These are the classic original air fryers which come with a basket to put the food in. You can further classify these in two types – egg and square shaped. The square shape air fryers usually have a larger cooking surface area, compared to the egg-shaped air fryers.
Egg Shaped:
Square Shaped: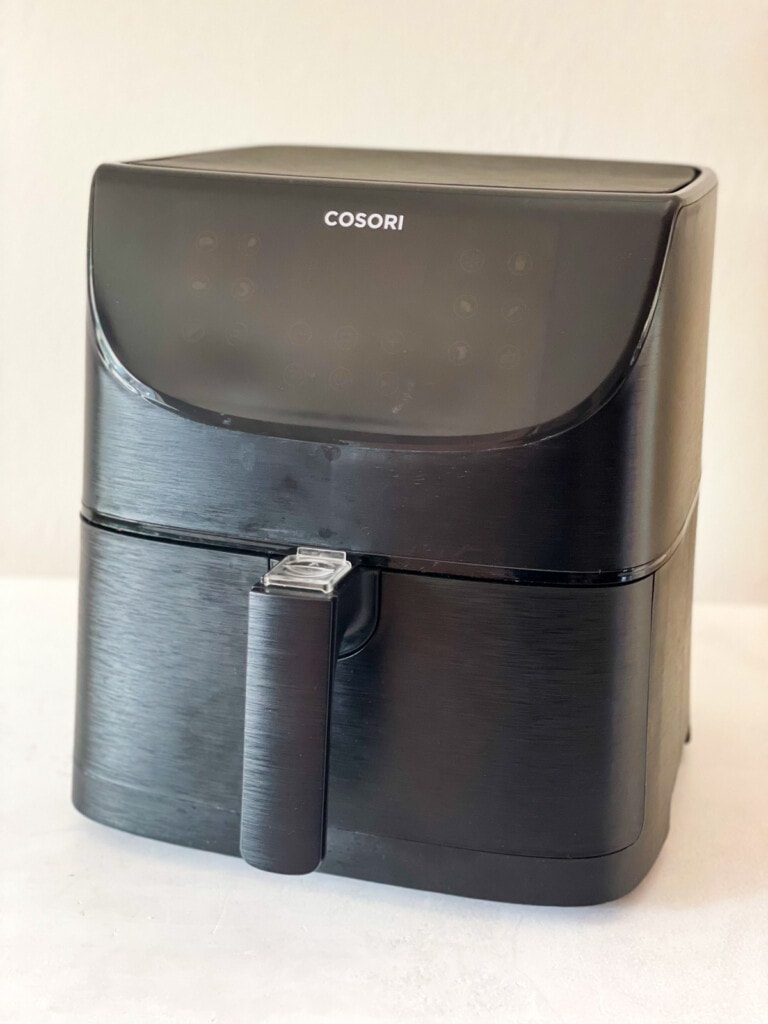 2. Air Fryer Lids
If you already own an instant pot, and have space constraints on your countertop, then air fryer lids are a great option. These convert the existing appliance "electric pressure cooker" that you own, to an air fryer.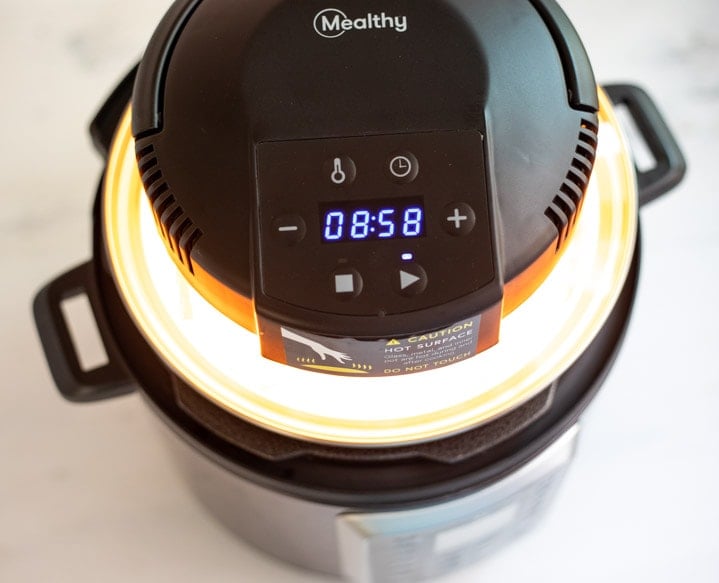 3. Air Fryer Toaster Ovens
These are typically larger in size than the classic air fryers, and perform the functions of a toaster oven plus an air fryer. As they are larger in size, they will definitely need the counter space.
Important Criteria to Choose an Air Fryer
1. Size / Capacity
This is actually one of the most important criteria to consider when choosing an air fryer. They can range from 2 to 10 quarts in size.
That said, what is important is to consider the size of the basket. Every air fryer has a capacity in quarts.
The air fryers say they are a certain capacity in quarts. However the surface area of the basket matters, as it is best to cook food in a single layer for it to crisp well with the hot air. You dont really care about the higher depth of an air fryer.
So what you are looking for is a wider basket, so that you can cook more quantity of food at once. This is why the square basket air fryers are gaining popularity, as they have a larger surface area to cook.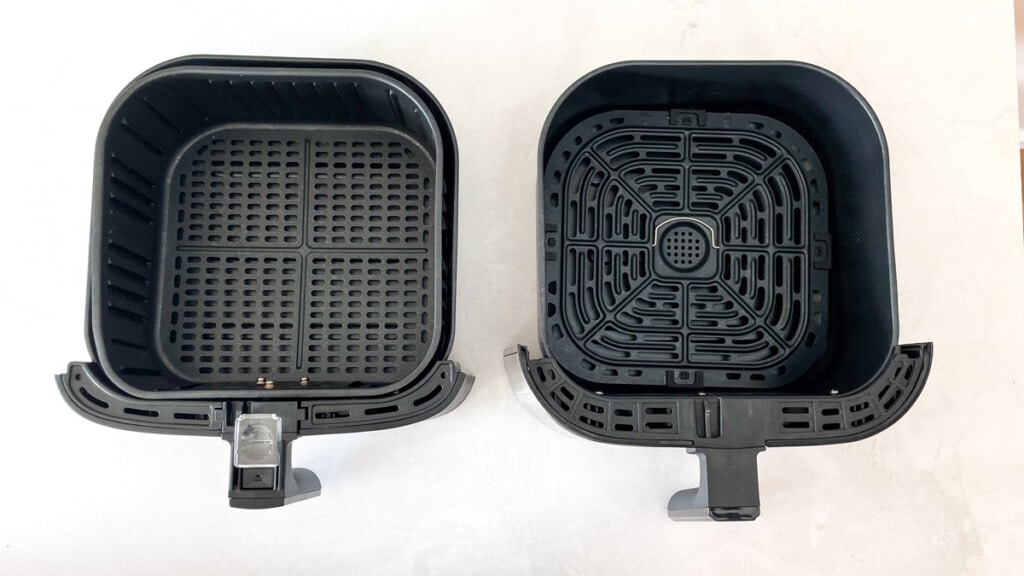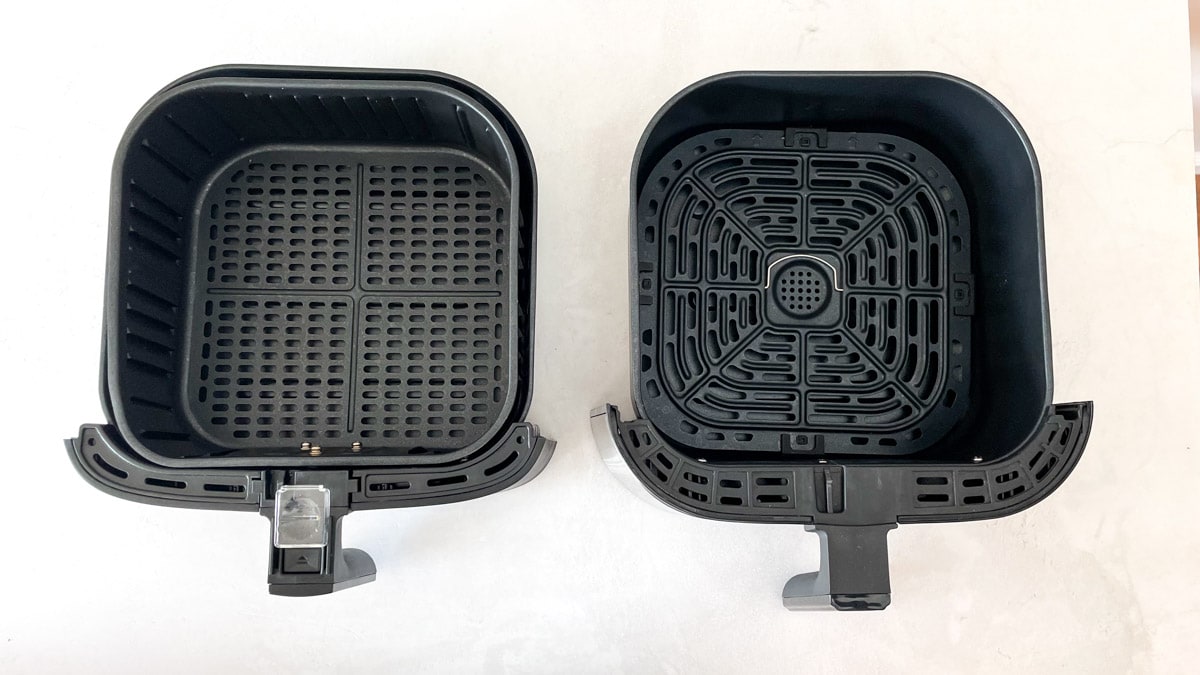 Now you want to consider how much food you will be frying?
If you are cooking for just 1-2 people and want to mostly make sides, then 2-3 quart air fryer will work well.
For a large family size air fryer, consider close to 6 quart in size. I am considering a family of 4 people.
For even larger families, definitely consider the larger air fryer toaster ovens.
2. Space
One other thing to consider is – Counter space.
If space is not an issue, you can choose any air fryer.
Depending on the side of the air fryer, they can be heavy and you would need to keep them on the counter. Also, I feel that you get the most value out of a gadget if it is visible and used often.
Air Fryers should be kept a little away from the wall, so you also want to think about having some space behind the air fryer.
Now, if you do need to keep the air fryer away in a cabinet, then consider a smaller size lighter basket air fryer which is easier to pick up and tug away.
Or you want to consider a air fryer lid, if you already own an instant pot. I personally prefer the stand alone air fryers, as I like to use both the instant pot and air fryer in parallel to speed up cooking dinner.
3. What foods you will cook
You want to consider what foods you are going to be frying and the different control settings or presets available on the air fryer.
That said, even without any presets the air fryers allow you to set the time and temperature. And with the abundance of recipes available online, it is not hard to find what temperature/time to cook a dish for.
Check out – 20+ Vegetarian Air Fryer Recipes.
4. Ease Of Use
This involves a few different aspects for me:
Ease of Cleaning: If the air fryer is hard to clean, you might not use it as much. Most air fryers are non-stick (with the exception of cuisinart toaster oven). The non-stick ones are not hard to clean in my opinion. If there is food stuck, I usually just add a little dish washing soap and fill the air fryer basket with warm water. Then let it soak for 20 minutes. This loosens the stuck food, and I can easily clean the air fryer basket.
Ability to easily shake food: This is the main reason why I love basket style air fryers. I can easily without needing gloves add, shake and transfer food for serving. No need for gloves. With an air fryer oven, you will have to wear gloves and flip foods by hand using tongs.
Ability to see food while it is cooking: Air fryer toaster ovens typically have a glass door, so you can see the food while it is being cooked without having to open the door. Now remember, you also lose some heat every time you open the door or remove the basket to shake the food.
Reminders: Some newer air fryers have beeping reminder when they finish preheating or when the food has been cooked half way through. These are super helpful so you don't have to put a separate timer. Of course, you also want them to stop beeping after few times, in case you don't need to shake the food.
5: Price
Now many people ask me, "How much do air fryers cost? I already have a oven, is an air fryer worth it?"
I will let you decide based on your family needs and the above criteria if you really need one in your kitchen (or life). I love the convenience of the air fryer, and totally find them worth it.
Now for the cost, air fryers can cost anywhere between $50 to $400 depending on the size and functionality. I know it is a wide range. The lower end mostly for basket air fryers, and the higher for larger air fryer toaster ovens.
But for most uses, I find my $120 Cosori air fryer or the $100 instant vortex air fryer to do the job well.
If you want the air fryer to do all the functions such as bake, roast, etc well. Then splurge on a larger toaster oven.
What is the best air fryer?
Unfortunately, there is not one air fryer I can recommend here. You want to consider the above criteria to pick the right air fryer for your family's needs.
That said, I have used Philips air fryer, instant vortex air fryer, cuisinart air fryer toaster oven, mealthy crisplid that sits on top of the instant pot and the Cosori air fryer.
Of all these, Cosori has been my favorite.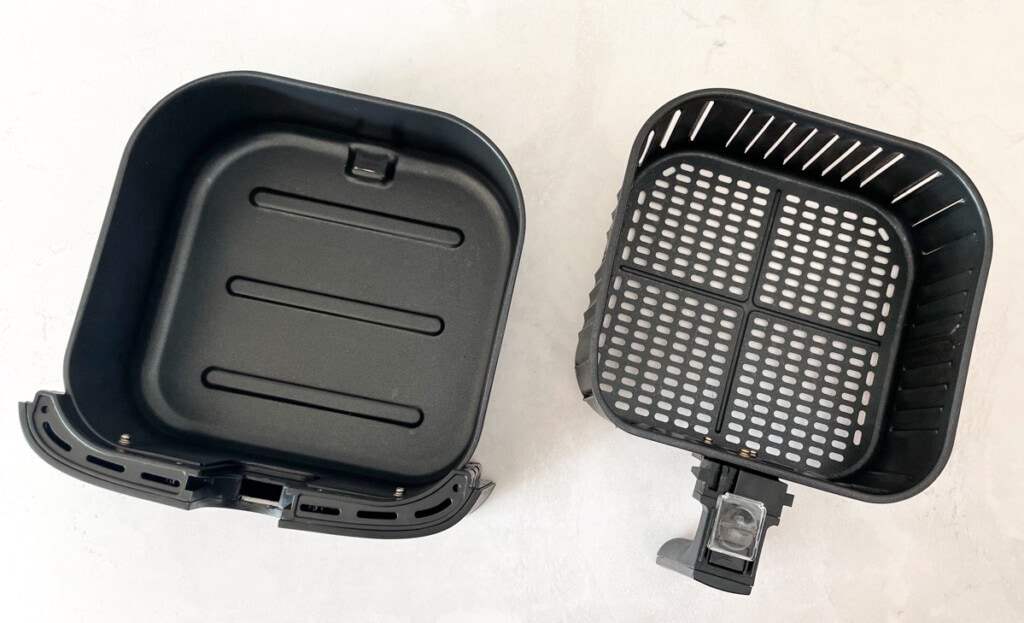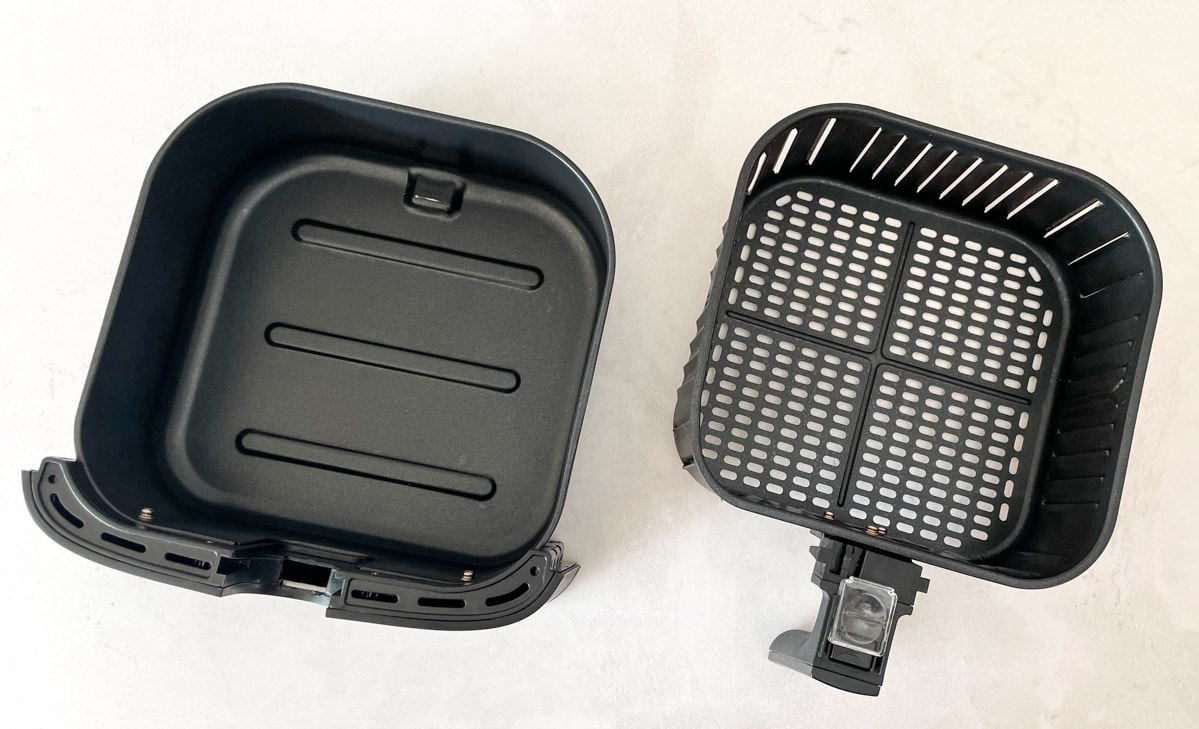 The second best was the instant vortex air fryer. The only thing that I did not like about this one is that sometimes when turning the basket to transfer the food, the tray would fall out.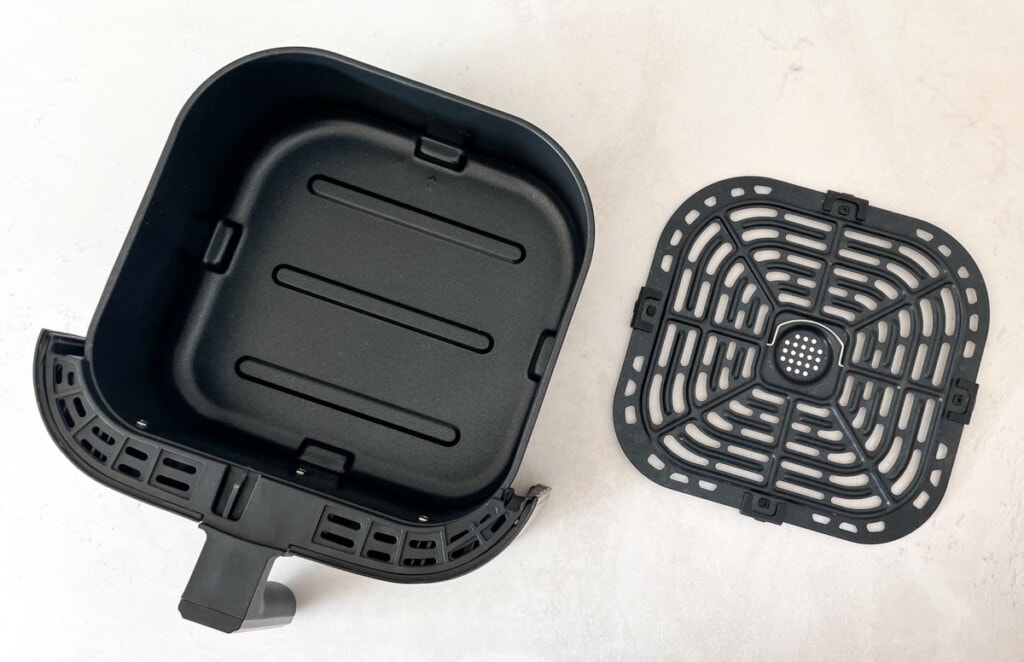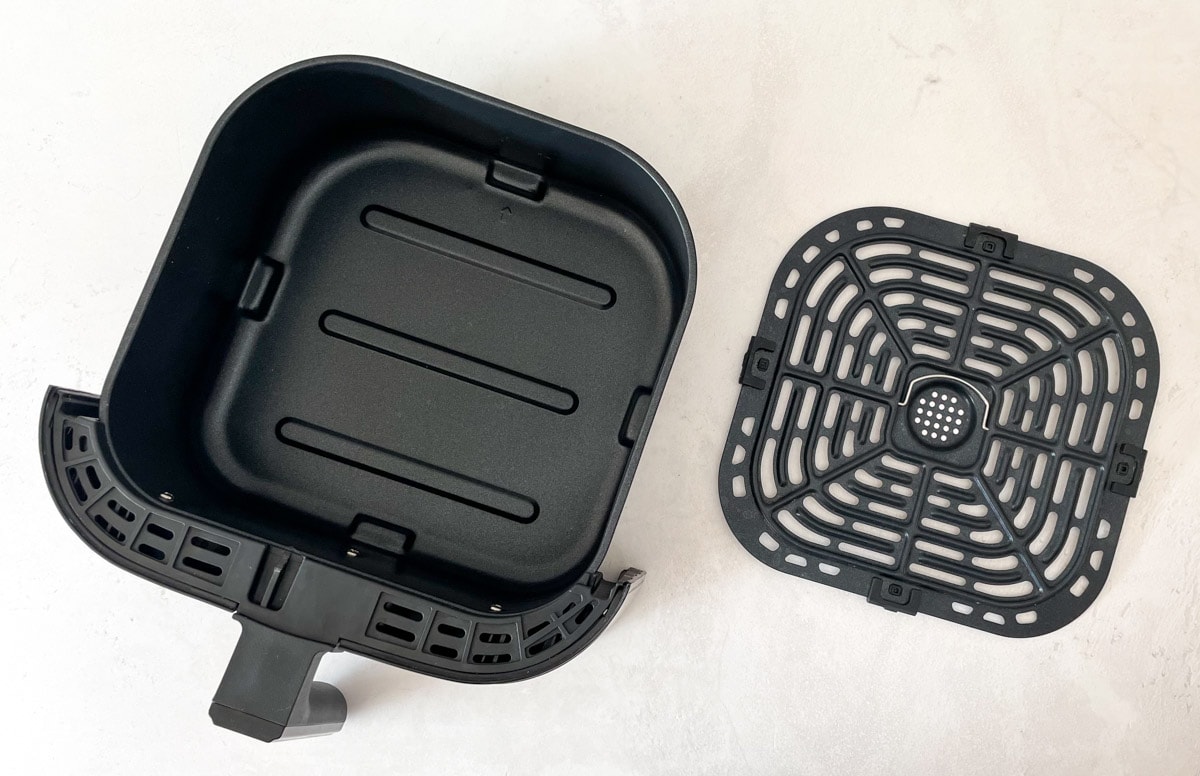 Of course, I like the larger cooking surface area of the square basket, along with all the ease of use features I mentioned above. It has the high temperature up to 400F, presets, and the non-stick basket that is easy to clean.
I hope you found the details helpful and are able to get the best air fryer for your needs. If you have any additional questions, please leave them in comment below and I will be sure to answer them!
Check out more helpful resources: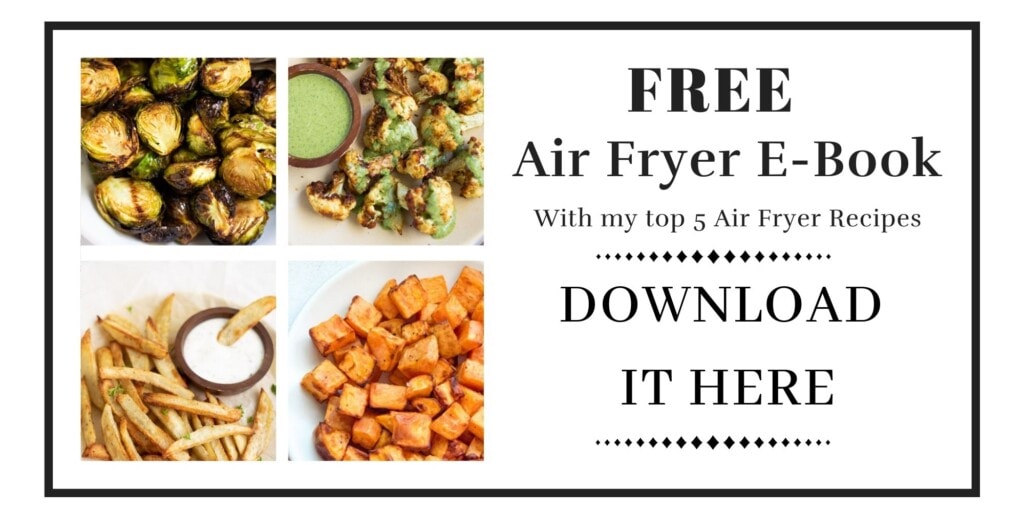 Learn about how to use an air fryer and the most useful air fryer accessories.