Vada Pav is the humble street food of Mumbai, that every person can afford and find easily. These can also be called Spicy Potato Sliders. A fried potato fritter or vada, is stuffed in between mini-burger buns called pav, along with sweet and spicy sauces or chutney.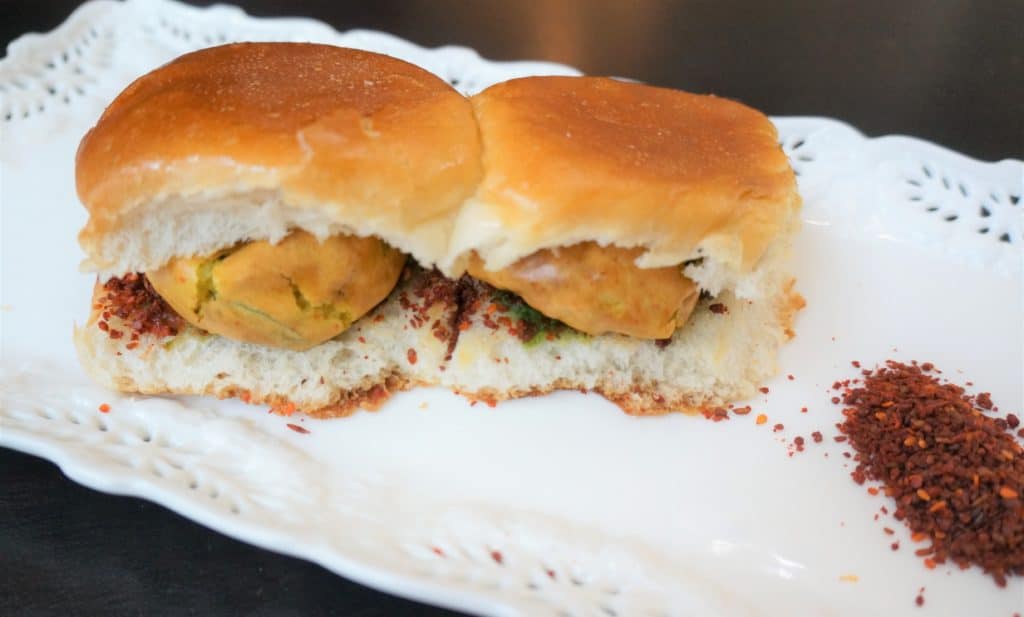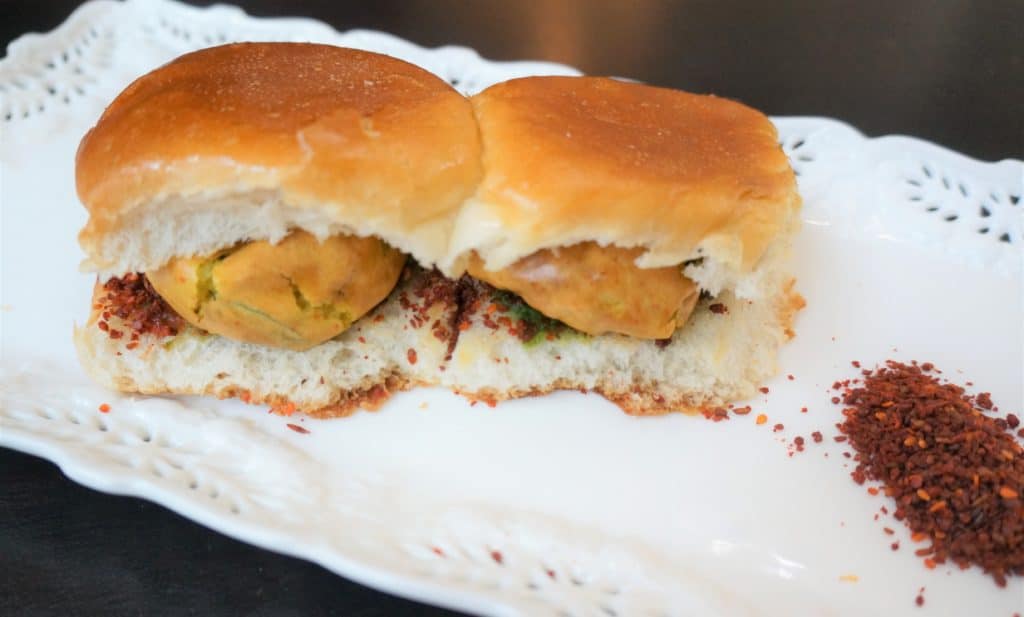 I come from Mumbai, the city with busy local trains, bustling streets and VADA PAV! The most popular, yet humble street food in Mumbai. Vada Pav is something that every Mumbaikar can afford and easily find on their way to work, at the bus or train station or at food carts outside schools or colleges. People literally have vada pav any time of the day, for breakfast, lunch or for a quick snack. Check out other popular mumbai street food – Onion Pakora, Pav Bhaji, Sev Puri and Khaman Dhokla .
Vada Pav is also known as Batata Vada, where Batata is potato in Marathi and Pav is bread, similar to dinner rolls. They are typically served with a spicy garlic chutney.
If I had to draw a parallel with American food, I would call this Indian Burger or better yet, Potato Fritter Sliders. They do resemble sliders a lot with the fried potato fritter, stuffed in between of a mini-burger bun or dinner roll, along with sweet and spicy Indian sauces (or chutney).
I used to enjoy Vada Pav at a small street stall in Malad in Mumbai. Even though this was a roadside stall, they served the best vada pav I have ever had. Here is why I call this one the best – Pav heated with loads of butter, Mint Chutney and Tamarind Chutney added along with the spicy garlic chutney, and finally some chopped onions added to make it the perfect slider! Oh…and some fried green chilies on the side.
Growing up, we used to avoid eating vada pav at roadside stalls, obviously one reason was thinking about hygiene. The other reason was my mom made delicious vada pav at home. So why eat out? Now this stall in Malad which I mentioned earlier did not exist at that time either.
Today, I will share my mom's best vada pav's, but with a twist – these are healthier and hardly use any oil. Let me present to you – Air Fryer Vada Pav.
How to make Vada Pav in the Air Fryer?
Maharashtrian Vada Pav has 3 important parts: The Vada, The Pav and The Chutney(s)
Air Fryer Vada
The main ingredient for Vada is potato. You boil the potato, mash it, then temper it with spices. Then prepare balls from the spiced mashed potatoes, dip them in chickpea flour batter and fry them, or in our case air fry them.
I started with boiling the potatoes in my beloved Instant Pot. You can always use a stovetop pressure cooker to boil potatoes too. I do this beforehand and remove the skin of the potatoes, as a meal prep step, so I am not spending that additional time when I am ready to make the vada's.
Then the next step is to prepare the chickpea flour or besan batter. Just add some basic spices, salt, some oil, mix in with some water to prepare a smooth thick batter. We are keeping the batter thick, as we want to air fry the vada's.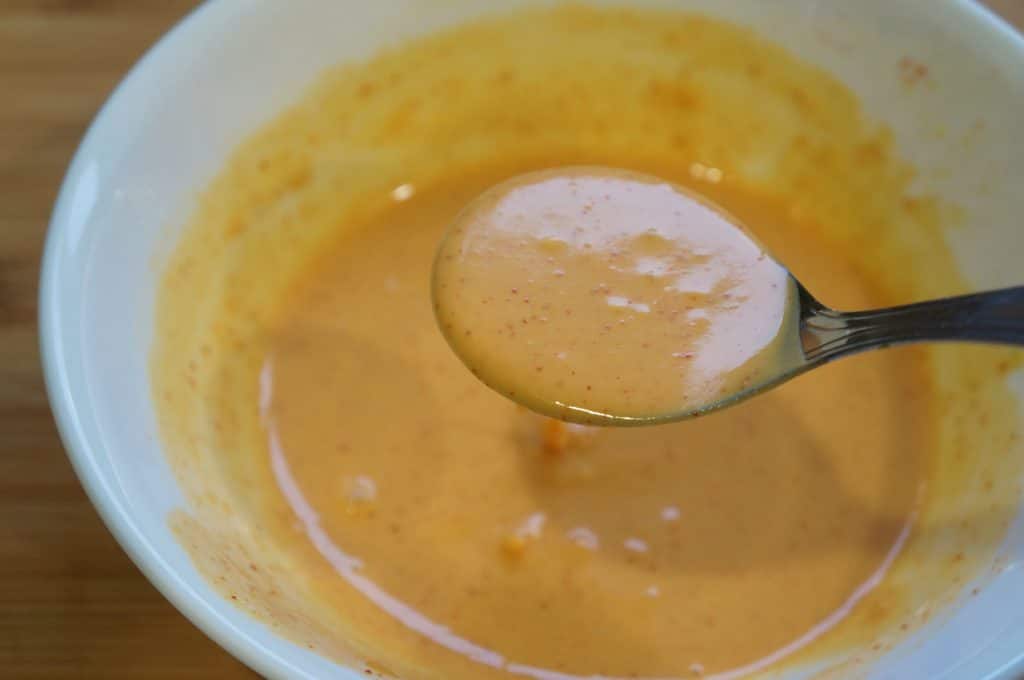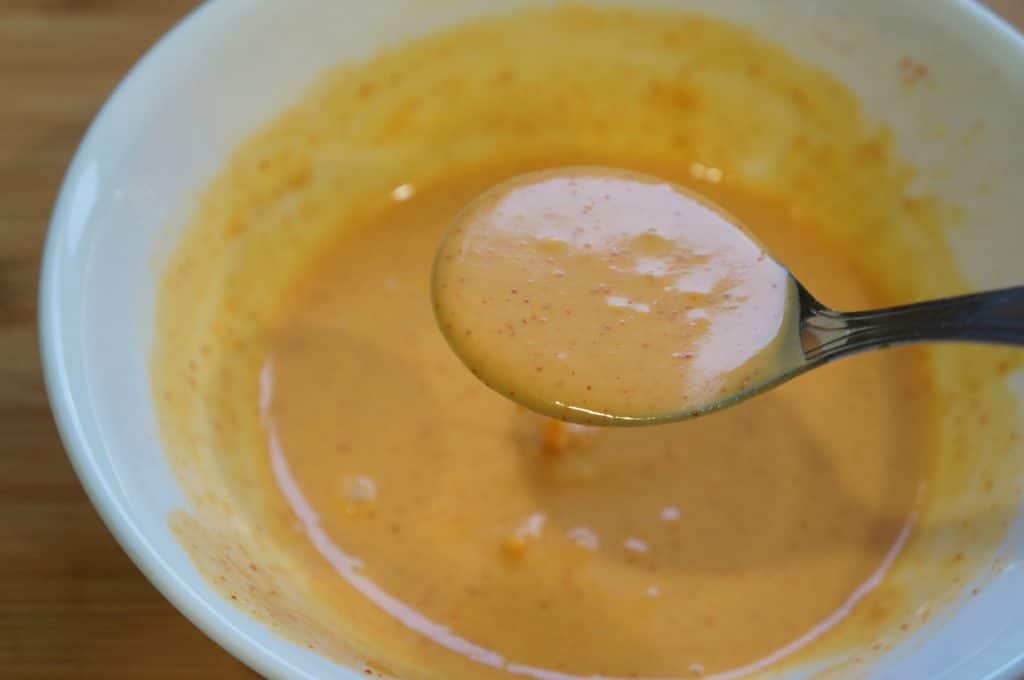 Next step is to temper the potatoes. Take the boiled potatoes and mash them using your hand or a potato masher. In a pan, heat oil and add the tempering ingredients such as mustard seeds, curry leaves, ginger, garlic, chilies and lots of turmeric. Then add in the mashed potatoes and mix them well.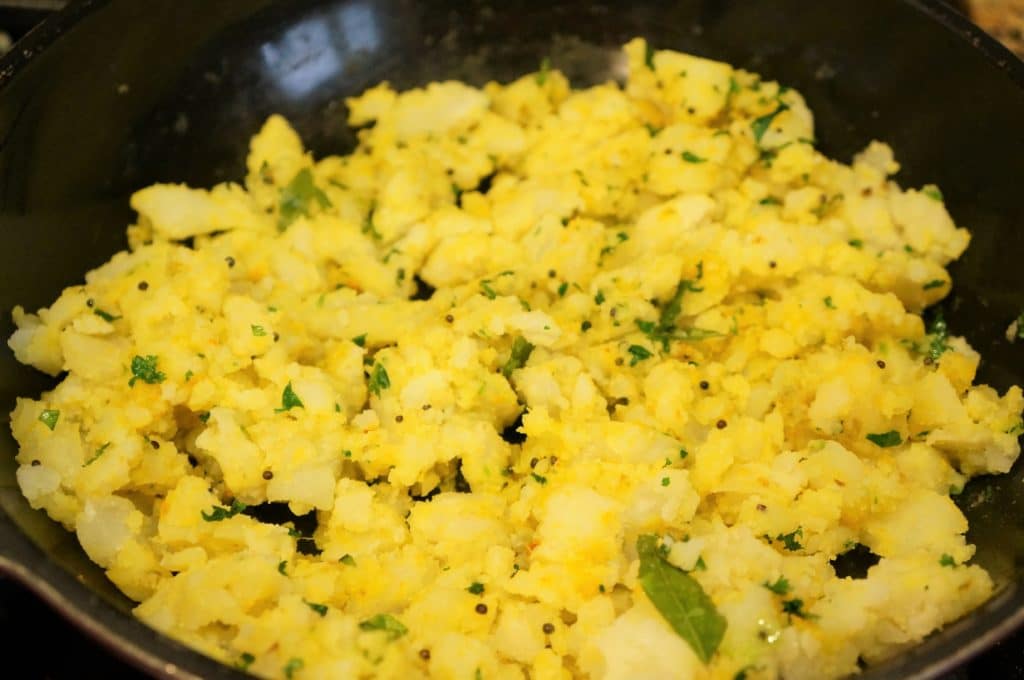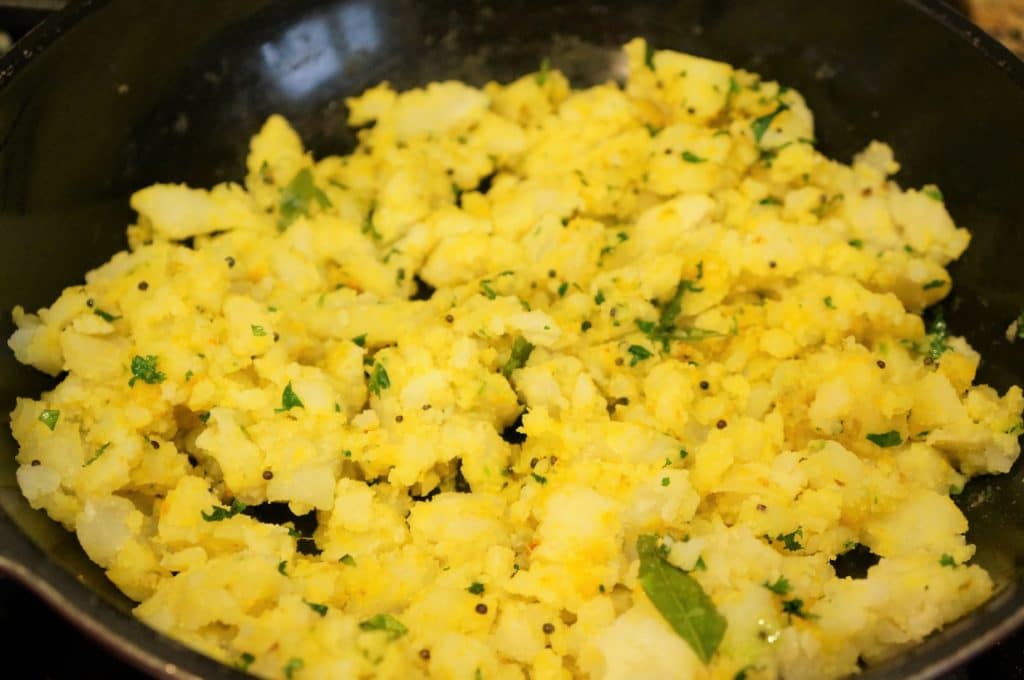 So our potatoes are ready for the vada's. Now make small balls with them, using your hands.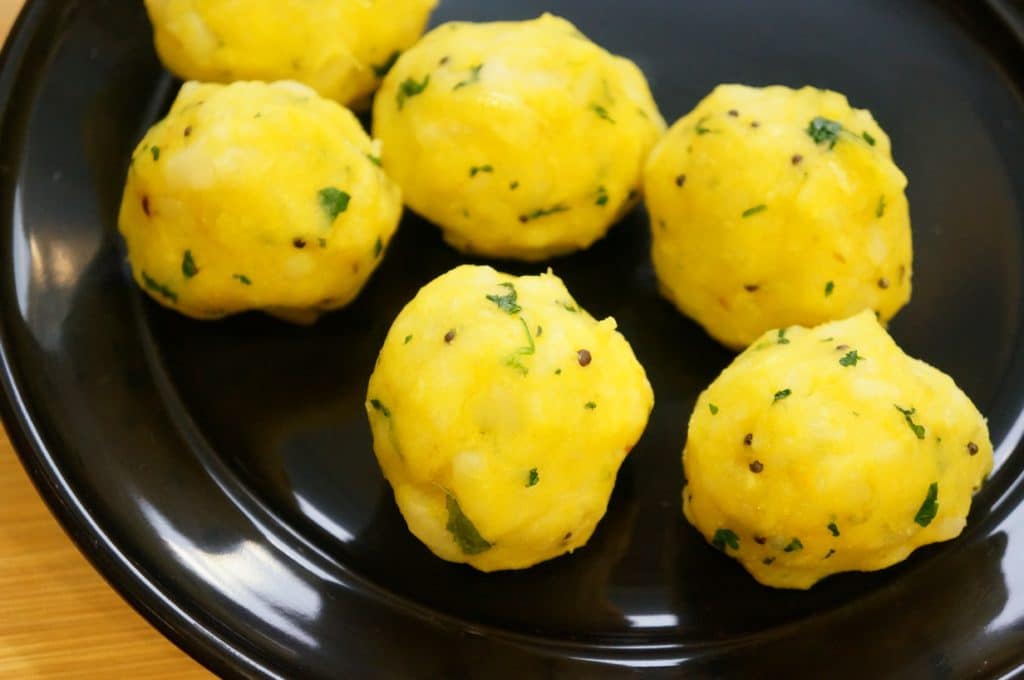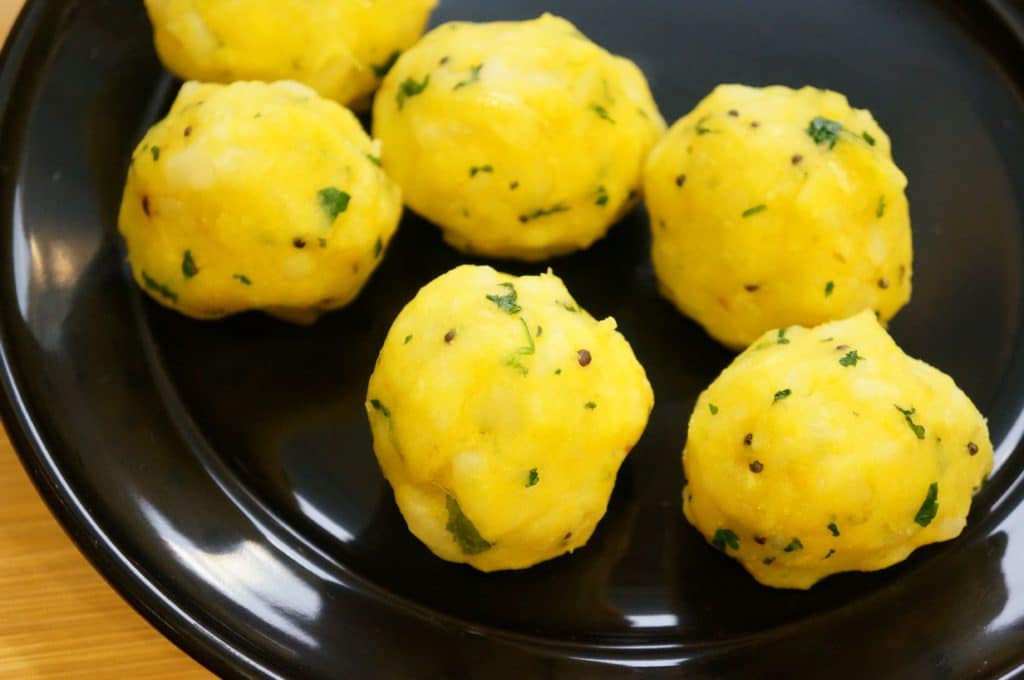 Brush some oil on the air fryer grill pan. Dip the vada's in the chickpeas flour mixture and place on the Air Fryer grill pan. Cook at 390°F for 14 minutes.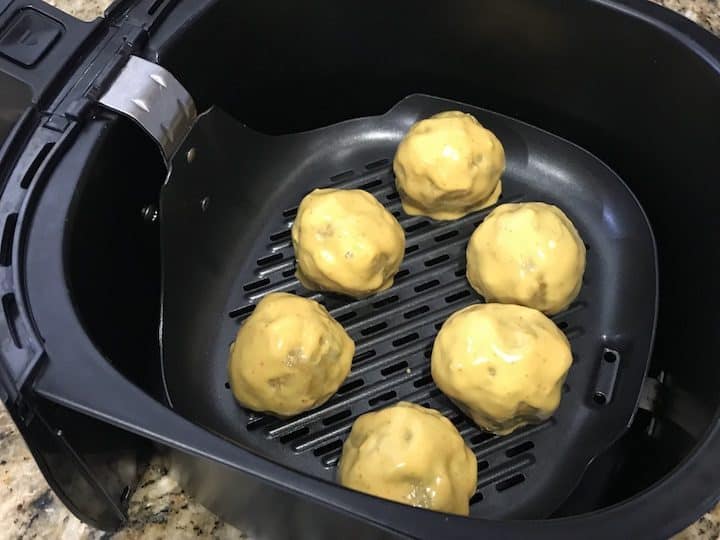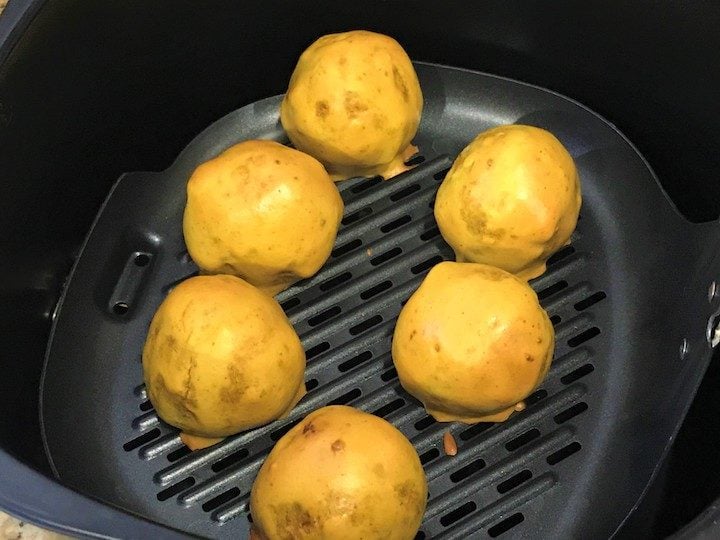 You might ask –
Don't they stick to the grill pan? Not much, as we brush oil before placing the vada's. But they might still take just a little effort to pick up intact.
Doesn't the batter drip? Remember, we made a thick batter. But still there will be few drops dripped in the air fryer. These came off easily with a kitchen towel paper and really did not create a mess.
Are the vada's as crispy as deep fried on a stovetop? They are not as crispy as when deep fried, however they taste great and we enjoyed the Vada Pav. I feel this is a good compromise and totally worth it, so we can enjoy this dish more often and guilt-free.
Chutney for Vada Pav
I like to add 3 chutneys to my vada pav – The main is the chili garlic chutney, then the mint cilantro chutney and the tamarind chutney. Again, I handle these as meal preparation items and prefer to prepare them before hand.
This time I just bought the chili garlic chutney from the store. You can easily find it at Indian grocery stores. You can also make it at home. Here is my recipe for dry garlic chutney.
I prepare the Tamarind Date Chutney in the Instant Pot, which takes about 30 minutes to prepare. This chutney stores well for up to a month in the refrigerator, so I make it once and use it for multiple dishes. The Mint Cilantro chutney is a no cook chutney and can be made in a blender such as Vitamix in just 10 minutes.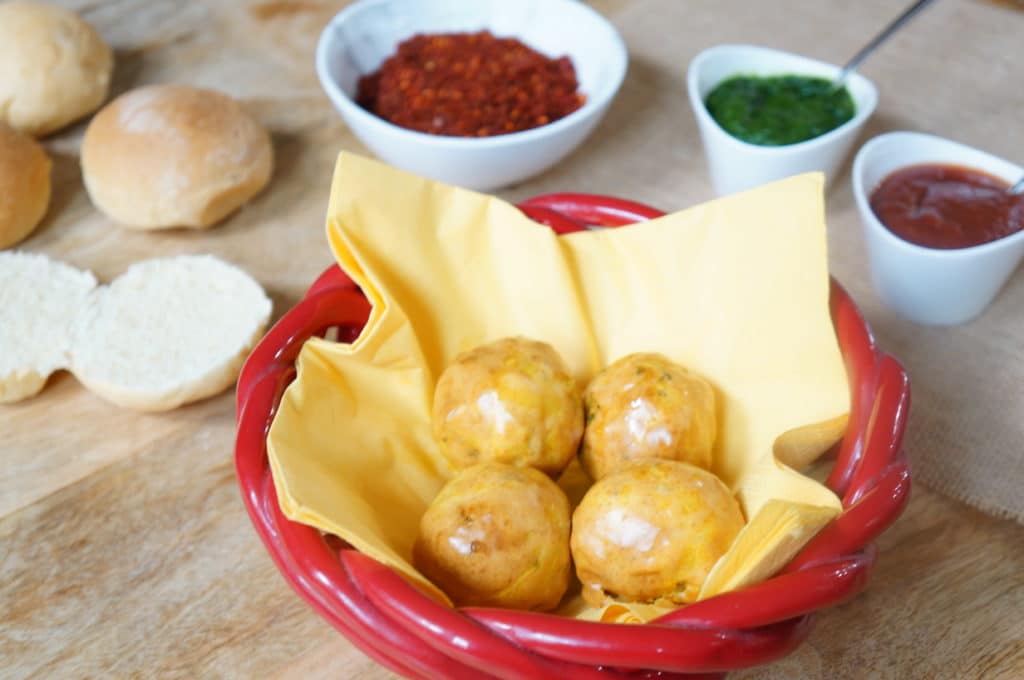 Pav or Dinner Rolls
The last thing you need for Vada pav is the pav itself. You can buy these at indian grocery stores. If they are not accessible, dinner rolls work great. Preferably the non-sweet one's.
This is completely optional, but who does not love butter on pav! Apply a cut on one side of the pav and heat them along with butter on a pan. Apply the chutneys one by one, then place the vada in between the pav and press it gently.
Want to make this a favorite game day appetizer? Just change the pav to use slider buns. Oh…I am in love with these cuties!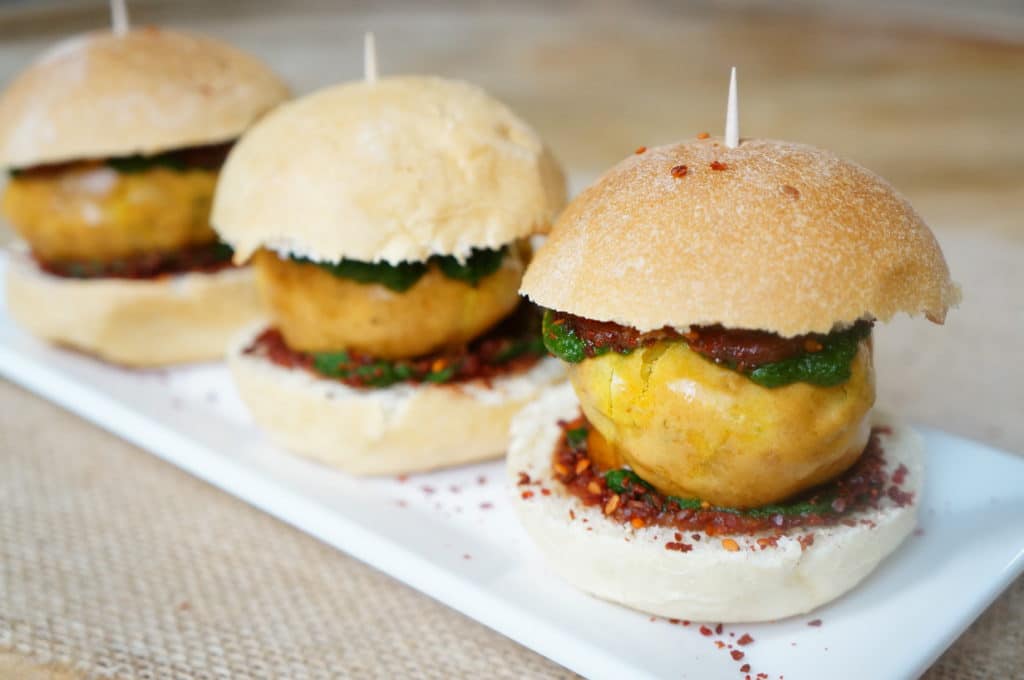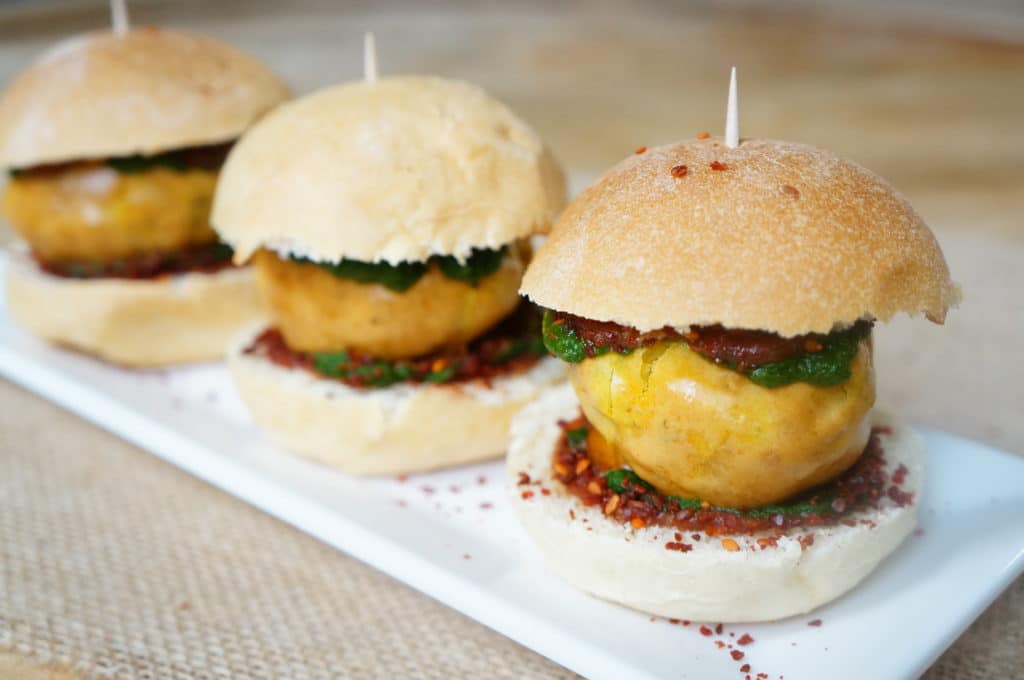 Check out more Maharashtrain recipes: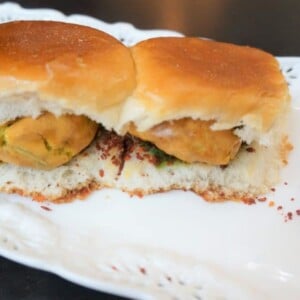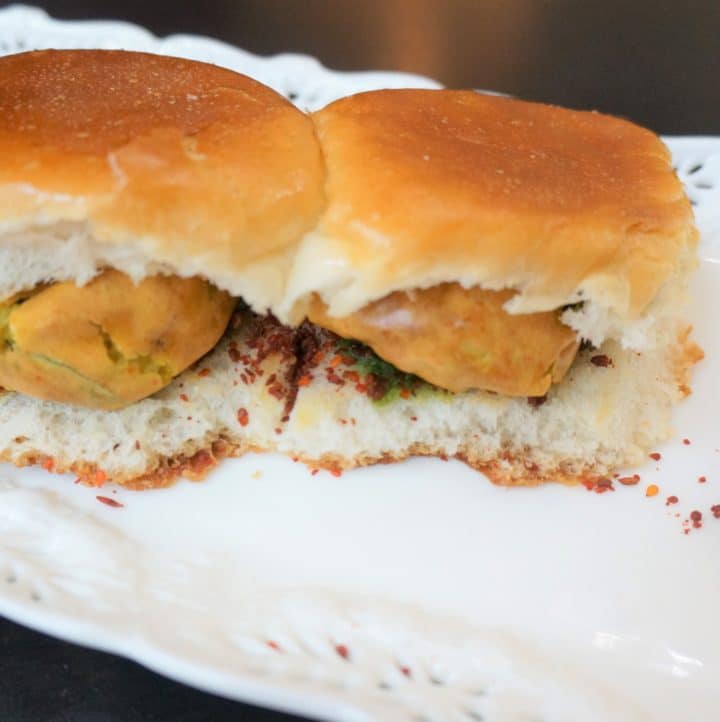 Vada Pav / Potato Fritter Sliders – Air Fryer
Vada Pav is the humble street food of Mumbai. A fried potato fritter or vada, is stuffed in between mini-burger buns called pav, along with sweet and spicy sauces or chutney.
Ingredients
Instructions
Preparing batter
Mix all batter ingredients together to form a thick smooth paste. Let this batter rest until you prepare the stuffing.
Preparing stuffing
Mash the boiled peeled potatoes using your hand or a potato masher. You want them broken down, but not mushy.

In a pan on stovetop (or in the instant pot on saute mode), heat oil. Add the mustard seeds, curry leaves. Let the mustard seeds pop.

Add asafoetida, minced green chili, ginger, garlic and saute for 30 seconds until the raw smell is gone.

Add salt, turmeric, cilantro and then quickly add the potatoes. Mix well.

Add lemon juice and mix well with the potatoes. Take the potato stuffing off heat and let it cool.
Preparing Vada
Make small to medium sized balls with the potato stuffing using your hand.

Brush oil on the air fryer grill pan.

Mix the batter you prepared so it is smooth. Dip the potato balls in the batter, coat evenly and place them on the air fryer grill pan. Depending on the space you have add 4 or more at once, keeping space between the vada's.

Set at 390°F in Air fryer for 14 minutes. Check half way through.

Carefully remove the vada's from the grill pan.
Preparing vada pav
While the vada are being prepared, apply a cut from one side on the pav (or slice them into 2 pieces).

Heat butter on a pan and place the sliced pav on it. Lightly toast on one side and then turn to toast on the other side.

Apply tamarind and green chutney on one side. Add some dry chili garlic chutney. Place the cooked vada in between the pav and press gently. Serve immediately.
Video
Nutrition
Calories:
361
kcal
Carbohydrates:
52
g
Protein:
11
g
Fat:
12
g
Saturated Fat:
3
g
Cholesterol:
10
mg
Sodium:
774
mg
Potassium:
679
mg
Fiber:
7
g
Sugar:
3
g
Vitamin A:
245
IU
Vitamin C:
41.3
mg
Calcium:
151
mg
Iron:
6.6
mg