Who doesn't love easy, flavorful, and healthy recipes? An air fryer lets you make food with less oil. This collection of Air Fryer Indian Recipes has plenty of choices for appetizers, main course, and side dishes that are extremely flavorful!
Indian food has been growing in popularity all over the world. Why wouldn't it? It is so flavorful and healthy, with all the wonderful spices and a variety of vegetarian and gluten-free options.
Indian cooking can sometimes be elaborate and take a lot of time. What I love about the air fryer is that most of the cooking is hands-free and does not need my active attention. With so much less time, you only have to season the meats or veggies and put them in the air fryer. Then relax or do other things while your food gets cooked.
You won't believe there are so many things you can cook in the air fryer, from main to sides, from dessert to snack, everything with so much less oil. And they all taste amazing.
An air fryer is great for cooking vegetarian food, as well as chicken and seafood. Here you can find my collection of 20+ vegetarian air fryer recipes.
Let's look at some of the Best Indian Air Fryer Vegetarian Recipes:
Aloo Gobi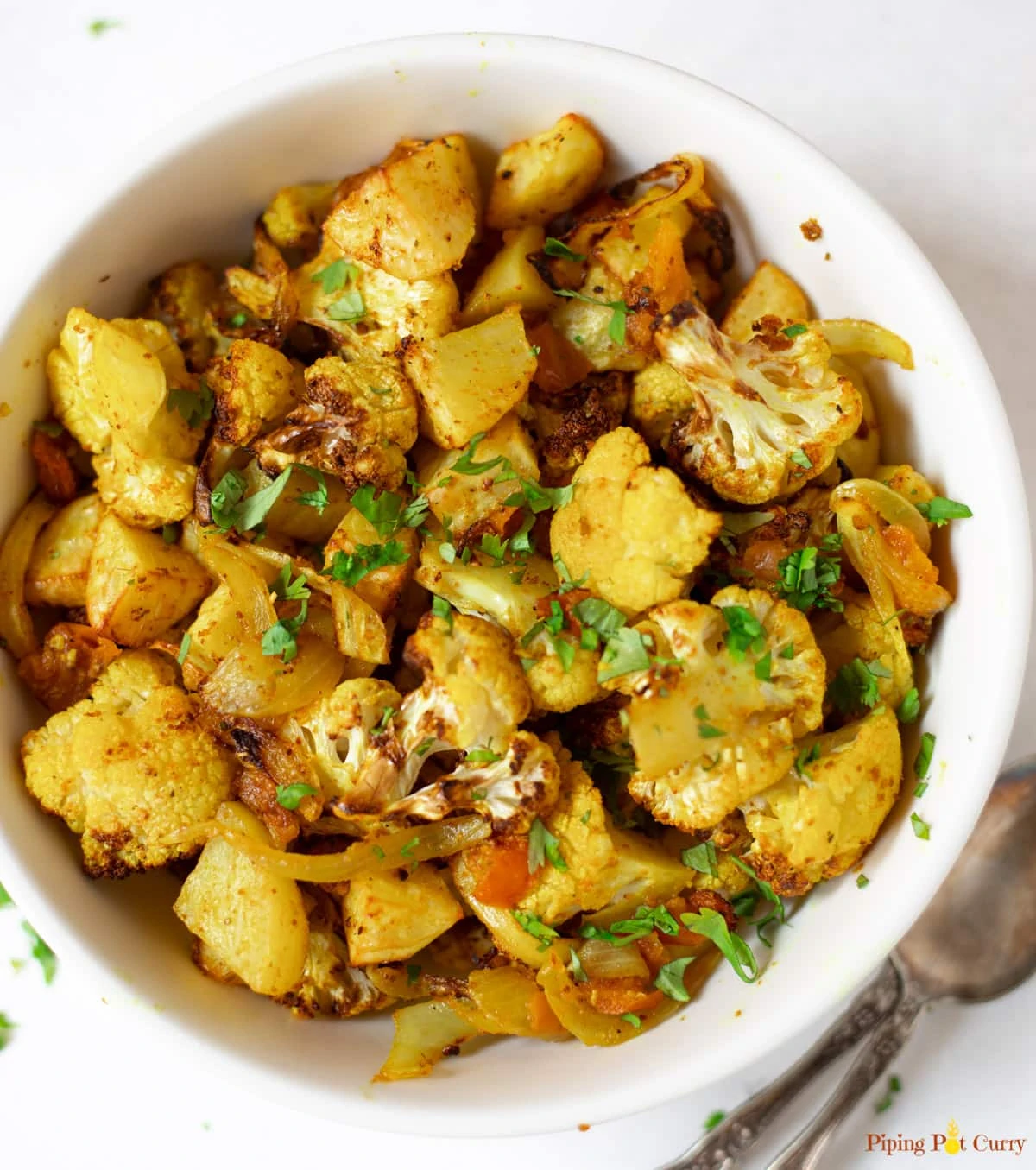 Aloo Gobi is one of the most loved North Indian side dishes. It is not only popular to order at restaurants but also something made frequently by home cooks.
This Roasted Aloo Gobi is so good! All you need to do is toss cauliflower and potatoes in spices, roast in the air-fryer or oven, and have the perfect Indian veggie dish. No mushy cauliflower, and it takes less than 20 minutes to put together!
Onion Bhaji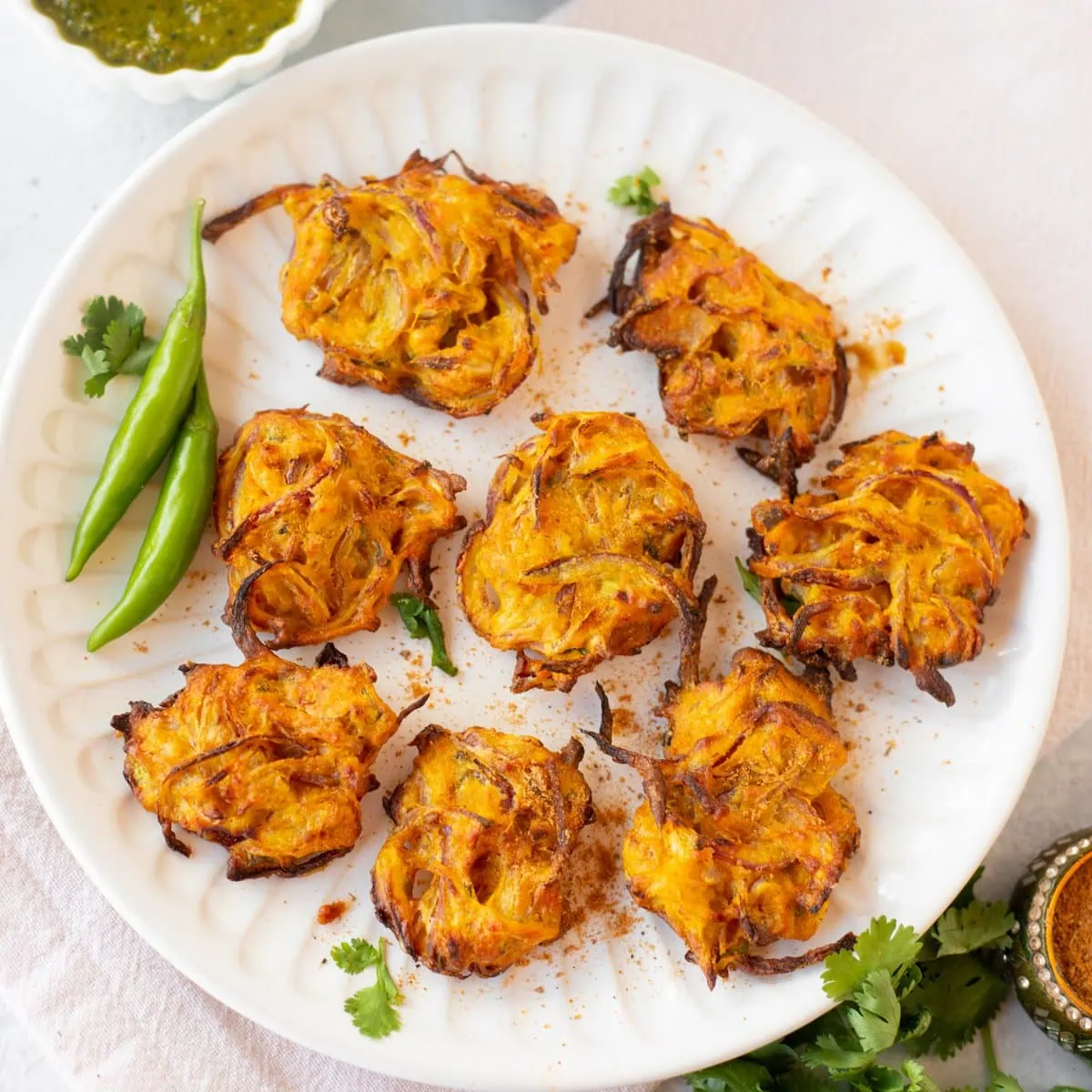 The crispy and golden Air Fryer Pakoras are cooked to perfection! These Air fried onion bhajis are made with sliced onions, gram flour (besan), and spices.
These crunchy, flavorful fritters are a perfect snack with a cup of masala chai!
Tandoori Aloo Tikka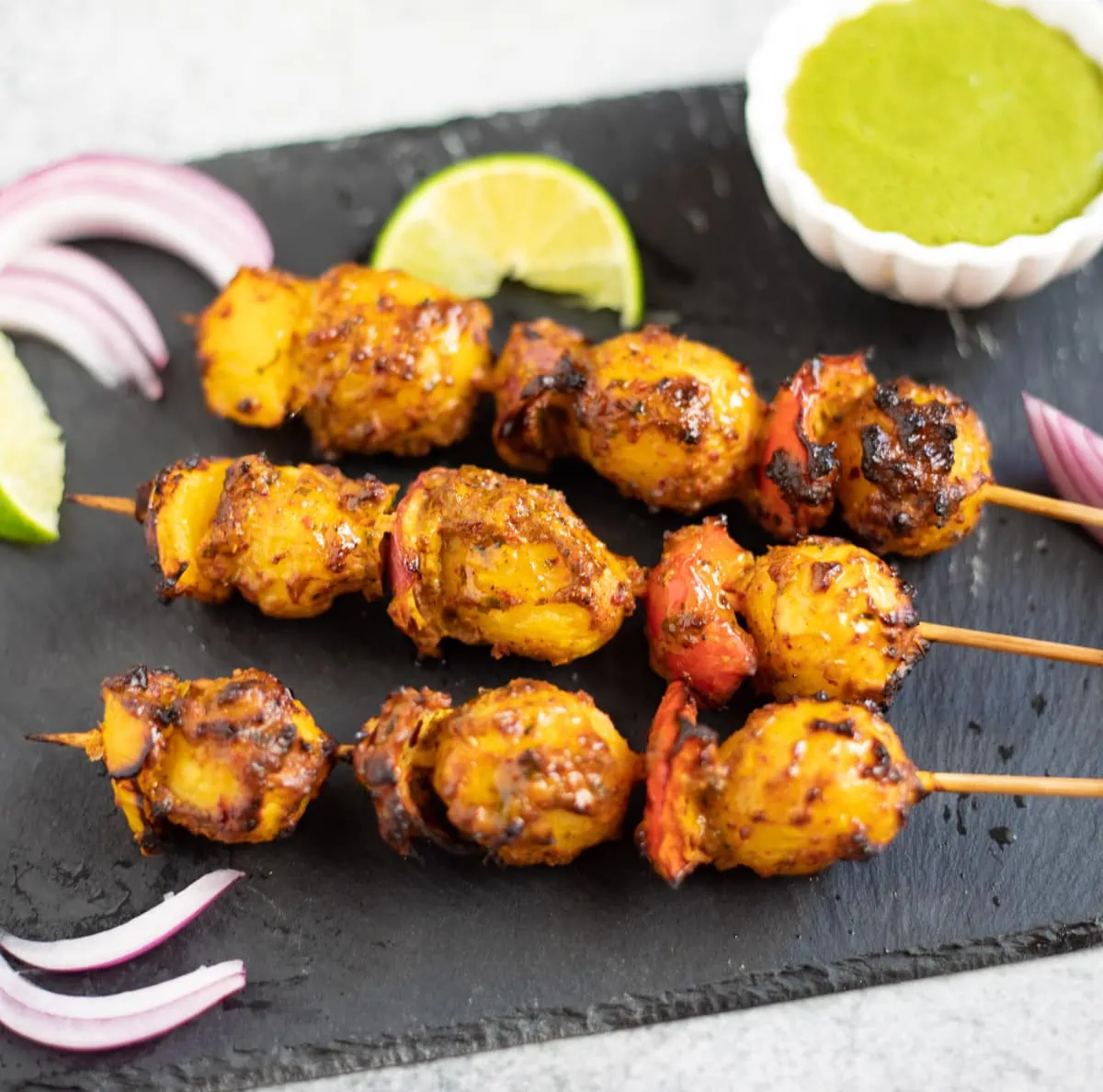 Baby potatoes are marinated in a delightful combination of yogurt and spices, then threaded onto skewers and cooked in the air fryer to create this heavenly appetizer.
You can make these potatoes without the skewers too. They are perfect for a vegetarian tandoori starter.
Paneer Tikka (Air Fryer, Oven & Grill Recipe)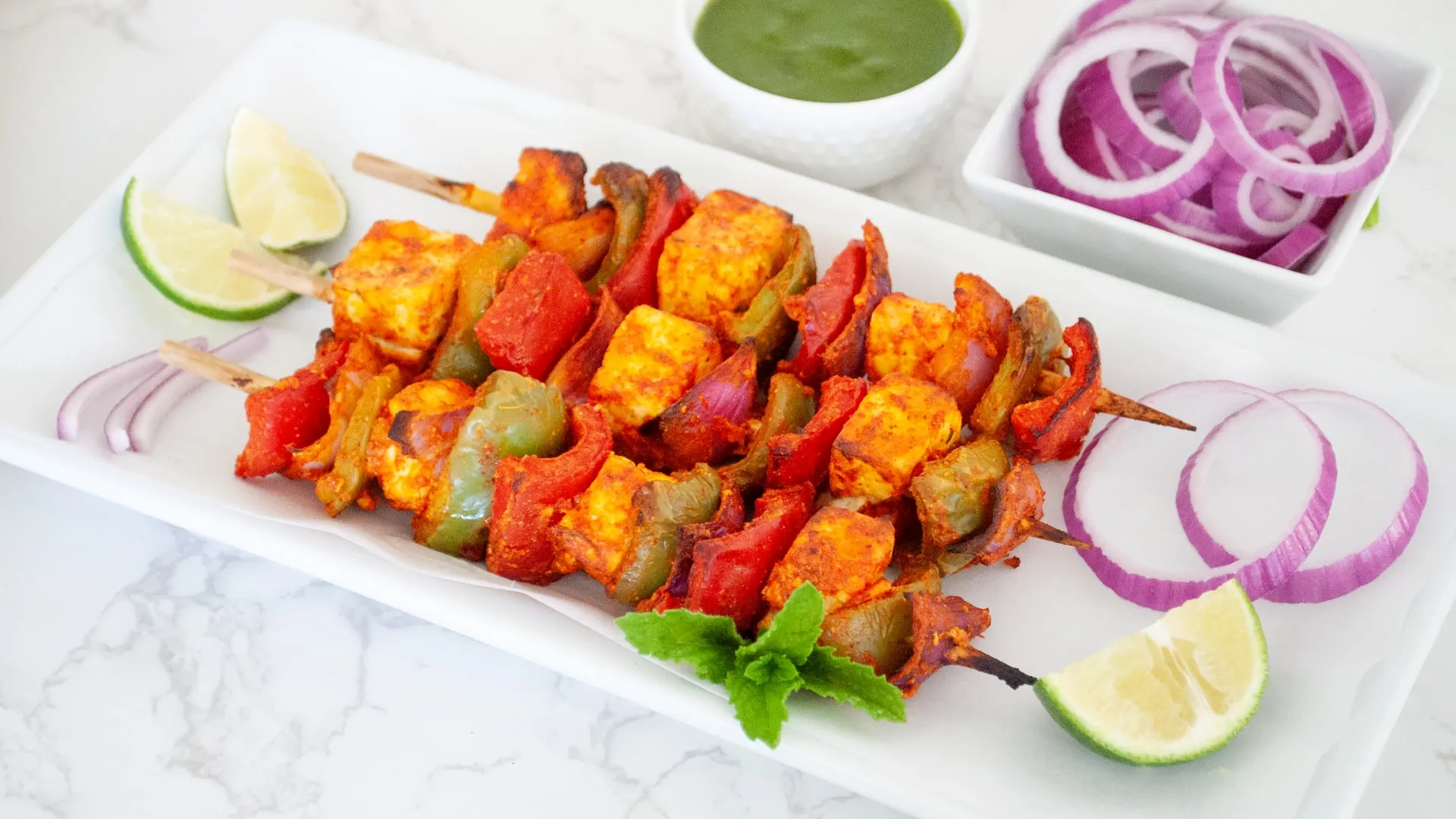 The best restaurant-style Tandoori Paneer Tikka at home. With marinated paneer and crispy vegetables, this Indian appetizer is packed with lots of flavor. Enjoy paneer tikka with this easy recipe in the air fryer, oven, or grill!
Hariyali Paneer Tikka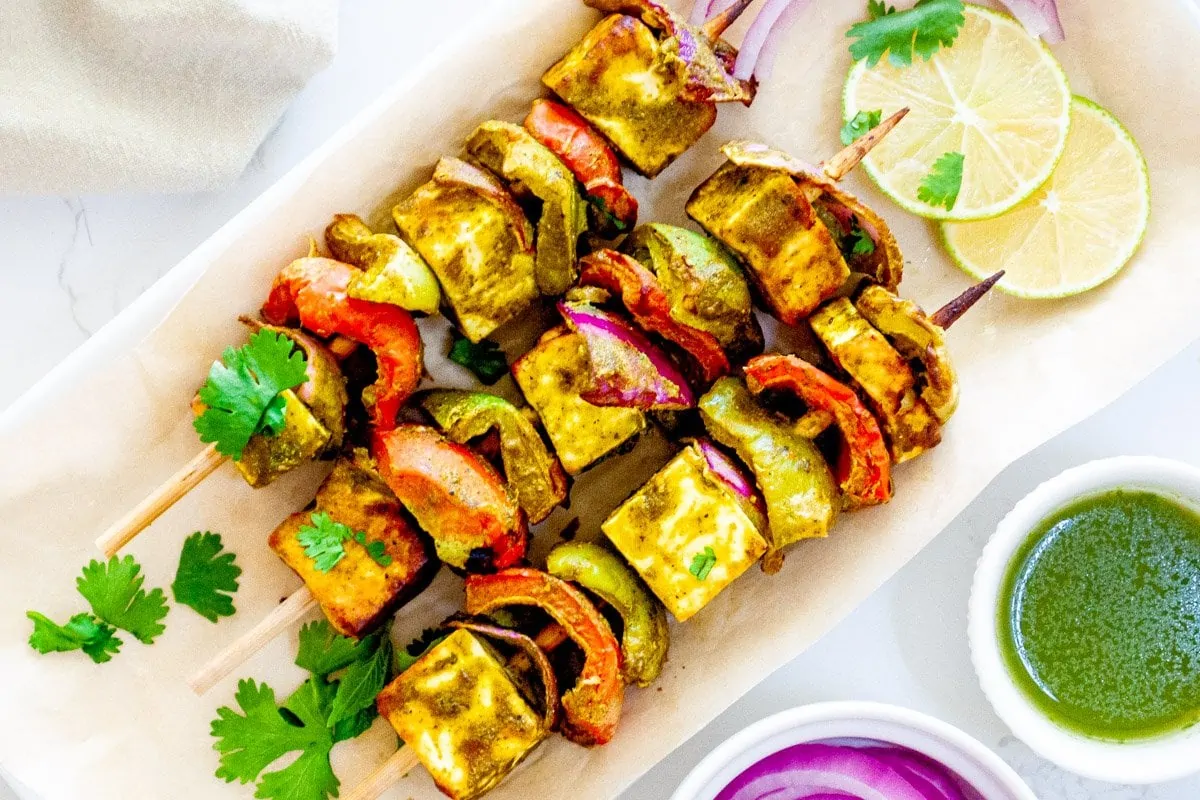 Hariyali Paneer Tikka is a delectable Indian appetizer made with cubes of soft paneer, crisp bell pepper, and onions marinated in cilantro, and mint, along with yogurt and spices. Enjoy this quick and easy Haryali paneer tikka that can be made in the air fryer, oven, or grill!
Tandoori Paneer Naan Pizza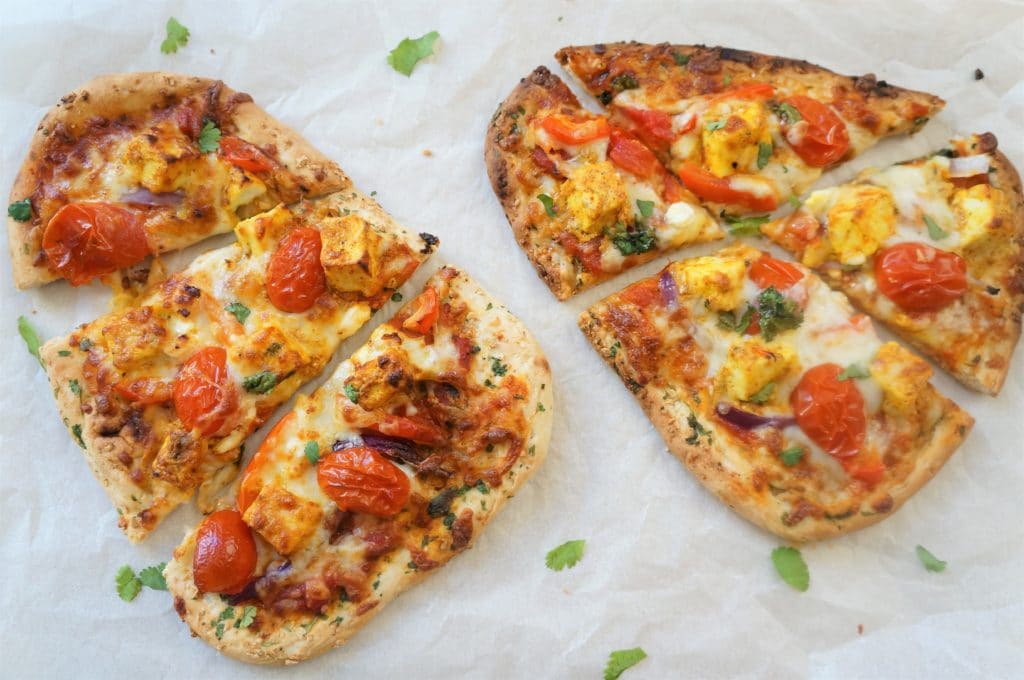 Who doesn't love a good pizza? And this quick and easy version using naan as a base is amazing. Vegetarian, easy, and convenient.
Tandoori Paneer Naan Pizza is made with marinated paneer, red peppers, onions, and grape tomatoes. Vary it with toppings of your choice.
This is a delicious and quick fusion pizza for the times when you are craving pizza!
Vada Pav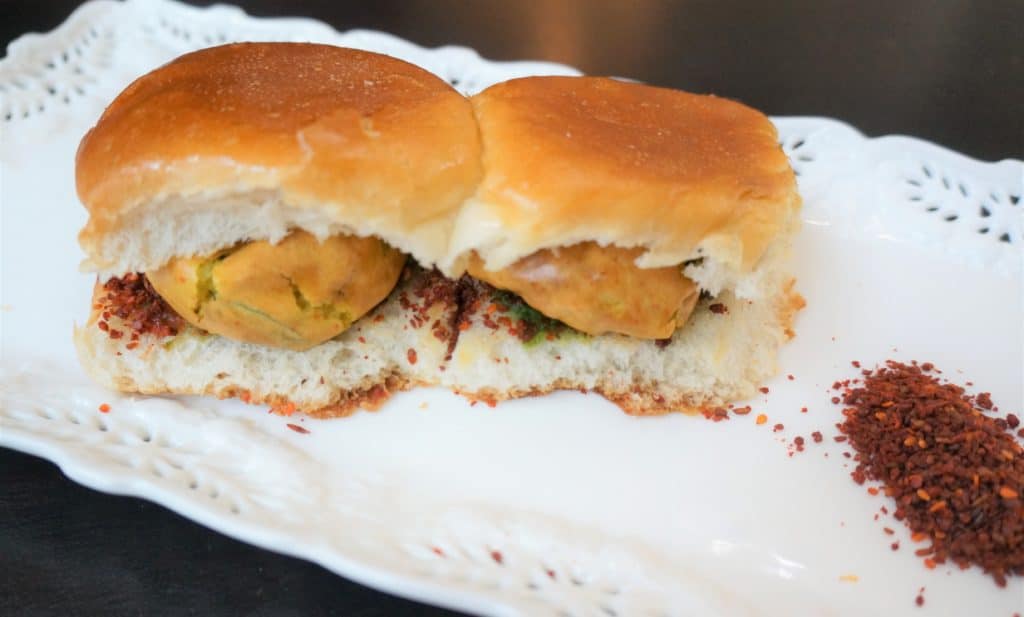 This Vada Pav is the humble street food of Mumbai. A fried potato fritter is stuffed between dinner rolls and sweet and spicy sauces or chutney.
Now with this air fryer version to make the vada, you can skip the deep frying and enjoy homemade Vada Pav even on a weekday!
Sabudana Vada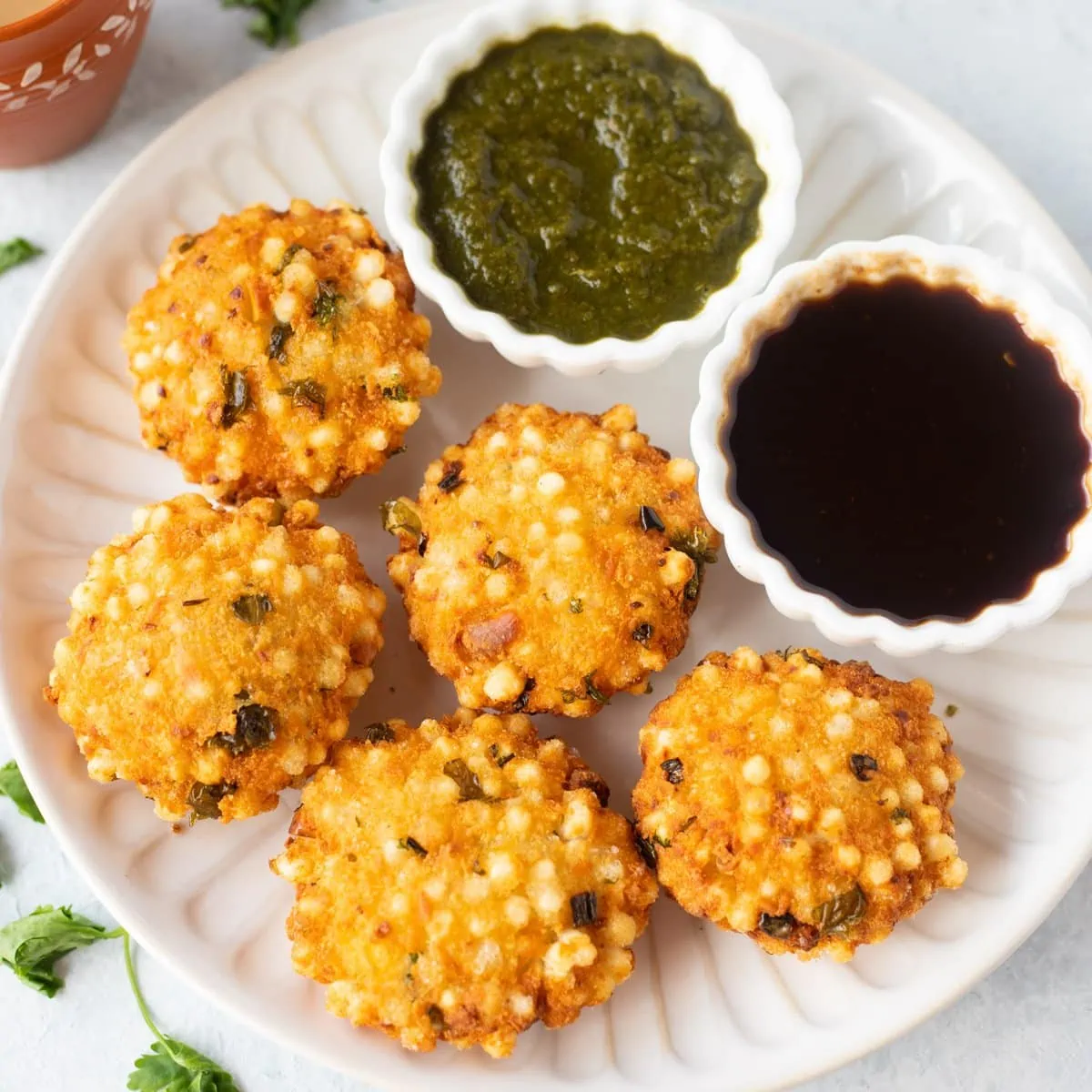 Sabudana Vada is a traditional Maharashtrian snack made from tapioca pearls (sago), potatoes, peanuts, herbs, and spices. These sago fritters are addictive! This is a vegan, gluten-free, and simple fasting recipe.
This tasty snack includes peanuts, which gives it a nice crunchy texture. This recipe for evening tea is ready in under 30 minutes if you have the sago pearls pre-soaked.
Paneer Puff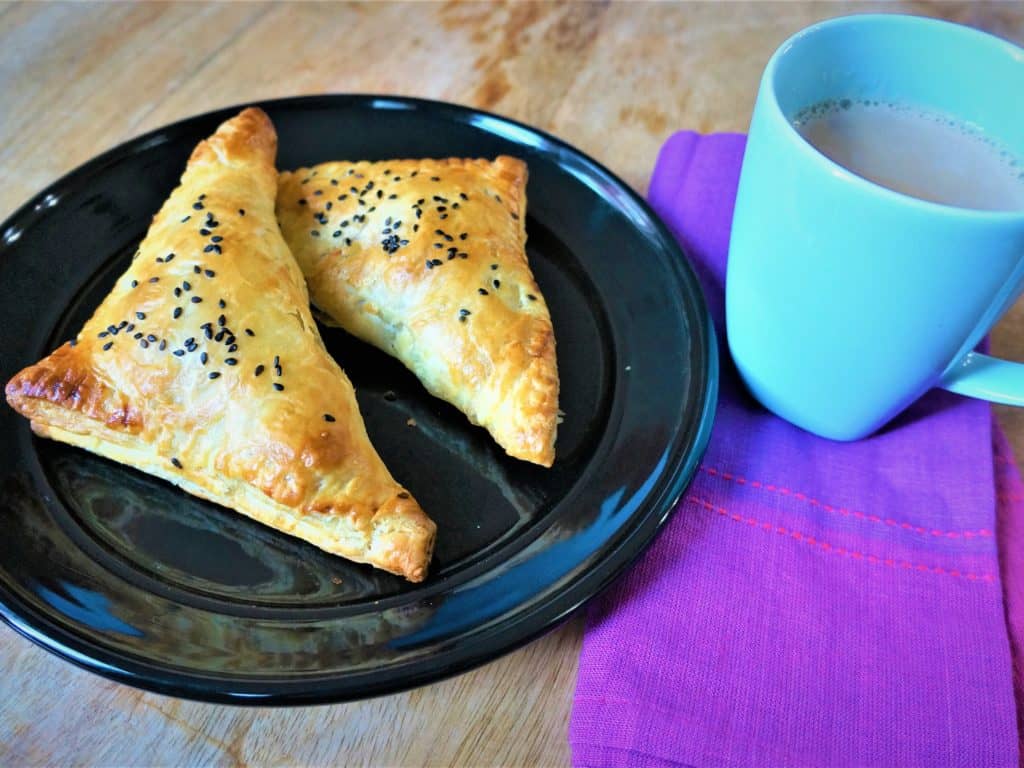 These Paneer Puffs have a flaky golden crust filled with spicy, flavorful paneer.
You can buy puff pastry sheets and add your favorite filling - potatoes, ground meat, paneer, or cheese.
A perfect easy appetizer for a party that can be prepared ahead of time. So easy and delicious with chai!
Spicy Corn on the Cob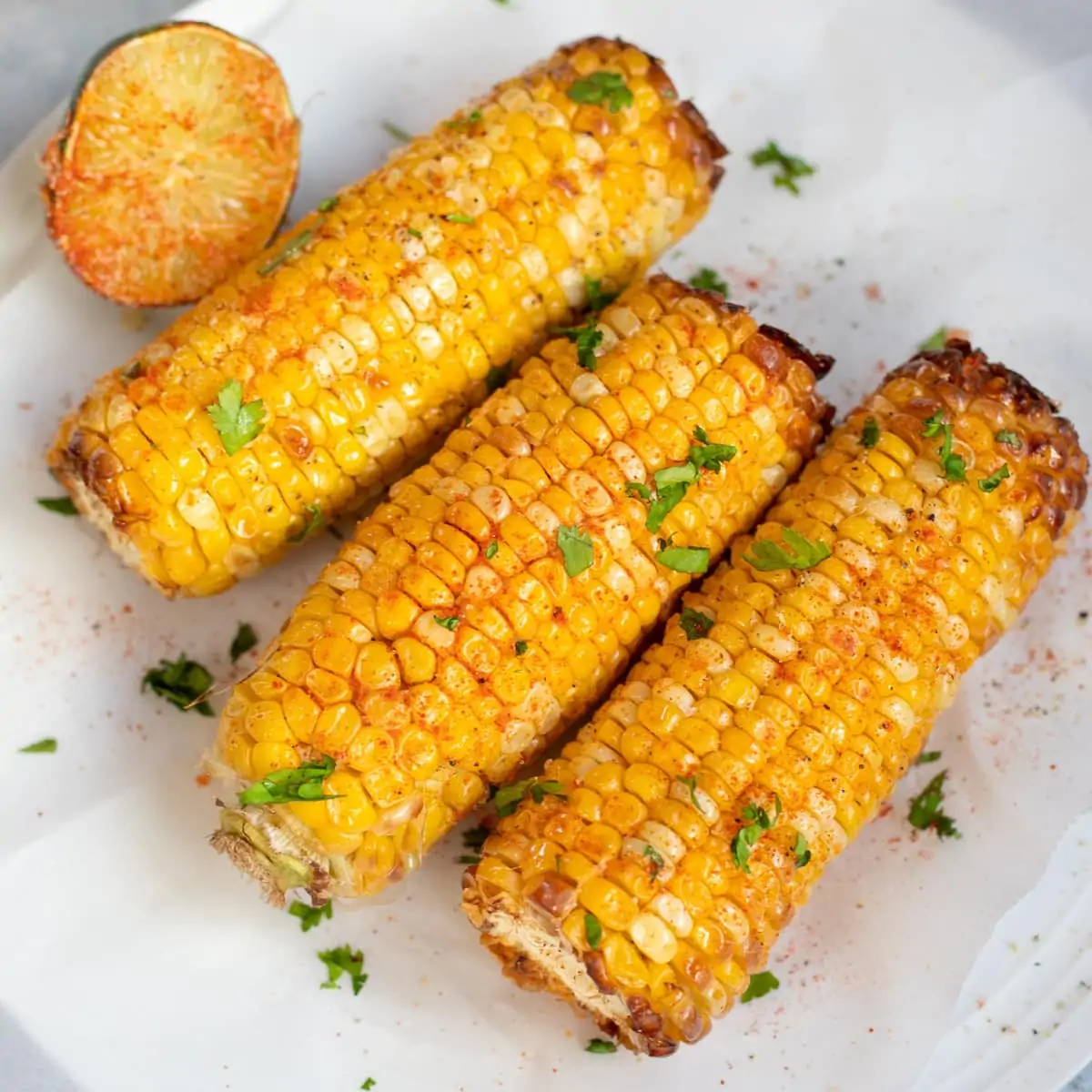 This grilled Air Fryer Corn on the Cob is so easy to make and so good!
It is one of our favorite summer treats. It takes minimal effort, and everyone loves it. Spice it up the way you like, and enjoy it as an appetizer, snack, or side!
Mawa Gujiya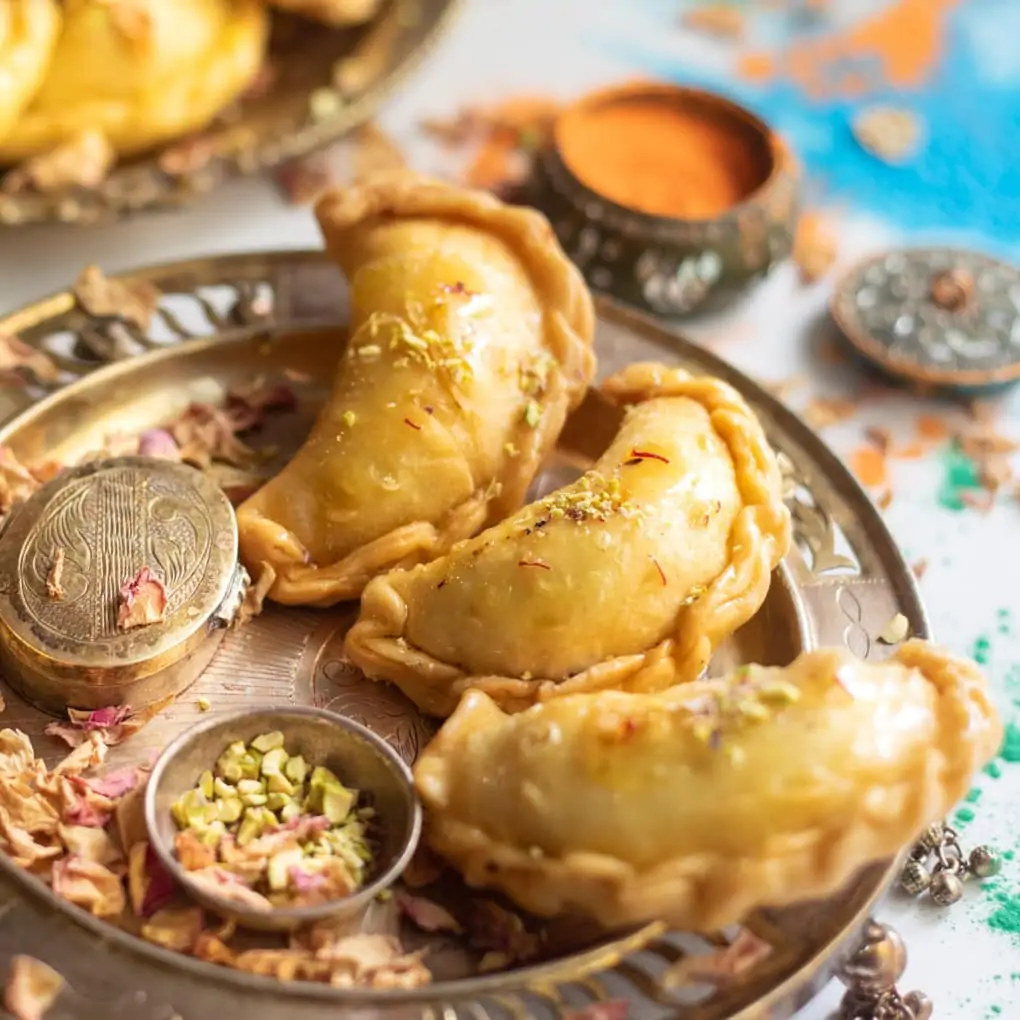 Mawa Gujiya is an authentic Indian sweet fried dumpling with a crispy, flaky crust filled with a mixture of mawa (milk solids), nuts, and coconut.
It is easy to make but takes time and patience. Hence this delicious treat is made during special occasions such as the festivals of Holi and Diwali.
Samosa Jalapeno Poppers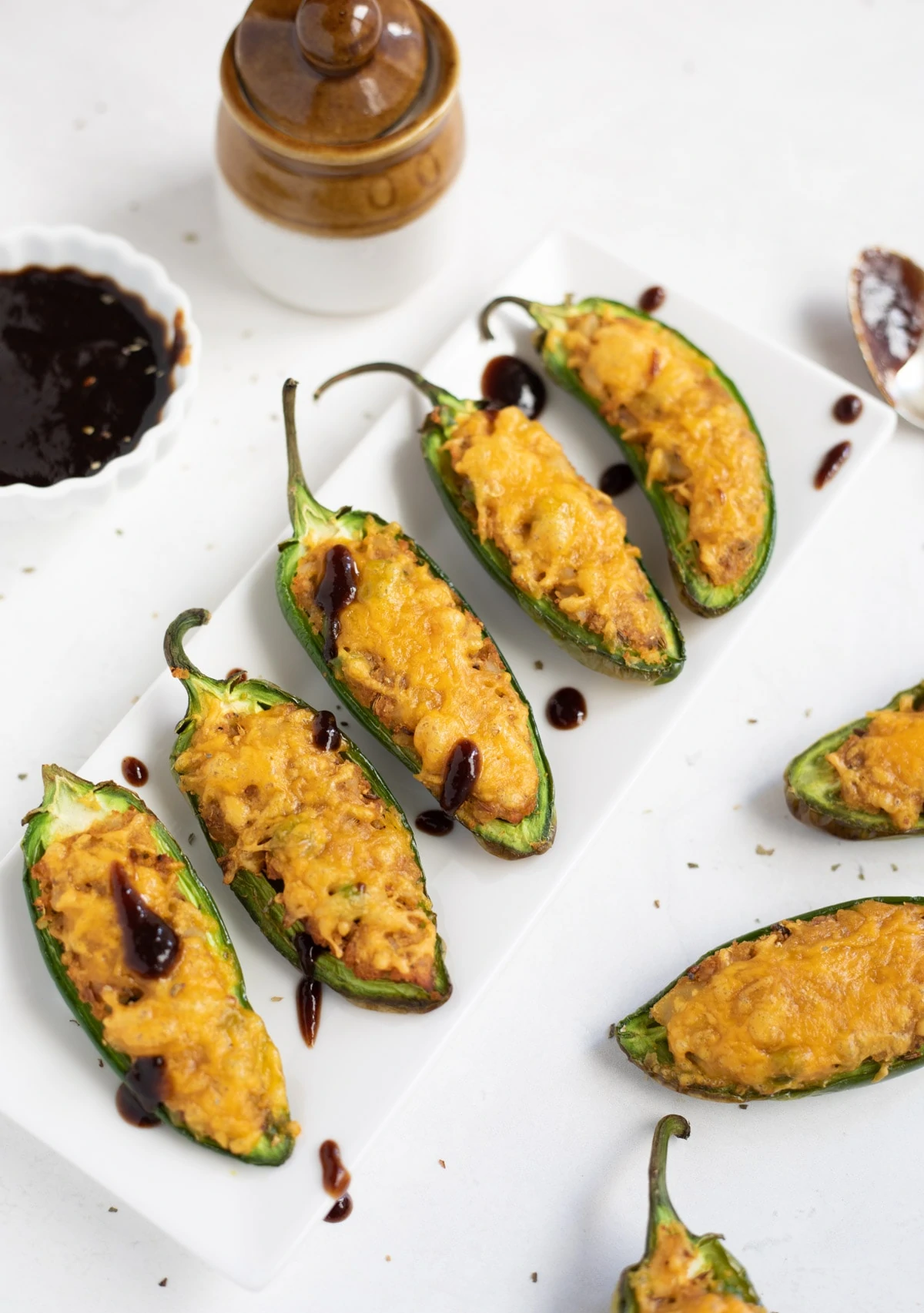 Cheesy Samosa Jalapeno Poppers is an Indian fusion twist to the favorite party appetizer.
These Samosa jalapeno poppers have spicy potato and peas filling. And jalapeños are spicy, so this appetizer has a wonderful spice kick.
This vegetarian and gluten-free version is made in the air fryer for samosa lovers.
Bharwa Bhindi (Stuffed Okra)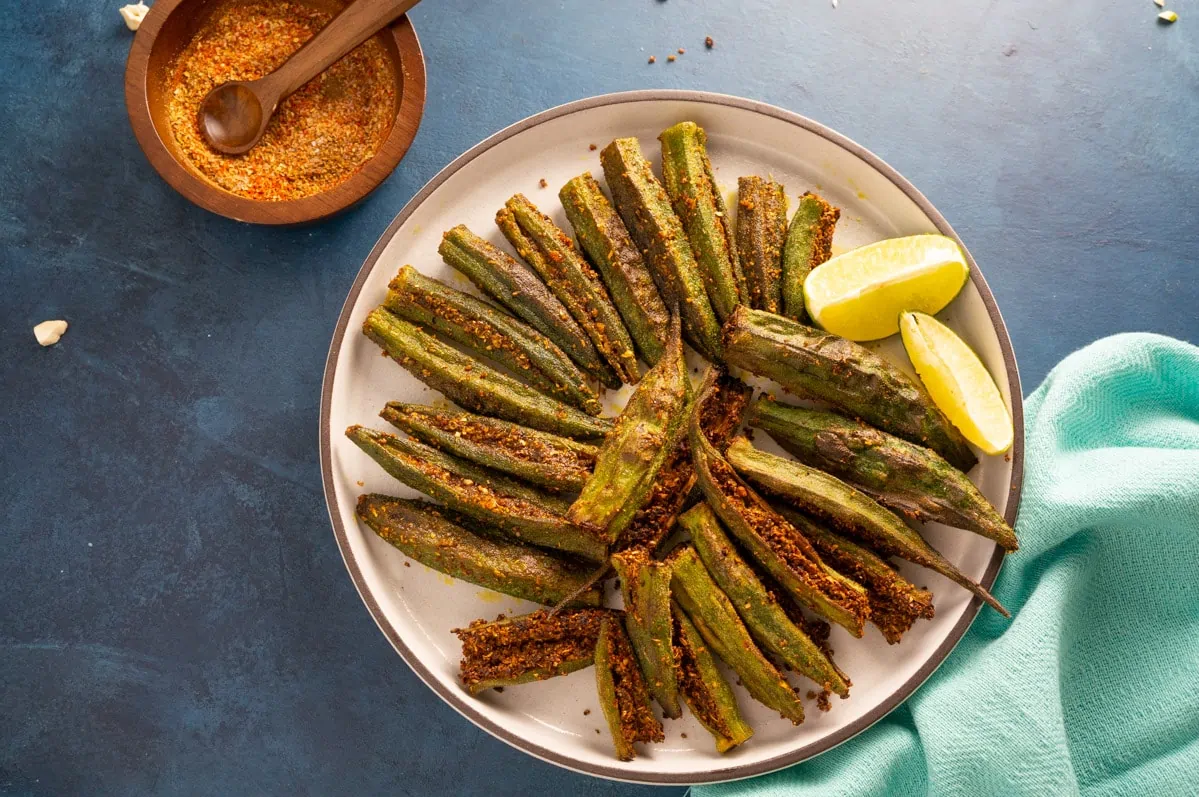 Bharwa Bhindi, which means Stuffed Okra is a popular Indian side dish where the okra is stuffed with spicy & tangy masala filling.
This vegan & gluten-free dish is a perfect side with Indian roti or paratha, or even great to enjoy as an appetizer.
Roasted Cauliflower with Cilantro Yogurt Sauce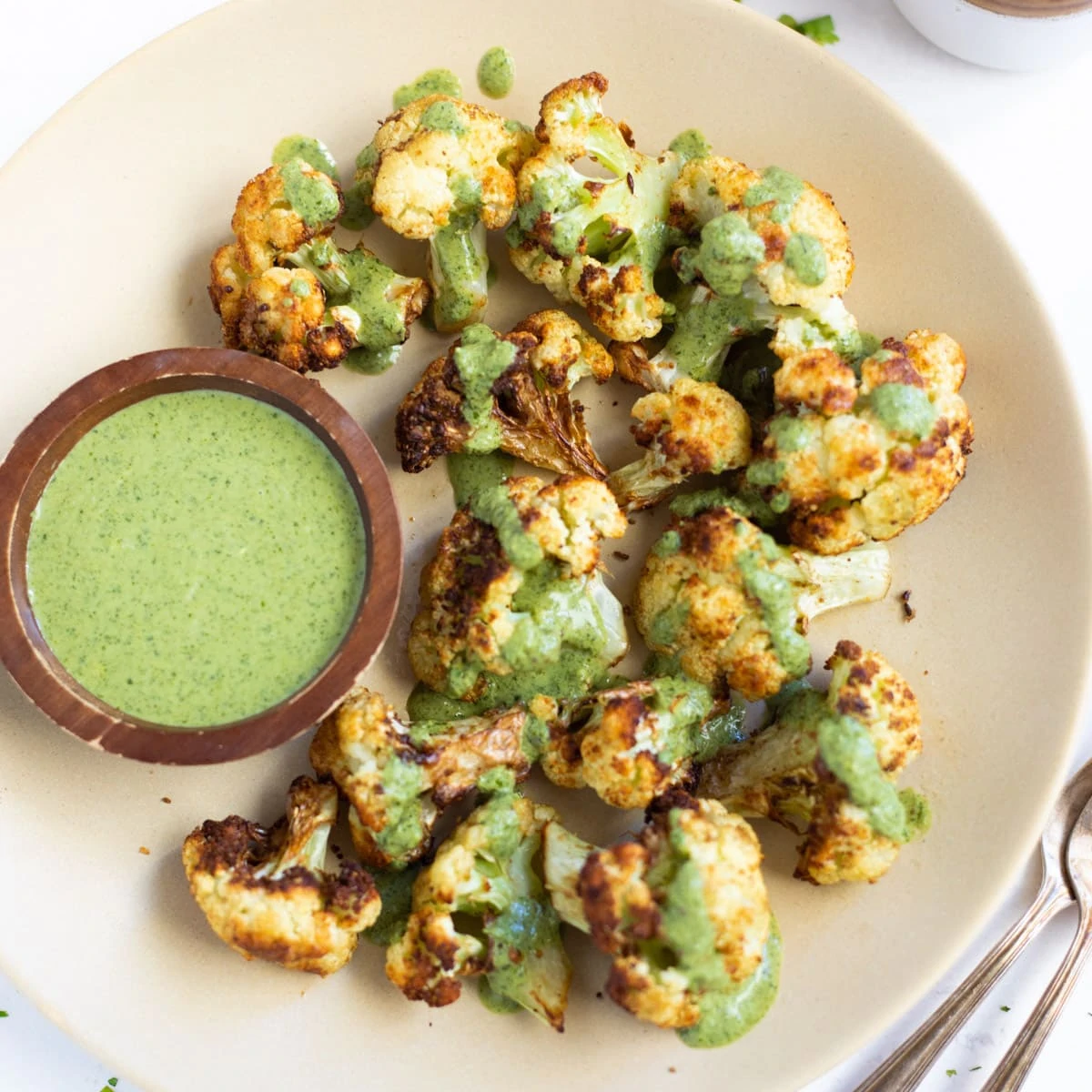 This Air Fryer Cauliflower seasoned with spices is so easy to make and amazingly delicious topped with the popular Indian cilantro yogurt sauce.
Enjoy it as a wonderful low-carb side dish or appetizer.
Bharwan Baingan (Stuffed Eggplant)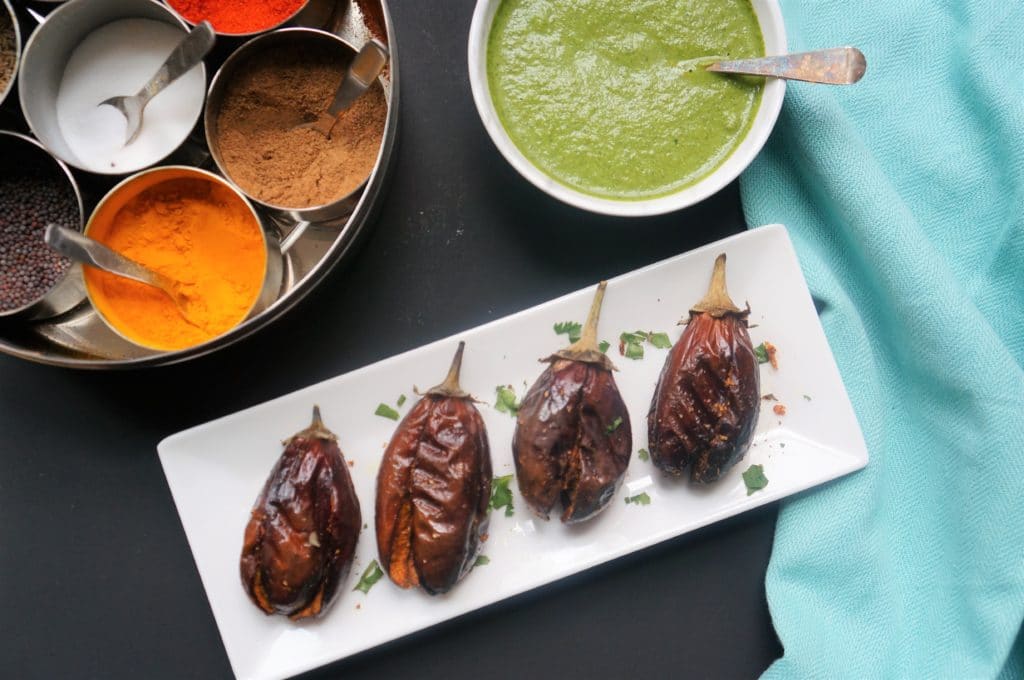 Baby Eggplants stuffed with flavorful and aromatic spices cooked in very little oil in the Air Fryer. A quick and delicious way to enjoy eggplants!
Kurkuri Bhindi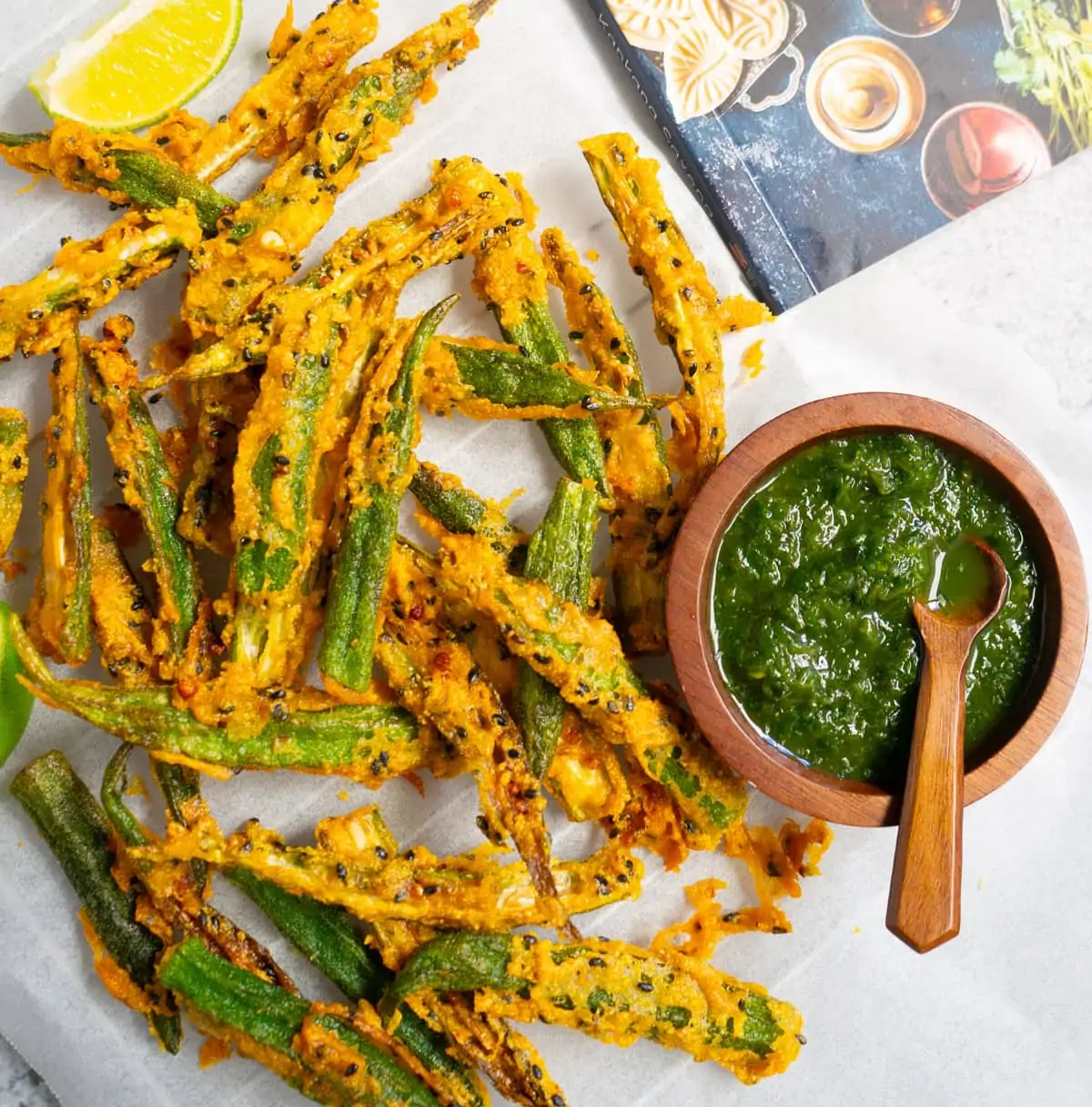 Kukuri Bhindi, called Kurmure Bhendi Bhaja in Bengali, is sliced okra coated in spices and fried until crunchy.
This crispy fried okra is so good, you cannot stop eating it! It is perfect to enjoy as an appetizer or side dish.
Tandoori Gobi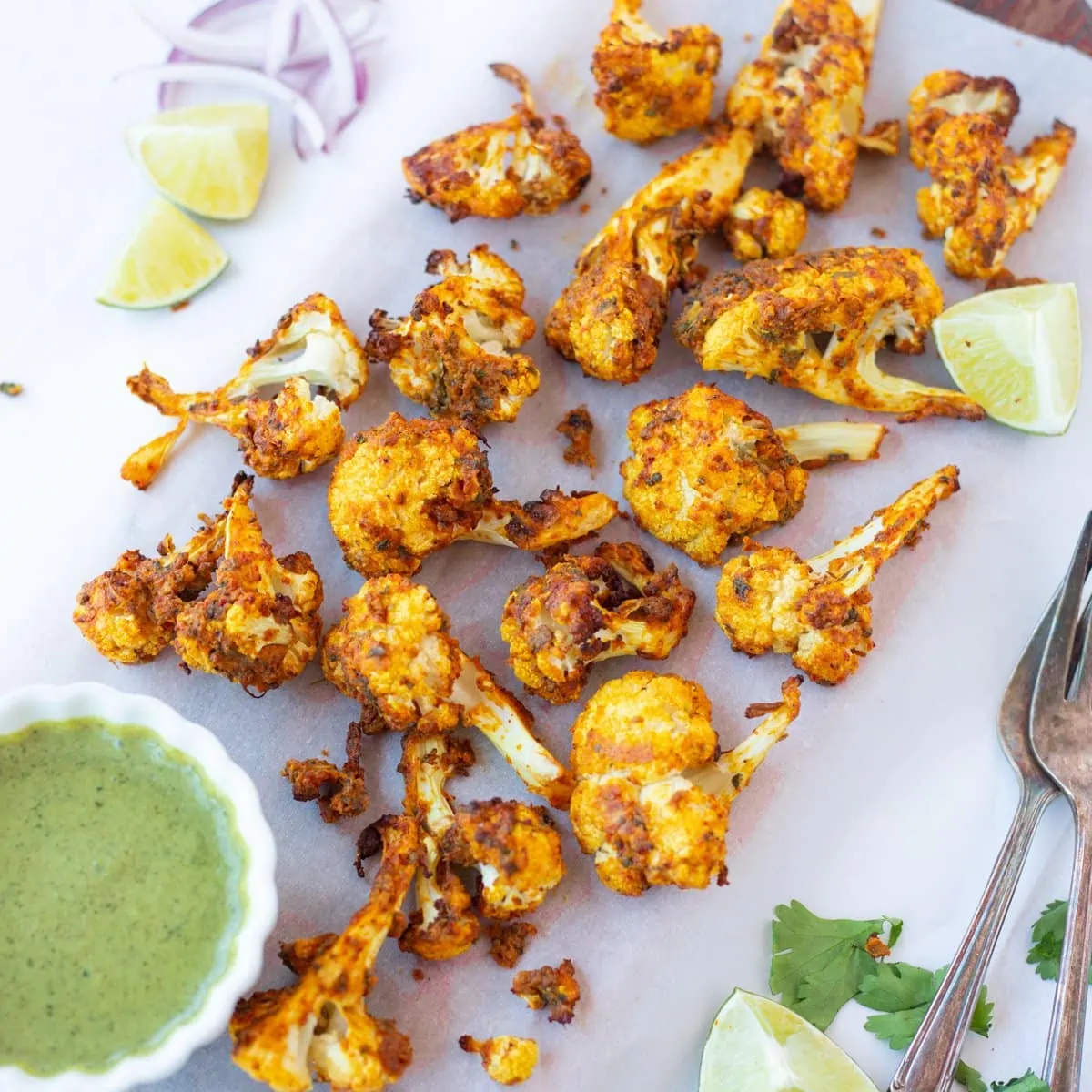 Tandoori Gobi in the air fryer is a great snack or appetizer. A North Indian favorite, nutritious with no oil and easy to prepare.
When the meat eaters enjoy Tandoori Chicken, the vegetarians at the party can enjoy this crispy Tandoori Gobi with green chutney.
Crispy Arbi (Taro Fries)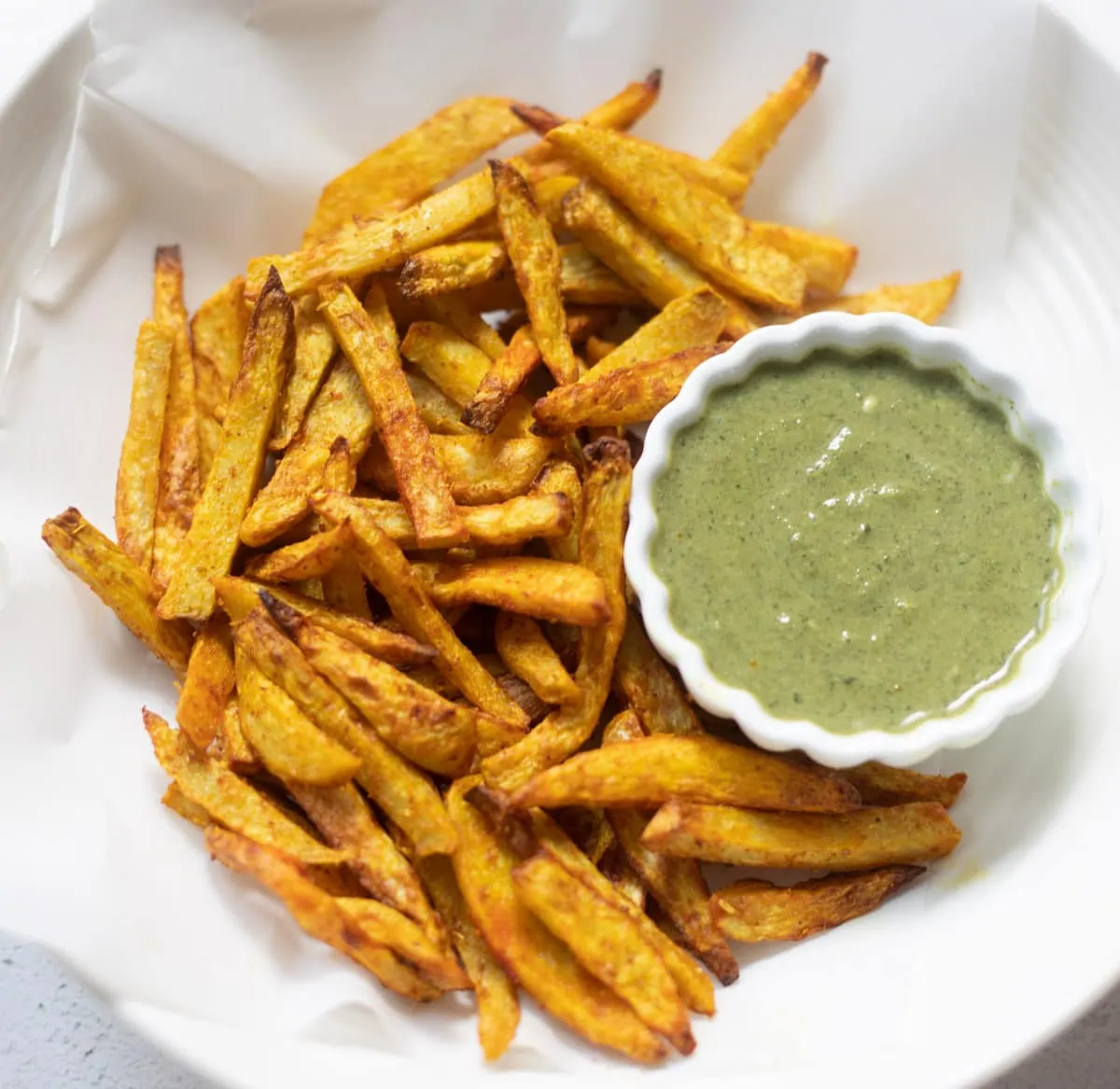 These Taro Fries (Crispy Arbi) made in Air Fryer are so easy and delicious. They are a great variation in taste and nutrition to potato french fries. A perfect snack or side with a cilantro dip!
Arbi Fry is a popular dish in India. However, this version skips the deep frying to make the same Crispy Arbi in the air fryer.
Plantain Chips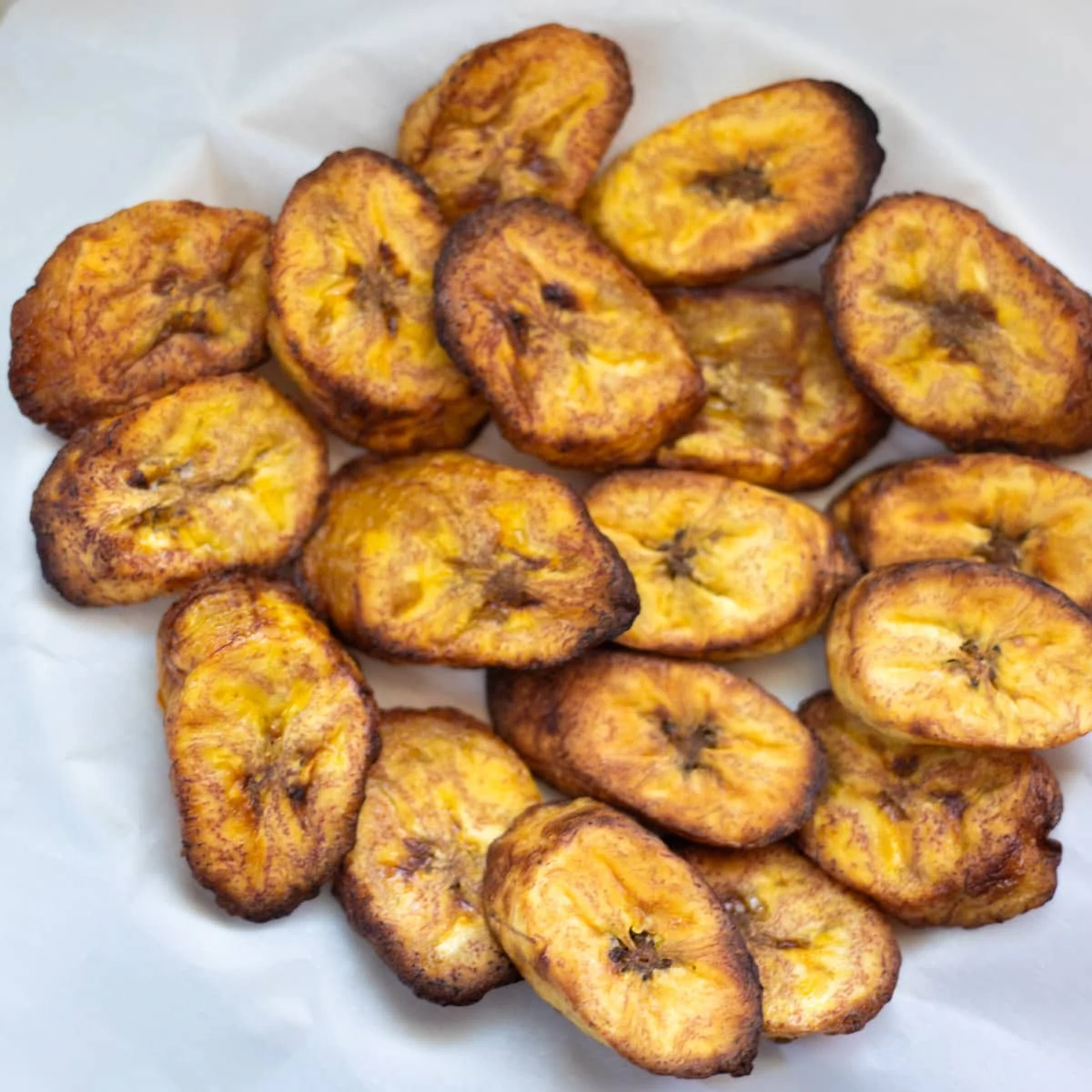 These Air Fryer Plantains are a perfect side dish or snack.
Made in the air fryer for a healthier version with much fewer calories compared to the traditional fried plantains.
Below are the most popular Indian Chicken Air Fryer recipes:
Tandoori Chicken Wings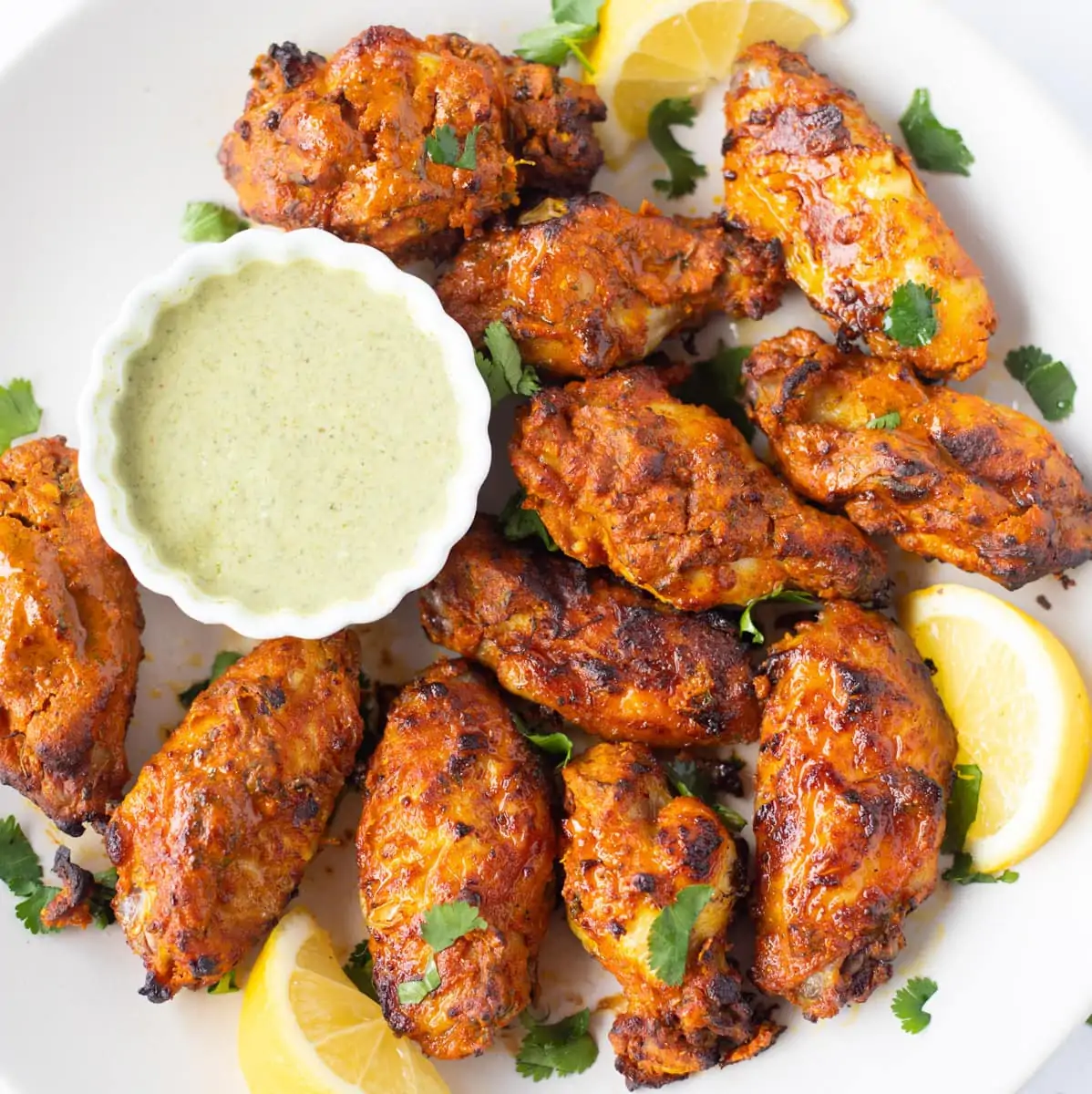 These smoky Tandoori chicken wings, marinated in Indian spices and yogurt and grilled to perfection, will blow your mind away!
They are easy to prep ahead of time. Marinate the chicken wings the day before, and just air fry them when ready to serve.
The wings are succulent and juicy on the interior and crispy on the outside. Enjoy them with the Indian green chutney.
Chicken Tikka Kebab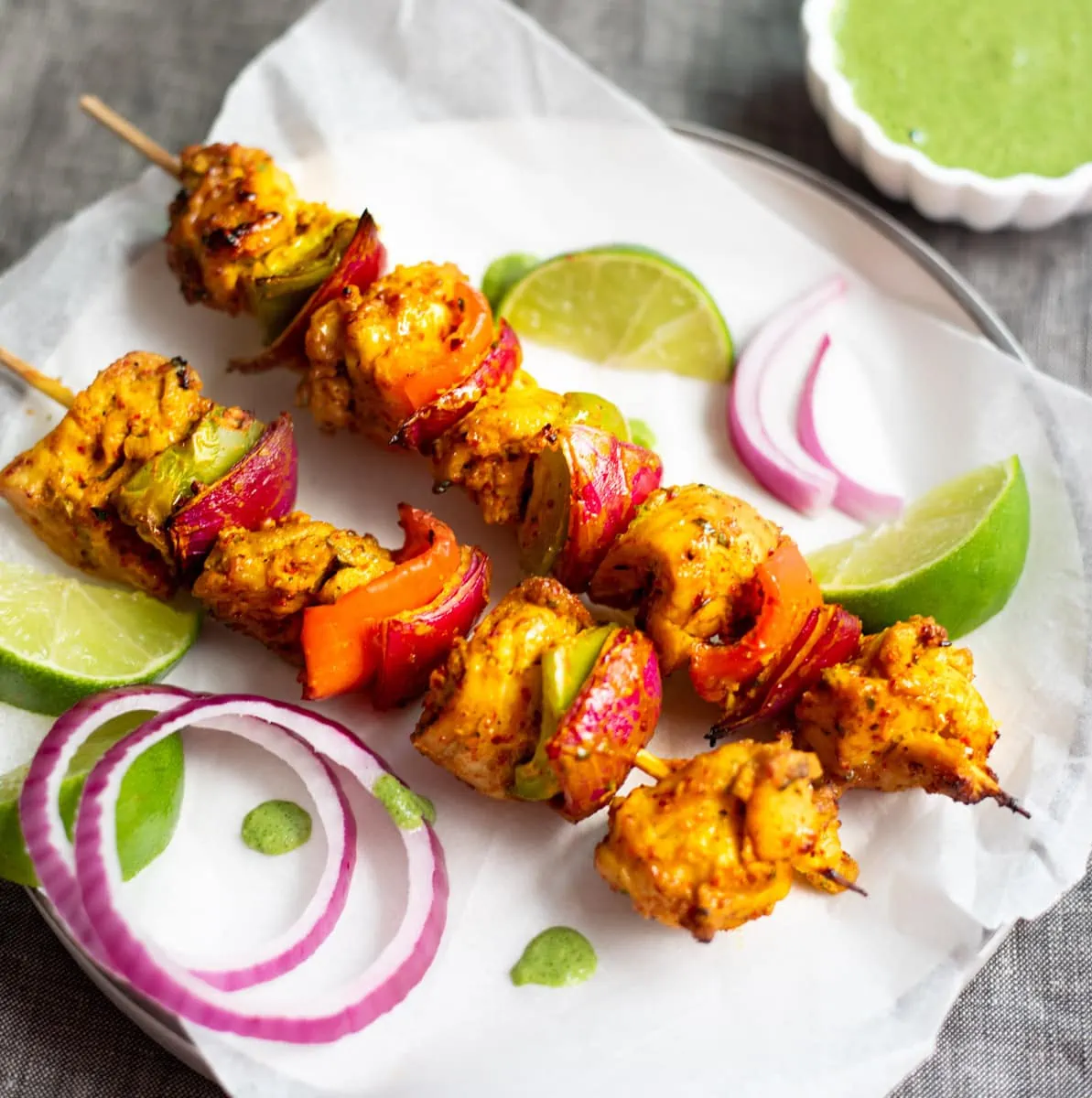 Chicken tikka kebab is one of the most favorite Indian appetizers. It starts with chicken pieces marinated in yogurt, lime juice, and aromatic spices, then threaded onto skewers and cooked to create a delicious appetizer.
Don't be daunted by the list of spices used in the marinade. This kebab is super easy to make in the air fryer. It is also a great one to include in your meal prep for the week!
Chili Chicken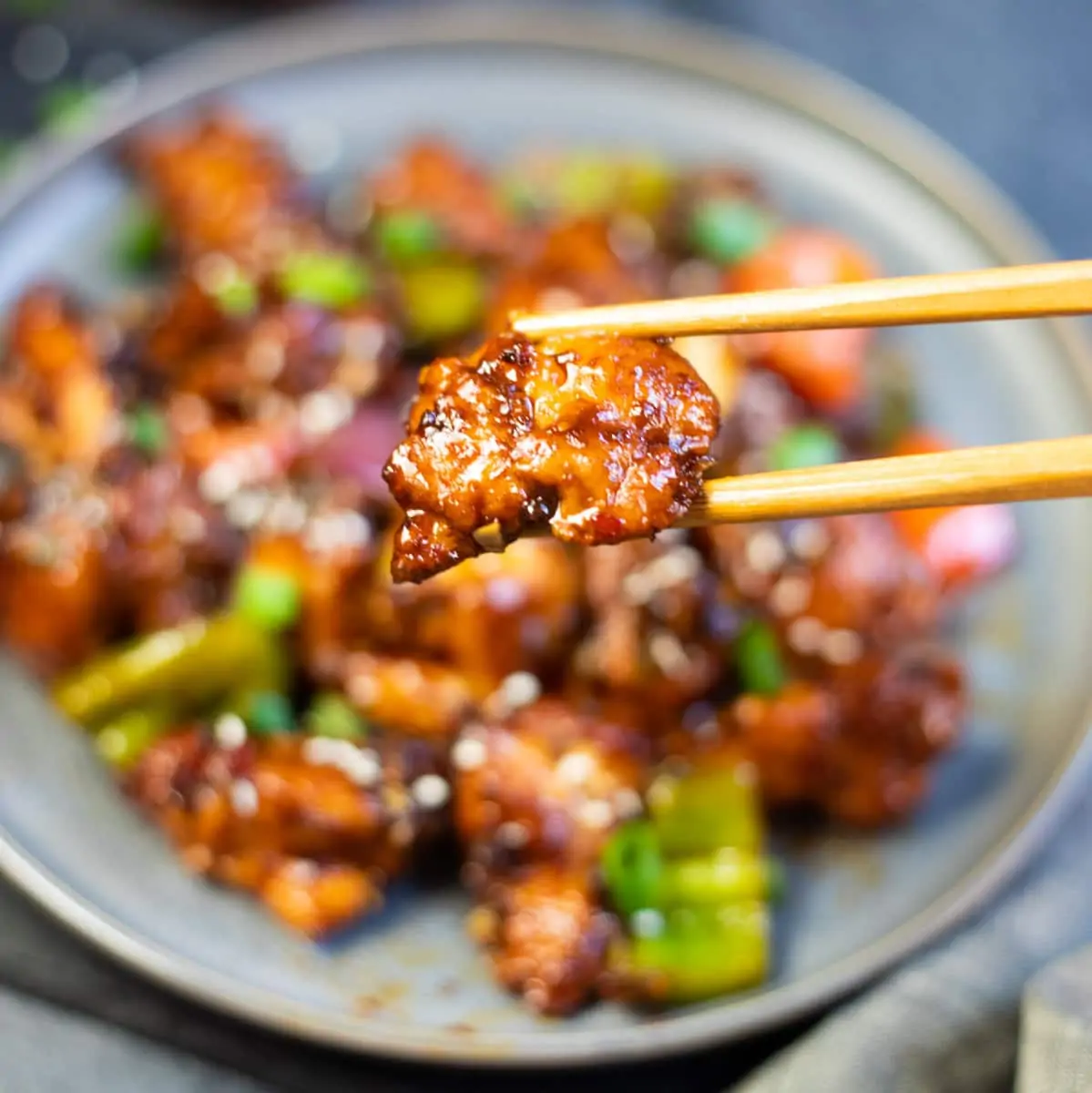 Make restaurant-style Chilli Chicken at home. It is crispy and flavorful, just like what the Indo-Chinese street vendors do.
Boneless chicken is marinated in Chinese sauces and fried until crispy. This is stir-fried with lots of ginger, garlic, onions, bell peppers, and sauces.
Tandoori Chicken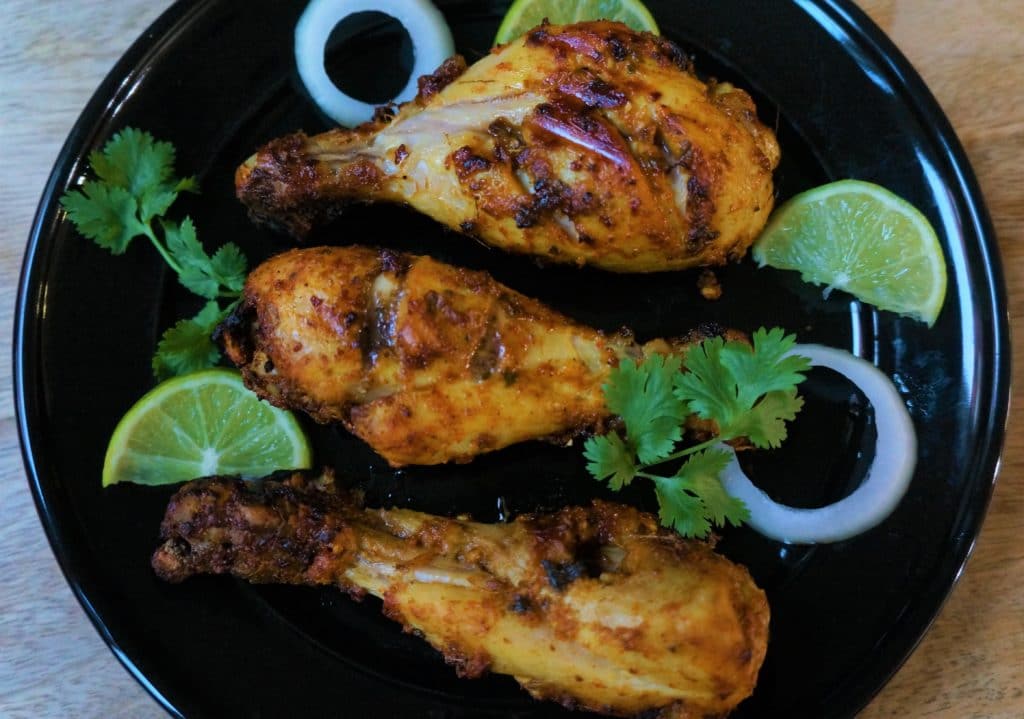 A flavor-packed spicy dish from the Indian subcontinent popular all over the world. Even though this sounds exotic, it is actually super easy to make tandoori chicken.
Chicken is marinated in yogurt, ginger, garlic, spices, and lemon juice, then grilled in the air fryer. This recipe is also low-carb and keto-friendly.
I hope you add these recipes to your menu. Let me know what you are most excited to make for game day this year, and when you make it, don't forget to tag #pipingpotcurry.
You might also enjoy this collection of 20+ Air Fryer Vegetarian Recipes.