Air Fryers are great at making delicious food without extra calories. Here are 30 easy vegetarian recipes you can make in your air fryer. From basic French fries to roasted Brussels sprouts and naan pizza, you can find a variety of dishes you will love in this collection.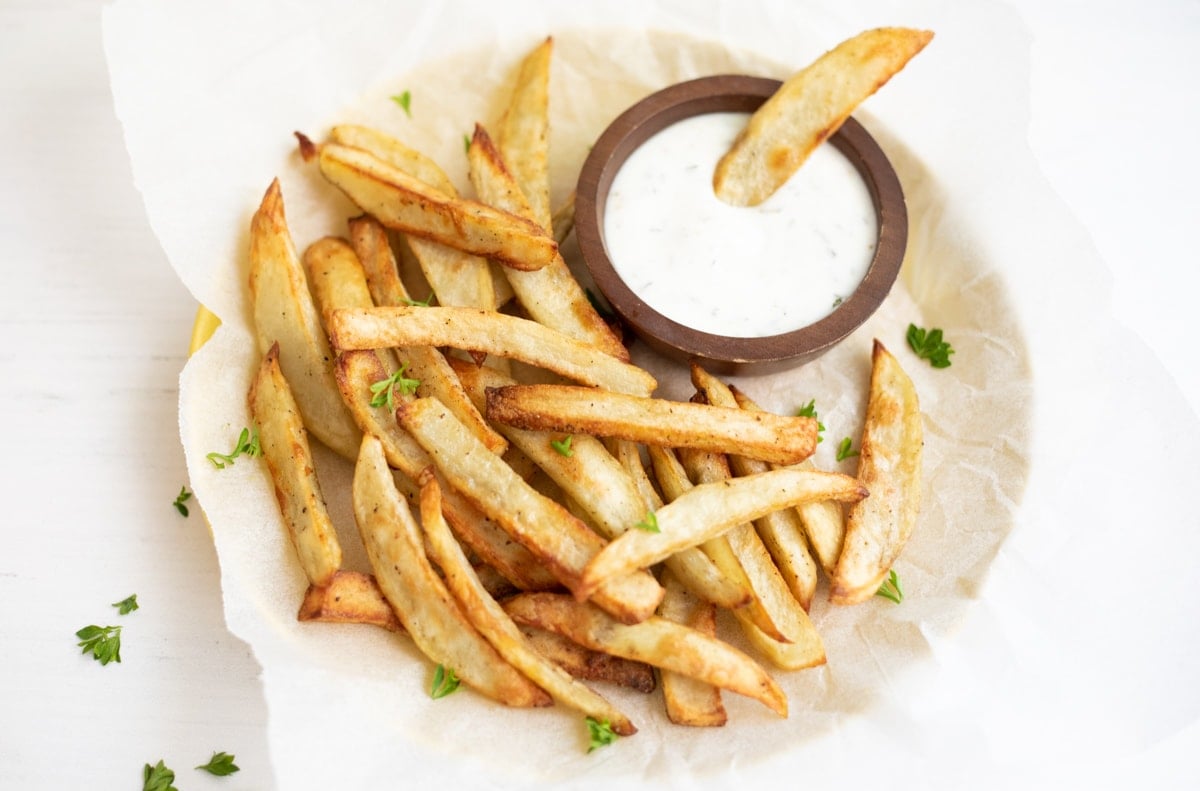 As you might know, I love my instant pot and have over 200 instant pot recipes. However, you might not know that the air fryer is another favorite gadget in the piping pot curry house. I have shared many air fryer recipes, and there are a lot more coming!
I love that air fryers are easy to use and convenient. You don't have to heat the whole oven to roast a few veggies. If my daughter asks for a pizza, I can make a small naan pizza for her in less than 15 minutes.
Air fryers cook food in less time and use less oil, making them healthier compared to deep frying. They are also convenient and easy to clean. I usually cook a dish in my instant pot while roasting some veggies for dinner in the air fryer simultaneously.
Air fryers are not just for frozen french fries. There are limitless air fryer vegetable recipes you can make to transform your produce! Air fryers cook in less time, with less oil, and are easy to clean up.
If you love roasted vegetables, you'll love making vegetables in the air fryer. The result of air frying is similar to roasting. They turn out nice and crispy on the outside without needing as much added oil.
New to air fryers? Check out my detailed guide for how to use an air fryer.
How & What to Cook in an Air Fryer?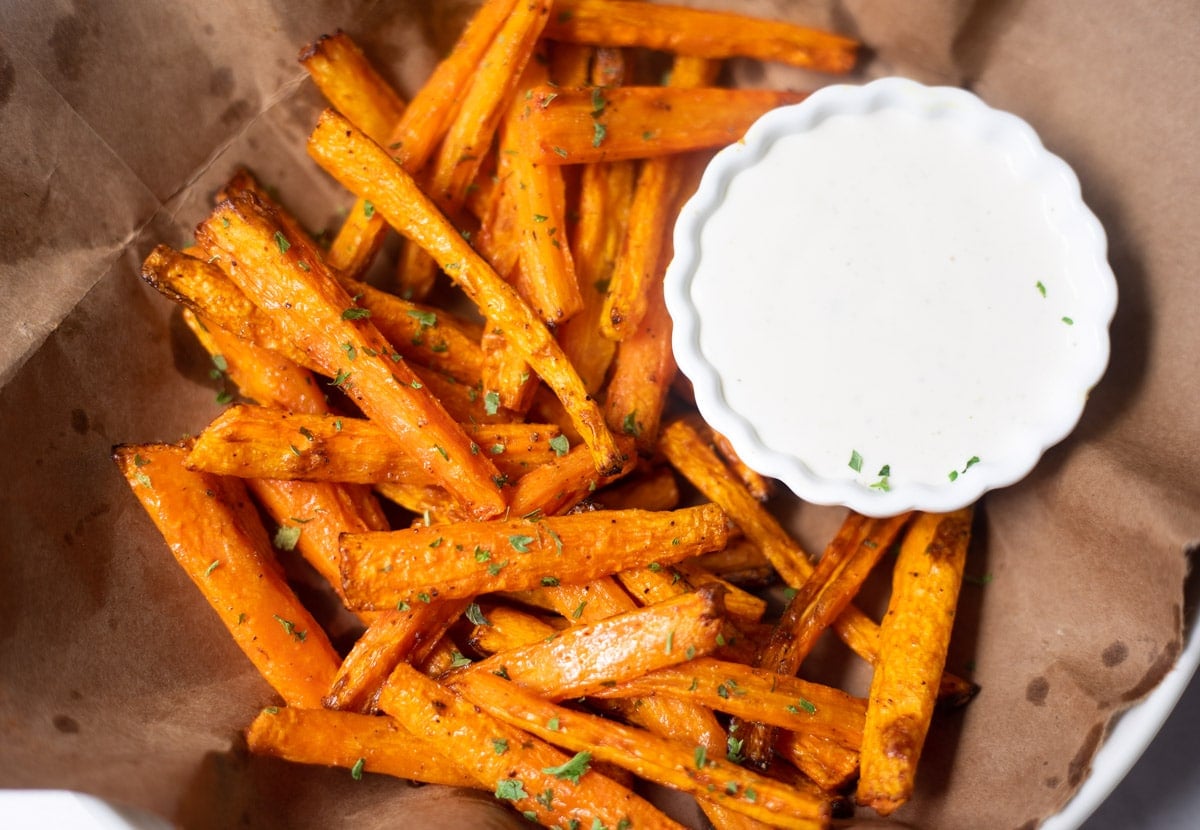 Air fryers are similar to convection ovens, which cook food by circulating hot air around the food.
This cooks the food crispy and with much less oil, making the food healthier compared to deep frying.
The taste of food cooked in an air fryer is more closer to roasting in the oven.
As air fryers are smaller in size, they heat up quickly and also cook food quickly.
You can not only cook frozen foods such as fries, mozzarella sticks, or garlic bread in the air fryer, but you can also roast veggies crispy in the air fryer or grill meat easily. Oh..not to forget, you can also bake a cake or pudding in the air fryer.
Air Fryer Roasted Sweet Potatoes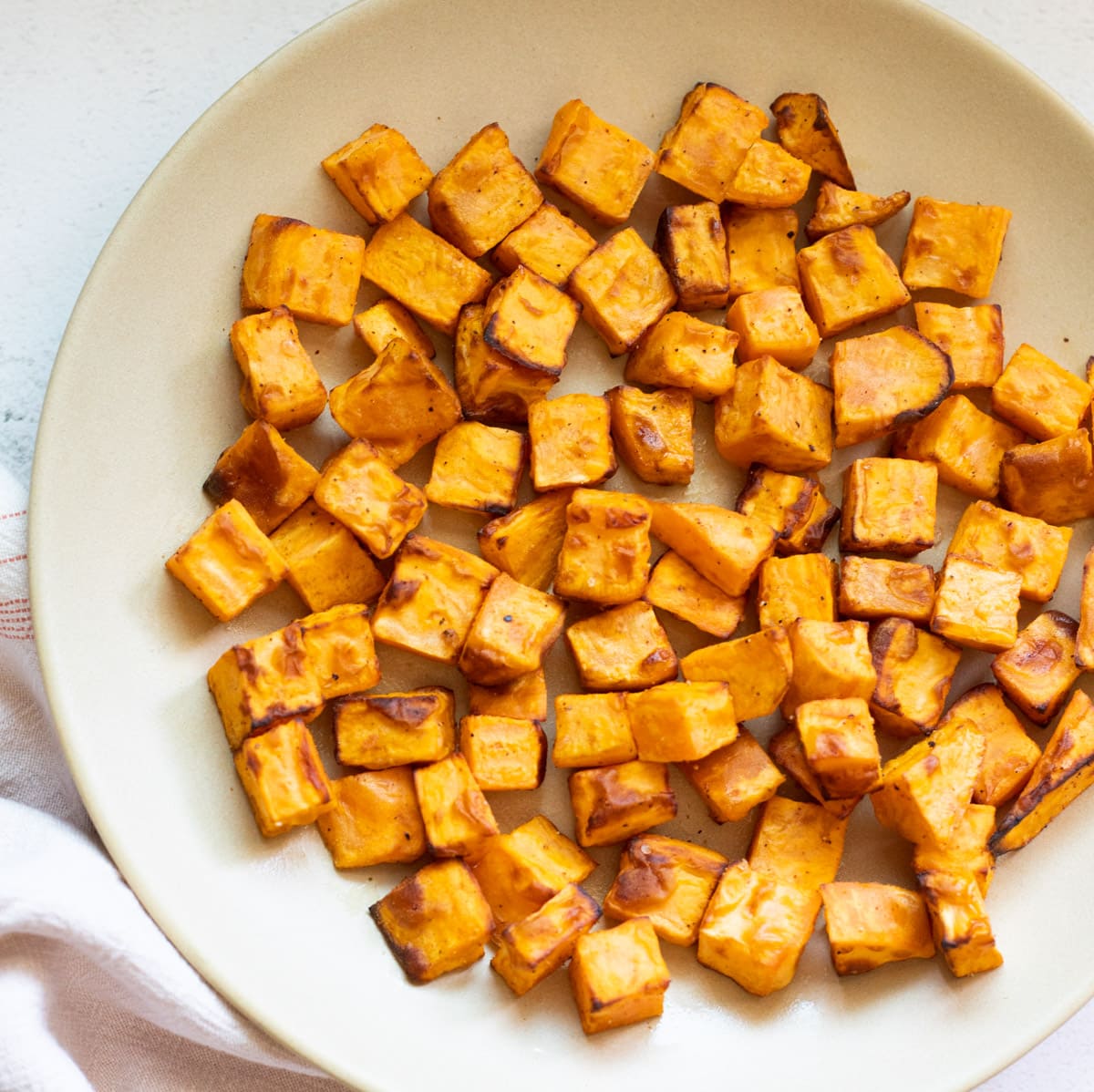 These Air Fryer Roasted Sweet Potatoes are so easy and delicious. Their crisp exterior and tender interior make them the perfect side to any meal. Add them to salads and tacos, or enjoy them as a healthy snack!
Crispy Air Fryer Brussels Sprouts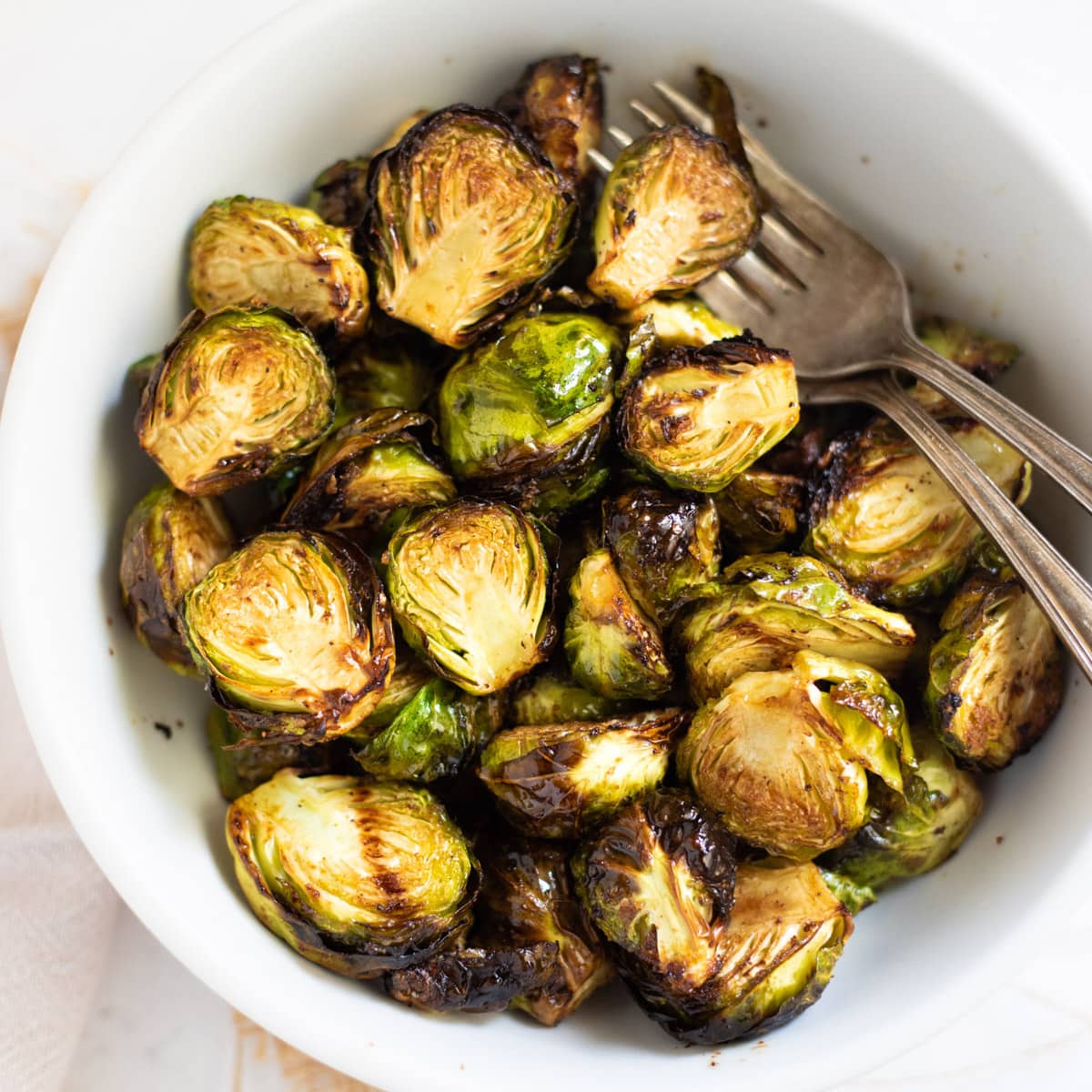 A delicious side dish of crispy air fryer Brussels sprouts. Crispy on the outside and tender on the inside, these are a perfect side dish.
Perfect Air Fryer Broccoli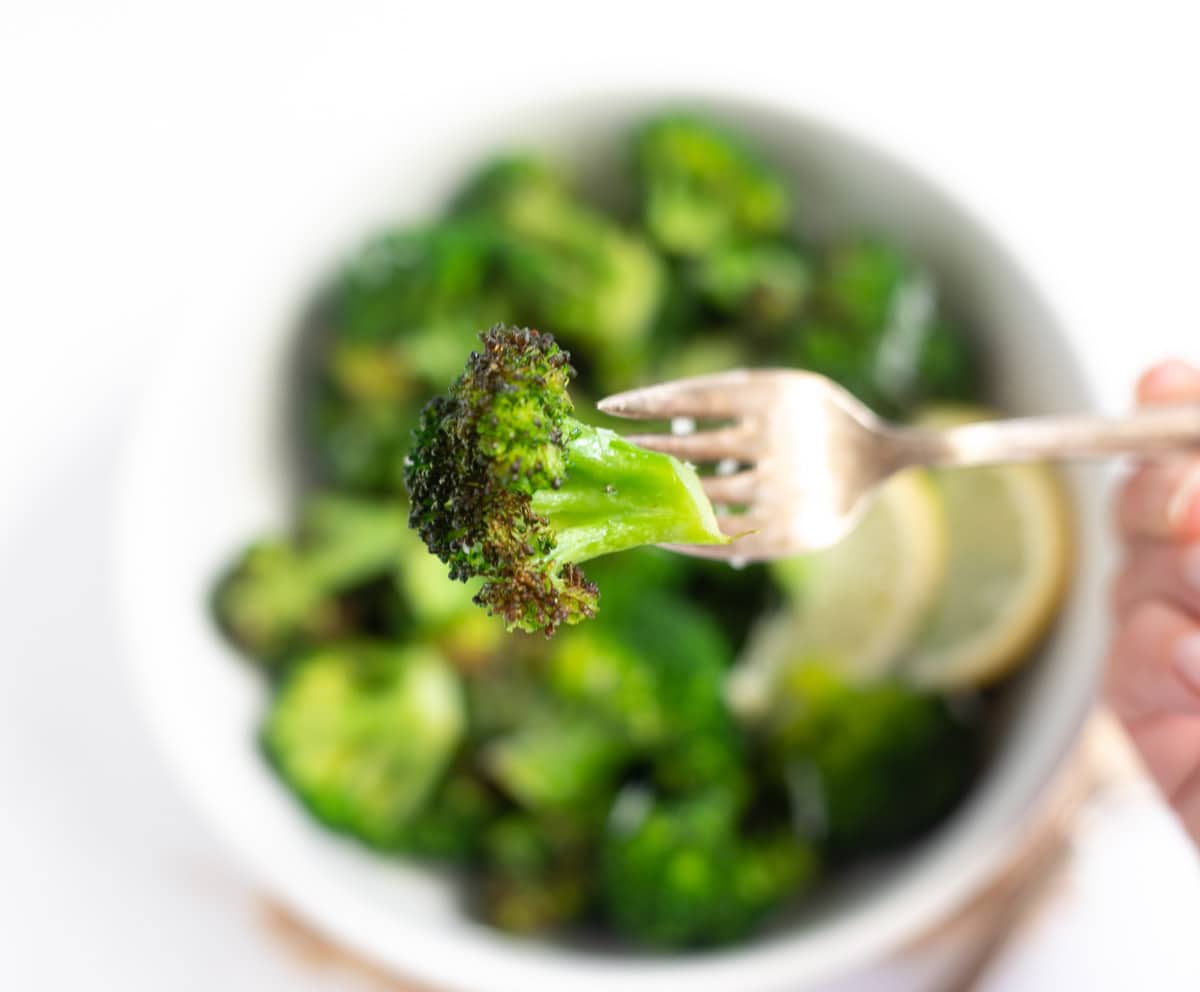 This easy Air fryer broccoli takes just 10 minutes to make. It is tender with roasted edges and so delicious. A perfect healthy side dish that the whole family will love.
Air Fryer French Fries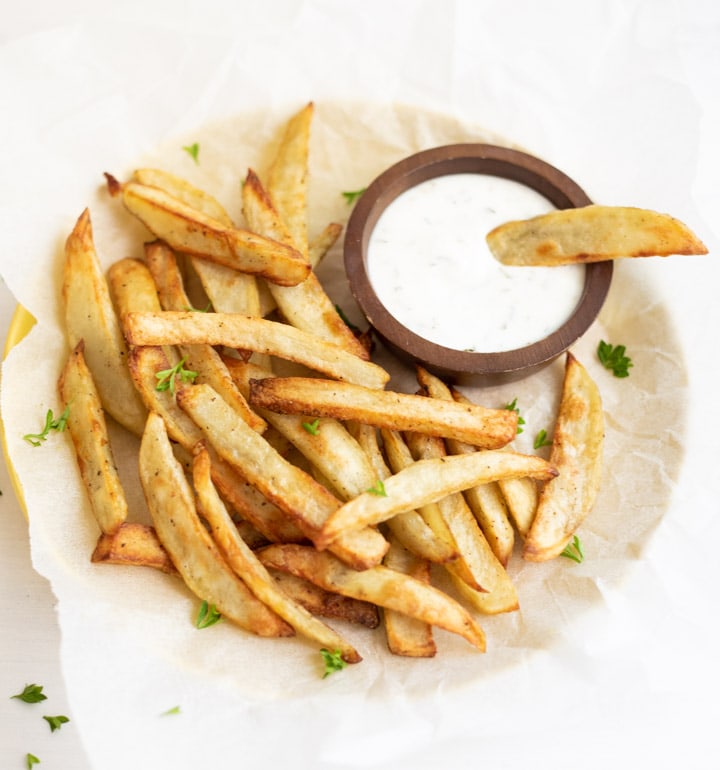 Try these easy Homemade French Fries in the Air Fryer or in the Pressure Cooker using the Crisplid. They are so good, you will never want to have deep-fried fries again!
Air Fryer Cauliflower with Cilantro Yogurt Sauce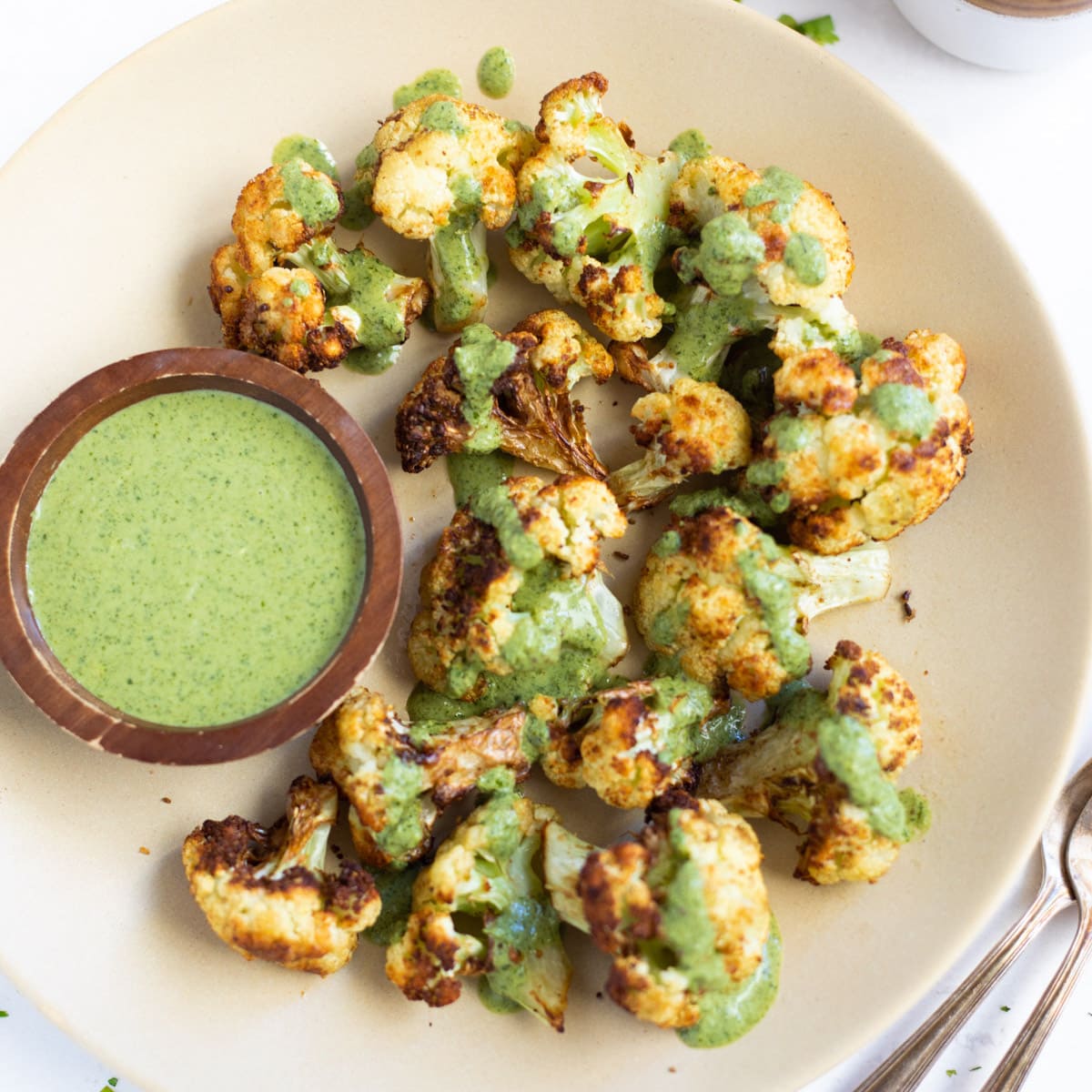 This Air Fryer Cauliflower seasoned with spices is so easy to make and amazingly delicious topped with cilantro yogurt sauce. Enjoy as a wonderful low-carb side dish or appetizer.
Air Fryer Carrots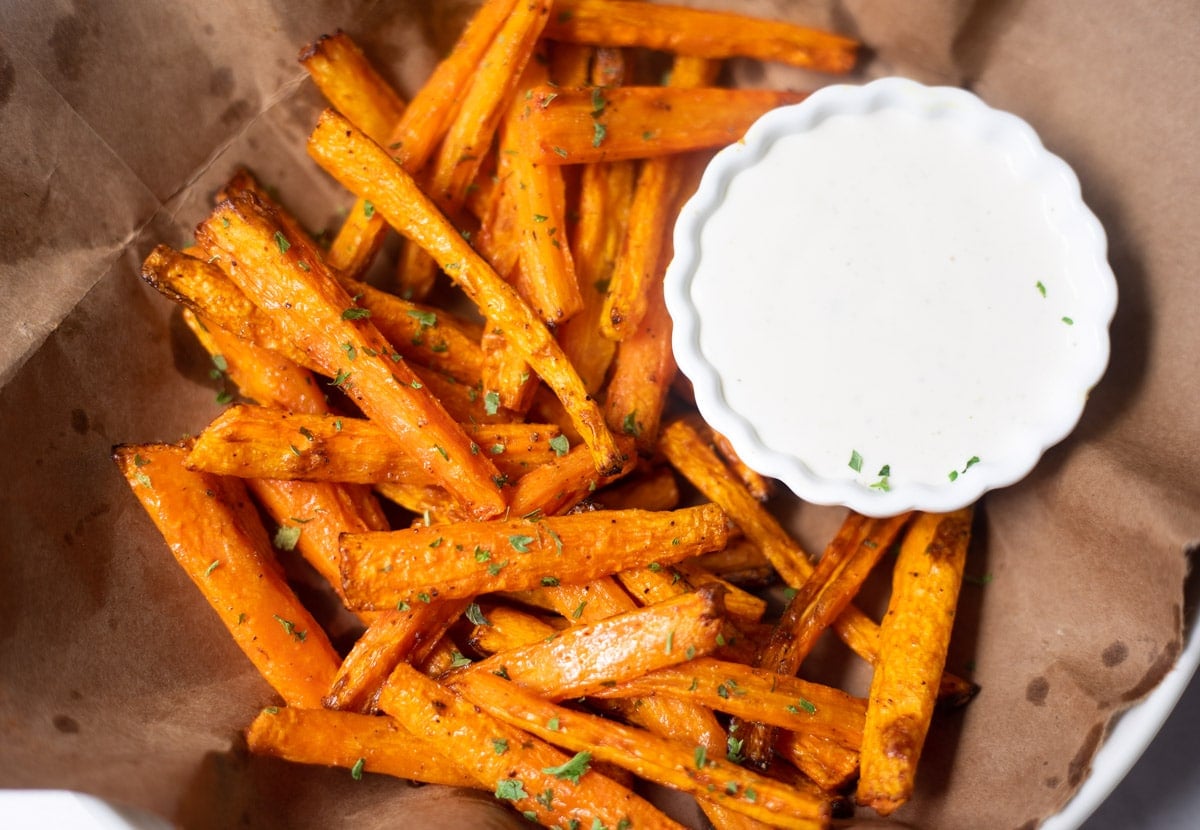 Perfectly seasoned and so delicious, these air fryer roasted carrots are a quick healthy snack or side dish. Make these crispy yet tender roasted carrots in the air fryer or oven.
Air Fryer Beets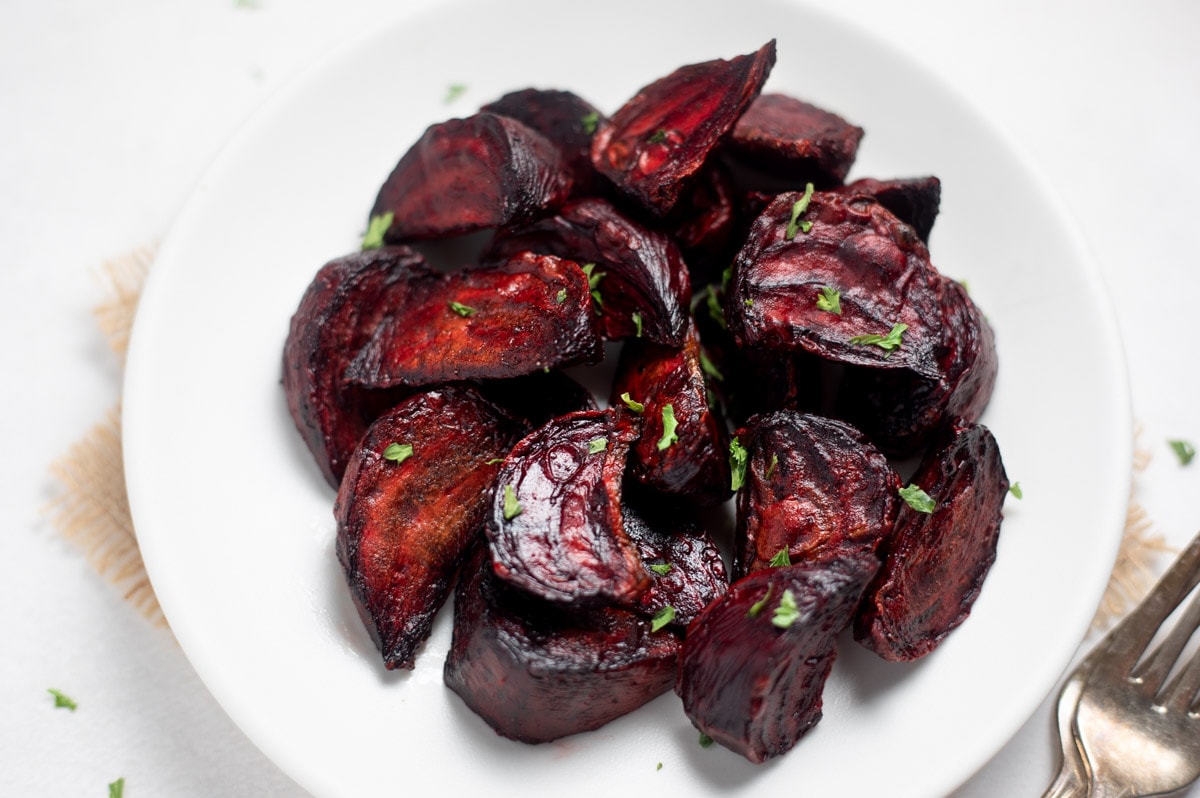 Sweet and tender-crisp Air fryer Roasted Beets are a delicious side dish that gets ready in a few minutes. Perfectly roasted, these beets are whole30, paleo, vegan, and gluten-free and can be added to any salad or enjoyed as is.
Air Fryer Zucchini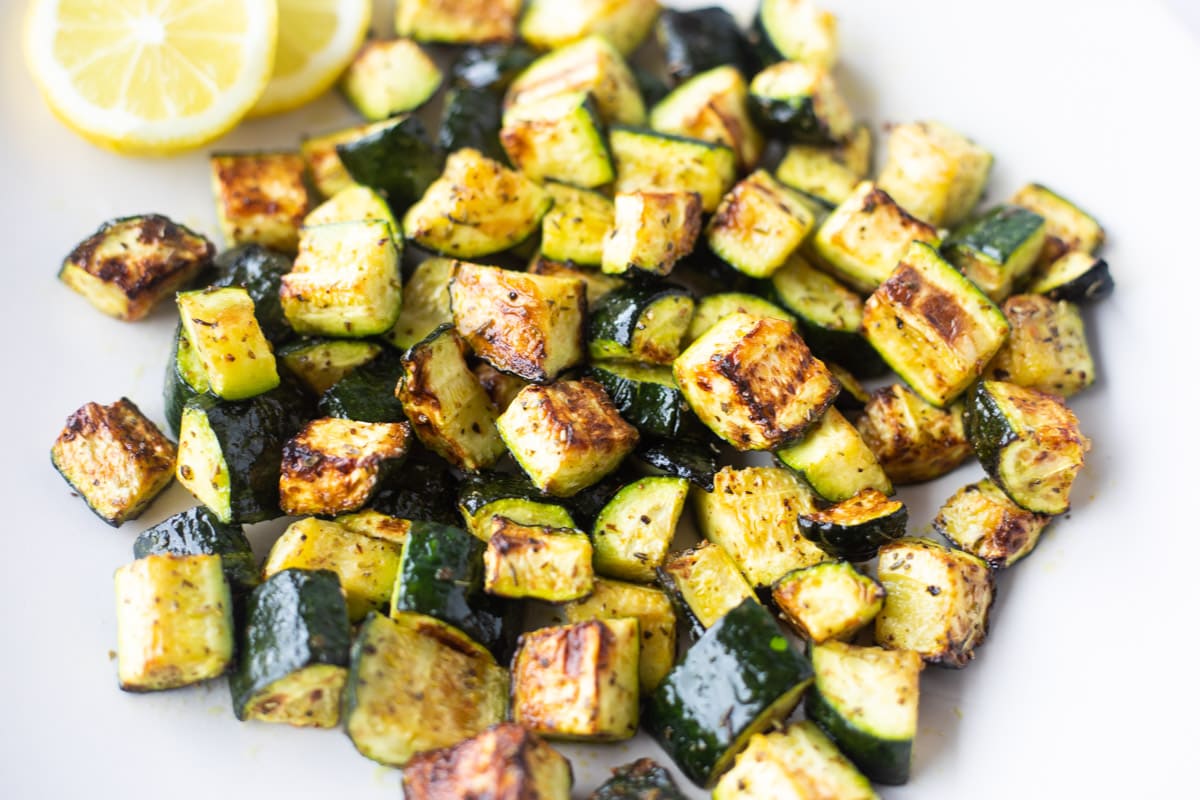 A quick, simple, and wholesome zucchini side dish that requires no breading. This vegan, low-carb recipe is easy to make in the air fryer.
Air Fryer Asparagus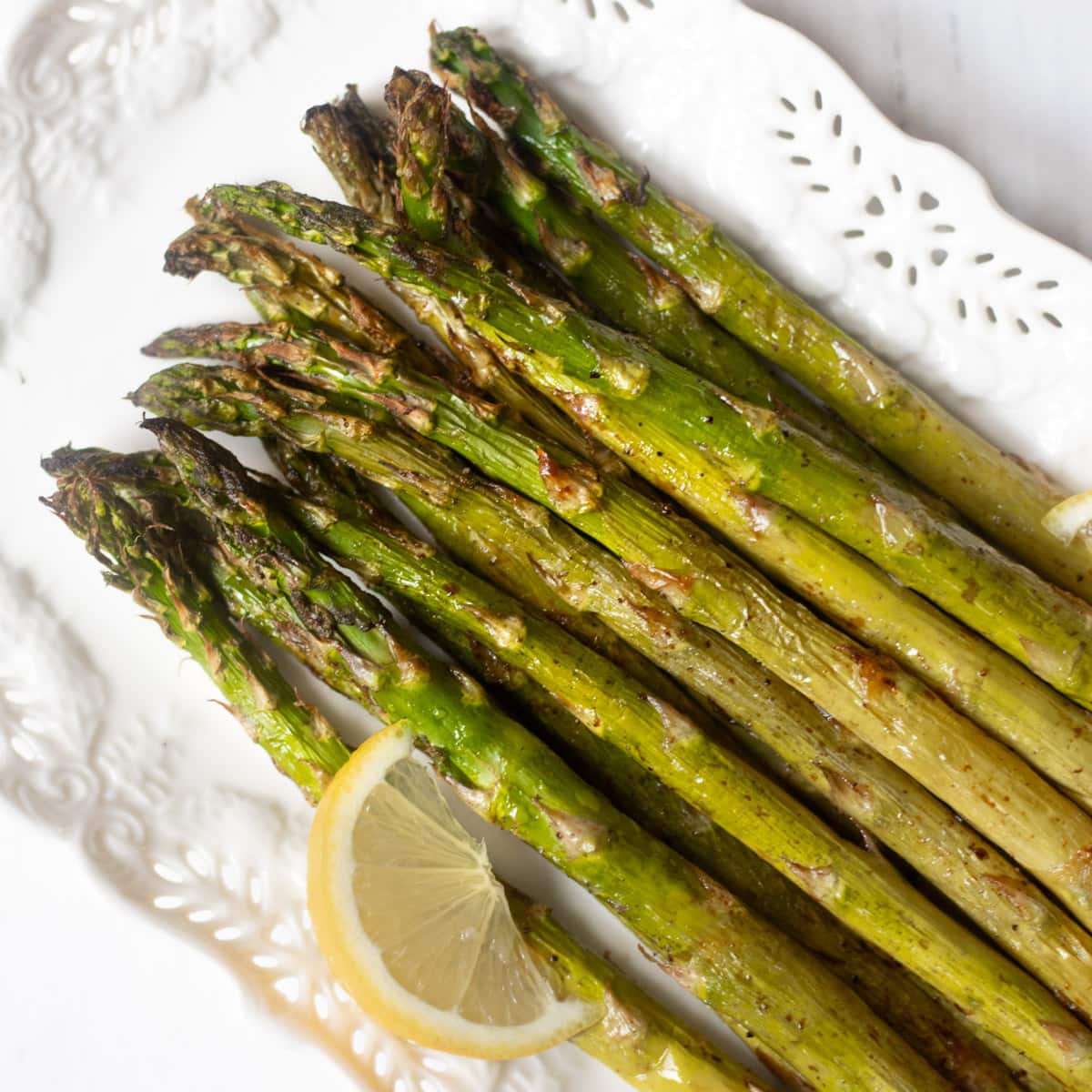 Here is an easy way to cook asparagus and turn it into a healthy, delicious side dish. This Air Fryer Asparagus is perfectly seasoned and cooks quickly while keeping it tender-crisp.
Air Fryer Green Beans with Garlic (Chinese-style)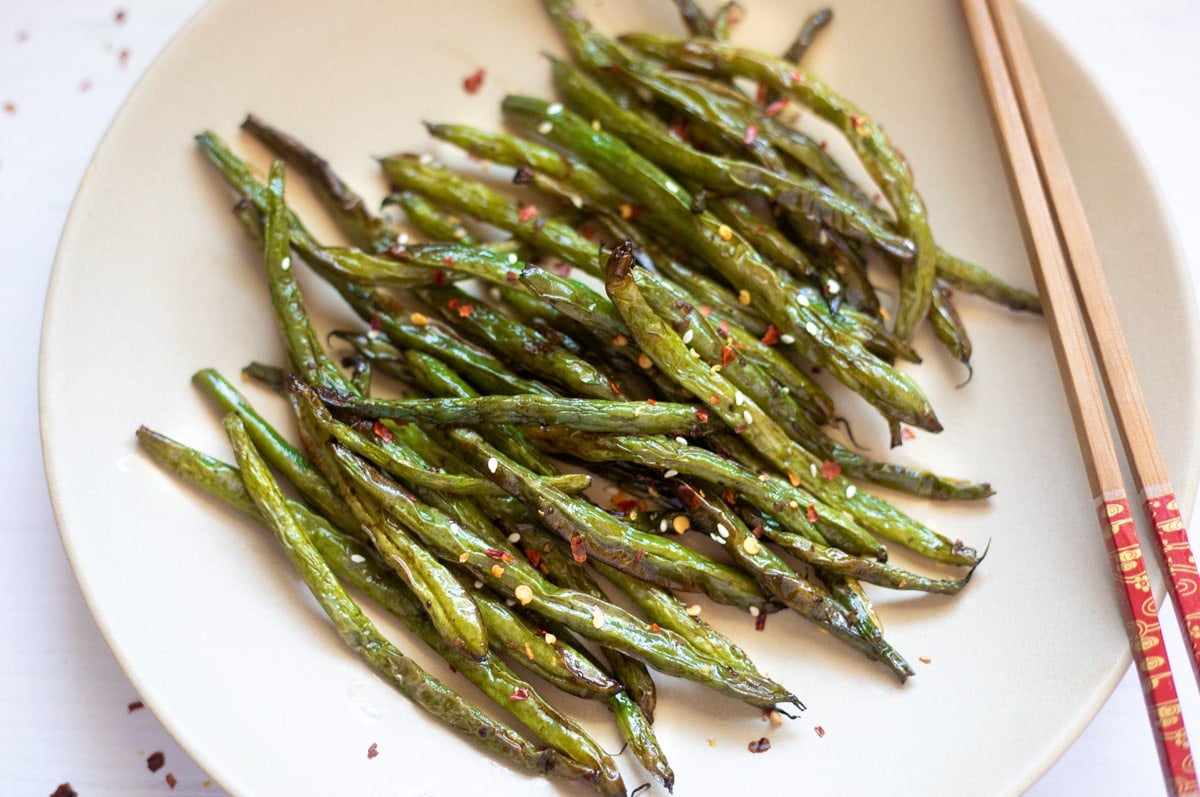 These quick and easy Chinese-style Air-fryer Green Beans are so good! Seasoned with ginger, garlic, and flavorful sauces, these Asian Green Beans are a perfect low-carb, vegan side dish.
Crispy Air Fryer Kale Chips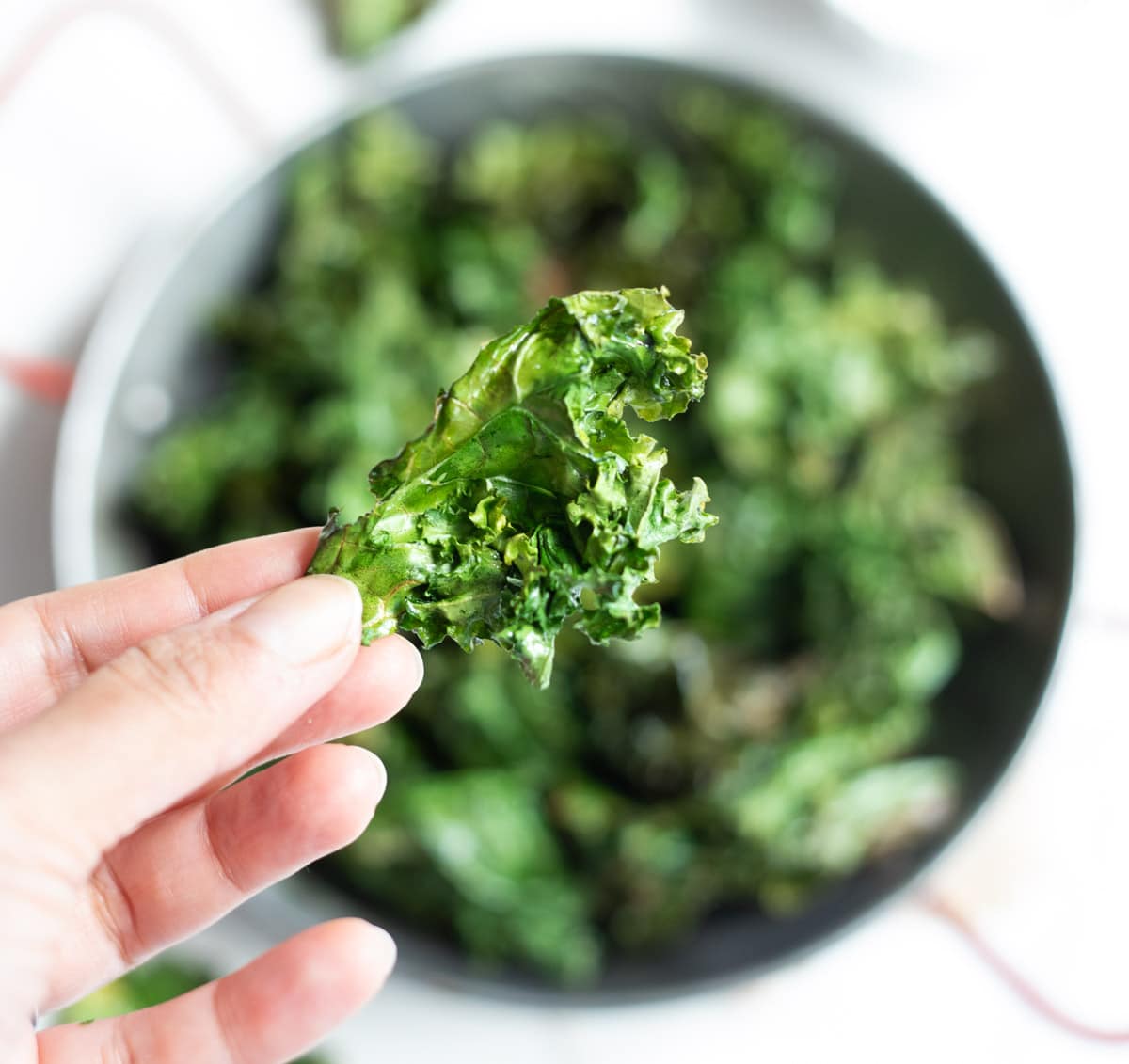 Air Fryer Kale Chips are the best way to enjoy kale! Homemade crispy kale chips are a delicious, healthy, low-calorie snack that can be made in less than 20 minutes. Roasting kale chips in the air fryer is easy and keeps them crispy for days!
Air Fryer Pumpkin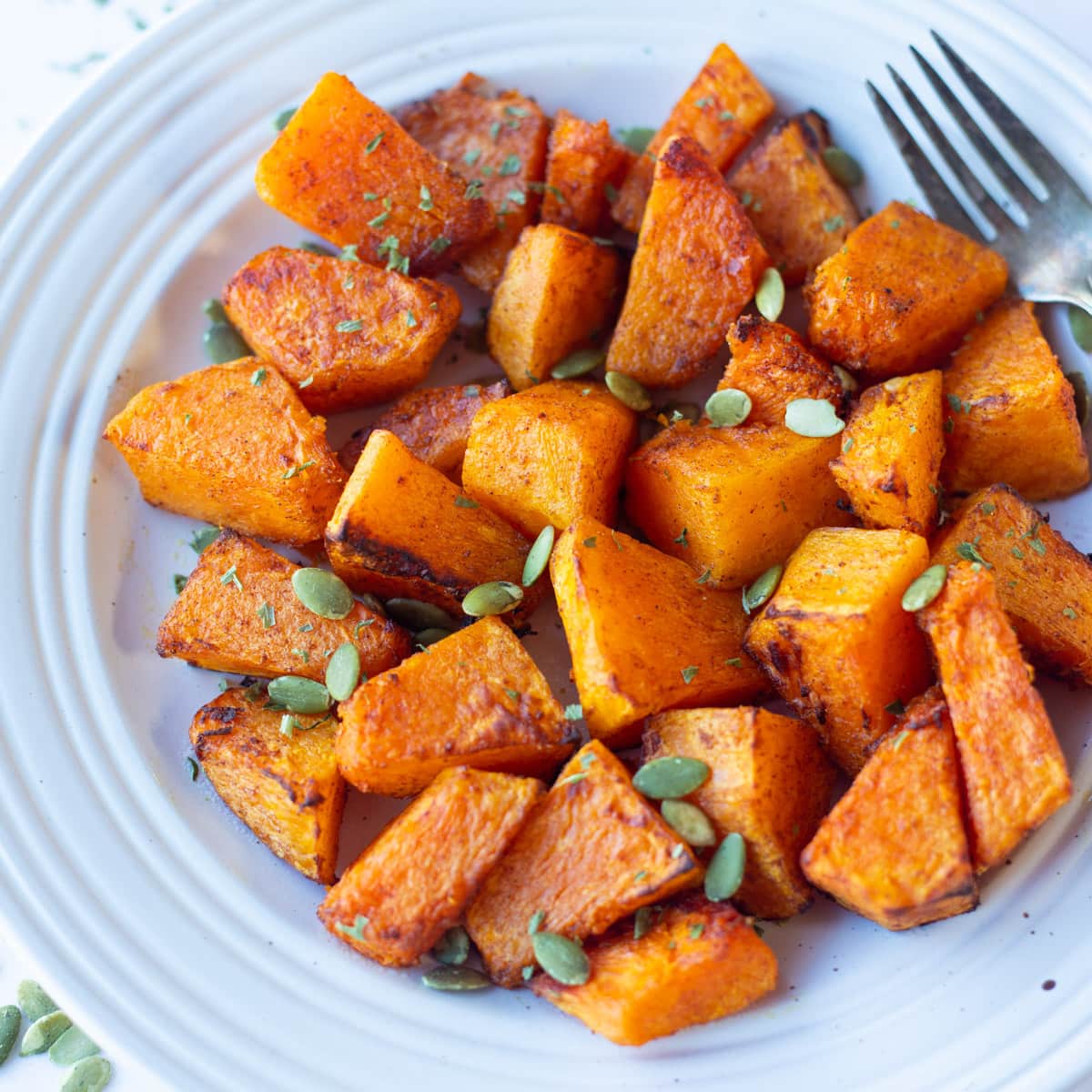 Air Fryer Pumpkin is a healthy and delicious side dish that is easy to make in just a few minutes. The pumpkin is crispy on the outside and tender on the inside, making it a perfect side dish for any meal.
Air Fryer Corn on the Cob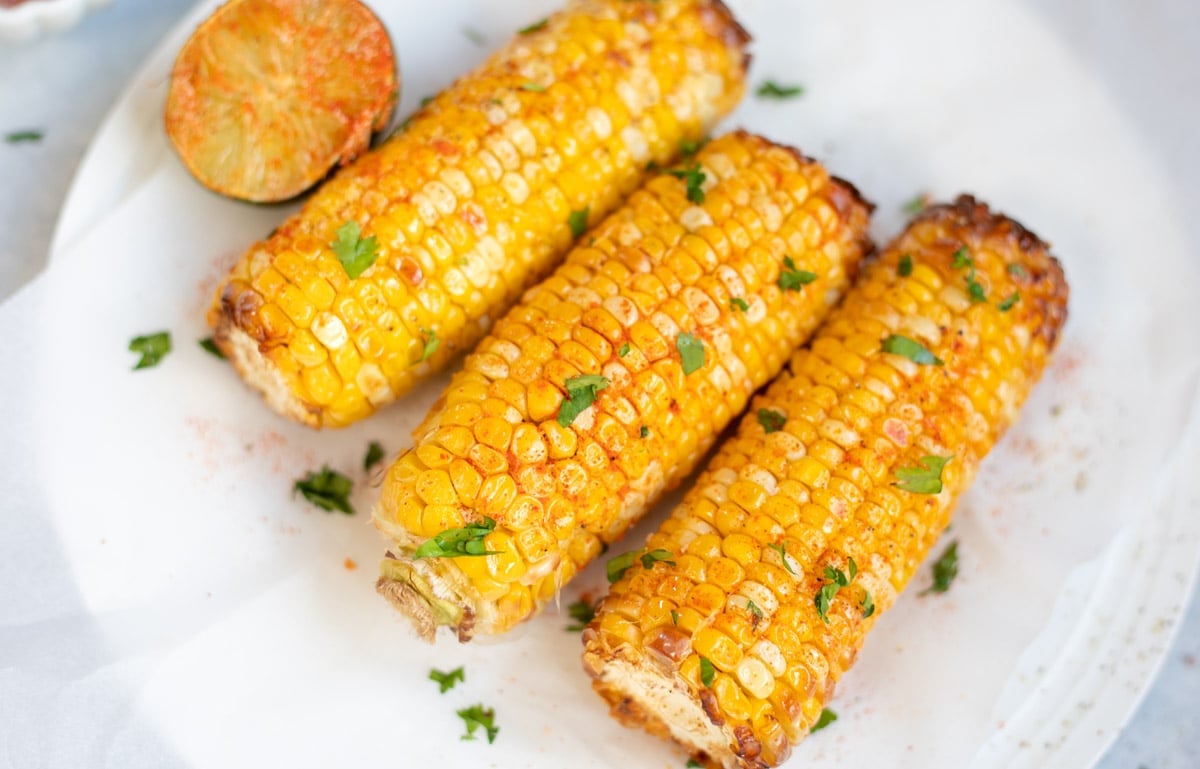 This grilled Air Fryer Corn on the Cob is easy to make and amazingly delicious. Spice it up the way you like, and enjoy it as an appetizer, snack, or side!
Paneer Tikka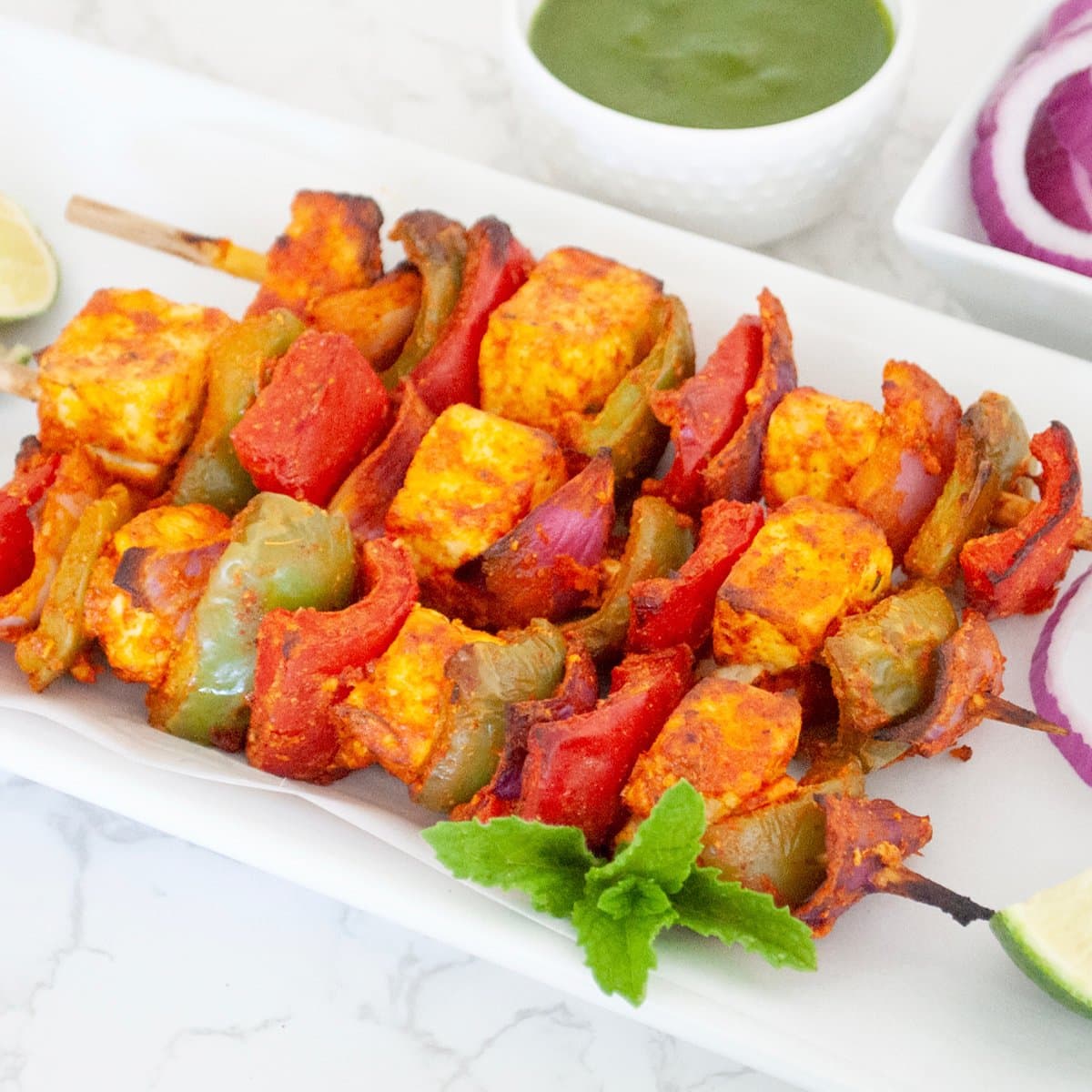 The best restaurant-style Tandoori Paneer Tikka in the air fryer. With marinated paneer and crispy vegetables, this Indian appetizer is packed with lots of flavors. Enjoy paneer tikka with this easy recipe made in the air fryer, oven, or grill!
Air Fryer Pumpkin Seeds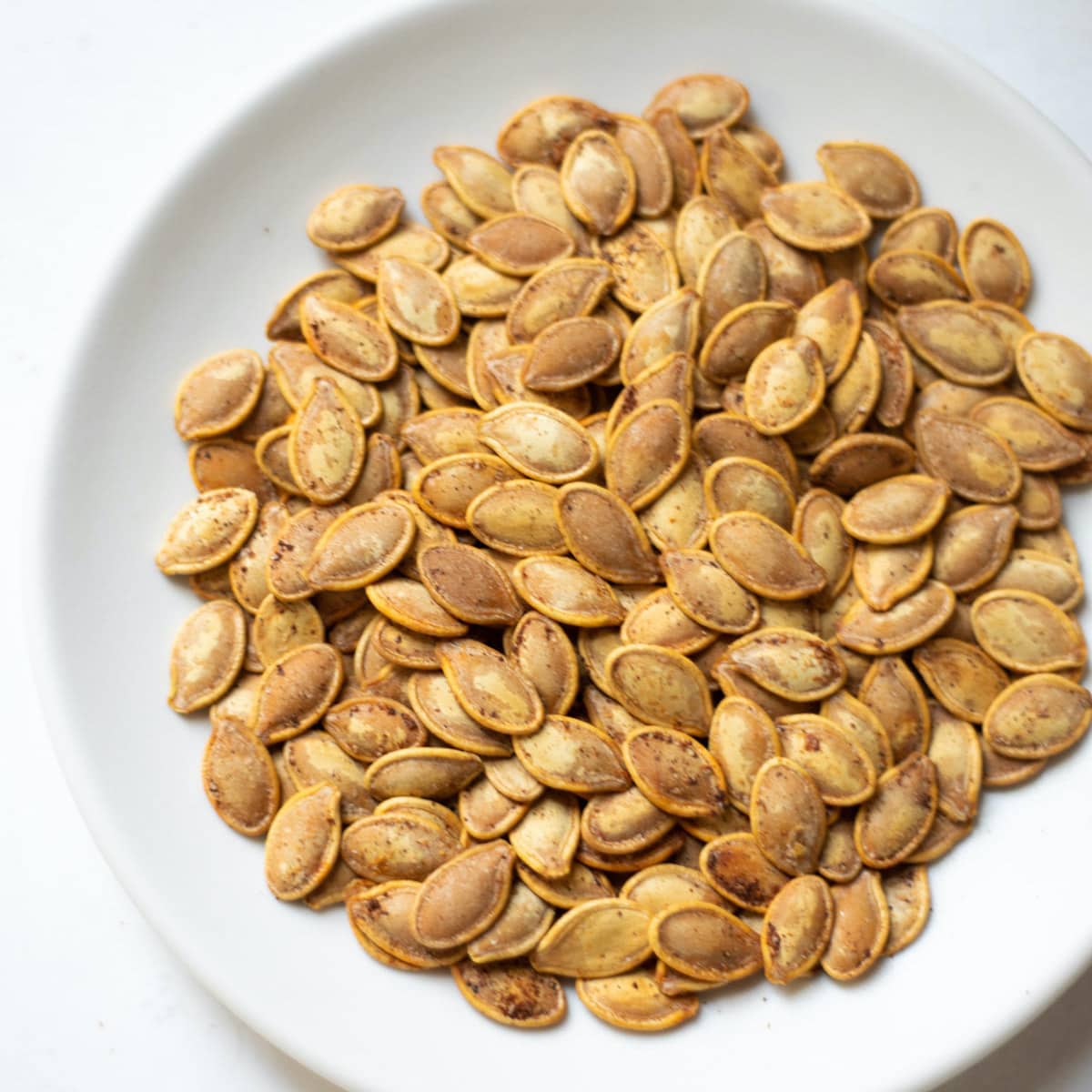 Deliciously crunchy Air Fryer Pumpkin Seeds make a wonderful healthy snack. These roasted pumpkin seeds are easy to make in the air fryer and can be seasoned in so many ways!
Air Fryer Plantains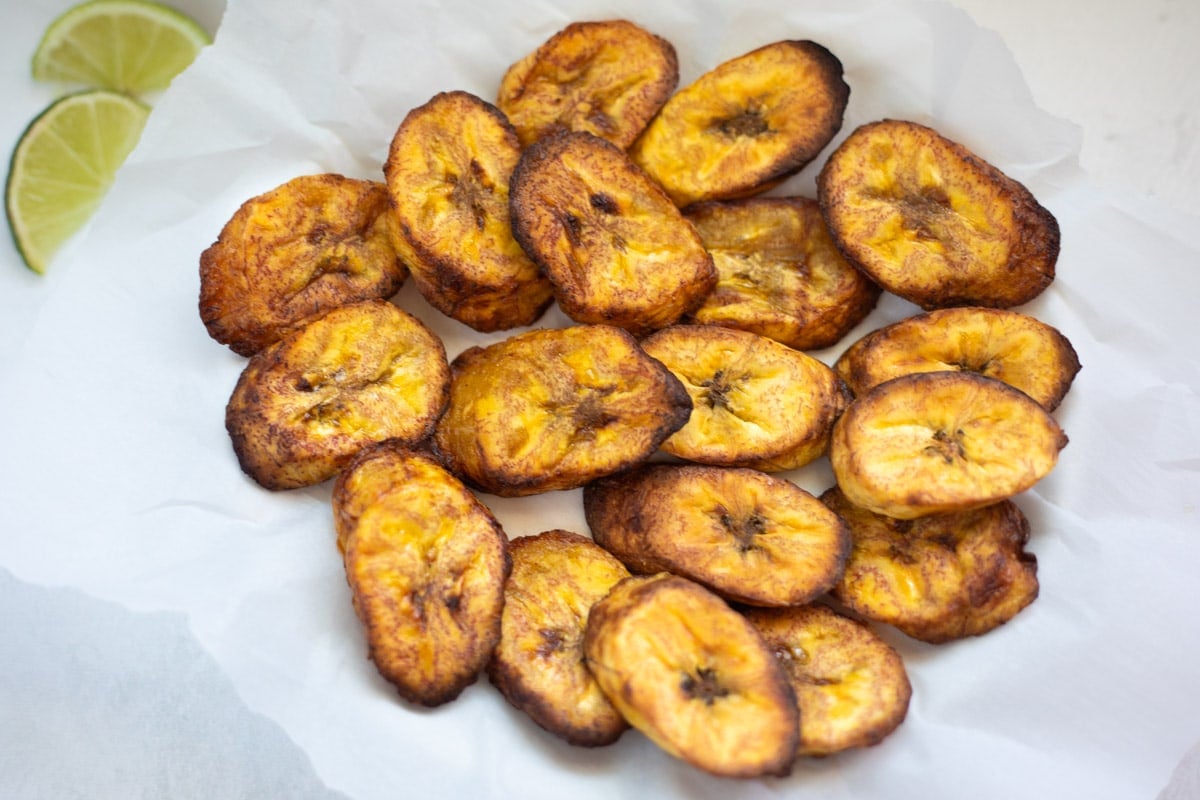 These Air Fryer Plantains are a perfect side dish or snack. Made in the air fryer for a healthier version with much fewer calories than traditional fried plantains. Vegan, gluten-free, paleo, and whole30 approved.
Roasted Aloo Gobi (Indian Spiced Potato & Cauliflower)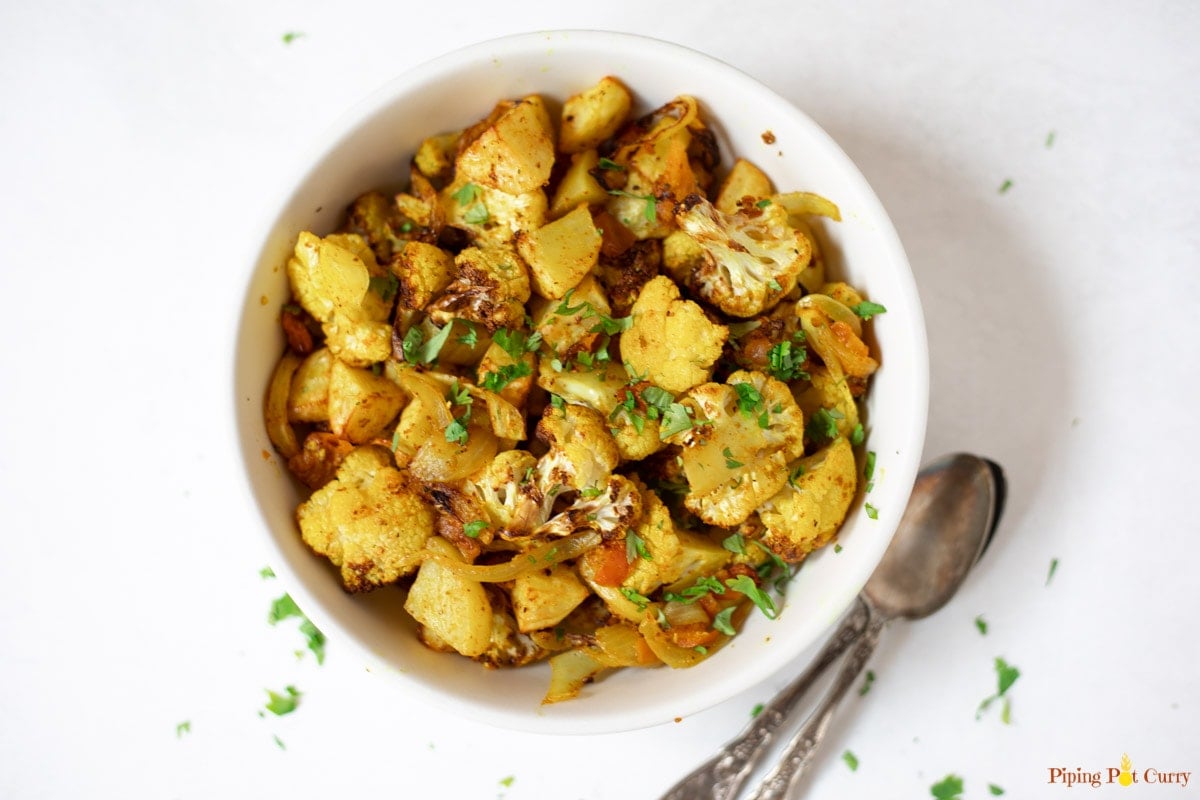 This Air Fryer Aloo Gobi is so good! All you need to do is toss cauliflower and potatoes in spices, roast in the air-fryer, and have the perfect Indian veggie dish. No mushy cauliflower and it takes less than 20 minutes to put together!
Air Fryer Turnips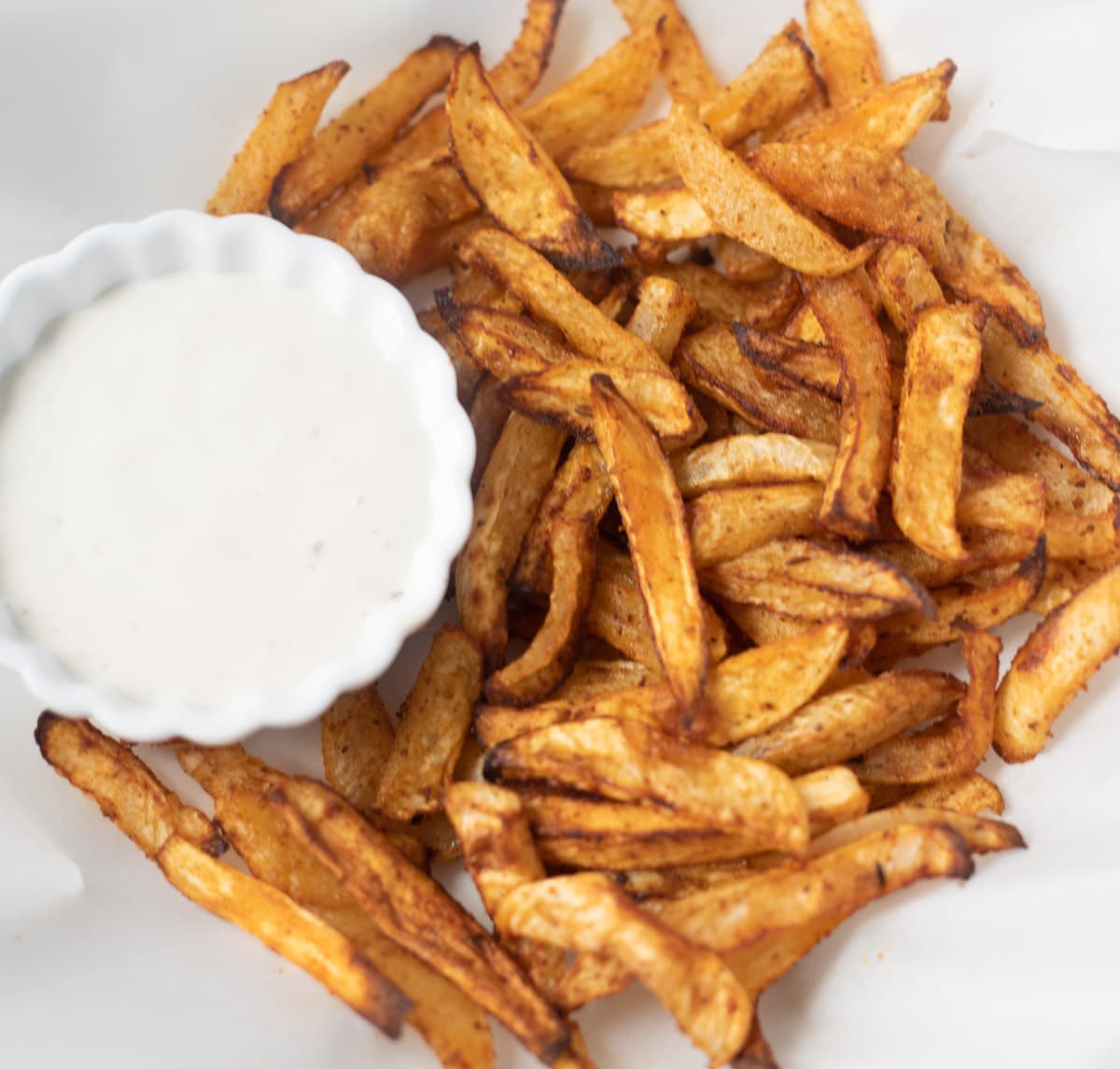 Give a healthy twist to french fries with these low-carb air-fryer turnip fries. These roasted turnip fries are easy to make and are a perfect addition to the whole30, paleo, or keto diet plan!
Onion Bhaji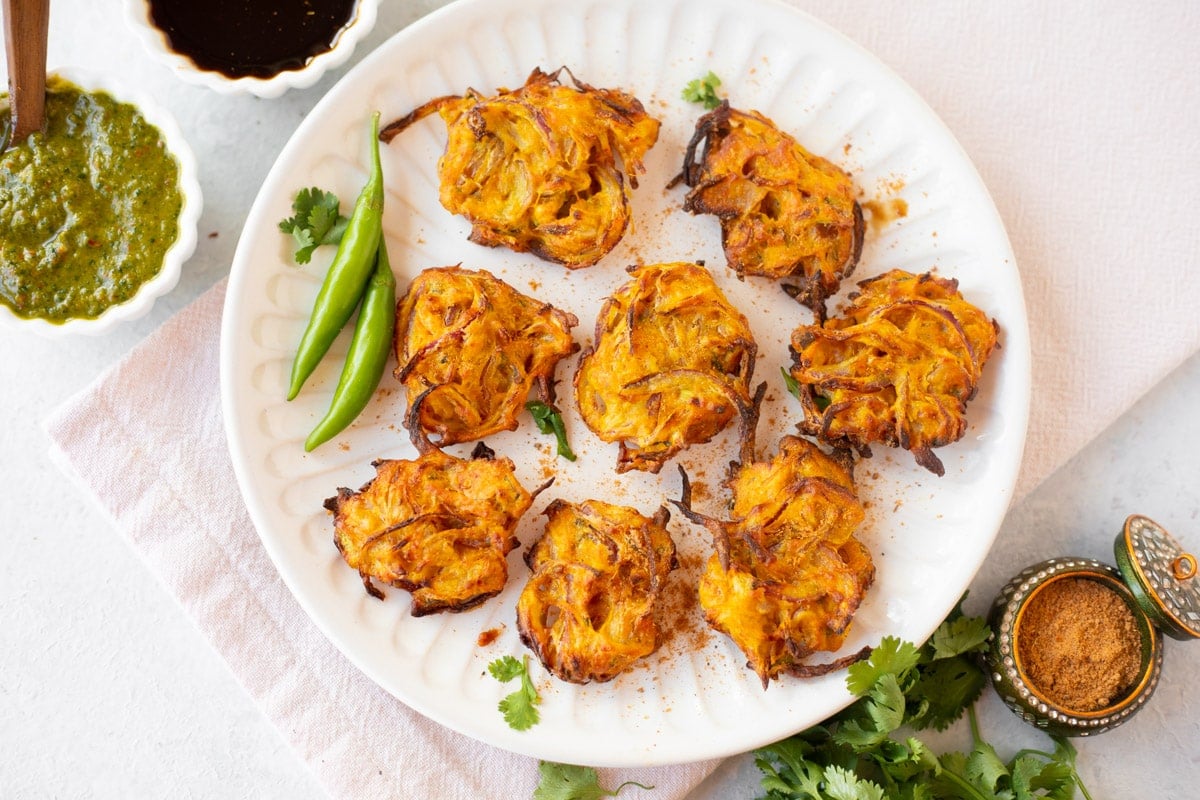 The crispy and golden Air Fryer Pakoras are made with sliced onions, gram flour (besan), and spices. They are just as delicious as the deep-fried bhajiyas.
These crunchy, flavorful fritters are a perfect snack with a cup of masala chai!
Hariyali Paneer Tikka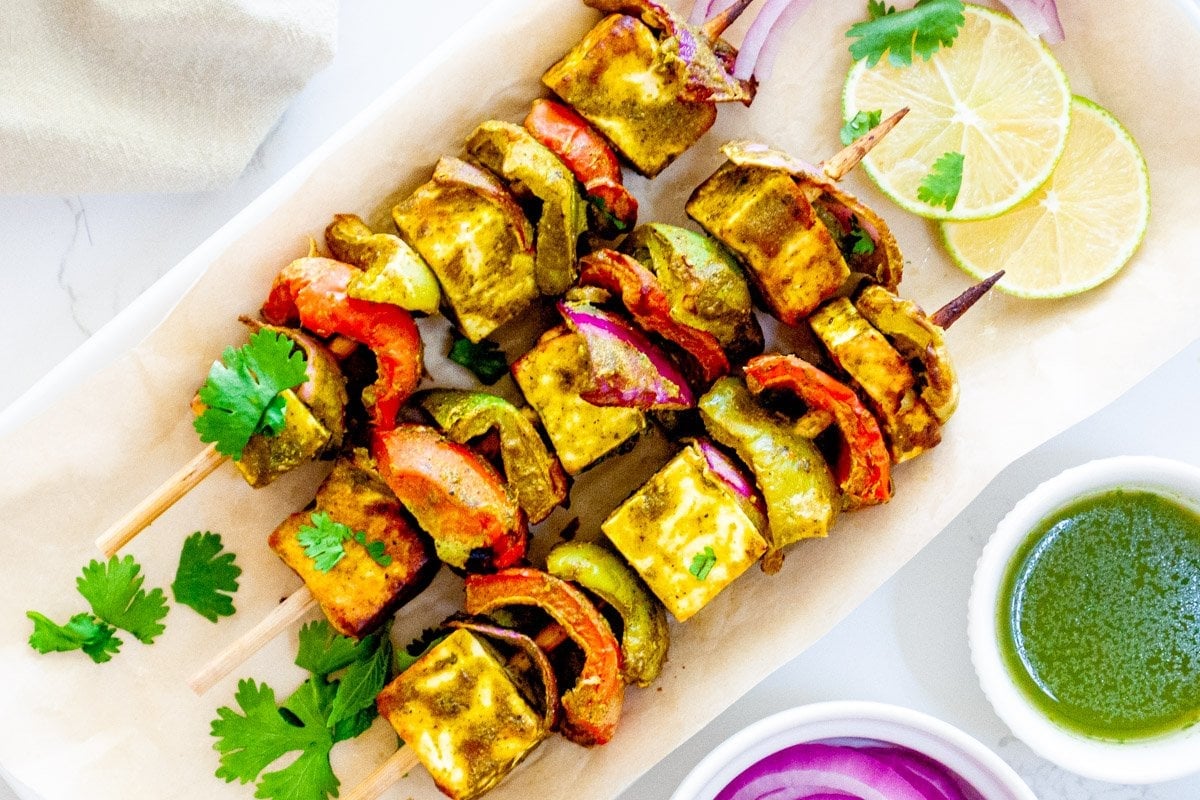 Hariyali Paneer Tikka is a delectable Indian appetizer made with cubes of soft paneer, crisp bell pepper, and onions marinated in cilantro, and mint, along with yogurt and spices. Enjoy this quick and easy Haryali paneer tikka made in the air fryer, oven, or grill!
Cheesy Samosa Jalapeño Poppers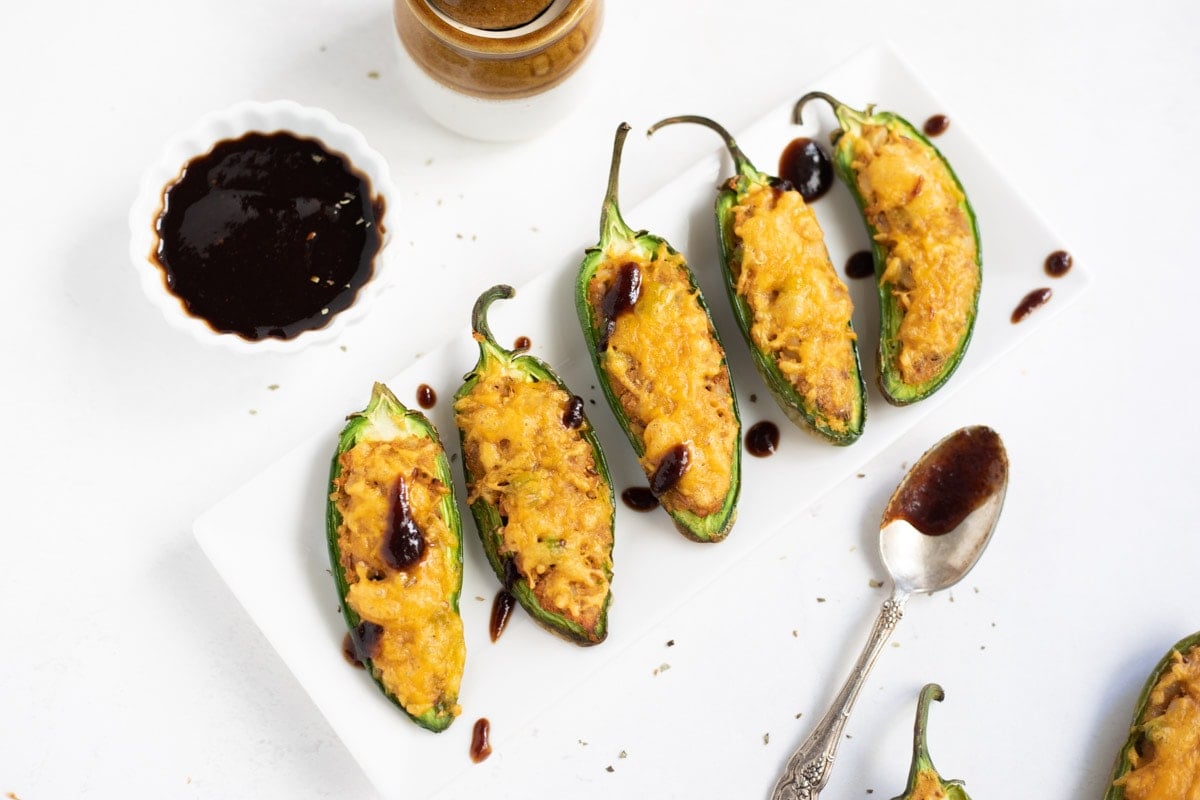 Cheesy Samosa Jalapeno Poppers is an Indian twist to the favorite party appetizer. This is a vegetarian and gluten-free version made in the air fryer for samosa lovers. Don't forget to check out the Halloween inspiration for these jalapeno poppers!
Crispy Fried Okra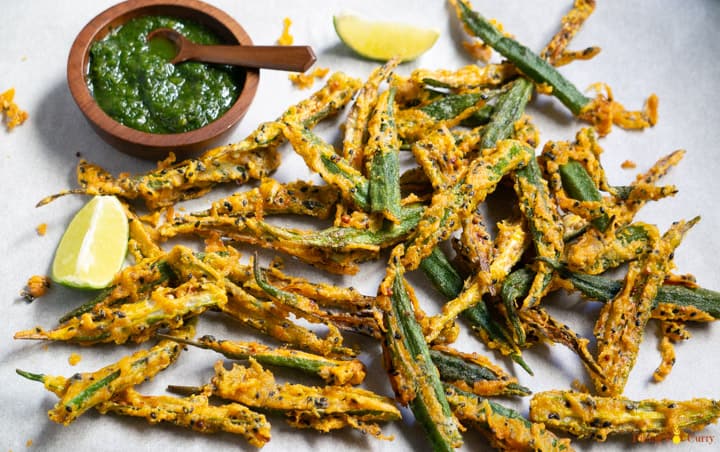 Kukuri Bhindi is sliced okra coated in spices and fried until crunchy. This crispy air fried okra is so good you cannot stop eating it!
Kung Pao Brussels Sprouts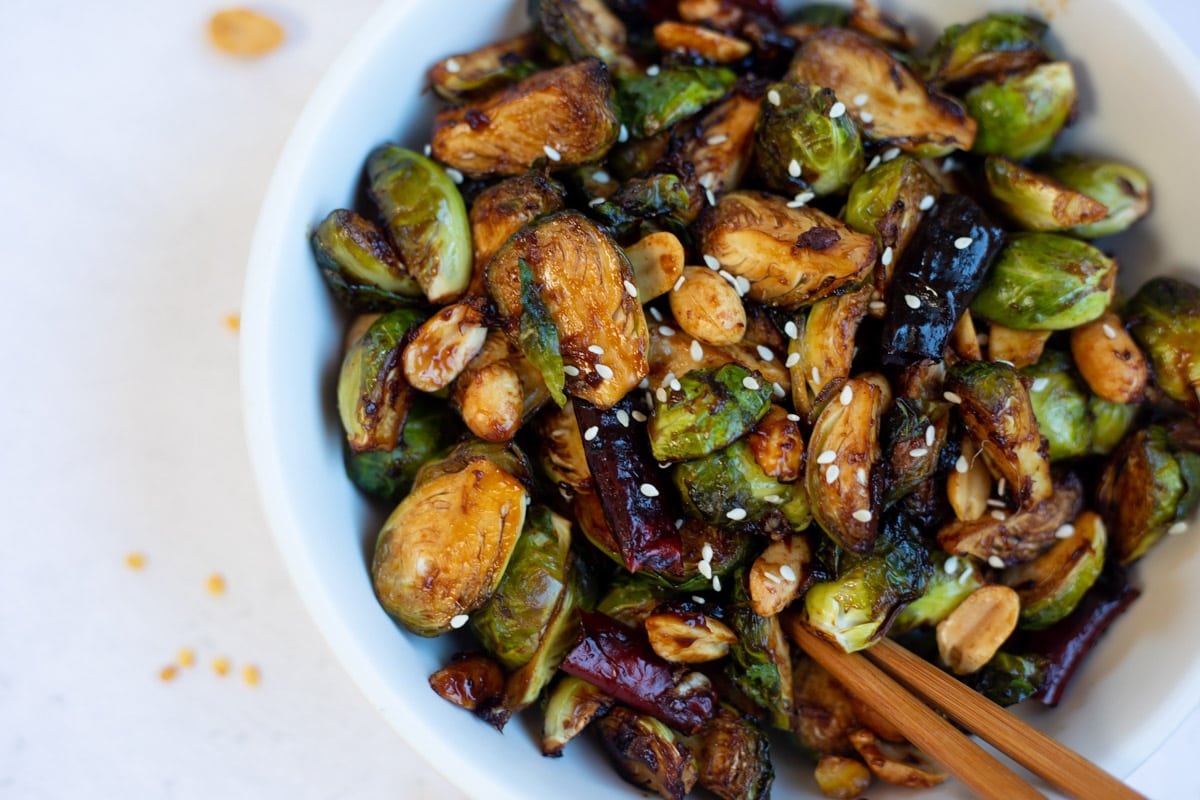 A simple yet delicious side dish, these Kung Pao Brussels sprouts are easy-to-whip-up in the air fryer. Garnished with roasted peanuts and sesame seeds, they can be made in less than 30 minutes.
Tandoori Cauliflower (Gobi Tikka)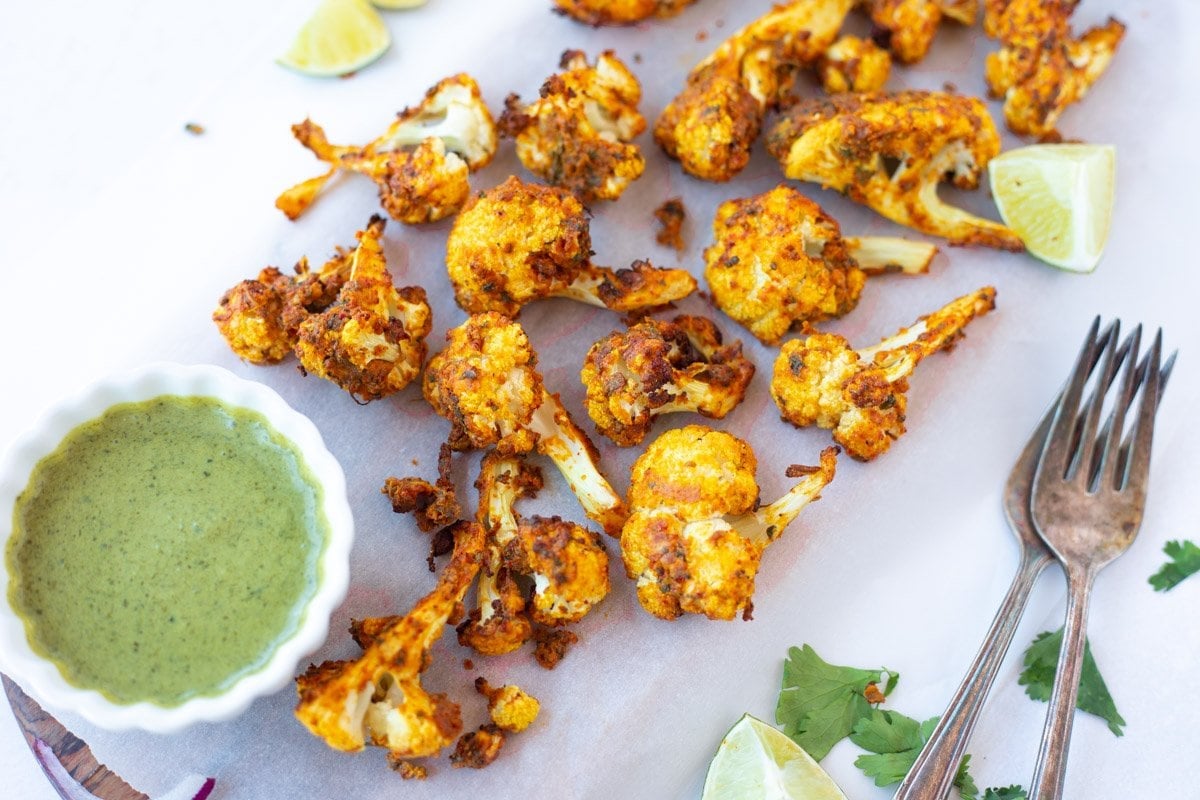 Tandoori Cauliflower is a wonderful gluten-free and low-carb appetizer. Tossed with a spiced yogurt marinade and roasted in the oven or air fryer, this Tandoori Gobi Tikka is so flavorful, golden, and crispy. The whole family will love this easy and healthy cauliflower recipe!
Tandoori Paneer Naan Pizza – Air Fryer / Oven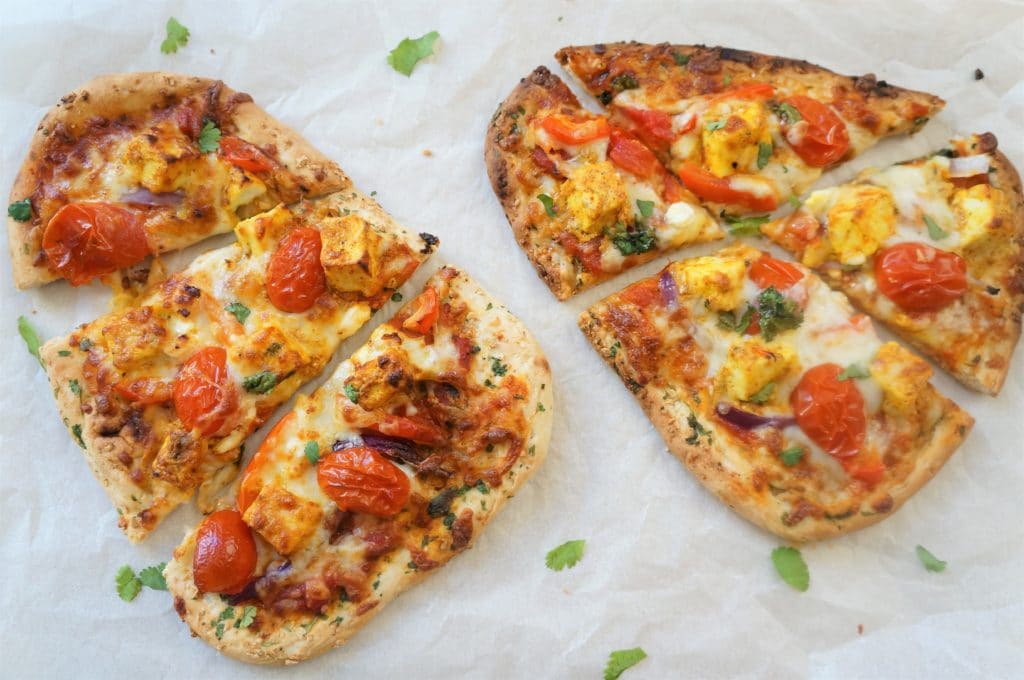 Tandoori Paneer Naan Pizza made with marinated paneer, red peppers, onions, and grape tomatoes, in an Air Fryer or Oven. This is a delicious and quick fusion pizza for the times when you are craving pizza! Vegetarian, easy, and convenient. Vary it with toppings of your choice.
Tandoori Aloo Tikka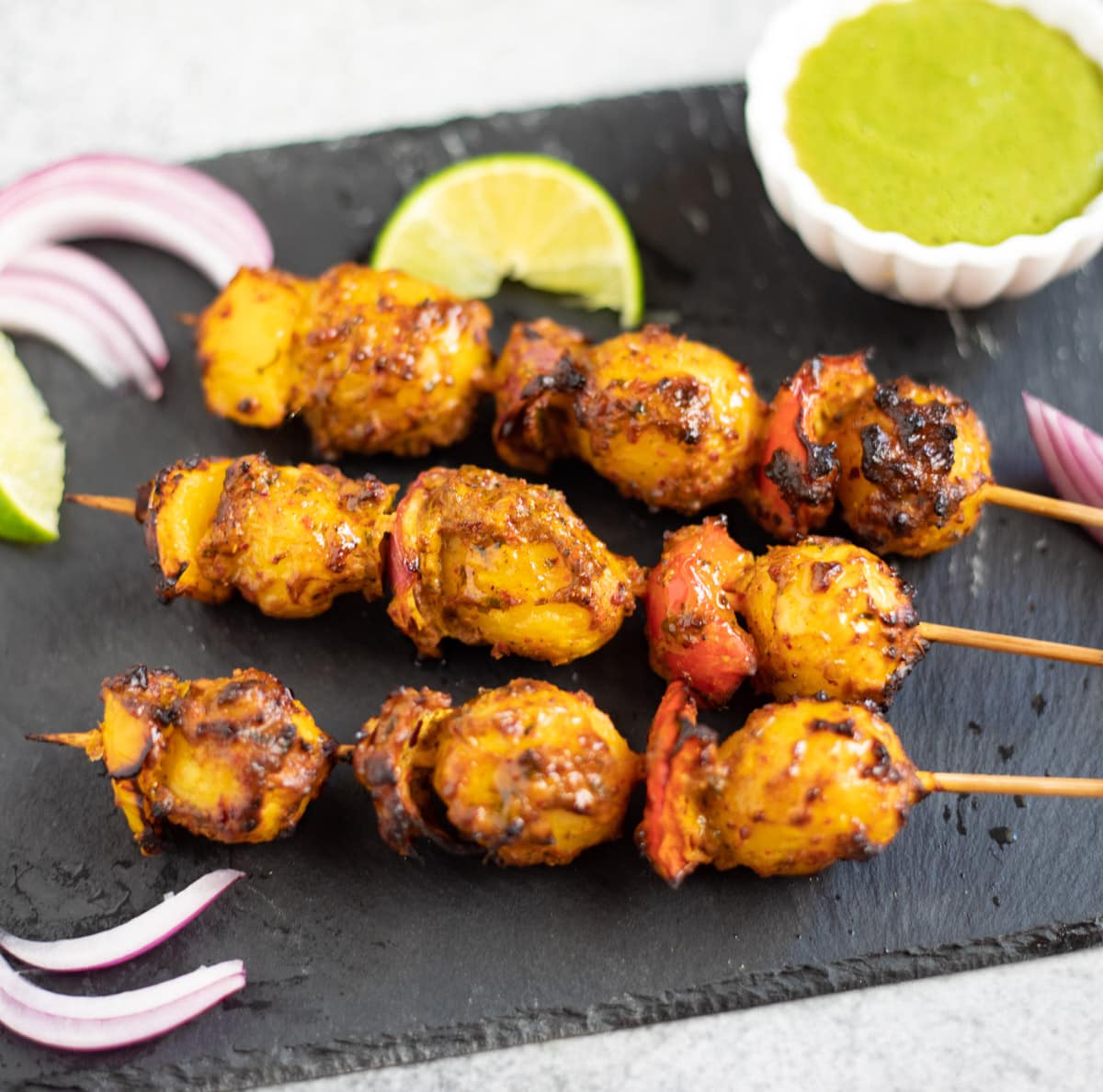 Baby potatoes marinated in a delightful combination of yogurt and spices, threaded to skewers, and cooked to create this heavenly appetizer. You can cook this tandoori aloo tikka in an oven or air-fryer.
Savory Puff Pastry Turnovers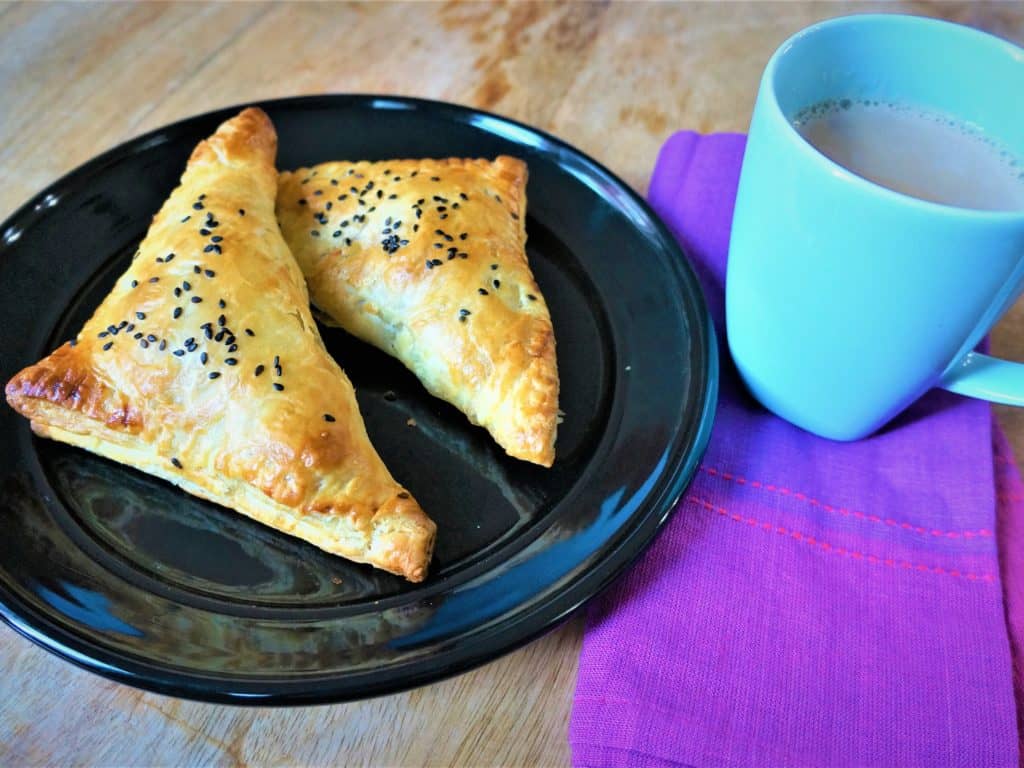 These Savory Puff Pastry Turnovers have a flaky golden crust with spicy, flavorful paneer filling. Perfect appetizer for a party that can be prepared ahead of time. So easy and delicious!
Air Fryer Stuffed Eggplant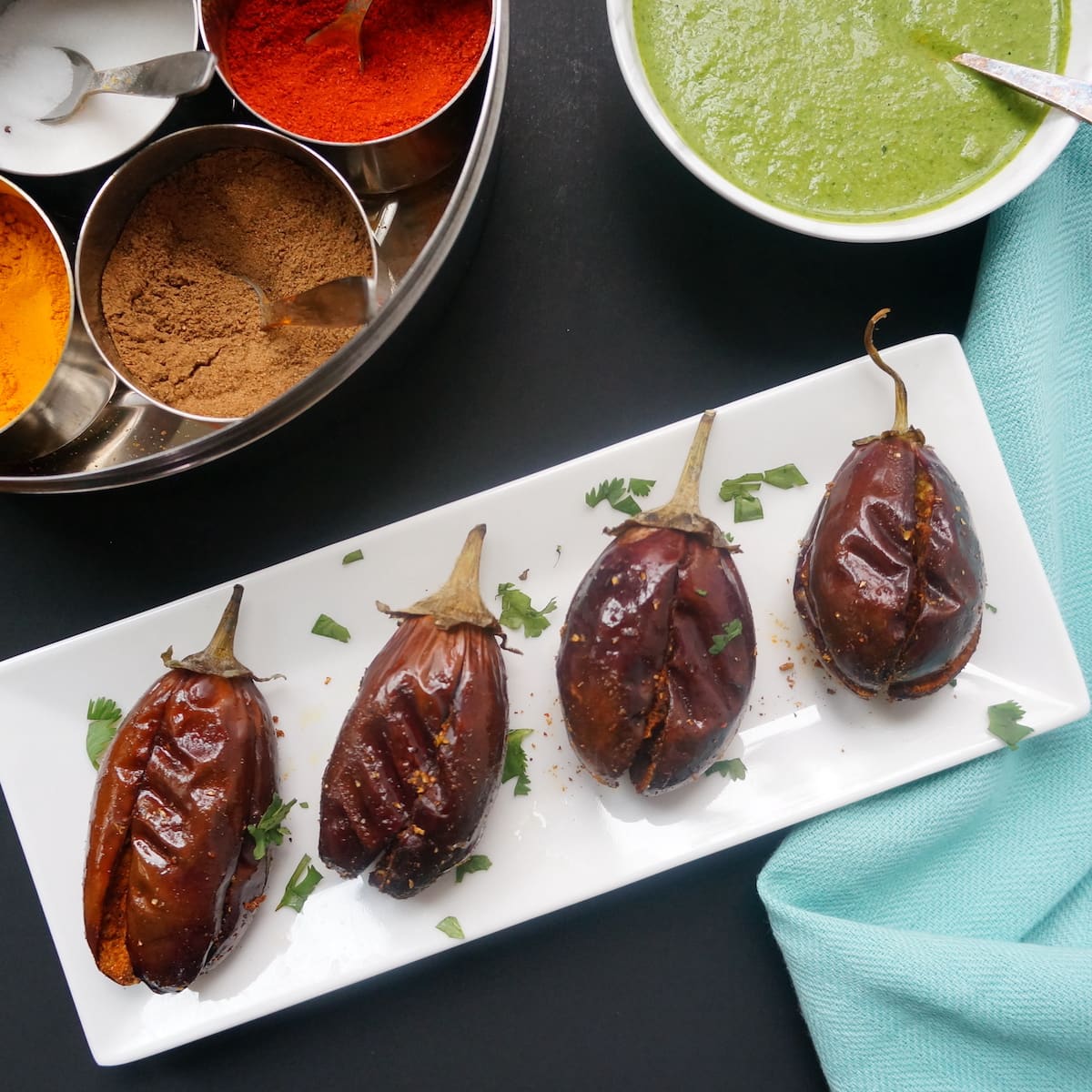 Air Fryer Baby Eggplants stuffed with flavorful and aromatic spices cooked in very little oil in the Air Fryer. A quick and delicious way to enjoy eggplants!
Potato Fritter Sliders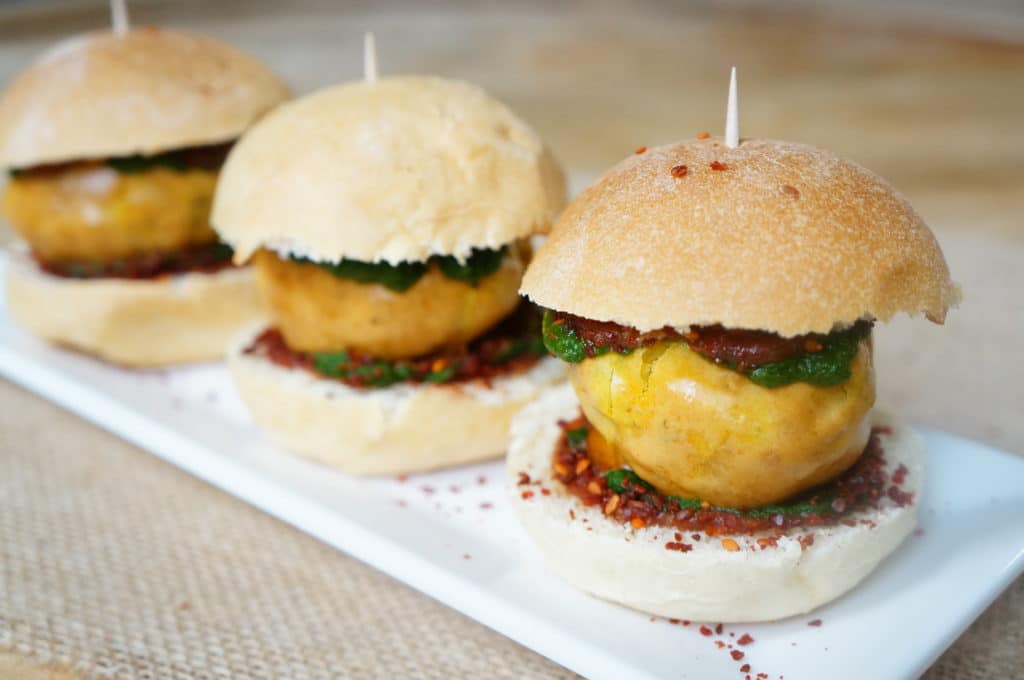 Potato Fritter Sliders is a game day twist of the humble Mumbai street food, Vada Pav. A fried potato fritter is stuffed between dinner rolls and sweet and spicy sauces or chutney.
Stuffed Okra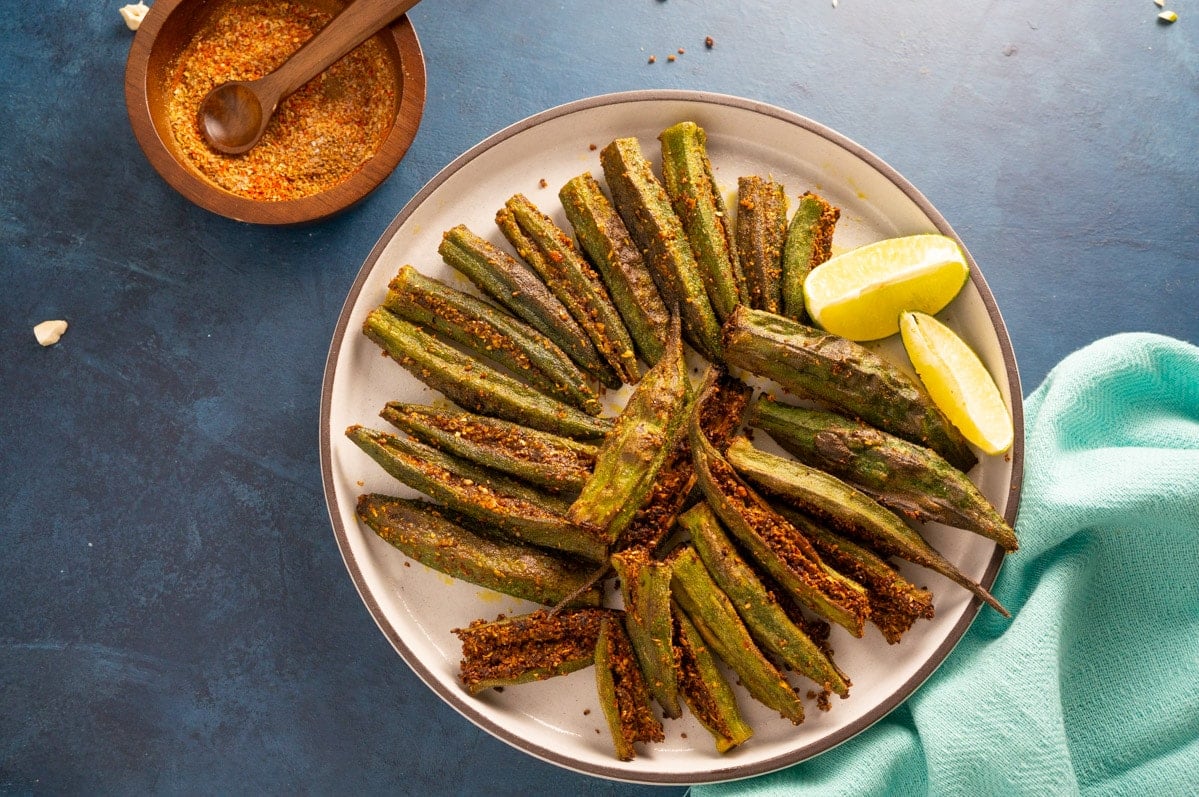 Bharwa Bhindi, which means Stuffed Okra, is a popular Indian side dish where the okra is stuffed with spicy & tangy masala filling. This vegan & gluten-free dish is a perfect side with Indian roti or paratha or even great to enjoy as an appetizer.
Air Fryer Taro Fries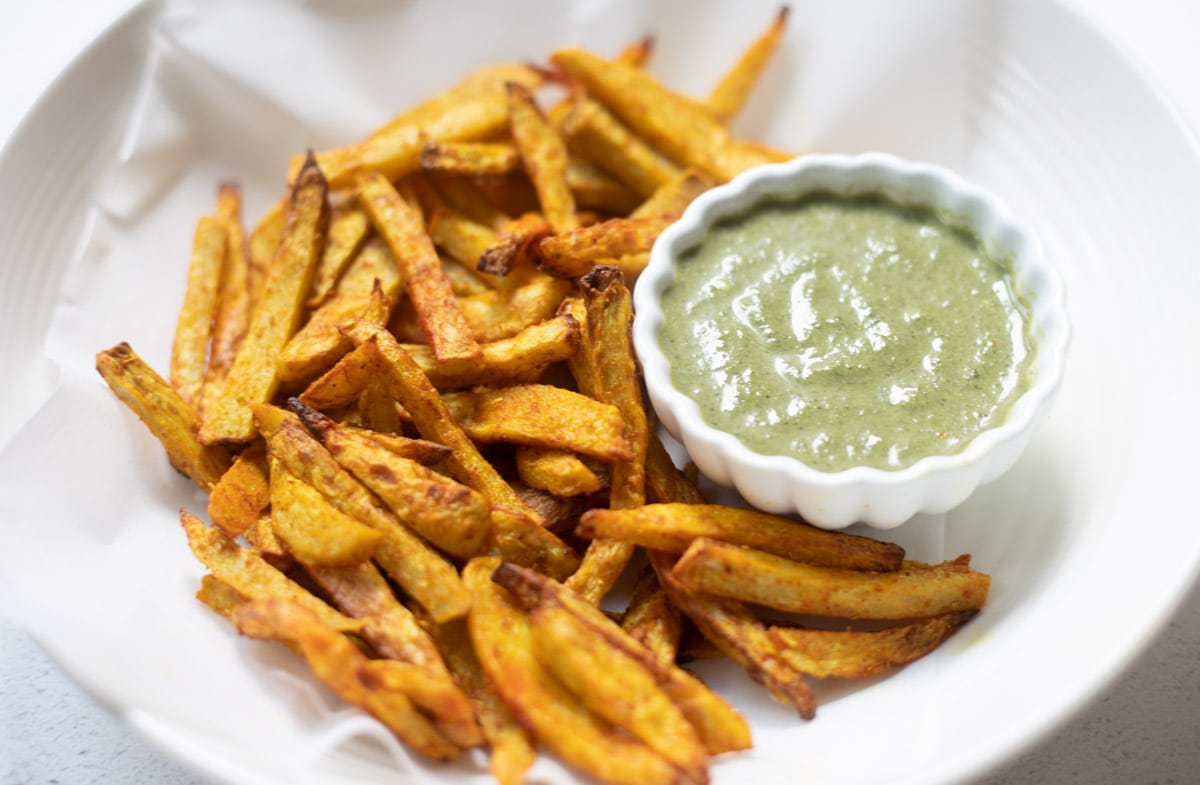 These Air Fryer Taro Fries are so easy and delicious. They are a great variation in taste and nutrition to french potato fries. A perfect snack or side with a cilantro dip!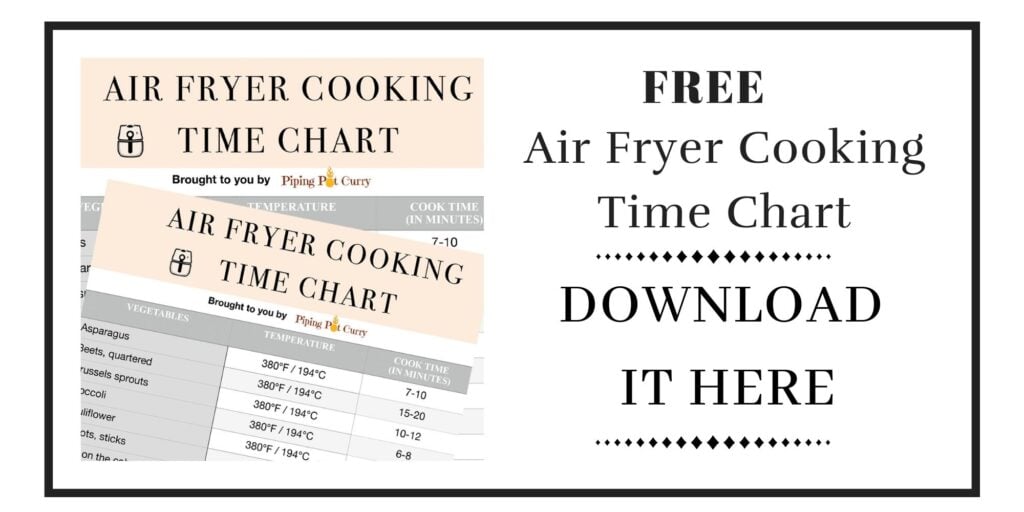 For more vegetarian recipes, check out these vegetarian soups made in the Instant Pot or these vegetarian pasta recipes.
Check out this collection of 15+ Air Fryer Indian Recipes.