Kakdi Koshimbir, also known as Khamang Kakdi, is a simple, easy to make, refreshing Indian cucumber salad bursting with crunch and flavor. This hydrating, low-carb recipe can be made in just 15 minutes, and is a delicious vegetarian and gluten-free side dish!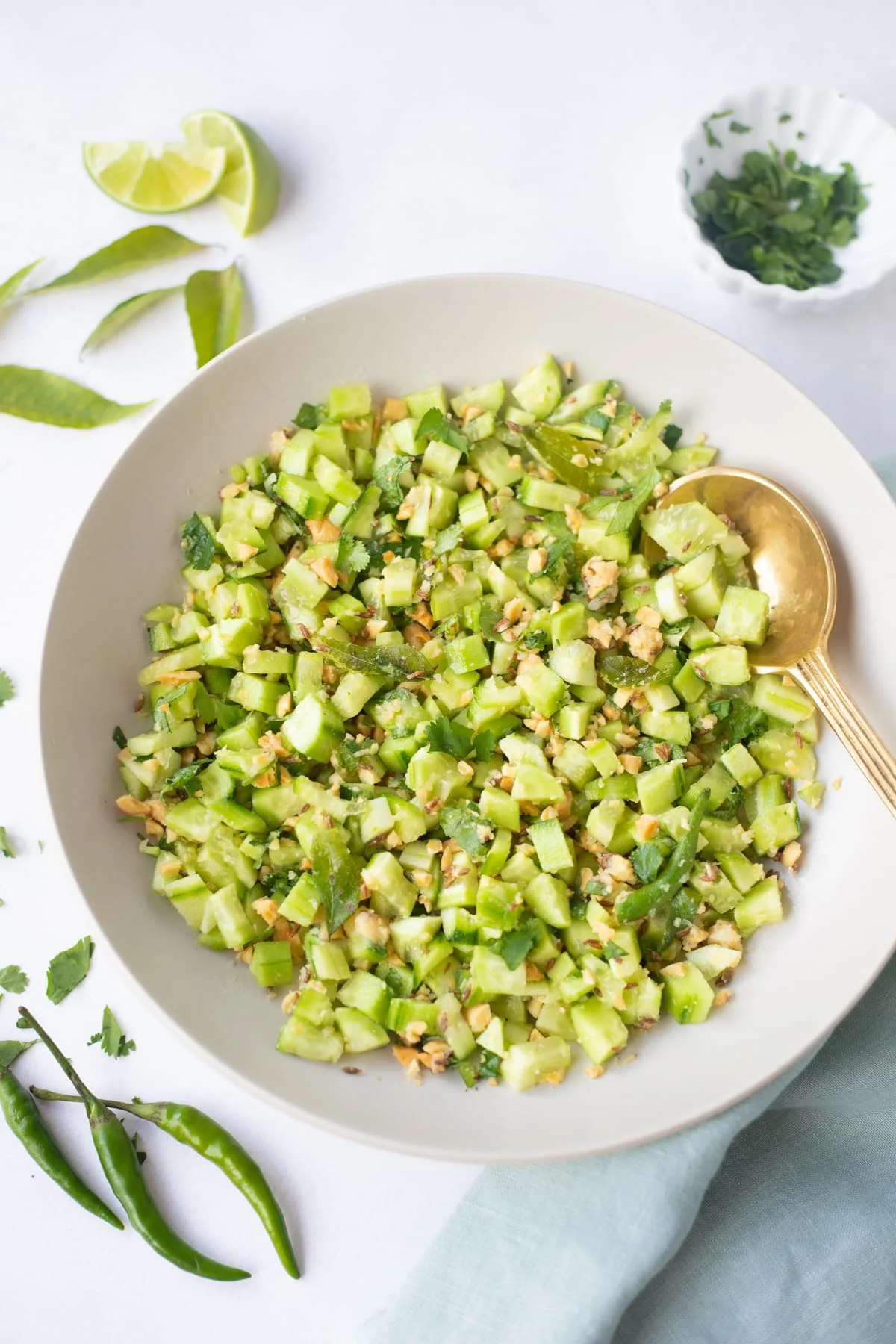 In Marathi, Kakdi means "cucumber" and Koshimbir means "salad." And when combined, Kakdi Koshimbir (Khamang Kakdi) literally translates to a cool cucumber salad.
This is popular in Maharashtrian and Gujarati households in India.This salad is often served during weddings, auspicious ceremonies and festivities.
For this easy salad, cucumber is diced and tossed with peanuts, green chillies, cilantro, lemon juice in a sizzling tempering called ''tadka''. It's lightly spiced and takes only 15 minutes to make with just a few pantry ingredients.
Cucumbers have a high water content and a mild, refreshing flavor. In hot weather, they can help with dehydration and provide a cooling effect to the body. This Indian cucumber salad is light but filling, and it works well as a snack, salad or side dish.
Credits for this detailed recipe go to my dear friend Shweta, who has been so kind to share her Maharashtrain recipes with me. Do check out her Misal Pav and Ukadiche Modak recipe too.
Jump to:
Recipe Ingredients
This salad is a delicious mixture of a few ingredients easily available at home. However, cucumber and peanuts are the stars of this dish.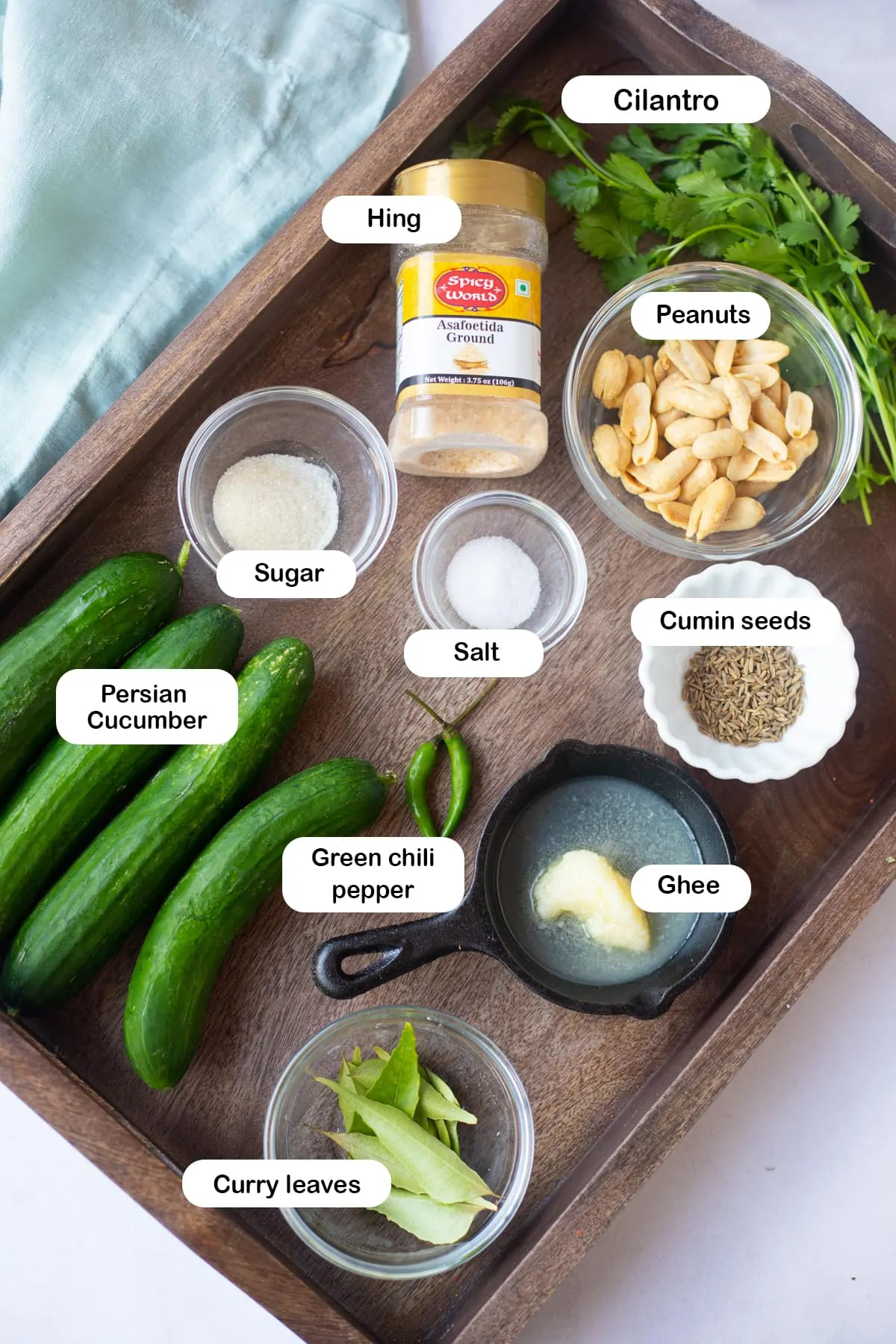 Cucumber: You can use any variety of cucumbers like Indian, English but Persian cucumbers work best for this recipe, in my opinion.
Roasted peanuts: This adds crunch to the salad. You can either use store-bought or you can roast and crush/pulse the peanuts yourself.
Green chili: You can use any chilli/ pepper of your choice. I used Indian green chili or birds eye chili for this recipe.
Cilantro: I used finely chopped fresh cilantro. This adds an intense flavor to the salad.
Curry leaves: Give character to this salad. If you can, use fresh ones.
Lime Juice: It adds a zing to the salad and is an excellent source of vitamin C.
Spices: Cumin seeds, hing both add flavor to the tempering.
How to Make
This Indian cucumber salad is so quick to make, it only takes 15 minutes from start to finish in 3 simple steps:
Step 1: Prep the vegetables
Peel and cut the cucumber into small pieces. Also slit and dice the green chili peppers.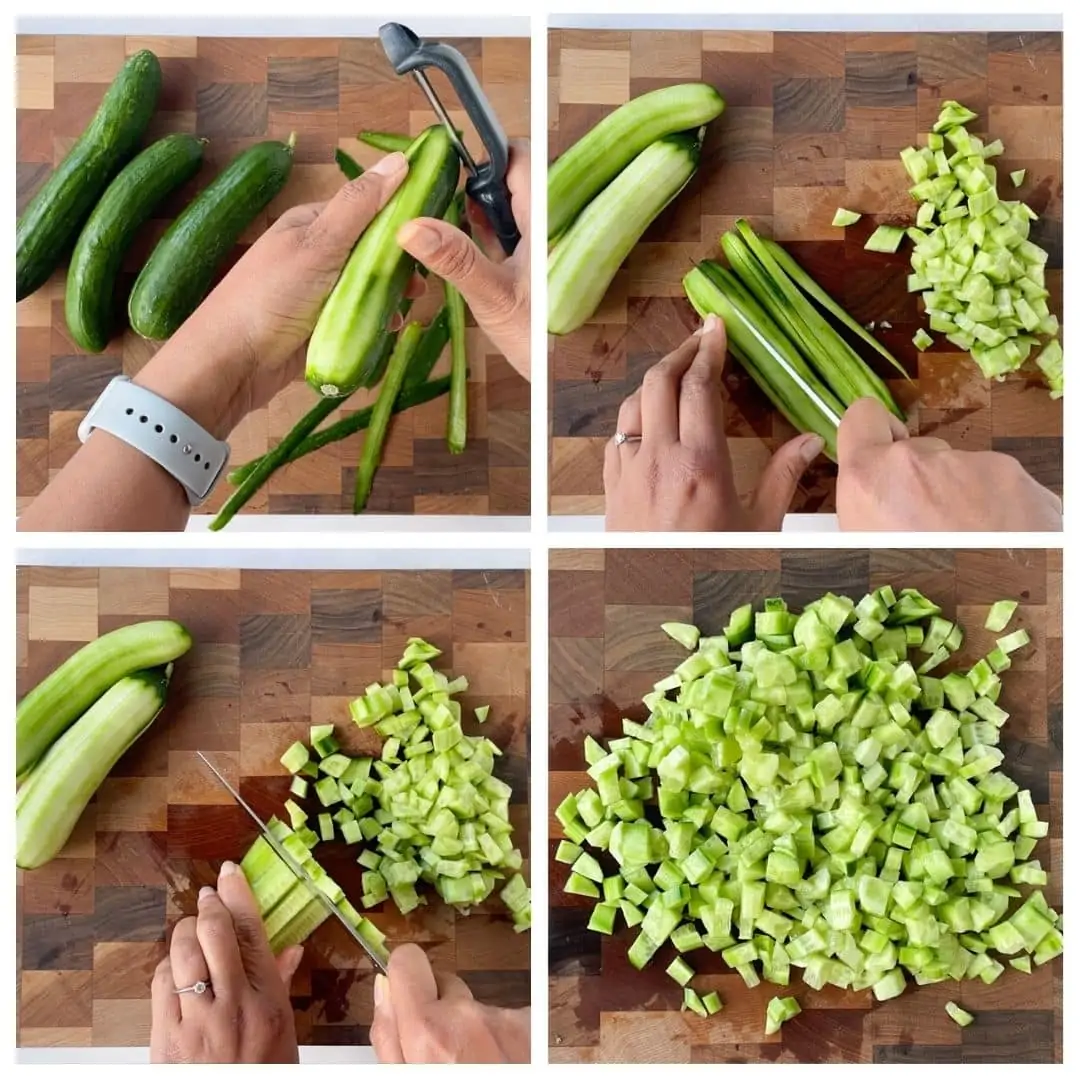 Step 2: Crush the peanuts
I have shown below dicing the peanuts on a cutting board. You can crush them in a mortar pestle or put them in a ziploc and crush using a rolling pin. You can also use a spice grinder to coarsely crush them.
I like to leave them coarse, and not completely ground. That way they add a perfect crunch to the salad.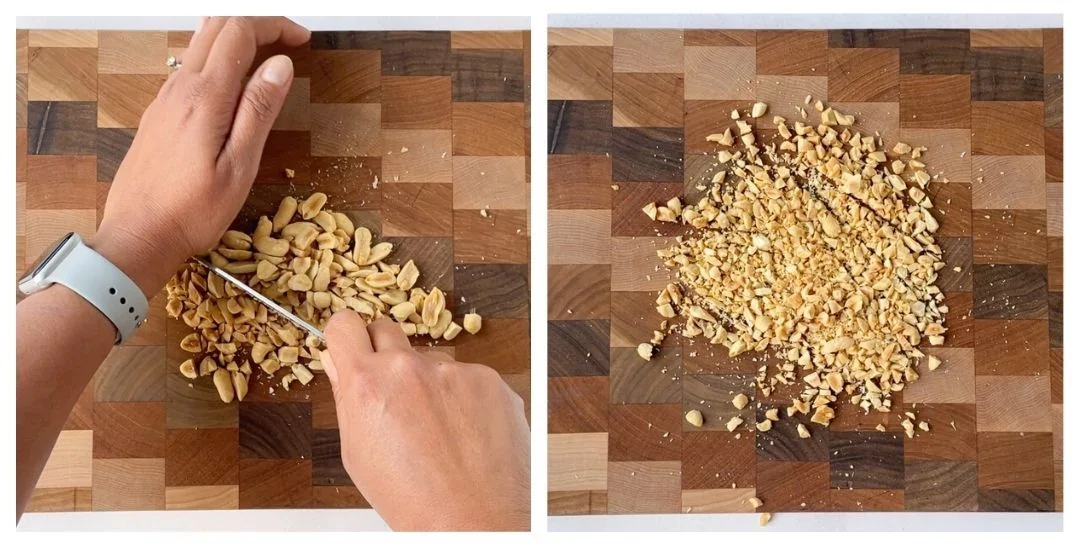 Step 2: Make the tempering
In a small pan, heat ghee. Then add asafoetida, cumin seeds, curry leaves, and chopped green chilies. Let it sizzle, remove from the heat.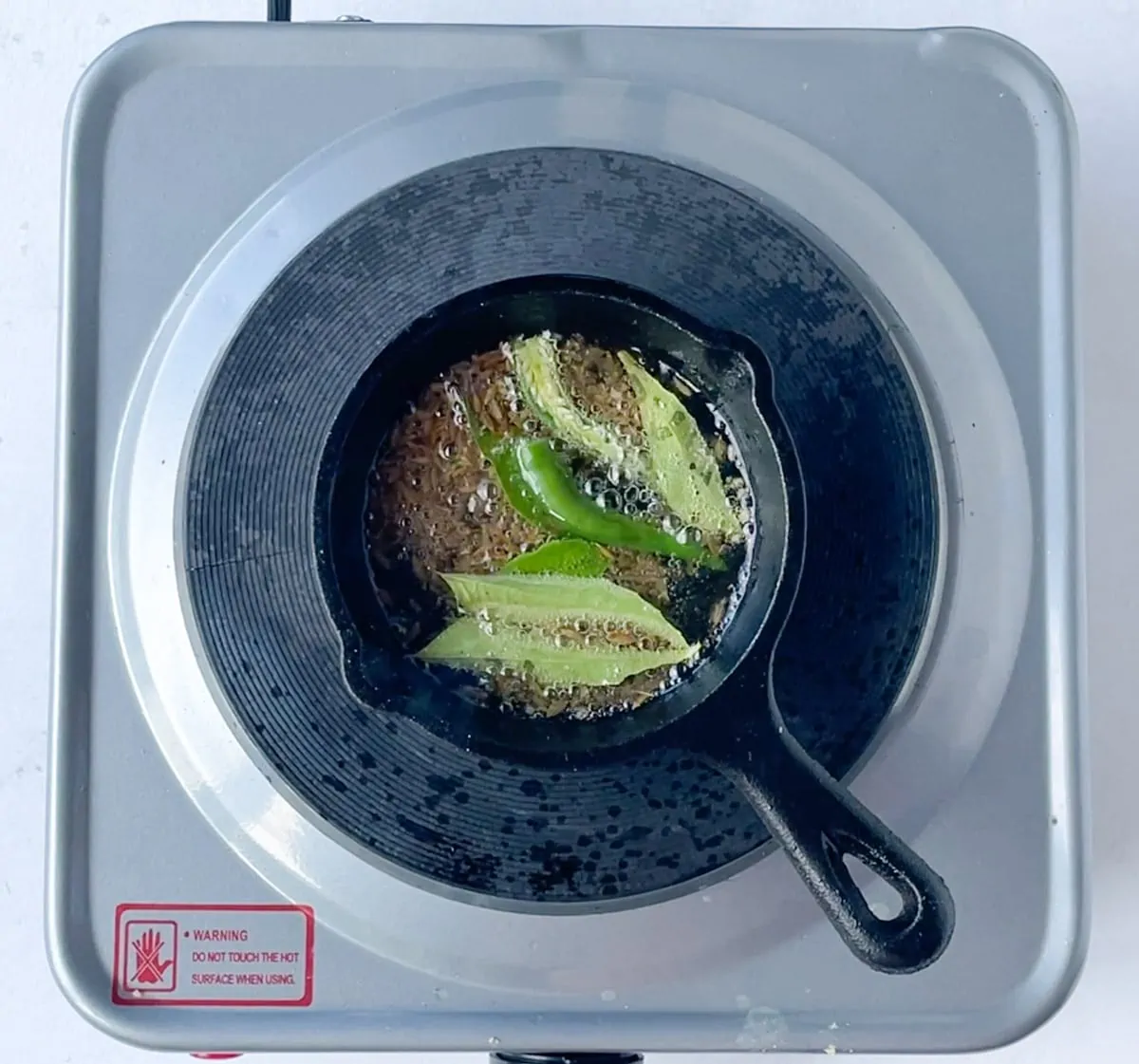 Step 3: Ready to serve
Drizzle the prepared tempering over the salad. Add add salt, sugar, peanuts, cilantro and lemon juice. Toss well.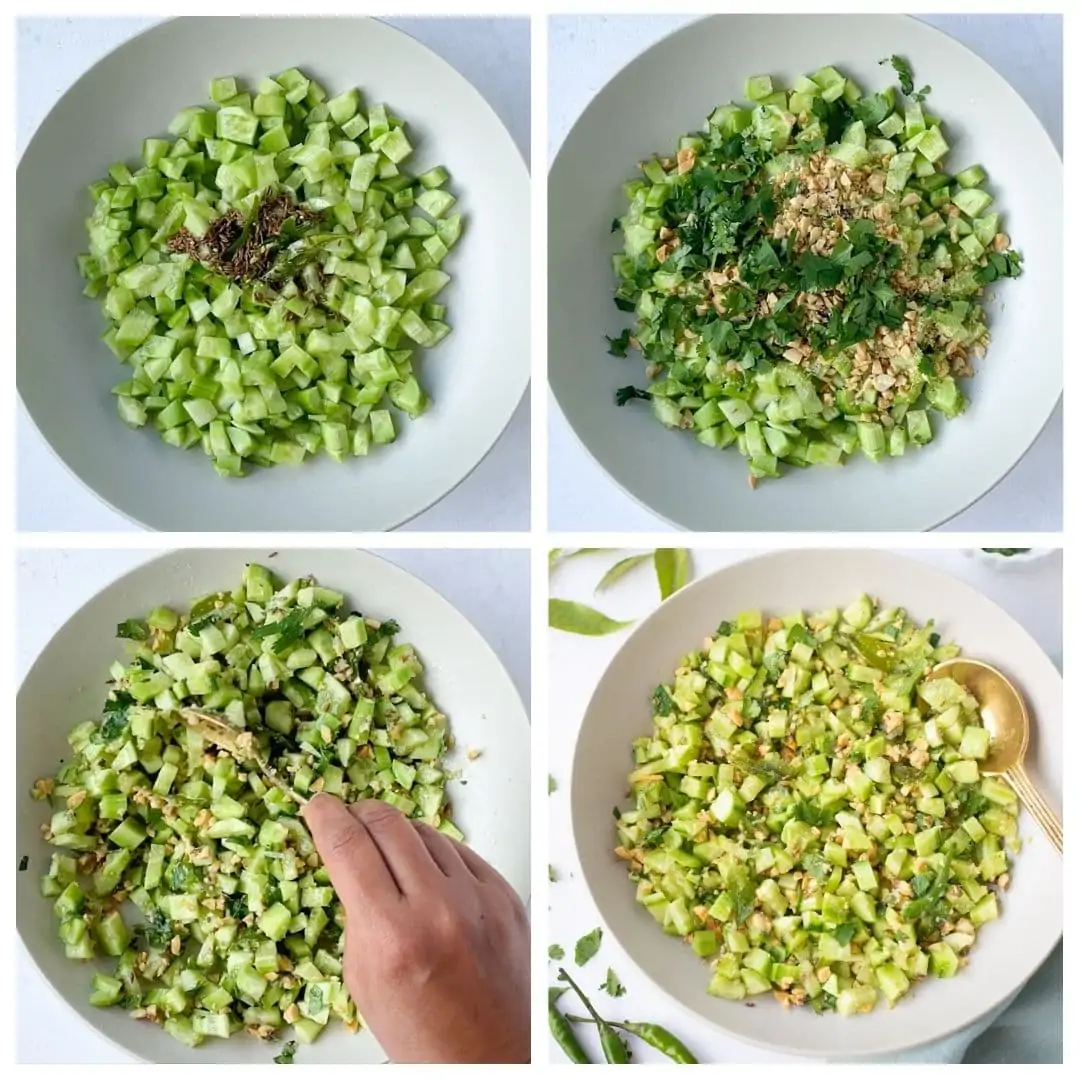 Kakdi Koshimbir is ready to enjoy.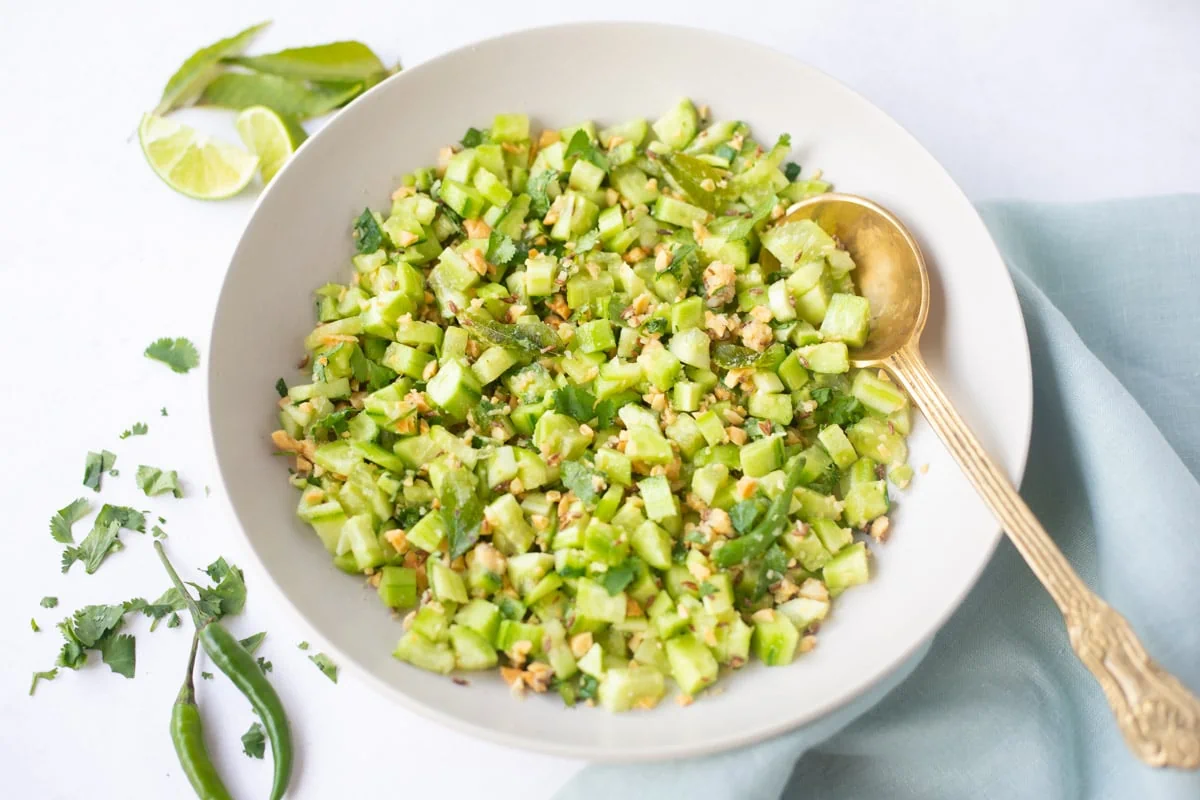 Serving Suggestions
Kakdi Koshimbir tastes best when served chilled. It is perfect on it's own. It pairs well with everyday meals especially as a side with Dal and Rice.
Serve as an accompaniment with any Indian curry and roti. It is a great option if you are following a low carb or Keto diet. It is also a super hit for pot lucks and barbeques.
Pro-Tips
Cucumbers: Use mini Persian cucumbers because they are seedless and have a low water content compared to other varieties.
Peel or not: If you like cucumber with peels, you can skip the peeling step or even partially peel it.
Peanuts: For an amazing nutty flavor and crunchy texture, roast and coarsely grind the peanuts.
Seasoning: To avoid the cucumbers releasing too much water, season with salt and sugar right before serving.
Substitutions
If you are Vegan, you can use any plant based oil of your choice instead of ghee.
If you are allergic to peanuts, you can substitute these with cashews, walnuts or any other nut of your choice.
To make it nut-free, top the salad with toasted pumpkin seeds, sunflower seeds, sesame seeds etc.
Although wheat flour is commonly used in powdered hing/asafoetida, gluten-free versions are also available.
In this salad, I have used Indian green chilli, but you may use whatever hot chilli you have available, such as Thai chilli, jalapeo, serrano etc.
For a non-spicy cucumber salad that both kids and adults can appreciate, just eliminate the green chilli.
Variations
Throw in some dried cranberries or pomegranate instead of sugar. They will not only enhance the flavour but also add color.
Add fresh grated coconut and take this salad to the next level.
Carrot Koshimbir - Use grated carrots instead of cucumber.
Beetroot Koshimbir - Beetroot can be grated or chopped and substituted with cucumber.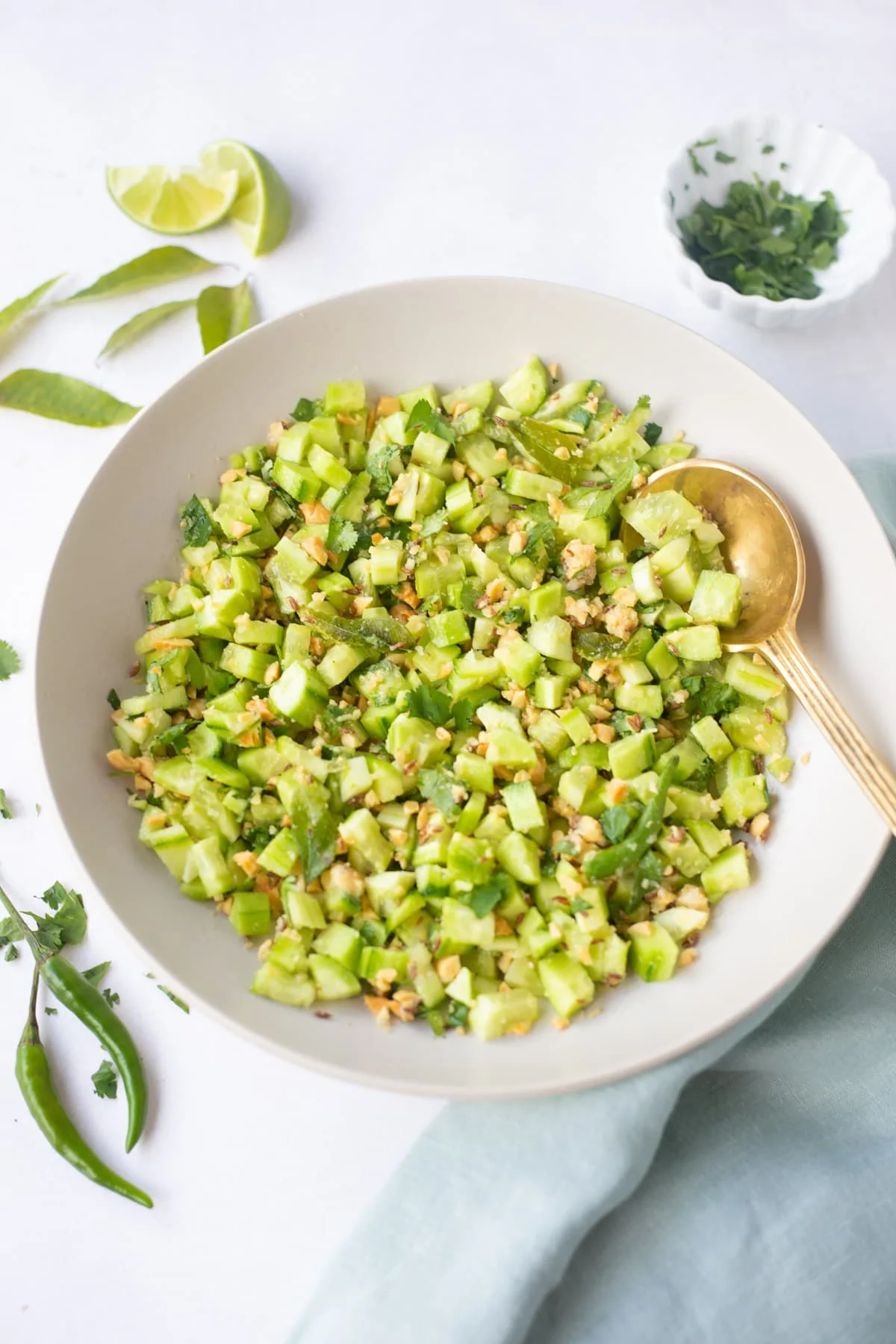 Frequently Asked Questions
Can I make Kakdi Koshimbir ahead of time?
Prep and mix all ingredients and can refrigerate for a few hours. But add salt, sugar and lemon juice just before serving.
How do I store this Indian cucumber salad?
This salad tastes best when made and consumed fresh. On keeping, the cucumber in the salad oozes out water, which causes the salad to become soggy.
I don't like spicy food. Can I still enjoy this salad?
The green chili pepper can be omitted from the recipe to make it non-spicy.
Enjoy this crunchy Kakdi Koshimbir (Indian cucumber salad) which requires no special ingredients or dressing and takes only a few minutes to prepare. The salad has a lovely aroma - thanks to a traditional tempering of asafoetida (hing), cumin seeds, curry leaves, and green chillies.
Here are more salad recipes you will love:
Tried this recipe?
Give a rating by clicking the ★ below
Kakdi Koshimbir (Spicy Indian Cucumber Salad)
Kakdi Koshimbir, also known as Khamang Kakdi, is a simple, easy to make, refreshing Indian cucumber salad bursting with crunch and flavor. This hydrating, low-carb recipe can be made in just 15 minutes, and is a delicious vegetarian and gluten-free side dish!
Ingredients
4

Cucumbers

Persian

¼-1/2

teaspoon

Salt

1

teaspoon

Sugar

4

tablespoon

Peanuts

2

tablespoon

Cilantro leaves

chopped

2

teaspoon

Lime juice
Instructions
Peel the cucumbers. If you prefer, you can skip it too. Cut the ends and discard. Then cut them into small pieces. Then transfer to a medium bowl.

On a cutting board, roughly chop the peanuts. You can crush in a mortar pestle or put in a ziploc and crush with a rolling pin or pulse in a grinder to coarsely crush too. Keep aside.

In a small saucepan, heat ghee over medium heat. Add the cumin seeds and let them sizzle. Then add hing, curry leaves and green chili. Then cook for another 30 seconds.

Pour the tempering on the chopped cucumbers. Add salt, sugar, peanuts, lime juice and cilantro. Mix well and serve immediately.
Notes
Cucumbers: I used Persian cucumbers, which are like mini cucumbers. You can use other varieties of cucumber too. Adjust amount based on size of cucumbers.
Making ahead: Add the salt and sugar just before serving. They make the cucumbers release water, and make the dish soggy.
Skip peanuts: You can use other nuts of choice if you are allergic to peanuts. Or use pumpkin or sunflower seeds for crunch.
Make it vegan: Skip ghee and use your preferred plant based oil.
Note: Nutrition values are my best estimates. If you rely on them for your diet, use your preferred nutrition calculator.
Nutrition
Calories:
137
kcal
Carbohydrates:
11
g
Protein:
5
g
Fat:
9
g
Saturated Fat:
3
g
Polyunsaturated Fat:
2
g
Monounsaturated Fat:
3
g
Cholesterol:
10
mg
Sodium:
192
mg
Potassium:
497
mg
Fiber:
4
g
Sugar:
6
g
Vitamin A:
276
IU
Vitamin C:
32
mg
Calcium:
64
mg
Iron:
1
mg