Have you noticed Indian Onion salad being served along with green chutney and poppadoms before your main course is brought to you at an Indian restaurant? This popular Indian salad, called Laccha Pyaaz, made with sliced onion rings tossed in a tangy, spicy dressing and fresh herbs, is a perfect accompaniment to your Indian meals.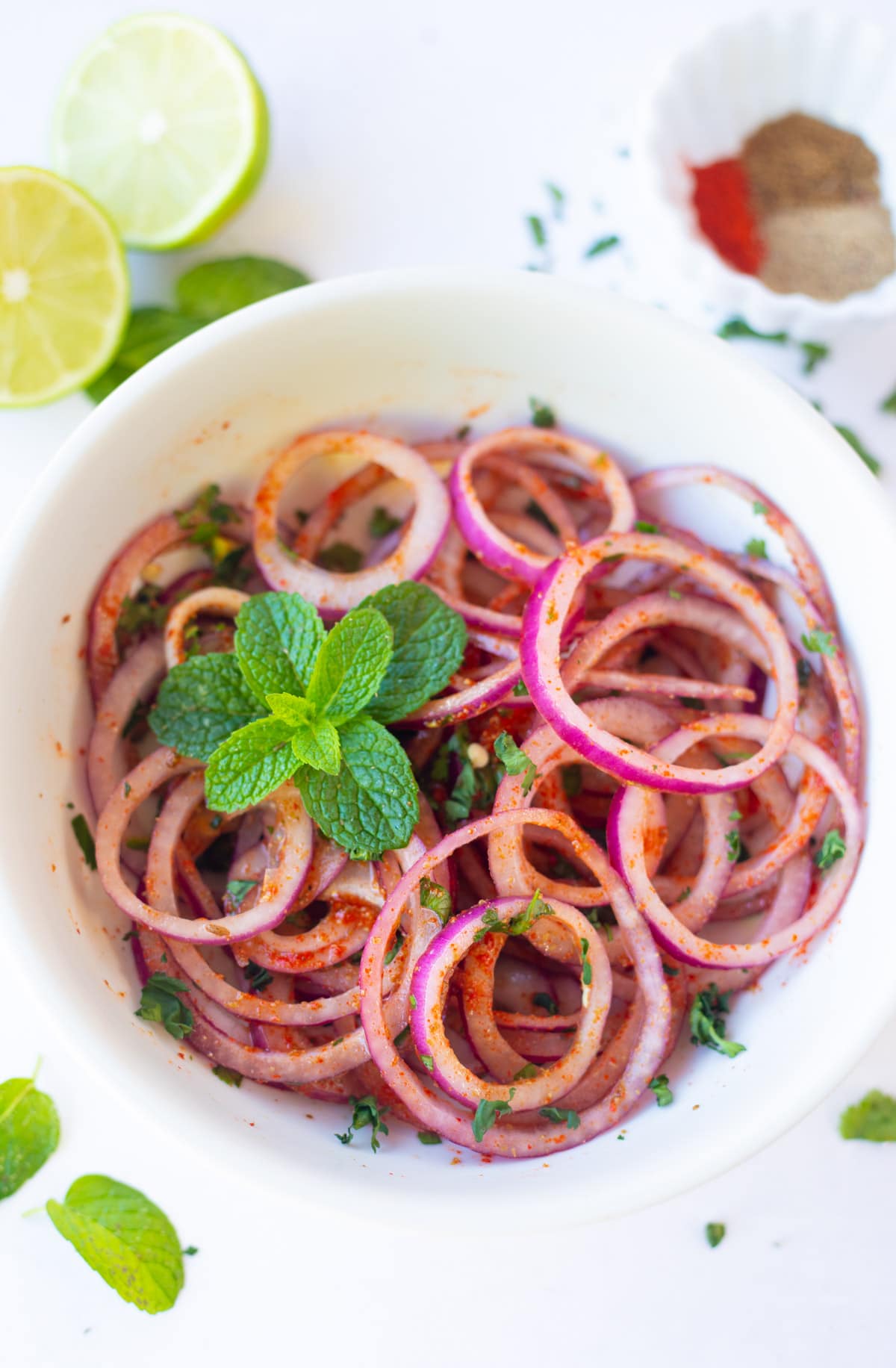 This is not only gluten-free but a no-oil salad. Perfect for Vegetarians and Vegans!
In India, for everyday meals, many people eat raw onion salad and whole green chilli along with their meals.
This no-frills, everyday salad is also called 'Masala onion' or 'Laccha Pyaaz' in Hindi, which literally translates to Onion rings salad. Traditionally, red onions are cut into thin rings. This requires some good knife skills and practice.
This salad adds an extra zing to your meal. It is a no-cook salad and the easiest side dish/ accompaniment you can prepare at home in 10 minutes.
Jump to:
What to serve with Laccha Pyaaz?
This onion salad tastes awesome with tandoori/ grilled items like Kebabs, Paneer tikka, Tandoori chicken or any rich, spicy curry dish like Kadai Paneer, Dal Makhani, Chana masala, Butter chicken etc. along with roti, naan or rice.
Biryani or Pulao, when served with Laccha Pyaaz and raita is a complete meal.
You can use Lachha Pyaaz in wraps, Kathi rolls or in Indian-style burgers!
This is definitely your go-to salad for any Indian dish.
Again as with any other Indian food, this dish also has regional versions but almost all are seasoned with salt, spiced with green chilli and/or red chilli powder and drizzled with lemon juice or vinegar for that tanginess.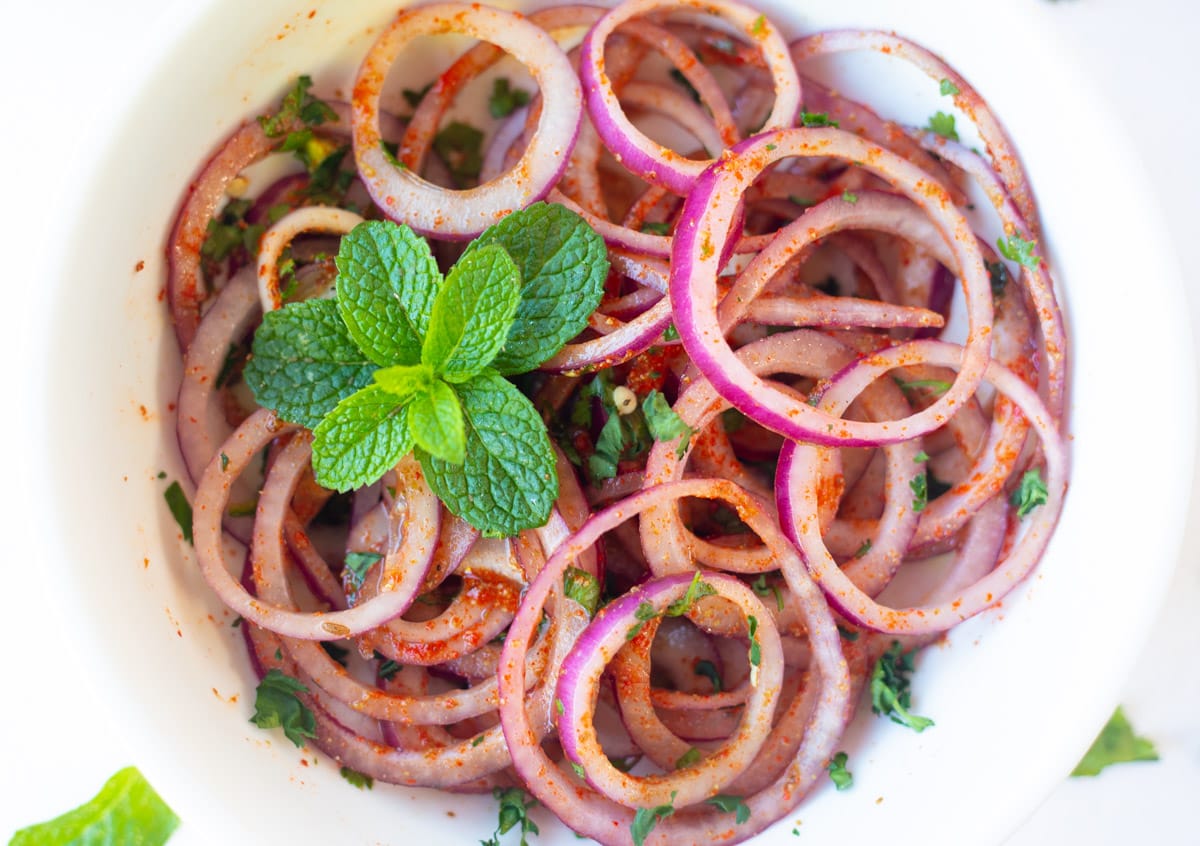 Onion Salad Ingredients
I like simple everyday salad recipes that require minimal ingredients and can be made in a few minutes. These Indian spiced onions check all the boxes. You will find most of these ingredients in your pantry.
Onions: This salad tastes best when red onions are used because of its sharp and sweetish taste but you can try making this with any onions you might have in your kitchen – white, yellow or sweet onions. Red onions also give great colour to the dish. I personally don't like using green onions for this specific recipe.
Cilantro/ Mint leaves: Freshly chopped cilantro and/or mint leaves add flavor and color to this recipe. You can use either or both.
Green Chillies: You can use chopped green chillies for that extra kick and a wonderful flavor. Skip them if you don't want your salad to be spicy.
Lime Juice: This adds that zing to your salad.
Chaat Masala: This is the star ingredient. You can buy it at the Indian grocery store.
Red Chilli Powder: I like to use Kashmiri red chili powder for its wonderful red color and mild heat. You can use cayenne or paprika too.
Salt – as per taste
Onions are a heart-friendly vegetables. They are loaded with antioxidants and have an anti-inflammatory effect. It is known for its anti-bacterial properties and is used as a home remedy for common colds and cough.
If you are a fan of onions, also check out this onion pakora recipe.
How to Make Onion Salad
Take a peeled onion. Thinly slice the onion or cut it into circular slices and separate each disc. Soak it in water for 5 mins. Skip this step if you prefer the sharp pungent taste of onions. Drain the onion and keep them in a bowl.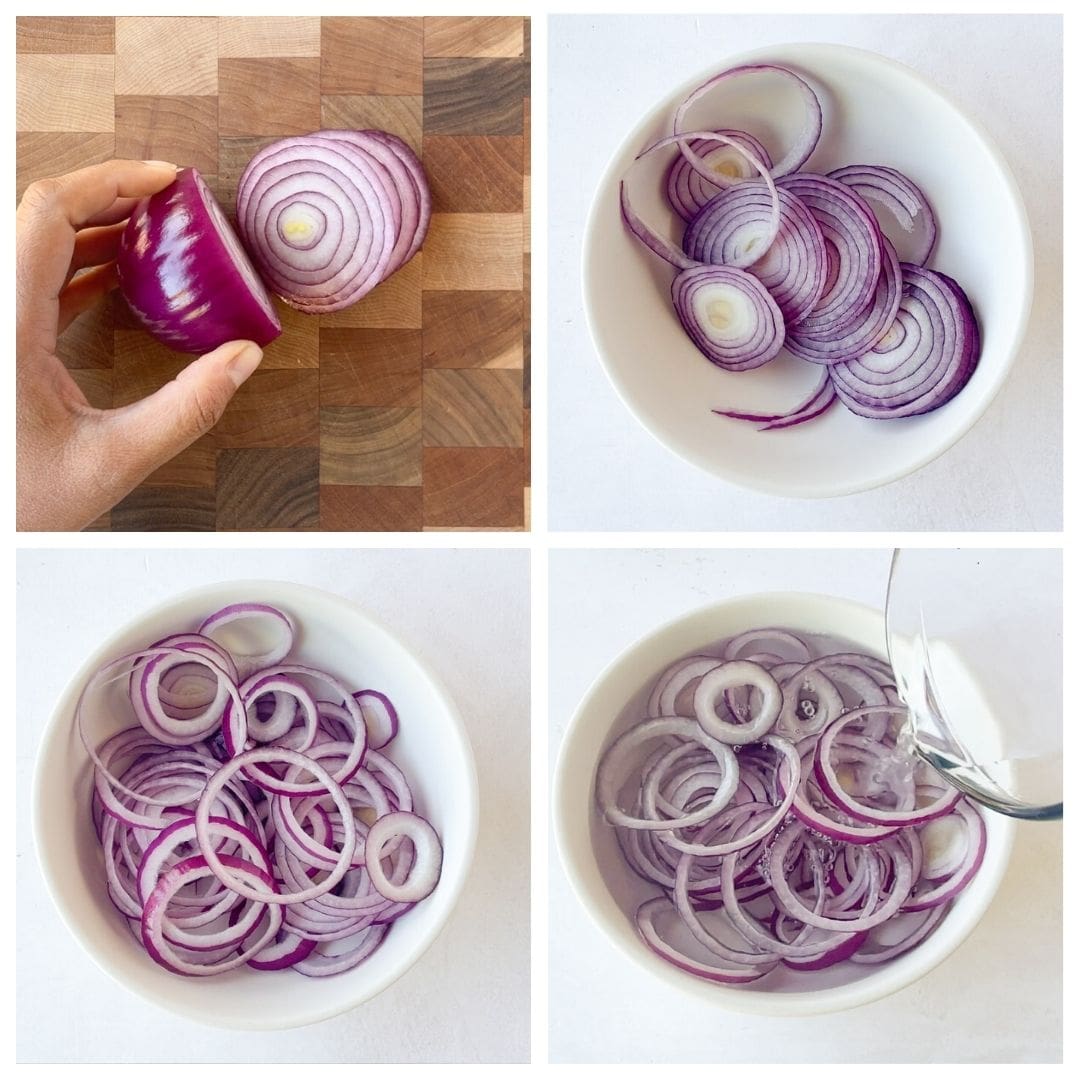 Add red chilli powder, chaat masala and finely chopped green chillies
Add coriander leaves/ mint leaves or both.
Add salt. Drizzle lime juice.
Mix everything well.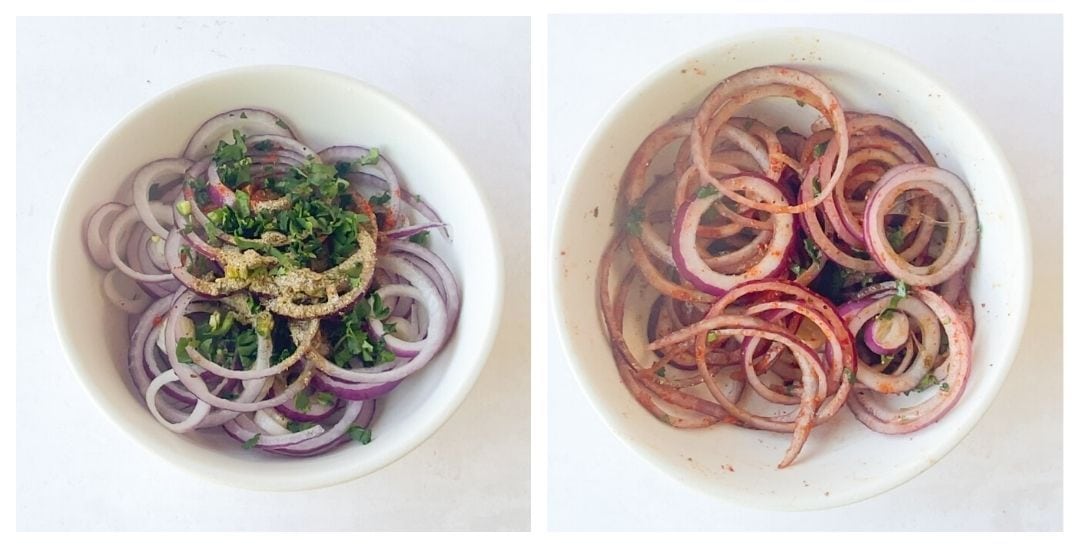 Voila..you just made restaurant style onion salad!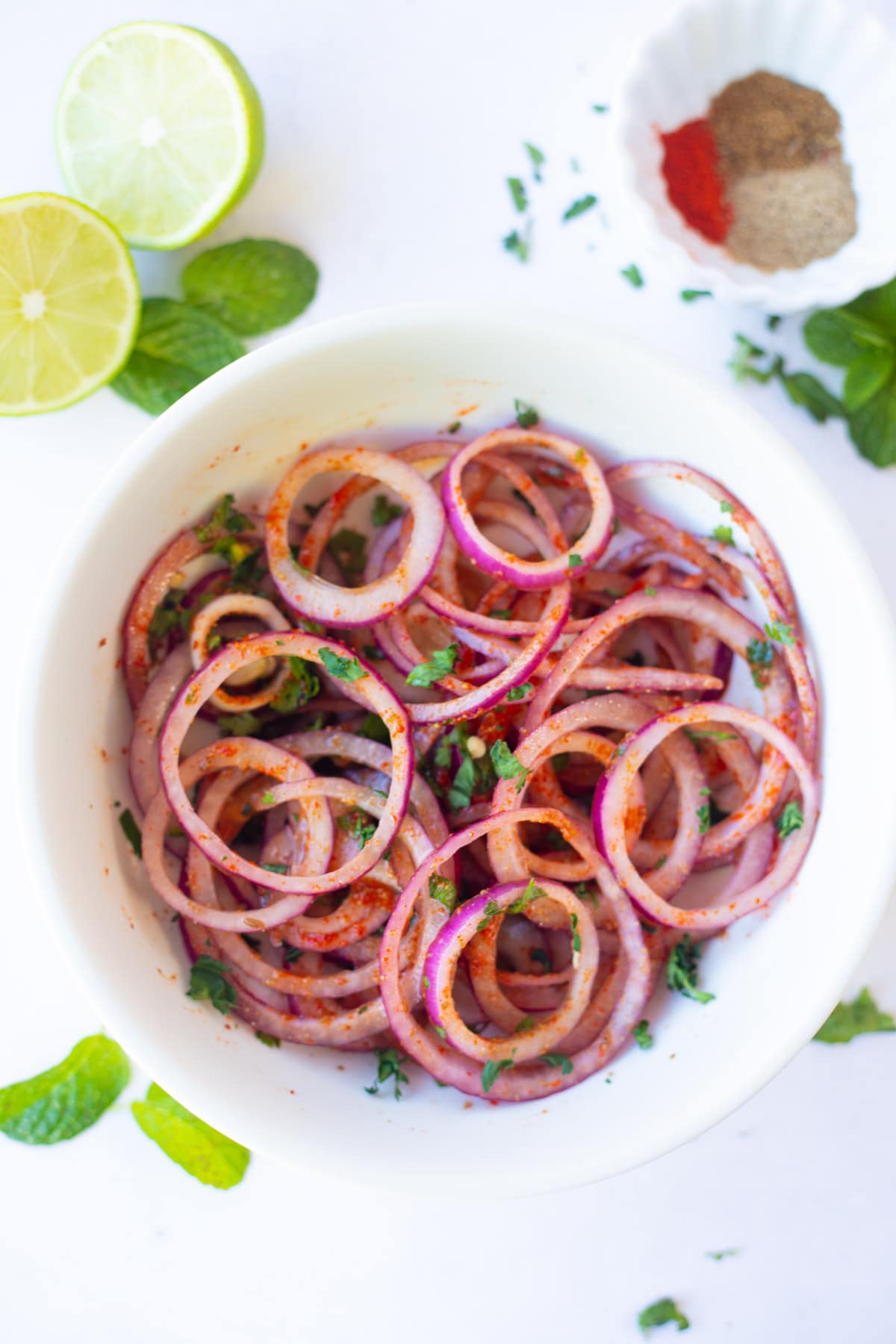 Variations
Add Sugar– If you like a sweet and sour flavor, you can add some sugar to it.
Tomato and Onion Salad– chopped tomatoes when added to this onion salad taste absolutely delicious too.
Onion, Cucumber and Tomato salad– This variation makes a great tasting healthy salad.
Common Questions
How do I chop onions easily?
Use a chopping board and a sharp knife. To minimize tears, you need to lessen your exposure to the cut onion and work quickly. If you want to save time and tears, you can use a food processor for larger quantities.
How do I store this salad?
This Indian onion salad tastes best when served fresh. It becomes soggy on keeping and loses its crunch. So, only make quantities that can be consumed.
I do not have lime juice?
You can use vinegar for the acidity instead.
I don't like the pungent smell and taste of onion.
The sliced onions can be soaked in water for about 15 minutes to get rid of the pungent taste and smell and then seasoned with spices and lemon juice.
Hope you enjoy this easy delicious salad. Here are some more salad recipes that you will enjoy: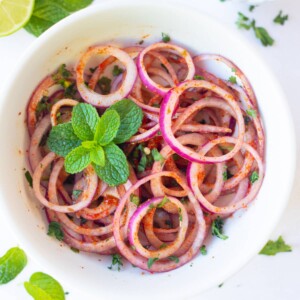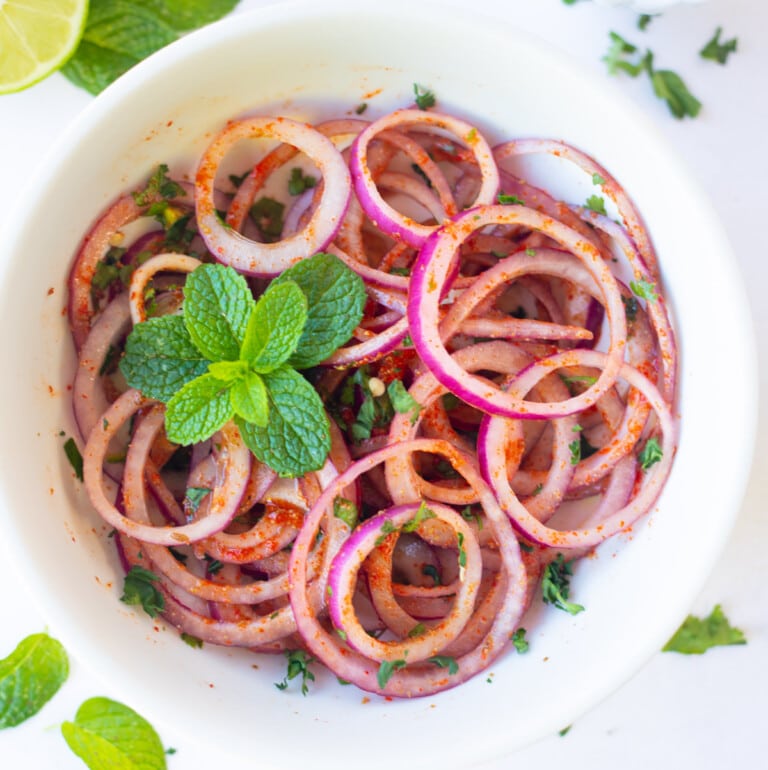 Indian Onion Salad (Laccha Pyaaz)
This popular Indian salad – sliced onion rings tossed in a tangy, spicy dressing and fresh herbs, makes it a perfect accompaniment for your Indian curry. This is not only gluten-free but a no-oil salad. Perfect for Vegetarians and Vegans!
Instructions
Peel the onion. Slice it into thin rings or discs using a sharp knife.

Place the onions in a mixing bowl. Separate the rings with your hands.

(optional) Soak the onion rings in water for 15 minutes to reduce the pungent taste and smell. Then discard the water.

Add red chilli powder, cumin powder, chaat masala, finely chopped green chilli, salt and lime juice.

Add finely chopped cilantro leaves or mint leaves or both.

Toss everything until well combined. You can also use your hands to mix the onions with the spices.

Check the seasoning and adjust if required. Serve immediately.
Video
Notes
Onions: Use fresh onions and make sure the knife for cutting the onions is sharp. Spices: Adjust the spice level as per your preference. If you don't like green chillies, you can skip them. Tangy flavor: You can use vinegar instead of lime juice. Serve immediately as the onions become soggy from the juices that are released from the salt.
Nutrition
Calories:
27
kcal
Carbohydrates:
6
g
Protein:
1
g
Fat:
1
g
Saturated Fat:
1
g
Polyunsaturated Fat:
1
g
Monounsaturated Fat:
1
g
Sodium:
250
mg
Potassium:
95
mg
Fiber:
2
g
Sugar:
2
g
Vitamin A:
219
IU
Vitamin C:
9
mg
Calcium:
22
mg
Iron:
1
mg