Cilantro is a vibrant green, citrusy-flavored herb essential in Indian cooking and other cuisines. The leaves are a perfect garnish to your favorite rich and spicy dishes, and the stems work beautifully in chutneys. Learn how to store cilantro and care for this key ingredient!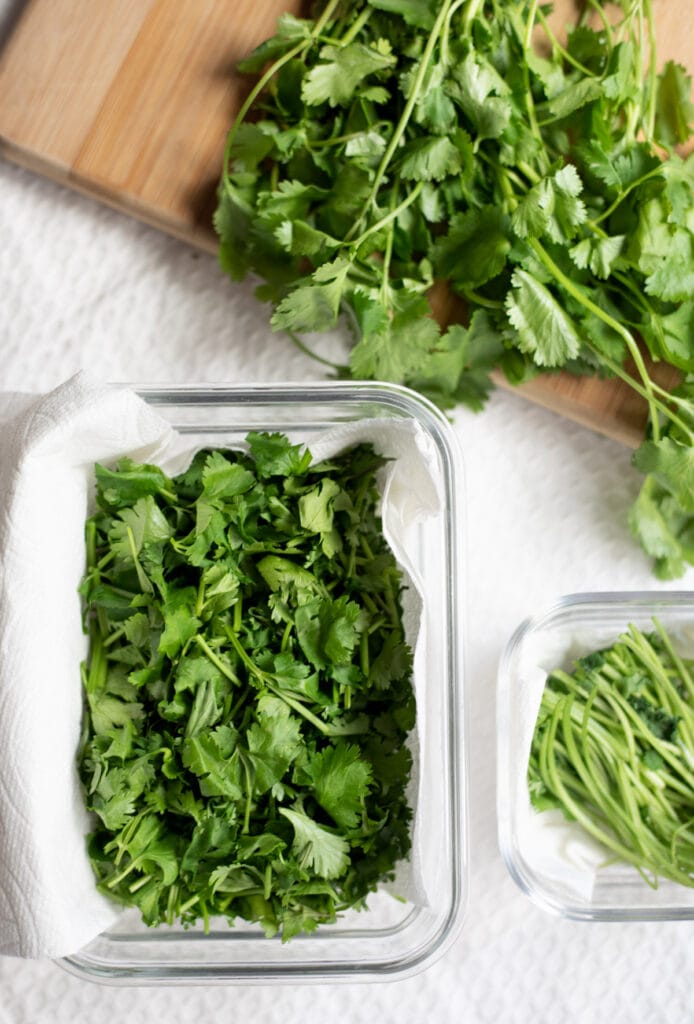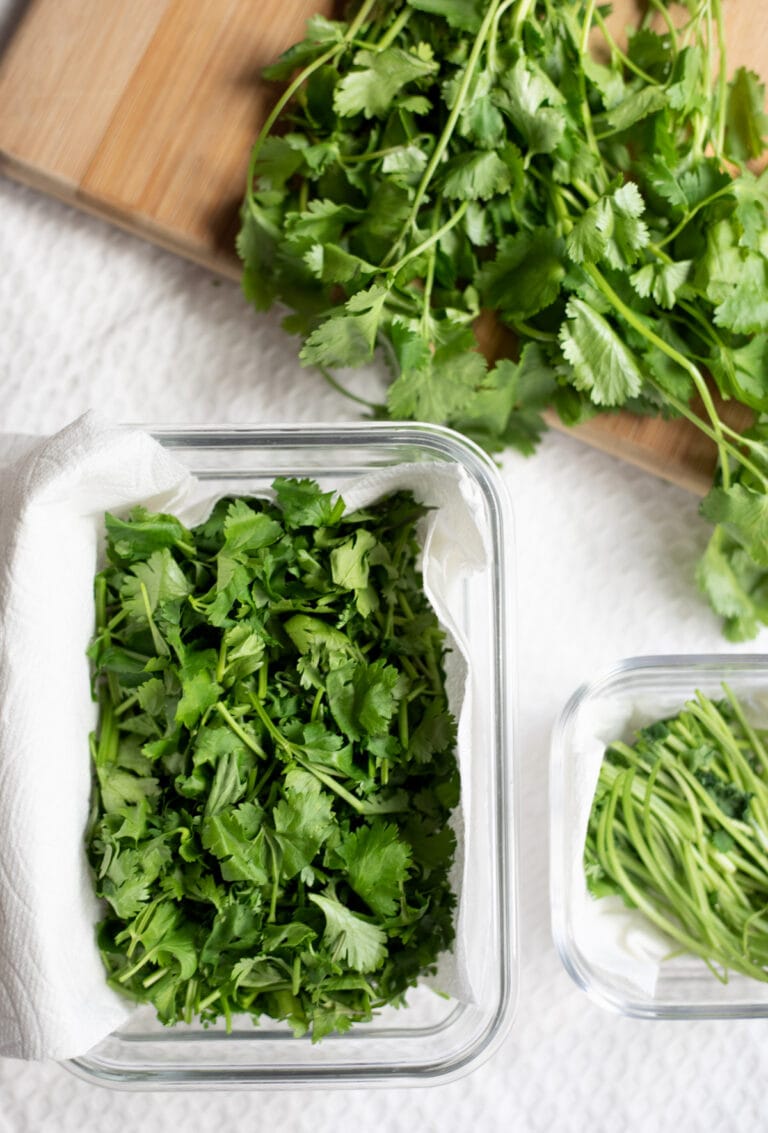 Cilantro is very common in Indian cooking and one of my favorite herbs! You'll find that many dishes are garnished with tender leaves for added freshness and a pop of bright flavor. Can you imagine eating guacamole without cilantro? Or your favorite curry dish? I know that I can not!
When it comes to Indian cooking, you can use both the tender leaves and the stems in many recipes. I love the bright citrus flavor and how it adds a nice contrast of flavor to any dish! In my kitchen, I always keep cilantro on hand because of its many uses.
Learn below how to clean, cut, and store cilantro. I am sharing multiple ways to store this herb. My favorite method is to store chopped cilantro, and guess what – it stays fresh for up to a month!
Jump to:
What is Cilantro?
Cilantro is the tender leaves from the coriander plant. You'll also find that many recipes will call for coriander seeds and cilantro, but they both taste differently from each other.
Whole coriander seeds are common in curry dishes and usually toasted and ground. It has a lovely earthy and floral aroma, which is quite different from the citrusy flavor of cilantro's tender leaves.
You can use both the cilantro leaves as a garnish for dishes, stirred into soups and stews and even salads! Many times recipes call for mincing the tender parts of the stems for sautéing.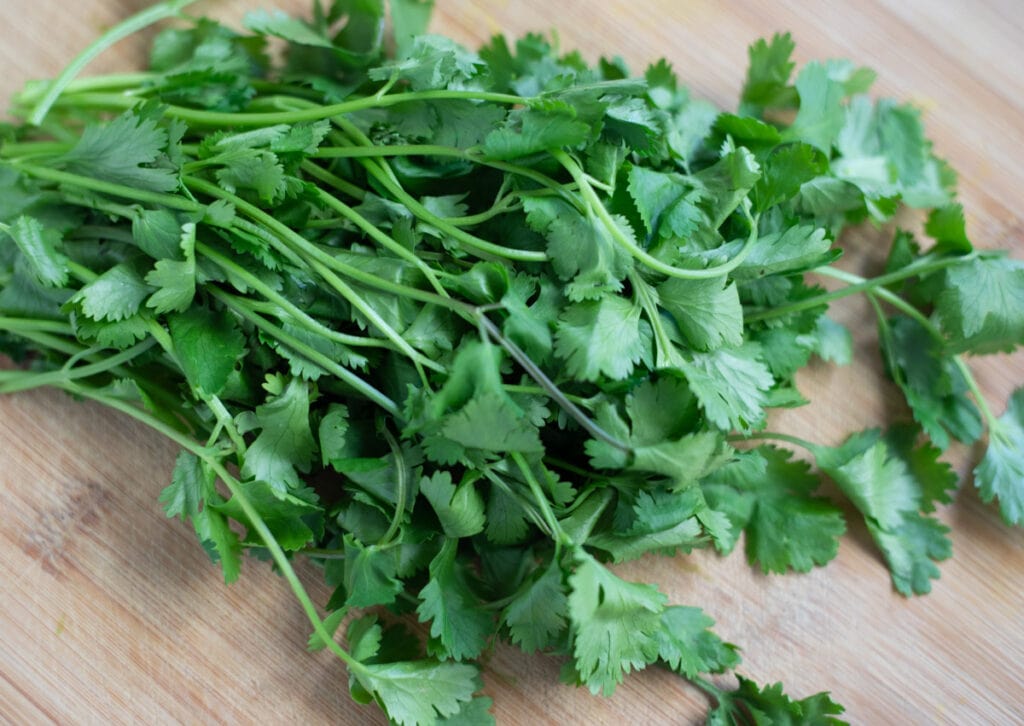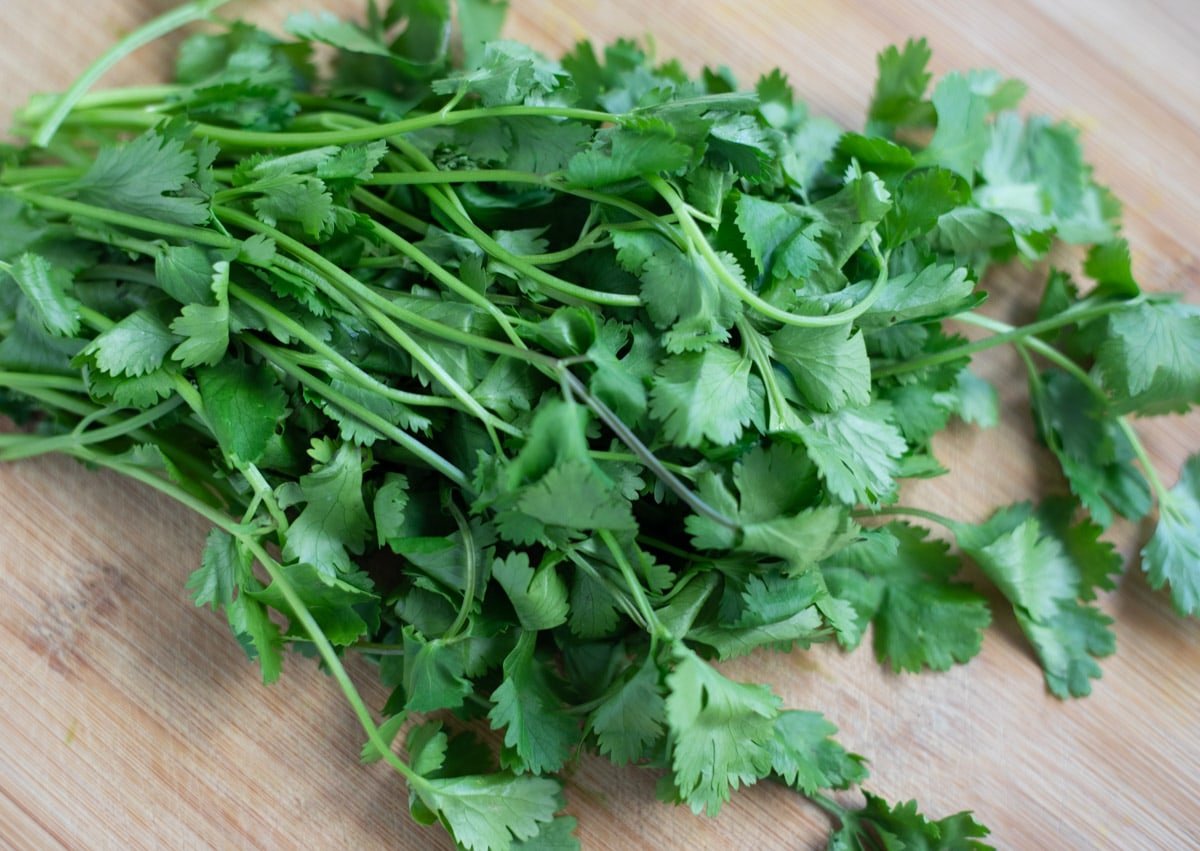 How to Clean Cilantro?
When you are purchasing cilantro from the grocery store, be sure to select a bunch with bright, crisp green leaves with no bruising.
Fill a large bowl with cold water and add your cilantro keeping the stems together. Using your hands, swish the cilantro in the water to loosen the dirt. The dirt will fall to the bottom of the bowl. You may have to repeat this process a few times to remove all the grit.
Give your cilantro a quick shake to remove access water and then transfer to a colander to drain, or simply spread on a towel to dry.
If you see any bruised leaves or leaves that are yellow or brown, remove them from the rest of the bunch. This will help prevent them from spreading to the healthy green ones.
From here, you may use your cilantro for your recipe or continue to dry completely and then store in the refrigerator.
How to Cut Cilantro?
Let's prepare the cilantro to be cut and used in recipes.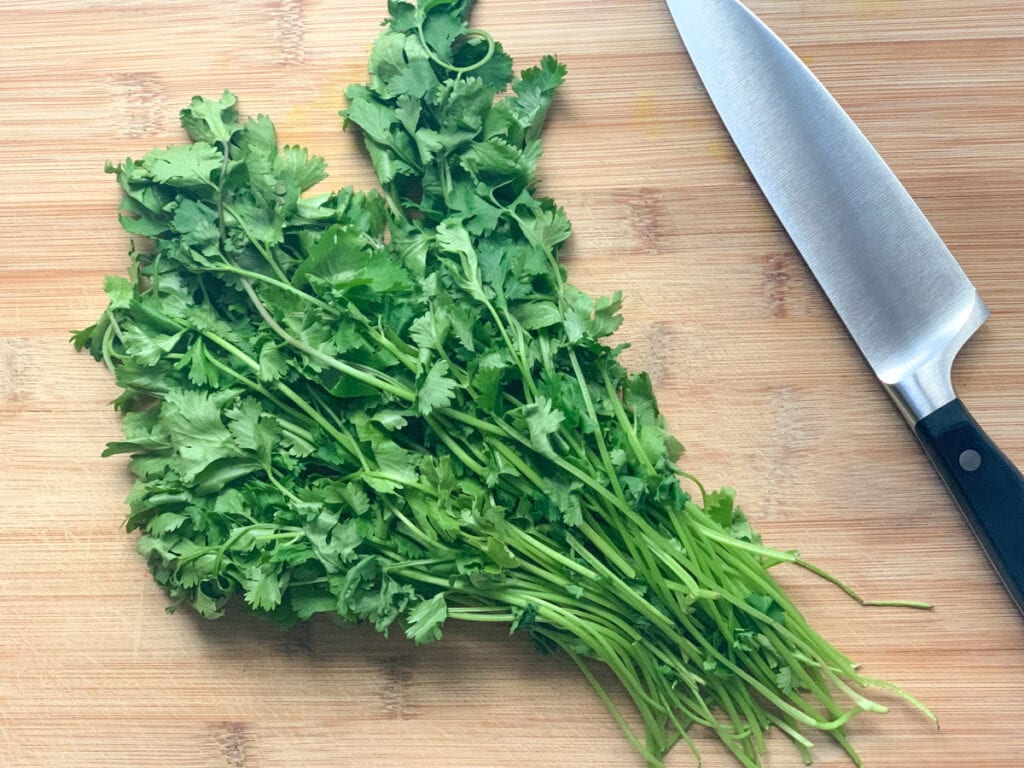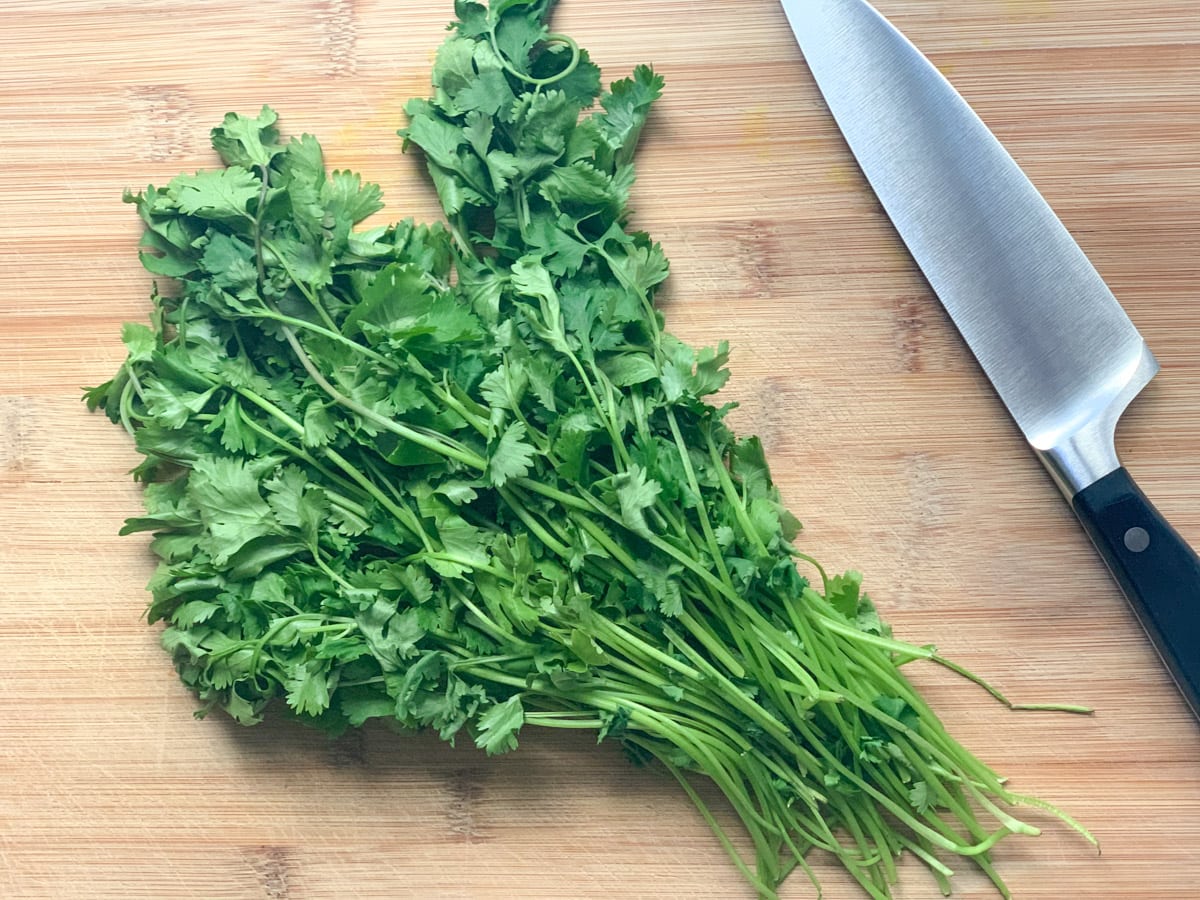 To prepare your cilantro, first cut off the stems and separate them from the leaves. You can cut the large stems at the bottom with a knife.
If you want only the leaves, pick each stem and pluck out the leaves. Usually, I use the cilantro leaves along with the tender stems in my recipes for garnish.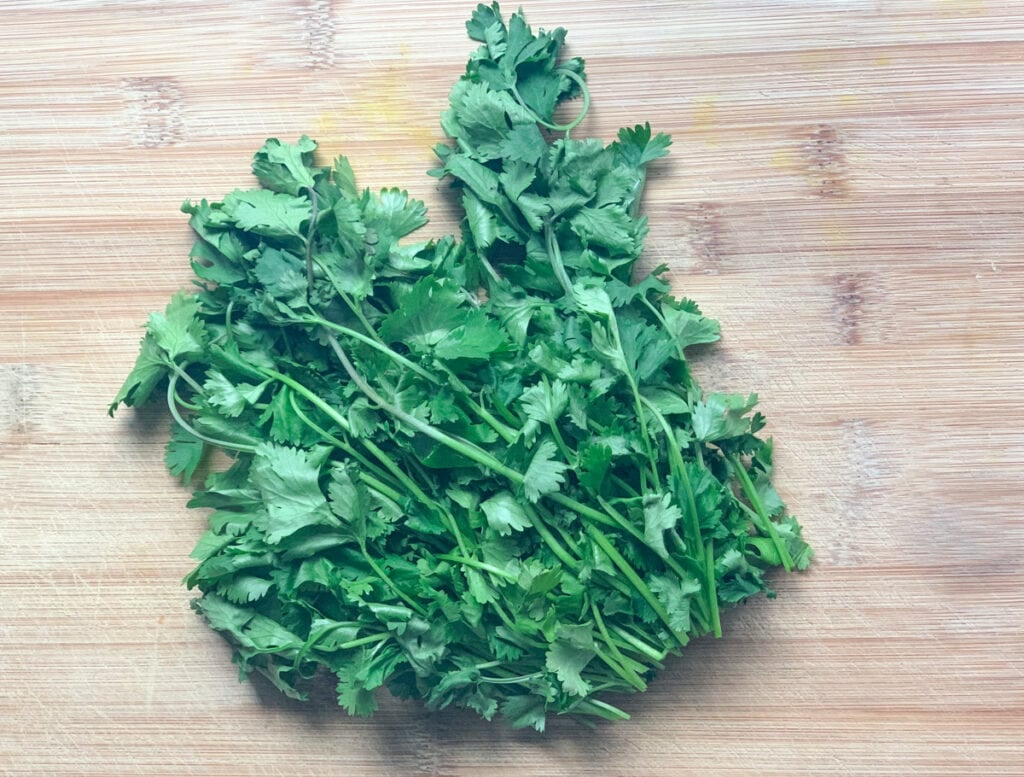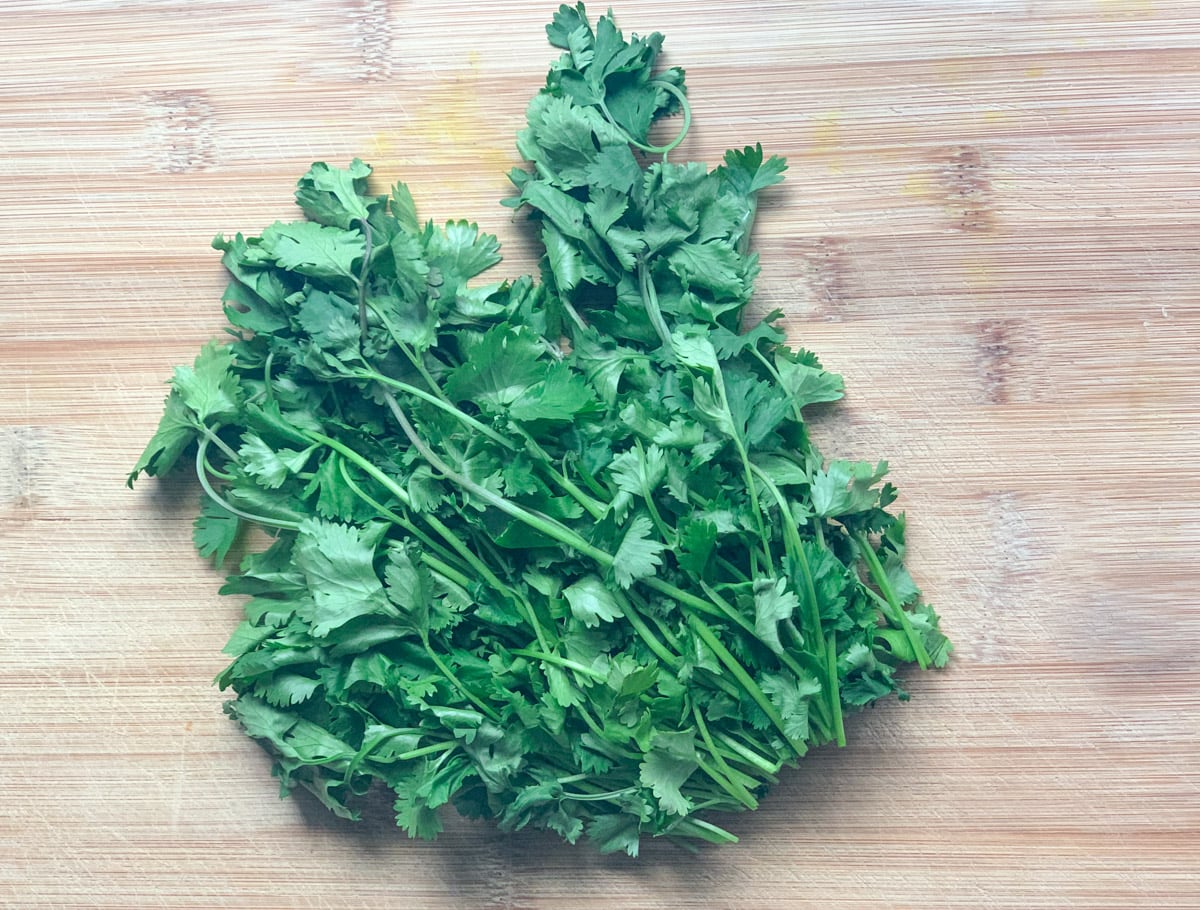 You can use the stems to make chutneys, broth, or add to soups. Just be sure to refrigerate or freeze them in a container or ziplock lined with a paper towel if not using right away.
For the leaves, simply coarsely chop them with a sharp knife. A good sharp knife is crucial to prevent them from bruising!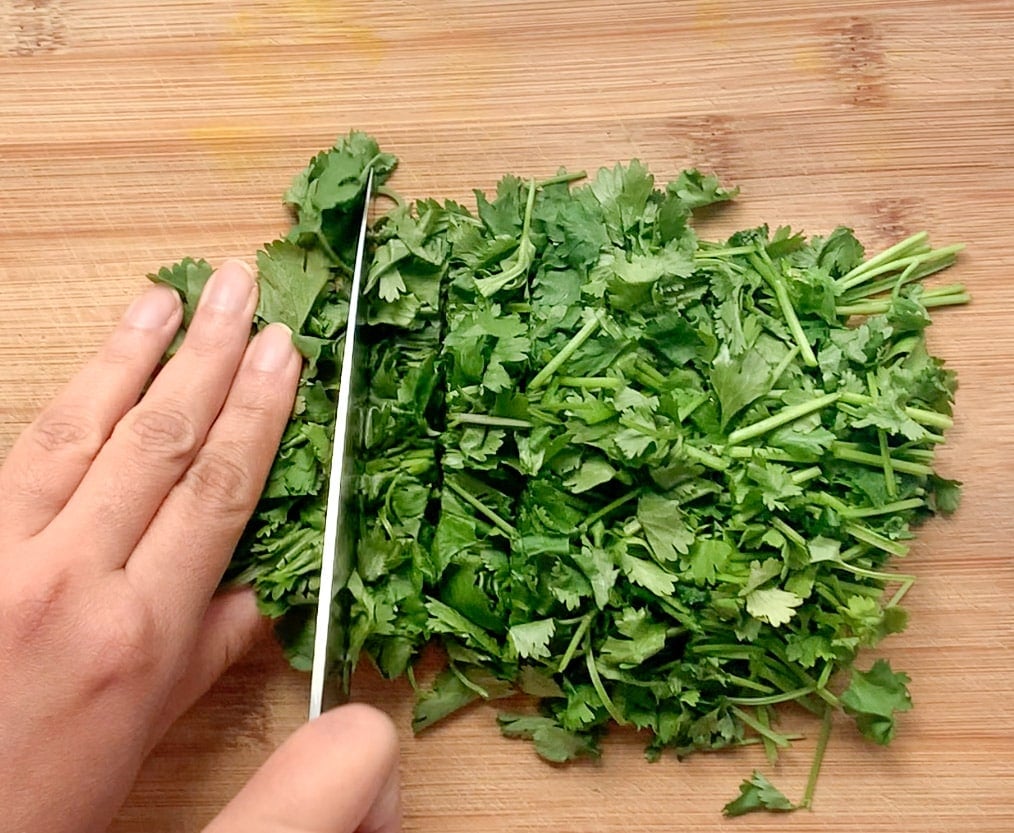 How to Store Cilantro?
I like to wash my cilantro and other produce right away when I get groceries. This makes meal prep easier and saves time throughout the week. Once you have purchased your cilantro, there are a few different ways to store it.
Store in refrigerator – without washing
If you don't have time to wash your herbs right away, you can safely store them for future use.
First, lay your cilantro out evenly across a paper towel. Starting from one end, roll until the entire bunch is covered.
Place your rolled cilantro in a ziplock bag and keep in the crisper in your refrigerator for up to two weeks. Be sure to wash before using.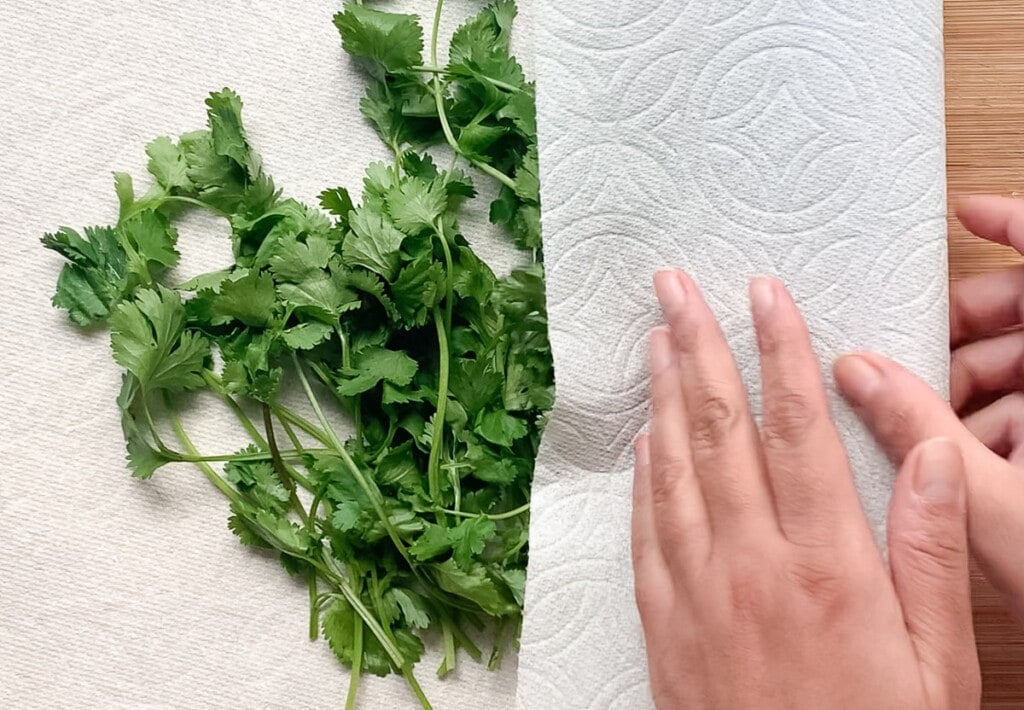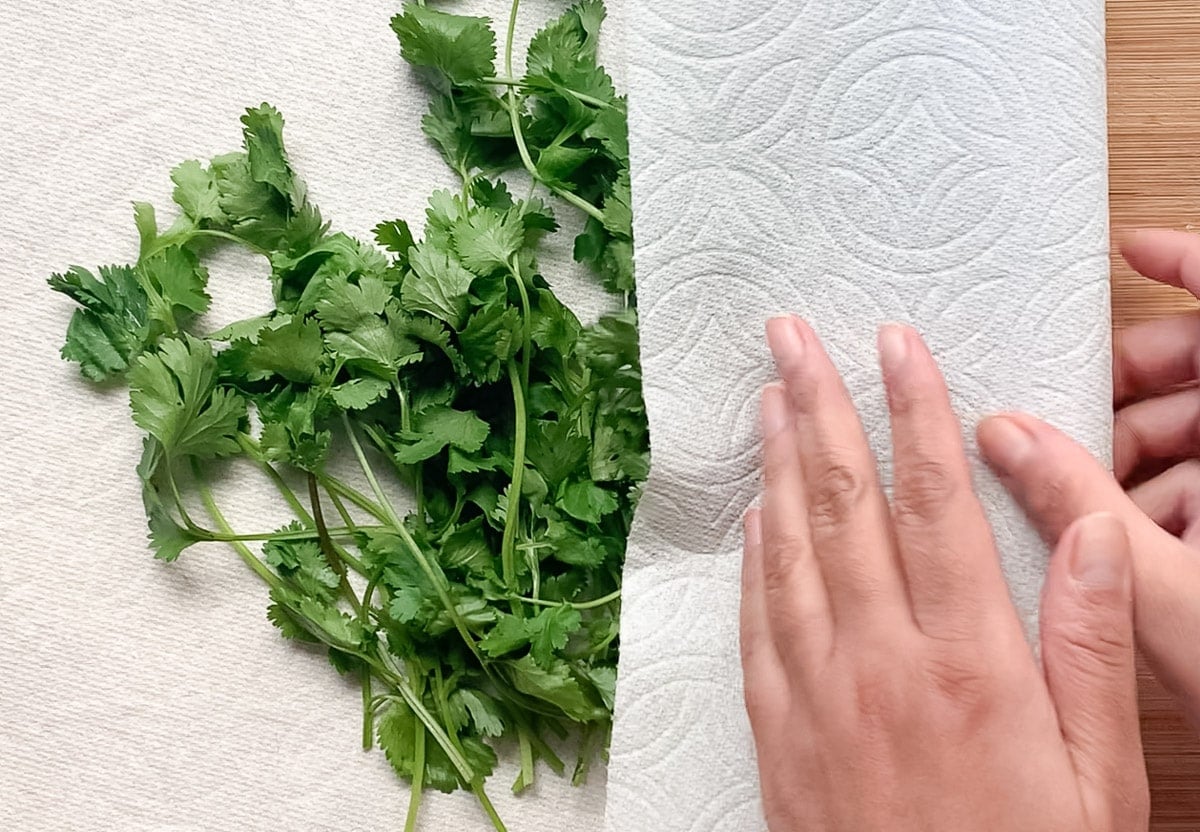 Store in refrigerator – in a glass jar filled with water
This is a common method to help preserve the cilantro for a longer period.
First, fill a jar or glass with a couple of inches of water. Add the cilantro bunch so that the stems are immersed. The stems do not need to be completely covered in water.
Cover the leaves with a plastic bag and tie a knot to help secure it in place.
Every few days, add more water as needed or change the water if it's getting cloudy.
This method keeps cilantro fresh for about 3 weeks. Be sure to wash your cilantro before eating.
Store in refrigerator – chopped cilantro (my preferred method)
This is my preferred method as I use cilantro frequently in my cooking throughout the week!
Once you have washed your cilantro, allow it to air dry completely. You can do this by laying the cilantro out evenly over some paper towels. Be sure to turn over to ensure no moisture is left on any leaves.
Then chop off the stems and reserve those for other uses like chutney.
Coarsely chop the leaves and lay them in a paper towel-lined airtight container. Keep the cilantro stored in the refrigerator. This makes it really easy to grab cilantro as needed!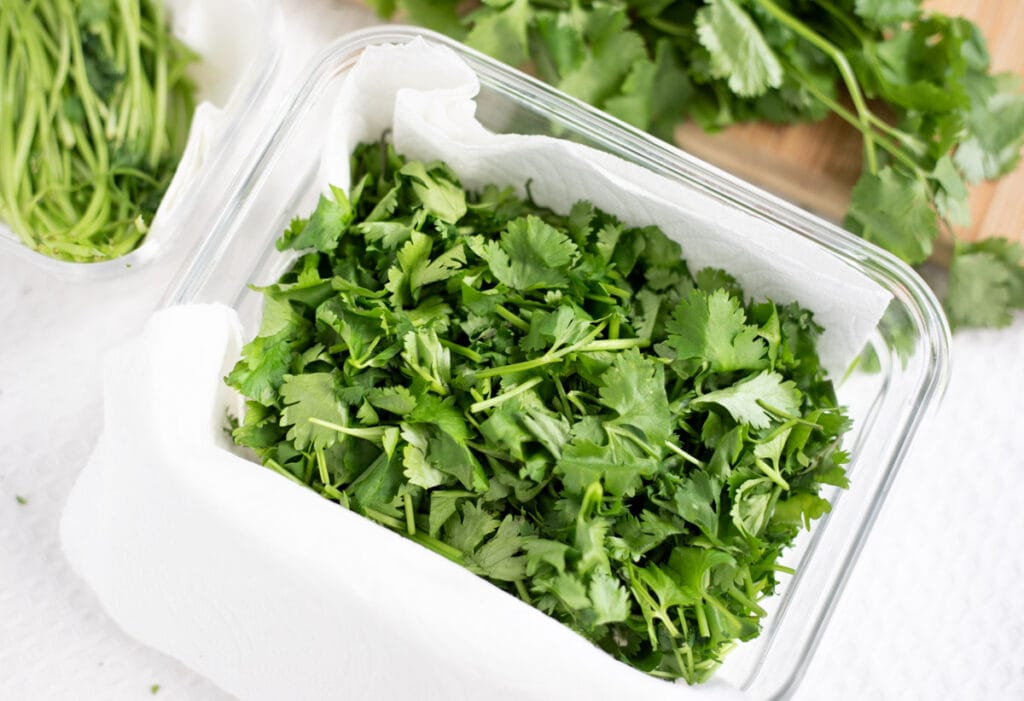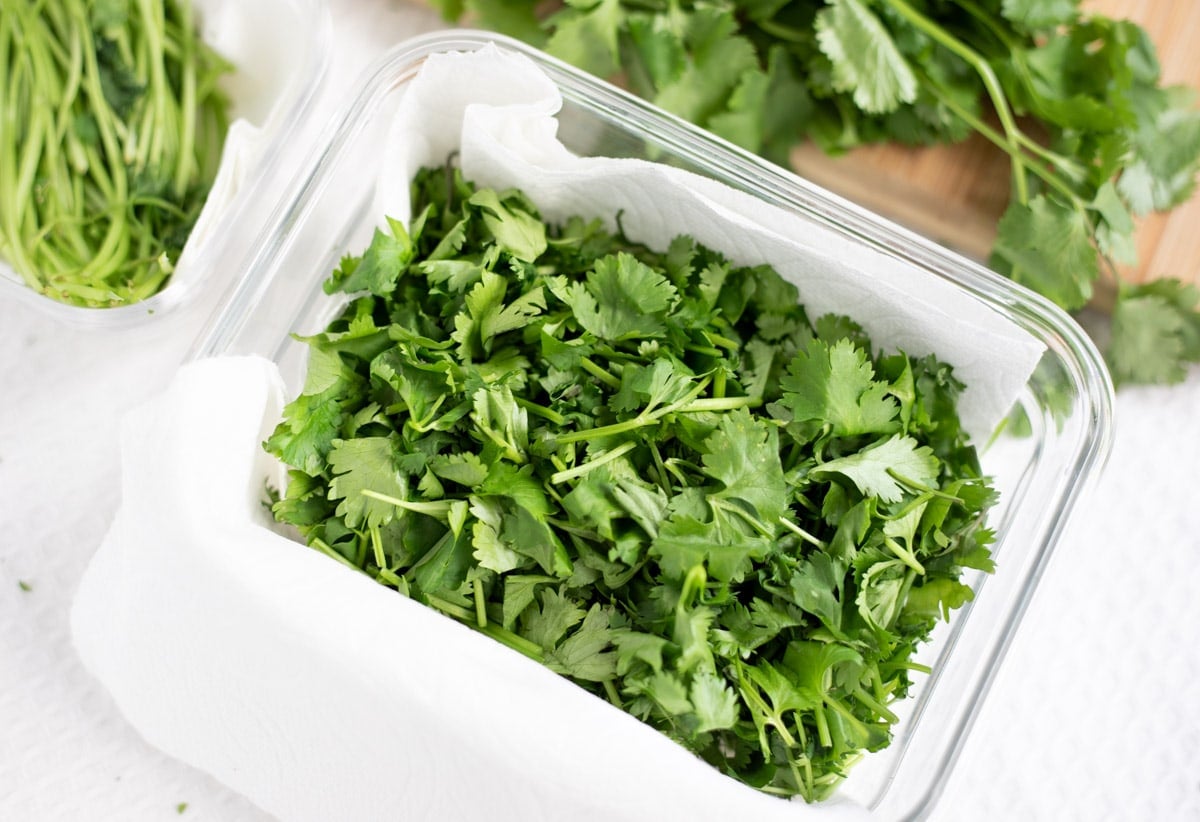 Be sure to check weekly for any brown or yellow leaves and remove them. You can also keep an egg in your container to help remove any excess moisture!
Here is my cilantro after a month of storing in the container.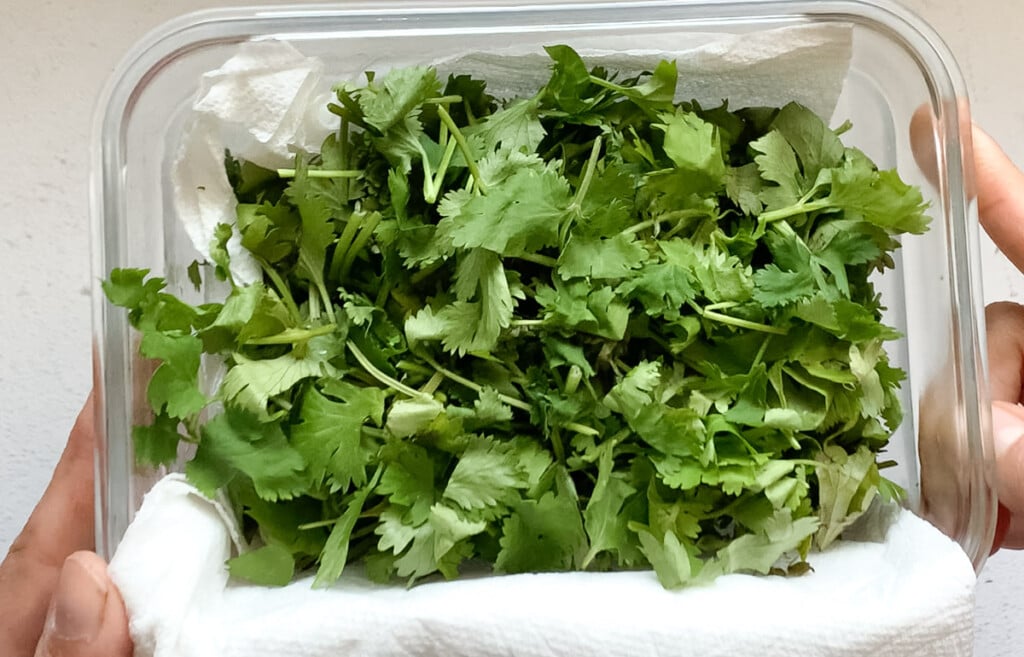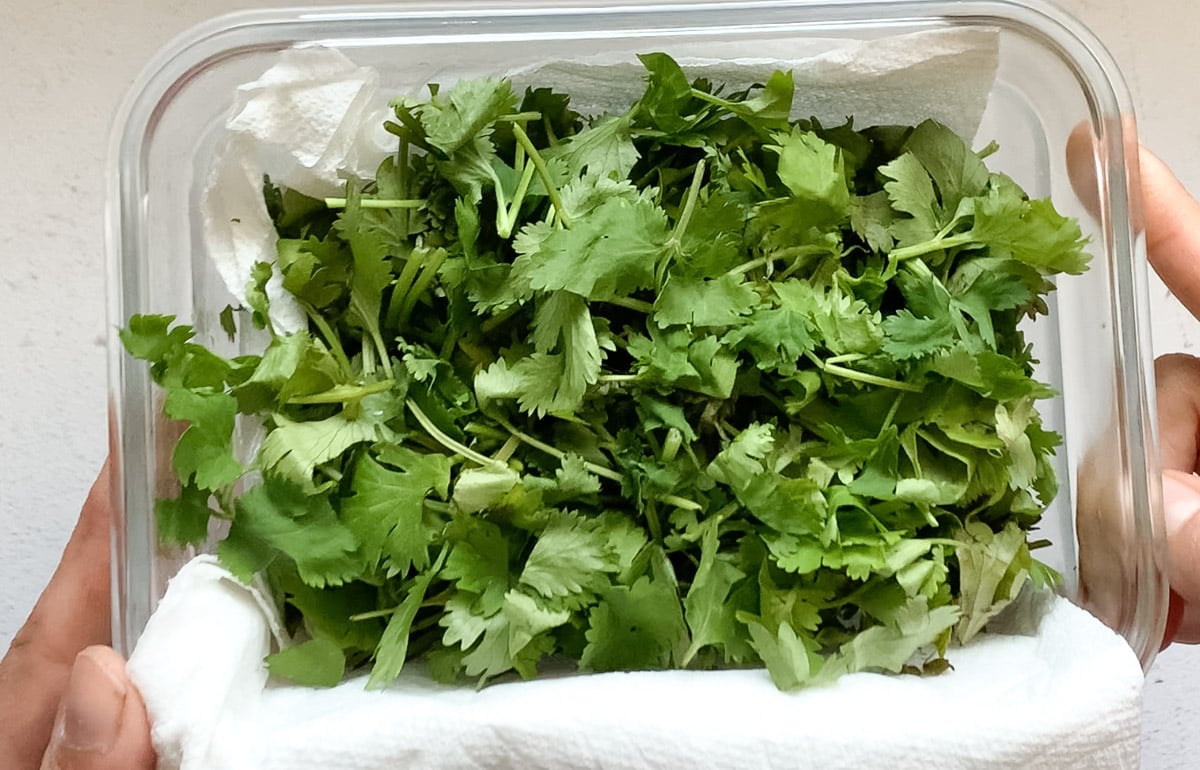 Can You Freeze Cilantro?
While this tender herb is best consumed fresh. It's not recommended to freeze as it affects the texture and color of the leaves. However, it is possible to freeze it if you happen to have an abundance and don't want your cilantro to go to waste.
Here are some suggestions on how to freeze cilantro.
Using Stored Cilantro
Because cilantro is very tender and fragile, you may find that it will wilt after some time being stored in the refrigerator. An easy trick to bring them back to life is to submerge them in ice-cold water. This will help them crisp back up!
You can also use this trick for other herbs and lettuces!
When to Use Cilantro?
Cilantro is common in many cuisines all over the world! It brings a vibrant flavor to any dish. As it lends a cooling sensation, it's great for spicy Latin or Thai foods. It also has a bright flavor that great for chutneys and salsas.
You can use cilantro leaves as a garnish to nearly any dish. If you are looking to add a little brightness to a meal, cilantro works perfectly here.
On the other hand, because cilantro stems are more intense in flavor, it works very well raw in sauces. But you can also cook with it too!
Here are some great recipes where cilantro really shines through!
Other Cooking 101 Posts
Here are some other helpful posts for how to store more essential cooking ingredients.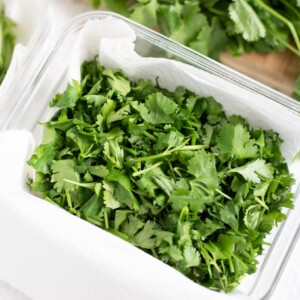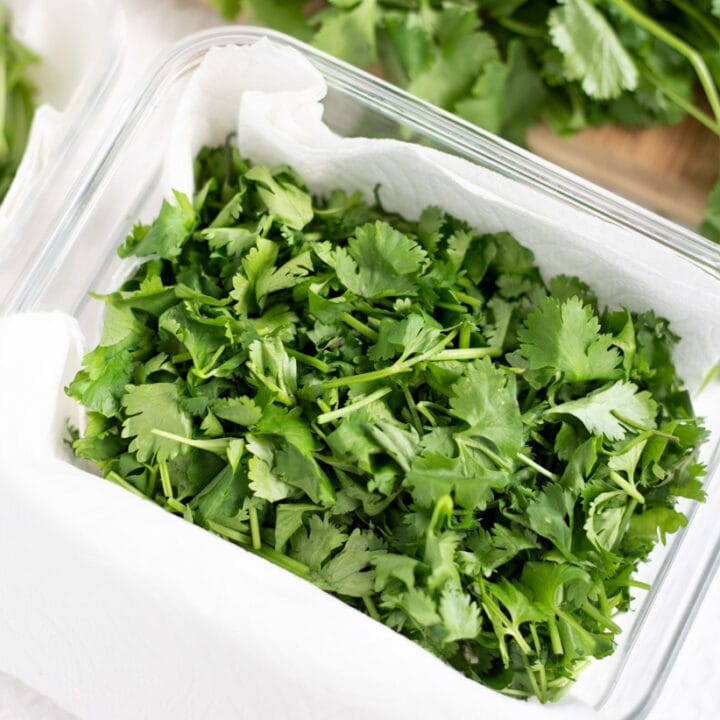 How to store cilantro + Buy, Cut, Use
Cilantro is an essential fresh herb in many of my recipes. Learn how to store cilantro, how to cut it, and use this ingredient in recipes!
Instructions
Buy a bunch of cilantro leaves or cut from homegrown plant. Cut the root if any. Pick leaves that are green and crisp.
How to clean cilantro
Open the cilantro bunch, and wash the leaves well under cold water or in a large bowl of cold water (keep the bunch together, so it is easier to handle later). You might want to wash 2-3 times to remove all grit.

Transfer the cilantro to a strainer or shake well to remove all excess water.

Spread on a kitchen towel without overlapping as much as possible. Pick out any brown or yellow leaves while spreading. Pat dry with paper towels, and use right away.

You can also let the cilantro leaves air dry completely before storing. You might want to turn them once so they dry completely.
How to cut cilantro
Place the cilantro on a cutting board. Trim the bottom stems of cilantro using a sharp knife. Save the stems to make chutneys, broth or add to soups. Refrigerate or freeze in a contianer or ziploc lined with paper towel.

Chop the leaves coarsely using a sharp knife, so as to not bruise them while chopping.
Store in refrigerator – without washing
Place the rolled paper towel inside an airtight plastic bag (or ziploc) and seal it. Refrigerate in the crisper section. Check once a week or whenever you use to remove any browned leaves.

This method works to keep cilantro for up to 2 weeks. Wash cilantro before using.
Store in refrigerator – in a jar or glass of water
Fill a jar or glass with 1-2 inch water. Put the bunch of cilantro into the water, so that the stems are immersed.

Cover the leaves with a plastic bag. Tie a knot to secure the bag over the leaves. Check the water level every few days and add more water or change water if needed.

This method can be used for washed or unwashed cilantro. If not washing before storing, then wash before use. The cilantro can be preserved this way for 2-3 weeks.
Store in refrigerator – chopped cilantro (my preferred method)
This method is great if you use cilantro frequently such as for Indian or Mexican food. Dry the cilantro completely before chopping to store with this method.

Chop the cilantro coarsely using a sharp knife.

Line a paper towel in an airtight container. Place the cilantro in the container making sure to not pack too much. Cover with a paper towel and refrigerate.

You can also place a egg in the container as it helps to absorb moisture.

Check every week or whenever you use to remove any browned leaves. This method works well to store cilantro for up to 3 weeks.
Using stored cilantro
Sometimes stored cilantro can look wilted. To make it look fresh, place it in a bowl of ice-cold water for 5 minutes. The cilantro will look fresh and crisp.
Video