Ganesh Chaturthi is right around the corner, and it is one of the most celebrated Indian festivals. This festival is celebrated with pomp and flair all across India. Here you can find a wonderful list of sweets and snacks you can make this Ganesh Chaturthi!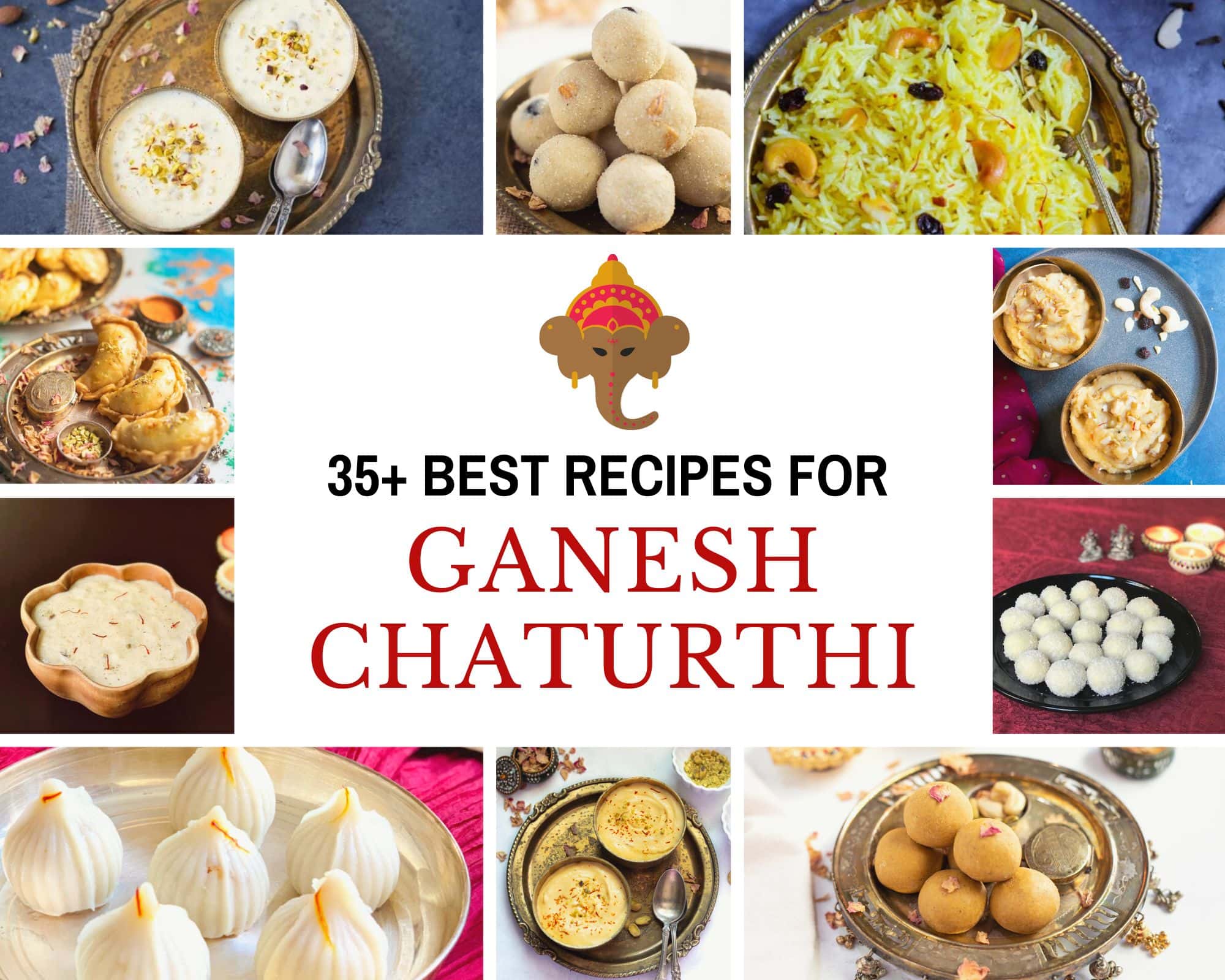 Jump to:
What is Ganesh Chaturthi?
Ganesh Chaturthi is a ten-day-long festival that celebrates the birth of Lord Ganesha. He is honored as the Lord of Wisdom in Hindu mythology. As per custom, Lord Ganesh is invoked at the start of every ceremony, as he is also known as the Lord of Beginnings.
Ganesh Chaturthi is a major festival celebrated all over India. Ganesh idols are brought to homes and worshipped for 10 days. You can hear loud cheering of Ganpati Bappa Morya, Mangal Murti Morya along with celebrations with dance and music. No Indian festival is complete without lots of food and sweets.
In Southern India, this festival is also called Vinayaka Chaturthi. Lord Ganesh is known by many names including the name Vigna Harta (one who removes obstacles). As a god who removes all obstacles faced by us in the journey of life, this festival adorns the name Vinayaka Chaturthi.
I am sharing below a variety of recipes for Ganesh Chaturthi, including both sweet and savory recipes. Sweets are a major part of the celebration and are offered to Lord Ganesha as Prasad.
If you are doing a Ganesh Chaturthi get-together, then make an Indian festive charcuterie board with these recipes.
Modak Recipes
Modak's are essentially anything made in a conical structure. They can be sweet or savory, with a filling or without, simple or complicated. Modak is the main part of naivedya (offering to Lord Ganesha) on Vinayaka Chaturthi. They are prepared in a variety of ways and are known to be Lord Ganesha's favorite snack. I have compiled a list of the best modak recipes that will brighten your celebrations.
Ukadiche Modak (Kozhukattai)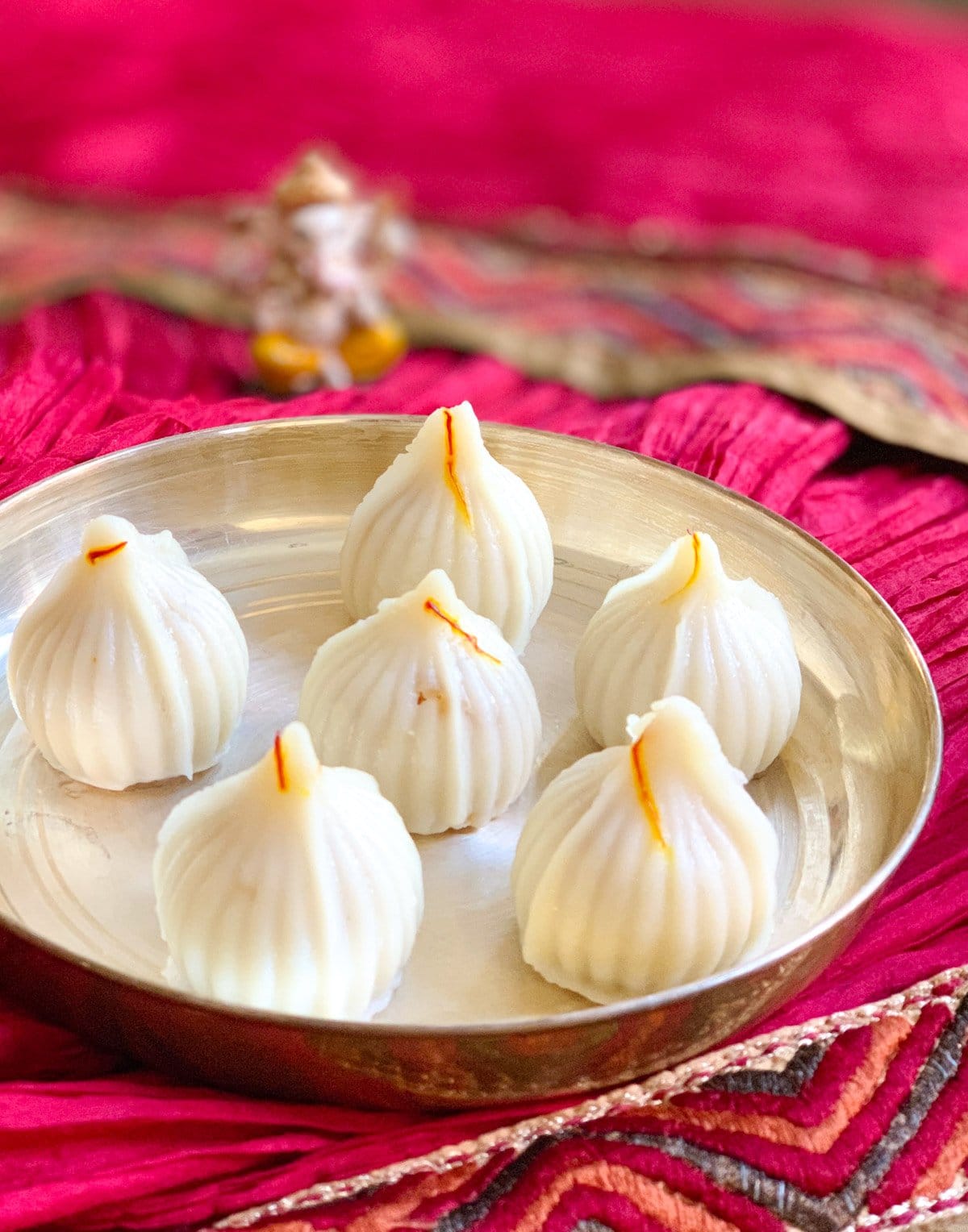 Ukadiche Modak, also called Thengai Poornam Kozhukattai, is the traditional Modak made on the day of Ganesh Chaturthi. It is a sweet rice dumpling made from steamed rice flour and stuffed with a sweet mixture of jaggery and grated coconut. that is a steamed rice flour dumpling.
Rava Modak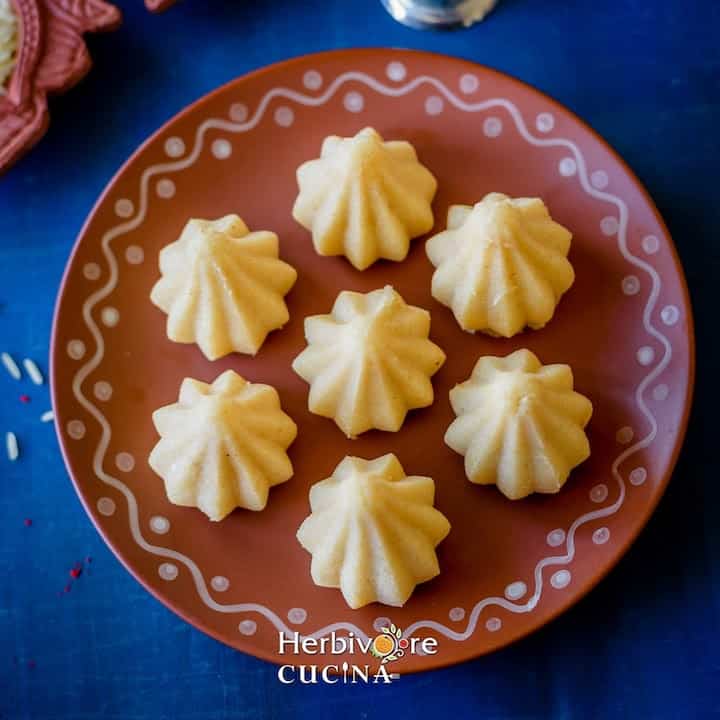 A brilliant twist to the ever-famous Sheera or Sooji Halwa. Sheera is a sweet semolina pudding prepared with semolina(rava), sugar and ghee. Paired with a sweetened coconut filling, this rava modak makes a great addition to Ganesh Chaturthi prasadam.
Fried Modak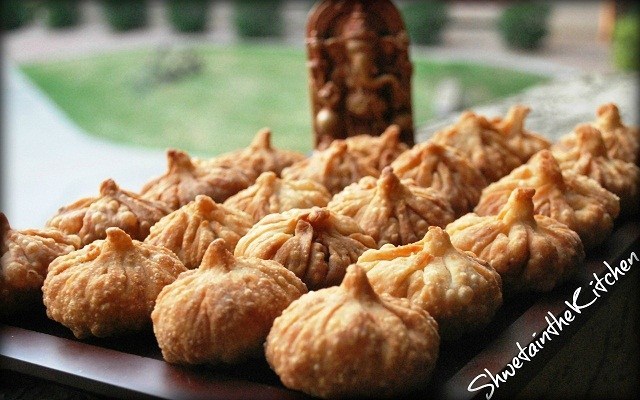 Modak is usually of two types- steamed and fried. This beautiful recipe details how to make crunchy fried modak with a sweet filling of coconut and jaggery.
Dry Fruit Modak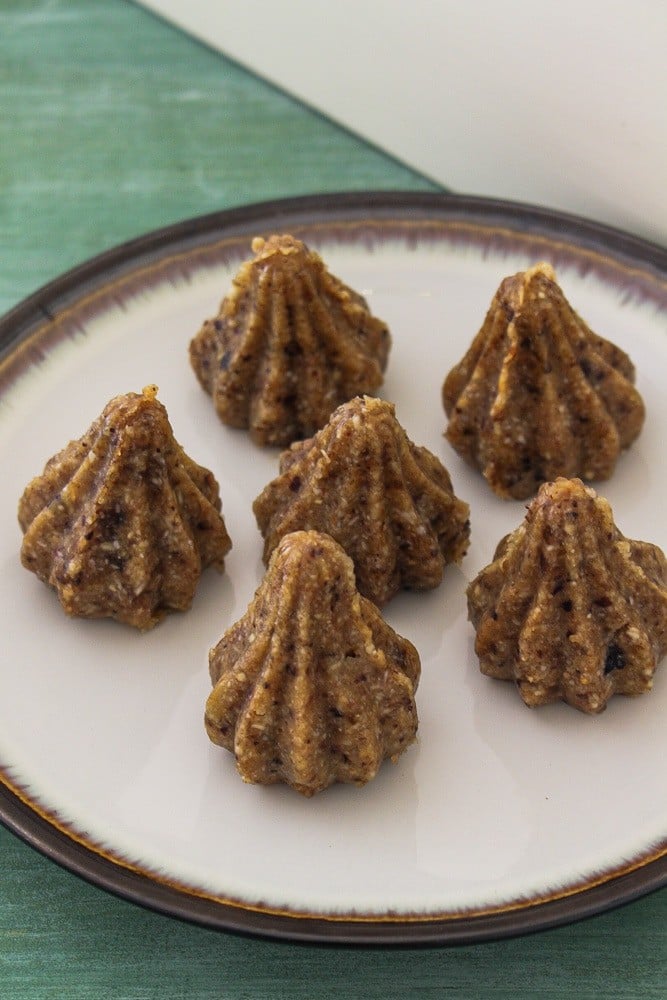 This dry fruits modak is a simple and quick version that takes only 10 minutes. The modak mixture is made with all the healthy ingredients – nuts, dates, raisins, and coconut. And guess what? There is no cooking required.
Chocolate Modak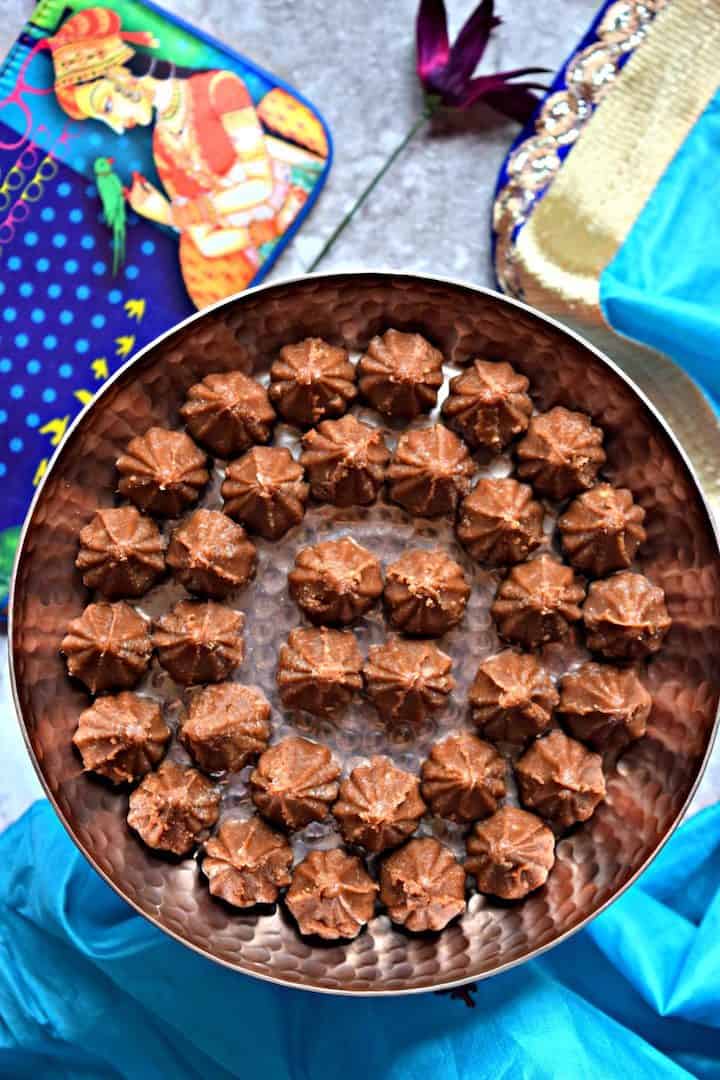 Make this Ganesh Chaturthi a fun festival for kids. This chocolate modak uses cocoa and khoya along with Ghee(Clarified butter) and makes a scrumptious addition.
Coconut Khoya Modak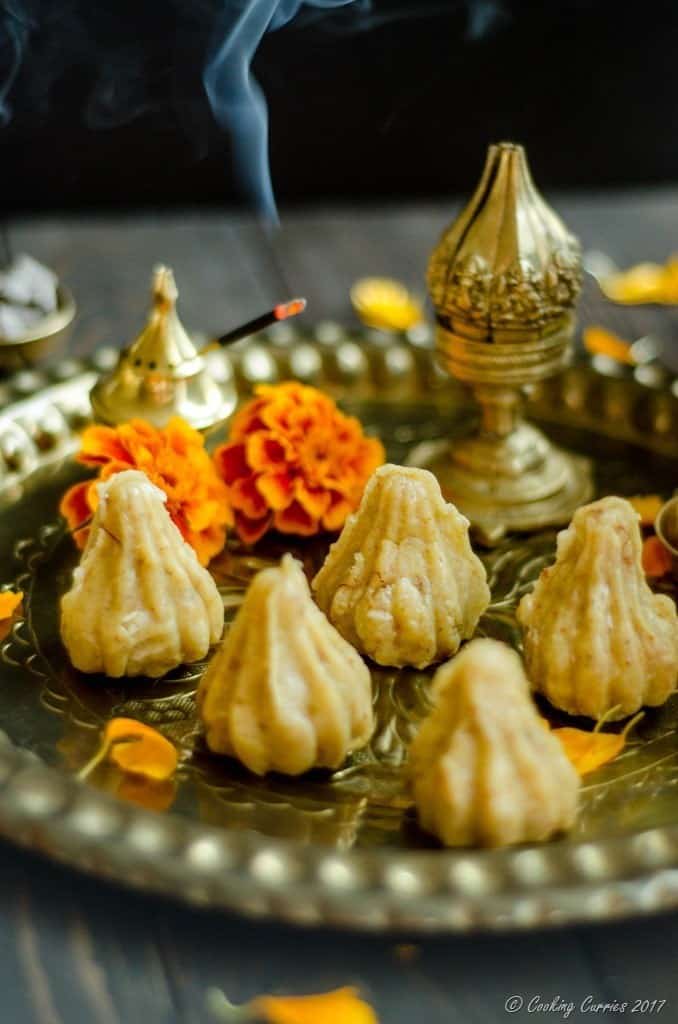 A twist on traditional Modak with this Chocolate Chip filled Coconut Khoya Modak that can be made in about 15 mins. If you are short on time, this is a great option!
More Sweet Recipes
Here are a variety of other sweets you can include in your Ganpati sweets.
Coconut Laddoo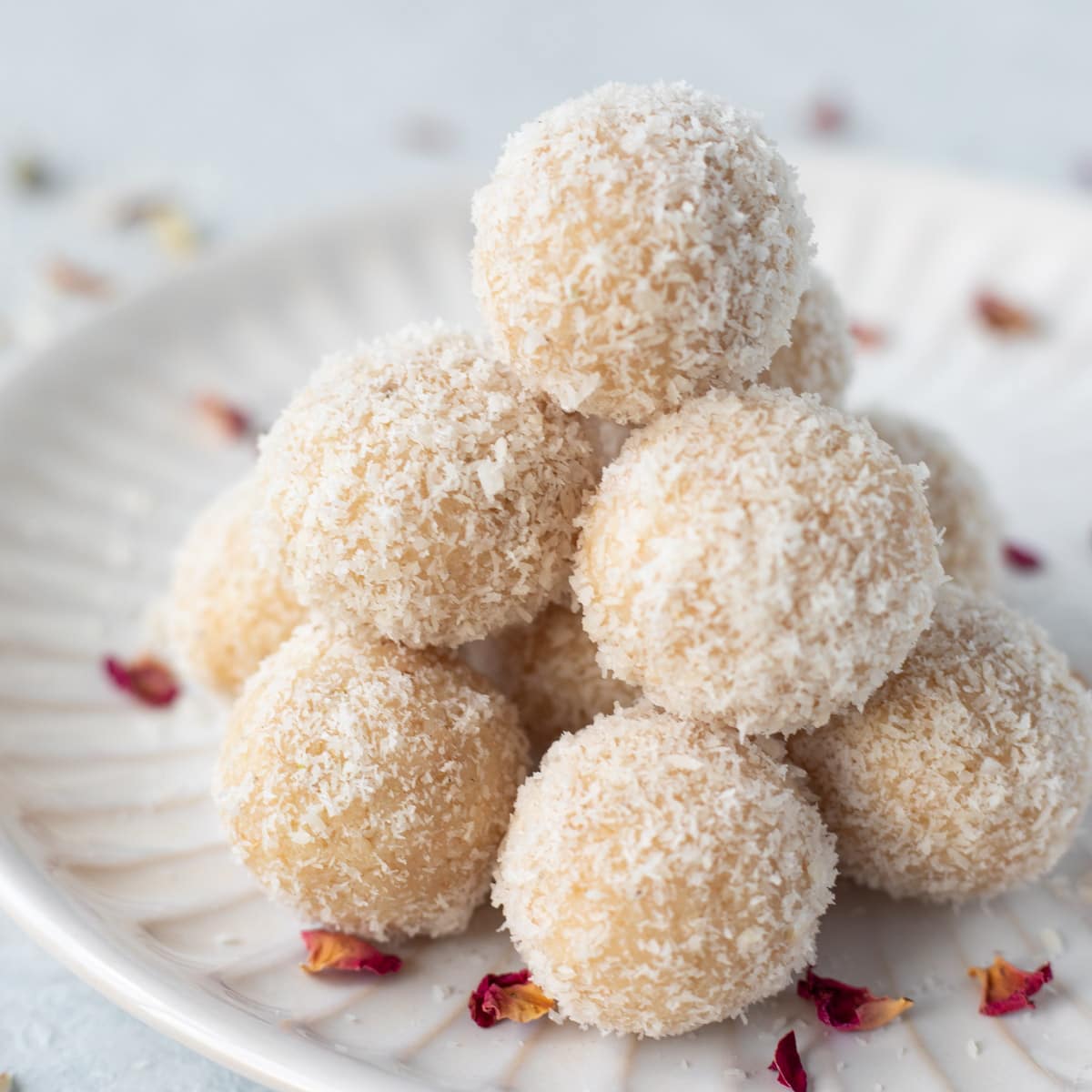 Made with desiccated coconut, condensed milk, and almonds, this coconut laddoo is a great sweet to add to your Ganesh Chaturthi lunch menu.
Puran Poli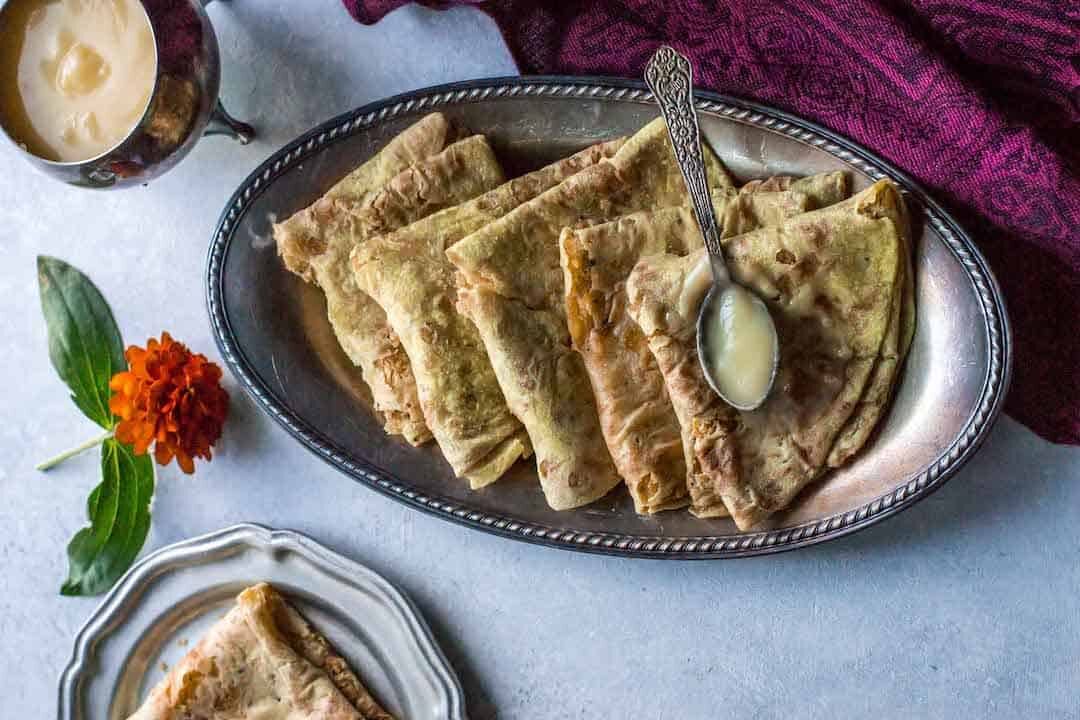 A sweet dish native to many parts of India, puran poli is often made during Ganesh Chaturthi. Puran Poli is a mix of lentils, jaggery, and all-purpose flour (maida). It is served hot with a generous dollop of ghee.
Mawa Gujiya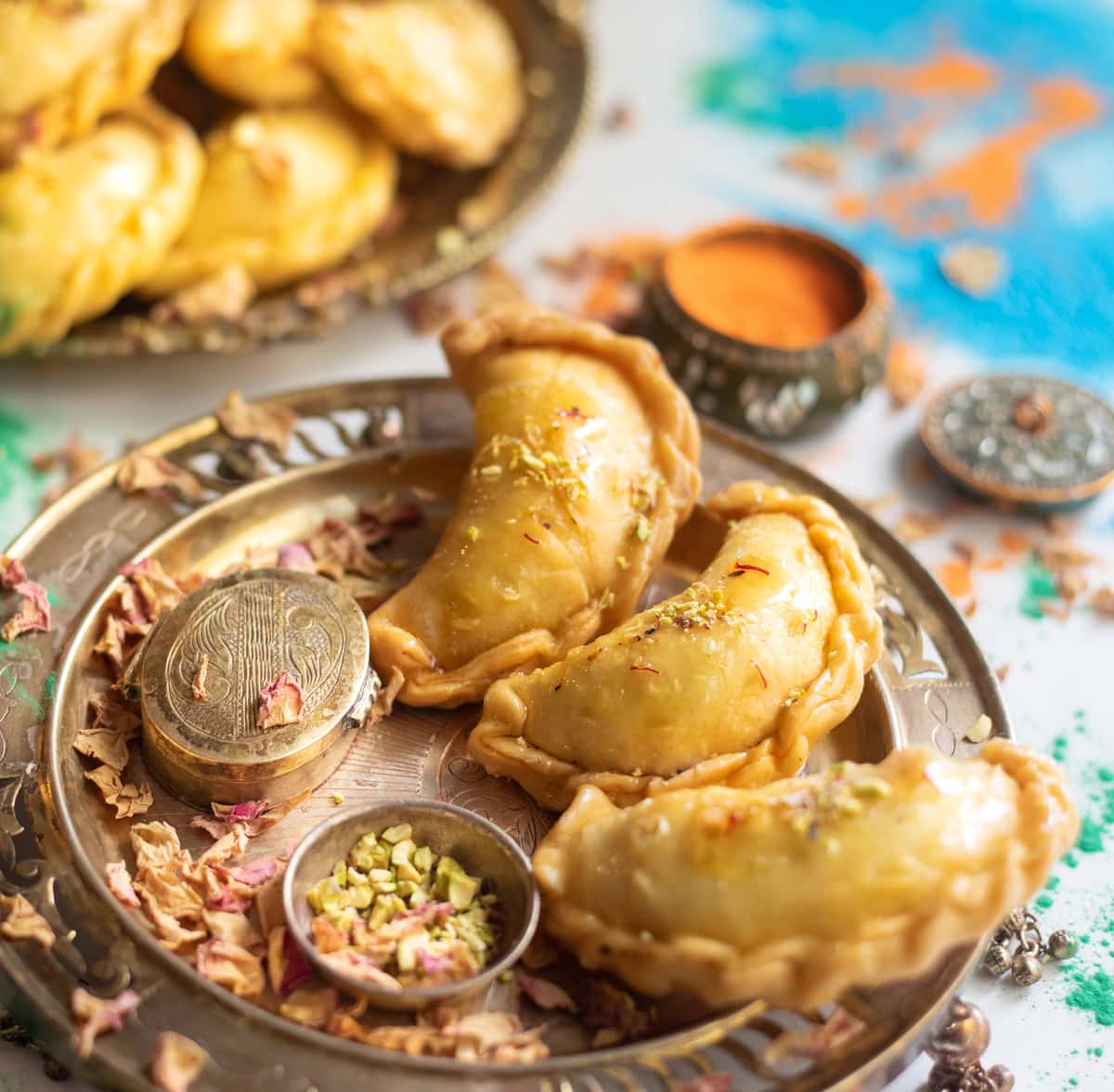 An authentic Indian sweet fried dumpling filled with a mixture of mawa (milk solids), nuts, and coconut. It is a delicious treat made during the festivals in India.
Chocolate Ladoo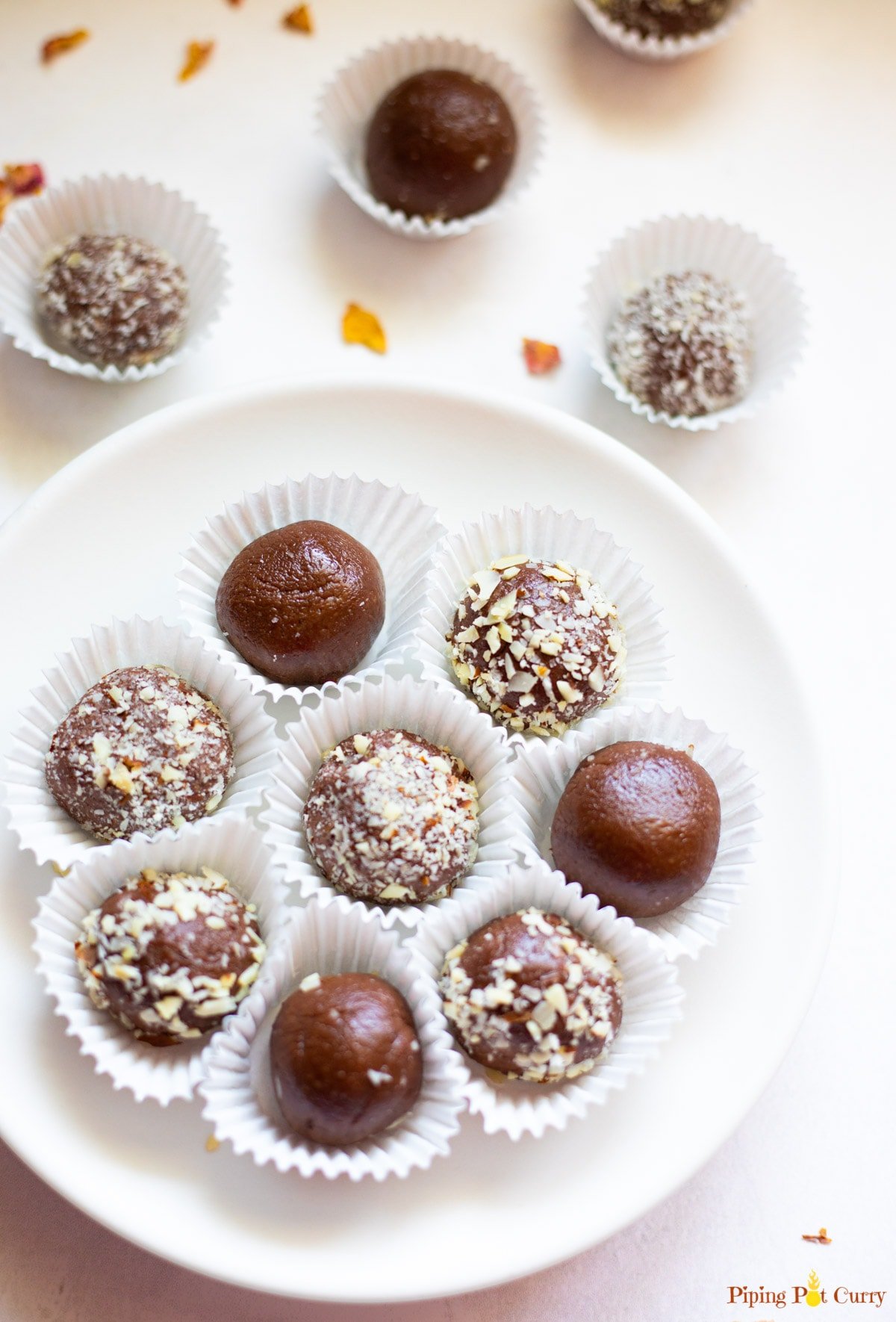 These Chocolate Ladoos made with almond flour, condensed milk, and cocoa powder are sure to satisfy your cravings for Indian sweets! They take only 20 minutes to make and can be served as a festive dessert.
Sheera / Sooji Halwa
If you are a fan of Halwa, then all you need is Sheera. Made with easily available kitchen ingredients such as rava, ghee, and milk, this recipe is perfect for sweetening your taste buds.
Besan Laddoo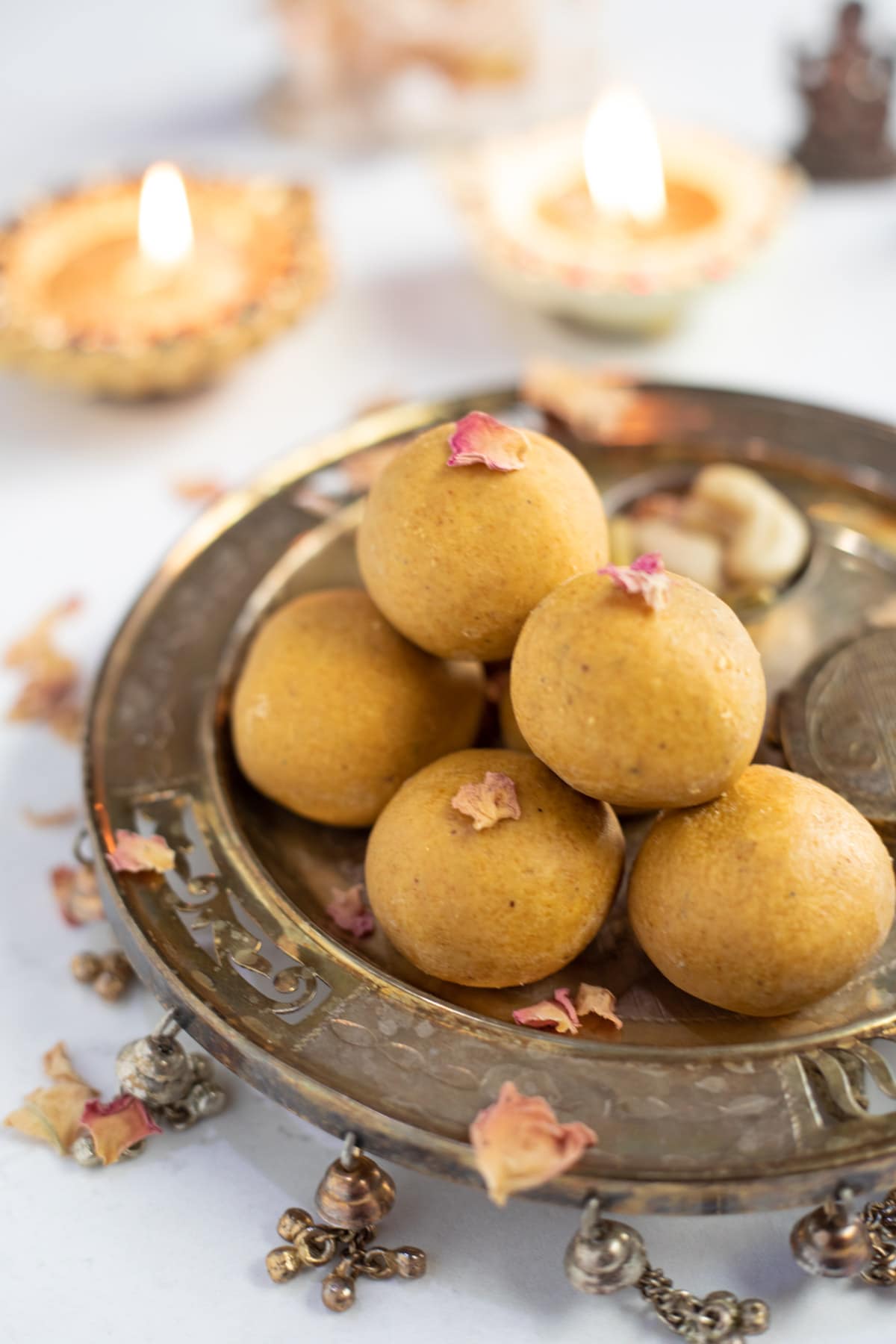 You need just a few ingredients, such as gram flour, ghee, and sugar, to make these amazing melt-in-the-mouth dessert balls. Make this decadent sweet with this easy, fail-proof recipe!
Rava Ladoo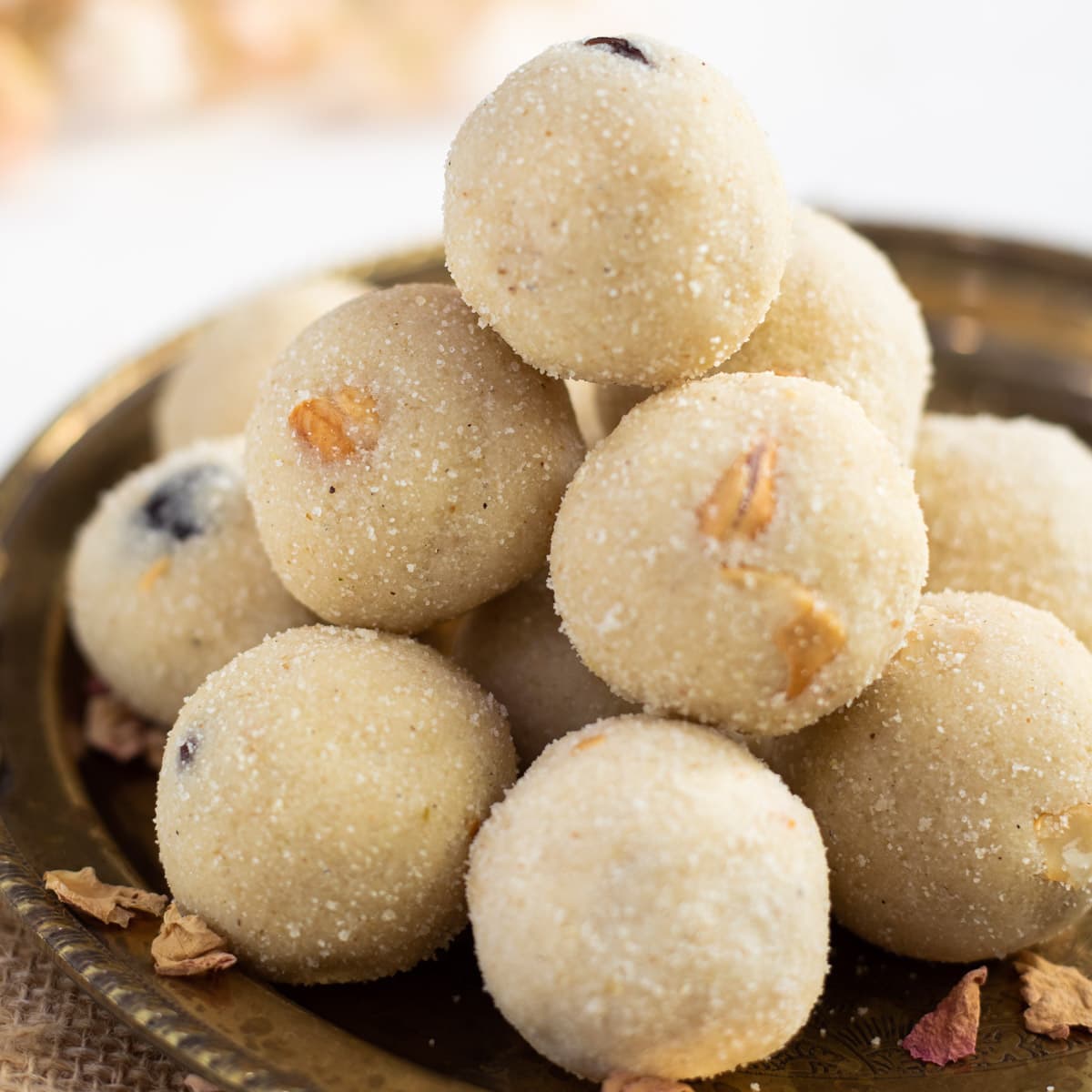 These melt-in-the-mouth Rava Ladoo need just a few ingredients – roasted semolina, ghee, milk, and sugar – and can be made in less than 30 minutes!
Chocolate Peda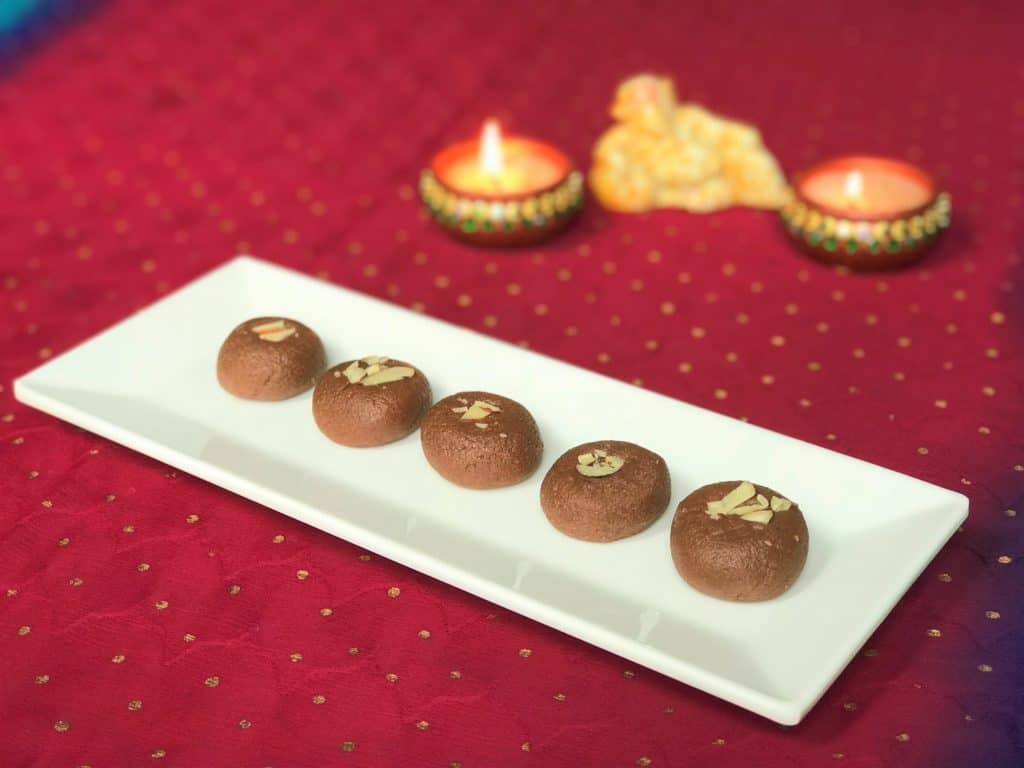 Make this easy and healthy sweet for your little ones this Ganesh Chaturthi. It is a gluten-free dessert that kindles your taste buds.
Rose Coconut Karanji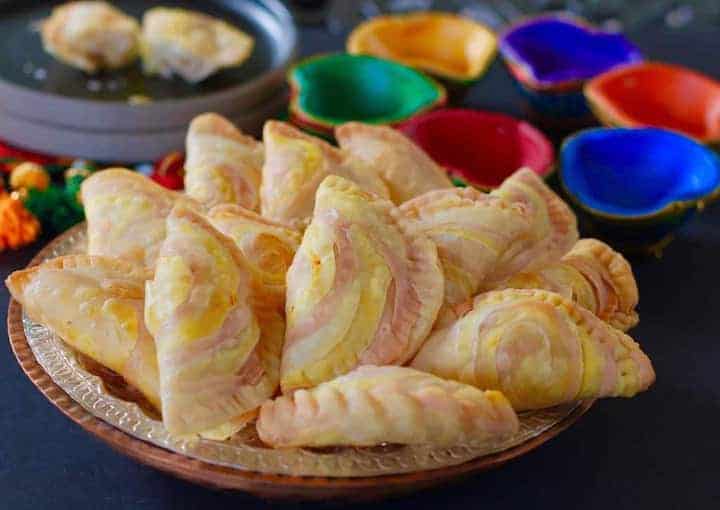 This famous Maharashtrian dish is a crispy and flaky pastry filled with a flavored coconut filling. The highlight of this dish is the addition of the rose flavor to the coconut.
Sweet Rice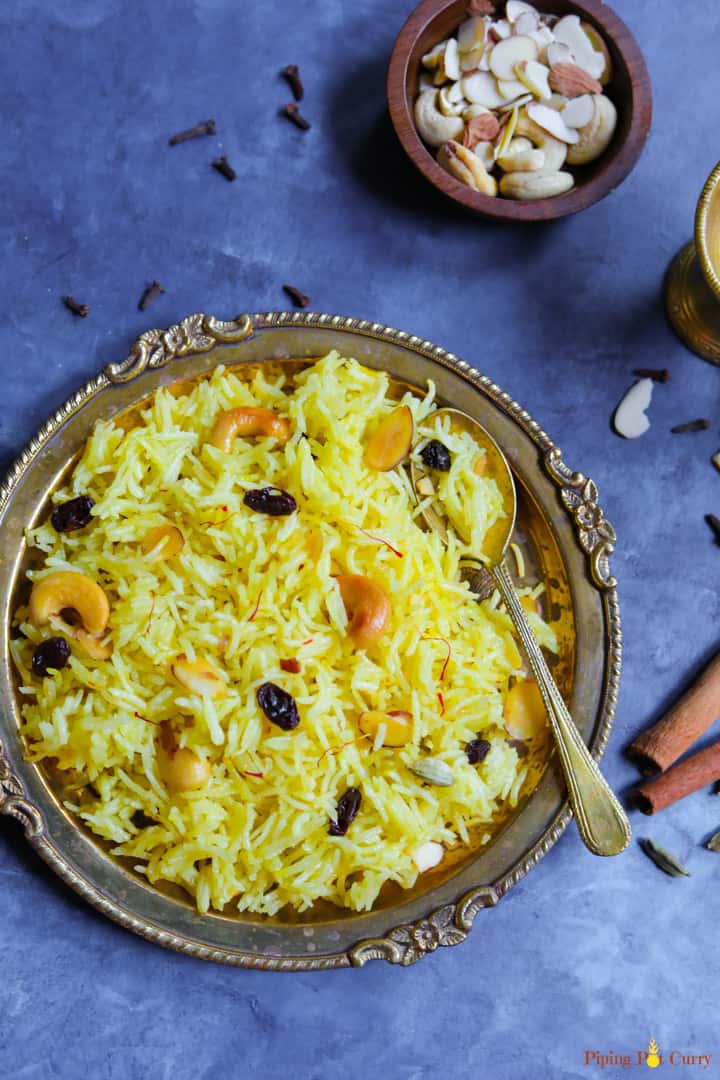 A sweet and rich rice preparation loaded with dry fruits, sugar, and ghee. This aromatic sweet saffron-flavored rice is a royal dessert made on special occasions and festivals.
Mango Shrikhand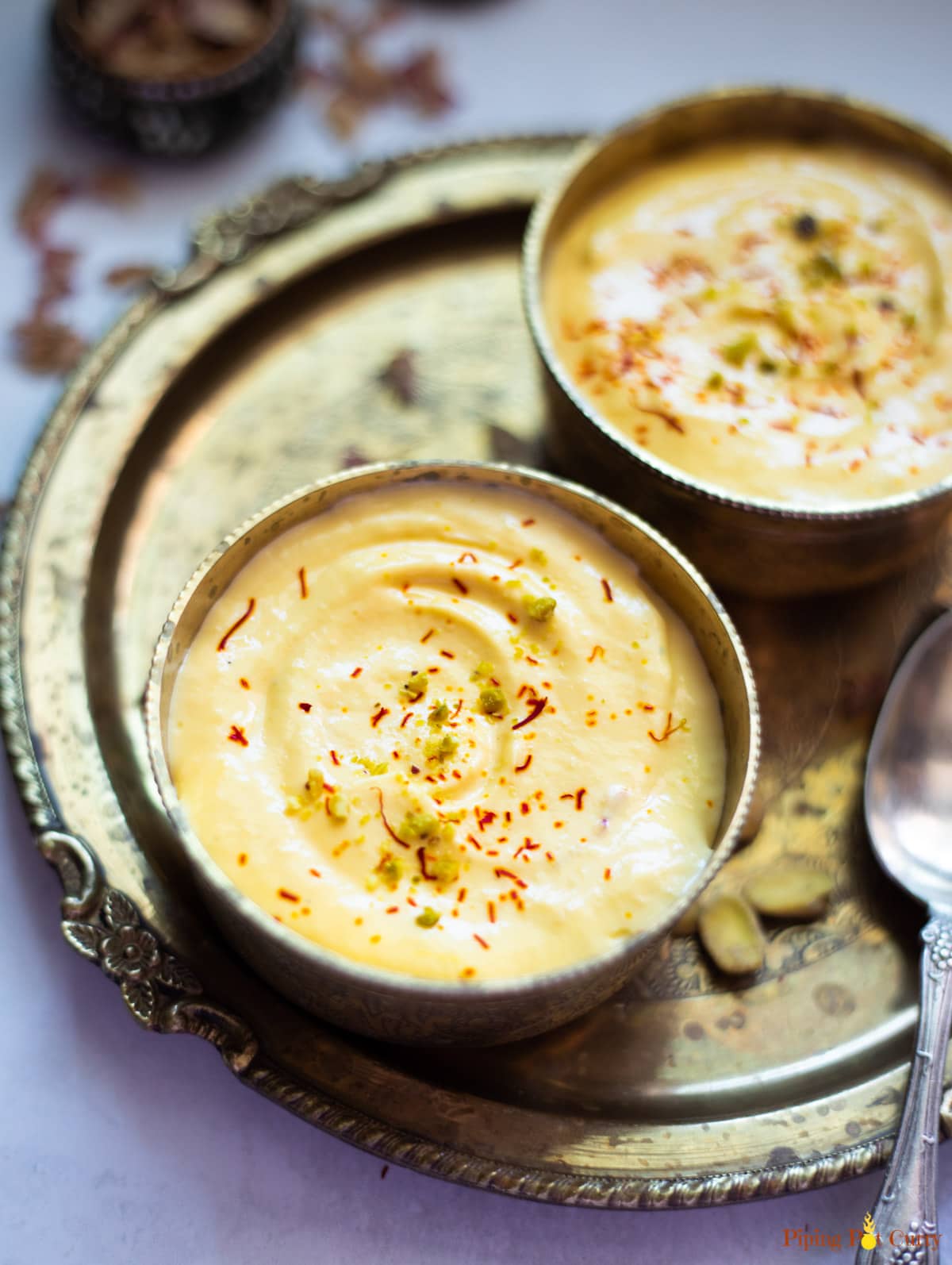 Mango Shrikhand, a refreshing & sweet Indian dessert, is a perfect treat. Creamy yogurt, mango pulp, and sugar are blended together and garnished with saffron and cardamom to make this luscious Mango Shrikhand.
Basundi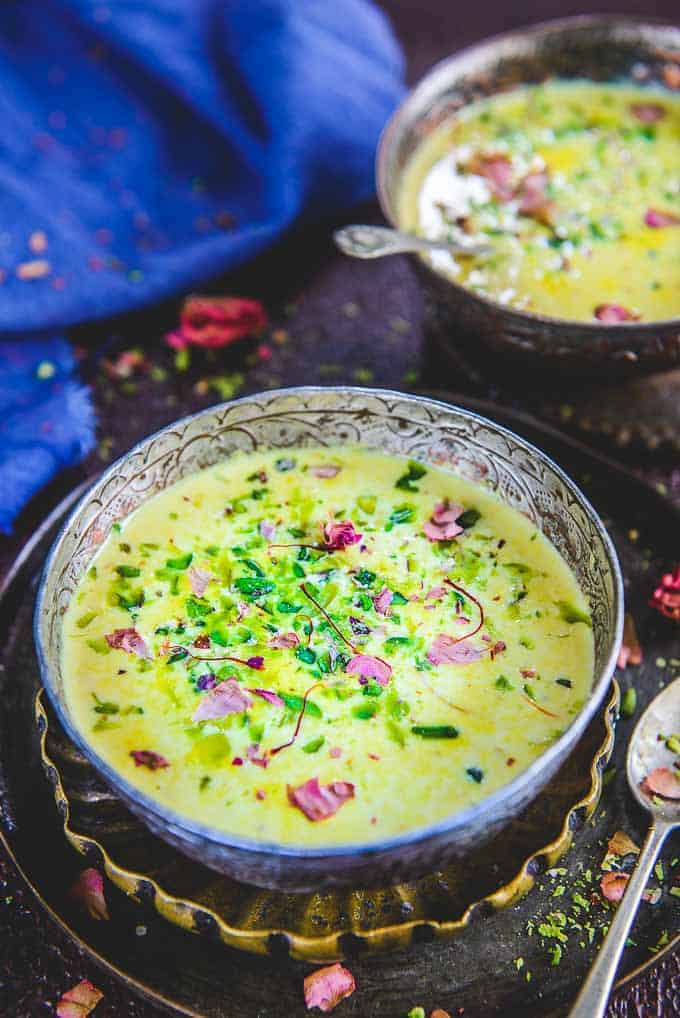 A delicious Indian dessert whose main ingredient is milk. It is an easy-to-make dish that lets you add the flavor of your choice.
Kheer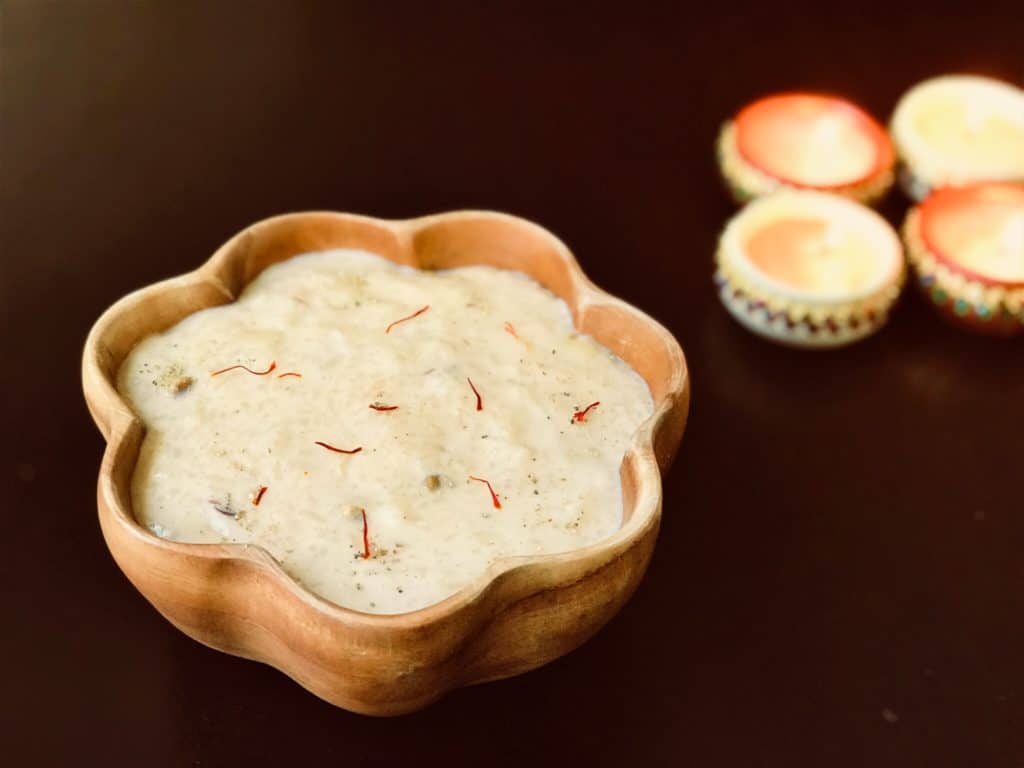 Kheer (Rice pudding) is the go-to dessert during festivals in India. Made with aromatic ingredients of milk, saffron, and cardamom, this dessert is gluten-free.
Shrikhand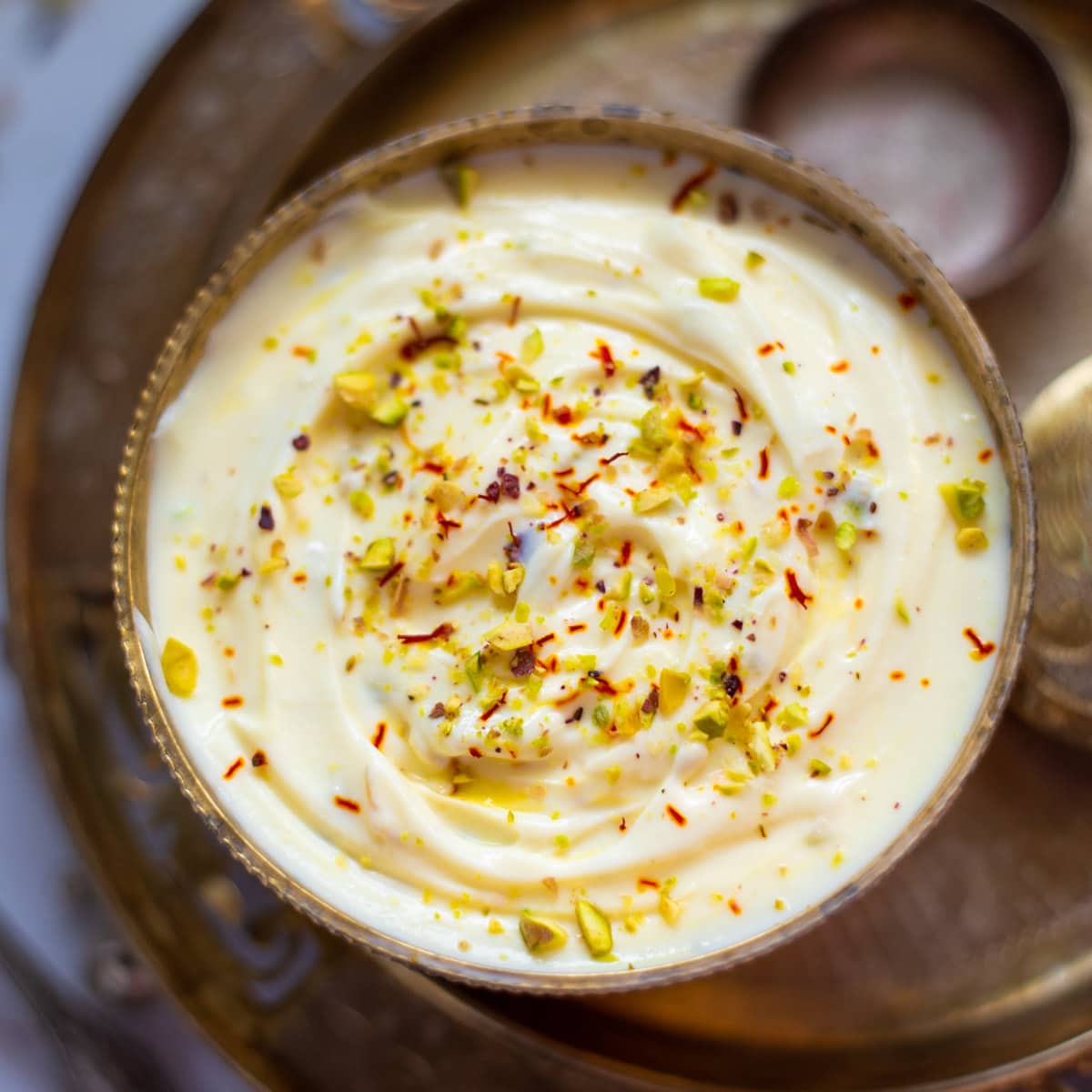 Creamy smooth yogurt is mixed with sugar and cardamom and garnished with saffron and pistachios to make this luscious Kesar Elaichi Shrikhand.
Carrot Kheer
A delicious and healthy variation of pudding. Made with carrots, milk, and dates, this recipe will definitely be on your to-do list of sweet recipes for Ganesh Chaturthi.
Coconut Burfi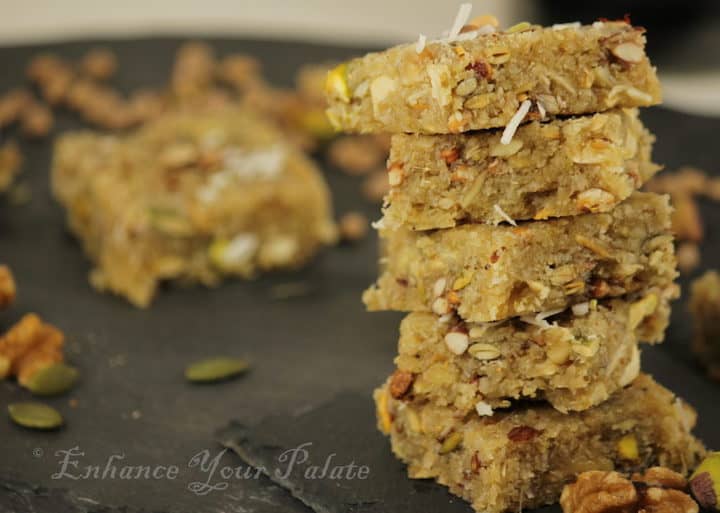 Mix nuts coconut burfi or fudge is an easy-to-make Indian sweet with a twist of fennel flavor that makes it unique.
Sabudana Kheer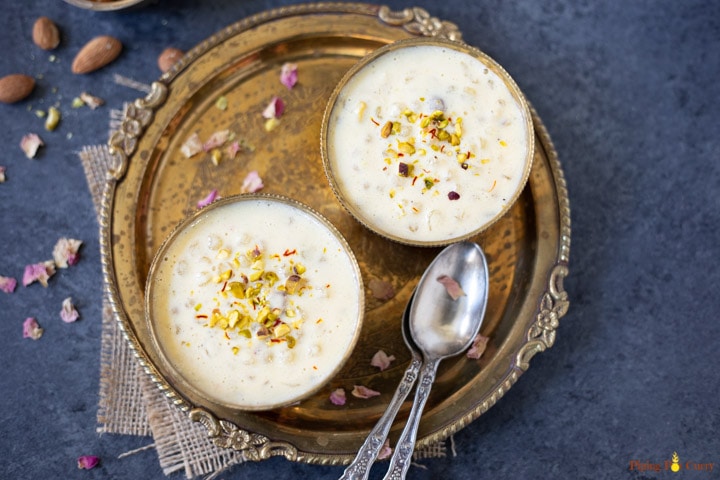 Sabudana Kheer, or Tapioca pudding, is a sweet made with tapioca pearls and milk. It is super easy to make in the instant pot or on the stovetop.
Savory Recipes
Along with a variety of sweets, lots of savory recipes are also included in a Ganesh Chaturthi food menu. Here are some options for snacks and the main course for the Ganpati festival.
Sabudana Vada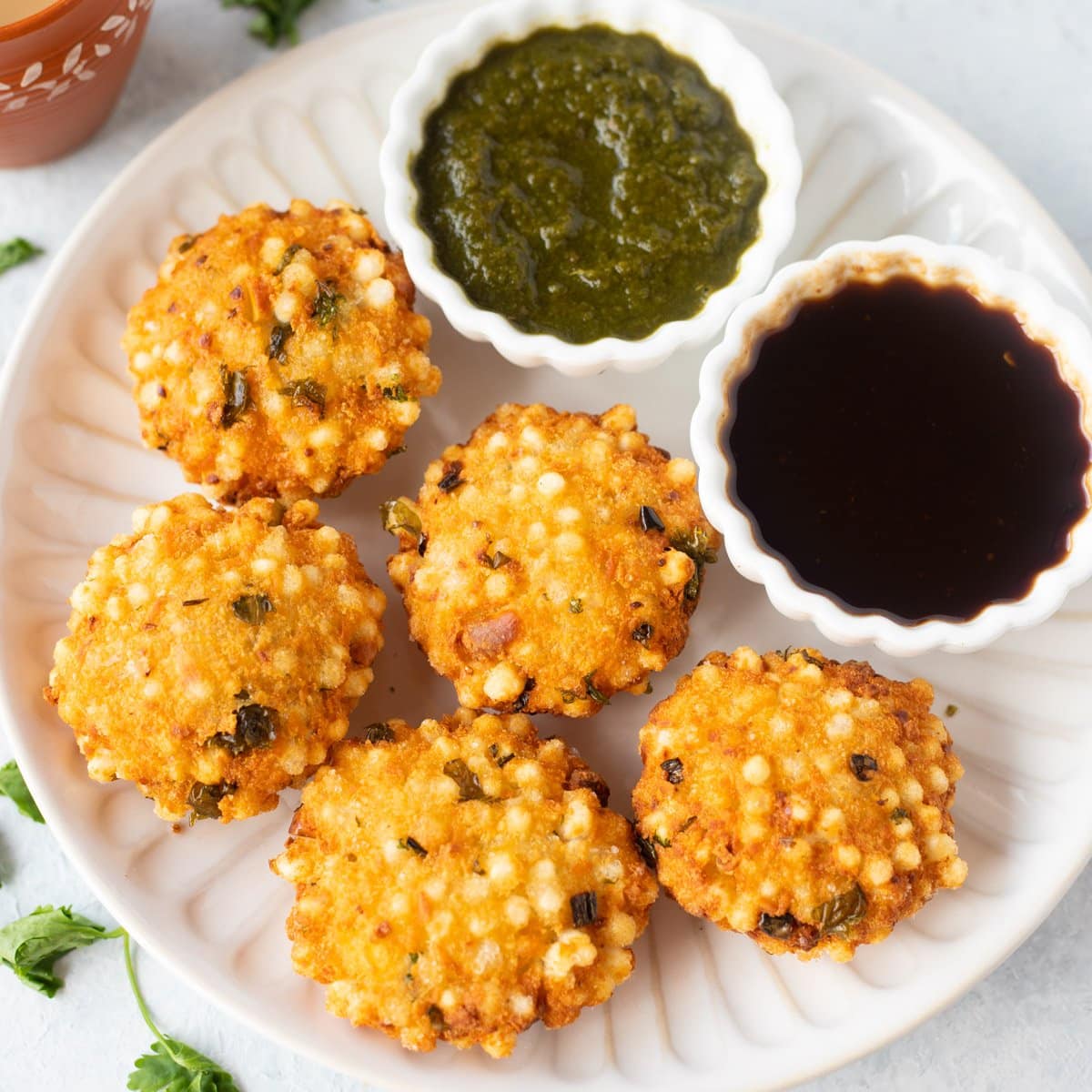 A traditional Maharashtrian snack made from sabudana (sago), potatoes, peanuts, herbs and spices. These sabudana vadas are addictive! This is a vegan, gluten-free, and simple fasting recipe.
Batata bhaji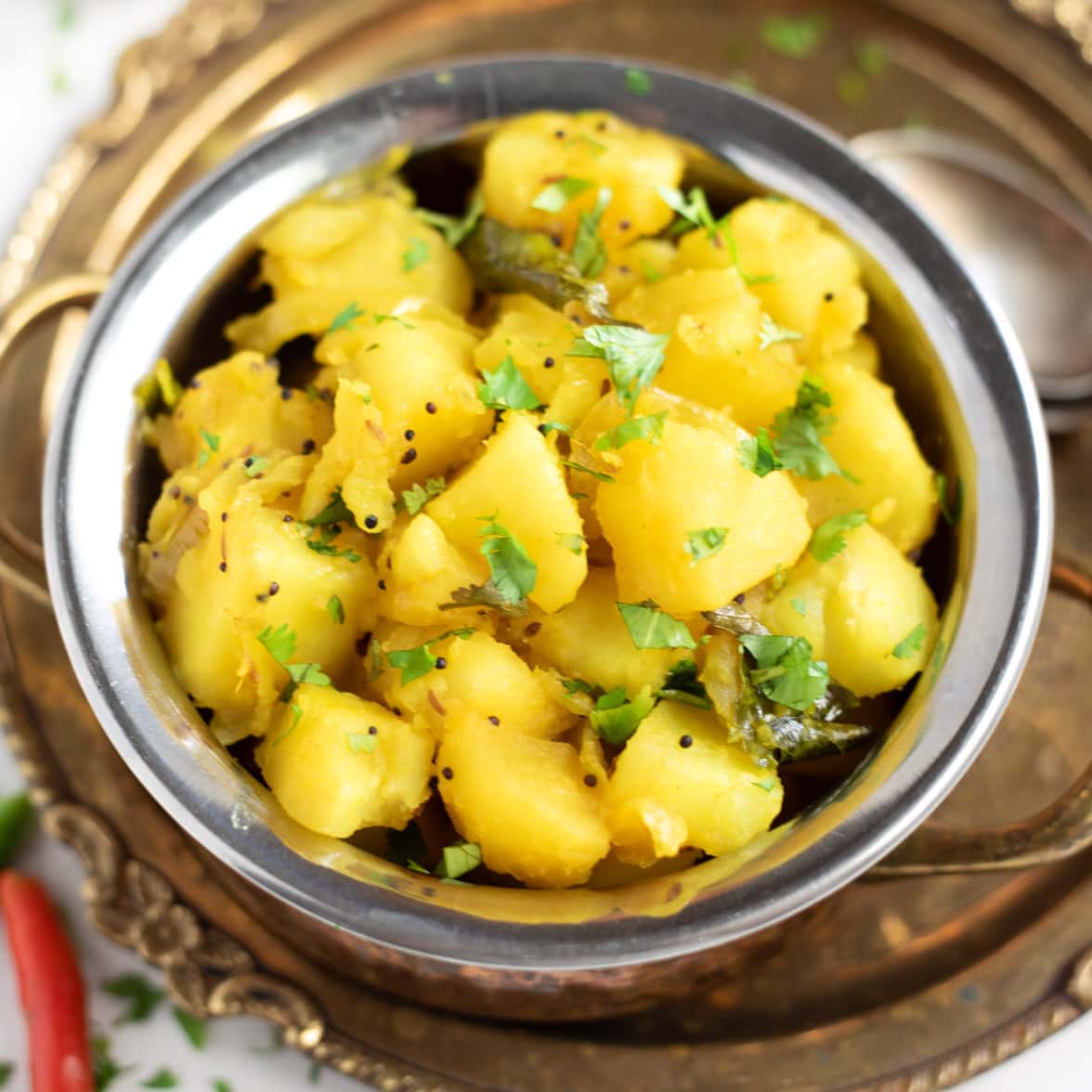 Easy and comforting Potato Curry, also known as Batata Bhaji, along with poori, is often included in the Ganesh Chaturthi lunch menu.
Vada Pav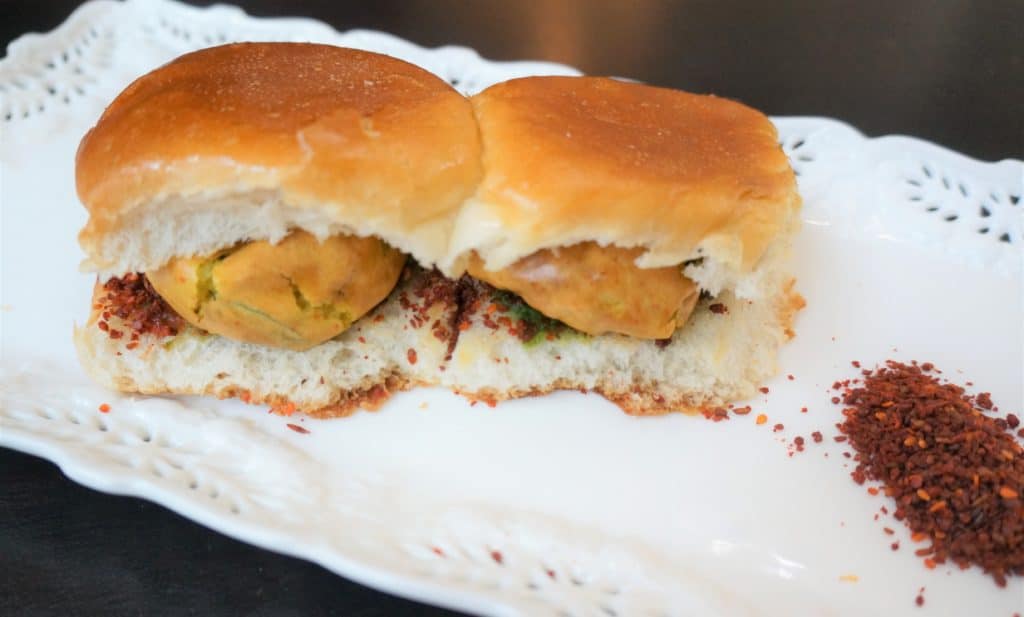 It is one of the best Indian street foods that can be had for breakfast, lunch, or dinner. Try the healthier version of this dish in an air-fryer.
Amti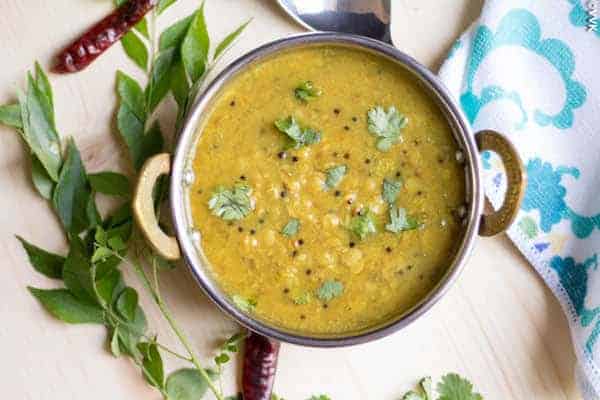 A traditional no-garlic, no-onion, this Maharashtrian lentil stew (dal) is super easy to prepare in an instant pot or a slow cooker.
Kakdi Koshimbir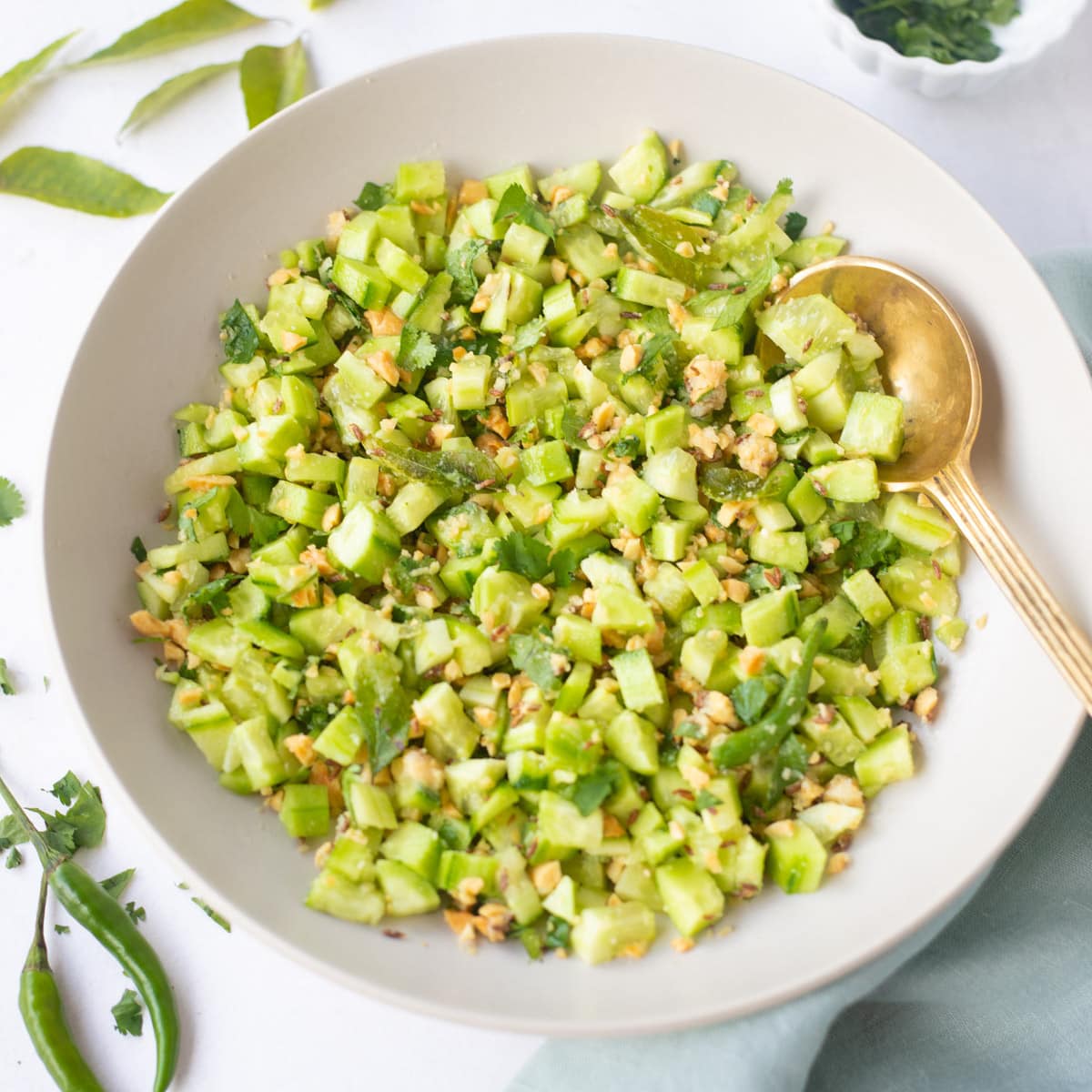 Kakdi Koshimbir, also known as Khamang Kakdi, is a simple, easy-to-make, refreshing Maharashtrian cucumber salad bursting with crunch and flavor.
Sabudana Khichdi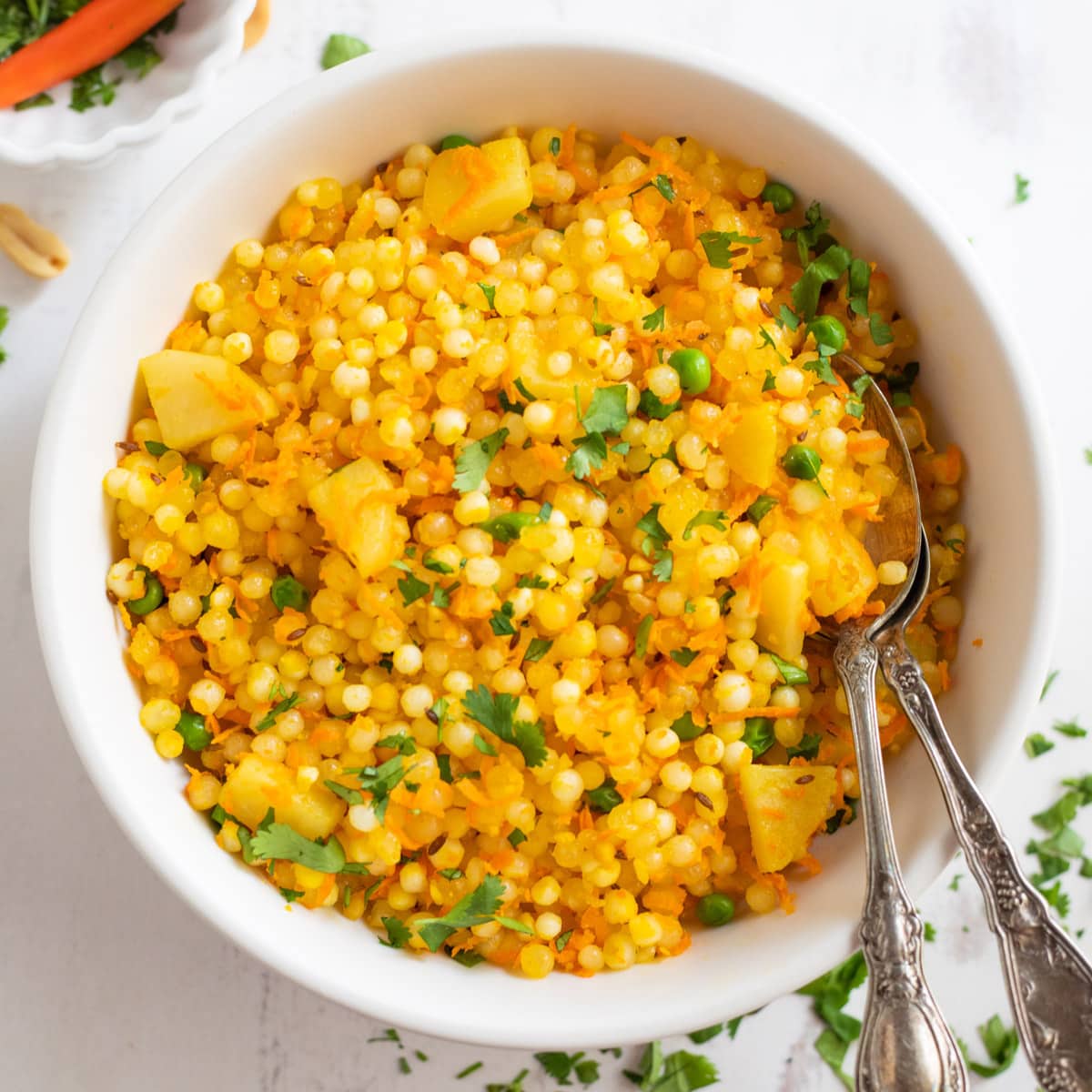 Sabudana (Tapioca or Sago) Khichdi is a perfect course for breakfast or can be had for an afternoon snack with tea. This recipe also includes carrots and green peas to make it more healthy and nutritious.
Masale Bhaat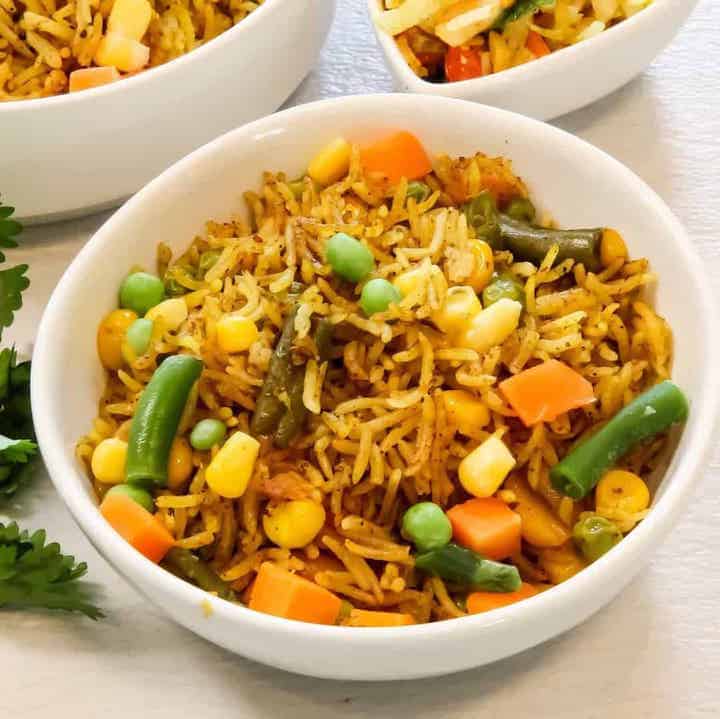 Masale Bhaat is a delicious Maharashtrian one-pot rice dish filled with vegetables and mildly flavored with spices and garnishing. This recipe can be prepared in a pressure cooker or in instant pot.
Poha Chivda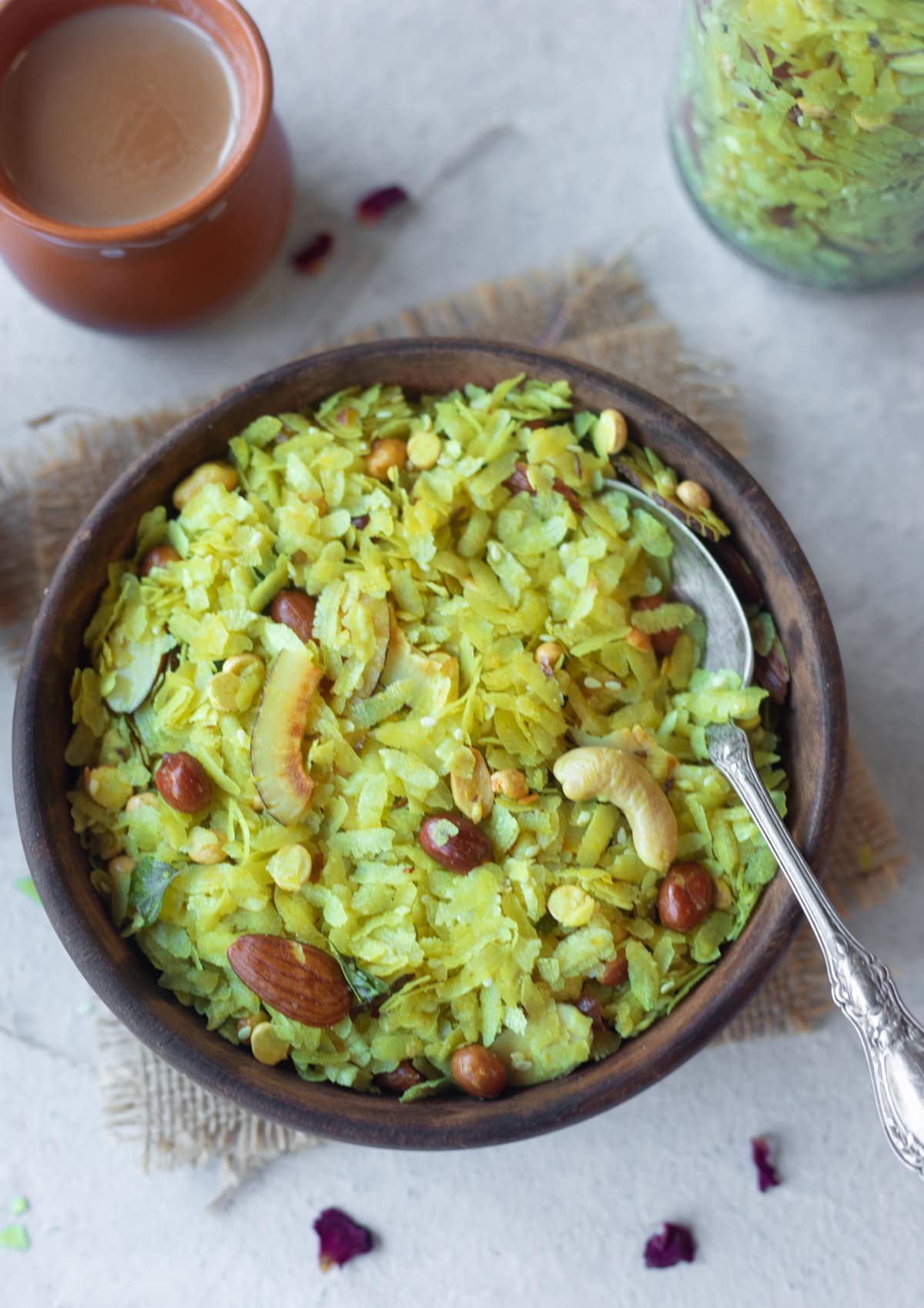 Poha Chivda is a delicious savory snack that is sweet, tangy, and crunchy — made of crispy roasted poha (flattened rice) peanuts, cashews, almonds, and other seasonings.
Rava Dhokla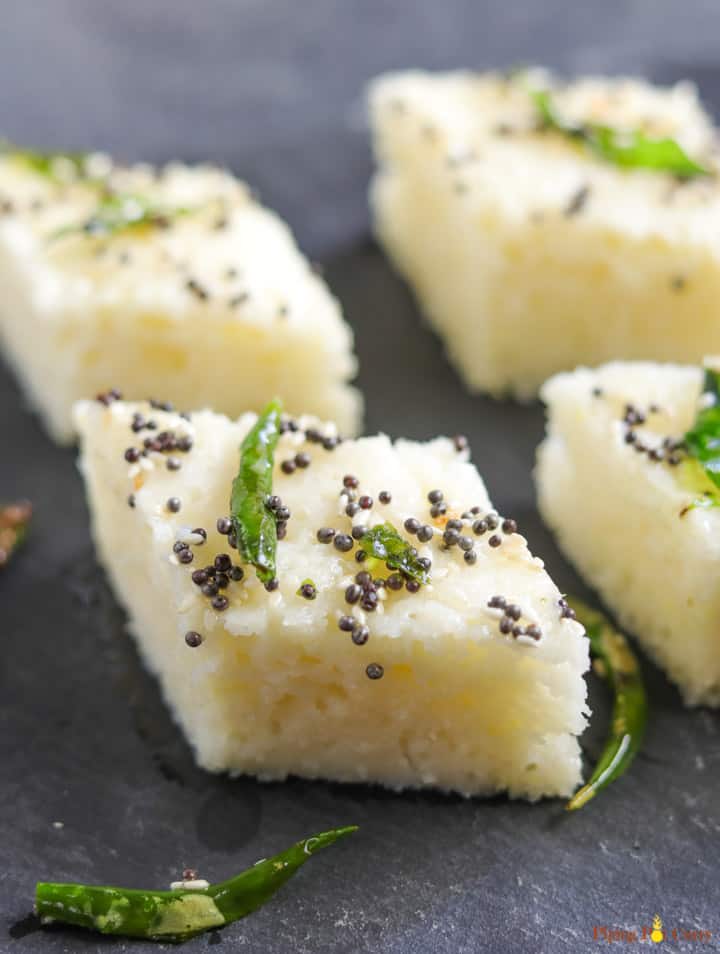 A popular Gujarat delicacy made from semolina that can be enjoyed as an afternoon snack. This recipe can be made in a pressure cooker or in an instant pot.
Poha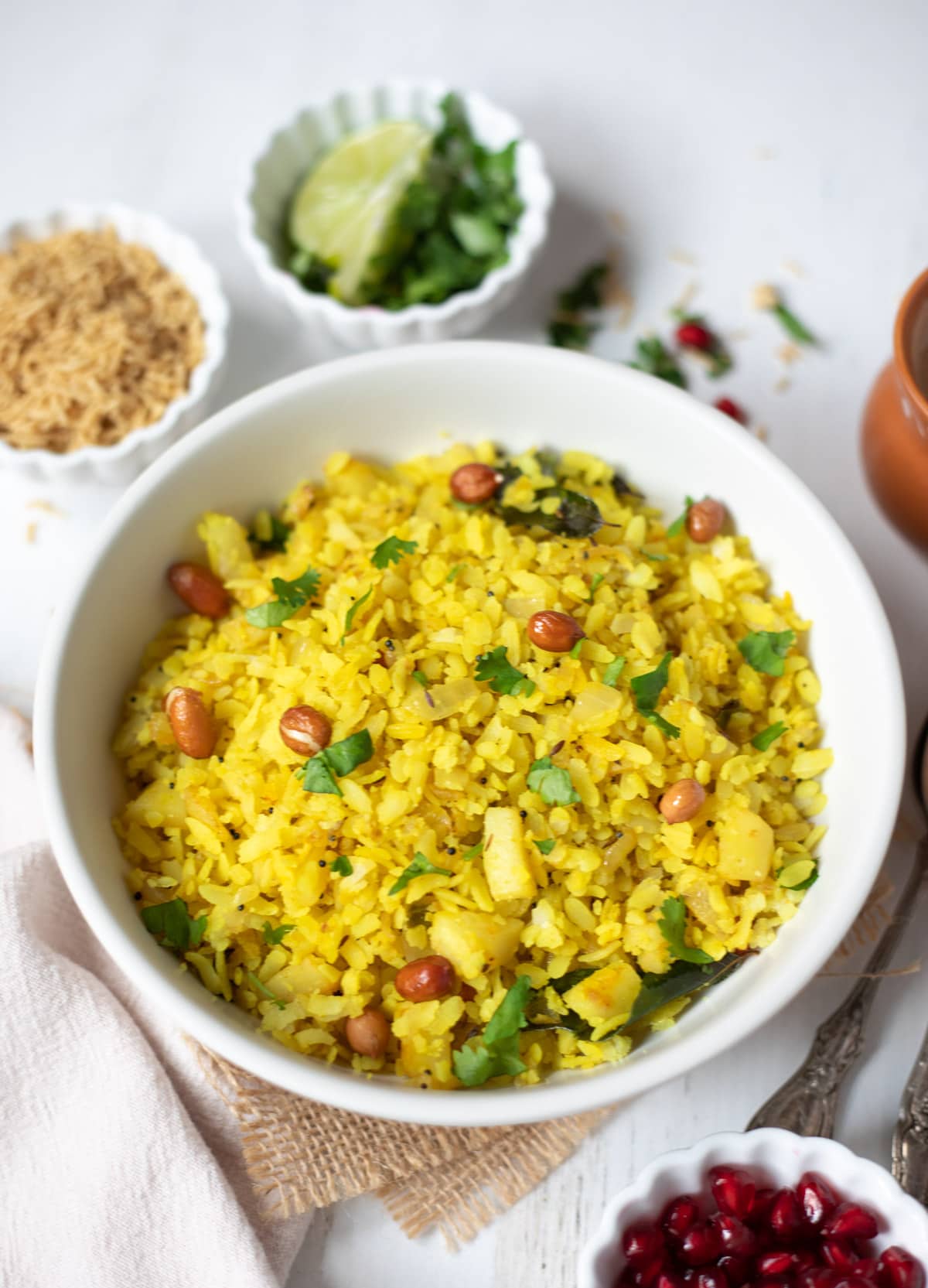 Poha is an easy and delicious Indian breakfast made with flattened rice, onion, and potatoes, and seasoned with mild spices, curry leaves, peanuts, and cilantro. This recipe also makes up for a quick mid-day snack.
Varan Bhaat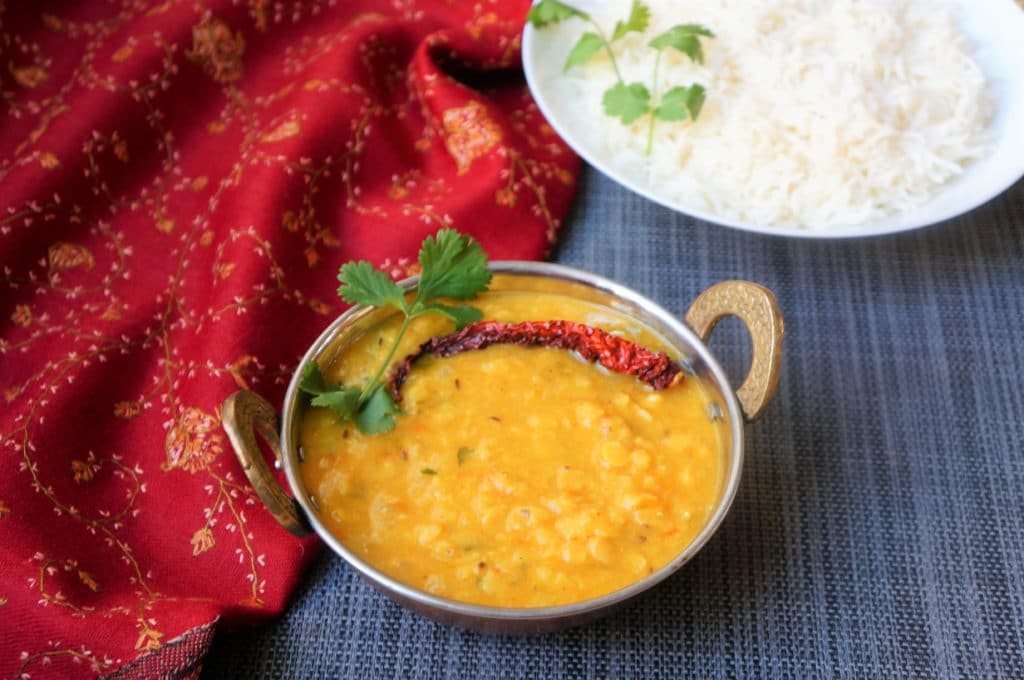 Varan Bhat is a lentil stew made with Arhar dal (pigeon pea lentils) and is part of the Ganesh Chaturthi prasadam. Steamed rice with a dollop of ghee is the perfect combination for this stew.
Shankarpalli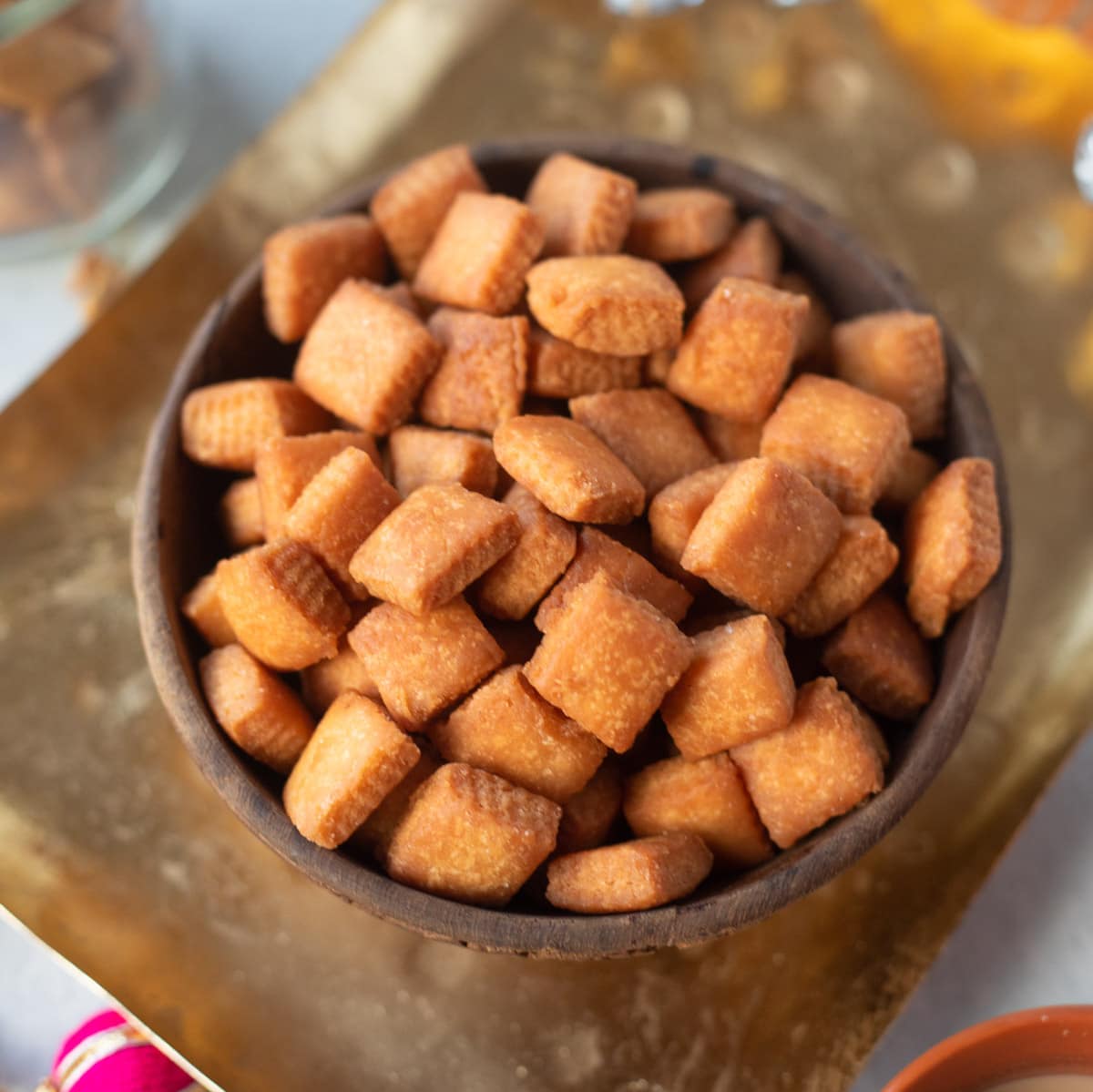 Shankarpali, also known as Shakarpara, is a crispy, mildly sweetened snack made with 4 simple ingredients you will have at home.
Patra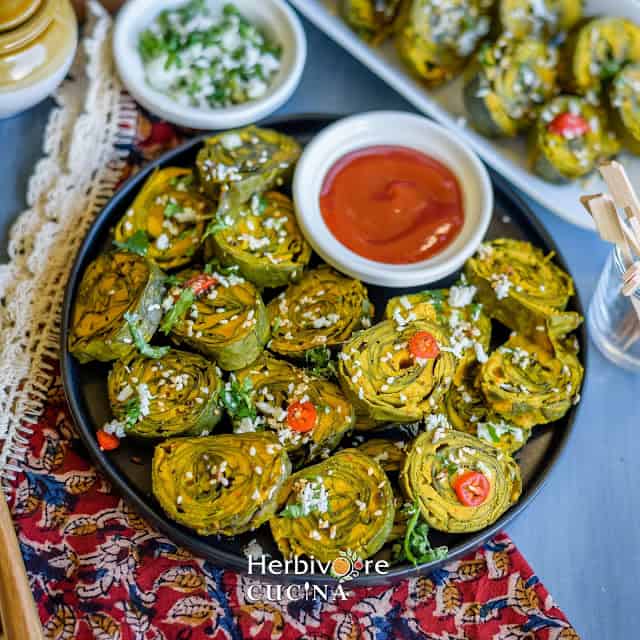 A delicious steamed appetizer made from colocasia leaves rolled with a spicy mixture of gram flour and spices.
Misal Pav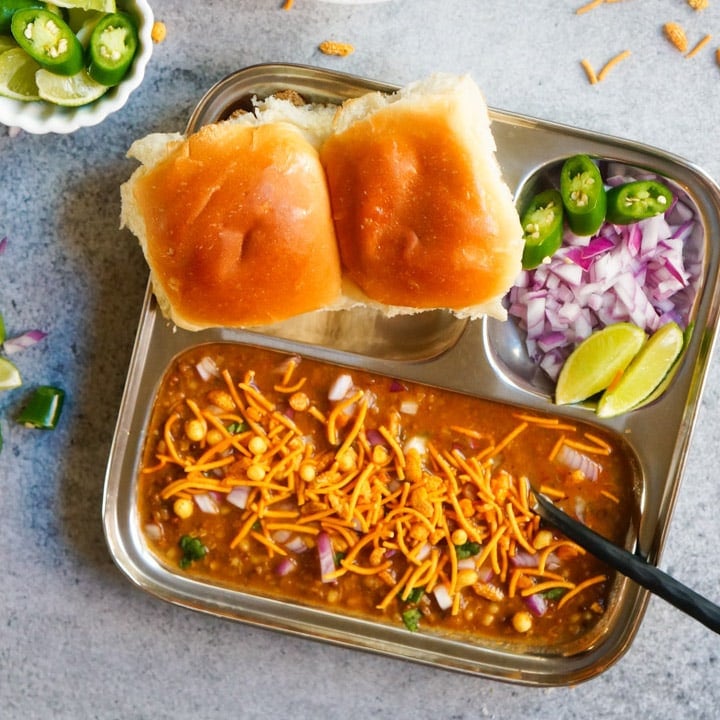 Misal Pav is a wholesome meal that can be enjoyed as breakfast or dinner. A is a spicy sprouts curry made in the pressure cooker. This recipe is dairy-free and vegan.
Lemon Rice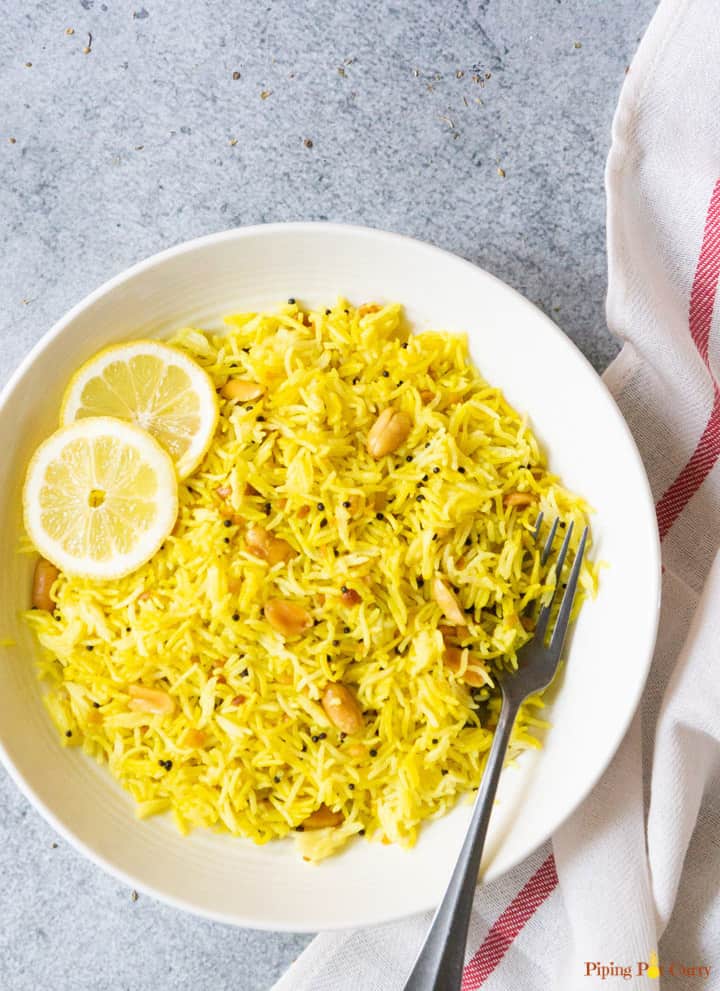 A tangy and aromatic rice meal from South India, this Lemon rice can be prepared quickly in the pressure cooker.
Wishing you all a very Happy Ganesh Chaturthi 2022!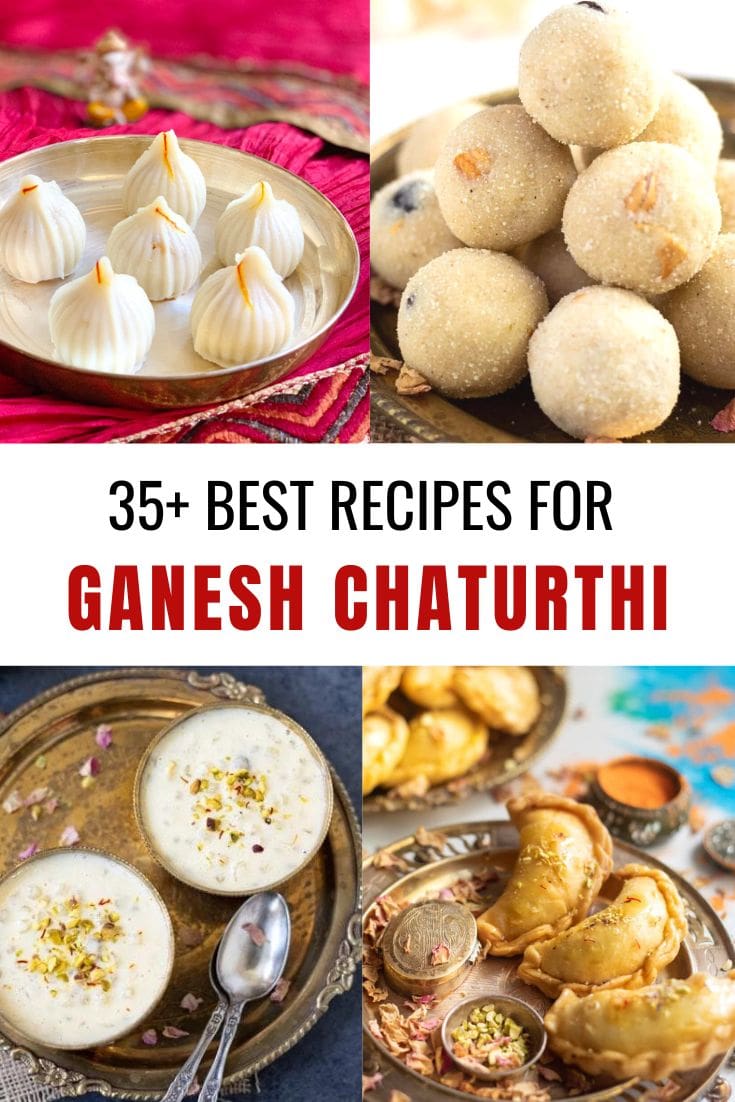 I hope you guys enjoy this collection of Ganpati recipes. If you try any of the recipes, leave a comment or share on Facebook or Instagram. I would love to hear back from you!
Check out our collection of Holi Recipes and Diwali Recipes!