Diwali is the time to celebrate with family and friends and enjoy lots of delicious food. This wonderful collection of 25+ Diwali sweets is so easy and delicious that they will light up your festive parties and get-togethers!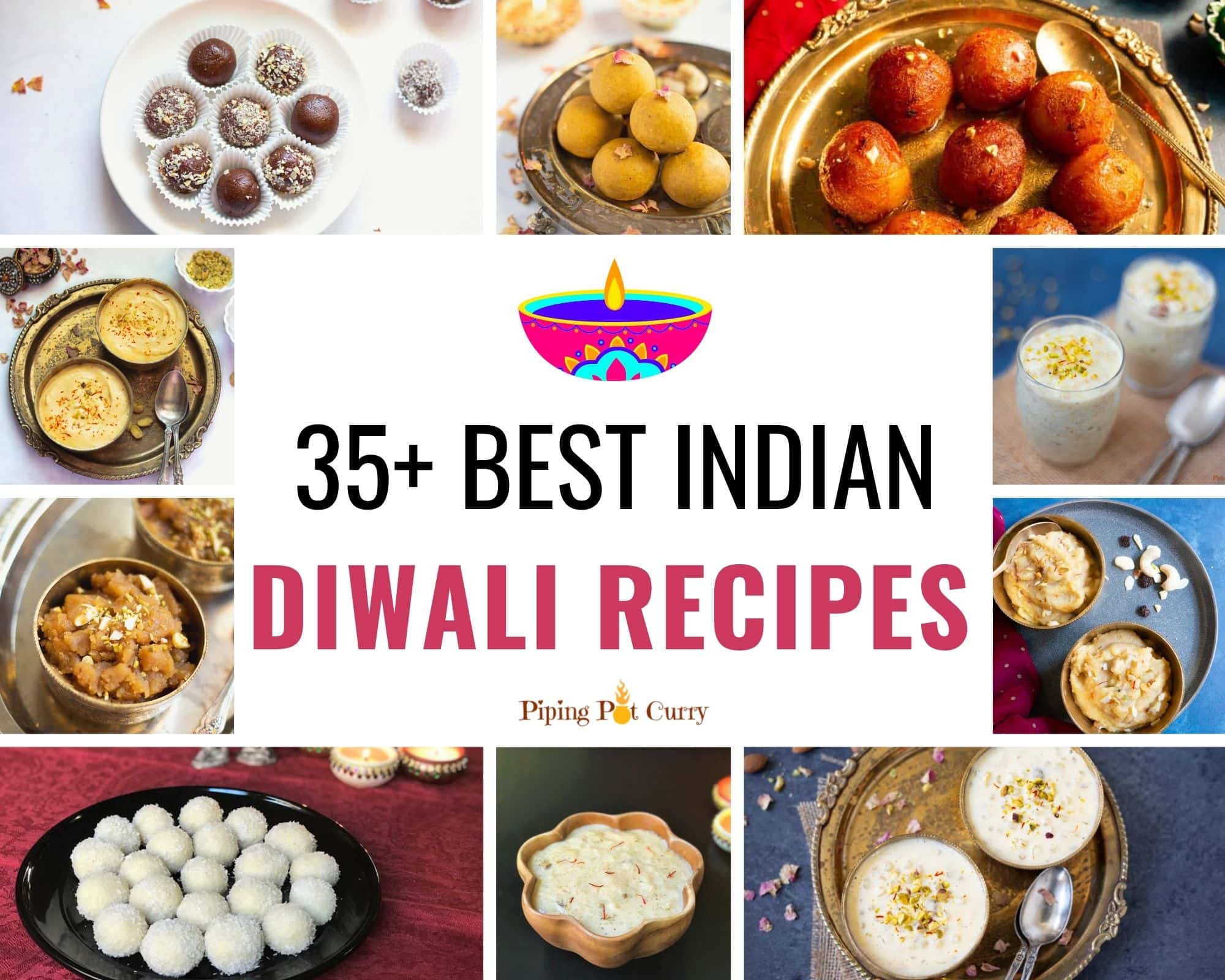 Diwali is the biggest holiday celebrated all across India. It signifies the victory of light over darkness (hence called the festival of lights), good over evil, and knowledge over ignorance.
All over India, people celebrate this festival by lighting their homes with diya's, making lots of scrumptious food, and enjoying fireworks.
Diwali is absolutely my favorite Indian festival of the year. It is the festival of wonderful childhood memories, with the house decorated full of diya's, filled with the beautiful aroma of the special sweets and snacks, and the heart full of happiness and joy!
I am super excited to share these Diwali recipes with you. I hope you enjoy them and share the light and love with your family and friends!
I hope this Diwali fills your heart with love, peace, and happiness. HAPPY DIWALI!
Delicious Diwali Food
Diwali celebrations are incomplete without the amazing spread of food! Sharing food with your family, friends, and neighbors is an important part of the tradition.
Diwali special foods mainly include sweets and snacks. These are typically prepared ahead of time. We love to make a Diwali charcuterie board with these wonderful snacks and sweets.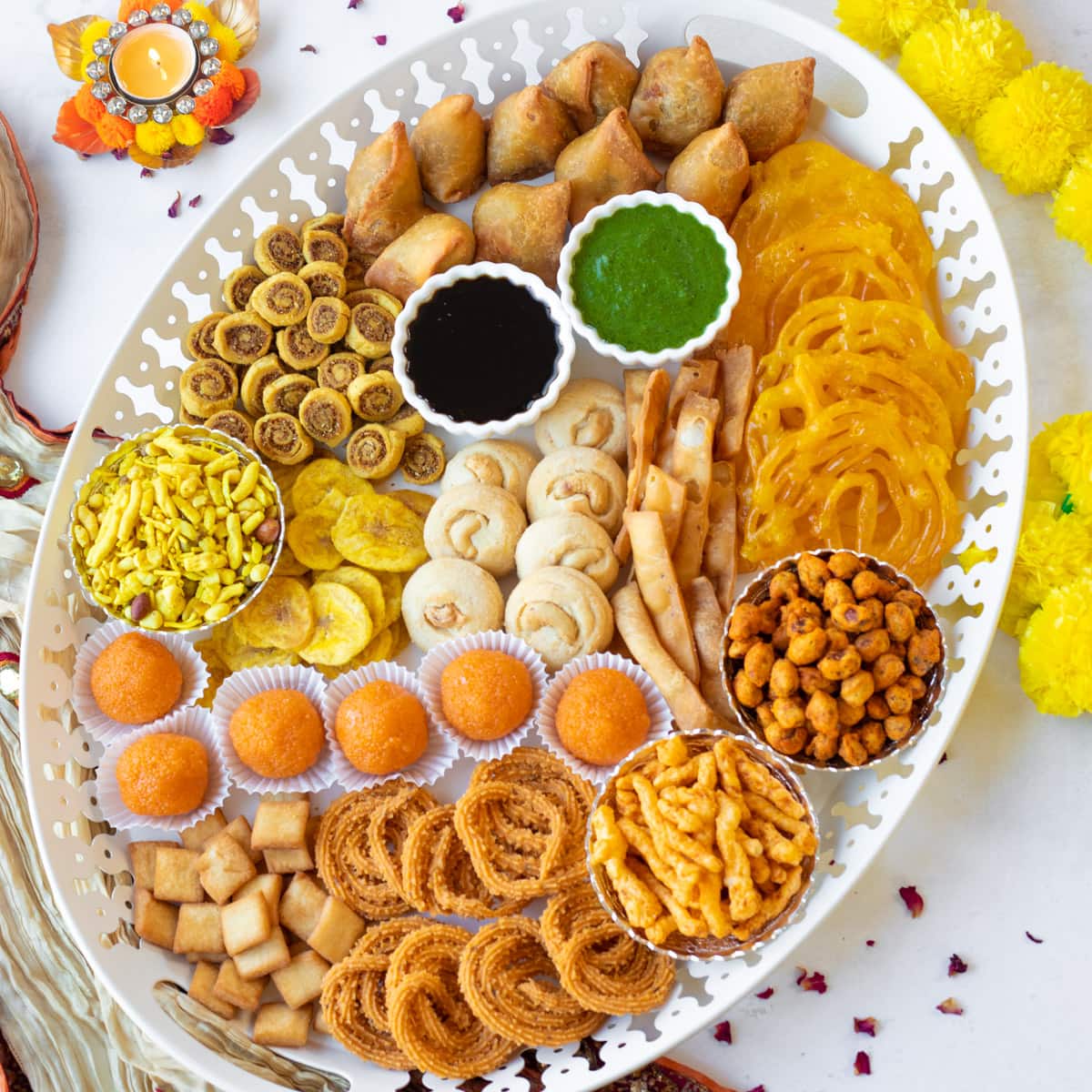 From the traditional Indian sweets such as besan ladoo and Gulab jamun to the fried savory snacks such as shakarpara and chakli, the food is the highlight of this festival.
If you are throwing a party for Diwali or having a get-together, here are some Indian Dinner Party Food Ideas, which include main course and drink ideas too!
Diwali Sweets
Here are some of my favorite sweets to celebrate Diwali at home. With a variety of ladoo, kheer, and halwa recipes, there is a treat for everyone on this list.
Besan Ladoo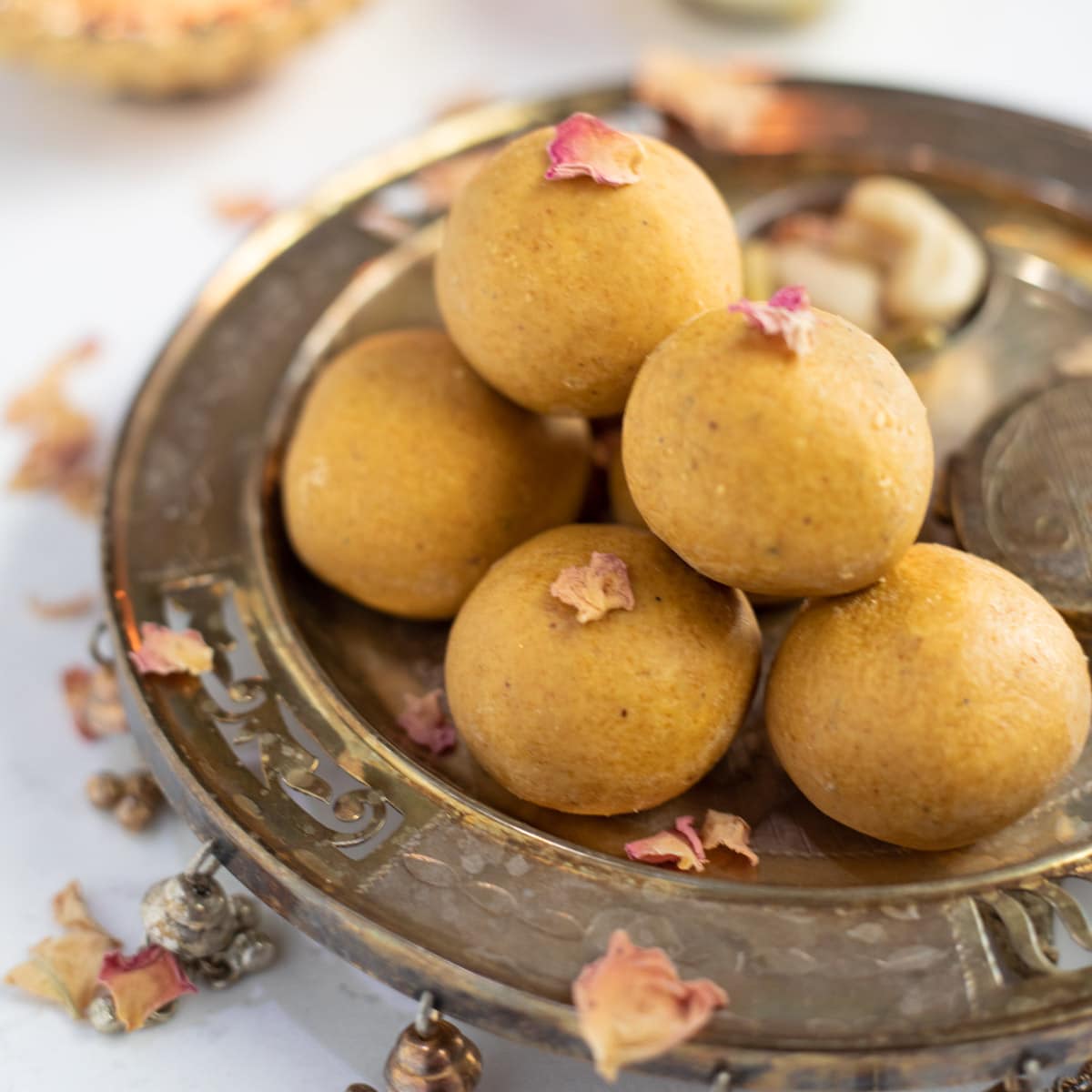 Besan Ladoo is the most popular Indian sweet to make during the festive season. You need just a few ingredients, such as gram flour, ghee, and sugar, to make these amazing melt-in-the-mouth dessert balls. Make this decadent sweet with this easy, fail-proof recipe!
Gulab Jamun Shrikhand Bowls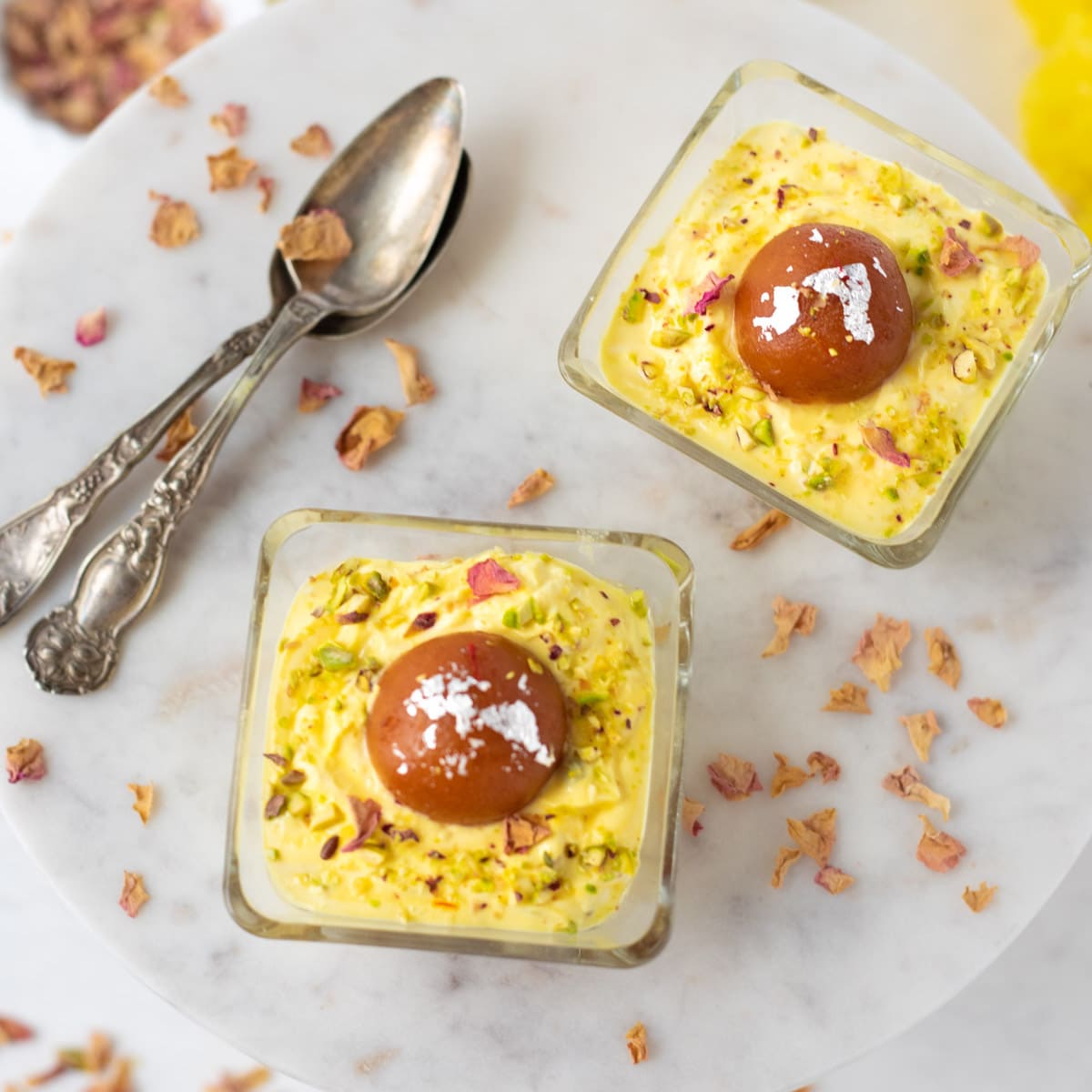 An easy Indian fusion festive dessert – Gulab Jamun Shrikhand Bowls. These are easy to put together yet super flavorful. These mini dessert bowls are a party stunner!
Badam Katli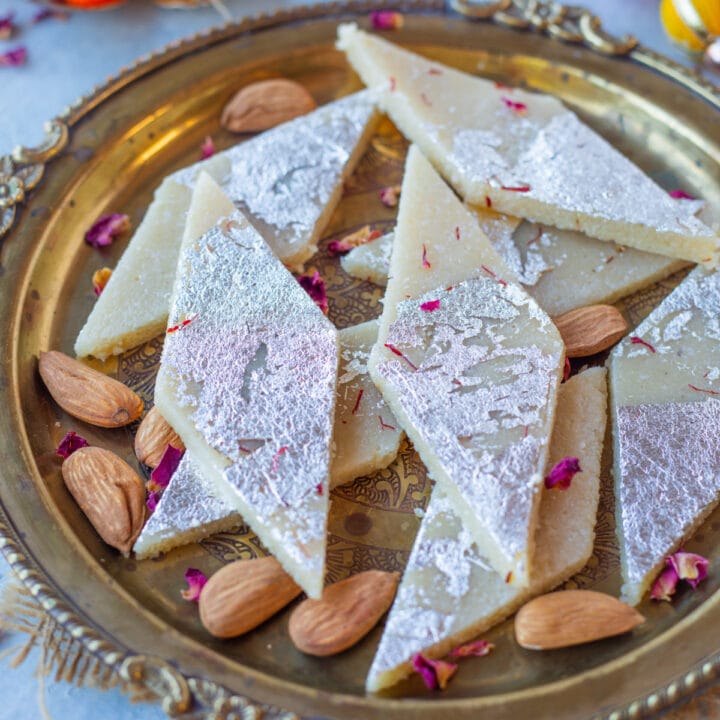 This festive season, try this easy Badam Katli made with almond flour in just 20 minutes! A delightful Indian sweet, this Badam Barfi is a wonderful unison of a soft fudge-like texture and luxurious flavors.
Mawa Gujiya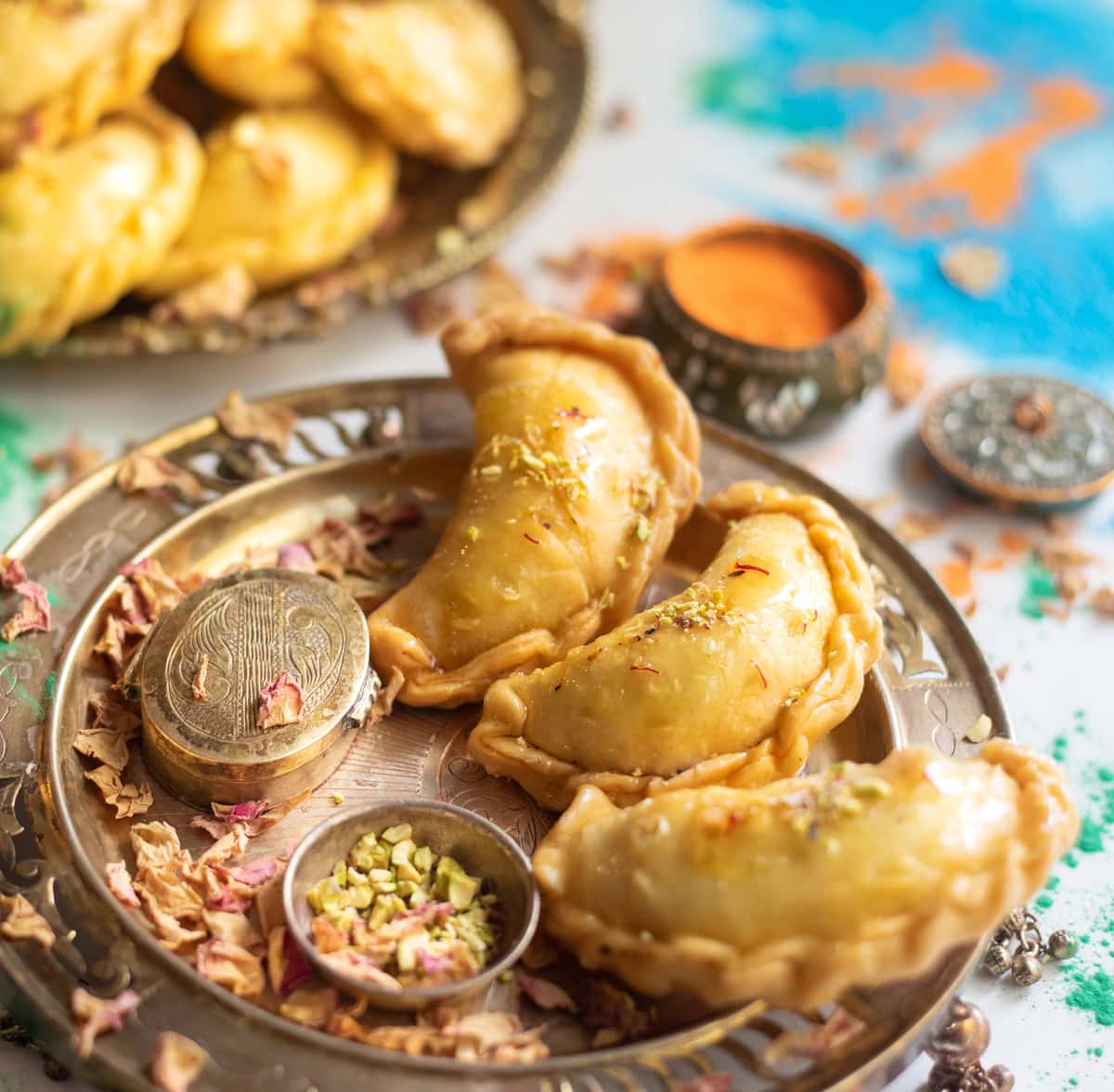 Mawa Gujiya is an authentic Indian sweet fried dumpling filled with a mixture of mawa (milk solids), nuts, and coconut. It is a delicious treat made during the festivals of Holi and Diwali.
Kalakand with Ricotta Cheese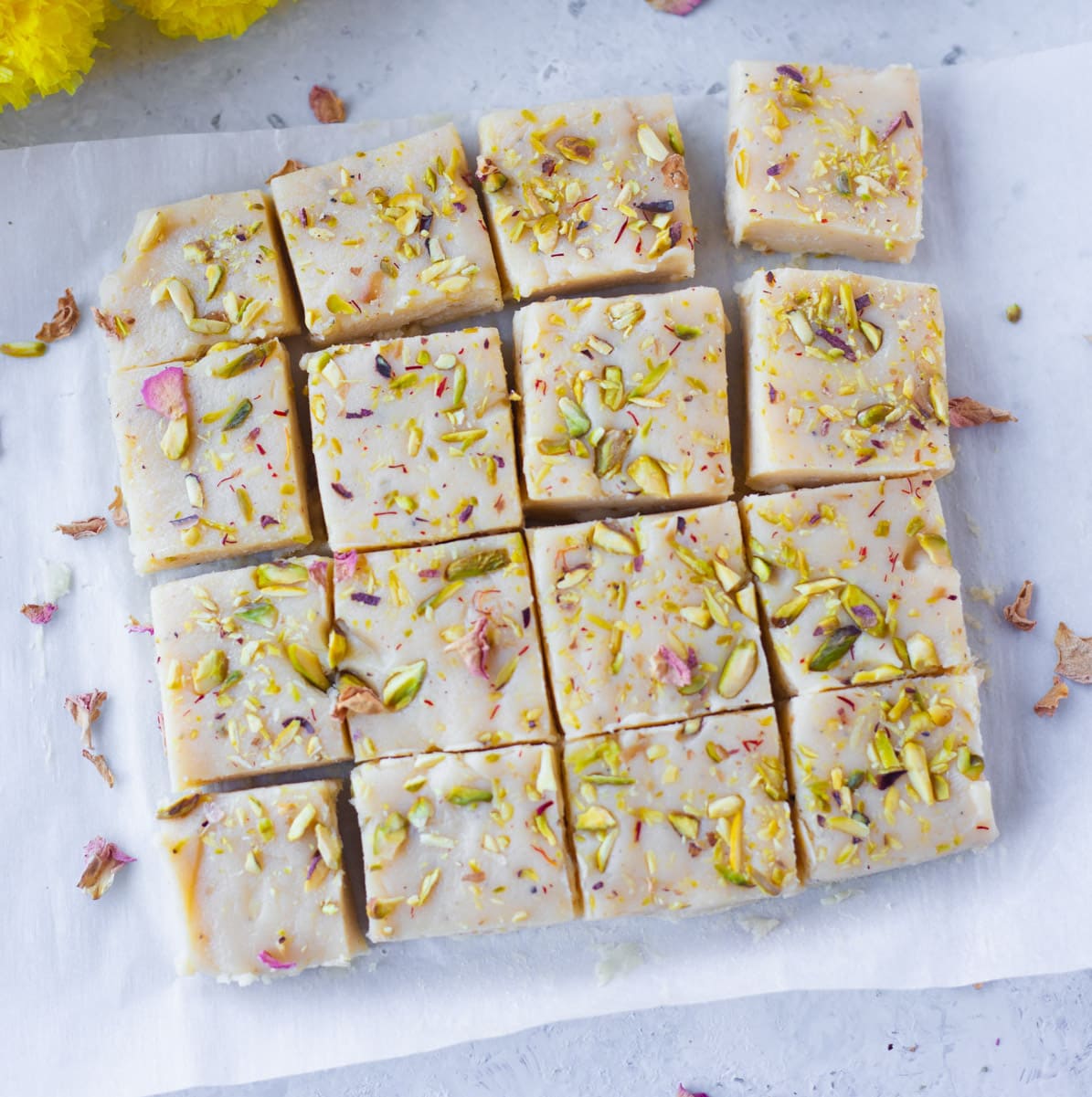 Kalakand is one of the most popular Indian desserts enjoyed during festivals. It is a delectable soft milk fudge flavored with cardamom and saffron and decorated with slivered pistachios. You will love my easy Instant Kalakand recipe to make this melt-in-the-mouth sweet in less than 30 minutes!
Badam Halwa with Almond Flour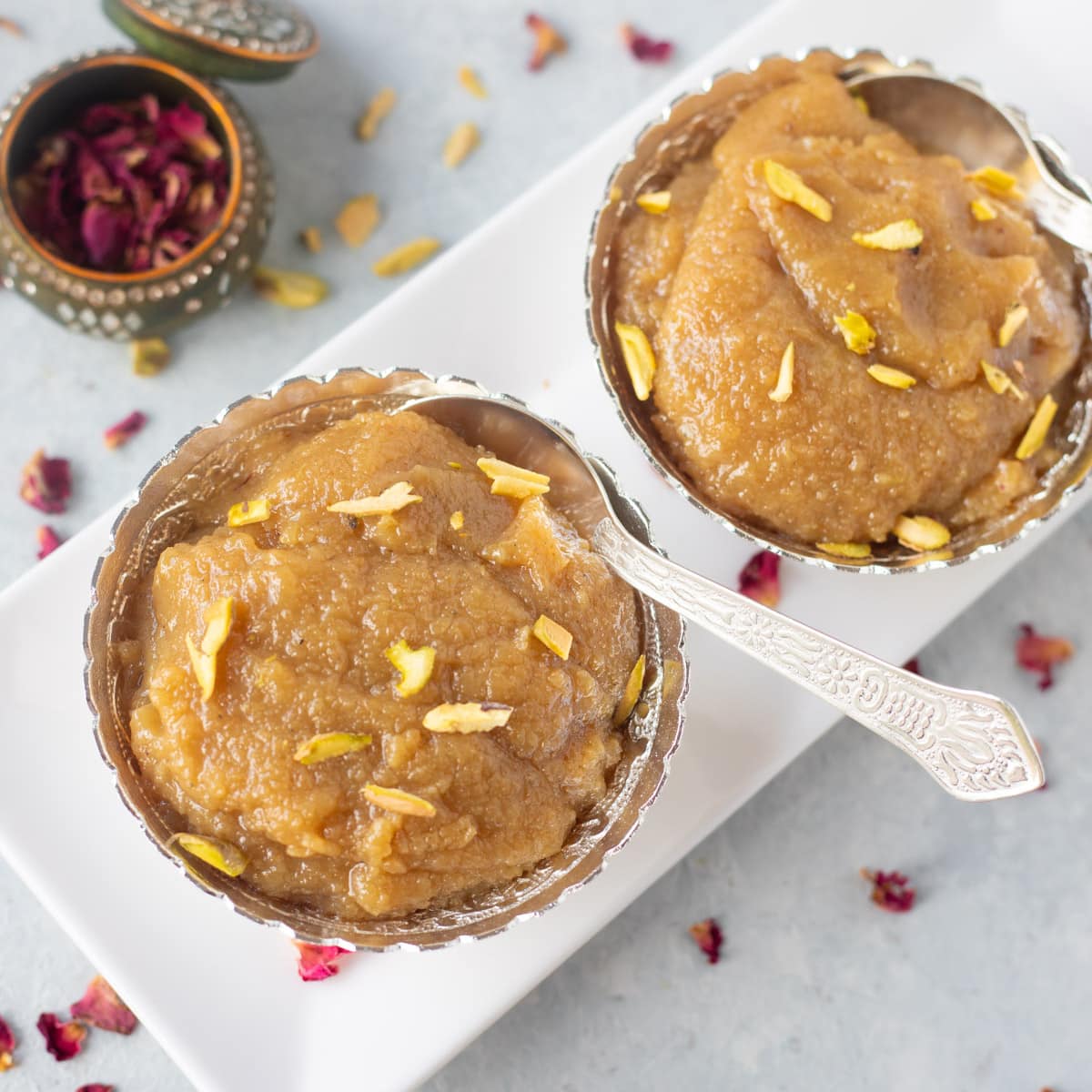 Badam Halwa is a classic rich and luscious Indian dessert made with just 4 main ingredients: almonds, milk, sugar, ghee, and laced with cardamom and saffron. This Badam Halwa is put together quickly in less than 25 minutes using almond flour. It's the ideal dessert for any celebration or festival!
Gujarati Magas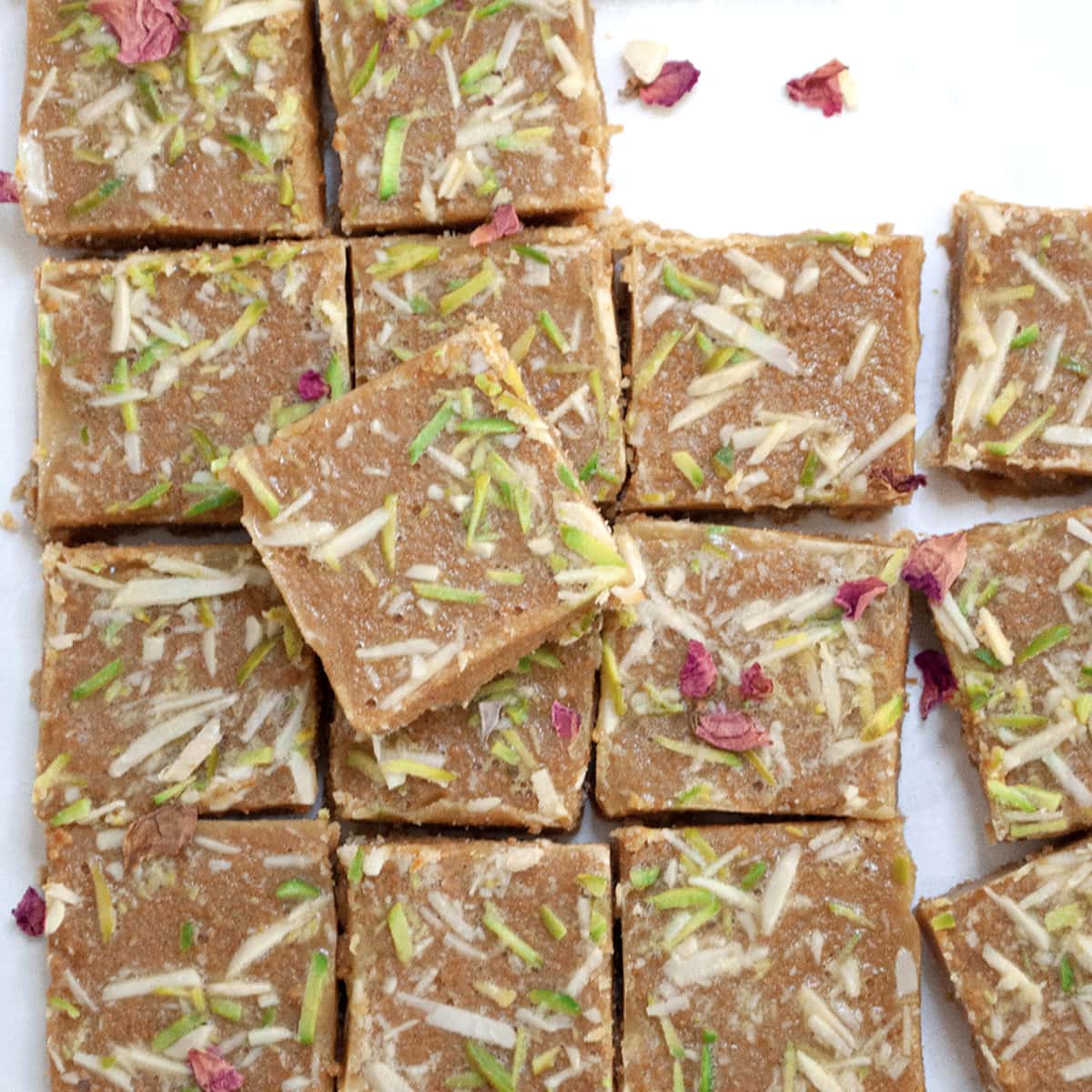 This homemade Magas is a Gujarati fudge made of gram flour, ghee, cardamom, powdered sugar, and nuts. This Indian dessert is traditionally made during festivals. Make this delicious sweet with this foolproof recipe!
Rice Pudding / Kheer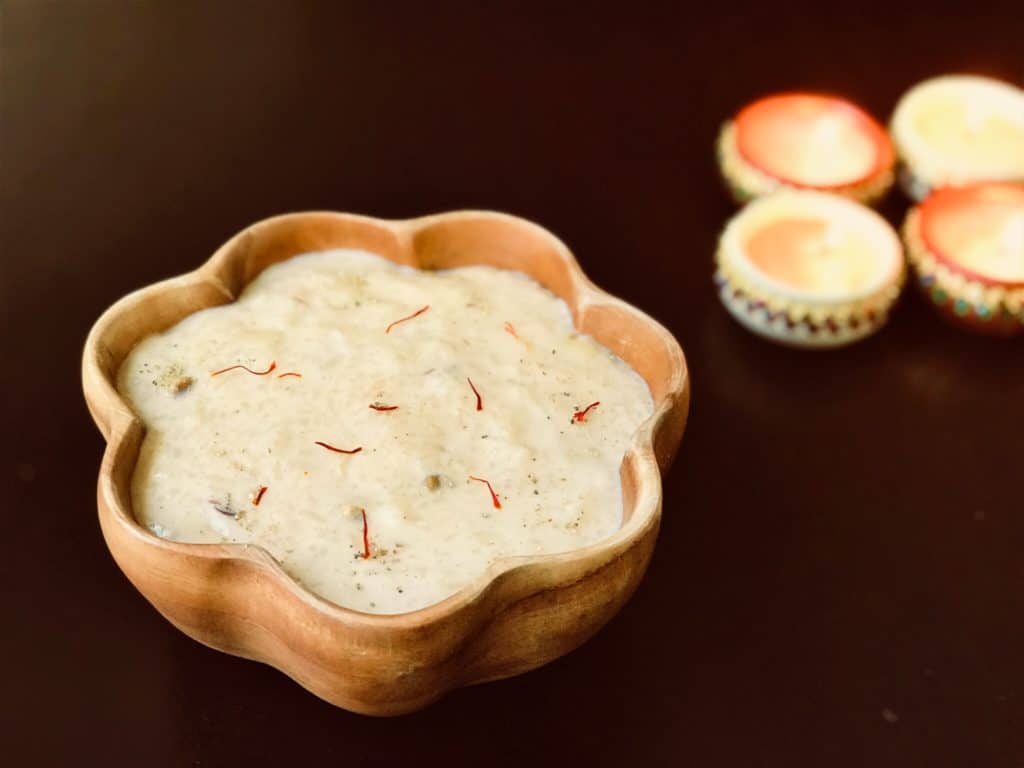 An Indian favorite dessert for special occasions – Rice pudding made with rice and milk infused with saffron, cardamom, and assorted dried fruits.
Coconut Almond Laddoo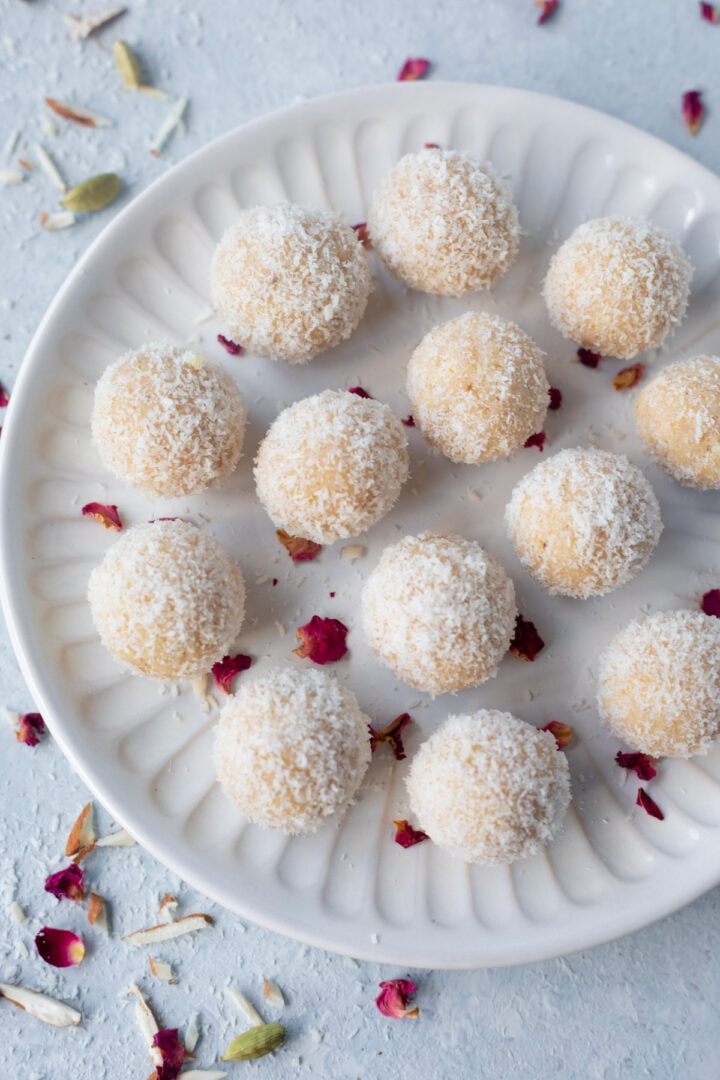 An easy sweet recipe for any festival, made with almond powder, desiccated coconut and sweetened condensed milk.
Gulab Jamun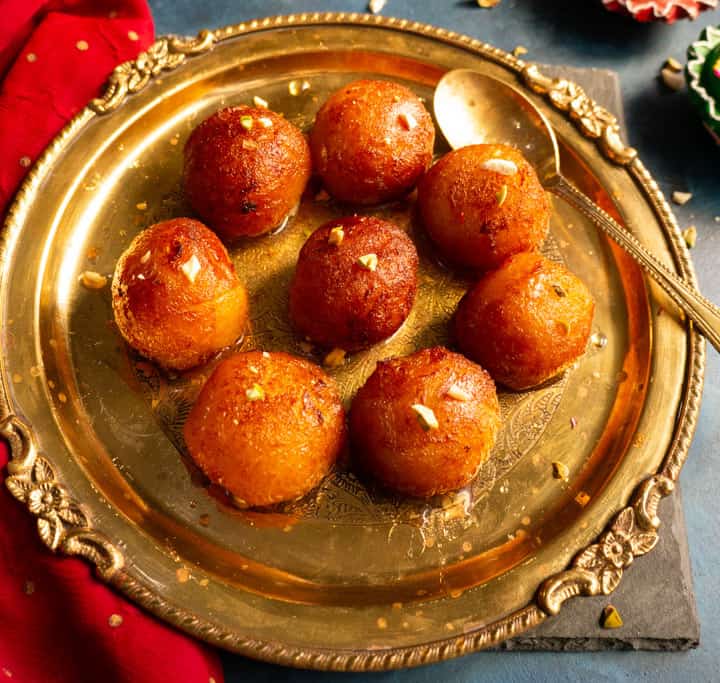 Gulab Jamun is the most popular Indian dessert. Gulab Jamun's are deep-fried donut-like balls soaked in sweet rose-flavored syrup. Learn to make the best gulab jamun's with khoya, along with all the tips and tricks to get them melt-in-the-mouth soft.
Besan Barfi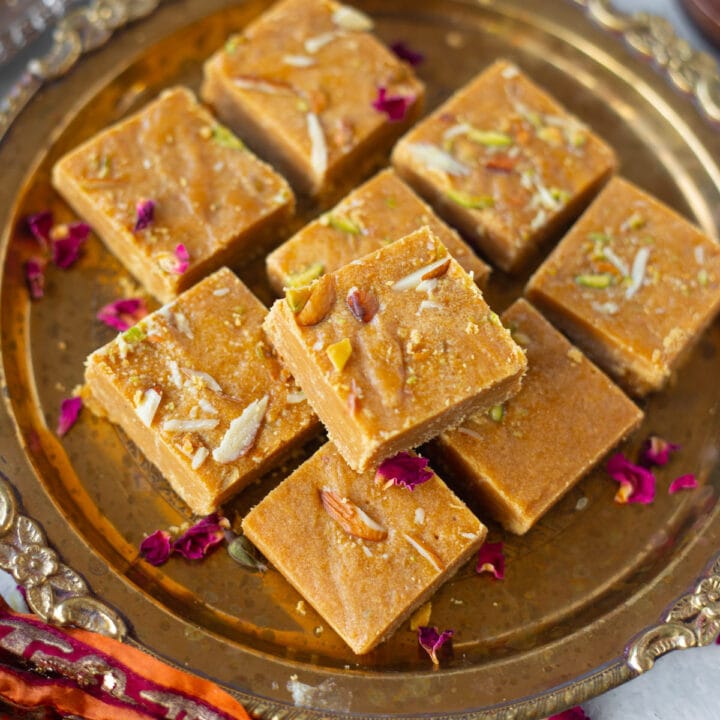 Besan Barfi, also called Besan ki Chakki, is a delicious, fudgy, and melt-in-mouth traditional delight. Besan ki Burfi is an authentic sweet prepared with just a few basic ingredients – gram flour, ghee, sugar, flavored with cardamom and saffron.
Instant Pot Moong Dal Halwa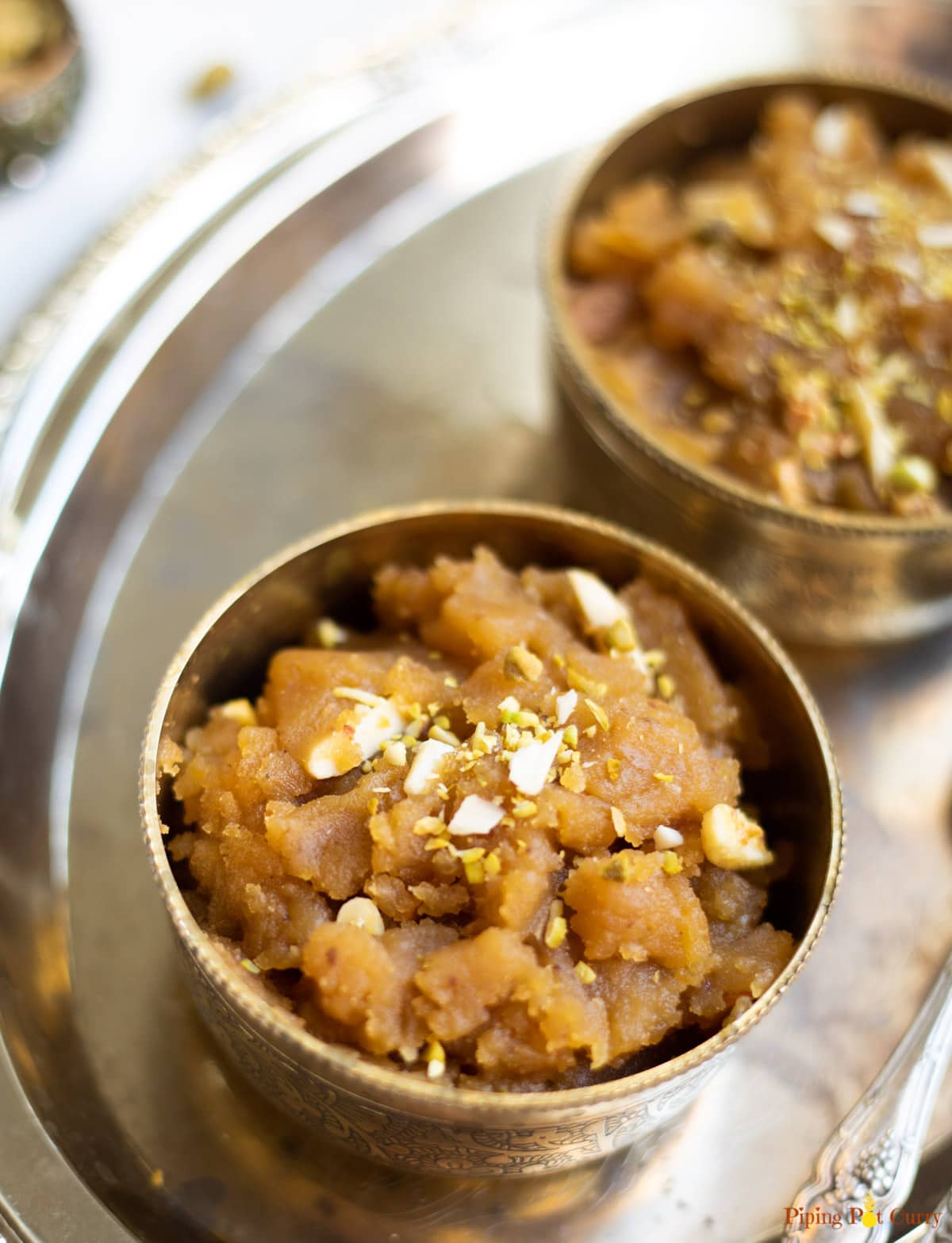 Moong Dal Halwa is a rich, delicious dessert made with split yellow lentils, sugar, and ghee, along with the flavors of cardamom and saffron. This easy version of Moong Dal Halwa can be made in a pressure cooker and is much less laborious than the traditional method.
Gulab Jamun Custard Jars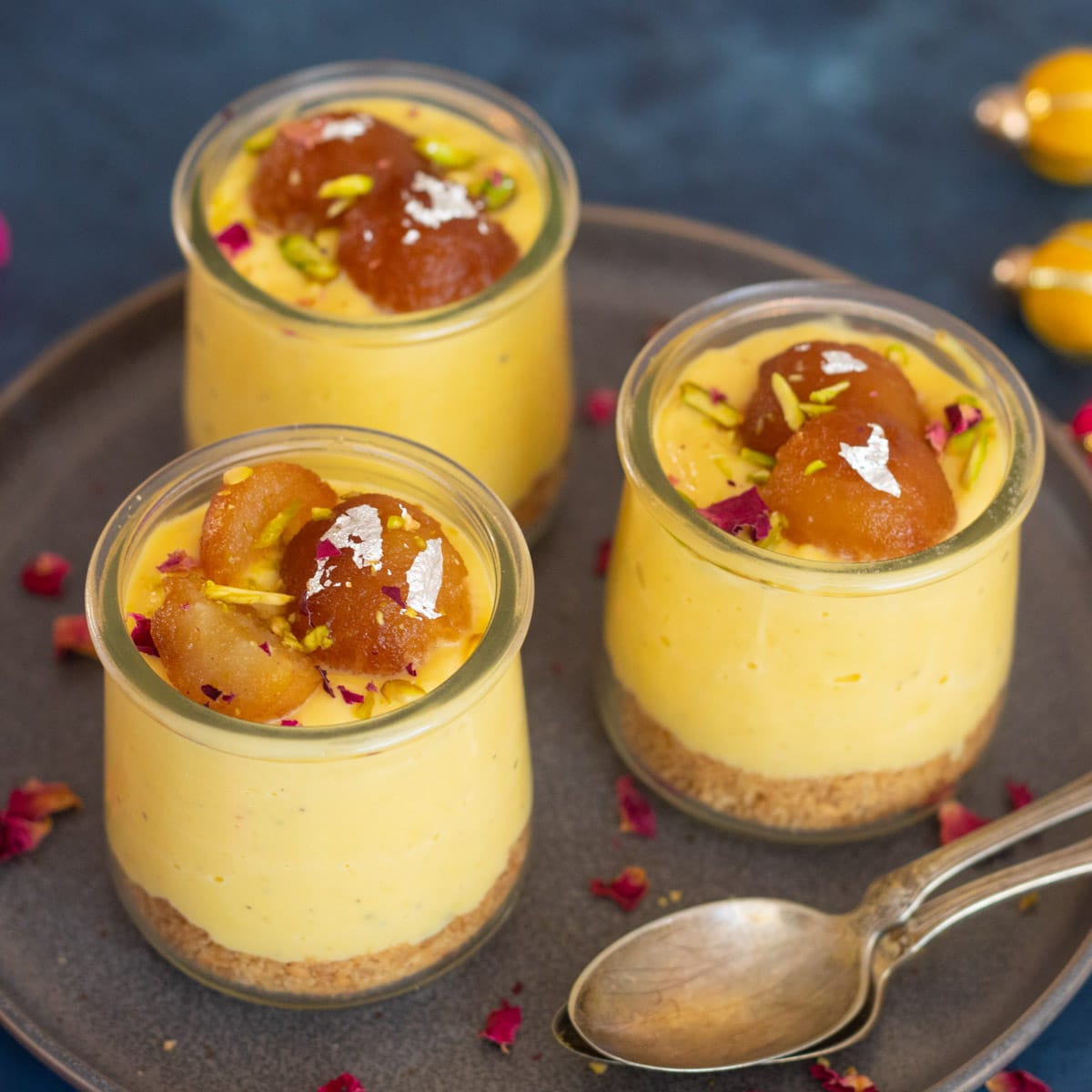 An easy Indian fusion festive dessert – Gulab Jamun Custard Jars. This dessert is layered with the goodness of the cookie crumble, creamy cooling custard, and sweet gulab jamuns, adorned with slivered pistachios and rose petals. These exotic dessert jars are easy to put together and are sure to be a party stunner!
Chocolate Ladoo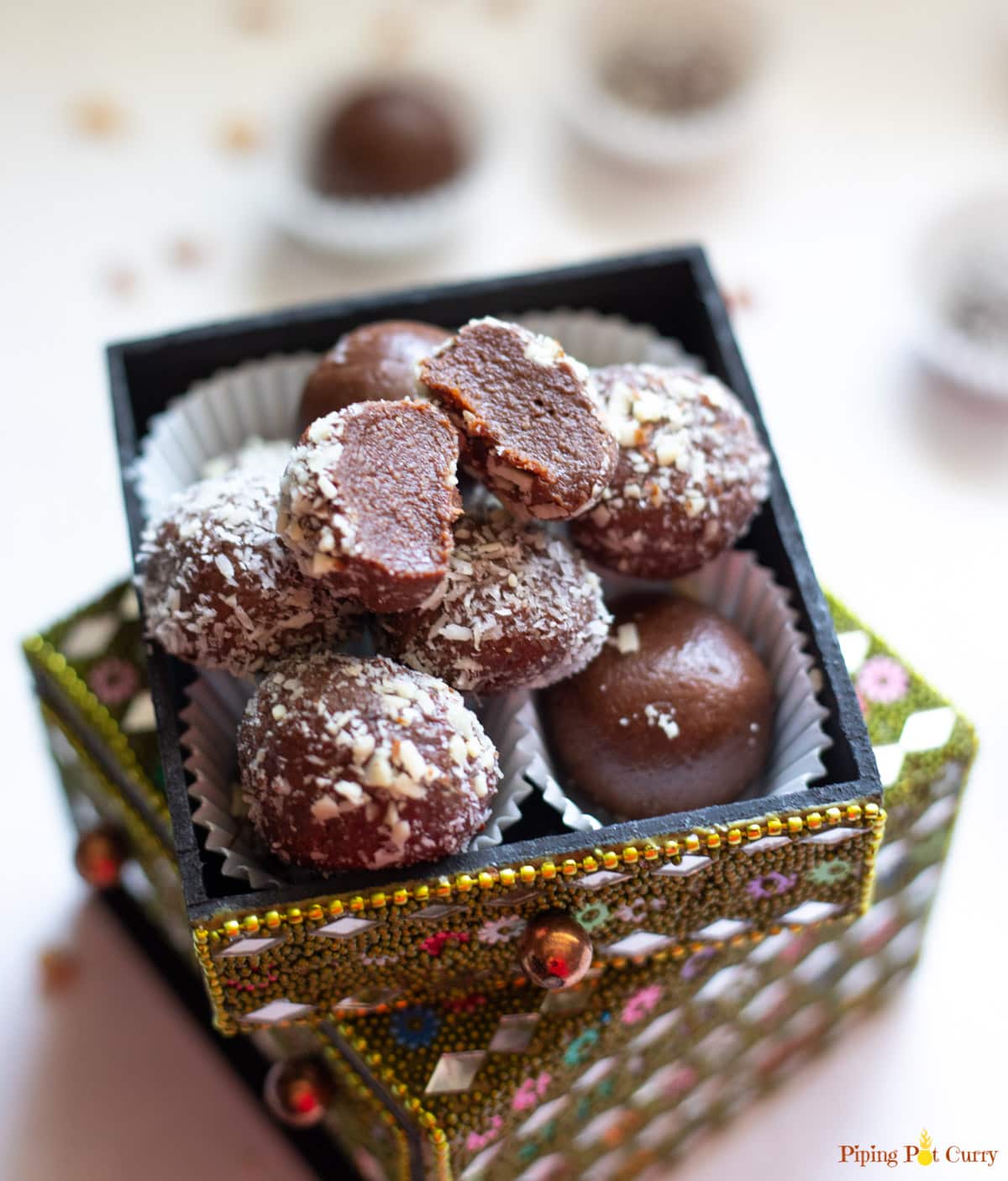 These Chocolate Ladoos made with almond flour, condensed milk, and cocoa are sure to satisfy your cravings for Indian sweets! They take only 20 minutes to make and can be served as a festive dessert for special occasions or just a quick weekday treat.
Gajar ka Halwa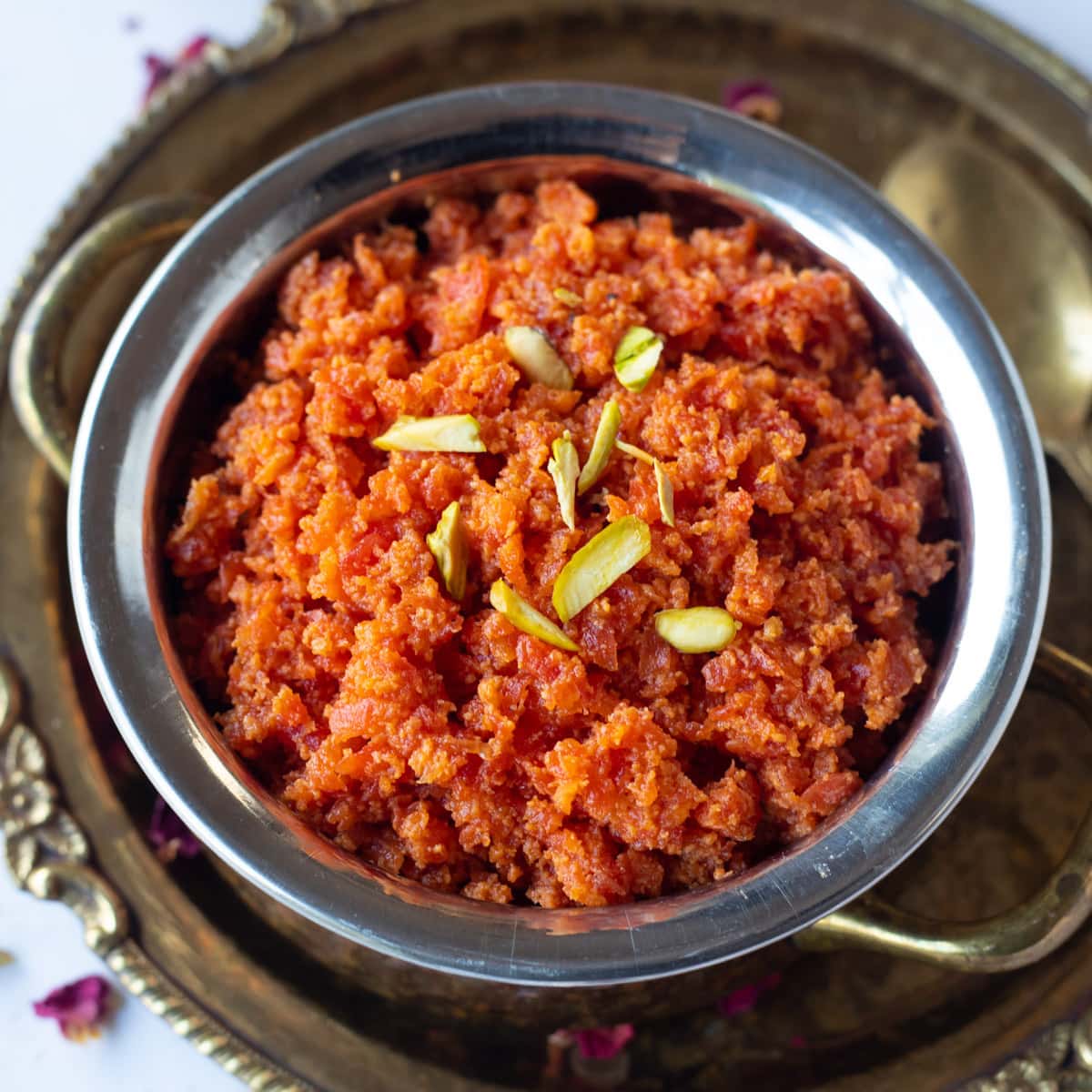 Gajar ka halwa is a popular Indian dessert made from grated carrots cooked in milk and sugar, laced with cardamom, and garnished with roasted nuts. Learn how to make authentic, rich, and creamy carrot halwa!
Rava Ladoo (Suji Ladoo)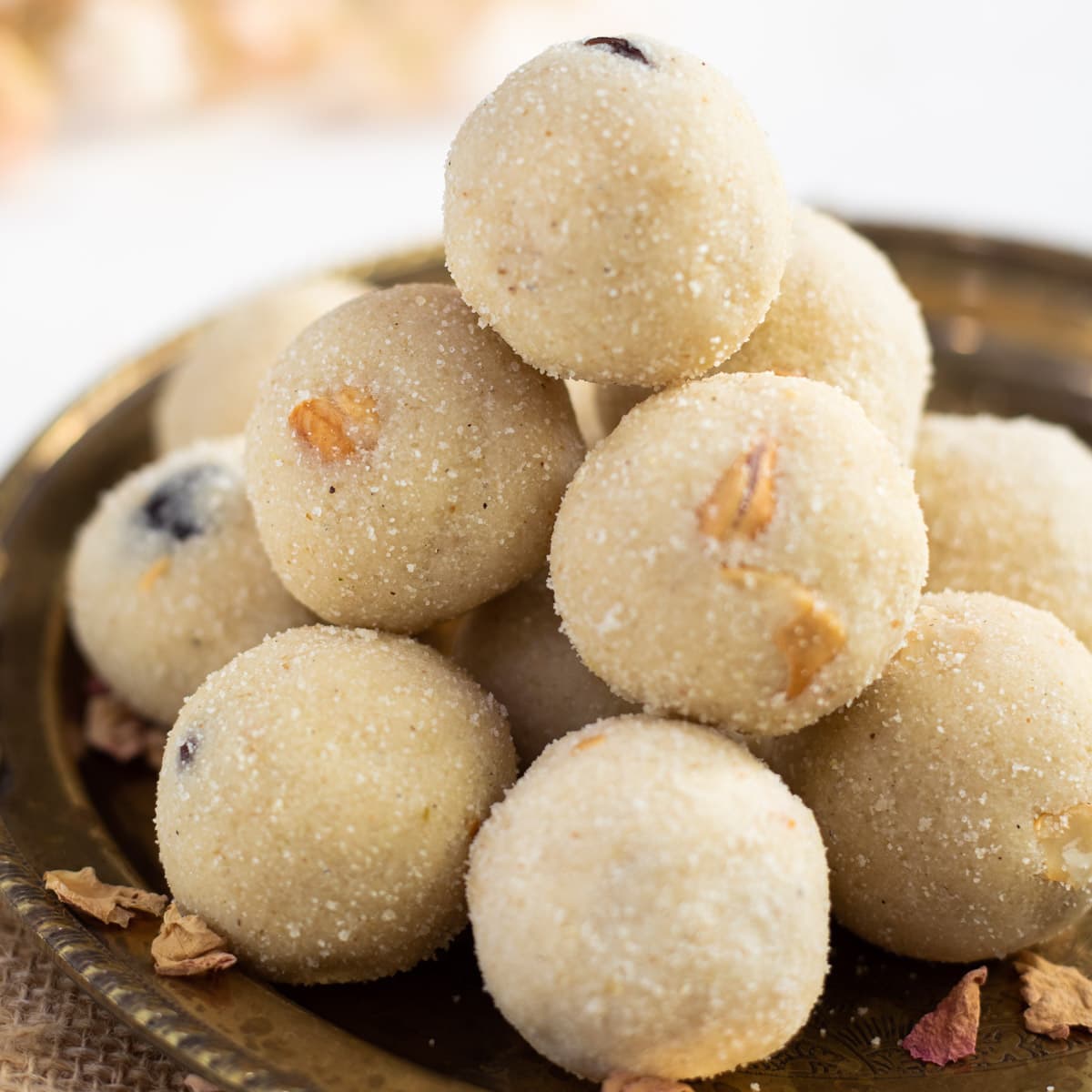 Rava Ladoo, also called Suji Ladoo, is a popular sweet from India made during the festive season. These melt-in-the-mouth Rava Ladoo need just a few ingredients – roasted semolina, ghee, milk, and sugar – and can be made in less than 30 minutes!
Sabudana Kheer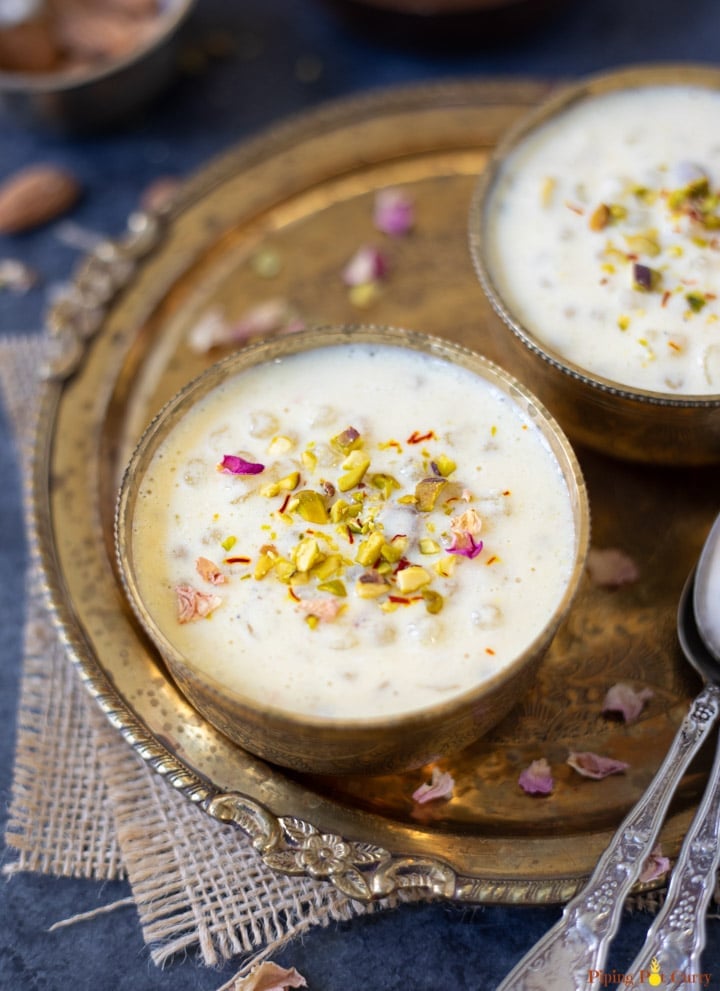 Sabudana Kheer, or Tapioca pudding, is a sweet made with tapioca pearls and milk. This kheer is popular during the fasting festive season in India. It is super easy to make in the instant pot or on the stovetop. Vegetarian and gluten-free!
Besan Halwa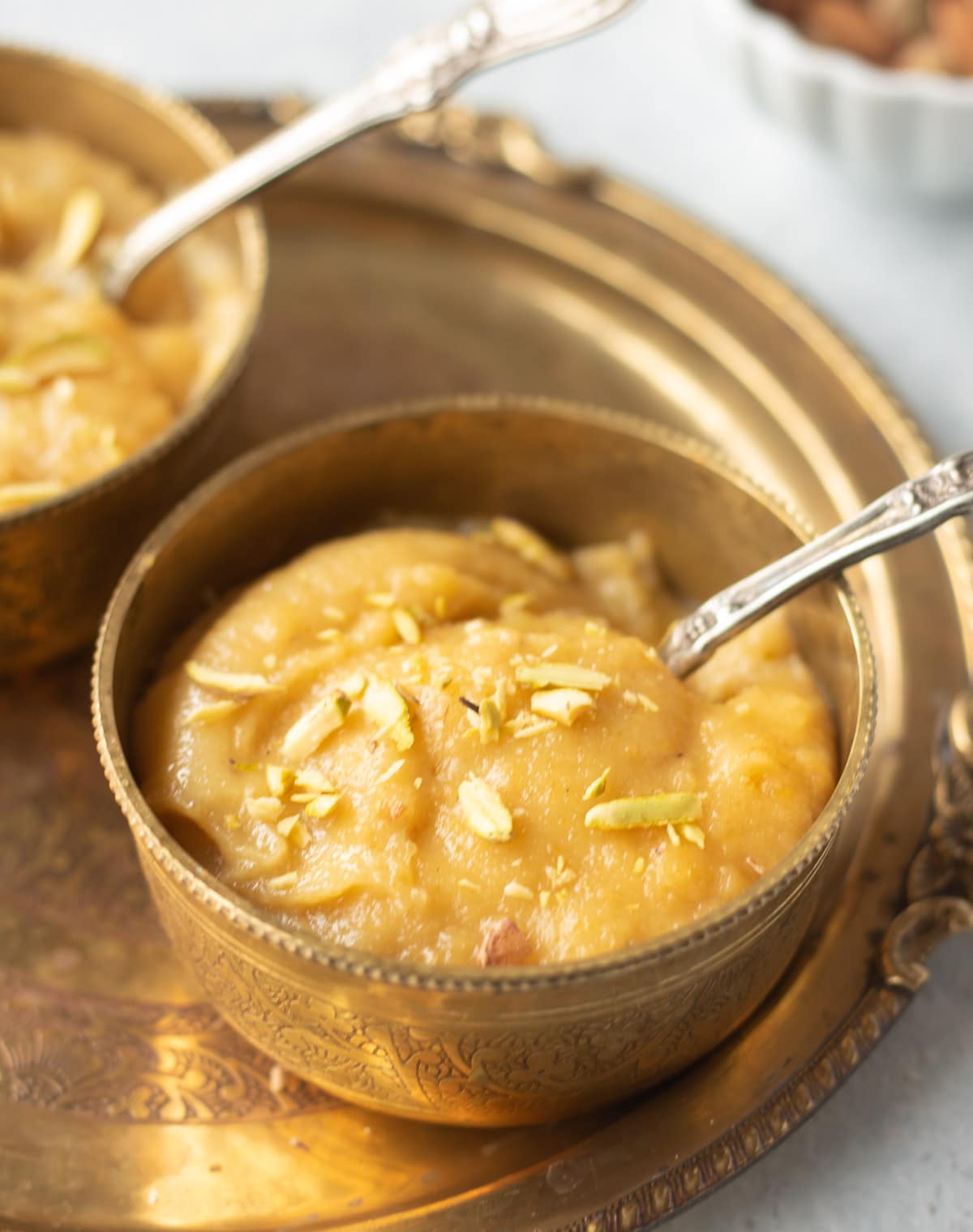 Made with simple ingredients of gram flour, ghee, and sugar, this rich and aromatic cardamom-infused Besan Halwa is a quick dessert that can be made ready within minutes.
Coconut Pumpkin Halwa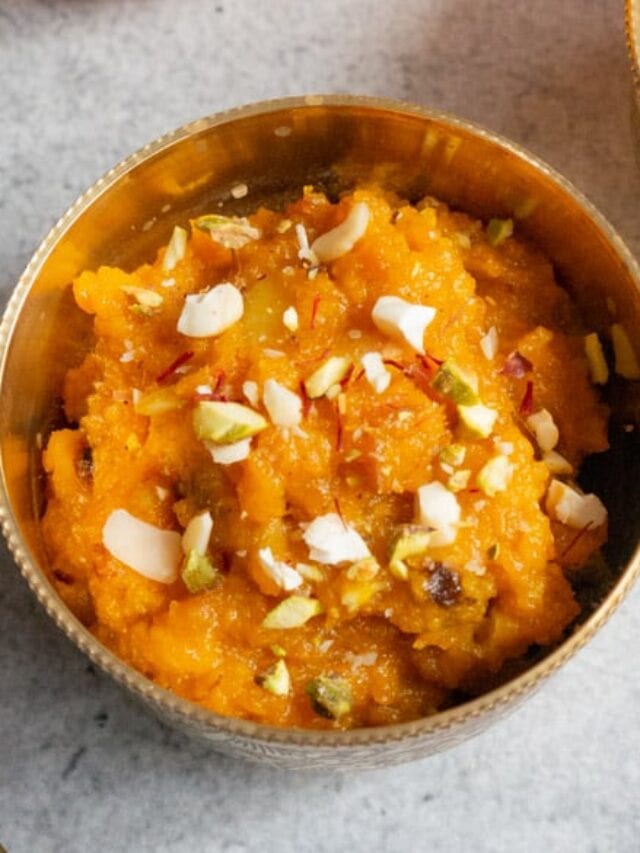 Coconut Pumpkin Halwa, also called Kaddu ka Halwa, is an Indian pumpkin dessert made with pumpkin, sugar, ghee, coconut, and nuts. It can be cooked in a pressure cooker on the stovetop or Instant Pot, and it takes less than 30 minutes to make this delicious dessert!
Mango Shrikhand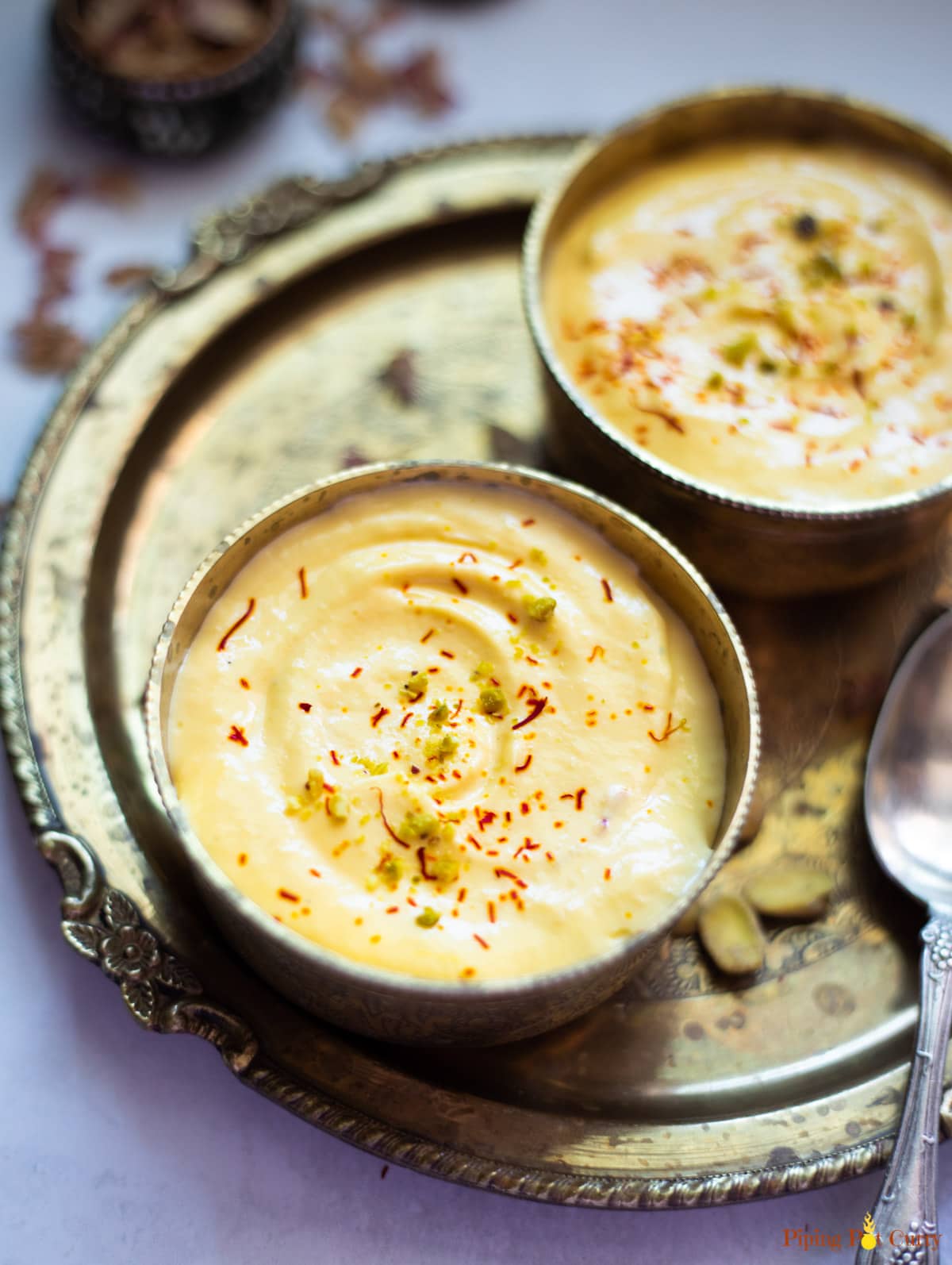 Mango Shrikhand, a refreshing & sweet Indian dessert, is a perfect summer treat. Creamy yogurt, mango pulp, and sugar are blended together and garnished with saffron and cardamom to make this luscious Mango Shrikhand.
Fruit Custard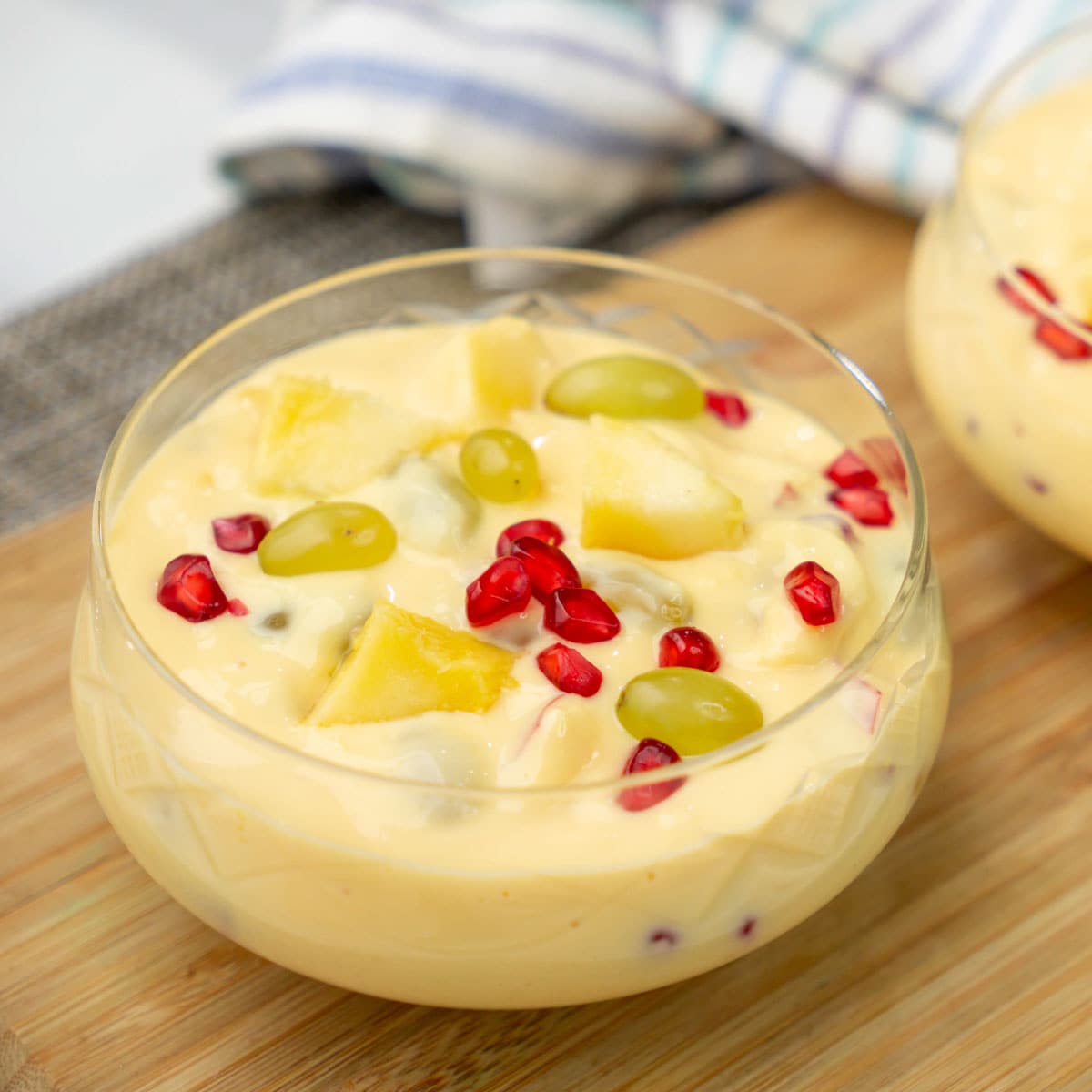 Made with custard powder, milk, and a variety of fresh fruits, this Fruit Custard is a delightful, easy-to-make dessert. This eggless dessert is easy to make in less than 30 minutes.
Custard Trifle Cups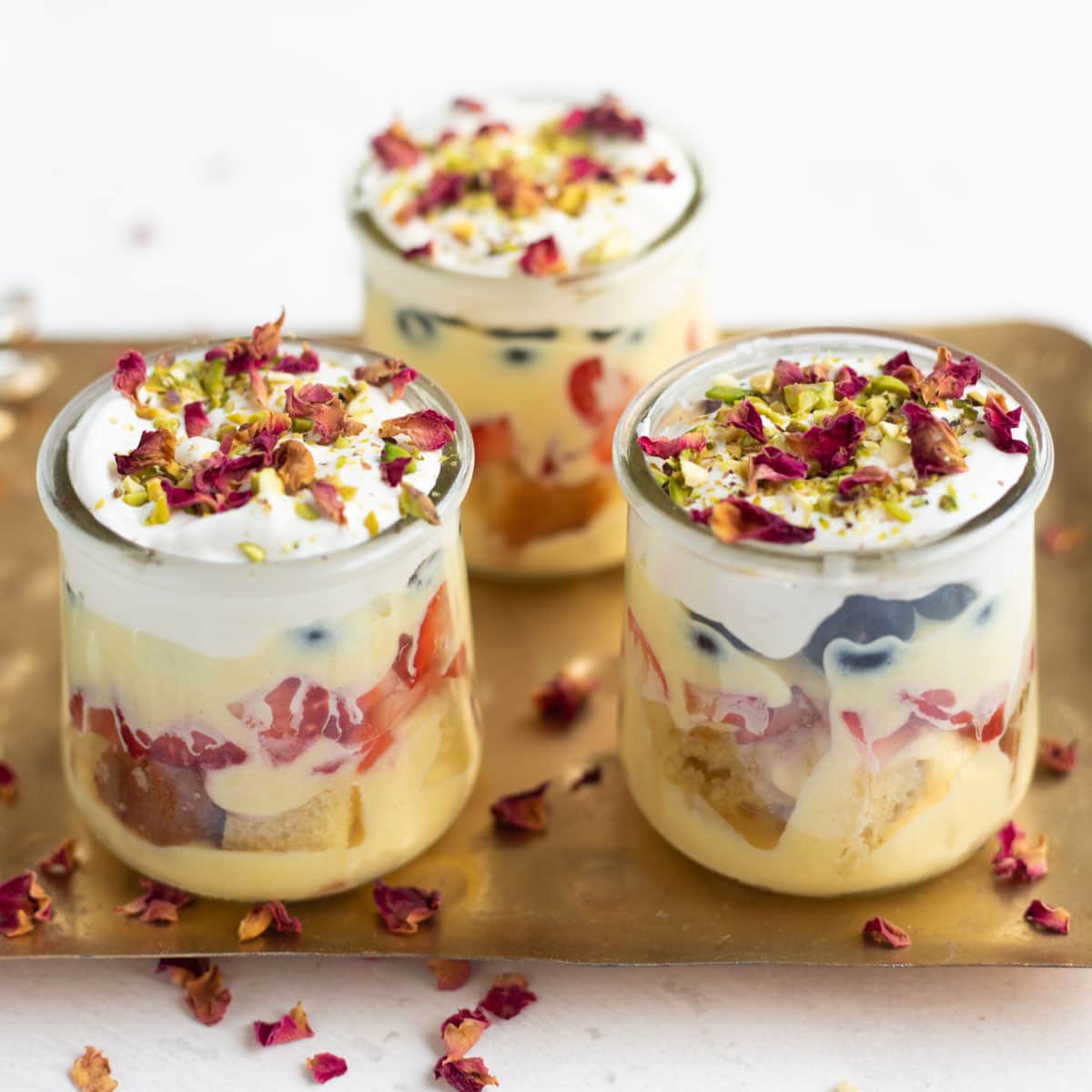 These Mini Custard Trifle Cups have delectable layers of pound cake, fruit, custard, and cream, garnished with rose petals and pistachios. They are sure to be a party stunner!
Oats Kheer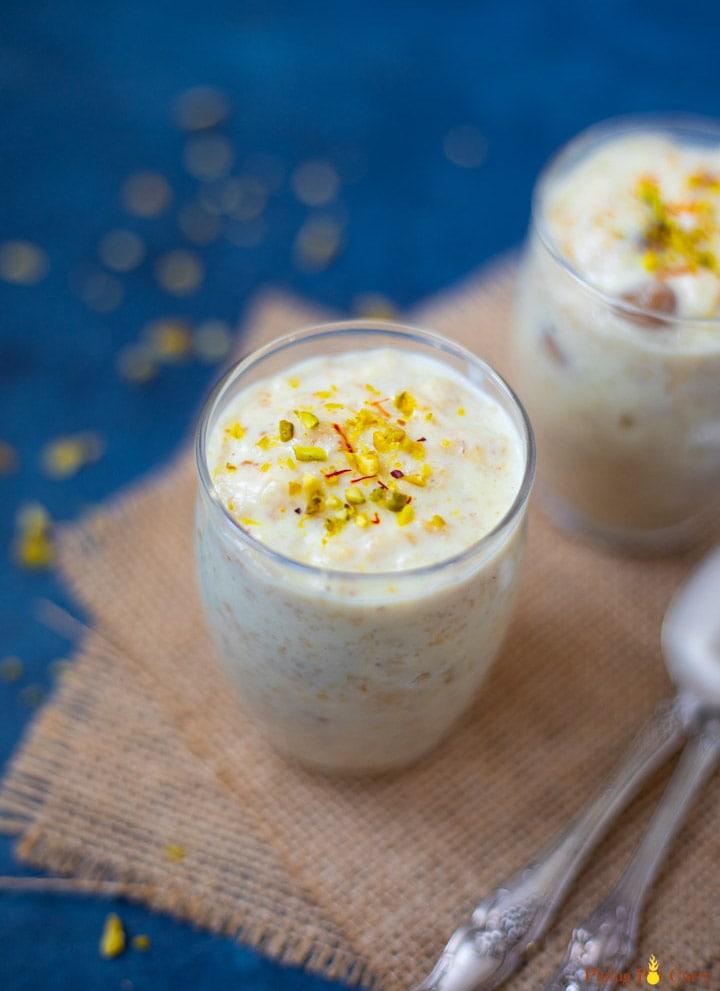 Oats Kheer, also known as Oats payasam, is a delicious twist of using oats in Indian dessert recipes. Made with oats, milk, sugar, and cardamom, this healthy dessert can be cooked in the pressure cooker or on the stovetop.
Meethe Chawal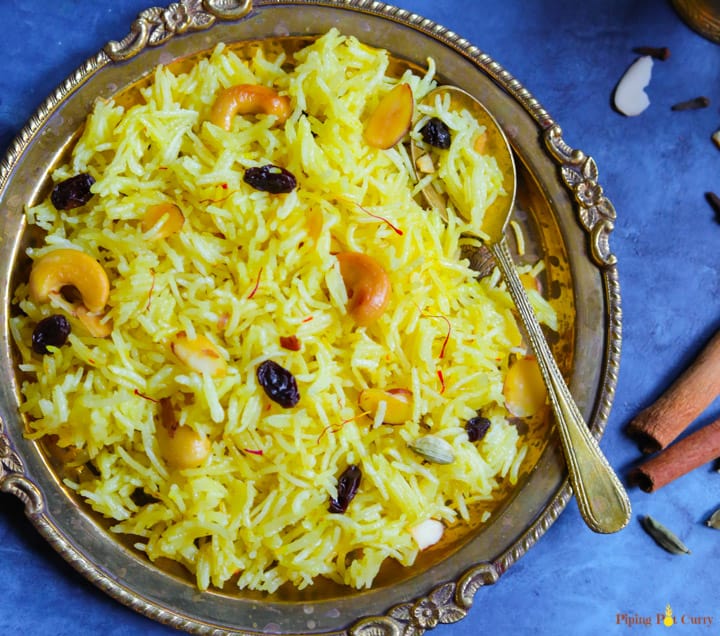 Meethe Chawal or Zarda Rice is a sweet and rich rice preparation loaded with dry fruits, sugar, and ghee. This aromatic, sweet, saffron-flavored rice is a royal dessert made on special occasions and festivals.
Lapsi (Cracked Wheat Sweet)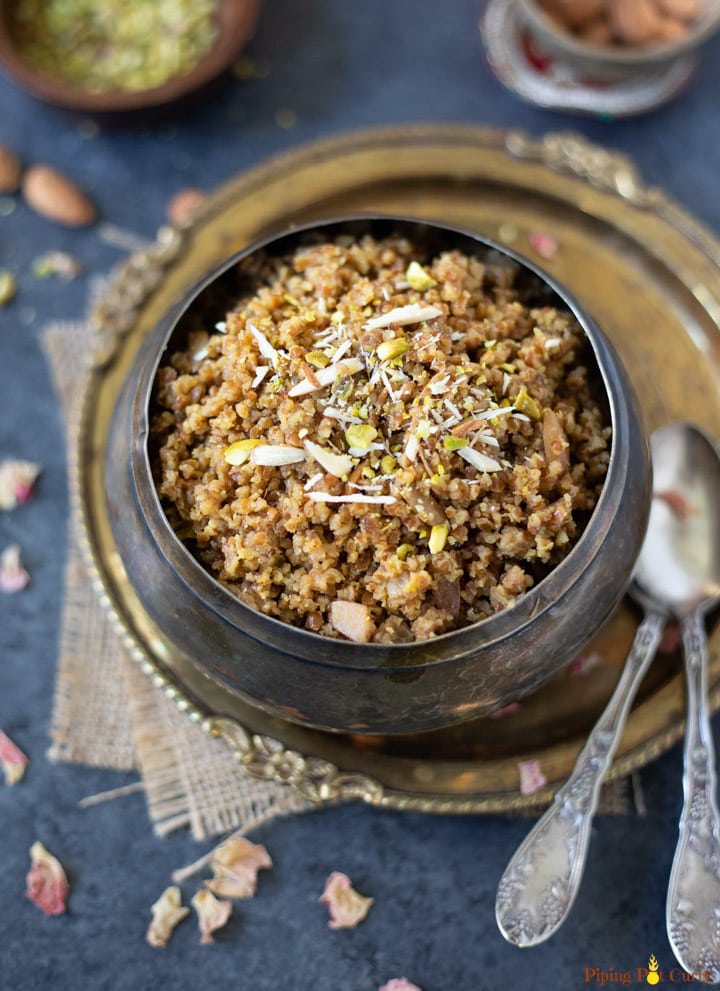 Lapsi is a sweet dish made with roasted broken wheat (Dalia) and sweetened with jaggery. Garnished with nuts and flavored with cardamom, this cracked wheat recipe is perfect for celebrations. With a rich brown color, this lapsi halwa can be cooked in the pressure cooker within minutes.
Vermicelli Kheer (Semiyan Payasam)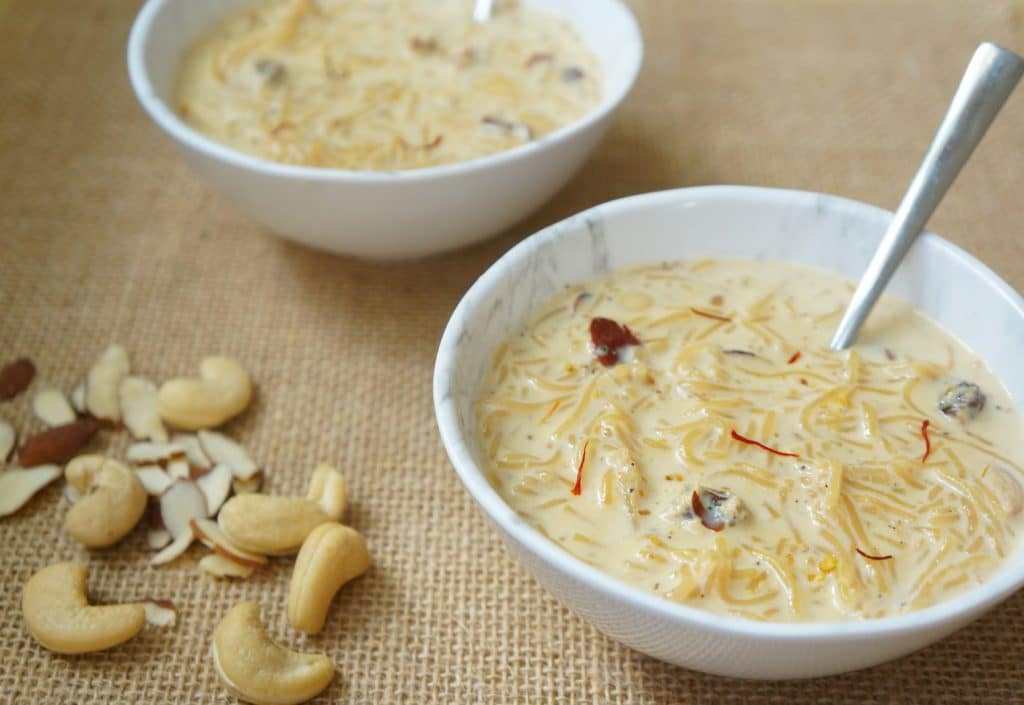 An Indian favorite dessert for special occasions – Kheer made with vermicelli, milk, and sugar infused with saffron, cardamom, and assorted dried fruits.
Sooji Halwa
Suji Ka Halwa, also known as Sheera, is a simple Indian semolina pudding made with basic ingredients – semolina, sugar, and ghee. Sooji ka halwa tastes simply divine and takes just 20 minutes to prepare.
Orange Semolina Cake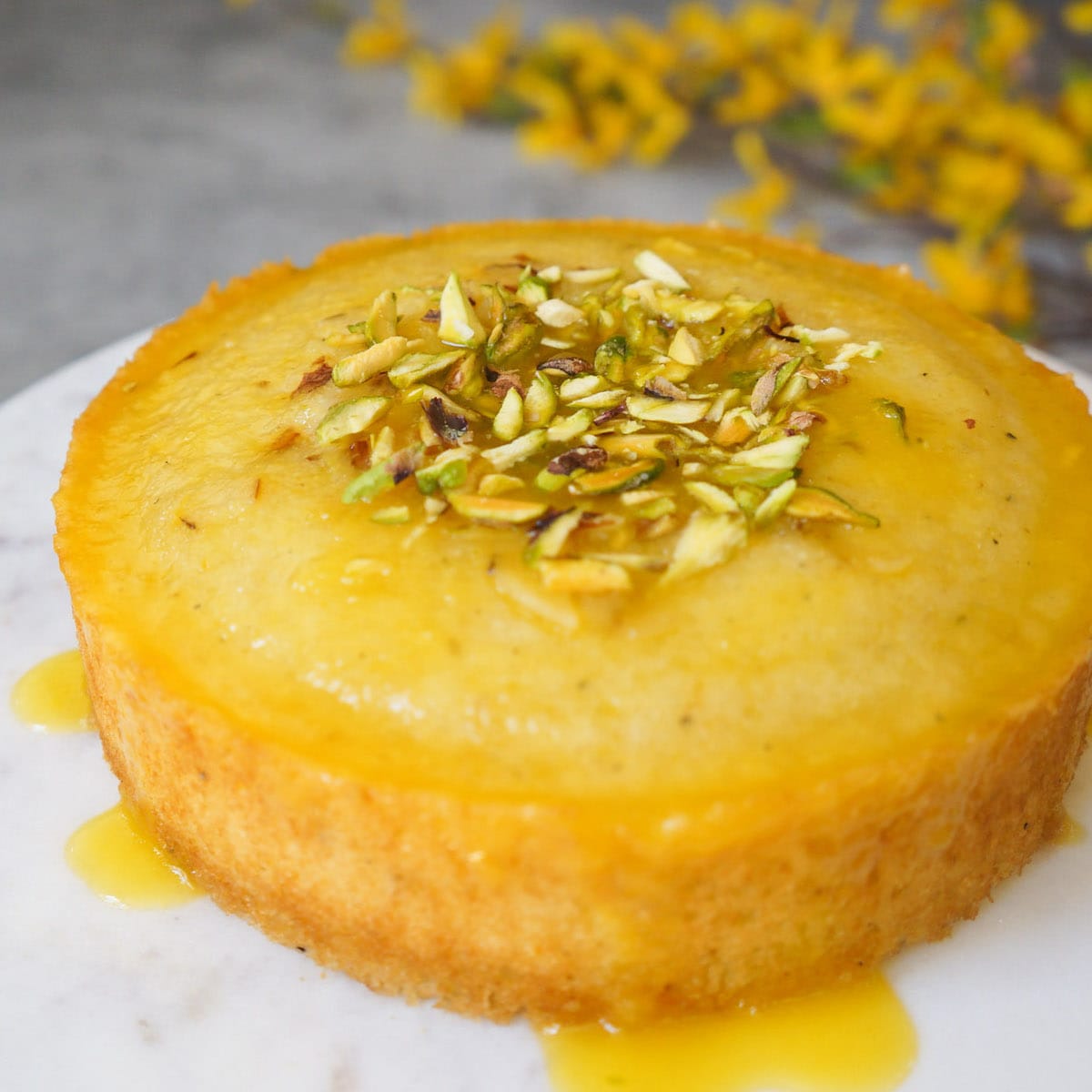 Semolina Cake (Rava Cake) topped with an orange syrup made in Instant Pot or Pressure Cooker. It is an easy-to-make, fluffy, and moist cake with a gorgeous orange flavor. This is an eggless cake perfect for vegetarians.
Carrot Kheer
A healthy and delectable Carrot Pudding made with carrots, milk, cashews, and dates, with the added aroma of cardamom and saffron. A delicious and satisfying dessert, with no added sugar.
Diwali Appetizers & Snacks
Any Diwali party or get-together is incomplete without an array of appetizers and snacks.
On Diwali, it is customary to eat vegetarian. Hence, here I am sharing my favorite vegetarian appetizers and snacks.
Shakarpara (Shankarpali)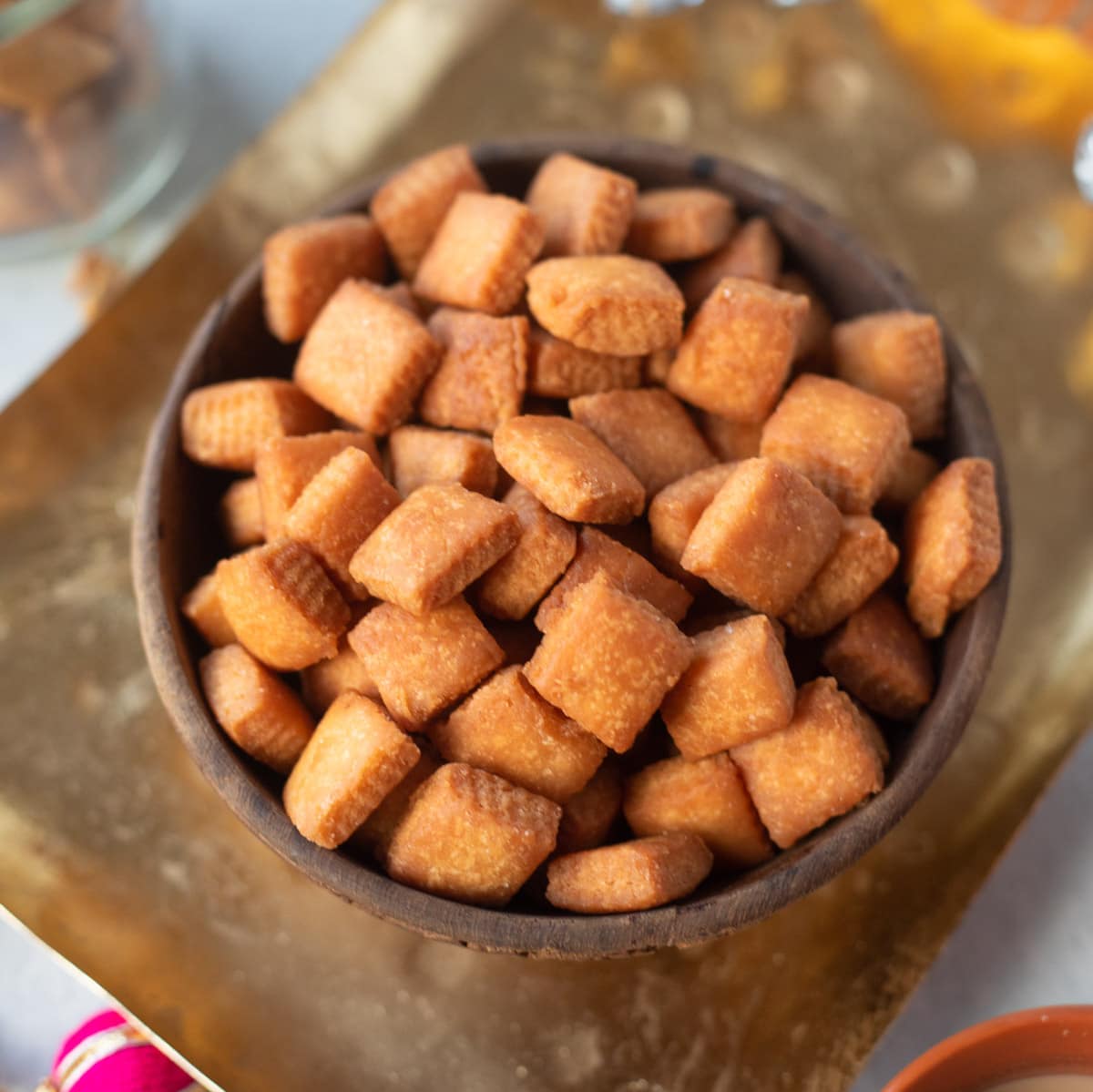 Shakarpara, also known as Shankarpali, is a crispy, mildly sweetened snack made with 4 simple ingredients you will have at home. These bite-sized fried Indian cookies come together quickly and are popularly made during festivals such as Diwali and Holi.
Namak Para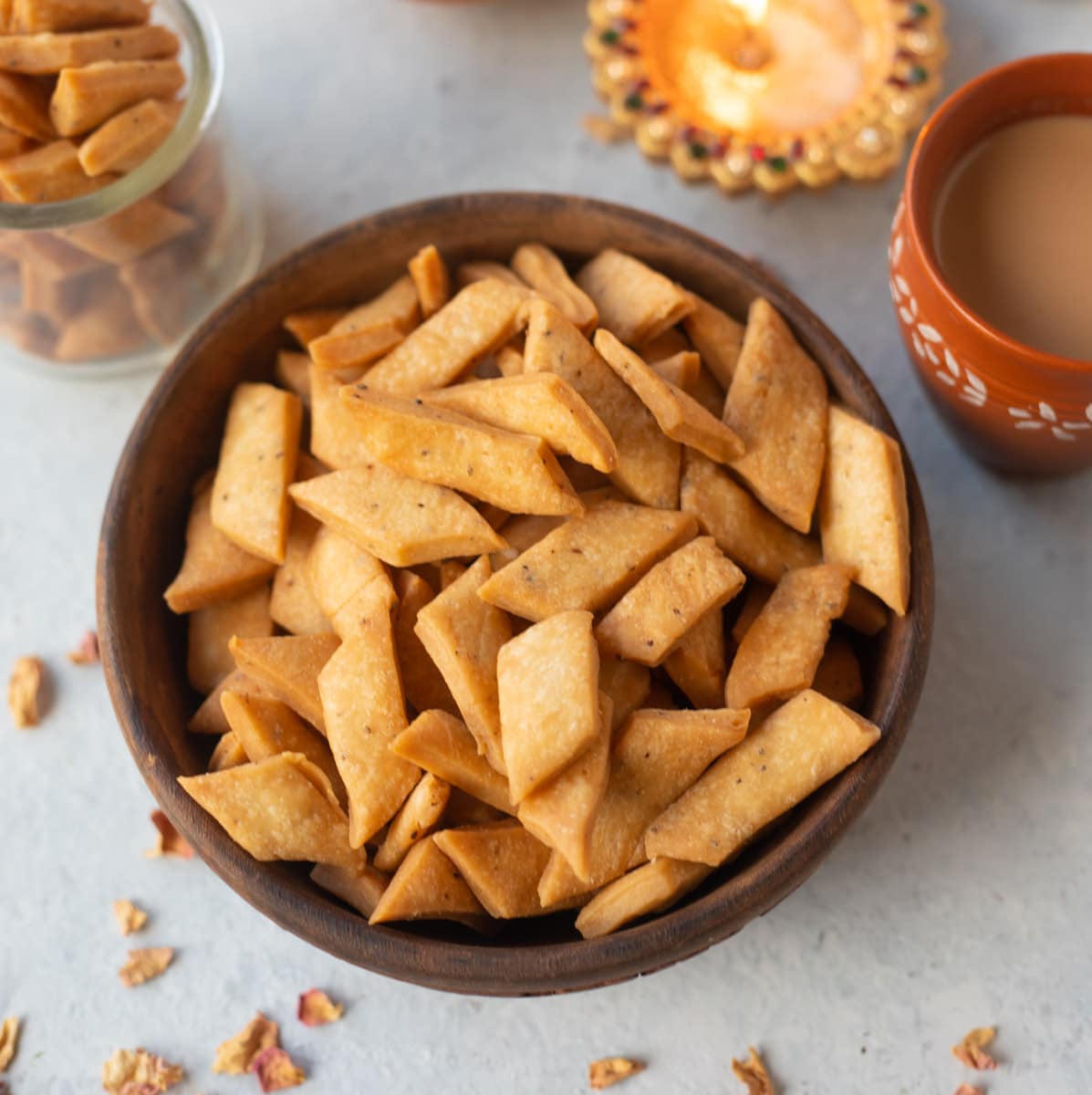 Namak para is a deep-fried Indian delicacy that is delicious, crispy, and addicting—made with all-purpose flour (maida), semolina, and a few spices such as ajwain, salt, and pepper for a light flavor. It is one of the most popular snacks among kids.
Poha Chivda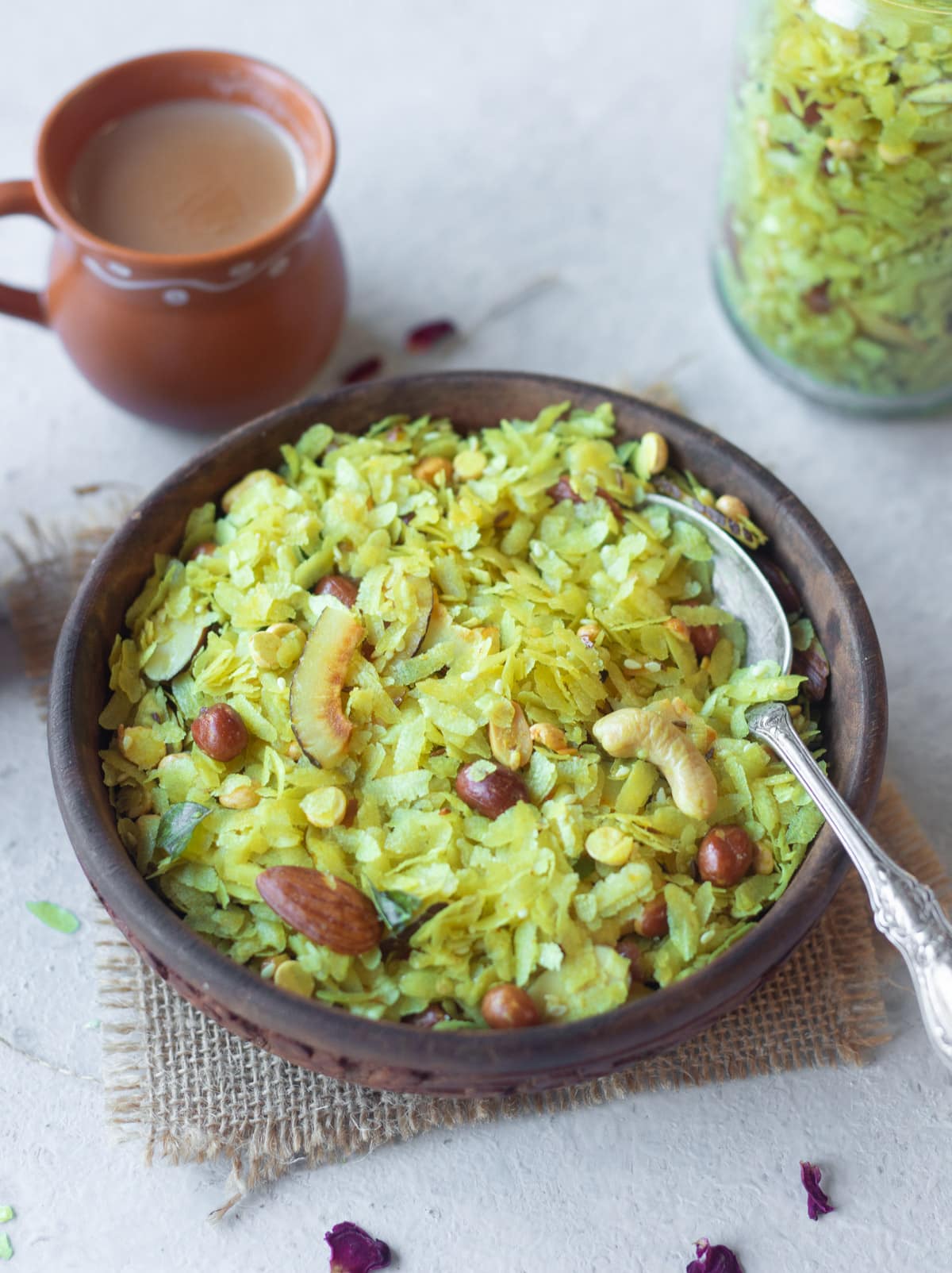 Roasted Poha Chivda is a delicious savory snack that is sweet, tangy, and crunchy with a bit of spicy kick—made of crispy and crunchy roasted poha (flattened rice), peanuts, cashews, almonds, sliced coconut, and other seasonings.
Sabudana Vada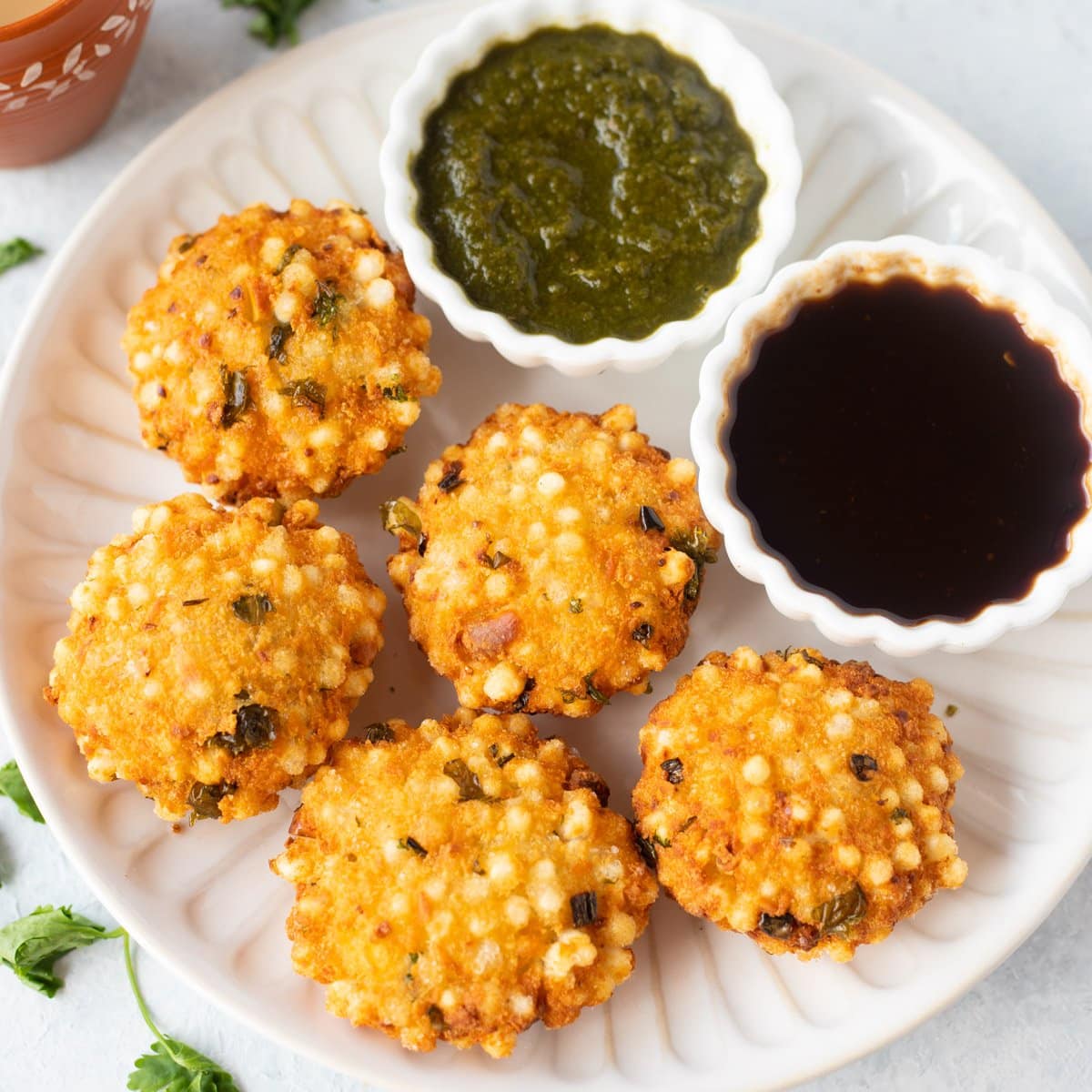 Sabudana Vada is a traditional Maharashtrian snack made from tapioca pearls (sago), potatoes, peanuts, herbs, and spices. These sago fritters are addictive! This is a vegan, gluten-free, and simple fasting recipe.
Dahi Vada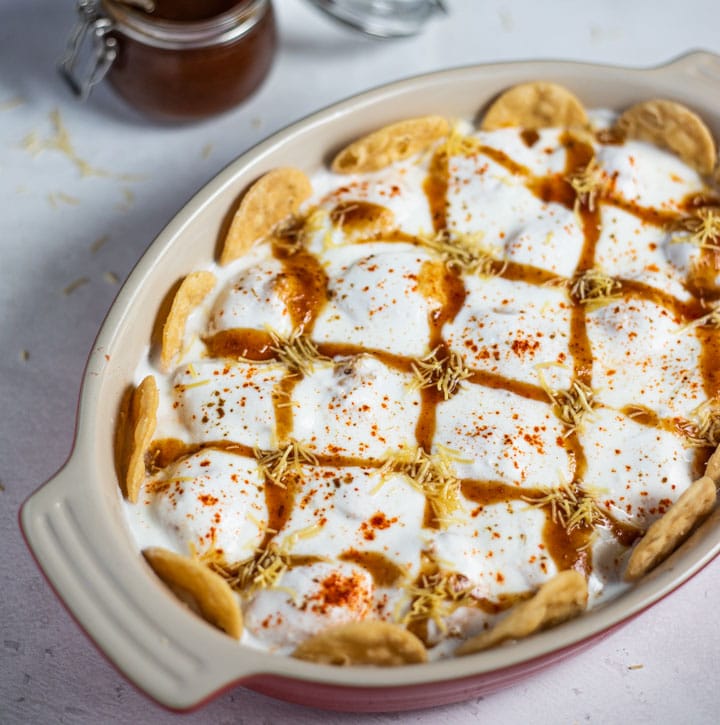 This favorite Dahi Vada or Dahi Bhalla recipe has the softest lentil fritters drenched in creamy yogurt and topped with sweet and spicy chutneys. This popular Indian street food is loved by all and is a perfect inclusion to any festive menu!
Paneer Puff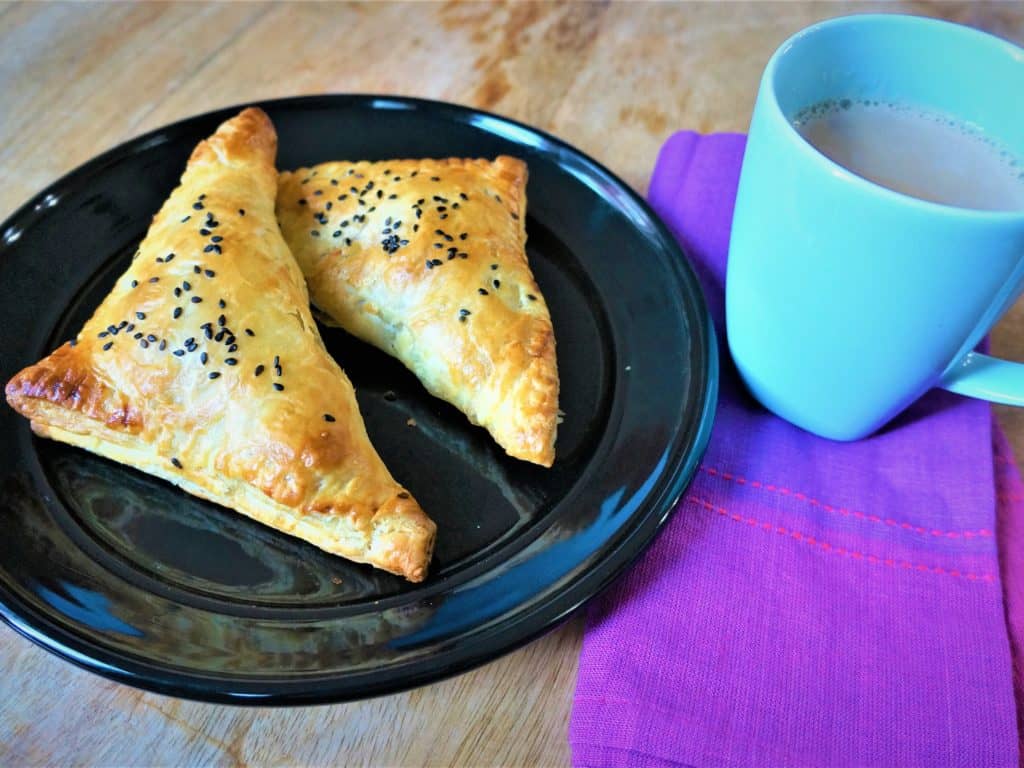 A flaky golden crust with spicy, flavorful paneer filling. It is the perfect appetizer for a party that can be prepared ahead of time. So easy and delicious!
Spicy Bombay Potatoes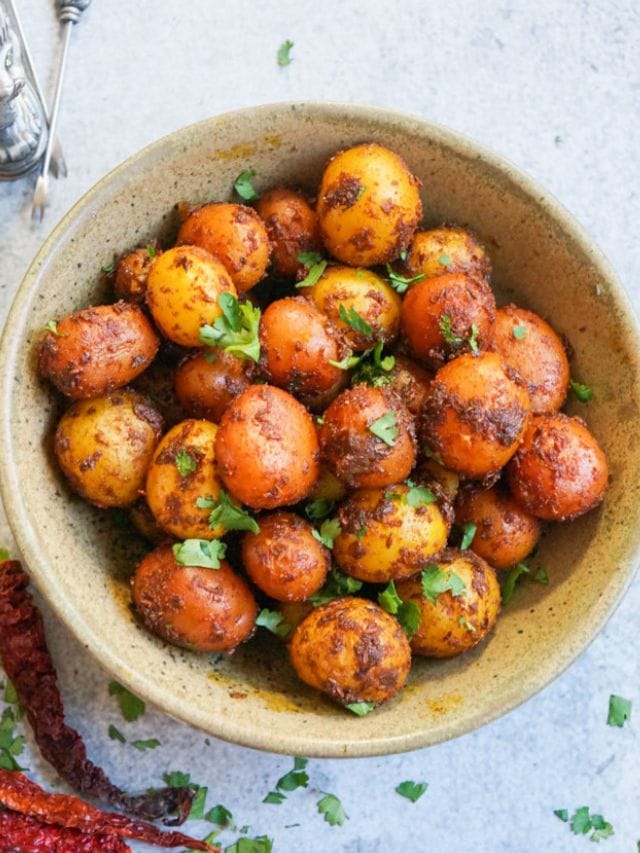 Baby Potatoes cooked with aromatic spices as a one-pot dish are perfect to serve as an appetizer or a side dish. These delicious and easy Bombay Potatoes take just 20 minutes to make in the Instant Pot or on the stovetop.
Mint Cilantro Chutney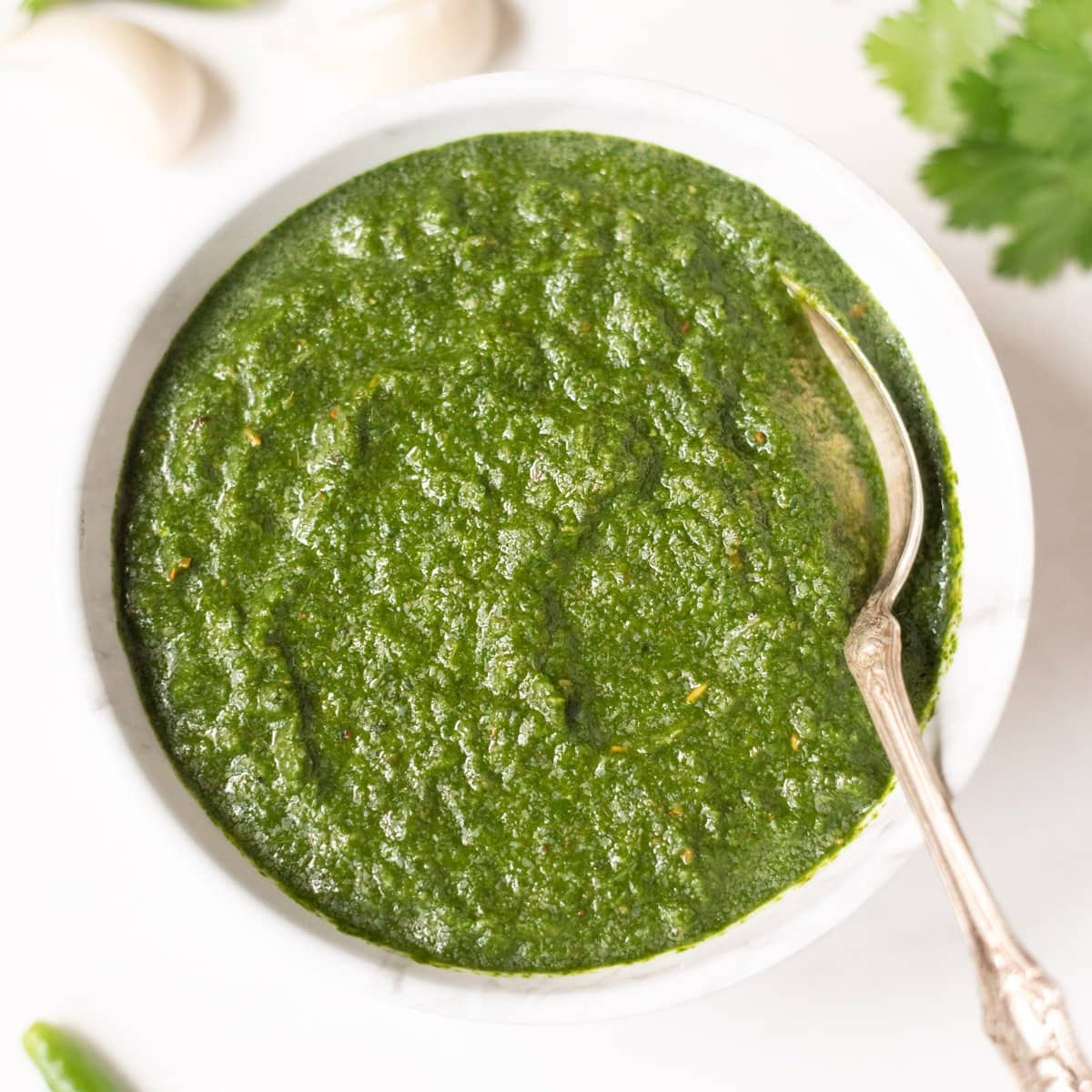 A cool, spicy, and tangy green chutney. This no-cook mint cilantro chutney is a must-try accompaniment to Indian food such as samosa, chaat, kebabs, and sandwiches.
Gujarati Khandvi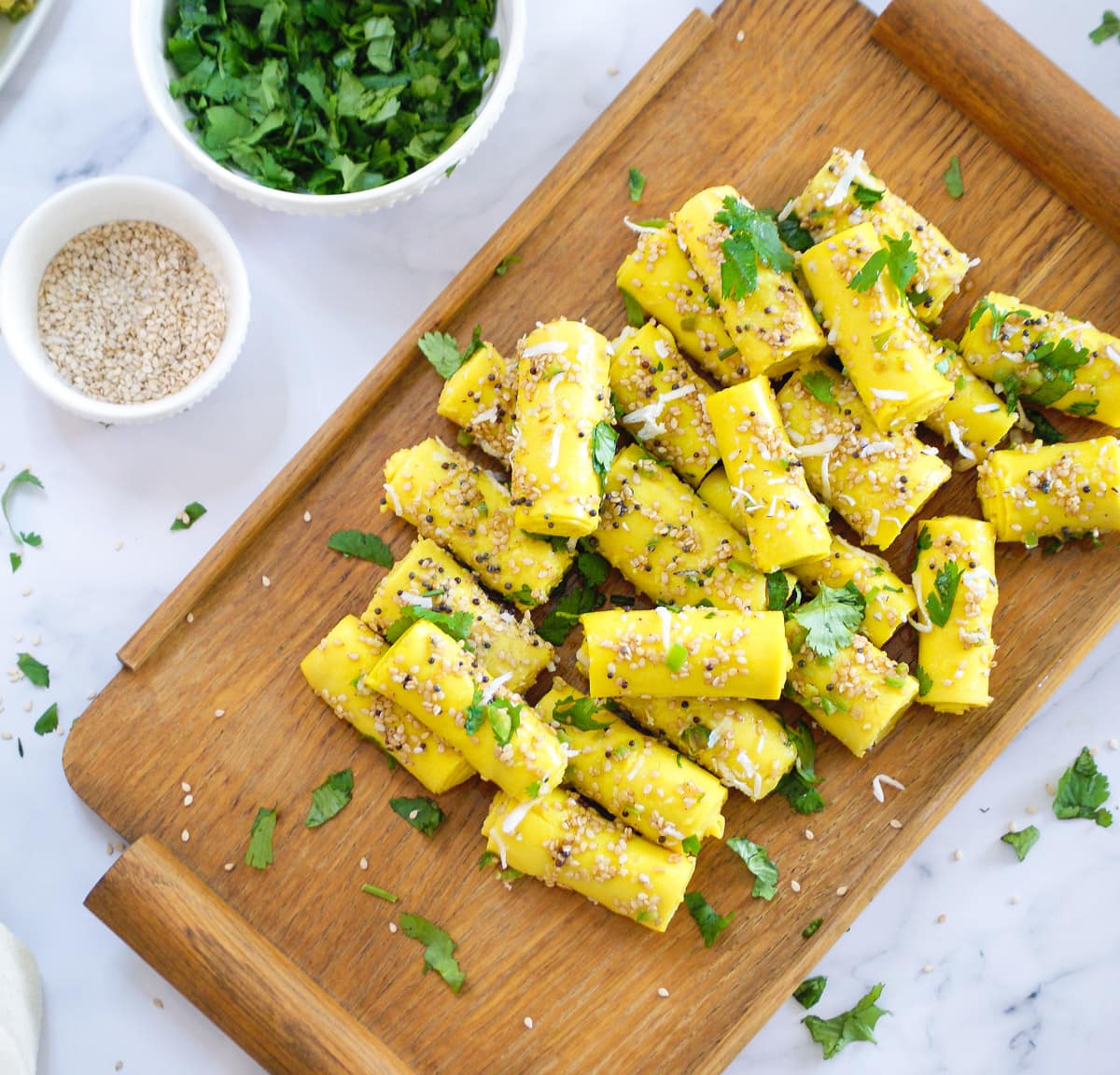 Learn how to make this popular healthy snack from Gujarat – Khandvi rolls. These melts in the mouth, soft and flavorful rolls are made with chickpea flour and then tempered with mustard seeds, sesame seeds and garnished with fresh cilantro leaves and grated coconut.
Dahi Papdi Chaat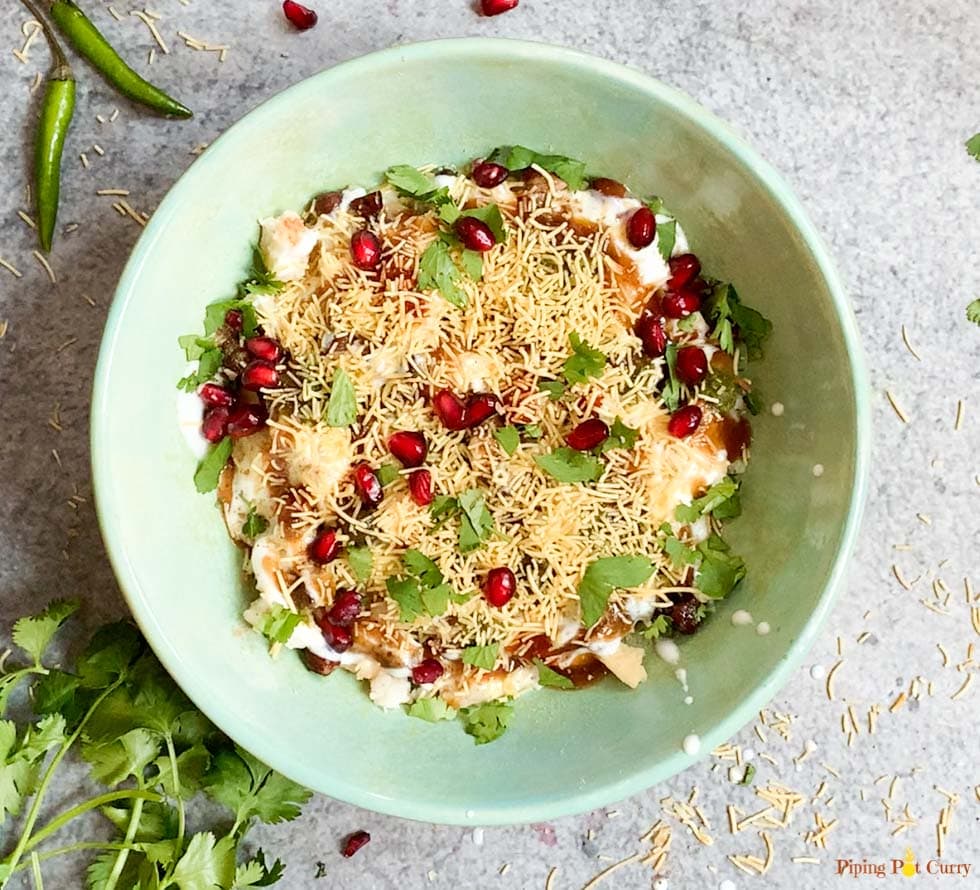 A famous Delhi street food, Dahi Papdi Chat, is a crispy, sweet, spicy, and tangy chaat that packs a whole lot of flavor. Also known as Dilli chaat, this popular street food is made with crispy pooris, sev (thin gram flour noodles), yogurt, and a variety of chutneys.
Kala Chana Chaat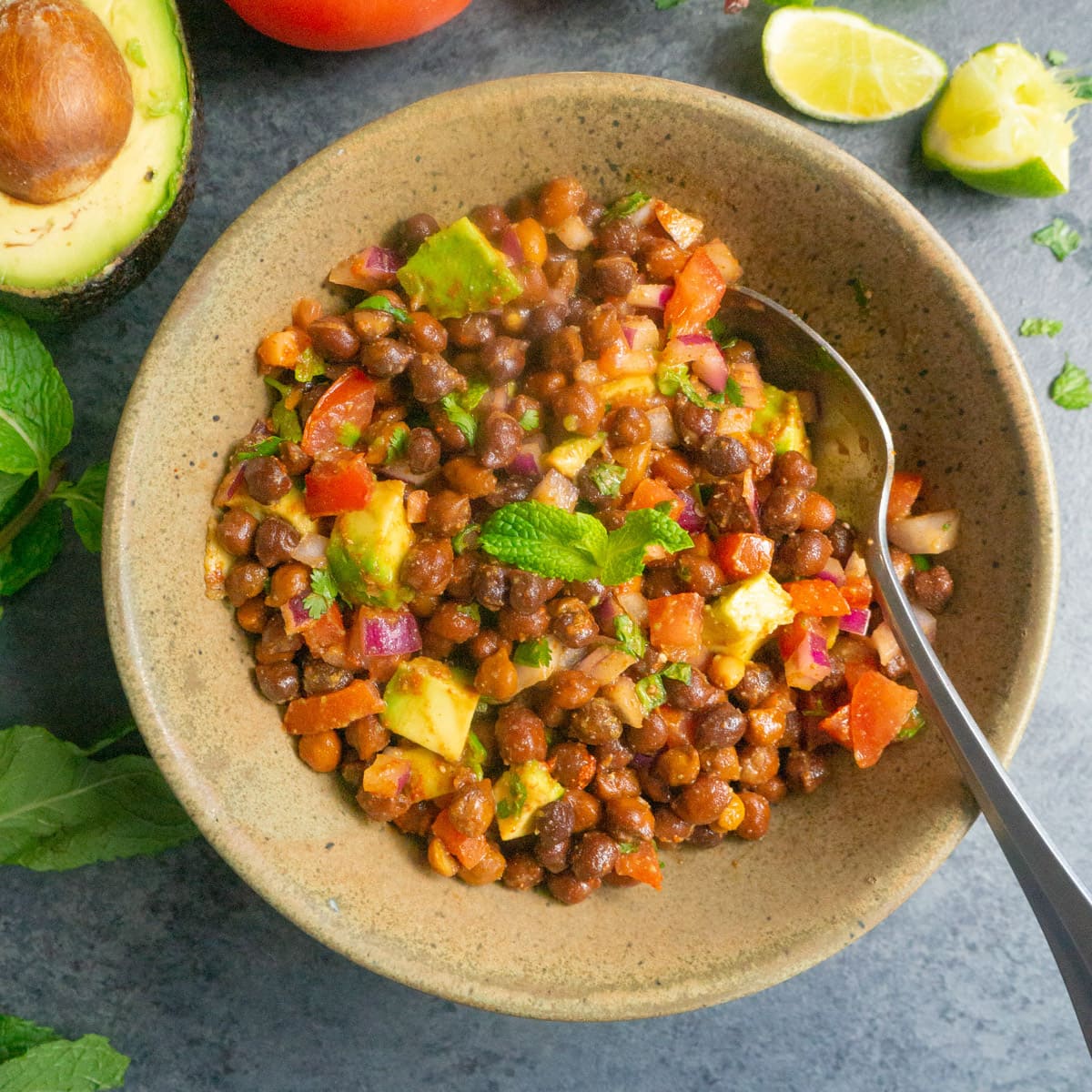 A nutrition-packed Black Chickpea Salad made with black chickpeas, crunchy onions, tomatoes, avocado, and spices. This refreshing salad has fresh and tangy flavors and can be enjoyed as a great protein-rich breakfast or snack.
Khaman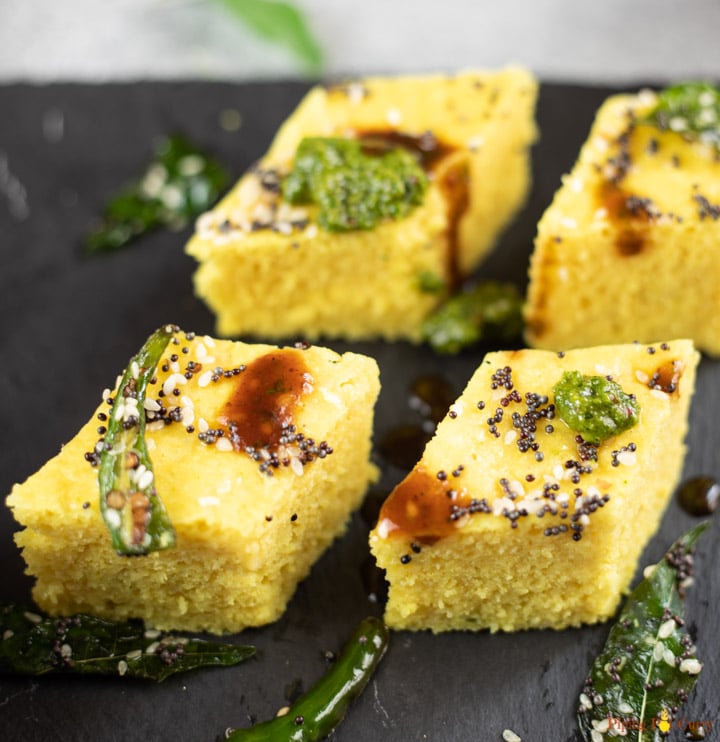 Soft and fluffy Khaman Dhokla made in the Instant Pot and stovetop. These delicious steamed savory chickpea flour cakes are a popular Gujarati delicacy, perfect to enjoy for breakfast or a snack!
Cheesy Samosa Jalapeño Poppers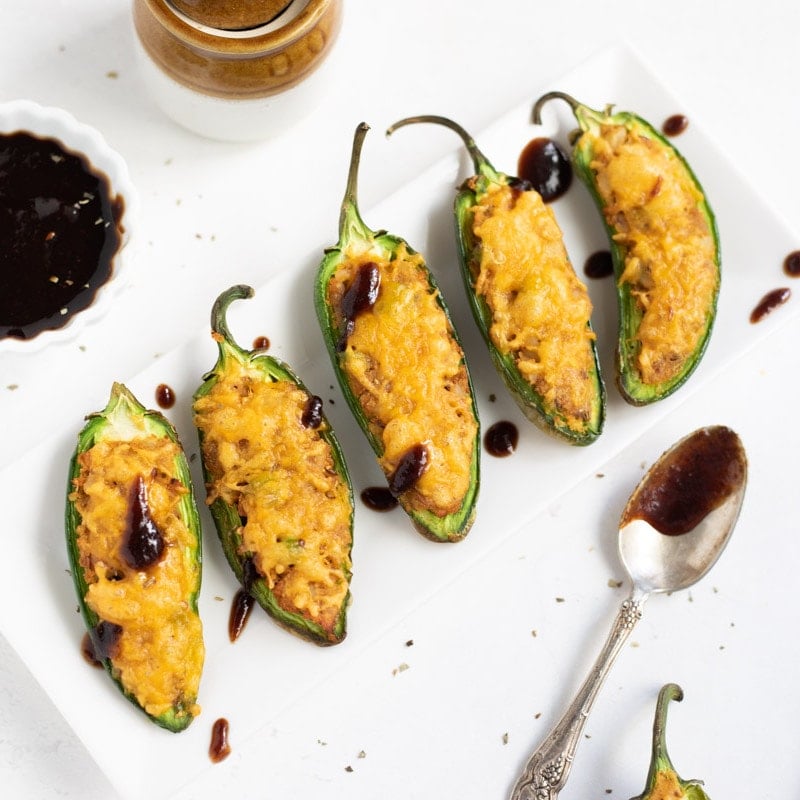 Cheesy Samosa Jalapeno Poppers is an Indian twist to the favorite party appetizer. This is a vegetarian and gluten-free version made in the air fryer for samosa lovers. Don't forget to check out the Halloween inspiration for these jalapeno poppers!
Onion Bhaji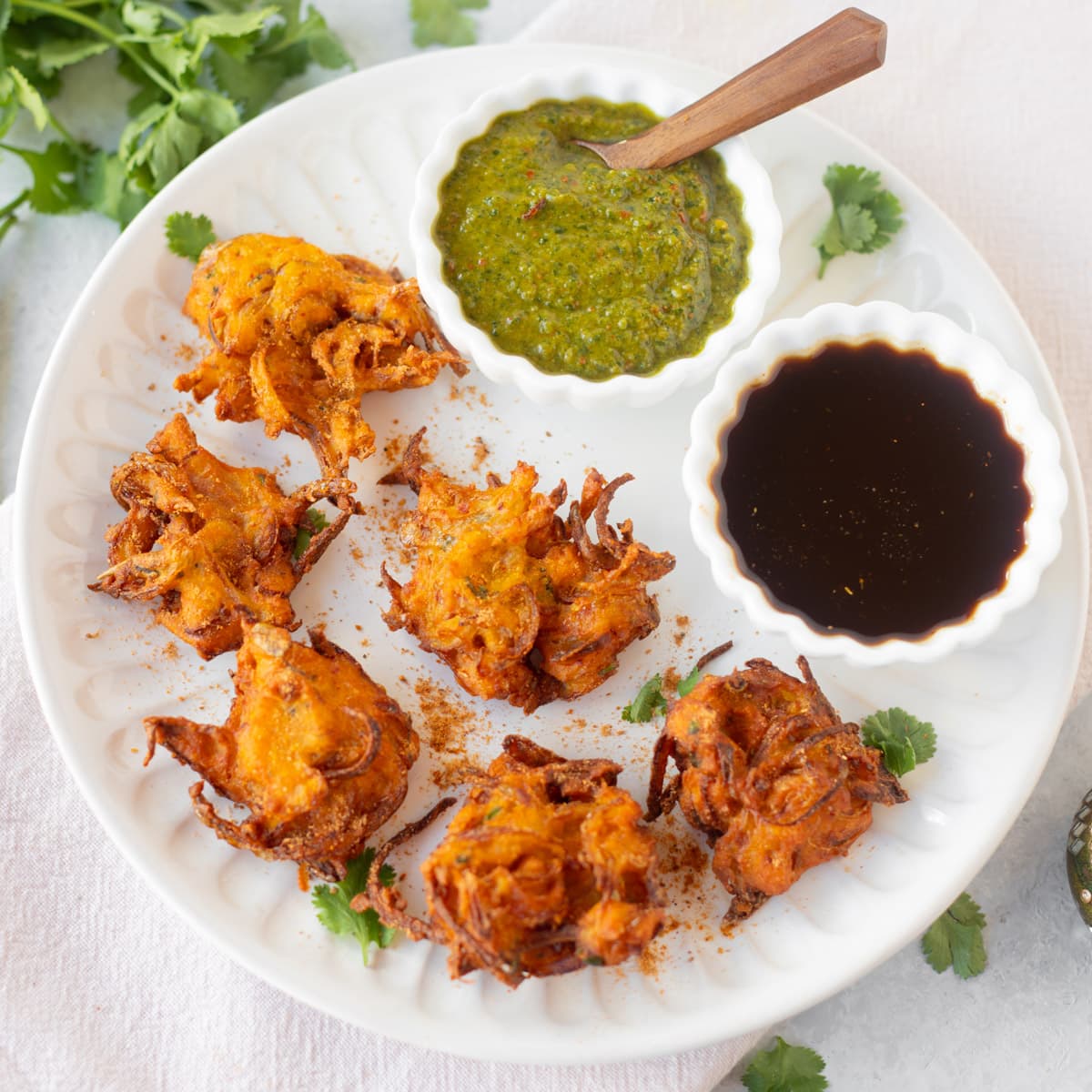 These crispy onion fritters are made with gram flour, onions, and spices from your pantry. These vegan & gluten-free onion pakoras are addictive!
Paneer Tikka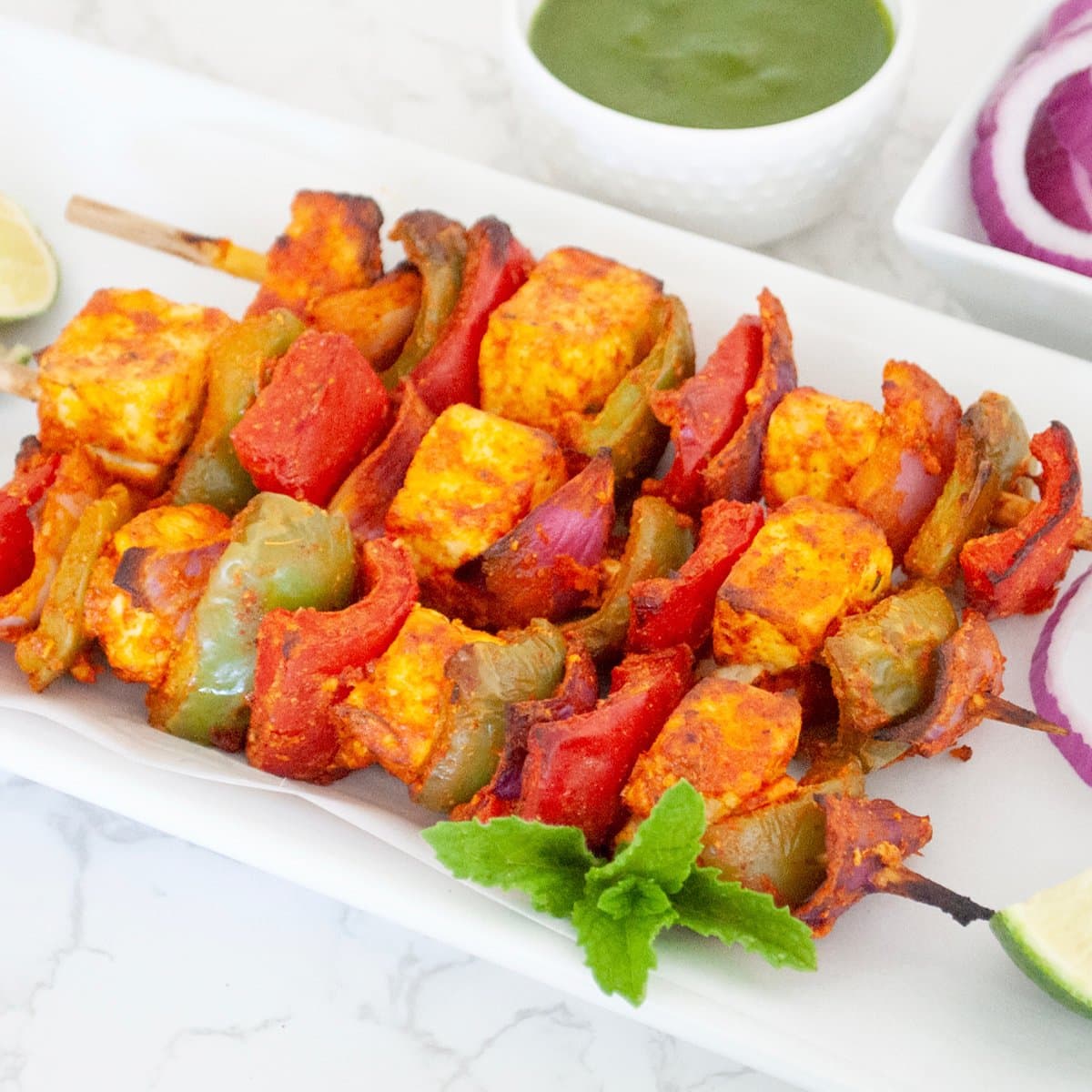 Paneer marinated in a delightful combination of yogurt and spices, threaded to skewers, and cooked to create this heavenly appetizer. You can cook this tandoori paneer tikka in an oven or air-fryer.
Paneer Frankie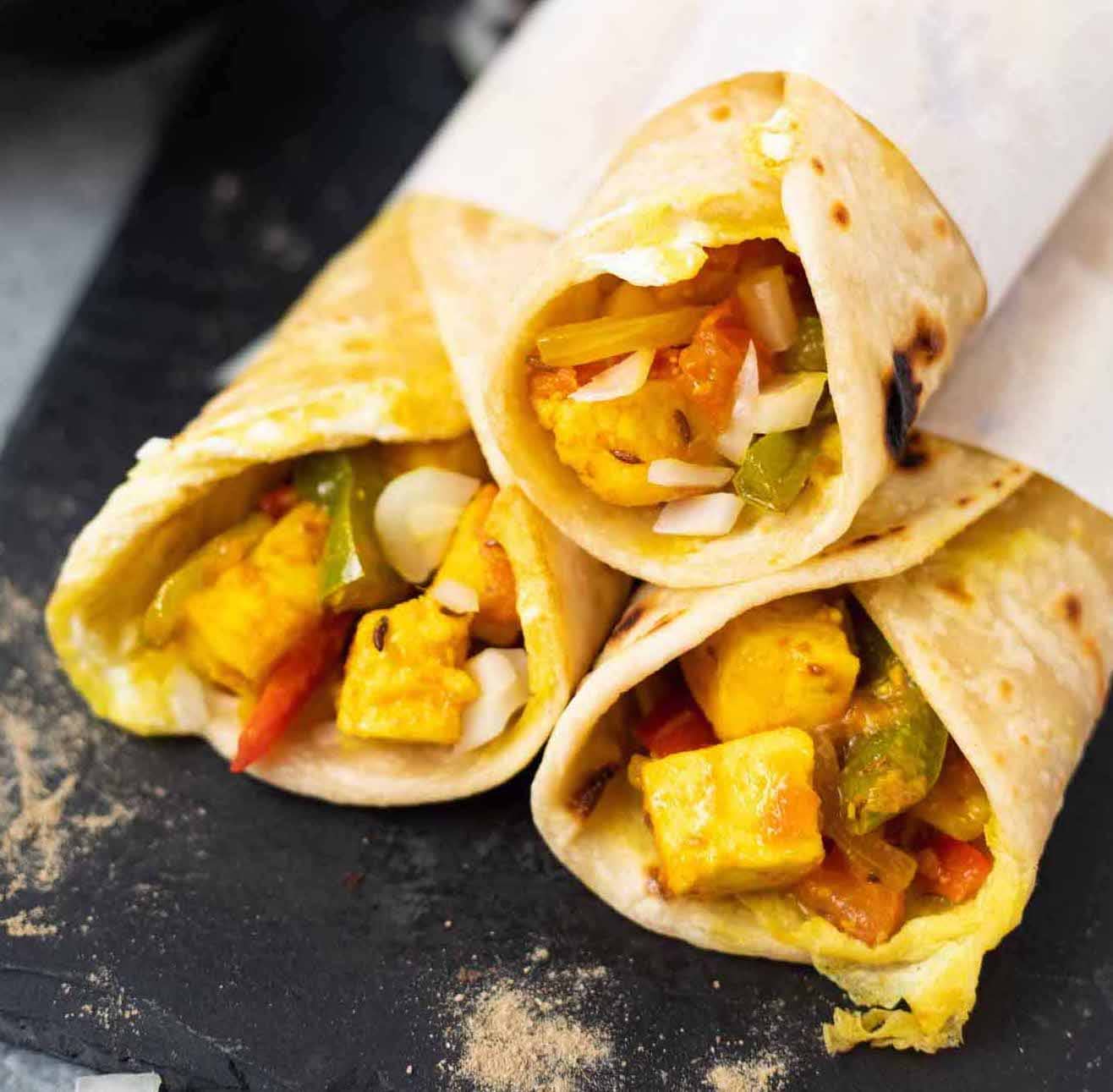 This Paneer Frankie Roll, also known as Paneer Kathi Rolls, is a popular Indian street food made with flaky flatbread, covered with egg, wrapped with spicy paneer and tangy toppings. Perfect to pack for a grab and go meal, or a special weeknight meal.
Vada Pav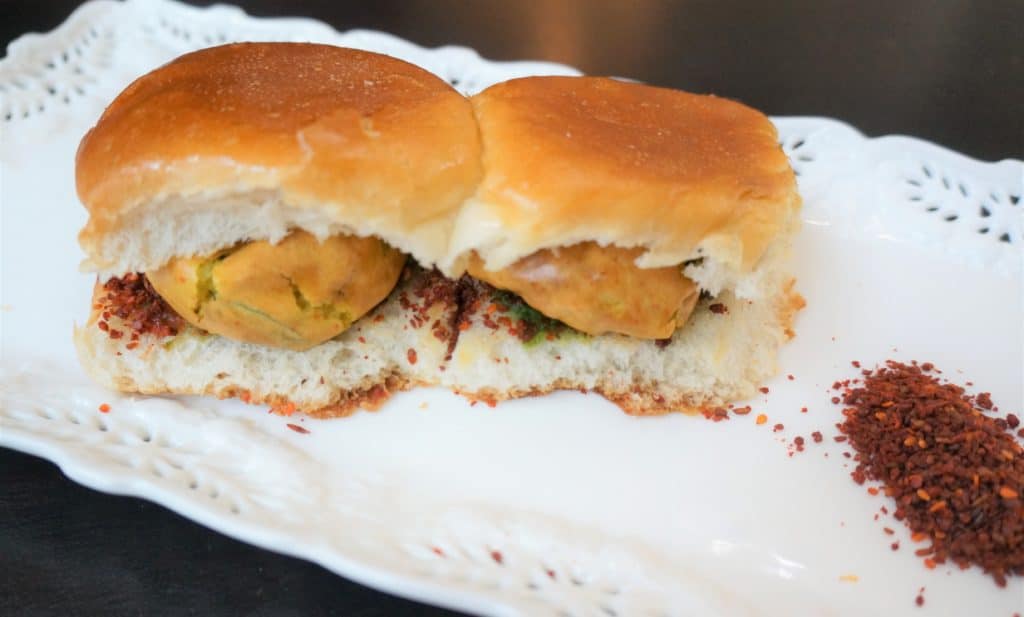 Vada Pav is the humble street food of Mumbai. A fried potato fritter, or vada, is stuffed in between mini-burger buns called pav, along with sweet and spicy sauces or chutney.
Sev Puri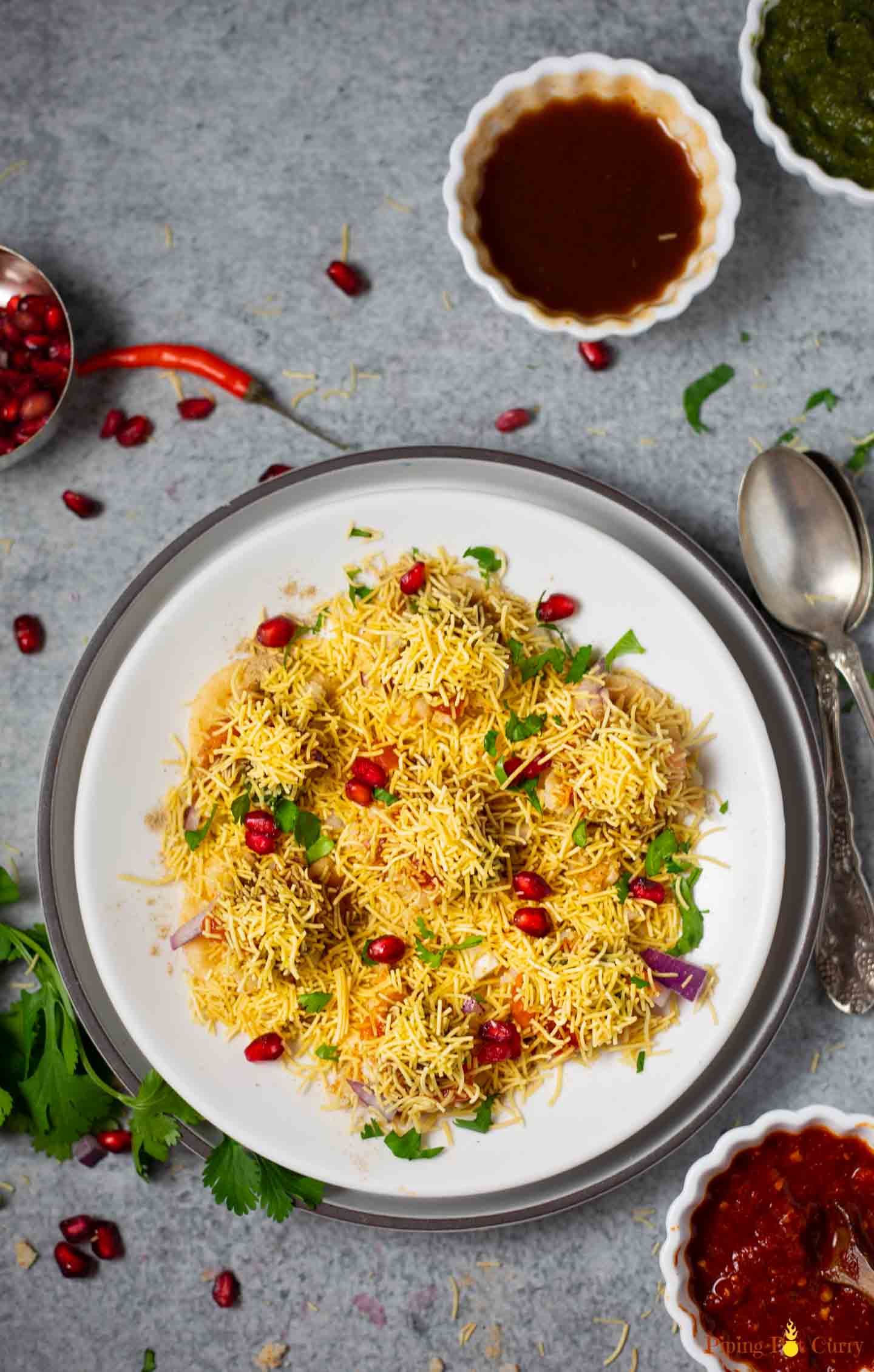 A popular Mumbai street food, Sev Puri is a sweet, spicy, and tangy chaat. Sev Puri is made with crispy puri (whole wheat crackers) topped with potatoes, onions, tomatoes, and a variety of chutneys and finished with sev (thin gram flour noodles). This no-cook chaat recipe is a favorite snack to enjoy with your evening tea!
Favorite Beverages For Diwali
Favorite Main Dishes For Diwali
I hope you enjoy your Diwali with lots of wonderful food and share the joy with your loved ones!
More Festive Recipe Collections