Traditional Thanksgiving dinners are delicious! However, it is occasionally necessary to shake things up a little. Here are some spiced, aromatic Indian Thanksgiving Recipes to get you inspired. And believe me, you will not miss the turkey!
I like to include a mix of thanksgiving classic dishes and Indian favorites that suit everyone's palate in our Thanksgiving dinner menu. These dishes have become a thanksgiving tradition for our family, and I hope you enjoy them too!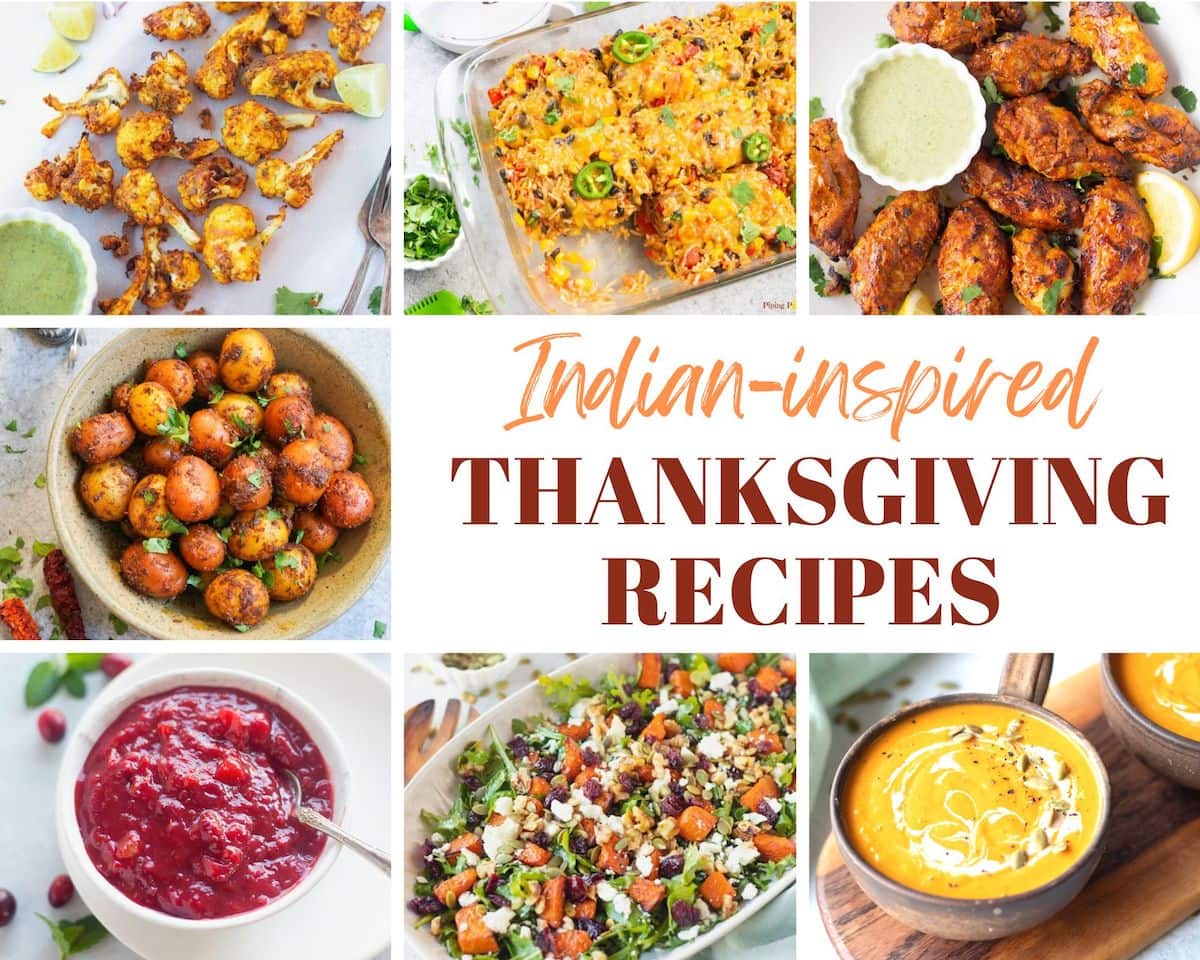 Thanksgiving is a popular holiday celebrated in North America. It commemorates the harvest and is a day to express gratitude for our blessings. It is special as it marks the beginning of the holiday season!
A magnificent roast turkey is generally the first thing that springs to mind when you think about Thanksgiving. Aside from turkey, a typical menu consists of mashed potatoes, stuffing, veggies like brussel sprouts or green beans, gravy, bread, cranberry sauce, and the humble pumpkin pie.
I never celebrated Thanksgiving while growing up in India. But over the years, being here in the US, we have started celebrating Thanksgiving -it's all about gatherings with family and friends. And great cuisine is synonymous with this celebration.
Over the years, living here in the Bay Area, I have taken over the Thanksgiving feast preparation in my home, incorporating my Indian heritage into the holiday fare.
I preserve the classic Thanksgiving elements- such as potatoes, pumpkin, and cranberry sauce, but I prepare them in a desi style – with many aromatics and spices!
So, if you're looking for a change to liven things up a little and like Indian food, you have come to the right place. And the best part is that this Indian-style menu provides abundant options for vegetarians and vegans!
To make Thanksgiving entertaining easier for you, I've put together a delectable list of Indian thanksgiving recipes to impress your friends and family.
From appetizers to desserts to side dishes and main-course, these recipes are simple and easy enough for hosting or to enjoy a cozy meal with family. And don't forget to scroll to the bottom to see our Indian fusion thanksgiving menu.
Jump to:
Salad & Soup
Roasted Pumpkin Salad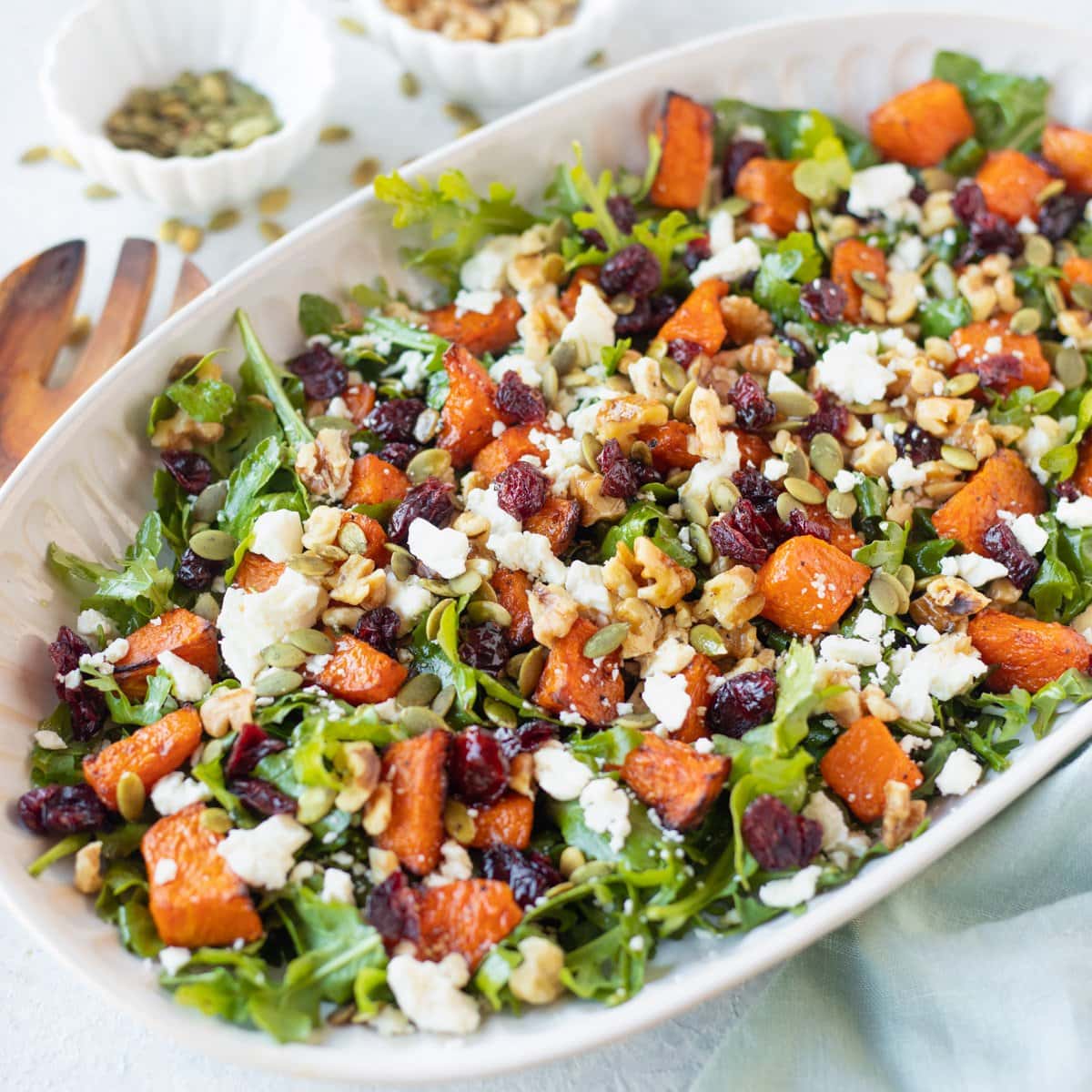 A delicious roasted pumpkin salad with feta and walnuts topped with a honey balsamic dressing. A hearty, delicious salad perfect for Thanksgiving dinner.
Kachumber Salad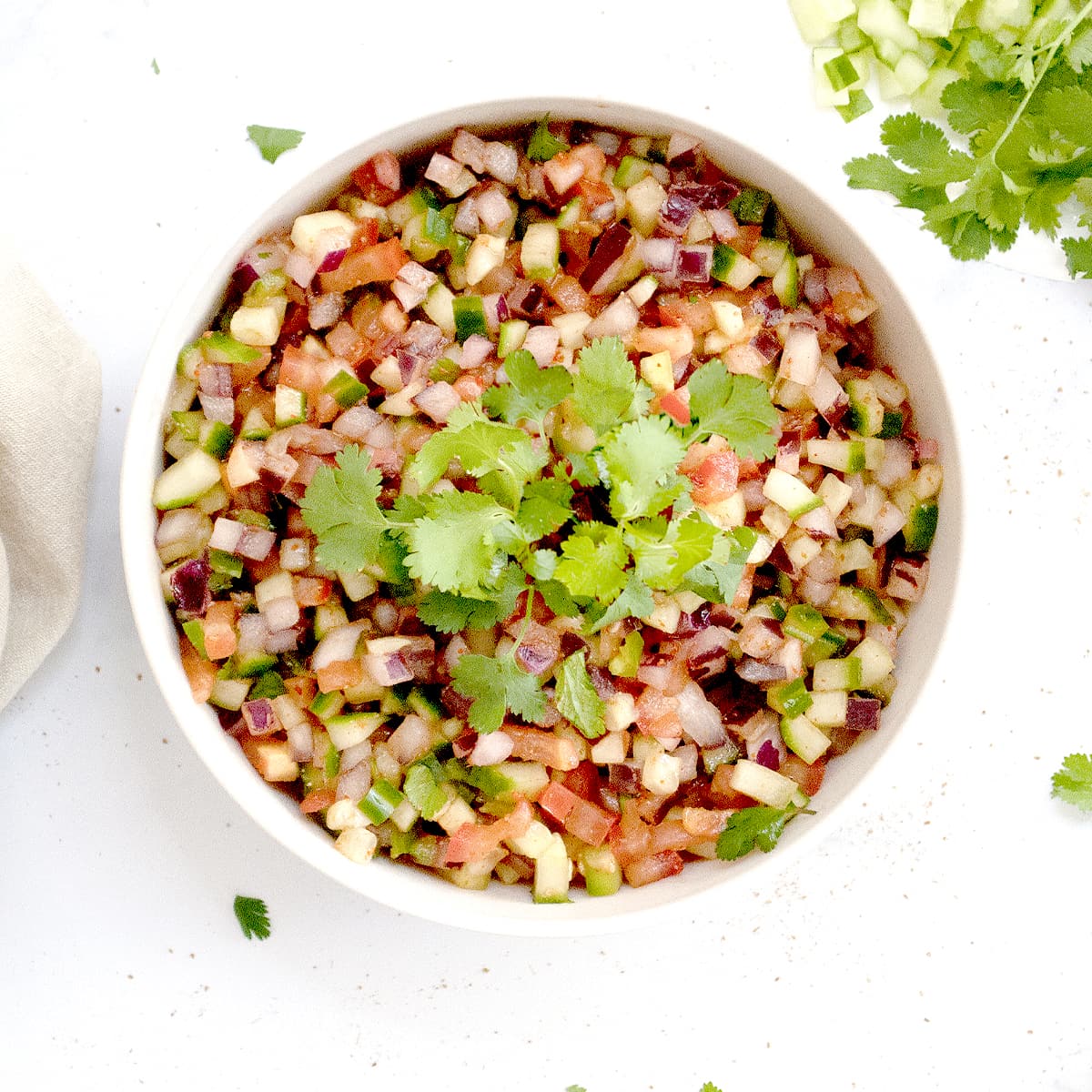 This simple yet colorful Kachumber salad is so easy and refreshing. Made with chopped onions, tomatoes, and cucumbers and seasoned with spices, serve it as a side with any Indian food. It is vegan, oil-free, and gluten-free. This will look great on your holiday table!
Roasted Pumpkin Soup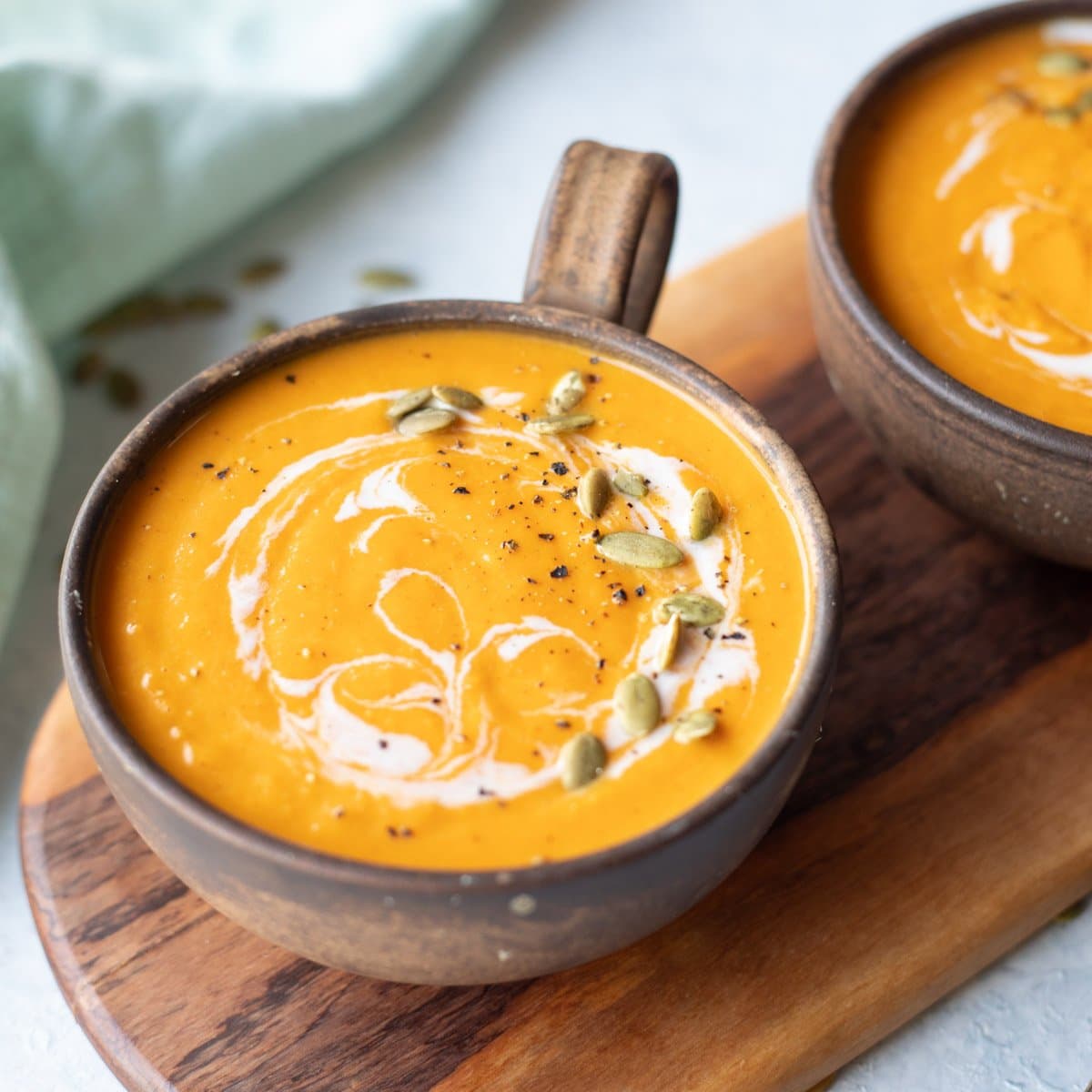 You'll fall in love with this lush, creamy roasted pumpkin soup in no time. This flavorful soup prepared with coconut milk and spices is perfect for warming you up on a chilly fall! Add an Indian twist with this curried pumpkin soup.
Thai Curried Butternut Squash Soup
This creamy butternut squash soup is elevated with thai curry flavors, and topped with peanuts and coconut milk for a flavorful twist.
Appetizers
Tandoori Chicken Wings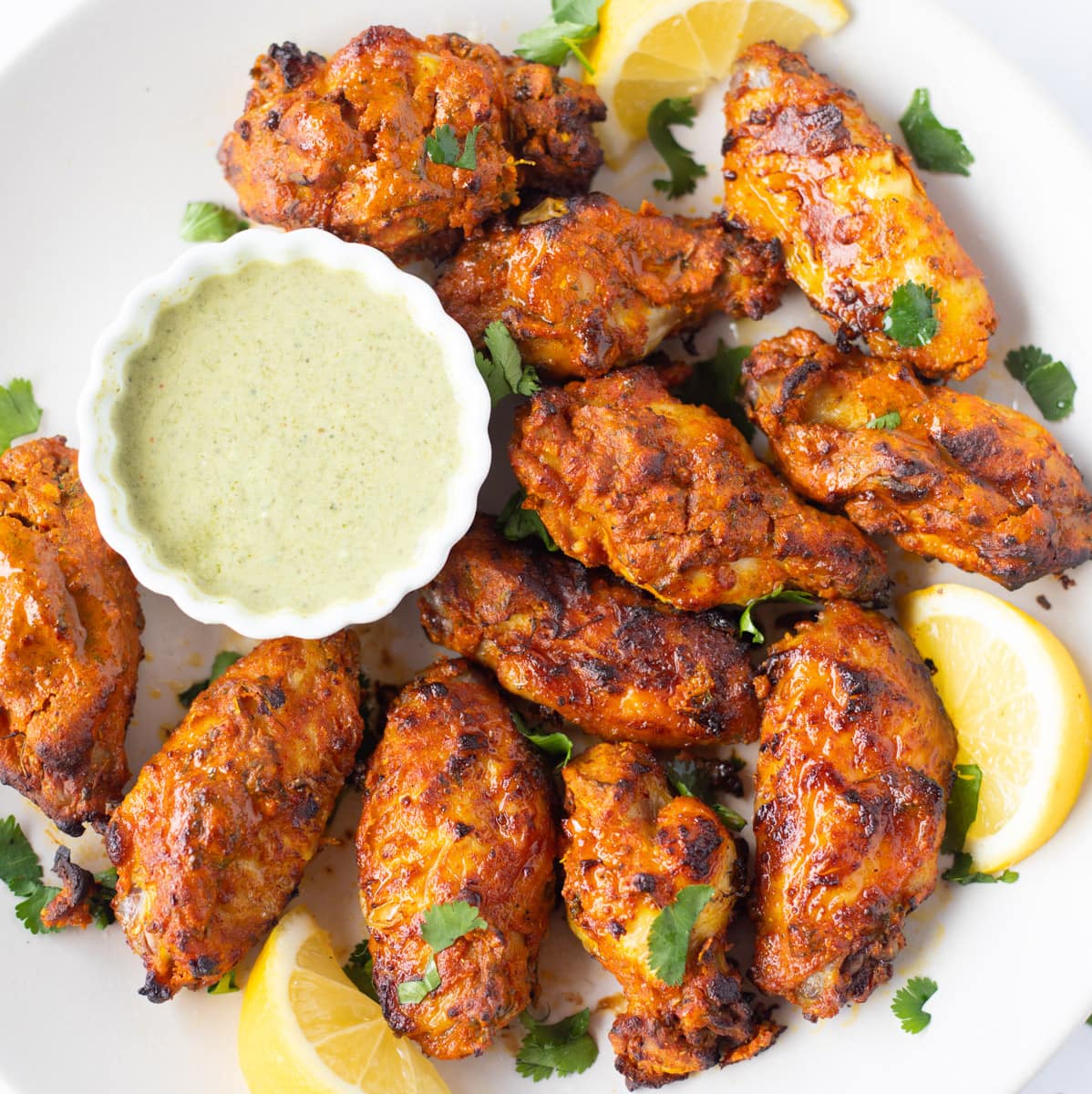 These smoky Tandoori chicken wings are marinated in Indian spices and yogurt and grilled to perfection. The wings are juicy and delicious and crispy on the outside. They will blow your mind away!
Paneer Tikka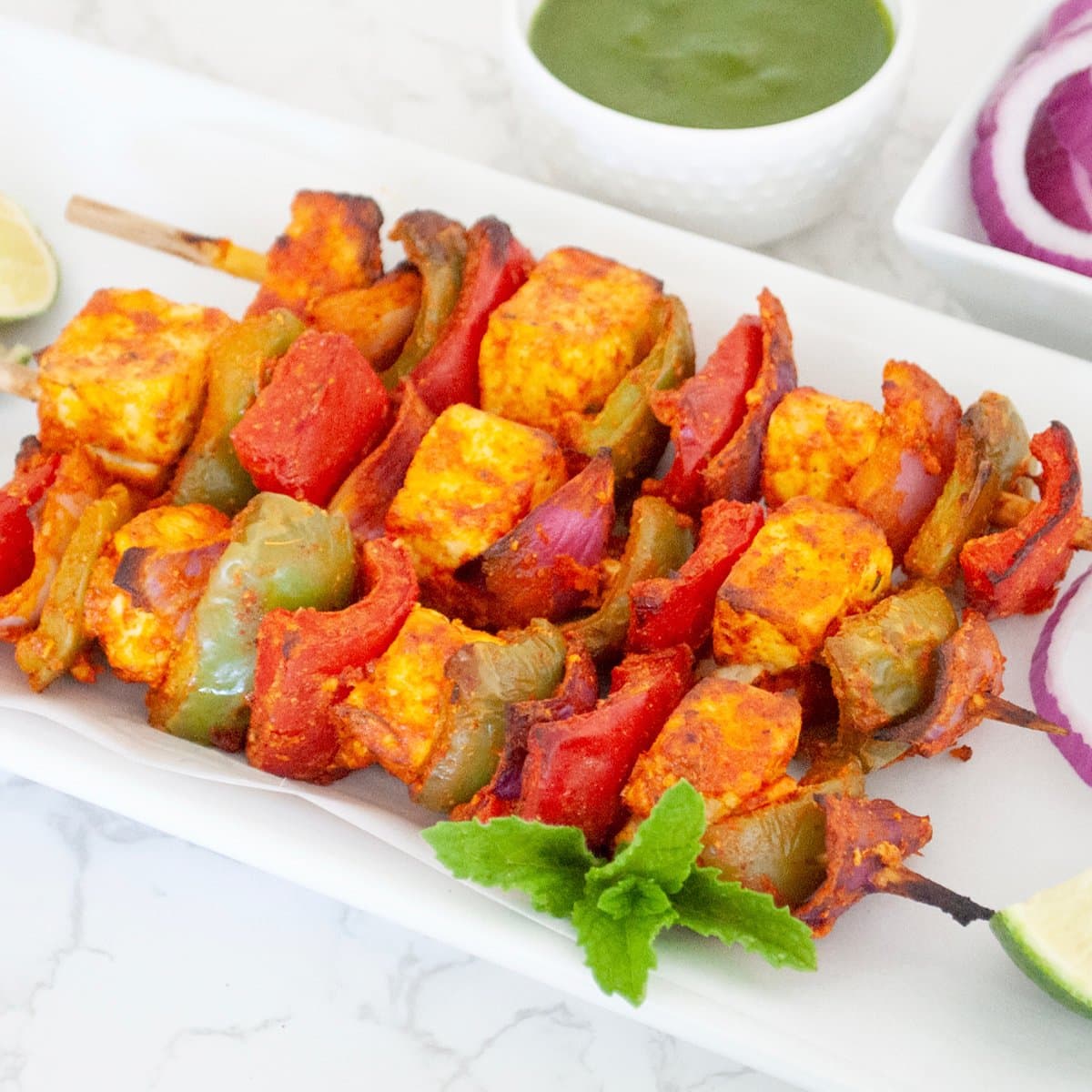 This restaurant-style Tandoori Paneer Tikka is an Indian appetizer full of flavor! Thanks to the marinated paneer and crunchy veggies. Enjoy paneer tikka in the air fryer, oven, or barbecue with this simple recipe!
Tandoori Cauliflower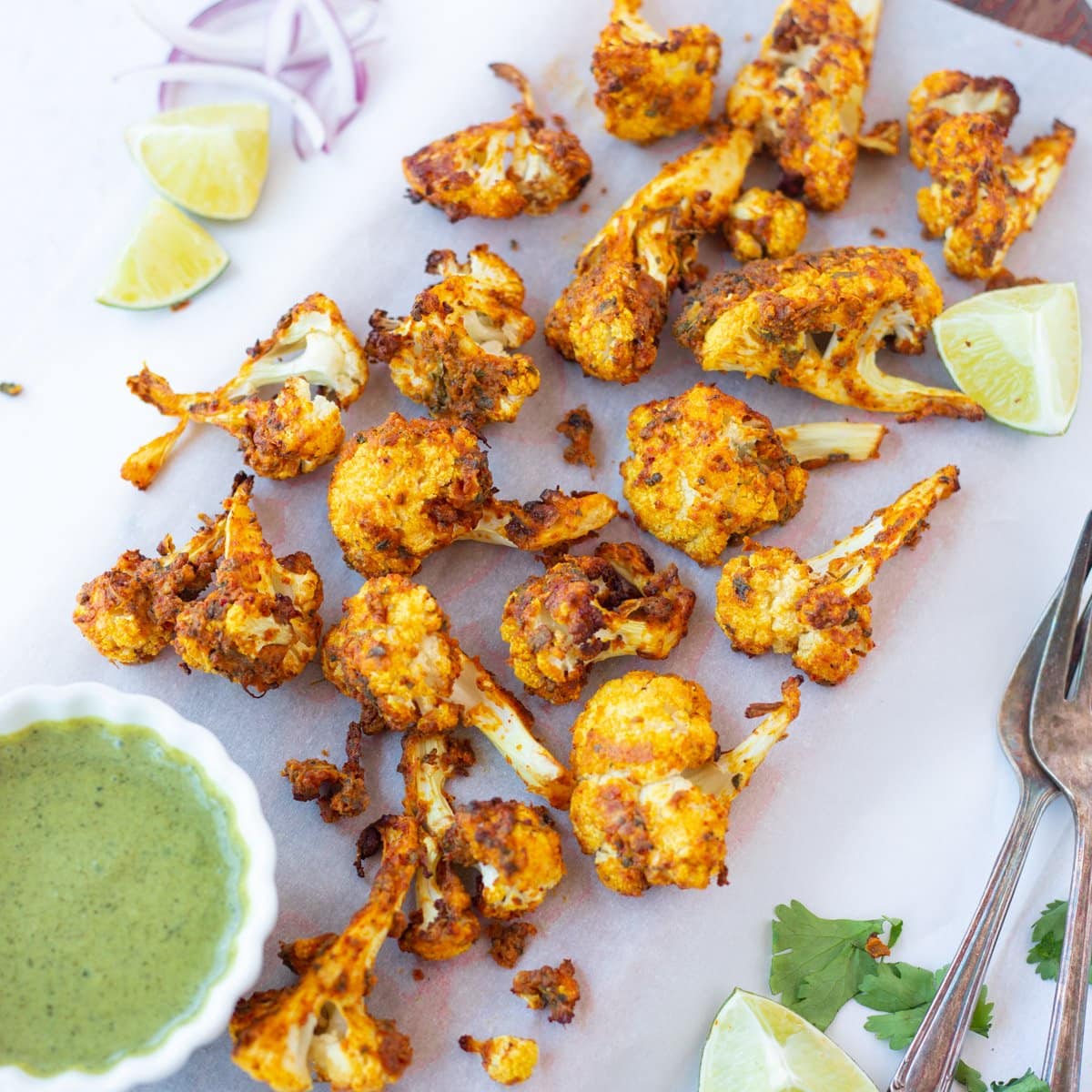 This spiced Tandoori Cauliflower is incredibly easy to make and great in cilantro mint chutney. Serve as a delicious low-carb side dish on your holiday table.
Indian Charcuterie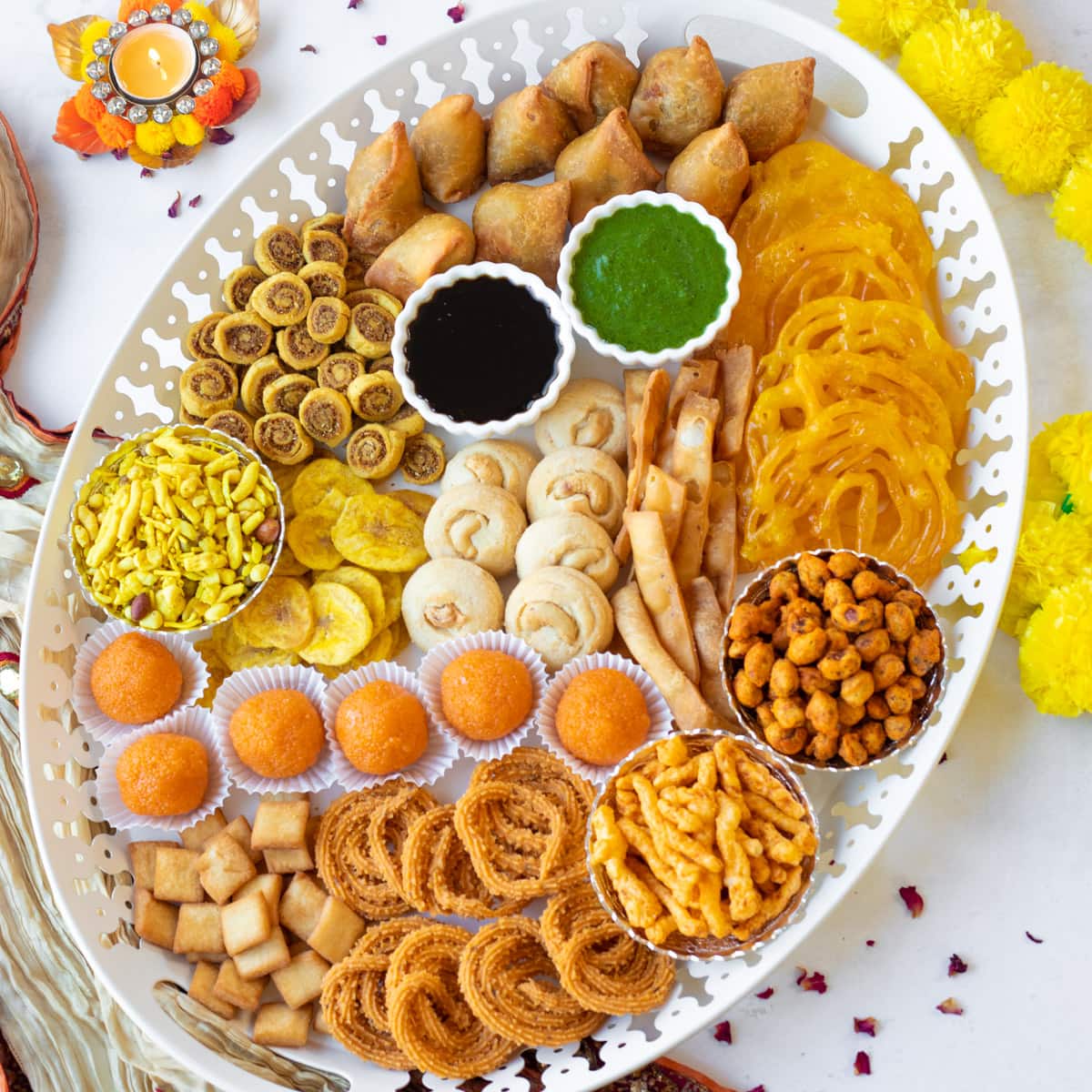 I made this charcuterie for Diwali, however, it would be a great addition to your Indian-inspired Thanksgiving dinner too.
Sides
Bombay Potatoes
Baby Potatoes, cooked with aromatic spices, are perfect for serving as an appetizer or a side dish. These delicious and easy spicy Bombay Potatoes take just 20 minutes to make and are a wonderful addition to the Thanksgiving meal.
Cranberry Chutney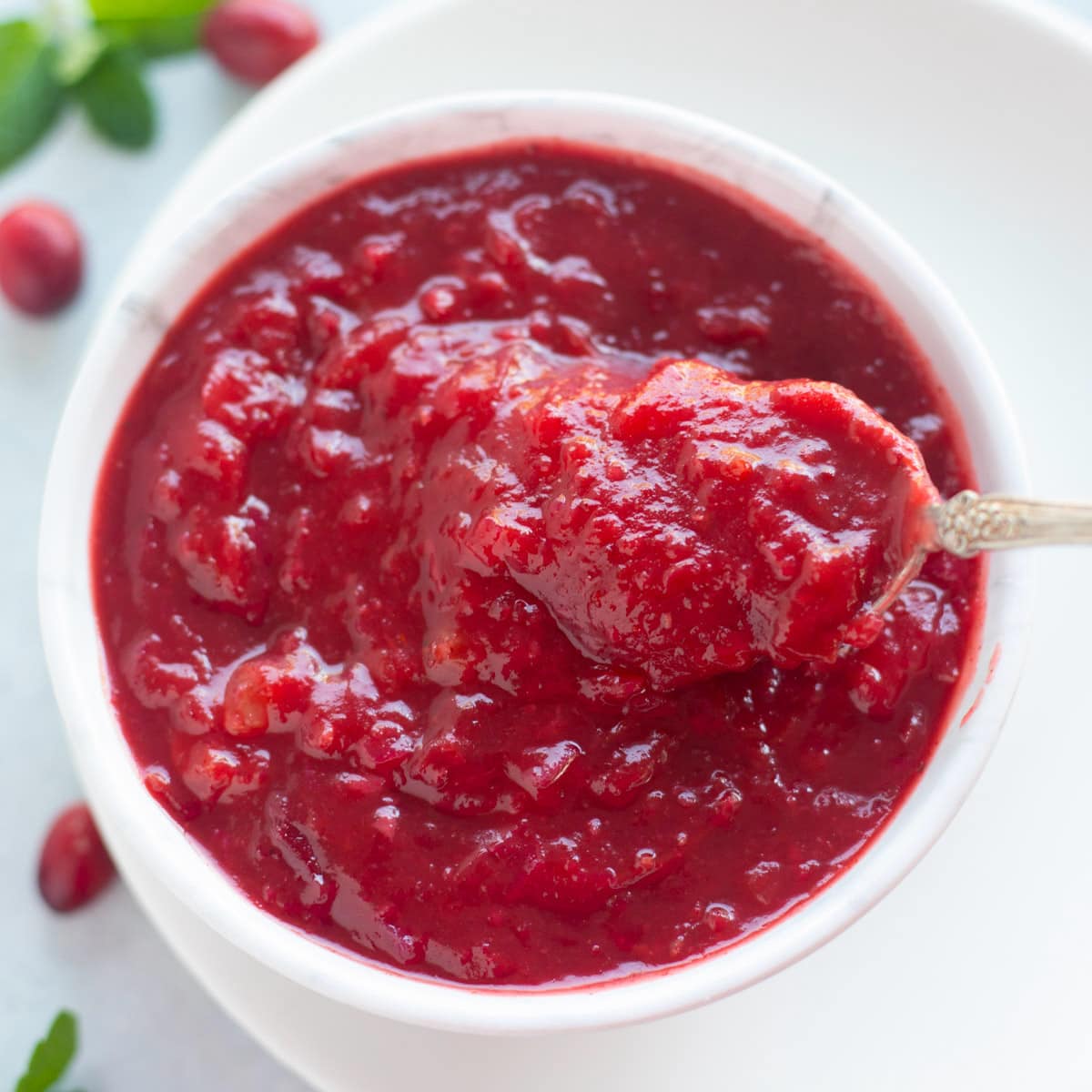 This Cranberry Chutney is sweet, spicy, and tangy. Cranberries, apples, orange juice, and spices are like a flavor explosion in your mouth. It takes only 30 minutes to make in the instant pot or on the stovetop. Serve it with your favorite appetizer or sandwich or on a cheese board!
Curried Mashed Pumpkin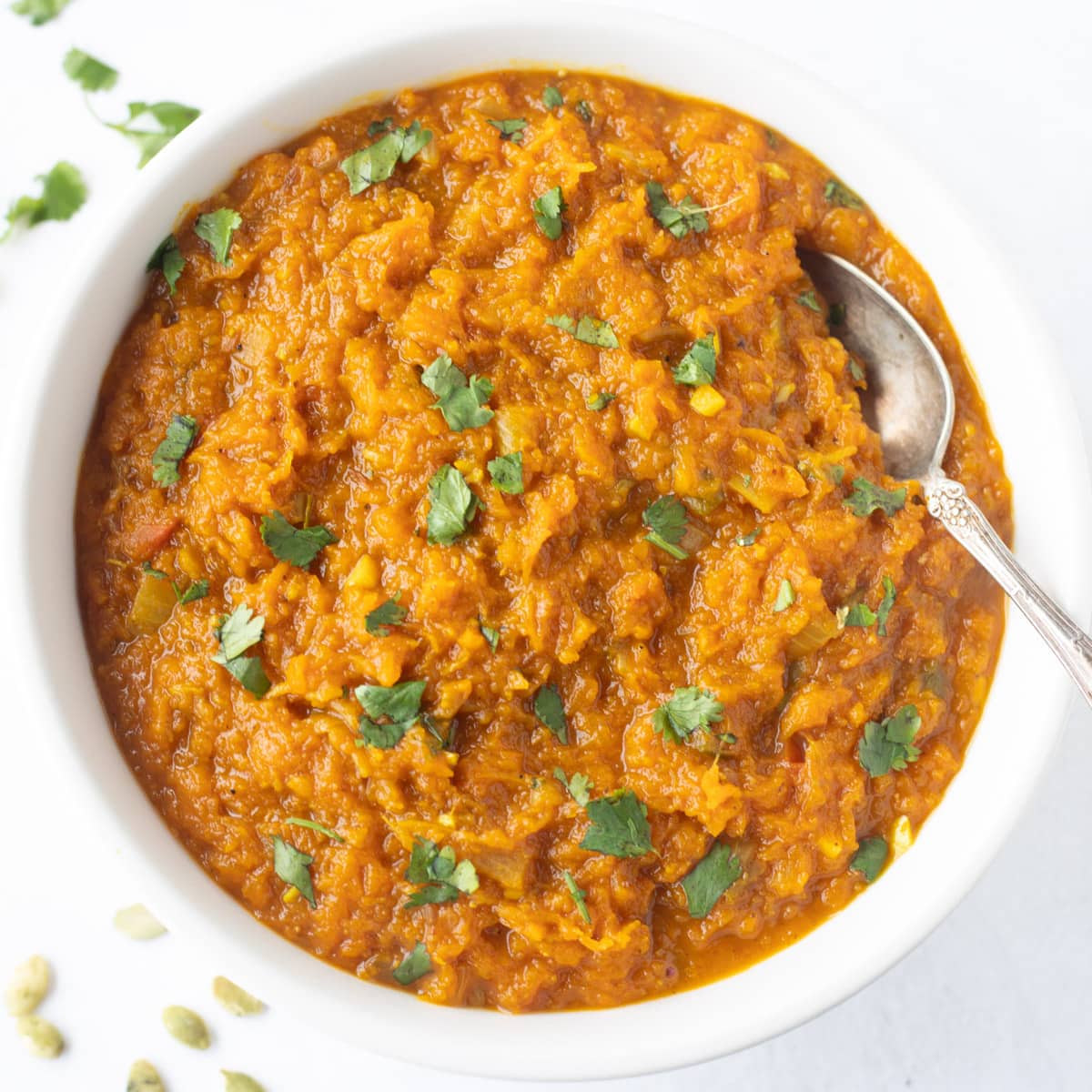 This Indian curried mashed pumpkin is a delicious and healthy vegetable side that can be made in less than 30 minutes.
Turmeric Rice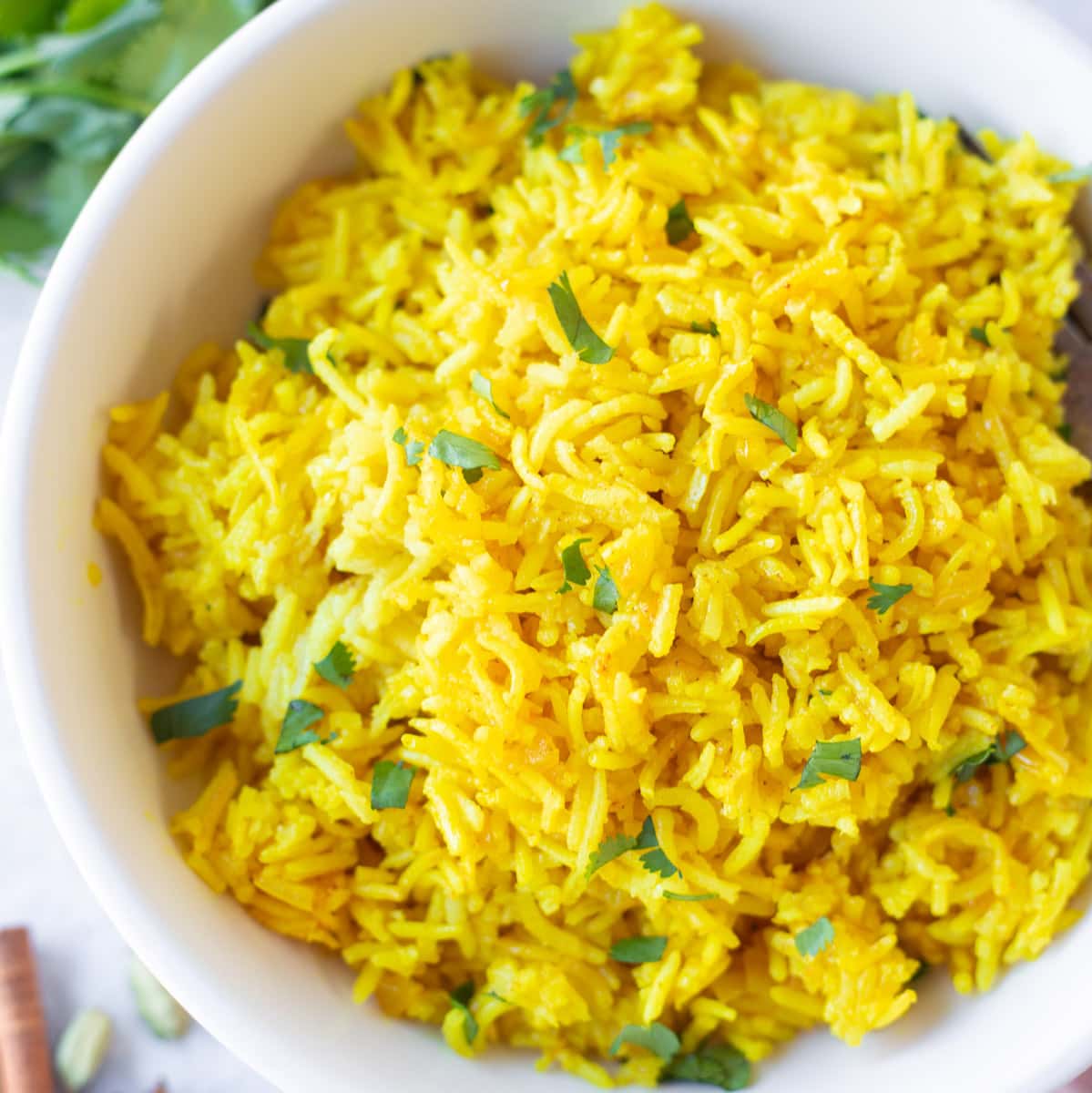 This fragrant and tasty Indian Turmeric Yellow Rice is a great substitute for white rice. Try this recipe to learn how to prepare this bright rice on the stovetop or in the instant pot in no time.
Cucumber Raita
This simple homemade Indian Cucumber Raita is delicious. It's a quick, easy side dish made with grated cucumber, yogurt, and spices.
Mains
Butternut Squash Curry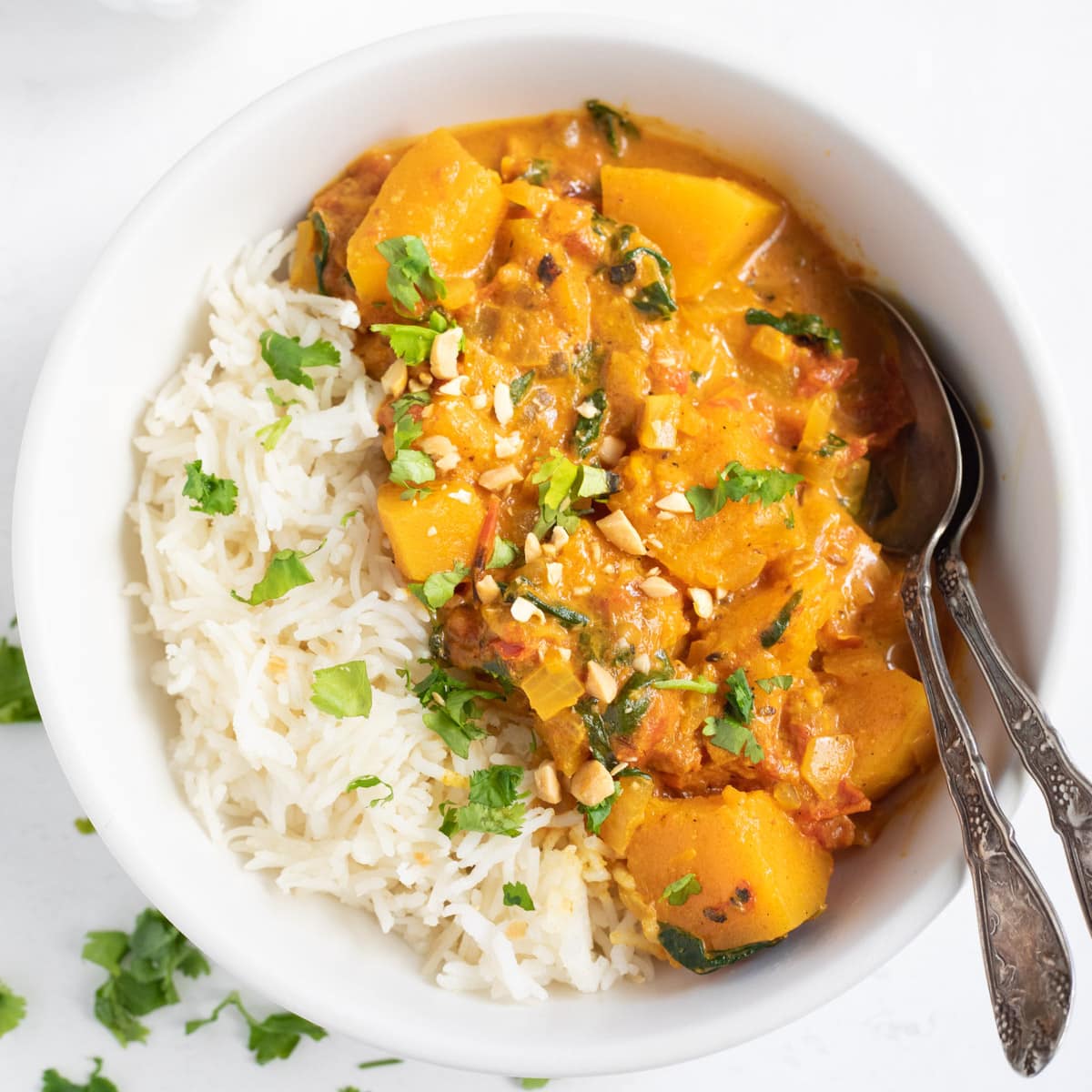 This Butternut Squash Curry is a creamy, vegan curry packed with squash, coconut milk, and spinach. This cozy and delicious curry is ideal for impressing your guests!
Spinach Artichoke Lasagna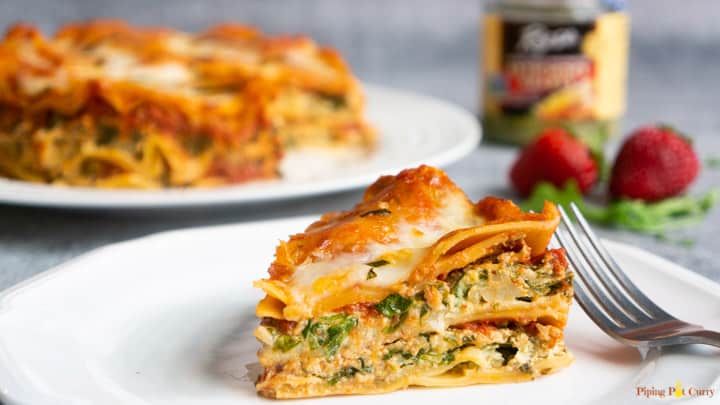 A healthy vegetarian lasagna with lots of fresh spinach, artichokes and cheese layered between noodles. This is an elegant main dish to include to your thanksgiving menu.
Mexican Casserole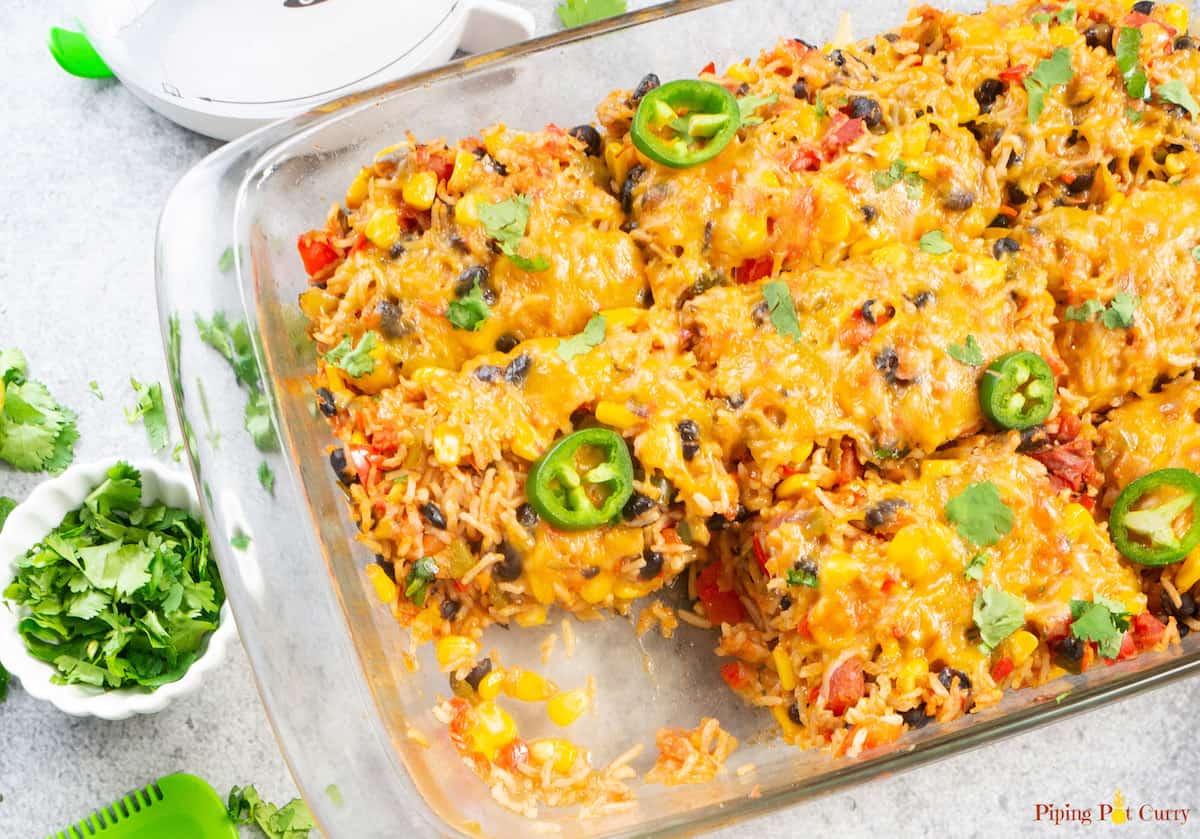 Although not Indian, you will love this fusion Vegetarian Mexican Casserole with Rice & Beans. It is easy to make and filled with cheesy goodness, brown rice, and lots of veggies. It is a great addition to your Thanksgiving meal.
Palak Paneer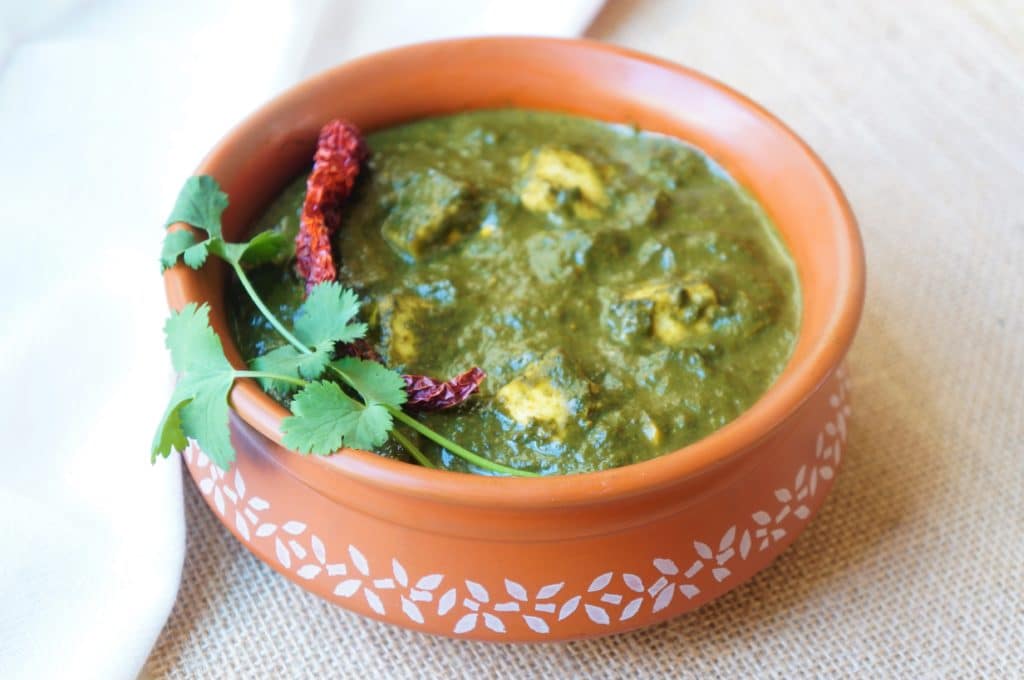 If you are going with traditional Indian dishes, Palak Paneer is on your Thanksgiving menu. Indian cottage cheese is dunked in a curry made with Spinach, ginger, garlic, onions, and aromatic spices. Pair it with Naan bread for a memorable holiday meal.
Coconut Chickpea Curry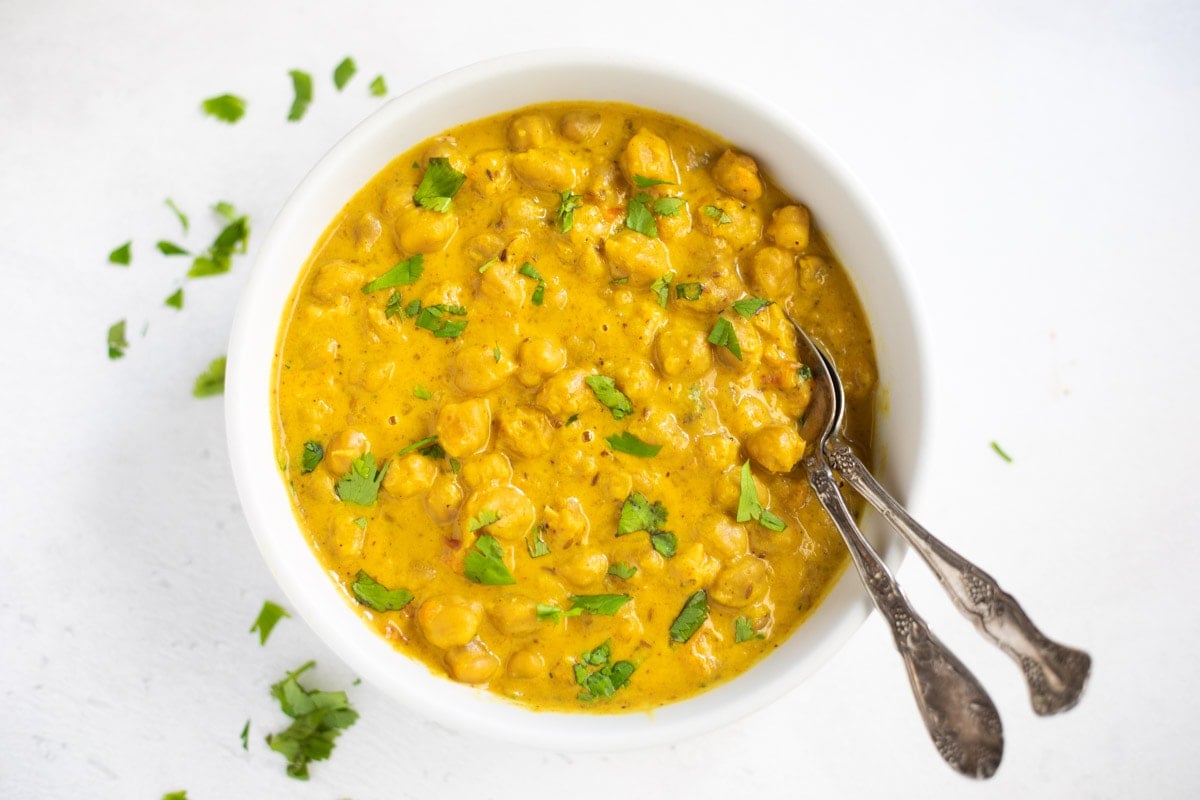 You can't have an Indian dinner without the addition of a chickpea curry. This Coconut Chickpea Curry is an outstanding curry that is simple yet fancy enough to be served for Thanksgiving . It is vegan and nutritious as well!
Desserts
Coconut Pumpkin Halwa
Coconut Pumpkin Halwa, also known as Kaddu ka Halwa, is a pumpkin dessert created in India with pumpkin, sugar, ghee, coconut, and almonds. You will not miss the pumpkin pie after you eat this!
Gulab Jamun Custard Jars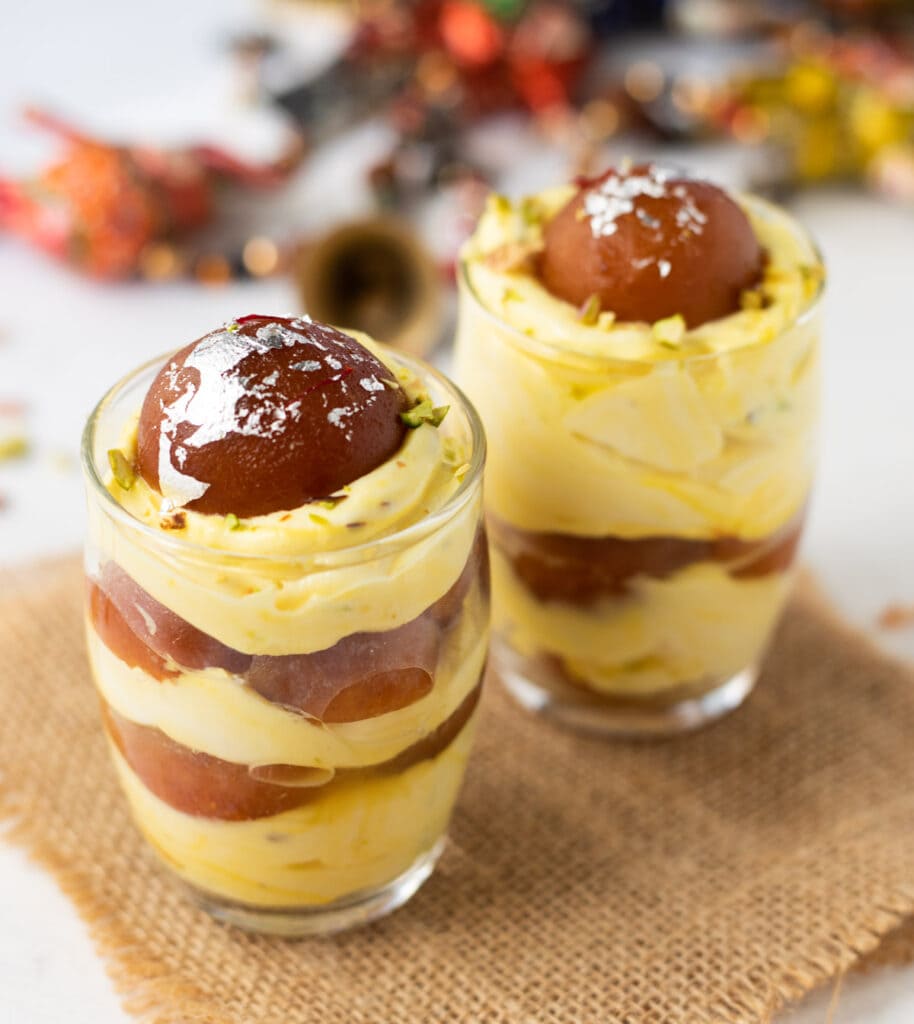 These gulab jamun custard jars is layered with goodness of the cookie crumble, creamy cooling custard and sweet gulab jamun's, adorned with slivered pistachios and rose petals. These unique dessert jars are simple to make and will be the talk of your holiday dinner!
Drinks
Masala Chai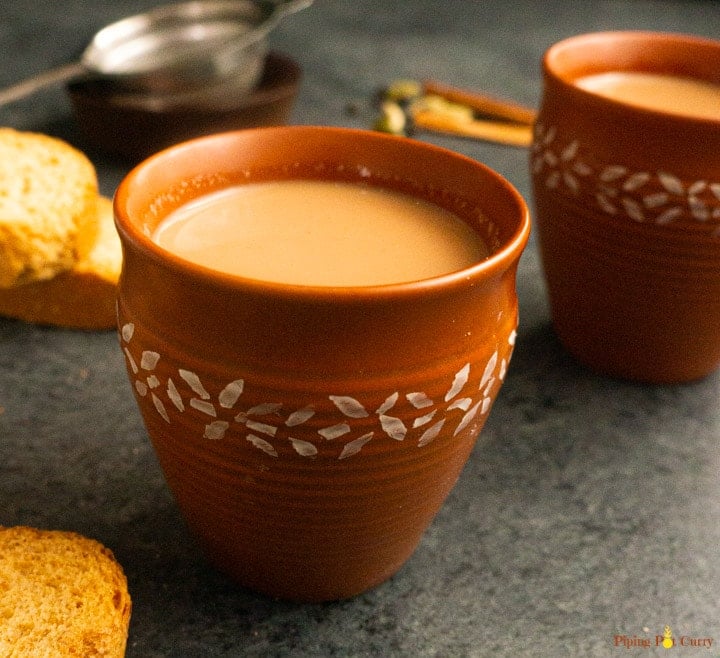 A warm cup of authentic Indian Masala Chai, prepared with aromatic spices and ginger, to refresh and brighten the festive spirit!
Masala Chaat (Spiced Buttermilk)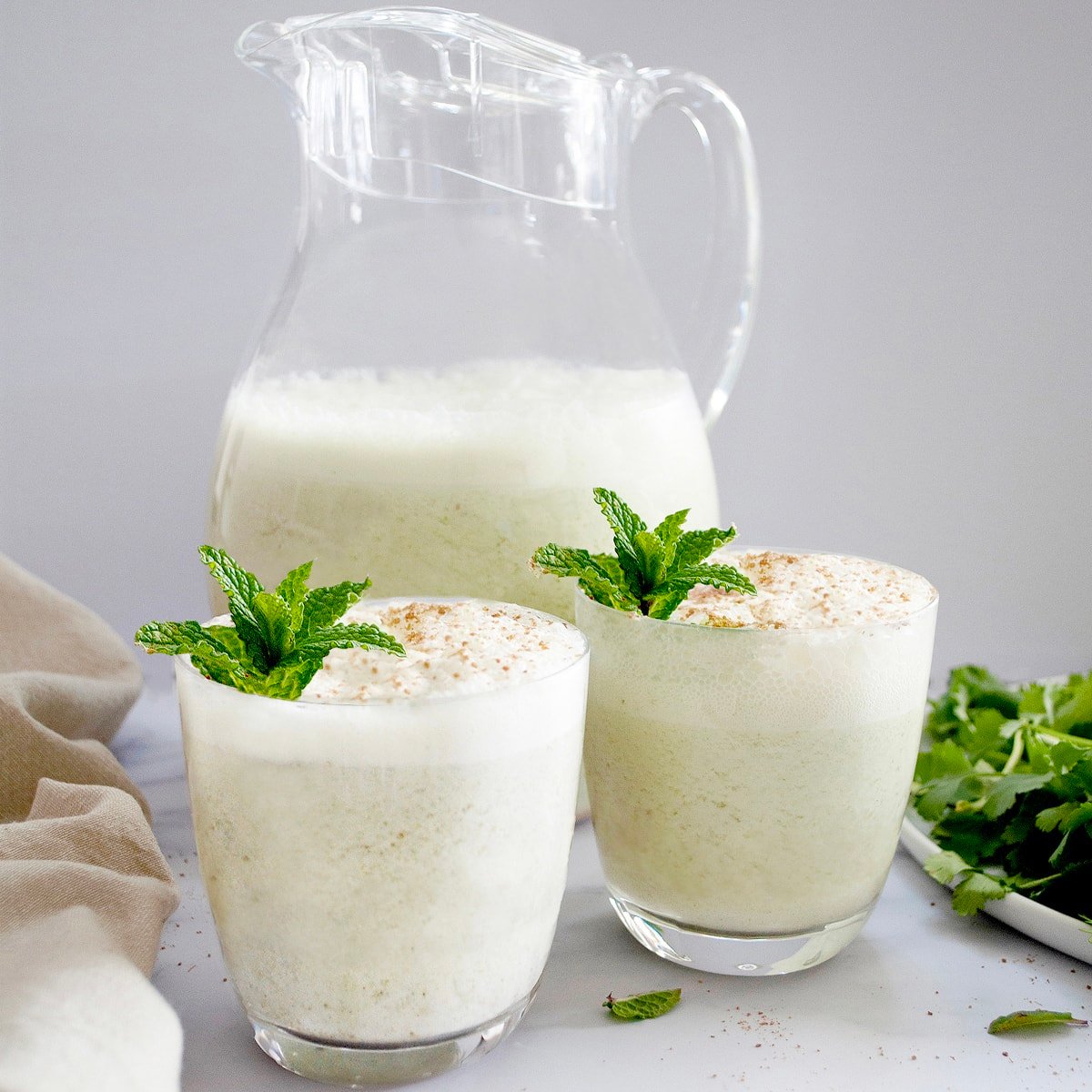 This staple Indian spiced buttermilk drink is refreshing, delicious, and healthy. Made with buttermilk, spices, and herbs, it takes only 5 minutes to make and can be served along with the meal.
How To Plan Ahead?
For a stress-free thanksgiving dinner, you can plan and make a few things ahead to avoid last-minute hang-ups.
Make space in your refrigerator to keep the produce and also leftovers.
Plan your menu and make your grocery list and shop for nonperishables ten days before in advance.
Buy the produce 3-4 days in advance.
Plan to use all your cooking equipment (oven, stove top, air-fryer, instant top) and gadgets so you can multitask and cook a few dishes simultaneously.
You can prepare the cranberry chutney a week before and store it in an airtight container.
You can prepare your soup 3-4 days in advance and freeze it.
You can roast pumpkin and make the puree, and store it for multiple dishes.
Many Indian curries store well when frozen, and you can easily make them ahead of time.
Desserts like Halwa can also be frozen, saving you time if you make them in advance.
Potatoes can be boiled and stored.
The Tandoori marinade can be made ahead of time, and the proteins can be marinated one day before.
Most importantly, delegate responsibilities among family and friends – don't be shy to ask for help!
Our Thanksgiving Menu
I am sharing here our thanksgiving menu. Feel free to print it out to have it handy as you plan your dinner menu.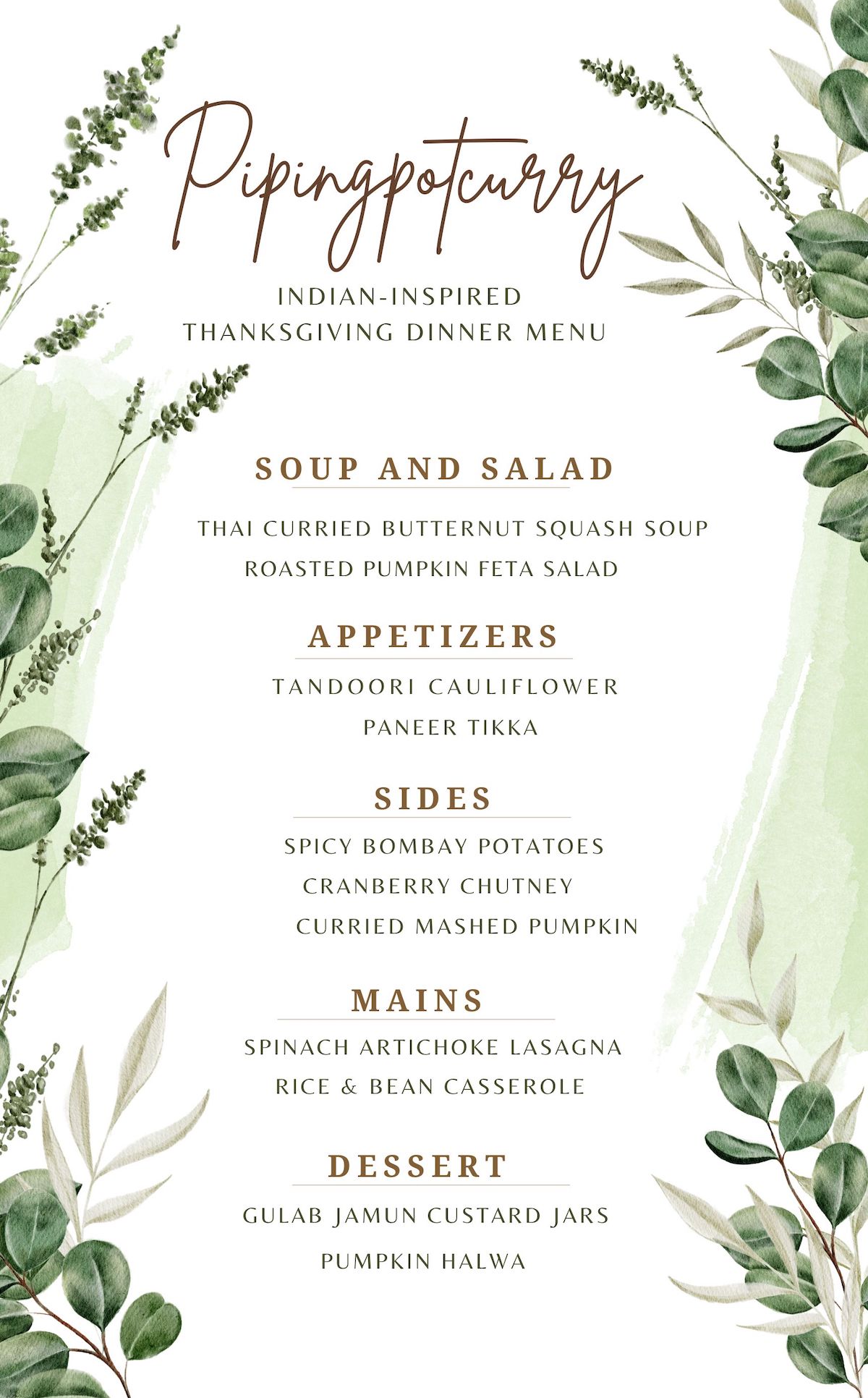 I hope you add an Indian twist to your Thanksgiving meal this year. Just select your recipes, shop for the ingredients and get cooking! And after you've finished your delectable meal, you'll certainly be grateful for a wonderful dinner.
If you loved this menu, do share in the comments below. If a favorite holiday recipe is missing from this list, I would also love to hear about that.
Don't forget to let us know if you have tried these recipes. Share your thanksgiving dinner table photos @PipingPotCurry or #pipingpotcurry
More Recipes you'll love