A mouthwatering sweet balsamic-honey dressing is drizzled on top of this delicious roasted pumpkin salad with feta and walnuts. A delicious hearty salad with wonderful Fall flavors!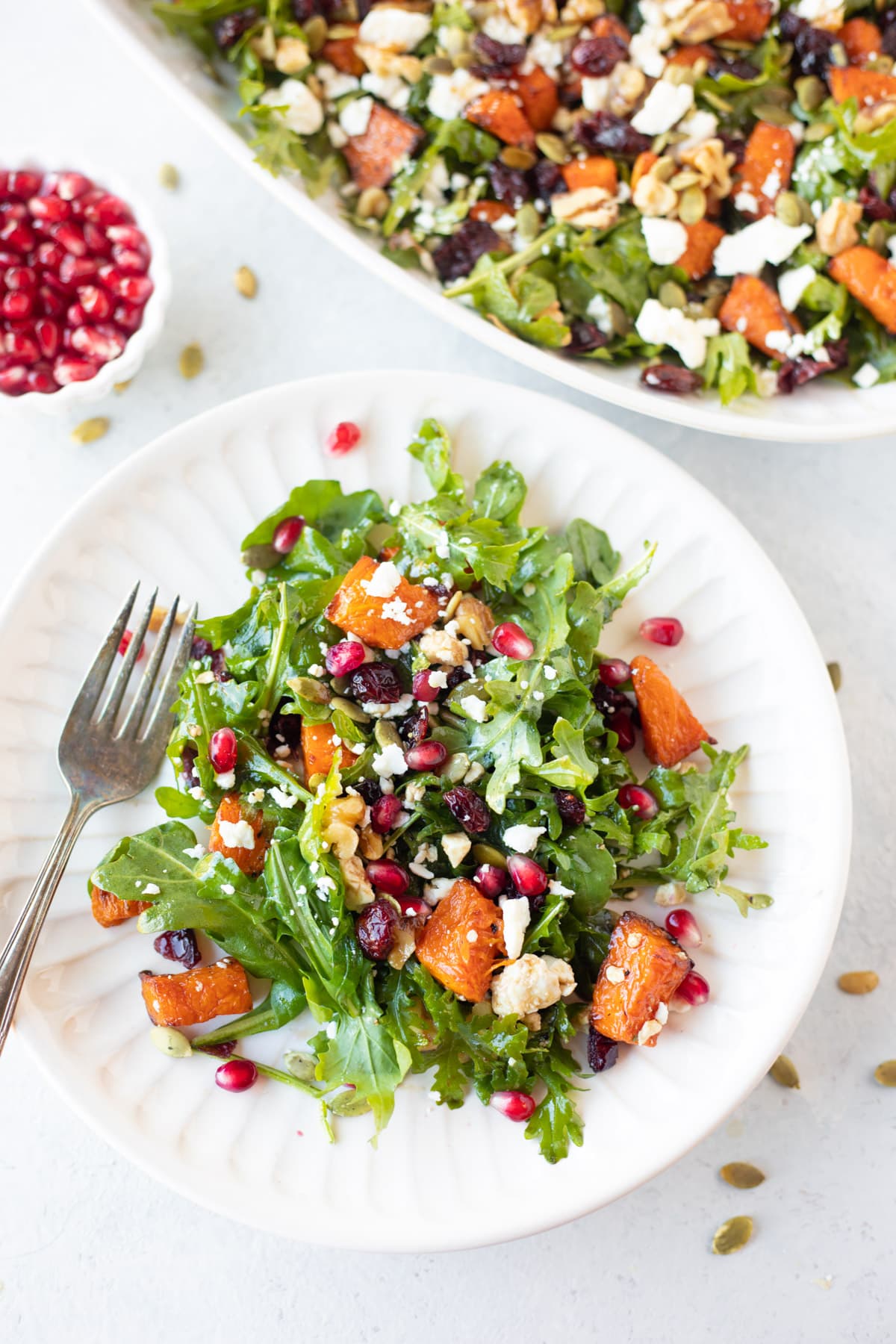 This salad is great as a side dish or as a complete meal on its own. The best part is that you can make the salad components ahead of time.
Fresh salads are a favorite in my family, and for me, it's a win-win if they can be thrown together quickly and easily.
This amazing salad, in my opinion, has the perfect balance of flavors, textures, and colors. It is sweet, salty, acidic, and nutty – all at the same time. Arugula, crumbled feta cheese, crunchy walnuts, pumpkin seeds, and tender caramelized roasted pumpkin add a variety of textures.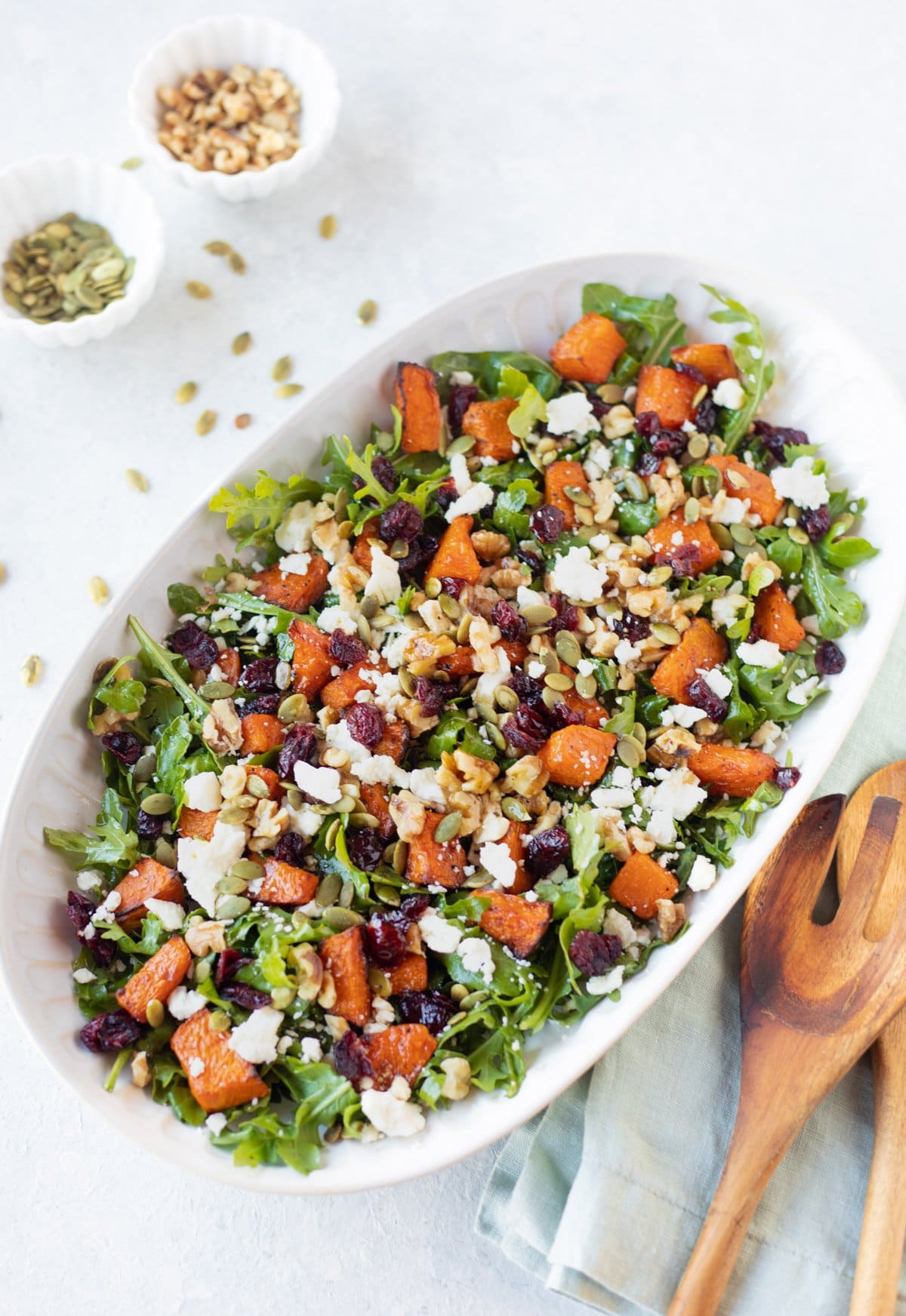 Jump to:
Why You'll Love This Recipe?
Ideal for Fall and Winter
Soft and gooey and crunchy at the same time
Bursting with flavors
Super simple to prepare
This recipe is gluten-free and can be made vegan
Full of nutrients
Easily customizable
You can serve it for BBQs, everyday dinners, or holiday meals.
Ingredients
You need a few simple ingredients – most of them are already in your pantry.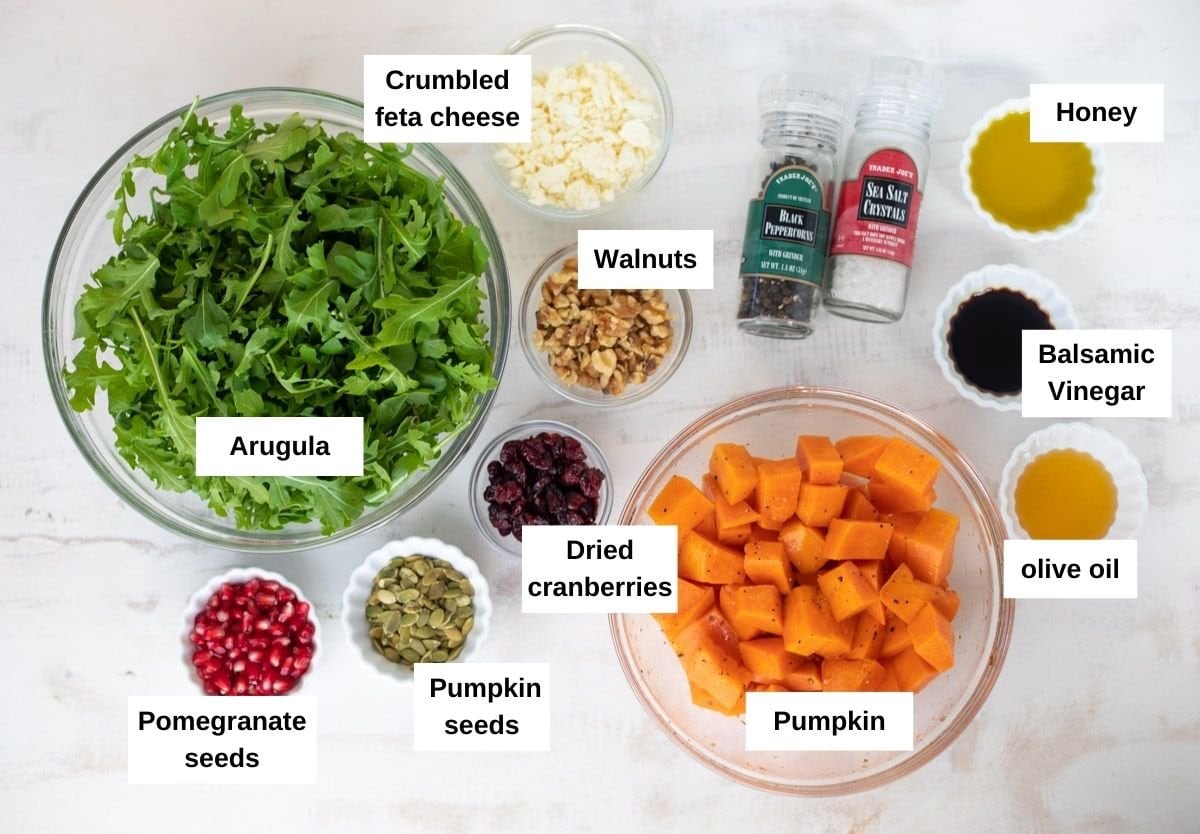 Roasted Pumpkin: You may use any pumpkin for this dish, or even butternut squash.
Arugula: Arugula adds a slightly tart and peppery flavor that balances out the sweetness of the pumpkin.
You can use any greens of your choice. Baby spinach tastes great. You can also use 1:1 of arugula and baby spinach. You can use spring green mix. Kale is an amazing addition to this salad too.
Walnuts: Walnuts add a nutty, earthy taste to the salad.
Cranberries: Add color and sweetness.
Feta: Feta adds a lovely soft and creamy element to the salad.
Extra Virgin Olive Oil: The ideal oil for dressings is extra virgin olive oil since it adds a unique peppery taste to the dish.
Balsamic Vinegar: It adds sweetness and a rich, smooth feel to the dressing. It adds a distinctive bold flavor to the salad.
Honey: This enhances the sweetness of the dressing. You can also use maple syrup in place of honey.
Lemon Juice: Freshly squeezed lemon juice provides a tang to the dressing.
Pumpkin Feta Salad – Health Benefits
Some health benefits of the main ingredients of this salad:
All types of pumpkin and squash are healthy due to their high concentration of carotenoids, which fight cancer and promote skin health.
Arugula is an excellent source of micronutrients. It contains a lot of beta-carotene, vitamin C, folate, vitamin K, and magnesium. Arugula's nutrients support the body's circulatory, neurological, and digestive systems providing several health advantages.
Walnuts are rich in antioxidants and omega-3 fatty acids. They are known to lower the risk of heart disease and cancer and boost brain function. You can also use pecans in this salad if you prefer.
Cranberries are rich in antioxidants and play an important role in reducing inflammation and boosting immunity.
Feta is a great source of calcium, magnesium, and phosphorus. Various health benefits include blood pressure regulation, digestive health improvement, and heart and bone health promotion.
One of the healthiest fats is olive oil, a Mediterranean diet's mainstay. It has a lot of healthy fatty acids, antioxidants, and vitamins E and K.
Source: USDA
How To Make?
Step 1: Roast The Pumpkin
The pumpkin should be cleaned and cut into small cubes. Toss the cubed pumpkin in a large mixing bowl with the olive oil, salt, and pepper. On a baking sheet, spread them and bake till tender.
You can also roast pumpkin in the air fryer. It is quicker, and a favorite way to roast pumpkin cubes.
Step 2: Make the Dressing
To make the dressing, shake together all ingredients mentioned under the dressing. It can be mixed in a small mason jar. It can also be prepared in a mixing bowl using a whisk.
Step 3: Assemble and Combine
Add the greens to a large bowl or platter. Drizzle some dressing and mix.
Spread the roasted pumpkin, walnuts, feta, cranberries, and pumpkin seeds on top.
Drizzle the vinaigrette dressing over the salad, and enjoy!
This salad is perfect for a thanksgiving or Christmas meal. Perfect fall flavors, and a gorgeous red-green-orange color!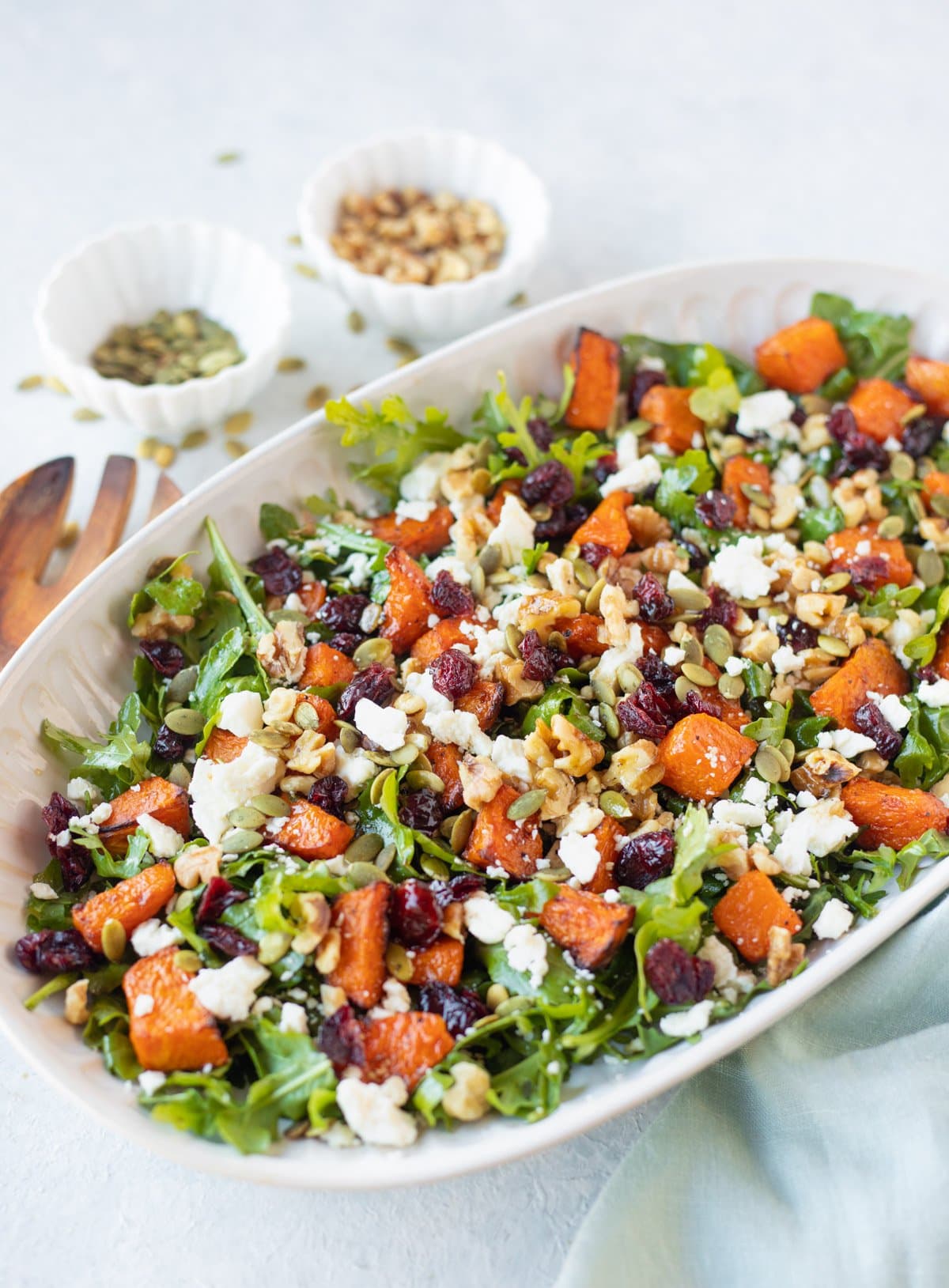 Variations
This is a versatile recipe; you can try so many variations.
Nuts: Replace the walnuts with pecans. You can also use slivered almonds. I love roasted pine nuts on my salad- they are creamy and have a distinct flavor.
Pomegranate seeds: No cranberries – don't fret! Use pomegranate seeds for the amazing texture, taste and pop of color.
Cheese: Swap feta with goat cheese or gorgonzola adds a great twist. You can even add cubes of paneer (Indian cottage cheese). If you are vegan – skip the cheese or use any plant-based cheese.
Butternut squash/ Sweet Potato: A fantastic alternative to the pumpkin that is always easier to procure is butternut squash. Sweet potatoes, instead of pumpkin or squash, make a delicious salad.
Grains: Add quinoa or couscous to add bulk for a hearty meal.
Pro-Tips
You can serve it at room temperature or warm. I like mine warm, especially on winter nights – If you want to serve this salad warm, add the pumpkin straight from the oven. If you want your salad to be at room temperature, allow the pumpkin to cool before adding it.
Cut the pumpkin into even cubes. This will ensure uniform roasting.
The pumpkin should be soft and have a lovely golden color. Do not overcook as it can turn mushy in the salad.
Because ovens can vary in temperature, the amount of time it takes to roast a pumpkin can also vary.
You can easily adjust the recipe if you are making it for a bigger group.
You can roast the pumpkin chunks up to two days ahead of time.
I suggest you roast the nuts slightly for a deeper nutty flavor.
This dressing can also be made up to two days ahead of time and stored in the refrigerator.
Add the dressing only when serving, else the salad will turn soggy.
What To Serve With?
Soup and Salad is the perfect meal. Serve this pumpkin salad with any soup of your choice. Some inspirations are – Instant Pot Mushroom Wild Rice Soup, Broccoli Cheddar Soup, or Lemon Chicken Orzo Soup.
The combination of pasta with salad can never go wrong. Try some pasta recipes – Spaghetti with Pesto, Penne in Tomato Cream Sauce, and Lemon Parmesan Orzo.
Serve it with some plain grilled chicken or fish, or tofu.
This salad becomes the ideal Thanksgiving side dish along with Turkey.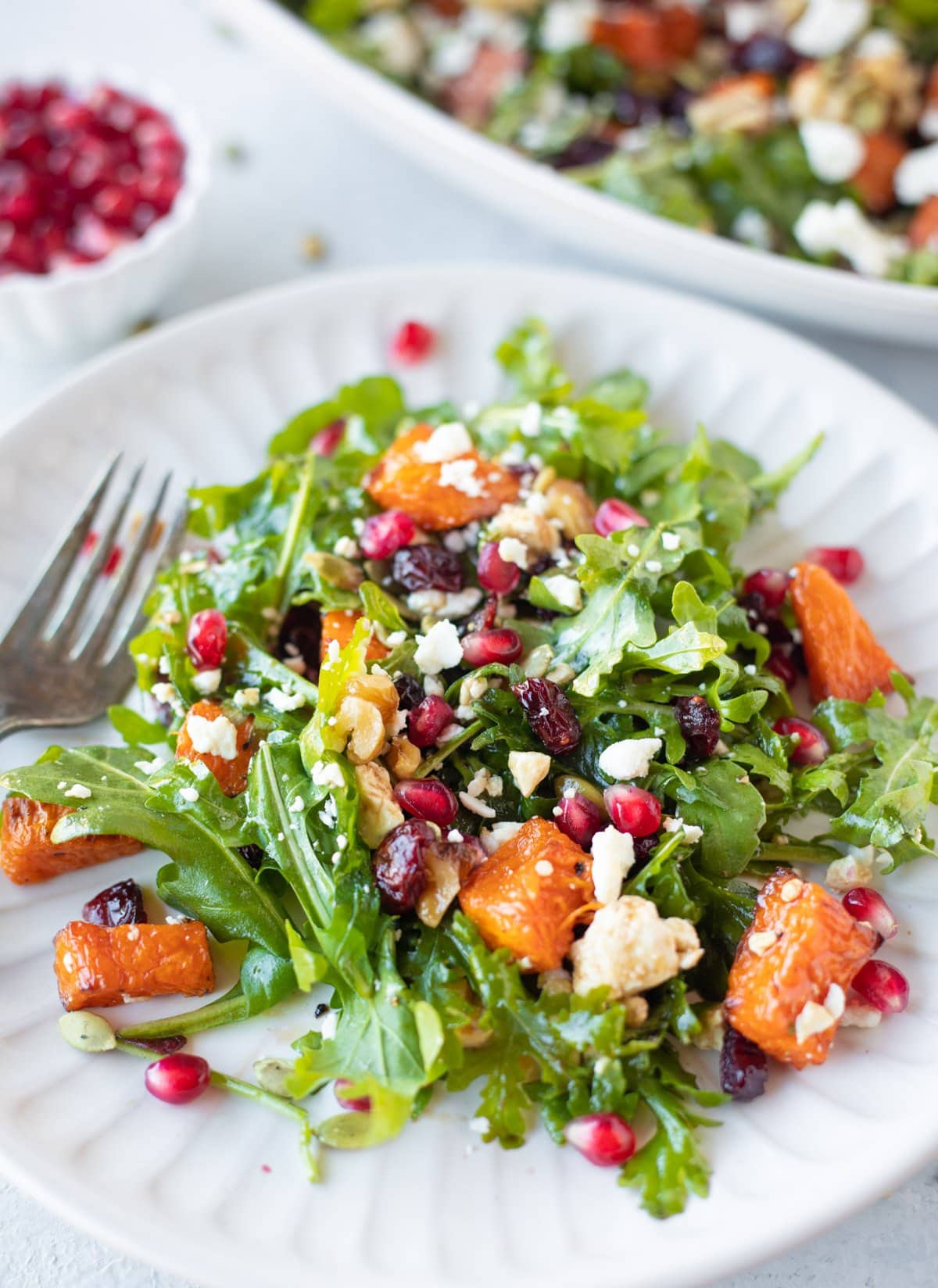 How To Store?
I recommend not storing any leftovers, as the dressing can make the salad soggy.
But if you want to make it ahead and refrigerate, you can store the salad ingredients and dressing separately in the fridge for up to 2 days. Combine everything just before serving. This way, the salad will turn mushy, and the leaves will be crunchy.
Commonly Asked Questions
Can this salad be made nut-free?
Yes, eliminate the walnuts from the recipe.
When should the dressing be added?
Pour the dressing over the salad and toss the ingredients right before serving, or your greens will lose their texture and turn soggy.
Can I use store-bought dressing?
Certainly! You can use a store-bought dressing of your choice. I prefer homemade dressings, though, and it doesn't take long to make them.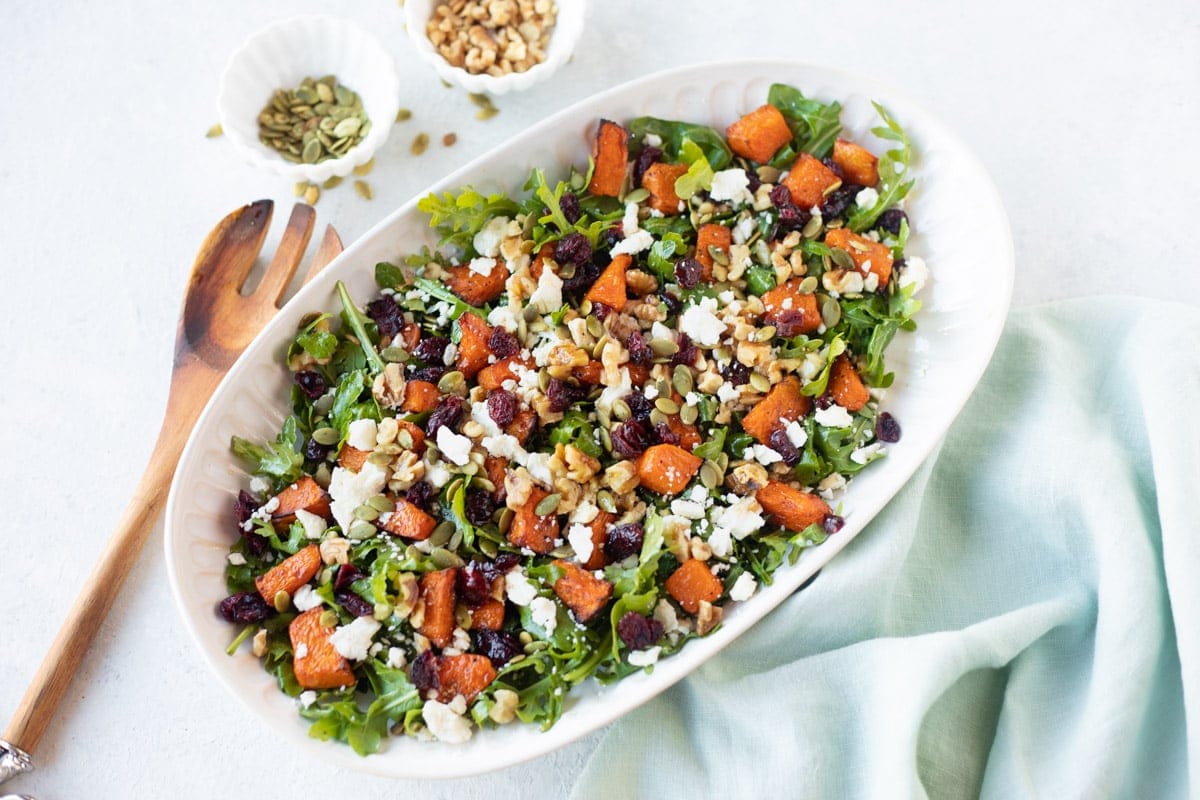 More Healthy Pumpkin Recipes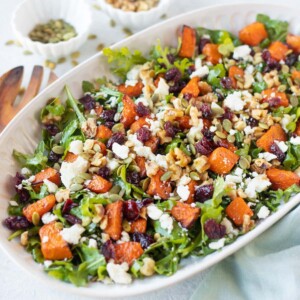 Pumpkin Salad (with Feta & Walnuts)
A mouthwatering sweet balsamic-honey dressing is drizzled on top of this delicious roasted pumpkin salad with feta and walnuts. This fall salad is great as a side dish or as a complete meal on its own.
Ingredients
Instructions
Preheat the oven to 400°F.

Toss the cubed pumpkin in a bowl with olive oil, salt and pepper.

Spread the pumpkin onto the baking sheet and roast in the oven for 25-30 minutes. Half way through remove from oven and flip. Then remove and let cool.

To make the dressing, mix the olive oil, balsamic vinegar, honey, lemon juice, salt and pepper together in a cup or a jar. Shake well!

In a large mixing bowl or serving platter, add the arugula leaves. Drizzle a little dressing and toss.

Spread the roasted pumpkin cubes, feta, walnut, dried cranberries, and toasted pumkin seeds .

Drizzle the dressing onto the salad. Toss gently when serving. Enjoy!
Notes
Pumpkin: You can use either pumpkin or butternut squash for this salad.
Do not over roast: When roasting pumpkin, you want to make sure that you don't roast for too long, as the pumpkin can become mushy and won't hold well in the salad.
Variation: We also love this salad topped with pomegranate seeds, in place of cranberries. You will love the pop of color too.
Nutrition
Calories:
277
kcal
Carbohydrates:
21
g
Protein:
5
g
Fat:
21
g
Saturated Fat:
4
g
Polyunsaturated Fat:
4
g
Monounsaturated Fat:
11
g
Cholesterol:
11
mg
Sodium:
445
mg
Potassium:
526
mg
Fiber:
2
g
Sugar:
14
g
Vitamin A:
10405
IU
Vitamin C:
14
mg
Calcium:
128
mg
Iron:
2
mg