This creamy, vegan, and gluten-free roasted pumpkin soup is the finest way to enjoy the pumpkins during the fall and the holiday season.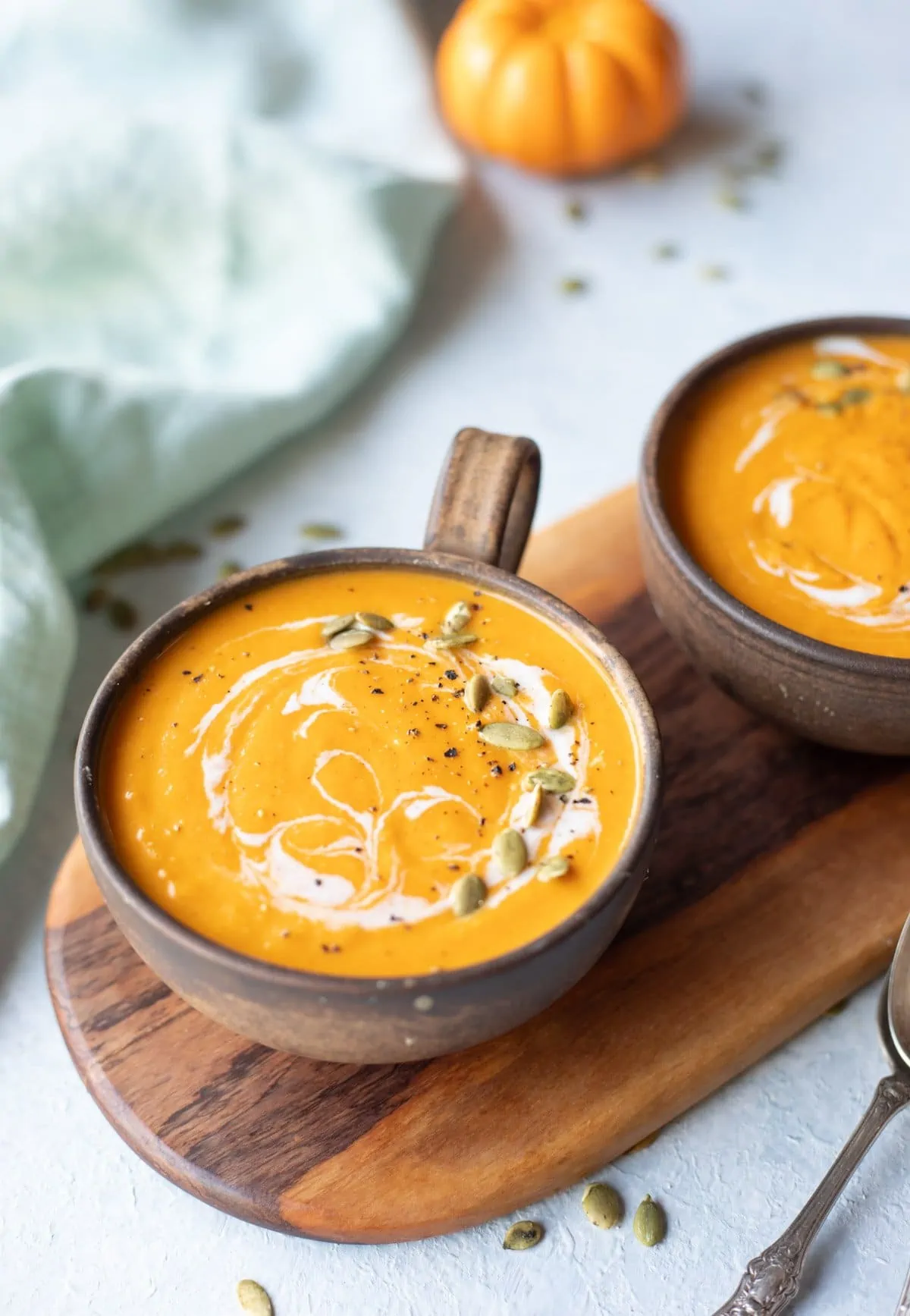 Planning your thanksgiving dinner? Whether it's a cozy meal for your family or a big gathering - you can make this simple and easy soup as an appetizer.
Soup is the ideal first course to serve your loved ones because it is filling and just soooooooo good!!
When the weather starts to change, and as it gets chilly, there's something genuinely comforting about eating a bowl full of wonderful goodness. That is why roasted pumpkin soup is your excellent choice for the holiday season.
Roasting the pumpkin enhances its sweetness and brings out the flavors. It imparts a distinct, smokey flavor that is difficult to resist. It also softens and smoothes the pumpkin flesh, making it ideal for soup or puree.
Jump to:
Here's Why You Need to Make This Pumpkin Soup?
Halloween is done, but it's still the pumpkin season
The roasted pumpkin is a taste explosion of sweetness and savor!
At Thanksgiving or Christmas, you can serve it as the main course or as an attractive appetizer.
It freezes well
It is comforting for chilly nights.
It's incredibly nutritious and vegan
It is kid friendly!
Ingredients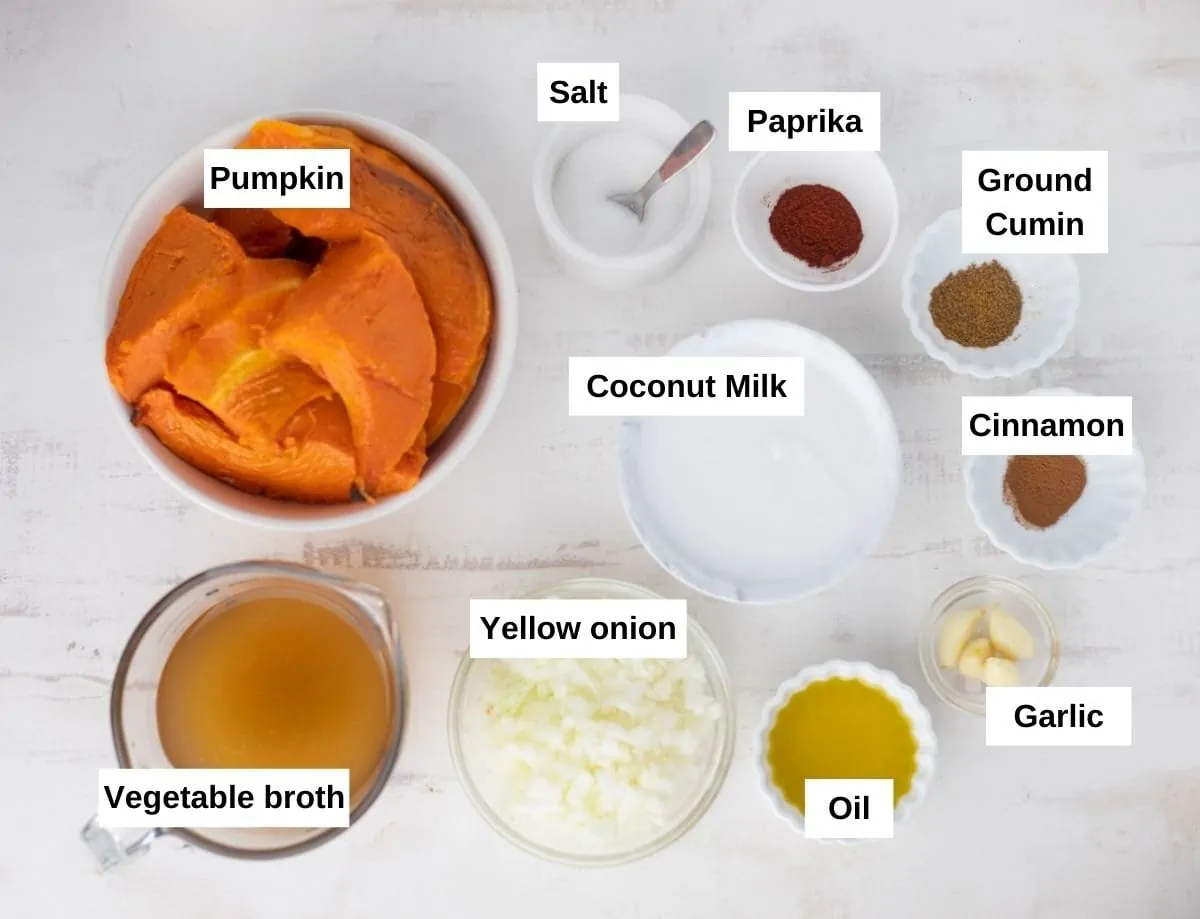 Pumpkin: halved and seeded pumpkin or butternut squash can be used. When using canned pumpkin, the soup won't have the same sweet, roasted flavor as a fresh pumpkin!
Aromatics: Yellow onion and garlic bring out the aroma of this soup
Vegetable Broth: You can use store-bought or make your own. If I am using readymade, I go for the low-sodium one. Also, you can use water if you don't have broth.
Coconut Milk: It adds richness and creaminess to the soup without the use of heavy cream or dairy, and this is what makes this recipe completely vegan and dairy-free! I use full-fat, canned coconut milk.
Spices: Ground cumin, paprika, ground cinnamon, and black pepper are the simple spices you will need.
Pumpkin Seeds: roasted pumpkin seeds add a crunch to the soup.
Oil: I prefer avocado or olive oil, but you can use any neutral-tasting oil.
How To Make?
Just follow the step-by-step instructions and enjoy an effortless dinner.
Roast: Peel and cut the pumpkin into smaller slices, spray with oil, and sprinkle salt and pepper. Place in the oven and roast for about 40 minutes.
Simmer: Once the pumpkin is roasted, saute the onion and garlic in a pot. Add pumpkin pulp, spices, and broth. Let the soup simmer for 8-10 minutes.
Blend: Blend the puree using an immersion blender.
Add in the coconut milk and give it a stir. Simmer for another few minutes.
Garnish with pumpkin seeds and coconut milk. Enjoy!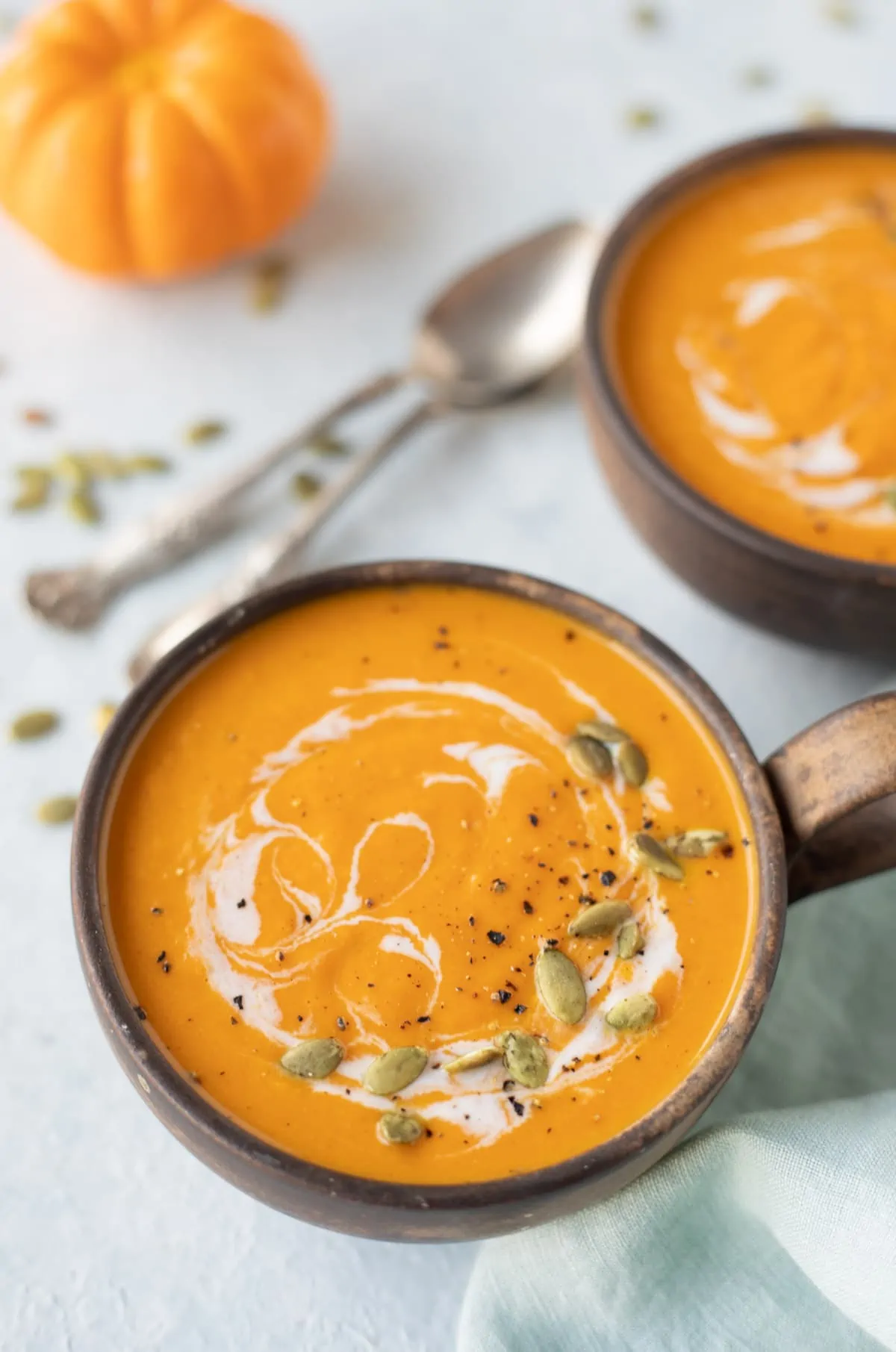 Pro Tips
SAVE the seeds - Do not throw them. Wash them, roast them in the oven, add your favorite seasoning, and enjoy them as a delicious snack. Here is my air fryer pumpkin seeds recipe.
You can also roast the pumpkin in the air fryer.
If you have roasted pumpkin ready ahead of time, you can have the soup ready in a few minutes- making it a breeze for busy weeknights.
You can also use canned pumpkin puree to make this soup. You'll still want to blend the soup for the best texture, even using canned pumpkin puree.
Once you have added the coconut milk, do not cook the soup for a long time.
Blend: Allow the hot liquid to cool down if you are not in a rush before transferring it to the blender. When using an immersion blender, blend carefully to avoid hot splatters.
If you are not following a vegan diet, you can use heavy whipping cream, full-fat milk, or half-and-half instead of coconut milk.
Variations
When roasting, you can add onion, garlic cloves, and herbs of your choice along with the pumpkin - oregano, rosemary, thyme, etc.
Some other variations for additional veggies or herbs you can add when making this soup -
roasted carrot
roasted bell pepper - use orange or red ones
roasted celery
roasted zucchini
Basil
Ginger
Indian spices - cumin, red chili powder, turmeric, curry powder
Add some orange juice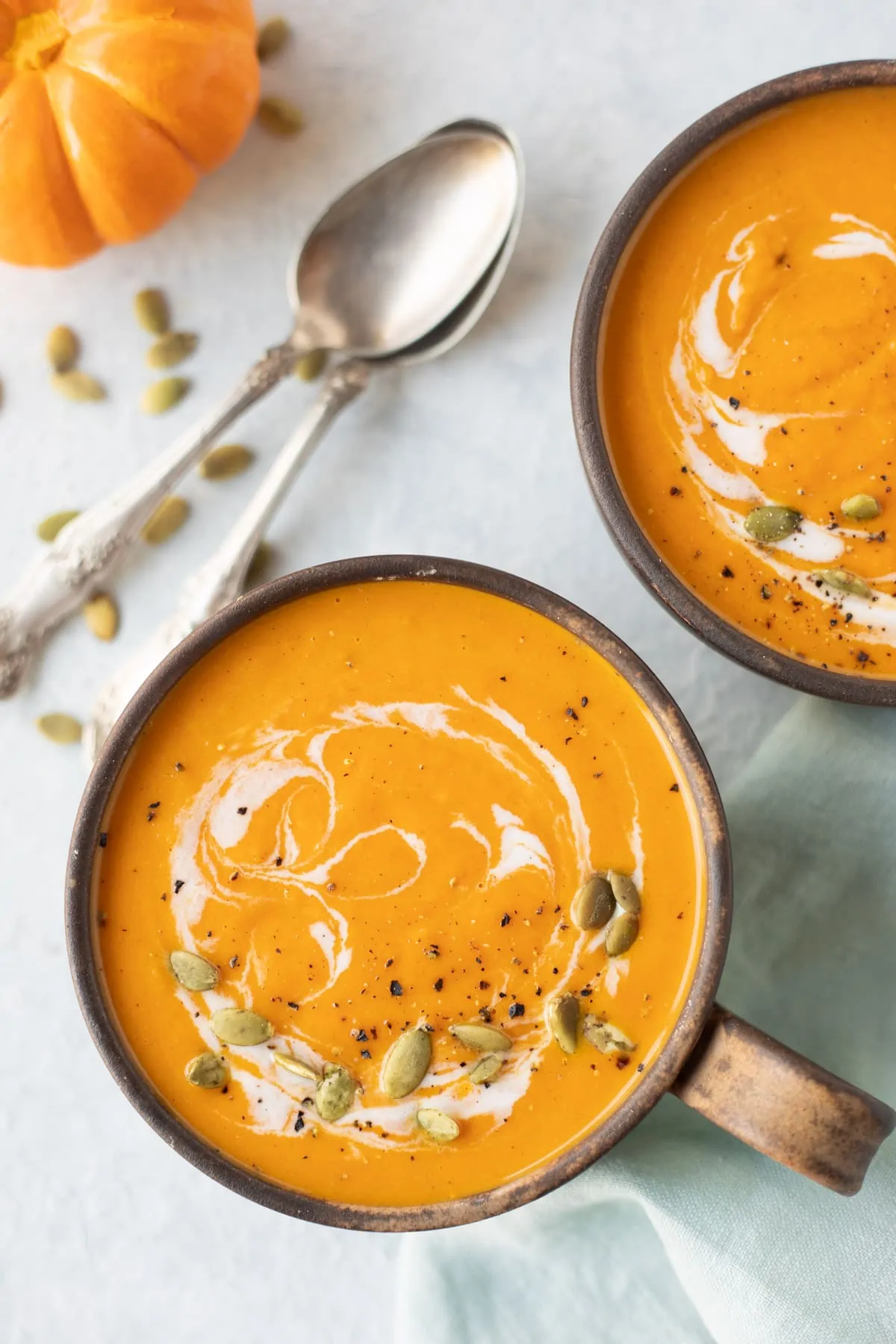 Substitutions
Pumpkin: If you can't find fresh pumpkins, substitute them with butternut squash or Kabocha squash.
Canned pumpkin: You can also use pureed canned pumpkins. Instead of roasting the pumpkin, you can substitute 2-3 cans of pumpkin purée (15 ounces each). Adjust the quantity to the thickness of the desired soup.
Serving Suggestions
Soup is great as an appetizer or a meal! It is quite satisfying on its own.
Serve roasted pumpkin soup with garlic bread, focaccia bread, or breadsticks. I love my soup with crusty croutons!
Eat it with a grilled cheese sandwich for a satisfying meal.
Roasted potatoes or chicken wings taste great with pumpkin soup.
Pair it with a hearty salad. Some inspirations - Pesto Orzo Salad, Healthy Chickpea Salad, or Avocado Cucumber Tomato Salad.
Serve it on your Thanksgiving holiday table along with turkey and other sides.
How To Store?
Any leftovers of this roasted pumpkin soup, keep well in the refrigerator for 3-4 days. The leftovers taste better the next day. You can easily make a batch in advance.
You can even freeze this! Just pour it into a freezer-safe, airtight container and freeze it for up to 3 months.
When ready to eat, reheat on the stovetop or in the microwave. If frozen, thaw the soup first.
Is Pumpkin Soup Good for You?
Yes! This pumpkin soup is healthy as we use basic and fresh ingredients. Pumpkin is extremely nutritious because it contains vitamins, minerals, and antioxidants. These nutrients in pumpkin improve your immune system, safeguard your vision, reduce your chance of cancers, and enhance heart and skin health.
Coconut milk is an excellent source of electrolytes and medium-chain triglycerides. It is known to maintain heart health and improves the immune system.
Can I make this soup without roasting the pumpkin?
Yes, if you do not want to roast the pumpkin, you can cook chopped pumpkin pieces with onion in a pan on a stovetop for about 15 minutes until the pumpkin is tender enough to be pureed. But if you try this roasted pumpkin soup once, you'll fall in love with it.
Also, check out my instant pot curried pumpkin soup recipe.
Don't I have to peel the pumpkin before roasting it?
You absolutely can if you wish to. But this roasting method with the peel saves time. Once the pumpkin is roasted, the peel comes off easily. So it is much more efficient if you roast pumpkin in large quantities.
More Recipes You Will Love
📖 Recipe
Tried this recipe?
Give a rating by clicking the ★ below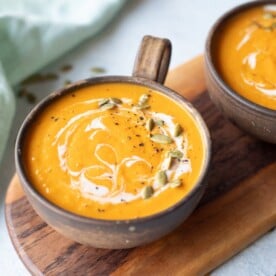 Roasted Pumpkin Soup
This creamy, vegan and gluten-free roasted pumpkin soup is the finest way to enjoy the pumpkins during the fall and the holiday season.
Ingredients
2

pounds

Pumpkin

peeled, seeded and cut into 1-2 inch pieces, about 6 cups

2

tablespoon

Oil

divided

1

cup

Yellow onion

diced

4

cloves

Garlic

minced

1 ½

cup

Vegetable broth

7

oz

Coconut Milk

canned full fat, ½ can
Instructions
Preheat oven to 425F.

Half pumpkin and scoop out seeds. Slice in quarters.

Rub 1 tablespoon olive oil over the flesh of the pumpkin and place the slices on the baking sheet, with cut side down.

Roast for 40 minutes or until flesh is tender and can easily be pierced with a fork. Set it aside to cool for a few minutes.

In a large pot, heat the remaining 1 tablespoon oil on medium heat. Then sauté onions for 3-4 minutes. Add garlic and sauté for another minute.

Scoop out pumpkin flesh and add to the pot. Then add broth and spices. Give it a stir. Cover with a lid, and let it simmer for 8-10 minutes.

Then uncover, and blend using an immersion blender. (You can also let the soup cool a bit, then transfer to a standalone blender to blend to a smooth puree. Be careful while blending to avoid hot splatters)

Add coconut milk, and stir well. Simmer for another 5 minutes.

Garnish with your choice of pumpkin seeds, coconut milk, and freshly crushed black pepper.
Notes
Which Pumpkin? You can use any variety of pumpkin or even butternut squash. But do not use halloween pumpkins used for carving jack-o-lanterns (they are just not as tasty).
Spices:
Instead of the listed spices, you can use 1.5 tablespoon curry powder to make this curried pumpkin soup.
Make it Non-vegan:
Non-vegan pumpkin soup can be made with heavy whipping cream, full-fat milk, or half-and-half instead of coconut milk.
To Store:
Soup can be kept refrigerated for up to 3-4 days in an airtight container.
To Freeze:
You can also freeze the soup once it has cooled. Place it in freezer safe containers for up to 3 months. Thaw overnight in the refrigerator and reheat before eating.
Squash? Kabocha squash or butternut squash works instead of pumpkin.
Canned pumpkin? Instead of roasting the pumpkin, you can substitute two to three cans of pumpkin purée (15 ounces each). I suggest to still blend the soup for the best texture. The taste is different than the freshly roasted pumpkin.
Note: Nutrition values are my best estimates. If you rely on them for your diet, use your preferred nutrition calculator.
Nutrition
Calories:
282
kcal
Carbohydrates:
23
g
Protein:
6
g
Fat:
21
g
Saturated Fat:
11
g
Polyunsaturated Fat:
2
g
Monounsaturated Fat:
6
g
Trans Fat:
0.003
g
Sodium:
947
mg
Potassium:
1016
mg
Fiber:
2
g
Sugar:
9
g
Vitamin A:
19627
IU
Vitamin C:
25
mg
Calcium:
82
mg
Iron:
5
mg