Thanksgiving is almost here. If you have vegetarian guests and are wondering what to serve them, I have some ideas for you! Here are 20+ Vegan & Vegetarian Instant Pot Thanksgiving Recipe ideas that will get your guests excited for the special meal.
It can be hard to decide what to serve your vegetarian or gluten-free family or friends. Don't worry. Here is a great list to get you started with some ideas. Different ideas for appetizers, sides, soups, mains, and desserts are all made in the instant pot.
What are you planning to make? I hope you find some inspiration here. If you make any recipe from here, don't forget to share and tag your pictures with #pipingpotcurry on your favorite social media. I would love to see and share your pictures!
Jump to:
Side Dishes
Garlic & Herb Carrots, sautéed with lots of butter, garlic and herbs make a perfect side dish for Thanksgiving!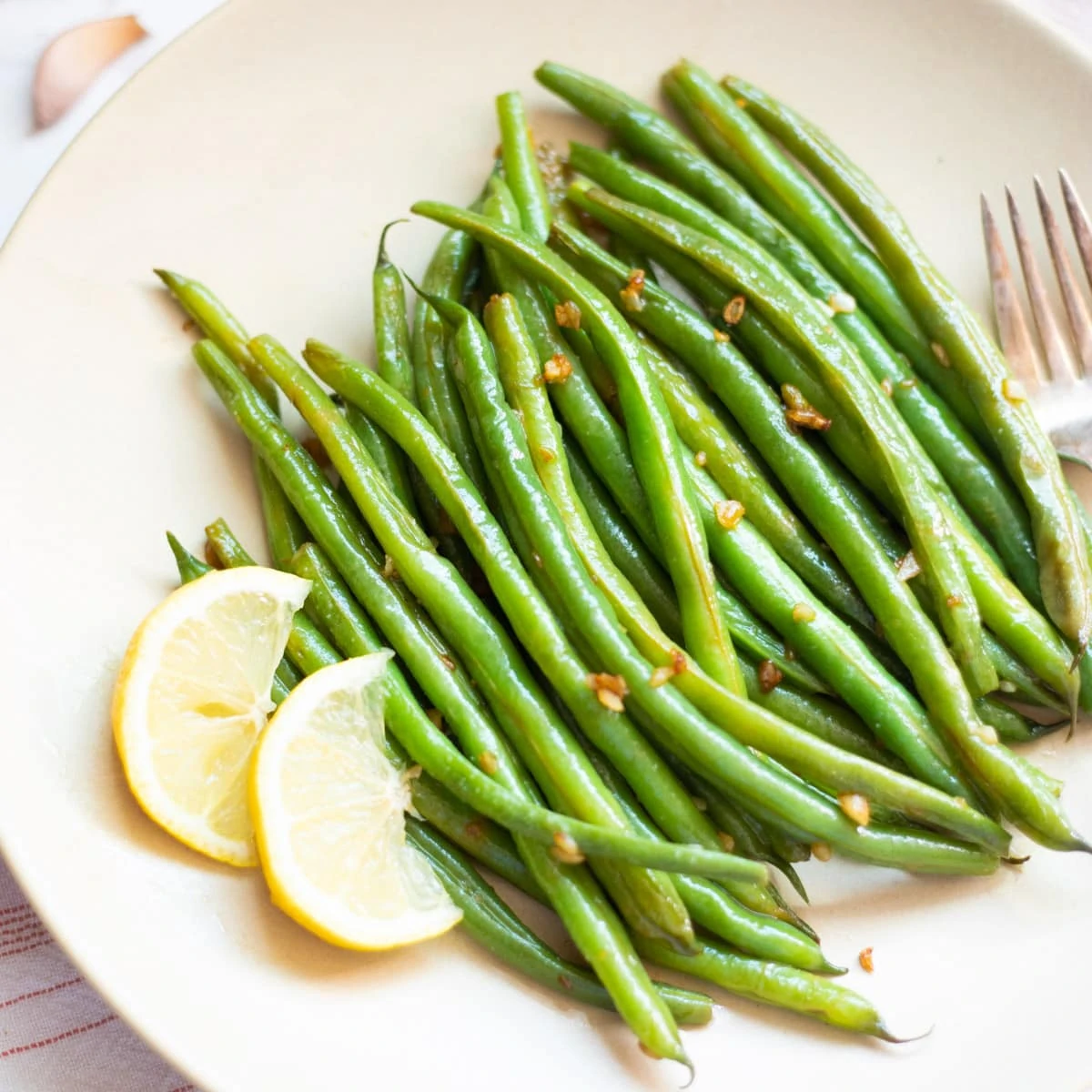 These perfectly steamed Instant Pot Green Beans have a fresh, crunchy texture, and are so easy to make! Saute with butter and garlic, drizzle on some lemon juice, and they are a perfect veggie side dish for Thanksgiving.
Not a traditional Thanksgiving dish, but a super vegetarian friendly potato dish. This has been loved by many readers, and is sure to be a hit for all potato lovers!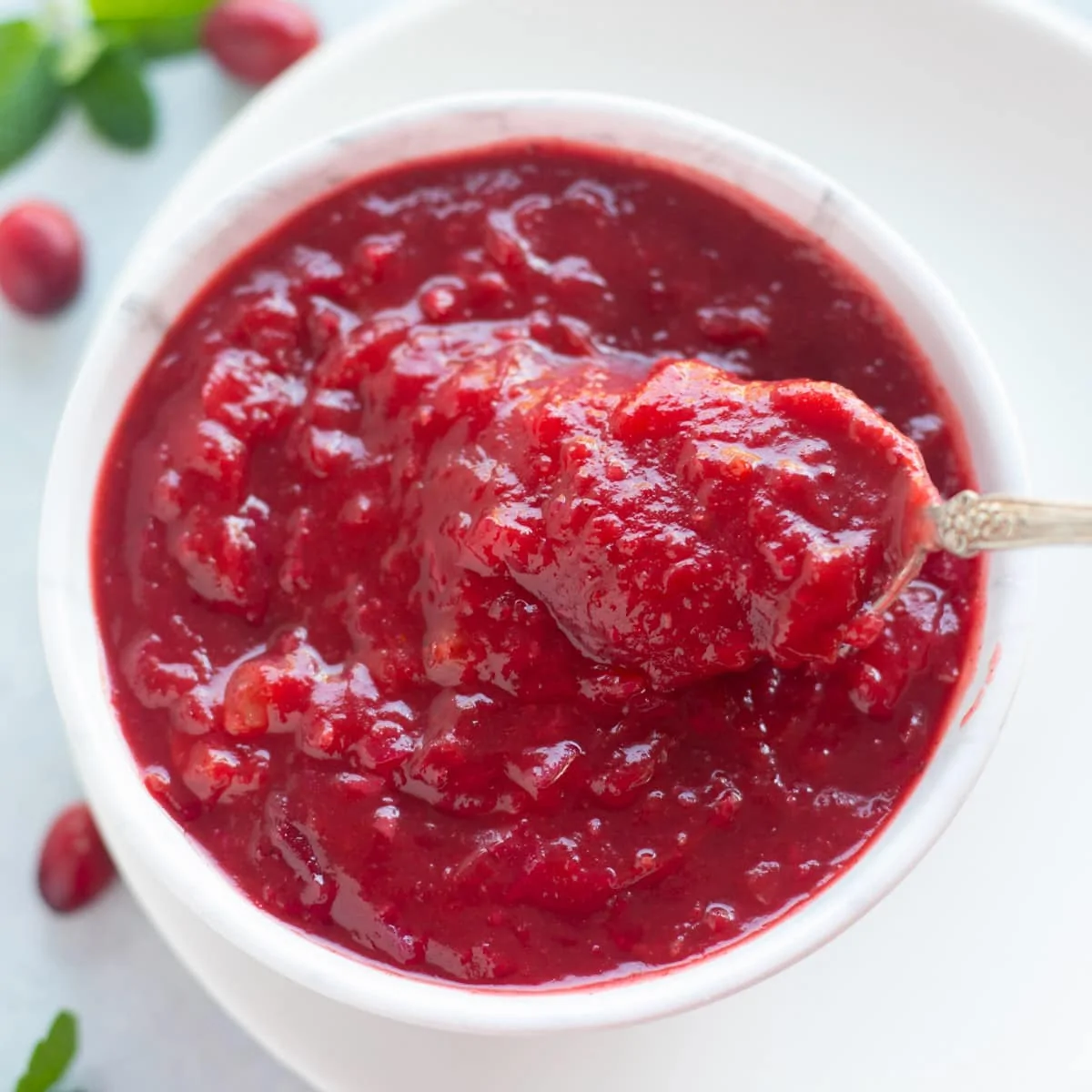 This Cranberry Chutney is sweet, spicy, and tangy, all at the same time. It is like a flavor burst in your mouth, with the cranberries, apples, orange juice, and spices. A perfect addition to your thanksgiving meal!
Caprese Orzo Pasta Salad is a light and refreshing salad, made with orzo pasta, grape tomatoes, mozzarella and fresh basil. This easy salad is so quick to make, and a great vibrant salad to your thanksgiving table!
A simple and delish side dish made with Isreali Couscous and lots of colorful veggies!
Easy & Delicious Brown Rice and Mushroom Pilaf, is a flavorful one-pot dish with just 5 main ingredients. It is perfect to enjoy as a side dish for your next get-together!
This curried mashed pumpkin is a delicious and healthy side that can be made in less than 30 minutes in the instant pot. Vegan & gluten free!
When you want a high protein side dish, quinoa with veggies is a great choice!
Here is a collection of 25+ easy instant pot side dish recipes you might enjoy!
Soups
Creamy, flavorful, healthy and vegan, is how I describe this Curried Butternut Squash Soup.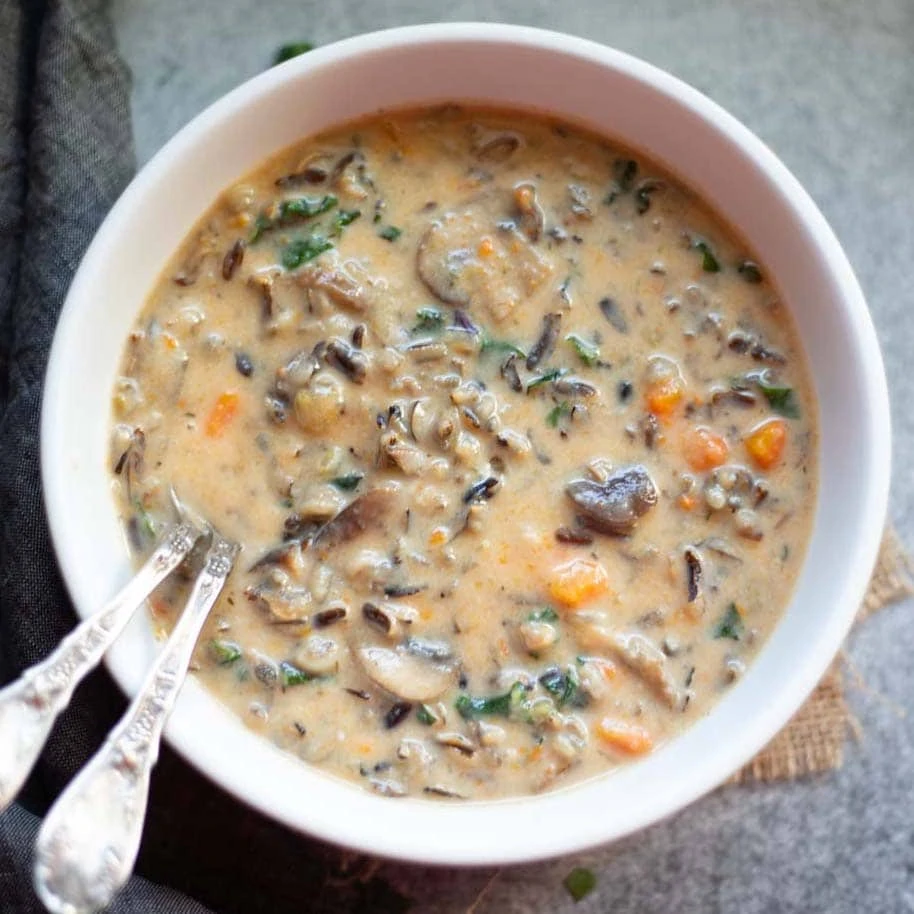 Hearty wild rice is combined with mushrooms, carrots, celery, and kale, then is brought together with a creamy soup base. This easy mushroom wild rice soup is the best to serve to a gathering!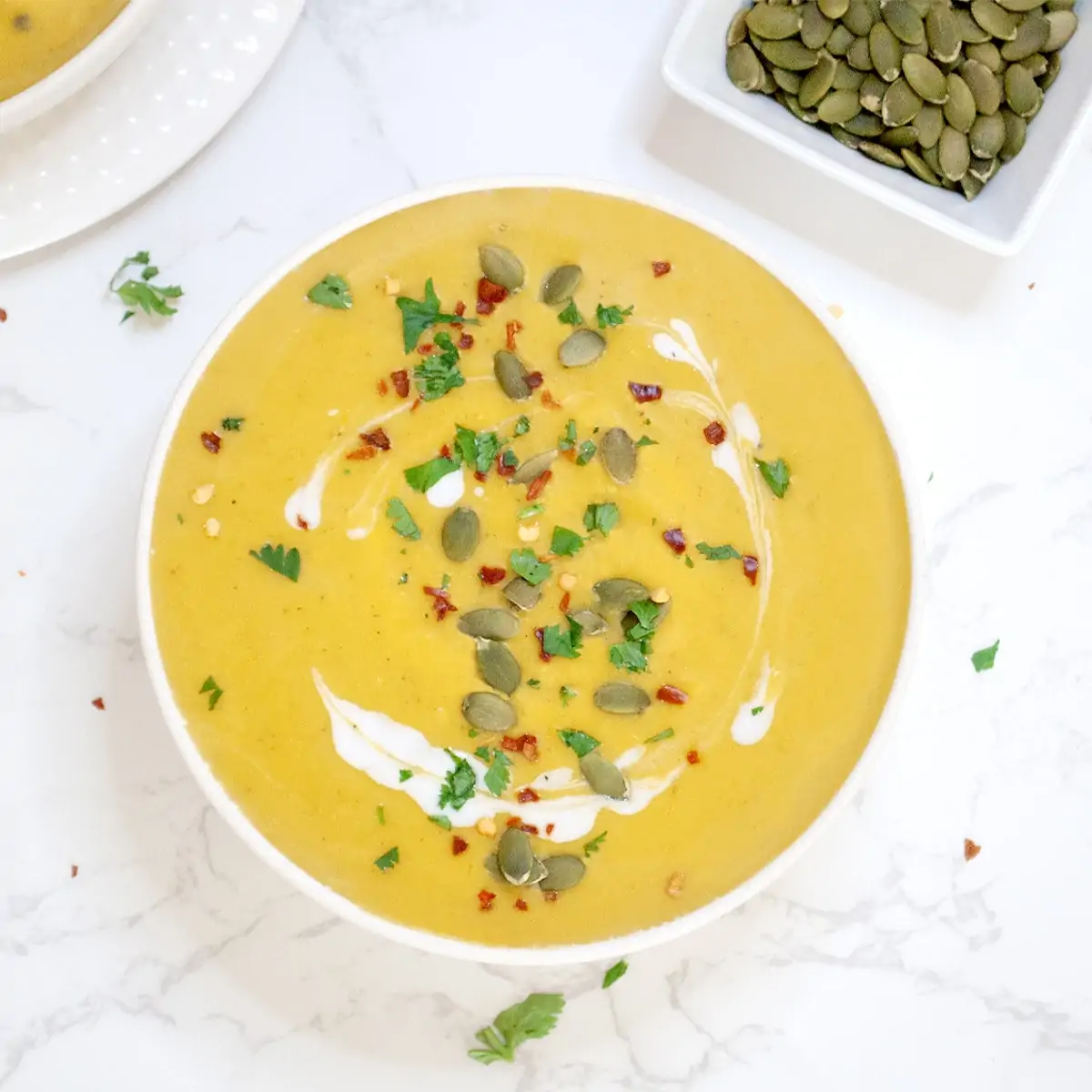 You will love this lush creamy curried pumpkin soup. This flavorful soup prepared with coconut milk and spices, is perfect to serve with your Thanksgiving dinner!
This vegan and gluten free soup has deep bold flavors from roasting the red peppers and carrots.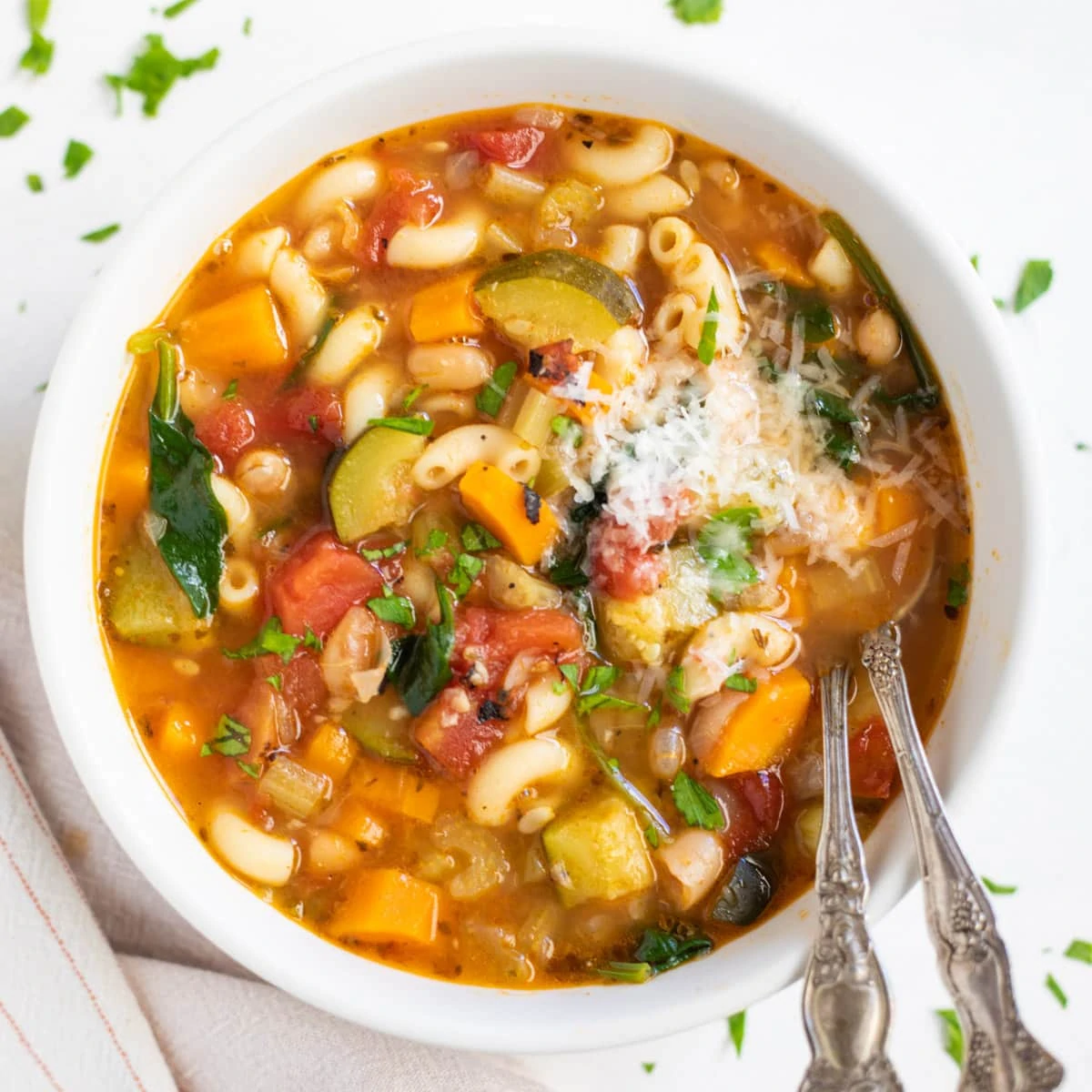 A perfect soup with beans, loads of veggies and pasta, topped with cheese and a side of bread. It can easily be made gluten-free and vegan.
This vegan & gluten free Turmeric Cauliflower soup is so easy to make, and the result is creamy, satisfying goodness you will not want to stop eating!
Mains
Loaded with veggies and lots of flavor, this Vegetarian Fajita Pasta is a favorite pasta dinner. Fire-roasted tomatoes, black beans, colorful bell peppers, sour cream and cheese, all the goodness in this one-pot pasta.
A healthy vegetarian lasagna with lots of fresh spinach, artichokes and cheese layered between noodles. Oh so good!
Spaghetti tossed in pesto sauce along with sun-dried tomatoes and a drizzle of lemon juice. Make this as a one-pot dish in just 20 minutes in the Instant Pot for your thanksgiving dinner.
Desserts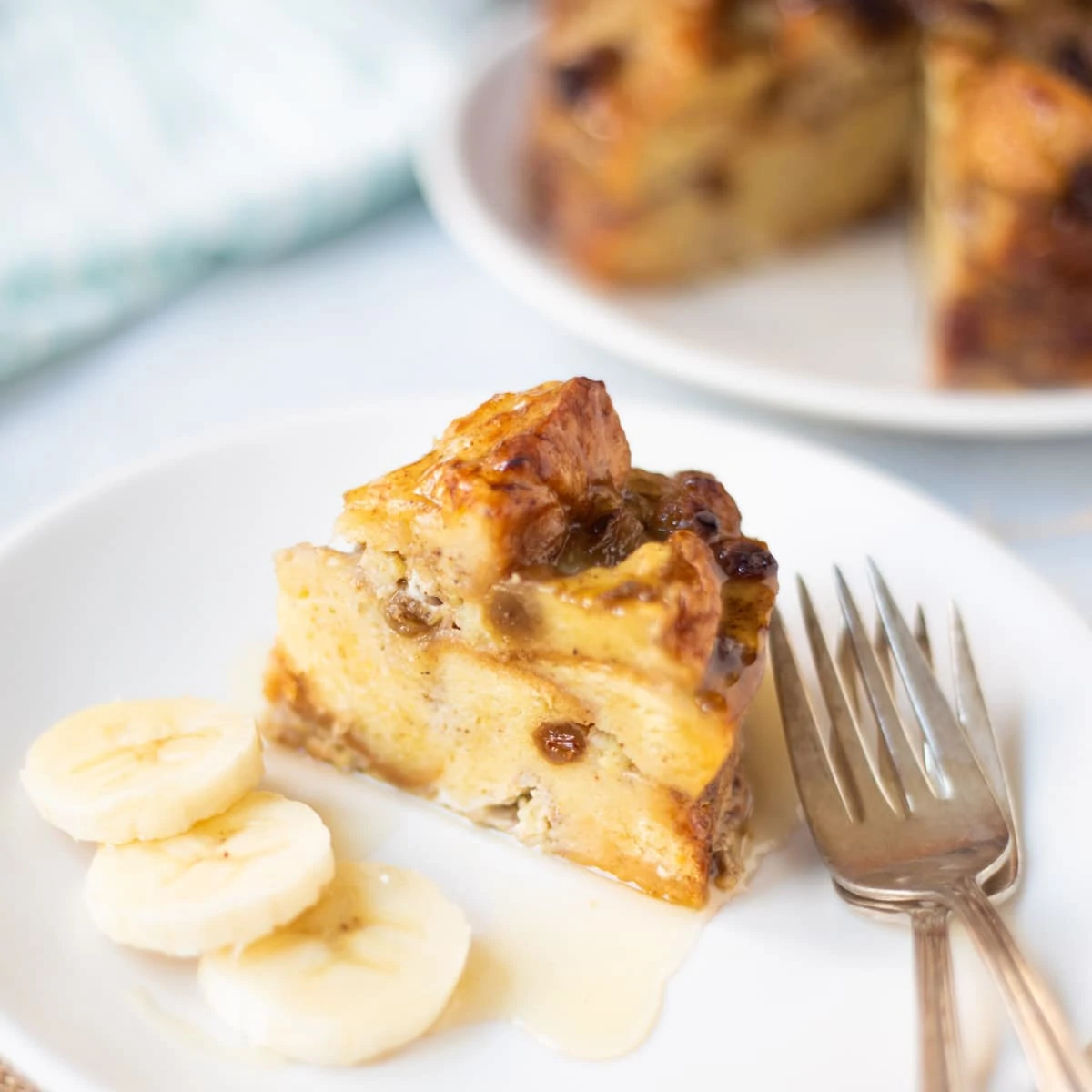 Enjoy this warm, gooey, and delicious banana bread pudding made with ripe bananas, warm cinnamon and raisins. An easy recipe perfect for breakfast, brunch or as a dessert topped with ice-cream.
This semolina cake, so easy to make…so delicious. It is fluffy and moist with the gorgeous orange flavor. This is a egg free cake, perfect for vegetarians.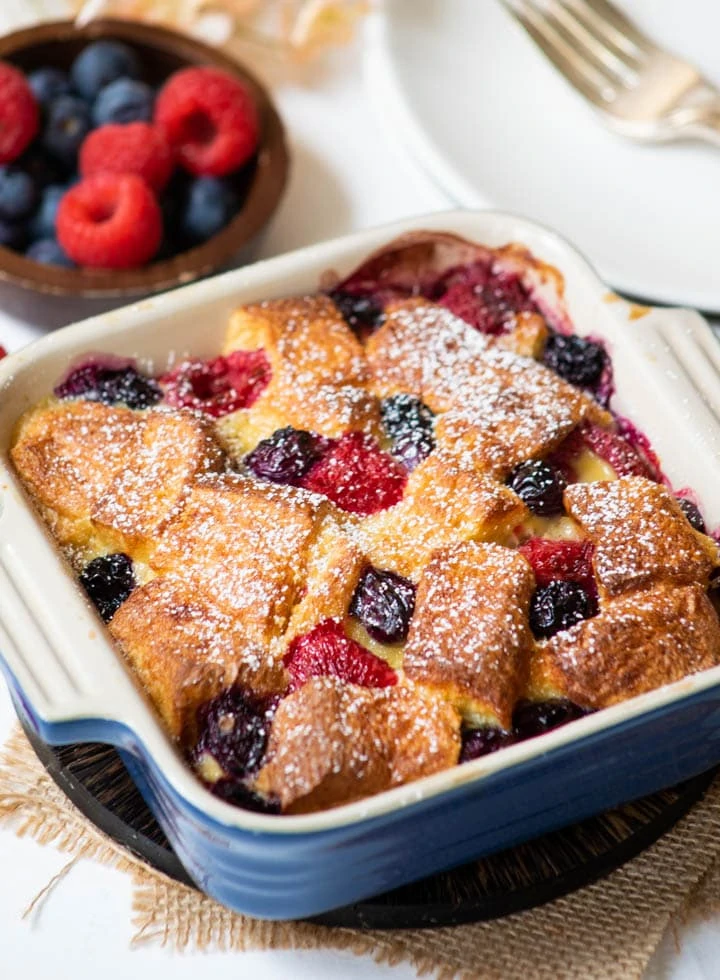 This easy Berry Bread Pudding is the best dessert (or breakfast) to satisfy those sweet cravings. It is creamy, decadent and so easy to make. Perfect to serve to the family or for entertaining!
A delicious pumpkin pudding made with pumpkin, sugar, ghee, coconut and nuts.
More Vegetarian Thanksgiving Inspiration
Here are some more vegetarian thanksgiving recipes not made in the instant pot.