Healthy Vegetarian Mexican Casserole with Rice & Beans is easy to make and filled with cheesy goodness along with brown rice and lots of veggies. It is a great addition to your next dinner party or Thanksgiving meal. It can be made ahead and frozen, making it easy and quick to throw together.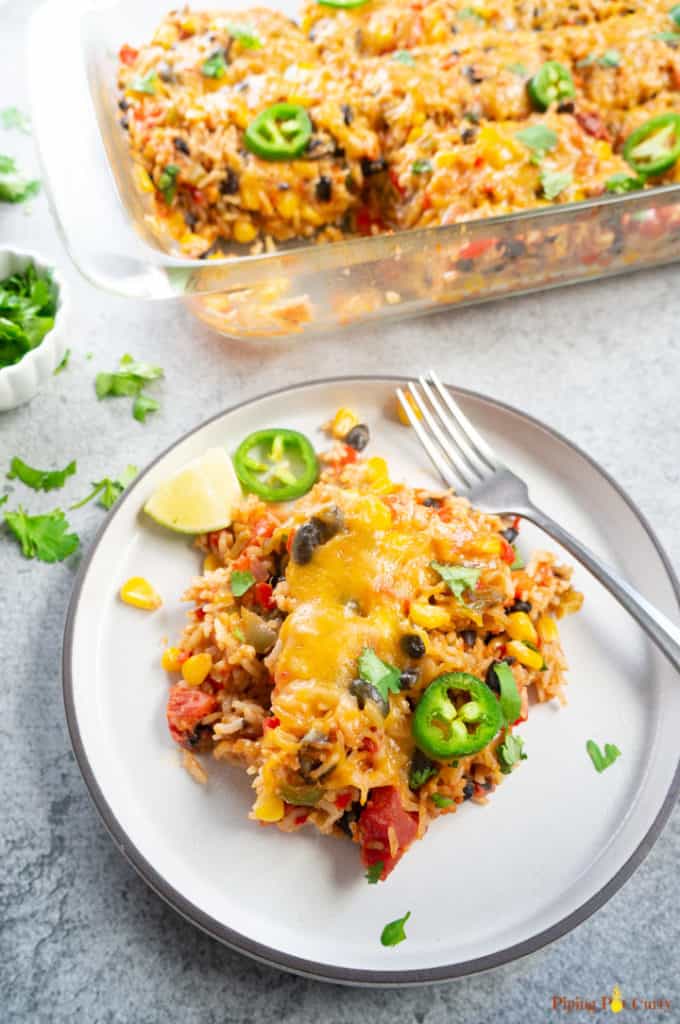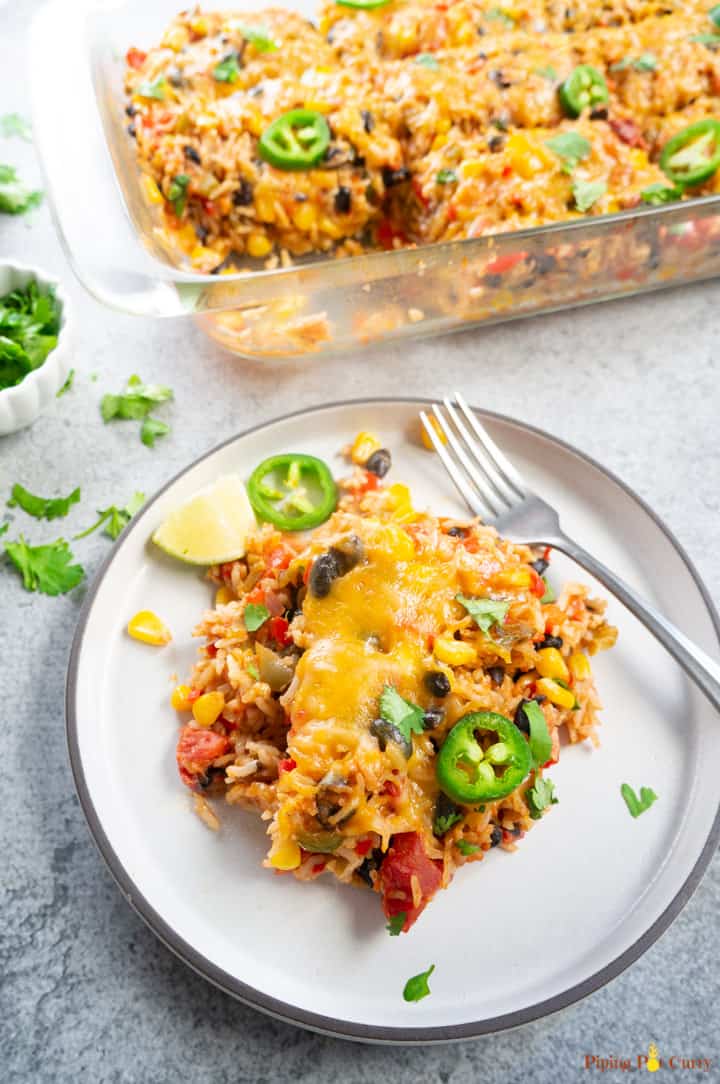 November is such an exciting time. Thanksgiving is coming up, and I have been thinking of my menu for the big dinner. We always have some family who does not eat meat (including dear hubby), so I like having a few healthy and filling options. At the same time, I don't want to make it hard on myself to get too many dishes ready on the day.
This Mexican Casserole is my favorite, which is perfect for the day as it is an awesome side dish that takes very little effort and time to put together and can be enjoyed by everyone. Once the rice is pre-cooked, it can be ready in no time.
Brown Rice along with onions, bell peppers, corn, black beans, fire-roasted diced tomatoes, and some jalapeños for the spice lovers…there is so much healthy goodness in this casserole. This vegetarian casserole is also gluten- and nut-free in case of any allergies or diet restrictions.
Check out more delicious Mexican recipes – Cilantro Lime Brown Rice, Pineapple Mango Salsa, Spanish Rice, and Vegetarian Taco Soup.
Preparation of the Vegetarian Mexican Casserole
This Mexican Casserole recipe is packed with protein from black beans, lots of veggies and cheese to make an incredibly delicious dish.
I love to eat veggies, but chopping them…not so much. I was super excited to get my hands on this manual processor, the One Stop Chop from OXO. I must say my preparation for this dish was a breeze.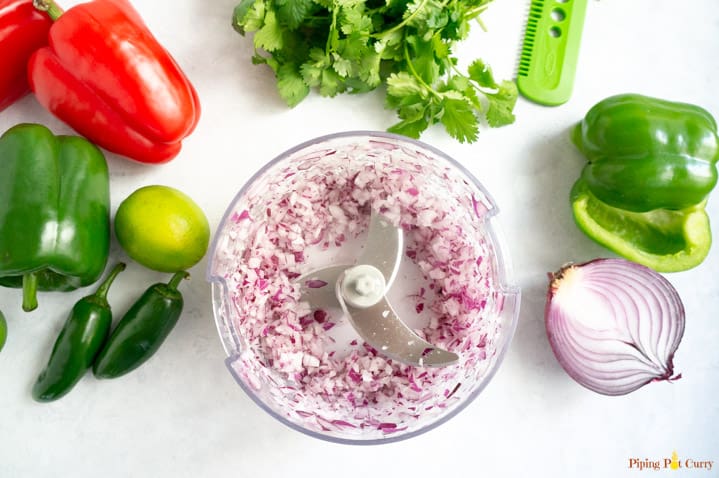 The blades of this manual chopper were amazingly sharp, and with a few turns the onions were diced to perfection!
It worked perfectly for the red and green peppers too. I just cut the pepper, removed the seeds and cut it into 6 pieces. Less than 30 seconds and they are done. You get the idea….I am loving this chopper (as if it were a real person).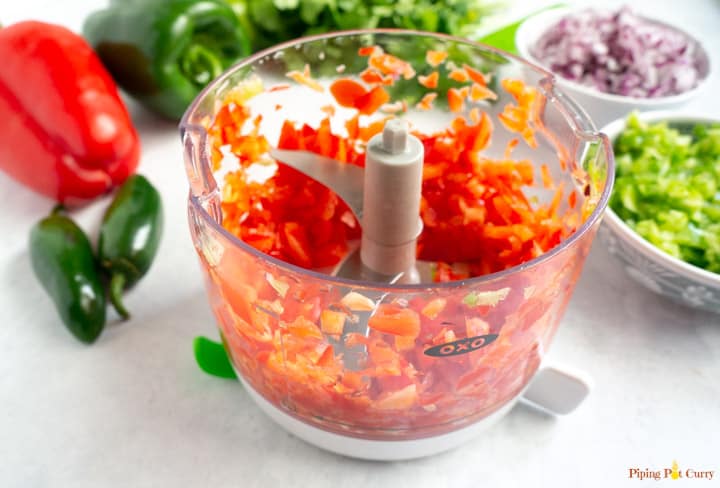 Along with the manual chopper, I also used the OXO Herb Stripping Comb which was quite convenient as I like to add lots of cilantro to Mexican food (or any other dishes). Just one pull and the leaves are separated from multiple stems at the same time!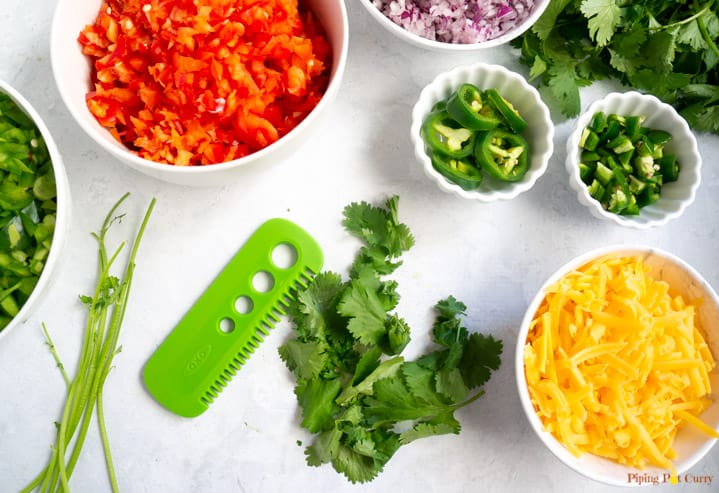 Now that we have all the preparation done…let's look at the next steps!
Veggies chopped – onions, green and red peppers, jalapeños
Rinsed and Drained black beans
Frozen corn
Brown Rice cooked
Cheese grated
How to make Mexican Rice Casserole?
Let's start with sautéing the veggies. Heat a large skillet and add some oil. Sauté onions, bell peppers & jalapeño for a few minutes. Then add in corn, and sauté for a couple more minutes.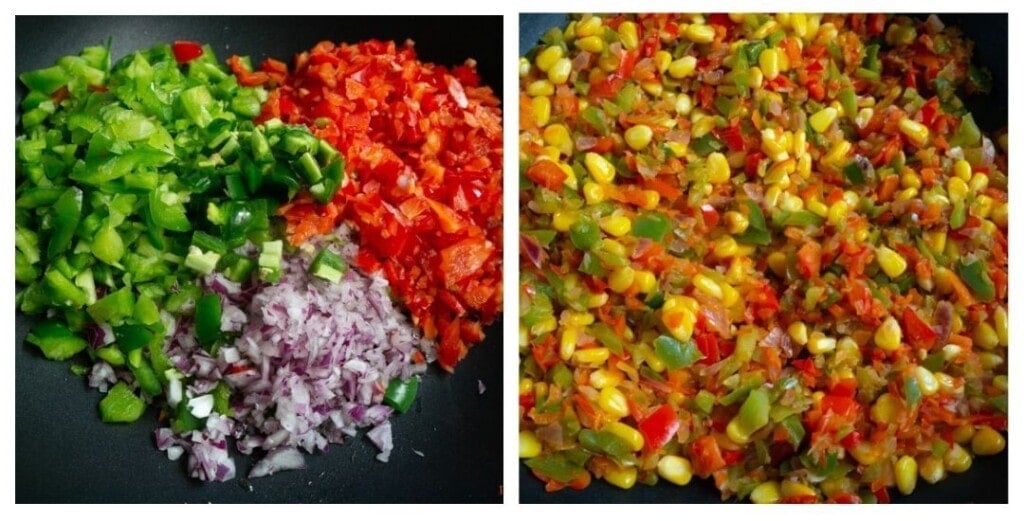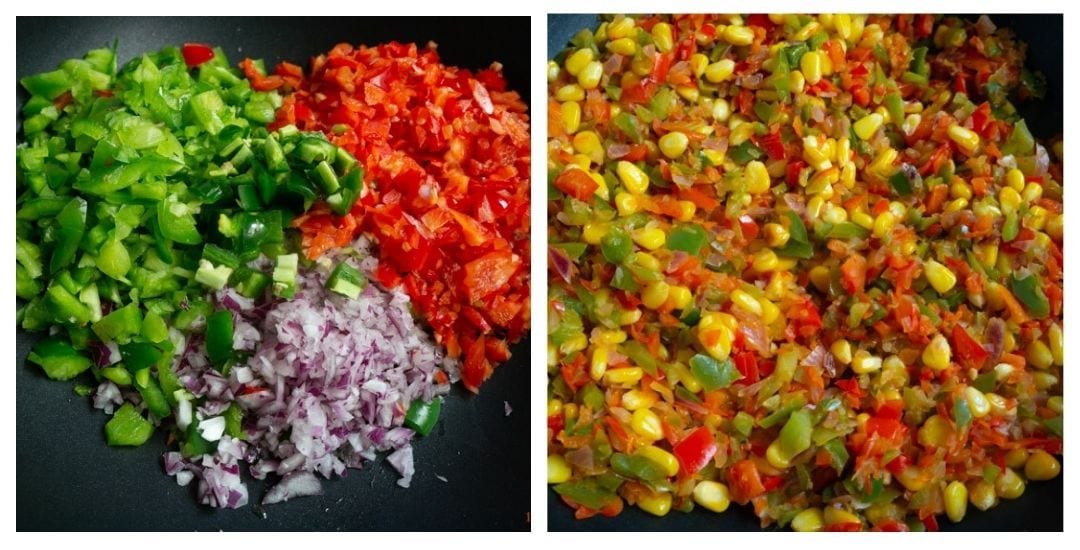 Add in black beans, diced tomatoes, lime juice and spices. Stir them all and then add the brown rice and shredded cheese.
I used canned black beans when making this recipe, however you can also pre-cook black beans in the pressure cooker and use them in this casserole.
I used brown rice in this recipe, but white rice works great too. Long or medium grain rice is always my preference for casseroles. The brown rice can be cooked in the instant pot or on the stovetop.
I mainly used freshly grated cheddar cheese in this dish. Monterey Jack or Mexican blend would work too.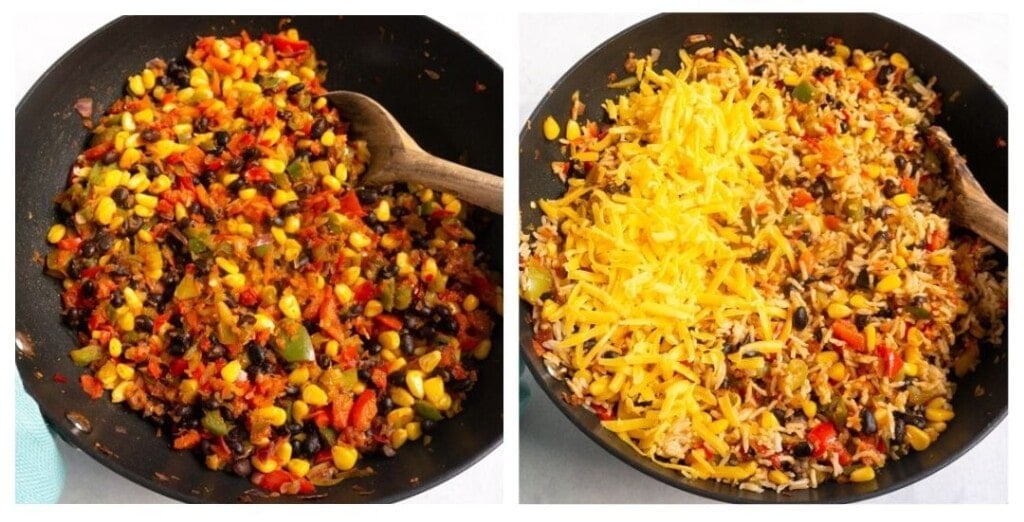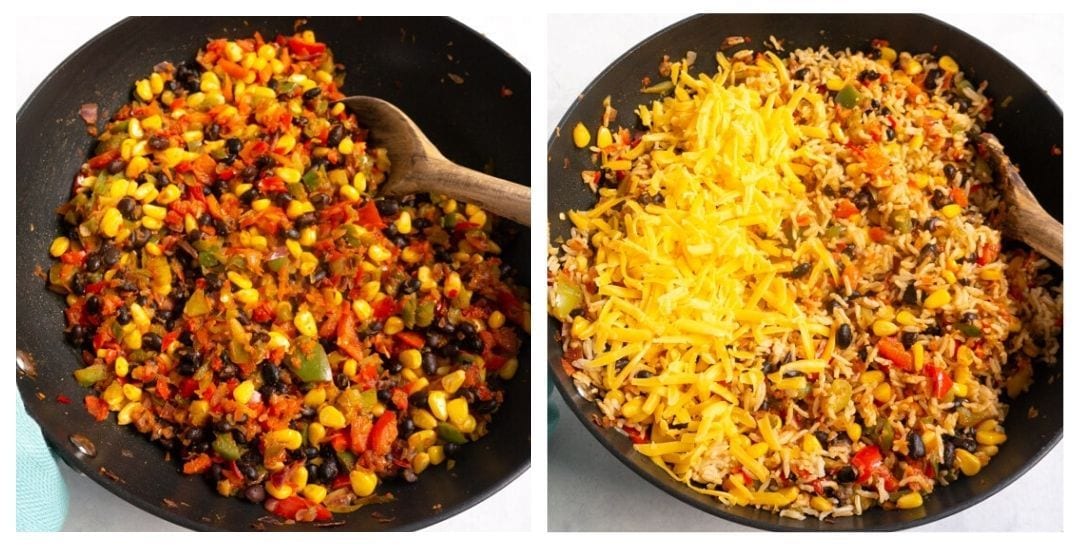 Now spread the rice in the baking dish and then the remaining cheese on top. I love this OXO Glass 3 Qt Baking Dish with Lid, as it is the perfect size for a big party. I love that it can go from freezer to oven directly (no need to let it sit out and thaw!)…isn't that wonderful when you want to meal prep and have 10 other dishes to make for the Thanksgiving dinner? One less thing to think about is a life saver!
You will also like that this baking dish has a lid which is great if you wanted to get the casserole ready the day before or even for leftovers!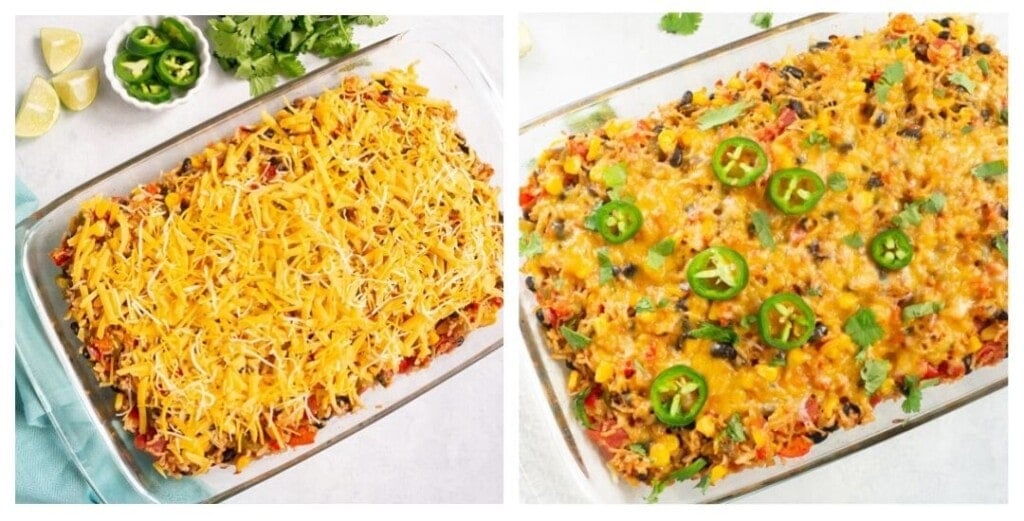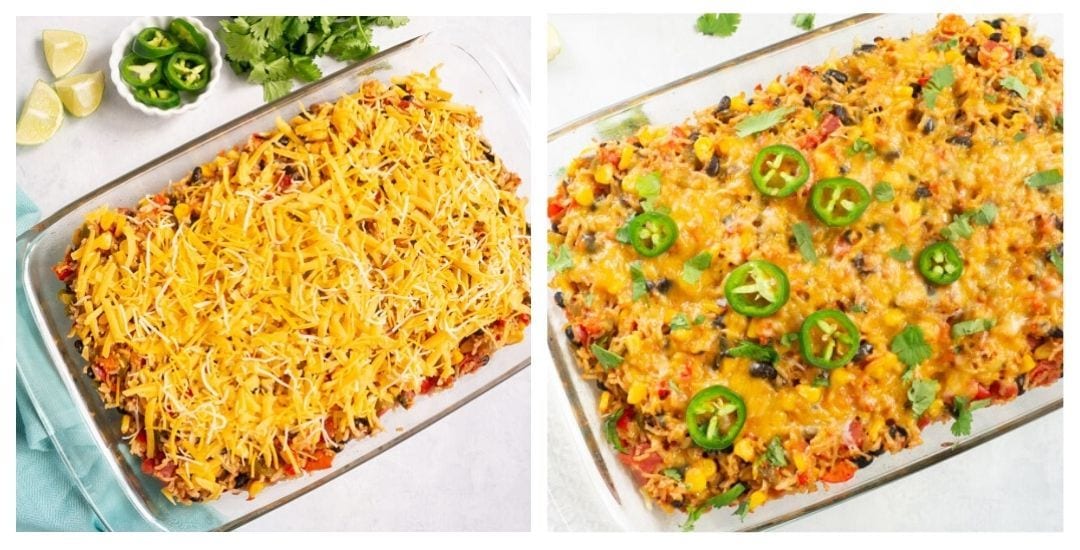 Now is the time to bake the casserole to perfection. Have the oven preheated to 400˚F. Place the casserole at the center of the oven, and bake for 12-15 minutes, until the cheese is bubbling and perfectly melted on the top.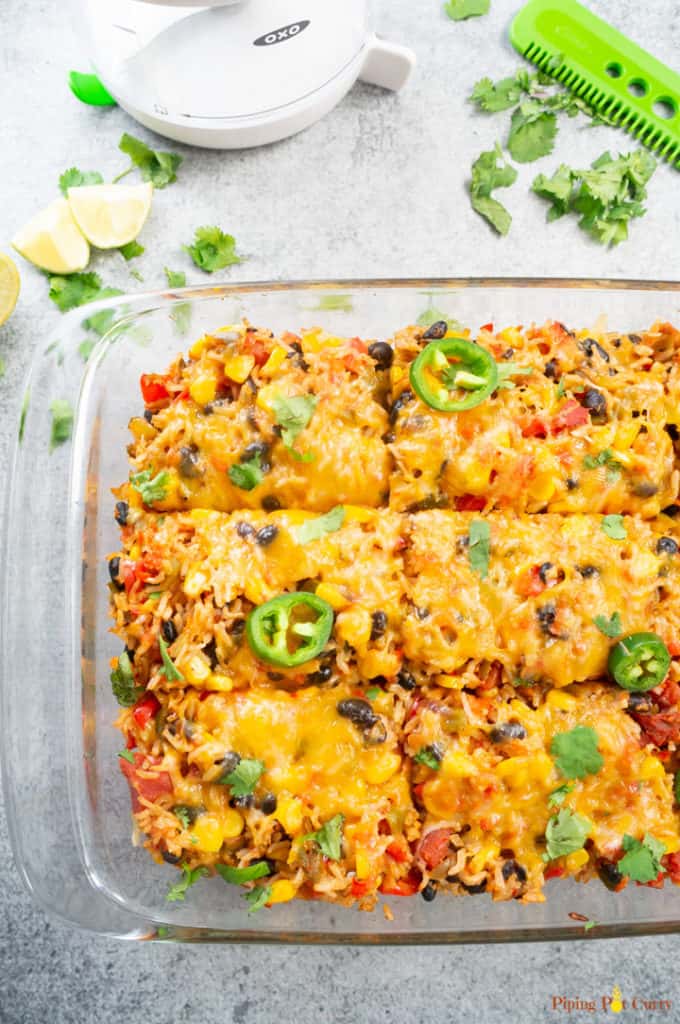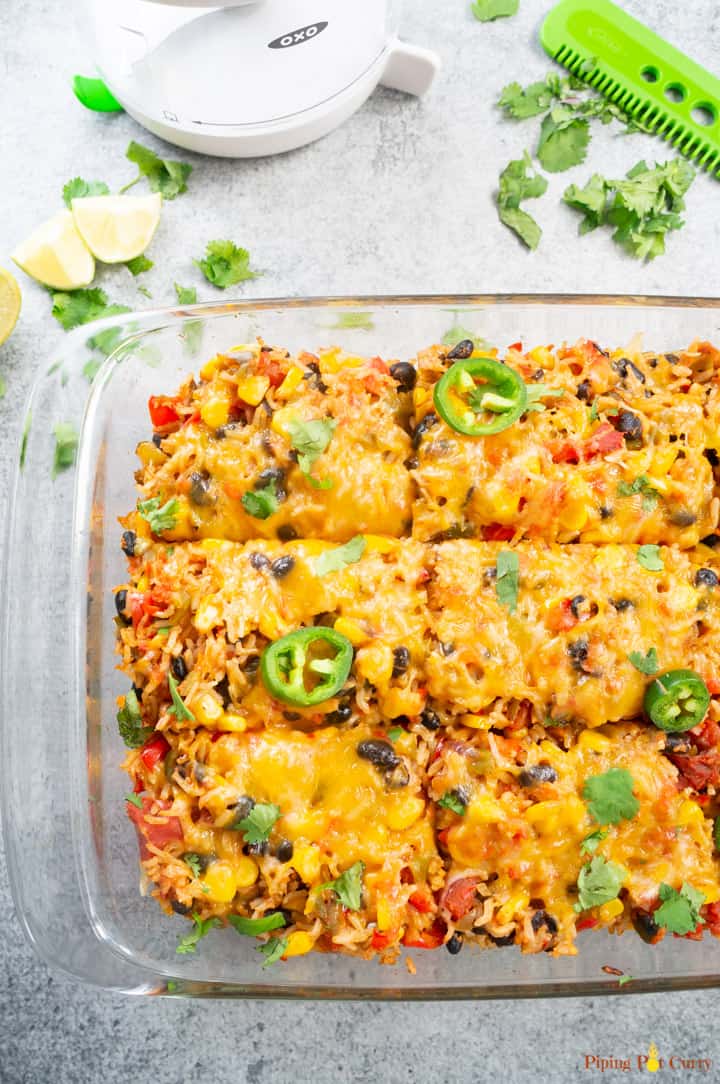 Garnish with some cilantro and jalapeños (skip for kids). Top with some guacamole or sour cream when serving!
This was absolutely AAAAMAZING. I love these trial runs for Thanksgiving where we get to devour all the delicious food. I had this straight for both lunch and dinner…and looking forward to having it tomorrow too. Don't forget it is so healthy that it is okay to eat it multiple times….that is a win in my book!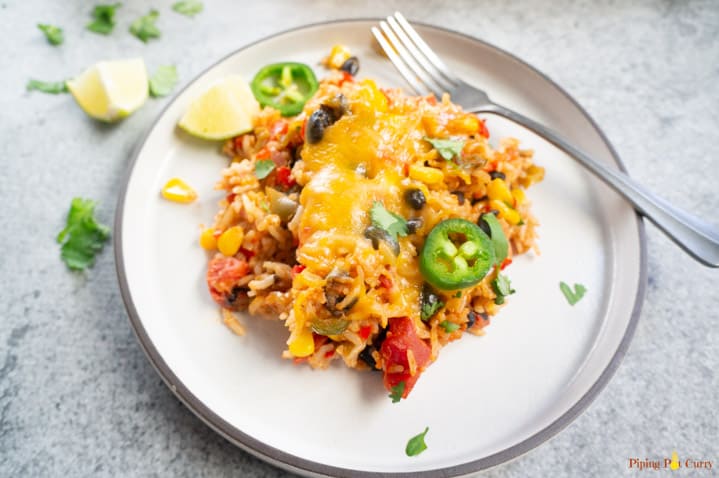 Give it a try for your Thanksgiving. Whether you are cooking for special diets such as vegetarian, gluten free or not, this casserole is a great addition to the special dinner.
Tips for making the perfect Vegetarian Mexican Casserole
√ Add lots of veggies to make this a healthy casserole.
√ Adjust spices to taste. You can reduce cayenne and skip jalapeños to make this less spicy.
√ Dont skimp on the cheese. I like to use a block of cheese and shred it myself, rather than the pre-shredded store bought cheese, as it gives a better texture to the final dish.
√ I used fire-roasted diced tomatoes in this casserole, red enchilada sauce is a great substitute or addition too.
√ Brown or white rice, either can work well in this casserole.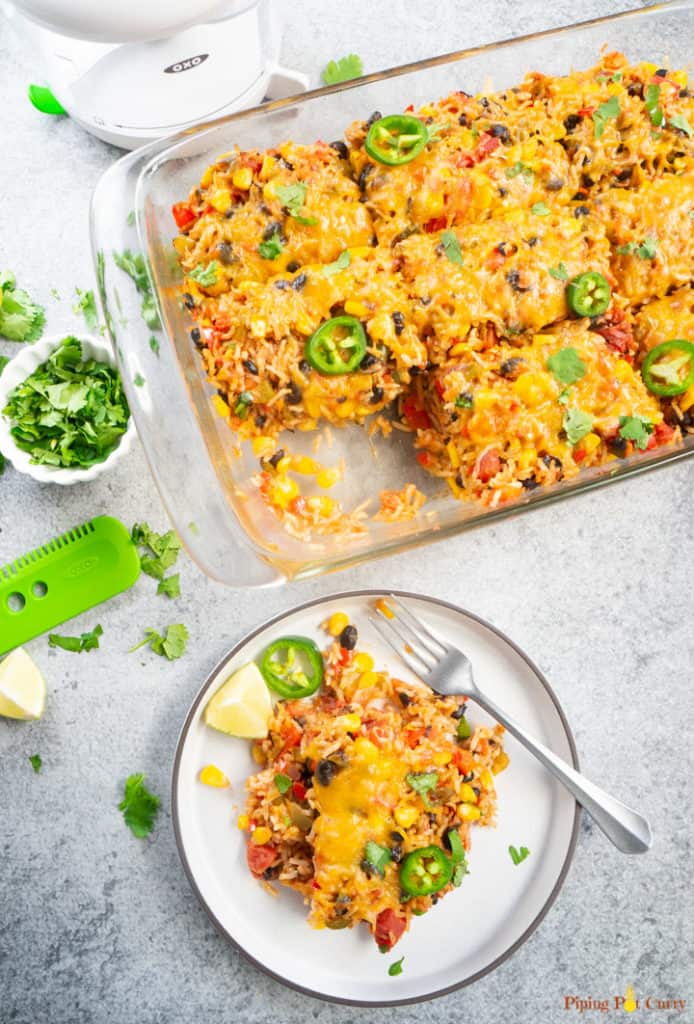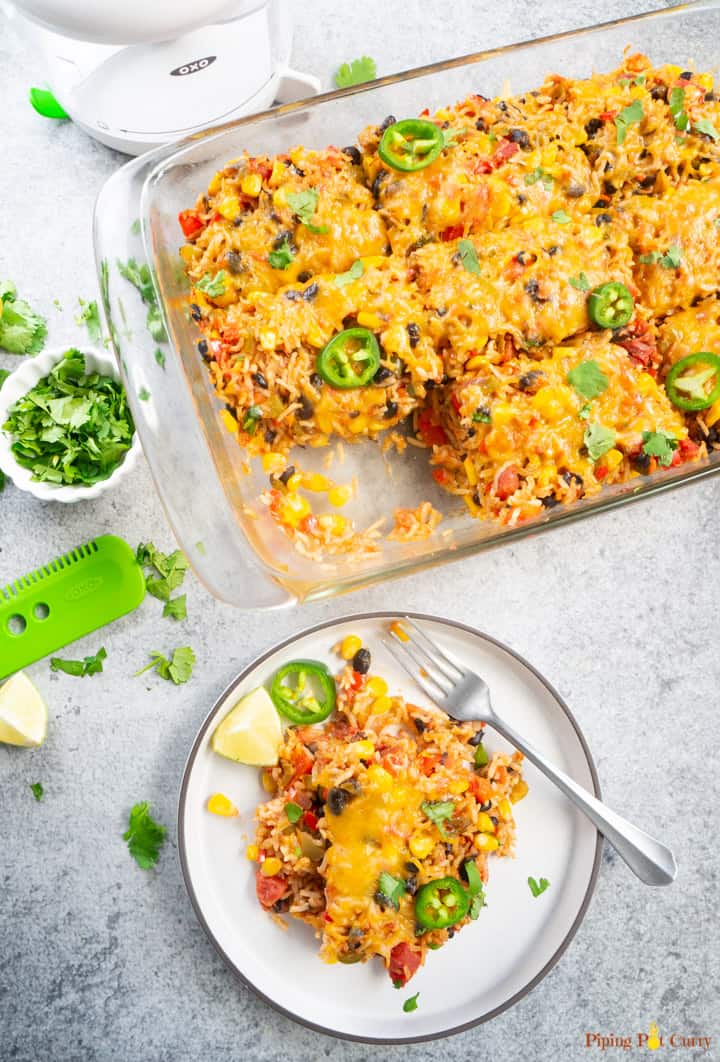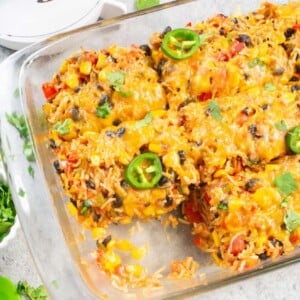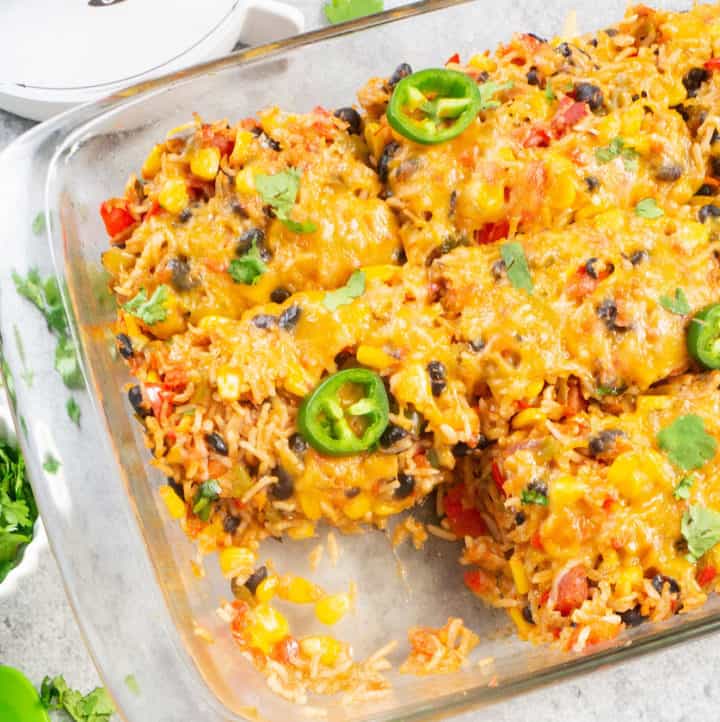 Healthy Vegetarian Mexican Casserole with Rice & Beans
Healthy Vegetarian Mexican Rice and Bean Casserole is easy to make and filled with cheesy goodness, along with brown rice and lots of veggies. This is an easy gluten free & vegetarian casserole for a weeknight dinner or your next party!
Ingredients
1

tablespoon

Olive Oil

1.5

cup

Red Onion

,

chopped

1.5

cup

Red Bell Peppers

,

chopped

1.5

cup

Green Bell Peppers

,

chopped

2

Jalapeños

,

1 sliced + 1 diced, divided (adjust to taste)

2

cups

Corn kernels

,

frozen

1

can

Black Beans

,

14oz, drained and rinsed

1

can

Diced Tomatoes

,

14oz, I used fire-roasted

2

tablespoon

Lime juice

4

cups

Cooked Brown Rice

1 3/4

cup

Cheddar Cheese

,

shredded

1/4

cup

Mexican blend cheese

,

shredded, for topping

1/4

cup

Cilantro

,

chopped
Seasoning
1

teaspoon

Garlic powder

2

teaspoon

Ground Cumin (Jeera powder)

1

teaspoon

Oregano

1

teaspoon

Paprika

1/2

teaspoon

Cayenne or Red Chili powder

,

adjust to taste

1

teaspoon

Salt

,

adjust to taste
Instructions
Sauté the veggies
Heat a large skillet with oil. Add onions, peppers and diced jalapeño. Sauté for about 4 minutes mins or until they start to brown sightly. Add the corn and saute for couple more minutes. Add the black beans, fire-roasted tomatoes, lime juice and then the spices. Stir to combine. Remove from heat. Taste and adjust salt.

Add the cooked brown rice and mix well. Then add 1 cup shredded cheddar cheese and mix it.
Preparing & Baking the casserole:
Preheat oven to 400º F. Grease the baking dish.

Transfer the rice and veggies mixture in the baking dish. Sprinkle the remaining cheddar cheese and Mexican blend cheese on the top.

Bake in the center of the oven for 12-15 minutes, until the cheese is bubbling.

(optional) Leave a few minutes under broil if desired until lightly golden.

Garnish with cilantro and sliced jalapeños. Cut into squares and serve!

Notes
Make it less spicy: Skip jalapeños and cayenne.
Rice options: Cooked white rice can be used in this recipe too. I cooked brown rice in the instant pot.
Make it vegan: Use vegan cheese.
Nutrition
Calories:
391
kcal
Carbohydrates:
64
g
Protein:
12
g
Fat:
9
g
Saturated Fat:
4
g
Cholesterol:
19
mg
Sodium:
418
mg
Potassium:
482
mg
Fiber:
6
g
Sugar:
4
g
Vitamin A:
1065
IU
Vitamin C:
47.4
mg
Calcium:
185
mg
Iron:
2.6
mg
Do you have a family favorite side you make each year? Any favorite OXO products you can't live without?
This recipe is sponsored by OXO. The recipe, writeup and opinions are my own.