Everything you need to know about creating and assembling the perfect Indian Charcuterie Board with food inspirations, expert tips and instructions. Serve your Indian snacks and sweets in a cheerful and festive way!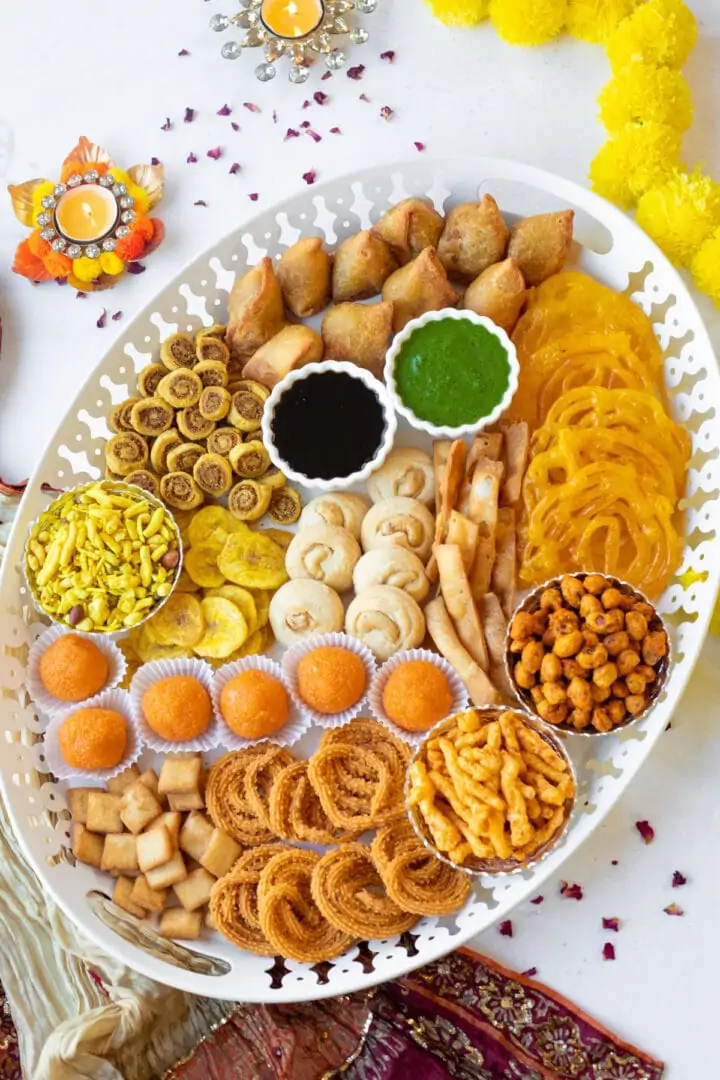 When I was planning for what to serve for snacks for the upcoming Diwali party, I wanted to create something special which would be loved by all - kids and adults. Hence I decided to make an Indian-style Charcuterie board.
It is so easy to put together - you can use store bought snacks/sweets or make some at home. This is a wonderful platter with lots to finger food that is always a hit and makes for a lovely presentation.
The trend of regionalized boards has spread, with countless variations and combinations. I have shared some ideas for desi variations for charcuterie board.
Want more party ideas? Here are many Indian Dinner Party Menu Ideas.
Jump to:
What Is Charcuterie?
Wondering how to say it? It is pronounced as ''shahr-koo-tuh-ree''.
The term "charcuterie" comes from a 15th-century French term. It refers to a type of cooking that focuses on meat products. It's traditionally a term for a meat and cheese board that is served as an appetizer.
Making a charcuterie board can be relaxing, and unlike a hot dish, guests can savor it at their own pace. Smaller components mostly finger foods are preferred over multi-bite ones because you want guests to pick and choose what they like - or nibble during the course of the party/ event.
Why You'll Love Charcuterie Boards?
They are super customizable
Can be vegetarian or can include meat
You can make it a meal - depending on what you use
You can have different themes
They can be budget-friendly or expensive
You feel like an artist when creating one
There's not a lot of cleaning and dish washing after
They bring people together
You can make one for the kids especially too
They make an awesome gift
You can make a charcuterie box for a picnic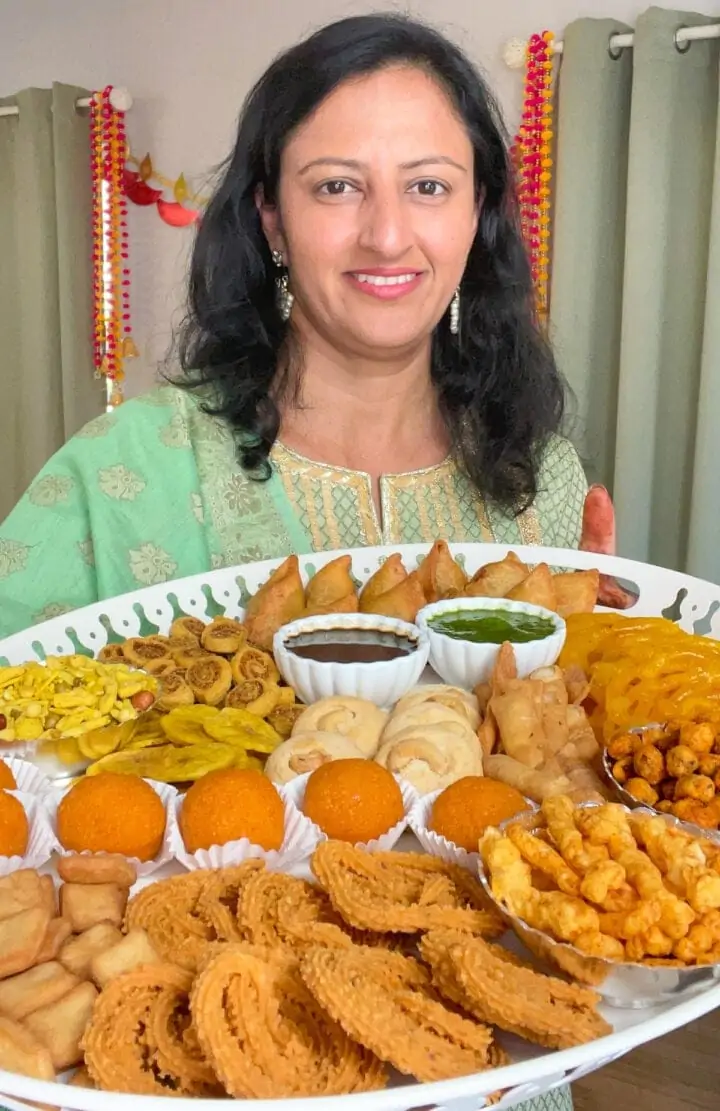 Elements Of A Perfect Charcuterie Board
Texture Assortment - A savory board would include a variety of soft and hard foods. For example, different types of namkeens, nuts, samosas, dhoklas etc. to provide visual and sensory contrast.
Comforting Flavors - Include complimentary flavors that pair well. By selecting items that are similar but different, you are telling your eye that it enjoys seeing different things, but you also know that everything belongs together. On this board, I incorporated two types sweets - jalebi and laddoo, they are sweet but taste very different.
Color Variety: Diverse color components can add a playful appeal and make various items stand out. In order to help the eye distinguish each item on the board from the others, try to group items with contrasting colors and textures.
Surprise Element: This is my favorite! The overall mood of the board can be improved by adding an unexpected item, like a special sweet or a chutney. You need to have that one item that will draw everyone's eyes towards it.
Layout and Presentation: The idea is to have a board that is not only delicious but also aesthetically beautiful. The way you place your foods makes a lot of impact. An easy way to dress up a board is including some edible flowers/ themed toppers/ festive trinkets etc.
What Board to Choose?
For obvious reasons, a board is the most important component for a charcuterie.
I like to start by picking a nice board. Charcuterie boards can be large or as small as you like. When I have large get-togethers, I always make multiple boards depending on the number of people.
You do not need to purchase a specialized board - pizza platter, wooden cutting board, serving tray, lazy susan, or any other nice flattish platter/ plate you might have on hand. Any shape or size will work.
For Diwali especially, it's a great idea to use silver or brass serving trays and bowls!
If you're serving a large group, you can use your countertop or a table. I suggest you use parchment paper before you start assembling your food.
The Board - Your Art
A charcuterie board is like a canvas and you can be as creative as you like. Putting together an Indian platter is a form of art in which you contrast textures and colors. There are absolutely no rules on how you create one. Whether it is simple or elaborate - you are still bound to enjoy it!
Where Can I buy a Charcuterie Board?
A wide variety of options are available these days. You can find them locally in almost any store that has a kitchen goods section. You can get them at Target, TJ Maxx, Bed Bath and Beyond, Walmart, William Sonoma etc. They are also available online on Amazon.
What All Do You Need For An Indian Charcuterie?
The concept is very similar to a cheese or snack board. You have to think about how you can incorporate familiar components to make them more inviting - I discovered that masala nuts, spicy chips, dhoklas, samosa, and bhel puri work well. Also, adding pieces of naan with a yogurt dip works amazing with the spicy and crunchy stuff. Think about your favorite items/ snacks and what your folks like/ dislike and start to build with it.
What Is Typically On An Indian Charcuterie Board?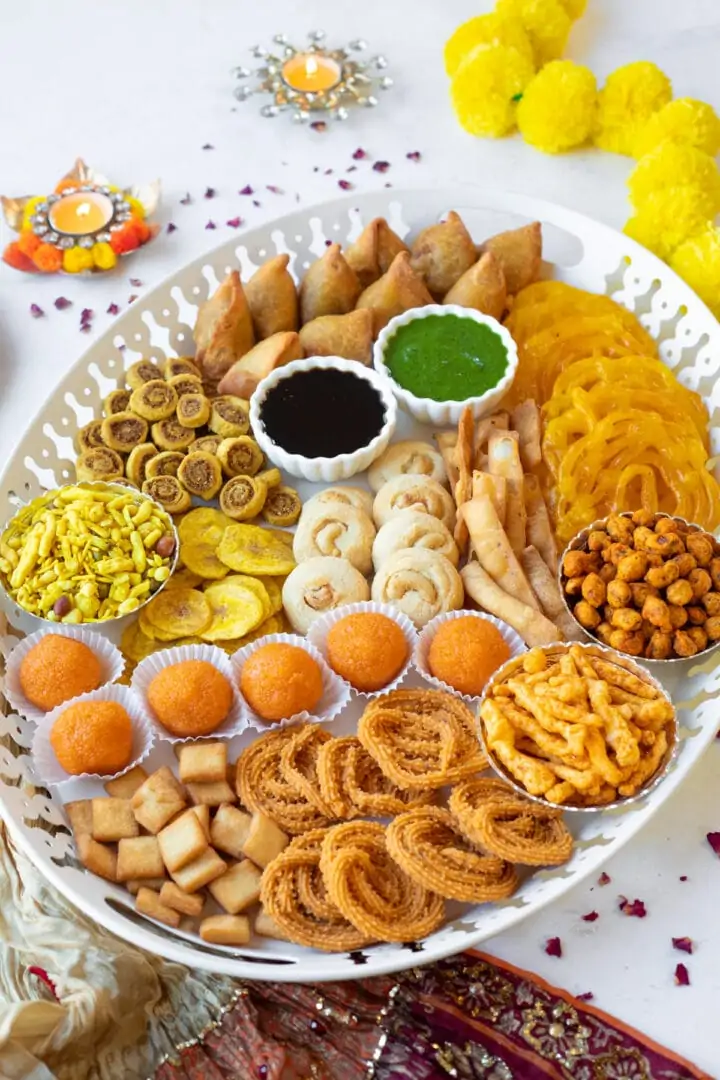 A desi charcuterie board must include the 4 basic components - salt, acid, heat (spice), and fat. You can use what you already have on hand. You can also do a mix of store-bought and homemade items to make things easier. Some of my favorite items to include are -
Appetizers
Crunchy Munchies
Shakarpara - these are crisp , mild sweet snacks.
Namak para - This is a savory crunchy snack popular in the Indian subcontinent
Bhel: It's a popular spicy street food made from crispy puffed rice.
Chakli - It is a spiral savory, fried snack made from rice flour
Roasted Makhana - These lotus seed snack is very easy to make and you have them plain salted or masala flavored.
Roasted Cashews - make your own or use store bought
Masala Peanuts - Make your own or buy from the Indian grocery store.
Khatta meetha Chivda - Its a flavorful sweet and salty Indian mixture
Parle-G Biscuits: Also called glucose biscuits. I have grown up eating these.
Sweets
Fruits
Fruits/ Vegetables - I like to include some sort fruits and vegetables on my Indian style charcuterie board if I can. You can also do like a fruit chaat.
How To Make Indian Charcuterie Board
Pick a tray/ platter/ board of your choice keeping in mind the items you will be serving and the number of people.
2. Prepare any bowls that will be used for the chutneys, dips, nuts, or namkeen. You can have about 4-5 bowls.
3. On our platter, we can mix sweet and savory items. Consider the occasion and time of the day.
4. Assemble the largest items you intend to use on the board. In this instance, it would be samosa, laddoos etc.
5. Next, add the medium-sized items and sweets,
6. The remaining empty spaces on the board can now be filled in using the smaller items. Things like banana chips and namakpara are excellent additions at this time.
7. Present and savour! It is ideal for entertaining and will be loved by friends and family.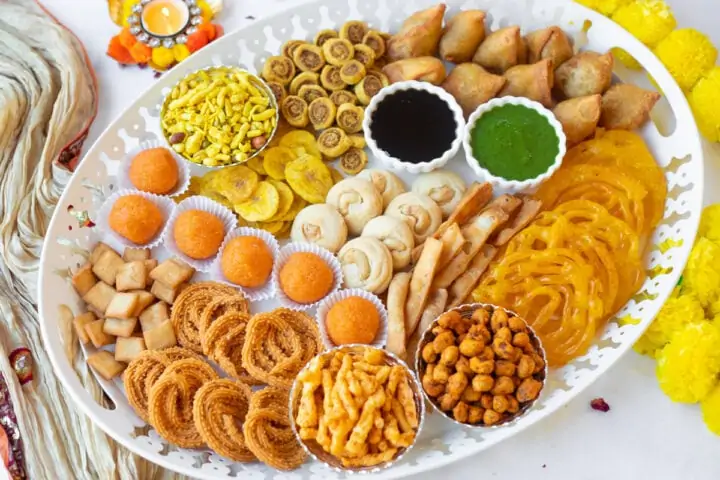 Pre - Preparation
Items like roasted makhana, masala peanuts and roasted cashews etc can be made a few days before. Keep in an airtight container.
Chutneys can be made ahead a couple of days in advance and stored in the refrigerator
You can make some simple sweets at home like these ones - badam katli, Chocolate Ladoo, besan ladoo etc.
Fruits can be washed and refrigerated the night before.
You can take out snacks from your favorite eateries or purchase frozen or prepared snacks from your preferred grocery stores. I would unquestionably advise purchasing snacks from the brands you have previously tried and enjoyed to avoid any disappointments especially for a large gathering.
Different Indian - Inspired Board Options
Pakora Platter: Assorted pakoras - paneer pakora, eggplant pakora, aloo pakora, cauliflower pakora, onion bhaji with sweet and tangy chutneys make a great choice for an Indian-inspired board.
Chaat Board: Create this colorful, finger-licking board for your next get together. Golgappas, papdi chaat, bhel puri, sev puri, dahi bhalla, aloo chaat, vada pav can be assembled and served in a fun way!
Curry Board: Transform your favorite dals and curries into a dip-like consistency and serve them on a board with papad, mini naan, missi roti etc. Enjoy!
Asian-inspired Board: Make use of Asian flavors and foods like wontons, spring rolls, sushi rolls, edamame, tofu are great for creating this board.
Dessert Board: Charcuterie boards can be used for more than just cheeses and meats! They're great for dessert snacking and you can use a mix of your usual cupcakes, brownies, cheesecakes, chocolates along with some Indian fare.
Diwali Platter - Mix sweets: You can create this exciting Diwali platter with savory munchies - farsaan/ namkeens, nuts and assorted Indian sweets. Hop on to my special post on Best Diwali Recipes for some inspiration!
Ramadan Platter: Break your fast in a stylish way with a Ramadan platter. You can include dates, fruits, kebabs, tikkas, kheer, kuli-falooda etc.
Expert Tips
Do not feel compelled to select a very large board because ultimately you must utilize every inch of the available space.
Choose a tray/ platter with raised, higher edges to keep the food from spilling over.
Draw a rough sketch/ template for how you want the final board to look like or you can use pictures from this post or internet/social media for inspiration.
Create height/ dimension by using bowls and small dishes like tapas plates.
Try to gather all food/ items in advance to avoid any last minute hiccups.
Use a good mix of sweet and savory items, as well as strong and mild flavors and a variety of textures.
Assemble the board from largest to smallest items and then fill the empty spaces.
You can use preportioned cups of desserts / snacks for easy picking and eating
Accompany your board with any utensils/ cutlery/ toothpicks if needed.
Pair your board with the right drinks to savor your food.
More Recipes Include In Your Indian Charcuterie Board
📖 Recipe
Tried this recipe?
Give a rating by clicking the ★ below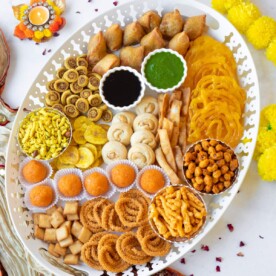 Indian Charcuterie Board
Everything you need to know in creating and assembling the perfect Indian Charcuterie Board with food inspirations, expert tips and instructions. Serve your Indian snacks and sweets in a cheerful and festive way!
Ingredients
Chutneys/ Dips
Nibbles
Masala Peanuts

Banana Chips

Makhana
Fruits
Pomegranate

Pineapple

Grapes
Instructions
Get the Ingredients Ready
Cook in advance everything you need to put on your charcuterie board. Buy/ order any items that you want to get readymade.

Take out all of the ingredients for your charcuterie board, such as sweets, farsaan/ namkeen

If using fruits and vegetables, they should be washed and dried.
Set the board and bowls on the table.
Choose the board and bowls based on the number and type of ingredients you intend to include on the charcuterie board. Bowls can be used for chutneys and condiments, as well as munchies like masala peanuts, makhana etc.
Assemble your Indian Charcuterie Board
When it's time to put together your charcuterie board, start by filling your bowls and distributing them evenly across the board.

Put together the biggest components you plan to use on the board. It would be samosa, laddoos, etc. in this case.

Add the sweets and medium-sized items next.

With the smaller items, you can now fill in the remaining empty spaces on the board. Adding things like banana chips, nuts and namakpara at this time is a great idea.

Share your masterpiece and enjoy!
Note: Nutrition values are my best estimates. If you rely on them for your diet, use your preferred nutrition calculator.