A famous Delhi street food, Dahi Papdi Chat, is a crispy sweet, spicy, and tangy chaat that packs a whole lot of flavor. Also known as Dilli chaat, this popular street food is made with crispy papdi (whole wheat crackers), sev (thin gram flour noodles), yogurt, and a variety of chutneys.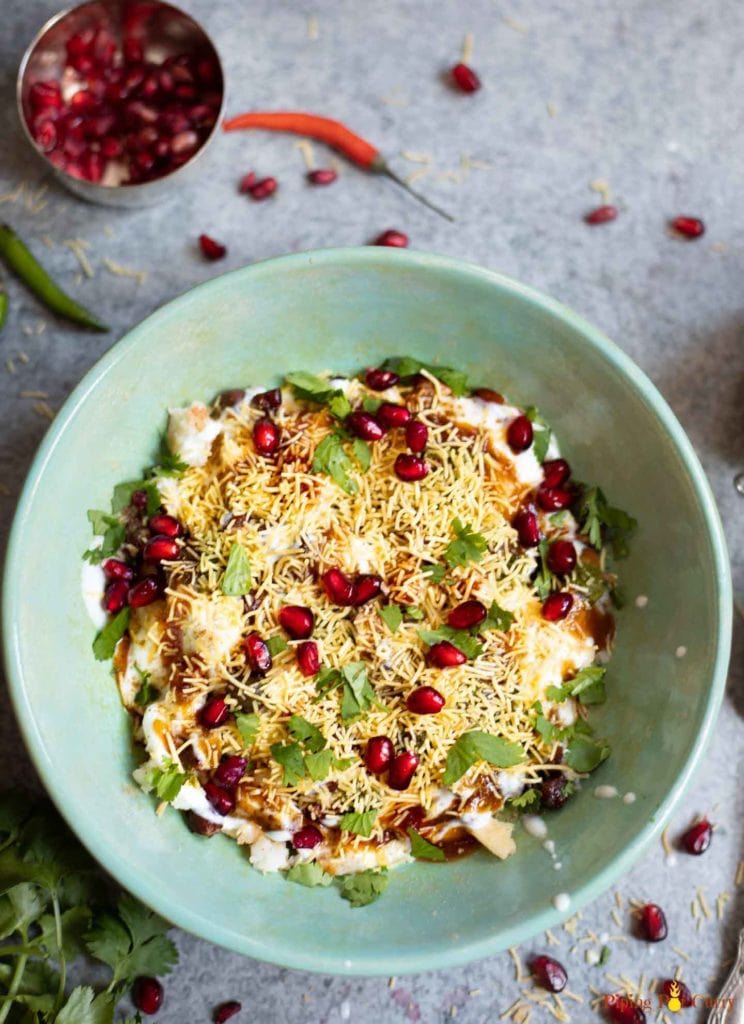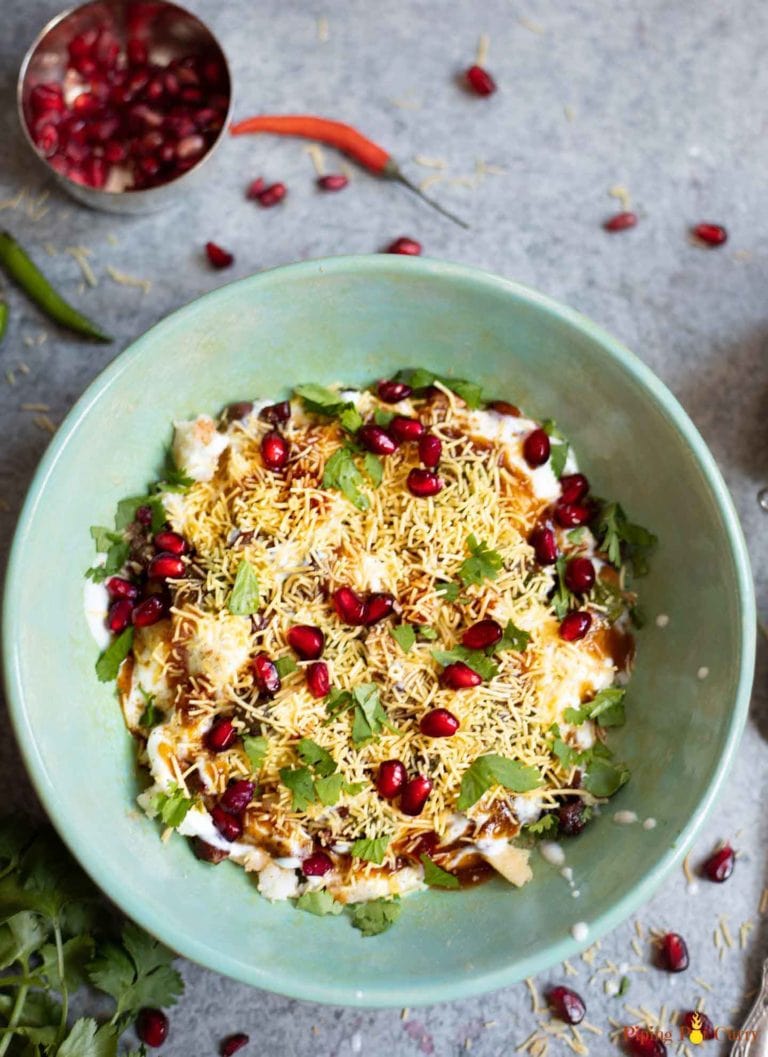 Similar to Sev puri, this Dahi papdi chaat has a crispy base of papdi topped with chutneys and yogurt (curd). While sev puri has more of a crunch, Dahi papdi chat has a chilled cooling crunch due to the yogurt. One more version of this chat is the Dahi Bhalla Chaat. It is a spicy and soft lentil fritter topped with yogurt and chutneys.
What is Dahi Papdi Chaat?
Also known as Aloo Papdi Chaat or Sev Papdi Chaat, this chaat is native to the streets of Delhi. It is also called Papri chaat in the native lingo. It is a perfect balance of all tastes in one simple dish. You will feel the tanginess, sweetness, and spice of the chutneys coupled with the cooling yogurt finished off with a crunch from the thin gram flour sev.
It is loaded with boiled potatoes, black chickpeas, or sprouts topped with crumbled puris and chutneys drizzled on top. I usually have tamarind chutney and cilantro chutney ready in the refrigerator, so making an authentic chaat becomes easy.
What chutneys are needed to make Papri Chaat?
Usually, three types of chutney are used in any chaat dish to bring that authentic taste. They bring all the flavors of sweet, tangy, and spicy all together in one bite.
Sweet Tamarind chutney - This chutney combines the taste of sweet and tangy. The sweetness of dates and tanginess of the tamarind, along with jaggery, makes it a must addition for Sev Puri.
Cilantro chutney - It is chutney prepared with fresh mint leaves, coriander, lemon juice and salt.
Red garlic chutney - This is a spicy chutney made with red chilies and garlic. You can increase or decrease the number of chilies according to your spice preference. You can also skip this chutney in a pinch.
How to make Papdi Chaat at home?
Pre-preparation
Before starting to prepare this Dahi papdi chaat, make sure you have all the ingredients ready. You don't want to start making the chaat and have to stop in between for ingredients, as that can make the chaat soggy, and you will miss the crunch.
I added boiled black chickpeas to this chaat. These are optional, or you can replace them with sprouted chickpeas or sprouted moong dal too.
Soak the chickpeas a day before and boil them till they are soft.
Boil potatoes. Let them cool, then peel and mash them. I usually mash the potatoes with my fingers. If you like, you can add some salt and mild chili powder to the mashed potatoes.
Make the chutneys a day before and store them in the refrigerator.
Make sure the yogurt is chilled.
Assembling Papdi chaat
Keep 7 puris in a shallow plate with enough space between them so that they are not tightly packed.
Add some crumbled puri over them and then the crumbled potato over them.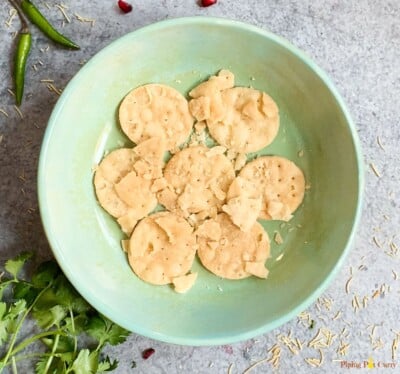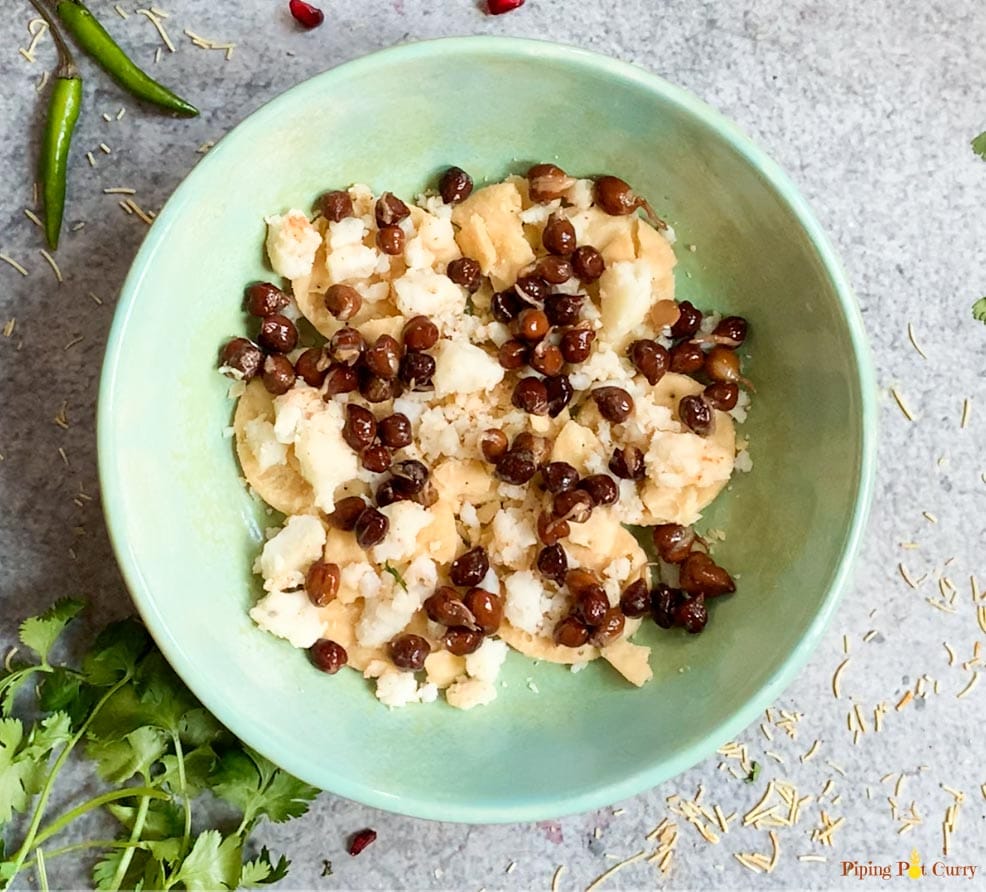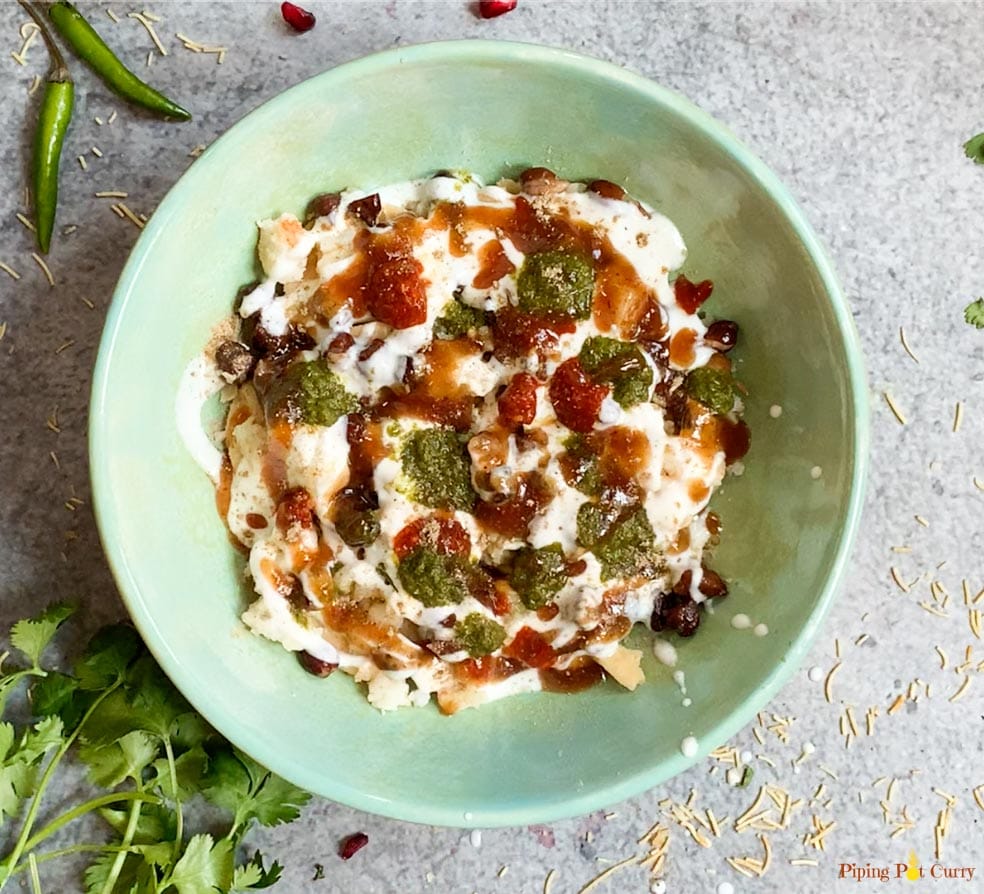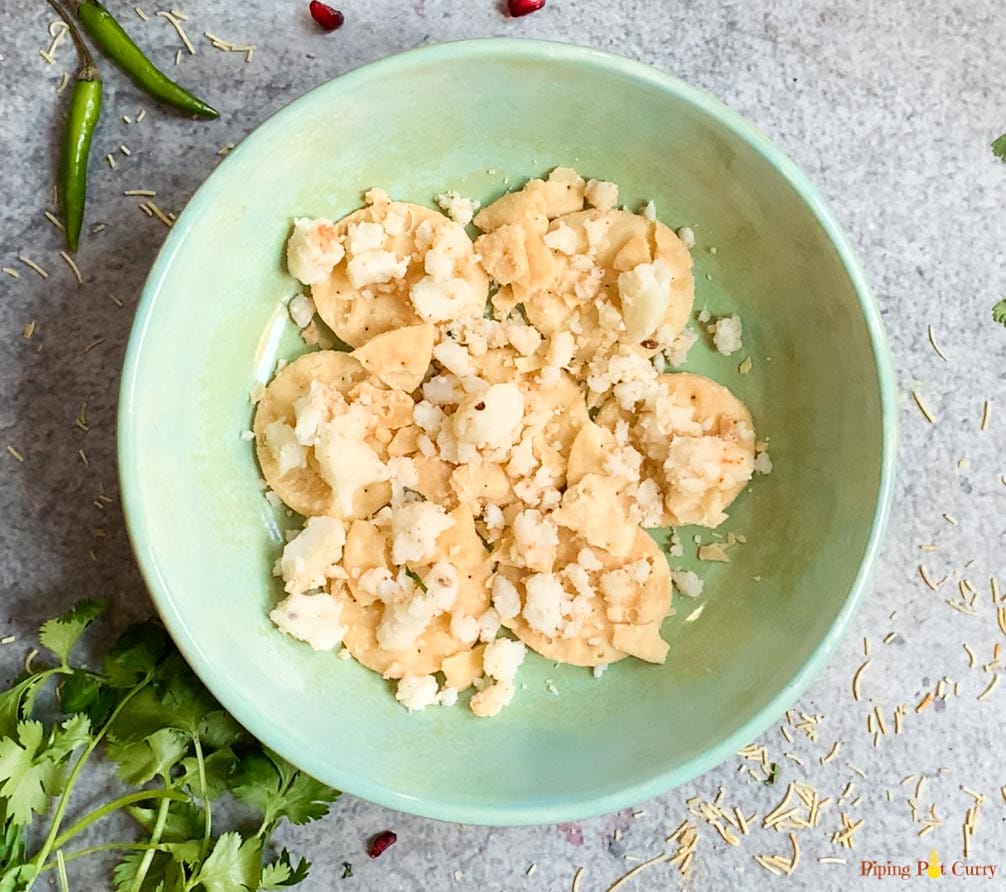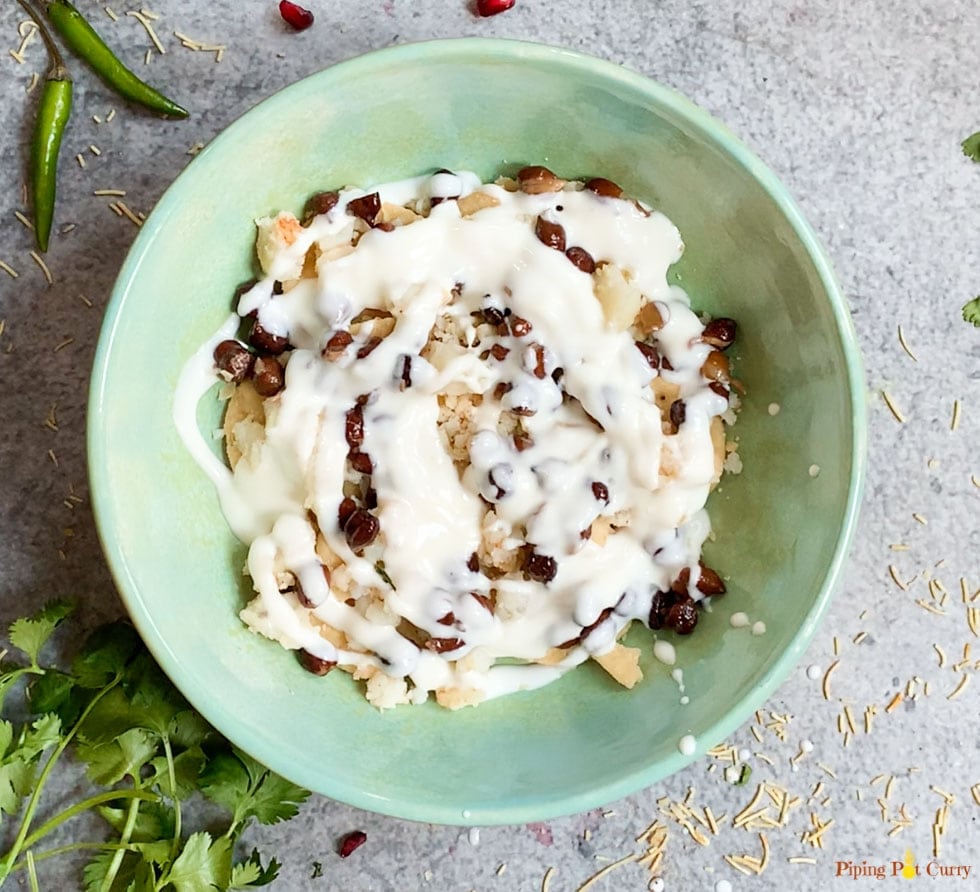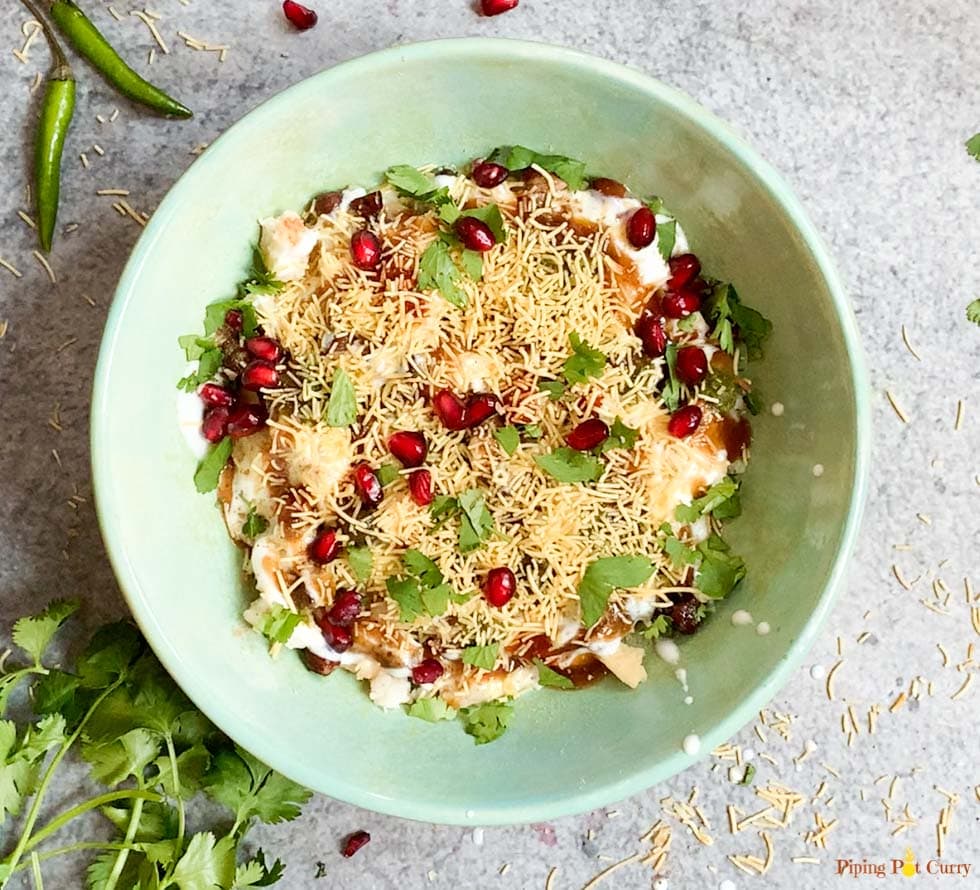 Add some boiled chickpeas next over the puri. You can also substitute chickpeas for sprouts.
Next comes the yogurt; spread it evenly over the puris.
Then come the chutneys. Spread the red garlic chutney and then the mint cilantro chutney.
Add the tamarind chutney a little bit generously for that tangy taste.
Then sprinkle chat masala over the top. The chat masala will be available in Indian stores near you.
Add the nylon sev generously on top.
Garnish the Dahi papdi chat with cilantro and pomegranate seeds
Serve immediately and then prep the next plate.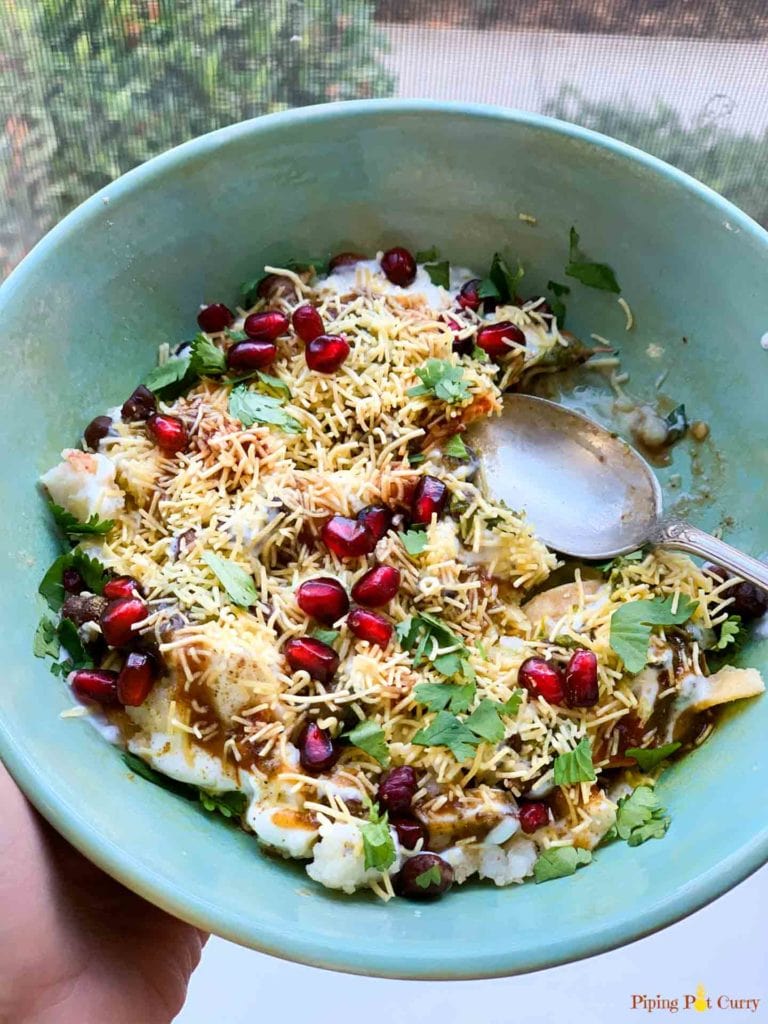 Tips to make the best Delhi Papdi Chaat
Homemade chutneys are the best way to enjoy authentic chat recipes at home. They have a fresh taste and also bring all the ingredients together.
You can make the chutneys beforehand and store them in the fridge for later use
Chilled yogurt is a must to enjoy this popular street food.
Ensure all ingredients are ready before assembling, as the chutneys and yogurt will make the papdi's soggy.
Have this mouthwatering chat immediately to enjoy the crunch, tangy, sweet, and spicy flavors exploding in your mouth.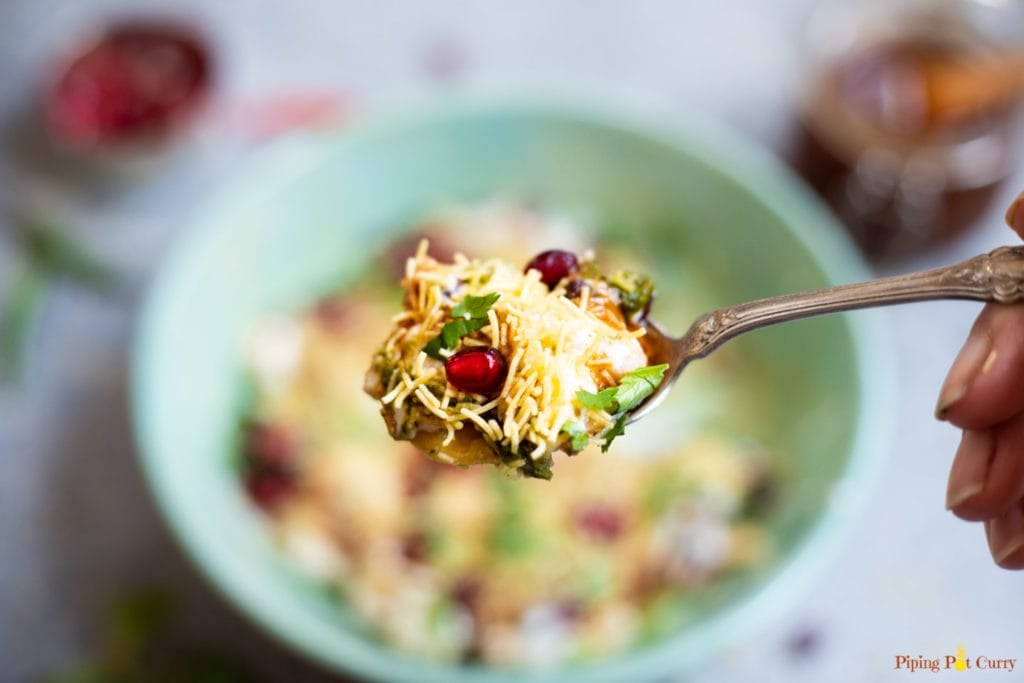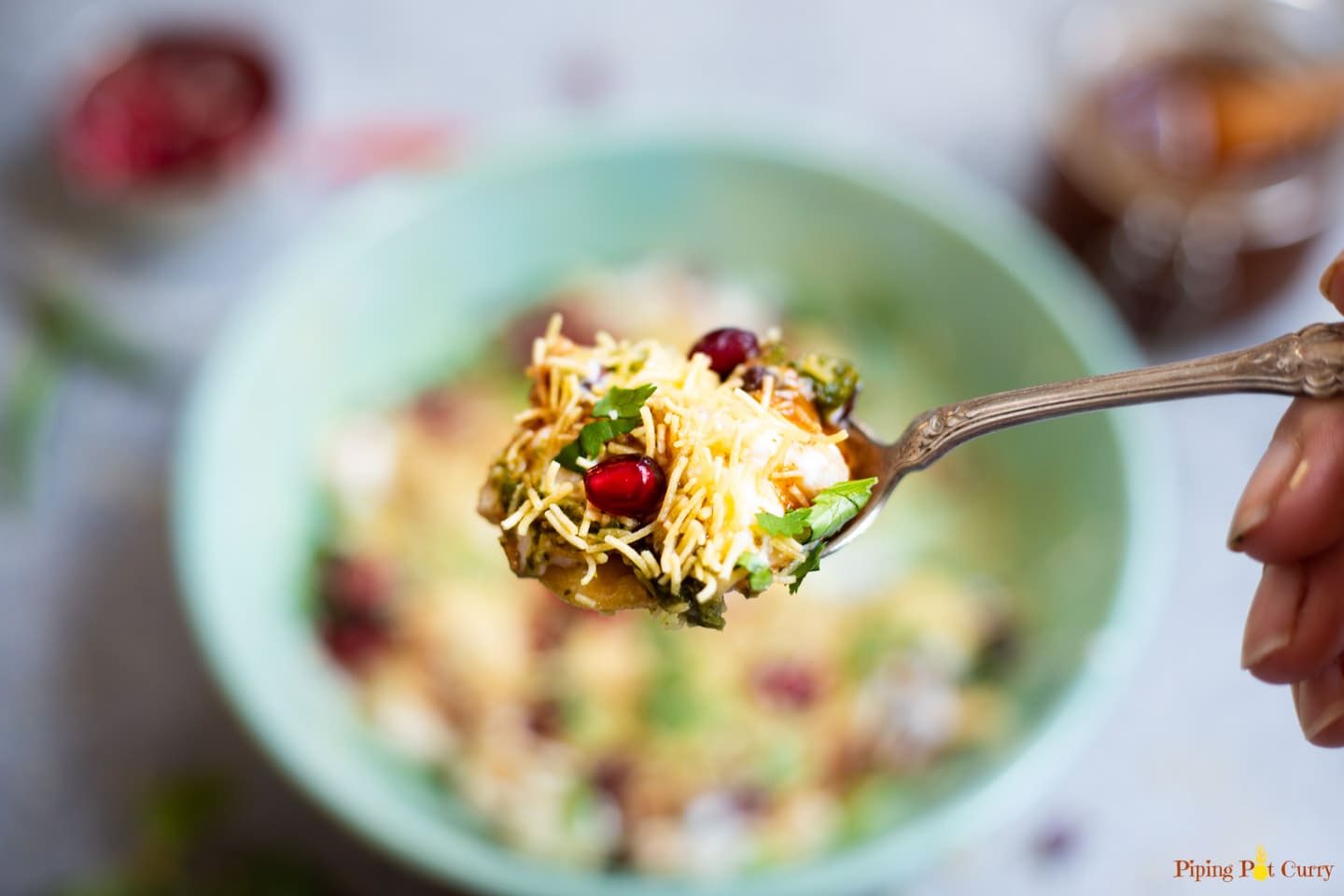 Enjoy this Dahi Papdi Chaat for an easy non-cook snack. This the a great addition to a party too. Just take all the ingredients and let everyone enjoy making their own chaat!
If you love Indian chaat/street food like me, here are some more recipes you will enjoy!
Sev Puri - A popular Mumbai street food, Sev Puri is a sweet, spicy, tangy chaat.
Dahi Vada - This favorite Dahi Vada or Dahi Bhalla recipe has the softest lentil fritters drenched in creamy yogurt and topped with sweet and spicy chutneys.
Vada Pav - Vada Pav is the humble street food of Mumbai that every person can afford and find easily.
Pav Bhaji - Try this one-pot Pav Bhaji recipe in the pressure cooker, and you will not make it any other way again!
Ragda Chaat - This easy yellow peas chaat is made with sweet and spicy chutneys and is a popular Delhi street food.
📖 Recipe
Tried this recipe?
Give a rating by clicking the ★ below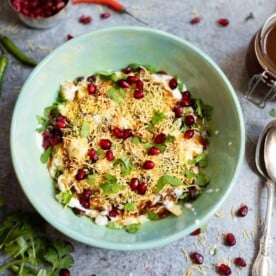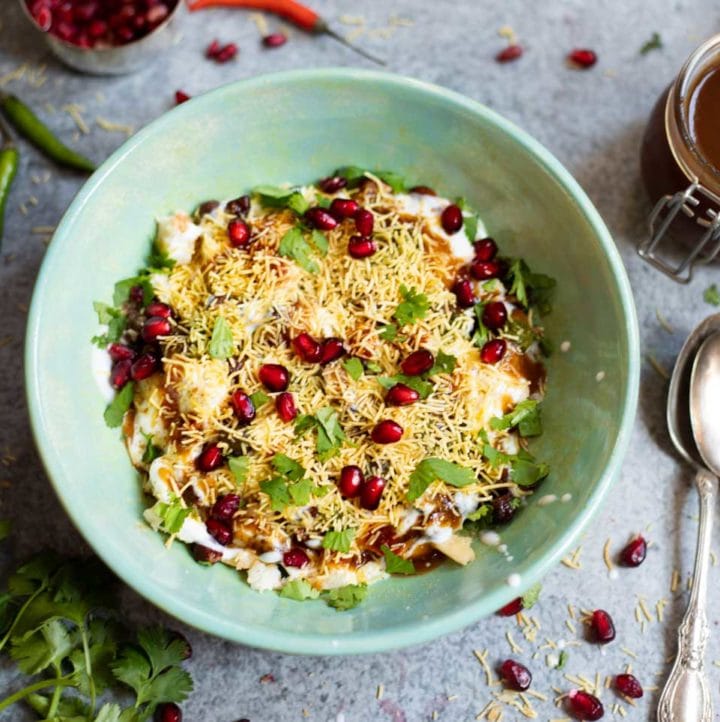 Easy Dahi Papdi Chaat
A famous Delhi street food, Dahi Papdi Chat, is a crispy sweet, spicy and tangy chaat that packs a whole lot of flavor. Also known as Dilli chaat, this popular street food is made with crispy pooris, sev (thin gram flour noodles), yogurt, and a variety of chutneys.
Instructions
Keep all the ingredients ready before starting to make dahi papdi chaat. Have boiled potatoes and black chickpeas. Also keep all three chutneys, sev and chaat masala on the counter.

Place 7 puri's spread out on a plate. Crumble some puri's oven them.

Crumble some boiled potato on each of the puri.

Spread some boiled black chickpeas over the puris. You can also use sprouted moong dal in place of black chickpeas.

Spread ¼ cup of dahi on the puris.

Spread 1 tablespoon of red garlic chutney and green mint cilantro chutney.

Spread a couple of teaspoons of tamarind chutney on each puri.

Sprinkle a quarter teaspoon chaat masala on top.

Then spread sev on the puri's.

Then garnish with cilantro leaves and pomegranate seeds.

Serve dahi papdi chaat immediately. Make another serving following the same steps.
Notes
Homemade chutneys add fresh flavors than store-bought ones. You can make them beforehand and store them in the refrigerator.
Make sure you have all the ingredients ready before starting to assemble the sev puri as the chutneys can turn the puri soggy.
Consume the prepared papdi chaat immediately to enjoy all the flavors of this mouthwatering dish.
Note: Nutrition values are my best estimates. If you rely on them for your diet, use your preferred nutrition calculator.
Nutrition
Calories:
189
kcal
Carbohydrates:
31
g
Protein:
7
g
Fat:
4
g
Saturated Fat:
1
g
Cholesterol:
8
mg
Sodium:
1297
mg
Potassium:
349
mg
Fiber:
6
g
Sugar:
16
g
Vitamin A:
128
IU
Vitamin C:
5
mg
Calcium:
100
mg
Iron:
2
mg