Get ready to enjoy the sweet, tangy, and spicy flavors of these delectable Indian chaat recipes. This collection of 12 Amazing Indian Chaat Recipes has everything from the fiery and flavorful Aloo Tikki Chaat to the refreshing and tangy Dahi Puri.
The wonderful thing about chaat is that it's so easy to make at home, and everyone loves it!
What is Chaat?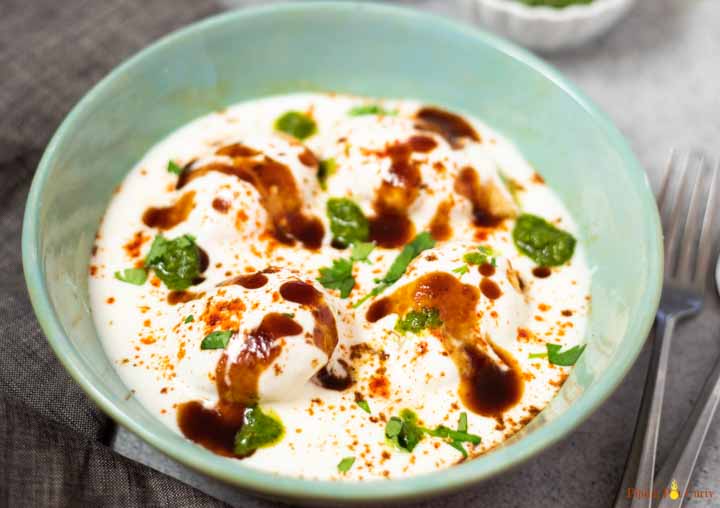 The word "chaat" in Hindi translates to "to lick," and this dish lives true to its name. Chaat is a dish that satisfies your craving for flavor by combining sweet, sour, and spicy elements such as tamarind chutney, spicy cilantro chutney, and chaat masala. Every corner of India sells this popular snack, and each area has its unique chaat recipe.
Get ready to explore the world of chaat with these 12 different types of chaat recipes to quench your cravings for street food.
Dahi Papdi Chaat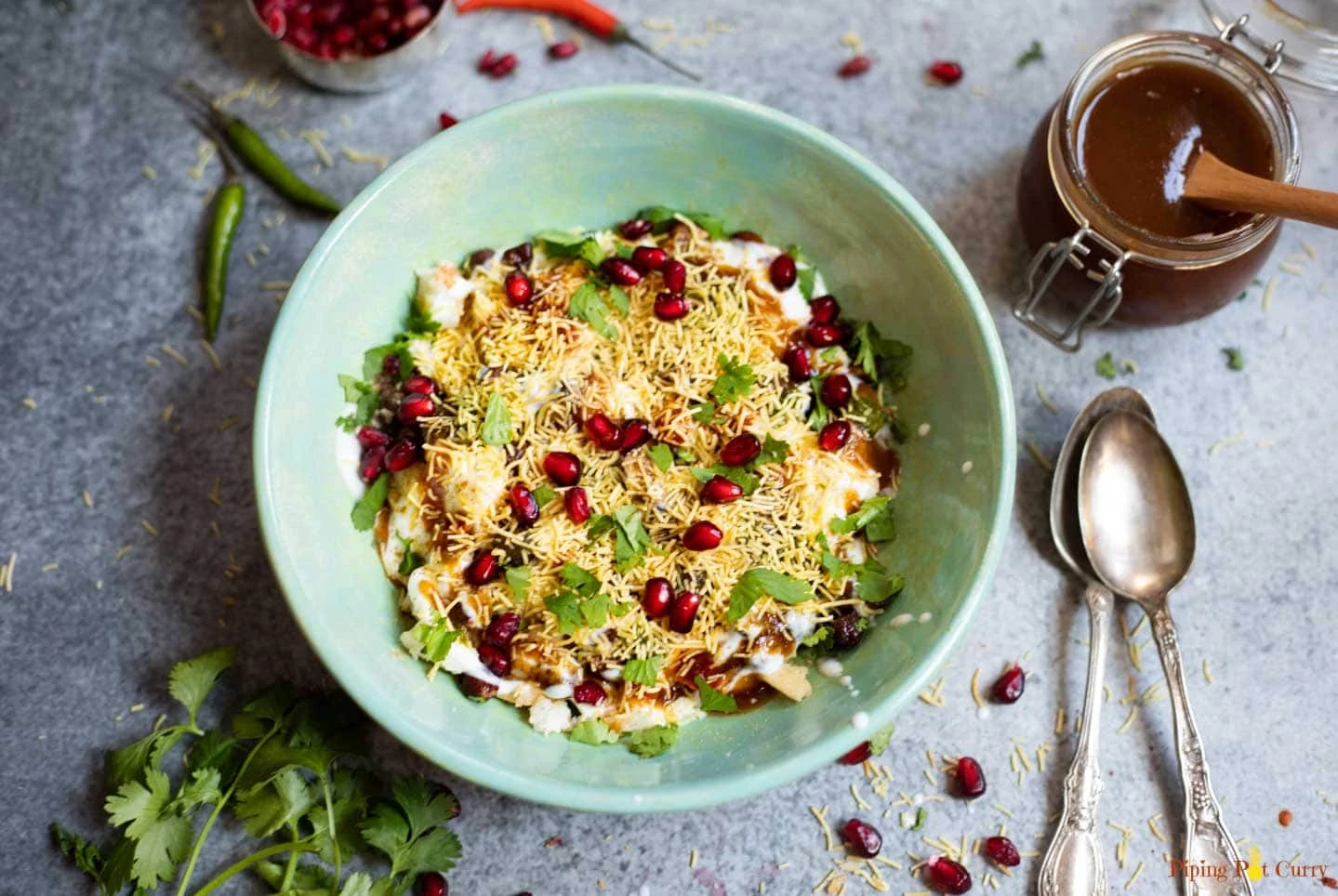 A famous Delhi street food, Dahi Papdi Chat, is a crispy sweet, spicy, and tangy chaat packed with a lot of flavor. Also known as Dilli chaat, this popular street food is made with crispy papdi (whole wheat crackers), sev (thin gram flour noodles), yogurt, and a variety of chutneys.
Get the Dahi Papdi Chaat recipe.
Aloo Tikki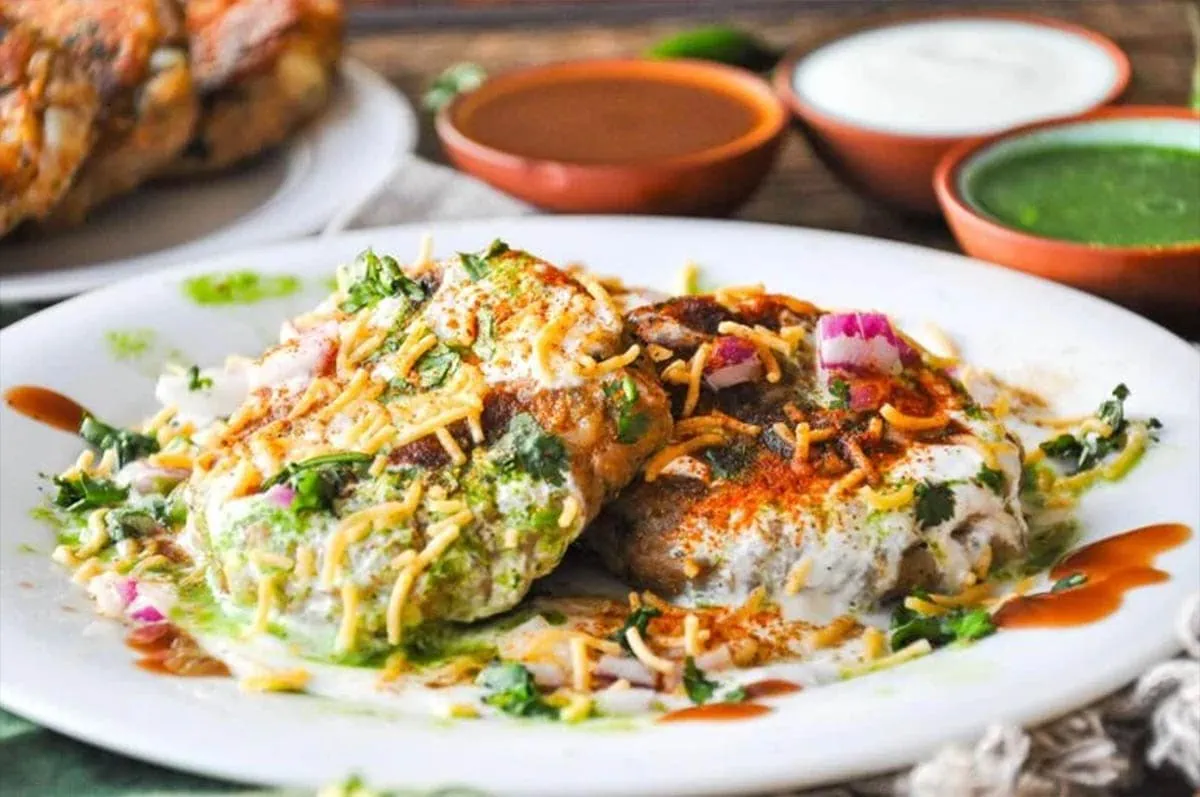 Aloo Tikki Chaat is a famous Indian Street Food. A crispy Indian potato patty flavored with spices and topped with yogurt and chutneys. This easy recipe will assist you in making this mouthwatering chaat at home.
Get the Aloo Tikki recipe.
Sev Puri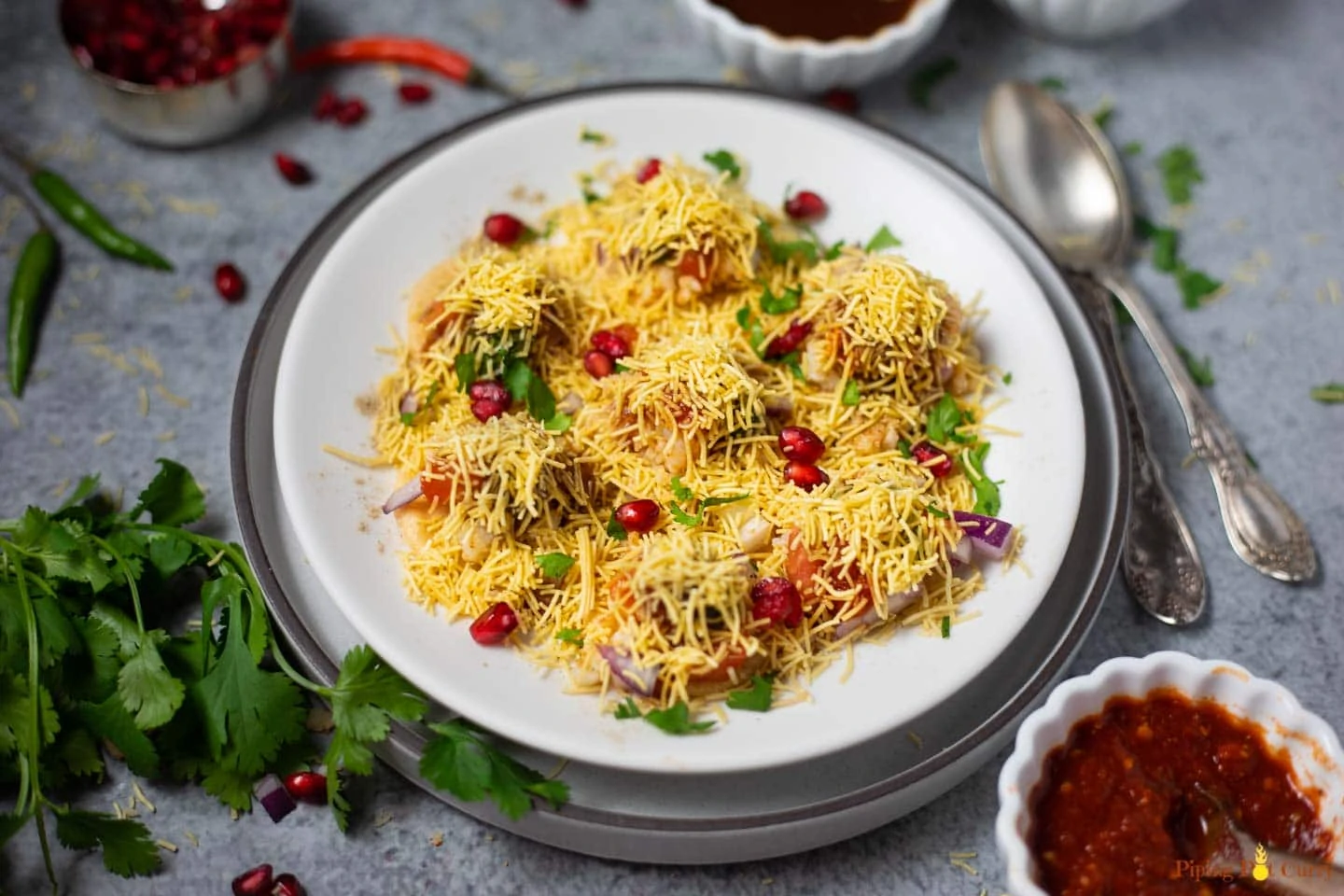 A popular Mumbai street food, Sev Puri is a sweet, spicy, and tangy chaat. Sev Puri is made with crispy puri (whole wheat crackers) topped with potatoes, onions, tomatoes, and a variety of chutneys and finished with sev (thin gram flour noodles). This no-cook chaat recipe is a favorite snack with evening tea!
Get the Sev Puri recipe.
Bhel Puri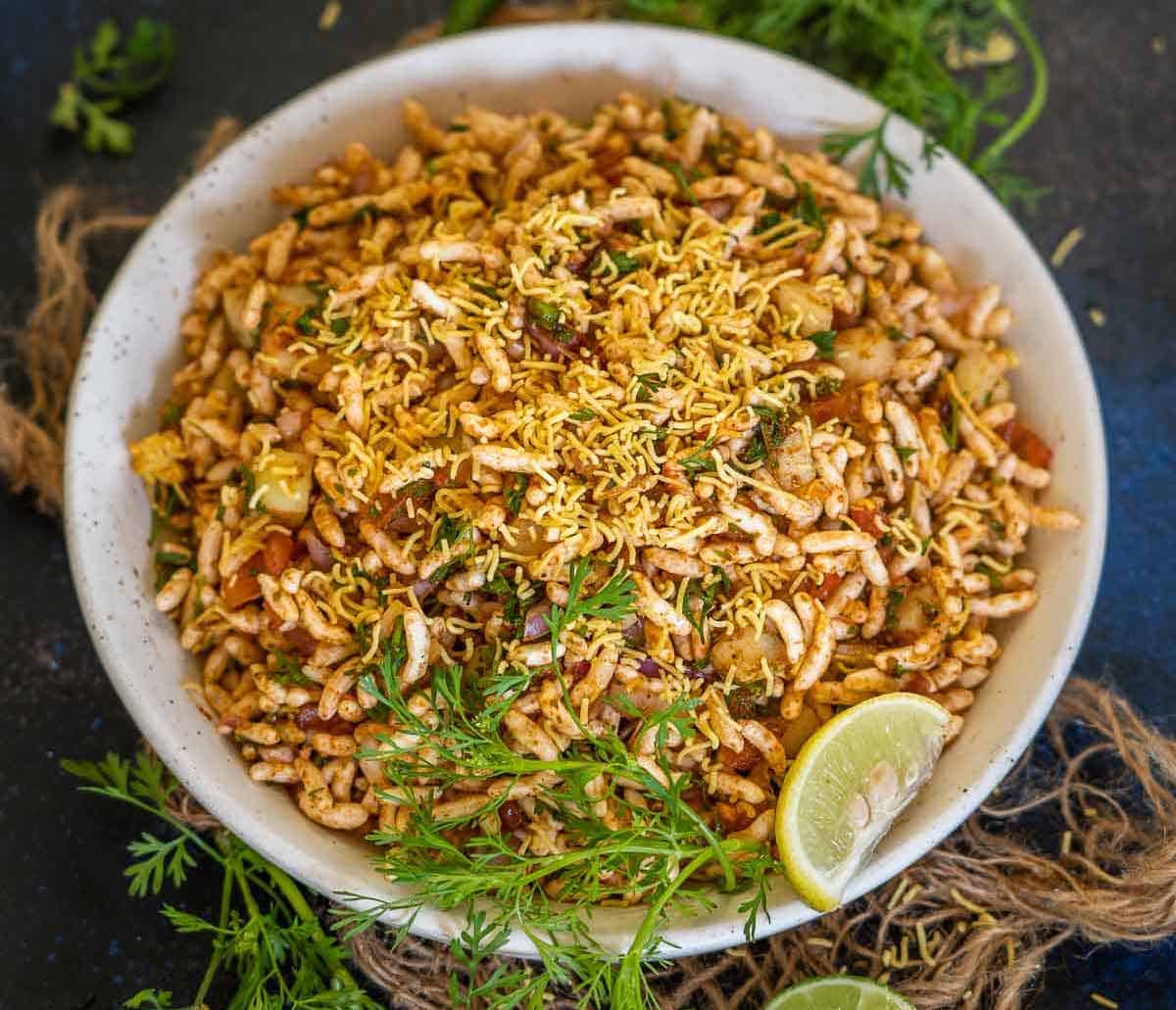 Bhel puri is a popular Indian street food made with puffed rice, sev, vegetables, and tangy chutneys. This easy vegan recipe will make tangy and spicy Bhel Puri Chaat at home in 10 minutes.
Get the Bhel Puri Chaat recipe.
Dahi Vada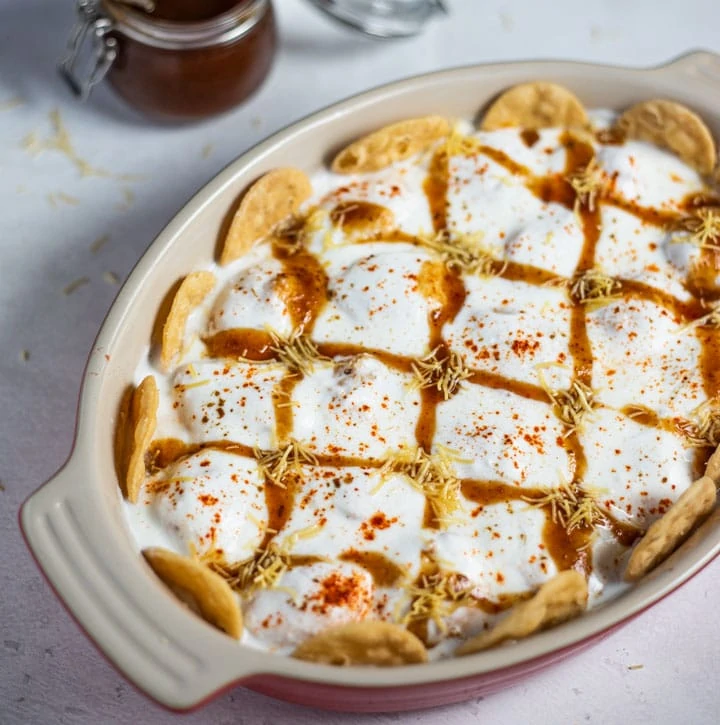 This favorite Dahi Vada or Dahi Bhalla recipe has the softest lentil fritters drenched in creamy yogurt and topped with sweet and spicy chutneys. This popular Indian street food is loved by all and is a perfect inclusion to any festive menu!
Get the Dahi Vada Chaat recipe.
Pani Puri / Golgappa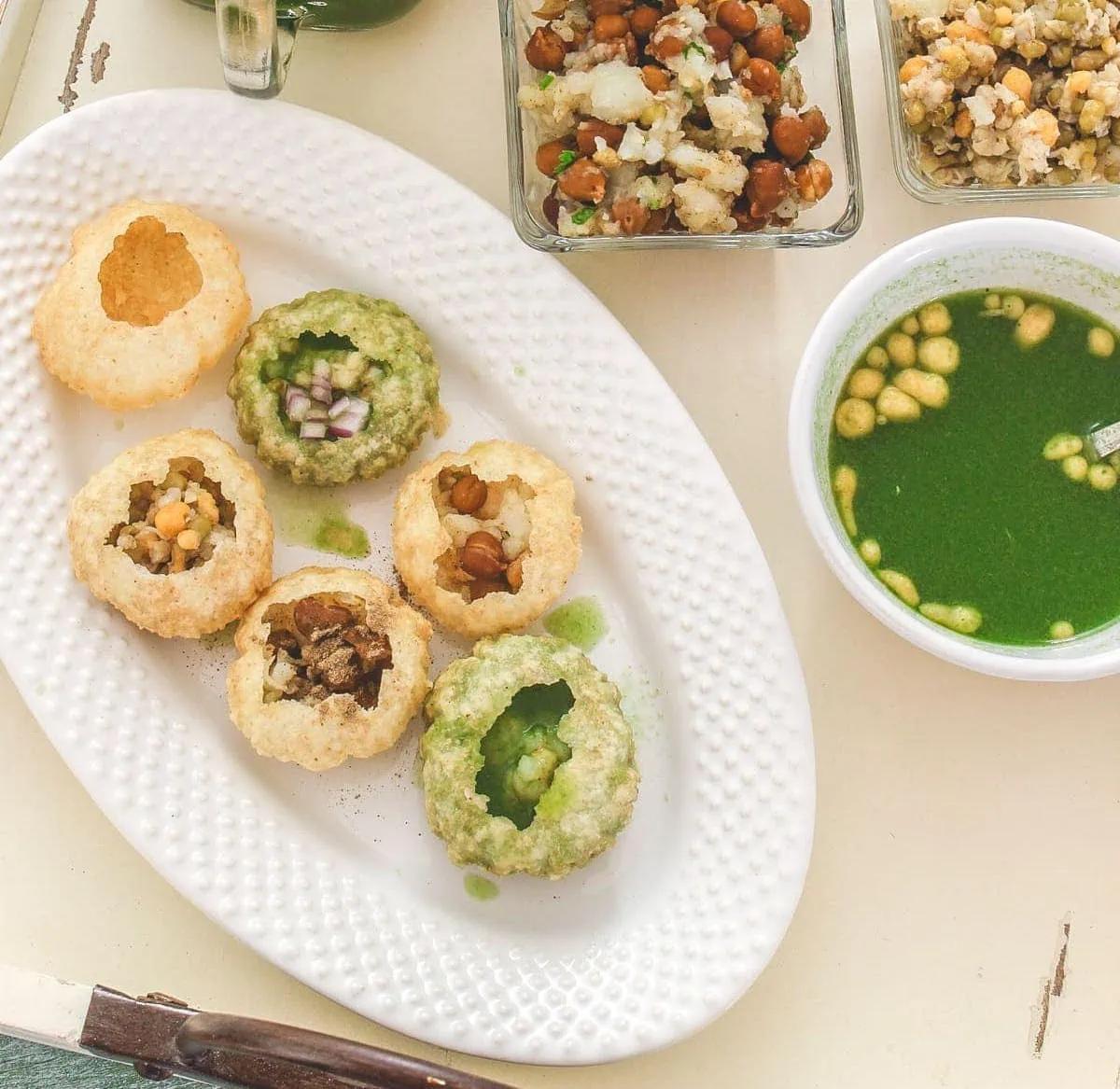 Pani puri, also known as golgappa, is a popular Indian street food snack that consists of crispy, hollow puri shells filled with spiced potatoes, chickpeas, and tangy tamarind chutney.
The highlight of this dish is the "pani," or water, which is tangy and spicy mint-cilantro water added to the puri just before eating.
Get the Pani Puri Recipe.
Samosa Chaat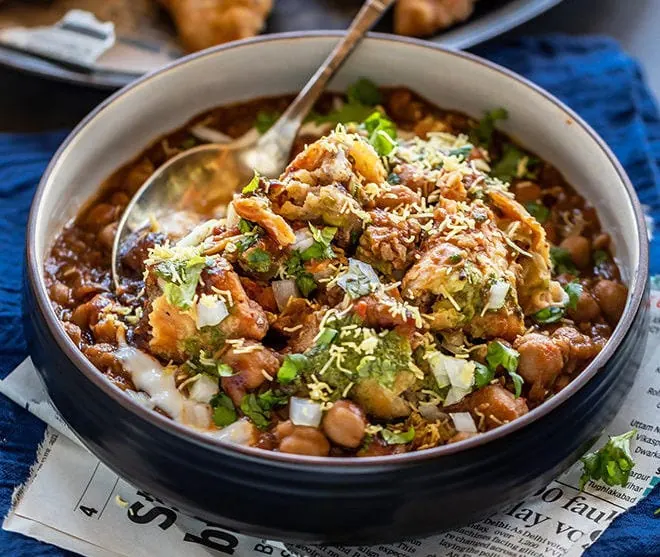 Love samosas? Try them in this tangy, spicy Samosa Chaat with chole, yogurt, and chutney - a popular Indian street food favorite!
Get the Samosa Chaat recipe.
Ragda Patties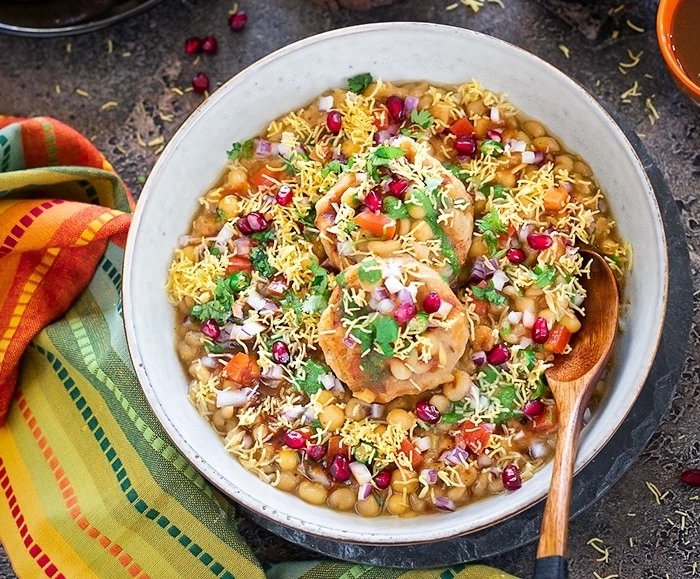 Indulge in Mumbai street food with this incredible Ragda Patties recipe, topped with crunchy onions, tomatoes, and fine sev - a dream come true for every chaat lover!
Get the Ragda Patties recipe.
Matar Chaat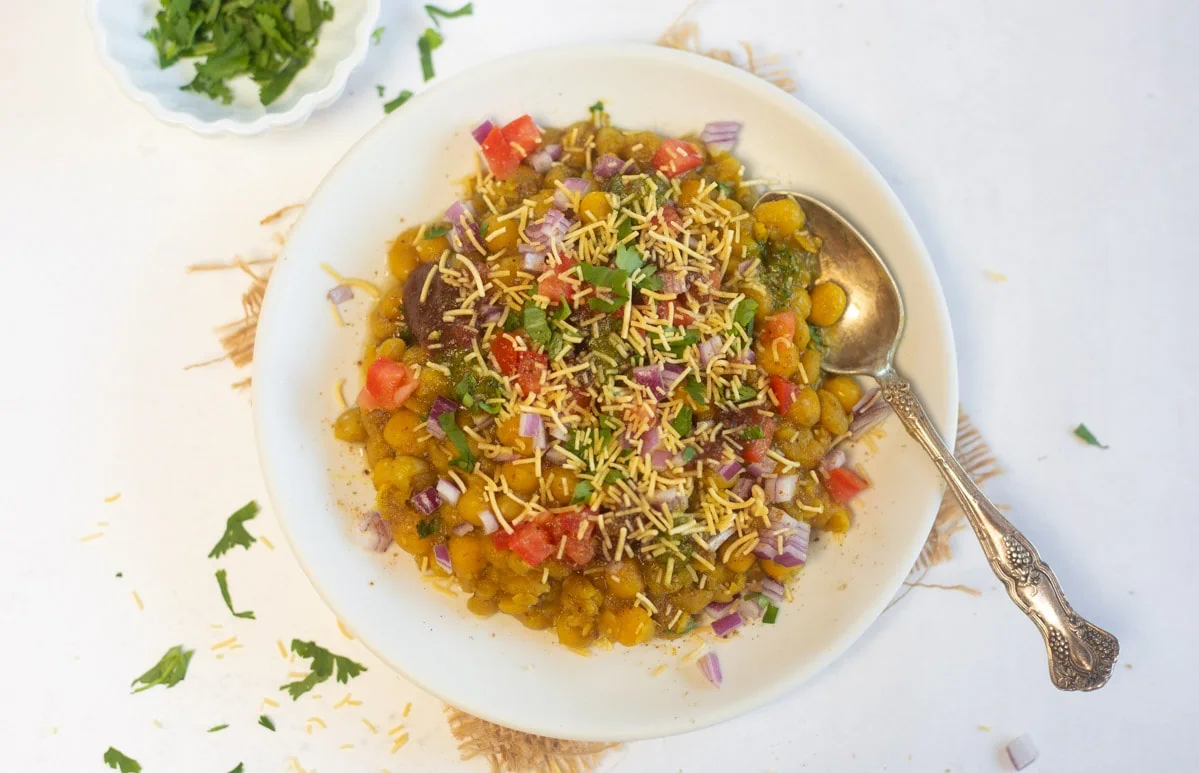 Ragda Chaat, also called Matar Chaat, is a street-style snack made with dried white peas. It is topped with onions, tomatoes, chutneys, and spices to make a delicious snack. Pair it with aloo tikki or kulcha to make a complete meal!
Get the Ragda Chaat recipe.
Aloo Chaat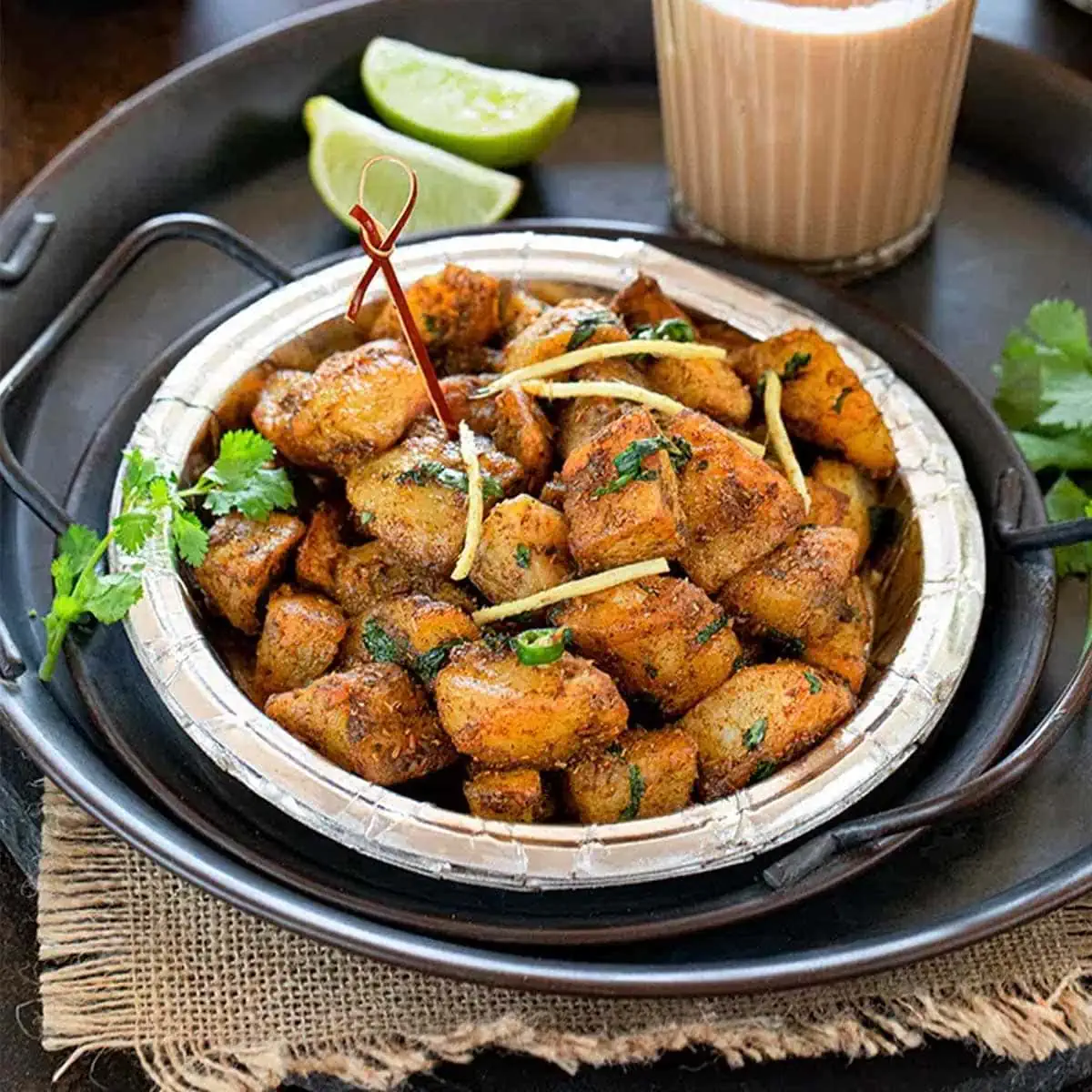 Delhi-style aloo chaat is a flavorful dish made with shallow-fried potatoes topped with chutneys for the ultimate deliciousness that eminently delights the taste buds.
Get the Aloo Chaat recipe.
Kala chana chaat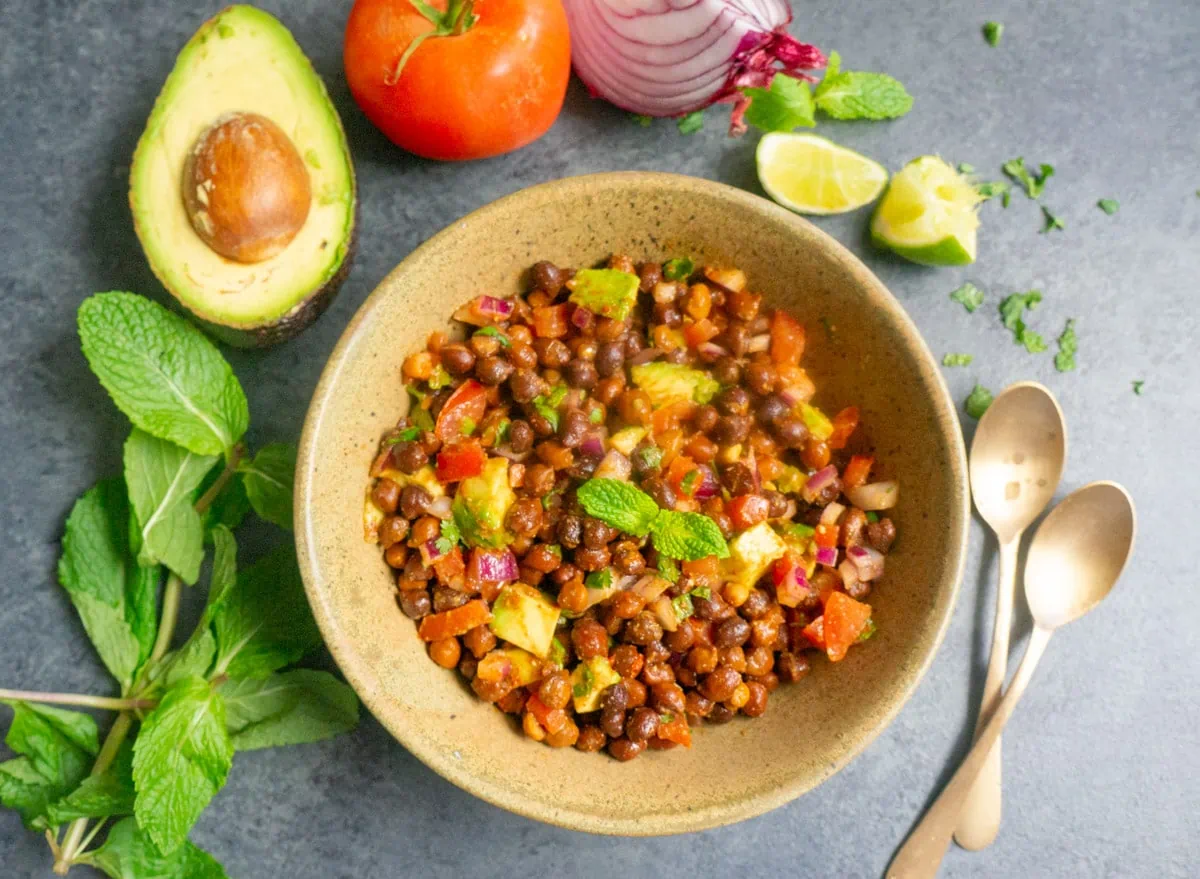 This refreshing salad has fresh and tangy flavors and can be enjoyed as a great protein-rich breakfast or snack. Vegan & gluten-free.
Get the Kala Chana Chaat recipe.
Fruit Chaat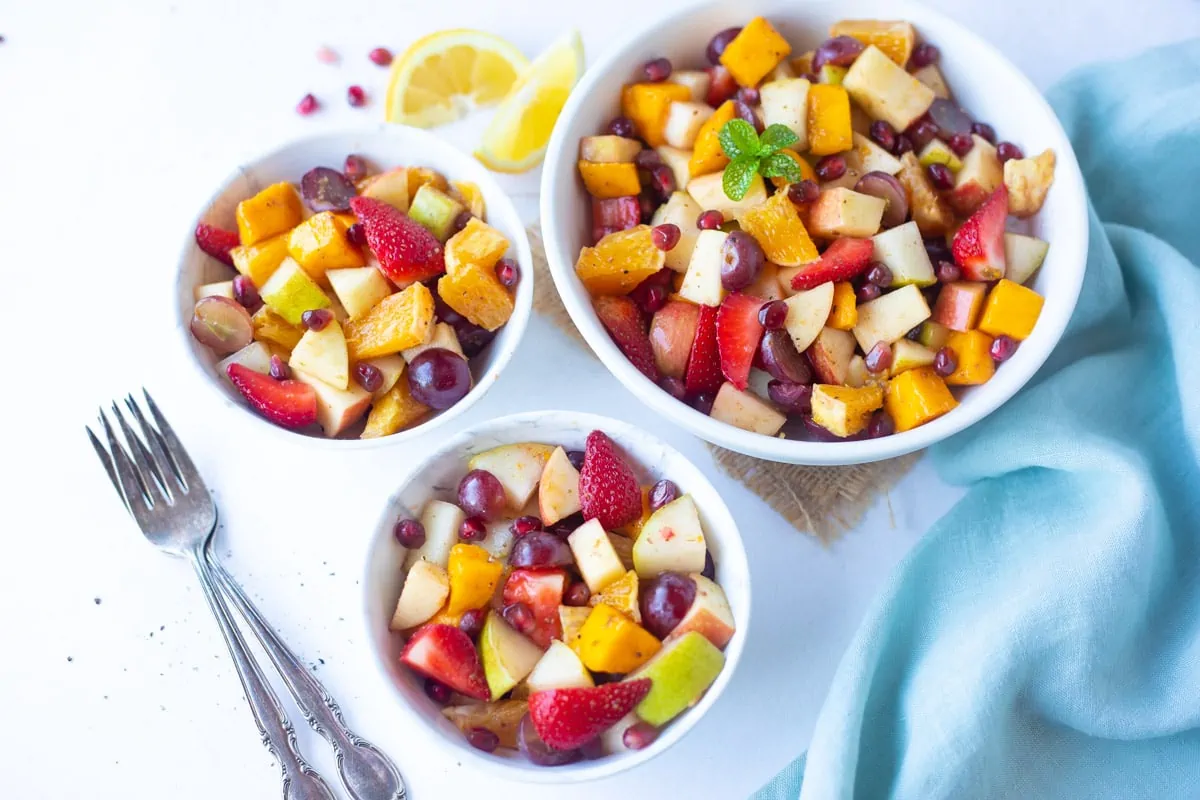 Fruit Chaat is a famous Indian-style fruit salad made with fresh fruits tossed in a tangy-spicy dressing. This refreshing chaat can be enjoyed as a snack, appetizer, or dessert for those post-meal sugar cravings.
Get the Fruit Chaat recipe.
Chutneys for Chaat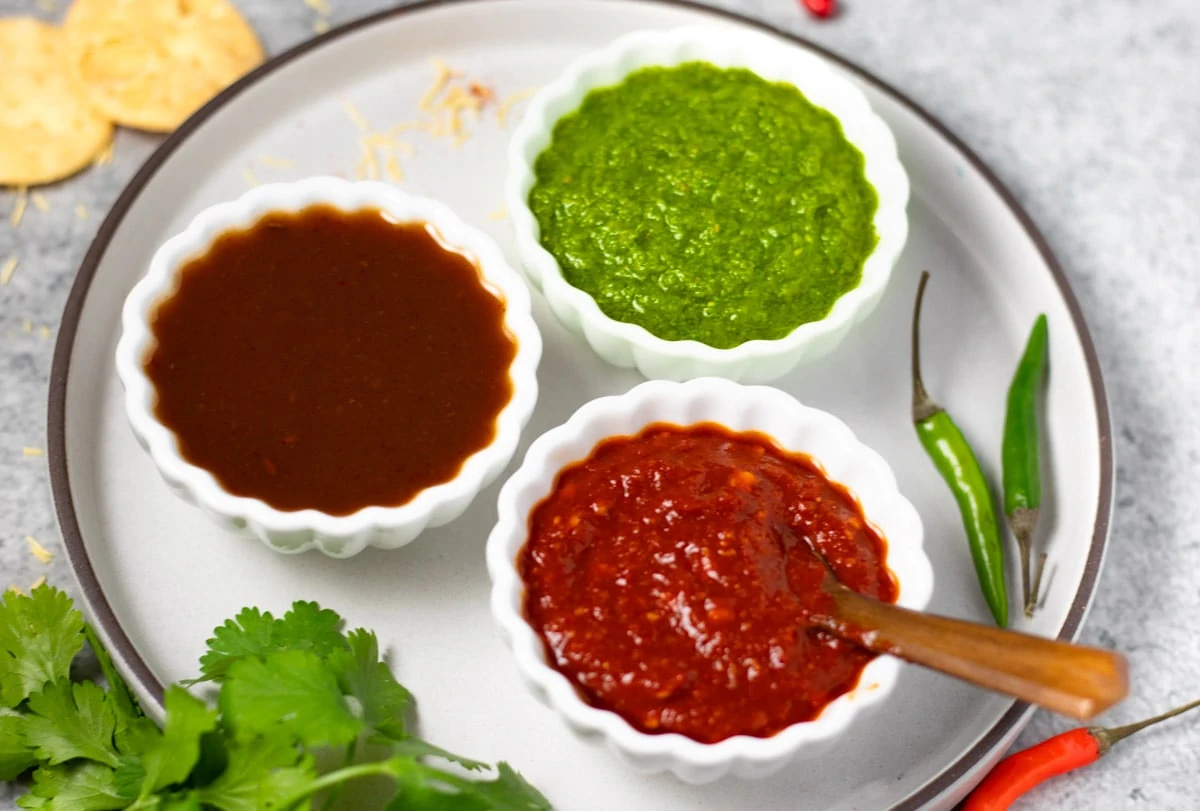 You will find these 3 basic Indian chutney recipes used for chaat or as dipping sauces at most Indian restaurants. These chutneys are essential to making most Indian chaats, and they are the popular dipping sauces for a samosa or any appetizer.
Get the Three Indian Chutneys recipe.
Fire Up the Grill with These 13 Sizzling Indian Grilling Recipes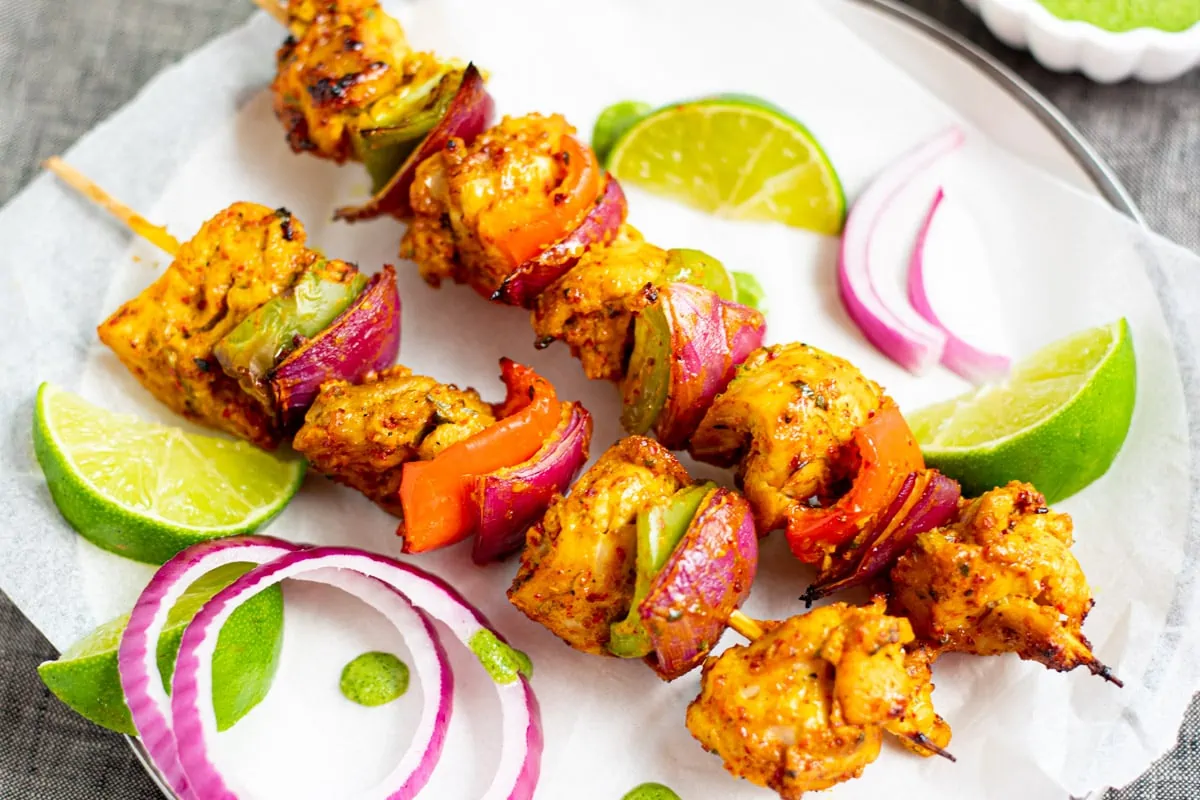 Whether you're a meat lover or a vegetarian, there are a variety of Indian grilling recipes that will satisfy your cravings and spice up your mealtime.
Get the 13 Indian Grilling Recipes.
21 Flavorful Indian Spinach Recipes That Will Make You Fall in Love with Greens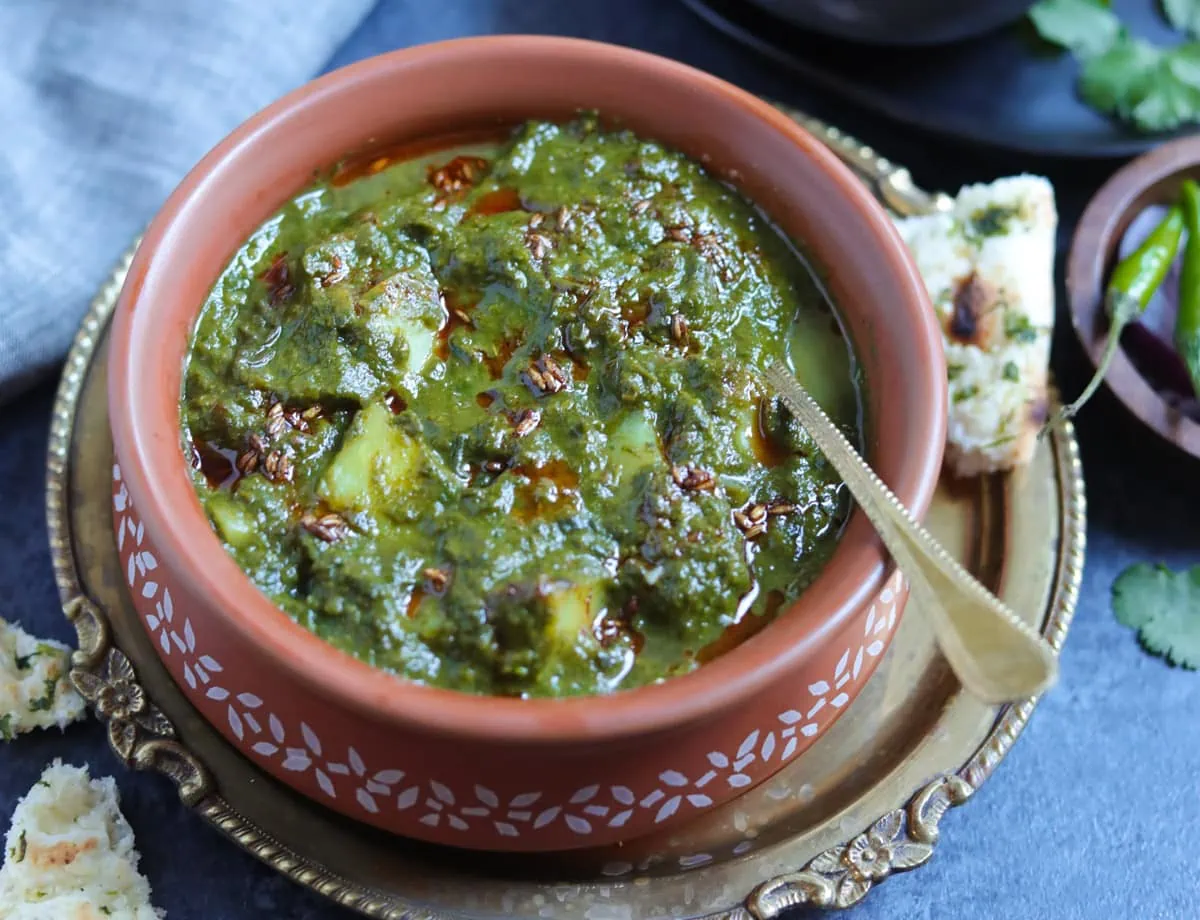 If you want to add more greens to your diet, spinach is an excellent choice! And there is no better way to enjoy this nutritious vegetable than with these 21 Indian spinach recipes.
Get the 21 Indian Spinach Recipes.
Okra-lovers, unite! Indulge in 12 amazing Indian okra recipes that will leave you craving more!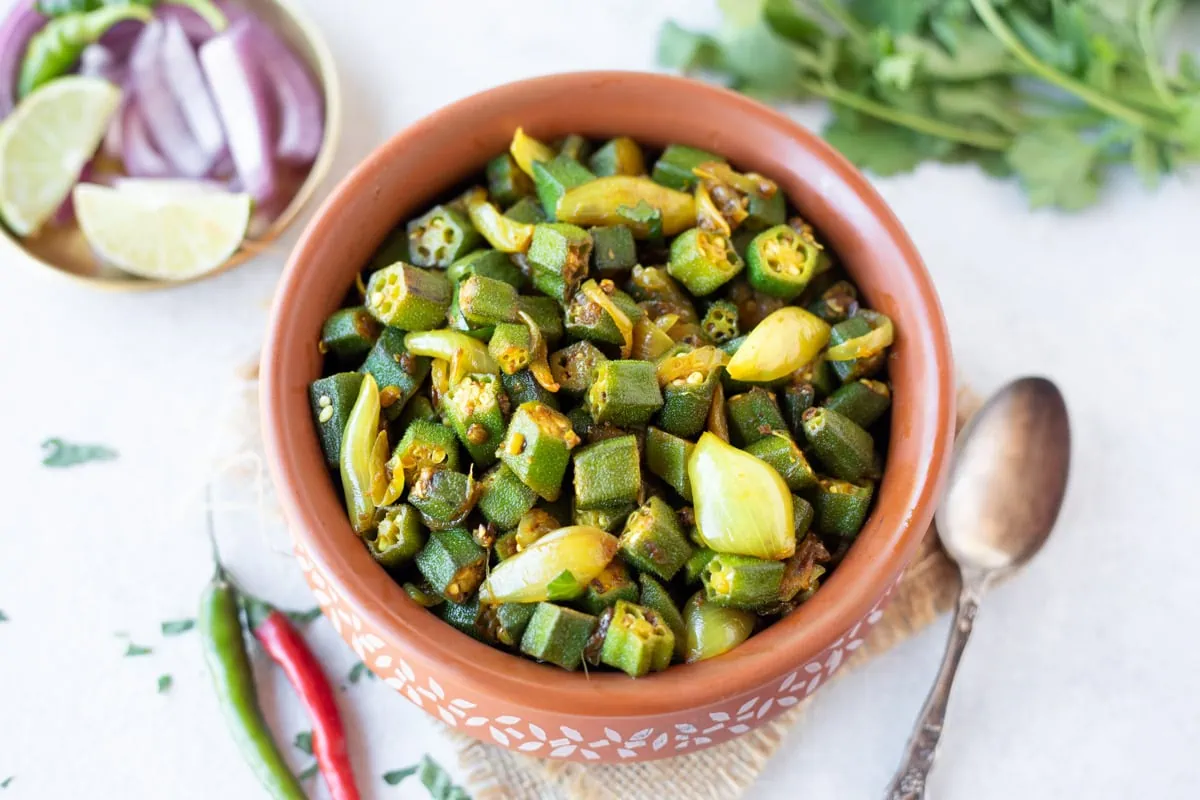 Are you tired of the same old okra recipes? Get ready to spice up your dinner menu with these 12 amazing Indian okra recipes!
Whether you're an okra lover or skeptic, these Indian okra recipes will make you fall in love with this vegetable!
Get the 12 Amazing Indian Okra Recipes.