You will find these 3 basic Indian chutney recipes used for chaat or as dipping sauces at most Indian restaurants. These chutneys are essential to making most Indian chaats, and they are the popular dipping sauces for samosa or any appetizers. Learn how to make and store these Indian condiments easily, so you can have them ready for your chaat cravings!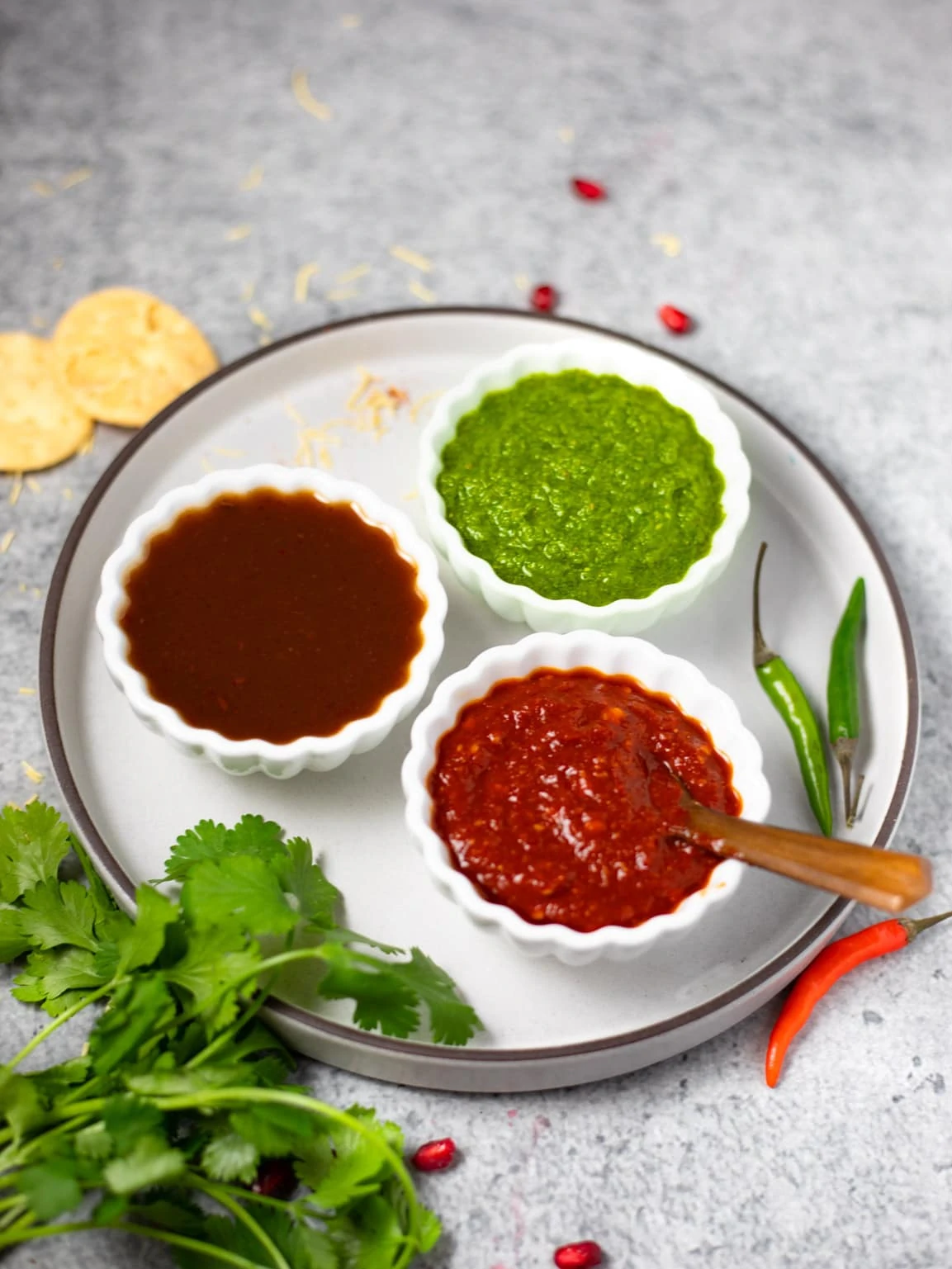 In India, we love our condiments. And chutneys are a big part of it. They are served with every appetizer - giving the option to customize or add a level of depth and flavor to the dish.
Can you imagine a samosa without any chutneys? Or chaat without chutneys? that would be so bland!
Okay...let me make a bold statement here "I have never purchased ready-made chutney". Yes, it's true!
I grew up eating homemade chutneys all the time. So when I got a try of a store-bought chutney at a get-together, I can tell you it was nowhere close to the fresh taste of homemade chutney. Since then, it has always been chutneys from scratch for me.
I know it can be overwhelming when you did not grow up eating chutneys. Many times you don't even know what is in the chutney. All you identify with is the color of it - green, brown, and red chutney. They have become the second name of these sauces!
So I want to share the secrets of how you can easily make and store these chutneys.
Jump to:
What is Chutney?
Chutneys are dipping sauces or relish that can b made with vegetables, fruits, or herbs. These chutneys are mostly prepared fresh at home. They are eaten as dips, or topped as sauces on snacks or chaats.
They can be sweet, spicy, sour, tangy, or a melange of flavors simultaneously. Think of the mouthwatering zing ("chat pata") when you see or enjoy sweet, spicy, and sour foods.
Most of these chutneys are very easy to make. All you need to make them typically is a stovetop pan or pot and a blender.
How is Chutney Served?
Chutneys can be served in various ways -
As a dipping sauce for appetizers. e.g., cilantro chutney and tamarind chutney served with samosa, and kebab.
As a side with regular meals such as lentils, curries, rice, and bread, the green mint cilantro chutney is the most popular to serve as a side.
As a side for South Indian dishes. e.g. coconut chutney or peanut chutney with idli and dosa.
To slather on sandwiches. The cilantro chutney is a must-have addition to the street-style Bombay Vegetable Sandwich.
Three Essential Chutneys for Chaat
Let's talk about the 3 main chutneys you will see at most restaurants. These are also the ones used in Indian Chaat dishes.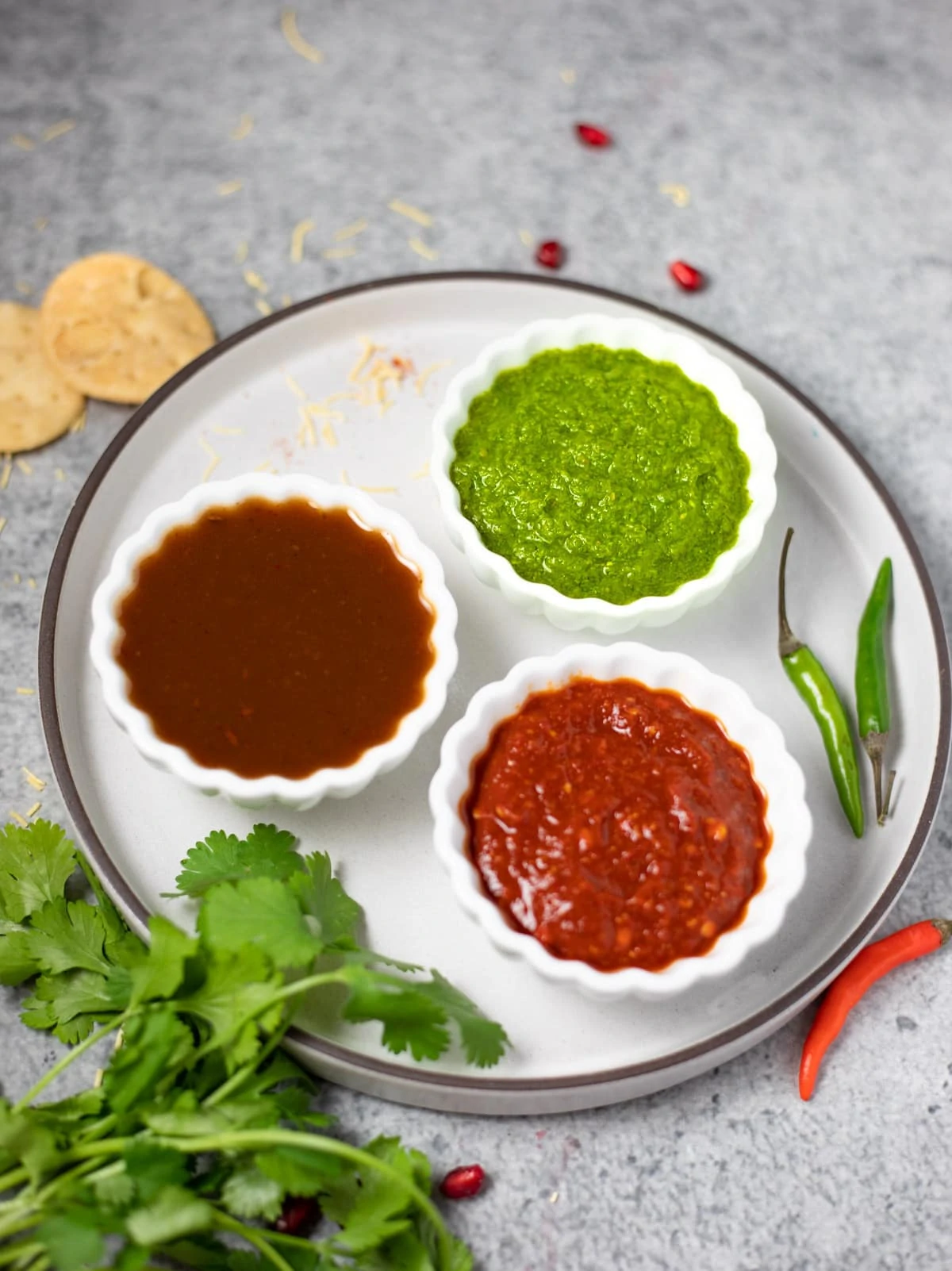 Each has a completely different flavor profile - one has a fresh cooling taste with herbs, the other is sweet, and another spicy. They all come together to add so much flavor to all the Indian chaat dishes!
Tamarind Chutney (Methi Imli Chutney)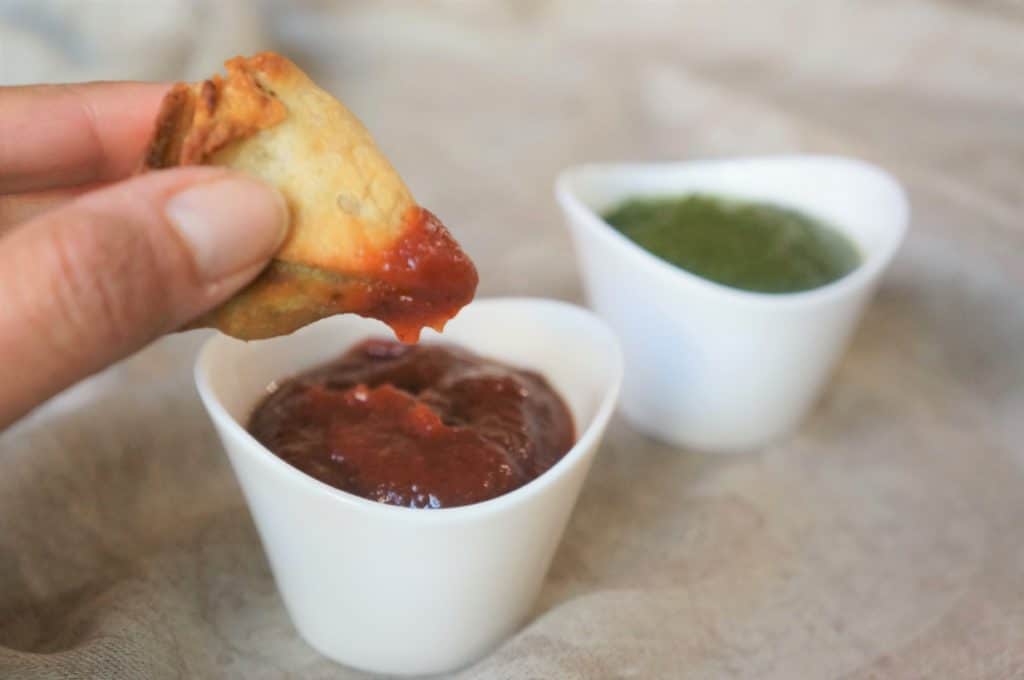 This chutney is both sweet and tangy at the time, prepared with tamarind and jaggery as the main ingredients.
This is the smooth brownish chutney that is served most popularly with samosas. It has a sour, tangy taste from the tamarind and the sweetness from jaggery - an ultimate burst of flavor!
Mint Cilantro Chutney (Green Chutney)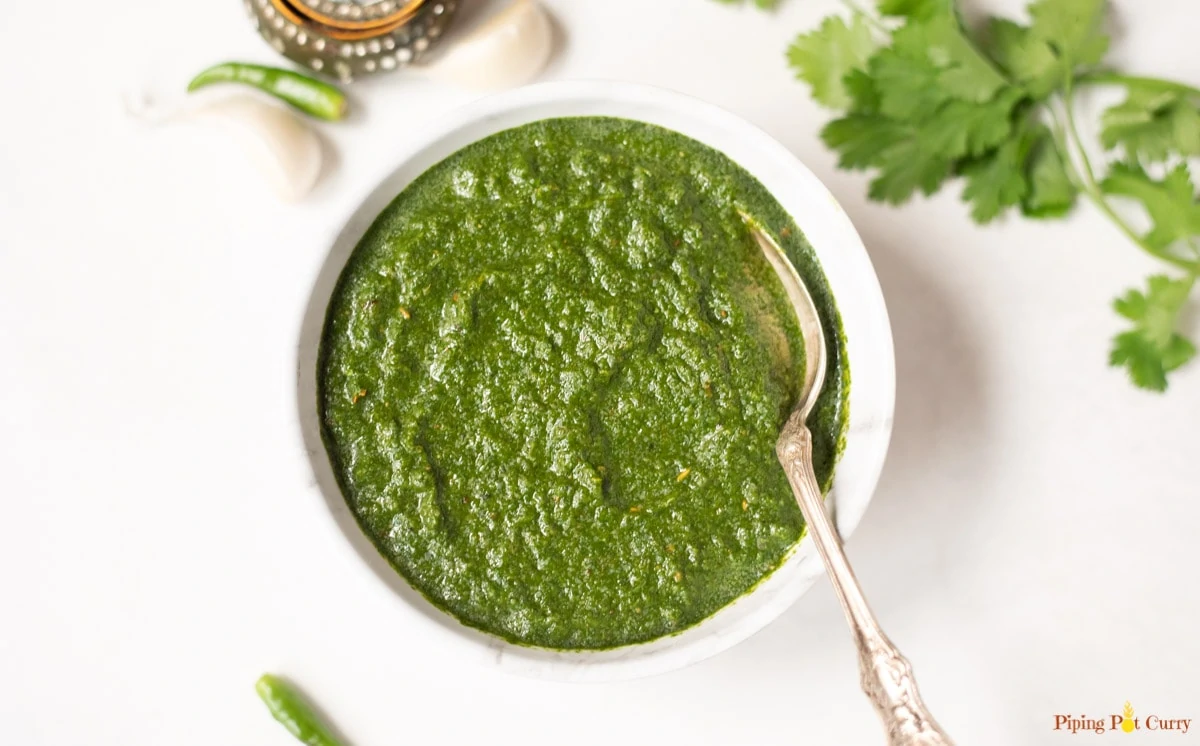 This is the cool, spicy, and tangy green chutney. This no-cook mint cilantro chutney (also called coriander chutney) is a must-have accompaniment to deep-fried foods such as samosa or on top of chaat.
It adds the freshness from the herbs and the heat from the green chili typically added when preparing this chutney.
This Indian green sauce is very versatile and can be varied with simple ingredients such as yogurt or coconut. Find all the details at the link below.
Chili Garlic Chutney (Red Chutney)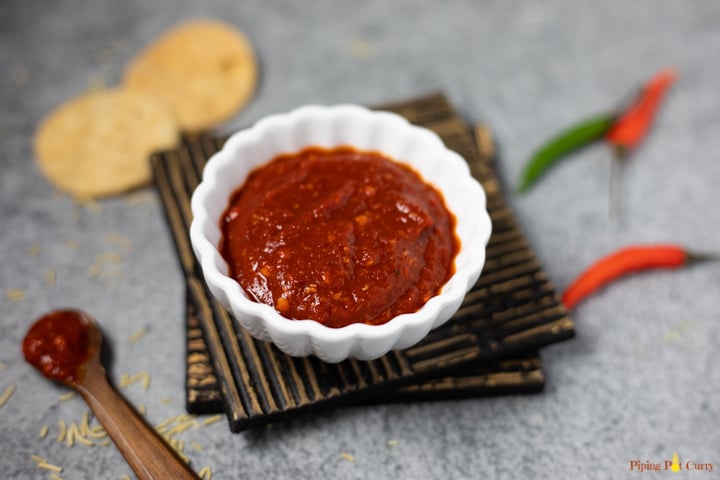 This sauce is probably the least popular of the three but has a bold, spicy flavor. A vibrant spicy Chilli Garlic Chutney that is a must-have for chaats such as sev puri and papdi chaat.
This chutney is typically not eaten as a side but is added to chaats for its garlicky, spicy flavor!
Chaat Recipes with These Chutneys
Here I am sharing a few recipes where I use these Indian Sauces:
I hope you enjoy these delicious and vibrant chutney recipes. They add such an amazing depth of flavor to any dish. I am sure you will get hooked on them!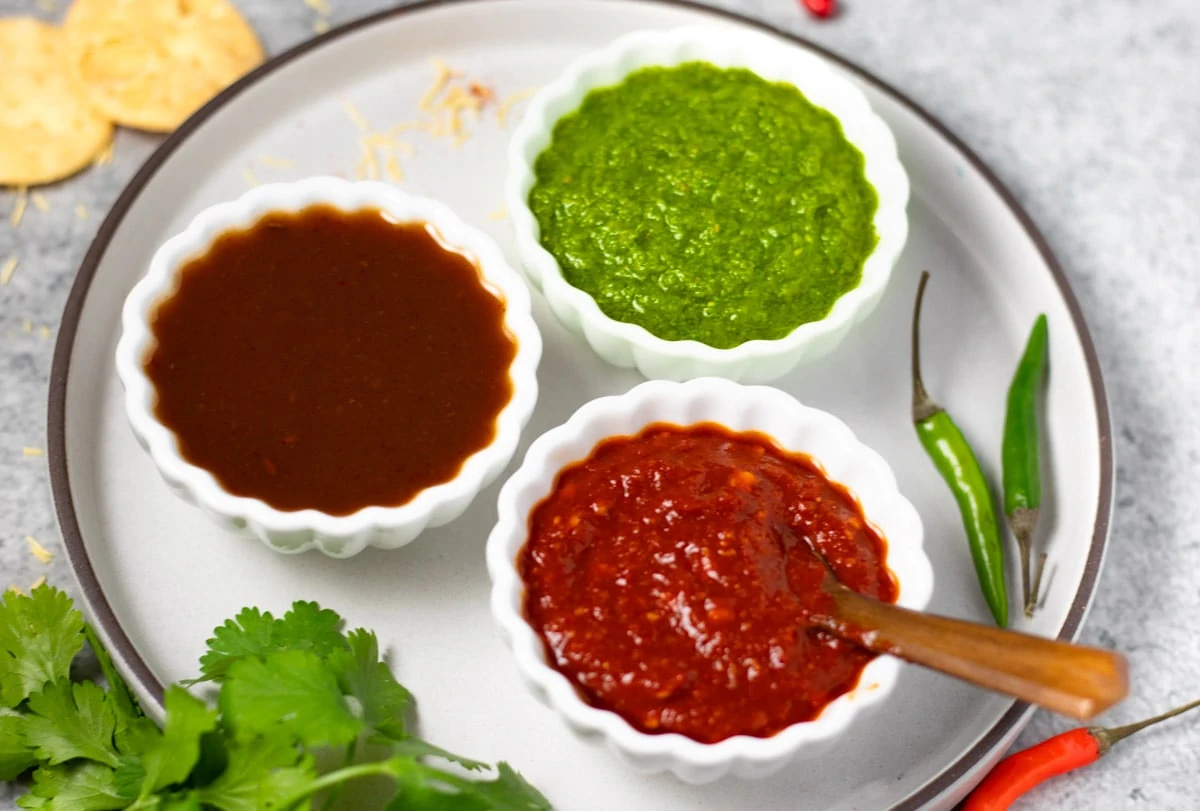 More Indian Sauce Recipes You'll Enjoy
📖 Recipe