You will find these 3 basic Indian chutney recipes used for chaat or as dipping sauces at most Indian restaurants. These chutneys are essential to making most Indian chaats, and they are the popular dipping sauces for samosa or any appetizers. Learn how to make and store these Indian condiments easily, so you can have them ready for your chaat cravings!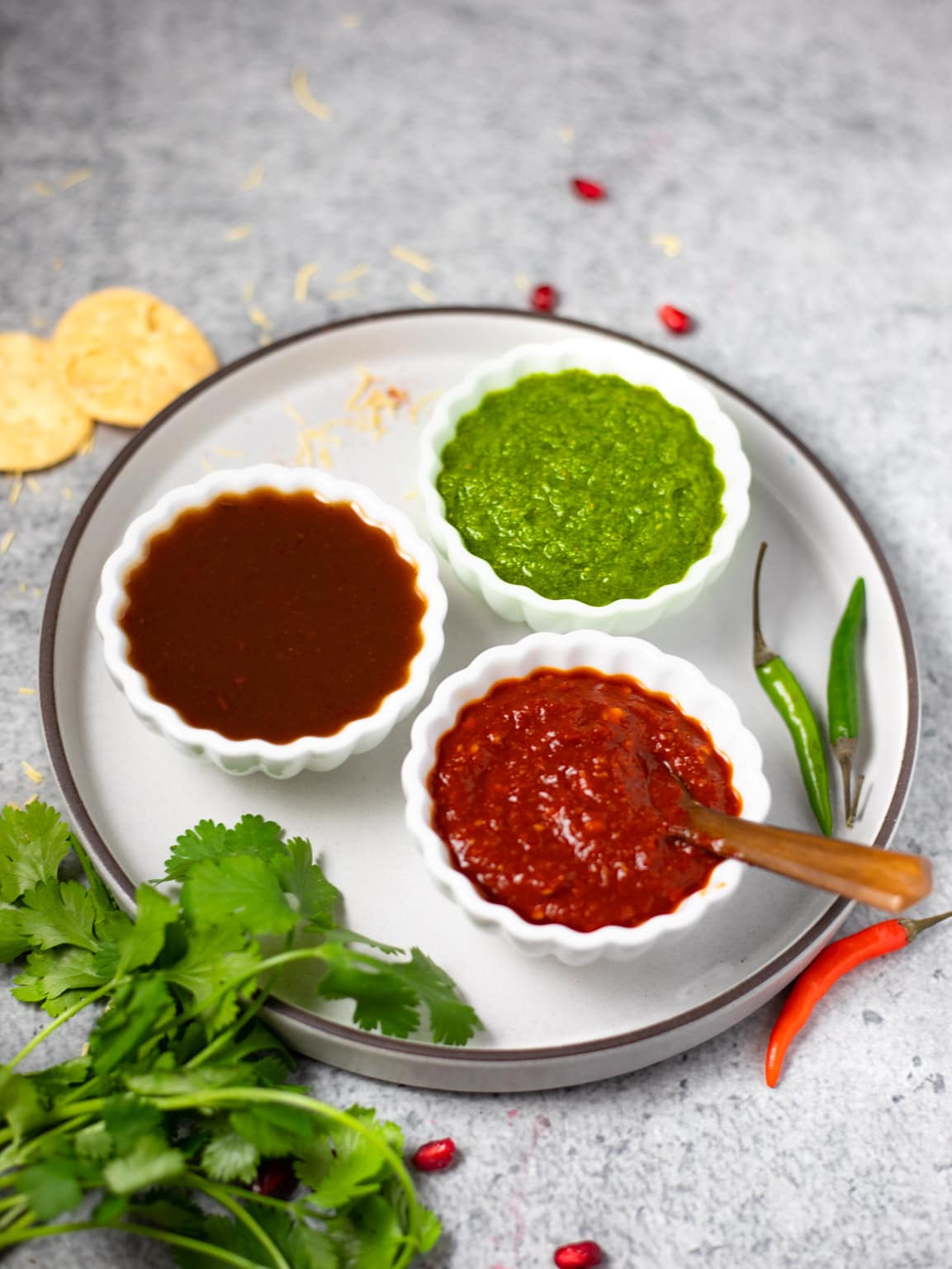 In India, we love our condiments. And chutneys are a big part of it. They are served with every appetizer – giving the option to customize or add a level of depth and flavor to the dish.
Can you imagine a samosa without any chutneys? Or chaat without chutneys? that would be so bland!
Okay…let me make a bold statement here "I have never purchased ready-made chutney". Yes, it's true!
I grew up eating homemade chutneys all the time. So when I got a try of a store-bought chutney at a get-together, I can tell you it was nowhere close to the fresh taste of homemade chutney. Since then, it has always been chutneys from scratch for me.
I know it can be overwhelming when you did not grow up eating chutneys. Many times you don't even know what is in the chutney. All you identify with is the color of it – green, brown, and red chutney. They have become the second name of these sauces!
So I want to share the secrets of how you can easily make and store these chutneys.
What is Chutney?
Chutneys are dipping sauces or relish that can b made with vegetables, fruits, or herbs. These chutneys are mostly prepared fresh at home. They are eaten as dips, or topped as sauces on snacks or chaats.
They can be sweet, spicy, sour, tangy, or a melange of flavors simultaneously. Think of the mouthwatering zing ("chat pata") when you see or enjoy sweet, spicy, and sour foods.
Most of these chutneys are very easy to make. All you need to make them typically is a stovetop pan or pot and a blender.
How is Chutney Served?
Chutneys can be served in various ways –
As a dipping sauce for appetizers. e.g., cilantro chutney and tamarind chutney served with samosa, and kebab.
As a side with regular meals such as lentils, curries, rice, and bread, the green mint cilantro chutney is the most popular to serve as a side.
As a side for South Indian dishes. e.g. coconut chutney or peanut chutney with idli and dosa.
To slather on sandwiches. The cilantro chutney is a must-have addition to the street-style Bombay Vegetable Sandwich.
Three Essential Chutneys for Chaat
Let's talk about the 3 main chutneys you will see at most restaurants. These are also the ones used in Indian Chaat dishes.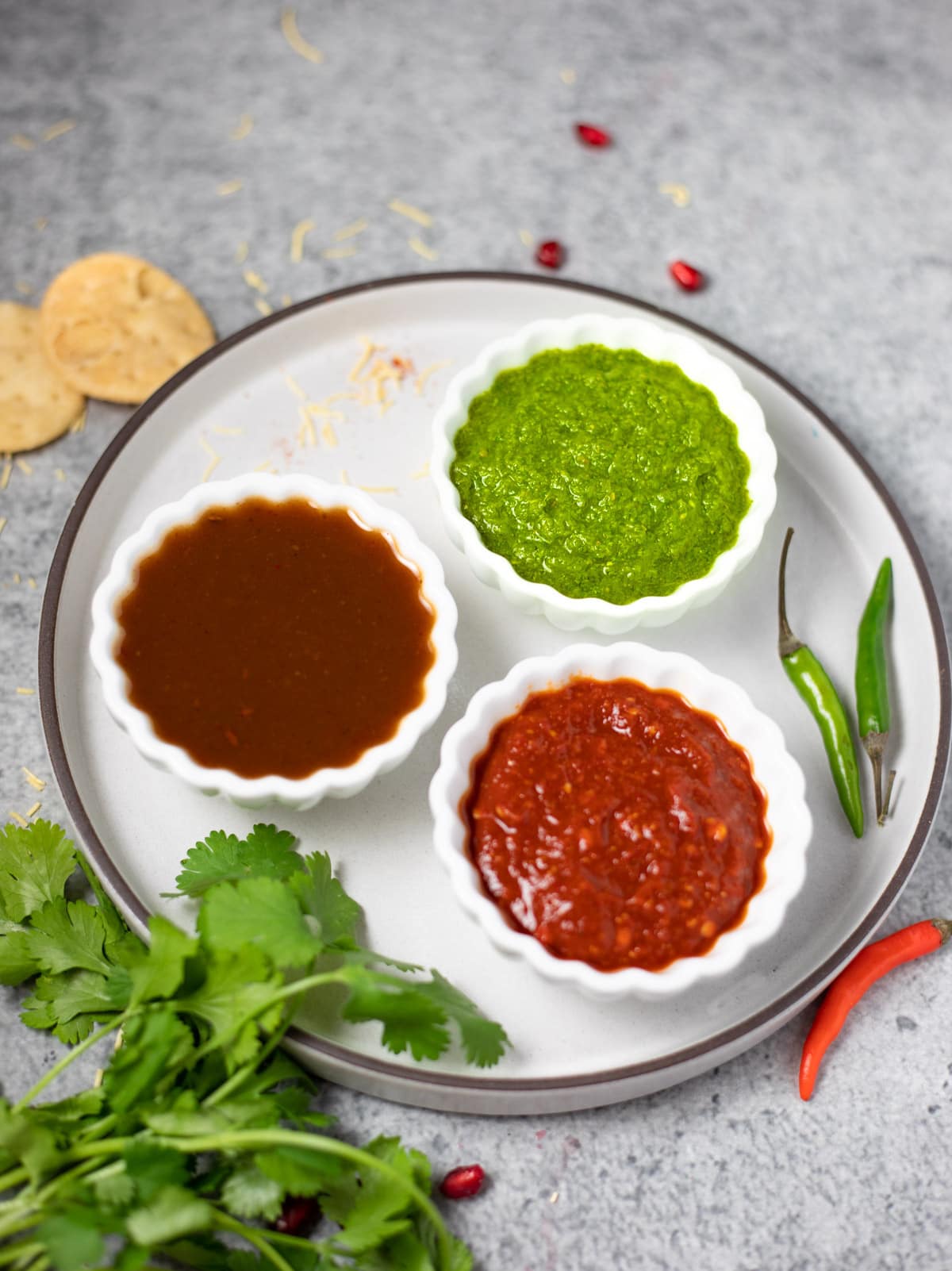 Each has a completely different flavor profile – one has a fresh cooling taste with herbs, the other is sweet, and another spicy. They all come together to add so much flavor to all the Indian chaat dishes!
Tamarind Chutney (Methi Imli Chutney)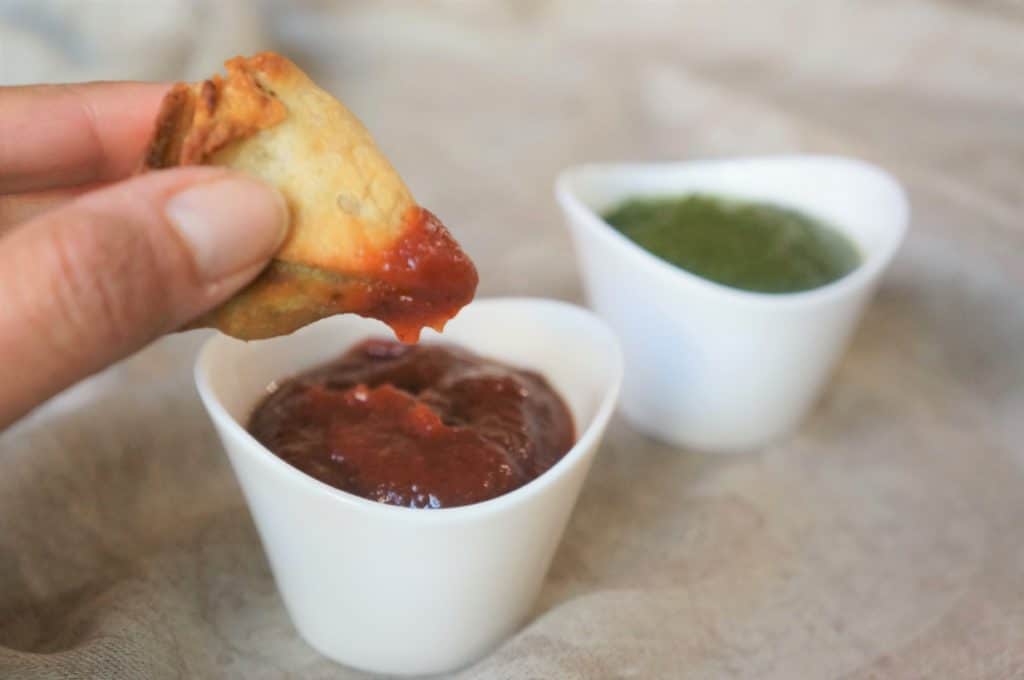 This chutney is both sweet and tangy at the time, prepared with tamarind and jaggery as the main ingredients.
This is the smooth brownish chutney that is served most popularly with samosas. It has a sour, tangy taste from the tamarind and the sweetness from jaggery – an ultimate burst of flavor!
Mint Cilantro Chutney (Green Chutney)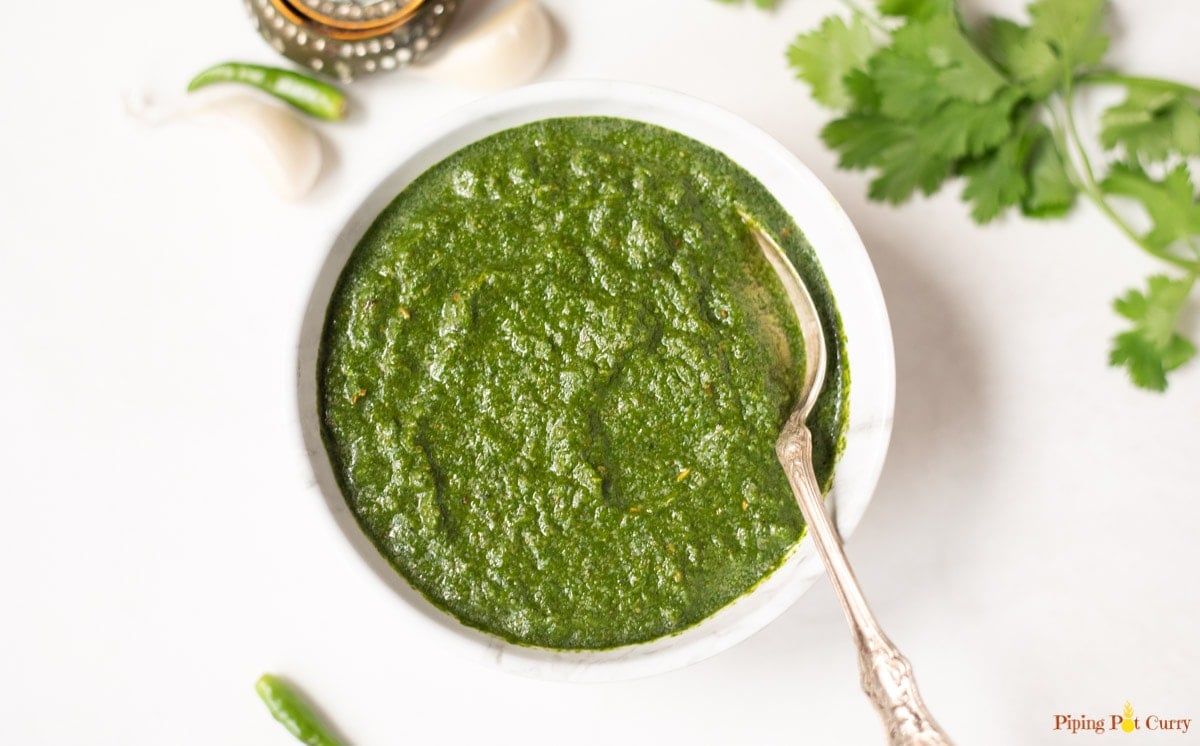 This is the cool, spicy, and tangy green chutney. This no-cook mint cilantro chutney (also called coriander chutney) is a must-have accompaniment to deep-fried foods such as samosa or on top of chaat.
It adds the freshness from the herbs and the heat from the green chili typically added when preparing this chutney.
This Indian green sauce is very versatile and can be varied with simple ingredients such as yogurt or coconut. Find all the details at the link below.
Chili Garlic Chutney (Red Chutney)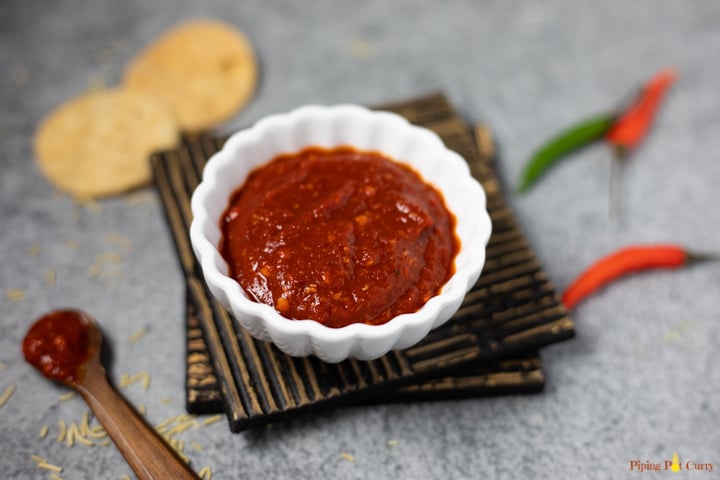 This sauce is probably the least popular of the three but has a bold, spicy flavor. A vibrant spicy Chilli Garlic Chutney that is a must-have for chaats such as sev puri and papdi chaat.
This chutney is typically not eaten as a side but is added to chaats for its garlicky, spicy flavor!
Chaat Recipes with These Chutneys
Here I am sharing a few recipes where I use these Indian Sauces: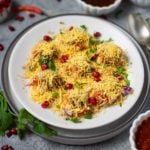 Easy Sev Puri Recipe
A popular Mumbai street food, Sev Puri is a sweet, spicy and tangy chaat. Sev Puri is made with crispy puri (whole wheat crackers) topped with potatoes, onions, tomatoes and a variety of chutneys, and finished with sev (thin gram flour noodles). This no-cook chaat recipe is a favorite snack to enjoy with your evening tea!
Check out this recipe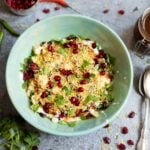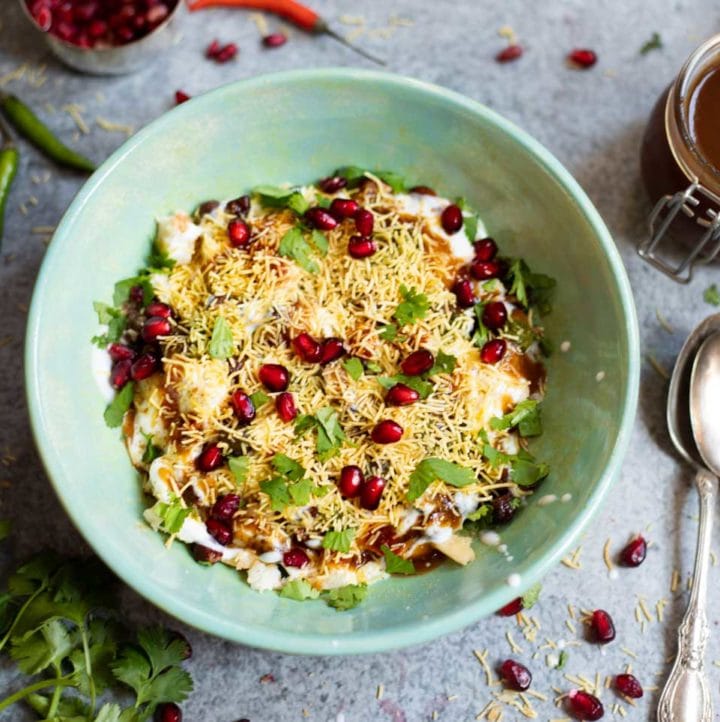 Easy Dahi Papdi Chaat
A famous Delhi street food, Dahi Papdi Chat, is a crispy sweet, spicy and tangy chaat that packs a whole lot of flavor. Also known as Dilli chaat, this popular street food is made with crispy pooris, sev (thin gram flour noodles), yogurt, and a variety of chutneys.
Check out this recipe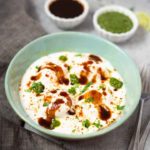 Dahi Vada (Dahi Bhalla Chaat)
This favorite Dahi Vada or Dahi Bhalla recipe has the softest lentil fritters drenched in creamy yogurt and topped with sweet and spicy chutneys. This popular Indian street food is loved by all and is a perfect inclusion to any festive menu!
Check out this recipe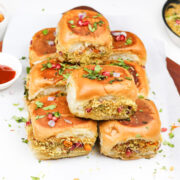 Dabeli Recipe
Dabeli is a very popular street food from Gujarat. It is made with soft Indian pav or dinner rolls filled with spicy and tangy mashed potato, peanuts, and chutney. It has a wonderful crunch from the sev and roasted peanuts and sweetness from the pomegranate seeds. Try it as a snack or dinner, you will love it.
Check out this recipe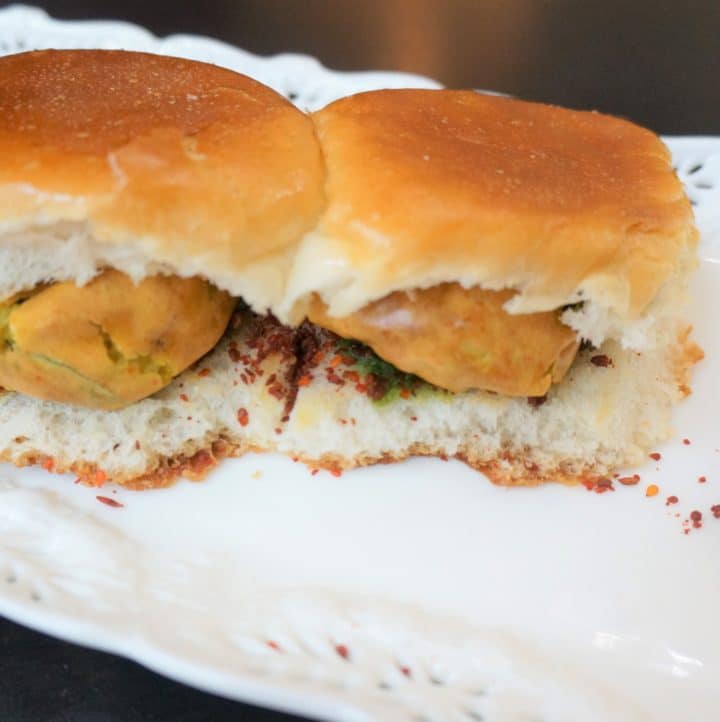 Vada Pav / Potato Fritter Sliders – Air Fryer
Vada Pav is the humble street food of Mumbai. A fried potato fritter or vada, is stuffed in between mini-burger buns called pav, along with sweet and spicy sauces or chutney.
Check out this recipe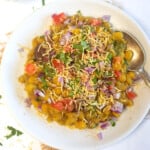 Ragda Chaat (Matar Chaat)
Ragda Chaat, also called Matar Chaat, is a street-style snack made with dried white peas. It is topped with onions, tomatoes, chutneys, and spices to make a delicious snack. Pair it with aloo tikki or kulcha to make a complete meal!
Check out this recipe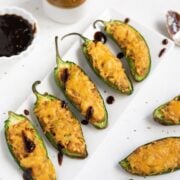 Cheesy Samosa Jalapeño Poppers
Cheesy Samosa Jalapeno Poppers is an Indian twist to the favorite party appetizer. This is a vegetarian and gluten-free version made in the air fryer for the samosa lovers. Don't forget to check out the Halloween inspiration for these jalapeno poppers!
Check out this recipe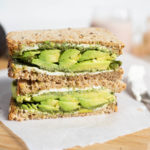 Avocado Chutney Sandwich
Make this amazing Indian style Avocado Chutney Sandwich and satisfy those morning hunger pangs in a healthy way. You will love the taste of fresh mint cilantro chutney, and the creamy smooth avocado slices in every single bite!
Check out this recipe
I hope you enjoy these delicious and vibrant chutney recipes. They add such an amazing depth of flavor to any dish. I am sure you will get hooked on them!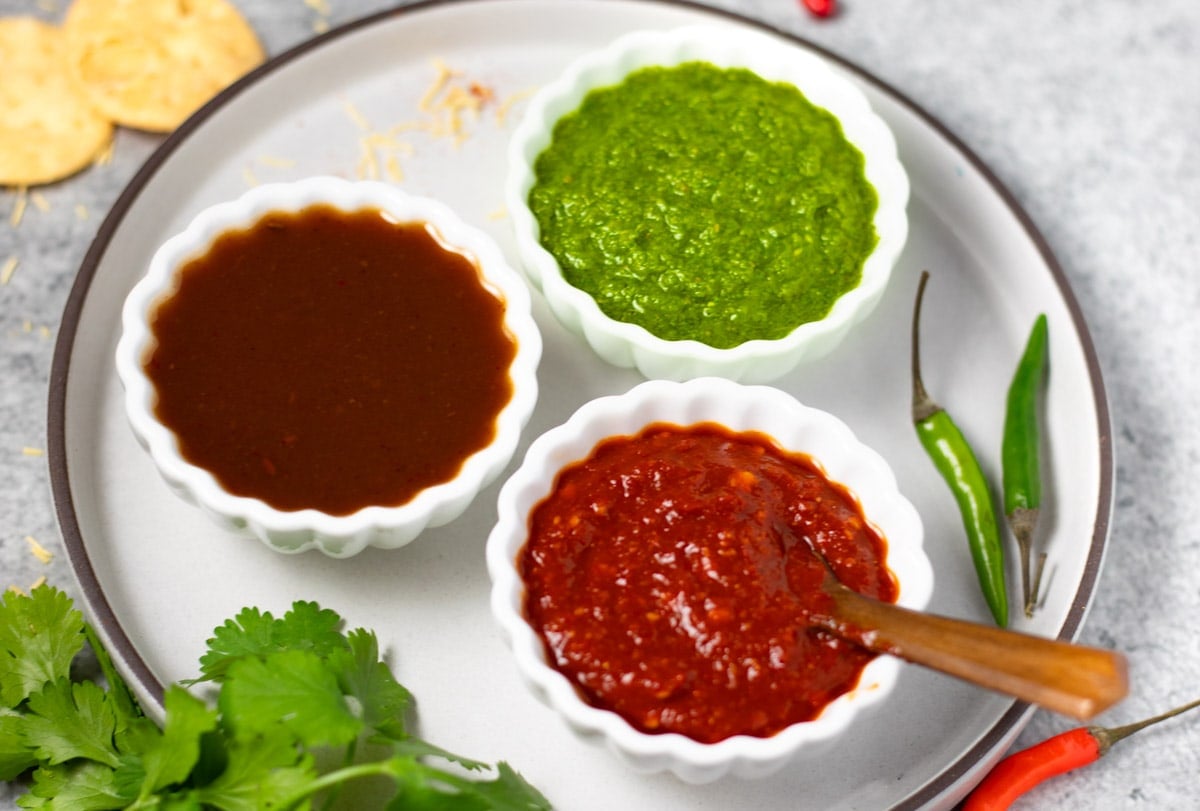 More Sauce Recipes You'll Enjoy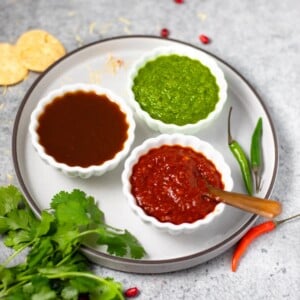 Three Indian Chutneys
You will find these 3 basic Indian chutney recipes used in chaats or as a dipping sauces at most Indian restaurants. Learn how to make and store them easily, so you can have them ready for your chaat cravings!
Ingredients
Mint Cilantro Chutney
2

cups

Cilantro leaves

,

Dhaniya packed, hard stems removed, washed and roughly chopped

1

cup

Mint leaves

,

Pudhina packed, stems removed, washed

2

Green Chili Pepper

,

I used thai, adjust to taste

1

" inch

Ginger ,

grated

3

cloves

Garlic

2

teaspoon

Roasted Cumin Powder

1

teaspoon

Salt ,

you can also use black salt, adjust to taste

1

teaspoon

Sugar ,

optional, adjust to taste

1

tablespoon

Lime juice ,

or Tamarind juice

½

cup

Water
Instructions
Tamarind Chutney
Add tamarind, dates, jaggery and water to a pot.

Bring to a boil and cook on medium heat for 15-20 minutes until the tamarind and dates have softened. You can also pressure cook on high pressure for 10 minutes.

Let the mixture cool a bit. Then stir well and mash using a masher. You can also blend if the tamarind is completely seedless.

Place a mesh strainer over a bowl. Work in batches to stain the tamarind date pulp. Press with the back of a spoon or with clean hands (if it is cool enough to handle).

Add the ginger, cumin, red chili powder and black salt to the strained chutney. Stir it well.

Transfer chutney to a clean glass air tight jar and store in the refrigerator. This chutney stays well in refrigerator for up to a month.
Mint Cilantro Chutney
Add all the ingredients to the blender.

Blend at low speed until the ingredients start to mix, then increase the speed and blend to a smooth paste. You might have to stop and stir the ingredients couple of times.

Chutney is ready. Enjoy right away or freeze for later.
Chili Garlic Chutney
Start by removing the stem of the dry kashmiri red chilies. Then soak them in hot water for about half hour before you start making this chutney. Make sure there just enough water to cover the chilis completely.

Later drain the water using a strainer.

Then combine the peeled garlic cloves and the chilis along with salt and water in a blender.

Blend them smoothly. Don't add too much water to this chutney as it would thin out its consistency.

Enjoy with chaat recipes.
Notes
How to store:
Tamarind Chutney: Stores well in the refrigerator for a month.
Green Chutney: Store in refrigerator up to 4 days in an air tight container. You can also store in small containers or ice cube trays in the freezer. Defrost one at a time in the refrigerator and enjoy.
Chili Garlic Chutney: You can store in an air-tight container. It has a great shelf life when refrigerated for up to 3 weeks.