Super easy and delicious Peanut or Groundnut Chutney. This creamy, nutty Peanut Chutney is a great accompaniment to idli, dosa, or upma.
Made with just a few ingredients such as peanuts, chana dal, garlic, and curry leaves, which are ground together and then topped with an aromatic tempering.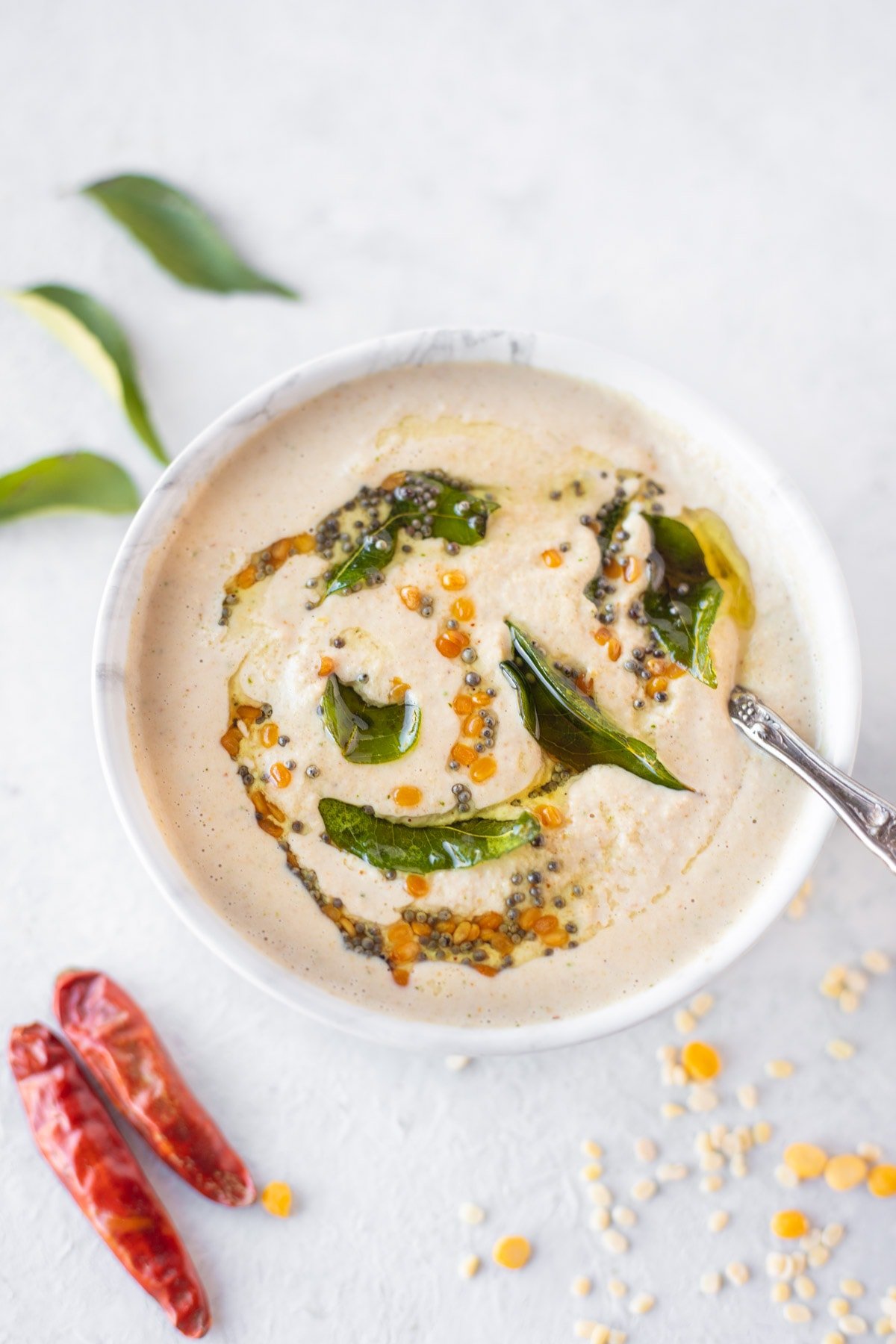 Being a North Indian, I had never eaten this chutney until about eight years back. My mom is a great cook and was an expert at making dosas and soft idlis.
However, in Mumbai in restaurants, the typical thing to eat with dosa or idli used to be coconut chutney. So we had never gotten a chance to taste it or to even try to replicate it at home.
After moving to the US and having such wonderful south Indian friends, I have had this so many times and was craving to learn it myself.
Trust me! This peanut chutney will change your life.
It is so much more flavorful than simple coconut chutney, and always easy to make with pantry ingredients.
I make idli/dosa every other week now and our go-to chutney is this Peanut Chutney. So here is what I have learned about making this wonderful chutney.
Jump to:
What is Peanut Chutney?
Peanut Chutney is a popular accompaniment to idli and dosa in Andra Pradesh in India. It is also called groundnut chutney or palli chutney.
It is made with groundnut as the main ingredient, along with the usual chutney ingredients of dal, garlic, green chili, and curry leaves.
This Peanut Chutney is:
Creamy and packed with flavor
easy to make with just a few basic ingredients
Can be made in less than 15 minutes.
Can be made vegan and gluten-free
Did you know peanuts are technically not nuts? They actually belong to the legume family and are therefore related to beans, lentils, and soy. Doesn't matter to me, I love to eat them either way – Not only do peanuts taste good, but they are also rich in protein, fat, and various healthy nutrients.
For plant food, peanuts are an exceptionally good source of protein with protein content ranging from 22-30%. Peanuts are high in fat with the fat content ranging from 44-56%. Peanuts are low in carbs. A great choice for a low-carb diet and for diabetics. They are an excellent source of various vitamins and minerals.
Do note that peanut is also an allergenic food, and many people have life-threatening allergies to them. So be careful when serving this chutney to guests.
Ingredients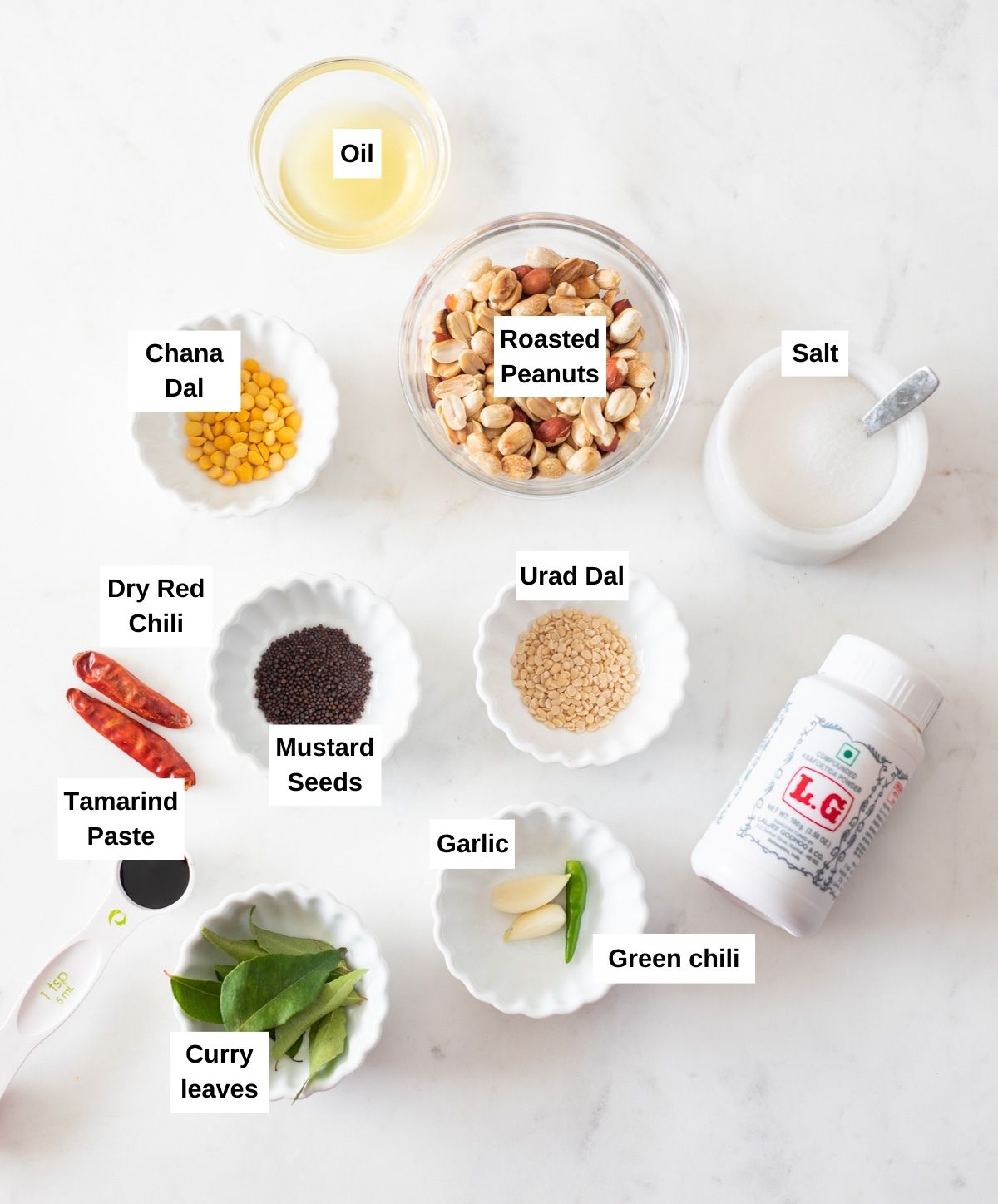 Peanuts: The main ingredient in this chutney. You can use raw unsalted peanuts.
You can roast the peanuts and use them as is with the skin or remove the skin. I have tried both ways and it works well.
You can also take a shortcut and use roasted peanuts from the store. I have tried it with salted roasted peanuts and that works great too. Just adjust the salt a little when using these.
Chana Dal & Urad Dal: These add a nutty aroma, flavor and crunch to the chutney.
Garlic: Adds a flavor punch to the chutney.
Green Chili Pepper: Add just 1-2 to add a little spice to the chutney.
Curry Leaves: They add aroma and lots of flavor to the chutney. And are a must for the tempering/tadka.
Tamarind Paste: It adds tanginess to the chutney, and is a must-add in my opinion. You can use tamarind paste or concentrate from the store or make it at home.
Soak a small piece of tamarind in warm water for 15 minutes. Then remove the tamarind and use the water in the chutney. Adjust the amount of water accordingly.
If you don't have tamarind, then replace it with the same amount of lime juice.
Mustard seeds and Hing: Used in the tempering.
Dried red whole chili: This is optional, but we love to add it to the tadka.
Variations of Peanut Chutney
There are many variations of peanut chutney:
Peanut Cilantro Chutney: Add 1 cup of cilantro (coriander) leaves when making the chutney.
Peanut Coconut Chutney: I made this peanut chutney without coconut. However, if you prefer, you can add 1/2 cup of grated coconut when making the chutney.
Skip Garlic? You can replace it with 1/2 inch of ginger.
Red Peanut Chutney: Roast 1-2 dry red chili with the peanuts, and grind them along.
Sesame Seeds: If you like, you can add 1 tablespoon of sesame seeds to the chutney. Add them along with the chana dal and roast before grinding the chutney.
How to make Peanut Chutney?
There are 3 main steps to making this chutney: Roasting peanuts with aromatics, grinding to a paste, and adding the tempering.
Roast Peanuts
Add oil to a pan on medium heat. Add peanuts, and roast them for a few minutes on medium-low flame. Then add urad dal and chana dal, and roast for a few more minutes.
Now add garlic, green chili pepper, and curry leaves. Roast until the garlic is slightly browned and the peanuts have a golden color.
You can skip the step of roasting peanuts if using store-bought roasted peanuts. You can use salted or unsalted ones, just adjust the additional salt accordingly.
Grind Chutney
Then take off the heat, and transfer to a grinder.
Add additional ingredients such as salt, tamarind paste, and water. Then grind the chutney to a smooth paste. Transfer the chutney to a bowl.
Make Tempering
Heat oil in a small tadka pan. Add the mustard seeds and let them splutter. Then add urad dal, hing (asafoetida), dry red chili, and curry leaves. Let it cook till the curry leaves wilt and turn brittle.
Then take off the heat and top on the chutney.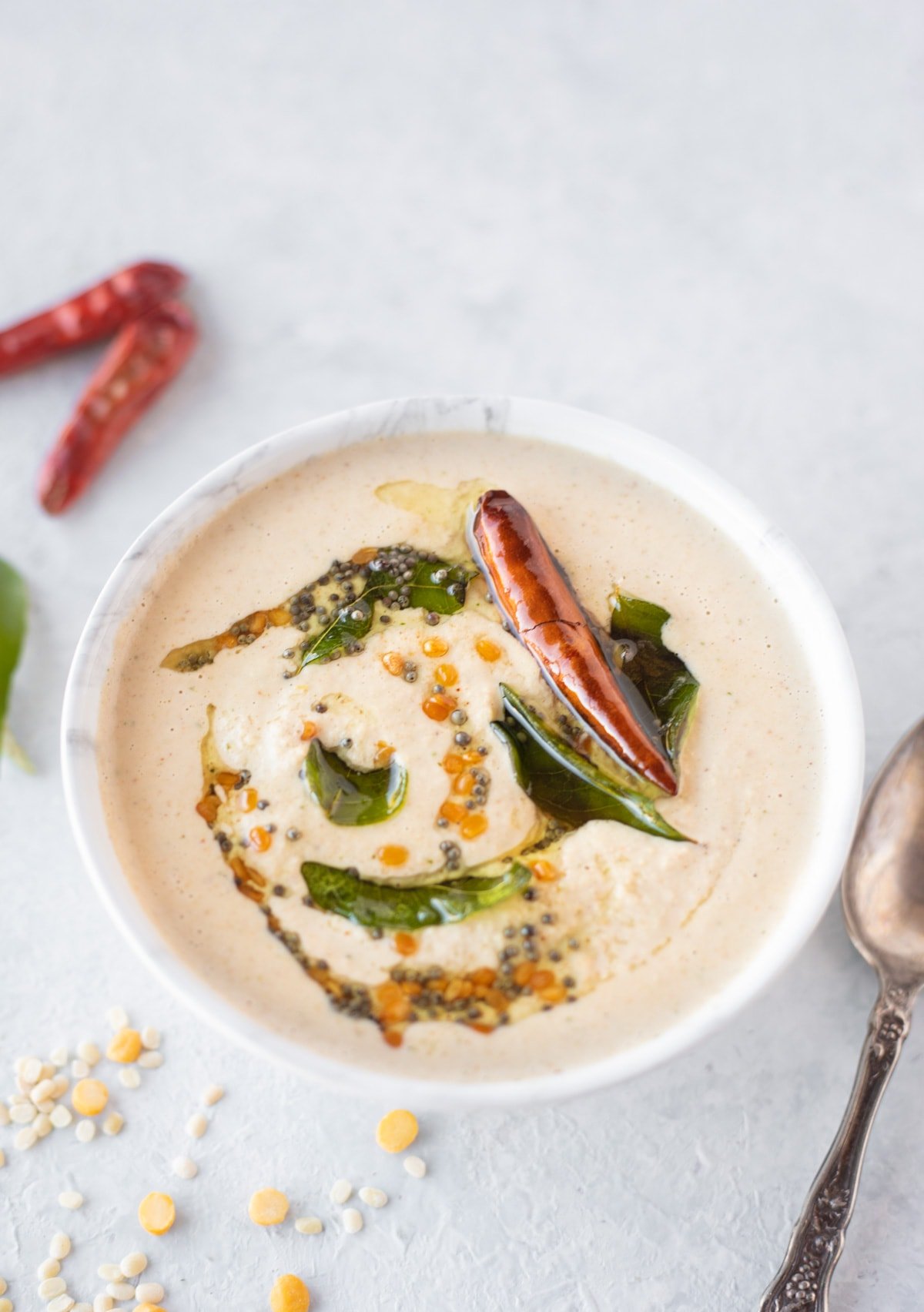 This chutney is so delicious, you will keep making it often.
How to Serve?
Serve this peanut chutney with south Indian dishes such as idli, dosa, medu vada, upma, or even with sabudana vada or pakoras.
It can also be enjoyed as a side with ven pongal or millet pongal, and sambar.
You can also enjoy this chutney as a spread for sandwiches.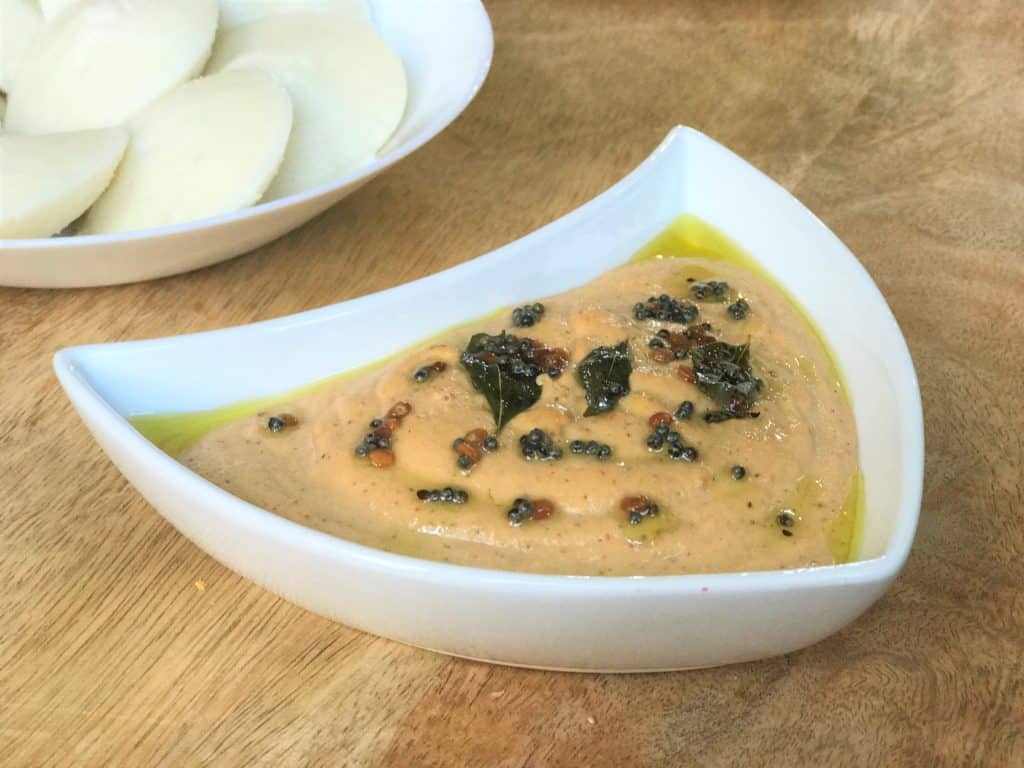 How to Store?
You can store this peanut chutney in the refrigerator for up to 3 days. The chutney will get thicker as it cools, so add water as needed to adjust the consistency.
Can Peanut Chutney be Frozen?
Yes, you can freeze in ice-cube trays or freezer-safe containers. Once they are frozen, they can be put into Ziploc freezer bags.
To use, thaw overnight in the refrigerator, adjust the thickness by adding water, and enjoy!
Why is my Peanut Chutney Bitter?
This can happen if the peanuts are over-roasted or burnt, making the chutney bitter.
Sometimes if there too many peanut skins after roasting, that can also give a bitter taste. Use peanuts without the skin or pre-roasted peanuts to avoid this issue.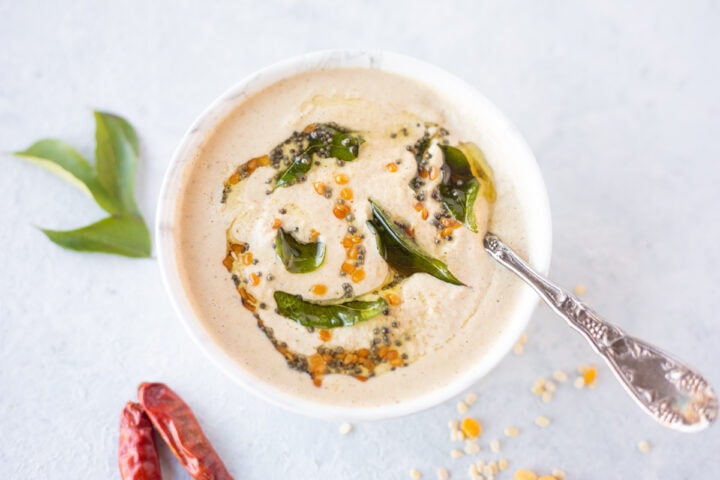 More Indian Chutneys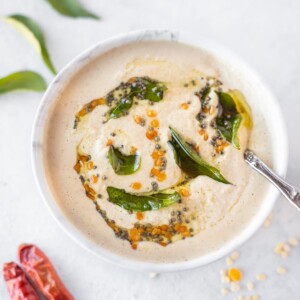 Peanut Chutney
Super easy and flavorful Peanut or Groundnut Chutney. This creamy, nutty Peanut Chutney is a great accompaniment to south Indian favorites idli, dosa, or upma.
Instructions
Roast Peanuts
Heat oil in a pan. Add peanuts and roast them for 3-4 minutes. Add Chana Dal and urad dal and saute for 2 minutes.

Then add garlic, green chili pepper and curry leaves. Saute until the garlic is lightly browned on the outside. Take off the heat.
Blend Chutney
Transfer to a blender. Add tamarind paste, salt and water to the blender.

Blend to a smooth paste. Remove in a bowl.
Make tempering
Heat oil in a small pan. Add mustard seeds and let them splutter. Add the urad dal, and let it turn golden. Then add hing, dry red chili and curry leaves. Saute for a minute until the curry leaves wilt.

Garnish the chutney with the tempering. Peanut Chutney is ready to be enjoyed.
Notes
Peanuts: I have used raw peanuts in this recipe. You can use them with or without the skin. You can also use store-bought salted or unsalted roasted peanuts, just adjust the additional salt accordingly. Curry leaves: You can use fresh or dried. I prefer fresh if they are available. Tamarind: If you don't have tamarind paste, you can soak seedless tamarind in 1/4 cup water and microwave for 30 seconds. Remove the tamarind and use the water. Adjust the amount of water you are adding accordingly. You can also use equal quantity of lime juice. Vegan Variation: Use your favorite plant-based oil for the chutney.
Nutrition
Calories:
183
kcal
Carbohydrates:
11
g
Protein:
7
g
Fat:
13
g
Saturated Fat:
4
g
Polyunsaturated Fat:
3
g
Monounsaturated Fat:
5
g
Cholesterol:
10
mg
Sodium:
336
mg
Potassium:
190
mg
Fiber:
4
g
Sugar:
2
g
Vitamin A:
232
IU
Vitamin C:
83
mg
Calcium:
48
mg
Iron:
2
mg