The best way to experience Indian food is not by going to a fancy restaurant but rather by enjoying Indian street food. It is authentic, diverse, vibrant, and so colorful. Here are 23 Must-Try Indian Street Food Recipes you don't want to miss!
Street food is part of Indian culture. Every state in India has a popular street food you can find. There are vendors selling food at every intersection. From samosa to chaat and dosa to pav bhaji, you will never get bored with the amazing variety.
This street food is not as expensive, making it available and accessible to everyone. I grew up in Mumbai, where vada pav was the humble food for the common person, and everyone could afford it.
So buckle up and enjoy this tour of the mouthwatering street foods of India with these 23 recipes.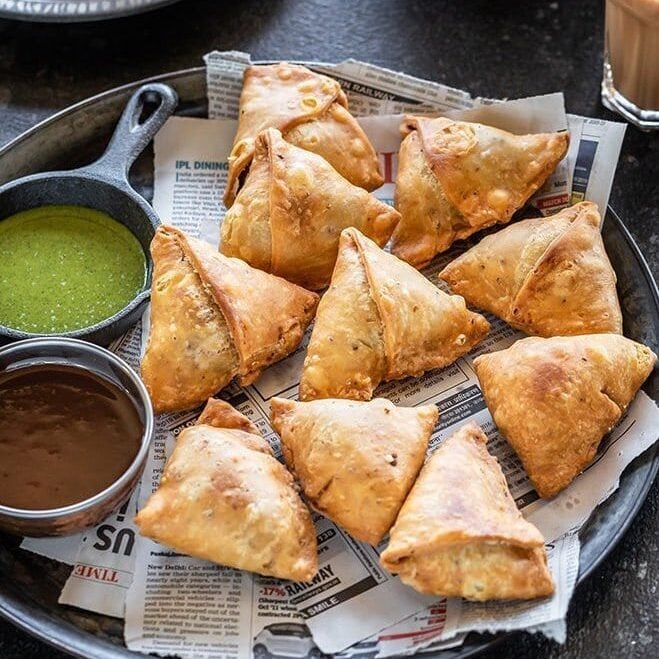 The most popular Indian appetizer for any party, Samosa, is also the most popular street food in India.
Golden crispy samosas filled with spiced potato and peas filling (or sometimes with meat or paneer), dipped in sweet and spicy chutneys are irressistable.
You can also make these flaky and crispy samosas at home with this delicious recipe. They are sure to be a hit at your next party or get-together!
Get the Samosa recipe.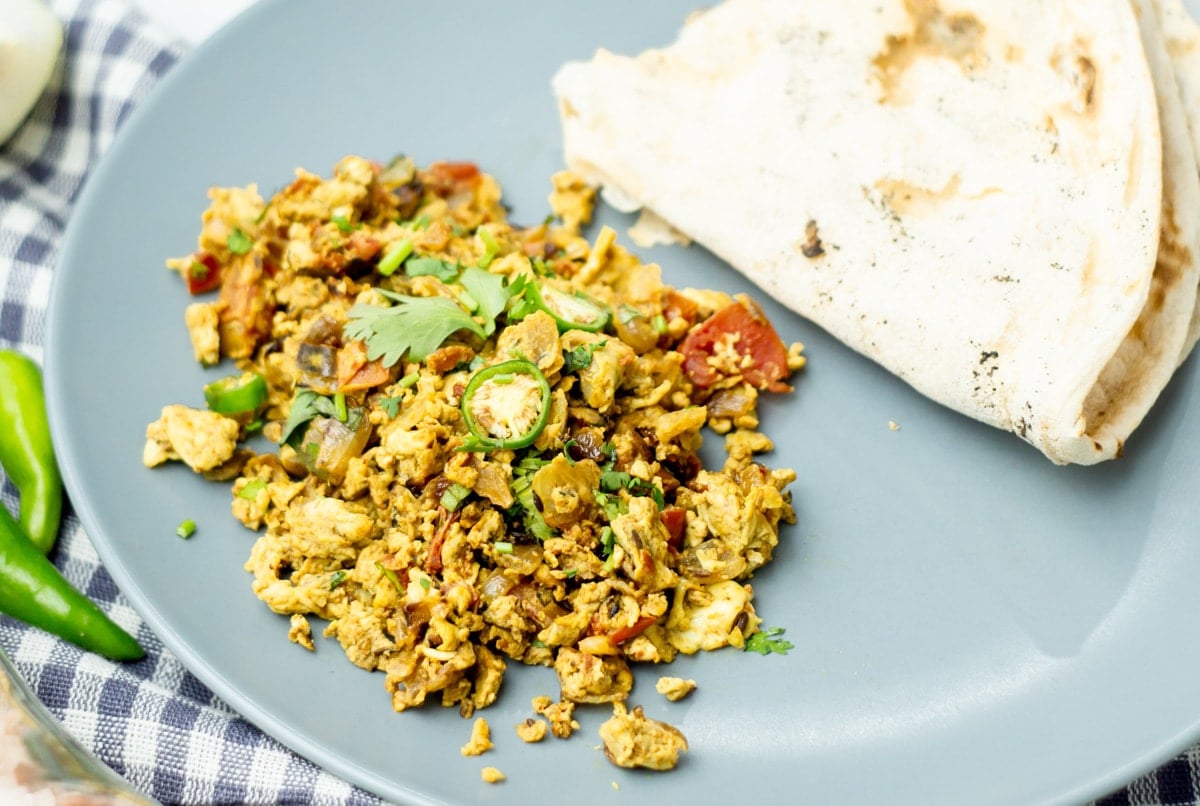 Bhurji pav is a street food popular for breakfast or brunch. Egg bhurji is the Indian twist to scrambled eggs. Packed with flavor and spice, these delicious Indian scrambled eggs are amazing.
Get the Bhurji Pav recipe.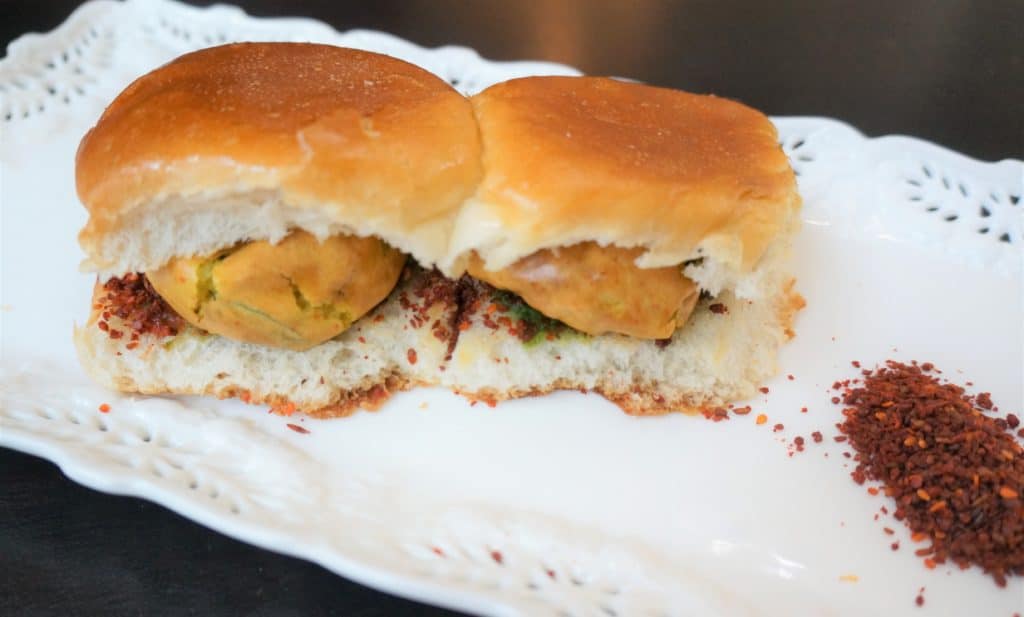 Vada Pav is the humble street food of Mumbai that every person can afford and find easily. A fried potato fritter, or vada, is stuffed in between mini-burger buns called pav, along with sweet and spicy chutneys.
This is one street food easily available all over Mumbai and also other parts of the state of Maharashtra.
We love to make vada pav at home too. It is perfect to enjoy with the dry spicy garlic chutney (the red powder in the pic above).
Get the Vada Pav recipe.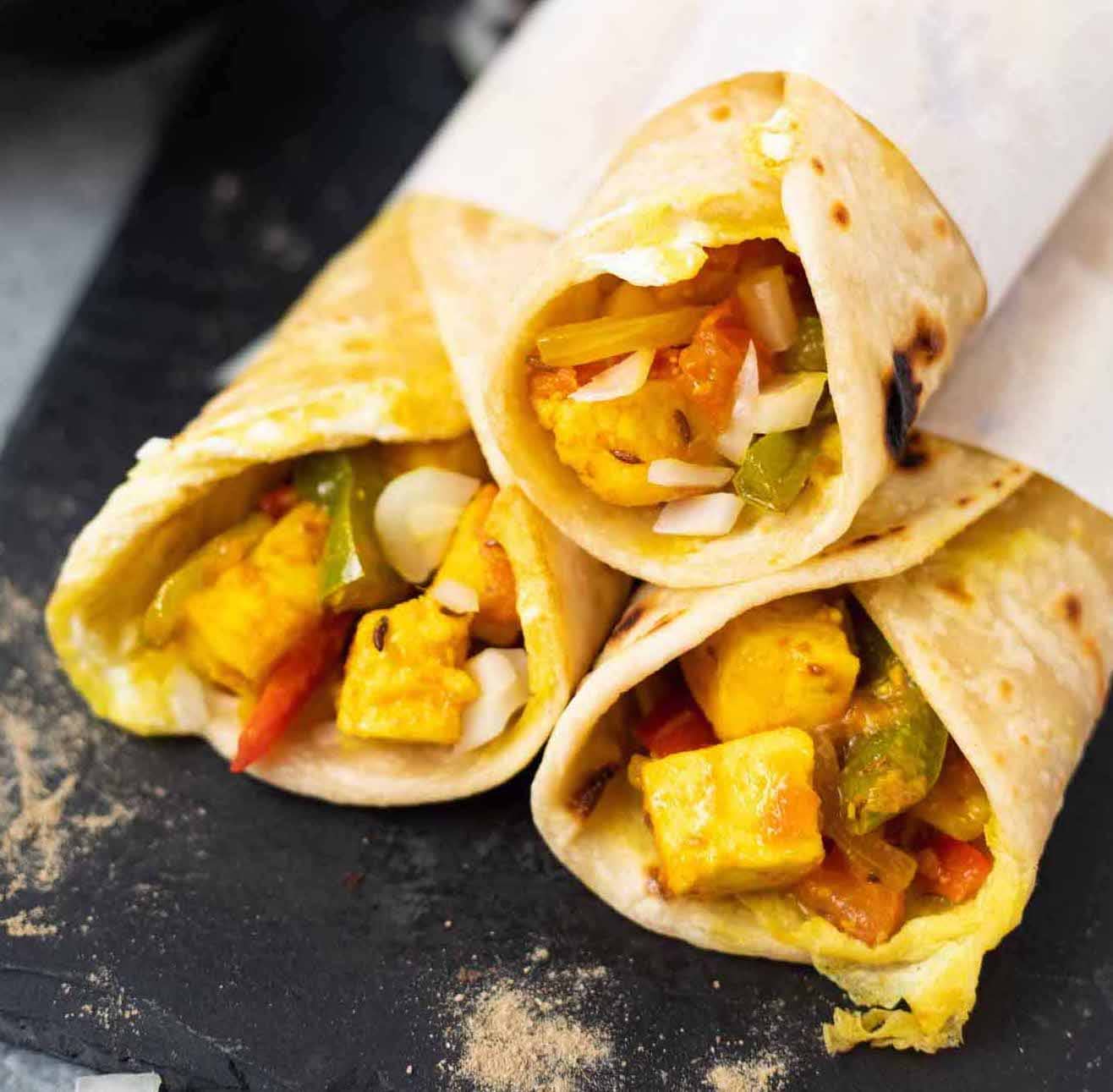 Kathi rolls are the most popular street food in the state of Kolkata. Kati means "stick" in Bengali, referring to skewers of meat which are rolled into a flatbread.
Although originally kathi rolls were made with meat, now they are made with eggs, paneer, or veggies too. These kathi rolls are popular in Mumbai, by the name of Frankie.
Here is the recipe for paneer kathi roll with flaky flatbread, covered with egg, and wrapped with spicy paneer and tangy toppings. Perfect to pack for a grab-and-go meal or a special weeknight meal.
Get the Paneer Frankie recipe.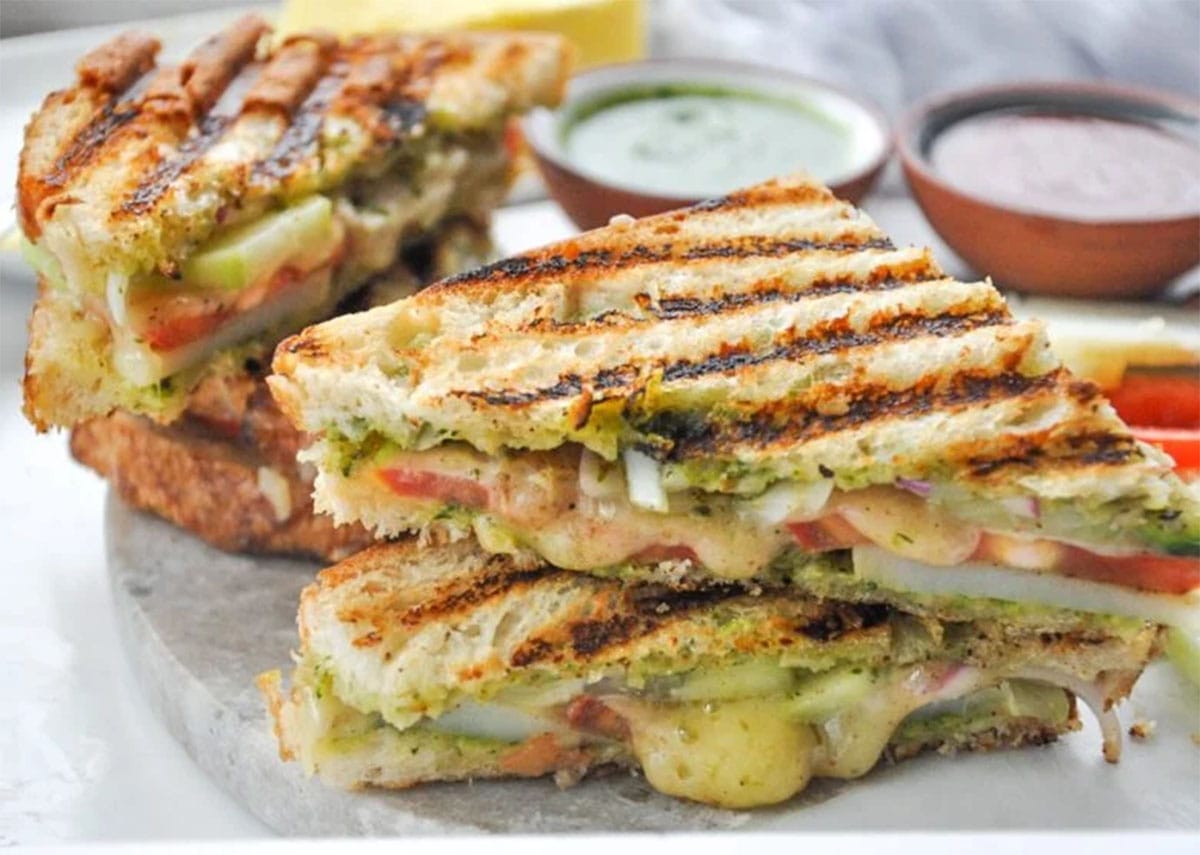 Bombay Sandwich is popular Indian street food from the city of Mumbai. This vegetable sandwich is made with green chutney, butter, onion, tomato, cucumber, boiled potato, cheese, and chat masala.
The sandwich can be enjoyed as is or grilled, which is my favorite wat to enjoy this street food.
Get the Bombay Sandwich recipe.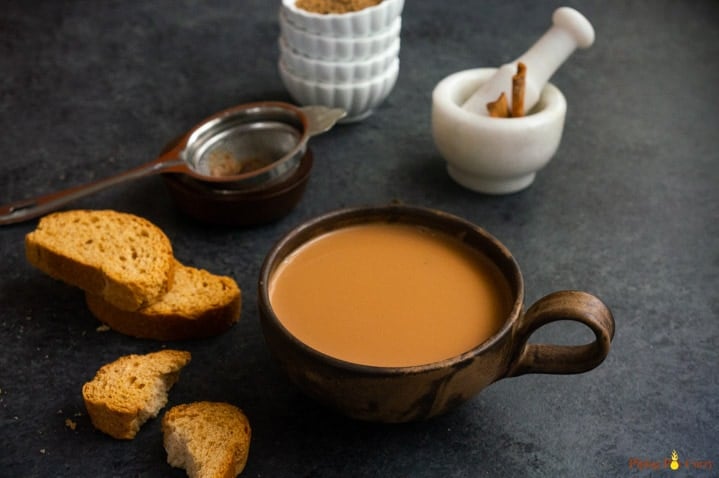 The chai tea latte at Starbucks is nowhere close to the delicious Masala chai on the streets of India. This is one beverage you can find all over India. Masala chai is typically enjoyed in the mornings or during afternoon tea time.
It is made by boiling black tea leaves in water and milk. Aromatics such as ginger and crushed whole spices are added to flavor the tea. Typically sugar is added for sweetness. Every house or food stall has its own special recipe for chai.
You will often hear the term "cutting chai" on the street food stalls, which refers to half or quarter cup of tea. People like to enjoy chai many times during the day, but they want just a little, so this cutting chai is what you order.
It is easy to make Masala chai in the comfort of your home with just. a few ingredients.
Get the Masala Chai recipe.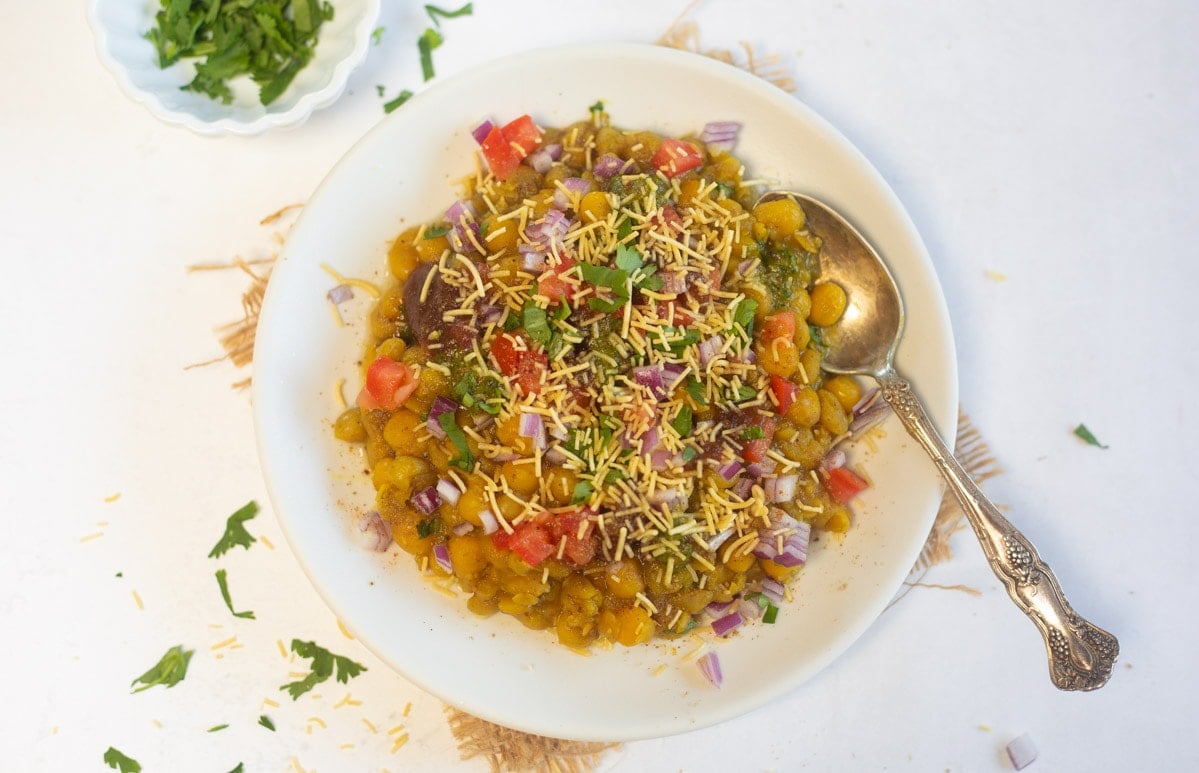 Ragda Chaat, also called Matar Chaat, is a street-style snack made with dried white peas. It is topped with onions, tomatoes, chutneys, and spices to make a delicious snack.
It is typically paired with aloo tikki or kulcha to make a complete meal!
Get the Ragda Chaat recipe.
Dabeli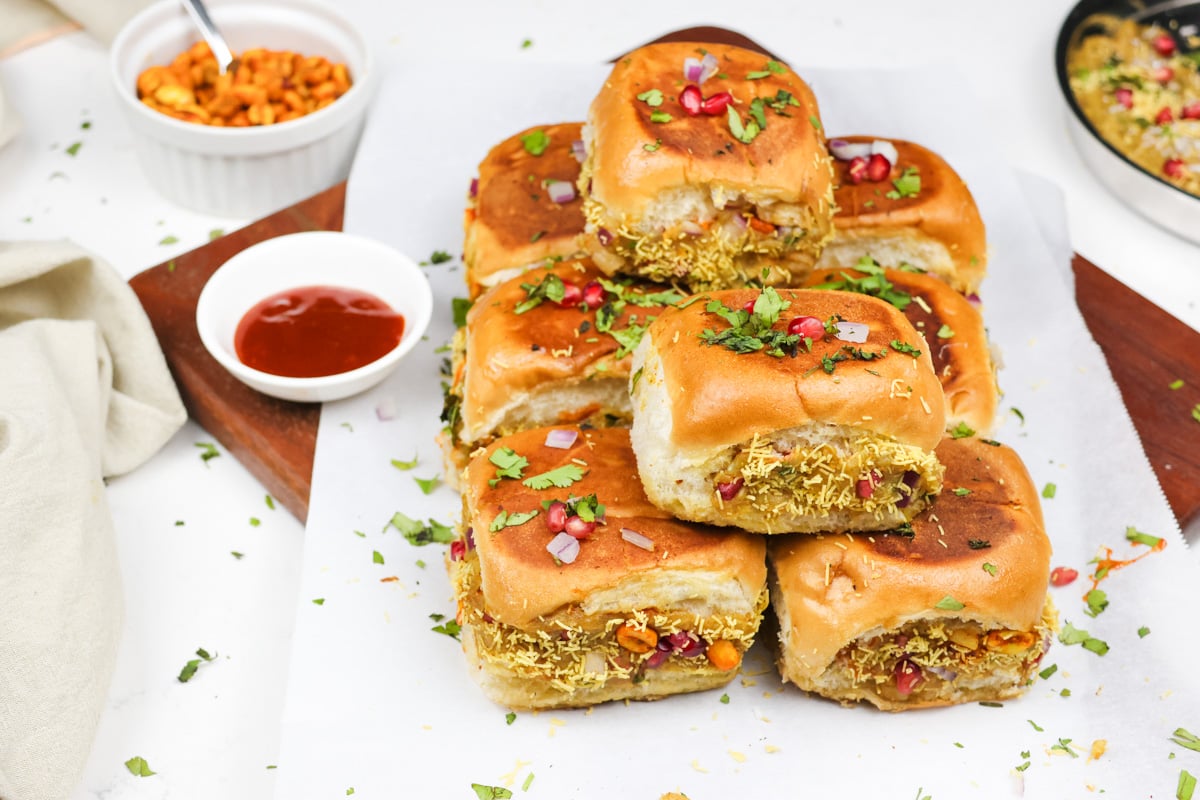 Dabeli is the popular street from the Kutch region of Gujarat. Although now, you can easily find it on the streets of Gujarat and in Mumbai.
A spicy and tangy mixture of mashed potatoes is stuffed in between savory dinner rolls and topped with spiced peanuts, sev, pomegranate seeds, and chutneys.
Get the Dabeli recipe.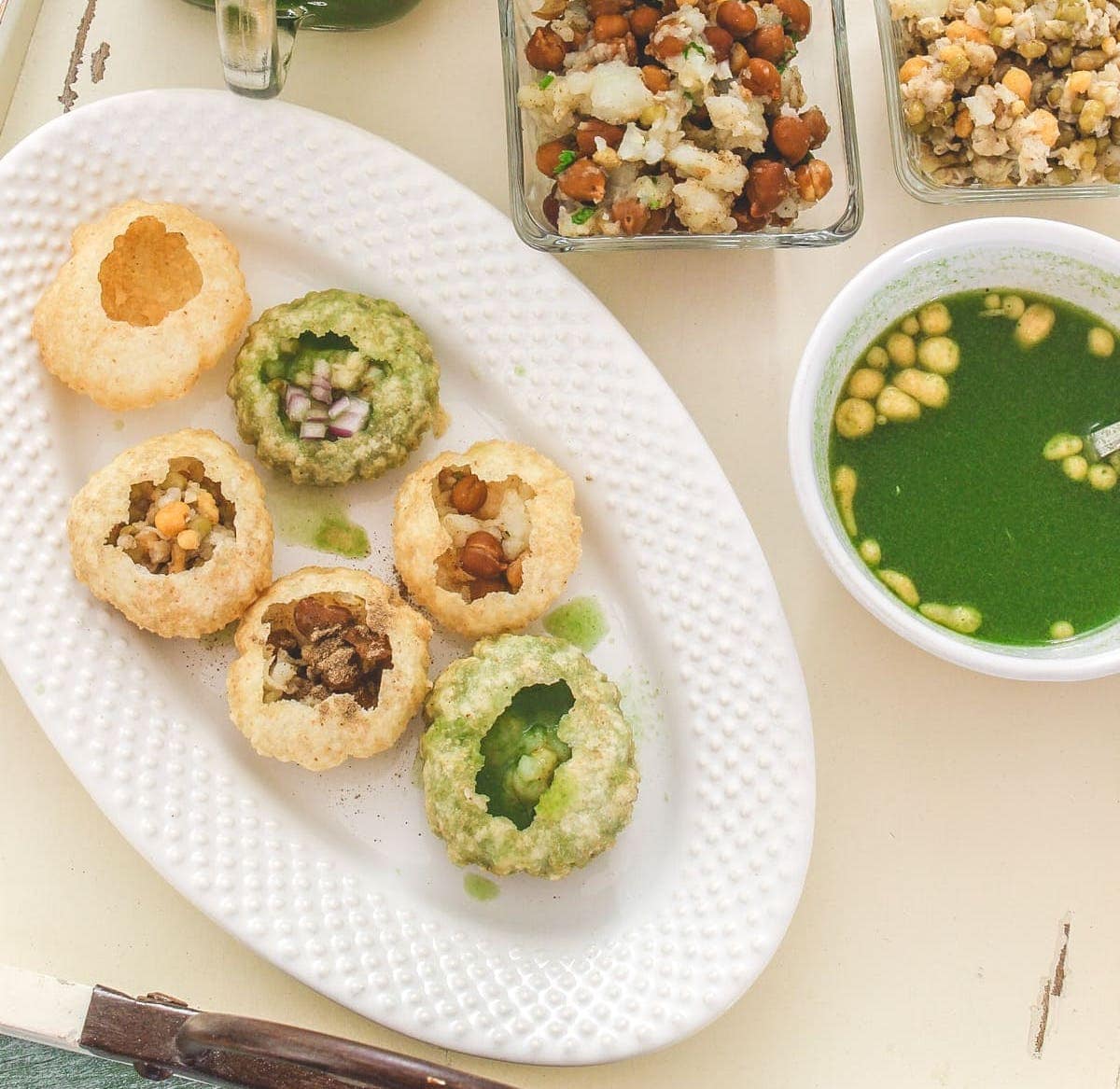 Pani puri, also known as golgappa and puchka, is a popular Indian street food that consists of crispy, hollow puri shells filled with spiced potatoes, chickpeas, and tangy tamarind chutney.
The highlight of this dish is the "pani," or water, which is tangy and spicy mint-cilantro water added to the puri just before eating.
These crispy puris are like flavor bombs that must be enjoyed whole as soon as they are made. On the street stalls, the vendors prepare one puri at a time and serve as you keep eating them.
Get the Pani Puri recipe.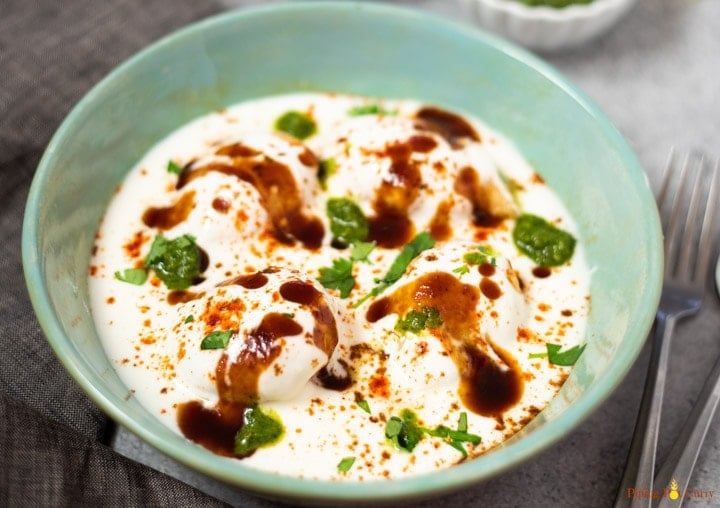 This favorite Dahi Vada or Dahi Bhalla is a popular street food from Punjabi cuisine and can be found all over India. It has the softest lentil fritters drenched in creamy yogurt and topped with sweet and spicy chutneys.
This popular Indian street food is loved by all and is a perfect inclusion to any festive menu!
Get the Dahi Vada recipe.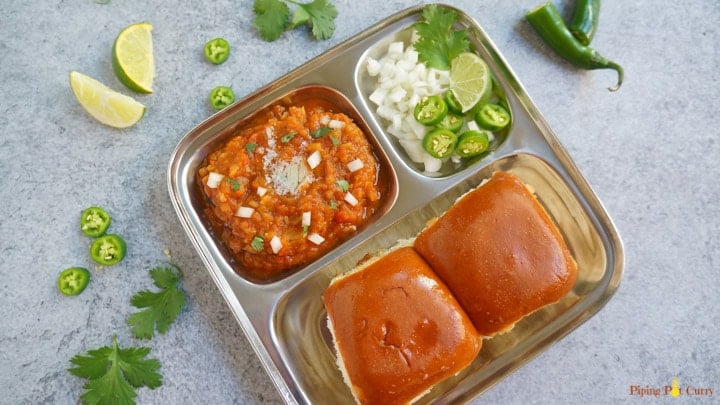 Pav Bhaji is a popular Indian street food from Mumbai. It is made with potatoes and vegetables cooked in a tomato base and enjoyed with pav or dinner rolls.
If visiting Mumbai, this is a must-try dish. You can enjoy it at Juhu beach or Chowpatty, but it is also easily available at many street food stalls.
Get the Pav Bhaji recipe.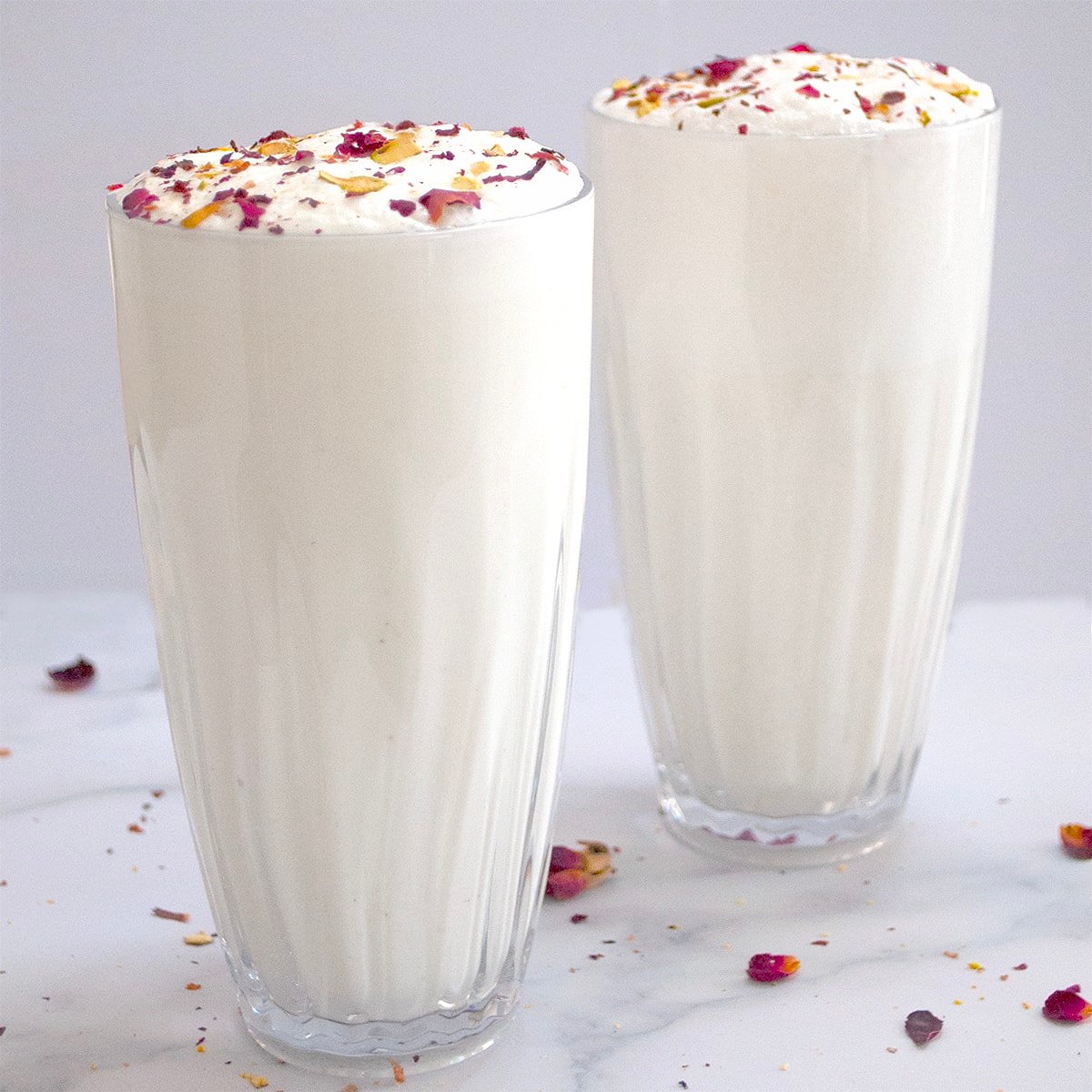 The second Indian beverage most popular all over the world after chai. Although mango lassi is popular internationally, in India, you will find sweet or salty lassi ordered the most.
Lassi is from Punjab and is more popular in the northern states of India. It is often served in tall metal or clay glasses at street stalls.
Get the Sweet Lassi recipe.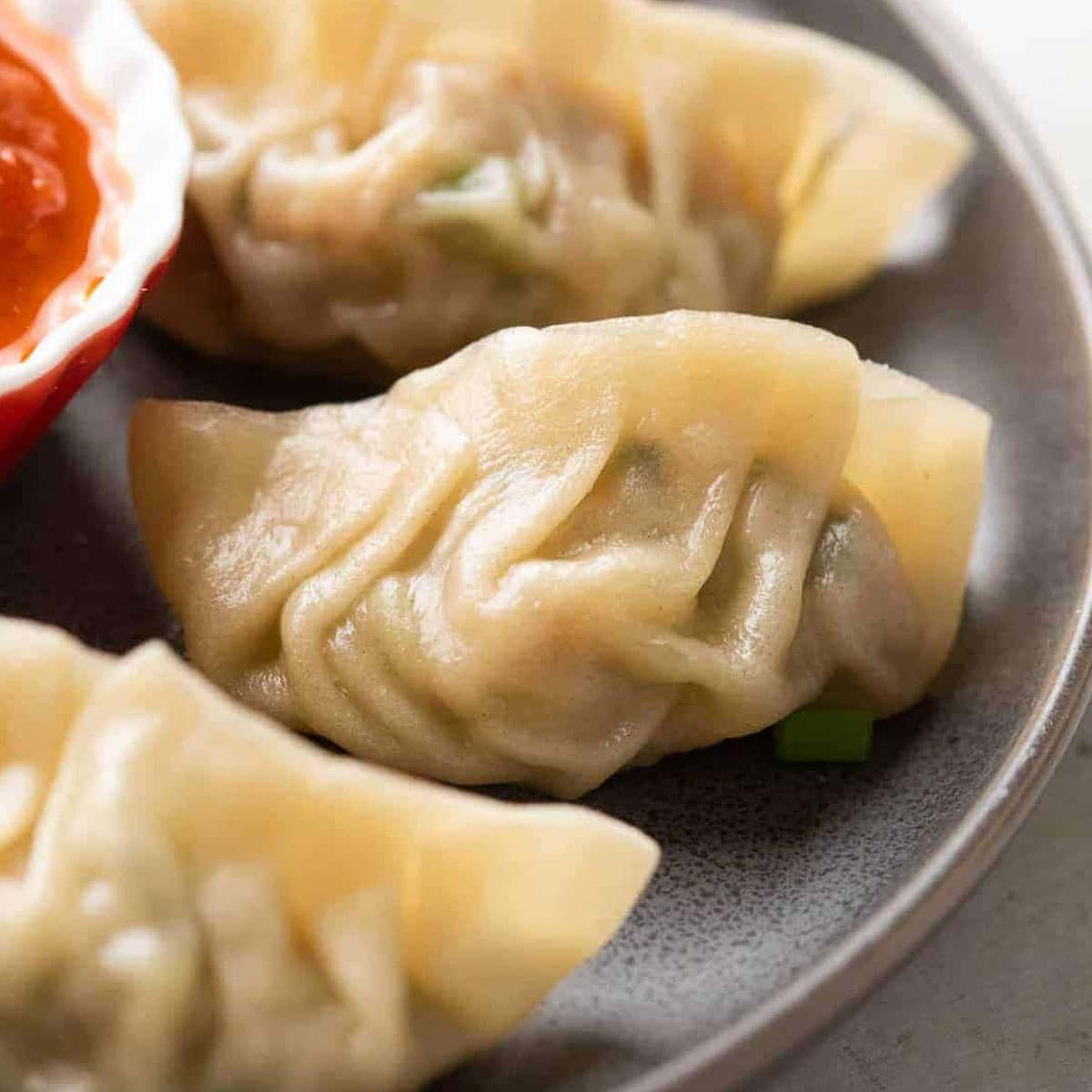 Momos are a popular street food that originated in the Northeastern region of the country, but now very popular in Delhi and all over the country.
These steamed dumplings are typically filled with vegetables or meat and served with a spicy dipping sauce.
Make street-style momos at home with this super easy recipe where you can learn how to make the dough, pleat, and make a vegetarian and chicken stuffing.
Get the Momos recipe.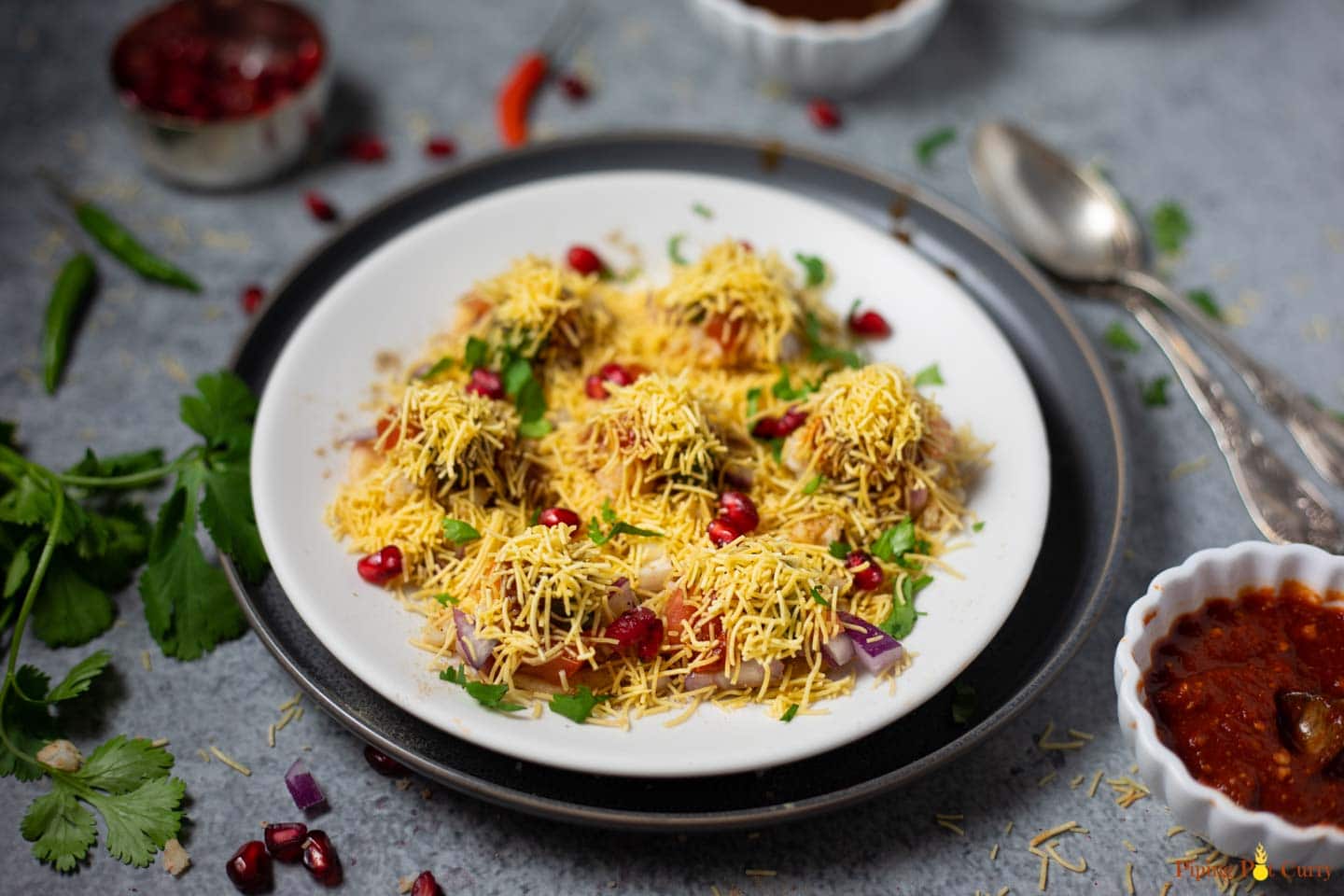 A popular Mumbai street food, Sev Puri is a sweet, spicy, tangy chaat. Sev Puri is made with crispy puri (whole wheat crackers) topped with potatoes, onions, tomatoes, and a variety of chutneys and finished with sev (thin gram flour noodles).
Growing up, sev puri was my favorite for a quick evening snack. The street vendor would set up his stall next to our building (most people live in apartments in Mumbai), and we could buy sev puri for five rupees. Although now, I am guessing he charges at least 40 rupees for it 🙂
That said, you can make sev puri easily at home with my recipe. Once you have the ingredients, it is easy to put together in less than 10 minutes.
Get the Sev Puri recipe.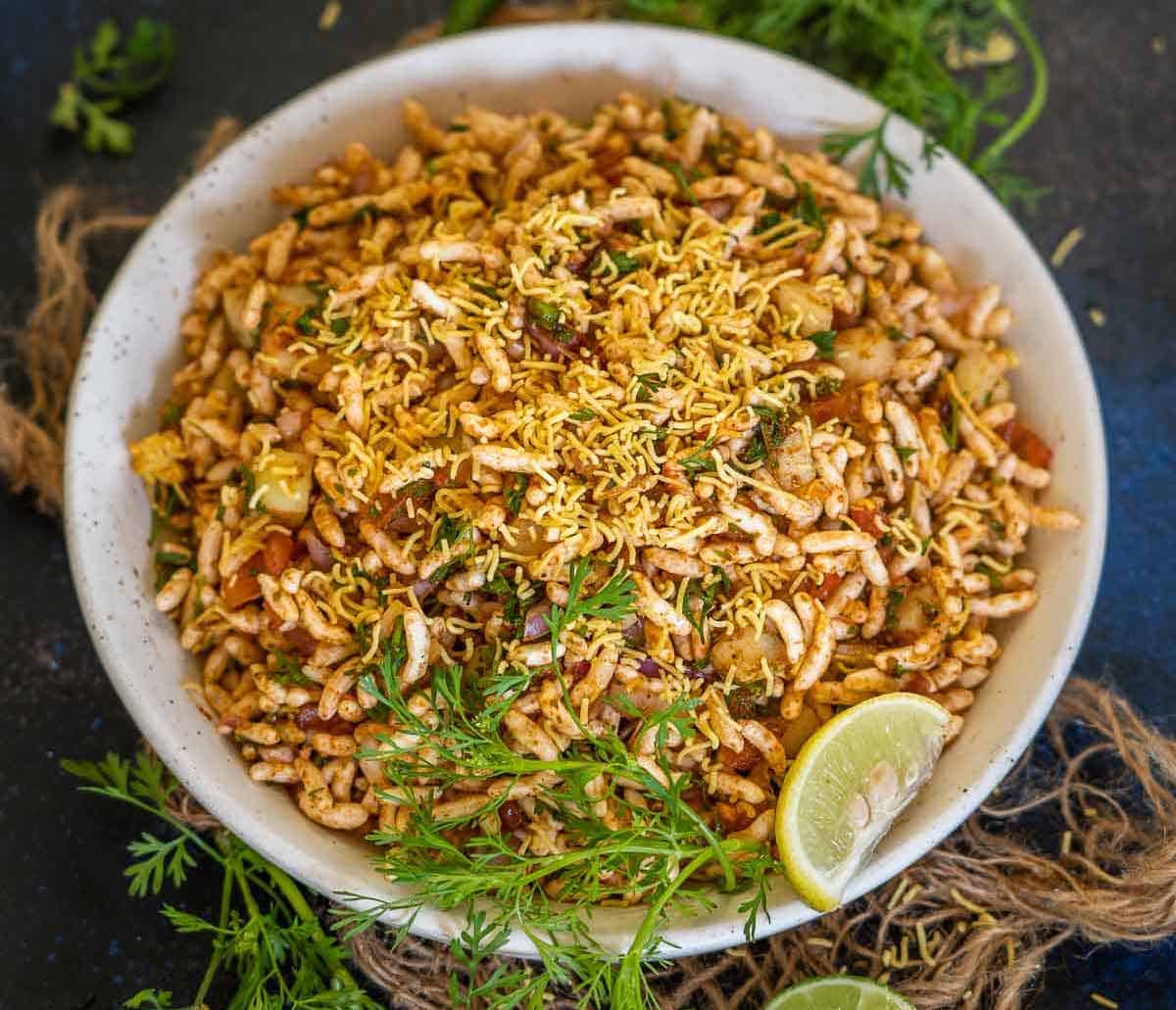 Bhel puri, very similar to sev puri, is a popular street food in Mumbai. You can find variations such as jhalmuri and chana dal chaat in other states of India.
Bhel puri is made with puffed rice, sev, onions, tomatoes, and tangy chutneys. This easy vegan dish can be made at home in just 10 minutes.
Get the Bhel Puri recipe.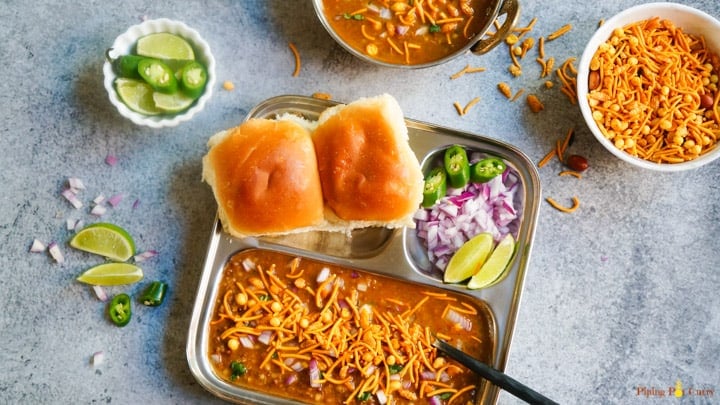 Misal Pav is a popular breakfast or brunch dish from the state of Maharashtra.
Misal is a spicy sprouts curry (usal) cooked with onions, tomatoes, ginger, garlic and coconut. This is then topped with onions, lemon juice, farsan and enjoyed with pav (dinner rolls).
Get the Misal Pav recipe.
Kachori is a fried snack popular all over India. The filling in the kachori varies in different regions. You can find dal kachori or matar kachori or even aloo ki kachori.
My favorite kachori is from the Mathura in Uttar Pradesh state. My dad grew up there and my grand parents and uncle still live there. Kachori is dipped in spicy rasedar aloo here, and is the best I have ever had!
Even though it is some effort similar to samosa, you can make kachori at home.
Get the Kachori recipe.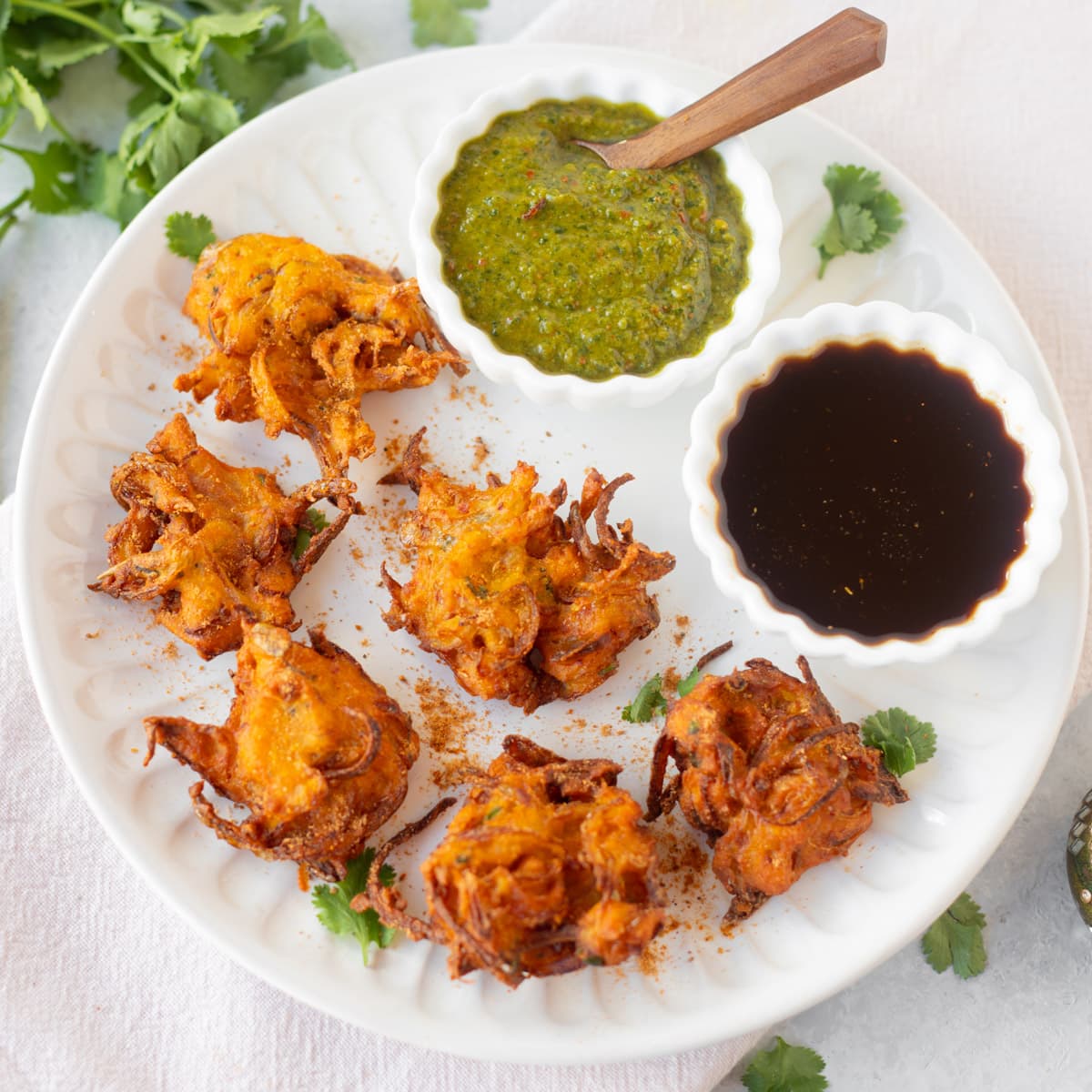 Pakoras are fritters made with various vegetables or even paneer or chicken, dipped in gram flour batter, and then deep fried.
One. of the most popular is Onion pakora, also called bhajia. Some other favorites are gobi pakora and baingan pakora.
Pakoras are a favorite, especially on cold and rainy days, along with a cup of masala chai. Learn how to make this addictive fried Indian snack at home.
Get the Onion Bhaji / Pakora recipe.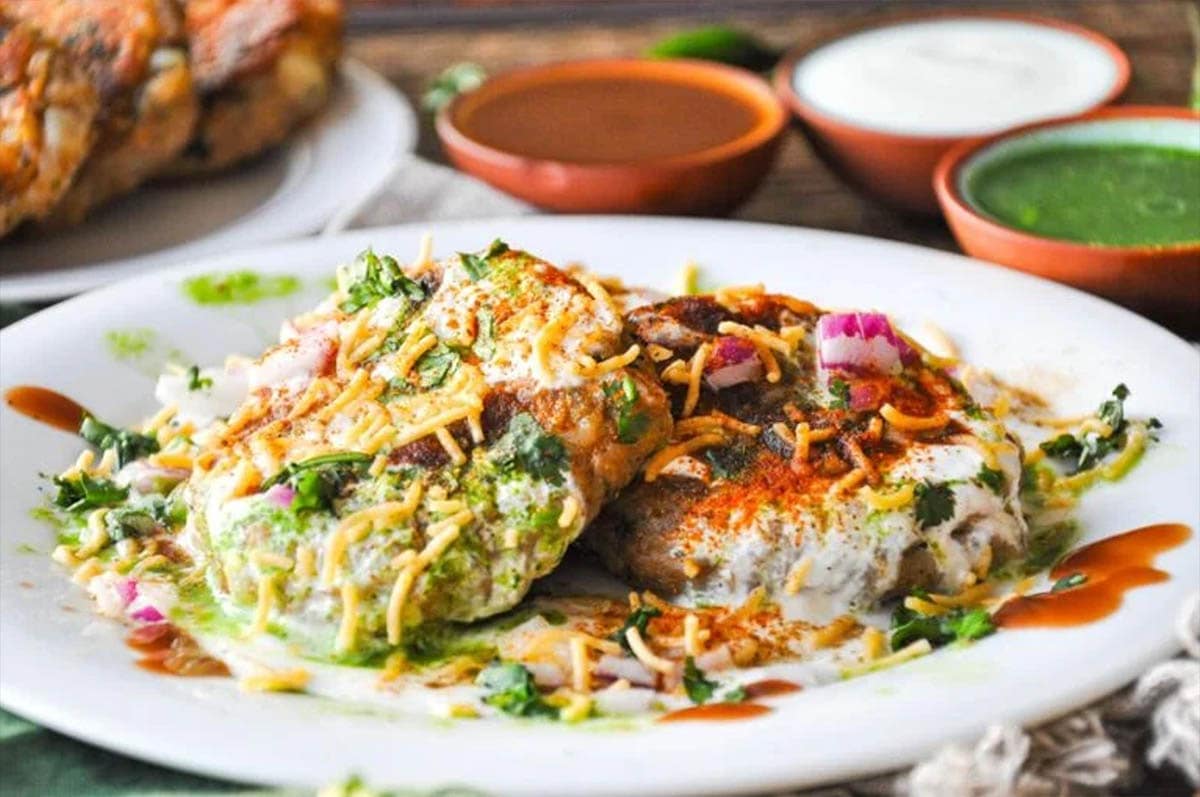 Aloo Tikki Chaat is a famous Indian Street Food. A crispy Indian potato patty flavored with spices and topped with yogurt and chutneys. In some regions of India, aloo tikki is topped with ragda or chole to make this chaat.
This easy recipe will help you in making this mouthwatering chaat at home.
Get the Aloo Tikki Chaat recipe.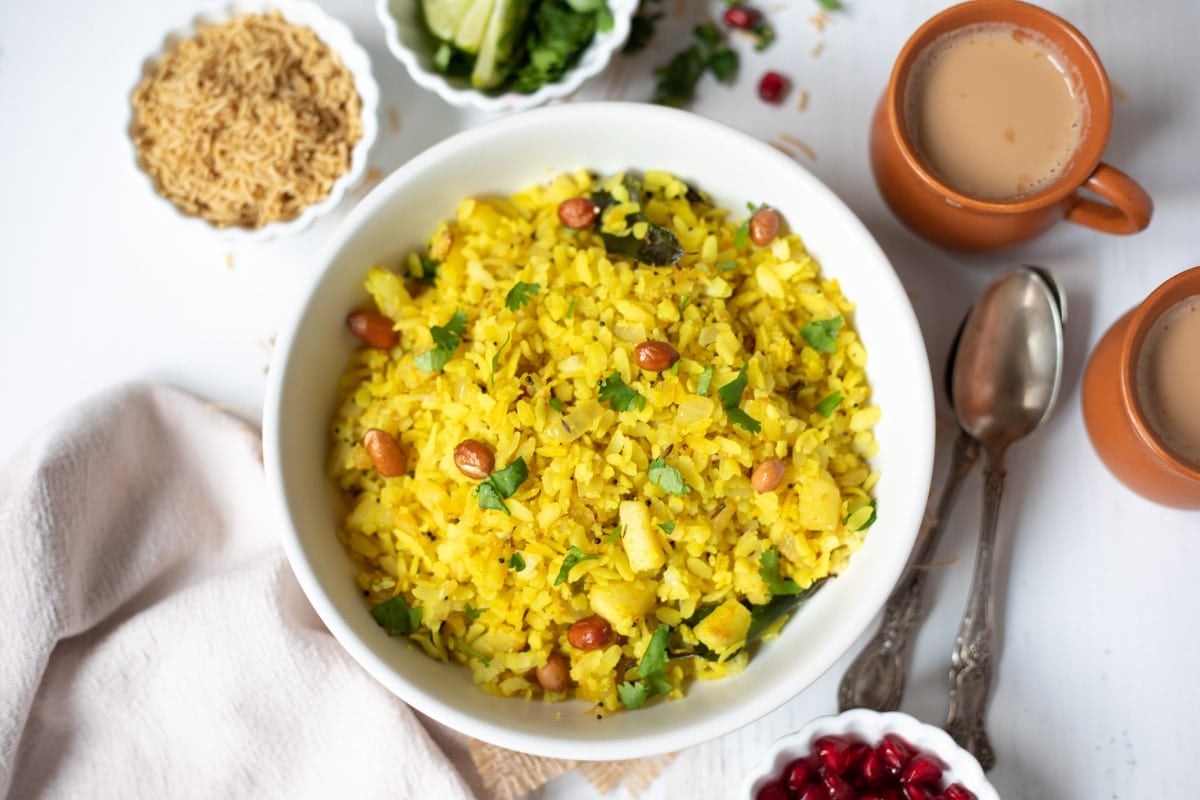 Poha is an easy and delicious Indian breakfast recipe popular in western and central India. It is made with flattened rice (poha), onion, potatoes, and seasoned with mild spices, curry leaves, peanuts, and cilantro.
Similar to many other Indian dishes, poha is made with a different variation in many regions of India. In Maharashtra, kanda poha is popular, while in Madhya Pradesh, Indori poha takes the crown.
In Indore, poha, samosa, and jalebi are the most popular breakfasts at street vendors. It is a combination made in heaven!
Get the Poha recipe.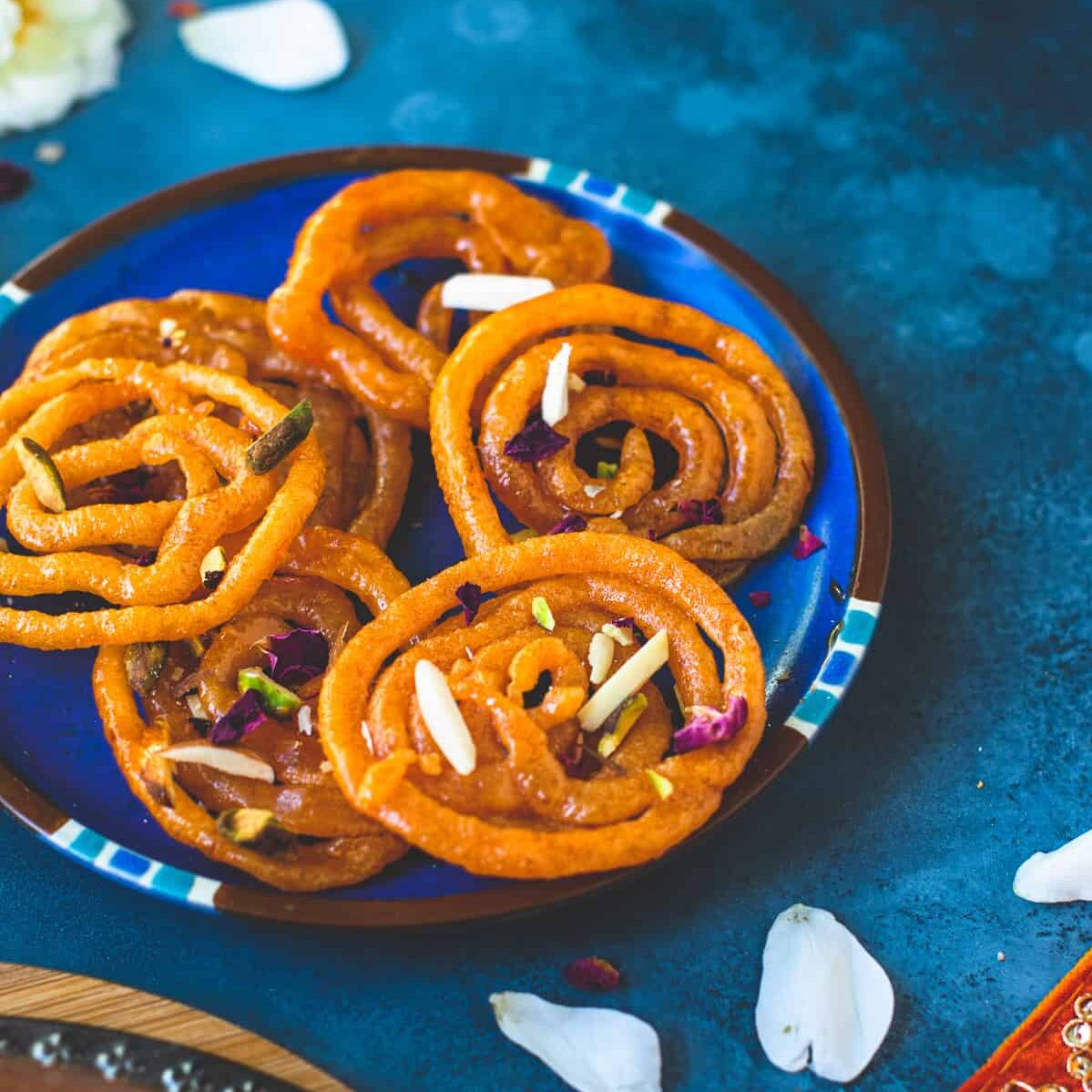 Jalebi is an Indian funnel cake that is deep-fried and then drenched in sugar syrup. This is a popular sweet you will find at Indian mithai shops and also at street stalls. It is a favorite for kids.
The street vendors will have large kadhai (iron frying pans) to fry these jalebis and serve them hot.
Get the Jalebi recipe.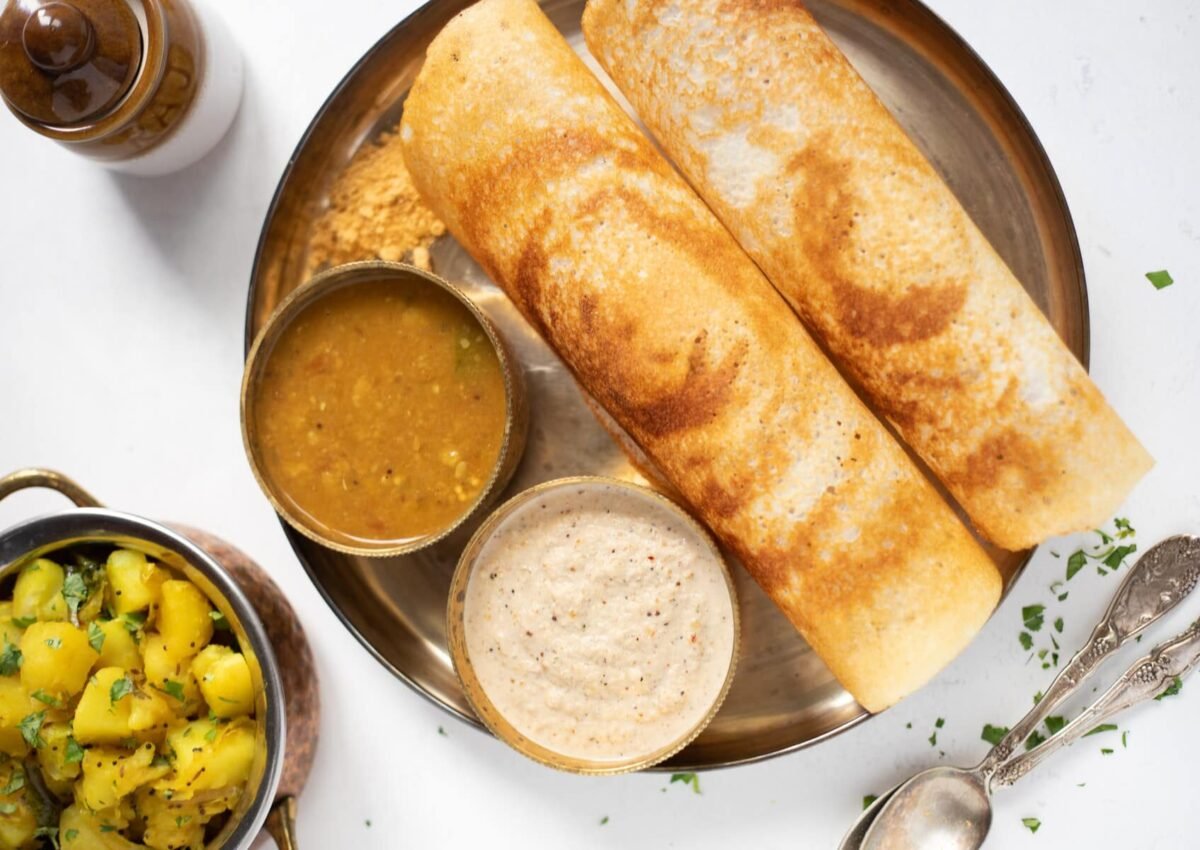 Dosa is the most popular south Indian dish, all over the world. It is a thin crispy crepe made with fermented rice and lentil batter.
Dosa is popular at food stalls, often stuffed with a variety of filling. The most popular one being Masala dosa with a potato stuffing. Dosa is typically served with coconut chutney and sambar.
Get the Dosa recipe.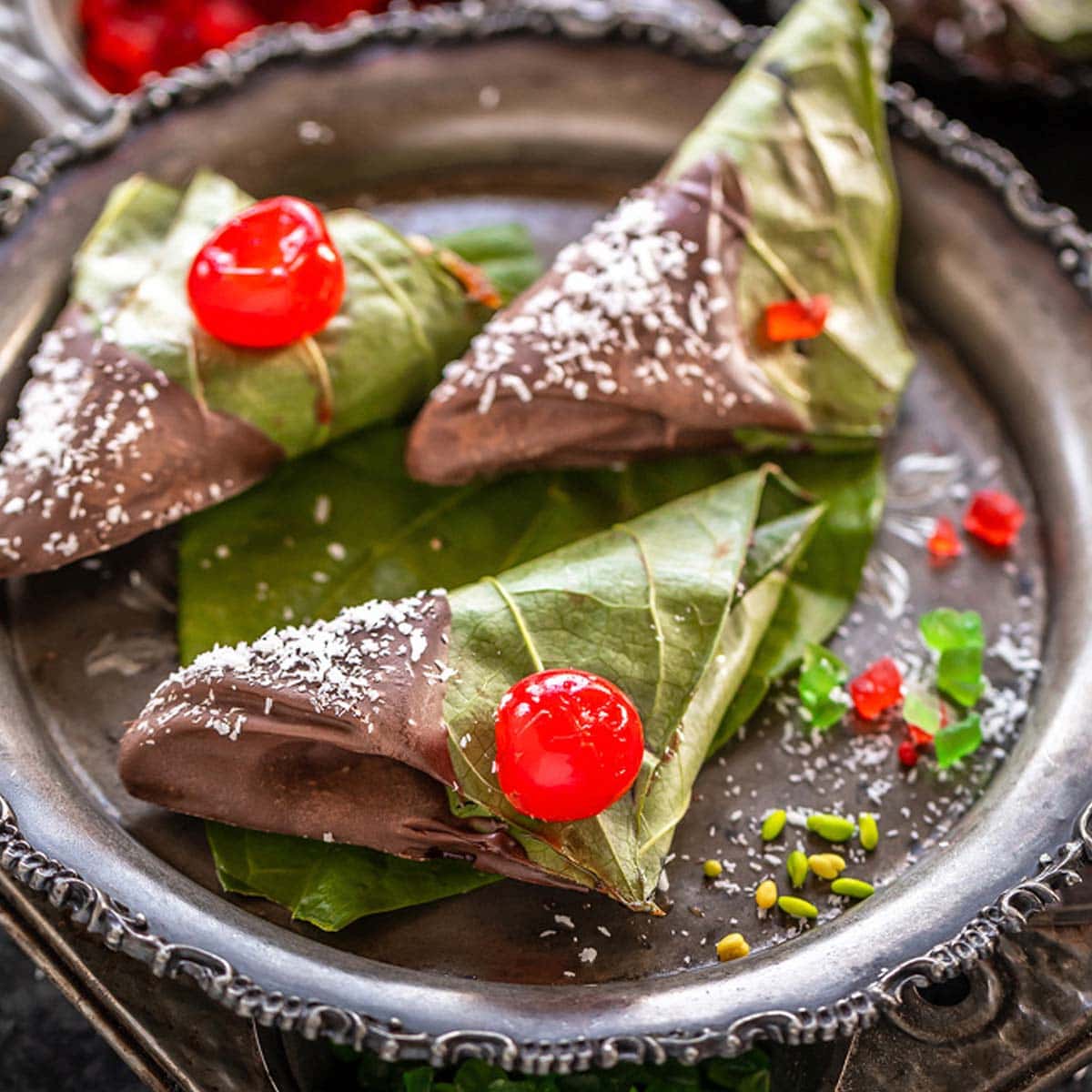 Paan is a popular street food in India that is made with a betel leaf stuffed with various fillings such as areca nuts, sweeteners, and spices. It is typically consumed as a mouth freshener.
Paan has been a part of Indian culture for centuries and staple street food throughout the country. It is flavored in many different ways in different parts of the country.
Here is a recipe for Chocolate Paan which is made with betel leaves smeared with hazelnut spread and filled with chocolate chips, gulkand (rose petal jam), desiccated coconut powder, cherries.
Get the Paan recipe.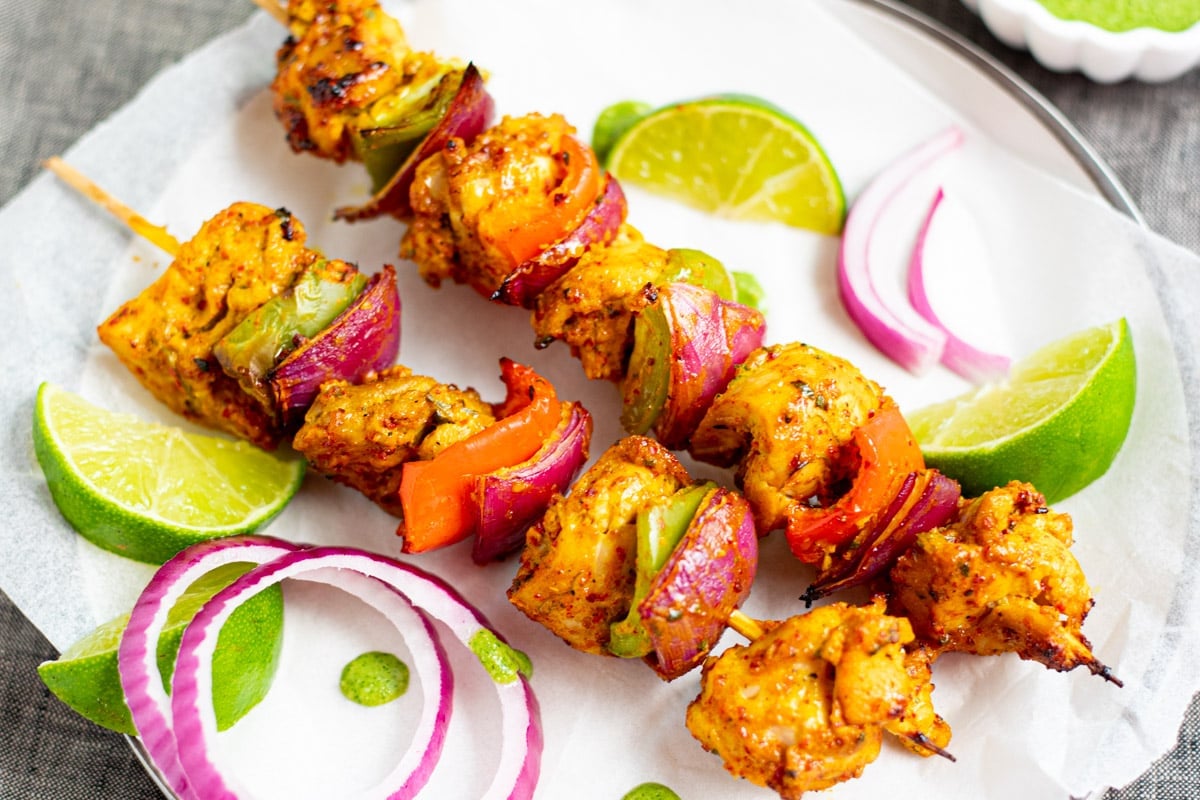 Kebab's are a popular grilled street food brought to India by the mughals. You can find kebabs made with goat meat/mutton or chicken or fish. You can also find vegetarian versions of kebab such as paneer tikka kebab or mushroom kebab.
Chicken Tikka Kebab is a flavorful appetizer made with chicken pieces marinated in yogurt along with lime juice and aromatic spices, then threaded onto skewers and grilled.
Get the Chicken Kebab recipe.
From Naan to Paratha: 18 Mouth-Watering Indian Bread Recipes to Try Today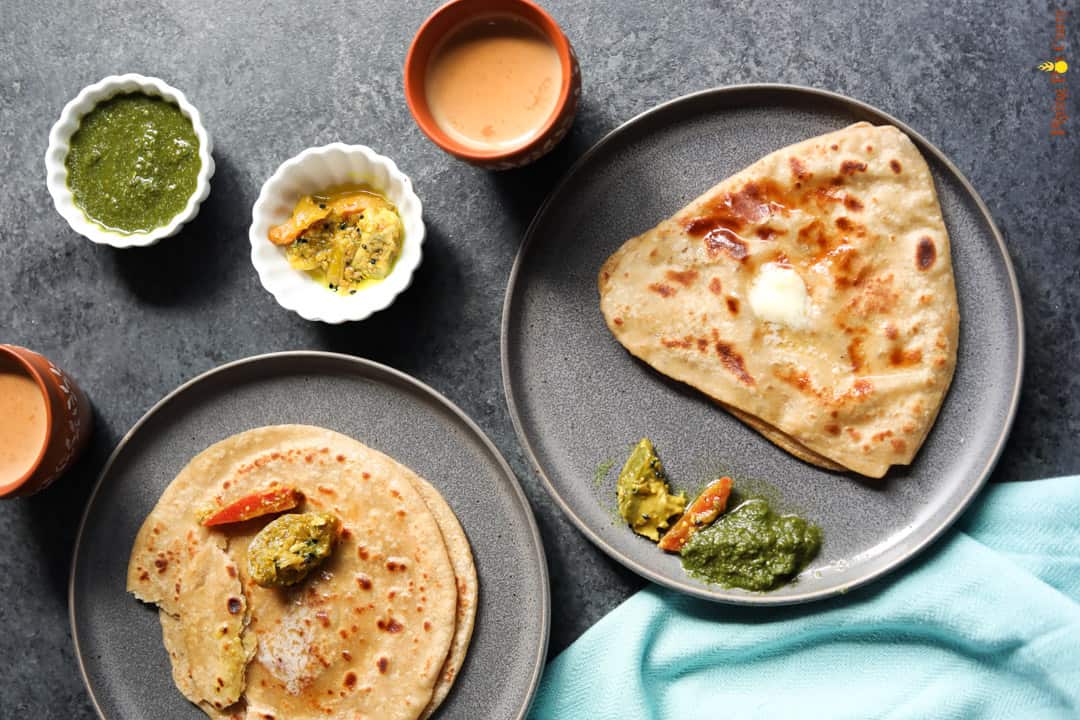 India is popular for its variety of bread- from the popular naan and dosa to the lesser-known fried bhatura and flatbread bhakri. Here are 18 amazing Indian breads that will make you want to try them all today.
Get the 18 Indian Bread Recipes.
Spice up Your Life with 12 Delicious Indian Chaat Recipes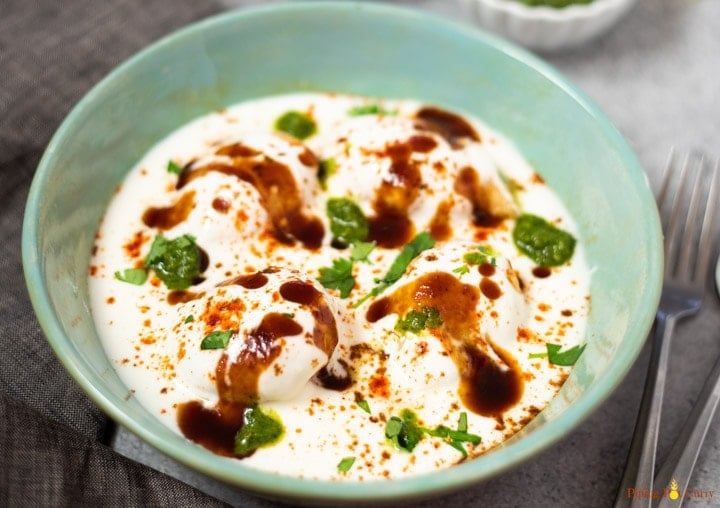 Get ready to enjoy the sweet, tangy, and spicy flavors of these delectable Indian chaat recipes. This collection of 12 Amazing Indian Chaat Recipes has everything from the fiery and flavorful Aloo Tikki Chaat to the refreshing and tangy Dahi Puri.
Get the 12 Indian Chaat Recipes.
Get Your Dal-lop of Flavor: 17 Comforting Dal Recipes to Try Today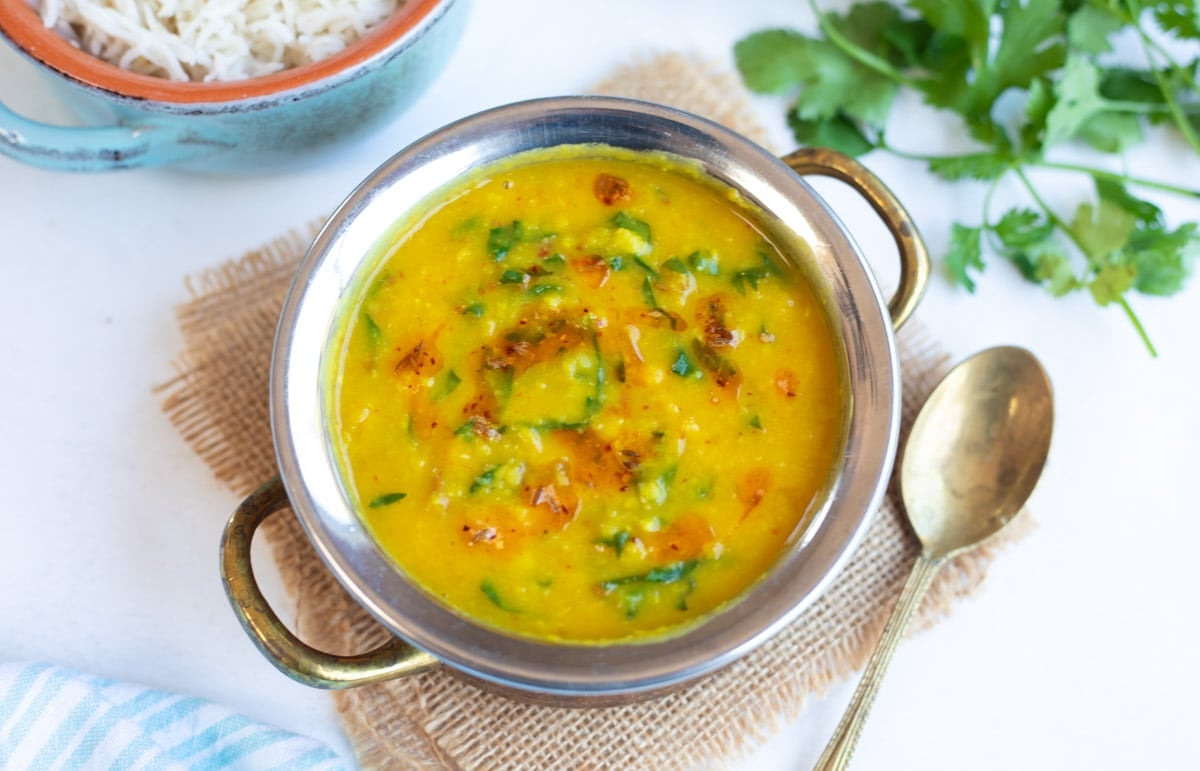 Whether you're a die-hard fan of classic dhal favorites like Dal Makhani and Dal fry or seeking new innovative recipes like Masoor Dal or Dal Dhokli – we've got you covered with these 17 Easy Dal Recipes.
Get the 17 Best Dal Recipes.