Air fryer Frozen Samosas are a quick and easy appetizer! Simply place the frozen samosas in the air fryer and when done, serve with your favorite dip or chutney. This will be a hit at any party or get together!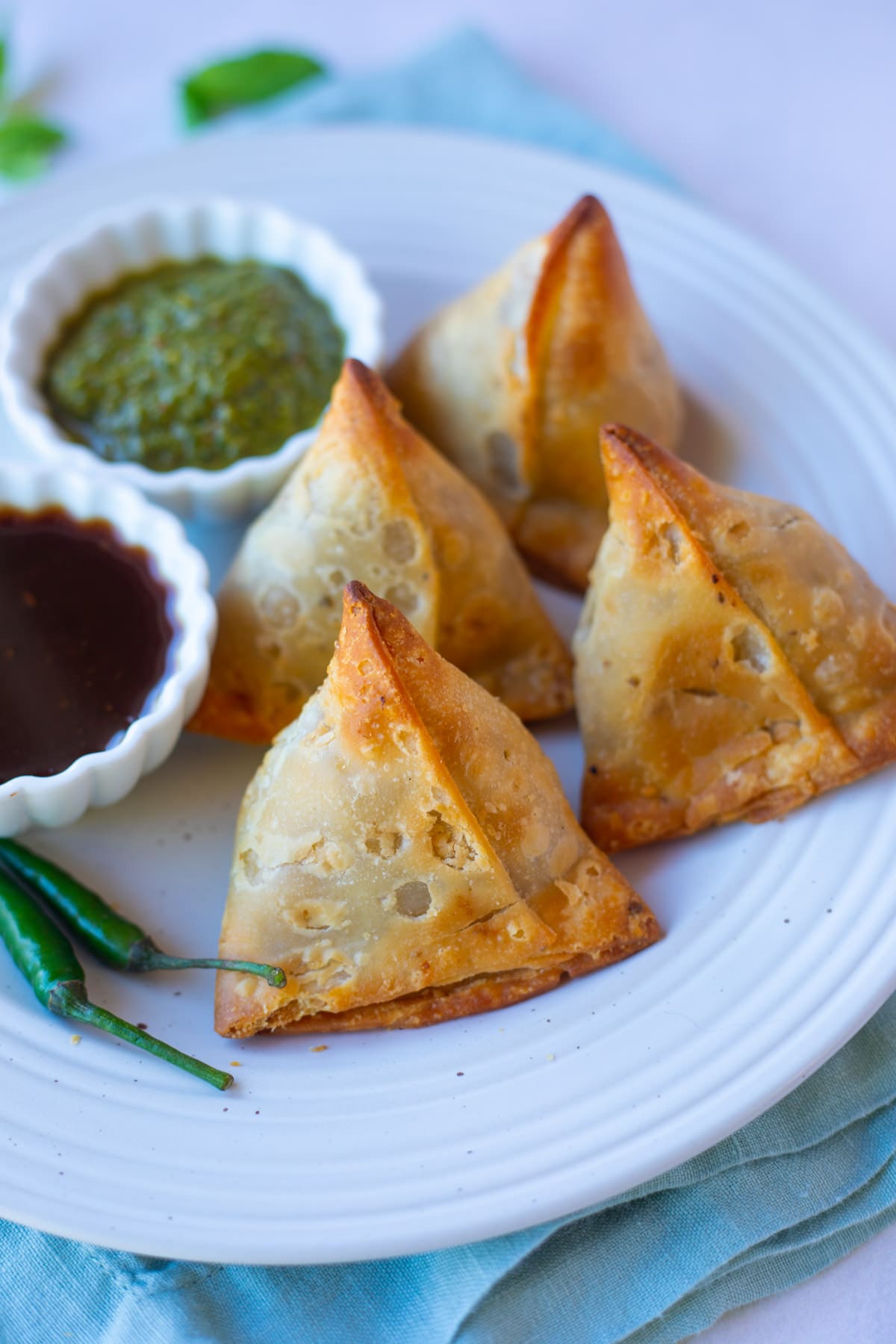 I know, that I mostly share recipes made from scratch, but hey, we all want some quick snacks that we can whip up when we have guests or just want to indulge in some samosa goodness.
At such times, frozen samosas come in handy. They are so easy to make in less than 15 minutes.
Most frequently, I use Deep brand frozen samosas. And everyone I have served them to, love them!
Jump to:
What is Samosa?
If you're unfamiliar with samosas, they're an Indian snack or appetizer that you will find on the menu of any Indian restaurant or at the Indian grocery store in the frozen section.
These are traditionally deep-fried. It's made with thin pastry that crisps up beautifully and the filling is usually a blend of Indian favourites. The Indian samosas are triangular in shape.
Spiced potatoes, onion, peas, and Indian seasonings are typical samosa fillings, but they can vary. Lamb, beef, and chicken samosas are some of the options for meat-eaters.
Can You Cook Frozen Samosas In An Air Fryer?
Yes, certainly you can make frozen samosas in the air fryer, and you'll adore them.
Just throw them into the air fryer from frozen! They cook quickly, and get deliciously crispy, and they are so addicting that you will find it difficult to stop eating them.
Air frying is a convenient way to cook samosas without using a lot of oil, thereby also making them healthy.
New to air fryers? Check out my detailed guide for how to use an air fryer.
Benefits of Air Fried Samosas
✓ Quick: Nothing compared to fresh, hot samosas frozen samosas are a convenient way to save time in the kitchen while still getting the same flavor.
✓ Simple: The air fried samosas are so much simpler than making your own from scratch. Air frying frozen samosas needs no prior cooking experience. No dough making, no deep frying…how simpler can it get!
✓ Great for picky eaters: Unless they are really spicy samosas, youngsters find samosas to be quite appealing. This crispy finger snack served with a dipping sauce appeals to children and adults. Samosas can have a variety of fillings ranging from vegetables, paneer, meat, chicken etc.
✓ Vegetarian/ Vegan: Samosas are an easy option for feeding a crowd that includes vegetarians and vegans alike.
✓ No additional oil: Most frozen samosas already have a lot of oil in them. Air frying consumes far fewer calories than frying the samosa in additional oil.
✓ Fabulous appetizer for the crowds: Samosas are a tasty finger food that may be eaten without cutlery. As a result, they're ideal as a last-minute appetizer for potlucks, family get togethers, parties and even fund raisers.
What are the best types of Samosa to cook in an Air Fryer?
Punjabi Samosas
Because the crust already contains enough oil to create a crispy finish, samosas with high-fat pastry, such as Punjabi Samosas, cook particularly well in air fryers.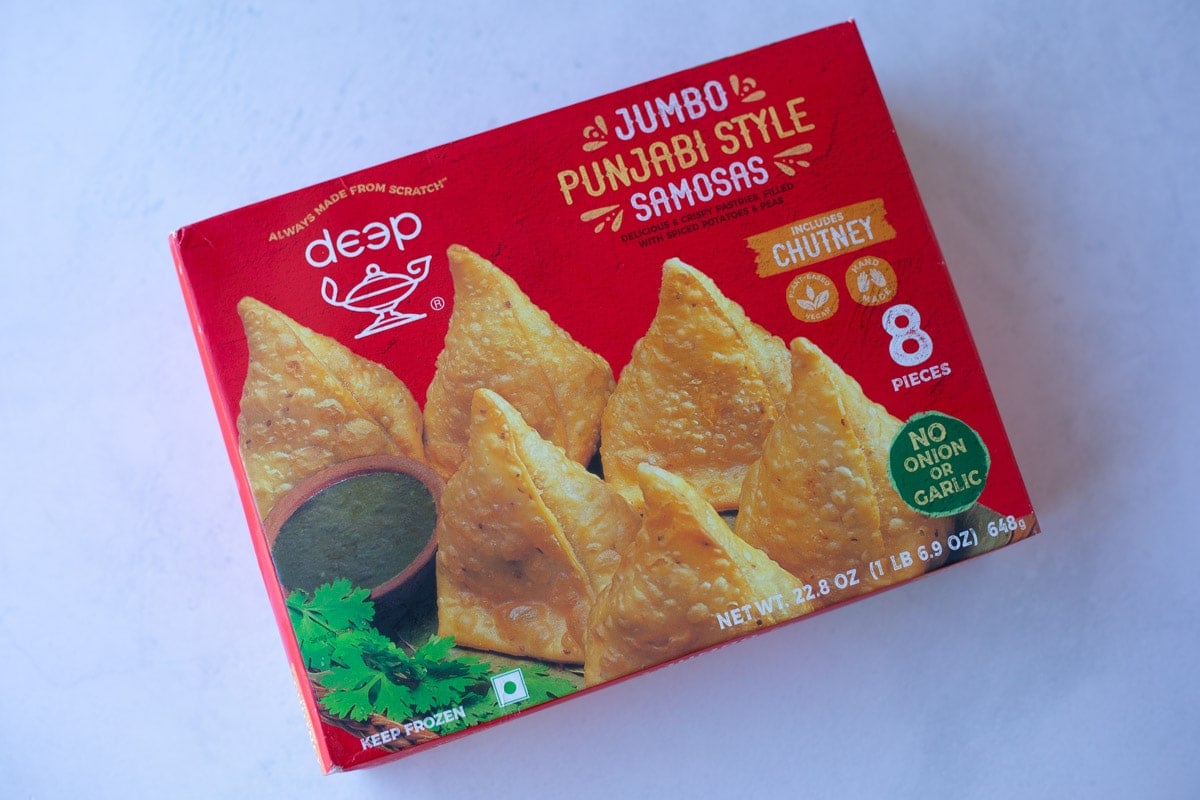 Filo pastry samosas or spring roll pastry Samosas
Samosas made with filo (phyllo pastry) or spring roll pastry can be easily air fried. Keep in mind that you will need to liberally brush the outside of the samosas with oil to keep them from drying out. If the samosas dry out while cooking, brush them or spray some oil again.
Homemade rolled dough sheets/ Patti Samosas
This samosa pastry is in the midst of the two samosas previously described. There are several techniques to make your own Samosa Patti (sheets). Making a semi-stiff dough with wheat flour, water, salt, and oil is the commonly used method.
How to make Air-fried Samosas- Step-by-Step
If you're wondering how to make frozen samosas in an air fryer, don't fret – it's super simple and they turn out deliciously crisp and golden!
Just scroll below the tips and tricks we have put together for you.
Take the frozen samosas out of the package and place them in the air fryer basket.
Drizzle/ spray just a little olive oil over the frozen samosas or bush with oil. This step is optional, but helps with a nice golden brown curst.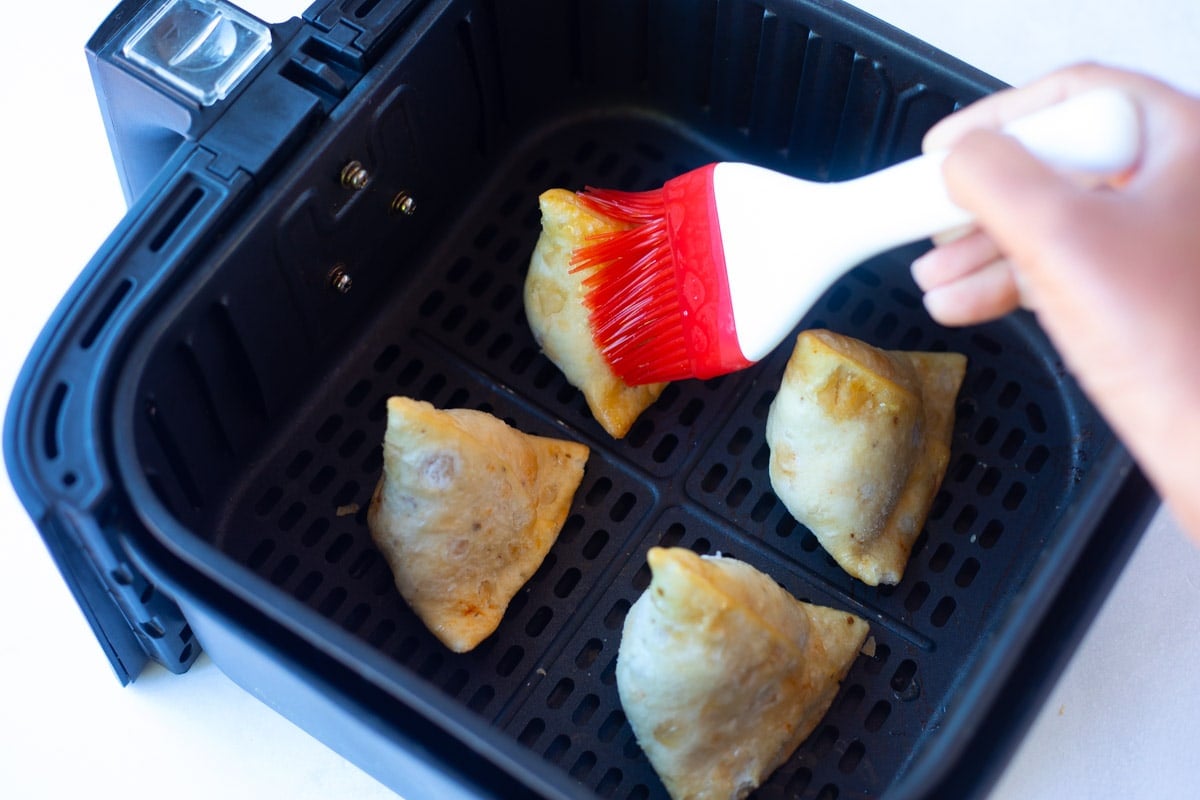 Cook the frozen samosas at 380 degrees Fahrenheit for 7-10 minutes, or until fully cooked and golden brown.
Halfway through the cooking time, flip them. Check that they are completely cooked through in the centre, especially if they contain meat. The internal temperature of the chicken filling should be 165 degrees Fahrenheit.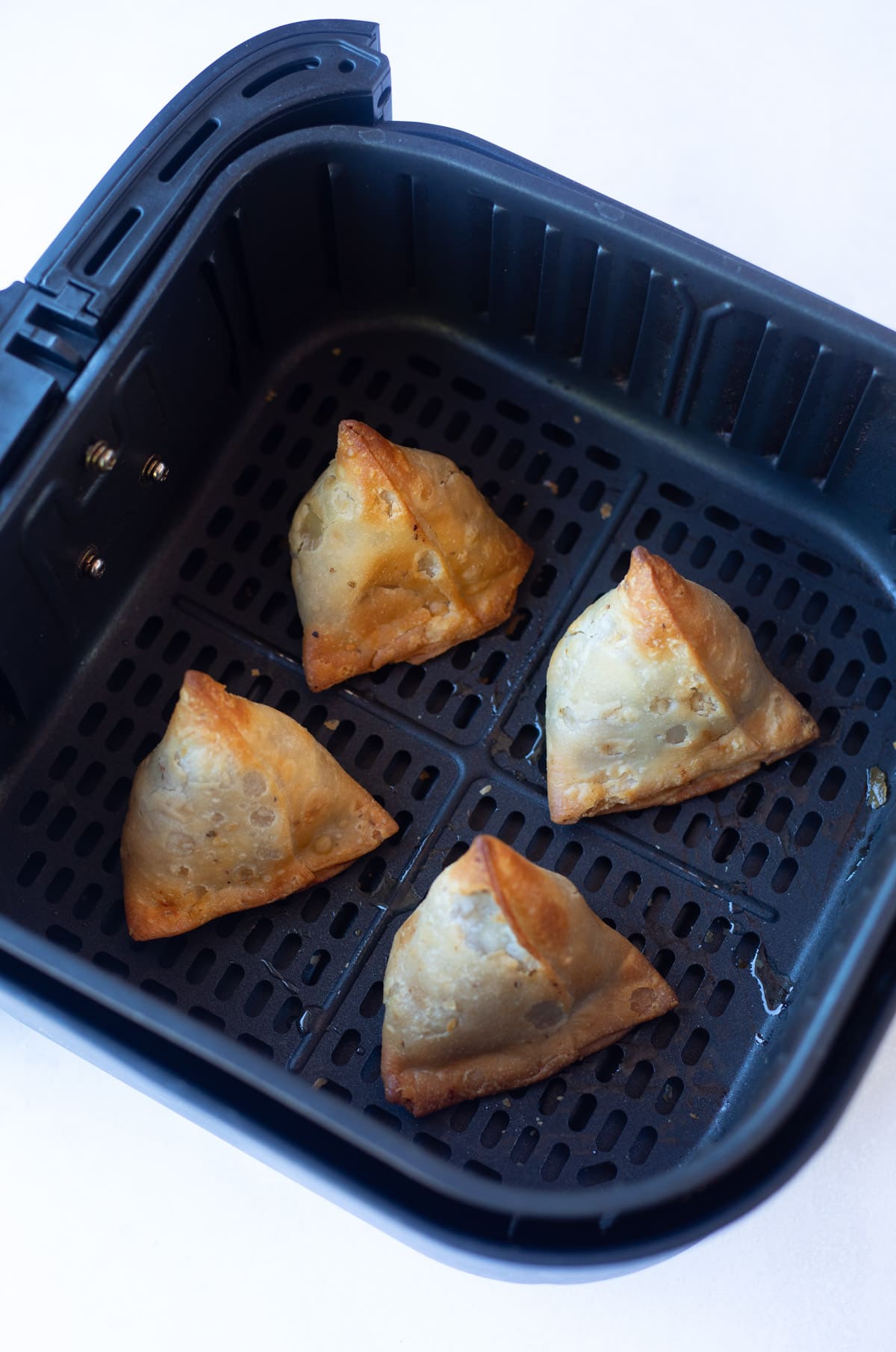 The cooking time will vary depending on the size of the samosas, the brand of frozen samosas used, and also the size of the air fryer.
Enjoy hot samosas with your favorite dipping sauce or chutney!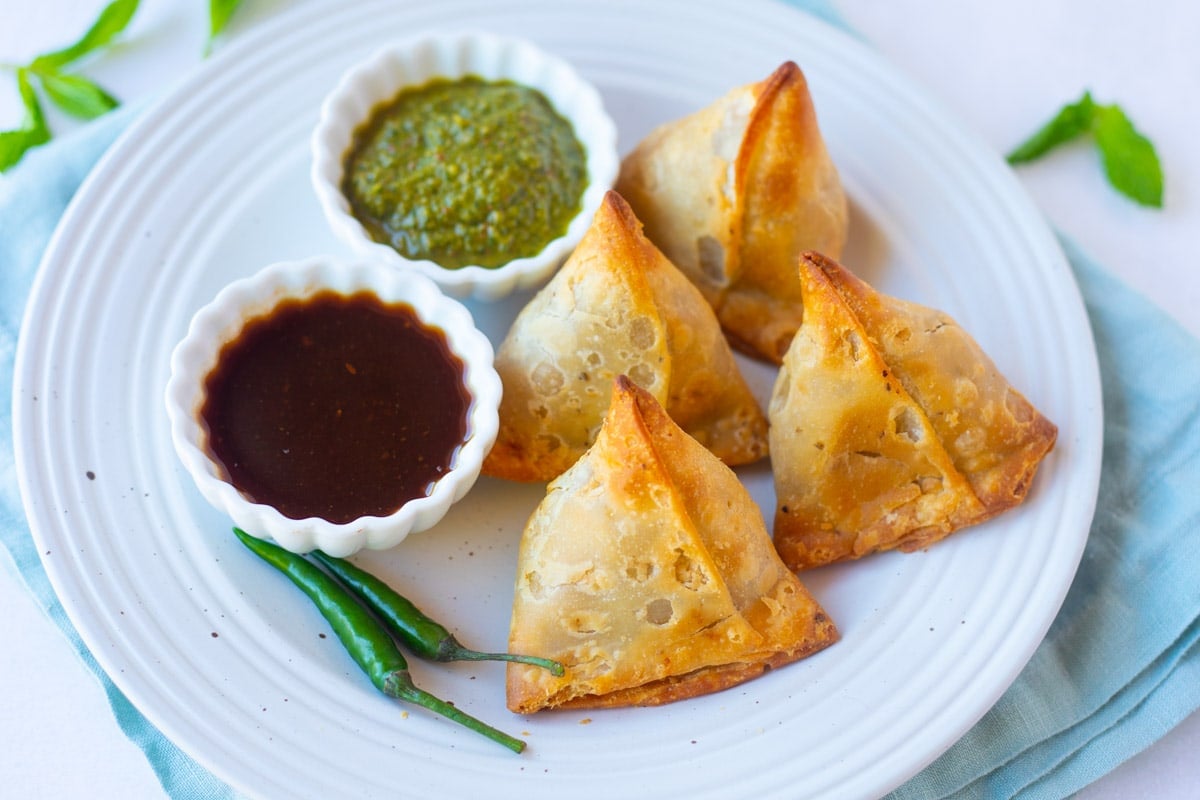 What sauces to serve with Samosa?
Samosas are served with a variety of Indian dipping sauces known as chutneys. Here are our picks for the best condiments to dip your hot and crispy samosa into:
Mint Cilantro Chutney – This no-cook Indian green chutney is a must-try accompaniment to Indian food such as samosa, chaat, kebabs and sandwiches.
Tamarind Date Chutney – Imli ki chutney made in the Instant Pot or Pressure Cooker. This is both sweet and tangy at the time, prepared with tamarind, dates and jaggery as the main ingredients.
And if you can't get your hands on the above chutneys, enjoy your samosa with ketchup, or your favorite sweet spicy sauce.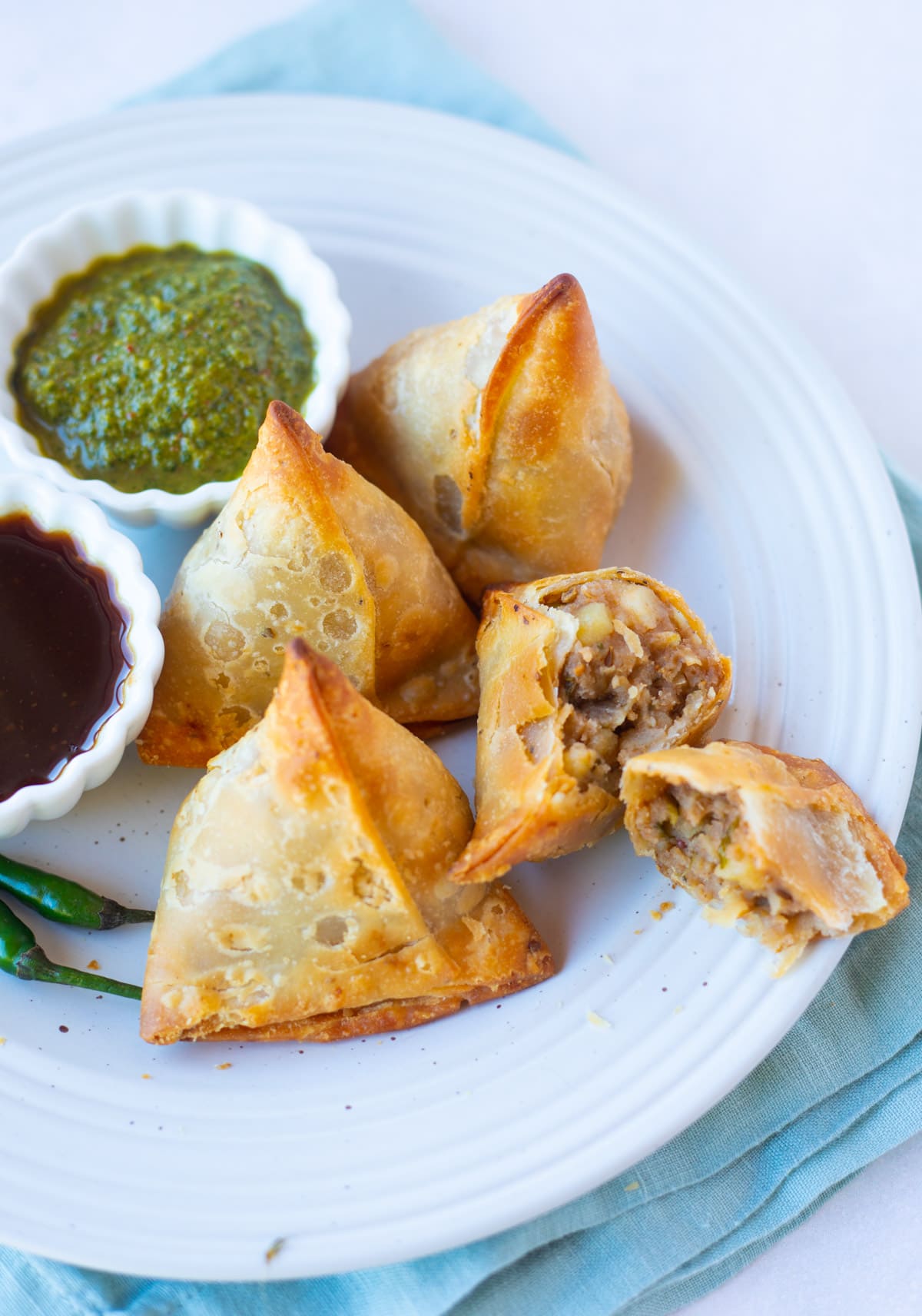 So go ahead and grab a samosa and dip it in your favourite chutney/ sauce for a flavor explosion that will keep wanting you more!
Storage Tips
When enjoying air-fried frozen samosas, it's ideal to eat them when they're still hot and fresh. As they cool down, they loose their crunch.
If you have any leftovers, keep them refrigerated in a sealed container for 1-2 days. Just don't expect them to be as crispy as they would be if they were made fresh.
However, reheating them in the air fryer may help them regain some of their crispness.
Common Questions
Where can I buy Frozen samosas?
You can easily buy Frozen samosas at the Indian Grocery store. They are also available on Amazon. Nowadays, you can also find some local/ regional brands in the frozen section isle in the big supermarkets like Whole Foods, Wallmart, Costco etc. Some of the popular Indian brands of Frozen Samosas are – Haldiram, Deep, Vadilal, Swad etc.
Can I heat samosa without an oven?
Yes, certainly. You can cook samosas in the Air Fryer instead of the oven. Or you can deep fry on the stovetop too.
Do I need to defrost before air frying the samosas?
You don't need to defrost the frozen samosas. Simply place the samosas in the air fryer straight from the freezer.
Can I reheat samosas in an air fryer?
Leftover samosas that have been cooked and cooled once can also be reheated in the air fryer. In my opinion, it is the best way to reheat leftover samosas.
How do you keep samosas crispy for a longer period of time?
Spray or brush a little oil on store-bought precooked frozen samosas before heating them to keep them crispy for longer.
Can you freeze samosas?
I recommend using frozen samosas from the store. It is not recommended to refreeze any food that has already thawed once.
Keep these in the freezer until ready to cook.
How do I bake samosas in the oven?
Follow the package directions for baking samosas in the oven. In a preheated oven, bake samosas for 12-14 minutes at 400 degrees Fahrenheit. Halfway through the baking time, flip them.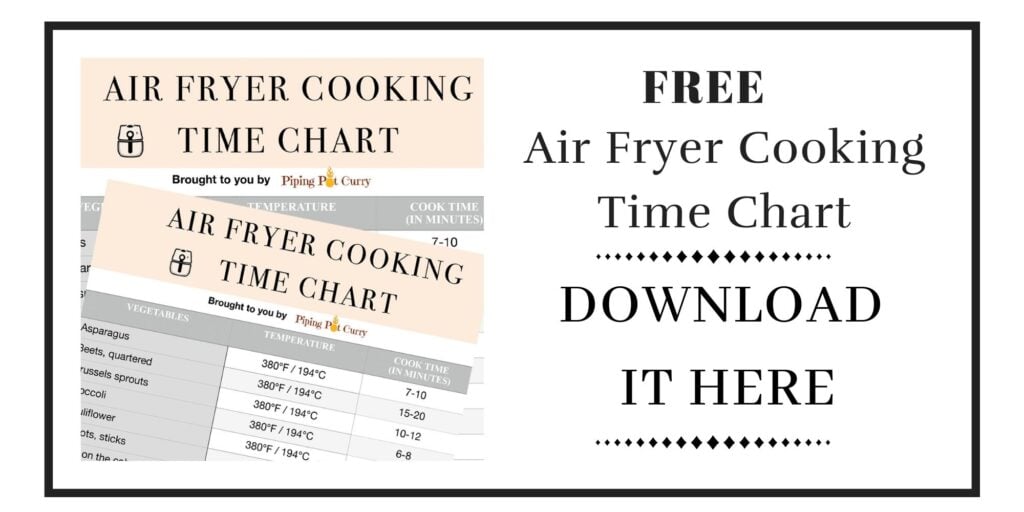 More Air Fryer Indian Favorites
You can also try some of our other air-fried Indian recipes: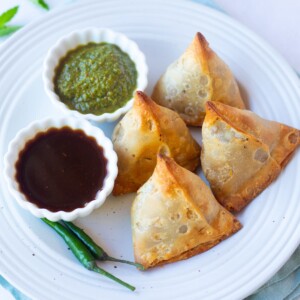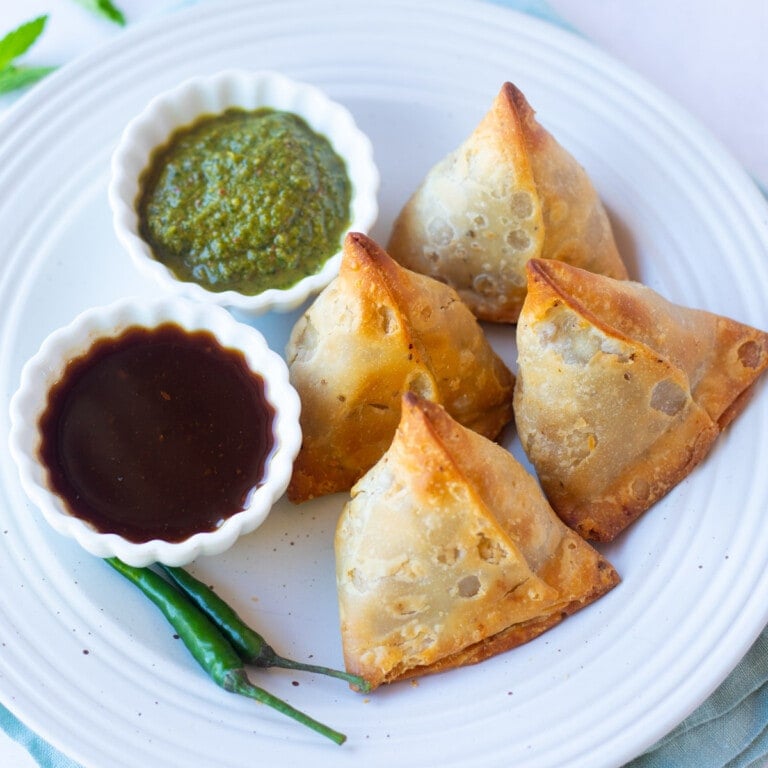 Air Fryer Frozen Samosa
Air fried samosas are a quick and easy appetizer! Simply place the frozen samosas in the air fryer and when done, serve with your favorite dip or chutney.
Ingredients
4

Frozen Samosa

1

tablespoon

Oil,

optional

Dipping sauce

,

included in the package or homemade
Instructions
Pre-heat the air fryer to 380 degrees Fahrenheit

Open the frozen samosa package and arrange the samosas in a single layer in the basket.

If using, lightly spray or brush oil on the samosas.

Cook in the air fryer for 7-10 minutes. Check and turn the samosas half way through.

Remove the samosas from the air fryer and set them on a serving plate.

Serve with the chutney included with the pack or with homemade chutneys!
Video
Notes
Dips: The most popular dips to pair with samosa are tamarind chutney and green mint cilantro chutney.
Defrost? You don't need to defrost frozen samosas before air frying. Simply place the samosas in the air fryer straight from the freezer.
Oven Directions: Follow the package directions for baking samosas in the oven. In a preheated oven, bake samosas for 12-14 minutes at 400 degrees Fahrenheit. Halfway through the baking time, flip them.