We bring to you the best collection of 30+ quick, healthy and really delicious Indian and Pakistani dinner recipes! This round-up features your restaurant/ take-out favorites from Butter Chicken and Chicken Biryani to Palak Paneer, Dal Makhani and many more!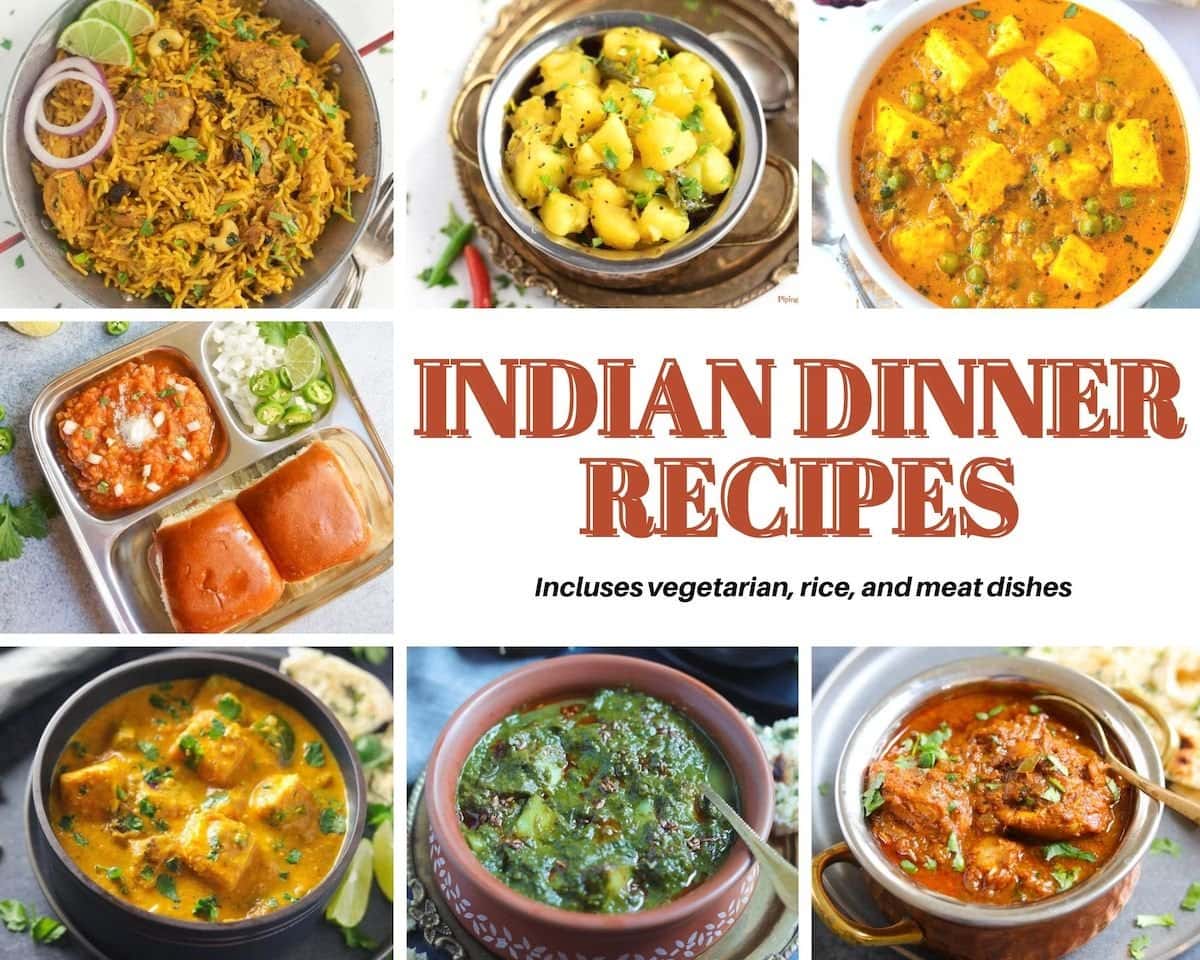 Below you will find a wide variety of dinner recipes, including vegetarian, rice, chicken, and meat dishes. The majority of them are one-pot, simple and easy recipes that don't require exotic ingredients or elaborate techniques.
Some of the recipes use a pressure cooker to make cooking easier, however all of them can also be made on the stovetop.
If you love Indian food, you will love this collection of dinner recipes!
An Indian Dinner Meal
A classic Indian dinner or even lunch for that matter consists of a vegetable side dish and meat, chicken, or seafood curry if you are a meat-eater.
It is served with a side of rice, flatbread like roti or paratha and lentil stew (dal).
The meal is often accompanied with yogurt, pickle (achar), papad, salad and/ or chutney.
What to serve with these Dinner Recipes?
When served with roti, naan, paratha, or basmati rice, these recipes become complete satisfying dinners. You can serve any type of rice instead of basmati rice.
Looking for low-carb options, just pair a nice salad with your favorite dish!
Indian Dinner Cooking Tips
Seeking the most appropriate kitchen gadgets to make cooking easier – a good food processor and a blender is definitely your best friend.
Use a pressure cooker or instant pot – this will significantly reduce your cooking time
Buy a readymade ginger garlic paste or keep homemade ginger and garlic paste handy – this saves 5-10 mins of prep time.
Buy and keep common spice blends in your pantry – the spice list is exhaustive. You don't need all of them.
Skip onions – this is my favorite tip! No onions means no chopping and browning and that will easily save you 10-12 minutes.
Cook a large quantity of Indian curry so that you may freeze it and eat it later – having extras in the freezer will have you sorted on busy weeknights.
Vegetarian Dinner Recipes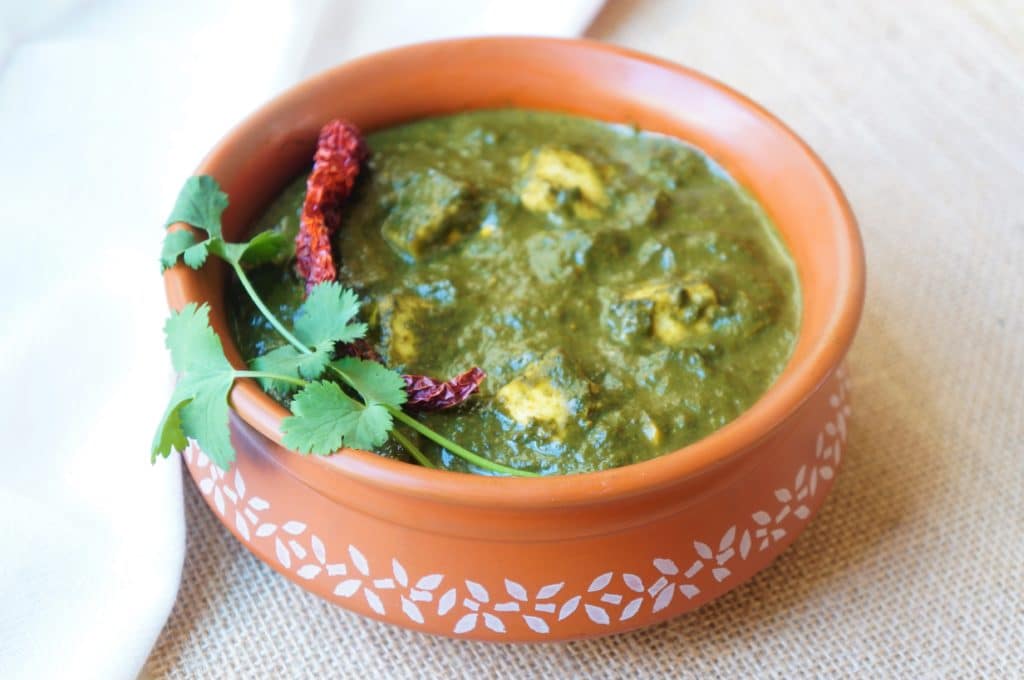 Palak paneer is a popular North Indian dish that combines Indian-style cottage cheese with a nutritious spinach sauce that has been spiced.
This is one of my favorite vegetarian entrée to order in Indian restaurants.
This weeknight dinner recipe is so easy to prepare at home and takes 20 minutes in the instant pot. Serve with basmati rice or naan bread!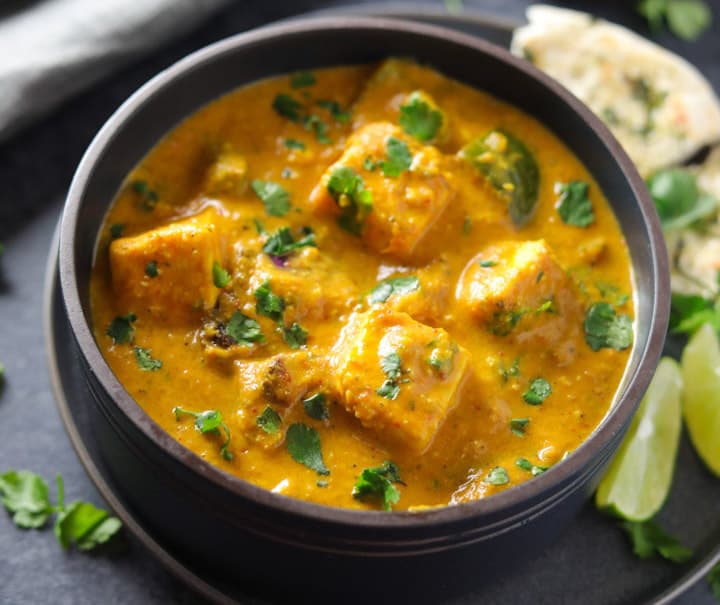 Paneer Tikka Masala is a tasty and aromatic curry cooked with marinated and grilled paneer cubes and warm spices, simmered in a creamy onion tomato sauce.
You'll never order takeout for dinner again after making this restaurant-quality Paneer Tikka Masala in the instant pot.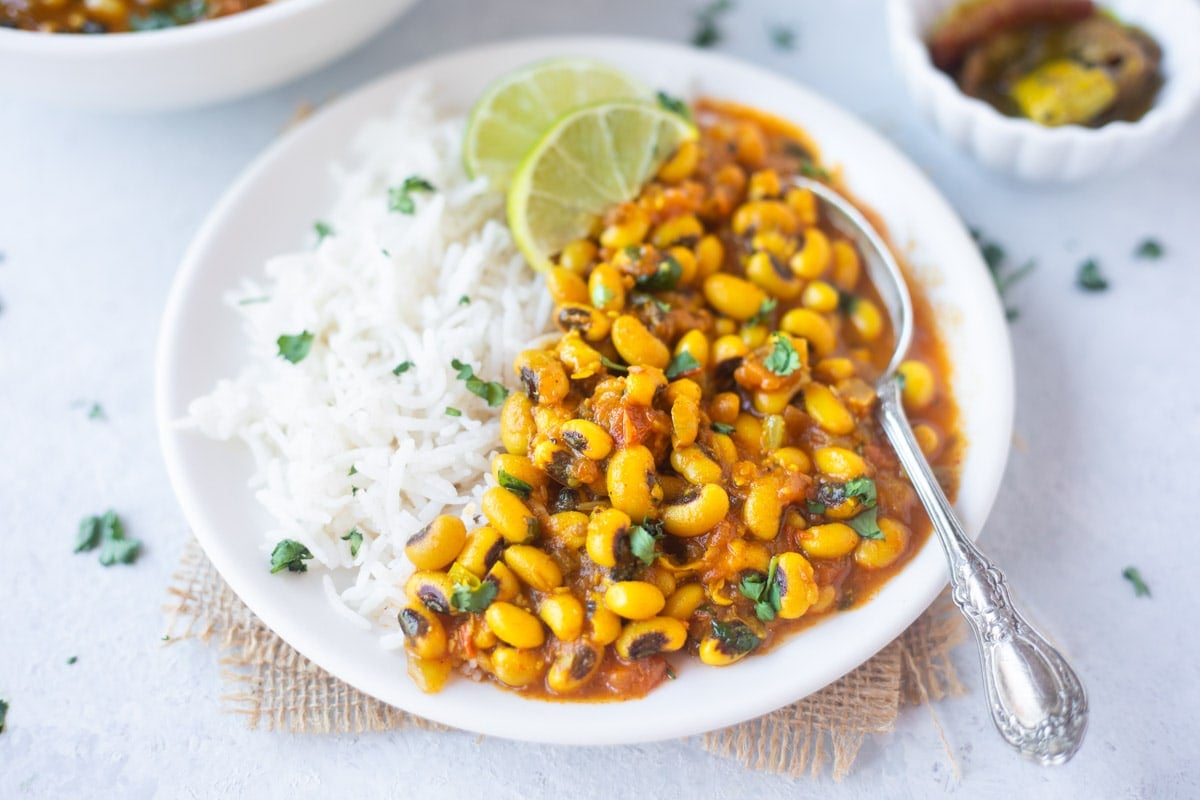 Lobia Masala (Black Eyed Peas Curry) is a classic North Indian recipe that is simple to prepare in the pressure cooker. It's cooked with loads of ginger, garlic, and aromatic spices in an onion-tomato sauce.
It makes a complete dinner meal when served with a side of steaming basmati rice and parathas. This recipe is gluten-free and vegan.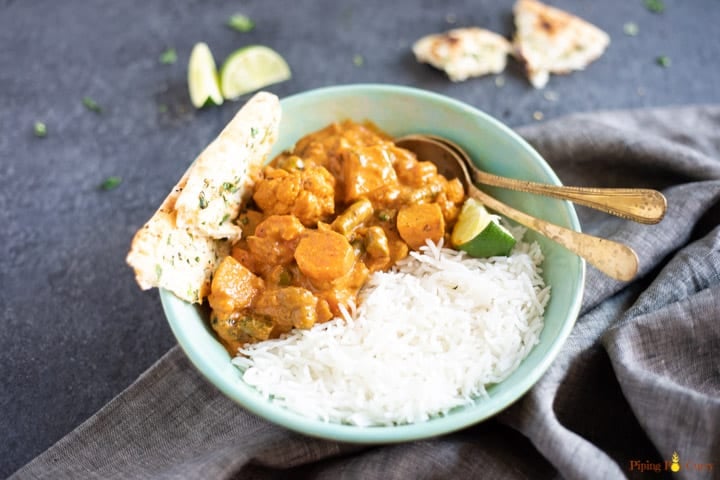 This restaurant-style creamy vegetable korma curry is a perfect blend of vegetables with a creamy coconut-based sauce. A vegan and gluten-free curry that pairs perfectly with naan or rice.
Make this easy Korma in your pressure cooker for a great weeknight dinner.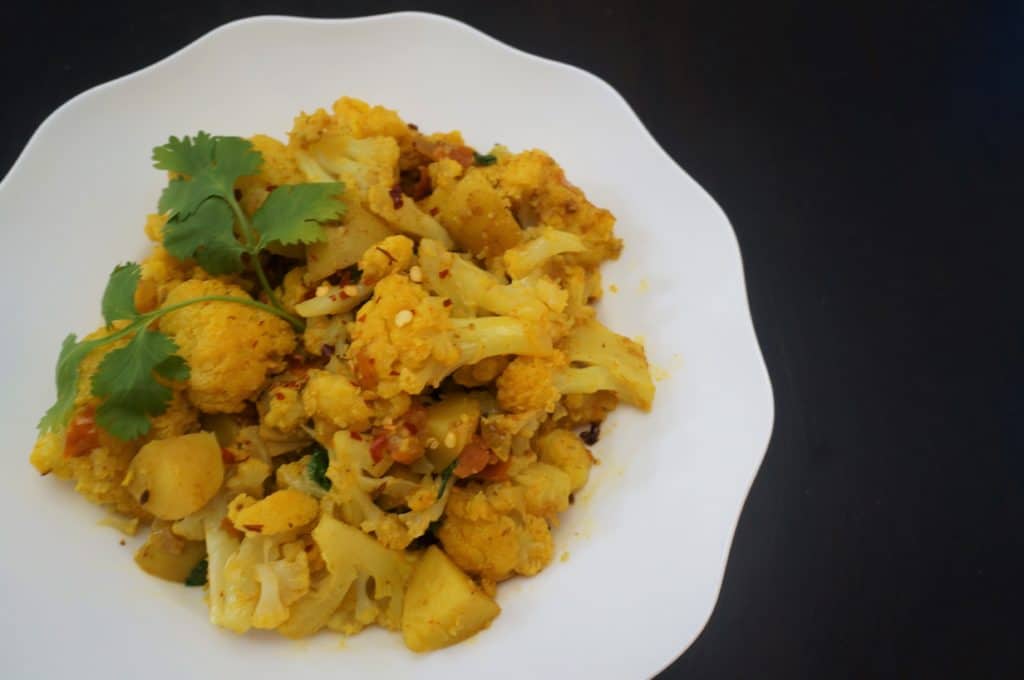 Aloo Gobi is a traditional vegetarian Indian dish that translates to potatoes (aloo) and cauliflower (gobi). It's a one-pot, super-easy, comforting dish that comes together quickly. Serve with a side of rice or roti.
This dish is bursting with flavor, and you'll want to make it for dinner every night.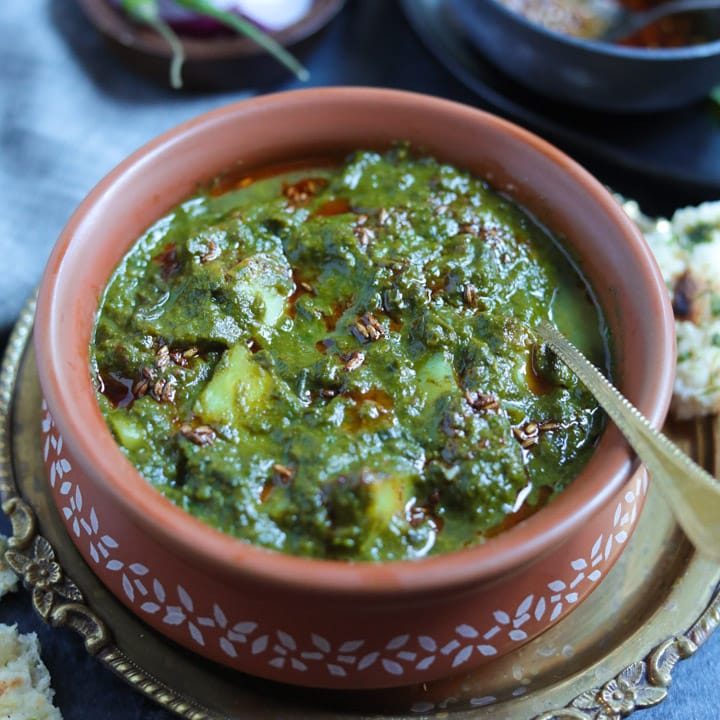 Saag aloo, a beautifully spiced dish made with potatoes and spinach, is a great recipe for curry night or a delicious and filling lunch on its own.
This easy and authentic dish uses ghee and spices, which create an amazing aromatic sauce that clings to the potatoes and spinach. Serve it with basmati rice or naan bread.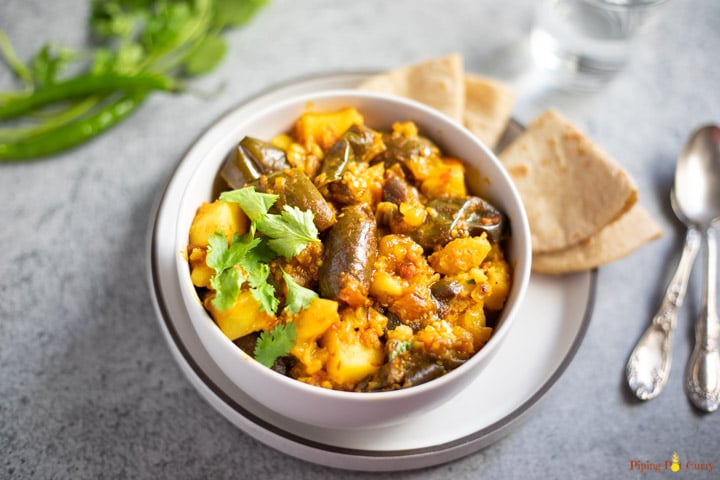 Aloo Baingan (Eggplant and Potato Curry) appears to be a simple weeknight meal. However, when cooked properly, it becomes something that everyone will love.
This recipe is easy to make, is vegan friendly and is full of flavor. Perfect even for entertaining!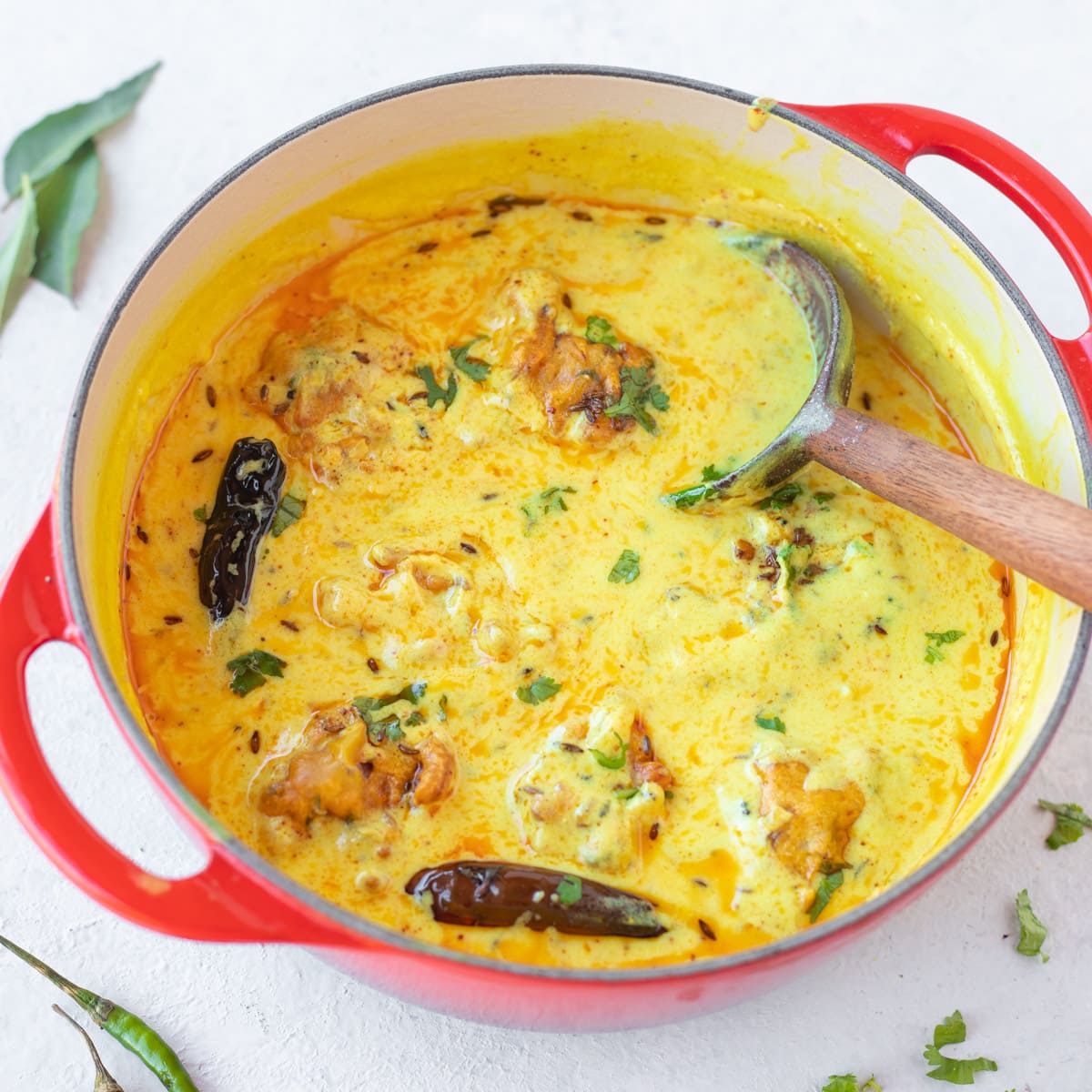 Kadhi is the quintessential comfort food from North India. Made with crispy pakoras (onion-gram flour fritters) which are dipped in a tangy and thick yogurt soup (kadhi), and topped with an aromatic tempering.
You will also enjoy the sweet and tangy Gujarati kadhi.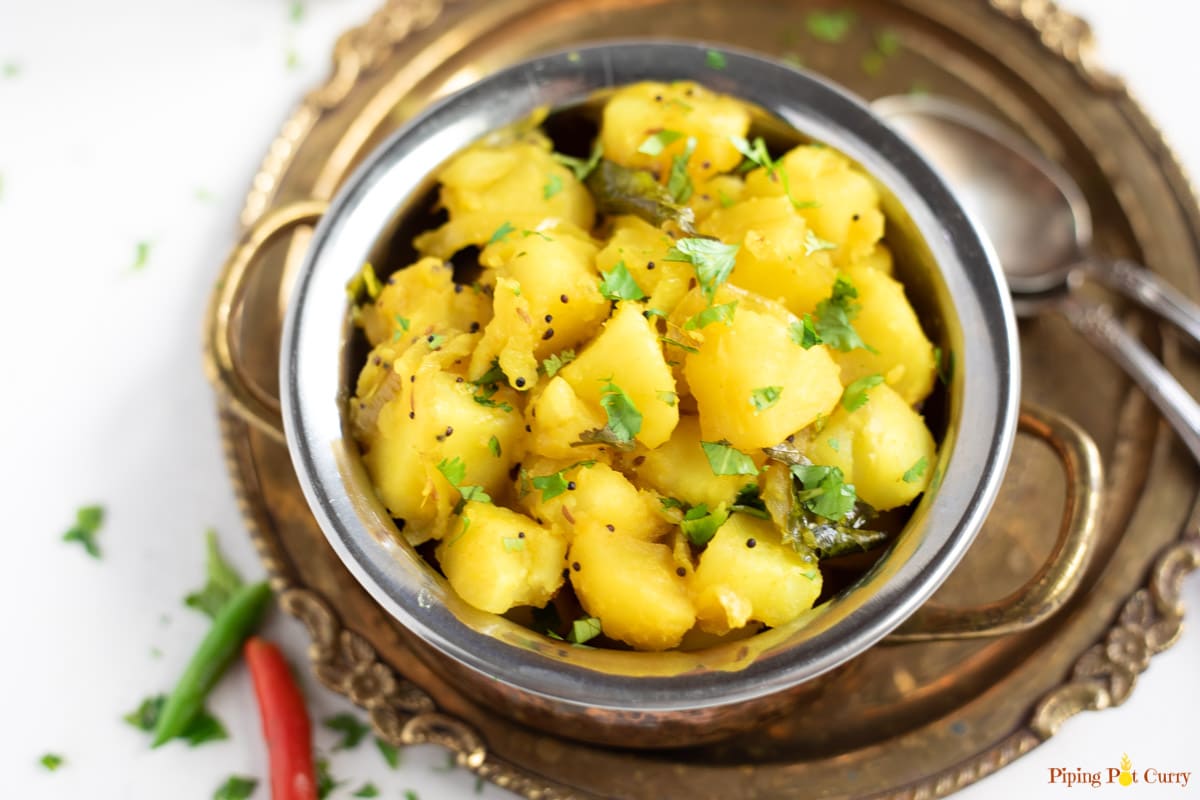 Potato Masala, also known as Aloo Masala, is an Indian dish made with yellow potatoes, onions sautéed in butter, and a flavorful blend of spices and fresh chilies.
Make it as a stuffing for masala dosas, a finger licking side dish, or even a savoury breakfast with toast.
Serve it as a unique and healthy potato salad at your next picnic or bbq to shake things up.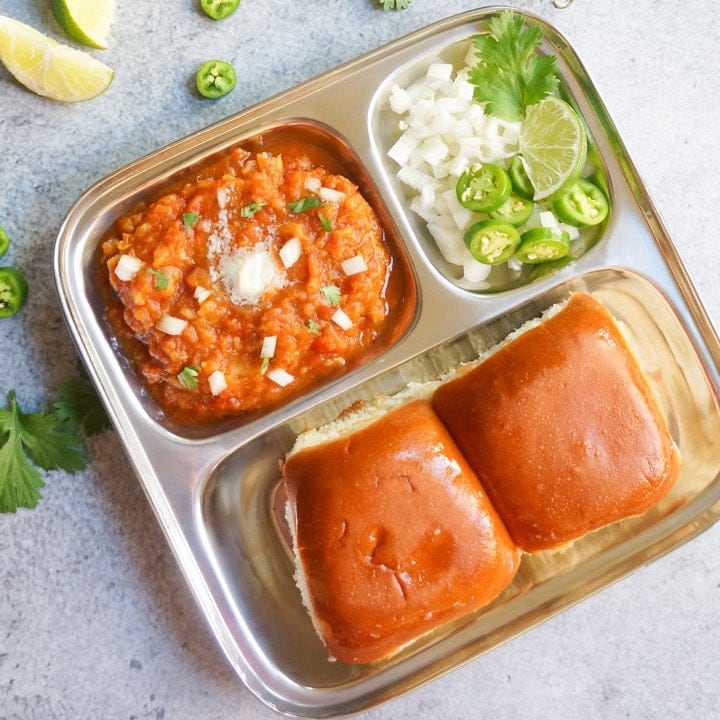 Pav Bhaji is the ultimate street food from the western part of India. It's a delicious mash-up of potatoes, tomatoes, onions, cauliflower, green peppers, green peas, and spices. You scoop this curry with a soft, buttery and toasted pav (dinner roll).
It's also a fairly simple recipe to prepare, taking only a few minutes in the pressure cooker.
This is a great dinner recipe and everyone including kids will love it. Am sure you will get addicted to it after the very first try!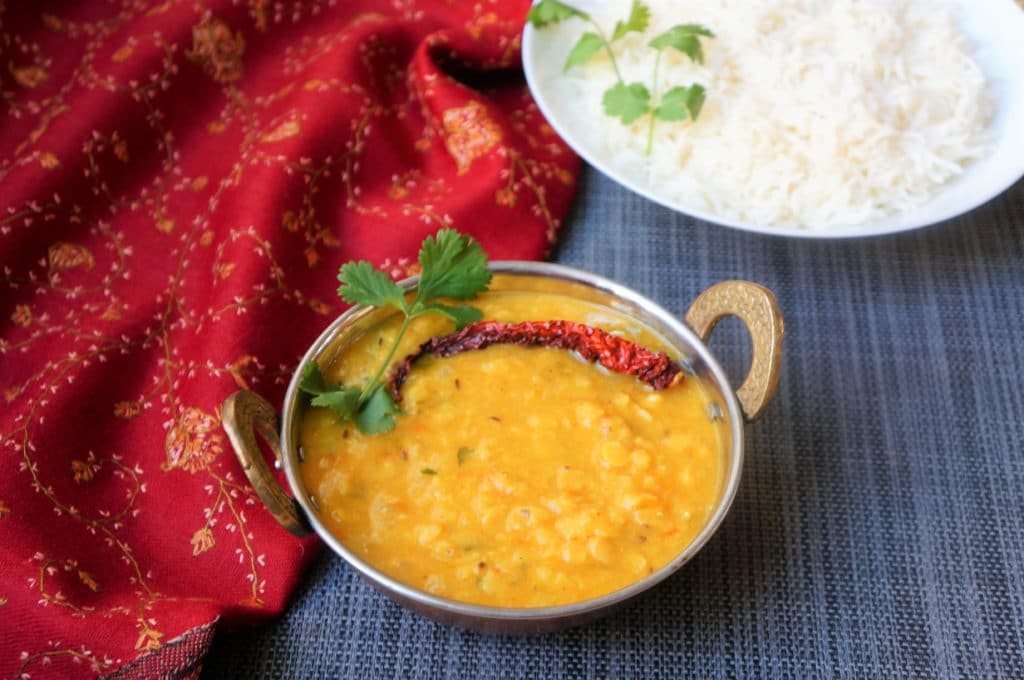 Dal Tadka or Yellow Dal Tadka is a spicy Indian lentil dish that makes the best comfort food for dinner on a cold winter night.
Yellow Split Pigeon pea are cooked in aromatics like onion and garlic, tomatoes and spices until creamy, then topped with a sizzling spiced oil that has been tempered (tadka).
This recipe tastes awesome and can compete with your usual takeout. It is super simple to cook and is ready in a jiffy in the instant pot.
It tastes best when served with plain rice and a dollop of ghee (clarified butter) on top.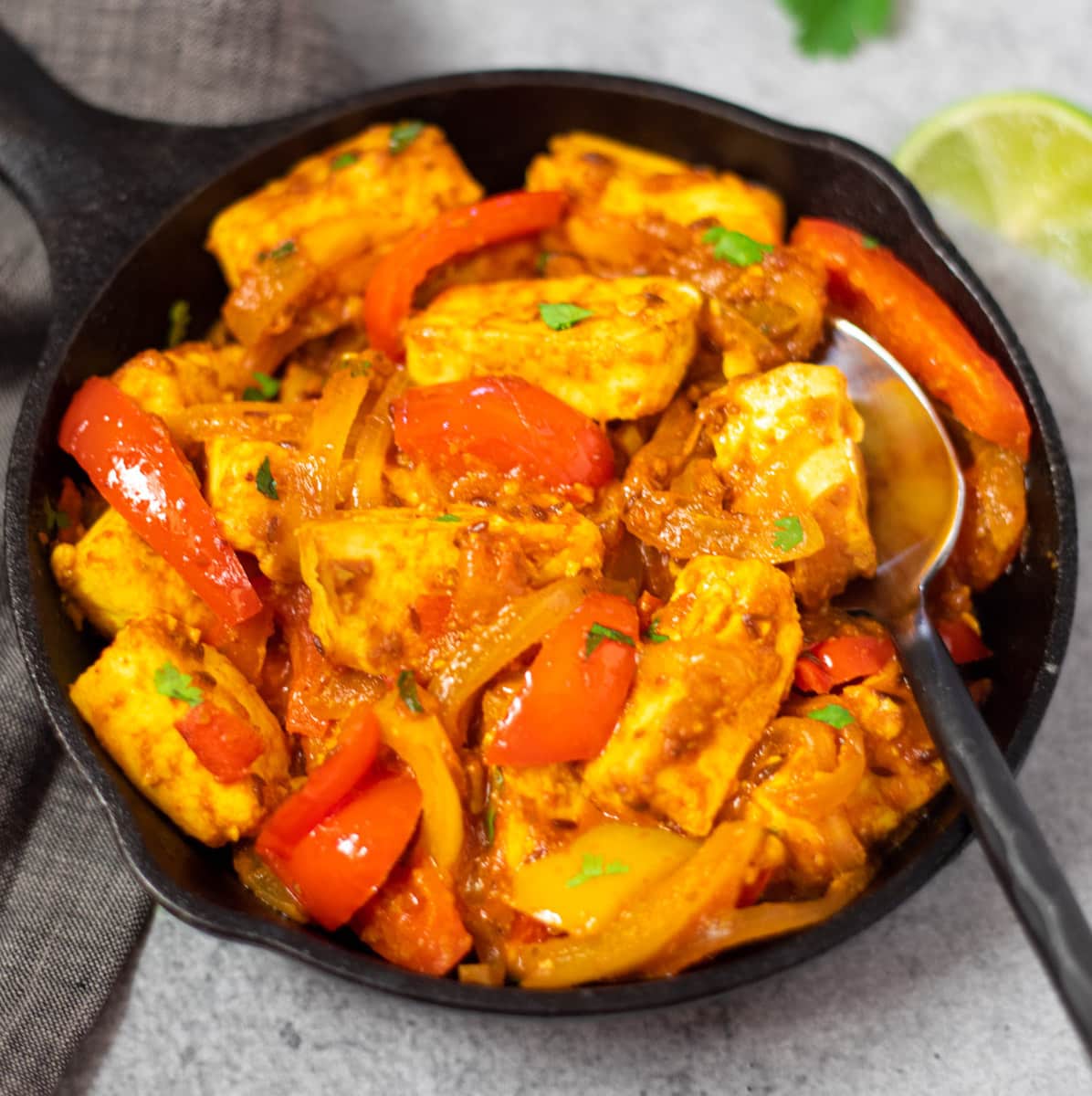 Paneer Jalfrezi is a delectable vegetarian stir-fry curry with paneer (Indian cottage cheese), onions, and bell peppers in a spicy onion tomato sauce.
This restaurant-style Paneer Jalfrezi makes a perfect weeknight dinner that takes only 15 minutes to prepare.
It is bursting with flavor and goes well with roti, naan or jeera rice. We also like to make Paneer Frankie with this jalfrezi recipe.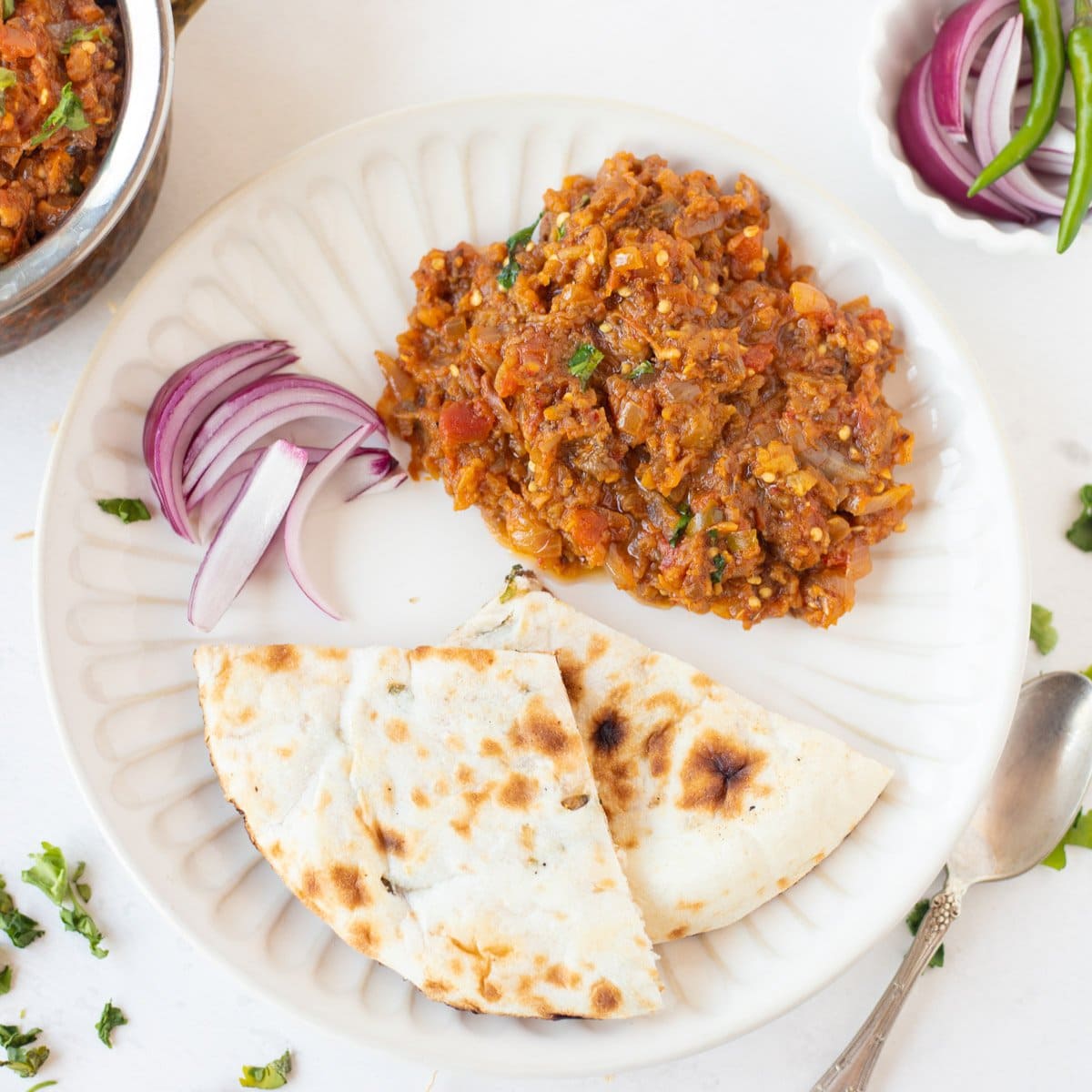 A popular smoky and zesty dish from North India, Baingan Bharta, is made with roasted mashed eggplant sauteed in onion, garlic, tomatoes, and Indian spices.
Some of you might not like eggplants, but if you are willing to experiment with this unappreciated vegetable, you MUST TRY this baingan bharta. It is one of the tastiest ways to cook eggplant.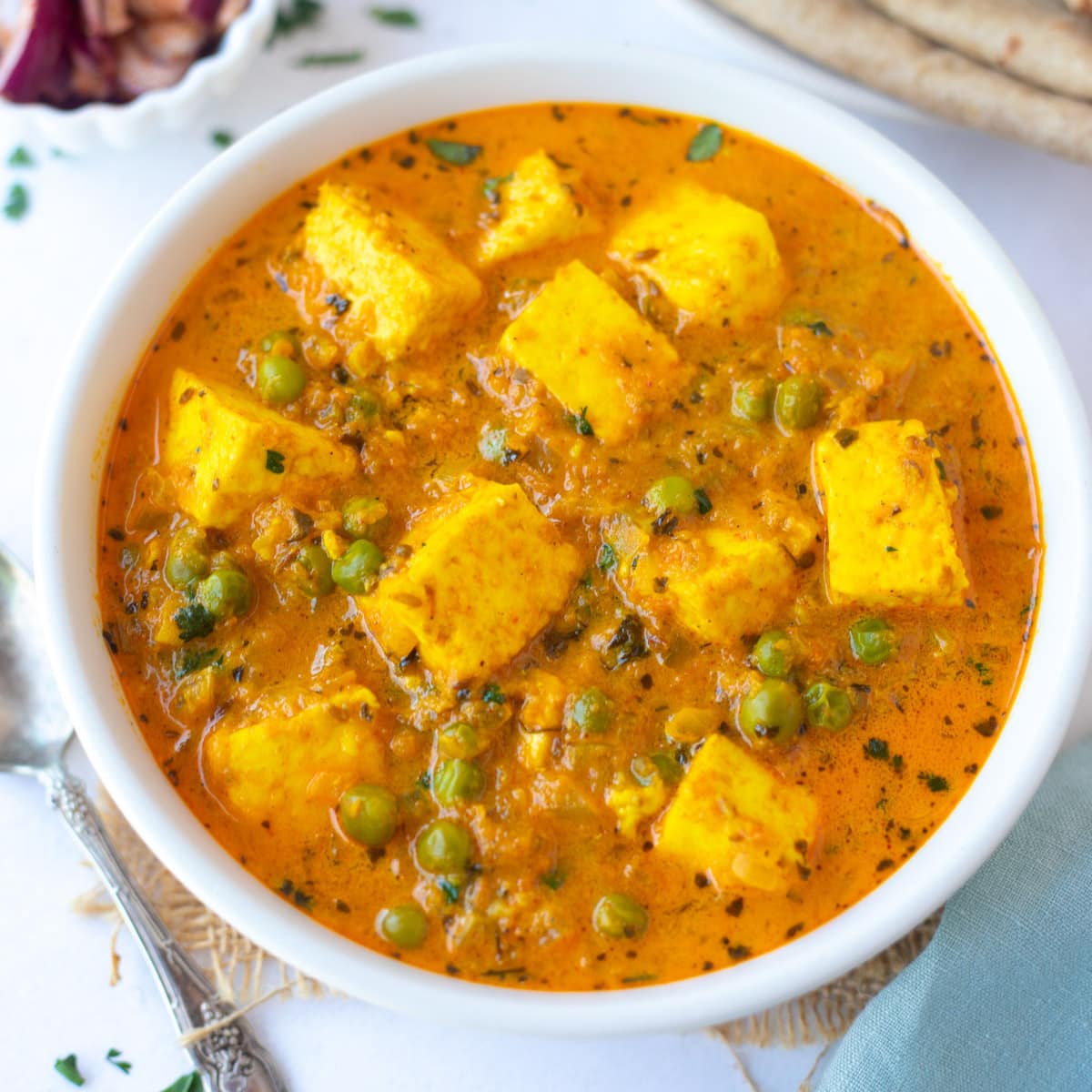 Matar Paneer is an authentic North Indian curry made with green peas and paneer (Indian cottage cheese), cooked in a mild onion-tomato sauce.
As an easy midweek dinner meal, serve this wholesome veggie dish with rice or naan or paratha. It takes only 30 minutes to prepare.
This is one of my go-to recipes to make when I have guests at home or even on days when I crave something indulgent.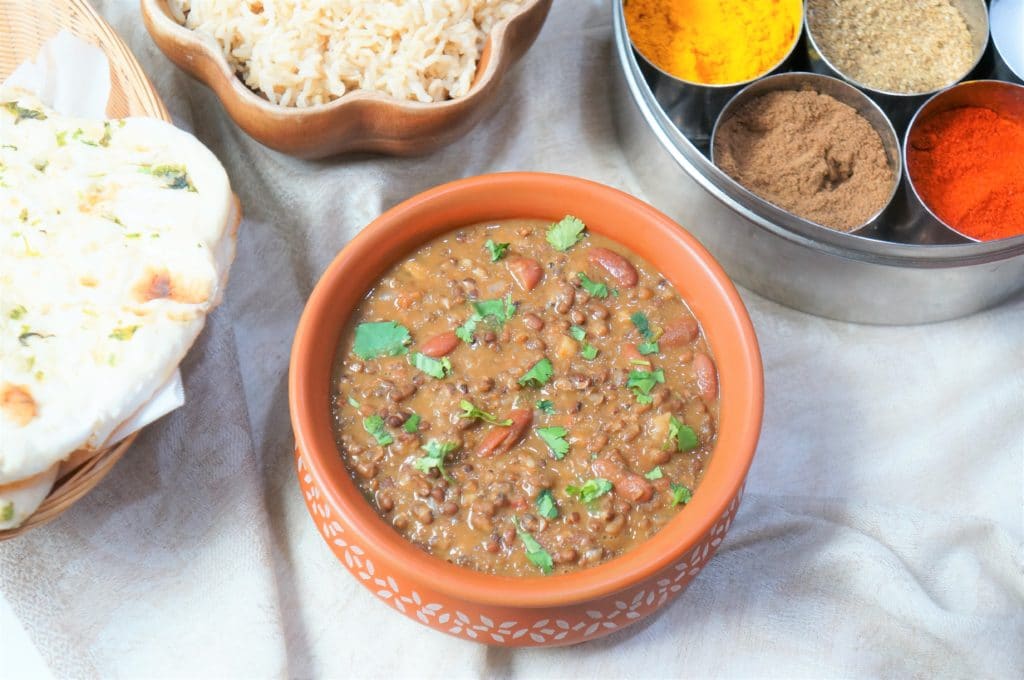 Dal Makhani is the most popular dal on the menu, that you will find at any Indian restaurant. Recently it has also be popularly called as Madras Lentils.
It is traditionally made with whole black urad dal (black lentils) and rajma (kidney beans), onion, tomato, ginger, garlic, butter and cream which are slow-cooked for hours.
It has a rich, buttery flavor that is to die for, and yet it isn't as spicy as other Indian curries might be, making it suitable for all palates.
This dal is unique as it balances out the different flavor profiles – sweet, tangy, spicy and bitter. It has the most amazing luscious texture and mouthfeel and makes a perfect dinner accompaniment with naan bread.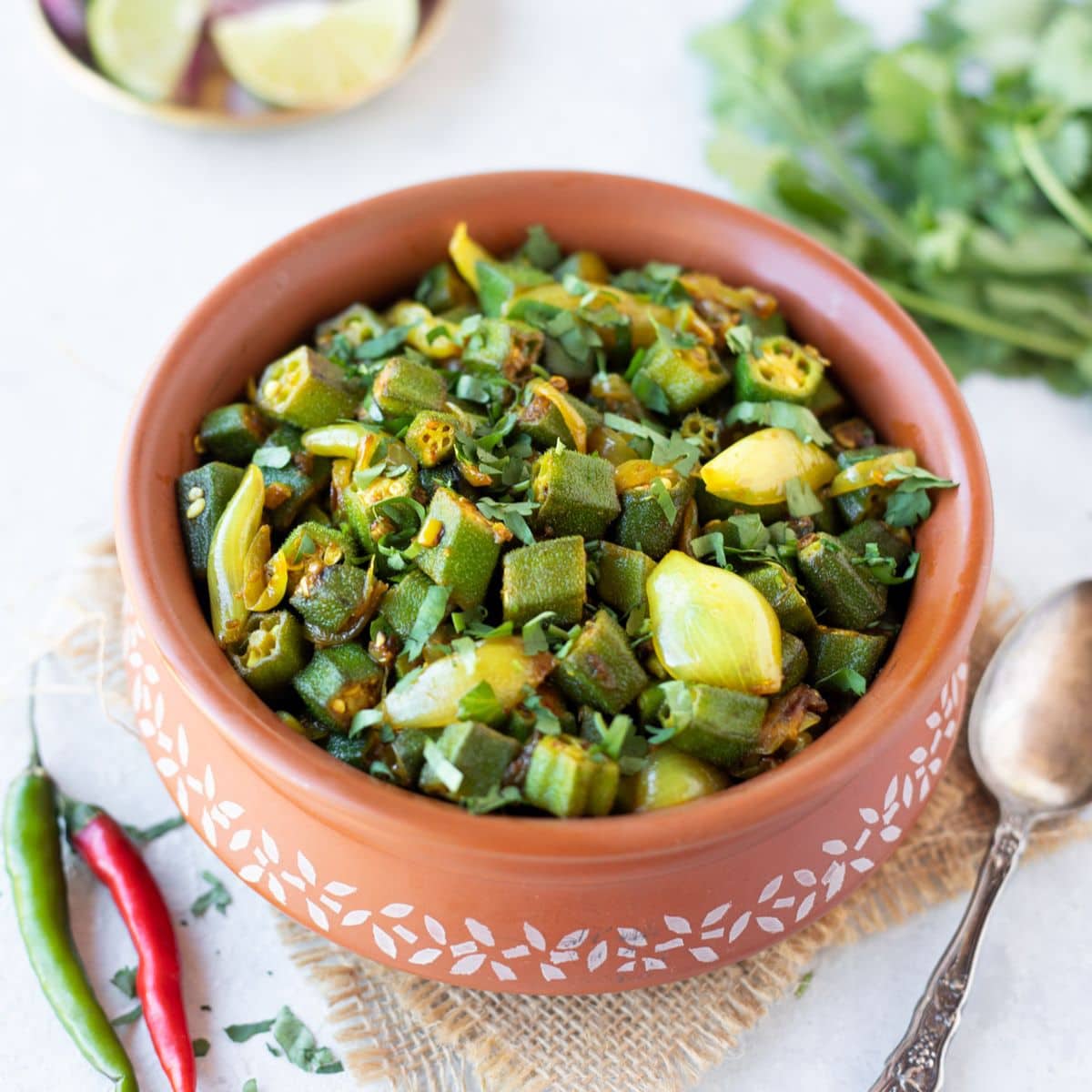 Bhindi do pyaza, tender okra in a delightful stir fry with onions is a famous Indian restaurant dish.
Serve with roti or paratha and dal for an unforgettable supper.
This recipe is vegan and gluten-free and comes together in a surprisingly short amount of time.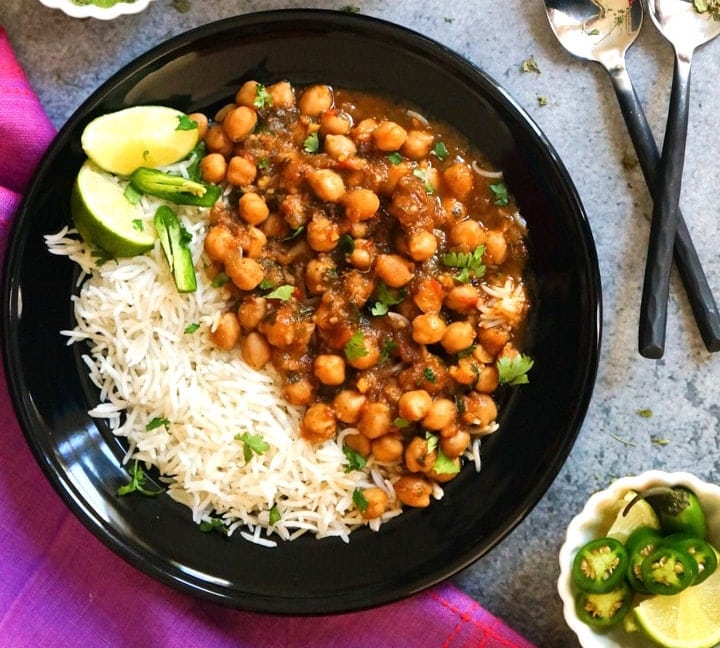 This Chana Masala recipe is colorful and spicy, with just the right amount of tanginess.
This recipe prepares soft, delicious chickpeas in a warmly spiced curry using only a few simple ingredients.
It's my go-to weeknight meal that's so healthy and enjoyed by one and all!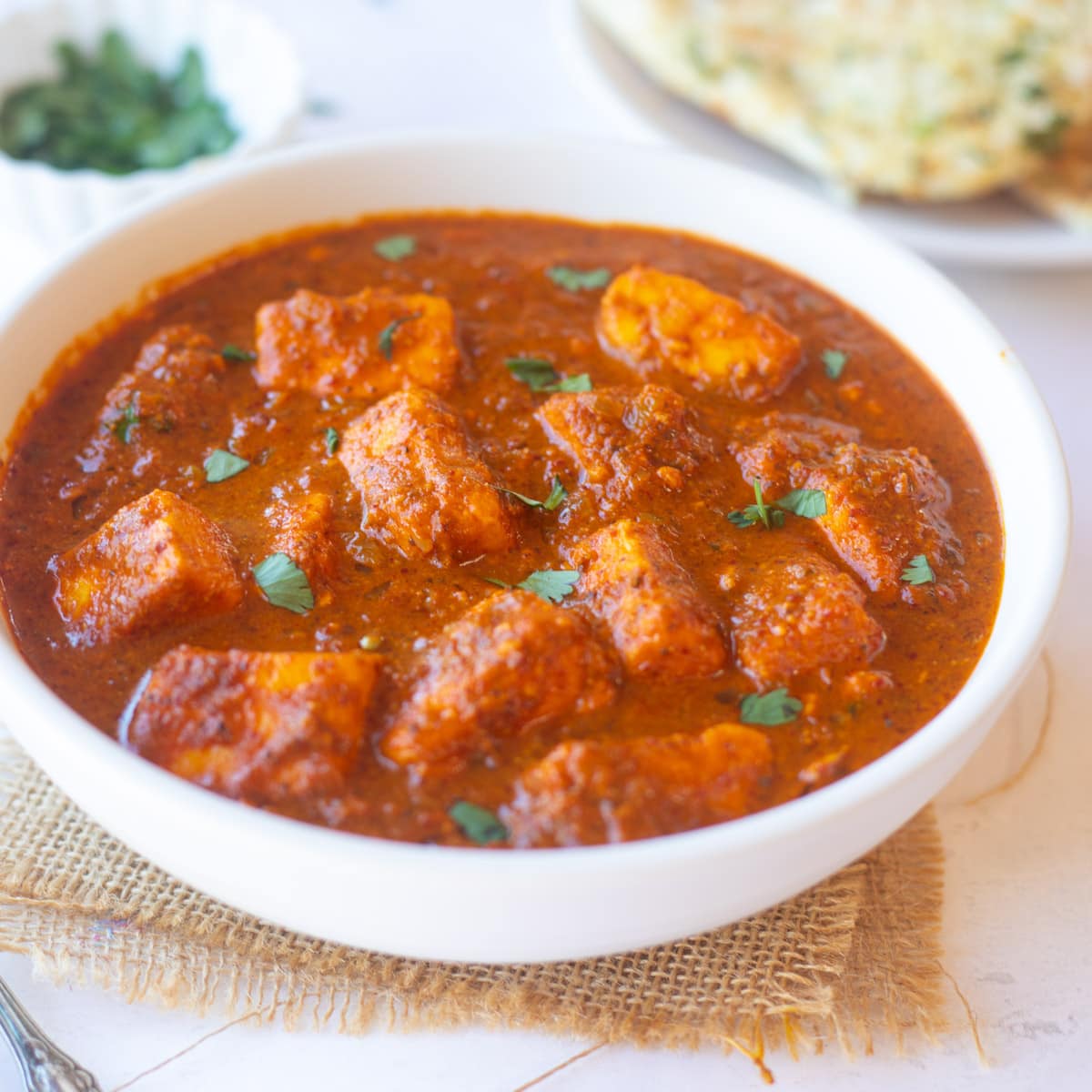 Paneer Vindaloo is the vegetarian version of the restaurant favorite Goan Vindaloo Curry.
Paneer cubes are cooked in a fiery-red sauce packed with bold flavors. Enjoy this gluten-free curry with rice or naan for a satisfying dinner!
This curry can be made vegan by substituting paneer with firm baked or sautéed tofu or cooked chickpeas. You can also add a variety of veggies to make this is veggie vindaloo curry.
Rice Recipes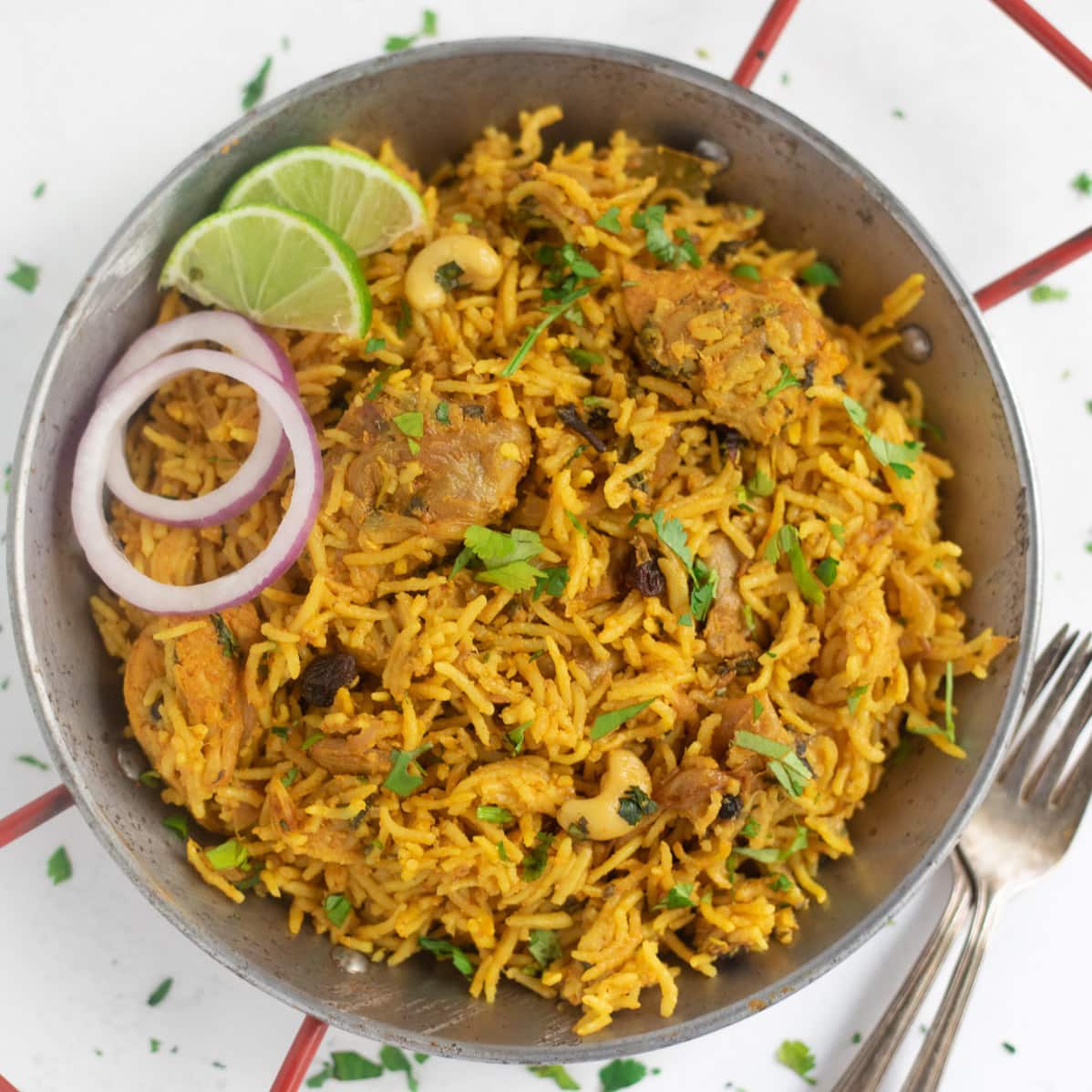 This wonderful Pakistani/ Indian rice dish is usually served for special events like weddings, parties, or religious holidays like Ramadan.
Chicken biryani usually entails marinating chicken in spices and yogurt, which is then cooked with rice using ghee and spices. It is perfect to enjoy with a side of raita.
The traditional biryani is a laborious process and takes a long time to prepare, but the effort is well worth it.
I have shared a delicious one-pot biryani recipe that tastes just as good, and even better the next day — perfect for leftovers.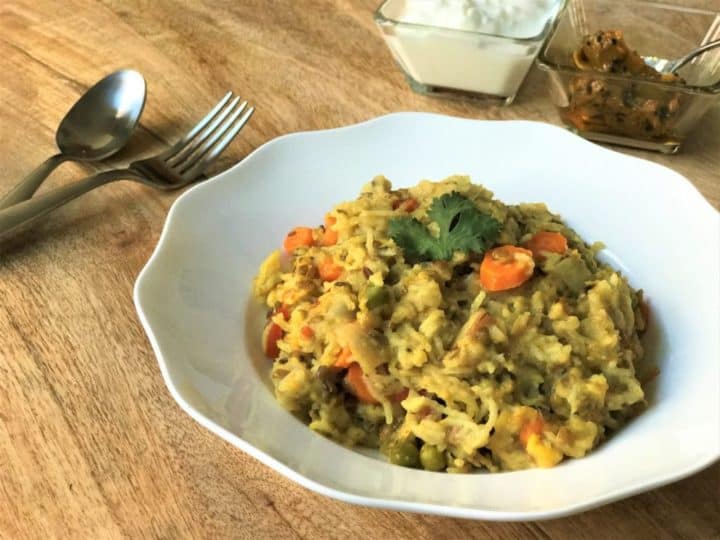 Lentil & Vegetable Khichdi or Masala Khichdi made in Instant Pot or Pressure Cooker is comfort food that is so easy to put together on a busy weeknight.
This is a one-pot Indian vegetarian dish made with lentils, rice and vegetables along with simple spices and ghee. Kichuri can also be made without vegetables – Moong Dal Khichdi – or with quinoa in place of rice – Quinoa Khichdi.
Serve it with yogurt, papad and chutney to make it a complete and scrumptious meal!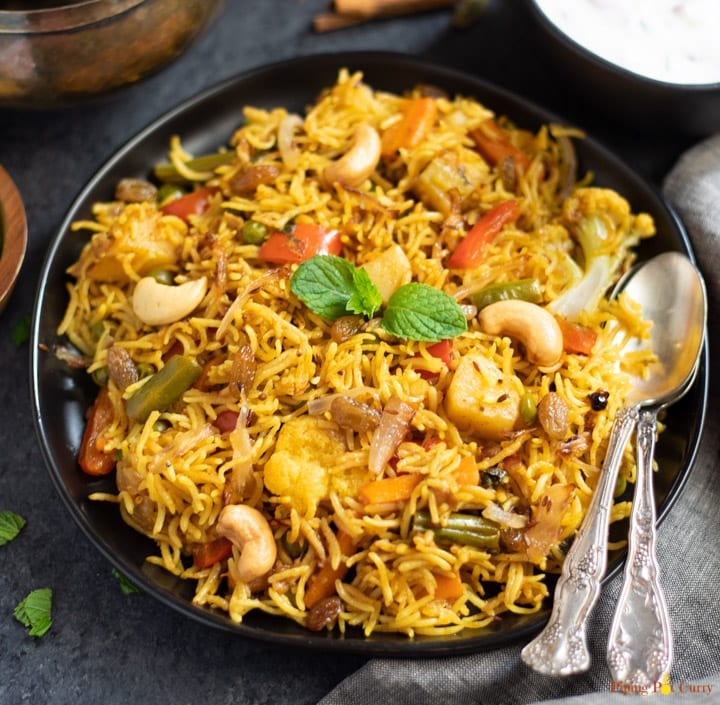 Vegetable Biryani is a bold and flavorful Indian rice dish made with turmeric, garam masala, and other herbs and whole spices.
You can use any vegetables you have on hand, such as cauliflower, green peas, carrots, potatoes, bell peppers etc. Dried fruits and nuts provide amazing flavors and textures.
This is a classic restaurant favorite that you can easily cook at home and enjoy it with raita.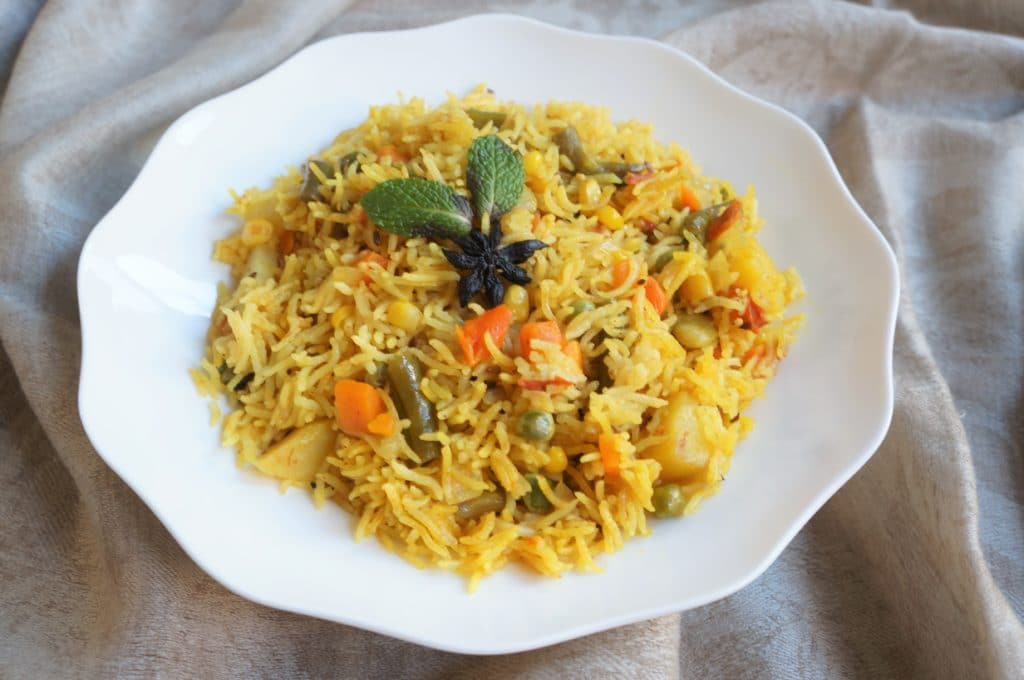 Vegetable pulao, also known as Veg pilaf, is a one-pot dish made with vegetables and basmati rice and flavored with whole spices and turmeric.
It is a one-pot wonder dinner recipe that is both healthy and satisfying.
If you're searching for a quick evening meal, you can make this in a pressure cooker in just 30 minutes.
Chicken & Seafood Dinner Recipes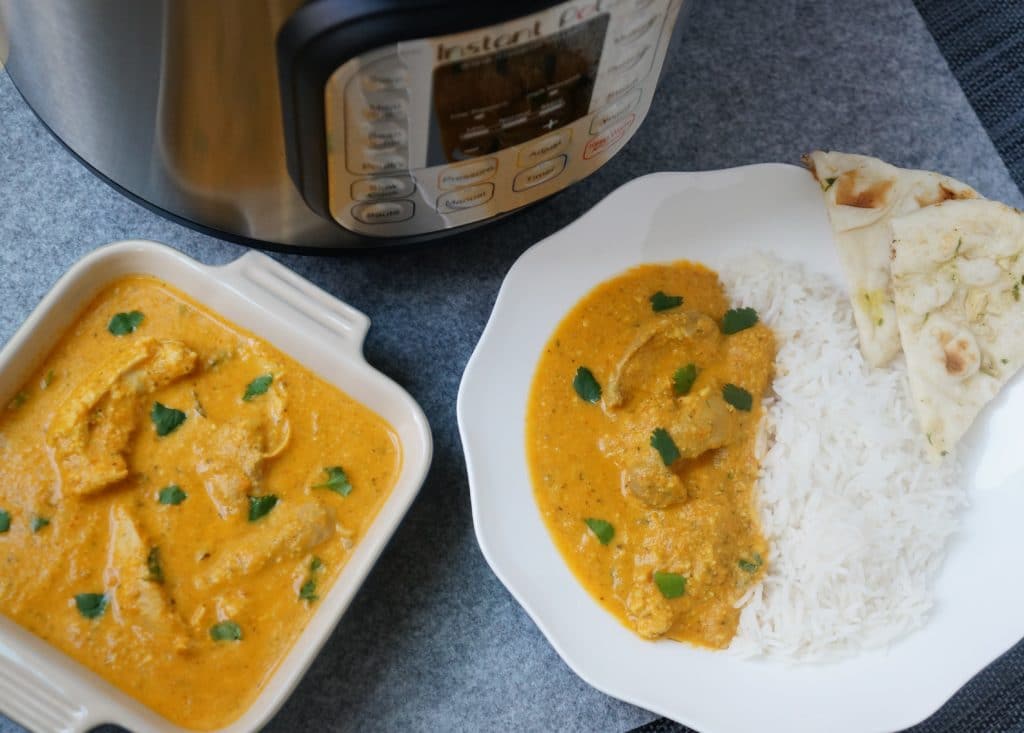 In any Indian restaurant around the world, Butter Chicken is one of the most popular curries.
This butter chicken recipe is one of the tastiest you'll ever try, with tender chicken pieces in a delectable creamy Makhani sauce.
You'll appreciate how simple it is to make at home for dinner.
Enjoy it on a bed of rice or with warm Naan bread.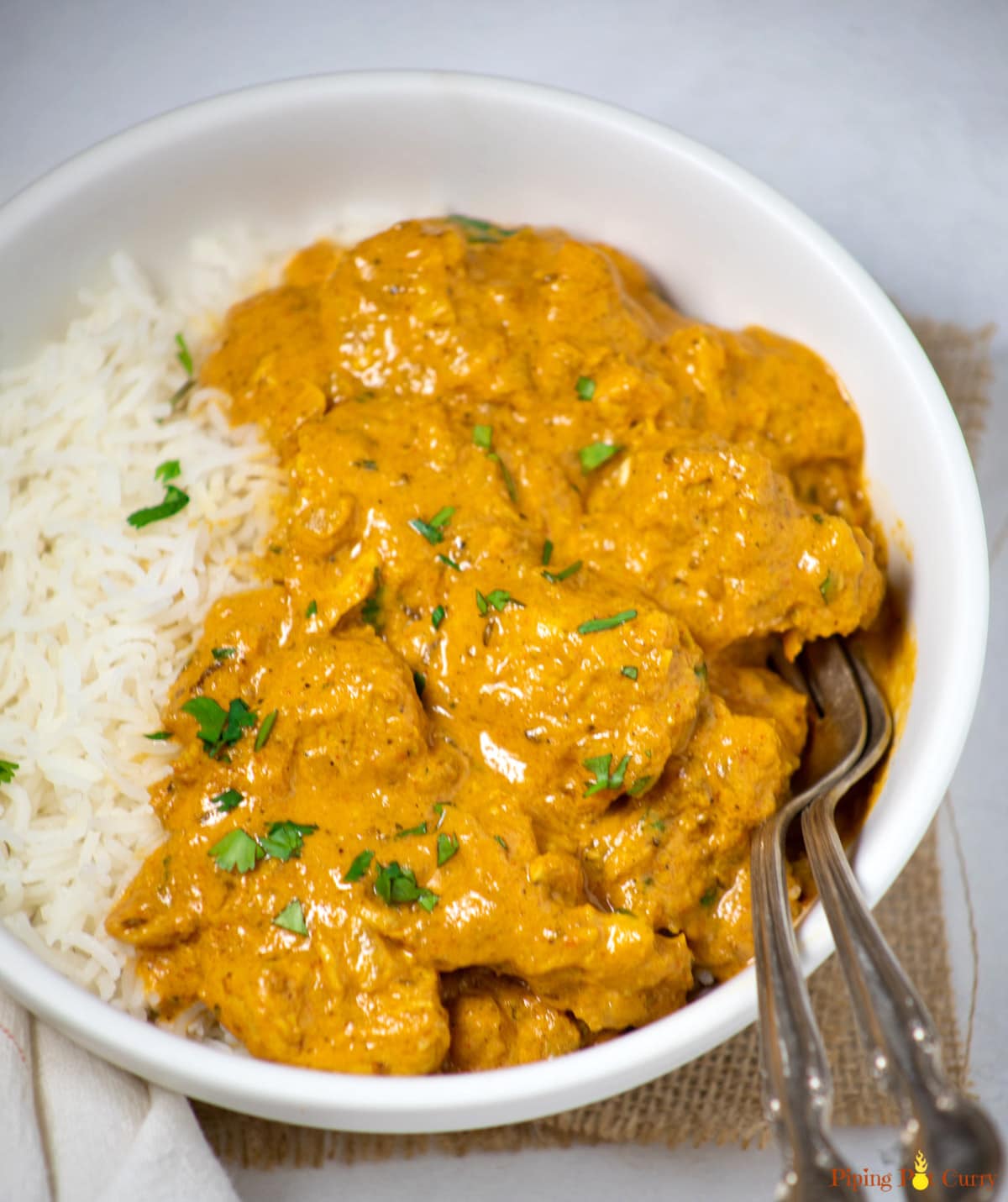 Easy & healthy Coconut Chicken Curry made in an Instant Pot in just 30 minutes! You are bound to love this simple mild chicken curry.
This simple Indian chicken curry recipe is made with ginger, garlic, and onions alongside flavorful spices, and finished with creamy coconut milk.
Pair this curry with fragrant basmati rice for a comforting midweek dinner.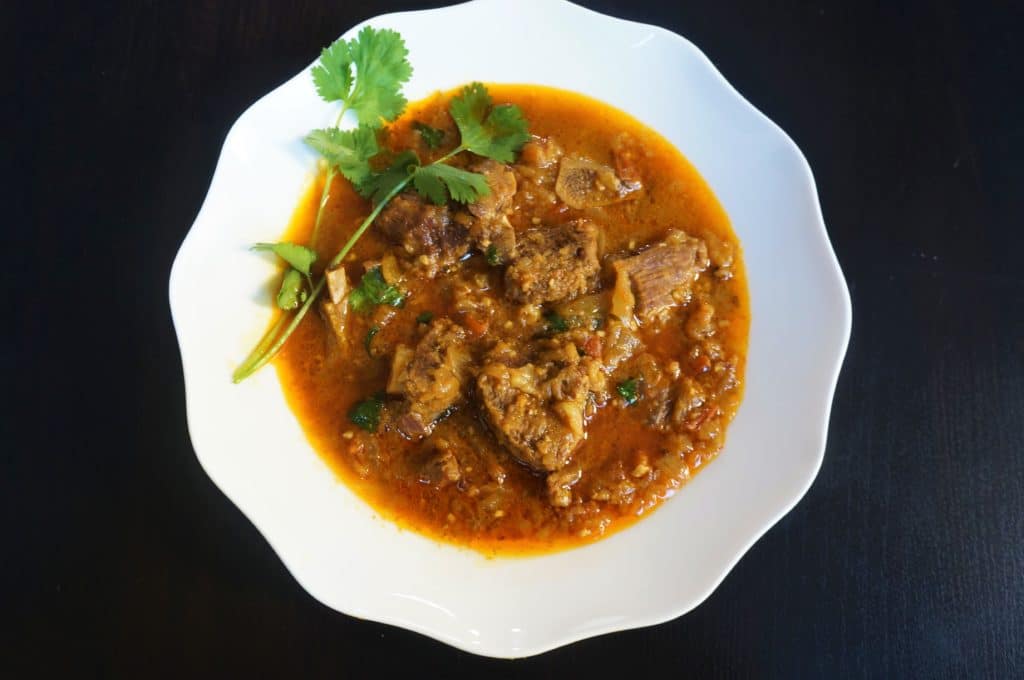 In India, mutton refers to goat meat and this easy-to-make mutton or goat curry is super tasty.
Tender meat cooked in an onion tomato sauce with aromatic whole spices. As the ingredients stew together, dried spices offer an unparalleled depth of flavor.
The goat curry goes well with steamed rice and freshly made warm. chapatis.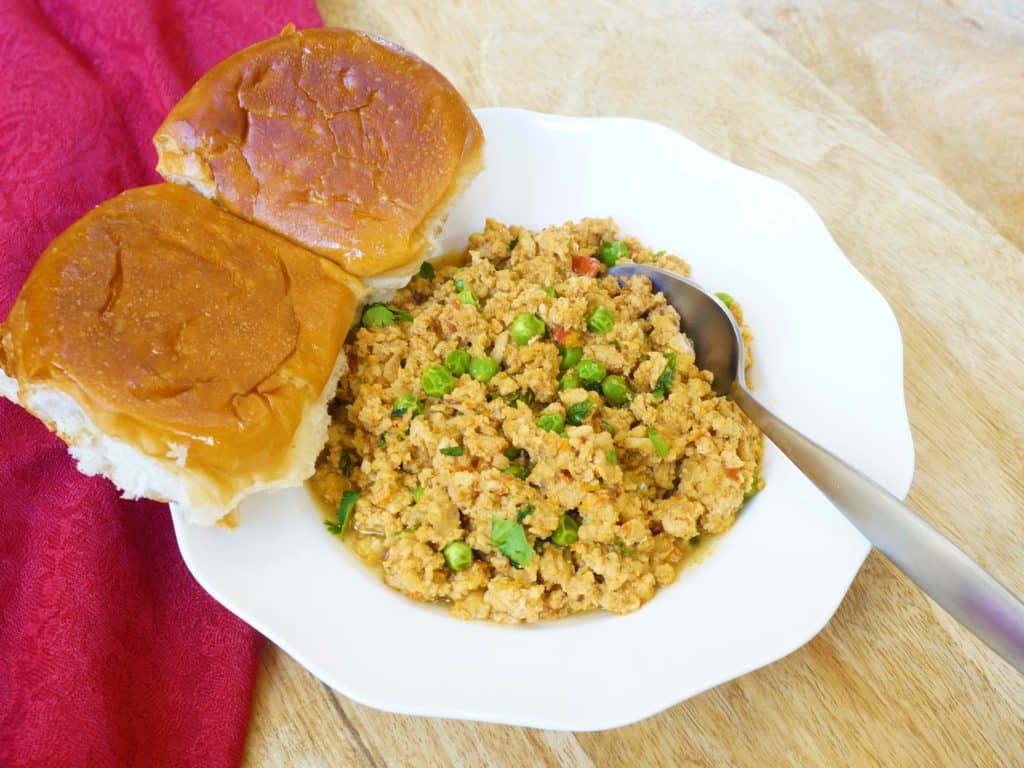 Chicken Keema Matar or Ground Chicken Curry with green peas is a popular street food in Mumbai served with pav (similar to dinner rolls, but not sweet). Keema is also a popular dish from North Indian.
The minced meat (chicken or lamb) is cooked with onions, tomatoes, ginger, garlic and wonderful whole spices.
This keema curry is simple to make for a quick weeknight dinner.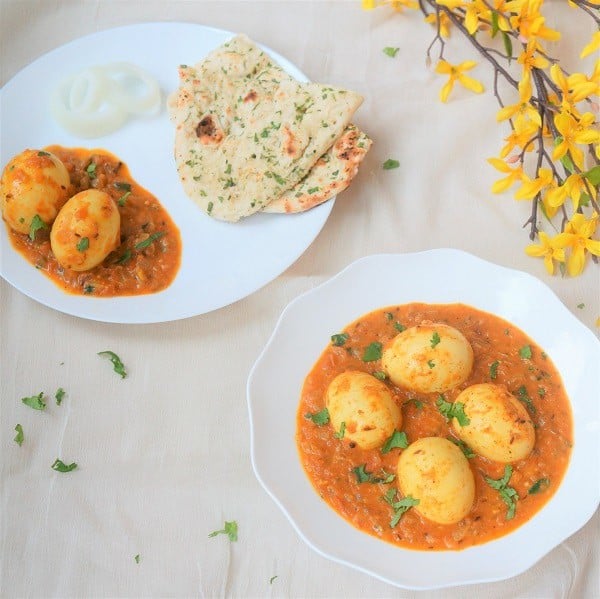 This egg curry is one of my favorite go-to egg recipes as it is not only flavorful, but also easy to make.
You add hard-boiled eggs to a spiced onion-tomato sauce, and in less than 30 minutes, you have a perfect dinner meal ready.
This recipe also contains coconut milk to balance the flavors. Enjoy with warm rice or roti!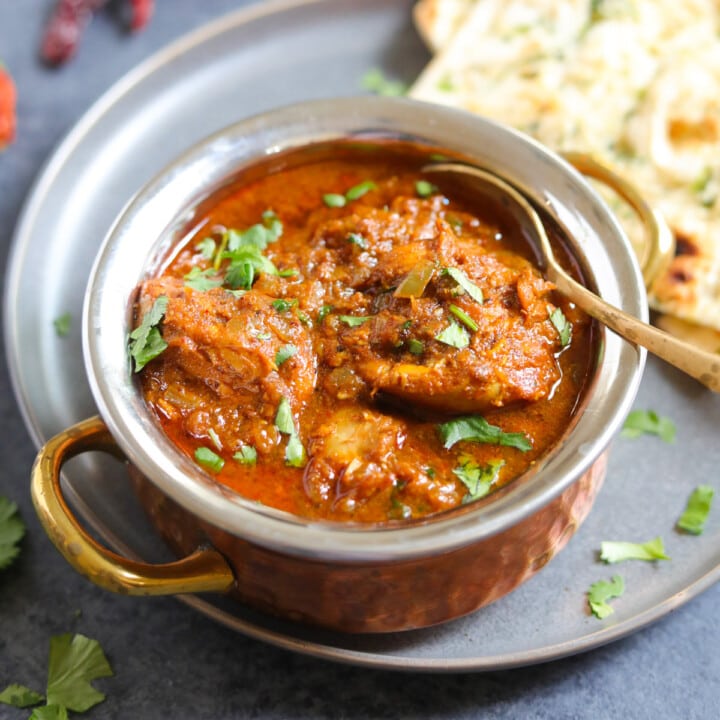 Chicken Vindaloo is a flavorful Portuguese-inspired curry created with a special blend of mild Indian red chiles, aromatics, and vinegar that gives it its distinct flavor.
The chicken is marinated in freshly ground whole spices to give it a hearty, smoky flavor. This dish can be made in the Instant Pot or on the stovetop.
Chicken Vindaloo with rice or naan makes a satisfying dinner!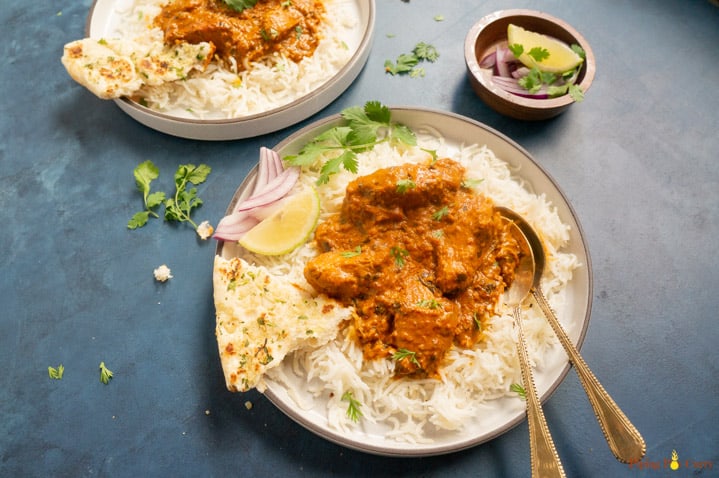 Chicken Tikka Masala, is often cited as one the most popular curry around the world.
Although there are many regional variations in India, everyone enjoys this dish of tender chicken, creamy tomato sauce, and aromatic spices.
It is essentially a mild, sweet, tomato-based sauce with little to no heat. The chicken tikka used in this recipe is pre-cooked marinated chicken pieces with a traditional reddish hue from the marinade.
Served with warm Naan bread and Basmati rice, this makes an amazing any-day dinner recipe.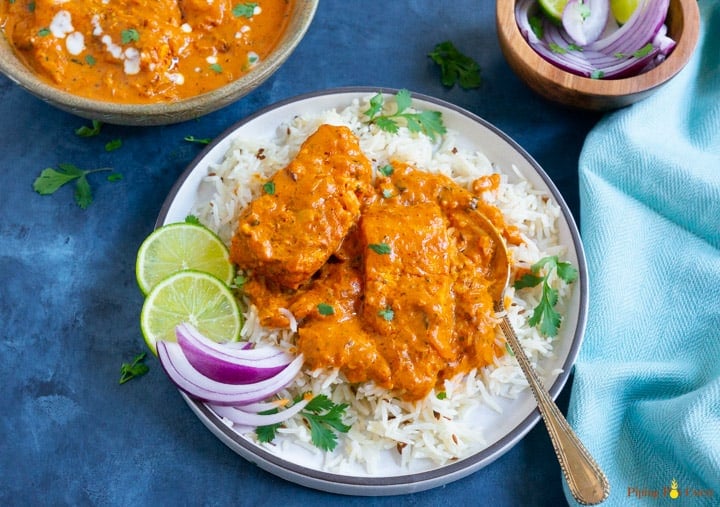 This Salmon Tikka Masala is an Indian- inspired dish that combines two traditional Indian flavors: makhani and tandoori. It's basically tandoori-seasoned salmon in a makhani sauce.
This sharp and spicy curry is rounded out with a splash of heavy cream. Serve this at your next holiday meal and impress your family.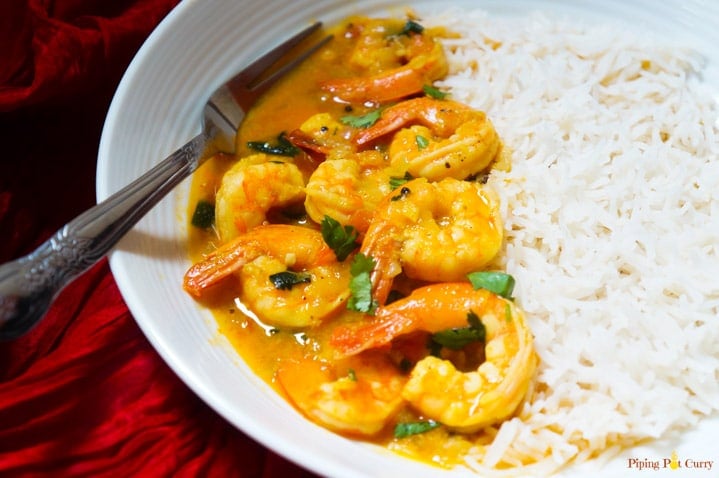 Weeknight dinner in just 20 minutes – you can make this easy and flavorful Coconut Shrimp Curry.
This is a restaurant quality Indian shrimp curry made with ginger, garlic, onions, tomatoes, and flavorful spices, and finished with coconut milk.
Combine this curry with rice for a complete meal. Gluten-free, paleo, and and a low-carb dinner!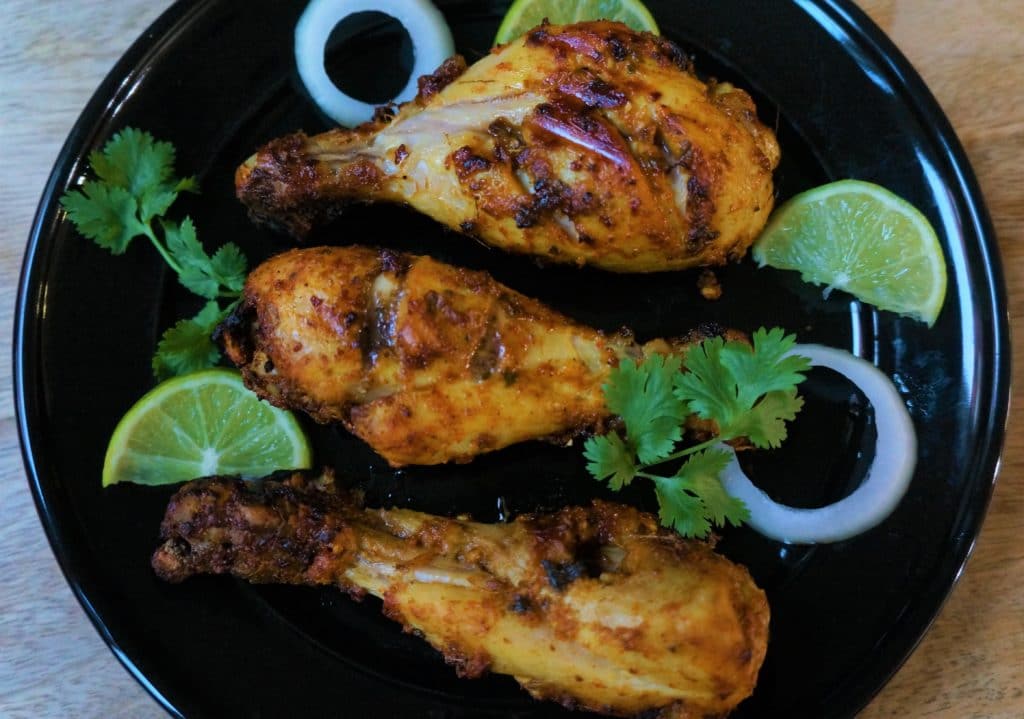 Tandoori chicken is an absolute favorite all around the world.
Chicken is marinated in yogurt, ginger, garlic, spices and lemon juice, and grilled to perfection in the air fryer or oven. Who says you need a Tandoor to make this chicken?
This recipe will win you over and make for an irresistible midweek dinner.
…and that's a wrap!
I hope you have found your favorite Indian dinner recipe to make this week! Let me know what you are most excited to make, and when you make it, dont forget to tag #pipingpotcurry.
Is your favorite curry missing in this list? Leave a comment below to let me know your requests!
If you are wondering where have all the popular Indian lentils gone from this list, here is a lentil and legumes roundup for you!
And to finish of a wonderful meal, don't forget to check out the 35+ Indian Dessert Recipes to satisfy those sweet cravings.