Looking for ideas for which lentils to make in your Instant Pot? Here is a perfect roundup for people looking to add a variety of plant based proteins to their diet.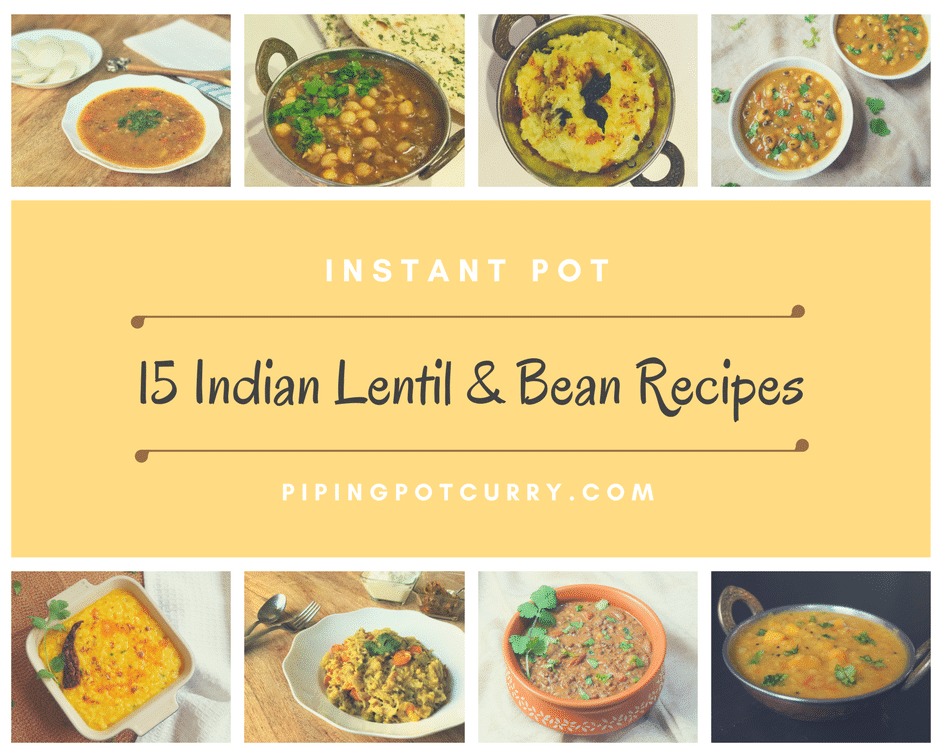 I had done a post about 12 Indian Curries in the instant pot, which was very popular.  So I am sharing here another roundup with 12 Indian lentils and beans recipes that can be made in the Instant Pot. Oh...and if you don't have the instant pot, you can still make all of these recipes in your stovetop pressure cooker.
All of these recipes are vegetarian and gluten free. And all of these can be made vegan by replacing ghee with a plant based oil. Many recipes also have short 1-minute videos to make them even easier for the readers.
Let's dive right into the lentil and beans that you can enjoy!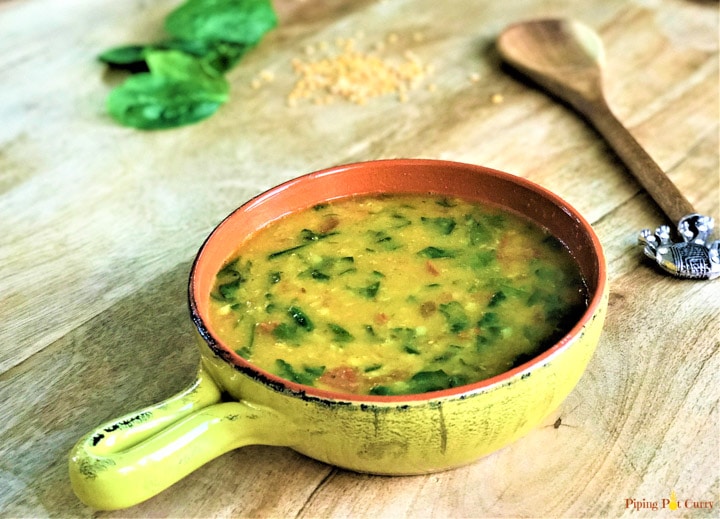 Instant Pot Spinach Dal (Dal Palak) is a comforting lentil soup with spinach mixed in it for extra nutrition. Enjoy this vegan and gluten free dal with basmati rice or as a soup.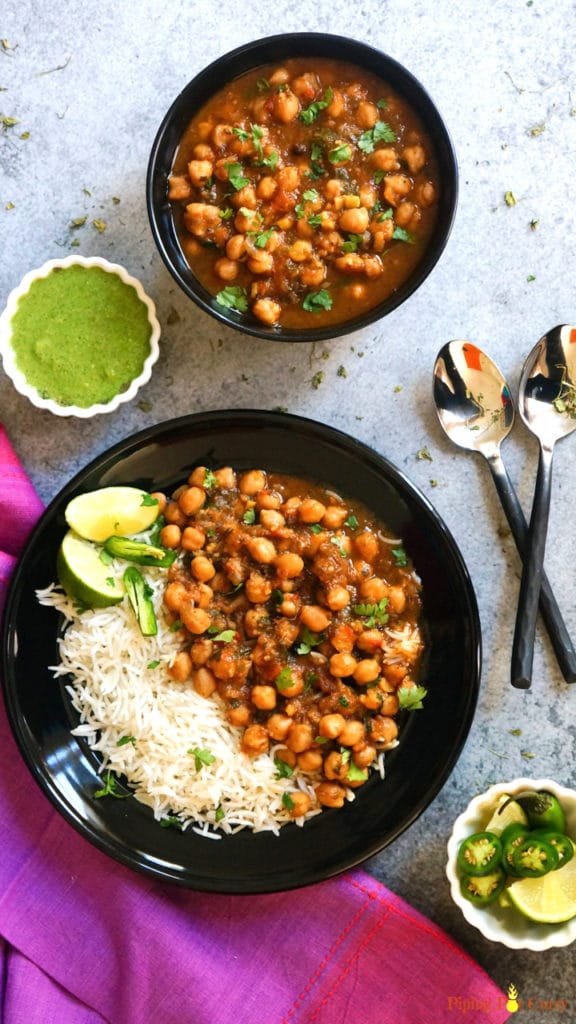 Chole with bhatura or naan was a favorite weekend meal growing up.  Chana or Chickpeas take very long to cook, hence they are perfect for pressure cooking in the Instant Pot.  This a true one-pot recipe, with the onion-tomato gravy made in the instant pot and then soaked chickpeas cooked along with the gravy. With the instant pot, the best part is that you can set it on a timer to pressure cook and forget.

This is one of the most popular Punjabi lentil, Dal Makhani in Instant Pot.  Most people order this dal when in an Indian restaurant. This is mainly black gram lentils and red kidney beans prepared with onion, tomatoes, lots of ginger, garlic and butter. This can be made vegan with substituting butter with any plant based oil, my favorite is coconut oil. You can also make pot-in-pot brown rice with Dal Makhani (see video).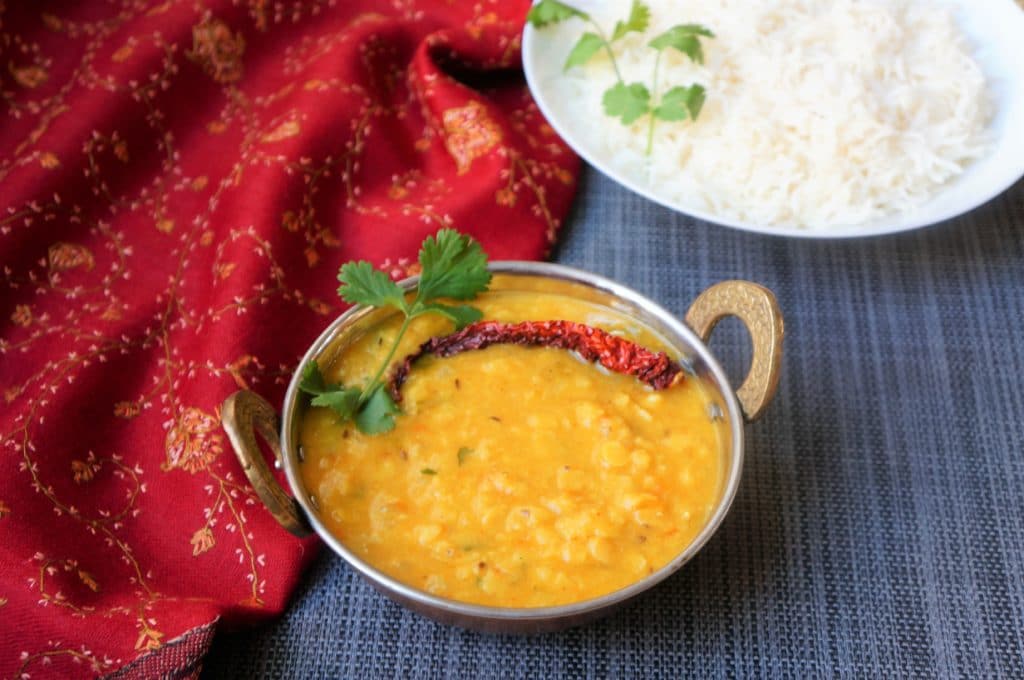 Toor dal or Arhar Dal is the one of the most popular dal made in India.  The cooked toor dal is also popularly called as Dal Tadka or Dal Fry. In this recipe, dal tadka is made in an Instant Pot along with pot-in-pot Basmati Rice (see video).  Dal tadka is very quick to prepare and can be ready in minutes. It is one of the easiest to make for a week night dinner.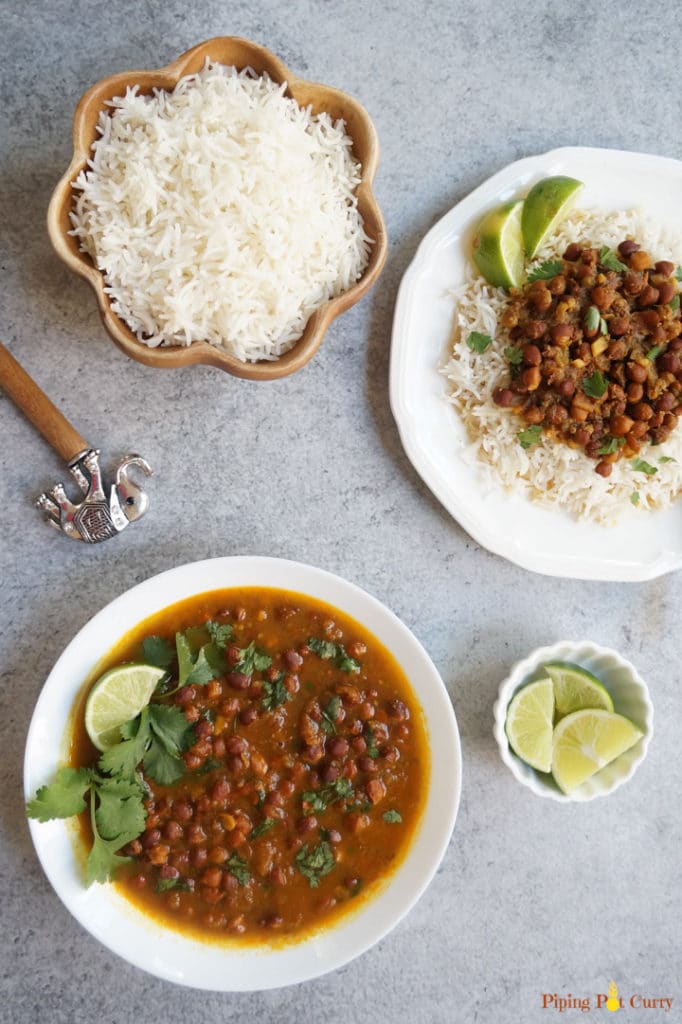 Kala Chana is a mildly spiced black chickpeas curry made in instant pot.  This is a simple everyday Punjabi curry, made in a onion-tomato gravy with ginger and garlic.  It is so easy to prepare and yet so delicious.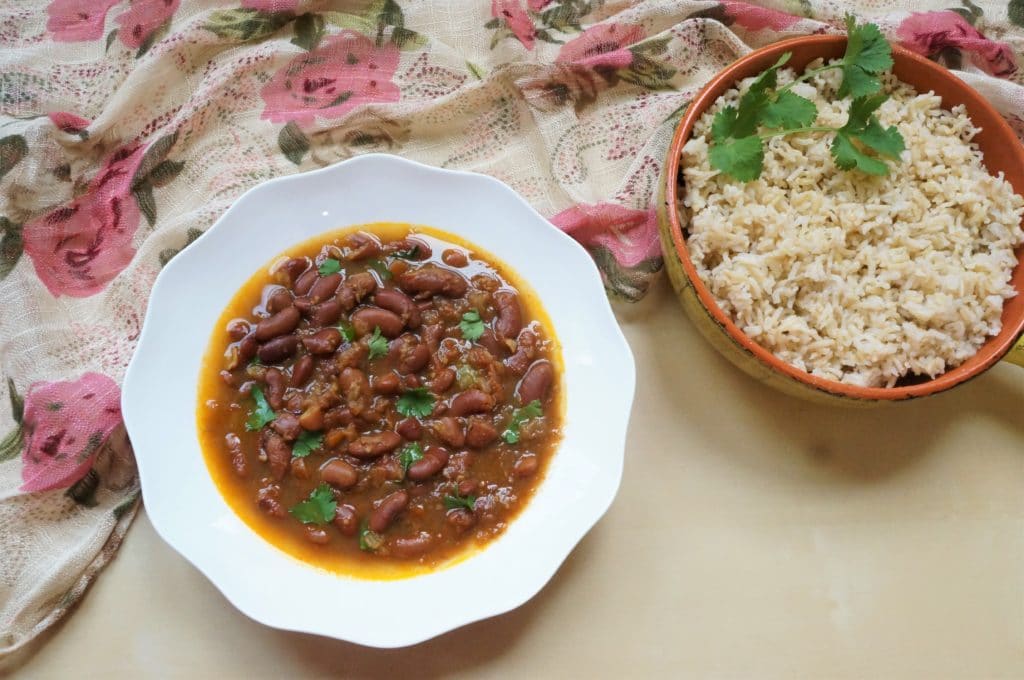 Rajma is one of the most loved Punjabi dishes.  It is a great comfort food enjoyed with rice or roti.  You can make this dish in an instant pot or traditional pressure cooker.  You could also make Rajma in a slow cooker.  This post shares how to make Rajma in Instant Pot, along with pot-in-pot brown rice (see video). This is a gluten-free and vegan recipe.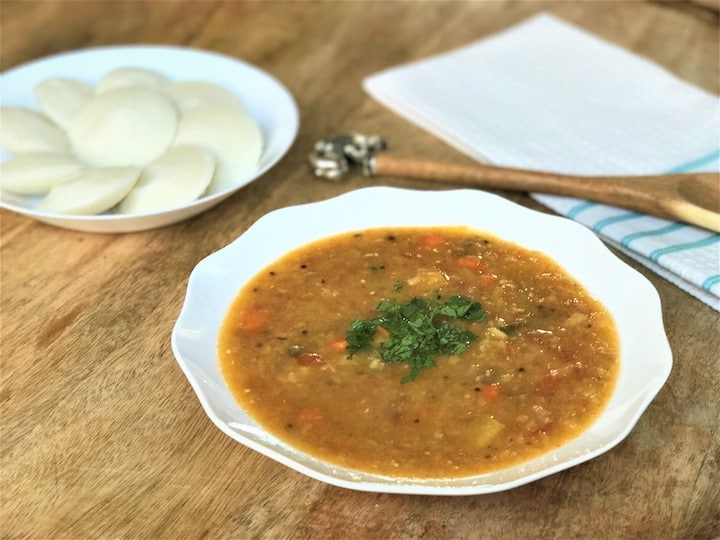 Mixed Vegetable Sambar in Instant Pot or Pressure Cooker.  Sambar is primarily a South Indian delicacy, but because of it's benefits and taste popular all over India.  This recipe is to make sambar in an instant pot.  It is very easy to make sambar and even easier in an instant pot, with you not having to monitor while it is cooking.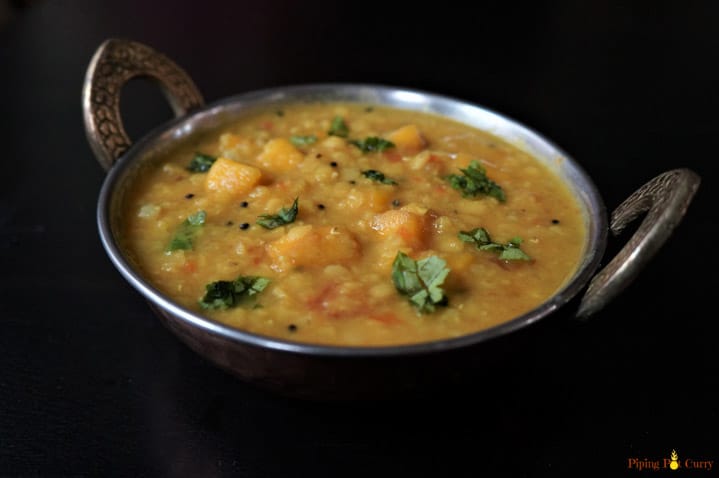 Toor dal (Split Pigeon Pea) cooked with raw mango and tempered with red chillies, curry leaves, mustard seeds and spices. This dal is also called Mango Pappu or Mamidikaya Pappu in South India, where pappu means lentils. This dal has an interesting flavor of mangoes along with lentils. In a single spoon, you can taste the lentils and the tangy sweet mangoes. This is a great variation to the everyday lentils.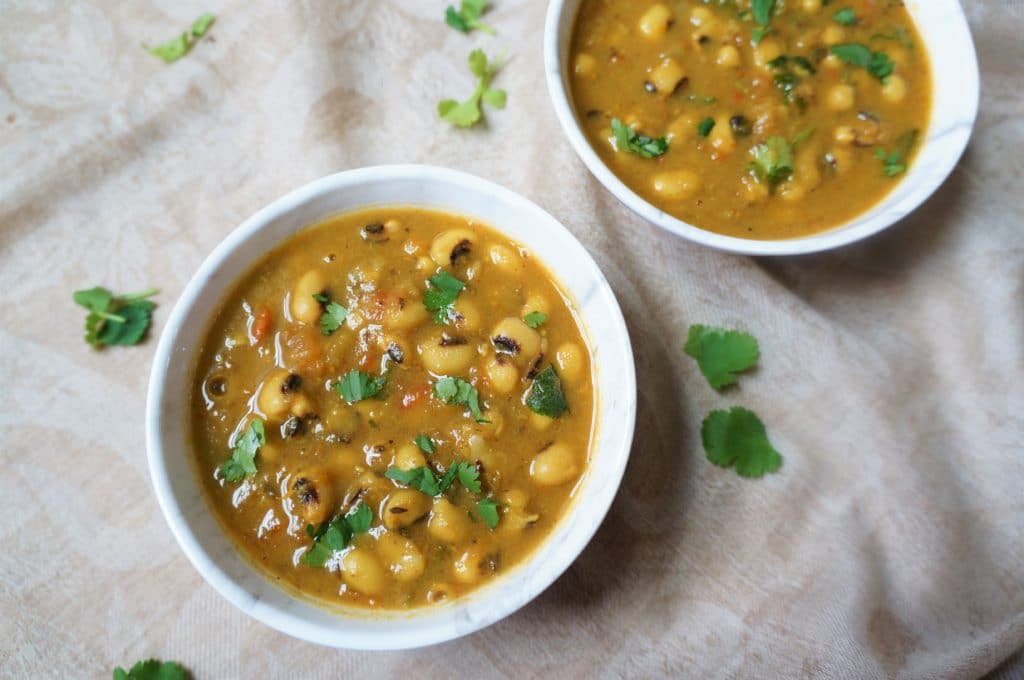 Being a North Indian, I grew up eating Black Eyed Peas, also referred to as Raungi, Chawli orLobhia in different parts of India.  Interestingly they are also referred to as cowpeas, but are from the beans family, not peas.  They are a comforting and nutritional meal. Making them in the instant pot is a breeze, so try this tasty curry (see video).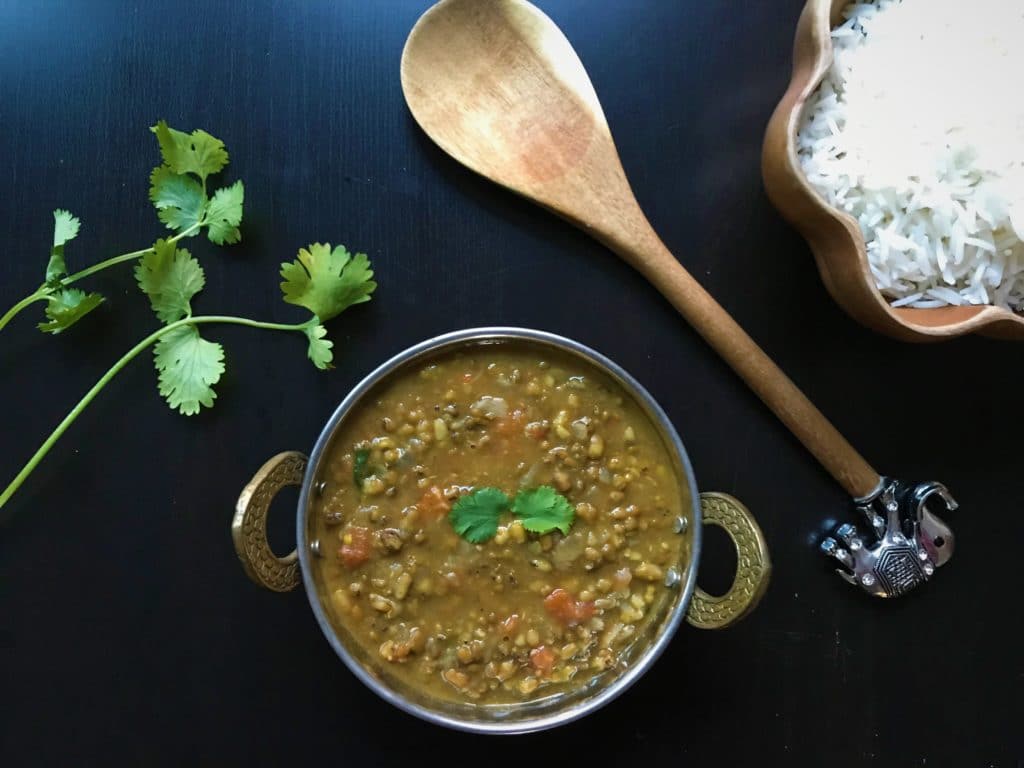 Wholesome Green Moong Dal made in an Instant Pot or Pressure Cooker. This is a delicious creamy lentil soup, that is so easy and quick to make in a pressure cooker. It is very nutritious with lots of protein and perfect for a cold evening (see video).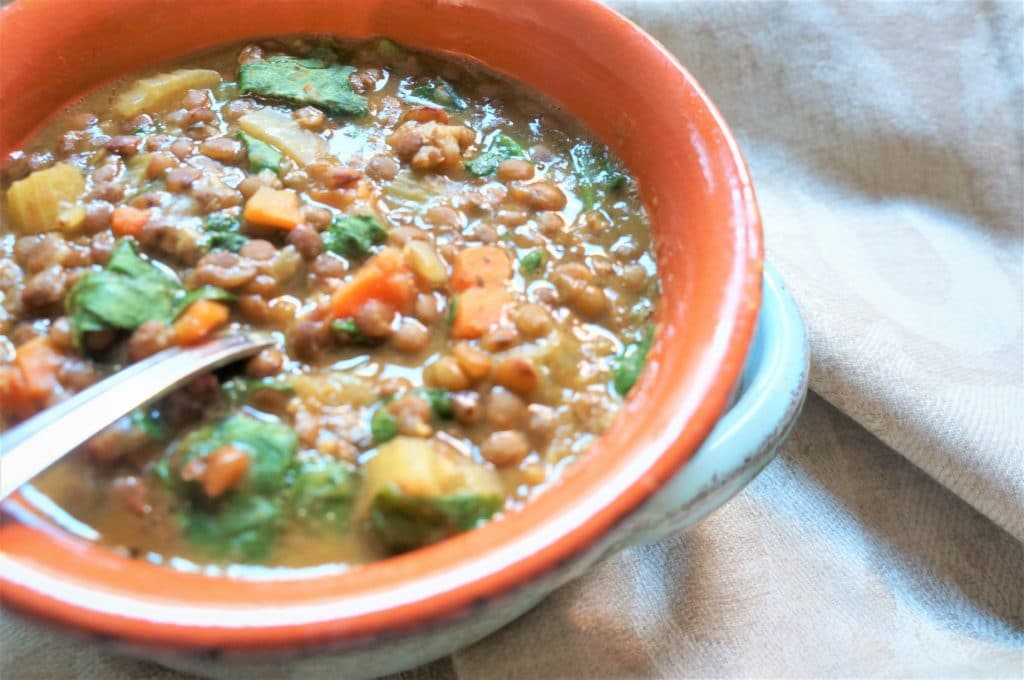 Hearty Brown Lentil & Vegetable Soup in the Instant Pot or Pressure Cooker. Make this warm soup on a cold & rainy (or snowy) day. Get cozy with this nutritious and easy to make vegan soup. This is a great soup for detox as well (see video).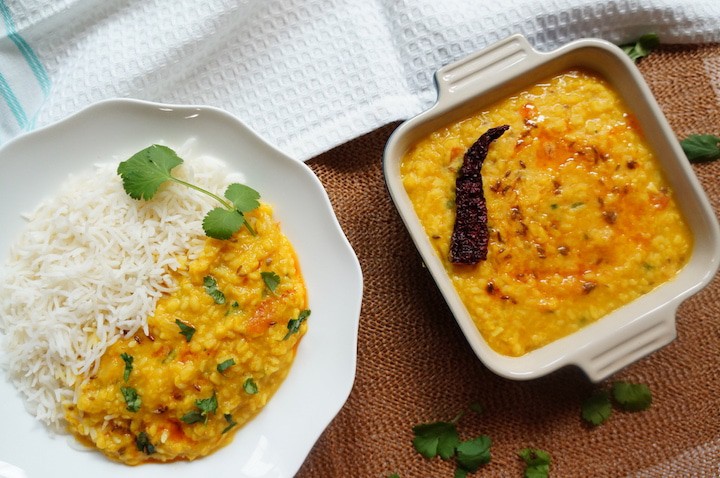 Moong Dal Tadka or Split Yellow Lentil Soup made in Instant Pot or Pressure Cooker. This is another popular dal similar to Toor Dal Fry that is used for everyday cooking in India. It is a quick, easy and low-calorie nutritious lentil soup.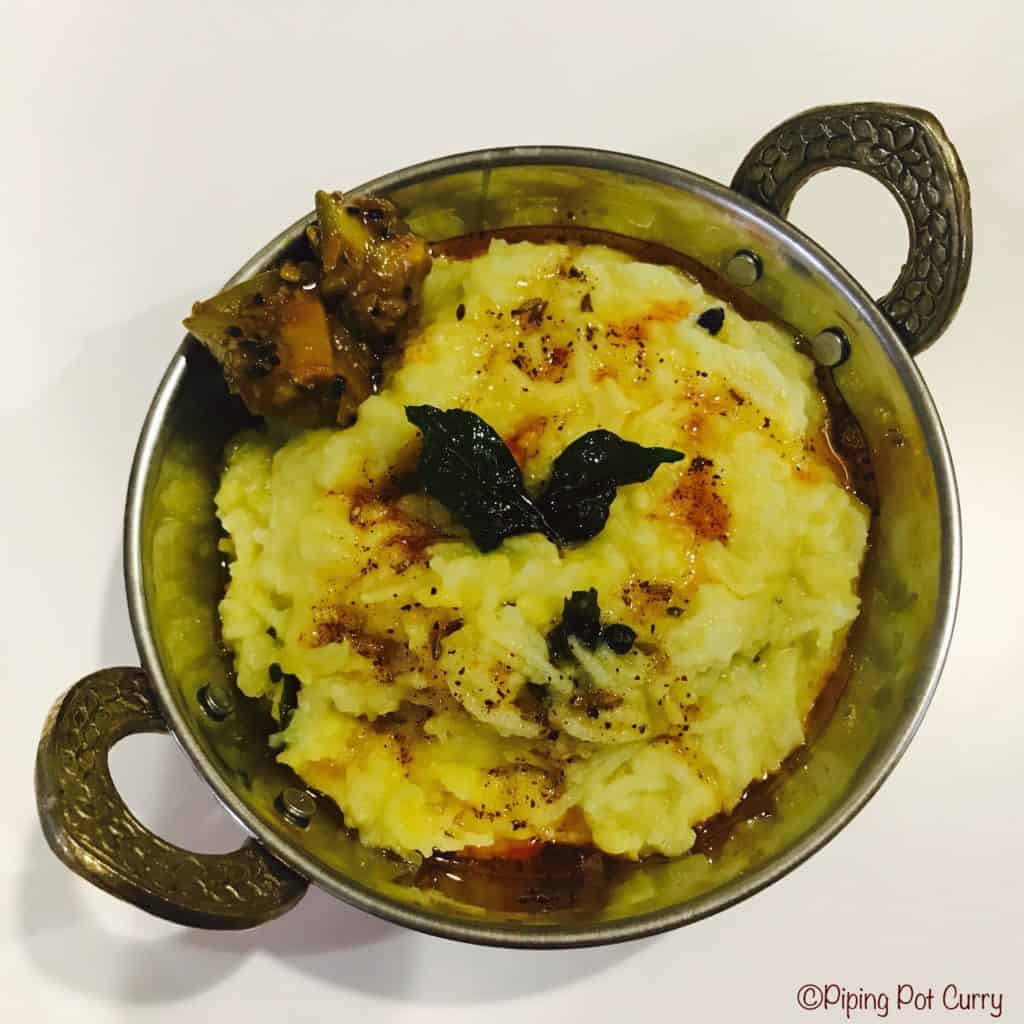 Moong Dal Khichdi is a simple dish made with rice and lentils, tempered in ghee with cumin seeds.  This recipe is to prepare Khichdi in Instant Pot or Pressure Cooker.  It takes 20 minutes or less and is a perfect comfort meal for weeknights.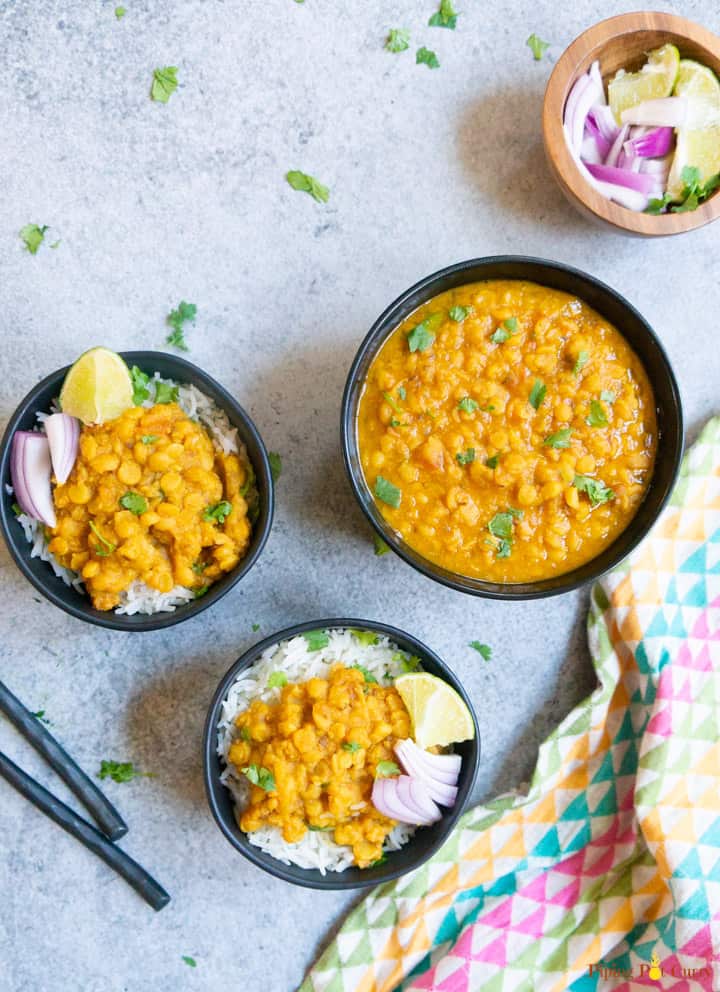 Easy & Delicious Instant Pot Chana Dal is made with split Chickpeas cooked with ginger, garlic, onion, tomato and flavorful spices, to make a comforting soup. Vegan & Gluten free.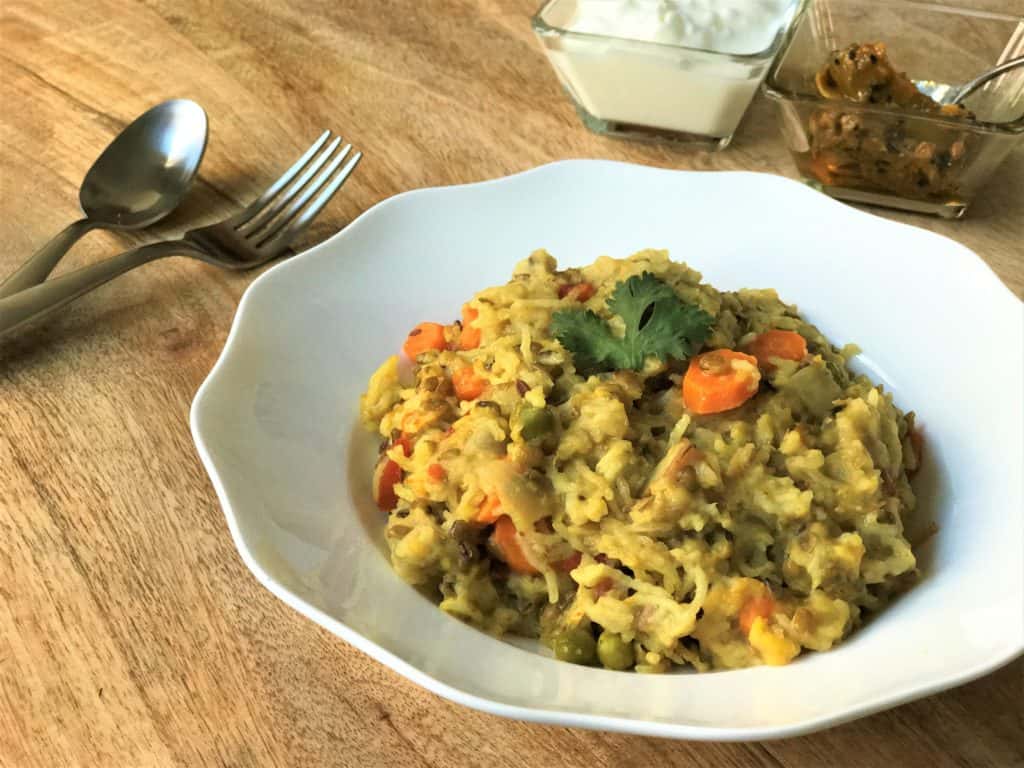 Lentil & Vegetable Khichdi or Masala Khichdi made in Instant Pot or Pressure Cooker. This is a one-pot vegetarian dish made with lentils, rice and vegetables along with simple spices and ghee. This is the epitome of comfort foods all over India. Khichdi is best cooked in a pressure cooker, so the Instant Pot is the perfect gadget to cook Khichdi.
I hope you have found your favorite Indian lentil recipe to make in the Instant Pot!  Let me know what you are most excited to make, and when you make it, don't forget to tag #pipingpotcurry.
Is your favorite lentil or beans recipe missing in this list?  Leave a comment below to let me know your requests!
If you are wondering about Indian Curries...check out 12 Indian Curry Recipes in the Instant Pot.