Do you own an Instant Pot but are constantly searching for cooking times? You can start quickly and spend less time cooking using these free printable Instant Pot cooking times chart for rice, vegetables, poultry/seafood, and lentils/beans.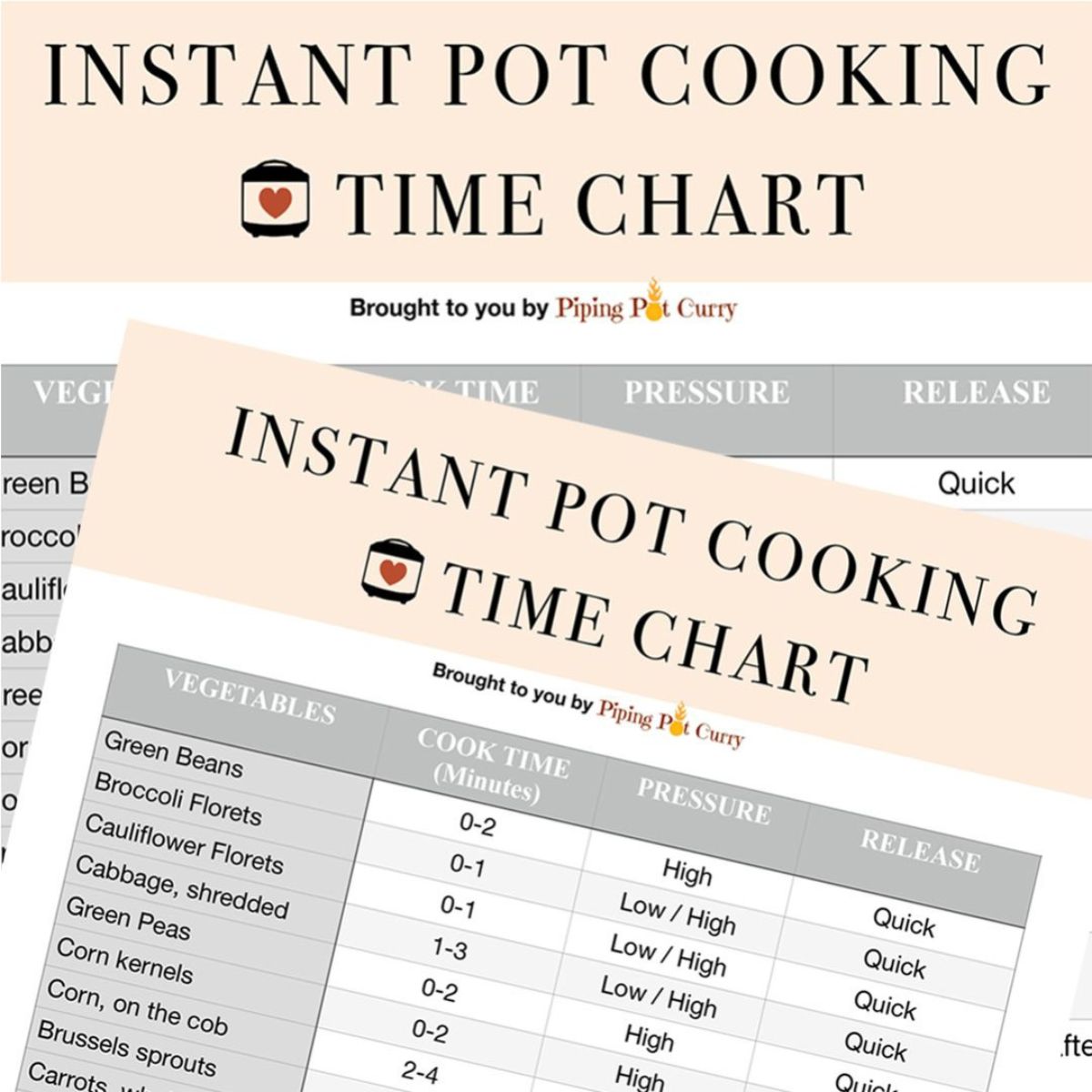 This free Instant pot cooking times chart simplifies cooking pressure cooker recipes!
I love having these cheat sheets nearby when I'm cooking. They're great to keep in the kitchen. It's an excellent way to ensure I can easily look, set the temperatures and times, and get cooking!
Check out the air fryer cooking times chart.
What is an Instant Pot?
An Instant Pot is a multicooker that can do many things, like pressure cooking, slow cooking, rice cooking, steaming, warming, and sautéing. It can do all these things in one device, which speeds up the cooking process.
Want to know more about Instant pot? Check out The Complete Instant Pot 101 Guide.
Things to Know Before Pressure Cooking
Add liquid: Don't forget to add liquid when pressure cooking. The liquid can be water, milk, broth, etc. There is a minimum requirement for liquid in the instant pot.
1/2 cup for 3qt
1 cup for 6qt
2 cups for 8qt
Cook Time: Think about pre-heating and pressure release time. The cook time listed in most charts and recipes is only for the pressure cooking time when the instant pot is already under pressure.
However, there is additional time needed for pre-heating and to release the pressure. This can vary depending on the amount of food in the instant pot.
Set the steam valve to locked: Make sure the steam valve is turned to a locked position so that the pressure can start building in the instant pot.
Instant Pot Vegetable Cooking Times
One of the ways we use the instant pot a lot is to boil potatoes or steam vegetables. Whether carrots, broccoli, green beans, or sweet potato, you can perfectly steam almost any vegetable in the Instant Pot!
It's as simple as adding a cup of liquid, adding your veggies, sealing the lid, and forgetting about them. If your instant pot has a low-pressure option, use that for tender veggies.
I recommend using the trivet that comes with the Instant Pot as a steamer basket. I also recommend an additional steamer basket, which makes holding the veggies in place easier, especially for tender vegetables. I prefer stainless steel ones, but you can find silicone steamer racks too.
Check out the ultimate guide to steamed veggies in the instant pot.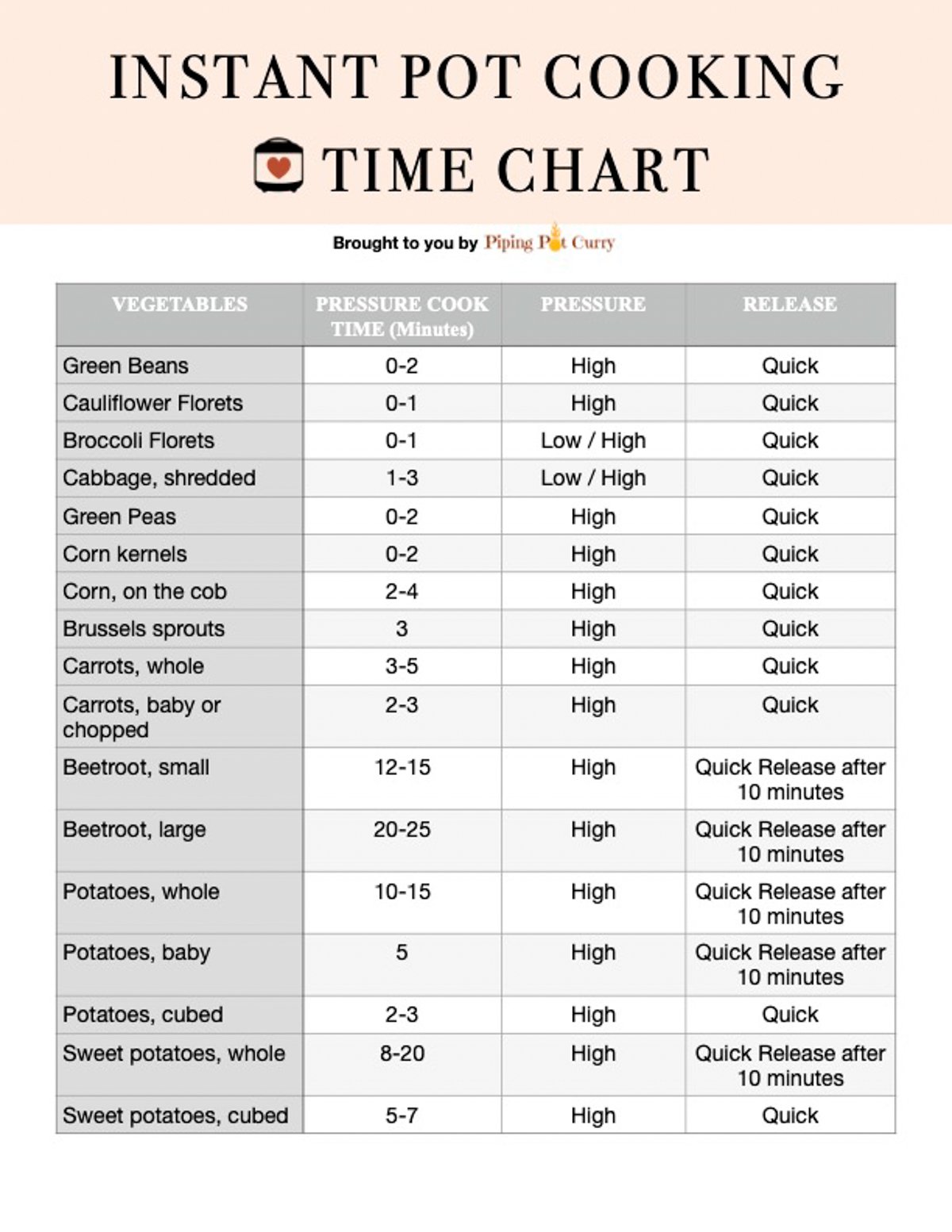 Instant Pot Rice/ Grains Cooking Times
The instant pot has a "Rice" mode which works well for white rice. However, as we use so many different varieties of rice and grains, I suggest using the Manual/Pressure Cook mode with the timings in the chart below.
Check out 25+ Rice Recipes for your instant pot.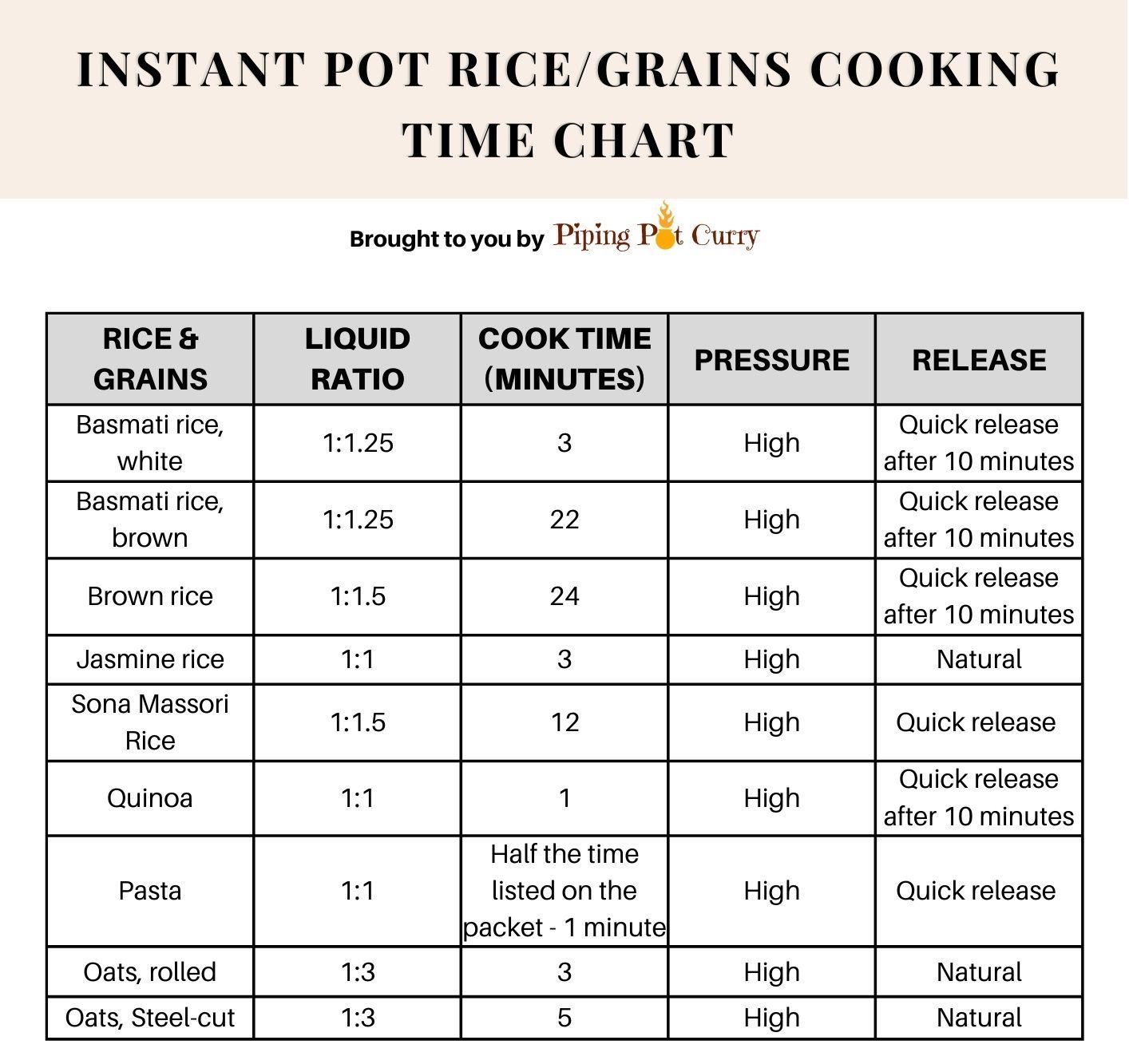 Instant Pot Poultry/ Seafood Cooking Times
One of our favorite things to cook in the instant pot is eggs. They come out perfectly and are so easy to peel.
The best part of cooking chicken in the instant pot is that you can cook it from frozen. You can find the various cooking time for different cuts of meat in below chart too.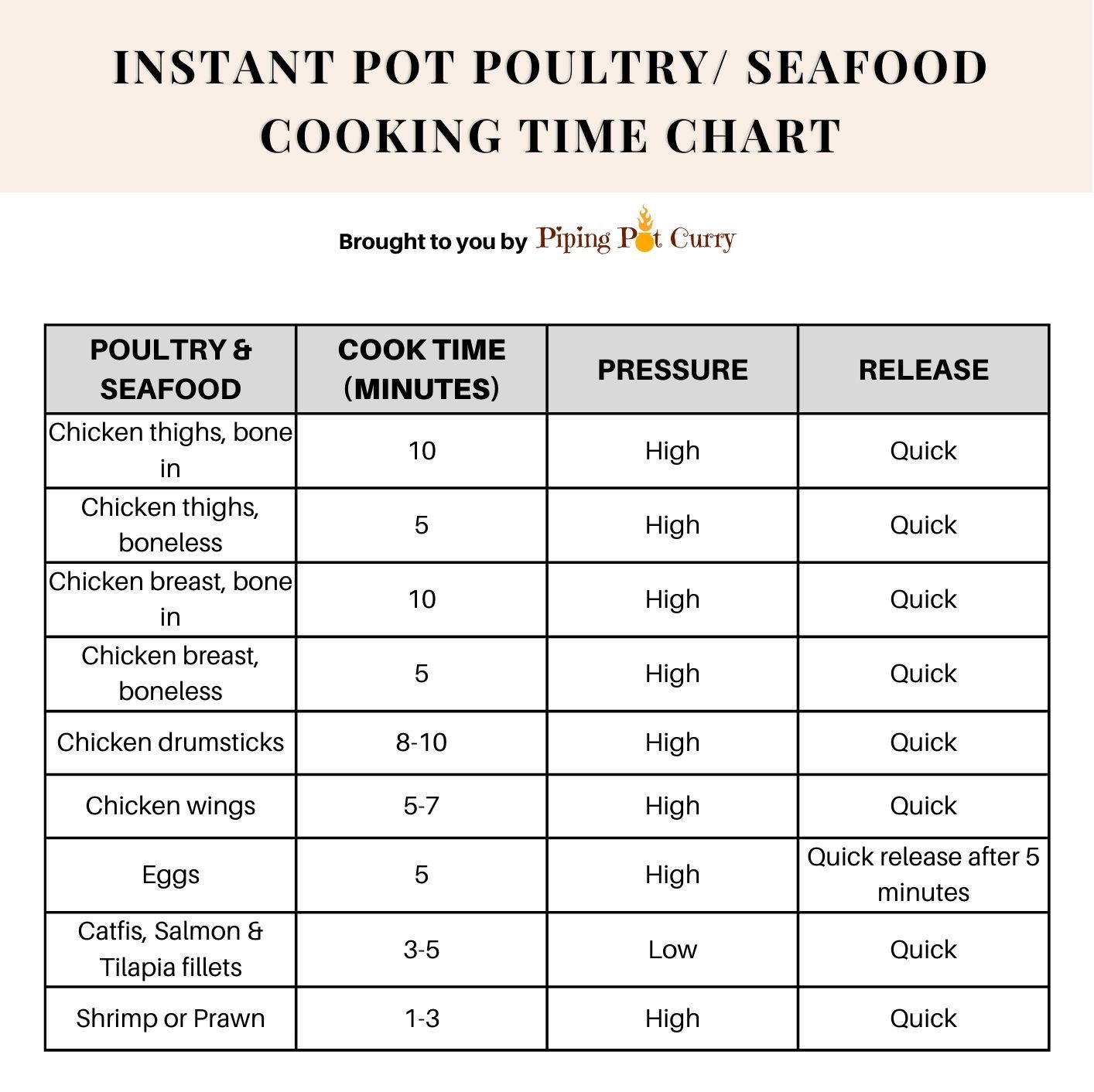 Instant Pot Lentils/ Beans Cooking Times
Lentils and beans are a great way to add budget-friendly plant-based proteins to their diet. Instant Pot is a great tool to cook pulses, as they cook faster under high pressure.
I prefer to soak beans overnight so that they cook faster. Soaked beans are also better for digestion. For lentils and beans, I suggest to let the pressure release naturally, or at least wait for 10 minutes before releasing the pressure manually.
Check out 25+ Instant Pot Lentil & Bean Recipes.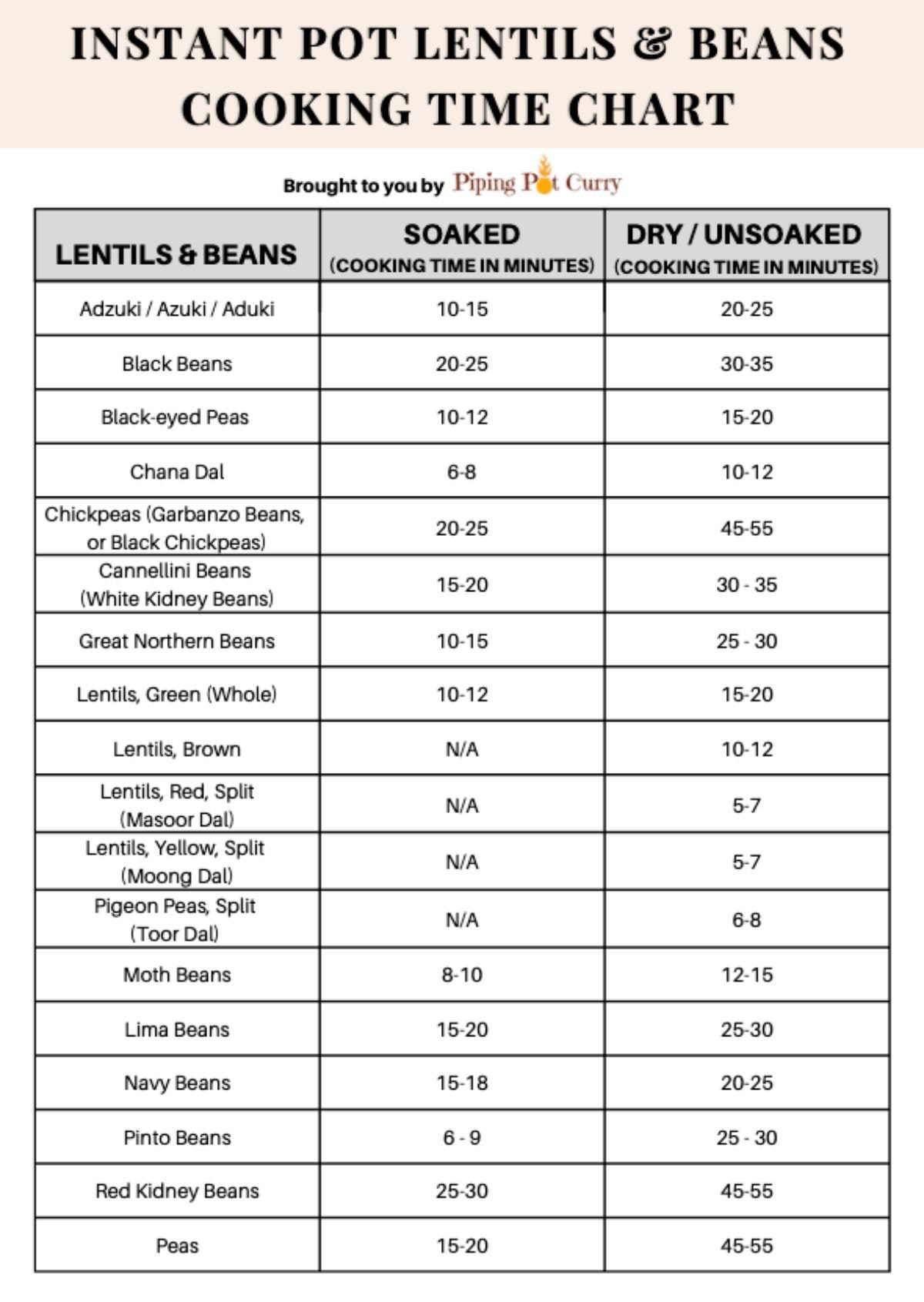 Instant Pot Recipes
If you have your Instant Pot, try these quick and easy recipes.
Here you will find the best Instant Pot Recipes from various cuisines, including Indian, Thai, American, and Italian.
You will also find options for vegan or vegetarian instant pot recipes and paleo or gluten-free instant pot recipes.
From a quick 30-minute instant pot breakfast such as Banana Walnut Steel Cut Oats, to soups such as this Broccoli Cheddar Soup to dinner with Chicken Curry, you will find it all here.
Want to try pot-in-pot (pip) cooking? Check out the Dal Fry with basmati rice (Lentil Soup), Steamed Broccoli, and many more recipes for the pressure cooker.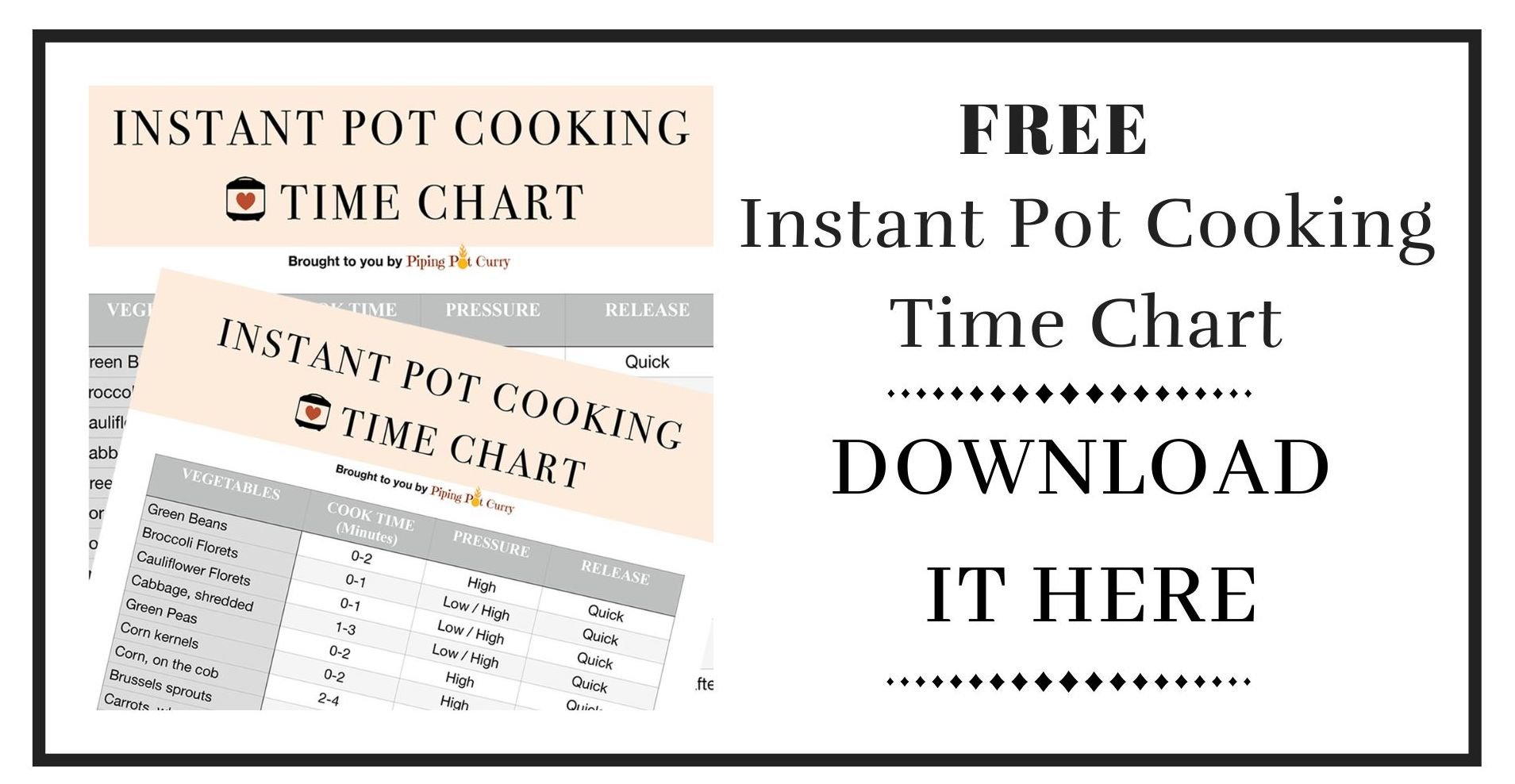 I hope you enjoy your Instant pot and cook up some amazing food. Comment below and tell us what you first cooked in your Instant Pot!