Here is the ultimate collection of Instant Pot Rice recipes. You will find basic recipes such as basmati rice and sushi rice, pilaf and biryani recipes, to creamy risotto and rice pudding recipes. Try these easy rice side dishes for your everyday meals!
Rice is the comfort food not just in Indian cuisine but in many cuisines across the world. Rice has been and still is the main food source across many civilizations. Often a bowl of rice along with steaming curry is enough to satisfy our soul.
Moreover, rice also has nutritional value by being high in carbohydrates, low in sodium, and without any fat or cholesterol. If you are following a vegan or gluten-free diet, then rice is your best friend. Here we bring a list of rice recipes filled with flavor and easy to make in the instant pot.
Jump to:
Why use Instant Pot to make Rice?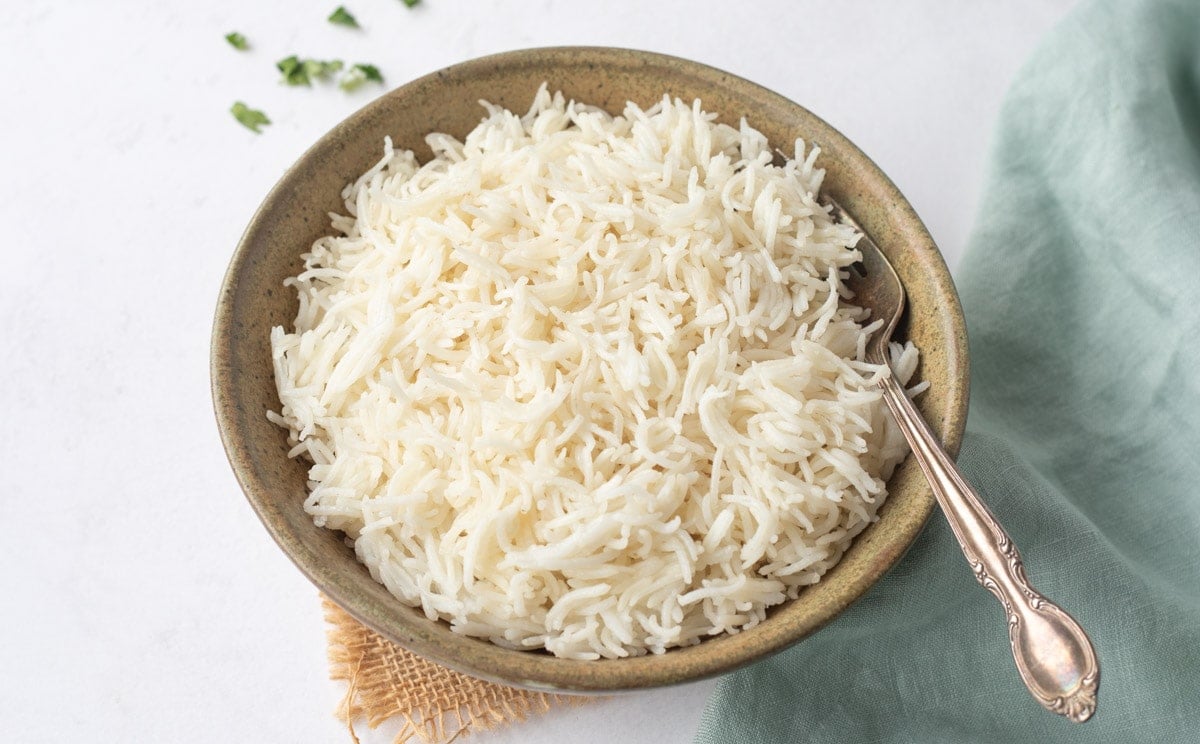 In India, we have been using the stovetop pressure cooker to cook rice for a long time. Instant Pot is the newest innovation in pressure cookers. It is an electric pressure cooker, a great gadget for making perfect rice!
Cooking rice can sometimes be tricky. There are personal and cultural preferences, such as the type of rice to use and how soft the rice should be cooked. These tried and tested recipes are a great way to enjoy the numerous ways to cook rice.
I love to cook rice in the instant pot (rather, I love to cook almost everything in the instant pot). The best part of the instant pot for me is that it helps me make all my rice recipes one-pot and reminds me by beeping to look back at it while I do other chores, and it does not burn even if I ignore the beep 🙂
Things to keep in mind to cook Perfect Rice in the Instant Pot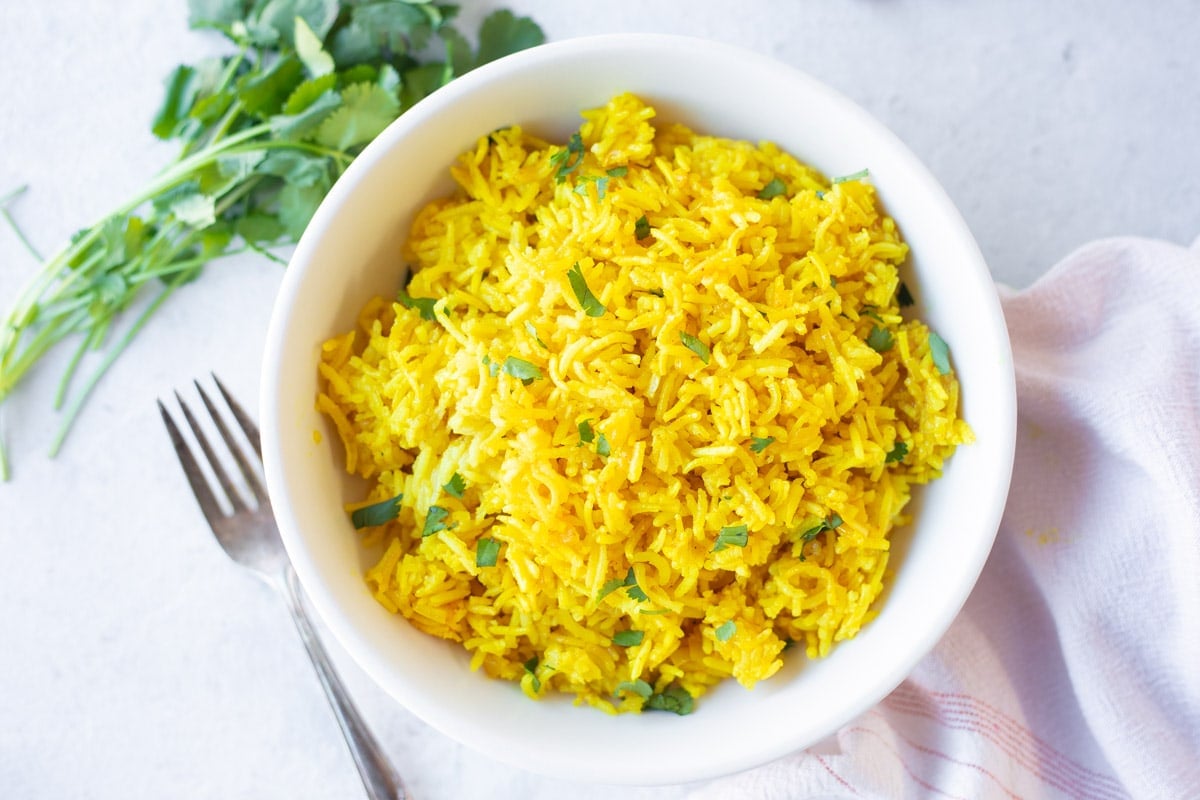 When trying different rice recipes, keep in mind and review the important things to make perfect rice.
Rinse and/or soak the rice
Many recipes will call for rinsing rice. This may seem like an unnecessary step to some, but rinsing rice helps to remove any debris and also removes excess starch from the rice.
Some recipes suggest soaking rice, while others cook it without soaking. I have tested both ways, and they both work. However, the cooking time varies for soaked vs unsoaked rice.
Rice to water ratio
Depending on the type of rice used and whether the rice was soaked or not, the rice-to-water ratio can change.
Pressure cooking time
The pressure cooking time for rice can vary depending on the type of rice, such as white or brown, basmati or wild rice, and it can vary depending on if the rice was soaked or unsoaked. The pressure cooking time can also differ due to personal preference for al dente or soft rice. It also depends on the altitude at which pressure cooking is being done.
Typically the pressure cooking time does NOT vary due to increasing or decreasing the quantity of cooked rice. So if you double a rice recipe, the pressure cooking time remains the same. The pot might take longer to come to pressure and release pressure.
Get a printable chart for instant pot rice cooking times for various types of rice and grains.
Pressure release method
Do note the suggested method to release pressure in the recipes. The most common method in rice recipes is a 10-minute NPR, which means letting the pressure release naturally for 10 minutes, then manually releasing the pressure by turning the valve to venting. Some recipes call for natural pressure release or quick pressure release.
How much rice can I cook in the Instant Pot?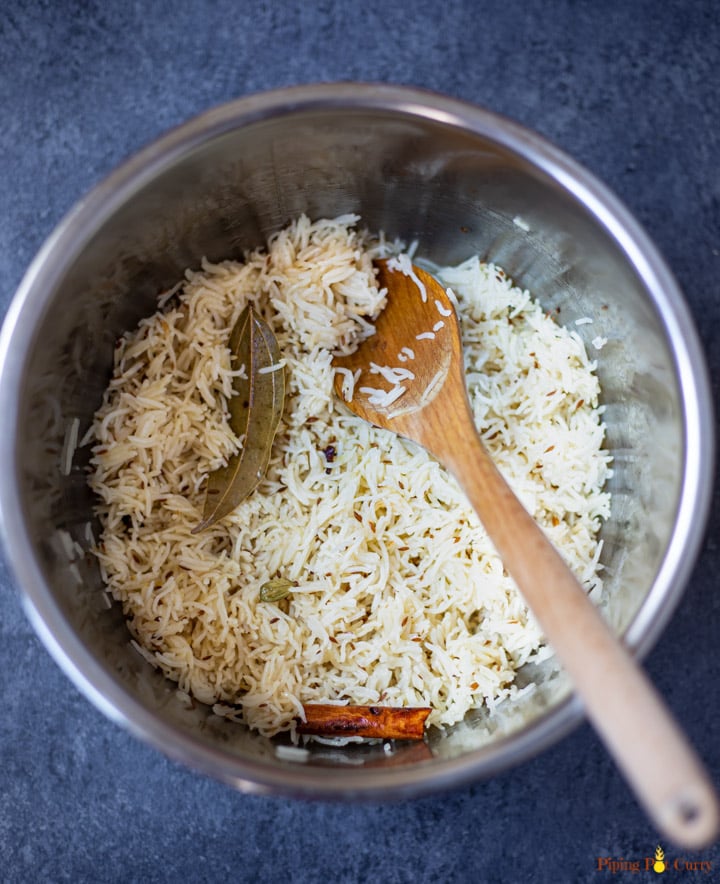 Instant Pot recommends cooking a minimum of 1 cup of rice when cooking directly in the inner pot. If you're cooking less, use the pot-in-pot method. Remember not to fill your inner pot past the halfway mark when cooking food that expands, such as rice.
When cooking just plain rice in the instant pot (basic recipe), my tests suggest a maximum of 6 cups of rice in a 6qt instant pot.
When cooking a rice pilaf in an instant pot with lots of veggies or meat, my tests suggest a maximum of 4.5 cups of rice in a 6qt instant pot.
Basic Rice Recipes
Let us start off with the basic rice recipes made in the pressure cooker that go well with a steaming bowl of curry.
In basic rice recipes, the pot-in-pot method is a great way to cook rice. This works perfectly when cooking a small amount of rice and has the added advantage of being able to cook in the bowl you want to serve.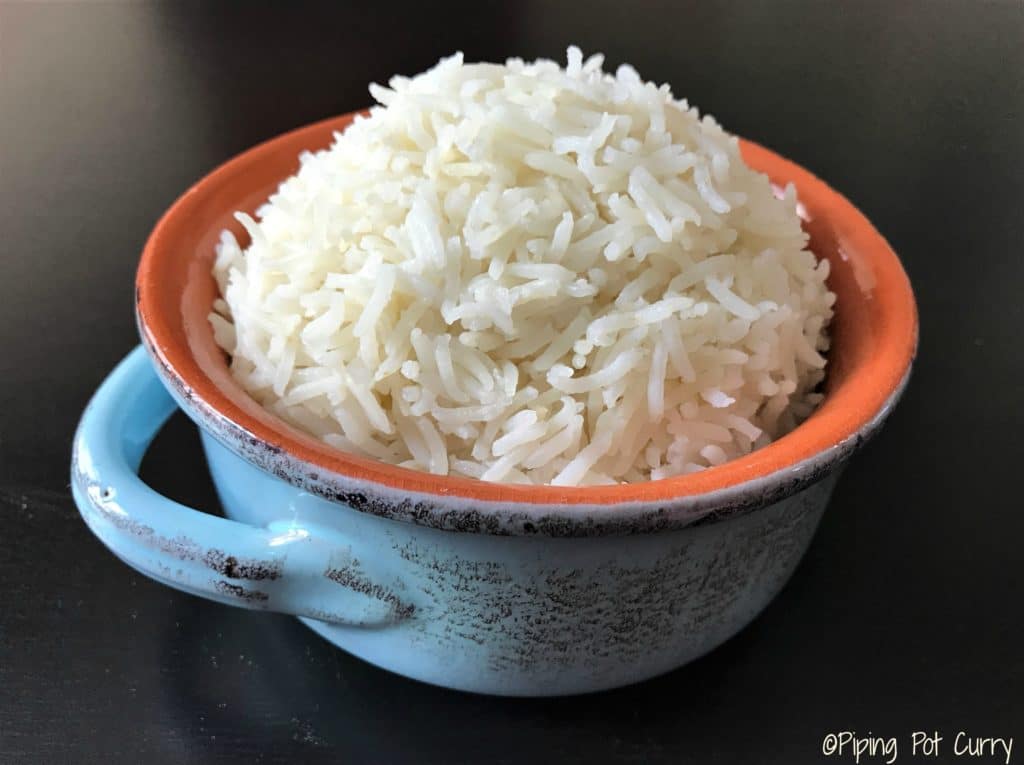 Being a North Indian, my preferred rice is basmati. It is a long-grain rice that looks slender and aromatic in flavor. It is a popular choice during festive occasions or when entertaining. I cook this rice in two ways – in the inner pot of the instant pot or with the pot-in-pot method.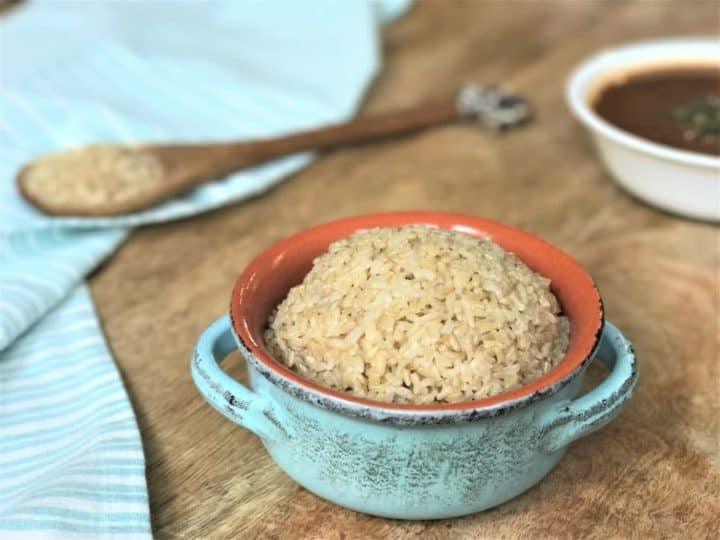 Brown basmati rice is the healthier version of basmati rice. Get the foolproof recipes for brown rice here – in the inner pot of the Instant pot and the pot-in-pot method.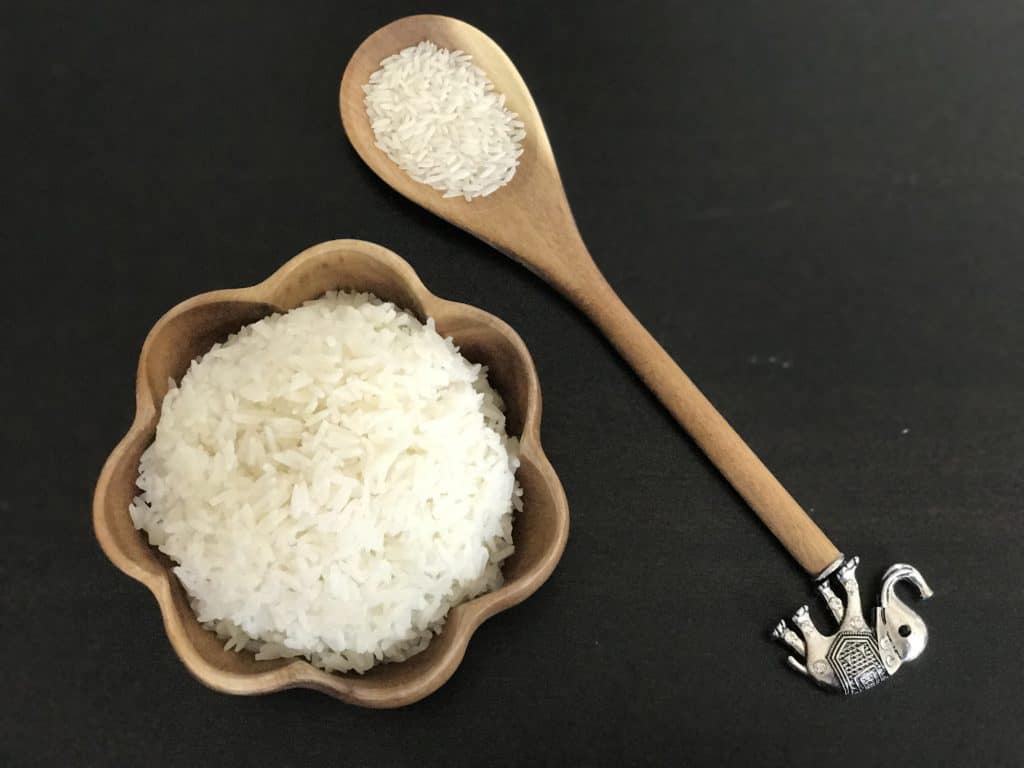 Perfectly cooked Jasmine Rice in the Instant Pot in two ways – In the main pot and pot-in-pot. Add the rice and water, set the timer, and return to perfectly cooked instant pot jasmine rice.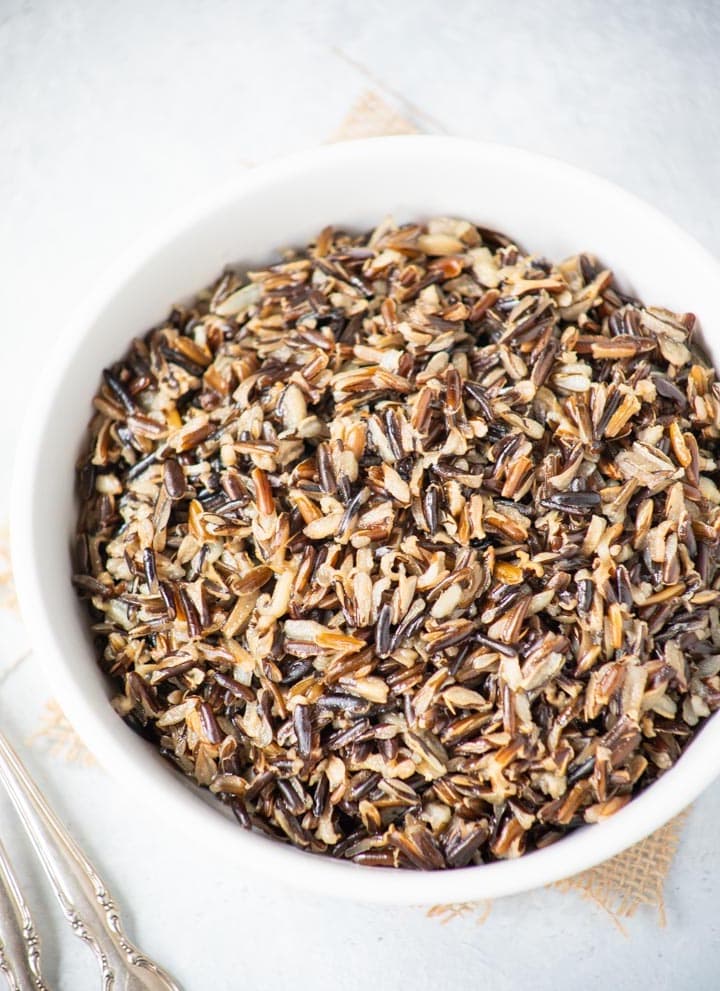 It is quick and easy to cook nutritious wild rice in the Instant Pot. These Instant Pot Wild Rice have a sweet aroma with a nutty flavor and a chewy texture.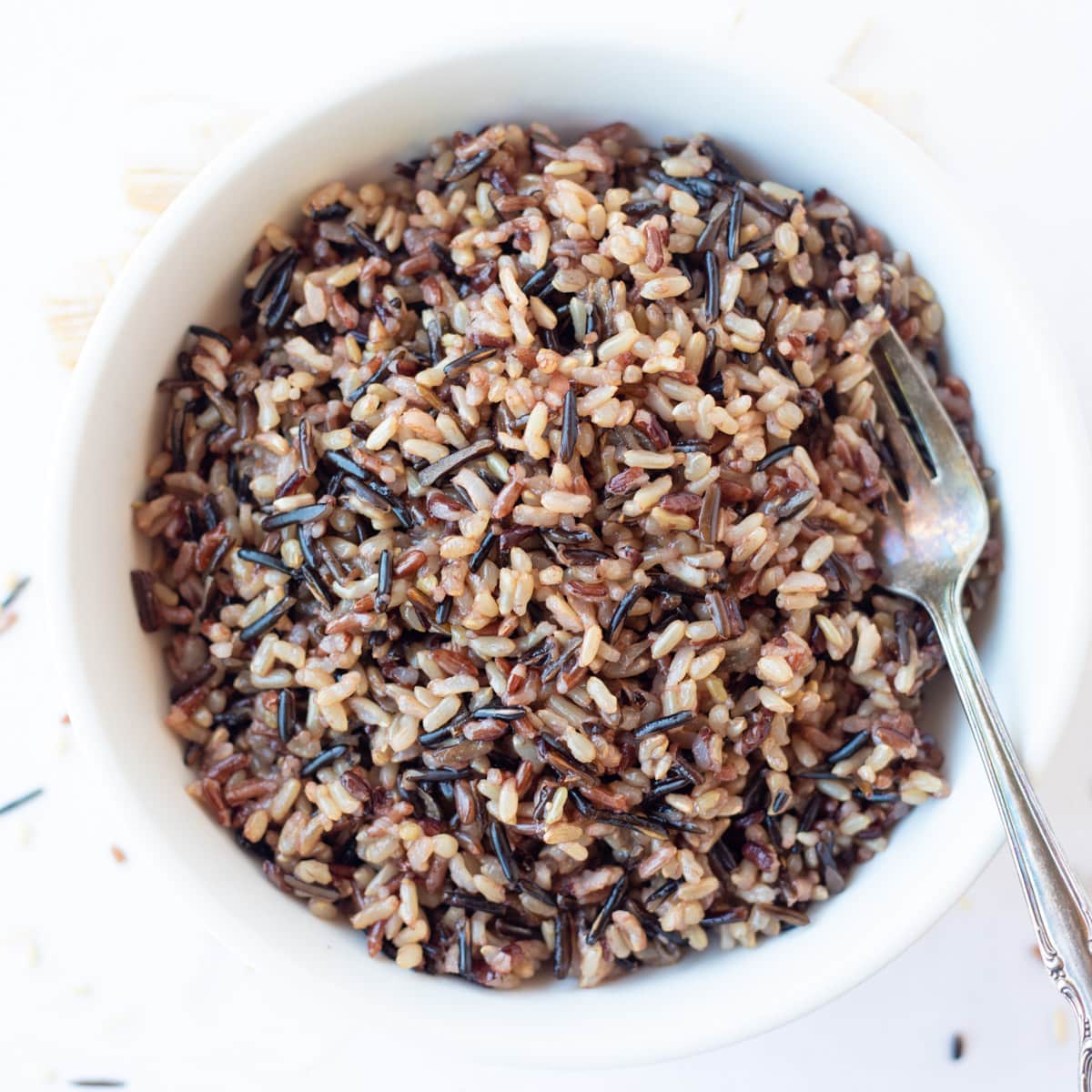 This nutty and flavorful instant pot wild rice blend recipe is simple and ready in 30 minutes.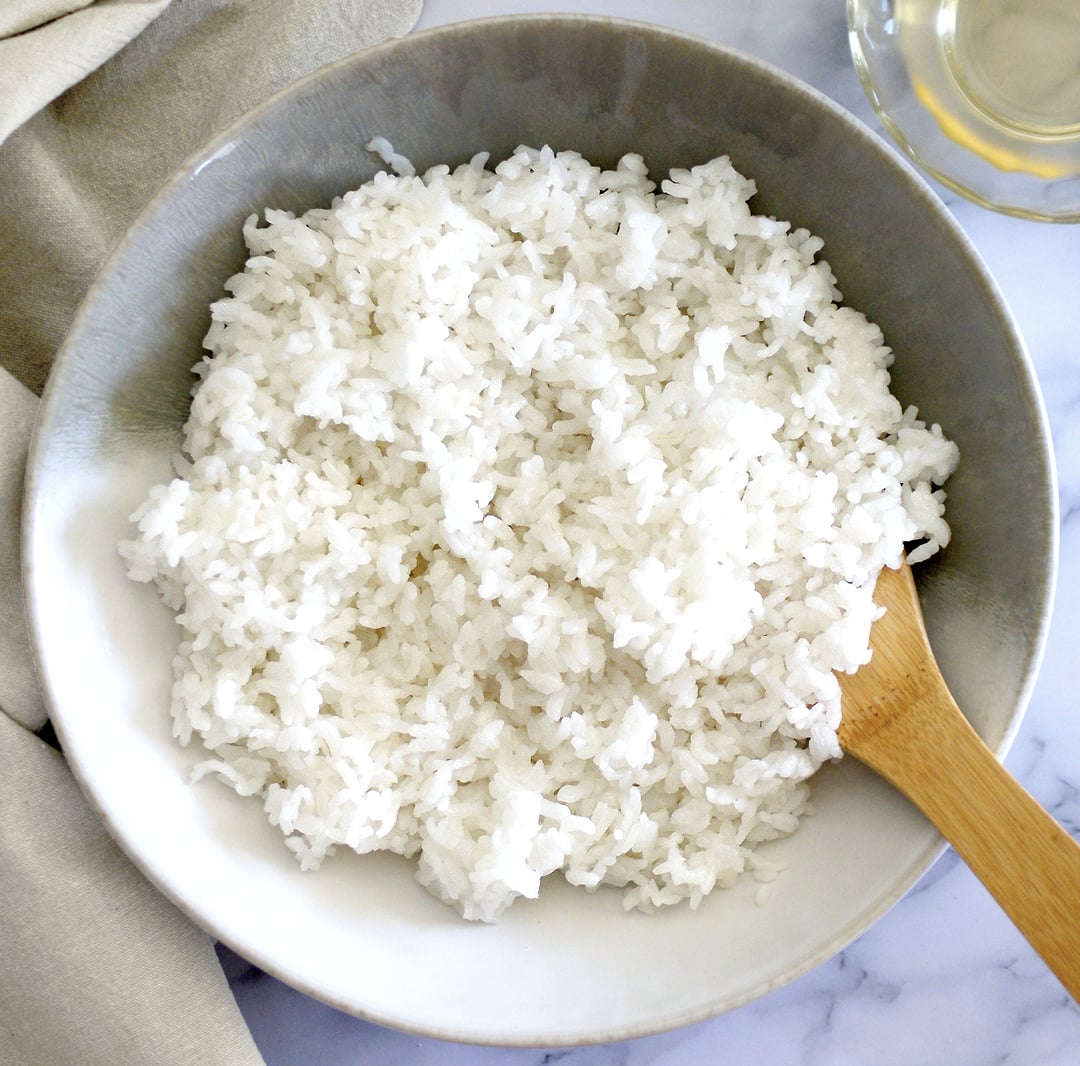 Learn how to cook perfect sushi rice in the Instant Pot with this foolproof recipe. This Japanese sushi rice recipe is easy and quick and makes the best rice for sushi rolls, sushi bowls, and hand rolls.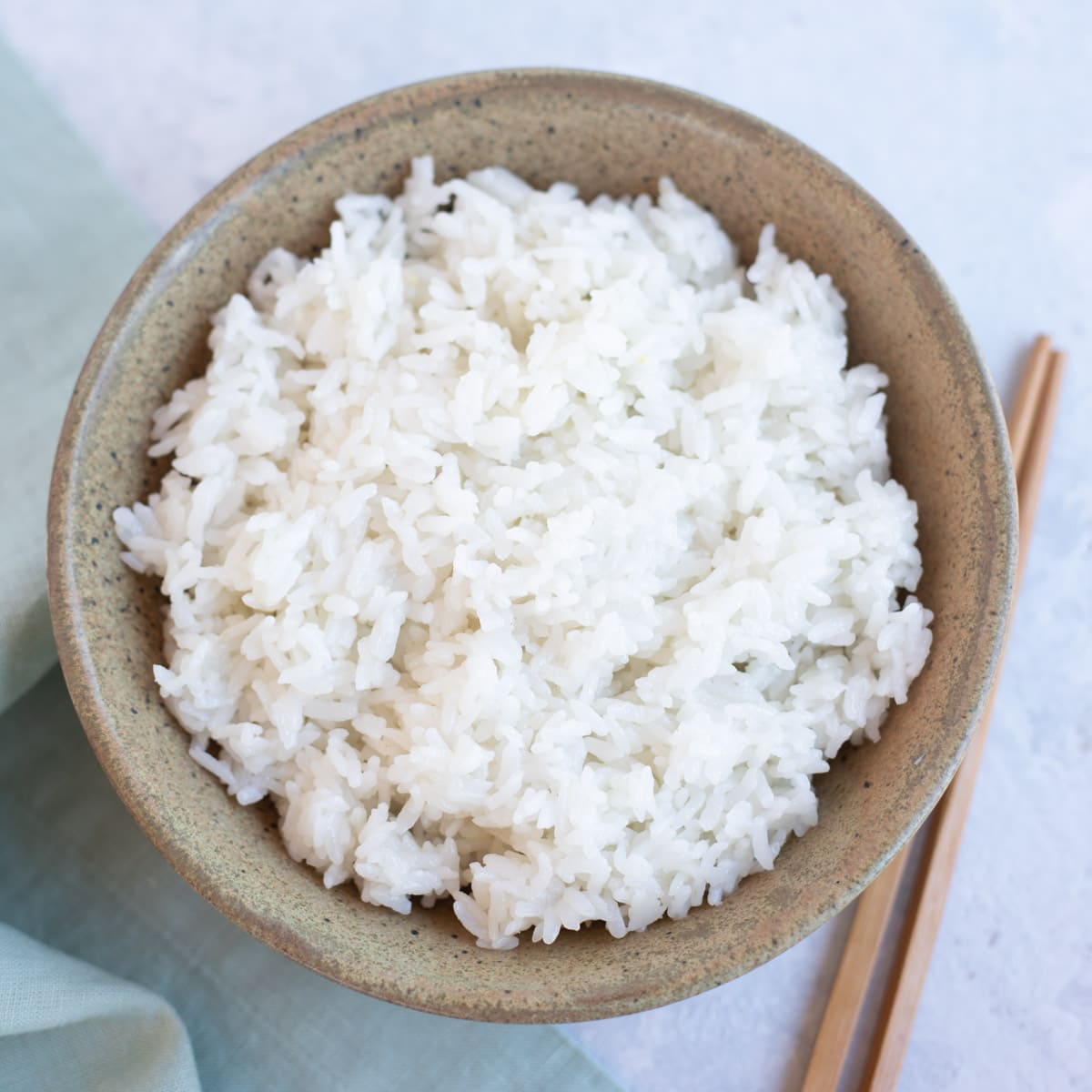 Cook perfect Calrose rice in the Instant Pot every time with this tried and tested recipe. It is easy and makes the best rice as a side dish or to use in stir-fries or for making sushi.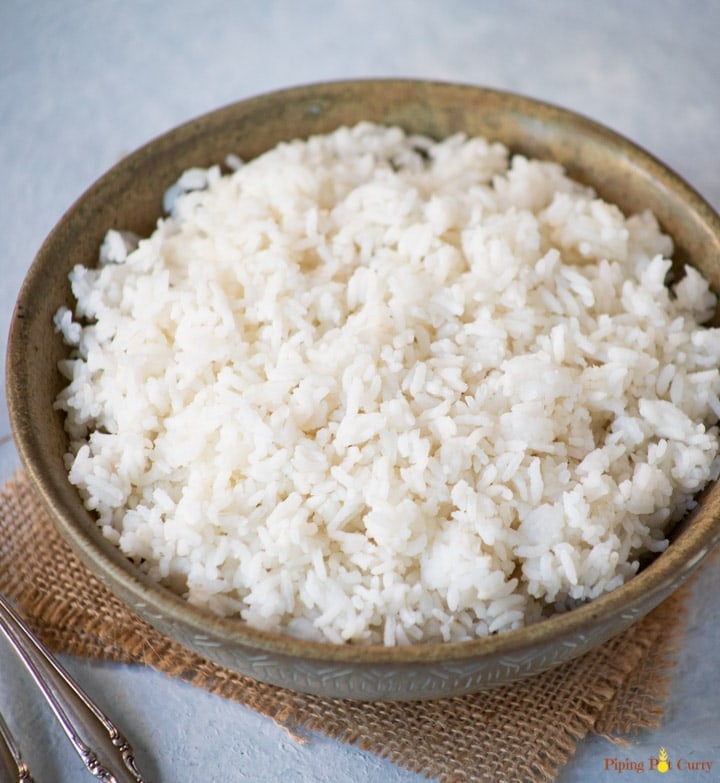 Sona Masoori rice is a medium-grain rice popular in southern India. Ready in a jiffy, this aromatic Sona Masoori rice pairs well with curries or just a plain bowl of yogurt.
Flavored Rice Recipes
Once you have mastered cooking rice, you can start adding flavor to them using different spices and vegetables. There are many variations to make rice – with whole spices, vegetables, chicken, shrimp, etc.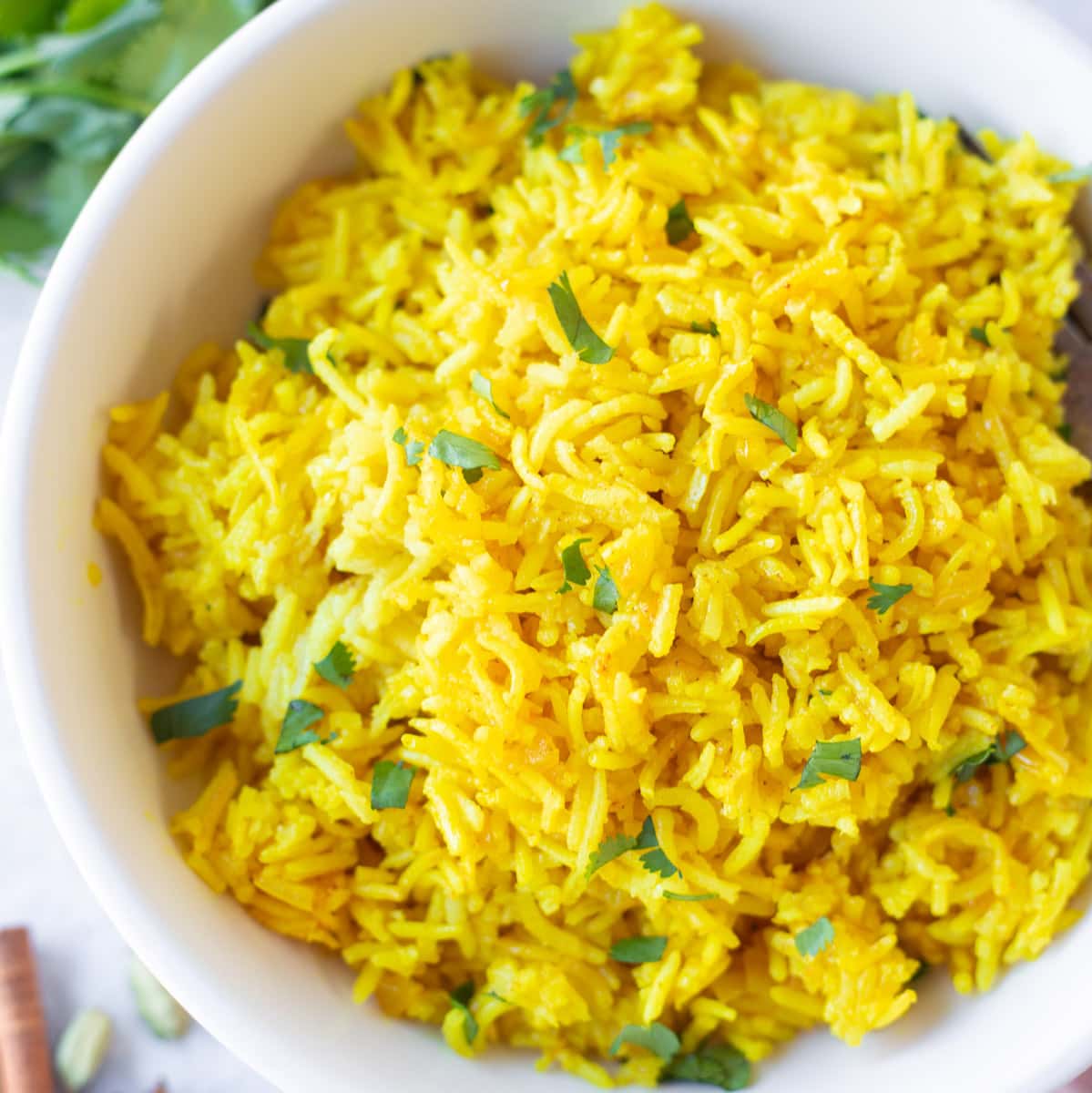 This fragrant and flavorful Turmeric Yellow Rice is a healthy alternative to white rice. Try this recipe to learn how to easily make this vibrant rice in an instant pot.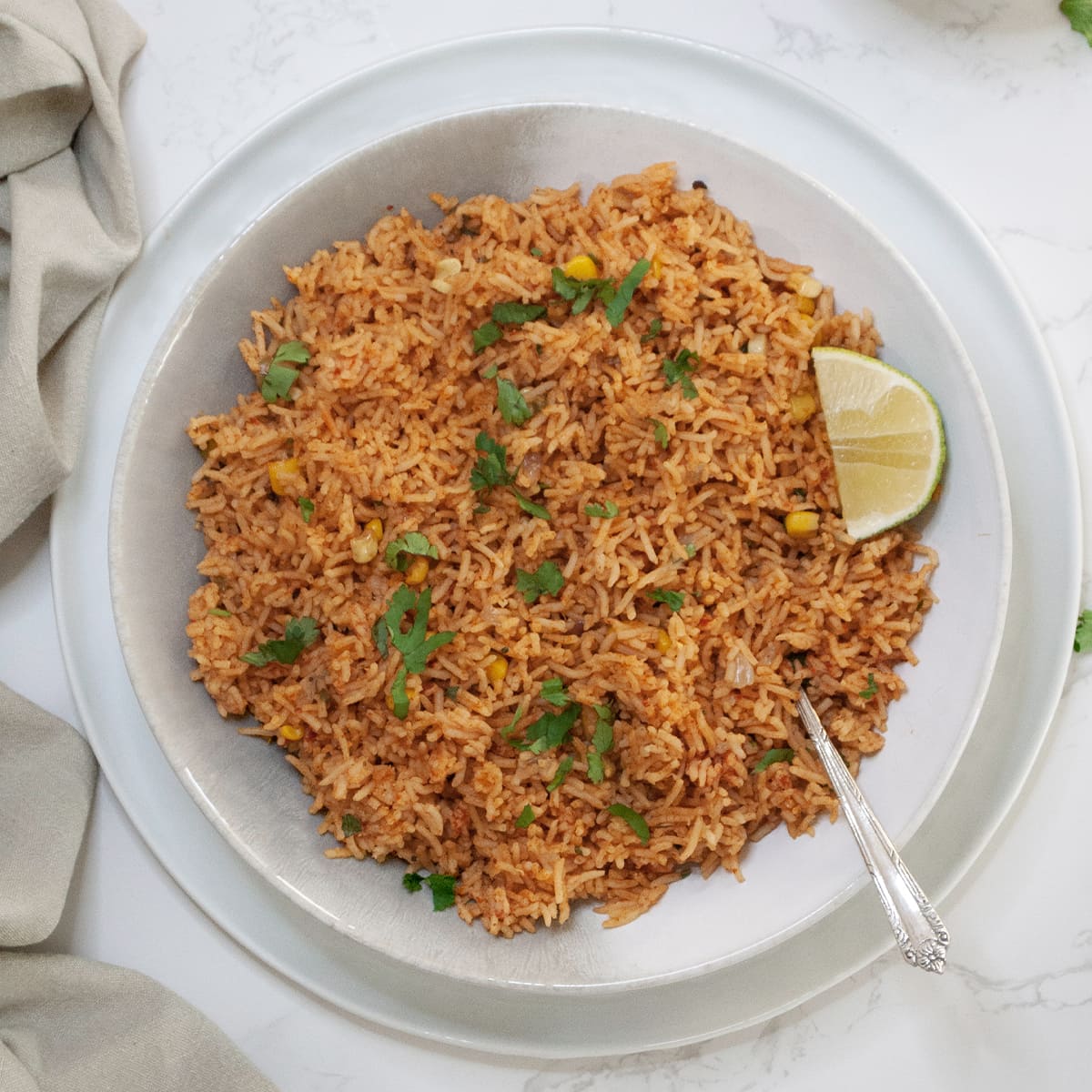 This Instant Pot Spanish Rice, often known as Mexican Rice or Arroz Rojo, is flavorful, easy to make, and incredibly tasty. This versatile Spanish Rice is a wonderful side dish for any meal!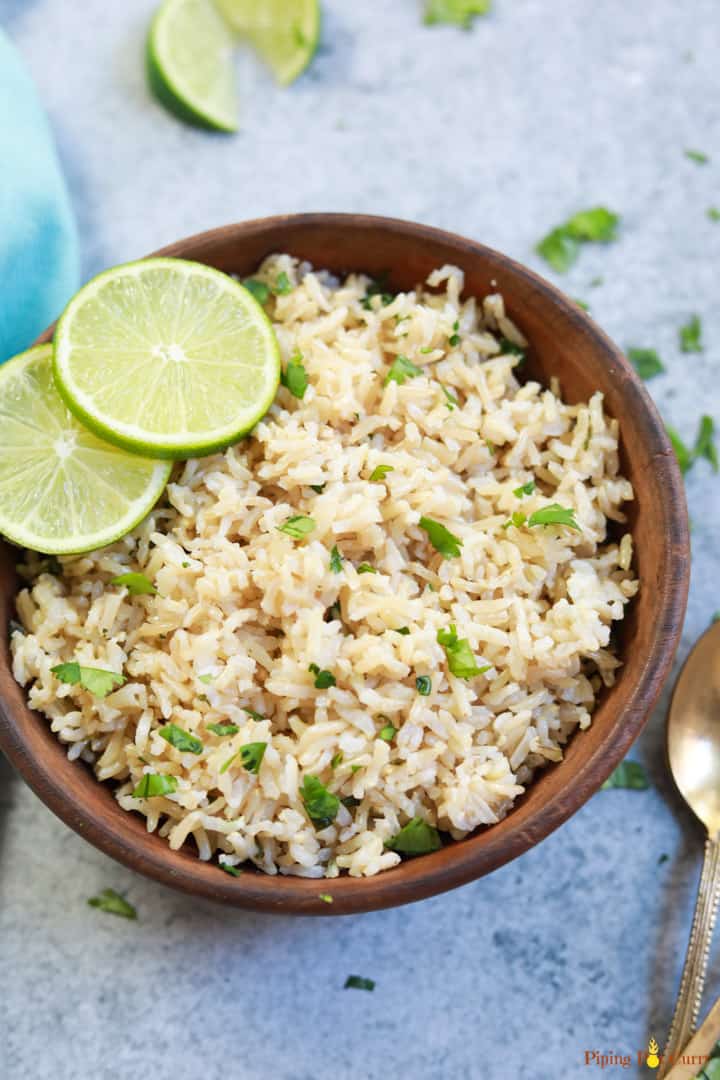 This Instant Pot Cilantro Lime Brown Rice is easy, healthy, and tasty. The fresh cilantro and lime flavors make it a wonderful side dish or ingredient for burritos or bowls!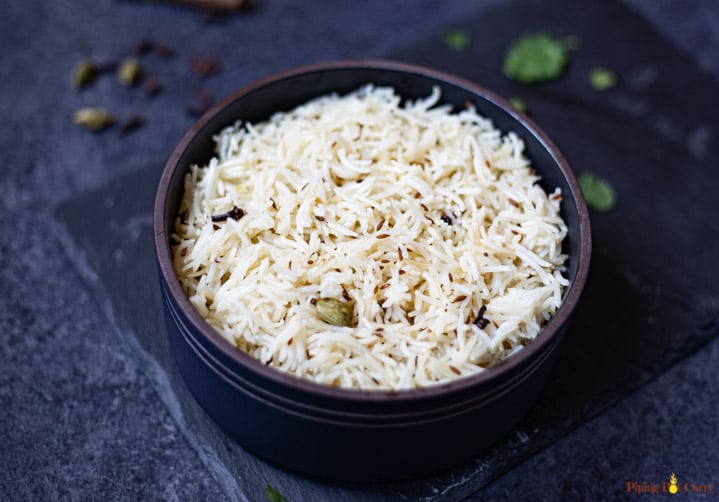 A perfect accompaniment for any curry or gravy. This Jeera rice is made with basmati rice, cumin seeds (jeera), and whole spices. This cumin rice is perfect to pair with curries.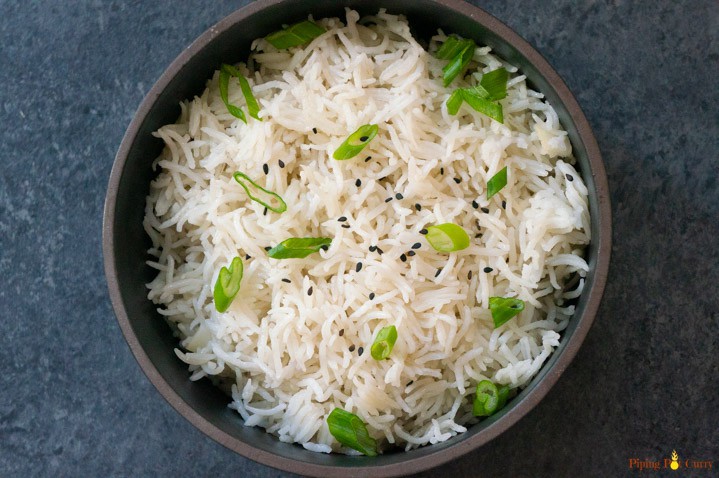 Coconut rice is an enticing aromatic combination of perfectly cooked rice and coconut milk or flakes. This rice is a vegan and gluten-free side dish for curries of any cuisine, especially Indian and Thai.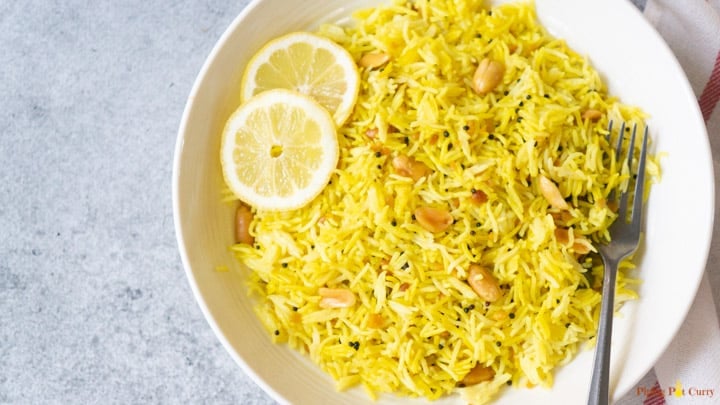 If you want a bowl of tangy and zesty rice, lemon rice is your choice. Flavored with lemon juice and topped with roasted peanuts, this rice dish will brighten up your meal.
Pilaf & Risotto
Tracing back its origins to central Asia, Pilaf is a mixture of rice with vegetables or meat and various spices and garnishing. It is essentially a one-pot dish where all the ingredients are cooked together. Here are some popular rice pilaf recipes you will enjoy!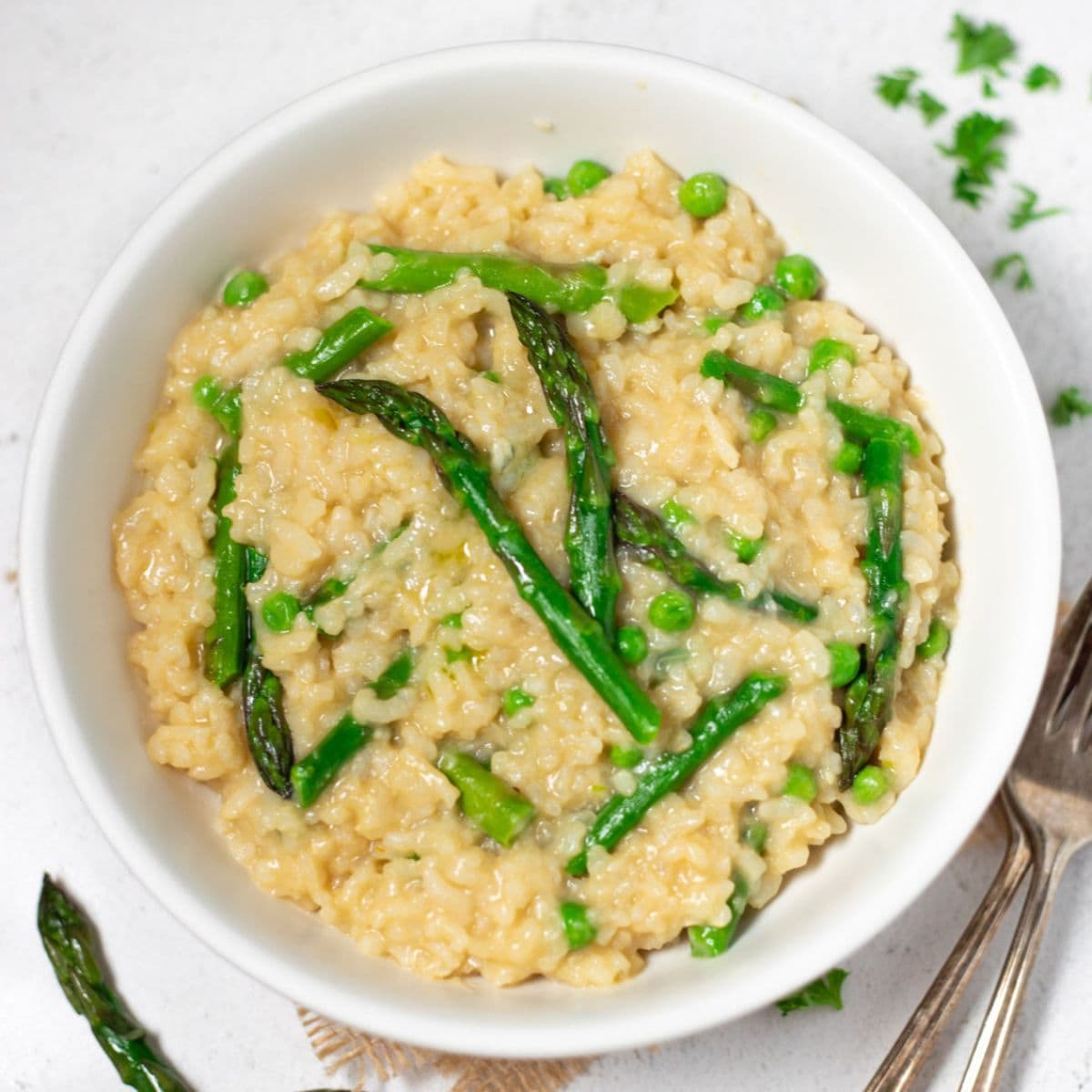 This Instant Pot Lemon Asparagus Risotto brings all the vibrant flavors of spring to your bowl. This gluten-free risotto is the best one-pot meal made with fresh asparagus, zesty lemon, and arborio rice.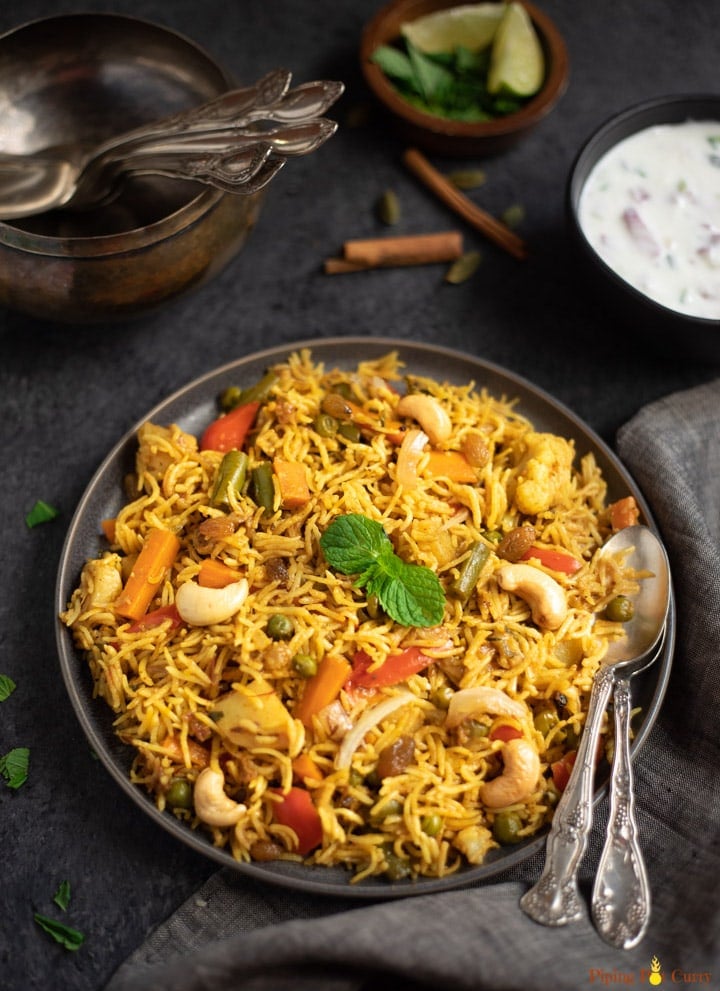 Aroma filled basmati rice, saffron, vegetables, and spices come together to make this delicious bowl of authentic Vegetable Biryani. You can get this fluffy biryani made in instant pot in less than 40 minutes.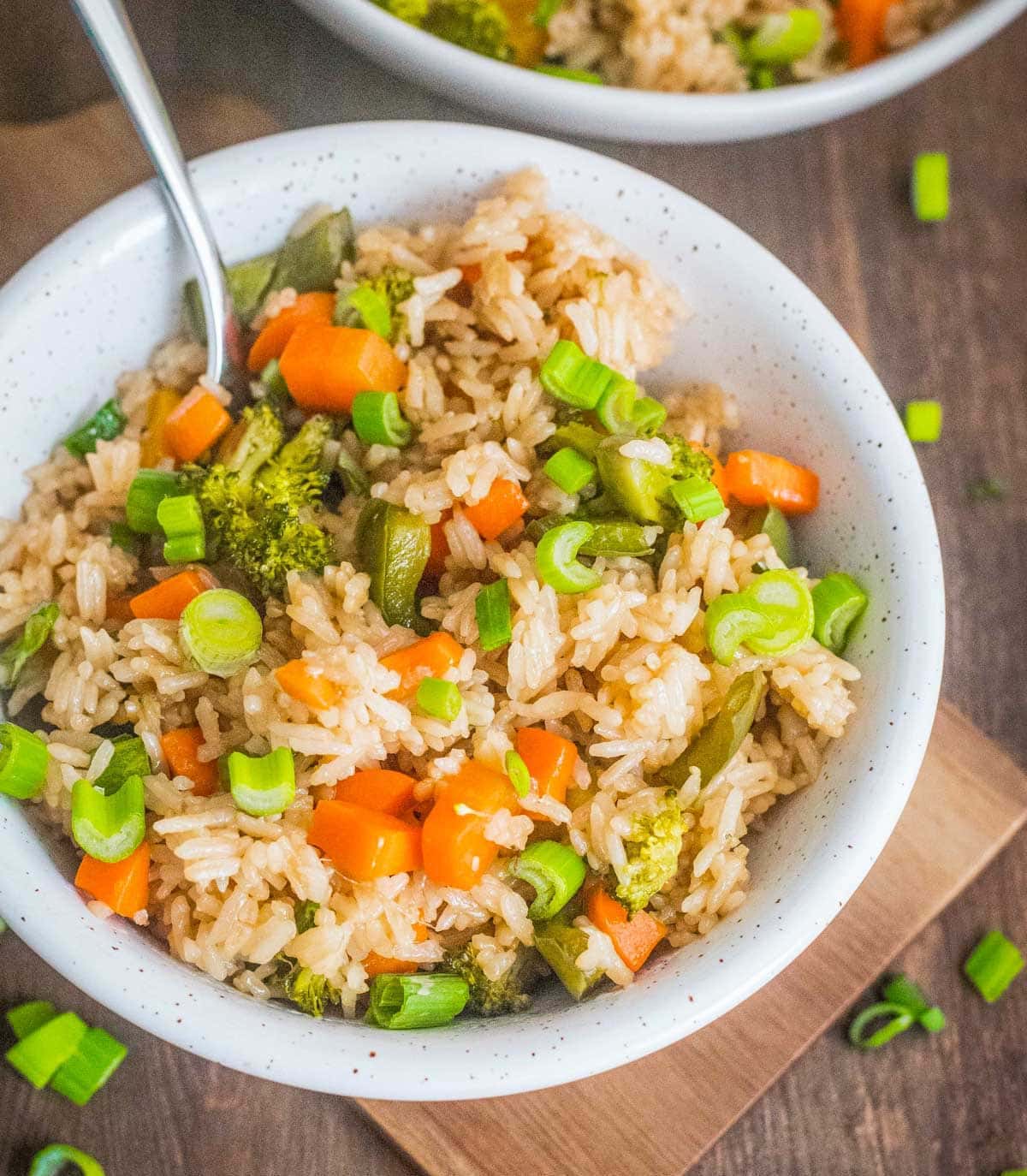 Instant Pot Fried Rice is a 30-minute recipe for fried rice that is healthier than take-out, and tastes so much better! Customize it with your choice of veggies and protein.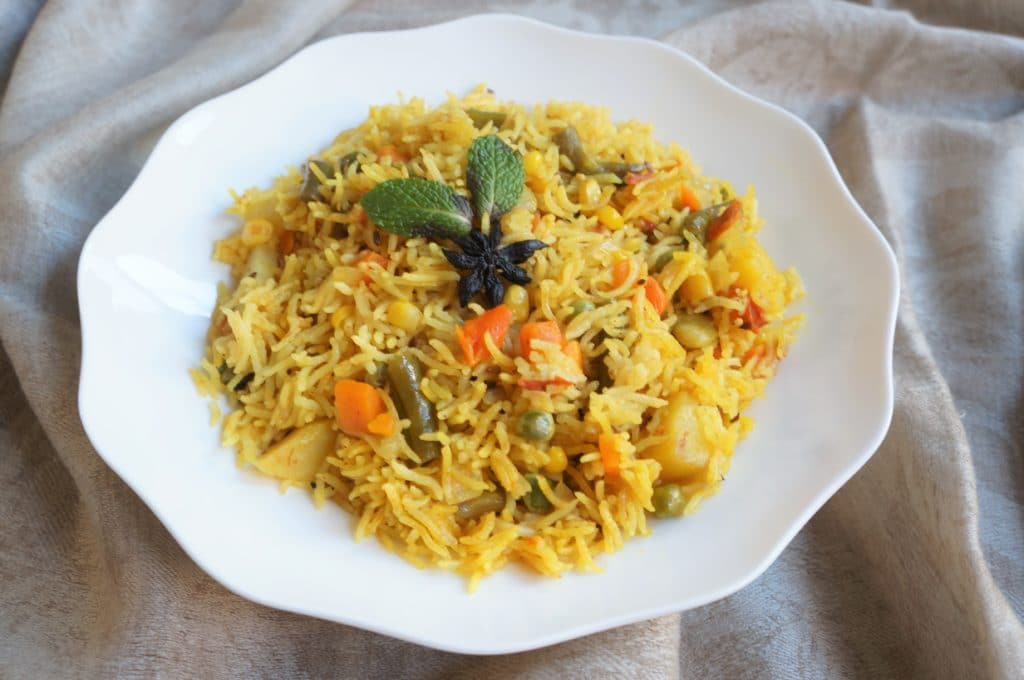 Vegetable Rice Pilaf or Pulao is an easy one-pot rice dish mixed with a variety of vegetables and mildly flavored with various spices.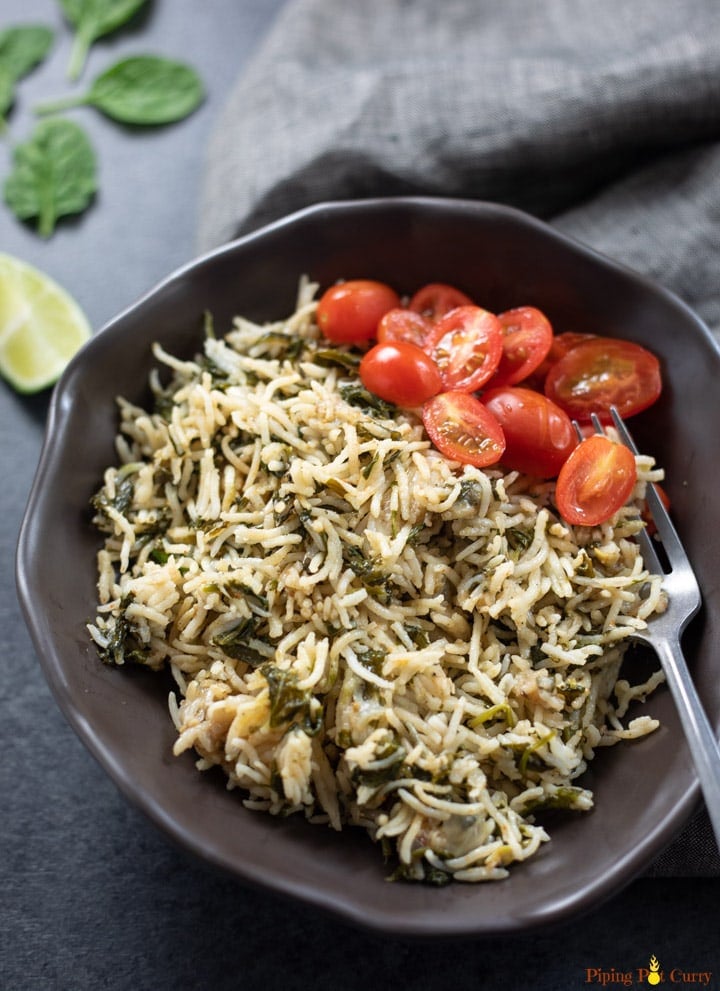 Spinach rice made with spinach, basmati rice and simple ingredients like onion and garlic along with spices, this dish is a flavorful side to include in your dinner rotation.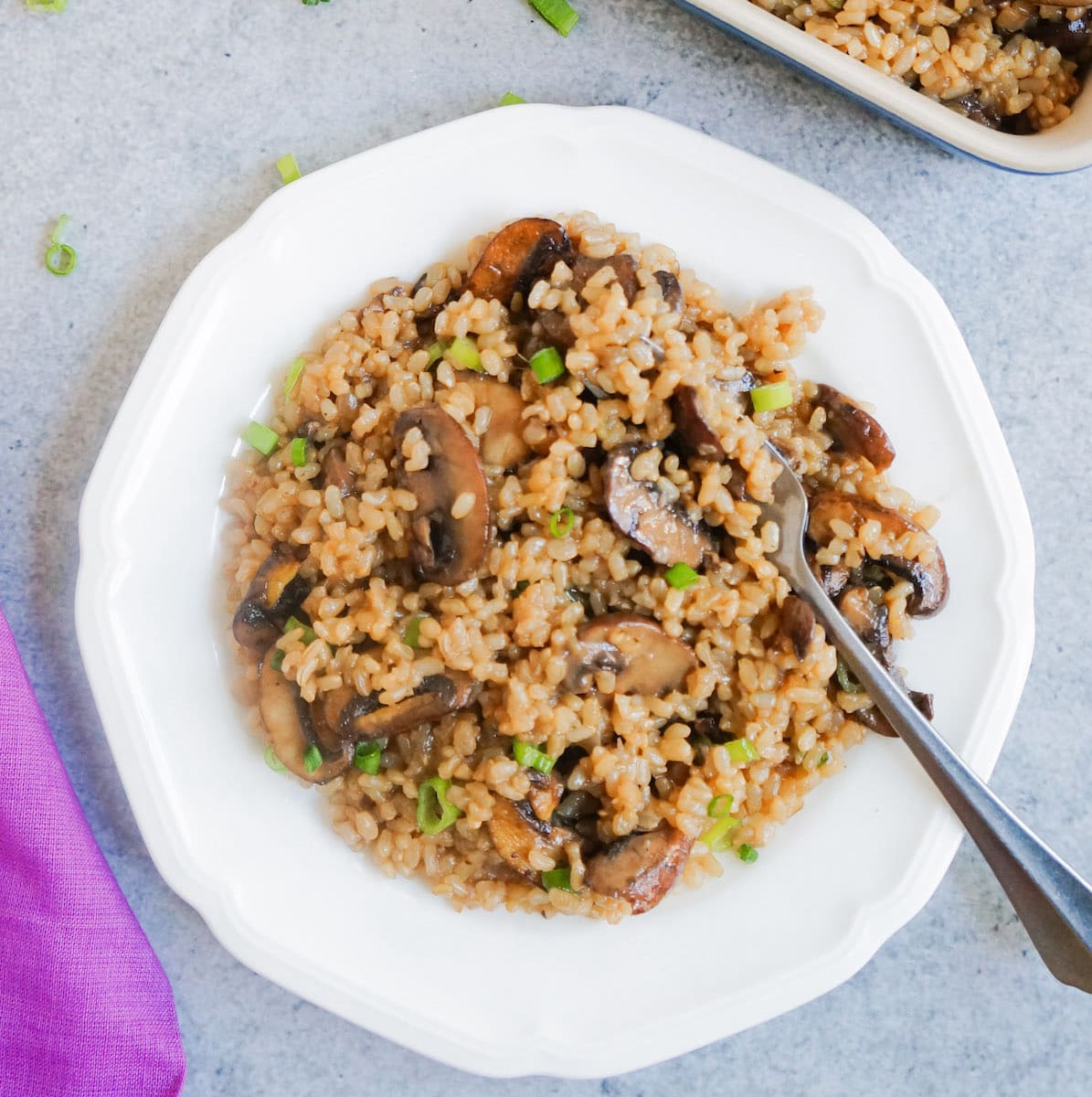 A healthy combination of brown rice and mushroom cooked into a delicious pilaf. This can be enjoyed as a side or main dish along with some raita!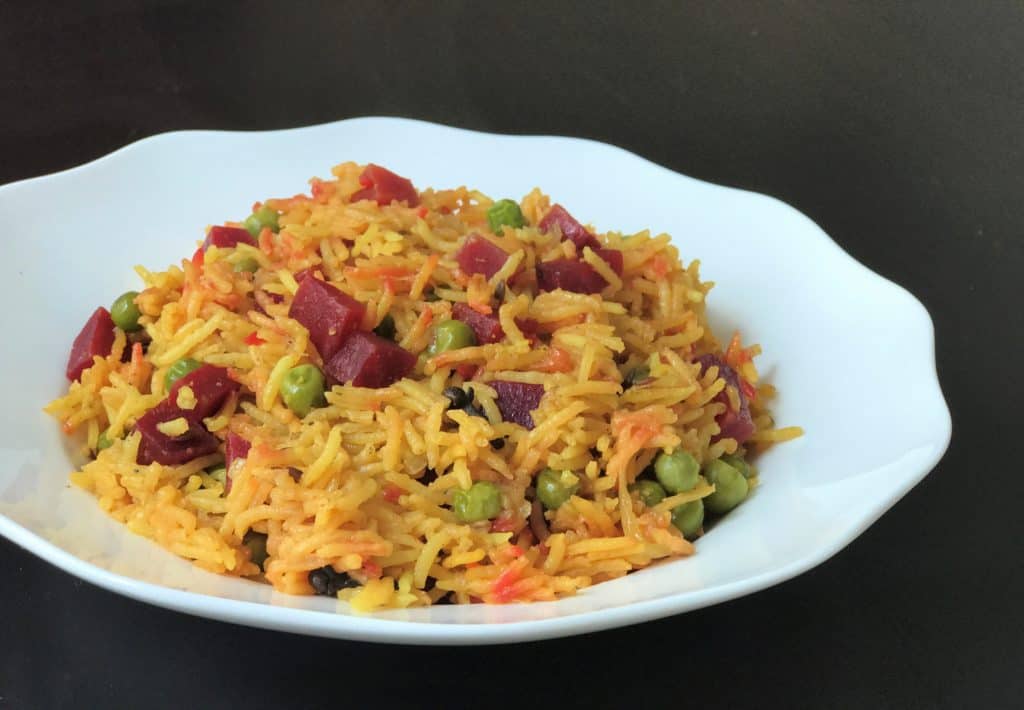 Beet Rice Pilaf is with beets, basmati rice, and aromatic spices. This is a brilliant and sneaky way to introduce beets to your meals.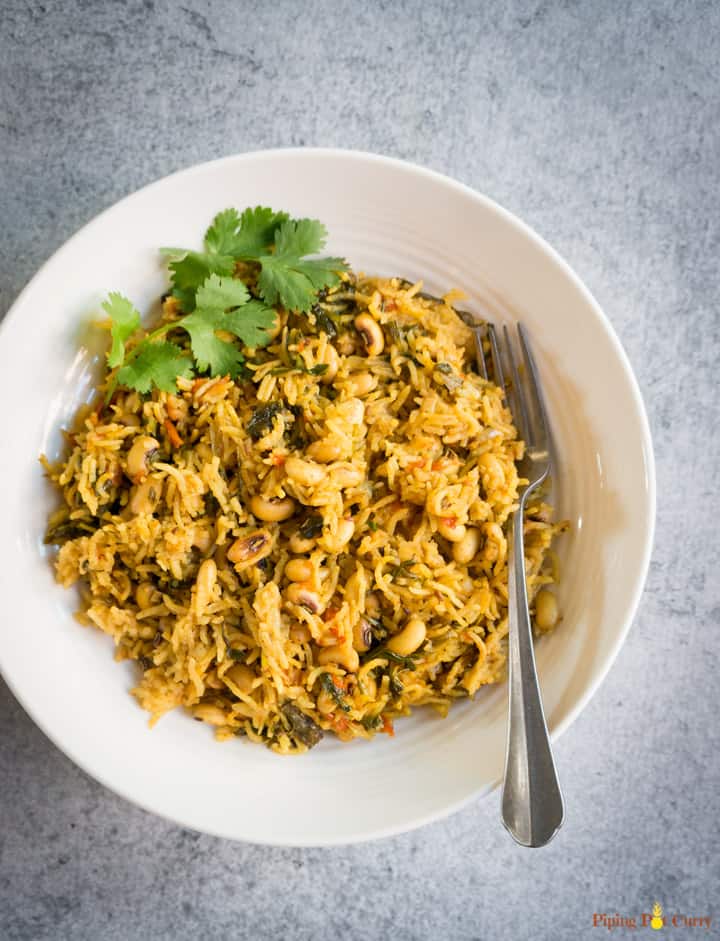 A bowl of nutritious rice pilaf that contains the goodness of both proteins and vegetables. They can be made in just 30 minutes in the instant pot.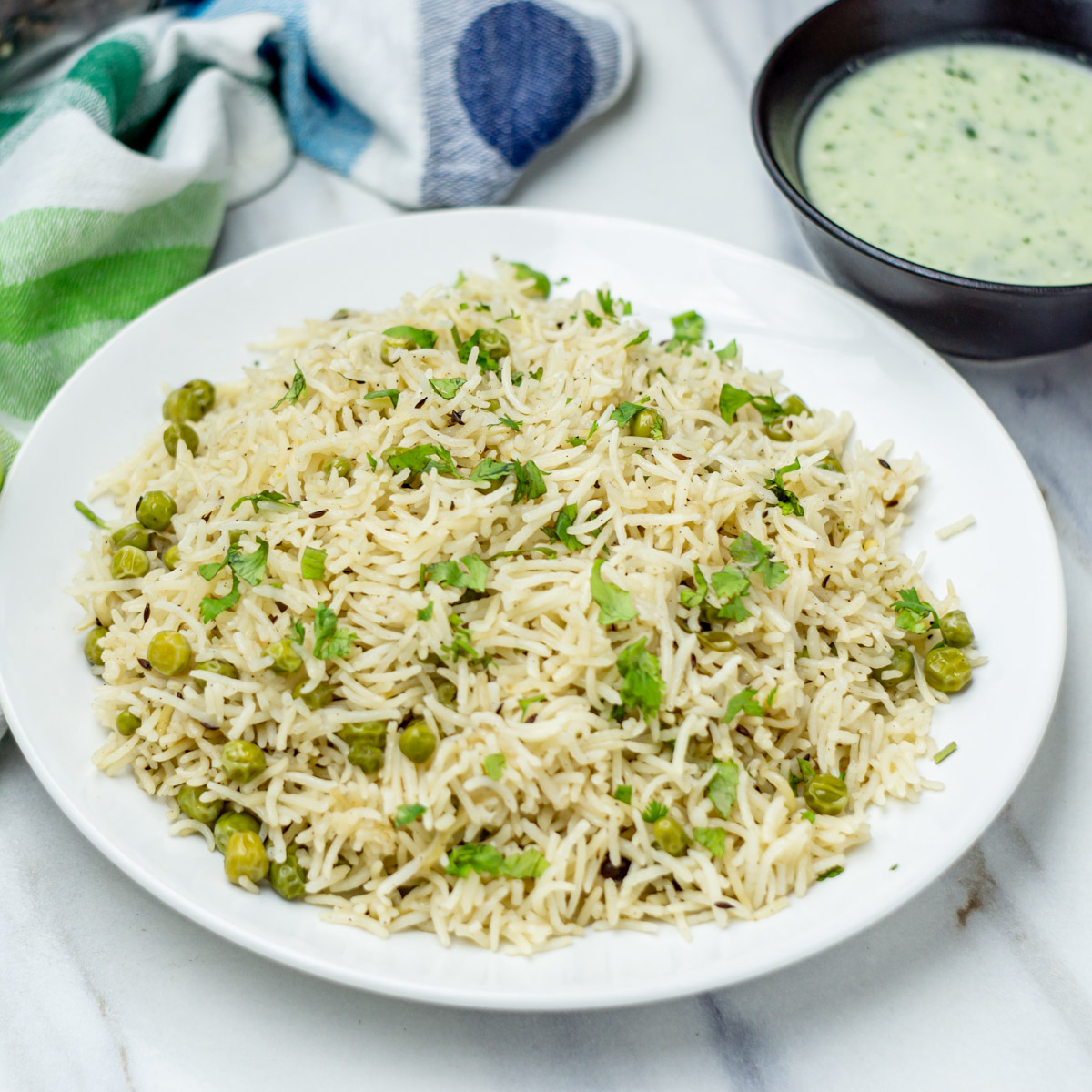 Fragrant and flavorful Peas Pulao (Matar Pulao) is made with basmati rice cooked with whole spices and green peas. It is delicious and effortless to make in the instant pot. Pair this peas pulao as a side dish with any curry or dal for a delicious meal!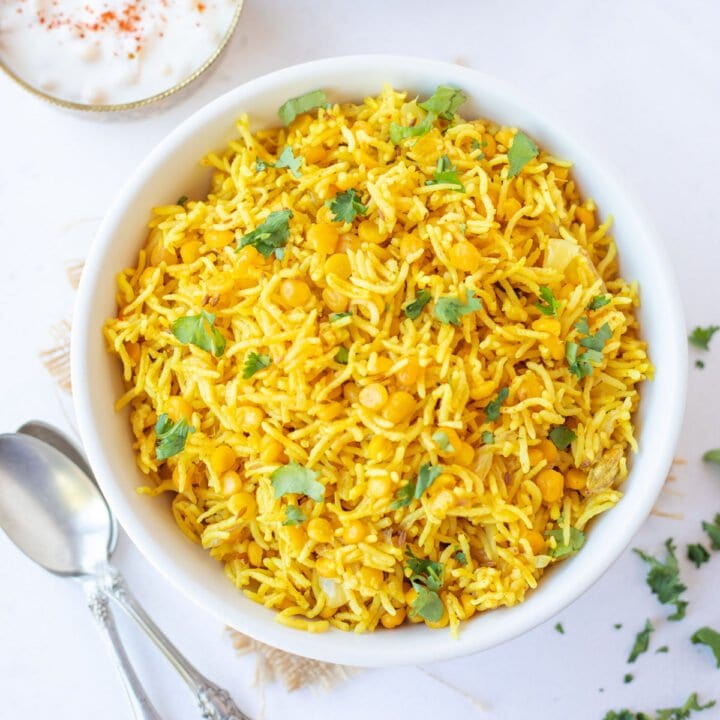 A delicious protein-rich rice dish made with chana dal (split yellow chickpeas) and basmati rice cooked along with the aroma of whole spices.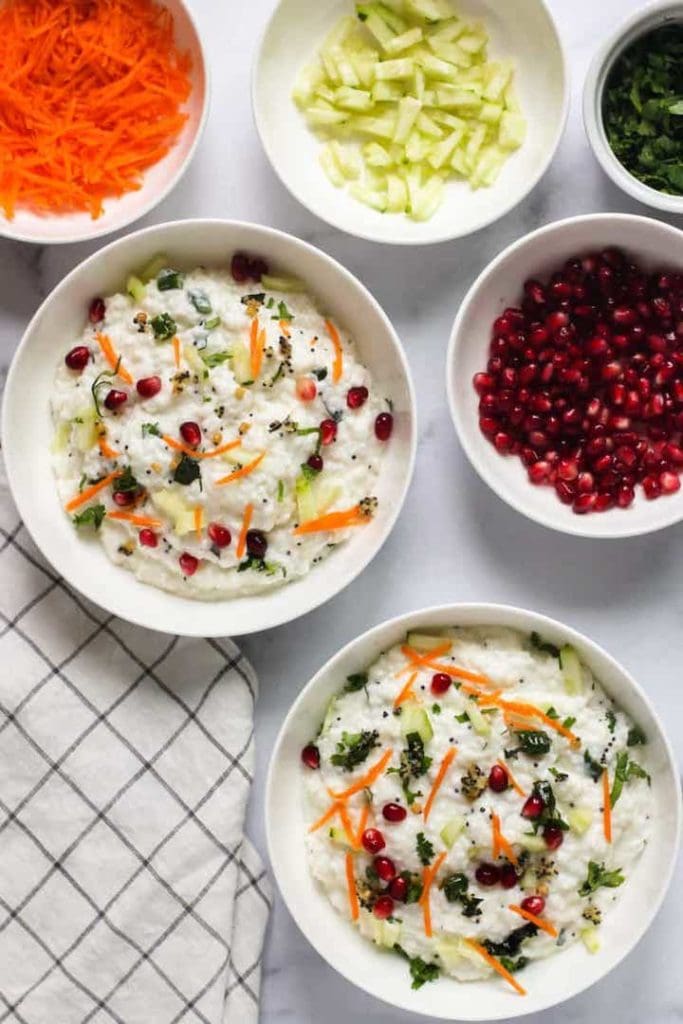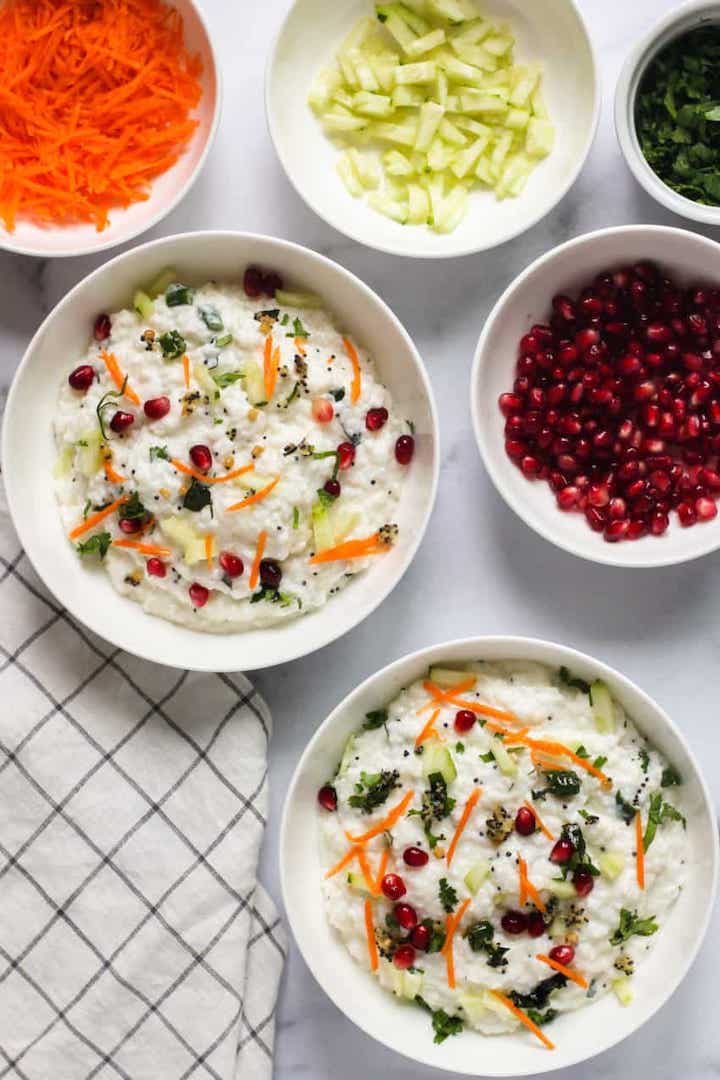 A popular South Indian comfort meal made with soft cooked rice, mixed yogurt, and tempered with spices.
Lentil/Bean & Rice Recipes
Lentils and rice is a popular comfort food in many parts of the world. Here are some recipes you will love!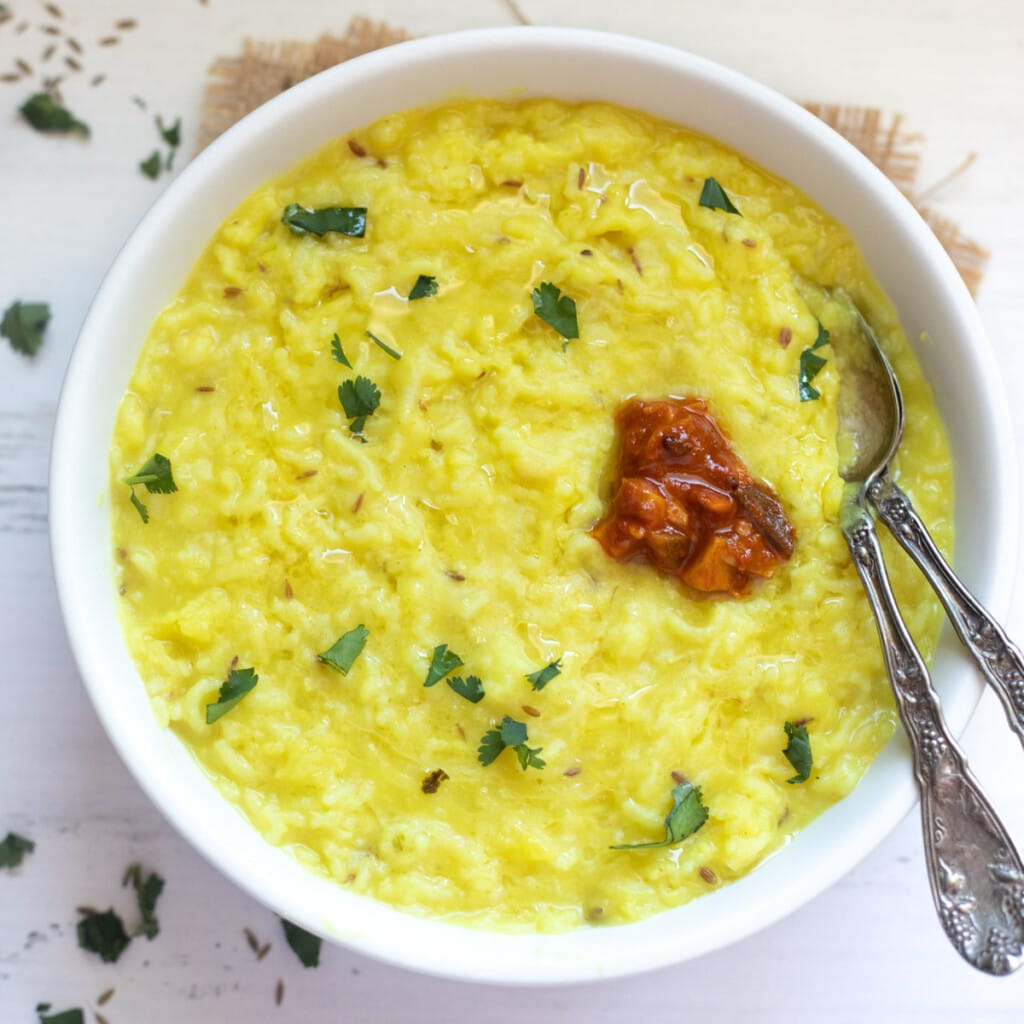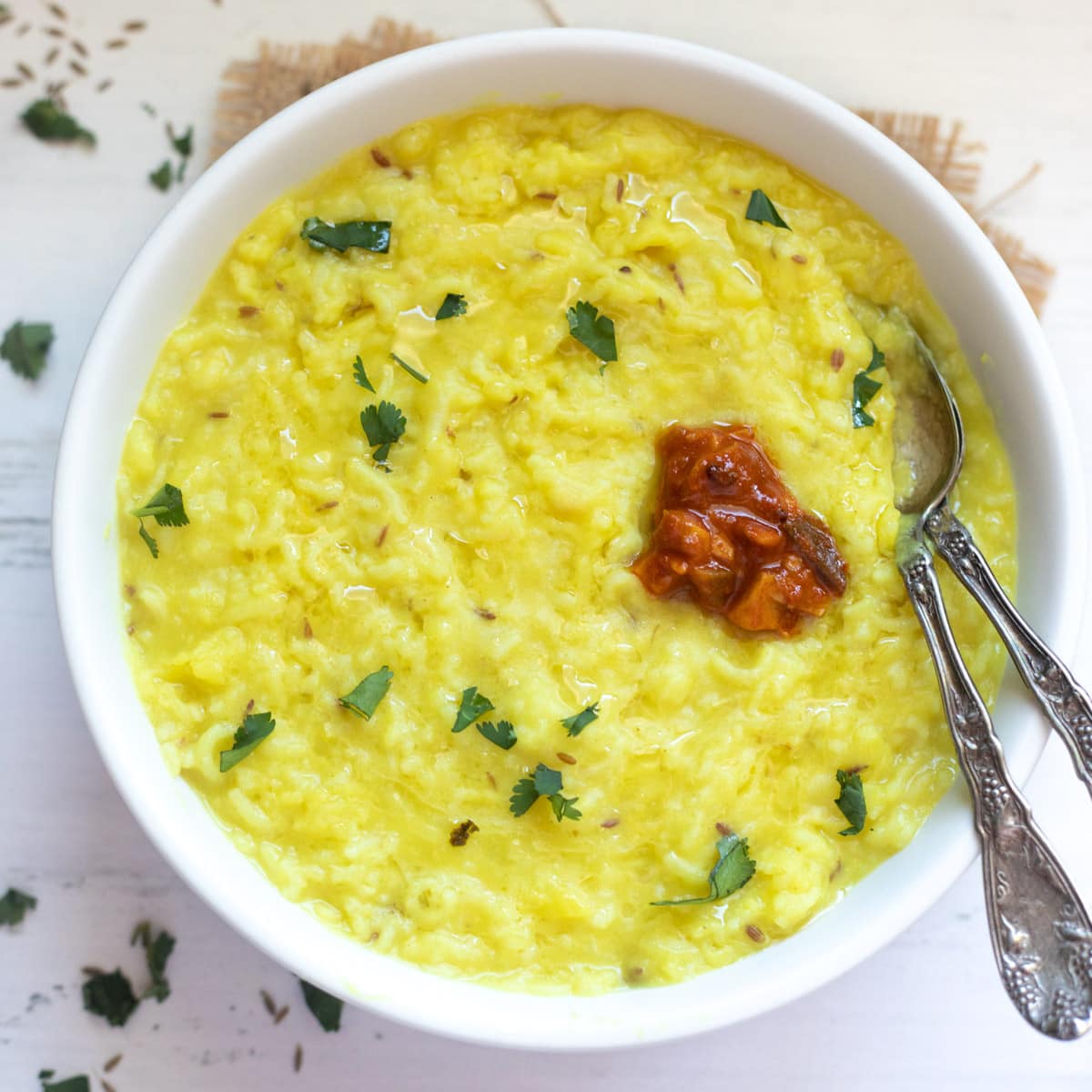 Lentil and rice khichdi is simple comfort food that requires minimal prep work. You can top it off with yogurt, pickle, or dal. Be sure to add a dollop of ghee to the khichdi to enjoy its real flavor.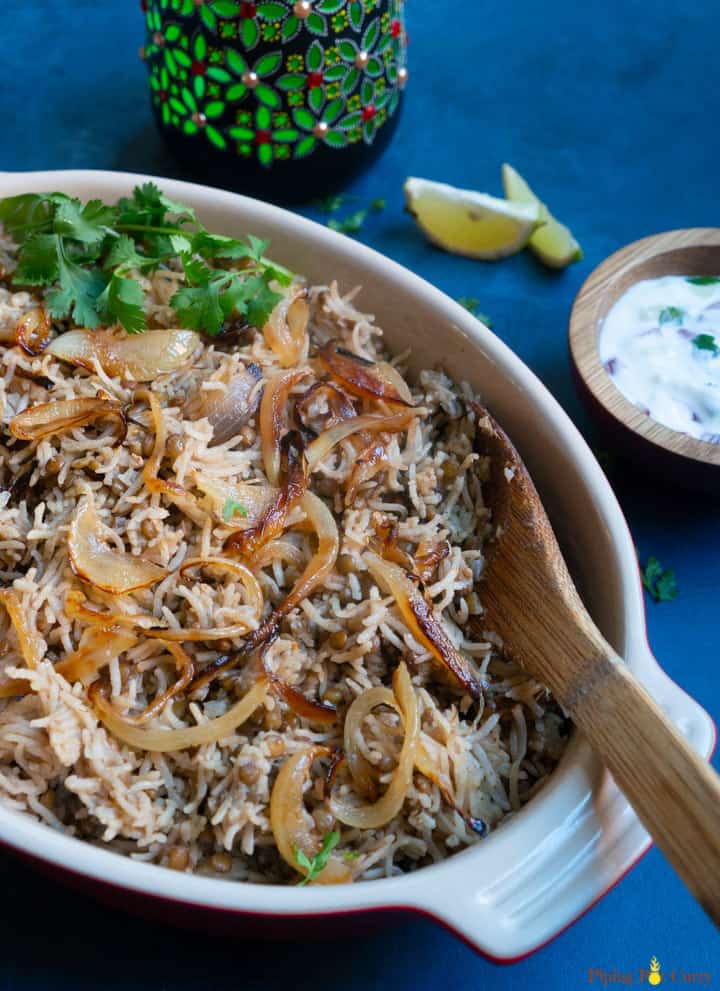 Lentils and rice cooked with fragrant spices and topped with caramelized onions. This vegan and gluten-free Instant pot Mujadara is also budget friendly and nutritious.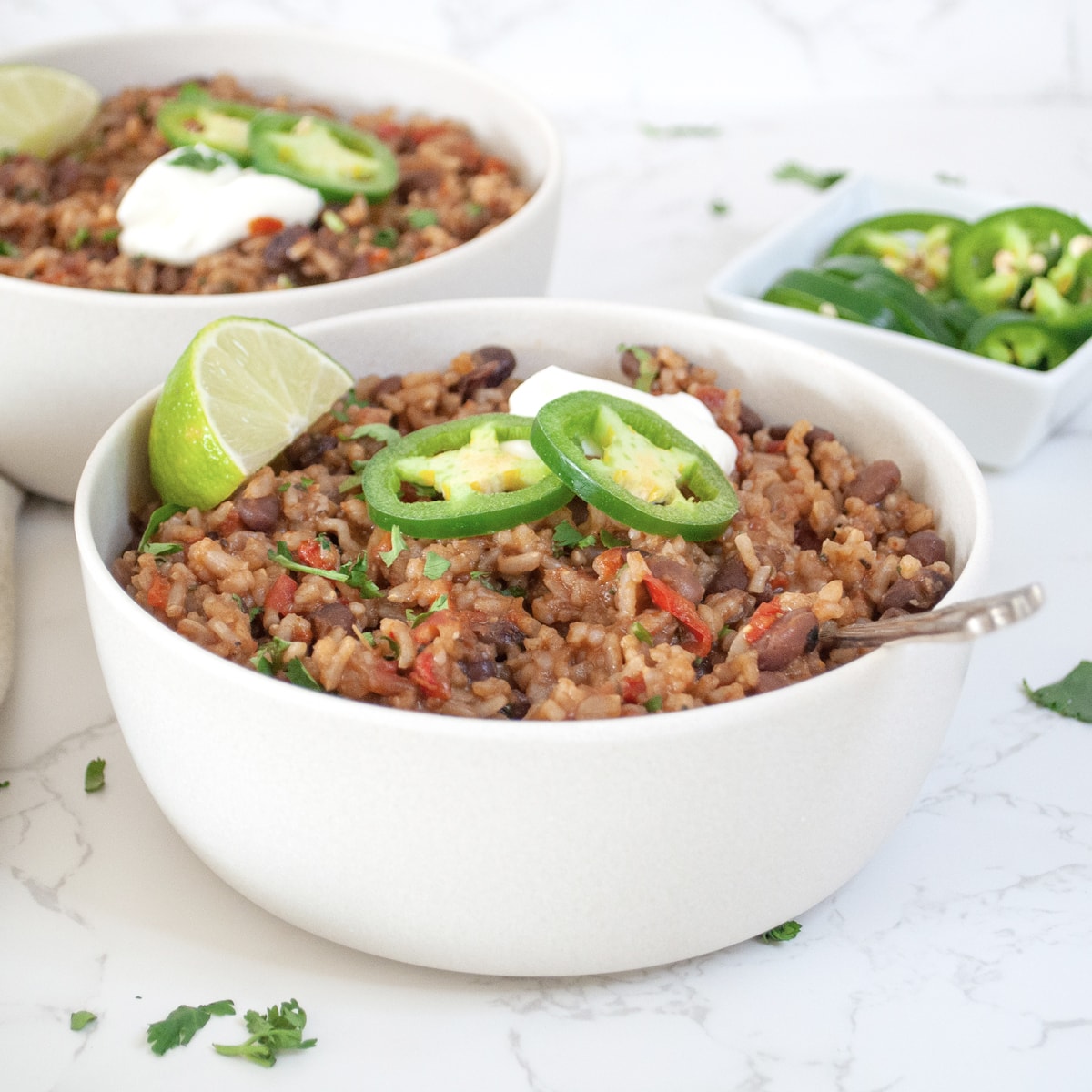 These Mexican Instant Pot Rice and Beans are flavorful, easy to make, and wonderfully delicious. This dump-and-go recipe has brown rice, beans, broth, fire-roasted tomatoes, and spices.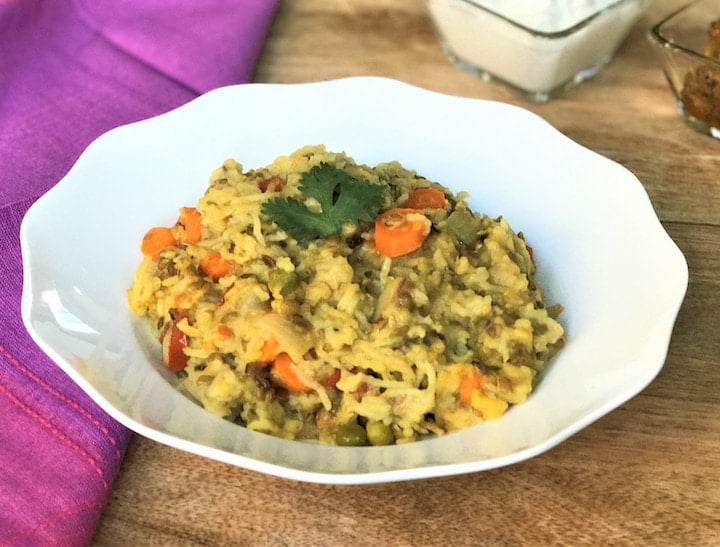 Made in an Instant Pot or a pressure cooker, this Khichdi has the ingredients of lentils, vegetables, and rice. It is a complete meal filled with carbs, protein, and a lots of nutrients.
Meat & Rice Recipes
I have compiled a list of irresistible one-pot meat and rice recipes you can make in your instant pot.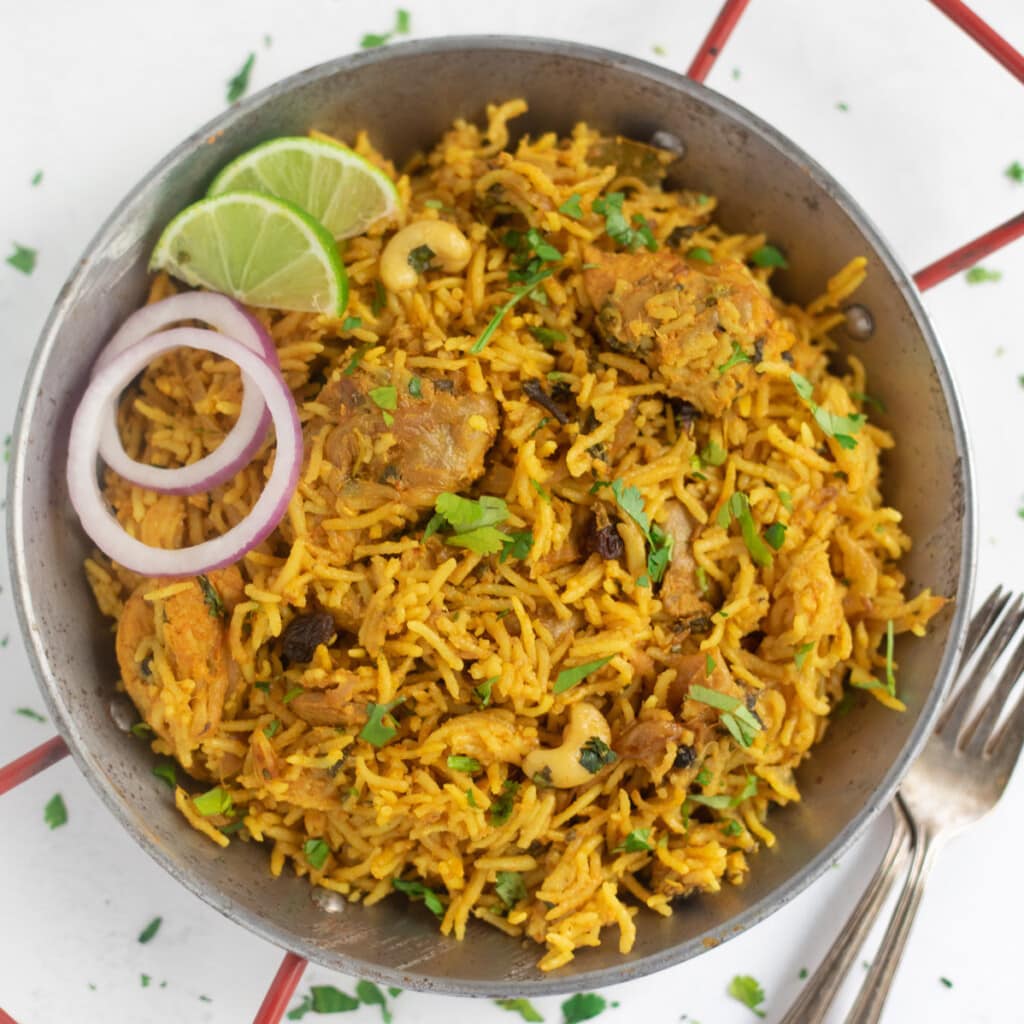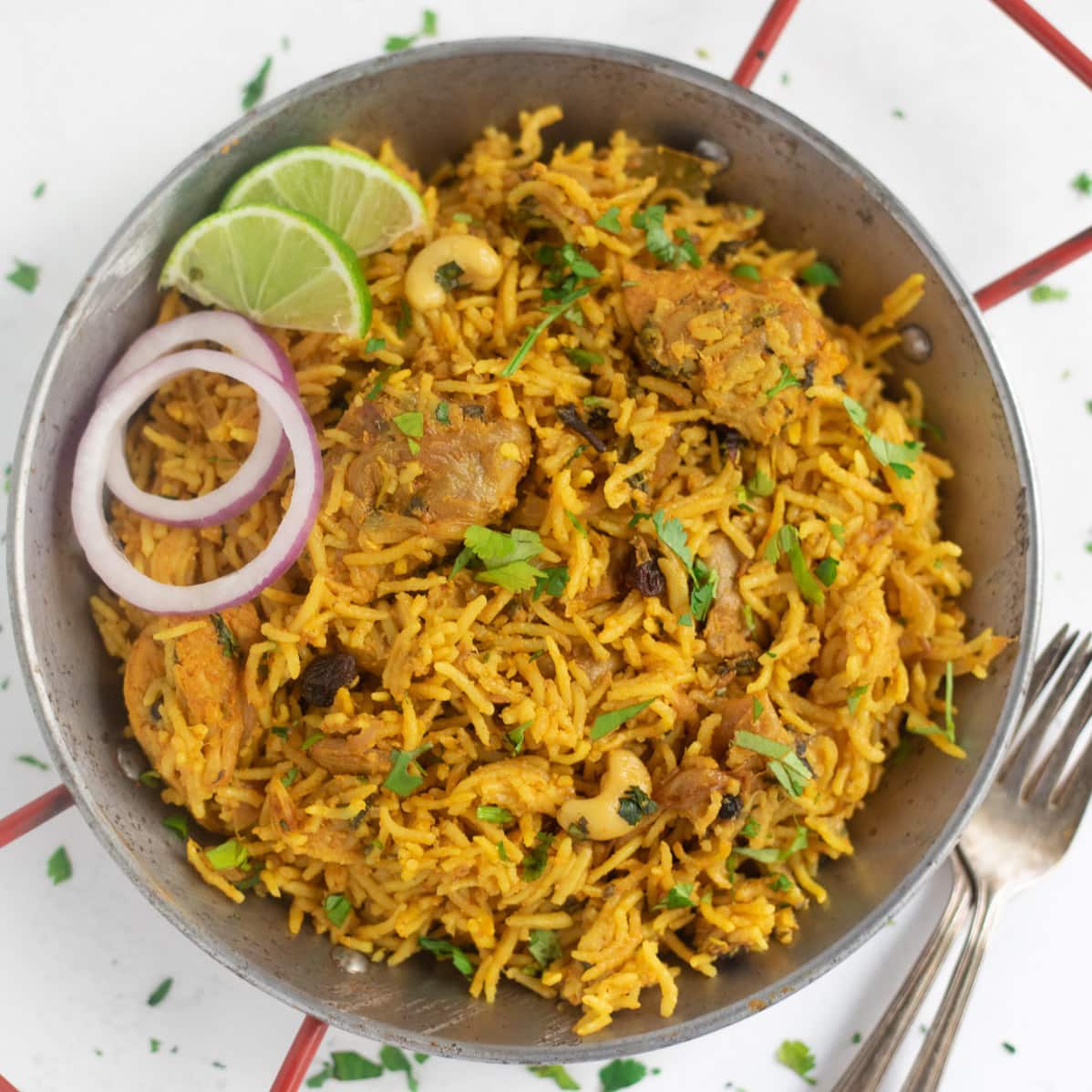 One-pot Chicken Biryani with fragrant rice and tender chicken pieces cooked in spices and caramelized onions in less than 30 minutes!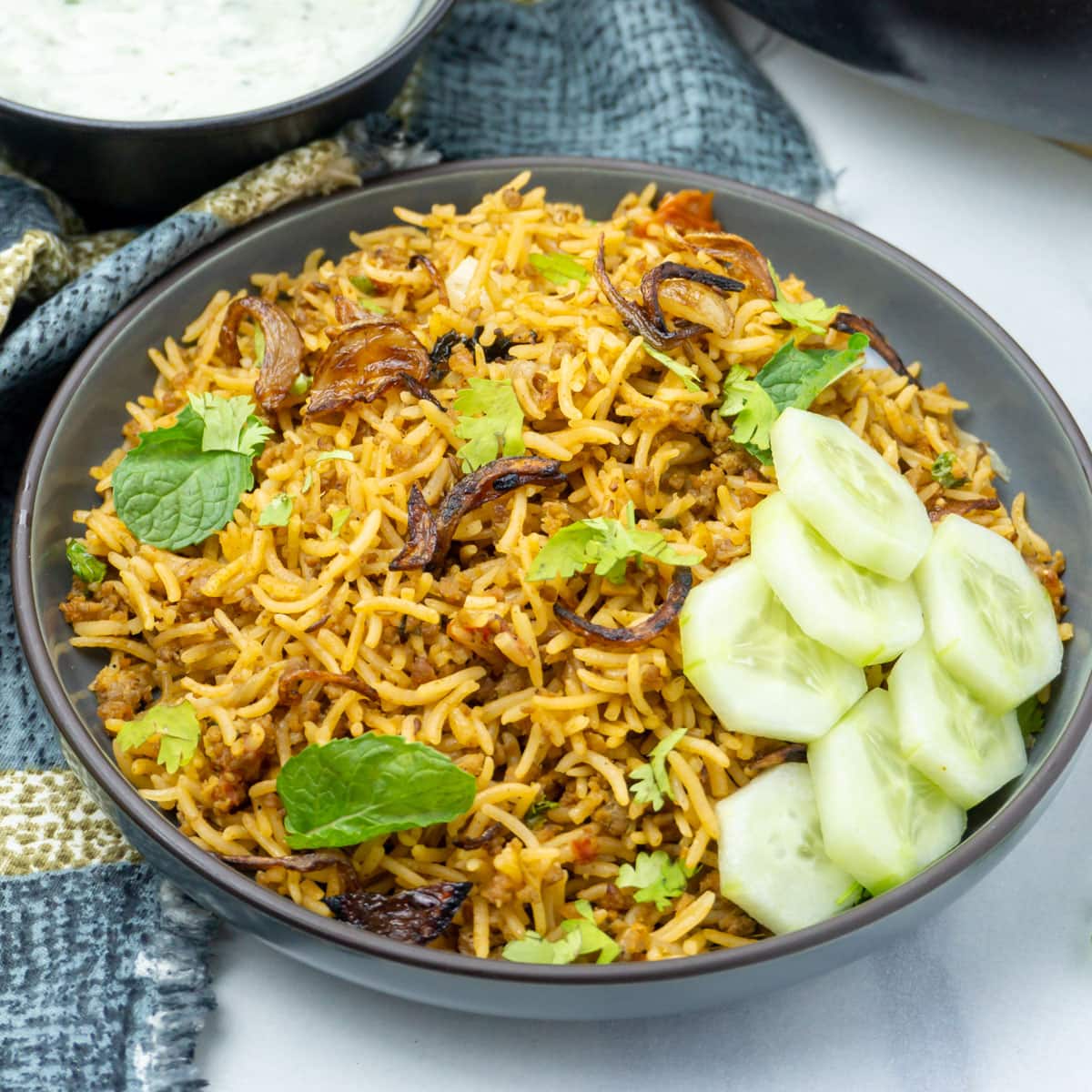 Keema pulao is an aromatic one-pot meal that combines succulent ground meat with fragrant basmati rice. This flavorful gluten-free rice dish is perfect for a weeknight dinner with cooling raita and salad.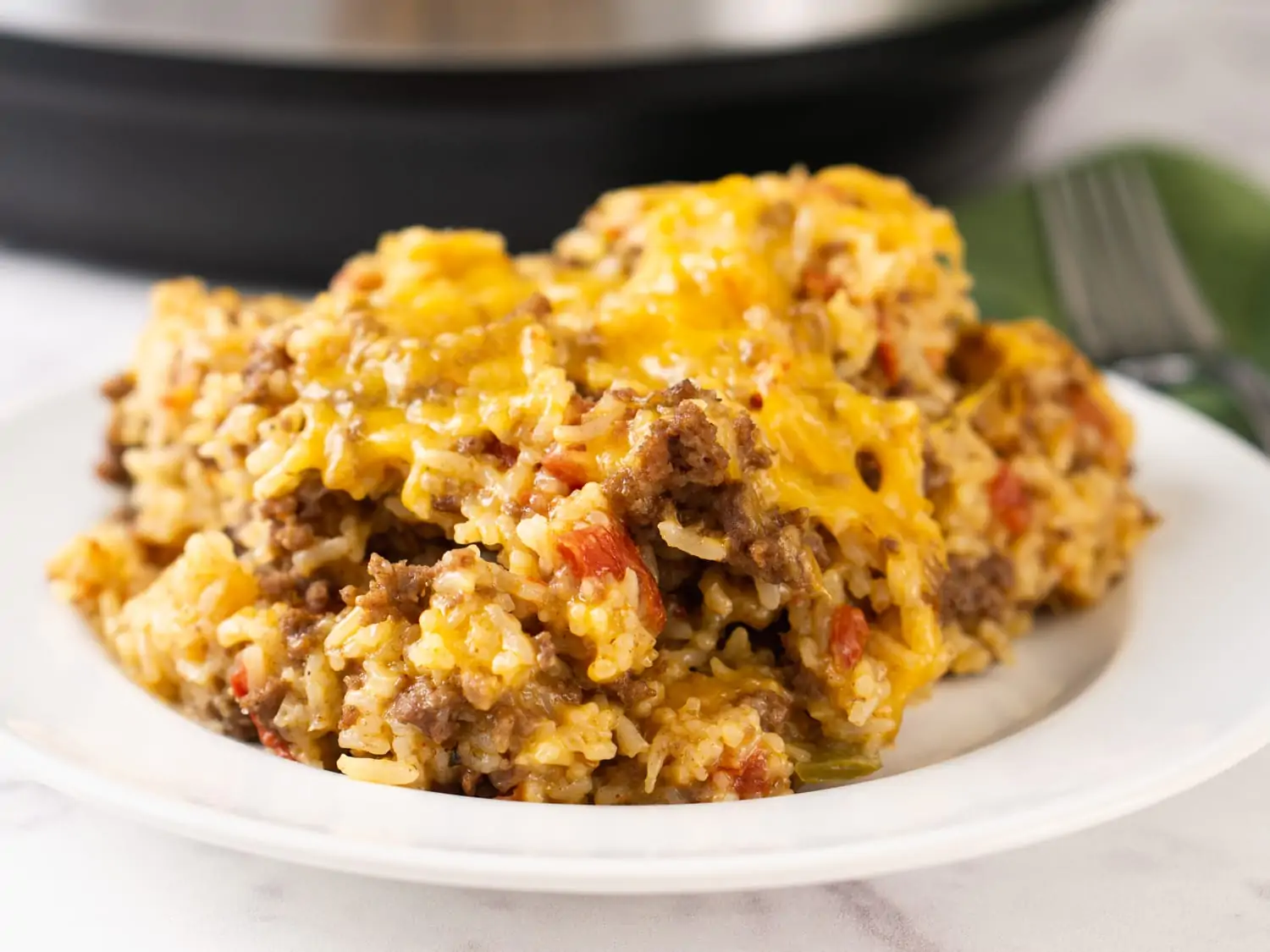 This Instant Pot Cheesy Ground Beef and Rice is incredibly easy to make and requires only basic ingredients you probably already have. It's a family-friendly meal that's ready in no time.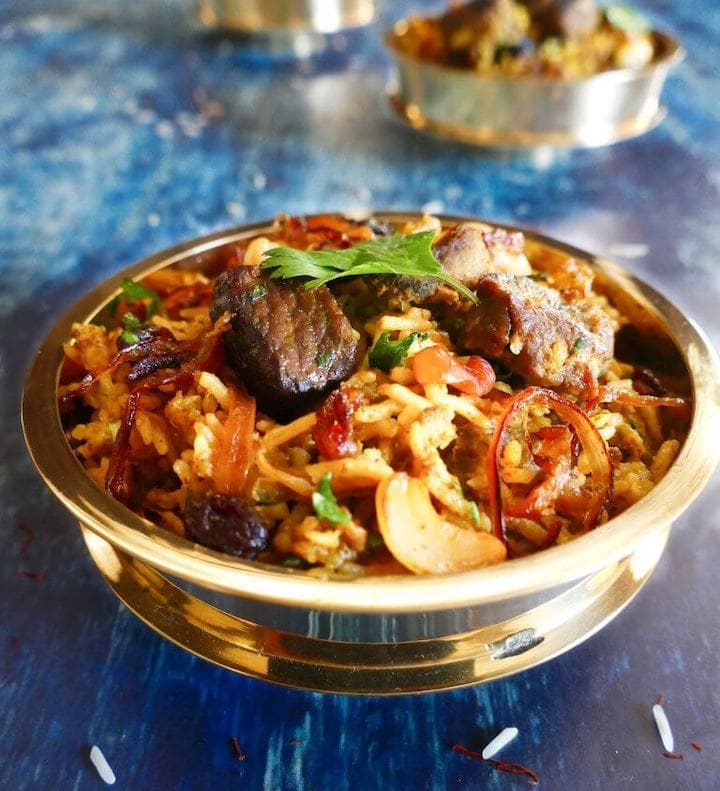 A mouthwatering Lamb Biryani is made with basmati rice and lamb combined with caramelized onions, raisins, nuts, and aromatic spices.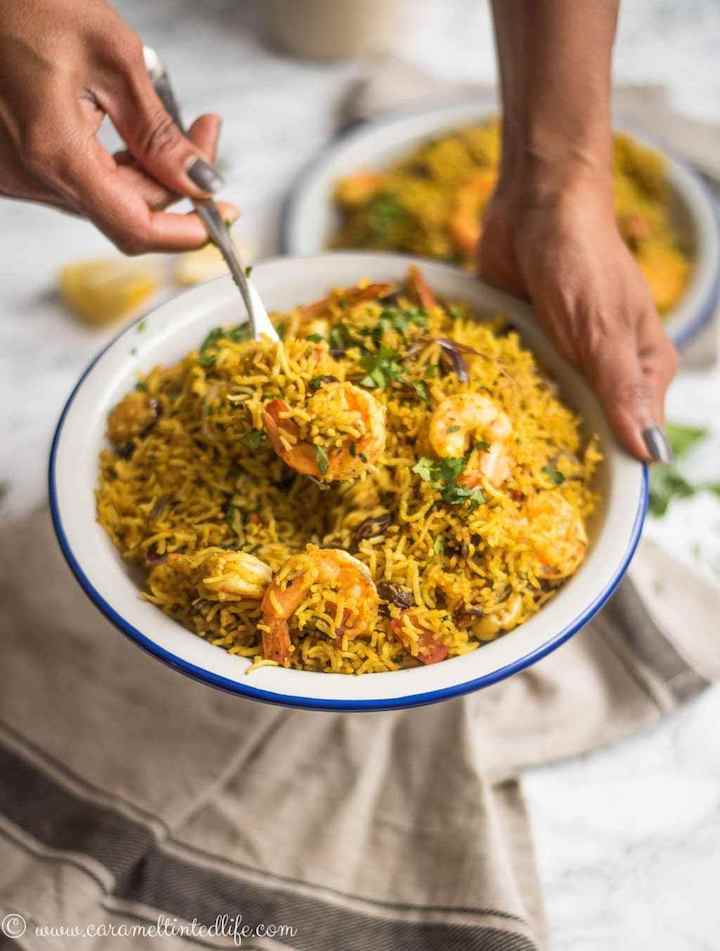 Packed with flavor with fresh herbs and spices, this delicious Instant Pot Shrimp biryani is perfect for seafood lovers.
Sweet/Dessert Rice
Rice is a versatile grain that is great in both sweet and savory recipes. Here you will find my recipes for desserts made with rice. These desserts are so much easier with the instant pot, with the same authentic taste.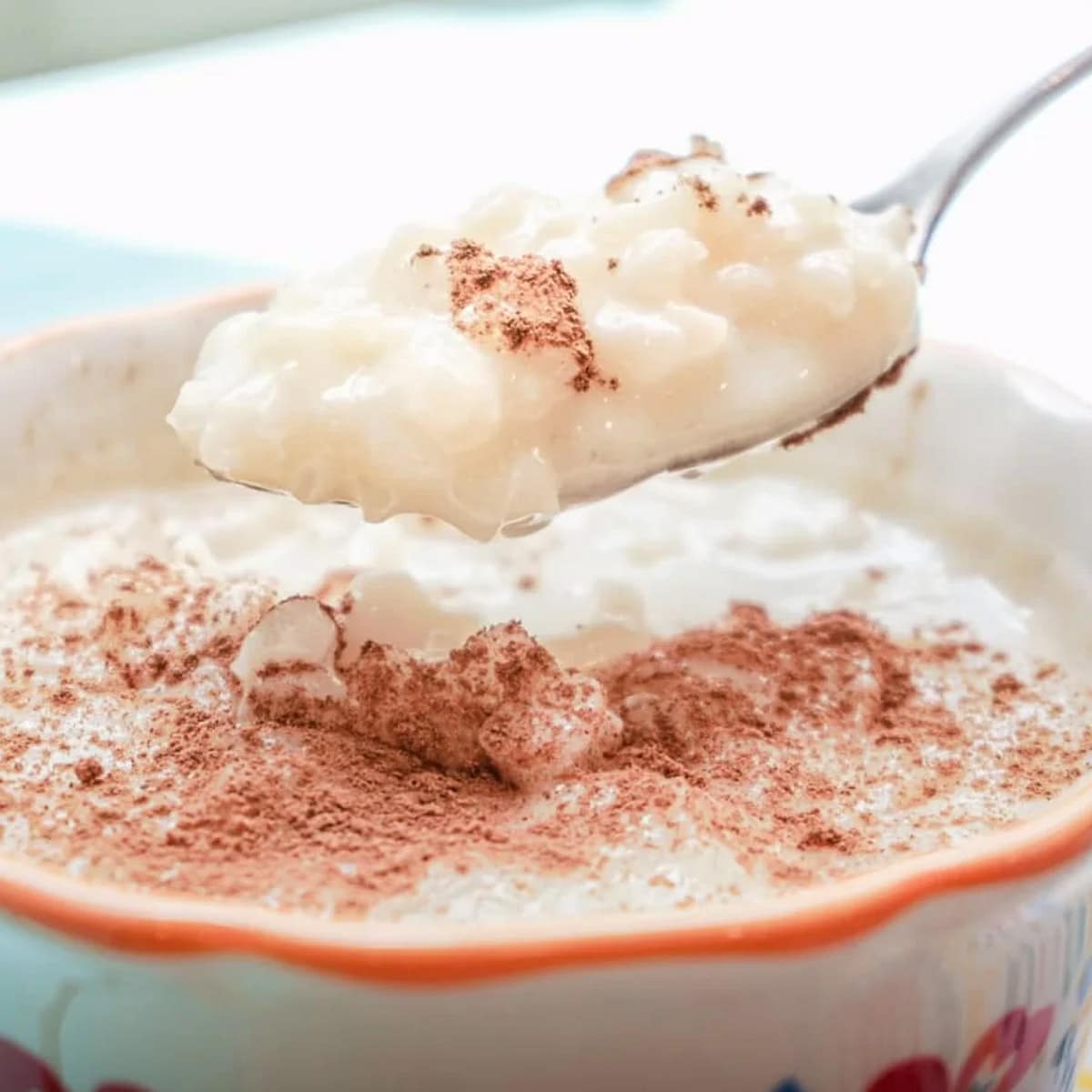 Arroz con Leche is a traditional rice pudding that's sweet, rich, creamy, and served with a dash of cinnamon. A warm bowl of this dessert is guaranteed to comfort your soul and satisfy your sweet tooth.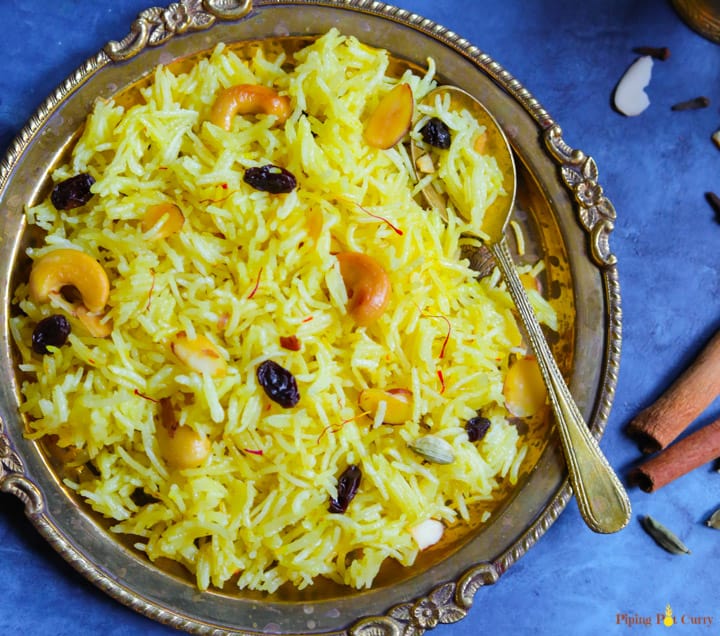 A royal dessert that is prevalent in Northern parts of India, this recipe comes loaded with cashews, almonds, raisins, and saffron. Milk, ghee, and long-grain basmati rice are used along with the nuts to prepare this delicious Zarda Rice.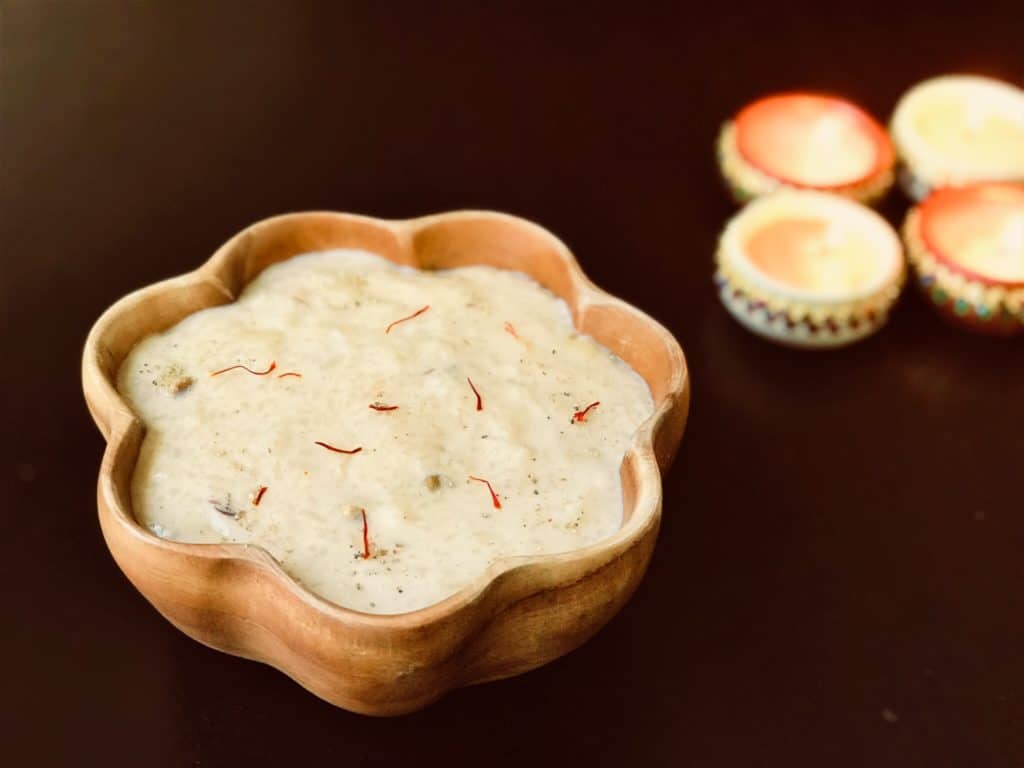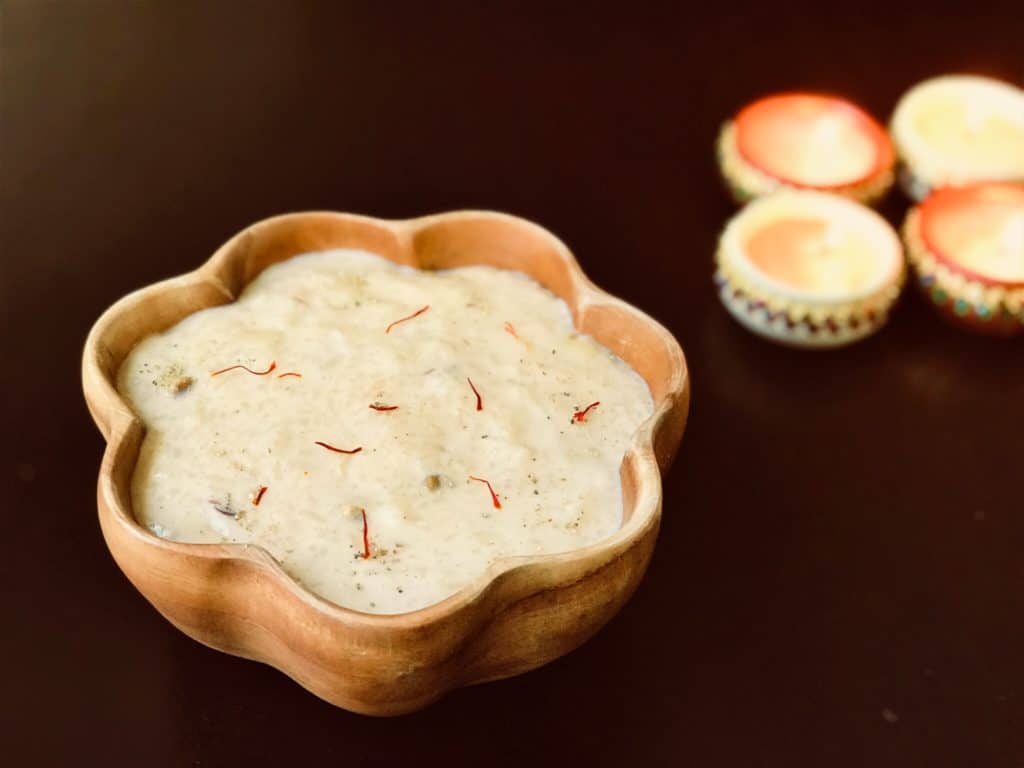 A favorite Indian dessert/pudding made with rice and milk. This dessert is infused with saffron and cardamom and topped with dried fruits. This dump-and-go recipe is everyone's favorite and has rave reviews!
We hope you have found one or more rice recipes to make in the Instant Pot. Let us know which one you're most excited to make, and share this roundup with your friends!
You might enjoy the below recipe collections: