An interesting mixture of sweet, tangy and spicy flavors – MANGO DAL in the instant pot. Toor dal (Split Pigeon Pea) cooked with raw mango and tempered with red chillies, curry leaves, mustard seeds and spices.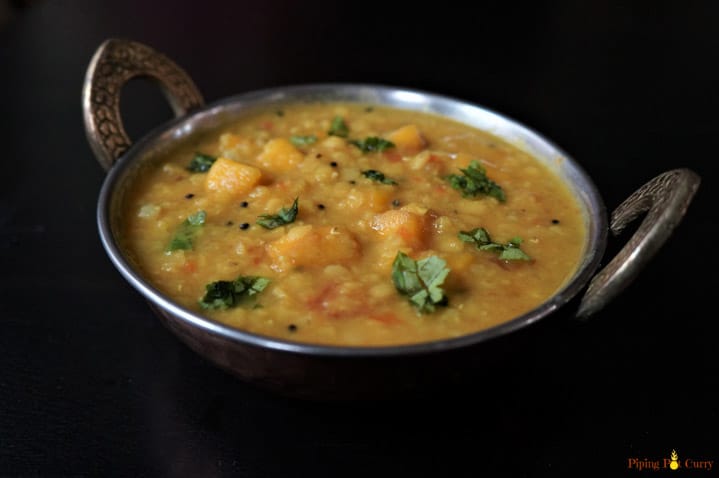 This dal is also called Mango Pappu or Mamidikaya Pappu in South India, where pappu means lentils.
Being a North Indian, I had never had a fruit in my lentils. I was not sure I would like the sweet or tangy fruit flavor in my savory spicy lentils.
However, many people were posting recipes for mango dal in the Instant pot for Indian Cooking Facebook group. Hence I decided to give it a try, as mango is a favorite in our home. See mango shrikhand, mango lassi, and aam panna recipes.
It was really tasty, with an interesting flavor of mangoes along with lentils. In a single spoon, you can taste the lentils and the tangy sweet mangoes. I found this to be a great variation of the everyday lentils.
Mango dal goes well with basmati white rice or brown rice. You could also have it as a soup. You might also like other lentil recipes made in the pressure cooker – Spinach Dal, Dal Makhani, Vegetable Sambar, or Dal Tadka.
Preparing Mango Dal in Instant Pot
In many recipes, you will find that lentils or beans are pressure cooked; tempering is prepared separately and then mixed with the lentils. I usually prefer to do the tempering and cook the dal along with the tempering. This is more convenient to me, with hardly any change in taste, and also makes the dish one-pot 🙂
Start with heating oil or ghee in the instant pot insert on sauté mode. Then add mustard seeds, red whole chilies, and curry leaves. Let the mustard seeds pop, as that helps to bring out the flavor and aroma.
Then, saute the onions, tomatoes, and spices. Now add the washed lentils and pressure cook for 3 minutes. The reason we are cooking for less time is that we are going to give this another boil after adding the mangoes.
Do a quick release and add in the cut mango pieces. Simmer for 2 minutes until the dal comes to a boil.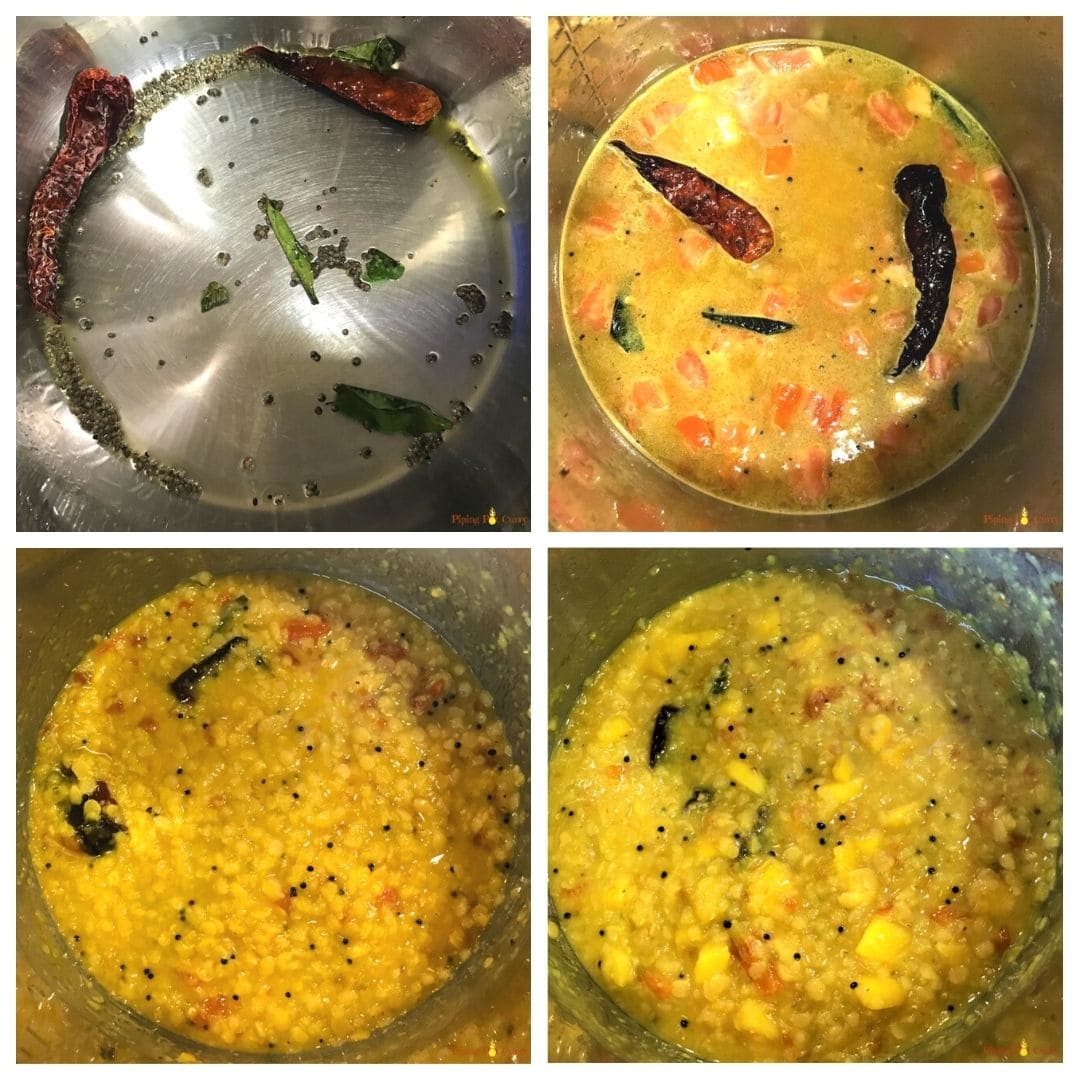 You can make Mango Dal with ripe or unripe mangoes. I used ripe mangoes, which were more sweet than tangy. If you are using unripe mangoes, add before pressure cooking the dal and pressure cook for 5 minutes, as they take longer to get soft. The taste would also be more tangy with unripe mangoes.
Garnish with cilantro, and Mango Dal is ready to be served with basmati rice.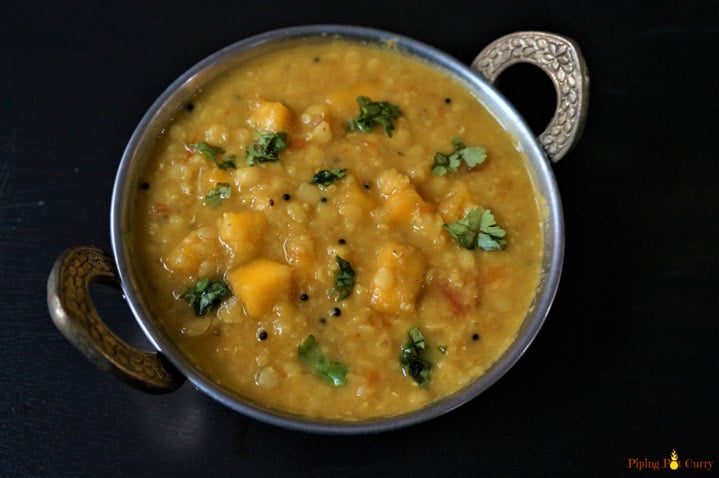 One variation for this dal is to add chopped spinach when you add the mangoes, which makes it more nutritious. Another variation is to add other fruits, such as apples or squash.
Try this Mango Dal and let me know how it turned out. Leave a comment below.
Check out more lentil recipes: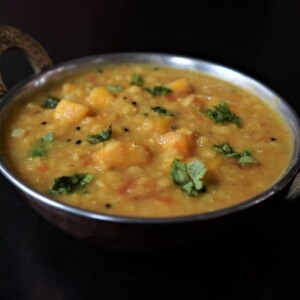 Mango Dal / Mango Lentils- Instant Pot Pressure Cooker
Toor dal (Split Pigeon Pea) cooked with raw mango and tempered with red chilies, curry leaves, mustard seeds and spices.
Instructions
Start the instant pot in saute mode and heat oil in it. Add mustard seeds, red chili whole and curry leaves.

When the mustard seeds start to splutter, add chopped onion and saute for 2 minutes.

Add tomatoes, salt, turmeric powder and cayenne.

Add the lentils and water. Stir well. Press Cancel and close the instant pot lid with vent in sealing position.


Press Manual or Pressure Cook mode for 3 minutes. When the instant pot beeps, do a quick pressure release.

Open the lid and add mango pieces. Simmer for 2 minutes until the dal starts boiling.

Garnish with cilantro and Mango Dal is ready to be served.
Notes
You can use only toor dal or only masoor or equal quantities of both. If using another dal, the cooking time may vary.
I suggest to add mango to the lentils you will use up within the day. Storing lentils with mango added will change the flavor. It is okay to cook the lentils to refrigerate, and add mango when you are ready to consume it.
If using unripe mango, then add it along with the lentils when pressure cooking. Increase the pressure cook time to 5 mins and no simmering required later.
Nutrition
Calories:
179
kcal
Carbohydrates:
30.5
g
Protein:
6.9
g
Fat:
4.4
g
Saturated Fat:
3.2
g
Sodium:
592
mg
Potassium:
211
mg
Fiber:
3.1
g
Sugar:
13.6
g
Vitamin A:
1000
IU
Vitamin C:
23.9
mg
Calcium:
20
mg
Iron:
1.3
mg