Wholesome Green Moong Dal is a delicious creamy lentil soup, that is so easy and quick to make in a pressure cooker. Made with mung beans, onions, tomatoes and aromatic spices, this mung bean curry is protein-packed comforting meal with rice. Vegan & Gluten-free.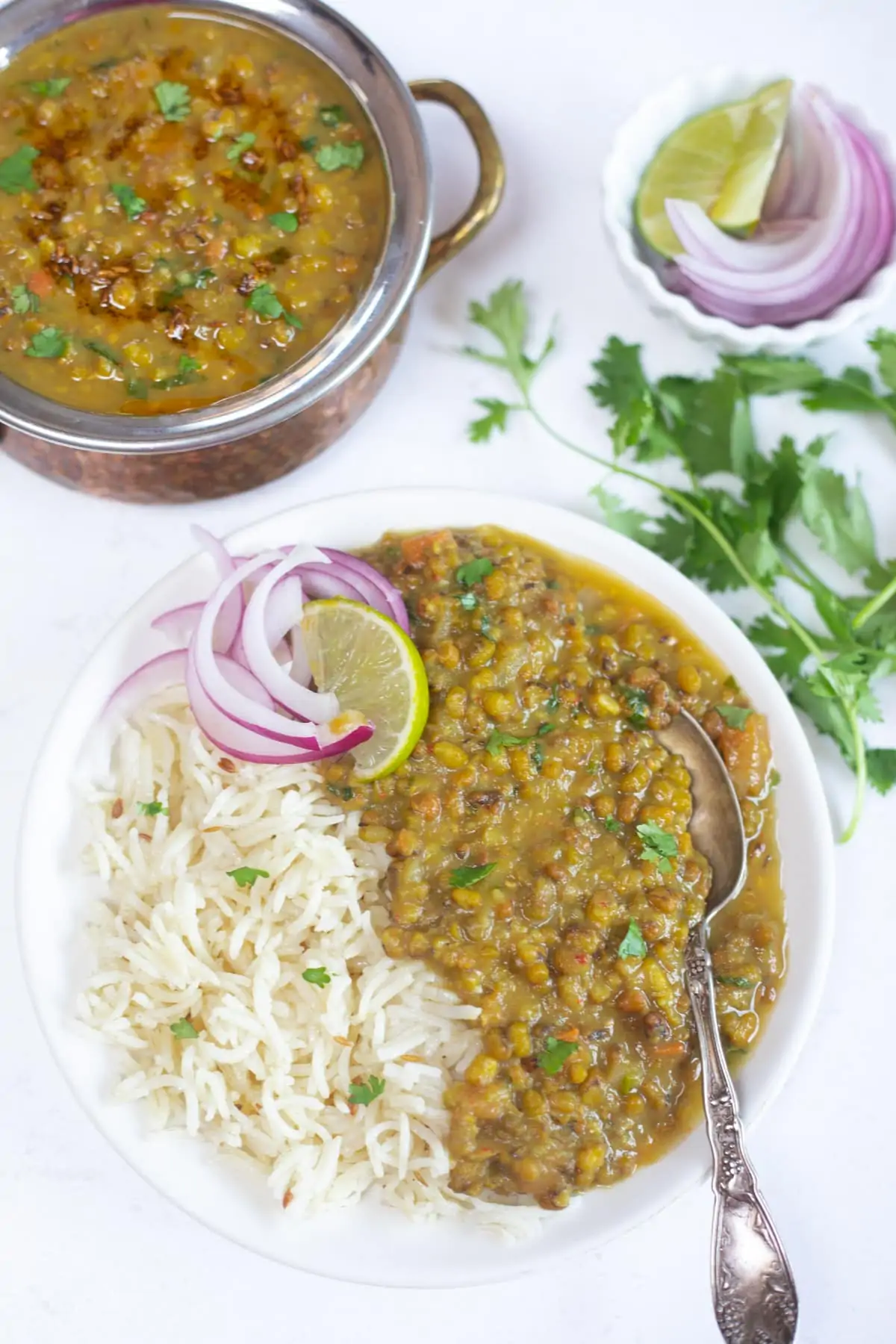 This is a North Indian style recipe for green moong dal. This dal is also known as sabut moong dal (sabot means whole) or chilka moong dal (chilka means with skin) or green gram dal or mung beans.
Growing up this dal used to be made almost every week for dinner. We always had a veggie curry and a lentil or legume, along with roti (Indian flatbread) for dinner. Some days we would have rice, but not every day. This is a very typical north indian dinner.
This dal is also popular in other parts of India. In Gujarat, it is called mag, in Tamil Nadu, it is called pachai payaru curry.
If you don't have green moong dal in your pantry, check out other popular North Indian lentil soups - Chana Dal, Moong Dal Fry, Moth Bean Curry.
Don't forget to check out my post for 29 Best Instant Pot Vegetarian Recipes.
Jump to:
Is Green Moong Dal healthy?
Green Moong Dal, also called Mung beans, are high in protein and fiber, making it easier to digest and keeping us full for longer. This is why this dal is considered to help with weight loss. Each cup serving of whole moong dal contains around 15g of fiber and 14g of protein.
They are also a good source of vitamins, minerals, potassium and magnesium. They are also high in antioxidants.
Whole Moong beans are a good source of folate, which makes them great to eat during pregnancy.
Moong beans are very versatile, and can be eaten as a soup, curry or salad. So do incorporate them in your diet.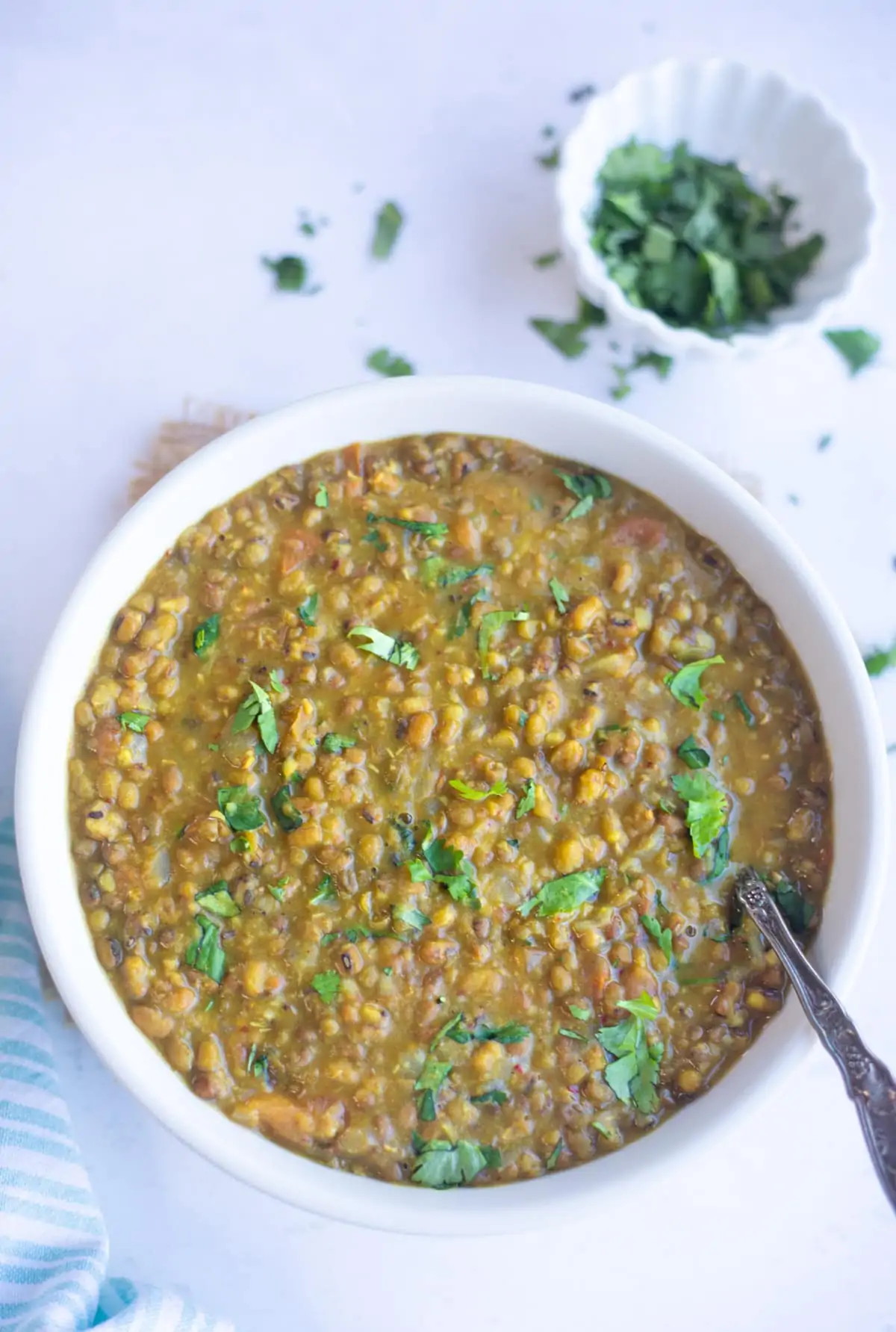 Curious about pulses used in Indian cooking? Check out my detailed guide about Indian Pulses.
Ingredients
The main ingredient for this curried mung beans recipe is dry green mung beans. These can be easily found at Indian grocery stories. In some regions, you can also find these at mainstream stores such as Whole Foods and Costco. And they are also easily available on Amazon to ship.
Other than the dal, we are mostly using pantry ingredients such as - onions, tomatoes, ginger, garlic and spices.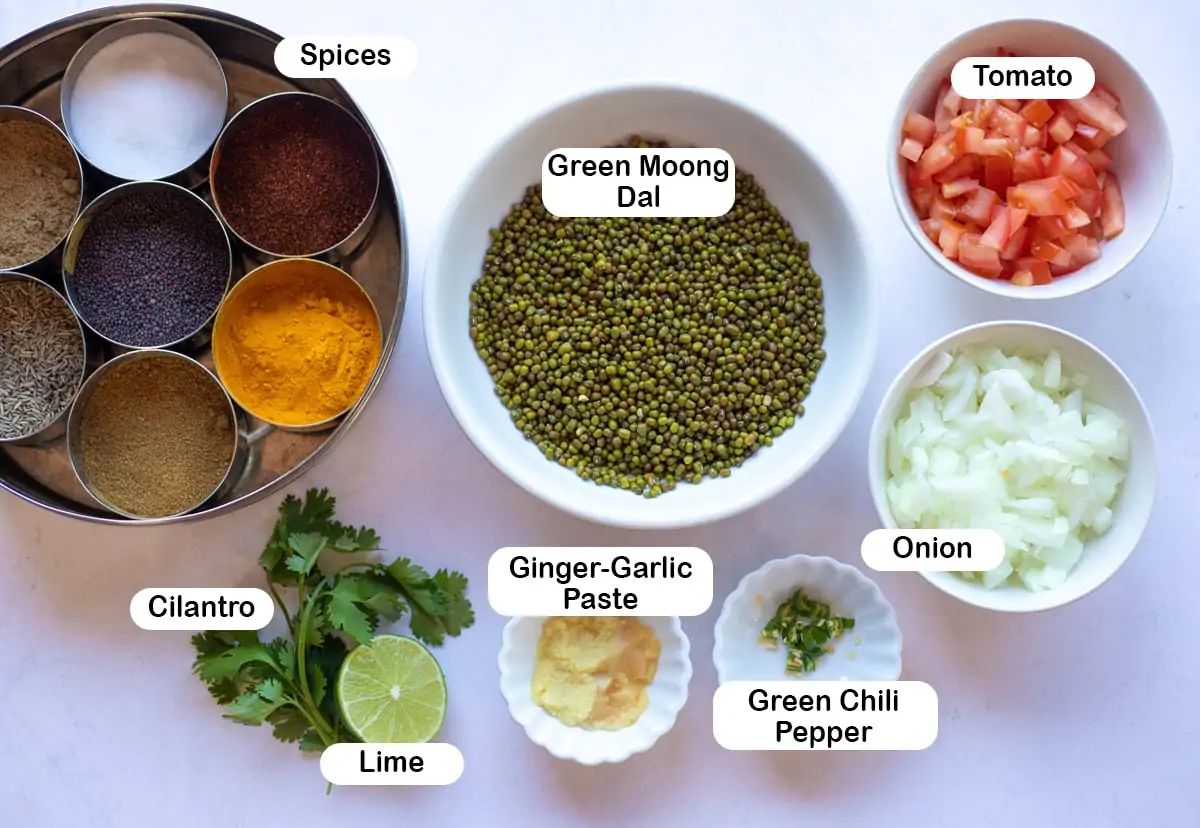 How to make Green Moong Lentils in Instant Pot?
I do not soak these lentils. You can if you have planned well, and reduce the cooking time to 10 minutes. I usually don't plan much for lentils, as I know that I can easily and quickly cook them in the pressure cooker.
Heat ghee (oil for vegan) in the instant pot in sauté mode and add the cumin seeds. Then add green chili, onions, ginger and garlic.
Saute for about 3 minutes until the onions soften. Then add the chopped tomato and spices.
Now add in the rinsed green moong dal and water.
Pressure cook for `15 minutes. Then let the pressure release naturally.
If you are in a hurry, it is okay to open the instant pot after 15 minutes of natural pressure release too.
Add the lime juice and mix the dal well.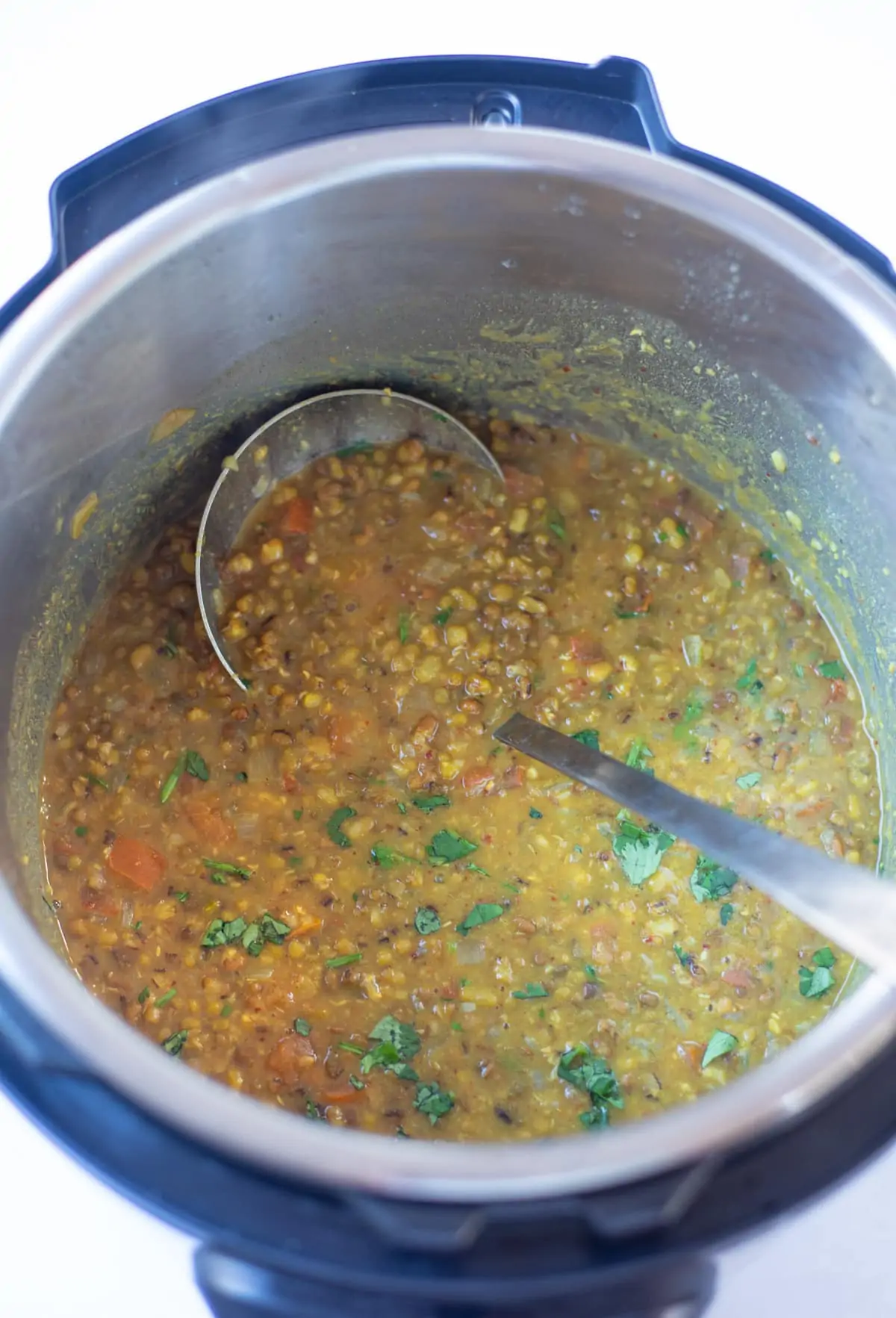 Garnish with cilantro and enjoy.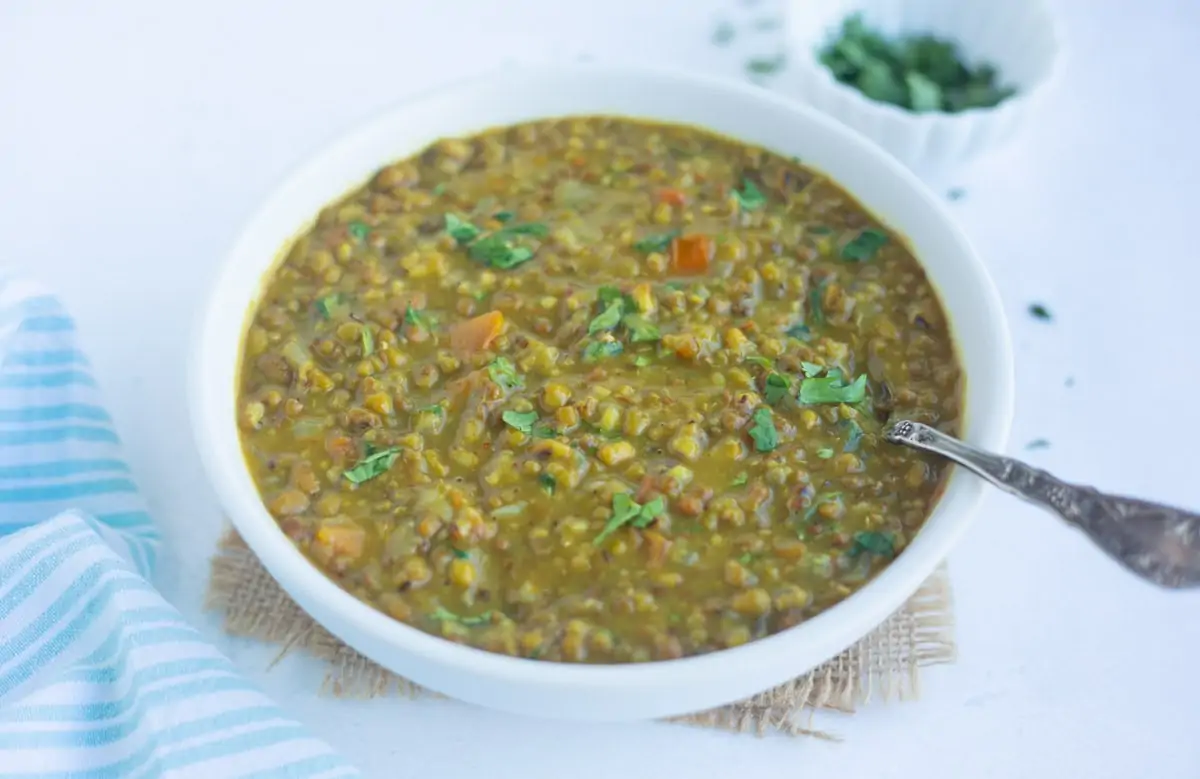 How to cook in Stovetop Pressure Cooker?
Follow the same process as in the video when cooking on a stovetop pressure cooker. Cook on high flame for 2 whistles and then change to medium-low flame and let it cook for another 8 minutes.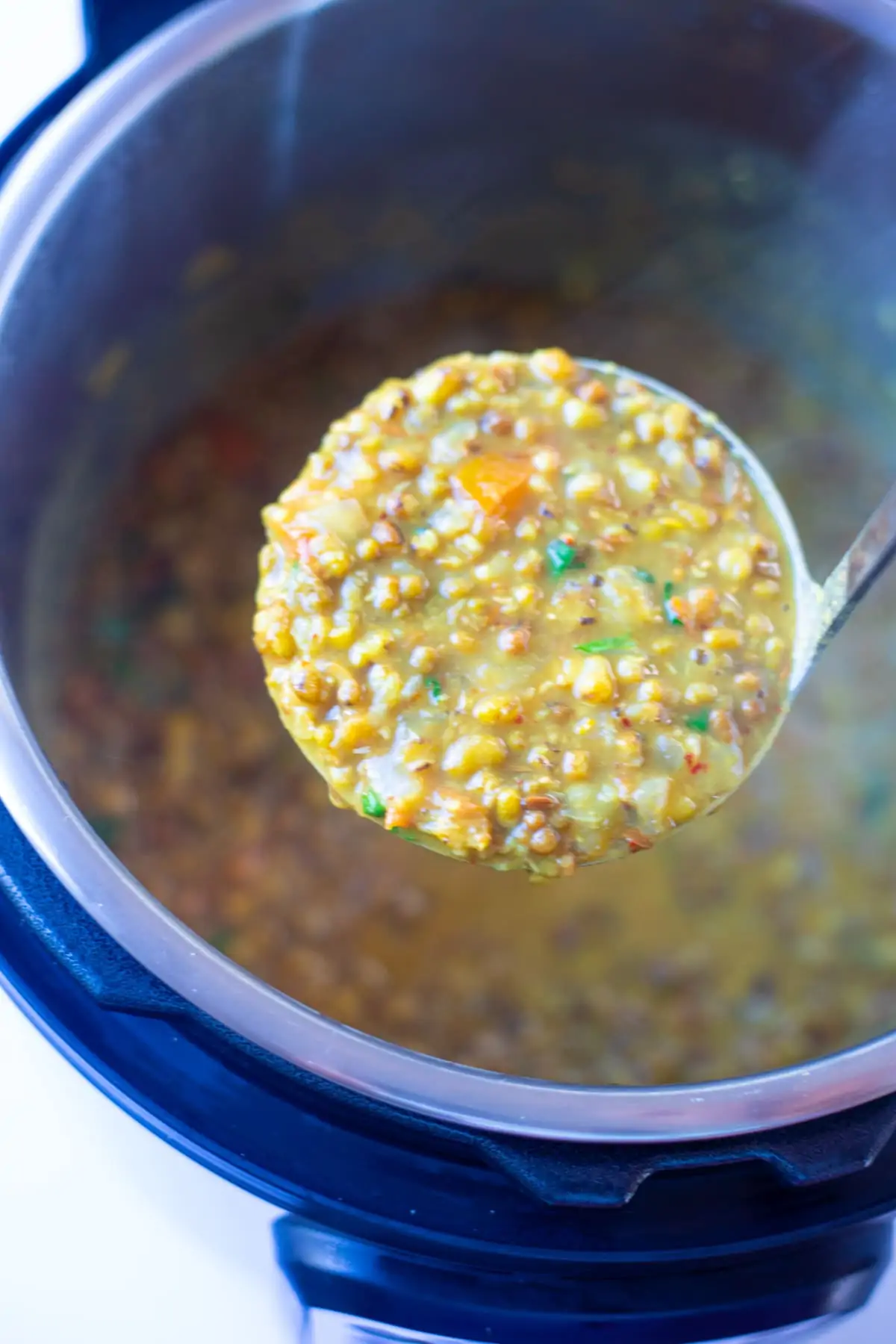 How to serve?
This Green Moong Dal pair perfectly with basmati rice. You can also pair with quinoa or cauliflower rice.
Sometimes we also like to add a bit of tempering on the dal when serving. This is the red color oil (or ghee) along with sautéed garlic you see on the top of the bowl of dal in the pics.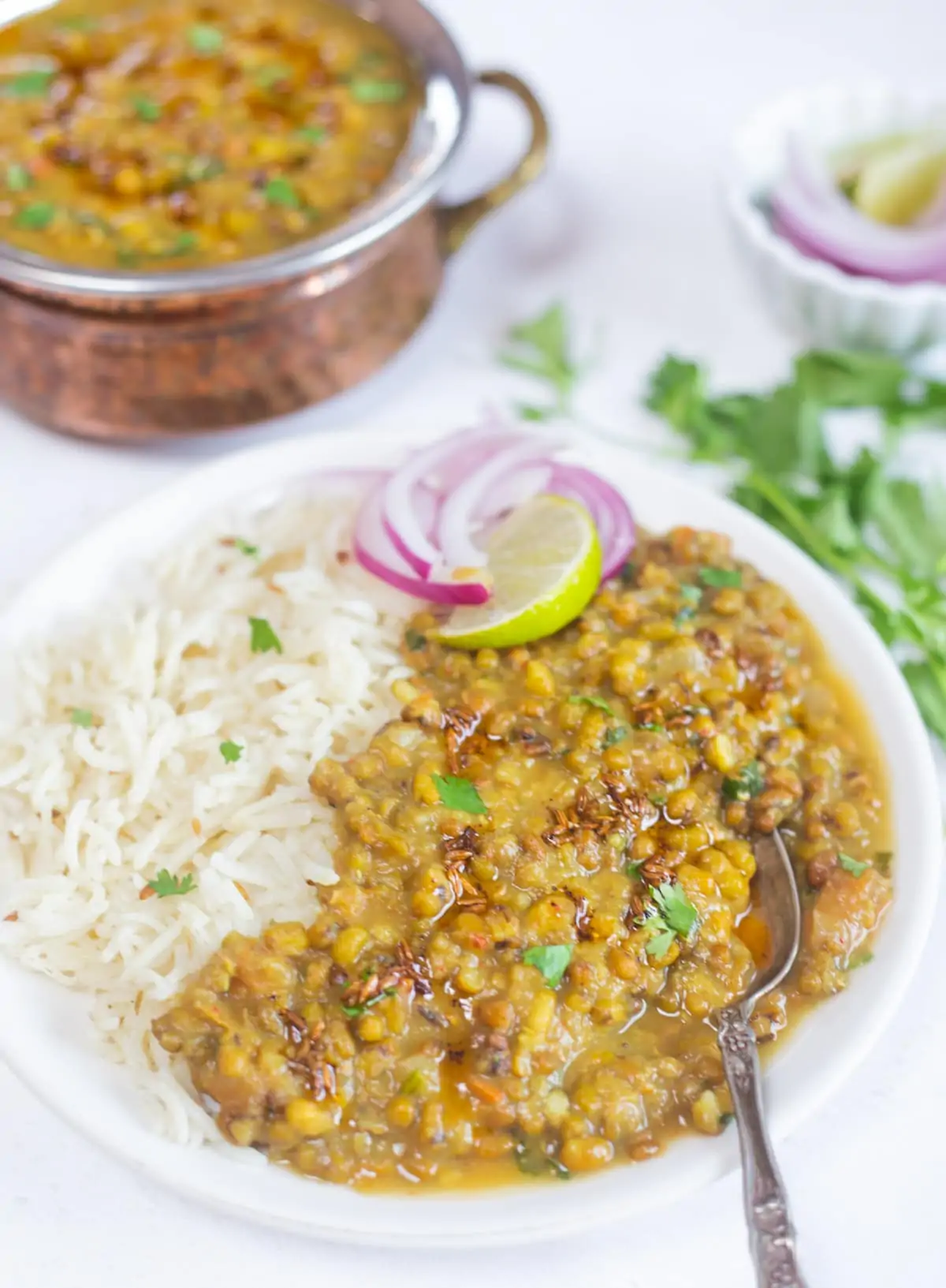 To make the tempering, in a small pan, heat ghee or oil. Add some cumin seeds and finely diced or sliced garlic. Cook for about 30 seconds to a minute until the garlic becomes golden in color. Then take the pan off heat and add a pinch of red chili powder. I prefer Kashmiri red chili powder, as it is not spicy.
Drizzle this tempering over the dal when serving. It adds such a beautiful pop of color!
Tips for Perfect Mung Bean Curry
Make it Vegan: Replace ghee with your favorite plant based oil to make this recipe vegan.
Add veggies or greens: If you plan to enjoy this as a soup, you can add veggies like carrot, sweet potato to celery along with the lentils before you pressure cook. Stir spinach or kale at the end to make this a hearty vegetable lentil soup.
Double the quantity: You can also double this recipe with the same cooking time. The pressure cooker will just take longer to come to pressure. This lentil also freezes well, so it is great for meal prep.
Use my Onion Tomato Bhuna Masala: You can use ½ cup of this masala and skip onion, tomato, ginger and garlic in this recipe. Do adjust the spices to your taste.
Using split green moong dal in this recipe: You can follow the same recipe, but pressure cook for only 6 minutes.
Common Questions
Do we need to soak the sabut moong dal before cooking?
It is not required to soak the dal. But if you prefer, soak it for 1 hour up to overnight. Reduce the pressure cooking time to 12 minutes for soaked dal.
How to store leftover dal?
Leftover cooked dal can be stored in the refrigerator for 2-3 days in an airtight container. You can also freeze the dal for up to 4 months.
Transfer to the refrigerator to defrost, and then reheat in the microwave for 1-3 minutes depending on the quantity of dal.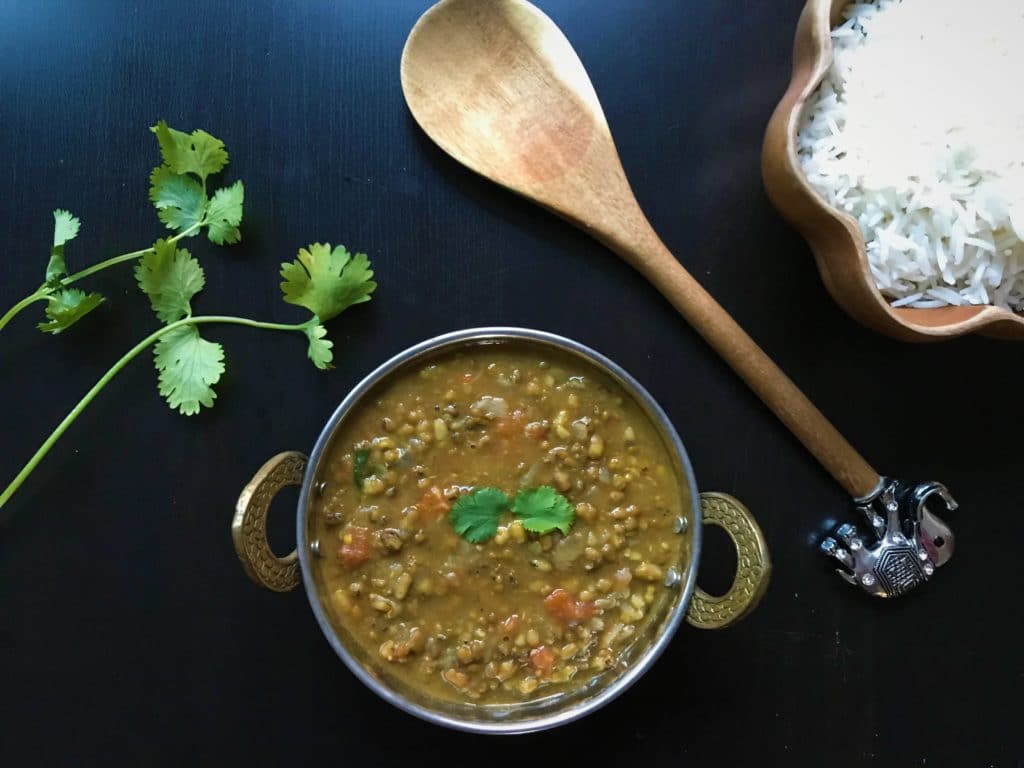 Enjoy this easy and delicious green lentil soup.
If you like this recipe, you might like the below Indian favorites made in a pressure cooker:
Tried this recipe?
Give a rating by clicking the ★ below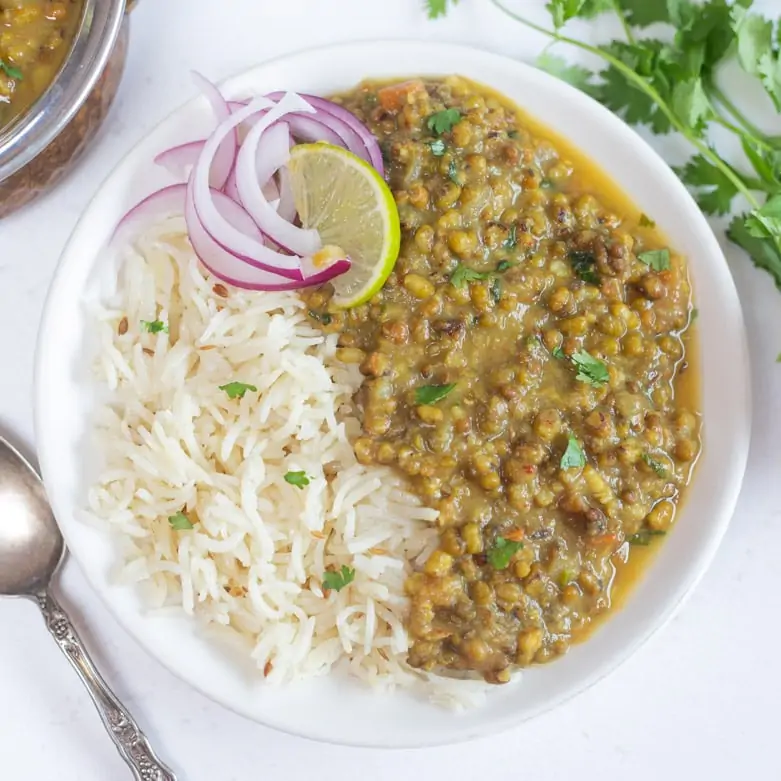 Green Moong Dal (Mung Bean Curry)
Wholesome Green Moong lentils simmered in onion-tomato gravy made in Instant Pot (Pressure Cooker). A protein rich mung bean curry, enjoy as a lentil soup along with a side of rice.
Instructions
Instant Pot Method
Add onions, ginger and garlic. Saute for 3 minutes.

Add chopped tomato, spices and stir.

Add lentils and water. Stir well. Press CANCEL and close the instant pot lid with vent in sealing position.

Press MANUAL or Pressure Cook mode for 15 minutes. When the instant pot beeps, let the pressure release naturally (NPR).

Open the lid and add lime juice and cilantro. Stir and green moong dal is ready to be served.
Stovetop Pressure Cooker Method
Heat oil in the pressure cooker on medium-high flame. Add cumin seeds, green chili and saute for 30 seconds.

Add onions, ginger and garlic. Saute for 3 minute.

Add chopped tomato, spices and stir.

Add lentils and water. Stir well.

Cover the lid, turn the heat on high flame and pressure cook it until your hear two whistles. Now reduce the flame to medium and pressure cook it for another 8 minutes. Let the pressure release naturally.

Open the lid and add lime juice and cilantro. Stir and green moong dal is ready to be served.

Notes
Spice level: To reduce spice, skip the green chili and red chili powder.
Soaking: I did not soak the dal in this recipe. If you soak for 3-4 hours, reduce cooking time to 12 minutes.
Double recipe: This recipe can be doubled with no change in cooking time.
Vegan variation: Use oil when tempering in step 1.
Using a prepared curry sauce: Here is my Bhuna Masala (curry sauce) recipe. You can use ½ cup of this masala and skip onion, tomato, ginger and garlic in this recipe. Do adjust the spices to your taste.
Green Chili Pepper: I typically use Thai, Birdeye or Serrano Chili Pepper in my recipes. Don't forget to adjust to your taste.
Created: This recipe was created in a 6qt Instant Pot DUO60 Multi-use Pressure Cooker.
Note: Nutrition values are my best estimates. If you rely on them for your diet, use your preferred nutrition calculator.
Nutrition
Serving:
339
g
Calories:
245
kcal
Carbohydrates:
40
g
Protein:
13
g
Fat:
5
g
Saturated Fat:
3
g
Polyunsaturated Fat:
1
g
Monounsaturated Fat:
1
g
Cholesterol:
10
mg
Sodium:
644
mg
Potassium:
822
mg
Fiber:
10
g
Sugar:
7
g
Vitamin A:
454
IU
Vitamin C:
14
mg
Calcium:
95
mg
Iron:
4
mg