Mango Shrikhand, a refreshing & sweet Indian dessert, is a perfect summer treat. Creamy yogurt, mango pulp, and sugar are blended together and garnished with saffron and cardamom to make this luscious Mango Shrikhand.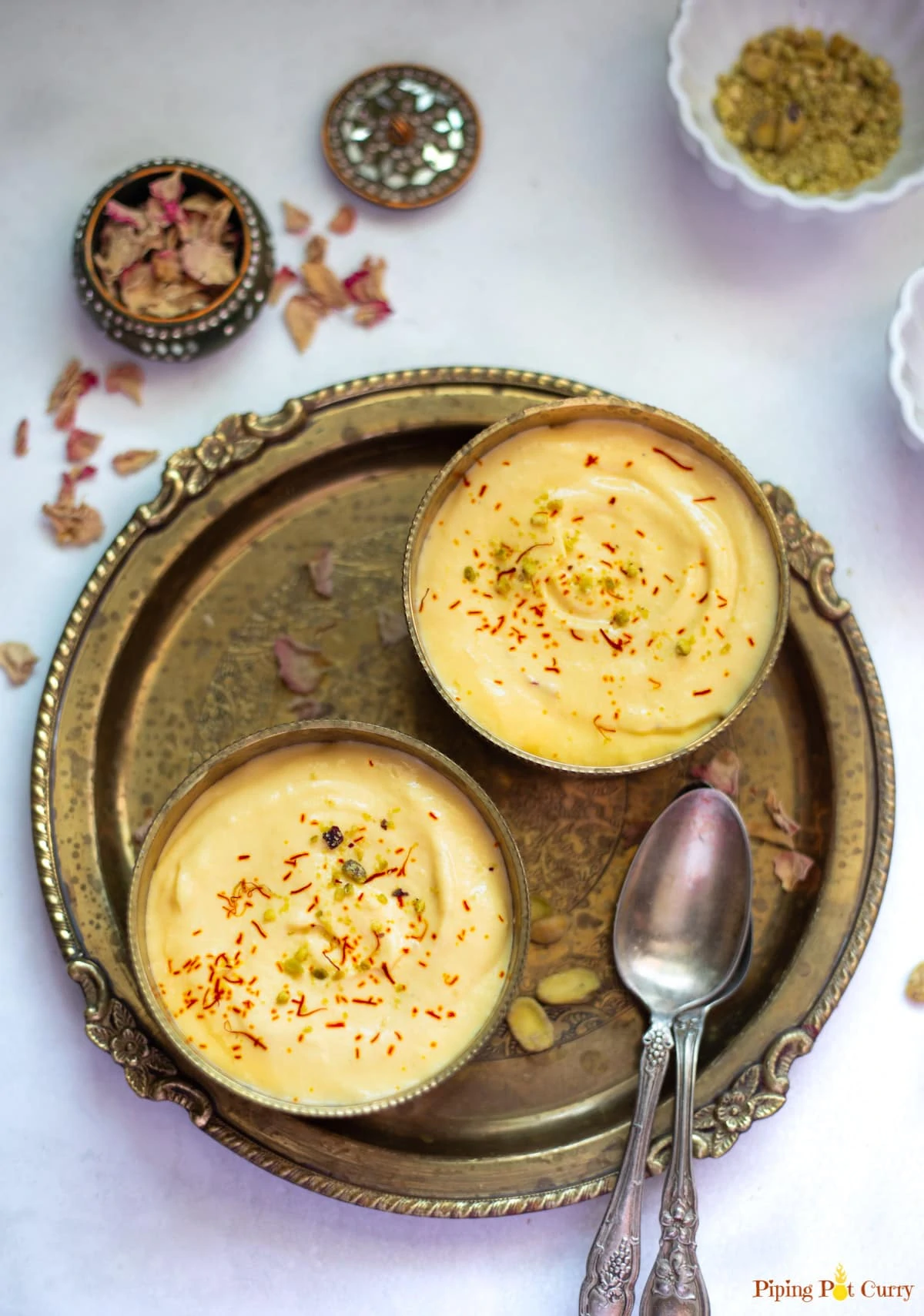 This is a no-cook, no-fail recipe! Even so, I've included all my best tips & tricks to get the perfect creamy Mango Shrikhand.
We have been enjoying this sweet treat all summer since it is so simple to make. Using Greek yogurt makes the recipe even simpler, and it is the way I have been preparing it recently. The only drawback is that it is slightly less tangy than traditional Shrikhand. So, if you are using regular yogurt, I have pictured the steps below to show you how to strain it to get that nice thick consistency and keep that authentic flavor.
What is Shrikhand?
Shrikhand is a popular Indian dessert made with Greek Yogurt, also called hung curd. It can be served plain, but when prepared with mango, it is called Amrakhand or Keri Matho.
Shrikhand is popular in the western states of Gujarat and Maharashtra in India, served as a dessert or a side dish along with Puri.
Yogurt is strained in a cloth so that it loses most of its water. This is called hung curd or chakka. This is mixed with different flavorings to make flavored Shrikhand, such as this Kesar Pista Shrikhand.
How to make Shrikhand?
The process is very easy!
First, you can make or buy yogurt. If you are making at home, check out my recipe for Homemade Dahi.
For this recipe, I used store-bought Greek yogurt. I prefer using this for Shrikhand, as it is quicker to assemble.
To start, strain the yogurt using a cheesecloth. If you use greek yogurt, you can strain for 3-4 hours or skip this step completely. I have tried both ways with Greek yogurt, and it works great even if you don't strain it - so easy!
If using regular dahi (plain yogurt), the longer you strain it, the better. I suggest at least straining overnight, but about 24 hours would be best. Make sure to keep it in the refrigerator when straining for longer to stop the yogurt from spoiling.
Even though the straining part takes time, it does not take much time after that to put it together!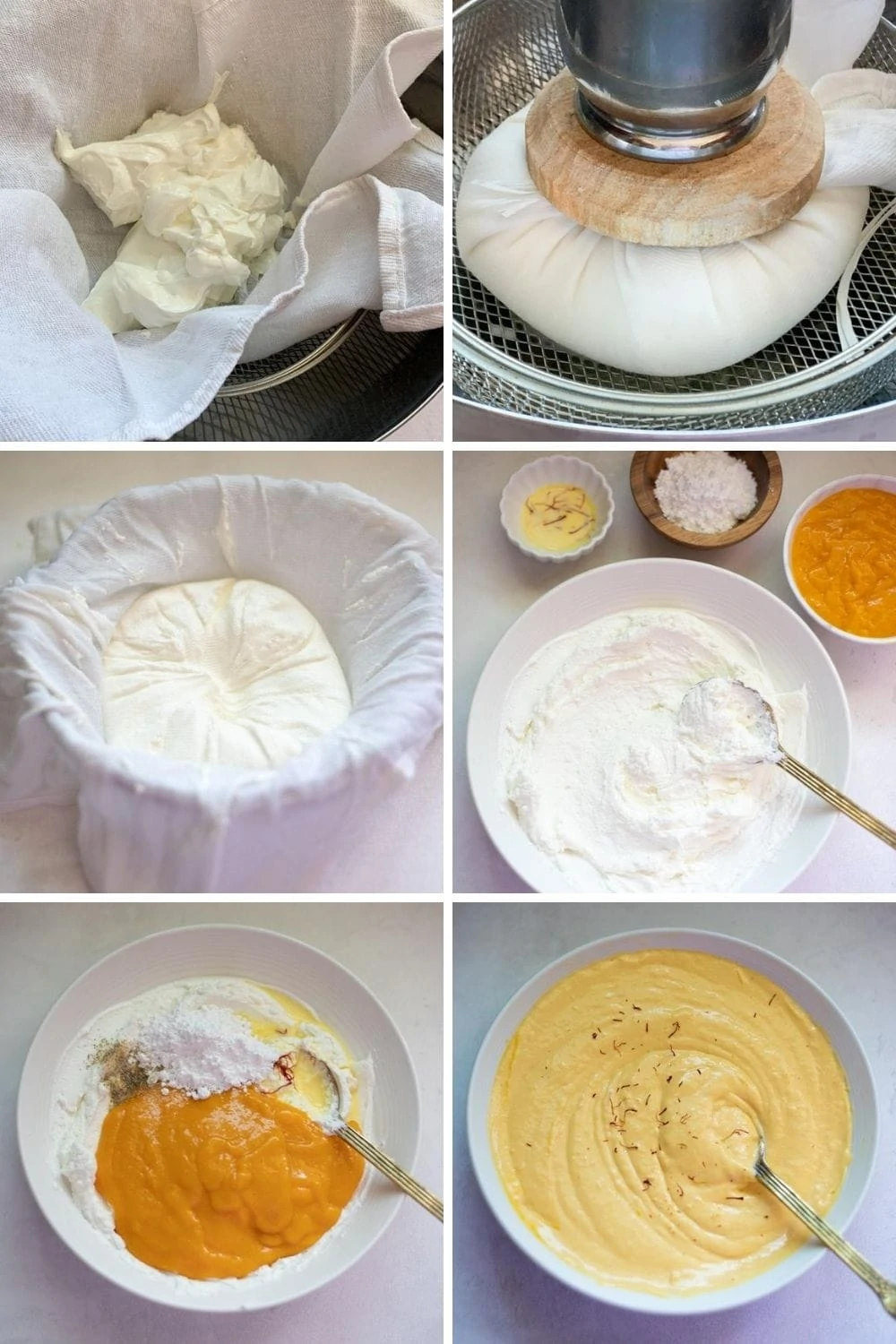 Once the yogurt is strained, transfer it to a large bowl. Whisk it for a few minutes to smooth out any lumps. Then add the mango puree, sugar, cardamom, and saffron soaked in warm milk. Mix again until everything is well incorporated and you have a smooth consistency.
Then refrigerate for about 1-2 hours before serving. I like to top mine with some saffron strands and chopped nuts. This step is optional, but I love garnishing with crushed pistachios!
The cardamom is optional in this recipe, but I feel it adds a wonderful authentic flavor. When adding saffron to any dessert recipe, soak it in warm milk and let sit for a few minutes before adding it to get the wonderful red color and flavor.
Which mangoes to use and how to make the pulp?
I used fresh mango pulp in this recipe, making sure to use sweet, ripe ones. Remove the pulp from 2 ripe mangoes. Then blend in a blender to make it smooth. If the mangoes have a lot of fibers, then strain the blended fruit to get rid of them.
In India, Kesar or Alphonso mangoes work great for shrikhand. I have tried using Ataulfo Mangoes in the US, and they work well.
If mangoes are not in season, store-bought mango puree works great too - you can enjoy this dessert year-round! Buying the puree makes the recipe even easier, as all that is left to do is mix the ingredients.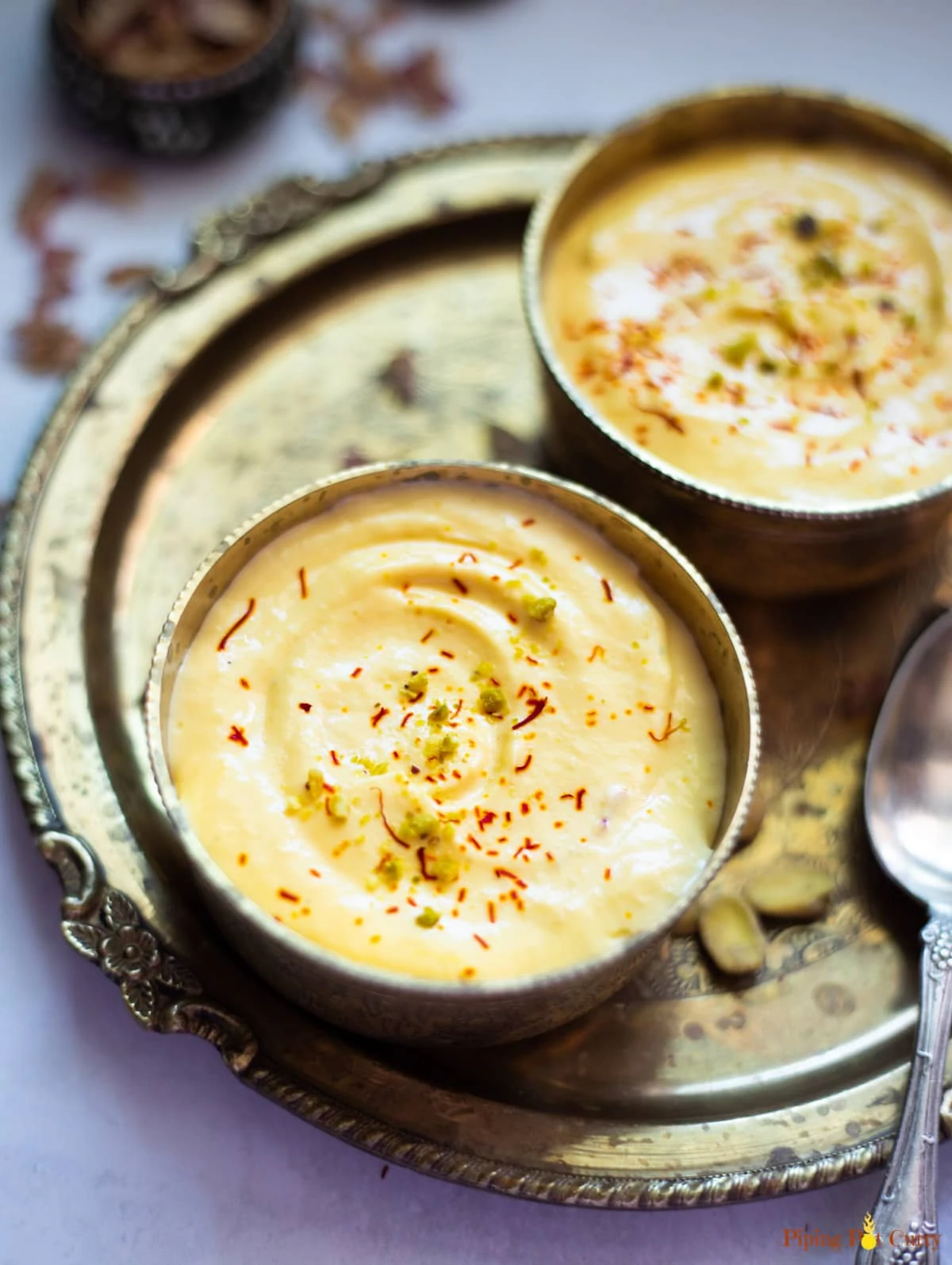 How to serve?
You can pair this shrikhand with Poori Aloo, serve on its own as a festive dessert, or as a sweet treat for any occasion!
Pro-tips for Mango Amrakhand
I always prefer using fresh, ripe, sweet mangoes. Sometimes this is impossible when out of season, so store-bought or canned mango pulp is a great substitute.
Use plain whole milk Greek yogurt for the best consistency and great taste.
For a quick, instant recipe, make the shrikhand with Greek yogurt and store-bought mango puree. It will just be a little less tangy than if you used regular strained yogurt.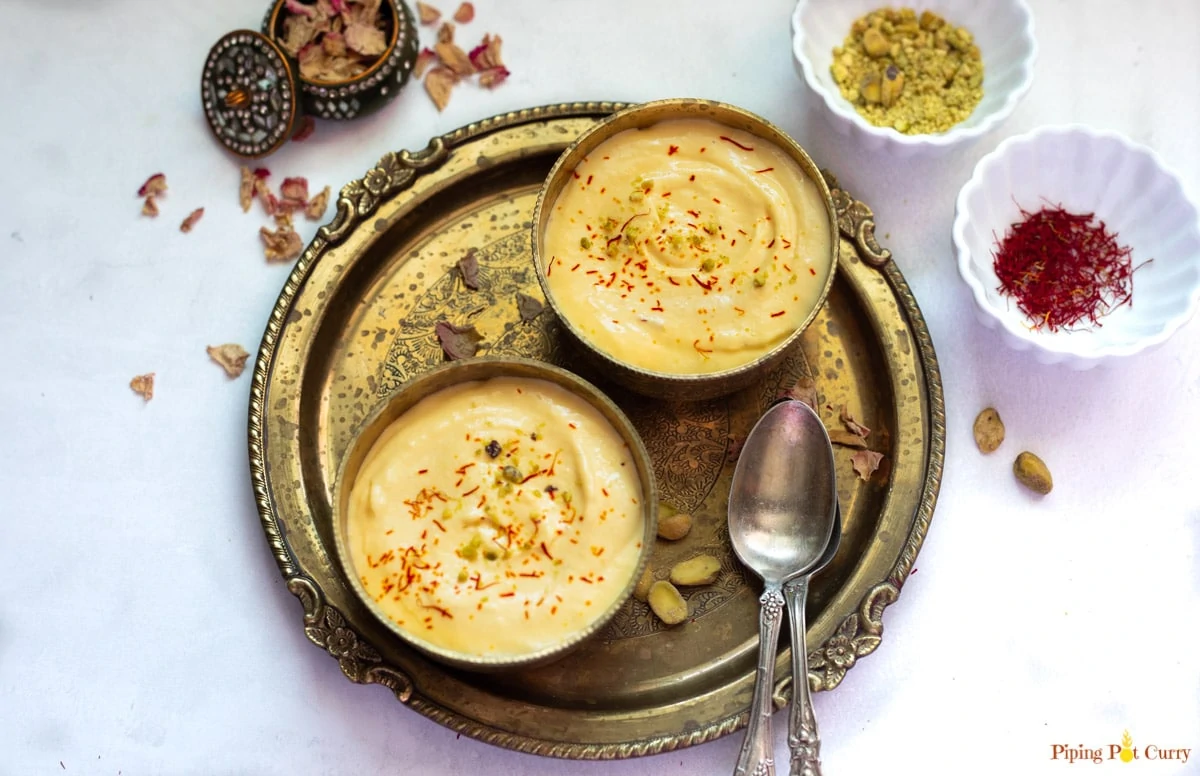 Variations
Make Kesar Pista Shrikhand by using pistachios and saffron when making the mixture.
Make Elaichi Shrikhand by adding cardamom to the hung curd.
Add rose syrup to the mixture, and you have rose shrikhand.
Use strawberry puree to make strawberry shrikhand.
I hope you and your family enjoy this easy Mango Shrikhand.
Here are some more festive Indian desserts you might enjoy:
📖 Recipe
Tried this recipe?
Give a rating by clicking the ★ below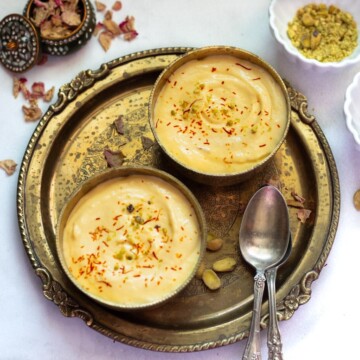 Easy Mango Shrikhand with Greek Yogurt
Mango Shrikhand, a refreshing & sweet Indian dessert, is a perfect summer treat. Creamy yogurt, mango pulp and sugar are blended together, and garnished with saffron and cardamom to make this luscious Mango Shrikhand.
Ingredients
2

cup

Greek Yogurt

1.5

cup

Mango Pulp

6

tablespoon

Powdered sugar

I used powdered sugar as it mixes easily. Reduce sugar if using store bought sweetened mango pulp. or add to taste.

¼

teaspoon

Cardamom powder (Elaichi)

optional

⅛

teaspoon

Saffron (Kesar)

2

teaspoon

Warm milk

1

tablespoon

Pistachios

crushed or sliced, to garnish (optional)
Instructions
Straining Yogurt (optional)
Place a mesh strainer in a large bowl. Line a cheesecloth over the strainer. Pour the yogurt onto the cheesecloth, gather the corners of the cloth and tie into a bundle. Now you can either hang this cheesecloth or place a heavy weight on top of it.

We want to leave space for the water to collect in the bowl. Leave it out (3-4 hours) or leave it overnight in the refrigerator. For greek yogurt, straining 3-4 hours is enough. If using plain yogurt, strain at least overnight or upto 24 hours in the refrigerator.
Making Shrikhand
Add saffron to warm milk and keep aside.

Remove and empty the thickened yogurt in a large bowl. Whisk it well for 3-4 minutes to make it smooth.

Add the mango pulp (see notes for how to make pulp from fresh mangoes), sugar, cardamom and saffron soaked in milk. Mix for 3-5 minutes until combined and smooth without any lumps.

Chill for 1-2 hours before serving. Serve in bowls and garnish with crushed pistachios and some saffron strands.
Notes
Homemade Mango Pulp: Get the pulp from 2 large sweet ripe mangoes, then blend in a blender to make it smooth. If the mango has fibers, then strain to get rid of any fibers. Store-bought mango pulp: To make this recipe easier, or if mangoes are not in season, you can use store-bought mango pulp. I prefer Kesar or Alphonso mango pulp. Greek Yogurt: Straining Greek Yogurt is optional. Most of the time, it is already quite thick and great to use as is to make instant shrikhand.
Note: Nutrition values are my best estimates. If you rely on them for your diet, use your preferred nutrition calculator.
Nutrition
Calories:
136
kcal
Carbohydrates:
24
g
Protein:
7
g
Fat:
1
g
Saturated Fat:
1
g
Cholesterol:
4
mg
Sodium:
38
mg
Potassium:
107
mg
Fiber:
1
g
Sugar:
23
g
Vitamin A:
1416
IU
Vitamin C:
8
mg
Calcium:
81
mg
Iron:
8
mg