Indian sweets take the center stage on all festivals, functions and celebratory occasions. But you don't need a reason to have a dessert. They are delicious, colorful, and mouth-watering. And if you are craving exotic homemade Indian desserts, I got you covered with this round up.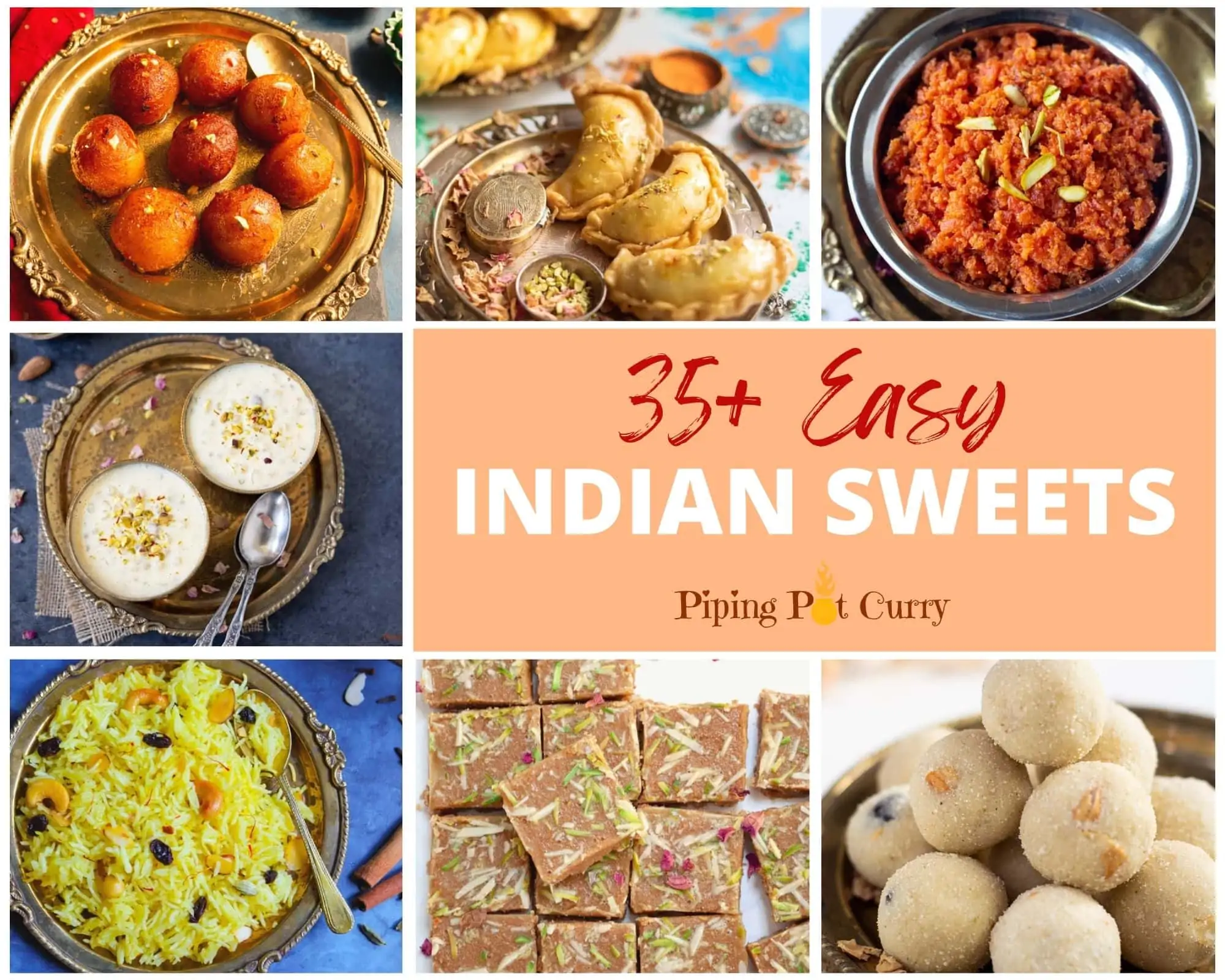 This list includes some of the traditional North Indian and South Indian sweets that have gained popularity all over the world.
Indian sweets are called Mithai, and they are not only authentic but also have their own unique flavor profile. Ranging from halwas to kheer to ladoos, gulab jamun, shrikhand, and other milk sweets, the list is endless. Just one bite and you are transported to an addictive culinary land.
Indian desserts are served in many restaurants and are easily available at retail stores. But it is best to try and make these recipes yourself as you can control the amount of sugar and you also know that you are using natural ingredients.
Useful Ingredients
Indian sweets are made with a combination of these common ingredients:
Flour - gram flour, almond flour, whole wheat flour, etc.
Milk - milk powder, milk solids, khoya (a semi-solid dairy product made by slowly boiling milk until it thickens)
Sugar/ Jaggery
Ghee/ coconut oil
Nuts and seeds - almonds, pistachios, cashews, raisins, coconut, melon seeds, etc
Legumes/ Grains - moong dal, rice, quinoa, broken wheat etc.
Flavor enhancers - cardamom, saffron, nutmeg, rose water, rose petals
These exotic flavor enhancers add magic to Indian desserts. Most of these ingredients are easily available at your next-door supermarket. A few specific ones can be found at the Indian grocery store or on Amazon.
Easy and Quick Indian Sweets
Some of these Indian desserts are super easy to put together and can be made in advance and some can also be frozen. You should try making simple ones first like ladoo, kheer, shrikhand etc.
I have simplified and adapted a few of the traditional Indian sweets recipes to suit the hectic lifestyles and modern culinary tastes. You will enjoy making some of the Instant pot recipes if you need a quick Indian dessert fix.
Let's take a look at the 35+ Indian desserts for you to enjoy:
Sooji Halwa
Sooji Ka Halwa, also known as Sheera is a simple Indian semolina pudding, made with basic ingredients – semolina, sugar, and ghee. The pudding tastes simply divine, and takes just 20 minutes to prepare.
Gulab Jamun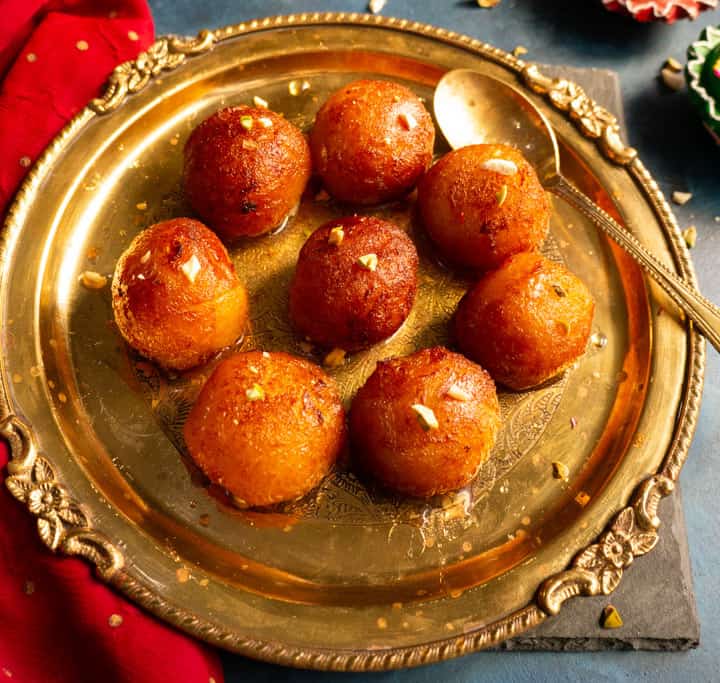 Gulab Jamun one of most popular Indian desserts. Gulab Jamun's are dumplings, soaked in sweet rose flavored syrup. They are delicious and taste absolutely heavenly.
Instant Pot Rice Kheer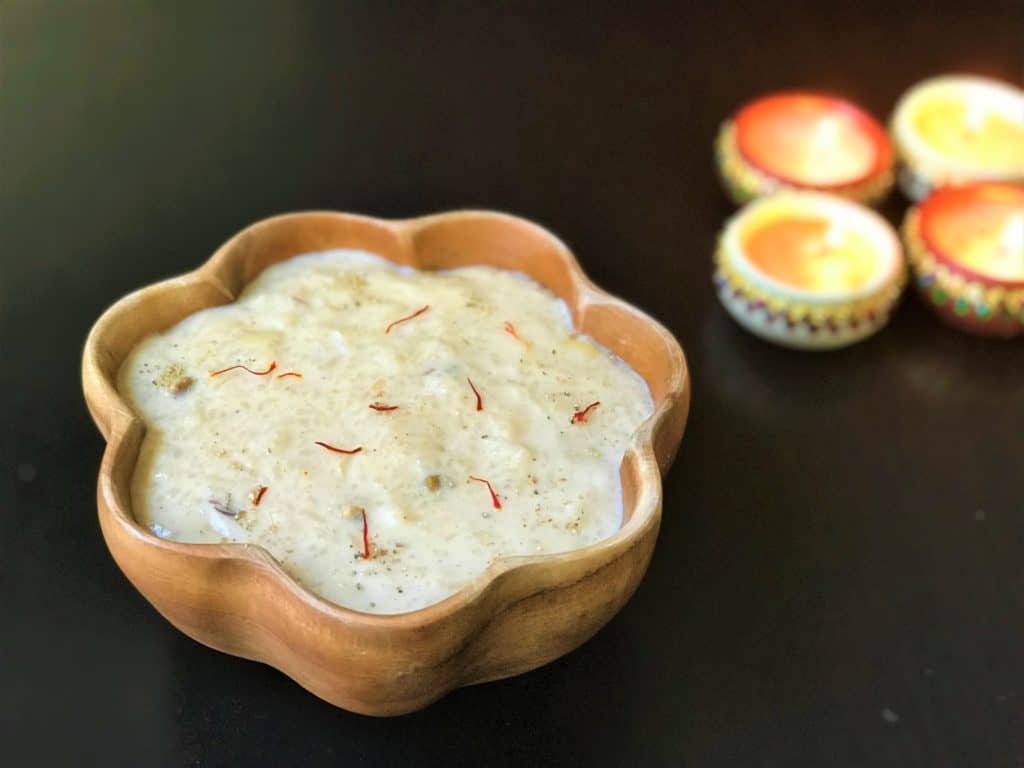 Kheer or Payasam is a favorite Indian dessert for special occasions. It is basically rice pudding made with rice and milk infused with saffron, cardamom and assorted dried fruits. This Kheer made in the instant pot is a game changer. The best thing about this, no stirring and it is ready in less than 40 mins!
Besan Ladoo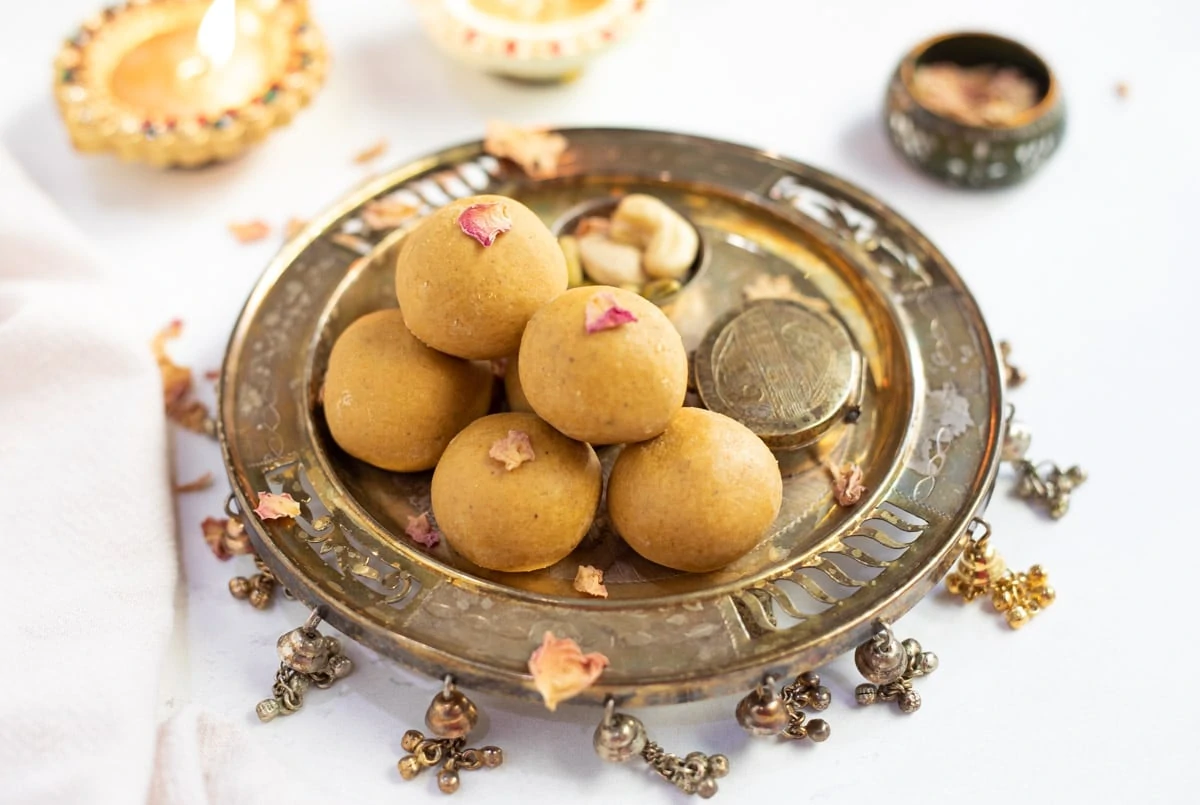 Besan Ladoo is the most popular Indian sweet to make during the festive season. You need just a few ingredients such as gram flour, ghee, and sugar to make these amazing melt-in-the-mouth dessert balls. Make this decadent sweet with this easy fail-proof recipe!
Kesar Elaichi Shrikhand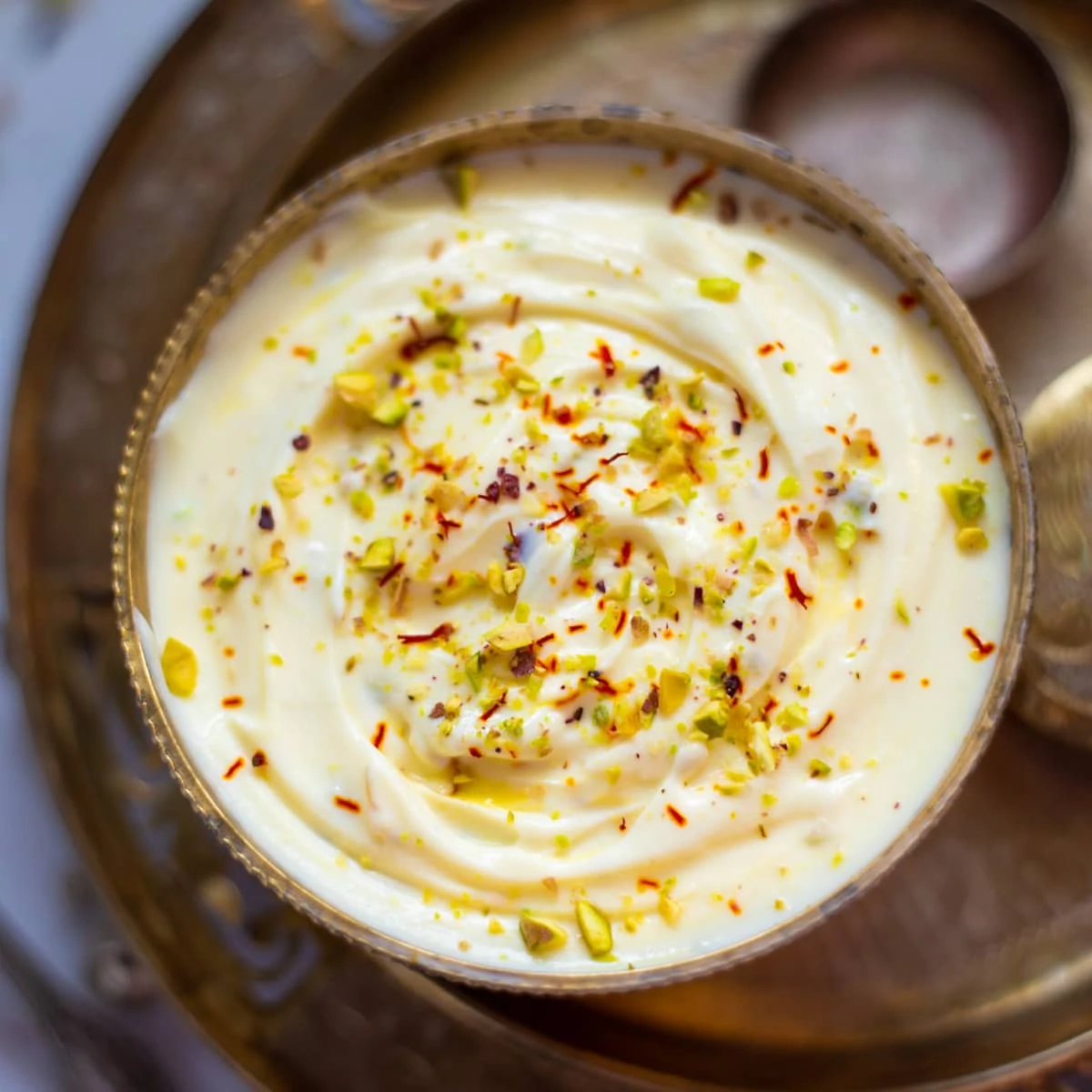 Shrikhand, a refreshing & sweet Indian dessert. Creamy smooth yogurt is mixed with sugar and cardamom, and garnished with saffron and pistachios to make this luscious Kesar Elaichi Shrikhand.
Aate ka Halwa (Kada Prasad)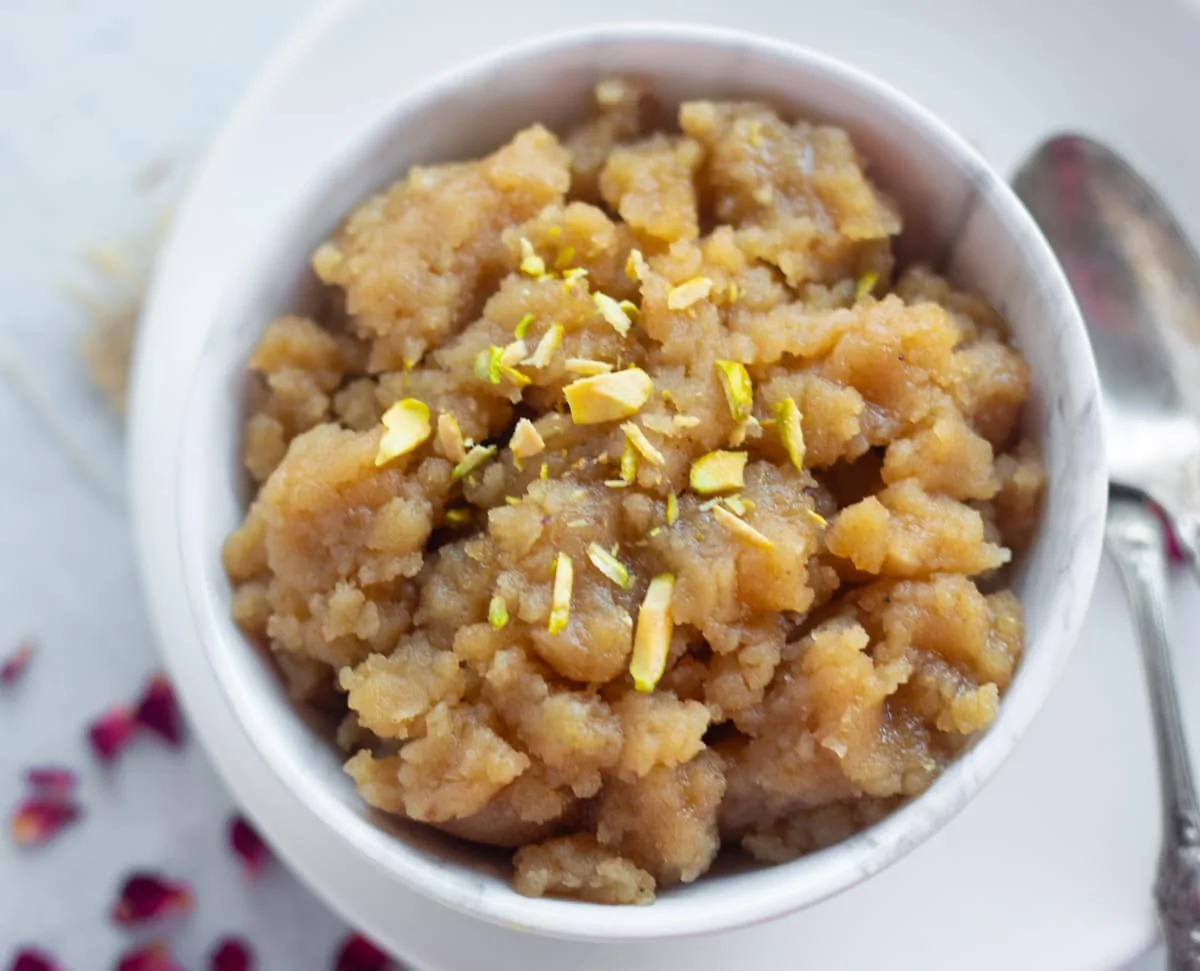 Aate Ka Halwa, also known as wheat halwa, is a famous Indian dessert, prepared with whole wheat flour (aata). This four-ingredient sweet dish is also offered as Kada Prasad at Gurudwaras (Sikh Temples) worldwide. It is finger licking good!
Easy Kalakand with Ricotta Cheese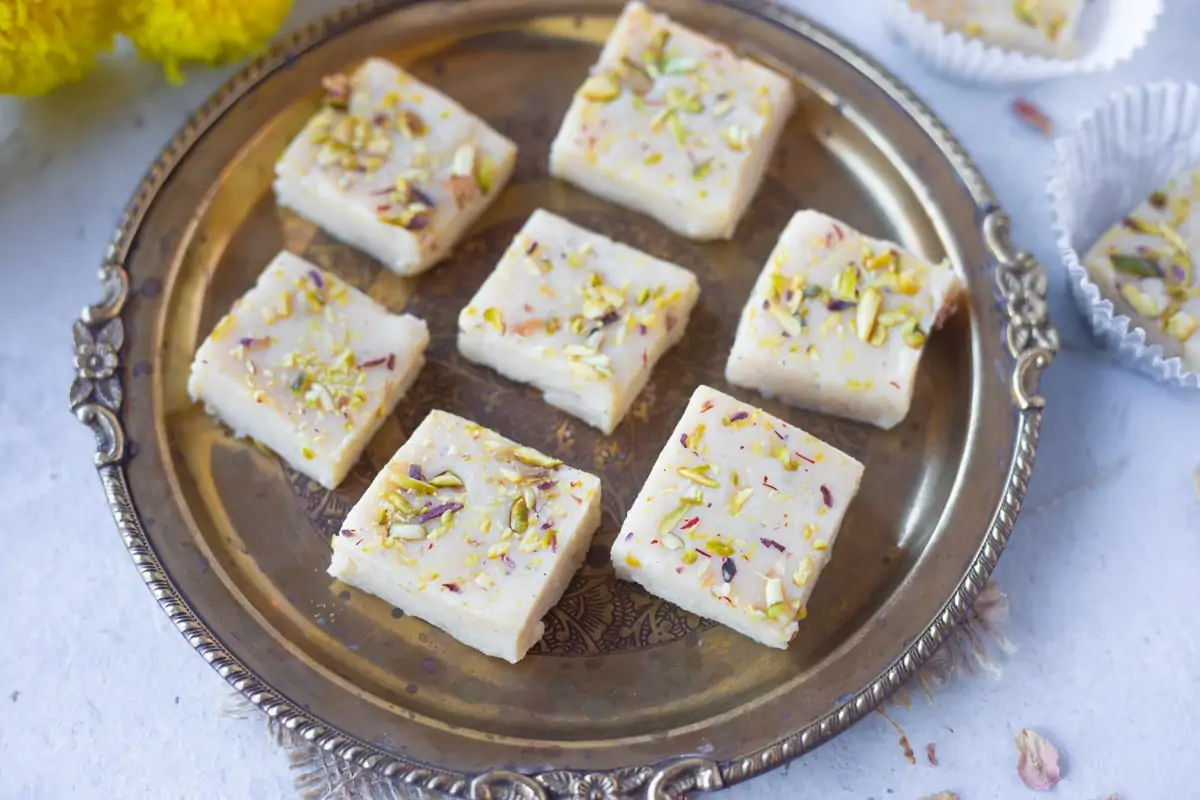 Kalakand is one of the most popular Indian desserts enjoyed during festivals. It is a delectable soft milk fudge flavored with cardamom and saffron, and decorated with slivered pistachios. You will love my easy Instant Kalakand recipe to make this melt-in-the-mouth sweet in less than 30 minutes!
Rava Ladoo (Suji Ladoo)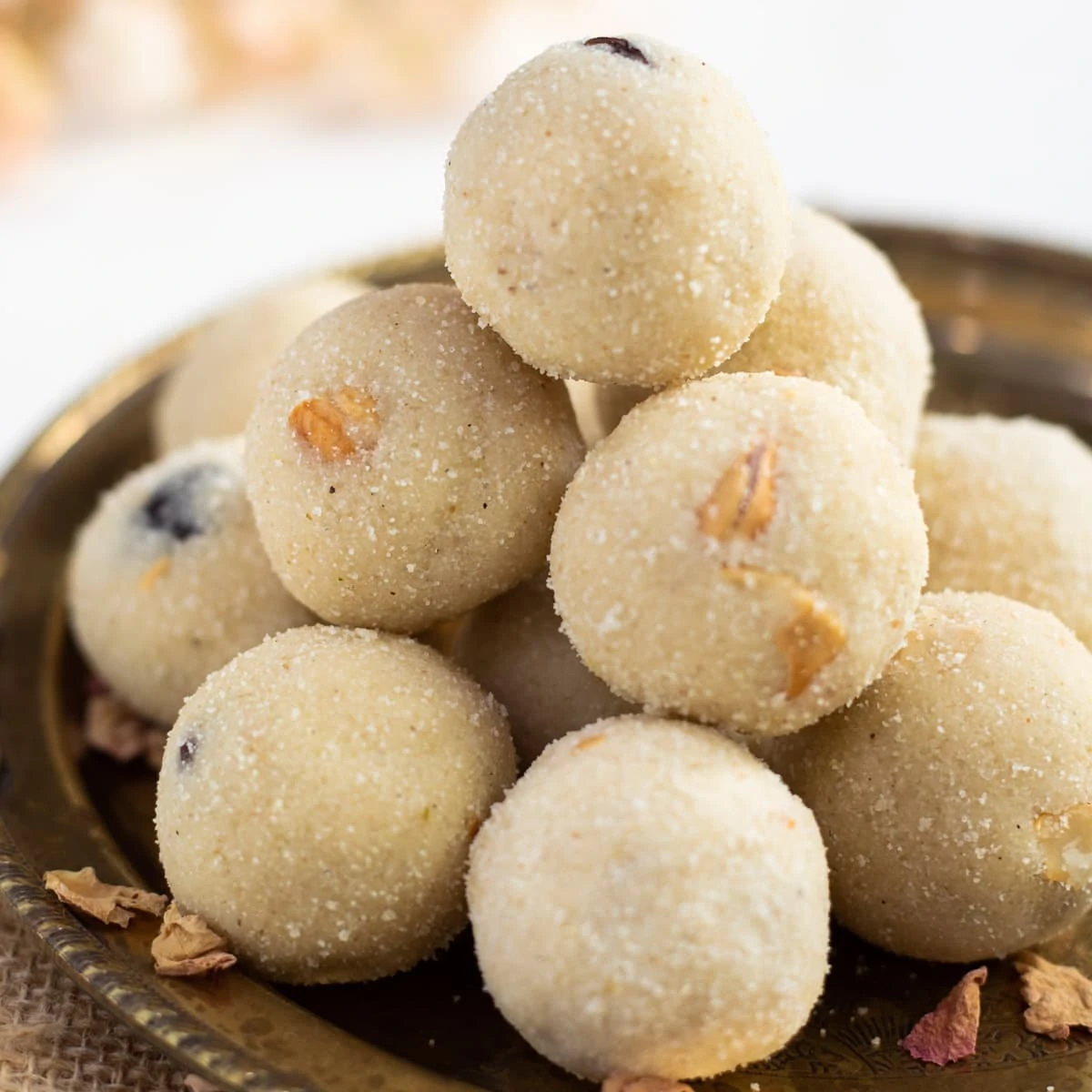 Rava Ladoo, also called Suji Ladoo, is a popular sweet from India made during the festive season. These melt-in-the-mouth Rava Ladoo need just a few ingredients - roasted semolina, ghee, milk and sugar - and is ready in under 30 minutes!
Sheer Khurma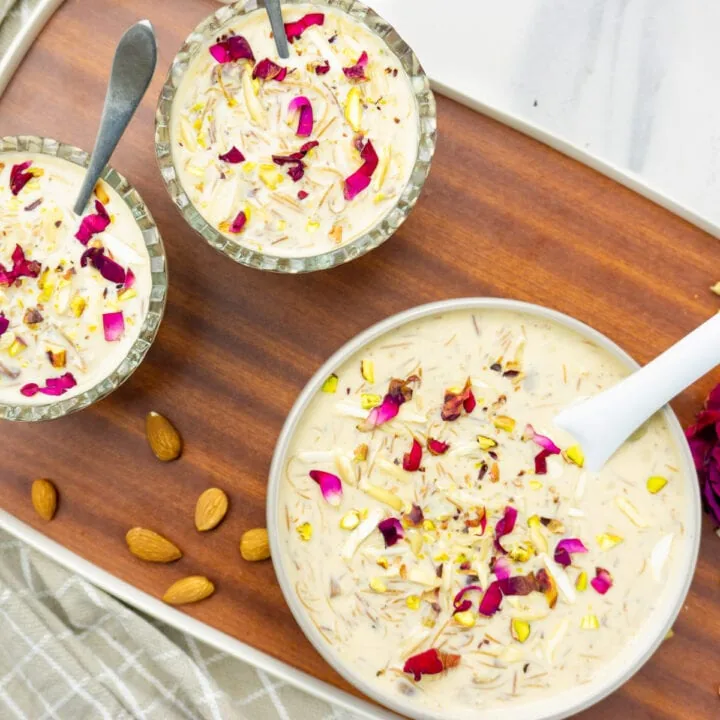 Sheer khurma is a luscious, rich and creamy dessert made with vermicelli cooked with milk, dried dates, and adorned with nuts and rose petals. It is a must-have dessert for the festival of Eid.
Sweet Vermicelli (Meethi Seviyan)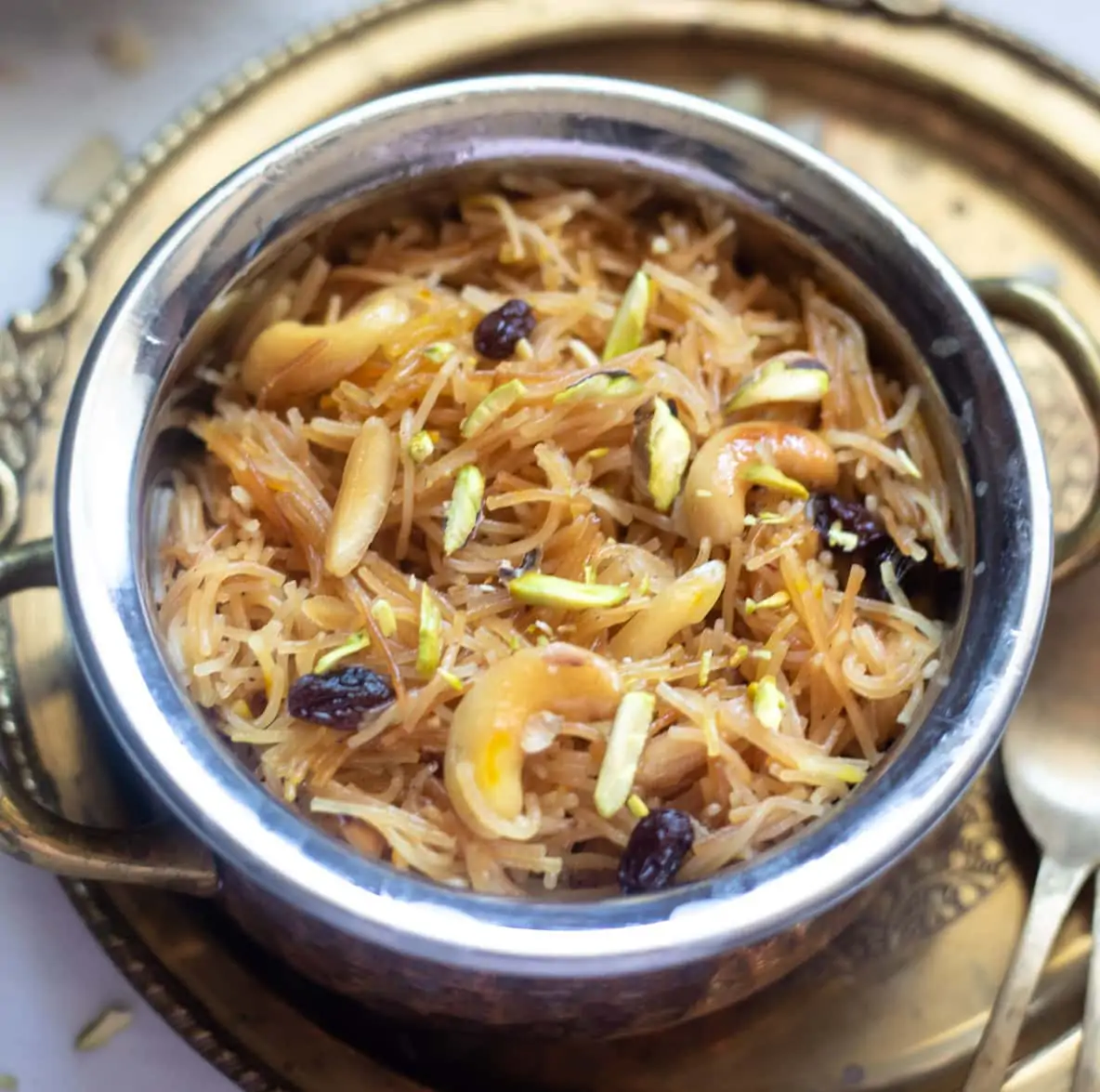 Sweet Vermicelli or Meethi Seviyan, is a dessert made with vermicelli, ghee, sugar, cardamom and nuts. This is also called Semiya Kesari or Parsi style sweet seviyan. A perfect one pot sweet dessert which can be made in just 15 minutes.
Besan Halwa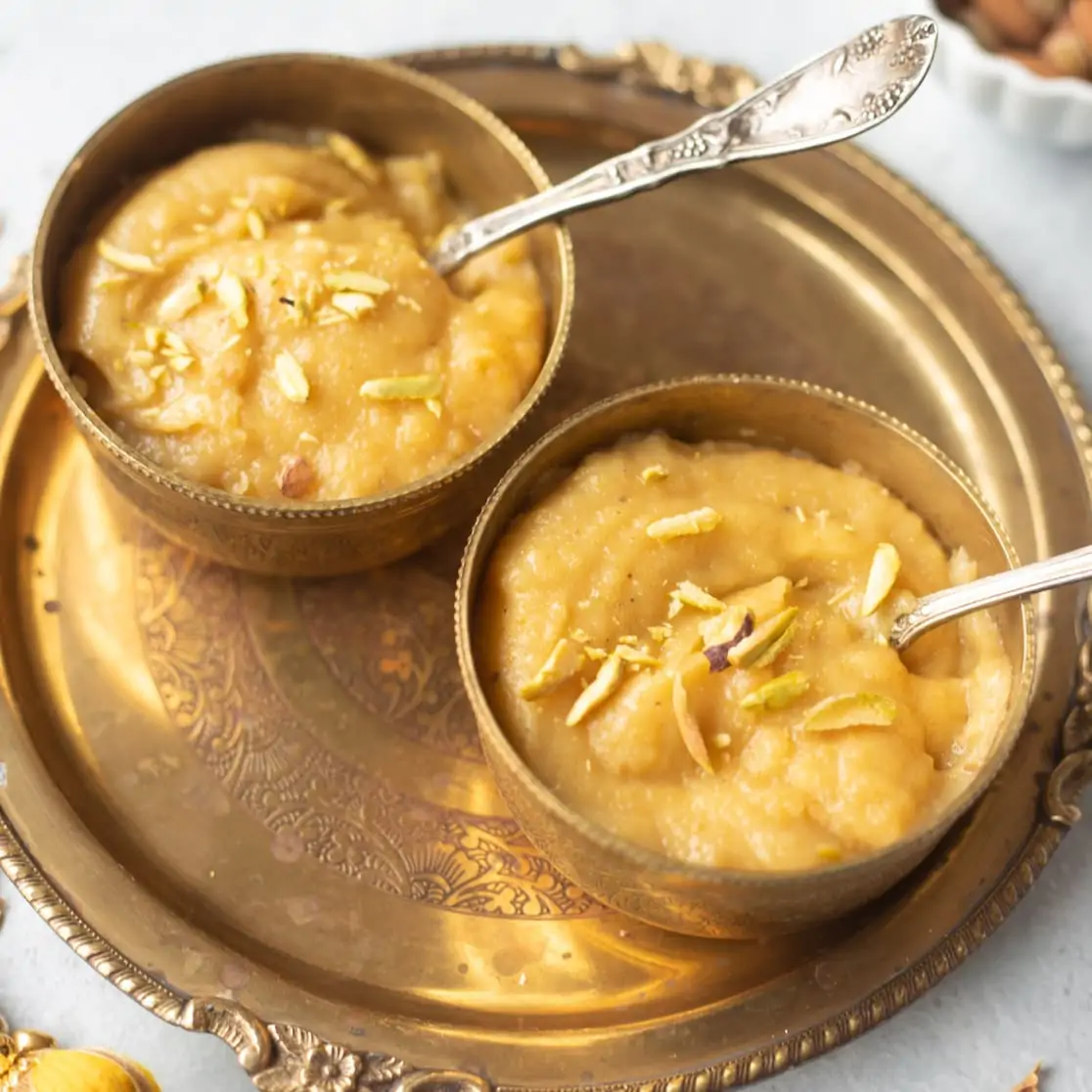 Made with simple ingredients of gram flour, ghee, sugar, this rich and aromatic cardamom infused Besan halwa is a quick dessert that can be made ready within minutes.
Sabudana Kheer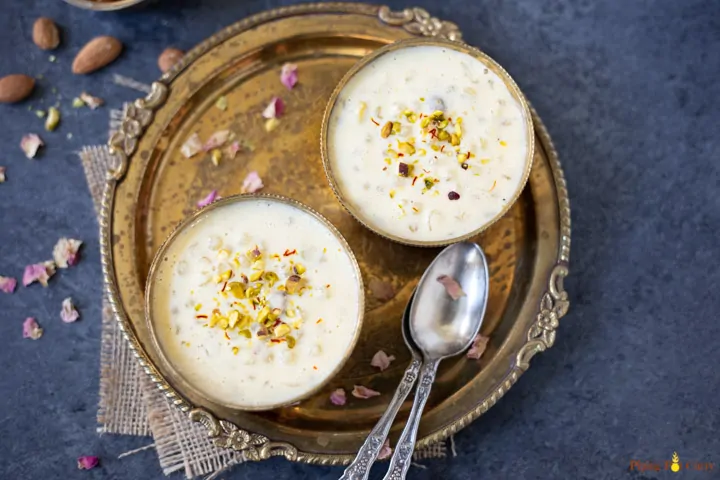 Sabudana Kheer, or Tapioca pudding, is a sweet made with tapioca pearls and milk. This kheer is popular during the fasting festive season in India. It is super easy to make in the instant pot or on the stovetop. Vegetarian & Gluten-free!
Chocolate Peda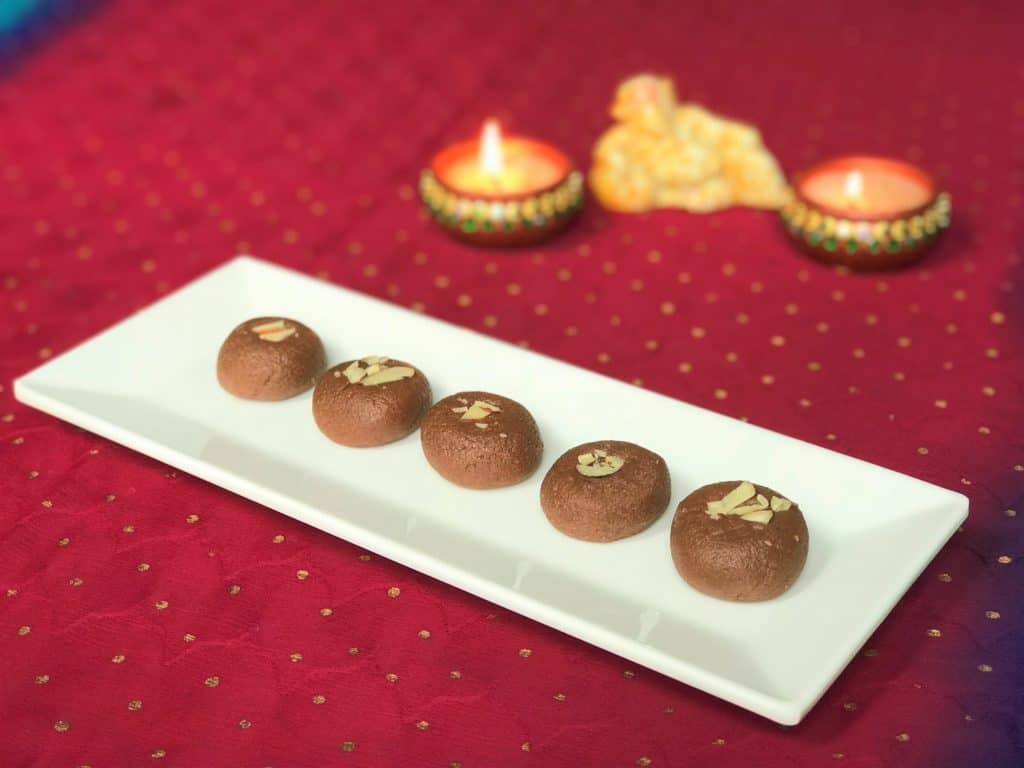 This easy 3-ingredient Chocolate Peda (Chocolate Almond Bites) is an Indian fudge made with condensed milk, almond flour and cocoa powder. You need less than 20-minutes to make this healthy treat for your kids!
Gajar ka Halwa (Carrot Halwa)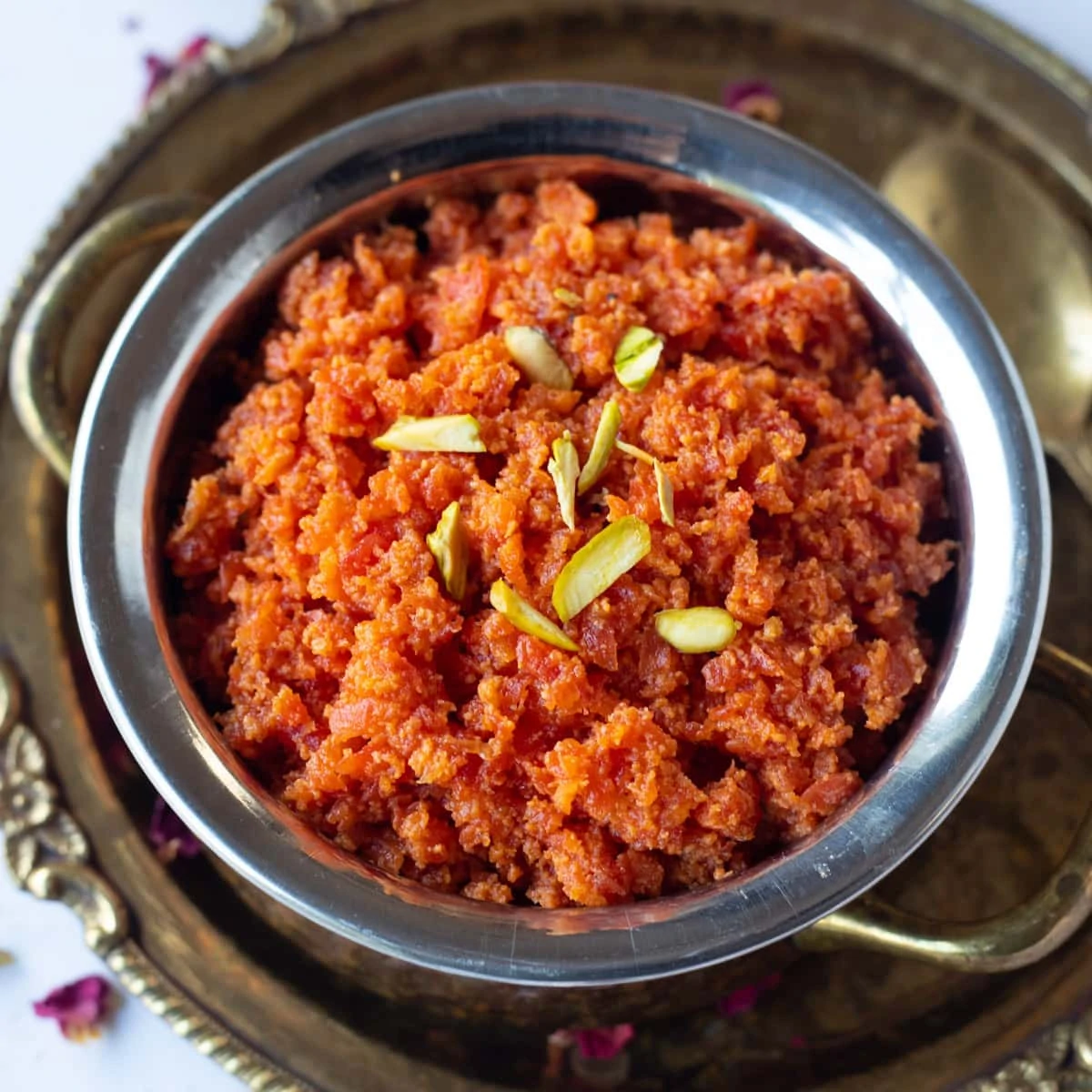 Gajar ka halwa is a popular Indian dessert made from grated carrots cooked in milk and sugar, laced with cardamom and garnished with roasted nuts. Learn how to make authentic, rich and creamy carrot halwa!
Sweet Pongal (Sakkarai Pongal)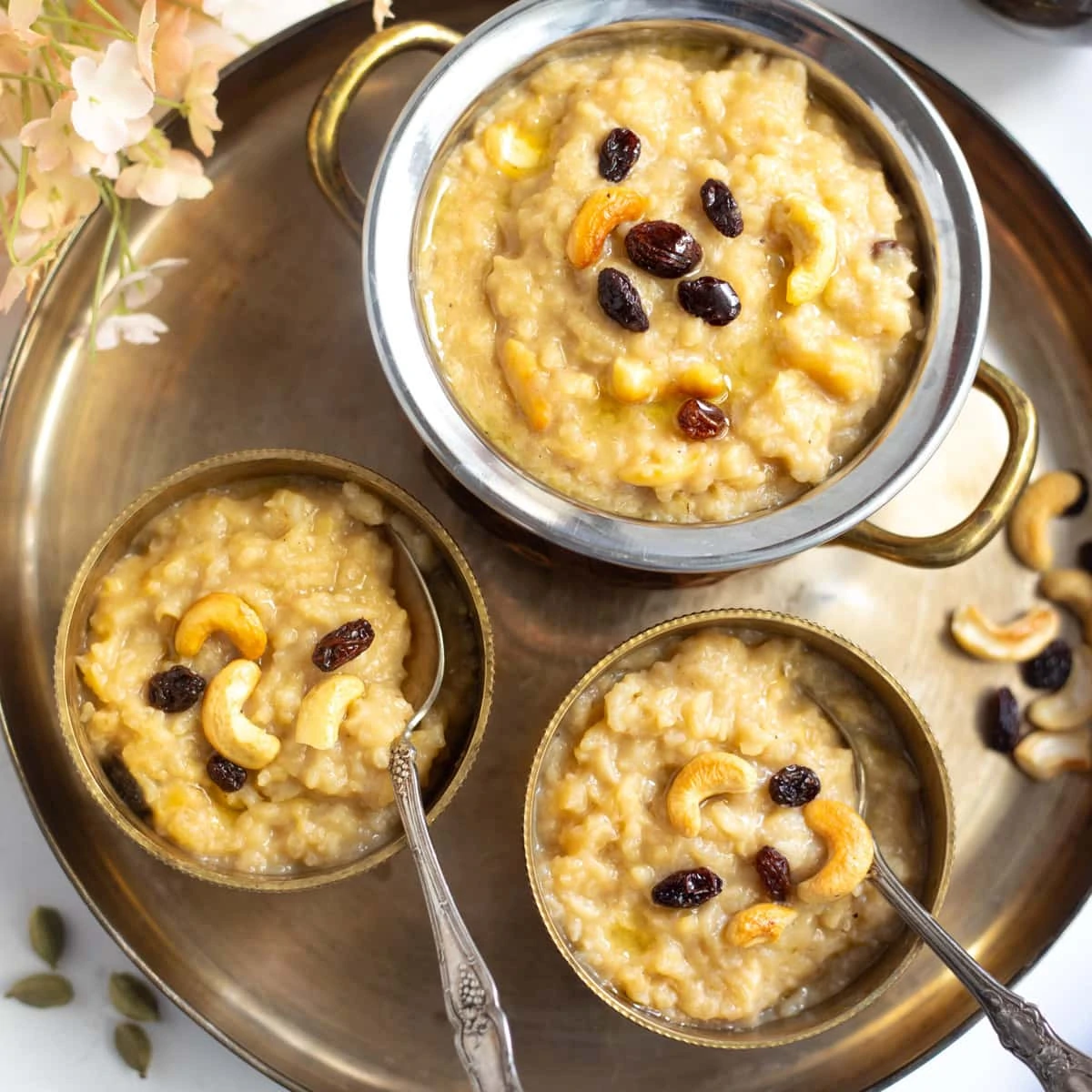 Sweet Pongal, also called Sakkarai or Chakkara Pongal, is a popular traditional sweet dish from South India. Made with rice, moong dal, milk and jaggery, it is a delicious sweet pudding made during festivals.
Mawa Gujiya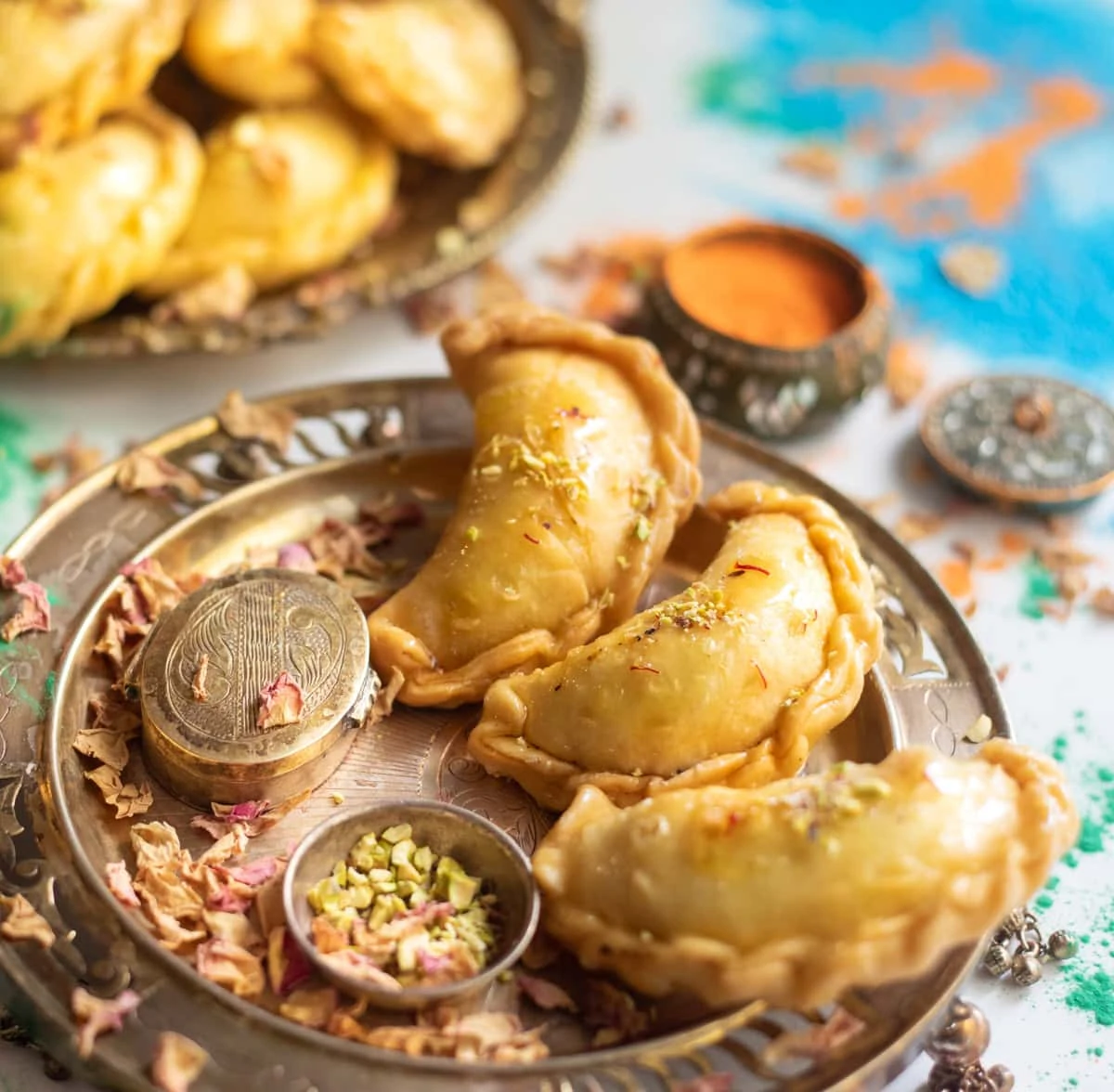 Mawa Gujiya is an authentic Indian sweet fried dumpling, filled with a mixture of mawa (milk solids), nuts and coconut. It is a delicious treat made during the festivals of Holi and Diwali.
Gujarati Magas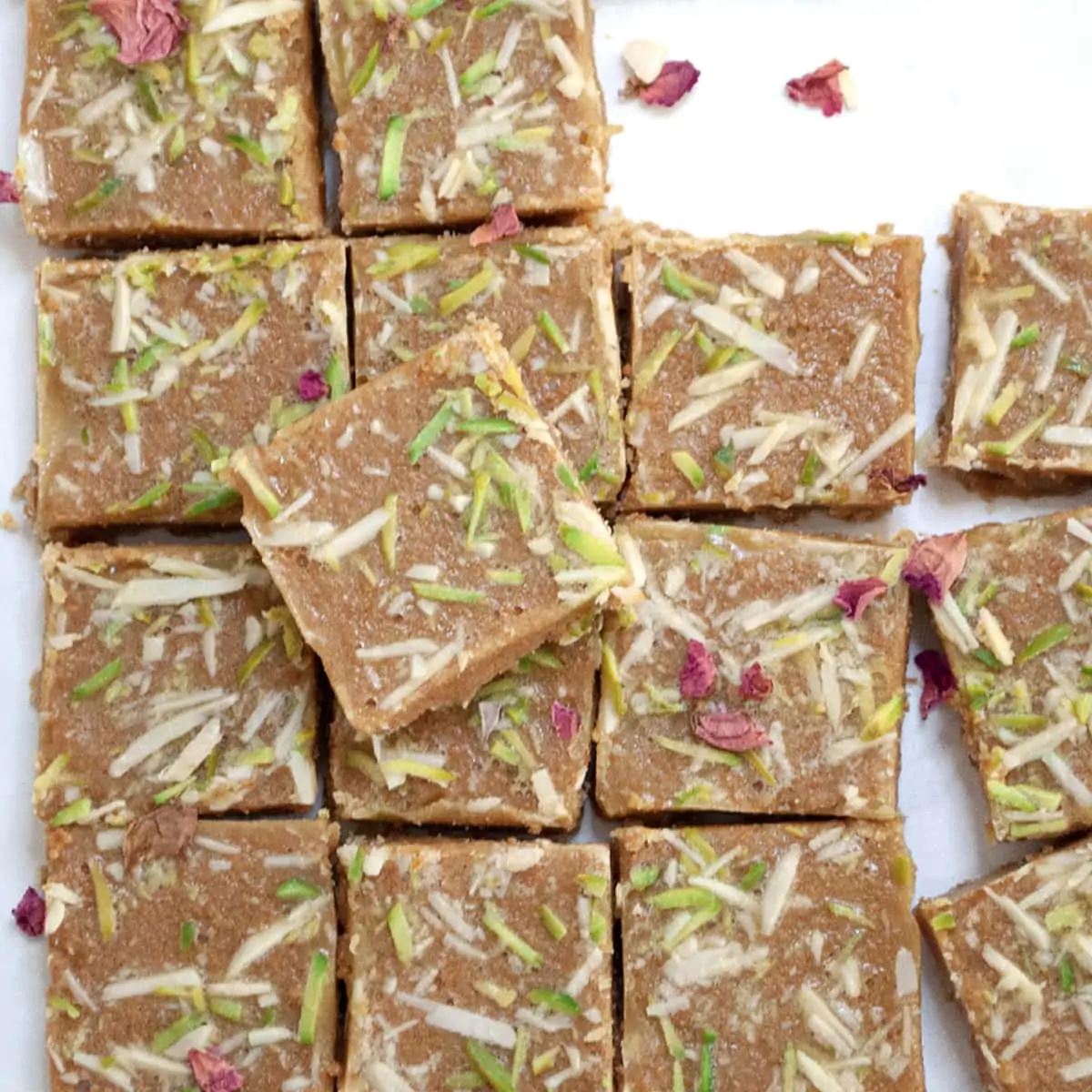 This homemade Magas is a Gujarati fudge made of gram flour, ghee, cardamom, sugar, and nuts. This Indian dessert is traditionally made during festivals. Make this delicious dessert with this foolproof recipe!
Zarda Sweet Rice (Meethe Chawal)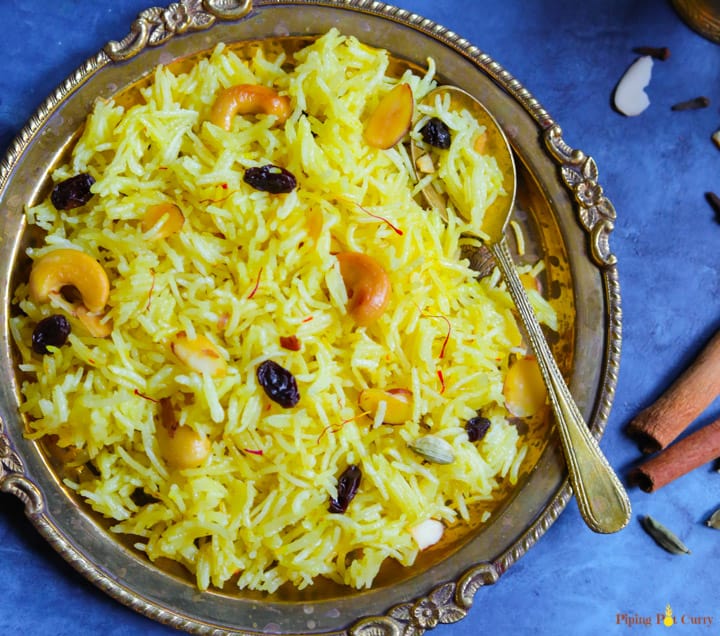 Meethe Chawal or Zarda Rice is a sweet and rich rice preparation loaded with dry fruits, sugar and ghee. This aromatic sweet saffron flavored rice is royal dessert made on special occasions and festivals.
Coconut Pumpkin Halwa (Kaddu Ka Halwa)
Coconut Pumpkin Halwa, also called Kaddu ka Halwa is an Indian pumpkin dessert made with pumpkin, sugar, ghee, coconut and nuts. It can be cooked in a pressure cooker, on the stovetop or Instant pot and takes under 30 minutes!
Seviyan Kheer / Vermicelli Kheer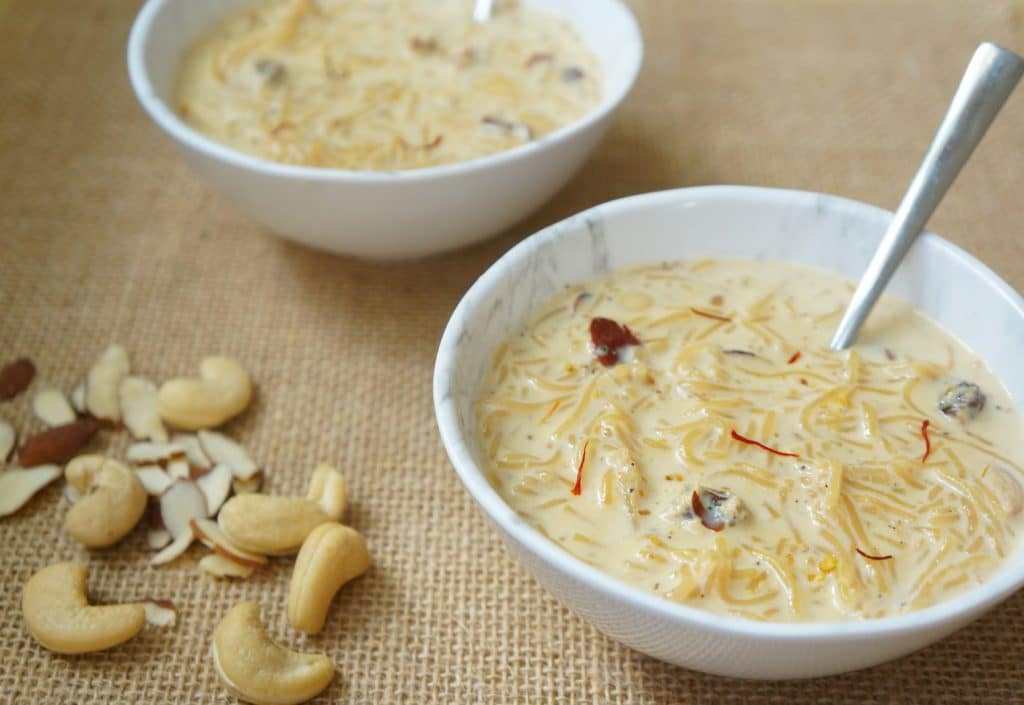 Seviyan Kheer, also called Vermicelli Kheer and Semiyan Payasam made in the Instant Pot. This is a creamy and delicious pudding made with vermicelli, milk and sugar, infused with aromatic saffron, cardamom, nuts and raisins.
Coconut Almond Ladoo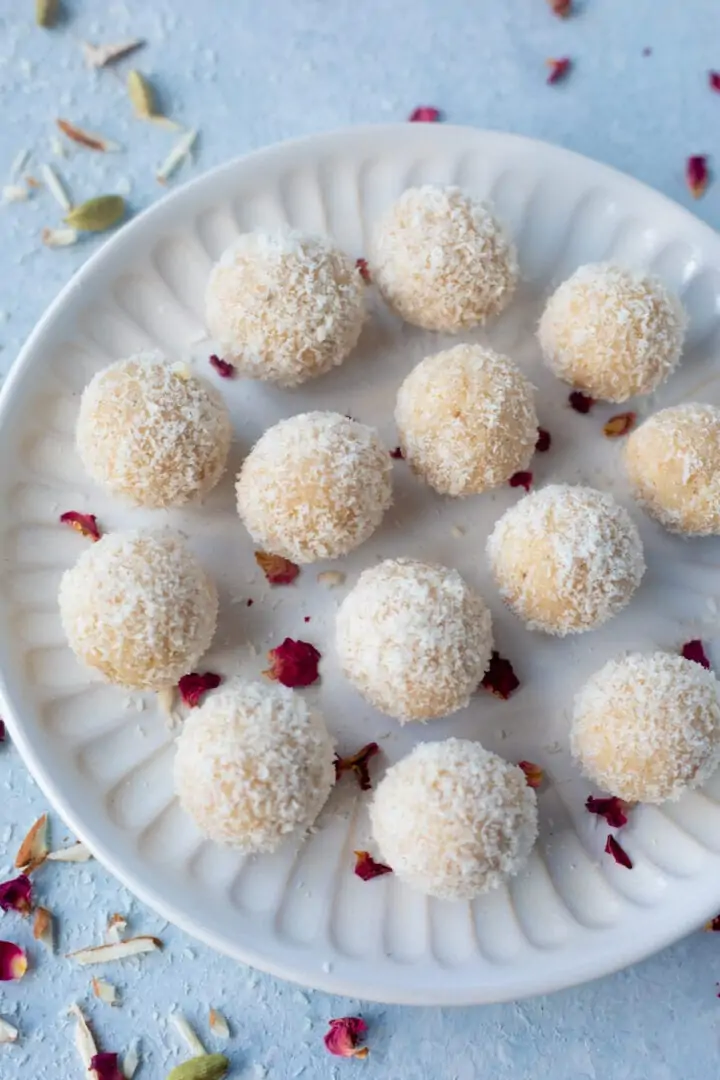 Coconut Almond Ladoo is an easy Indian sweet that can be made for any festival. Made with 3 main ingredients - almond flour, desiccated coconut and sweetened condensed milk, these ladoo's are quick dessert that can be prepared in just 20 minutes.
Mango Shrikhand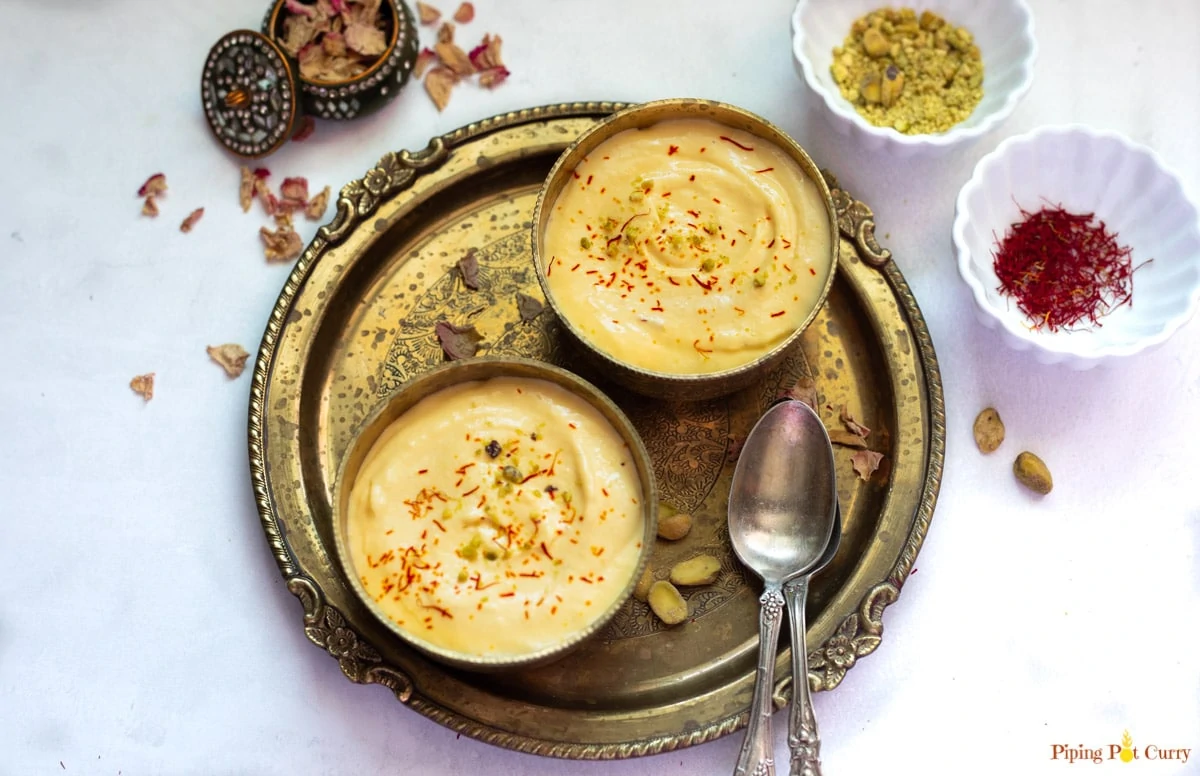 Mango Shrikhand, a refreshing & sweet Indian dessert, is a perfect summer treat. Creamy yogurt, mango pulp and sugar are blended together, and garnished with saffron and cardamom to make this luscious Mango Shrikhand.
Besan Barfi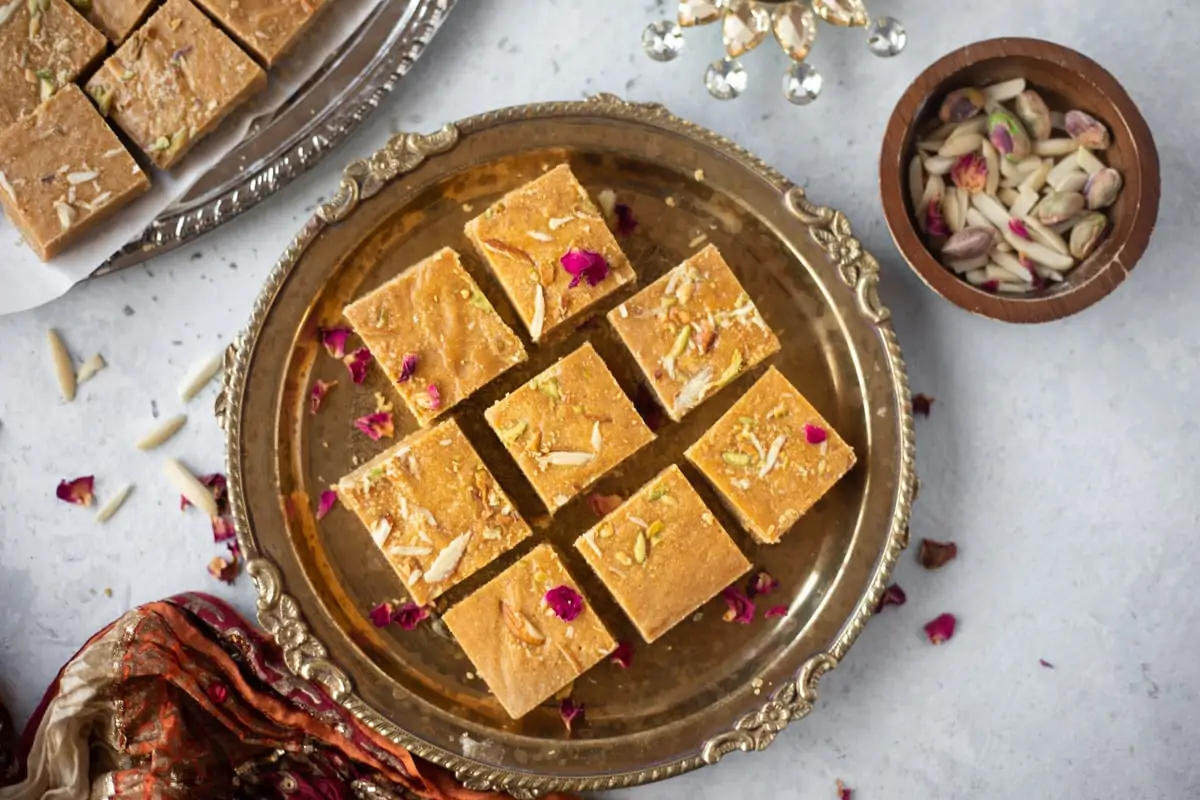 Besan Barfi, also called Besan ki Chakki, is a delicious, fudgy, and melt-in-mouth traditional delight. Besan ki Burfi is an authentic sweet prepared with just a few basic ingredients - gram flour, ghee, sugar, flavored with cardamom and saffron.
Mysore Pak (Gram Flour Fudge)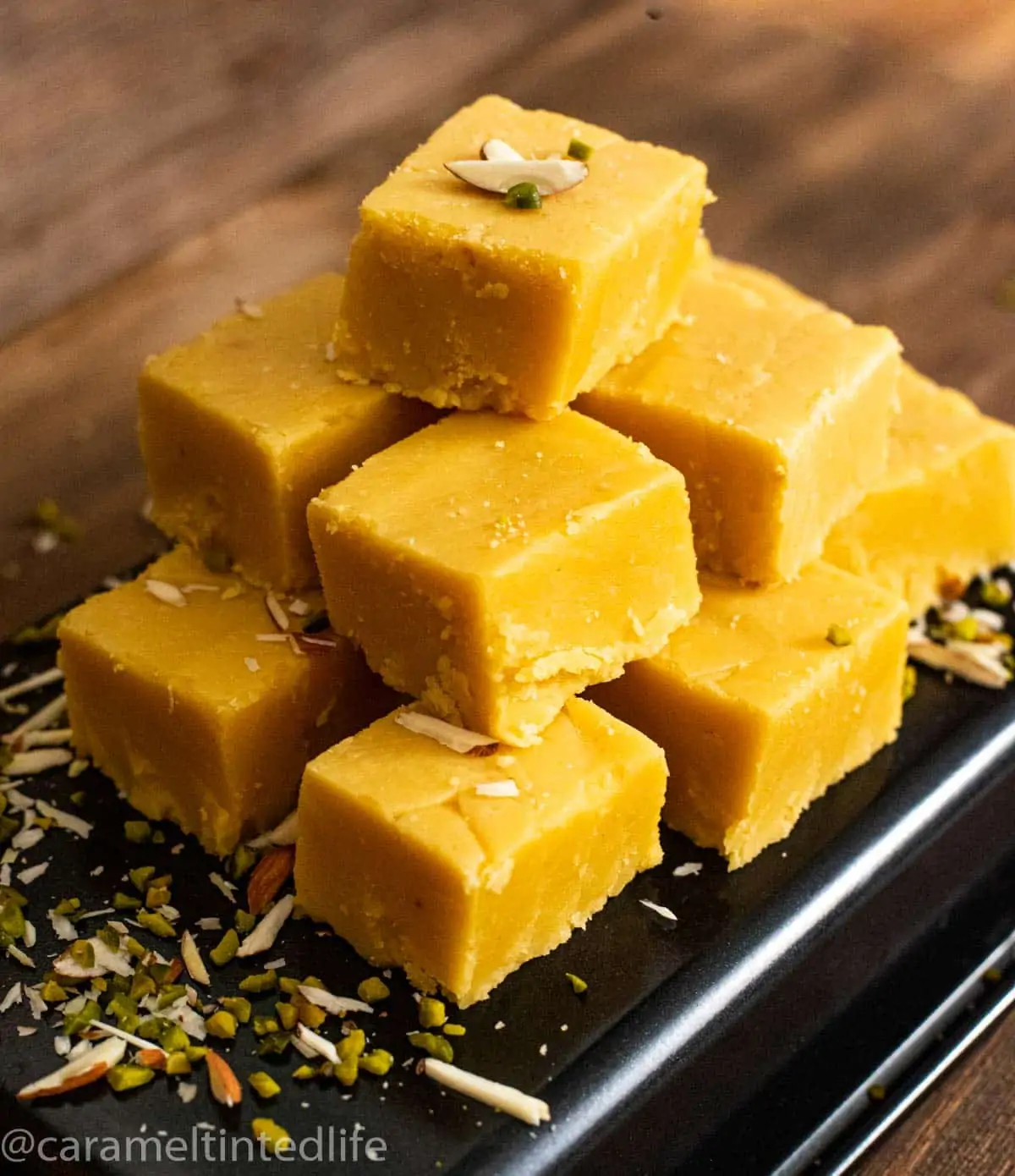 Mysore Pak is a popular South Indian cousin of Besan barfi originating from the Indian state of Karnataka. Mysore Pak is loaded with the goodness of ghee and besan and cooked with sugar syrup.This traditional recipe has a wonderful melt-in-mouth texture, which makes it great for special occasion and festivals.
Gulab Jamun Custard Jars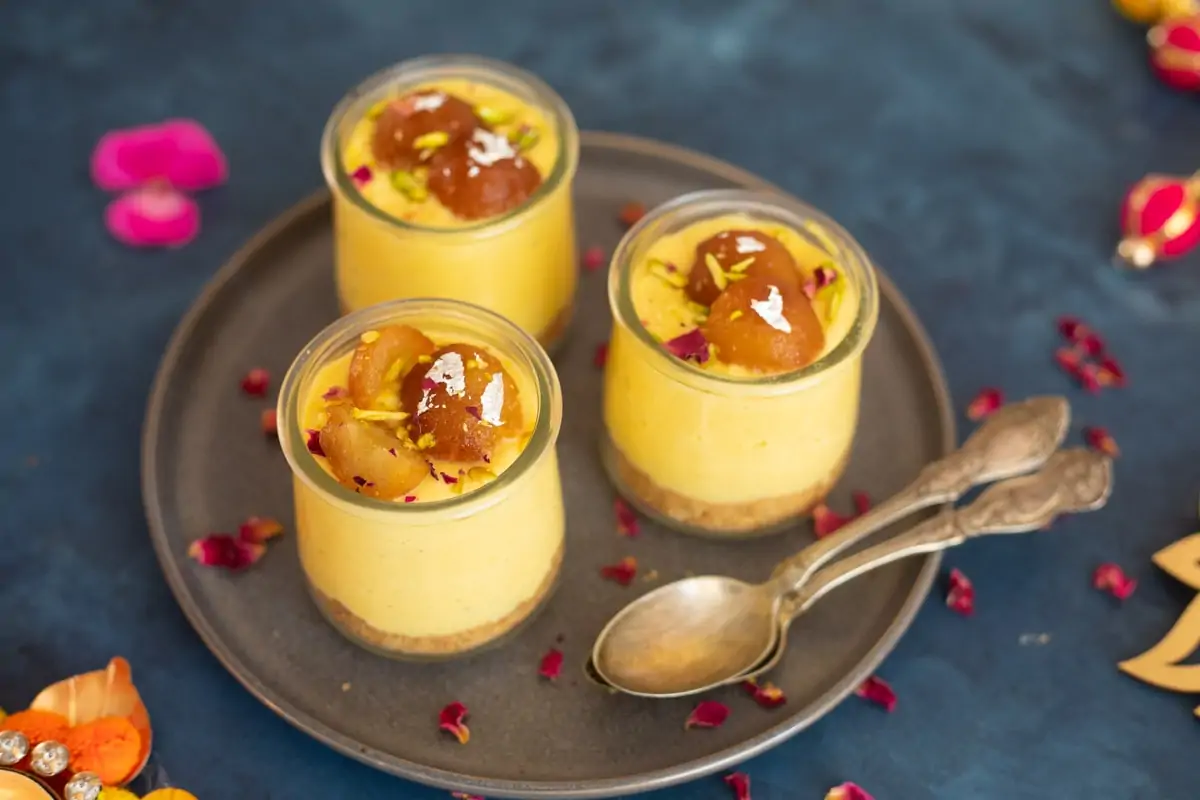 An easy Indian fusion festive dessert - Gulab Jamun Custard Jars. This dessert is layered with goodness of the cookie crumble, creamy cooling custard and sweet gulab jamun's, adorned with slivered pistachios and rose petals. These exotic dessert jars are easy to put together, and are sure to be a party stunner!
Ukadiche Modak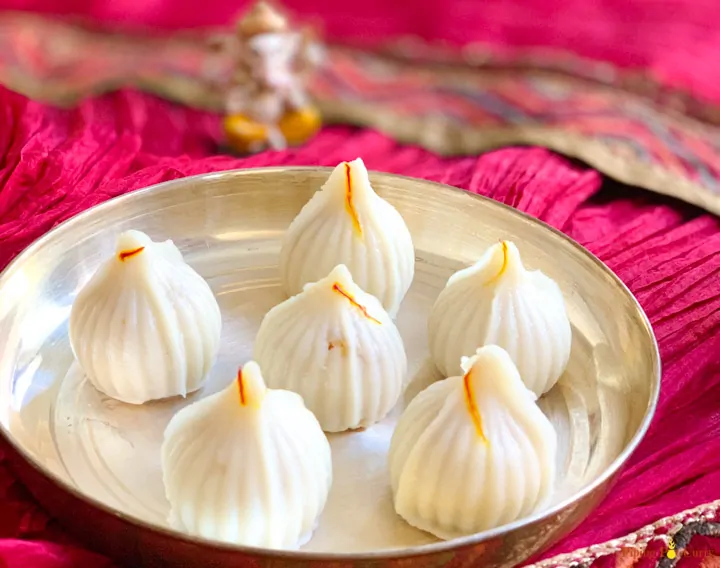 Ukadiche Modak is an Indian sweet dumpling made during the festival of Ganesh Chaturthi. It is made from steamed rice flour and stuffed with a sweet mixture of jaggery and grated coconut.
Oats Kheer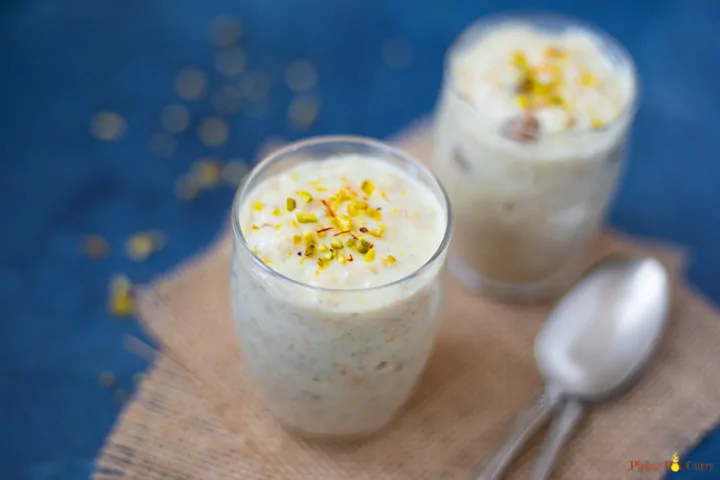 Oats Kheer also known as Oats payasam is a delicious twist of using oats in Indian dessert recipes. Sweetened oatmeal with cardamom, nuts and raisins, this healthy breakfast or dessert can be cooked in a pressure cooker or on the stovetop within minutes.
Instant Pot Moong Dal Halwa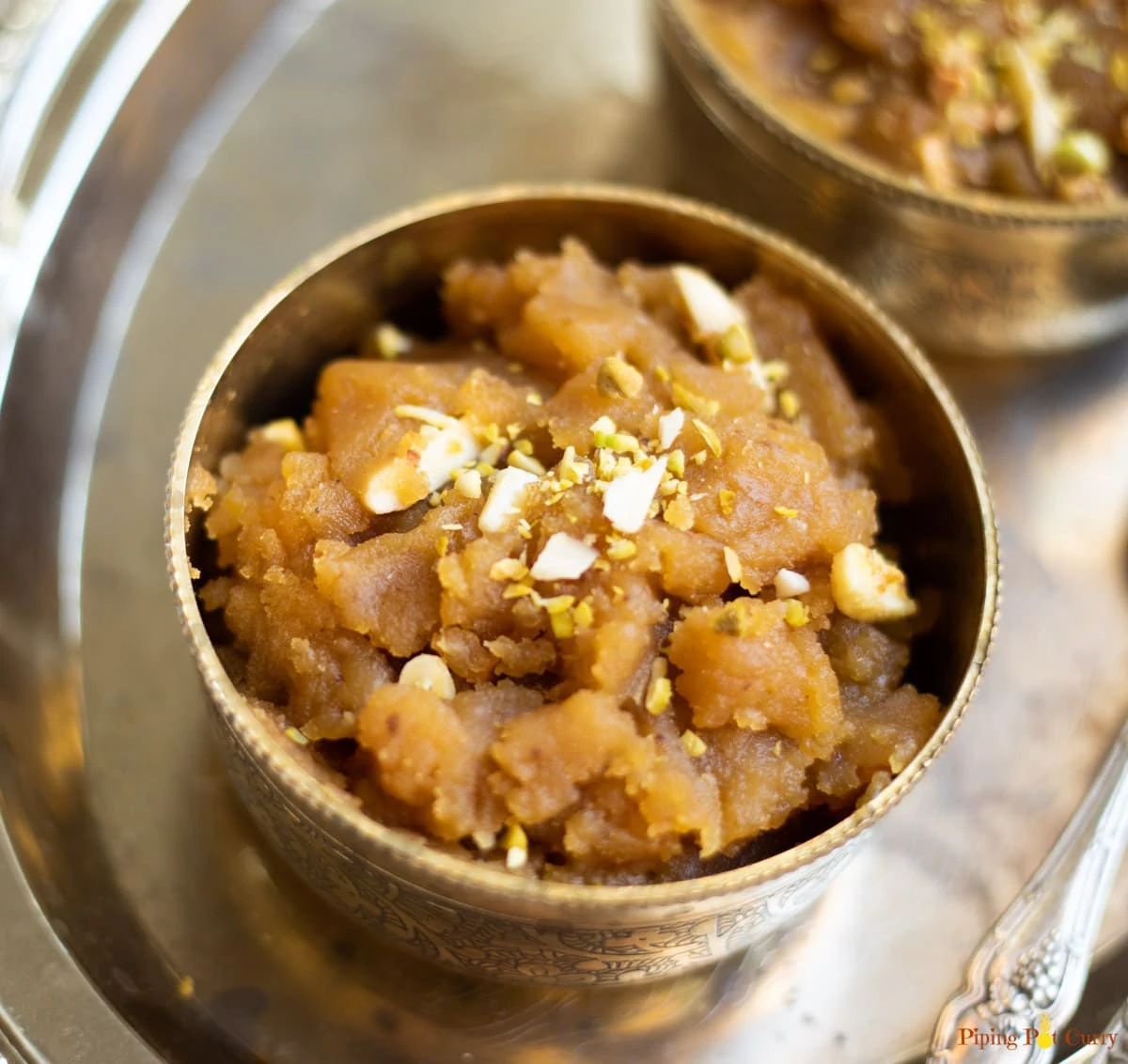 Moong Dal Halwa is a rich, delicious dessert made with split yellow lentils (moong dal), sugar and ghee, along with the flavors of cardamom and saffron. This easy version of Moong Dal Halwa can be made in a pressure cooker, and is much less laborious than the traditional method.
Chocolate Ladoo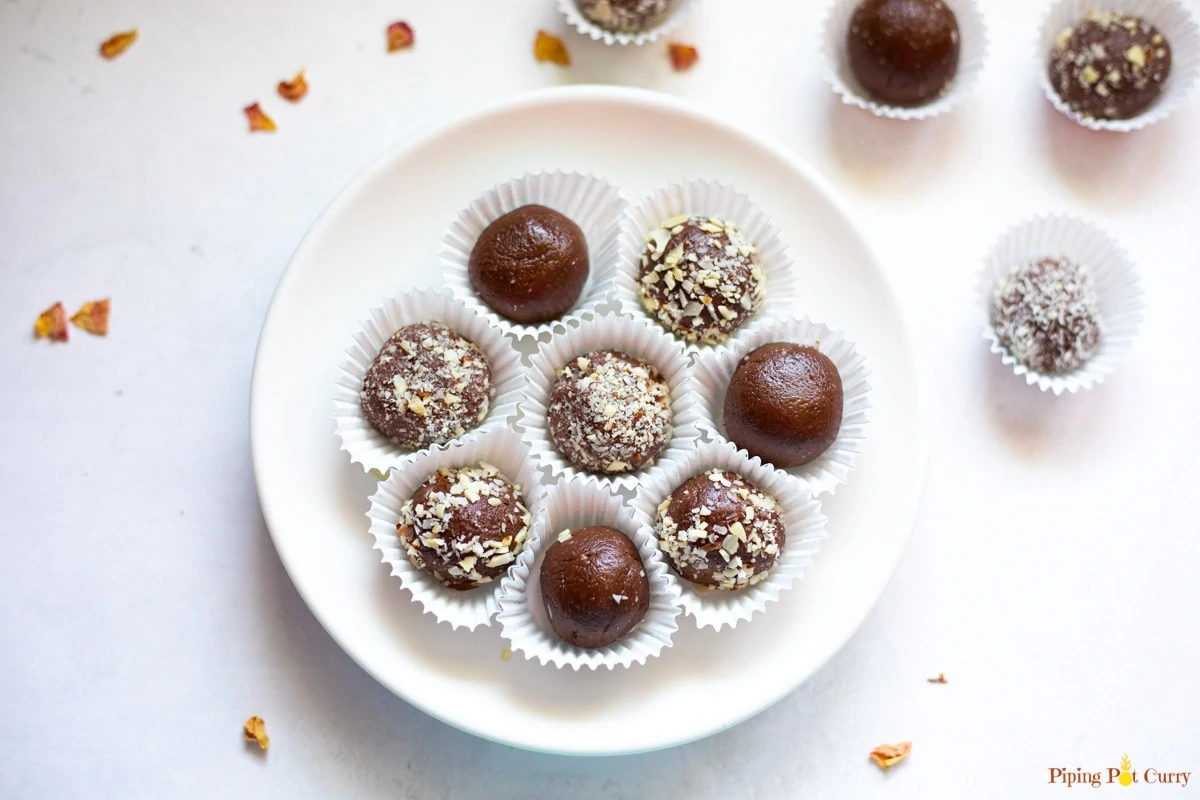 These Chocolate Ladoos made with almond flour, condensed milk and cocoa powder are sure to satisfy your cravings for Indian sweets! They take only 20 minutes to make, and can be served as a festive dessert for special occasions, or just a quick weekday treat.
Carrot Kheer
Carrot Pudding / Carrot Kheer / Carrot Payasam made in Instant Pot or Pressure Cooker. Carrot Kheer is made with carrots, milk, cashews and dates, with the added aroma of cardamom & saffron. A delicious & satisfying desert, with no added sugar. You would not mind yourself or your kids asking second and third servings!
Lapsi (Cracked Wheat Sweet)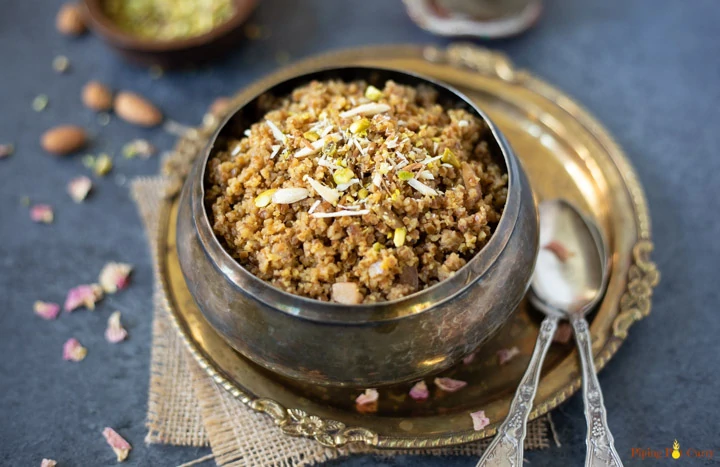 Lapsi is a sweet dish made with roasted broken wheat (Dalia) and sweetened with jaggery. Garnished with nuts and flavored with cardamom, this cracked wheat recipe is perfect for celebrations. With a rich brown color, this lapsi halwa recipe can be cooked in the instant pot within minutes.
Instant Pot Brown Rice Kheer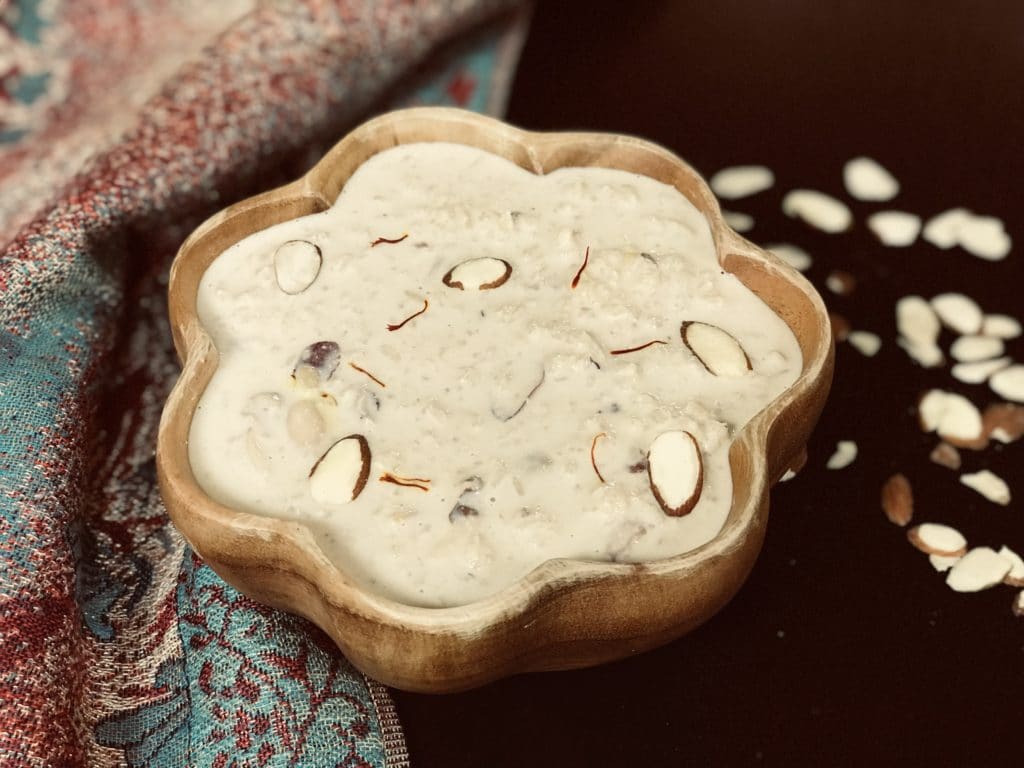 Kheer or Payasam is an Indian favorite dessert for special occasions. It is basically rice pudding made with rice and milk infused with saffron, cardamom and assorted dried fruits. This recipe is a variation to use brown rice in this favorite dessert made in the Instant Pot.
Gulab Jamun Shrikhand Bowls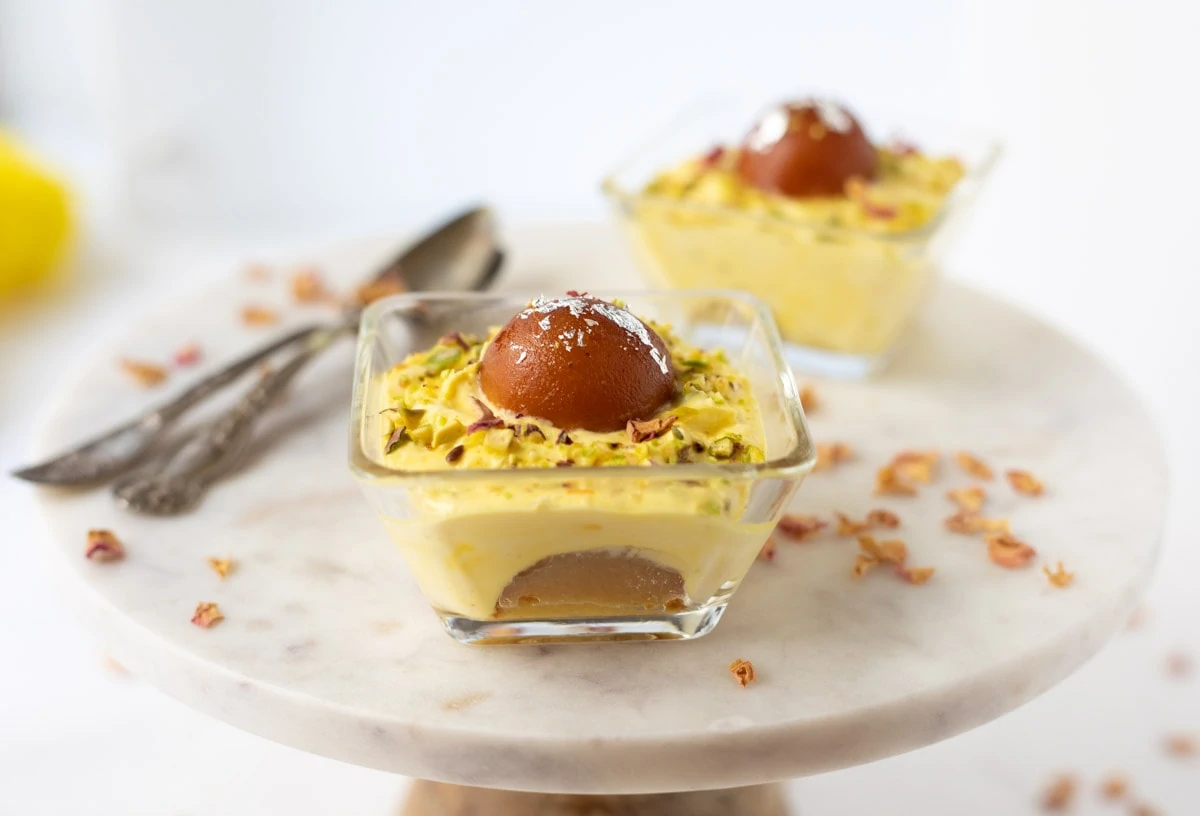 An easy Indian fusion festive dessert - Gulab Jamun Shrikhand Bowls. Tangy creamy shrikhand combined with sweet gulab jamun's is such a heavenly combination. These exotic dessert bowls are easy to put together, and are sure to be a party stunner!
Rasmalai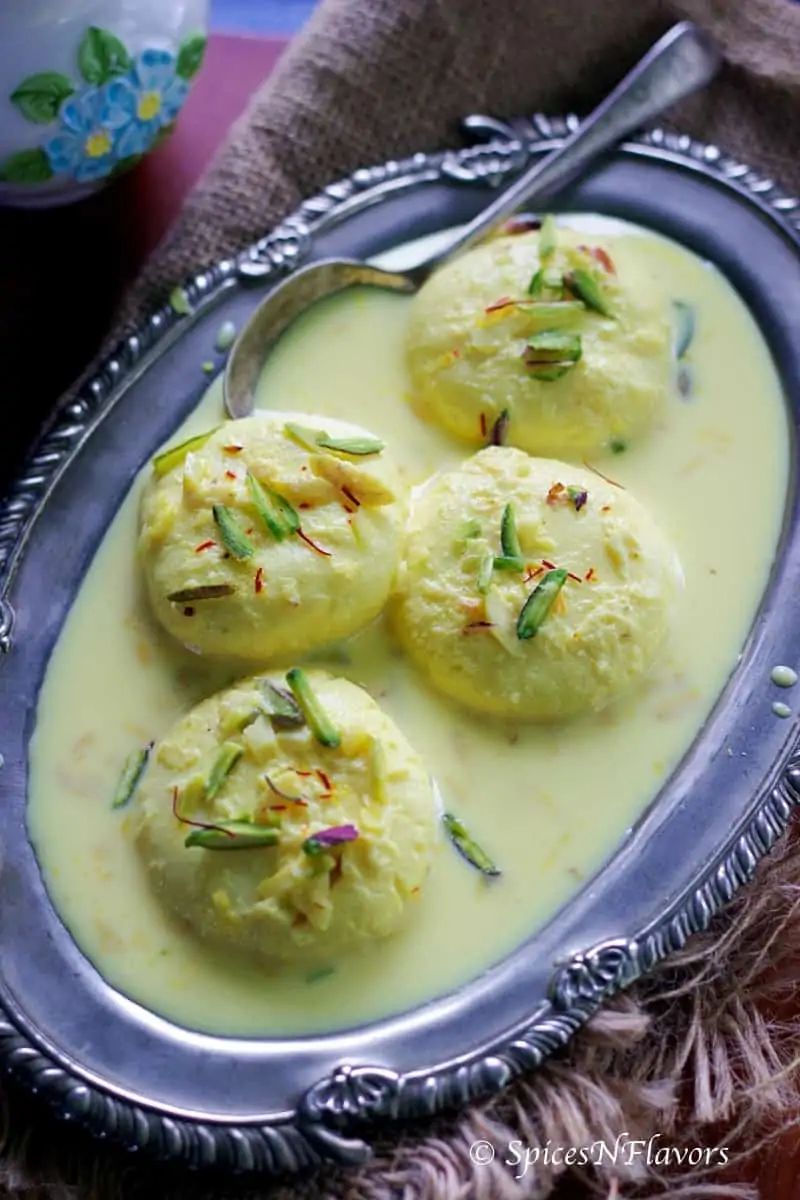 Rasmalai is a Bengali dessert made with soft and cushiony cottage cheese balls dunked in silky sweet milk.
This rasmalai recipe has everything made from scratch - the milk is curdled to separate the paneer (chenna), shaped into flattened balls then cooked in sugar syrup flavored with exotic spices like saffron, cardamom and rich nuts.
Motichoor Ladoo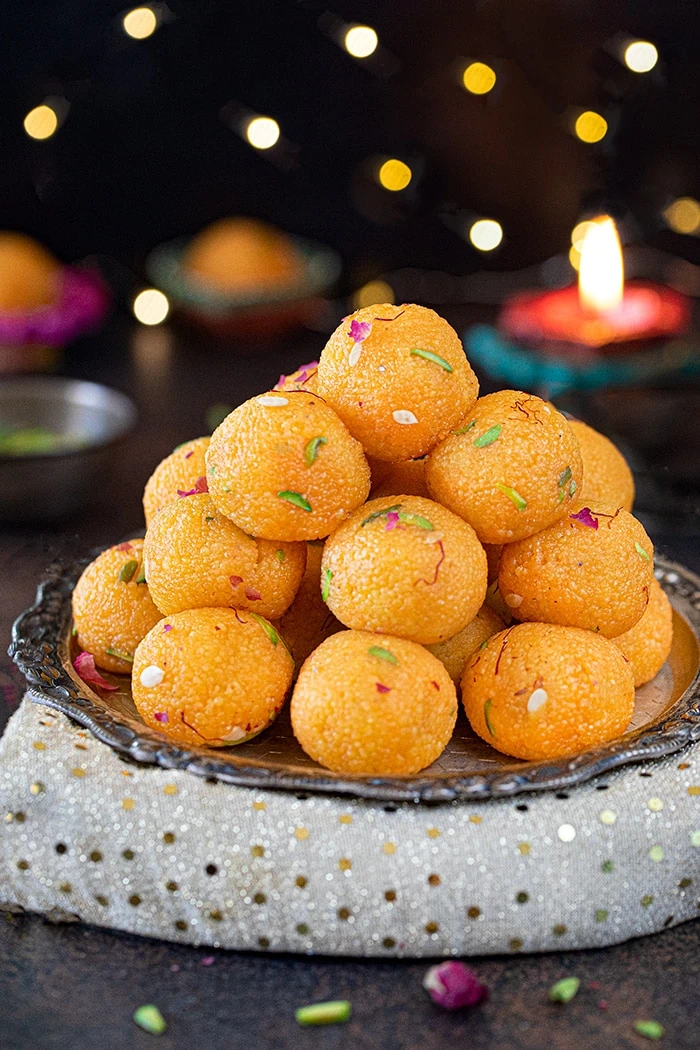 Motichur ladoo is one of the favorite Indian desserts, often offered to gods as prasad during festivals.
Motichoor Ladoos are prepared from tiny gram-flour pearls, sugar syrup, and flavorings. Gram flour pearls are fried in hot oil and then soaked in warm sugar syrup infused with saffron, cardamom, and rose water. These are then rolled into spherical-shaped ladoos.
Puran Poli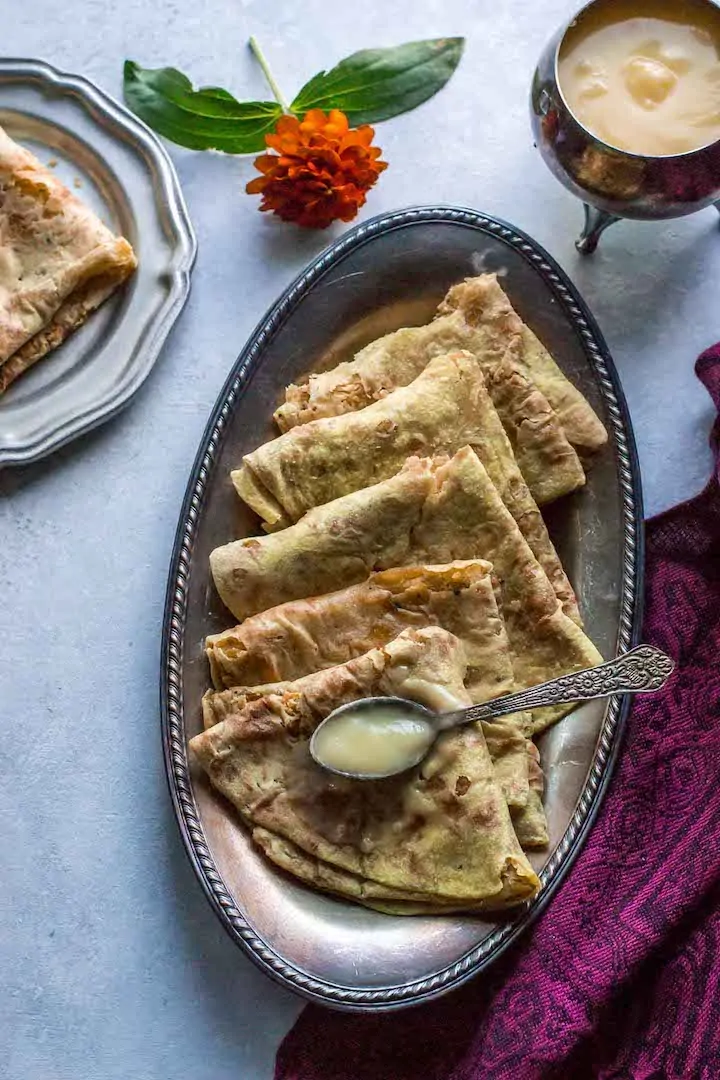 This traditional Indian dessert goes by a few names – holige, bele obbattu, or puran poli. Chapati like but with a flaky crust and a sweet lentil filling, puran poli is a favorite throughout India and you're about to learn why.
Jalebi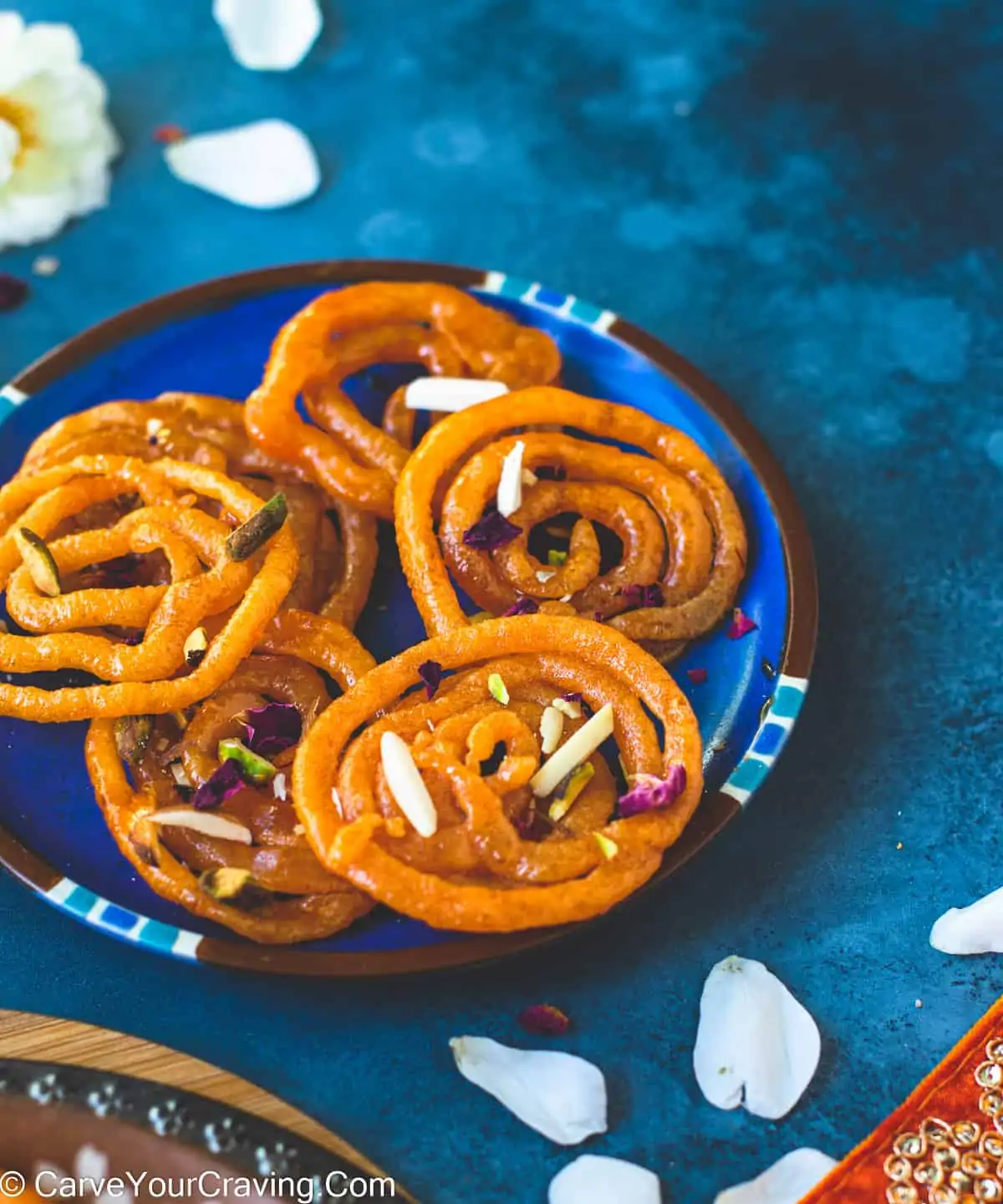 Jalebi is an Indian funnel cake that is deep-fried and then drenched in sugar syrup. This is a popular sweet you will find at indian mithai shops. It is a favorite for kids.
Shahi Tukda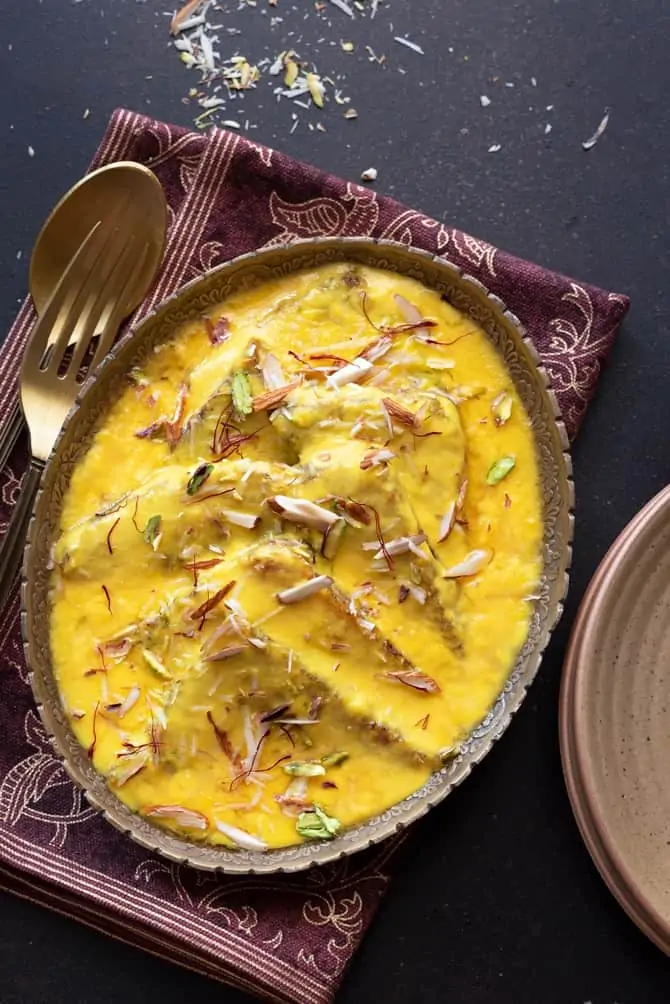 Shahi Tukda is a traditional royal Mughlai sweet dish made by deep frying bread slices, that are dunked in sugar syrup followed by the topping of rabdi or milk cream. A simple, easy, delectable Indian dessert that you must try!
Kaju Katli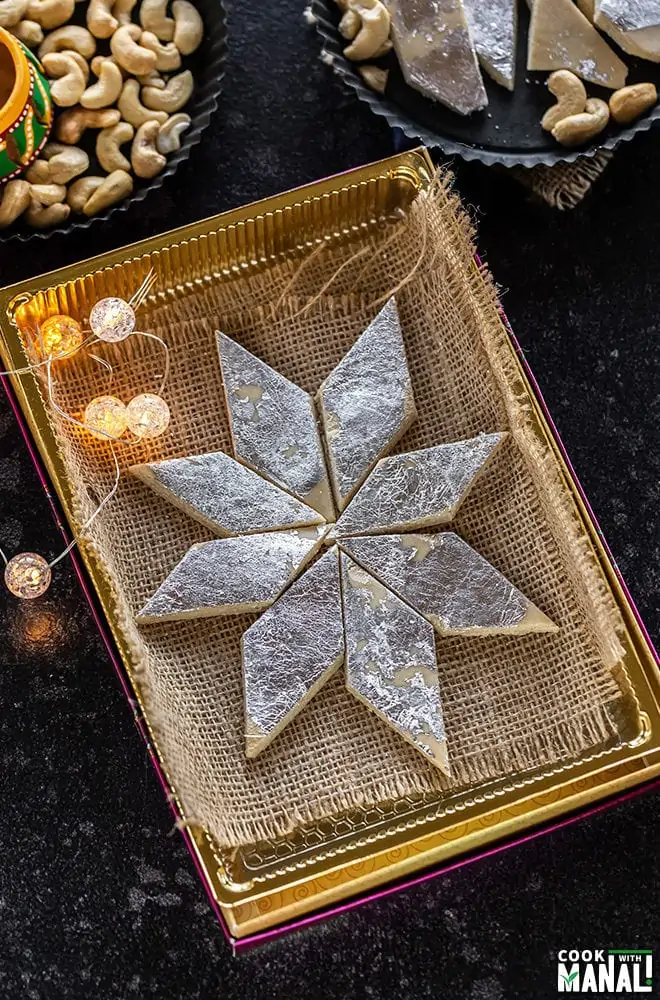 Kaju Katli or Kaju Burfi is a fudge made of cashews. It's one of the most popular Indian sweets gifted during the festive season or during weddings.
Kulfi Ice-cream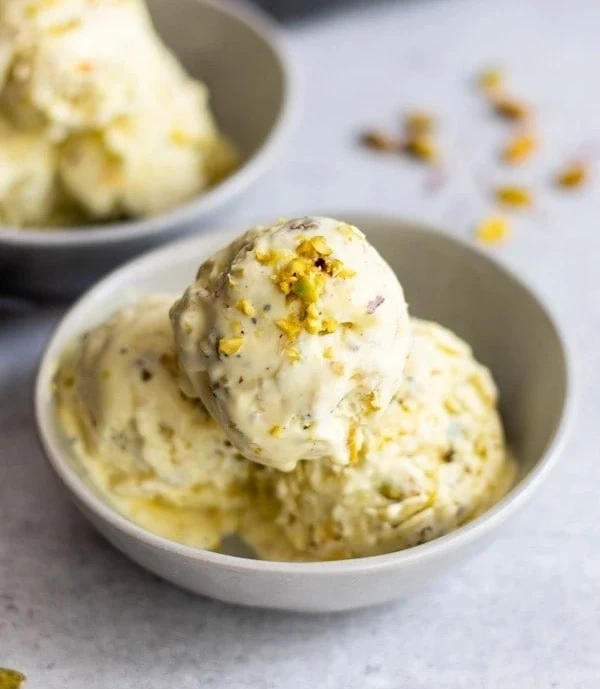 An eggless, no-churn Indian ice cream that's rich, decadent, and easy to make. It is flavored with saffron, cardamom, and rosewater, and decorated with an assortment of crunchy nuts.
I hope you enjoy these easy Indian desserts from this collection and give your loved ones something new to try.
Let us know which one you're most excited to make, and share this roundup with your friends, and when you make it, don't forget to tag #pipingpotcurry.
Kuch meetha ho jaaye (let's have something sweet)..................
More collections of Indian Recipes you will enjoy: