Looking for easy Indian snack recipes? Take a look at these popular Indian snacks that are easy to make, and so delicious. These snacks are perfect for any occasion – with your evening tea, as starters for a party, or something to munch while working.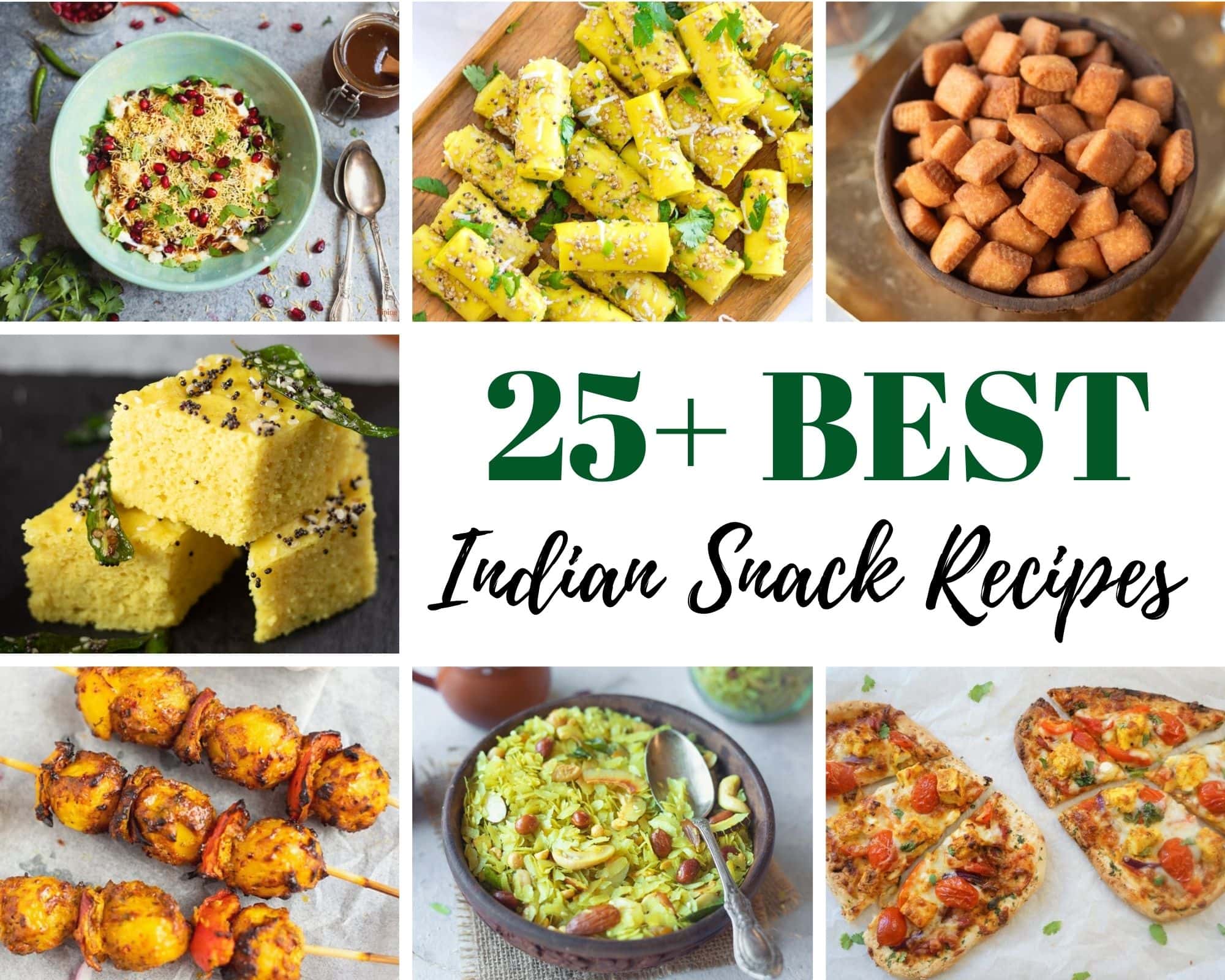 Even though snacks are not a main meal, they are something we all need to get through the day. The spicy, crunchy or tangy snacks are what we all crave for a mid-morning or evening tea-time snack.
In India, you will find a wide variety of snacks from dry evening snacks such as chivda, shakarpara and chakli, to indian starters such as samosa, dhokla and chaat.
Indian snacks are typically bold in flavor with the addition of spices, and herbs. Some people like warm healthy snacks with their chai, while others enjoy a street style tangy chaat with a glass of lassi or shikanji.
Many of these Indian snacks are enjoyed with chutneys such as the popular green mint cilantro chutney and tamarind chutney.
Some prefer Indian dry snacks that can be made ahead of time so you can spend more time with your family or guests and less time in the kitchen. So, instead of buying store-bought snacks, try cooking them at home this time.
Indian Dry Snacks
You will love these dry light snack recipes that are easy to make with a few ingredients with your evening cup of chai or filter coffee.
Shakarpara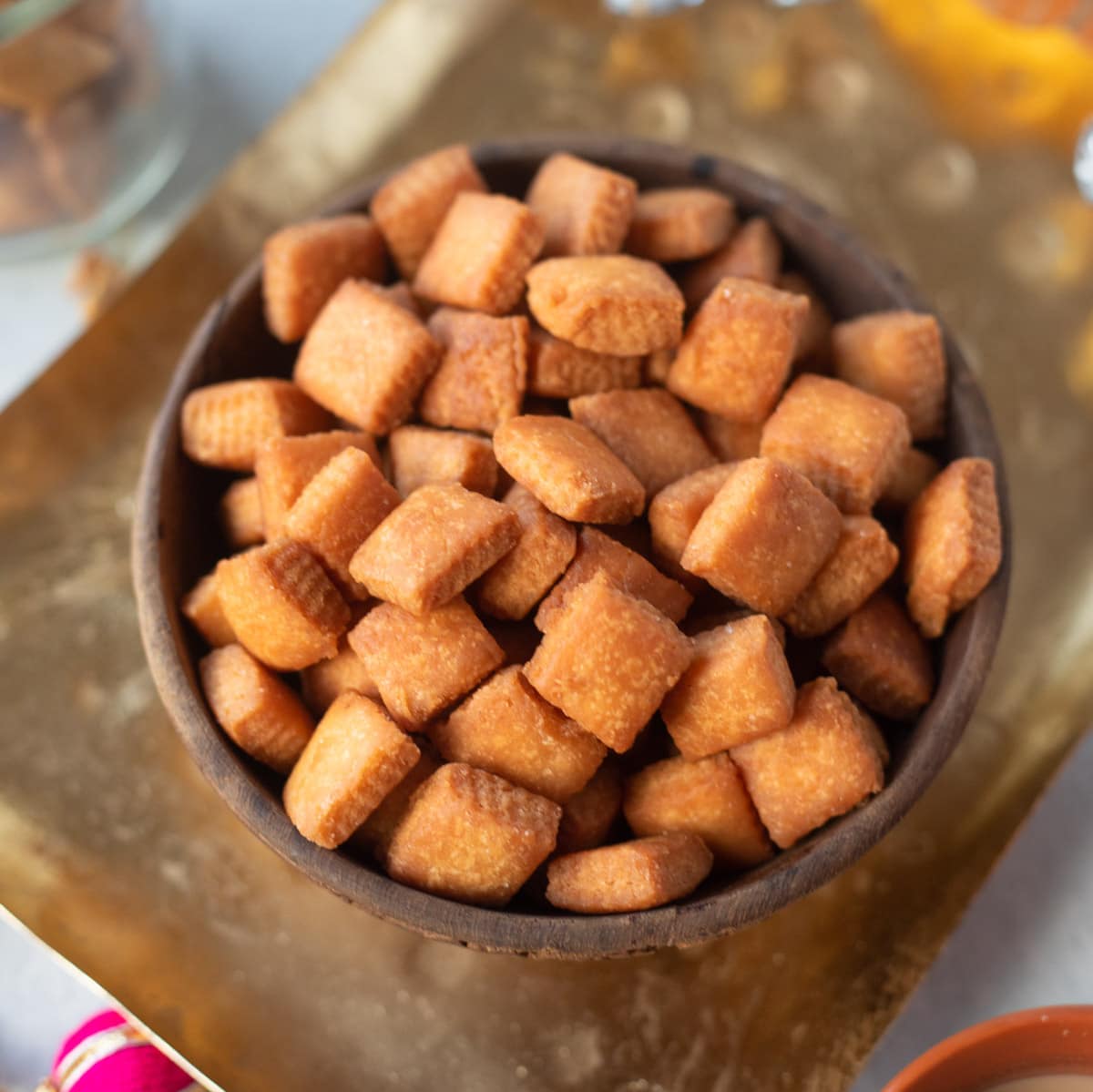 Shakarpara, also known as Shankarpali, is a crispy, mildly sweetened snack made with 4 simple ingredients you will have at home.
These bite-sized fried Indian cookies come together quickly, and are popularly made during festivals such as Diwali and Holi.
Namak Para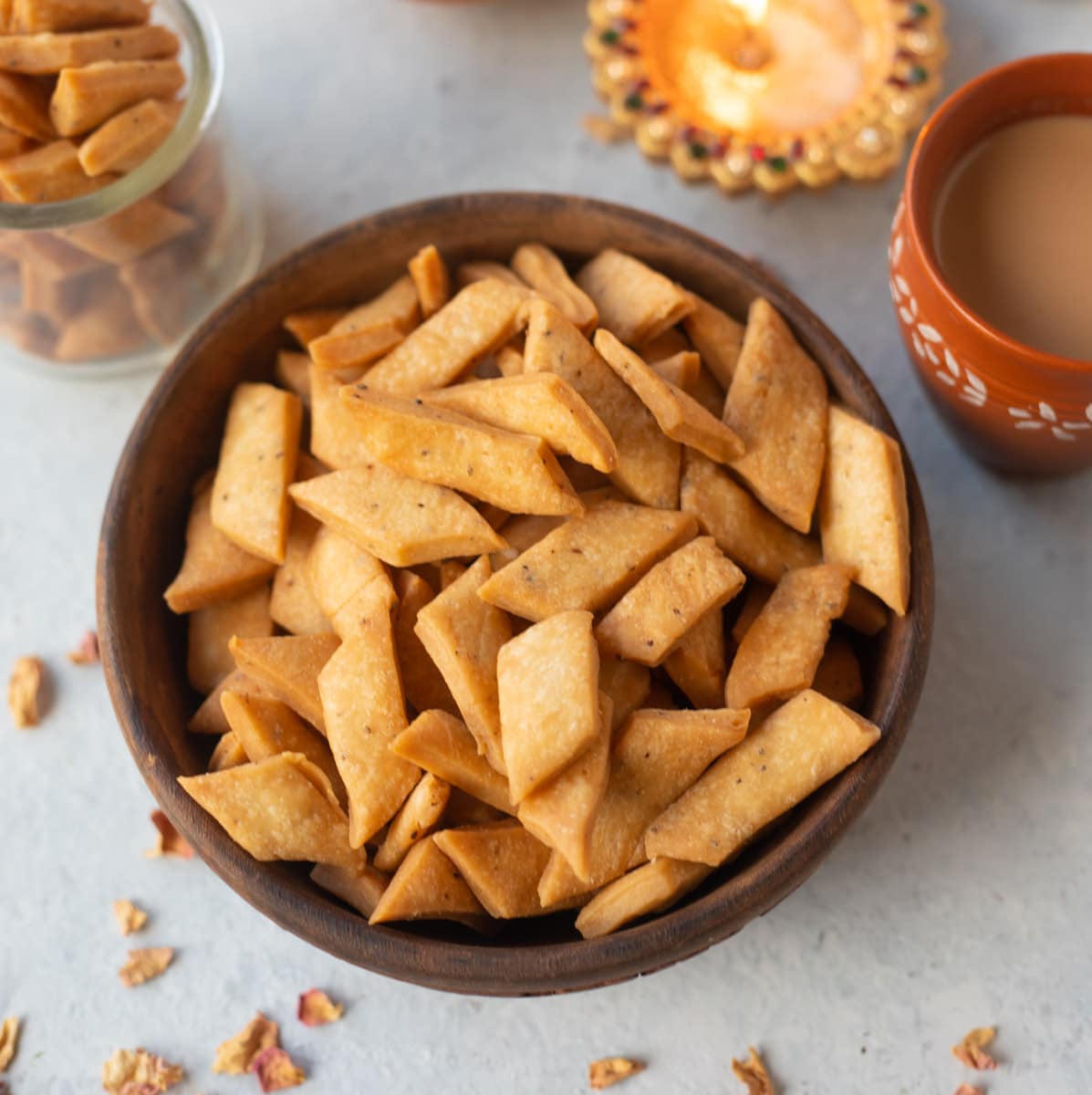 Namak para is a deep-fried Indian delicacy that is delicious, crispy and addicting—made with all-purpose flour (maida), semolina, and a few spices such as ajwain, salt, and pepper for a light flavor. It is one of the most popular snacks among kids.
Poha Chivda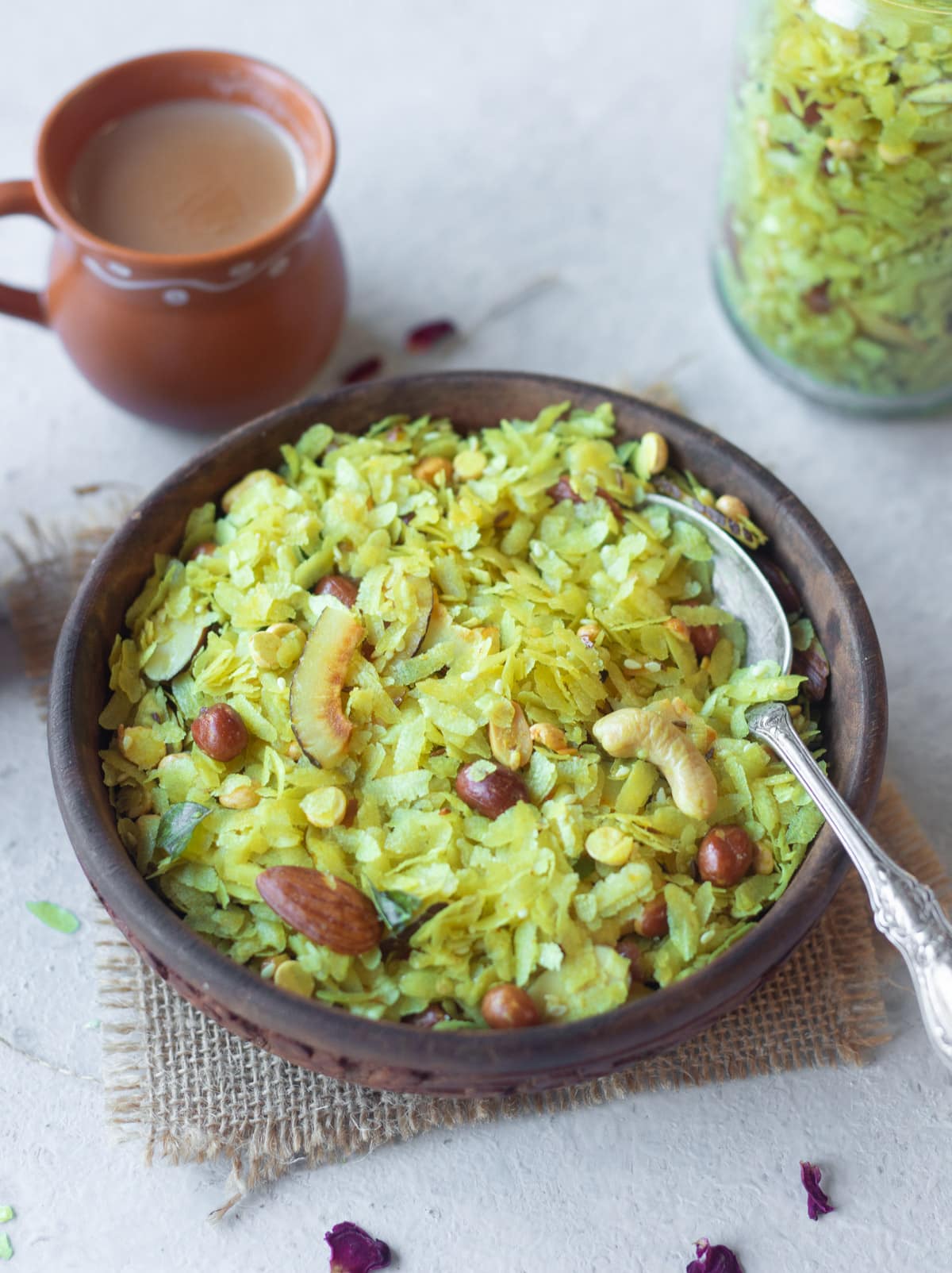 Roasted Poha Chivda is a delicious savory snack that is sweet, tangy, and crunchy with a bit of spicy kick—made of crispy and crunchy roasted poha (flattened rice) peanuts, cashews, almonds, and other seasonings.
Chakli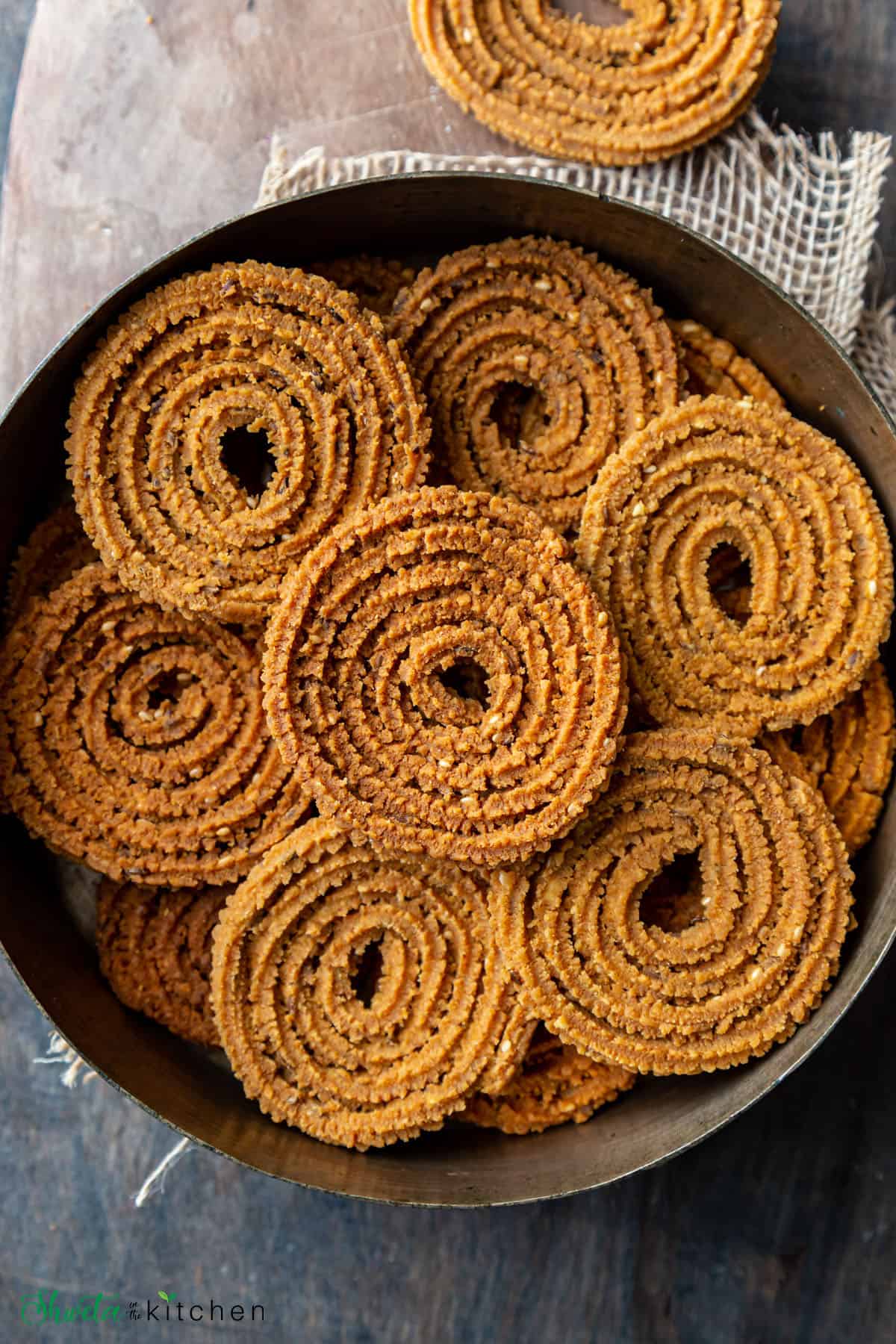 Chakli, also called Chakri or Murukku, is a spiral-shaped savory snack made from rice flour, besan (gram flour), and spices. These fried and crunchy snacks pair perfectly with a hot cup of tea.
Banana Chips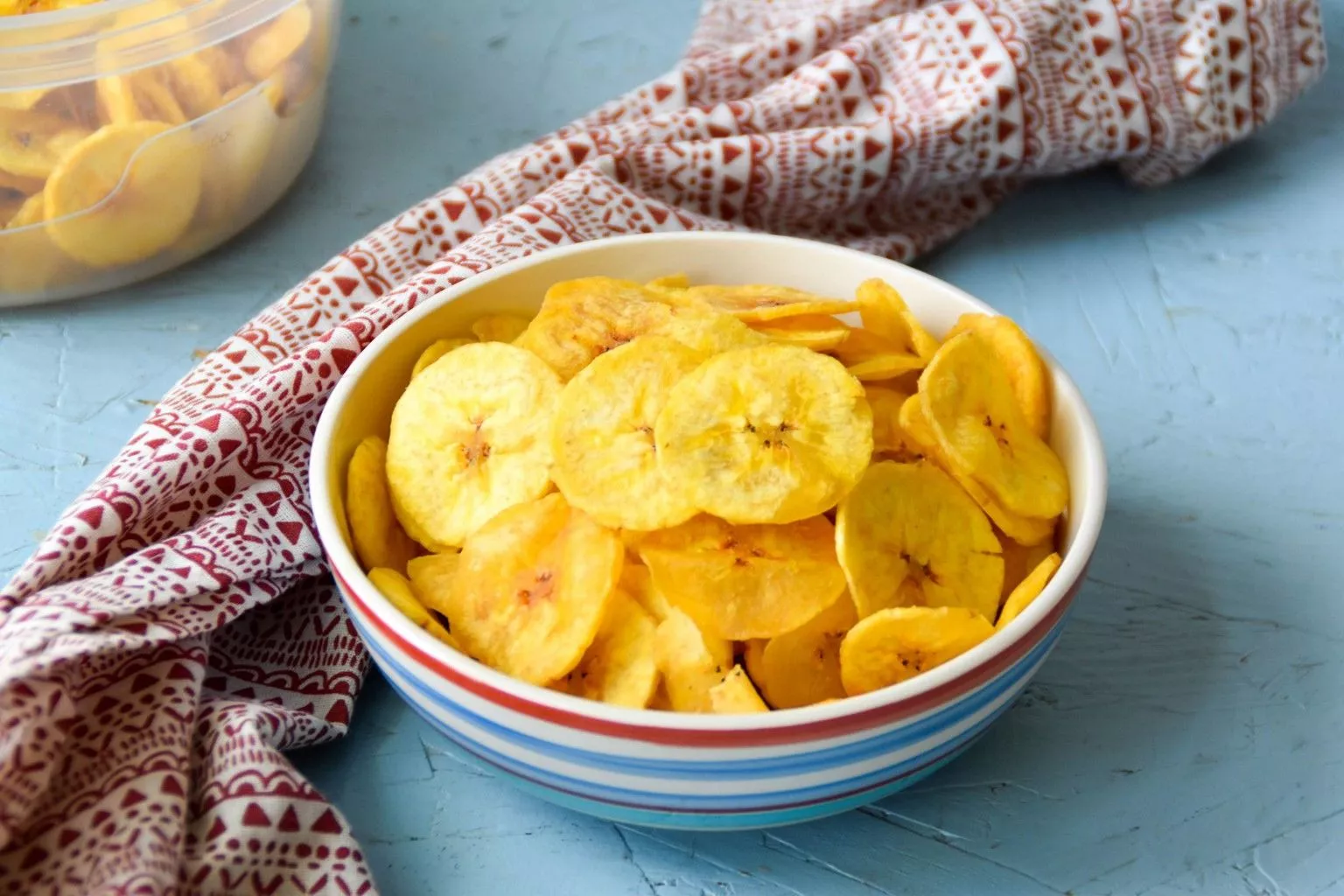 These banana chips fried in coconut oil are the most popular South Indian snack. They are also called plantain chips, a perfect snack that is loved by both kids and adults.
Indian Street Food Snacks
You will love this variety of street food style snacks from all over India. These are crave-worthy, and so satisfying with your evening tea or as starters for a party.
Khaman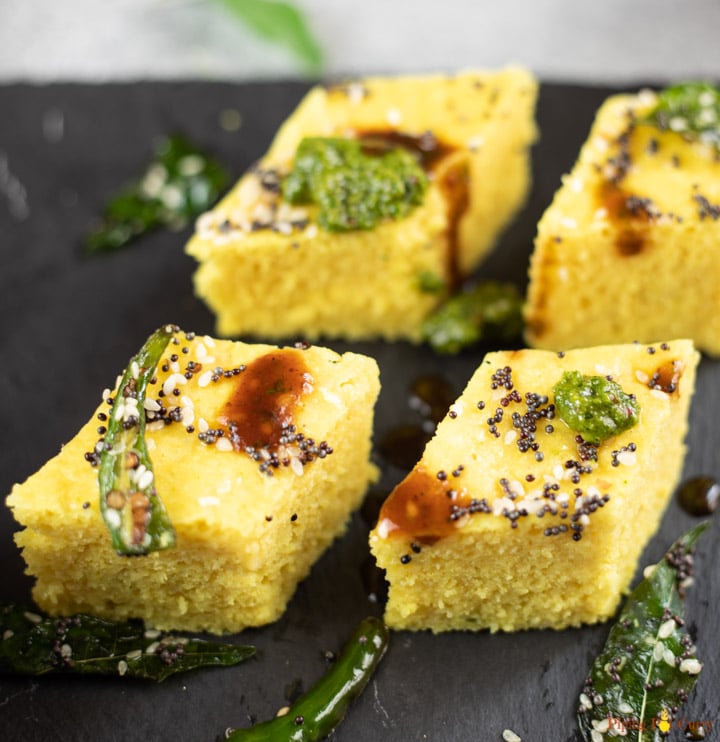 Soft and fluffy Khaman Dhokla is delicious steamed savory chickpea flour cakes that are a popular Gujarati delicacy. They are perfect to enjoy for an evening snack!
Vada Pav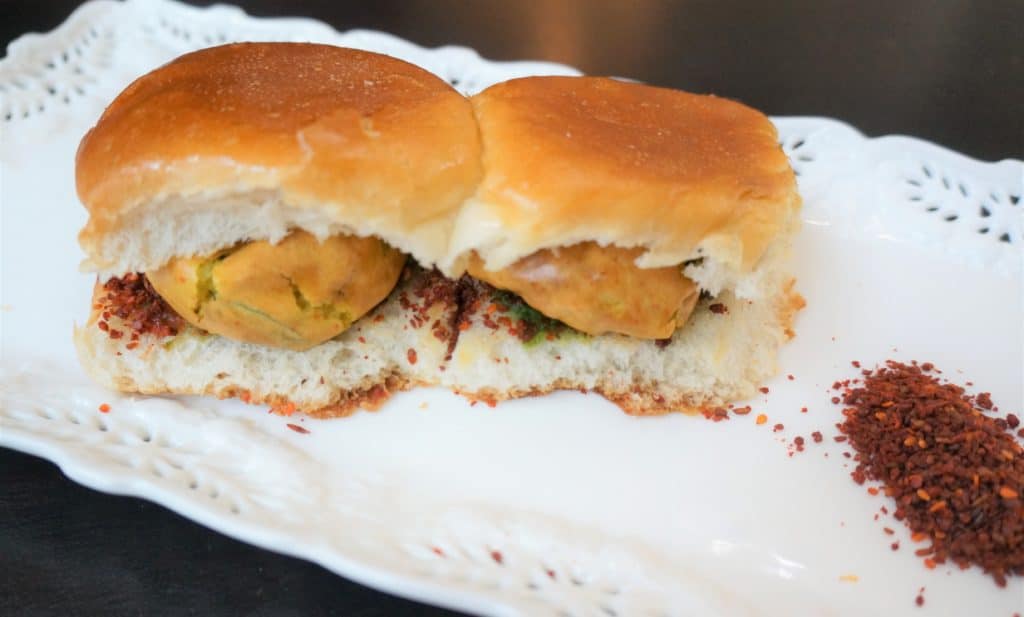 The most popular street food of Mumbai. You can find roadside vendors selling Vada Pav at every popular spot in the city.
A fried potato fritter or vada, is stuffed in between mini-burger buns or dinner rolls called pav, along with sweet and spicy sauces or chutney.
Dahi Papdi Chaat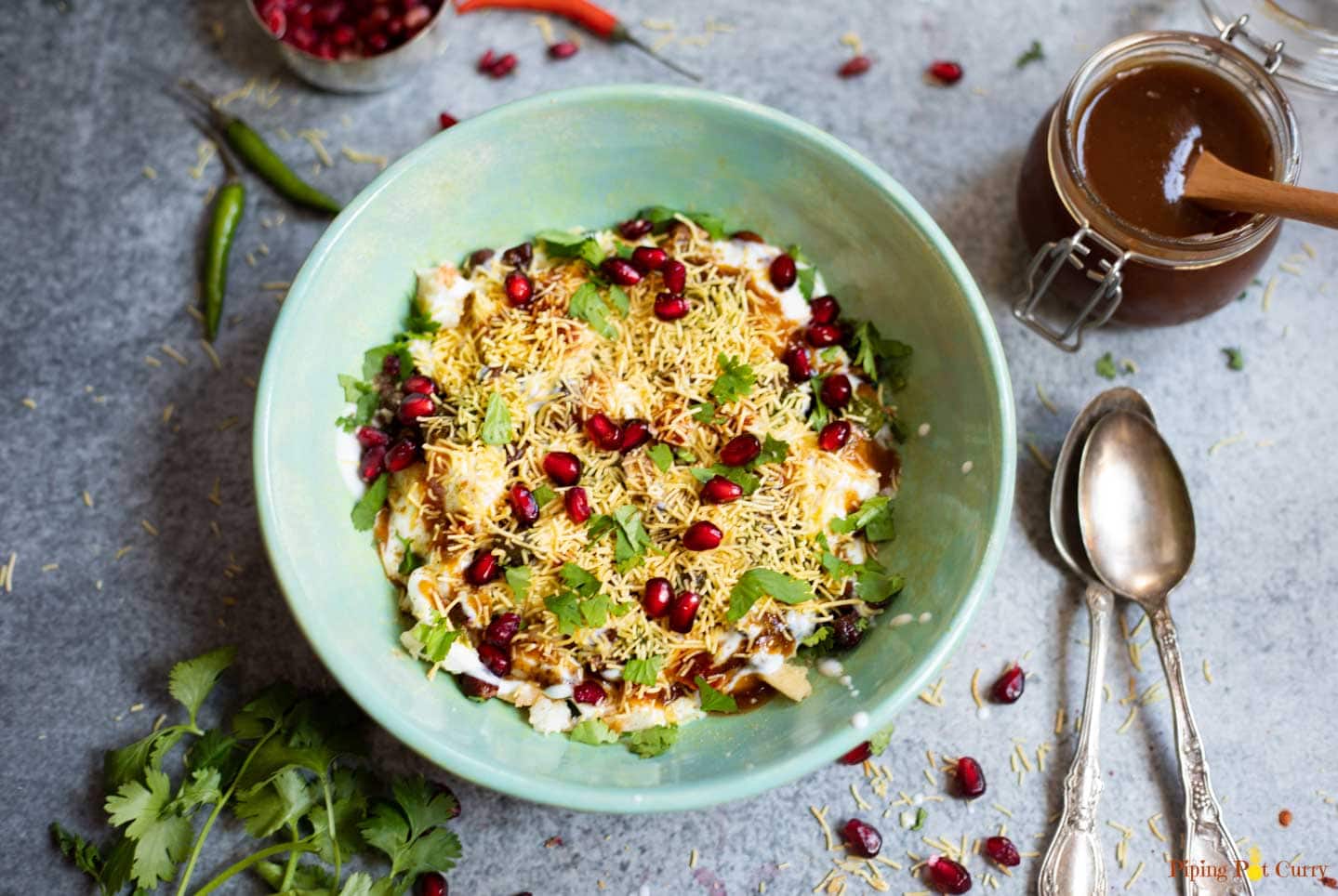 A famous Delhi street food, Dahi Papdi Chat, is a crispy sweet, spicy and tangy chaat that packs a whole lot of flavor.
Also known as Dilli chaat, this popular street food is made with crispy papdi (whole wheat crackers), sev (thin gram flour noodles), yogurt, and a variety of chutneys.
Frankie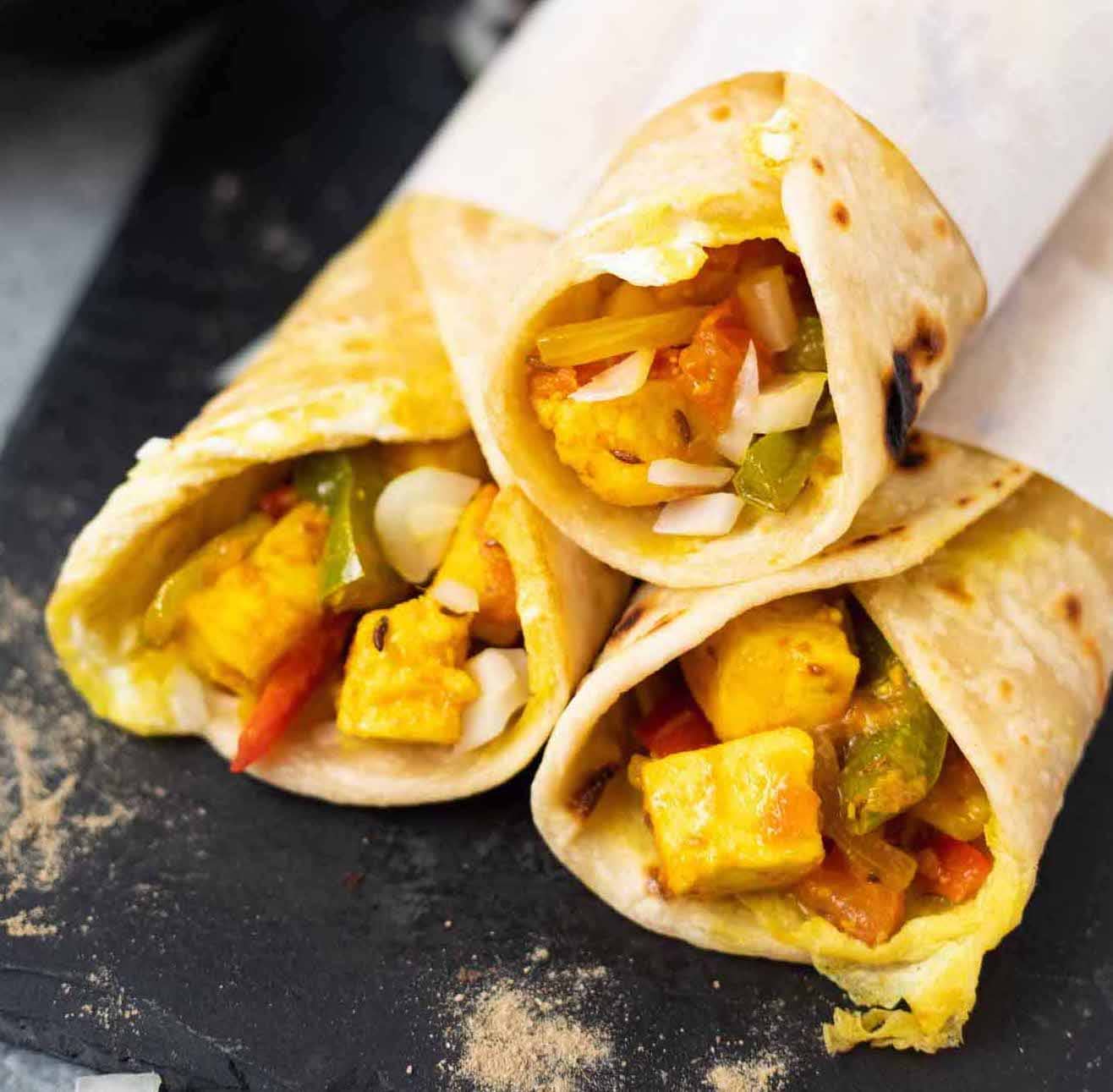 This Paneer Frankie Roll, also known as Paneer Kathi Rolls, is a popular Indian street food made with flaky flatbread, covered with egg, wrapped with spicy paneer and tangy toppings.
This popular street food can be made with a variety of fillings, and is a perfect grab-and-go snack.
Paneer Puff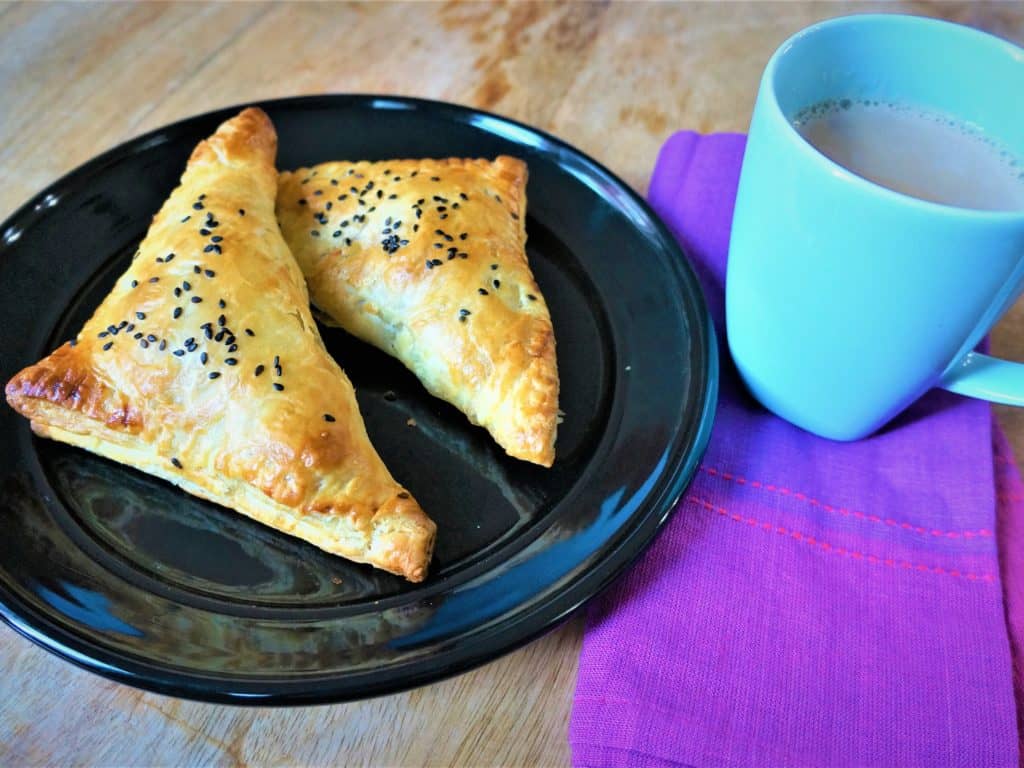 Paneer Puff Pastry Turnovers with a flaky golden crust with spicy flavorful paneer filling.
Perfect snack with a hot cup of chai that can be prepared ahead of time. So easy and delicious!
Samosa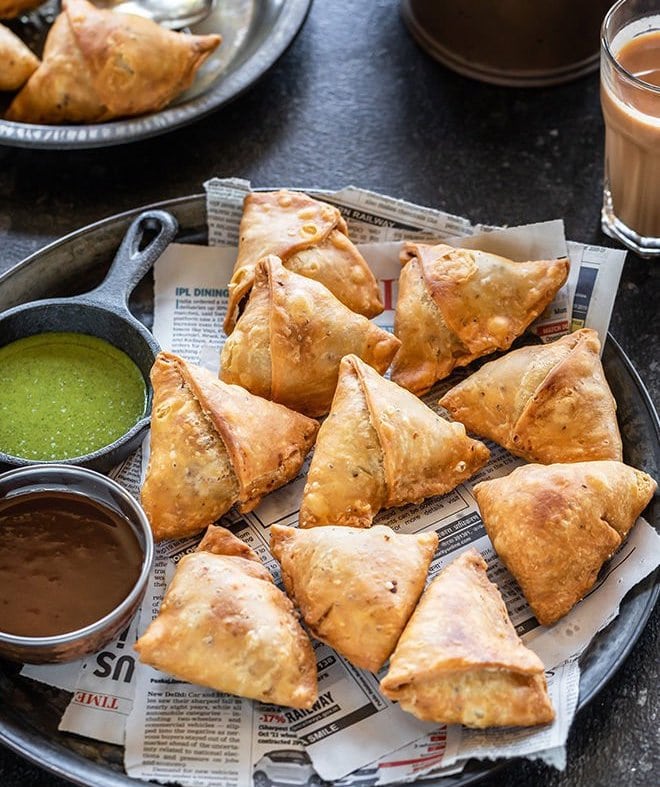 Samosa is a triangular shaped flaky pastry filled with spicy potato, chicken or lamb filling.
It is a popular snack not only in India but all over the world. The most popular version is the potato samosa.
Sev Puri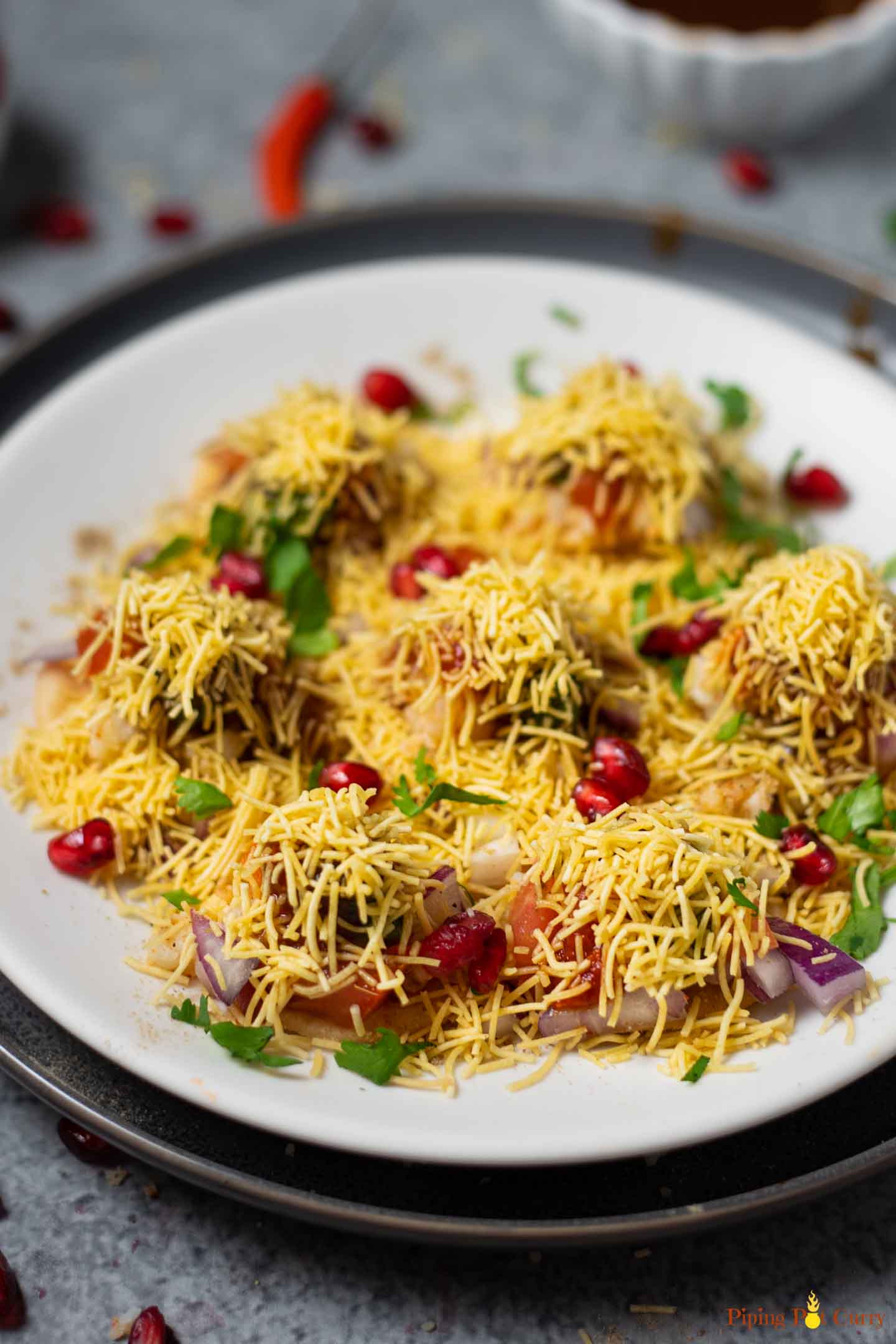 A popular Mumbai street food, Sev Puri is a sweet, spicy and tangy chaat. This no-cook chaat recipe is a favorite snack to enjoy with your evening tea!
Sev Puri is made with crispy puri (whole wheat crackers) topped with potatoes, onions, tomatoes and a variety of chutneys, and finished with sev (thin gram flour noodles).
Homemade Indian Snacks
Here are some more snacks that you will you will love to enjoy in the mid-afternoon. They are also great to serve at birthday parties, or any festive occasions.
This includes a variety of snacks from all over India, including western state of Gujarat, North India and South India.
Rava Dhokla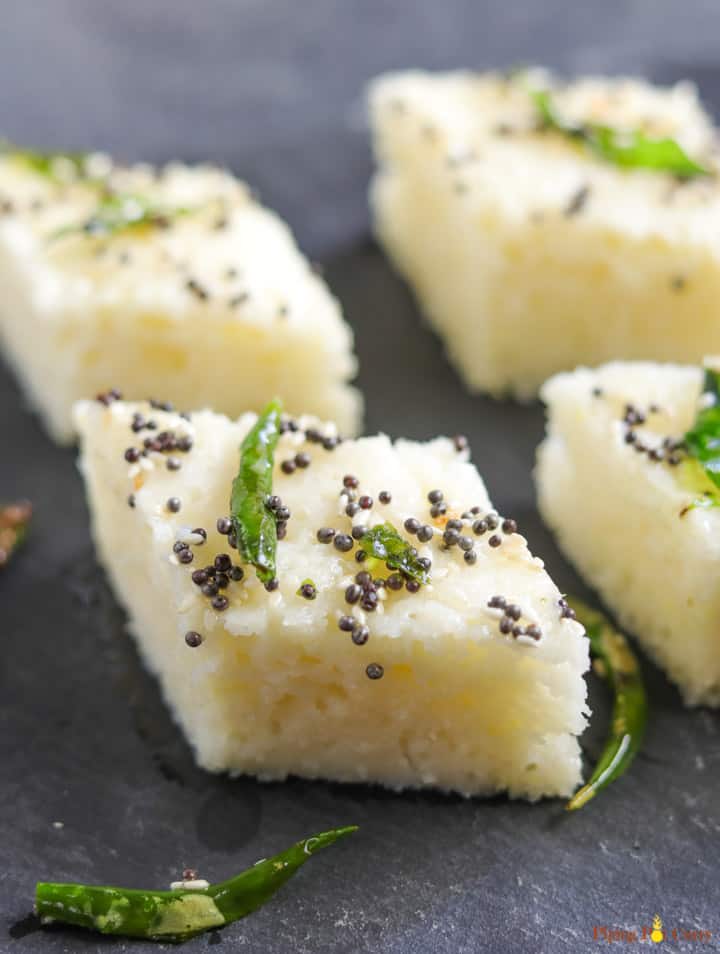 These delicious savory semolina cakes are a popular Gujarati delicacy, perfect to enjoy for breakfast or snack!
semolina or Suji Dhokla. I love this instant quick version, which hardly needs any preparation and can be made in a jiffy.
Sabudana Vada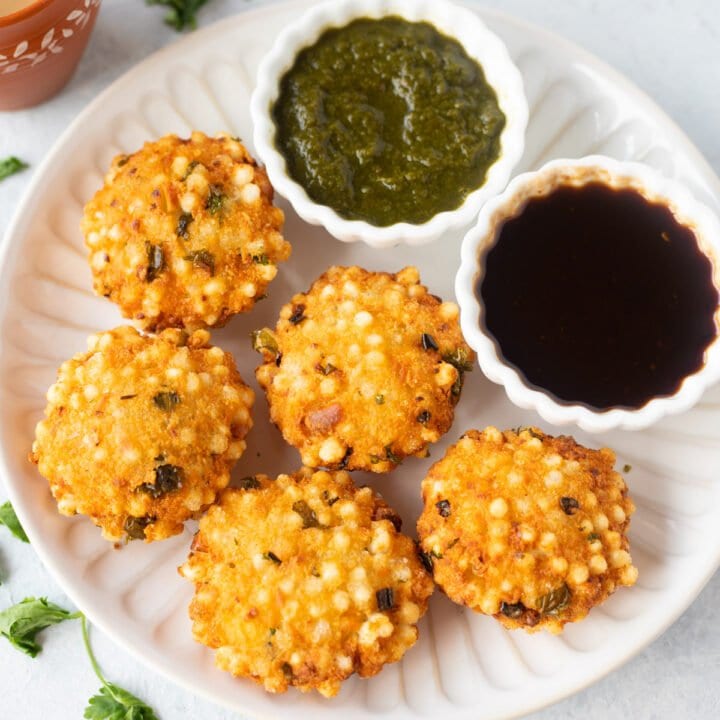 Sabudana Vada is a traditional Maharashtrian snack made from tapioca pearls (sago), potatoes, peanuts, herbs and spices.This is vegan, gluten-free, simple fasting recipe.
Tandoori Gobi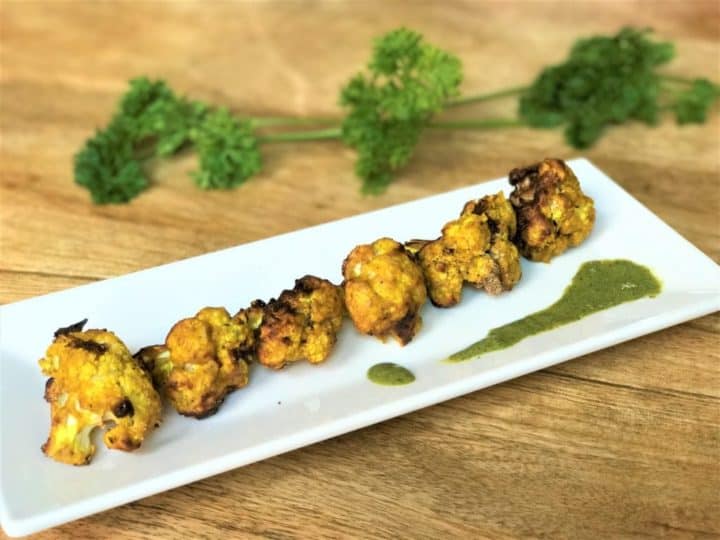 Tandoori Gobi is basically Cauliflower Tikka Bites, which are perfect to enjoy as a healthy low calorie snack.
When the meat eaters enjoy Tandoori Chicken, the vegetarians can enjoy this crispy Tandoori Gobi. It is typically enjoyed with green chutney.
Idli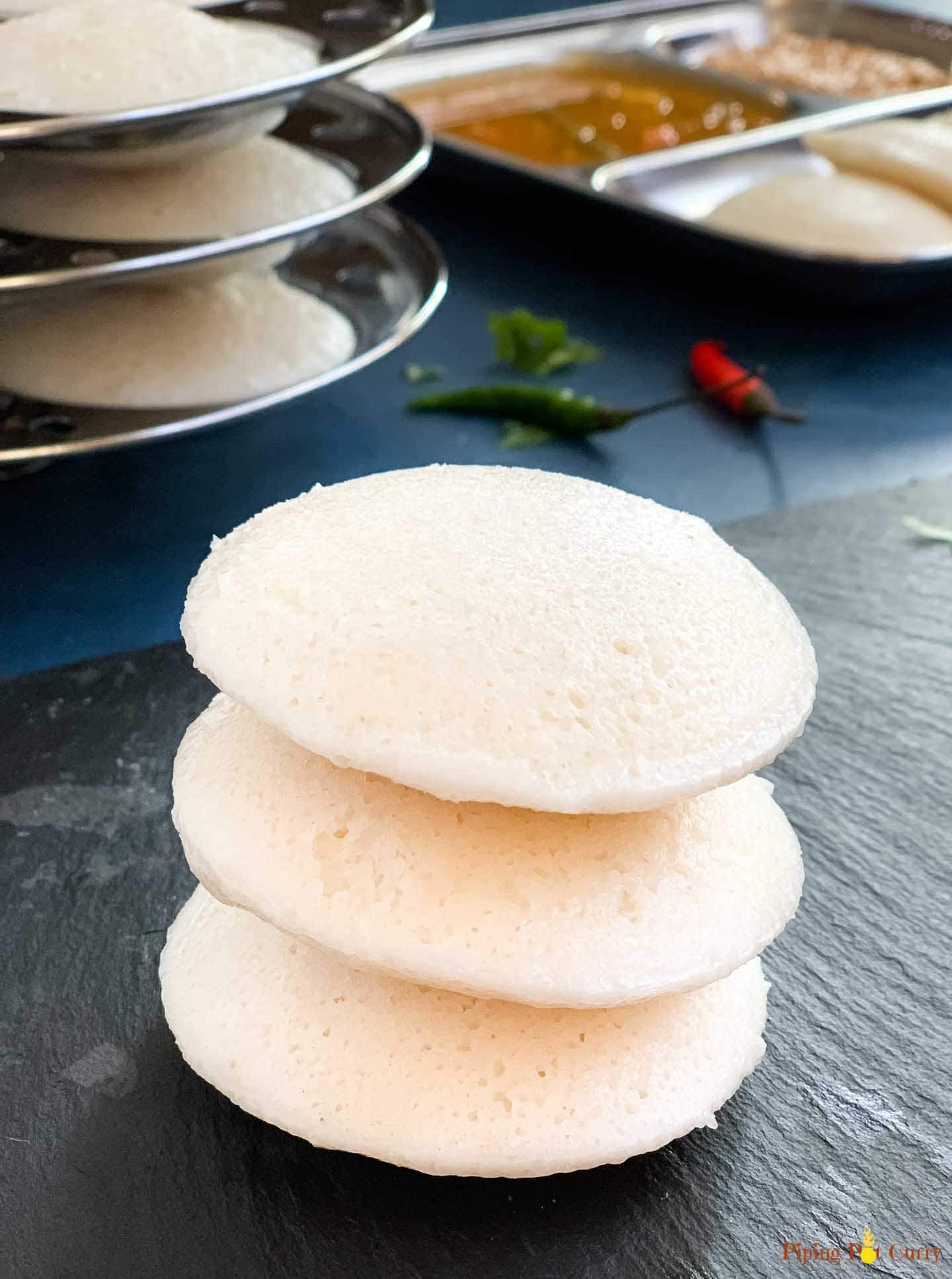 This savory rice cake made by steaming a batter consisting of lentils and rice, is the most comforting healthy south indian snack.
Kala Chana Chaat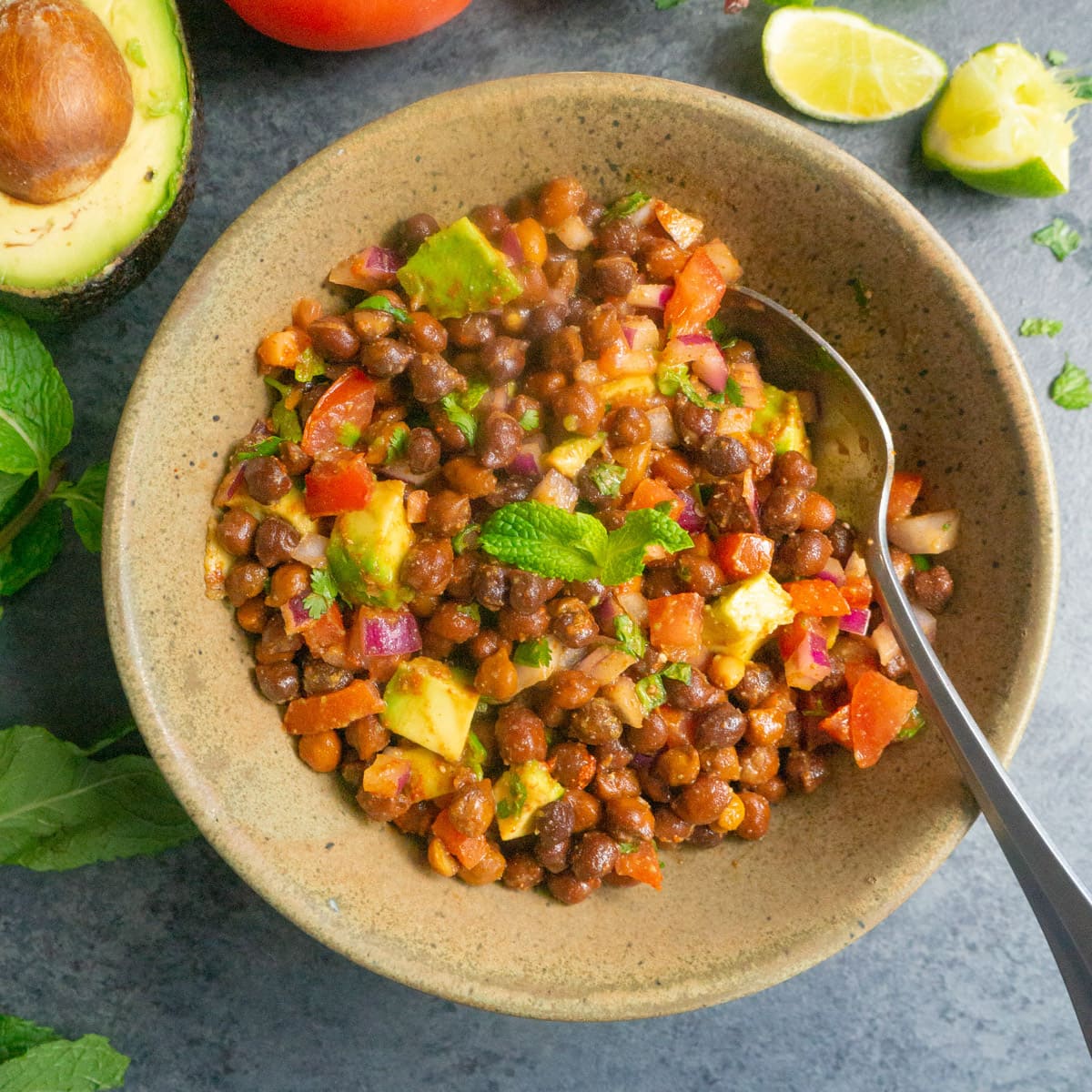 Kala Chana Chaat, is a nutrition packed Black Chickpea Salad made with black chickpeas, crunchy onions, tomatoes, avocado and spices.
This refreshing salad has fresh and tangy flavors, and can be enjoyed as a great vegan and gluten-free protein rich snack.
Tandoori Paneer Naan pizza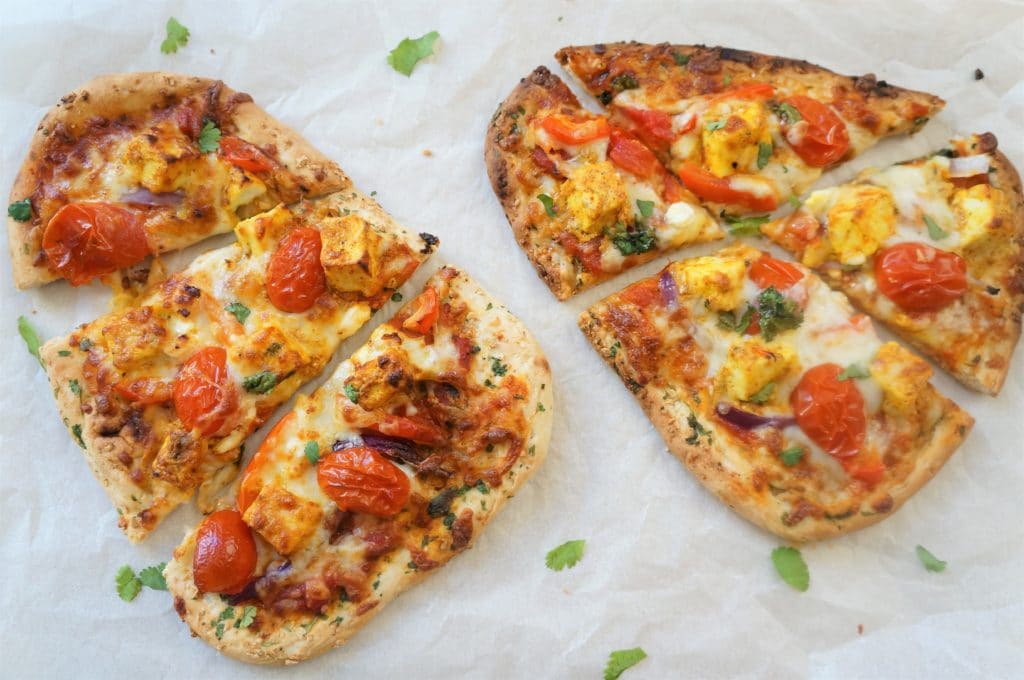 Tandoori Paneer Naan Pizza is an easy snack that kids will love. It is vegetarian, easy and convenient.
Made with marinated paneer, red peppers, onions, grape tomatoes, this is a delicious and quick fusion pizza for the times when you are craving pizza!
Pakora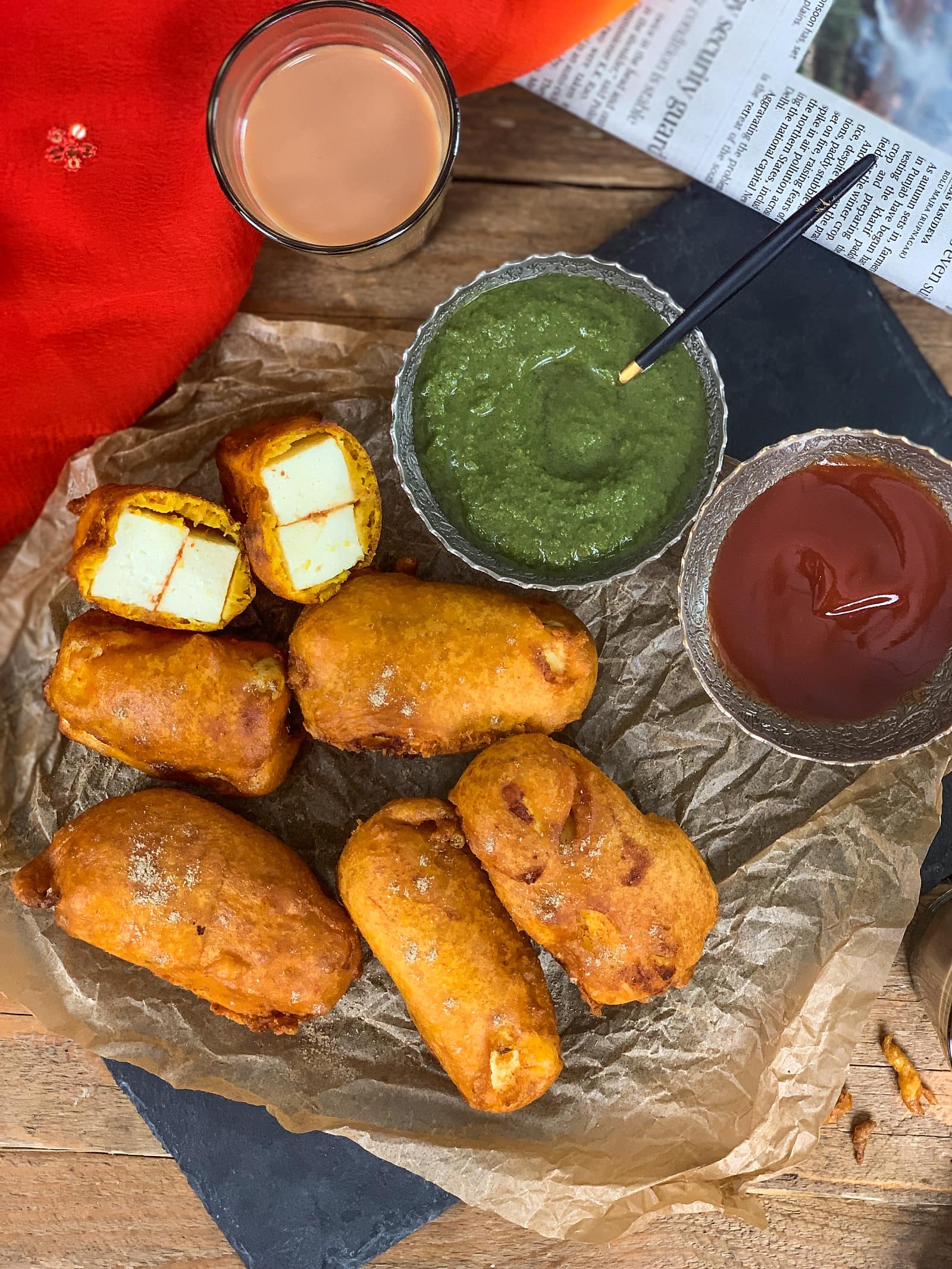 Paneer Pakora is a popular crispy fried snack from North India, served with green chutney.
This recipe has a spicy garlic chutney sandwiched between the paneer which adds more flavor to the pakoras.
Handvo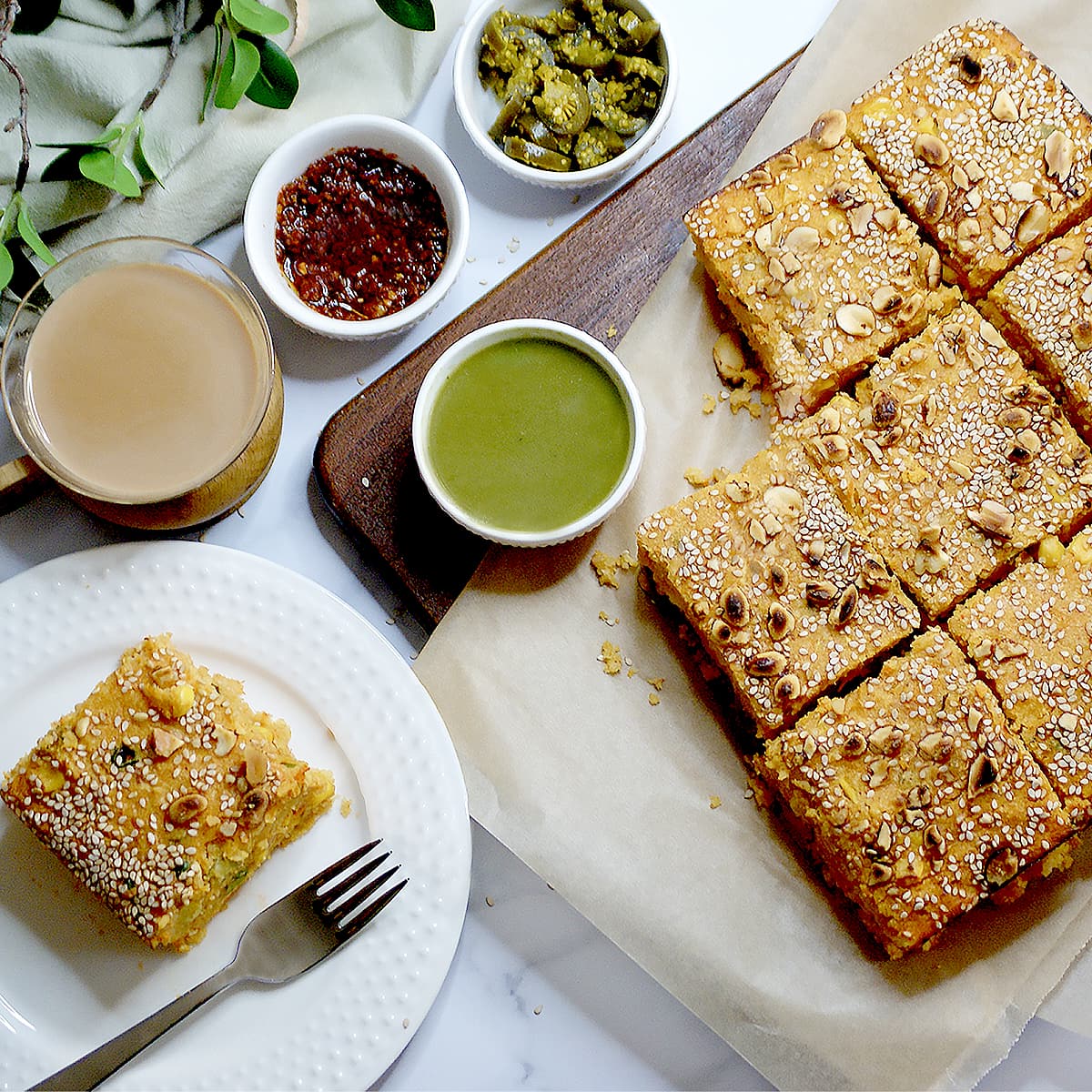 Handvo is a classic Gujarati one-pot dish made from rice, lentils, and loaded with mixed vegetables and aromatic Indian spices.
It is so delicious and healthy. Serve it with green chutney or pickle along with a cup of tea.
Spicy corn on the cob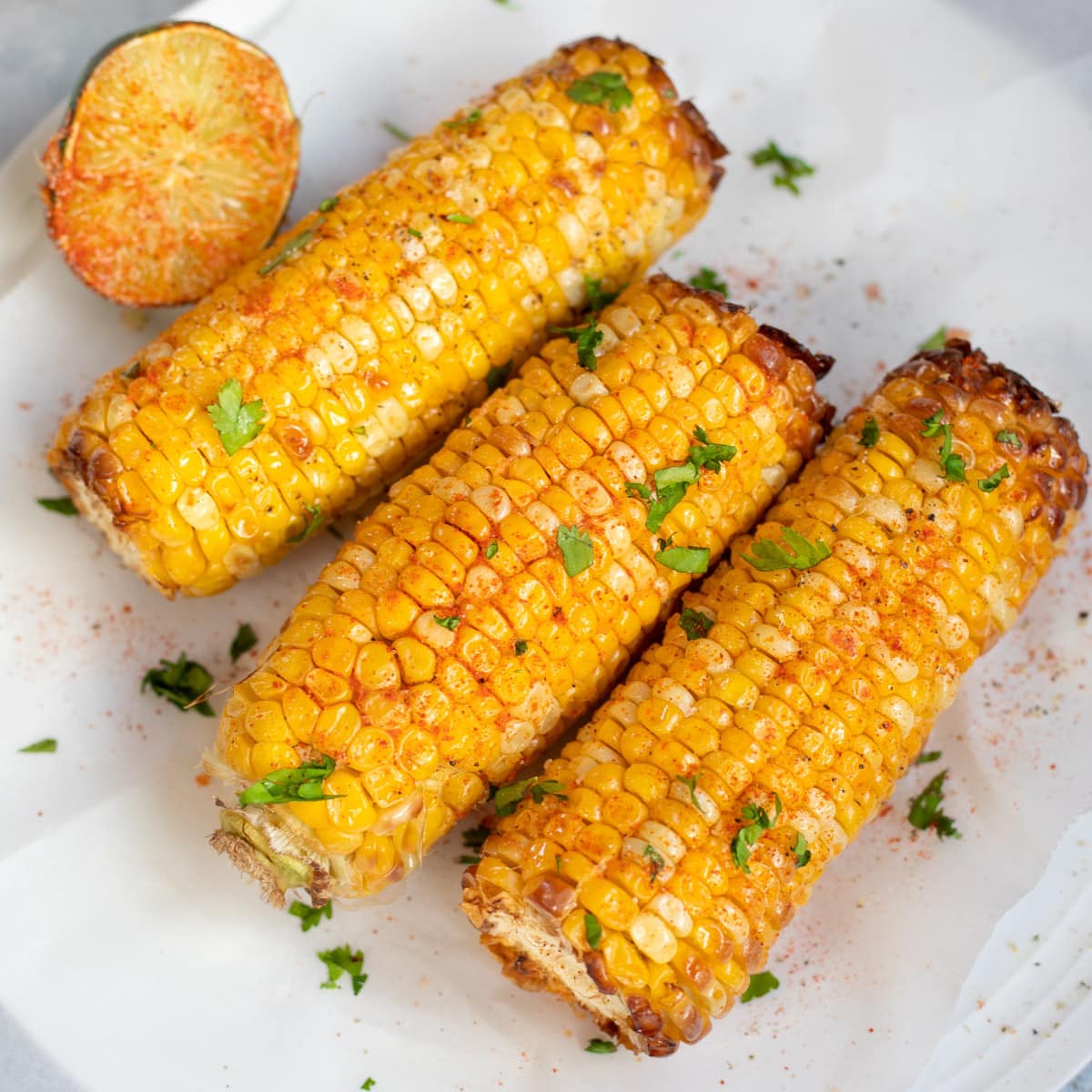 This grilled Air Fryer Corn on the Cob is so easy to make and so good! Spice it up the way you like, and enjoy a healthy snack
Khandvi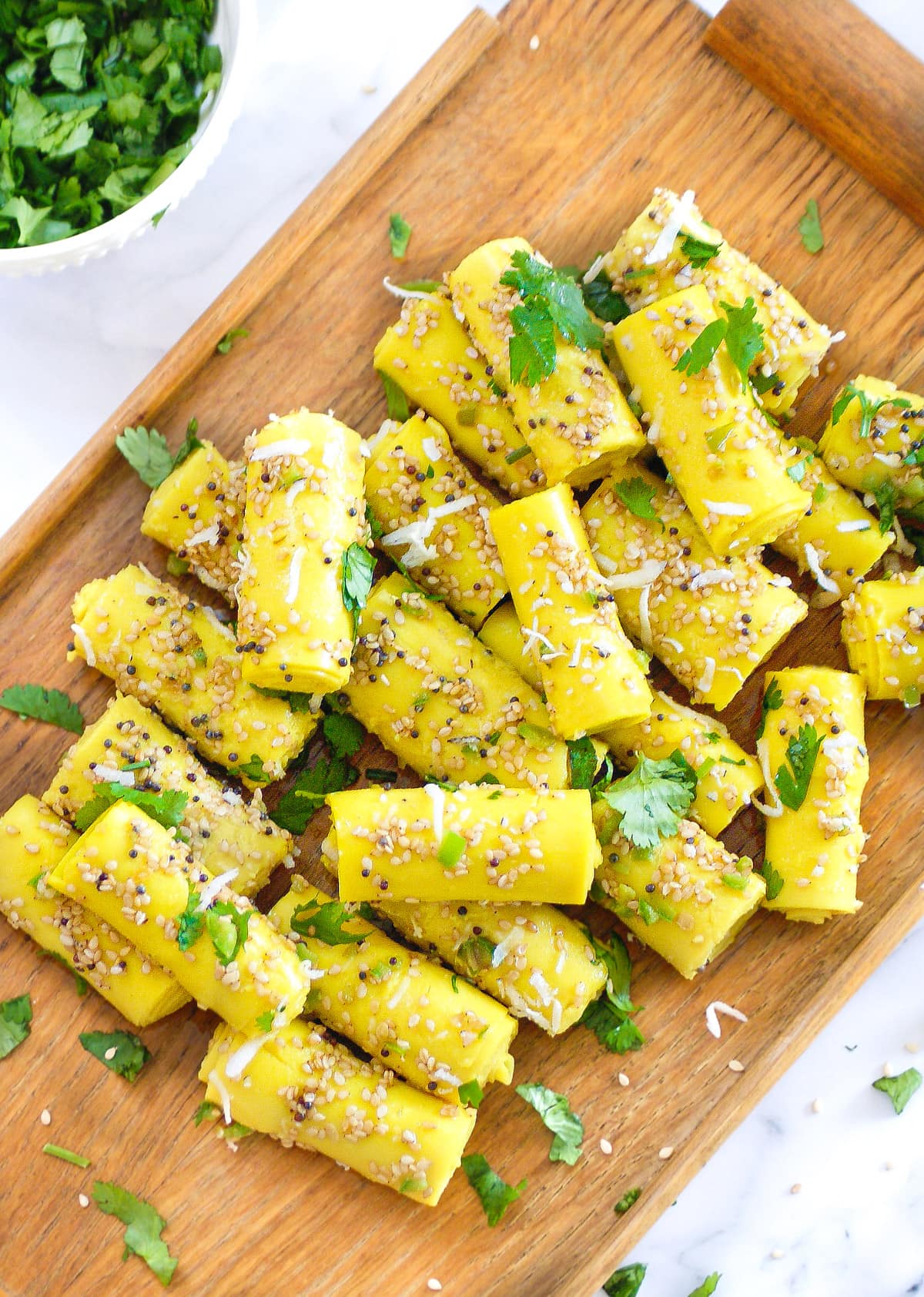 Khandvi is a popular healthy snack from the western state of Gujarat.
These melts in the mouth, soft and flavorful rolls are made with gram flour and then tempered with mustard seeds, sesame seeds and garnished with cilantro and coconut.
Tandoori Aloo Tikka
Tandoori Aloo Tikka is a delicious appetizer perfect to serve at special occasions or have as a starter with dinner.
Baby potatoes marinated in a delightful combination of yogurt and spices, threaded to skewers and cooked to create this delicious snack.
Fruit Chaat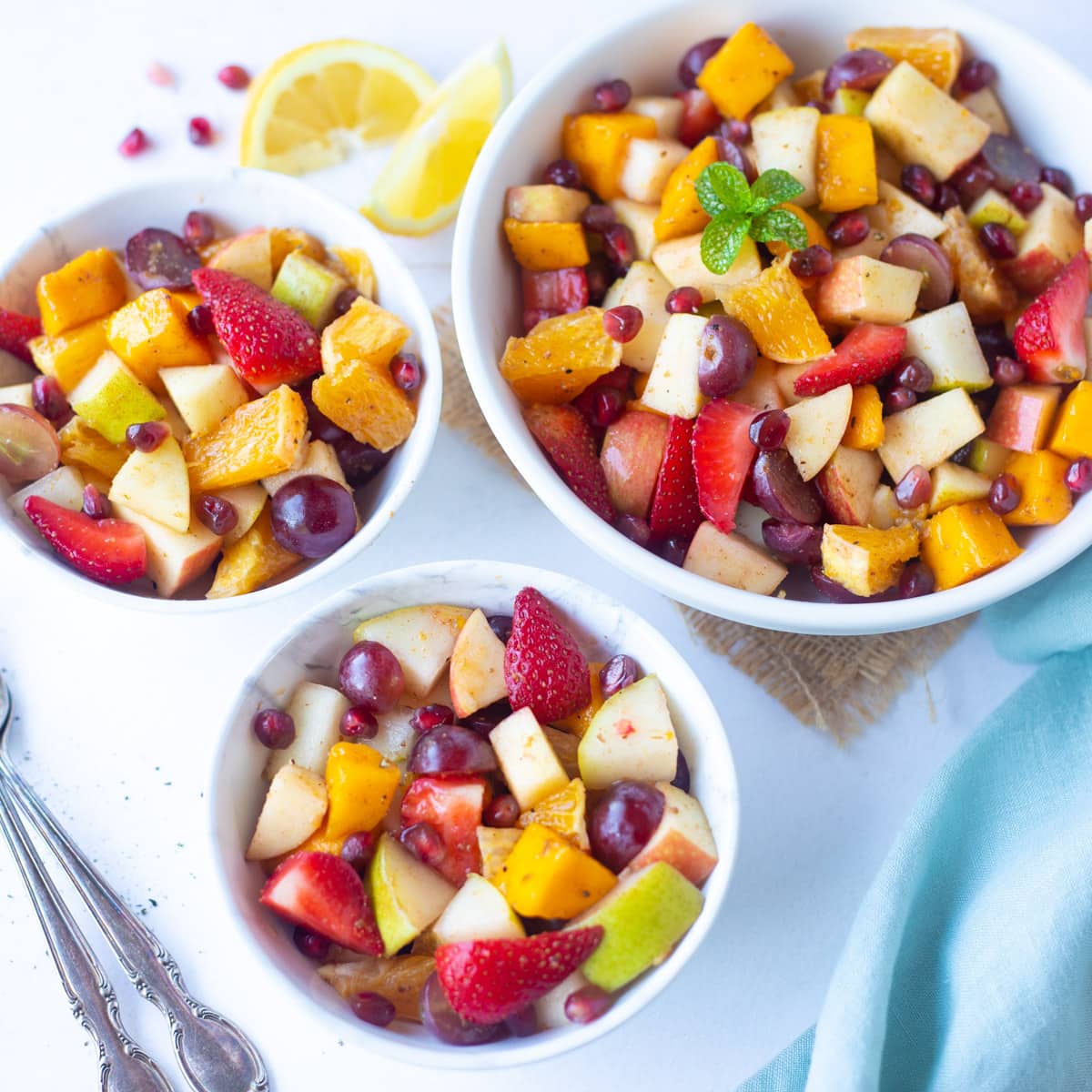 This Indian-style fruit salad made with fresh fruits and tossed in a tangy-spicy dressing of chaat masala is a perfect healthy evening snack.
Non-Vegetarian Evening Snacks
Chili Chicken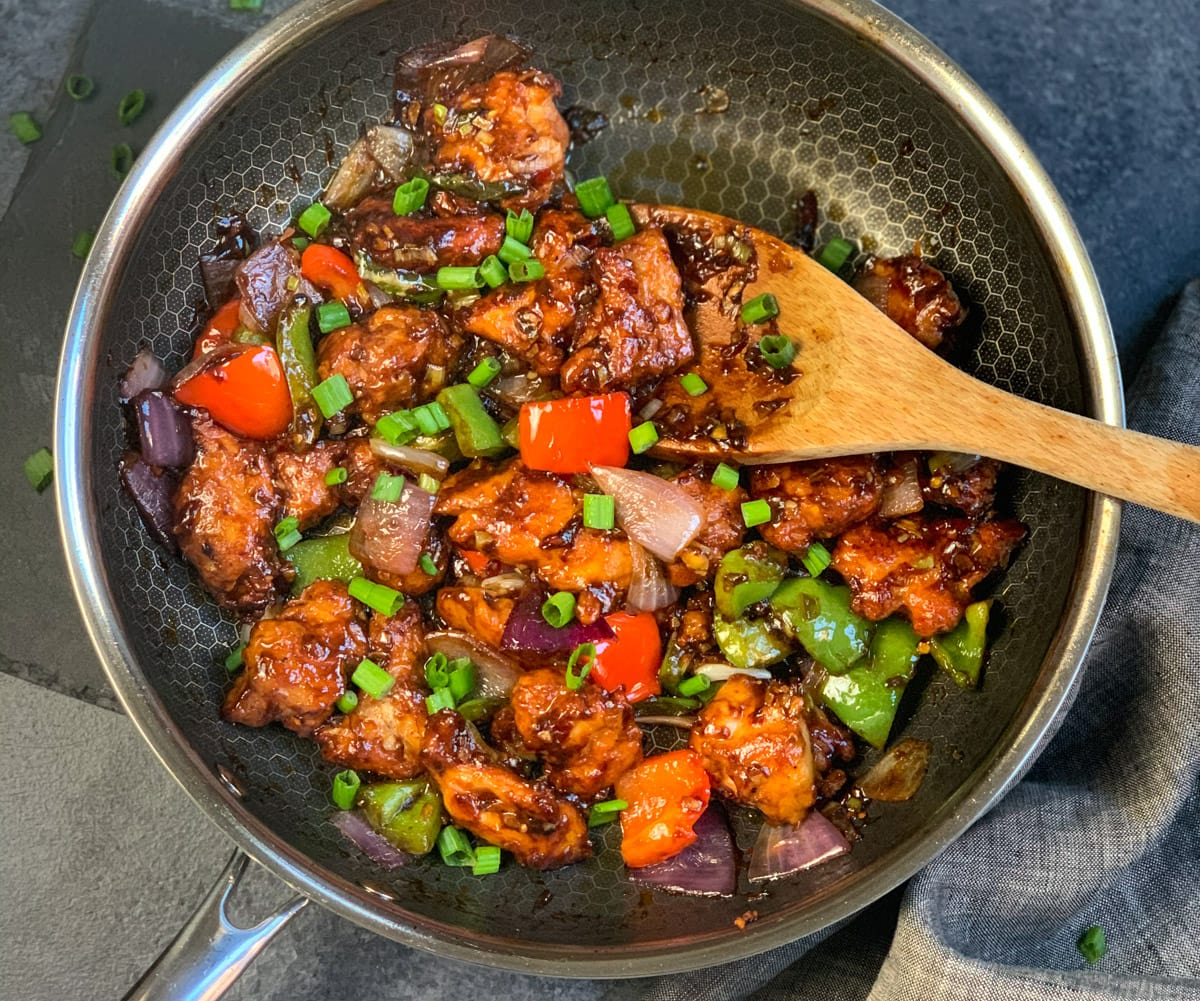 Crispy and flavorful is how I would describe this Chilli Chicken. One of the most popular Indochinese snack.
Boneless chicken is marinated in chinese sauces, fried until crispy, this is stir fried with lots of ginger, garlic, onions, bell peppers and sauces.
Tandoori Chicken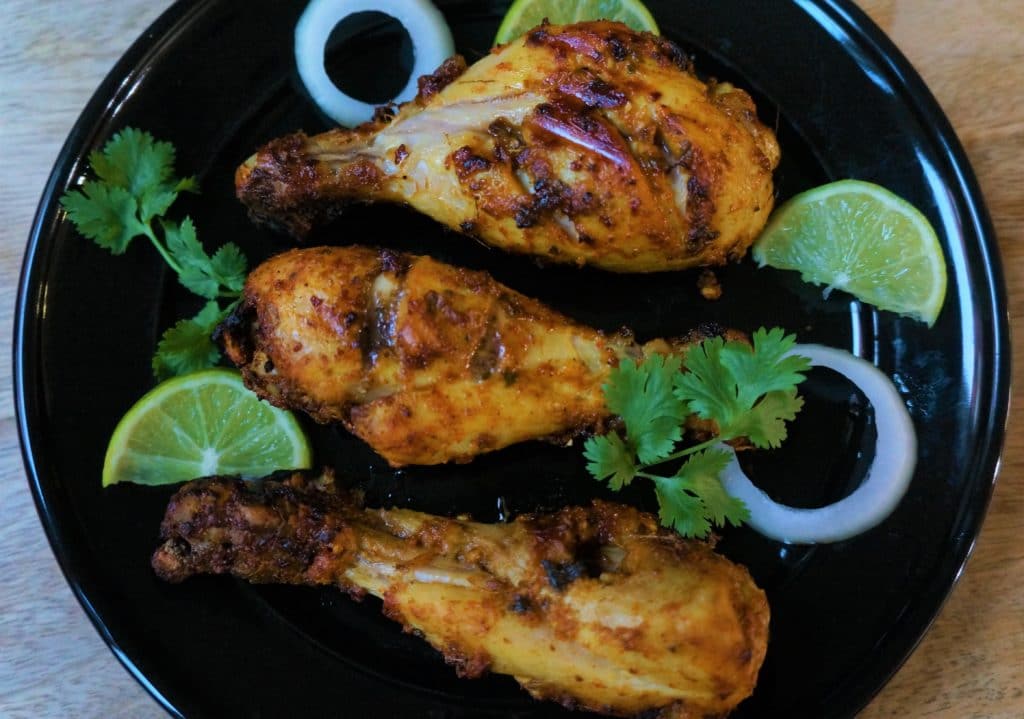 Tandoori Chicken is a flavor packed spicy dish from the Indian subcontinent popular all over the world.
Chicken is marinated in yogurt, ginger, garlic, spices and lemon juice, then grilled in the air fryer or oven.
Chicken Tikka Kebab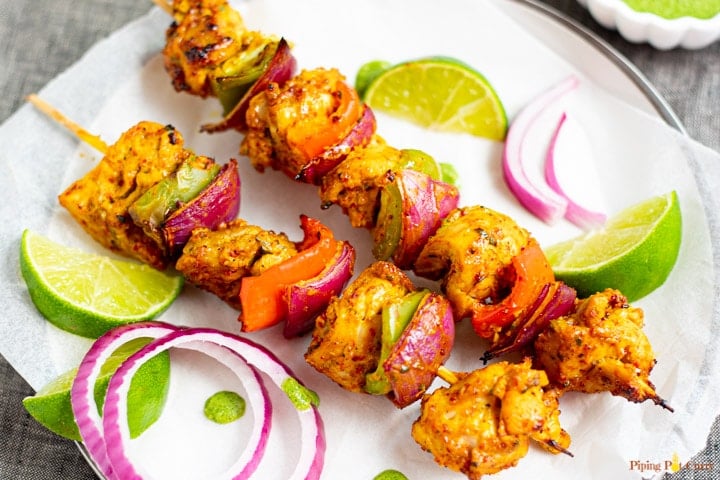 Chicken Tikka Kebab is a delicious snack that is packed with flavor. It starts with chicken pieces marinated in yogurt along with lime juice and aromatic spices, then threaded onto skewers and cooked to create a delicious appetizer.
Hope you enjoy this extensive list of indian snack recipes. Let us know which one you're most excited to make, and share this roundup with your friends, and when you make it, don't forget to tag #pipingpotcurry.
You might also like –