The best collection of 20 Delicious and Easy Indian Dessert Recipes for your Instant Pot or Stovetop Pressure Cooker. These quick and easy sweet recipes are vegetarian & gluten-free, with authentic Indian flavors!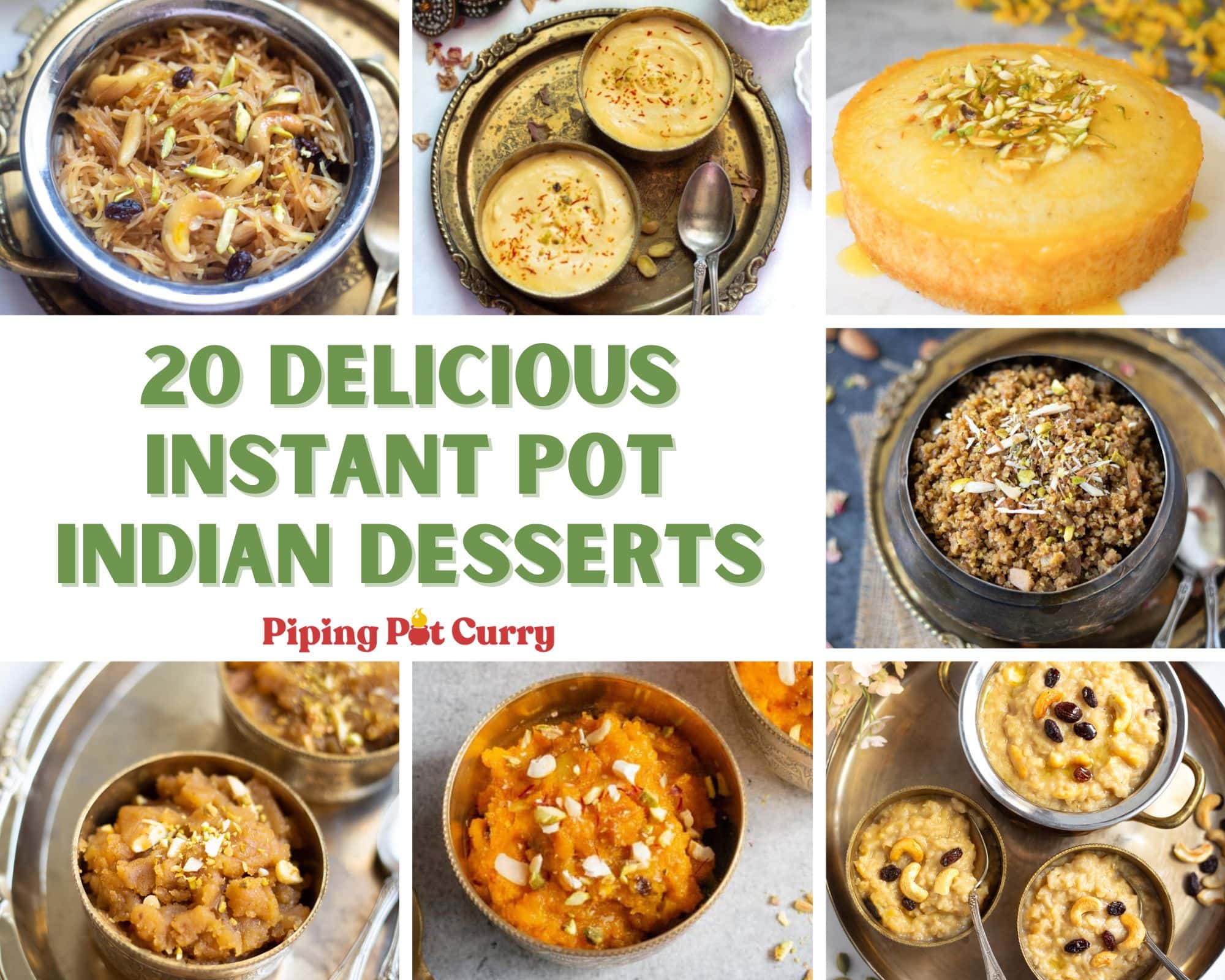 Instant Pot has made our lives so much easier. We love to cook in our Instant Pot, and we love desserts, so let's see all the amazing Indian desserts you can make in your favorite pot!
Many Indian desserts, such as Kheer (Rice Pudding), take a long time and have lots of active stirring on the stovetop. However, in the instant pot, they are almost hands-free. It is such a great convenience when you want to make quick, instant desserts for a get-together or party.
Here, I am sharing the best Indian Desserts that can be made in the Instant Pot from all over India. They are perfect to make for the next festival party or just as a treat on any day!
I am sure you will love them, and if we are missing any of your favorites, comment and let me know.
Kheer (Rice Pudding)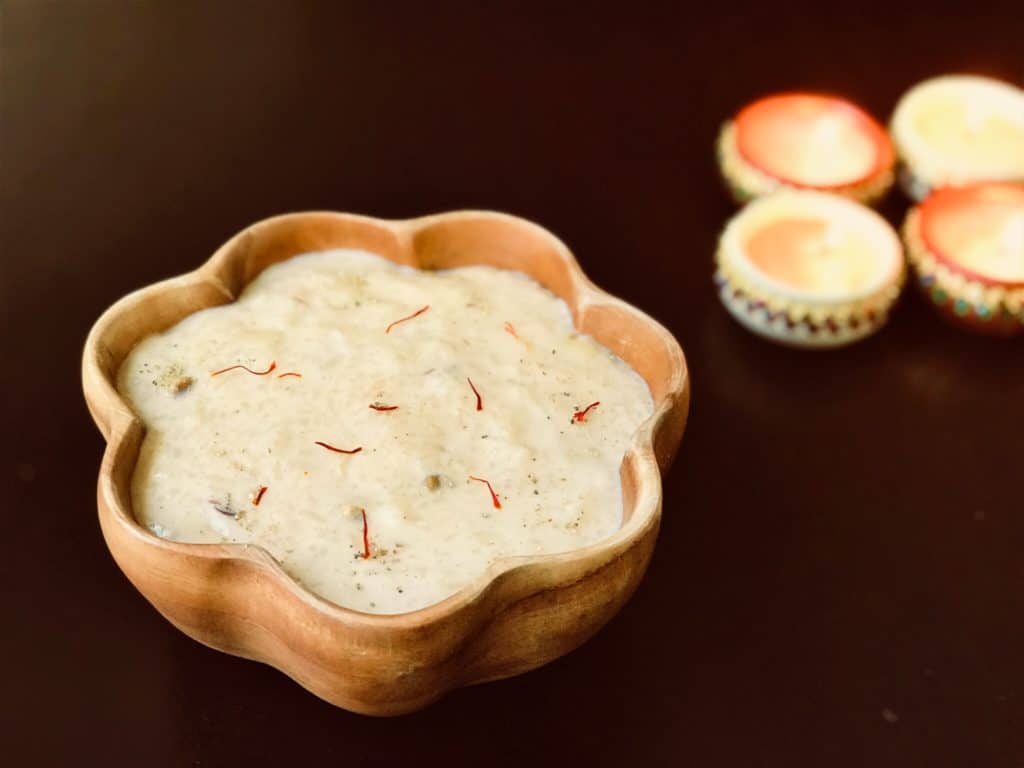 Let's start with the most favorite Indian dessert – Kheer. This is a pudding made with rice and milk infused with generous amounts of cardamom, saffron, and dried fruits. Making Kheer on the stovetop is an endeavor of 2 hours with lots of stirring involved. Hence, we call Kheer made with the Porridge mode in instant pot a game changer. If you are a brown rice fan, check out the Brown Rice Kheer.
2 Ingredient Cheesecake from This Old Gal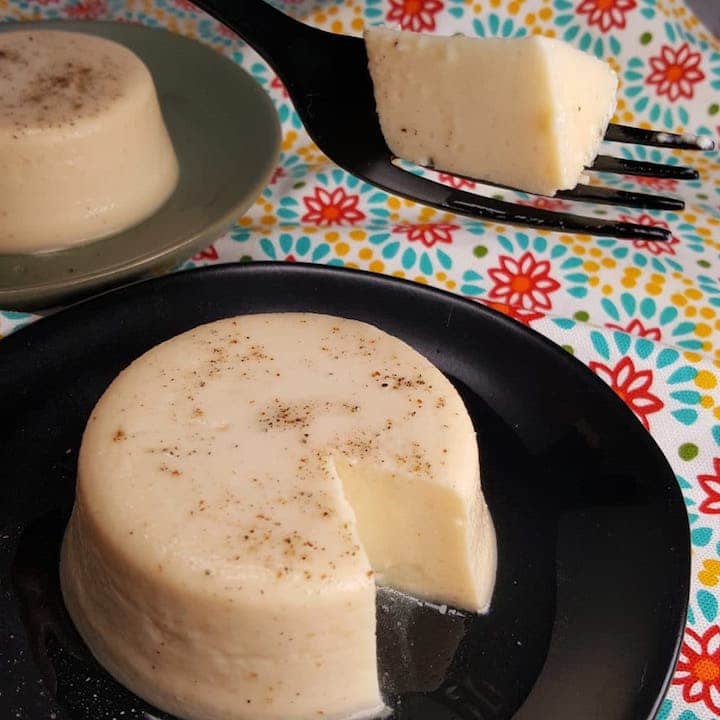 A wonderful 2-ingredient flan-like dessert called Bappa Doi. This is a steamed yogurt pudding from the state of West Bengal. Made from strained yogurt and sweetened condensed milk, this dessert tastes like a cheesecake when cooled.
Carrot Halwa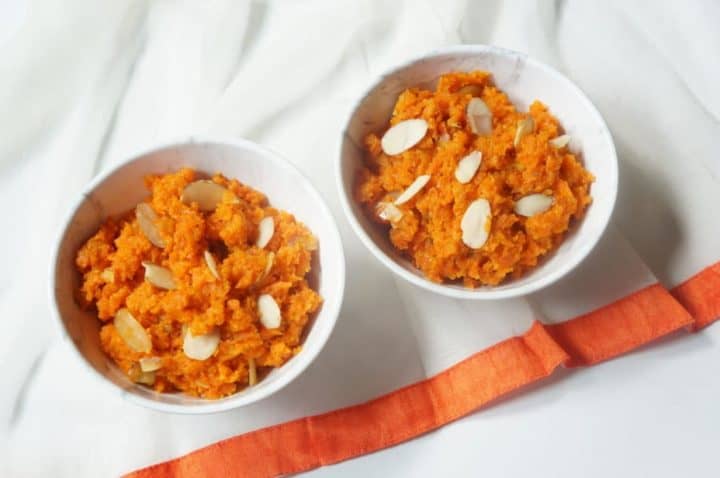 Gajar ka Halwa, or Carrot Halwa, is made with grated carrots, milk, sugar, cardamom, and almonds. This is a healthy and delicious dessert from North India. Making it in the instant pot is so easy and needs very little monitoring, and you will not miss the same delicious taste.
Sabudana Kheer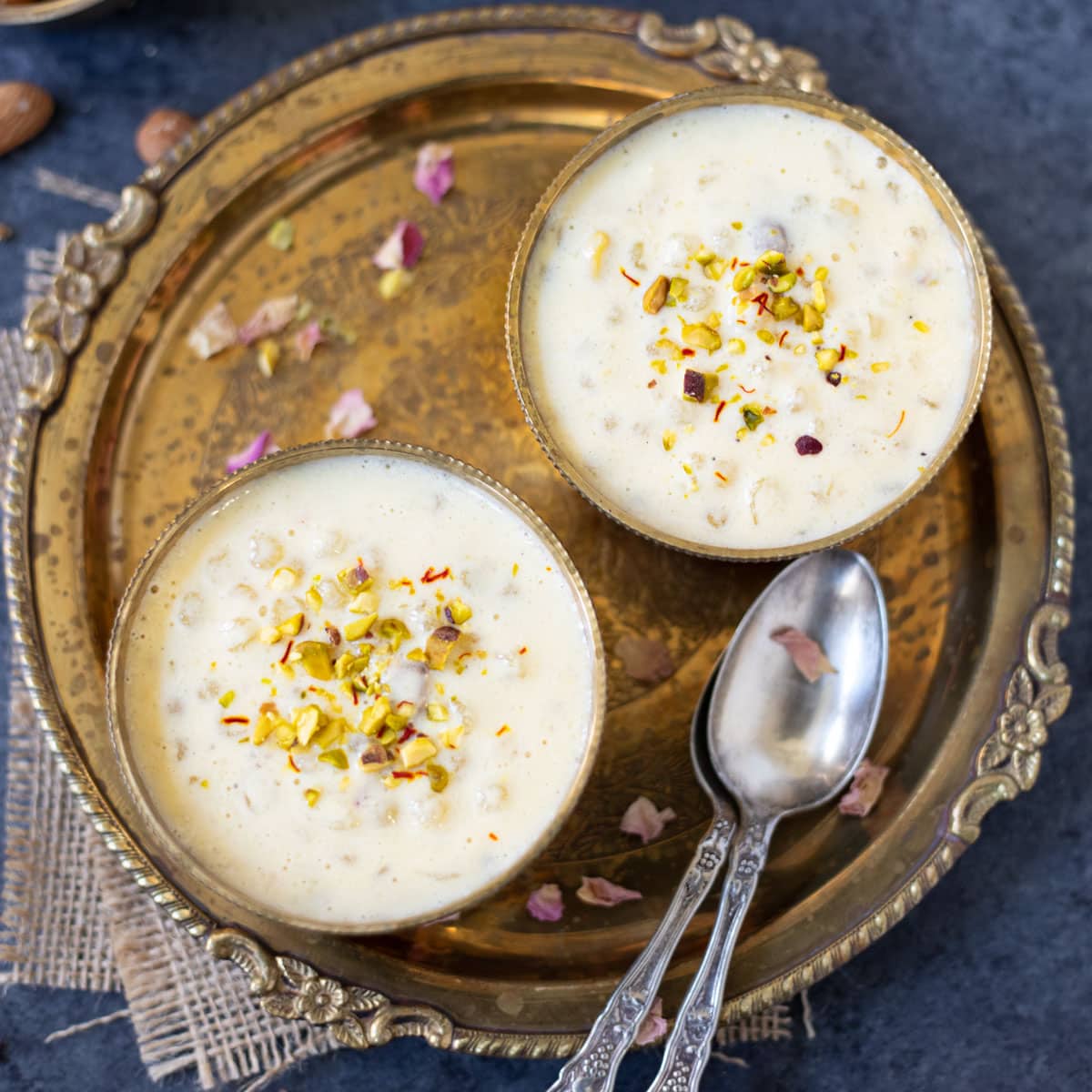 Sabudana Kheer, or Tapioca pudding, is a sweet made with tapioca pearls and milk. This kheer is popular during the fasting festive season in India. It is super easy to make in the instant pot or on the stovetop.
Sweet Vermicelli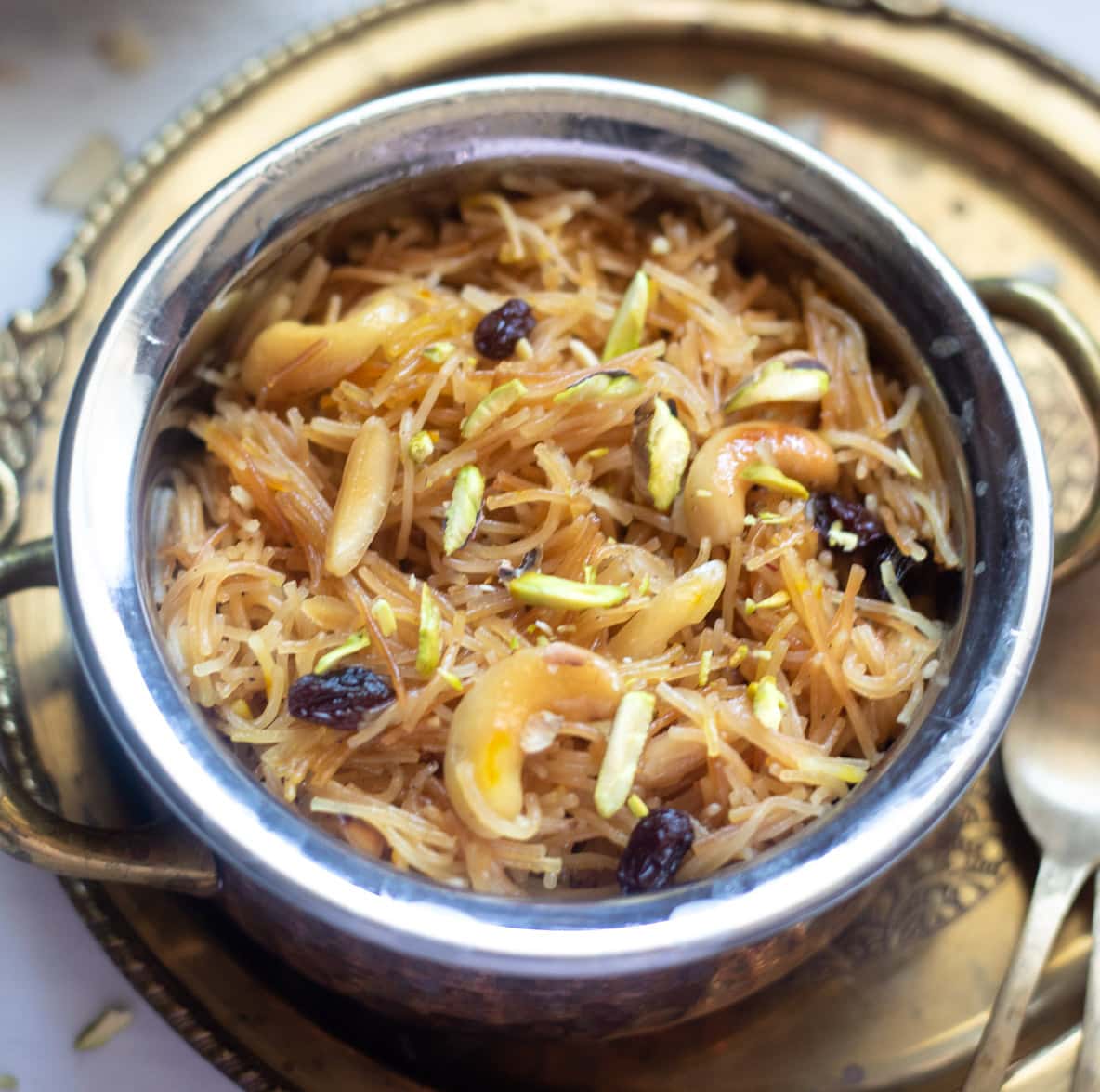 Sweet Vermicelli, also called Meethi Seviyan, is a sweet dessert made with vermicelli, ghee, sugar, cardamom, and nuts. This is also called Semiya Kesari or Parsi-style sweet seviyan. A perfect one-pot sweet dessert that can be made in just 15 minutes.
Sweet Potato Halwa from Ministry of Curry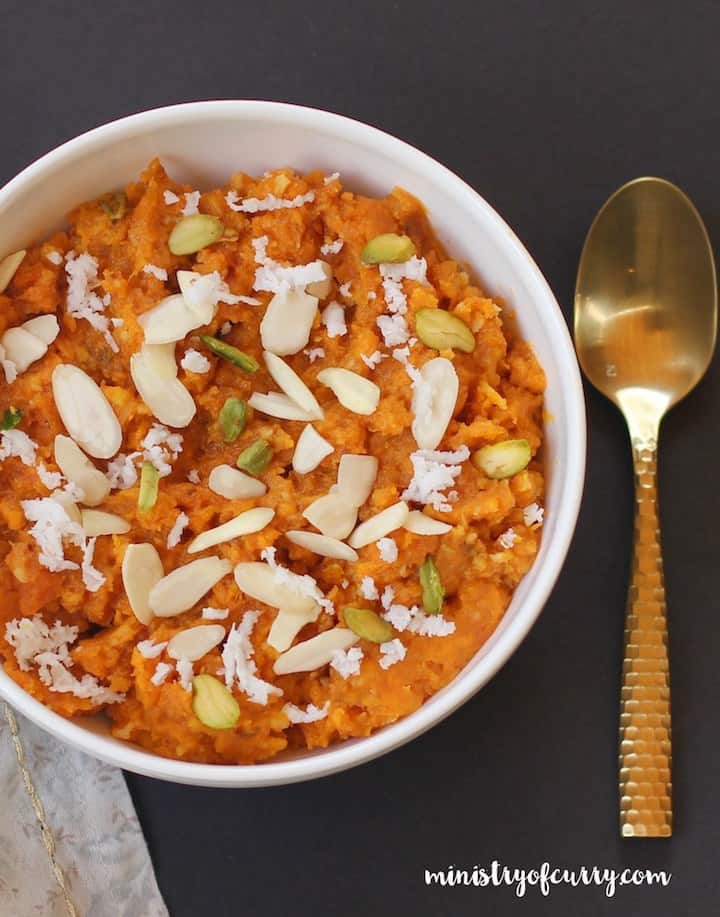 A delicious dessert made with Sweet Potato, almond milk, sugar, coconut, and hints of saffron and cardamom. It has melt-in-the-mouth textures and is lightly sweetened. Enjoy this healthy dessert of sweet potatoes, which are a good source of fiber and vitamins.
Seviyan / Vermicelli Kheer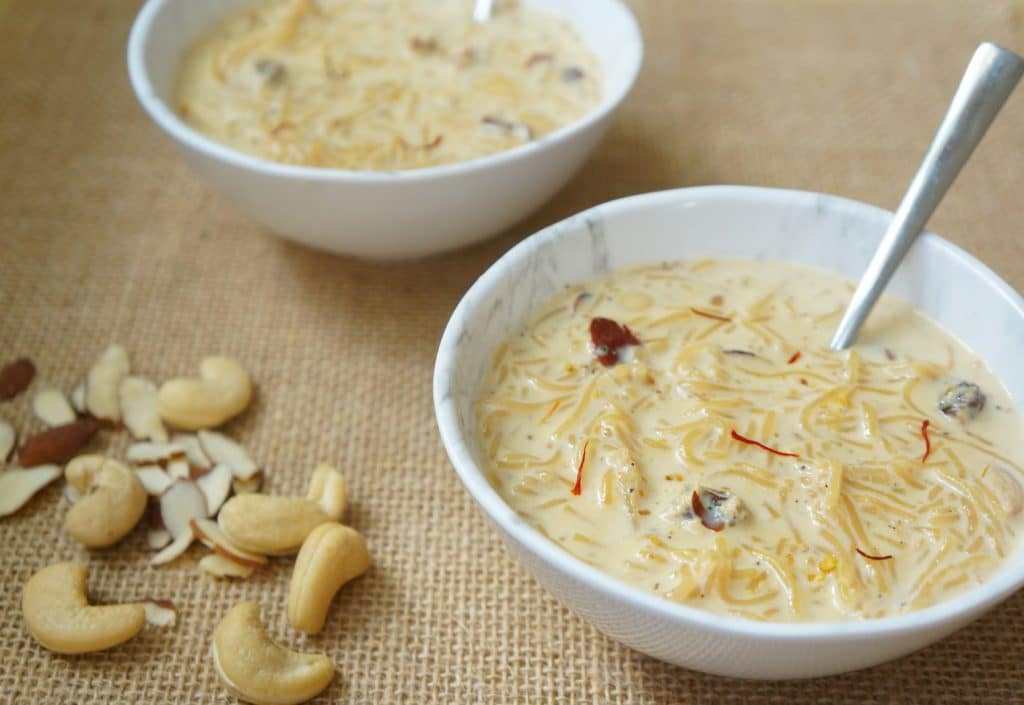 Seviyen Kheer is a delicious and creamy pudding made with vermicelli, milk, and sugar infused with aromatic saffron, cardamom, nuts, and raisins. This is another dessert that is very quick and hands-free to make in the instant pot.
Moong Dal Halwa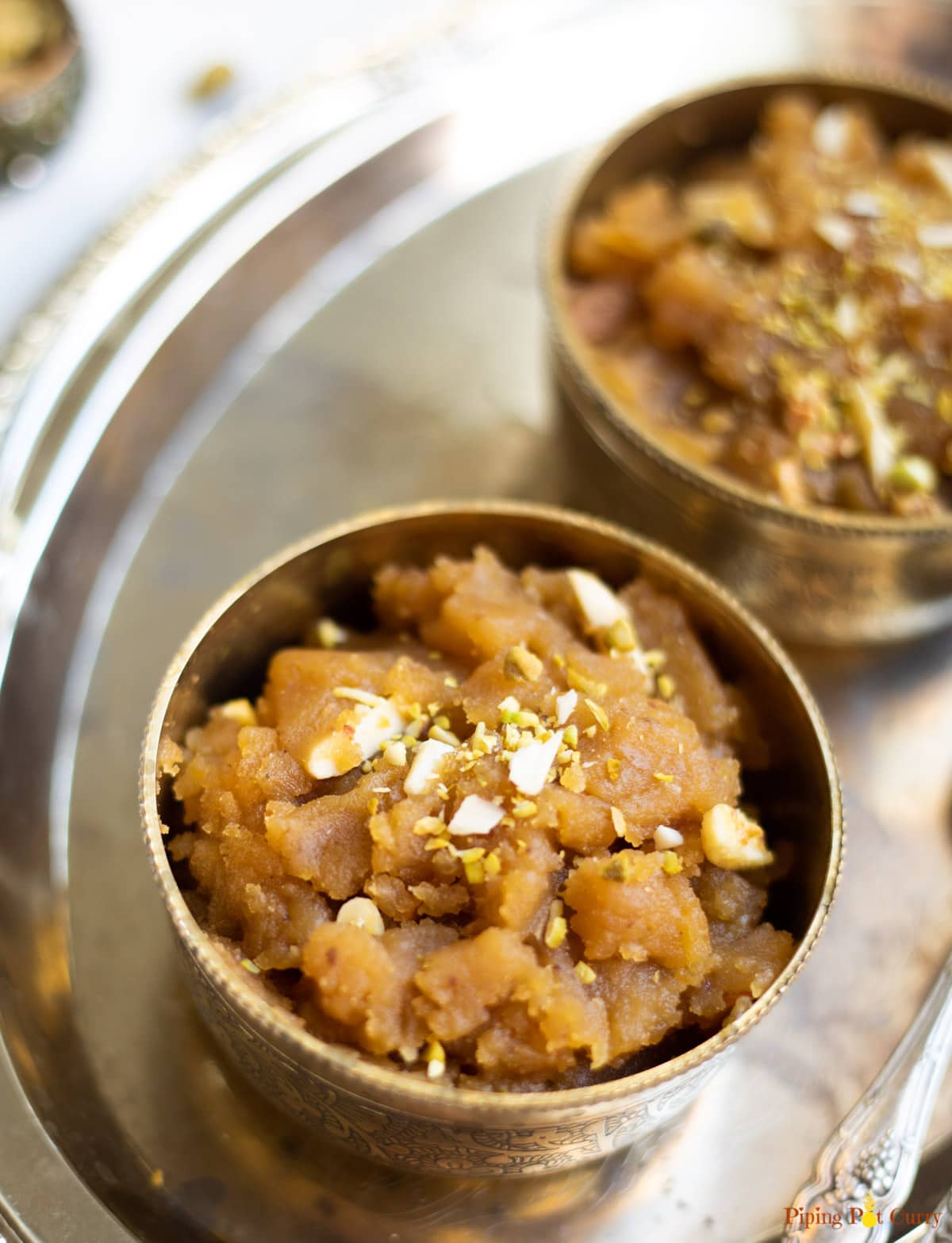 Moong Dal Halwa is a rich, delicious dessert made with split yellow lentils (moong dal), sugar, and ghee, along with the flavors of cardamom and saffron. This easy version of Moong Dal Halwa can be made in a pressure cooker and is much less laborious than the traditional method.
Mango Shrikhand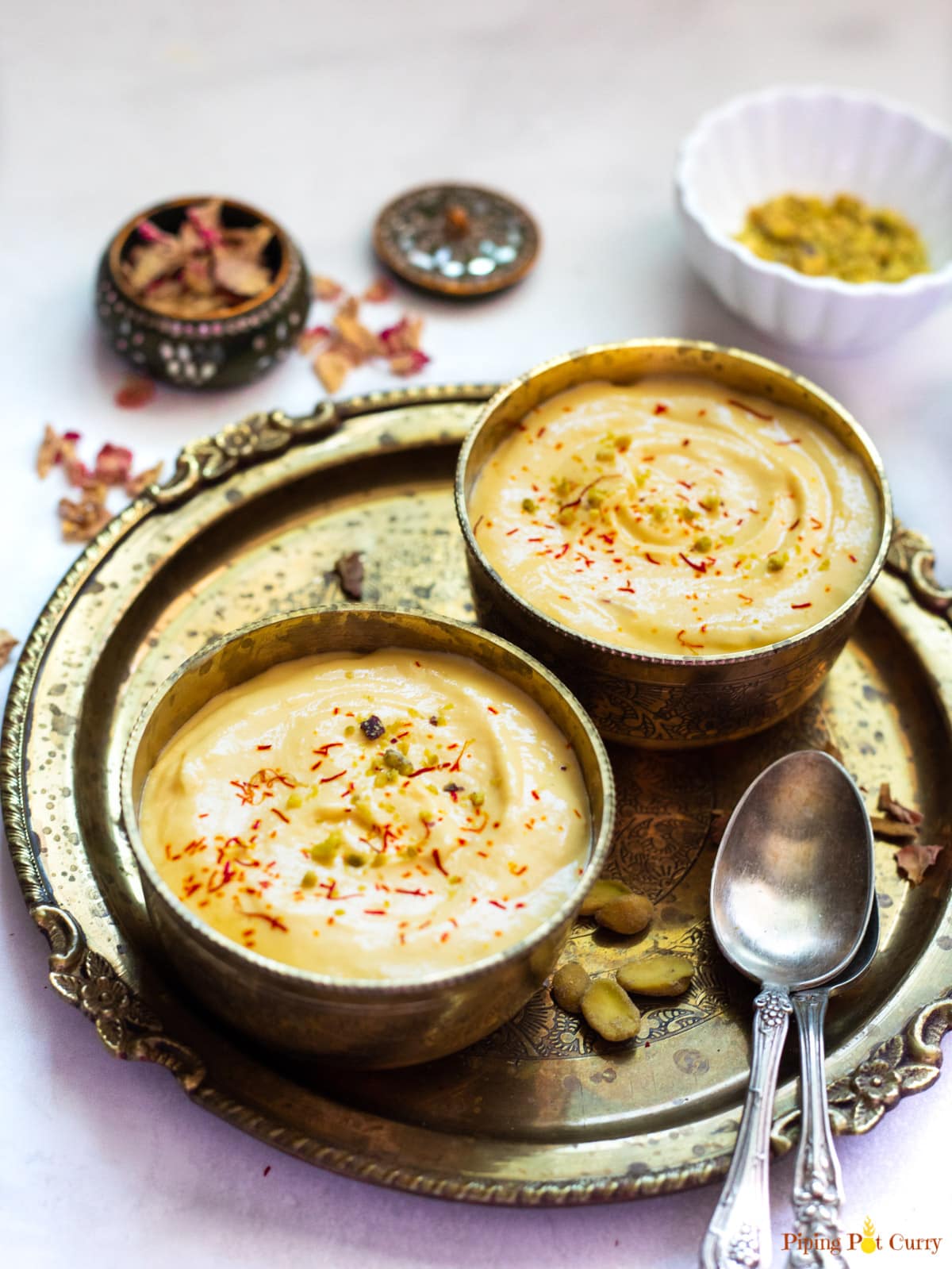 This refreshing & sweet Indian dessert is a perfect summer treat. Creamy yogurt, mango pulp, and sugar are blended together and garnished with saffron and cardamom to make this luscious Mango Shrikhand.
Sweet Pongal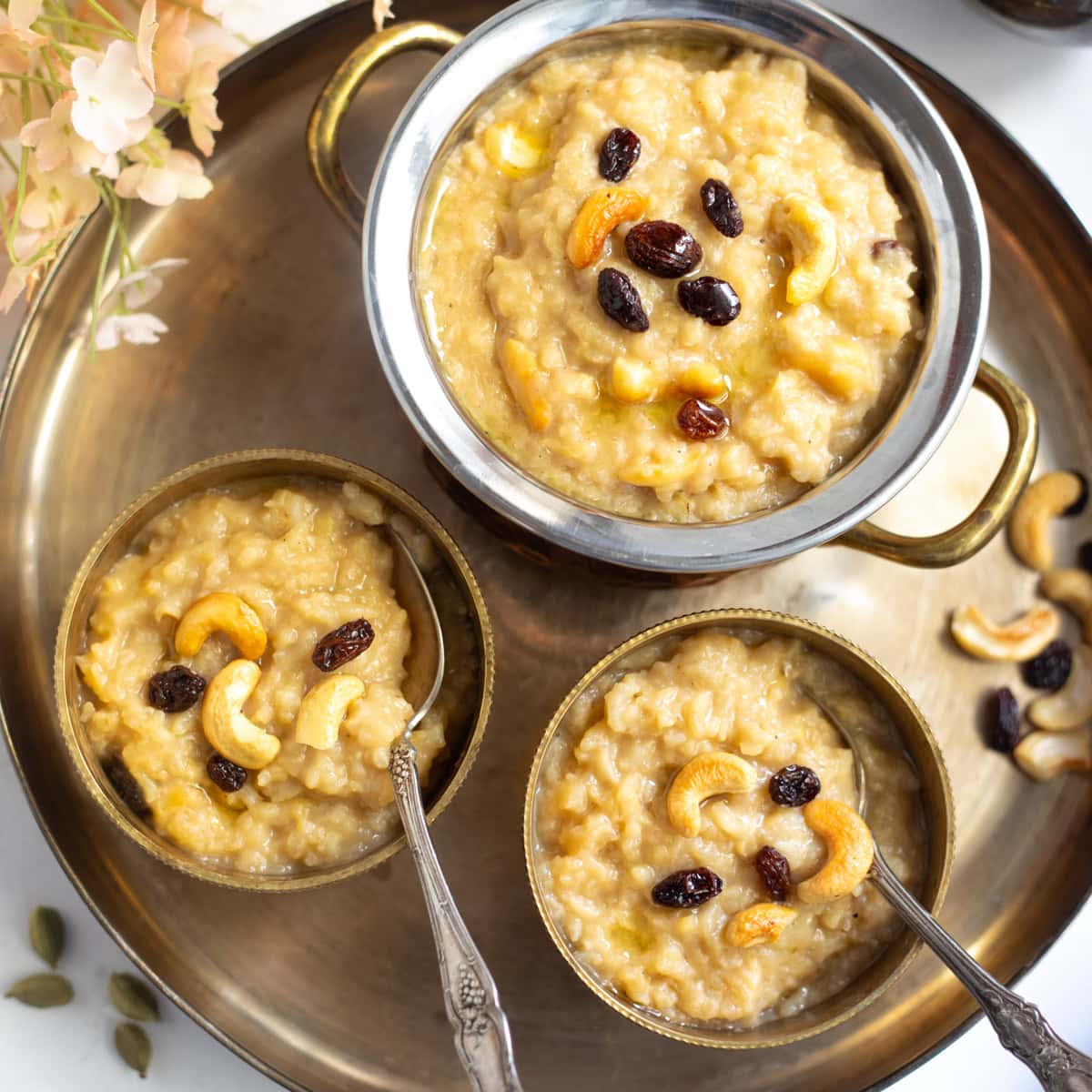 Sweet Pongal, also called Sakkarai or Chakkara Pongal, is a popular traditional sweet dish from South India. Made with rice, moong dal, milk, and jaggery, it is a delicious sweet pudding made during festivals.
Carrot Kheer
It's a delicious, no sugar dessert. You might wonder if a no-sugar dessert is even possible. Here is Carrot Pudding that is made with carrots, milk, cashews, and dates, with the added aroma of cardamom & saffron. The sweetness in this dessert comes from dates. You would not mind yourself or your kids asking for second and third servings!
Zarda Sweet Rice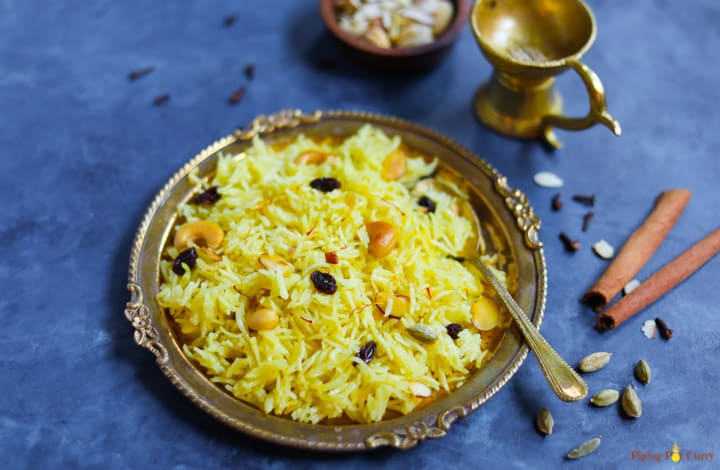 Meethe Chawal or Zarda Rice is a sweet and rich rice preparation loaded with dry fruits, sugar, and ghee. This aromatic, sweet, saffron-flavored rice is a royal dessert made on special occasions and festivals.
Oats Kheer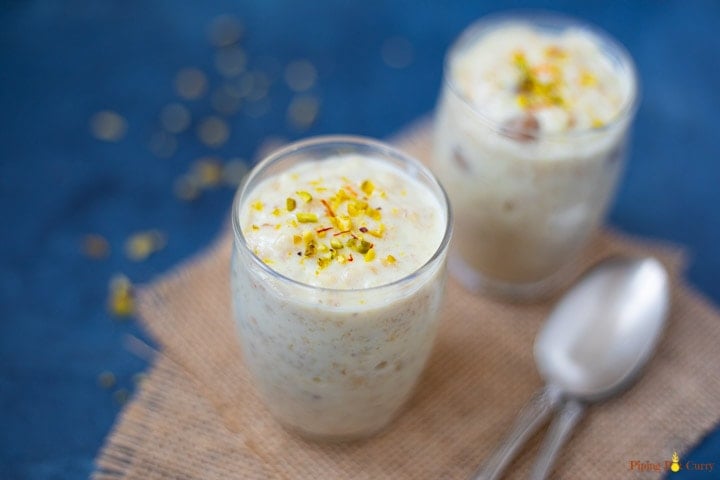 Oats Kheer, also known as Oats Payasam, is a delicious twist of using oats in Indian dessert recipes. Sweetened oatmeal with cardamom, nuts, and raisins, this healthy breakfast or dessert can be cooked in a pressure cooker or on the stovetop within minutes.
Carrot Burfi from Spice Cravings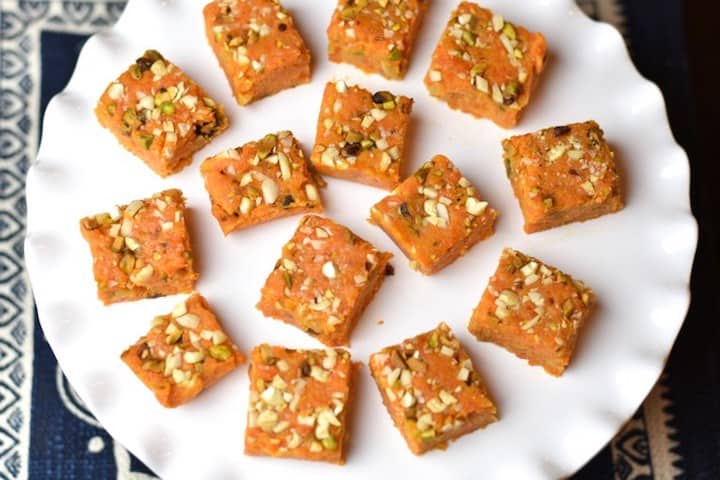 Carrot, or Gajar ki Burfi, is a fudge-like variation of the class dessert Carrot Halwa, which is from the region of Punjab in North India. It is made with grated carrots, ghee, sugar, milk and nuts. This variation of carrot fudge is made healthier with the addition of an Almond meal.
Kesar Pista Shrikhand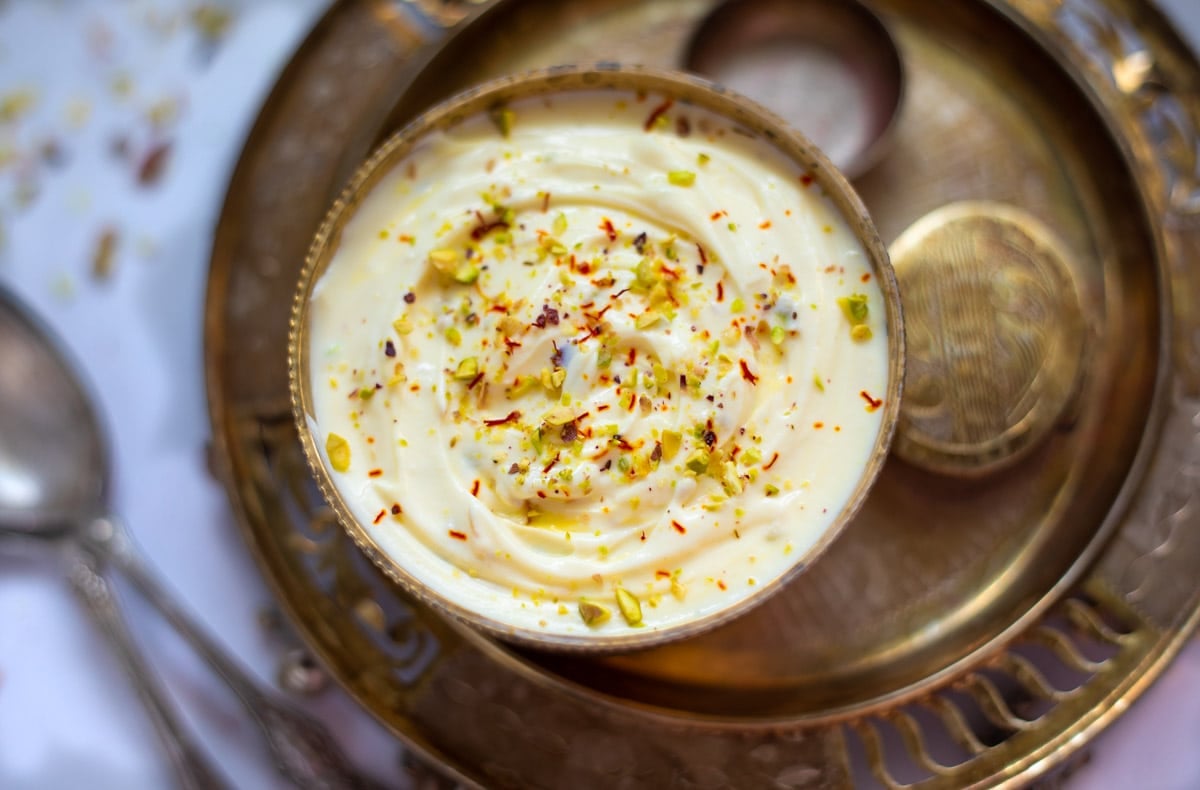 Shrikhand a refreshing & sweet Indian dessert. Creamy smooth yogurt is mixed with sugar and cardamom and garnished with saffron and pistachios to make this luscious Kesar Elaichi Shrikhand.
Lapsi (Cracked Wheat Sweet)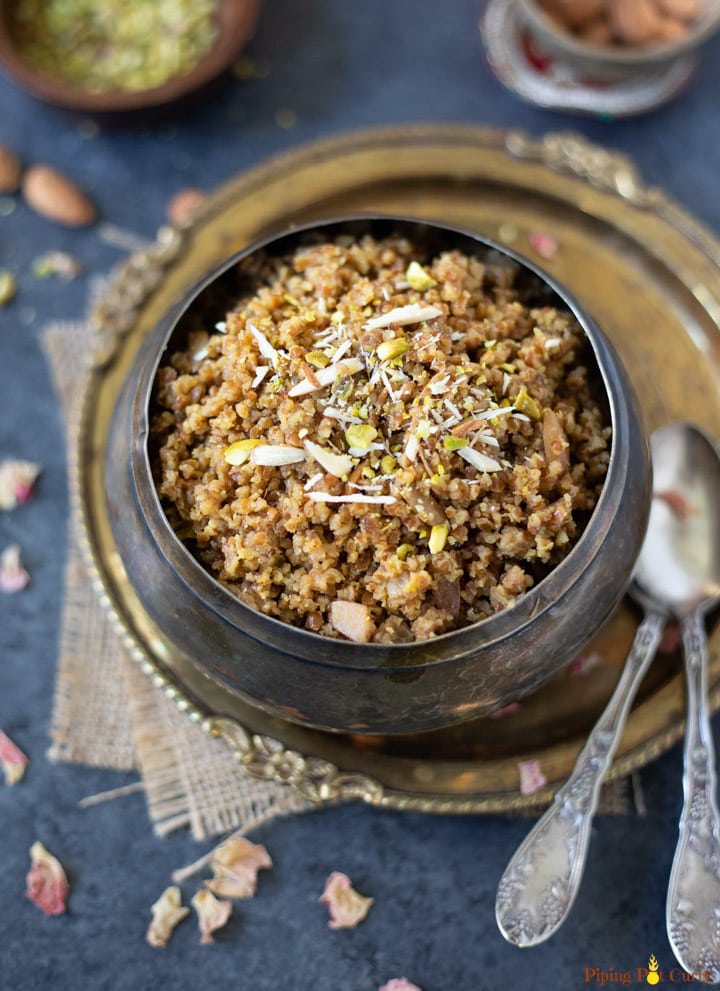 Lapsi is a sweet dish made with roasted broken wheat (Dalia) and sweetened with jaggery. Garnished with nuts and flavored with cardamom, this cracked wheat recipe is perfect for celebrations.
Coconut Pumpkin Halwa
Coconut Pumpkin Halwa, also called Kaddu ka Halwa, is an Indian pumpkin dessert made with pumpkin, sugar, ghee, coconut, and nuts. It can be cooked in a pressure cooker on the stovetop or Instant Pot, and it takes less than 30 minutes to make this delicious dessert!
Orange Semolina Cake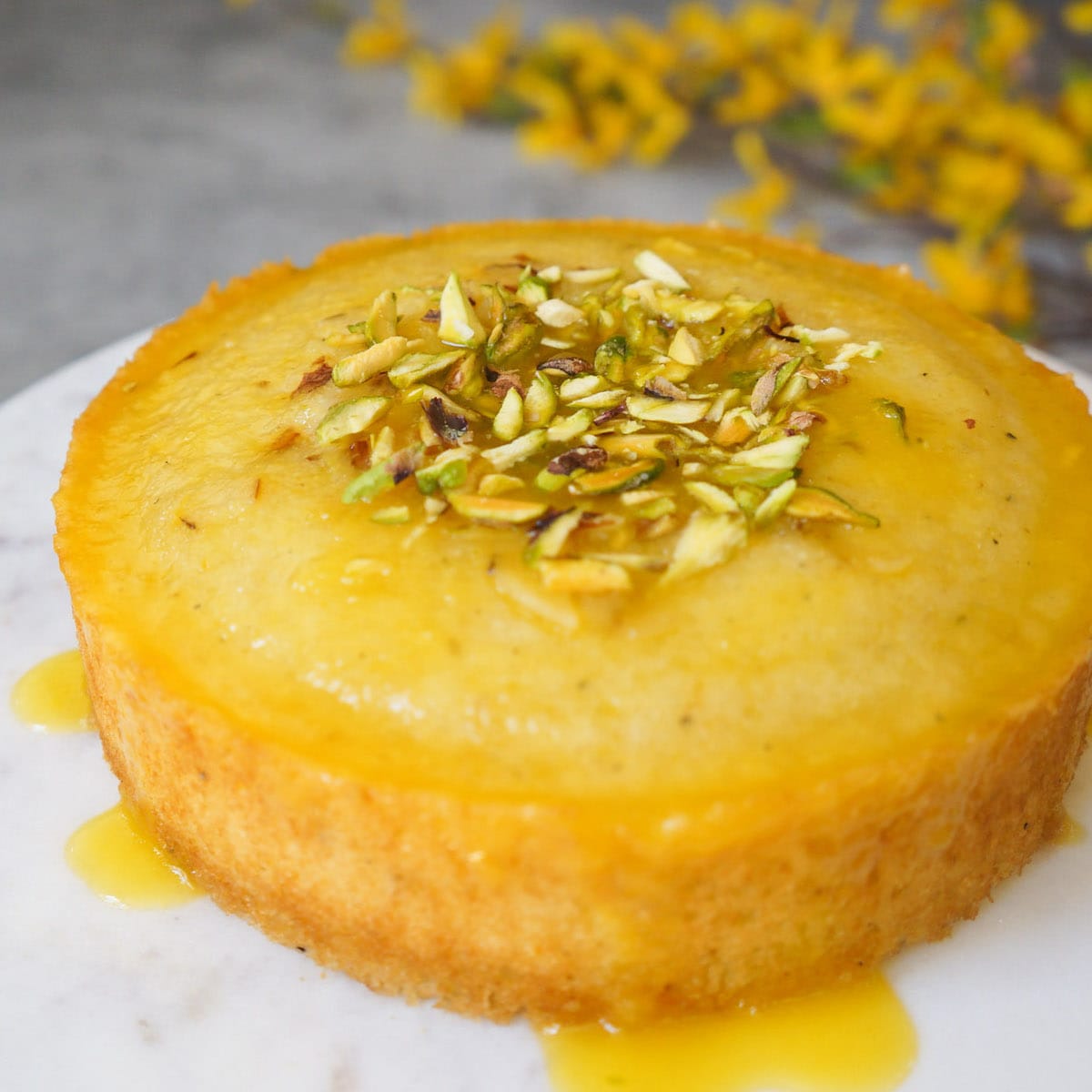 Semolina Cake (Rava Cake) topped with an orange syrup. It is an easy-to-make fluffy and moist cake with a gorgeous orange flavor. This is an eggless cake perfect for vegetarians.
Ukadicke Modak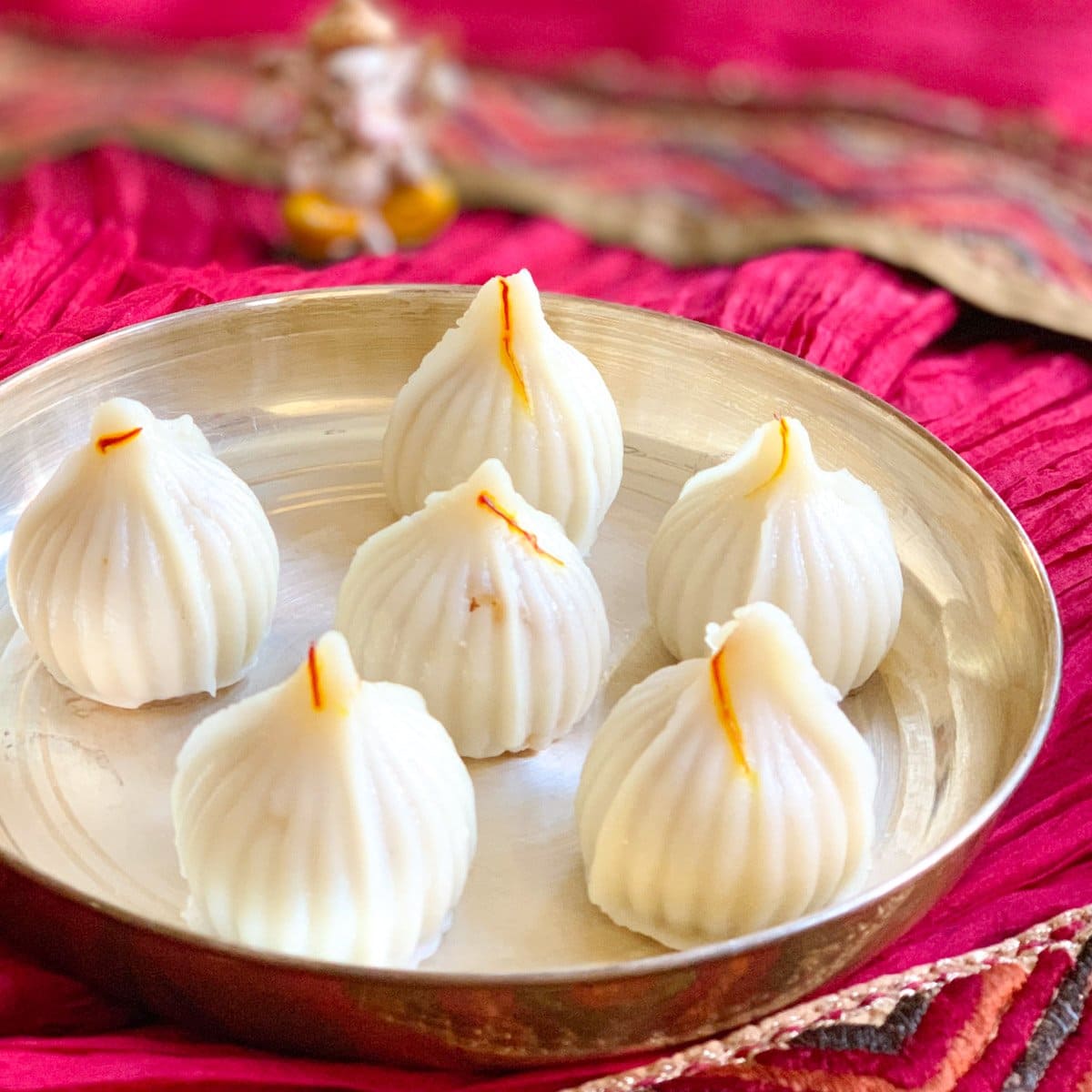 Ukadiche Modak is an Indian sweet dumpling made during the festival of Ganesh Chaturthi. It is made from steamed rice flour and stuffed with a sweet mixture of jaggery and grated coconut.
Dudhi Halwa from Ministry of Curry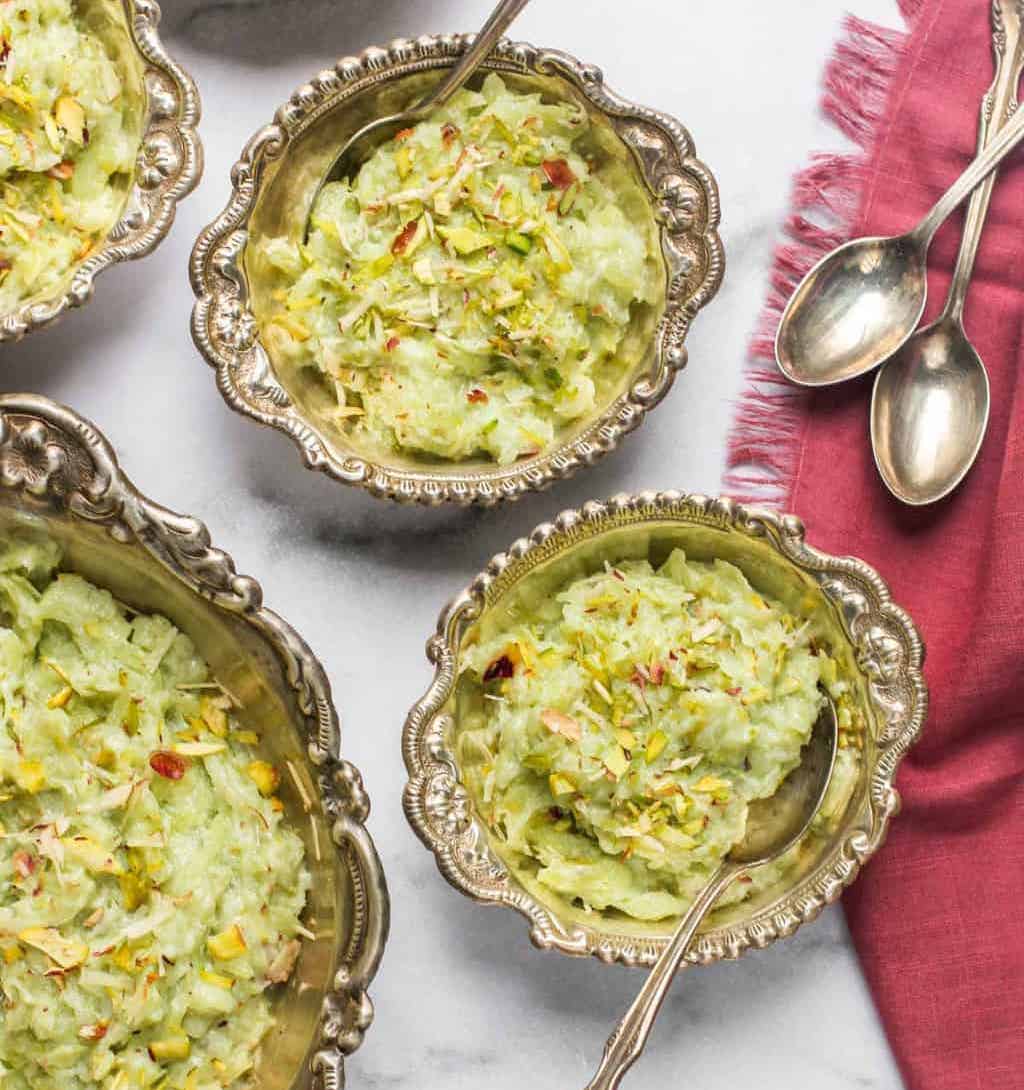 Dudhi Halwa is a popular Indian dessert made with grated bottle gourd, sugar, and milk. This luscious Dudhi Halwa is lightly sweet and has a creamy pudding-like texture with the aroma of vanilla!
We hope you have found a recipe for your favorite Indian Dessert in the Instant Pot! Let us know which dish you're most excited to make, and share this roundup with your friends!
Don't forget to check out our roundup of 23 Best Indian Instant Pot Recipes from the best blogs for Indian Instant Pot Cooking.