Salads are a great way to add freshness and variety to our diet. If you're looking for healthy sides to elevate your next meal, we have an incredible collection of Indian salad recipes for you here.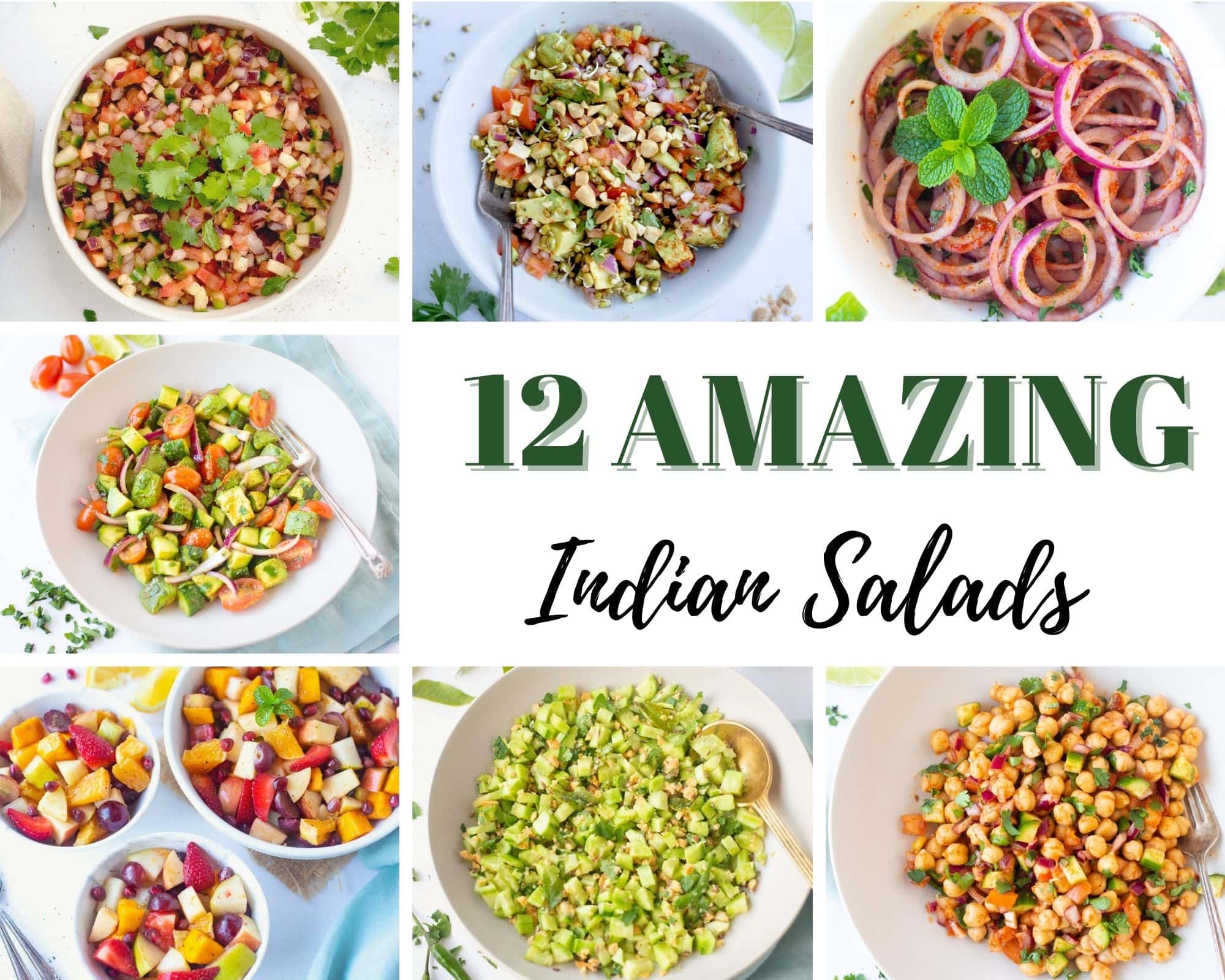 When talking about Indian cuisine, the entrees like the Butter Chicken, Punjabi Chole, Dal Makhani always take the limelight, but there is something that accompanies this main course and makes it more palatable, and adds that zing to your meal and that is the humble salad.
Salads are a powerhouse of nutrients as they provide us with fiber, micronutrients and minerals, which our regular meals cannot provide.
Indian style salads characteristically are full flavored, refreshing, crunchy, spicy and tangy. When a combination of greens, vegetables and fruits of your choice are tossed with salt, pepper, lime juice, and often some chaat masala, you are bound to get a bowl full of goodness.
Usually, in most Indian homes, a plate full of thinly sliced and arranged cucumbers, tomatoes, carrots, radishes, onions seasoned with chaat masala and lime juice is served at mealtimes.
Indian salad recipes are primarily vegetarian and super easy to assemble. They contain basic, fresh ingredients that can be found in your kitchen.
Other ingredients like pulses, legumes, paneer, eggs are often incorporated in the salads, which boost the protein content and make you feel full for longer.
Jump to:
Different Types of Salads
Every region of India has its own authentic salads, that are not only different in flavors and aromas but also vary in the textures and choice of Ingredients.
Some of the well know traditional salads are: Koshambiri, Pachadi, Kachumbar.
Indian Salad dressings are made with a few simple ingredients like salt, red chilli powder, black pepper, lime juice, sometimes green chilies and cilantro are also used.
In North India, salads are also made as chaat style along with green chutney, tamarind chutney and chaat masala, wheres a South Indian salad will comprise of a classic tempering of mustard seeds, curry leaves along with grated coconut.
You can create your own Indian inspired salads using Indian herbs and spices of your choice and tossing them with local produce.
Salads for Indian Food
Indian salads pair very well with rich, creamy and spicy Indian curries, dals, rotis, rice etc. These refreshing salads make a great side for Tandoori / Barbecue dishes like kebabs, tandoori chicken, chicken tikka, paneer tikka etc.
The salads when served with chutneys and poppadoms make an irresistible combination. Relishes and pickled vegetables are also served as an accompaniment with deep fried foods and curries.
Kachumber Salad (Indian Cucumber salad)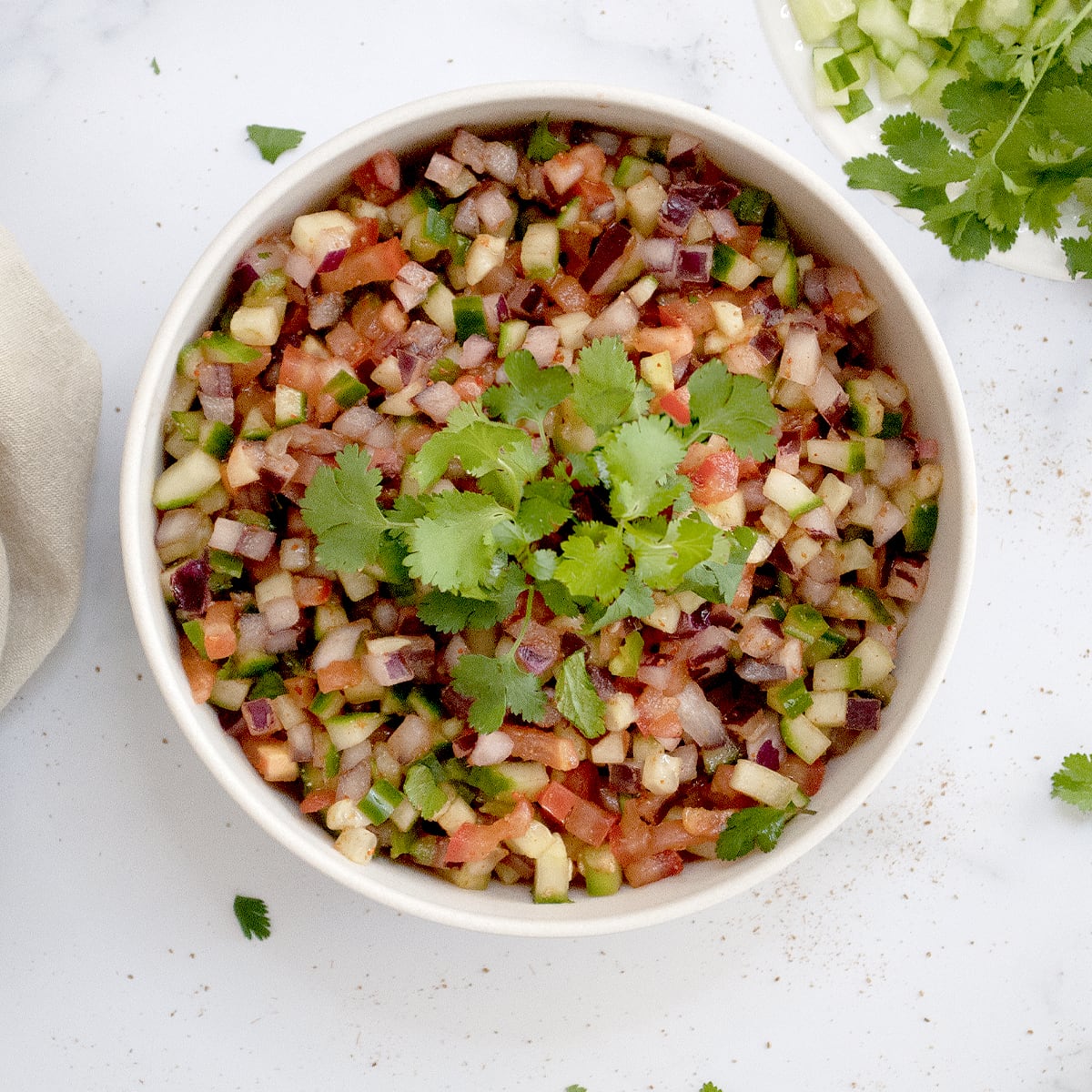 This authentic satisfying Kachumber salad is so easy and refreshing. Made with chopped onions, tomatoes, cucumbers and seasoned with spices, serve it as a side with any Indian food. It is vegan, oil-free, and gluten-free.
Indian Onion Salad (Laccha Pyaaz)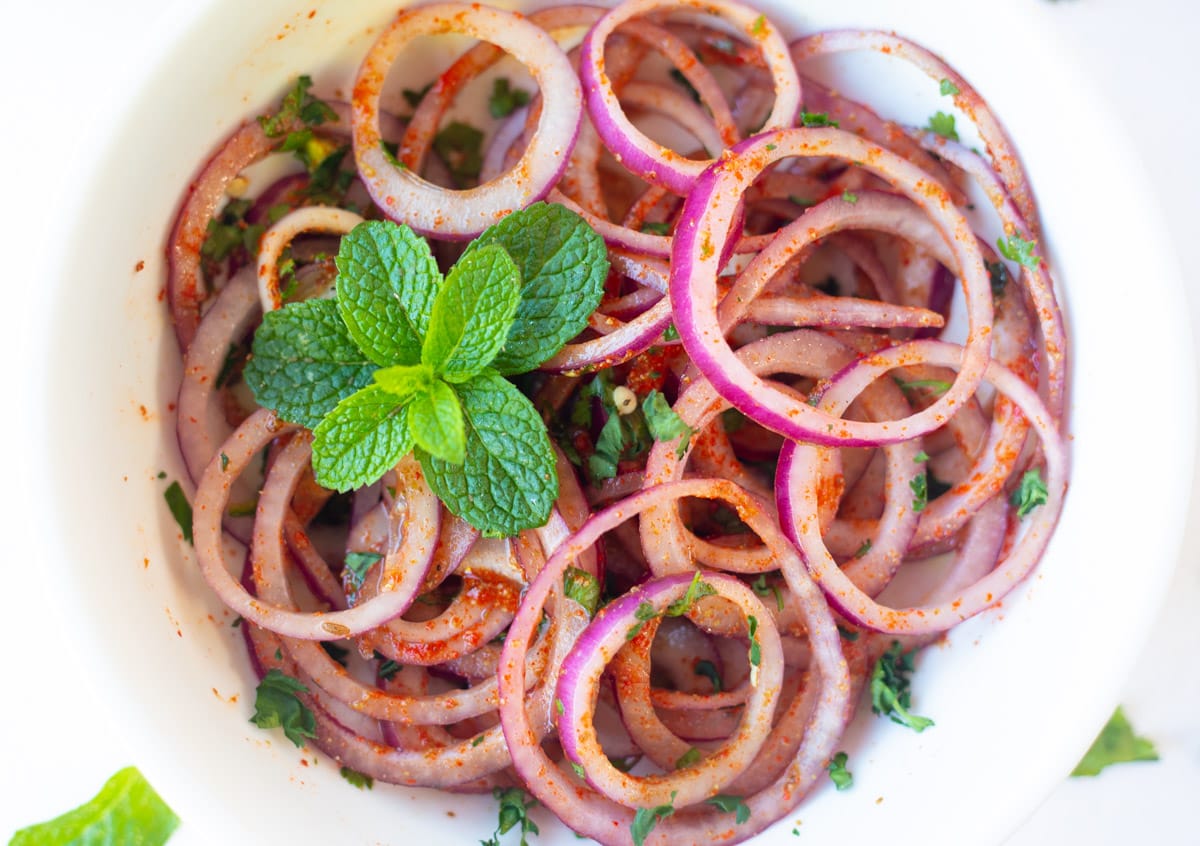 This popular Indian salad, called Laccha Pyaaz, made with sliced onion rings tossed in a tangy, spicy dressing and fresh herbs, is a perfect accompaniment to your Indian meals. This is not only gluten-free but a no-oil salad. Perfect for Vegetarians and Vegans!
Chickpea Salad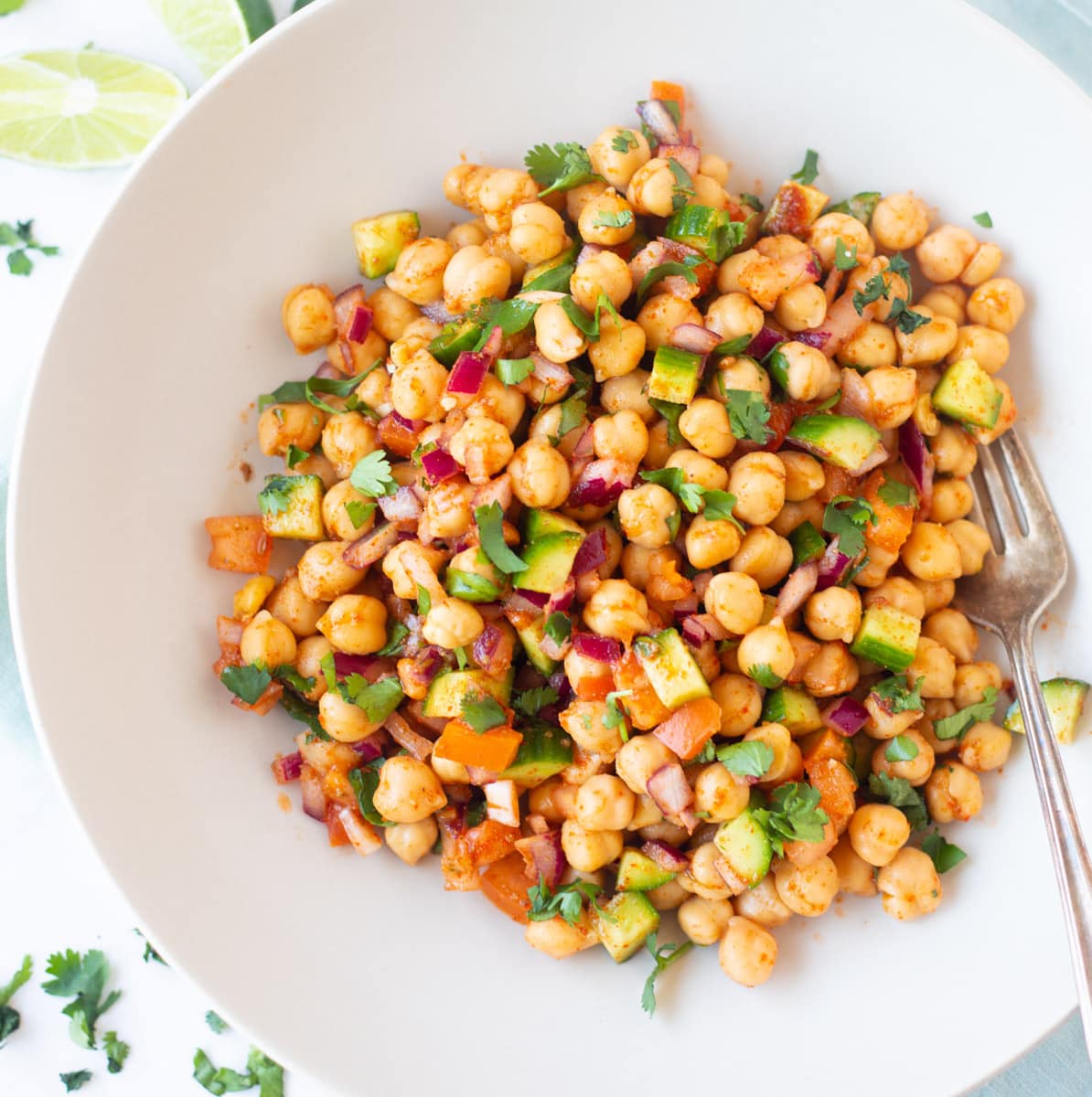 This Chickpea Salad is a healthy, protein-rich salad that is easy to put together in less than 30 minutes. Chickpeas are combined with veggies such as tomato, onions and cucumber, flavored with Indian spices along with a tangy lemon dressing.
Cucumber Avocado Salad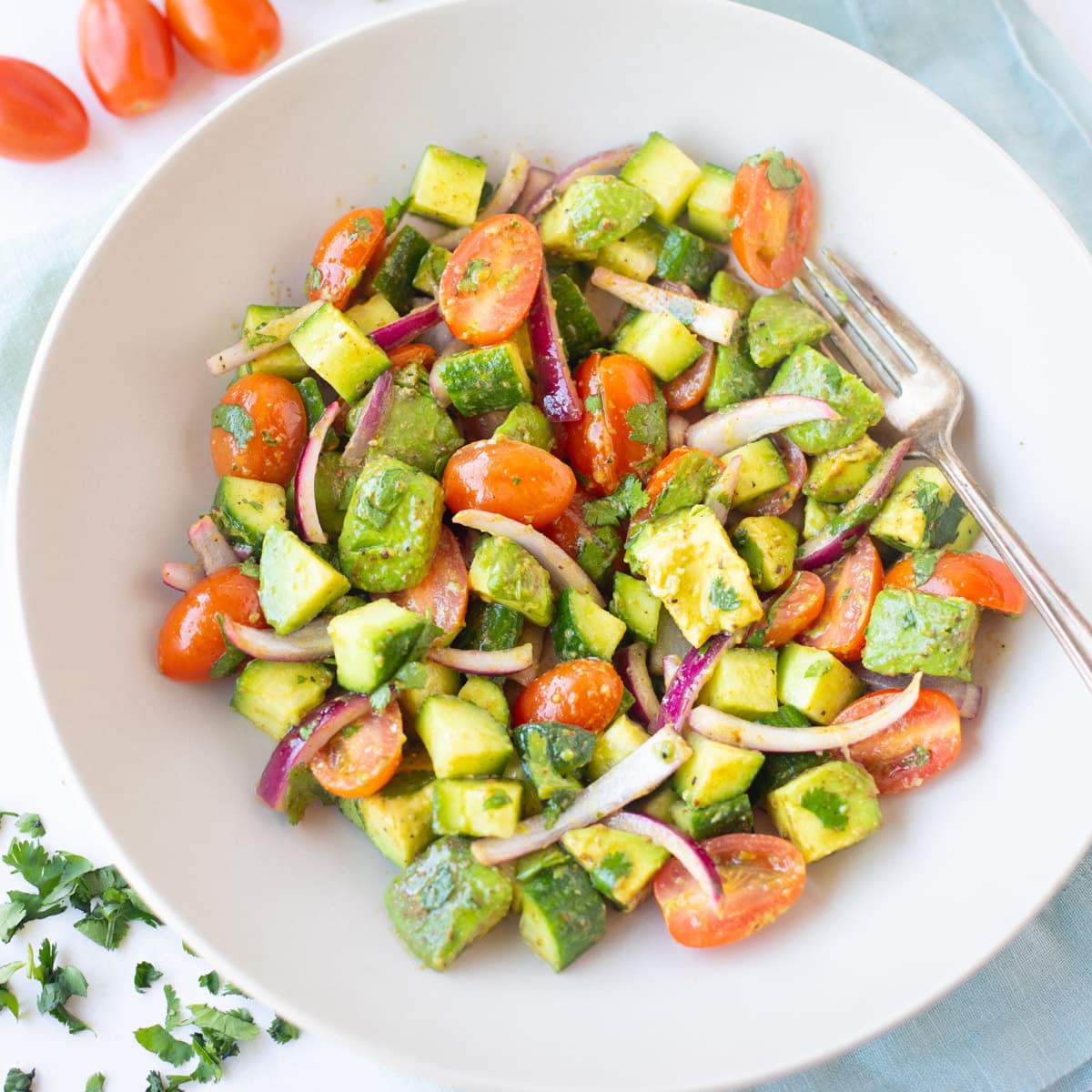 A refreshing and flavorful salad made with cucumber, cherry tomatoes, avocado, red onions and cilantro, tossed in a light lime dressing with chaat masala. This tangy, delicious salad can be put together in less than 10 minutes.
Cabbage & Carrot Thoran-style Indian Salad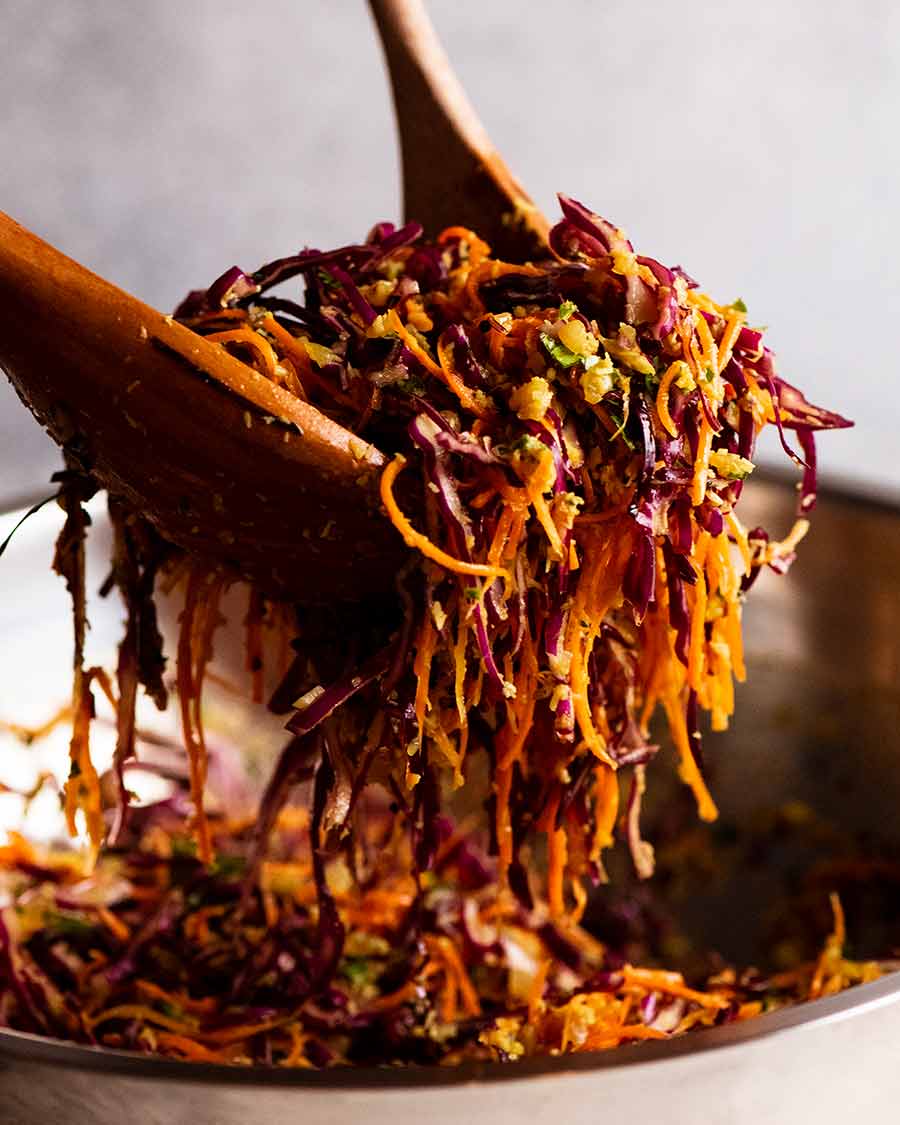 This traditional South Indian Thoran salad is simple, colorful and delicious. It is made with finely shredded cabbage and carrot, tossed with spiced Indian coconut chutney. You can actually make it with any vegetable of your choice.
Kakdi Koshimbir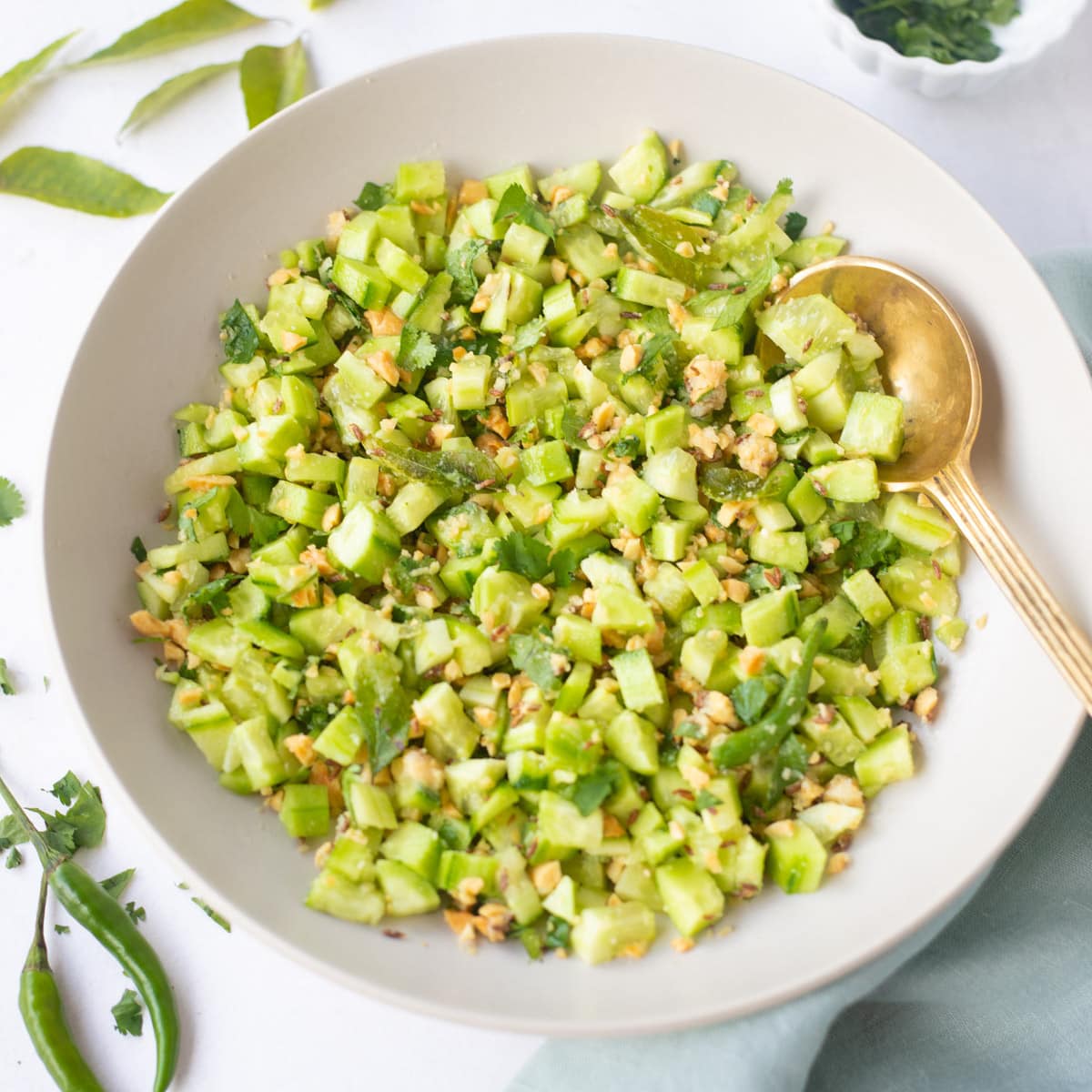 This is an easy and refreshing Indian style Cucumber Salad bursting with crunch and flavor. This hydrating, low-carb salad can be made in just 15 minutes. Enjoy it as a quick snack or side dish.
Easy Sprouts Salad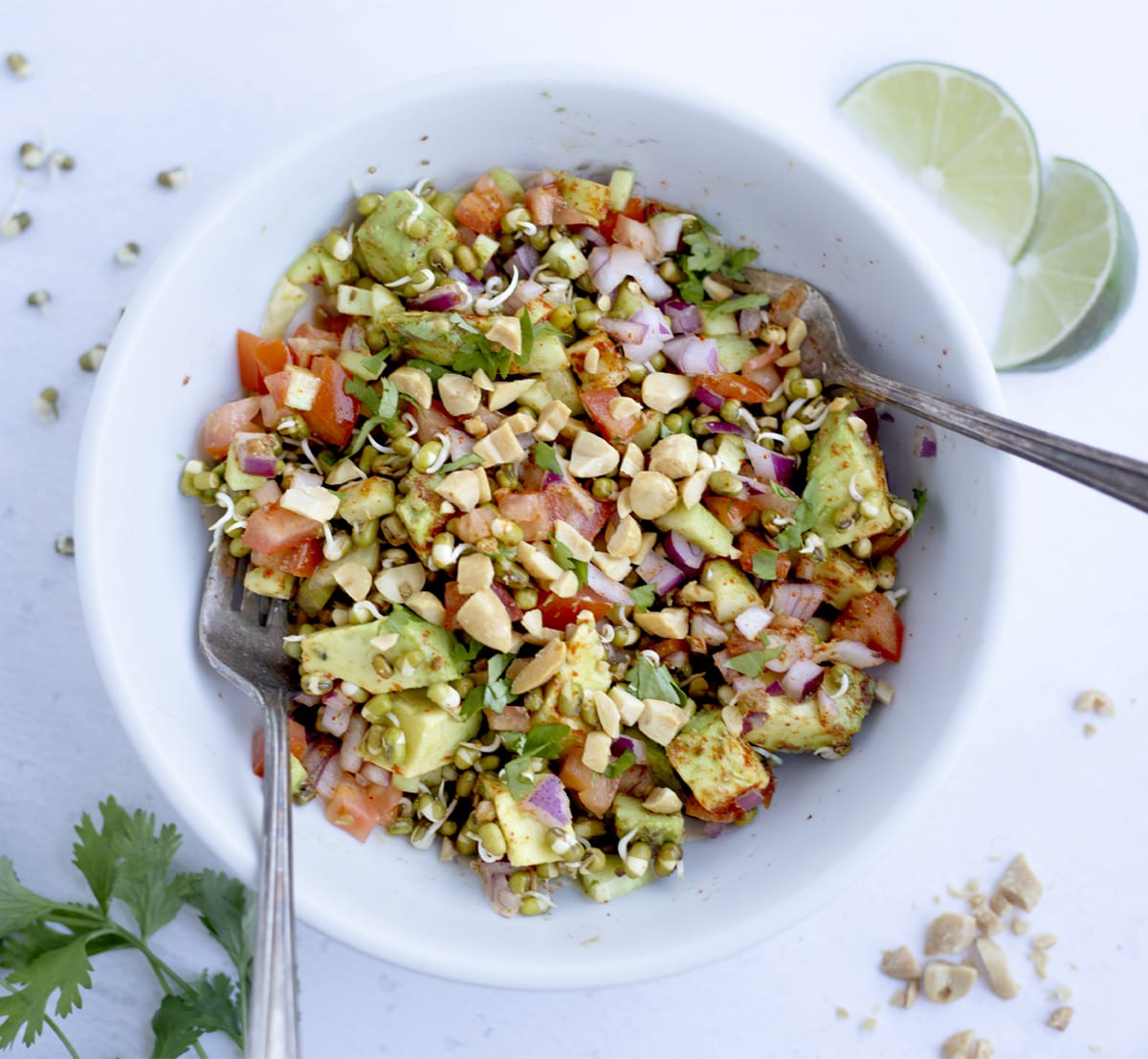 This easy homemade nutrition-packed Sprouts Salad made with sprouted mung beans, crunchy onions, tomatoes, cucumber, avocado, and spices. It is a refreshing salad that has fresh and tangy flavors and can be enjoyed as a great protein-rich breakfast or snack.
Fruit Chaat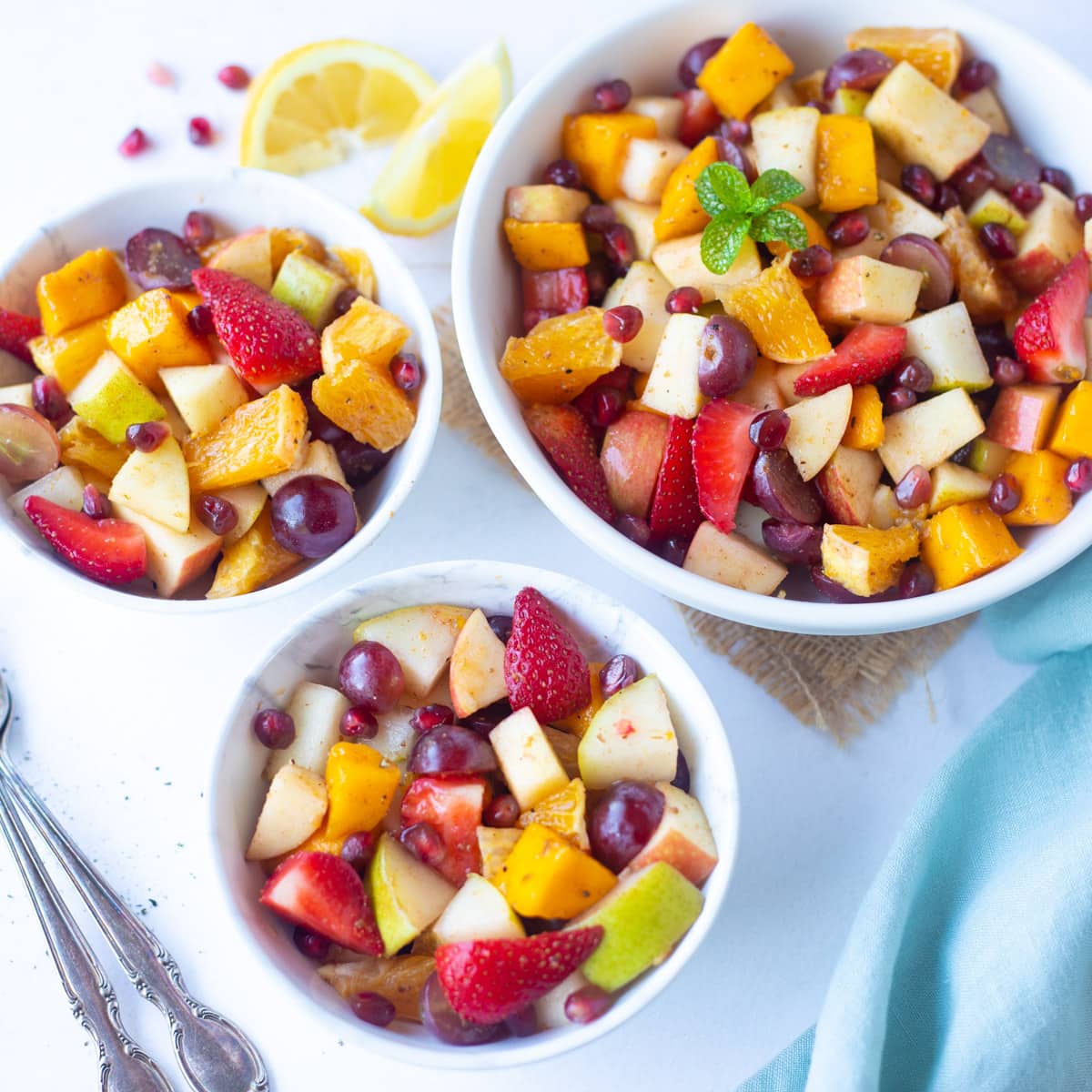 Fruit Chaat is a famous Indian-style fruit salad made with fresh fruits and tossed in a tangy-spicy dressing. This refreshing chaat can be enjoyed as a snack, appetizer or a dessert for those post-meal sugar cravings.
Indian Cabbage Slaw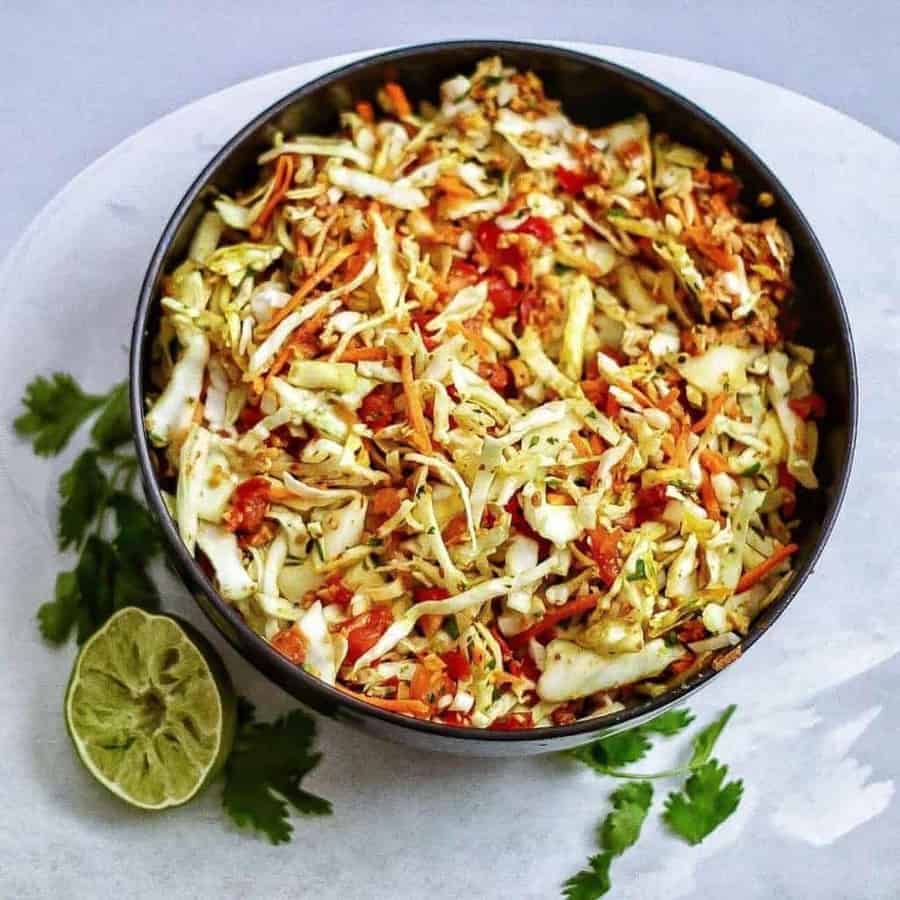 Indian Cabbage Slaw is crisp and refreshing. It is vegan, quick and tasty. Packed with goodness – it makes a great accompaniment to any meal. Try it and you will want more of it.
Quinoa Bhel Salad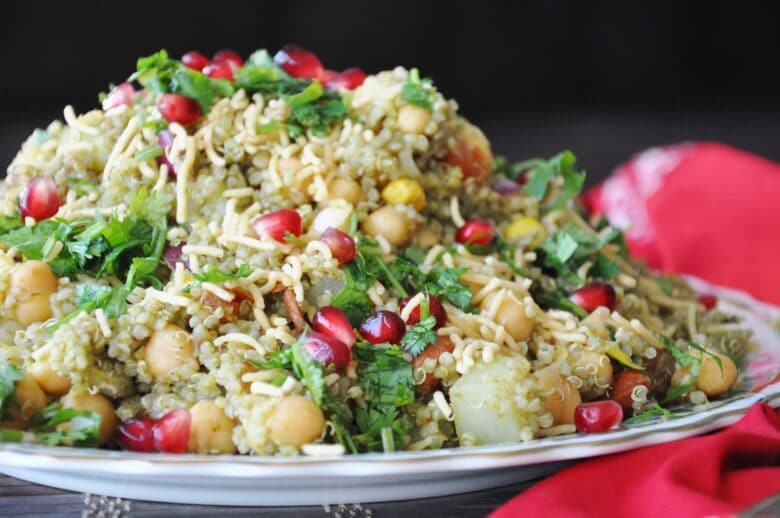 Quinoa Bhel Salad is a great way to use healthy quinoa in a Indian chaat style. Flavourful and tangy, this salad is sure to please everyone. It's a great choice to have it for breakfast or make it into filling meal.
Kala Chana Chaat (Black Chickpea salad)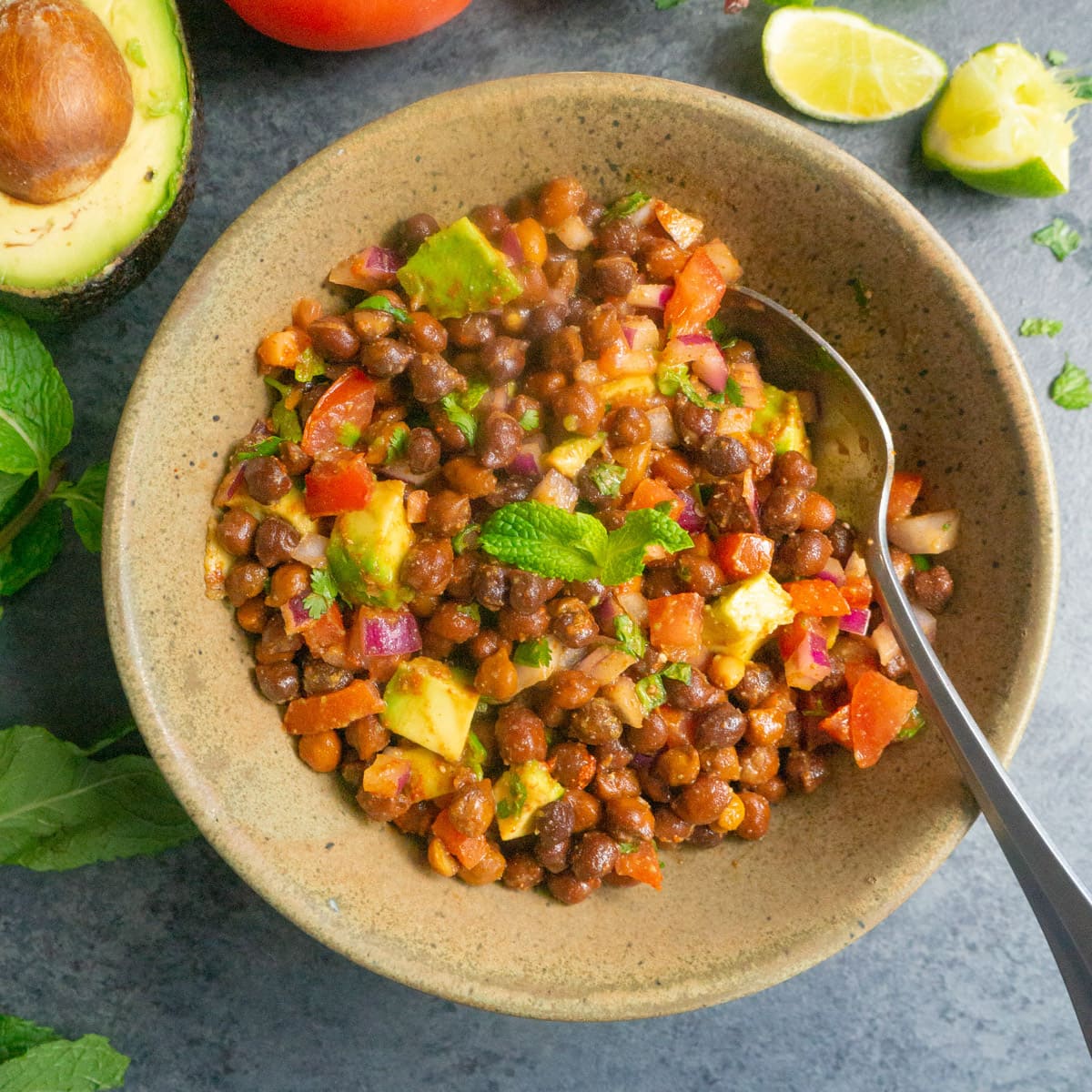 Kala Chana Chaat, is a nutrition packed Black Chickpea Salad made with black chickpeas, crunchy onions, tomatoes, avocado and spices. This refreshing salad has fresh and tangy flavors, and can be enjoyed as a great protein rich breakfast or snack. Vegan & gluten free.
Crispy Paneer & Grilled Nectarine Salad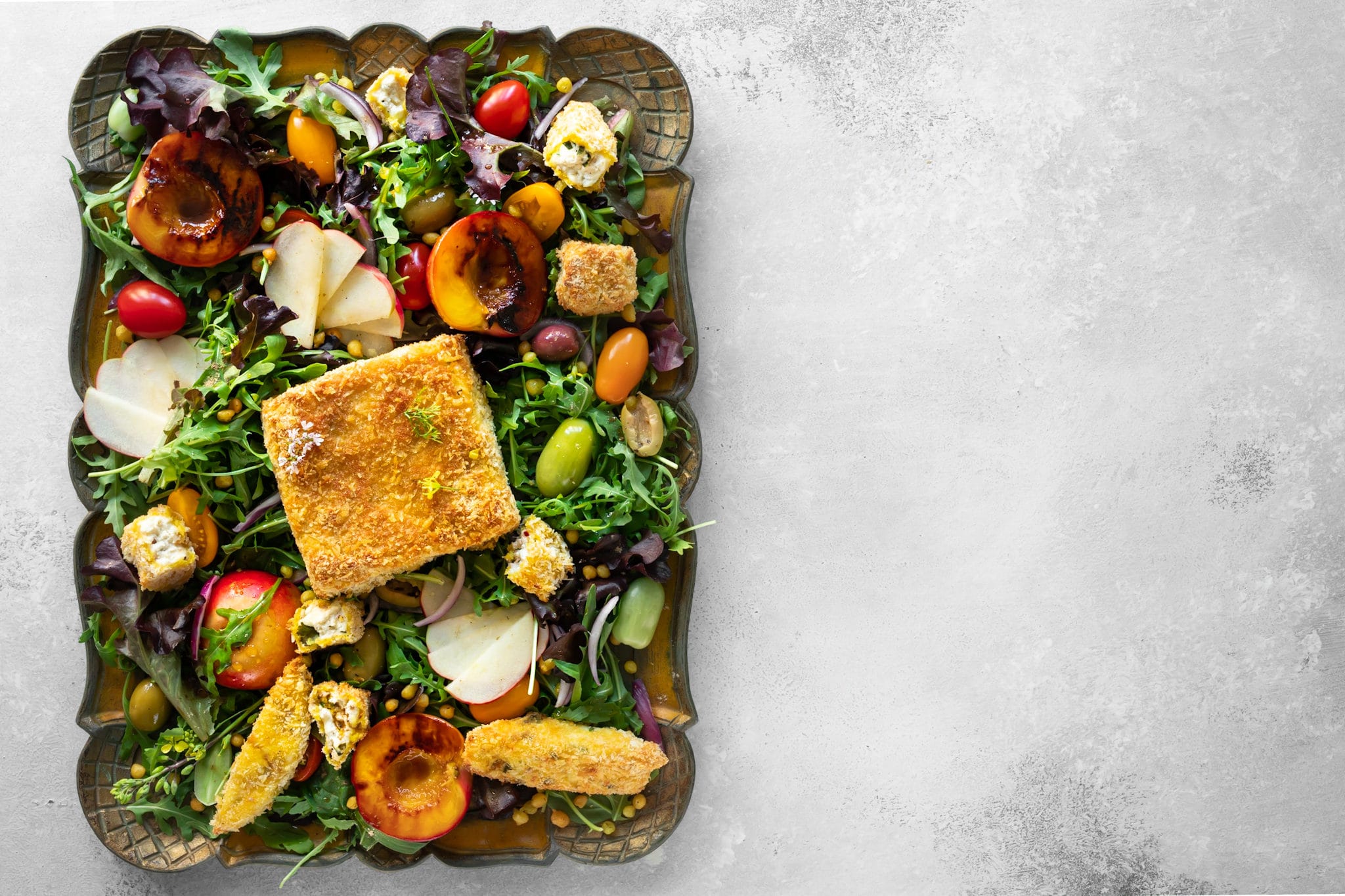 Crispy Paneer and Grilled Nectarine Salad is a refreshing and colorful take on a salad. Masala Paneer is baked and combined with juicy grilled nectarines, leafy greens and pearls of fried boondi. It is an amazing side or a meal.
Looking for an anytime snack, a side dish or a quick meal? A perfect salad is what you need.
Salads are versatile and depending on the time you have, you can mix-n-match ingredients on hand. Be creative and indulge in this exclusive collection for Indian-inspired salads and whip up that bowl of good health now!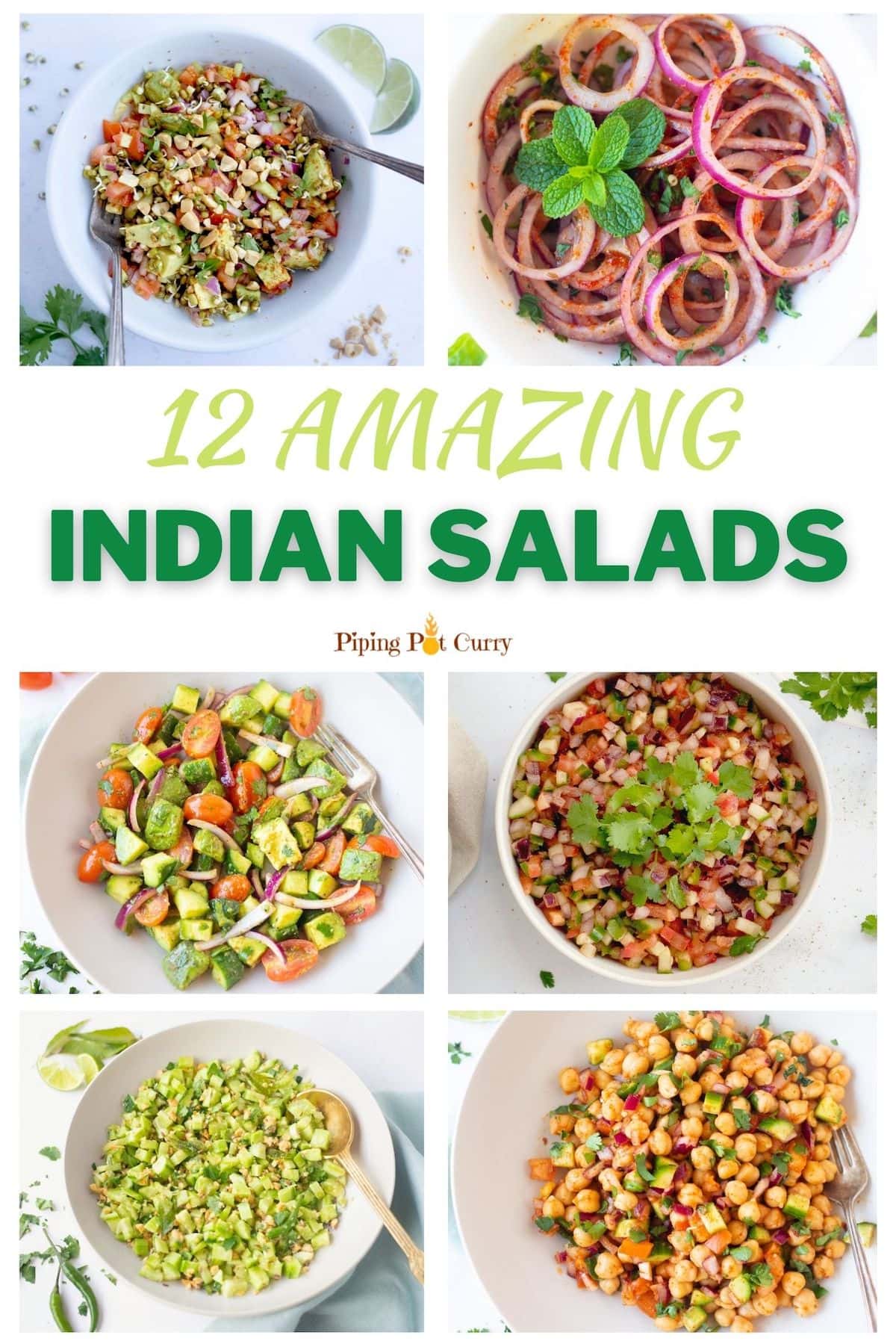 More Indian recipe collections you will love: