Looking for some quick and easy Indian dinner ideas that can be made in just 30 minutes? Here is an amazing selection of 30+ Indian Curries that can be made in under 30 minutes. These meals will be a hit with your family. I have included both vegetarian and meat recipes in this collection.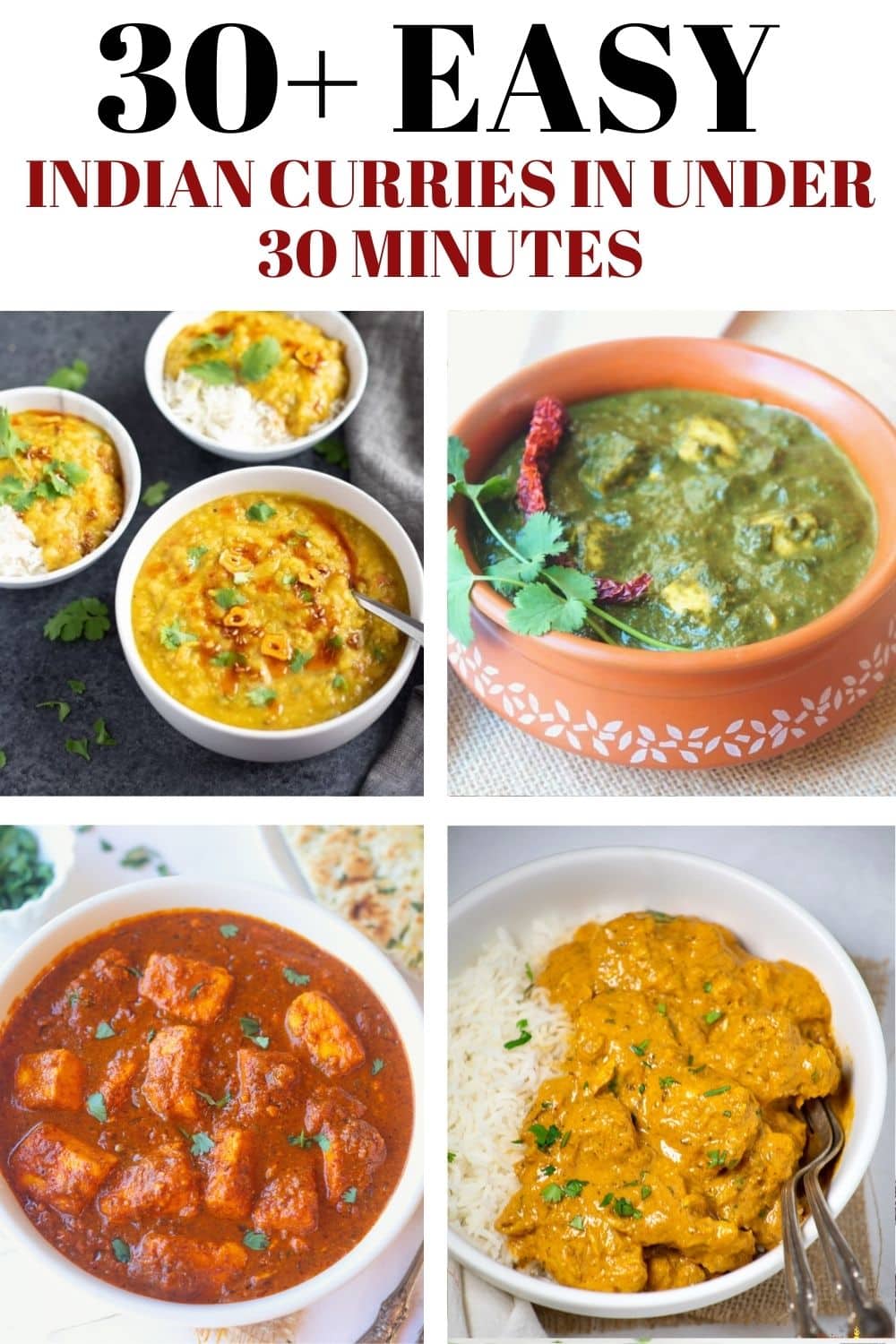 You might wonder, is it even possible to cook a curry in less than 30 minutes? Yes, it is entirely feasible!!!
It can be tough to gauge how long it will take you to prepare and cook an indian dish. Especially so if you are not as familiar with the ingredients and spices.
If you want to create some Indian food within an hour, here are some recipes to get you started. I've compiled a list of all the dishes that can be made in under 30 minutes.
From a flavor-packed Coconut Shrimp Curry to Palak Paneer, or the restaurant style Paneer Butter Masala and Chicken Tikka Masala, you will find your your favorite curries here.
What to pair with Indian Curries?
Pair these curry recipes with naan, paratha or rice. Our favorite is aromatic jeera rice, which is flavored with cumin seeds and whole spices. It pairs perfectly with curries and dals.
Vegetarian Curry Recipes
Palak Paneer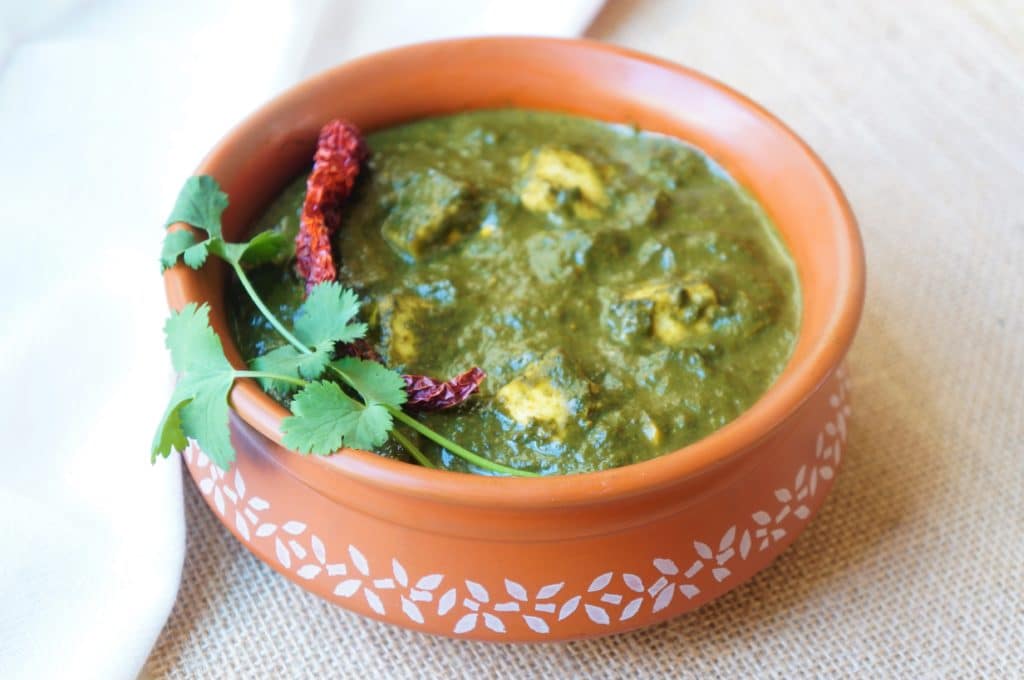 A North Indian favorite with spinach and cottage cheese, Palak Paneer. Make this palak paneer as a one-pot dish, super easy and delicious!
Paneer Butter Masala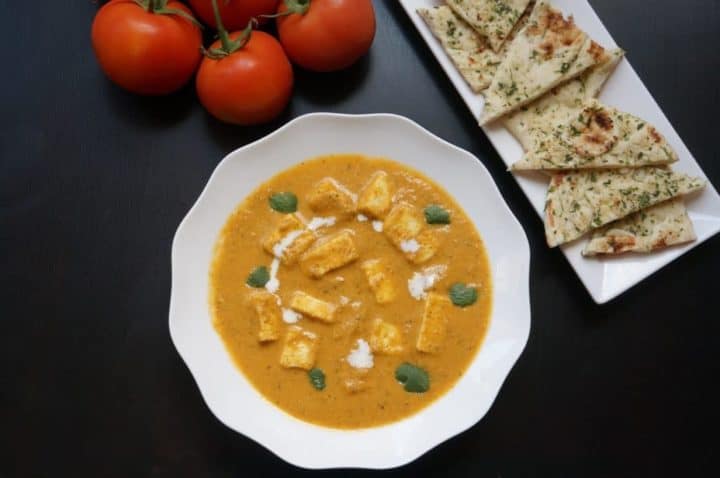 Chunks of paneer or cottage cheese cooked in a mildly spiced tomato gravy. This Paneer Butter Masala is so delicious and very easy to make in the pressure cooker.
Potato Curry (Aloo Rasedar)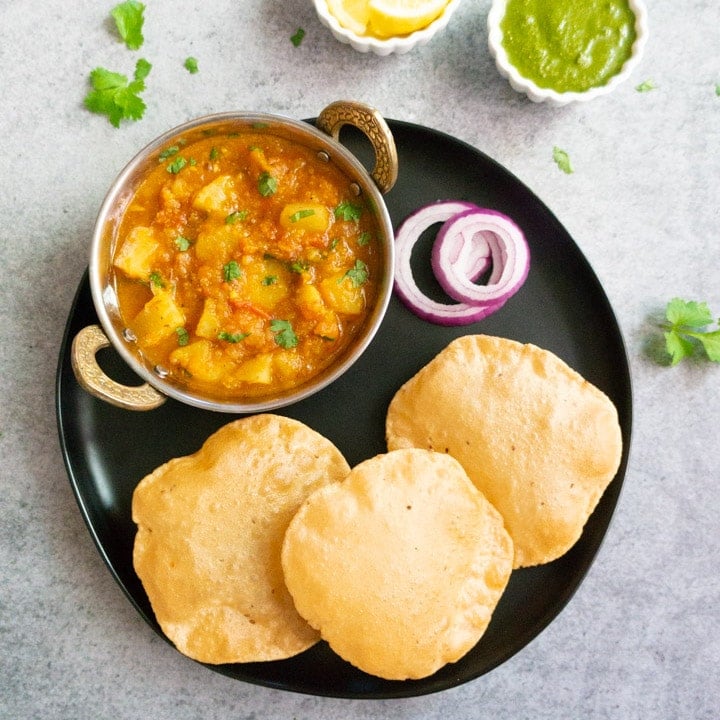 Easy and comforting Potato Curry in a tomato-based sauce. This North Indian Potato Curry is popularly known as Aloo Rasedar. Aloo means potato and Rasedar is a thin tomato gravy.
Aloo Matar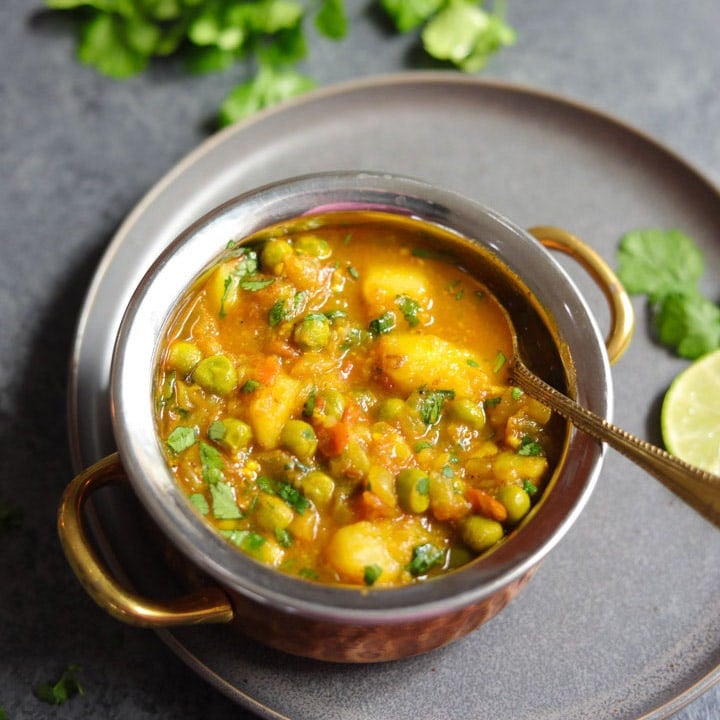 Aloo Matar is a quick and easy potatoes and peas curry, that you can make in the instant pot or stovetop. This vegan and gluten-free Aloo Matar Masala is perfect for a warm weeknight dinner!
Aloo Gobi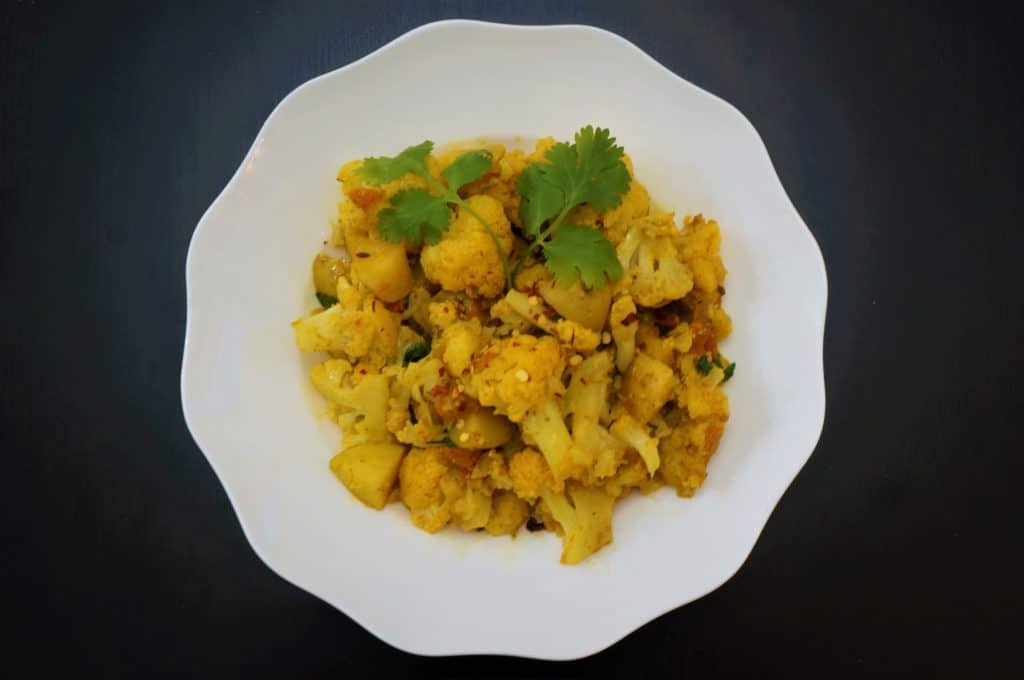 A healthy & delicious potato and cauliflower stir fry. It is a popular vegan indian curry, so easy and quick to make in just 20 minutes.
Red Lentil Curry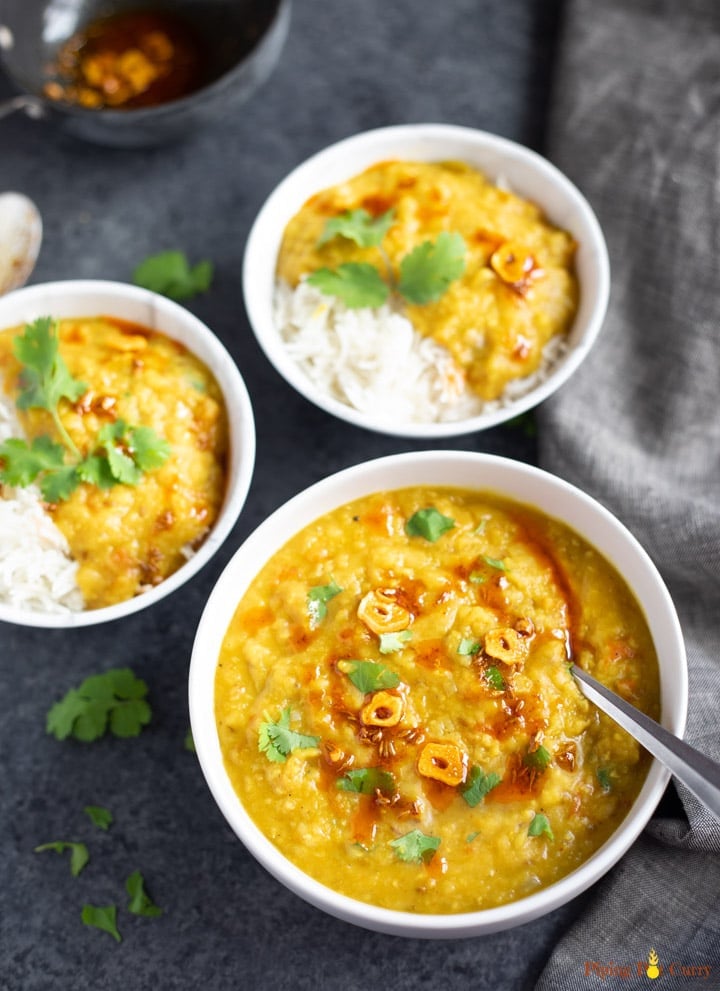 Quick and easy Red Lentil Curry, also known as Masoor Dal, made in the pressure cooker and stovetop. This super delicious, healthy and budget friendly vegan meal can be made in less than 30 minutes!
Mushroom Matar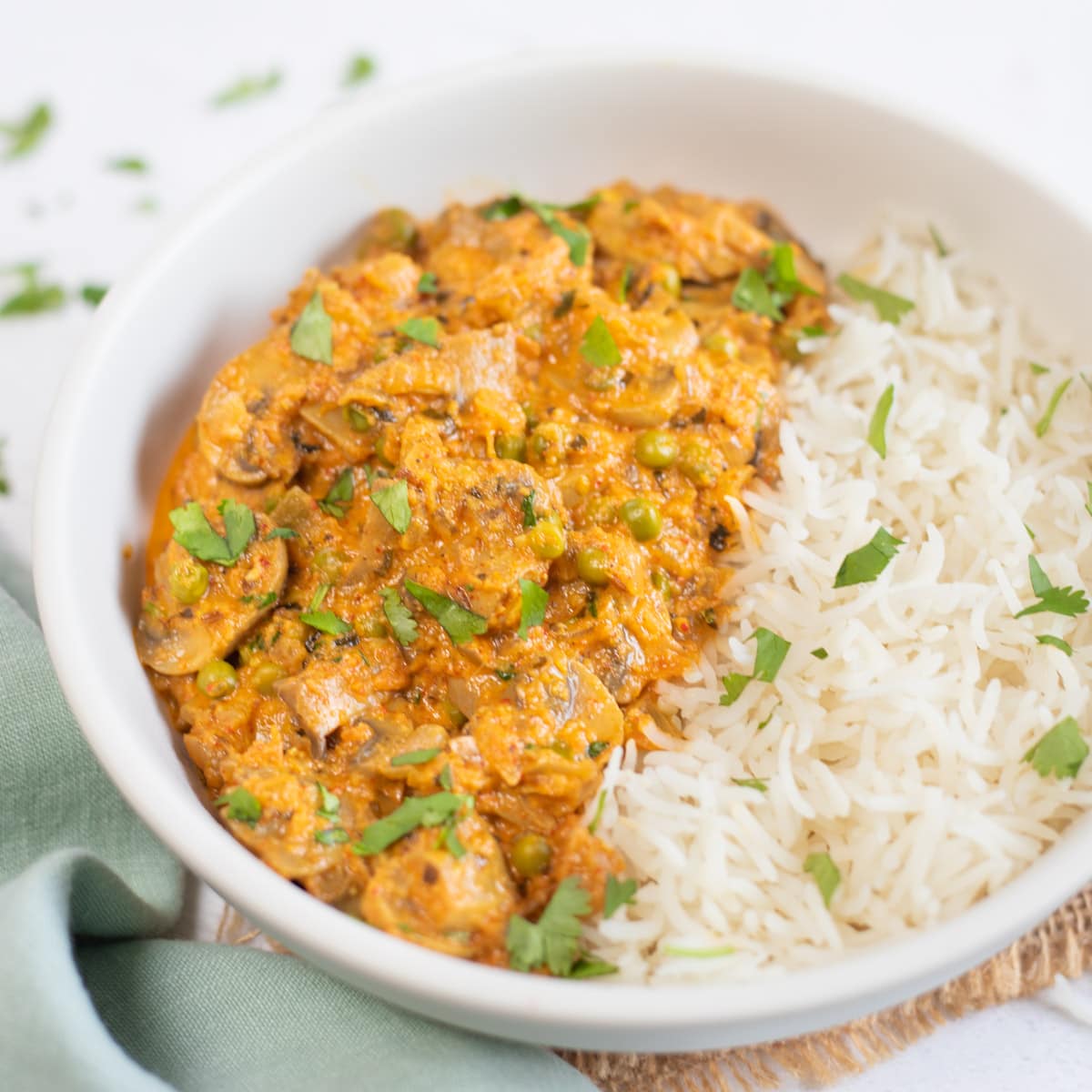 Green Peas and Mushroom curry made in a creamy onion and tomato gravy. This flavorful dish can be made in less than 30 minutes for a wonderful weeknight dinner.
Paneer Vindaloo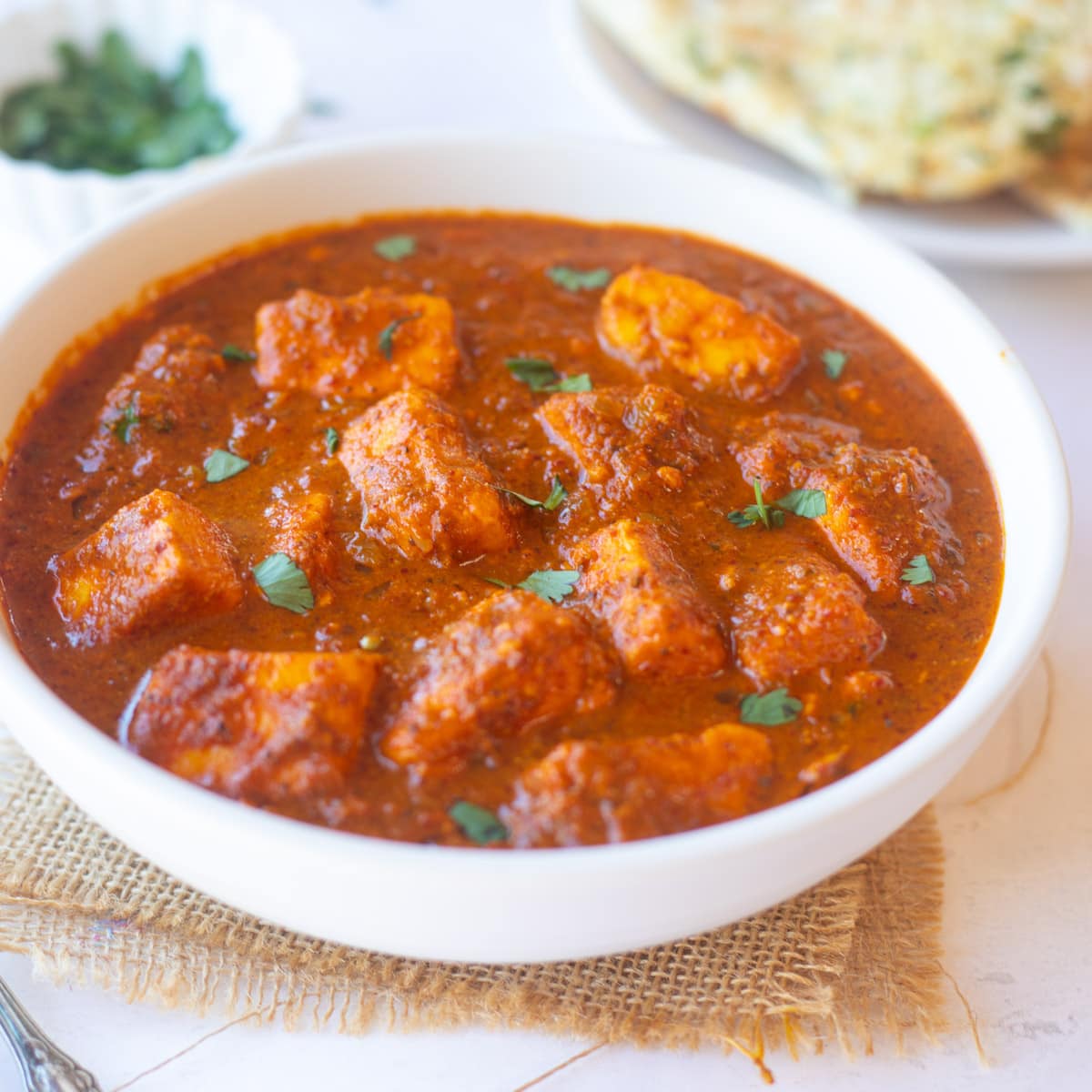 Paneer Vindaloo is the vegetarian version of the restaurant favorite Goan Vindaloo Curry. Paneer cubes are cooked in a fiery-red curry sauce packed with bold flavors.
Butternut Squash Curry with Spinach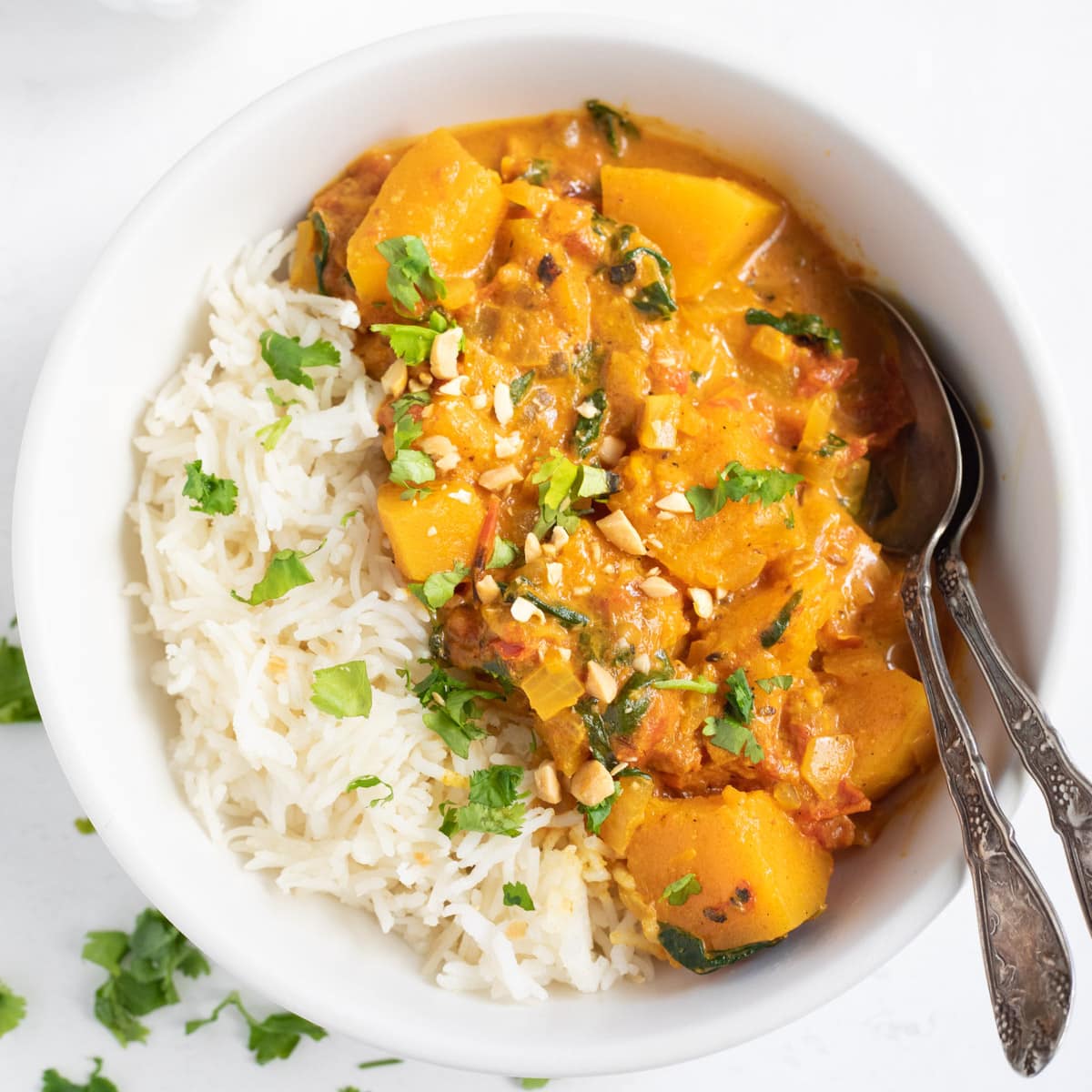 This Butternut Squash Curry is a creamy vegan curry, filled with goodness of squash, coconut milk and spinach. This cozy and comforting curry is perfect for Fall dinners!
Saag Aloo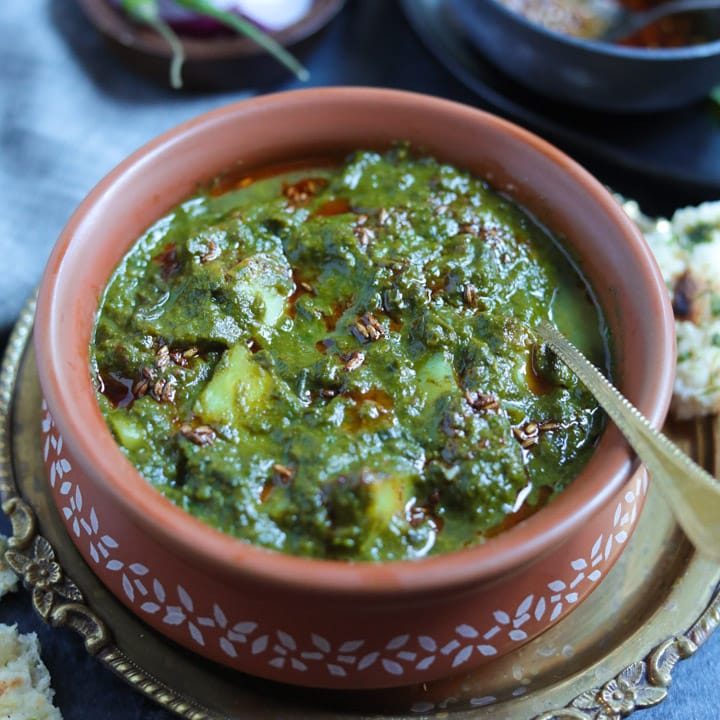 Saag Aloo, a popular delicious North Indian Curry, made with spinach and potatoes cooked with ginger, garlic, onions and aromatic spices. This is a simplified one-pot version of the authentic Saag Aloo made in pressure cooker can be made in just 30 minutes.
Pumpkin Curry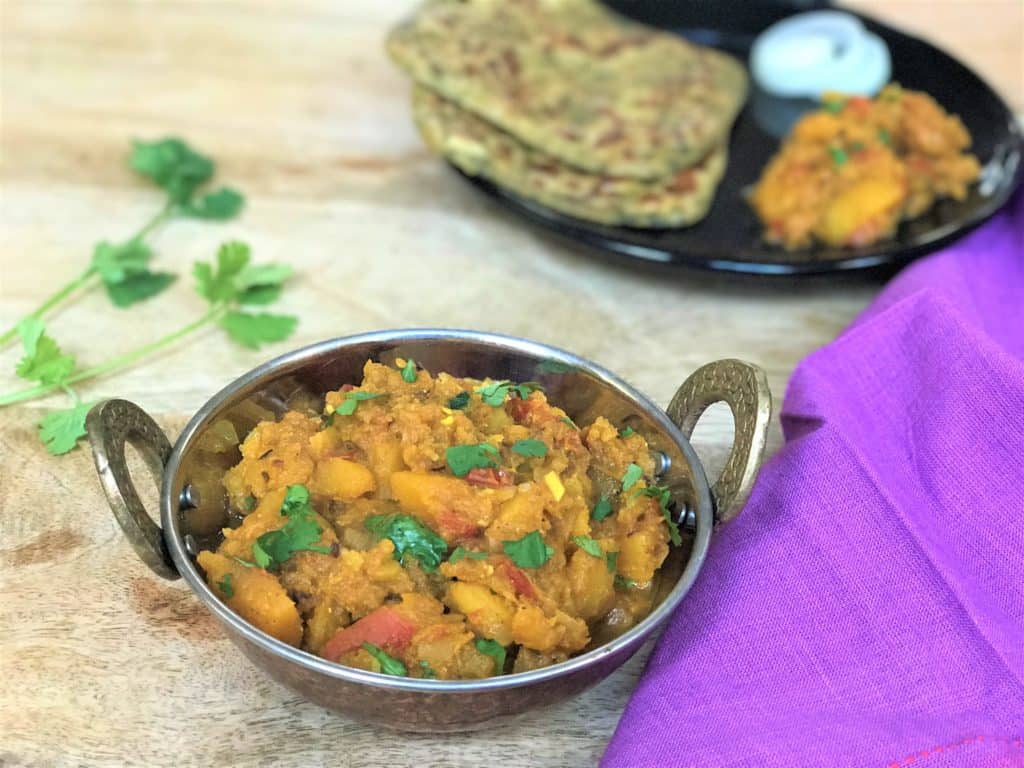 North Indian sweet and sour pumpkin curry made in a pressure cooker. This is a delicious and healthy vegetable curry to add to your Fall dinners.
Saag Paneer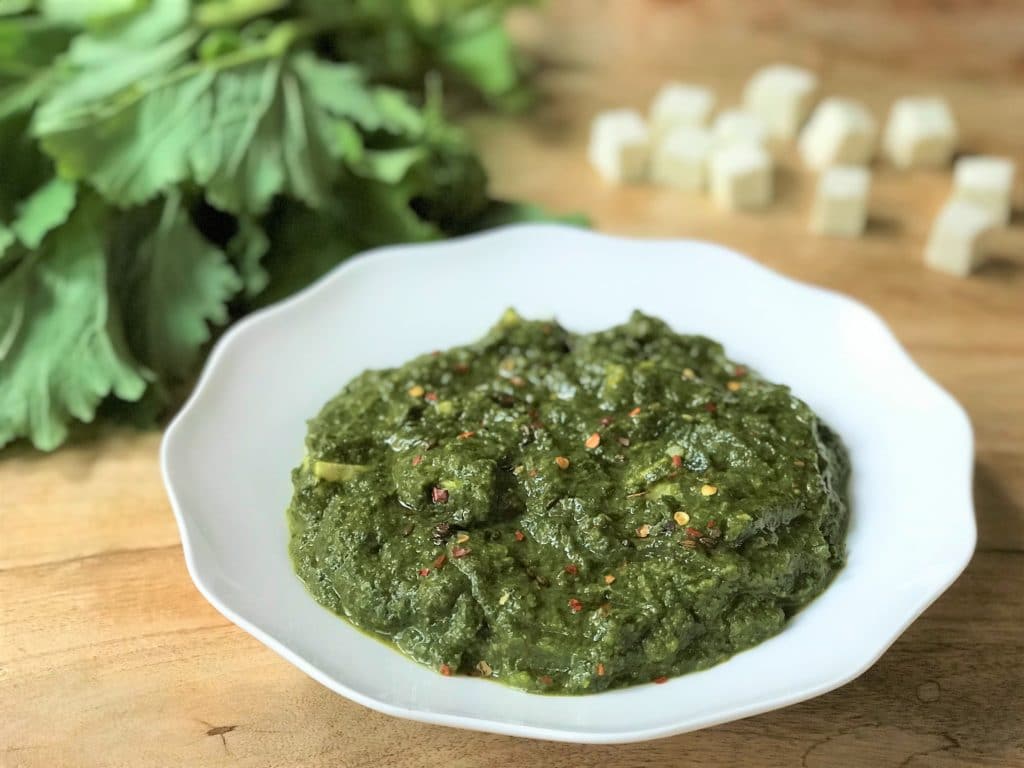 Saag Paneer is the authentic North Indian favorite. It is made with cooking mustard leaves and spinach with spices and cottage cheese, which makes it a delicious and nutritious dish.
Aloo Baingan (Potato & Eggplant Curry)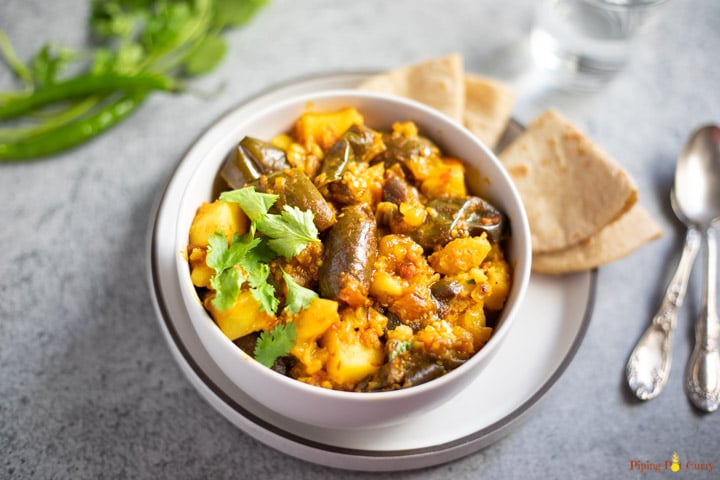 Aloo Baingan Masala is an easy one-pot curry made with potatoes, eggplants, and aromatic spices in instant pot or stovetop. A vegan and gluten-free Potato & Eggplant Curry that is perfect to enjoy with roti, naan or parathas.
Potato Masala (Batata Bhaji)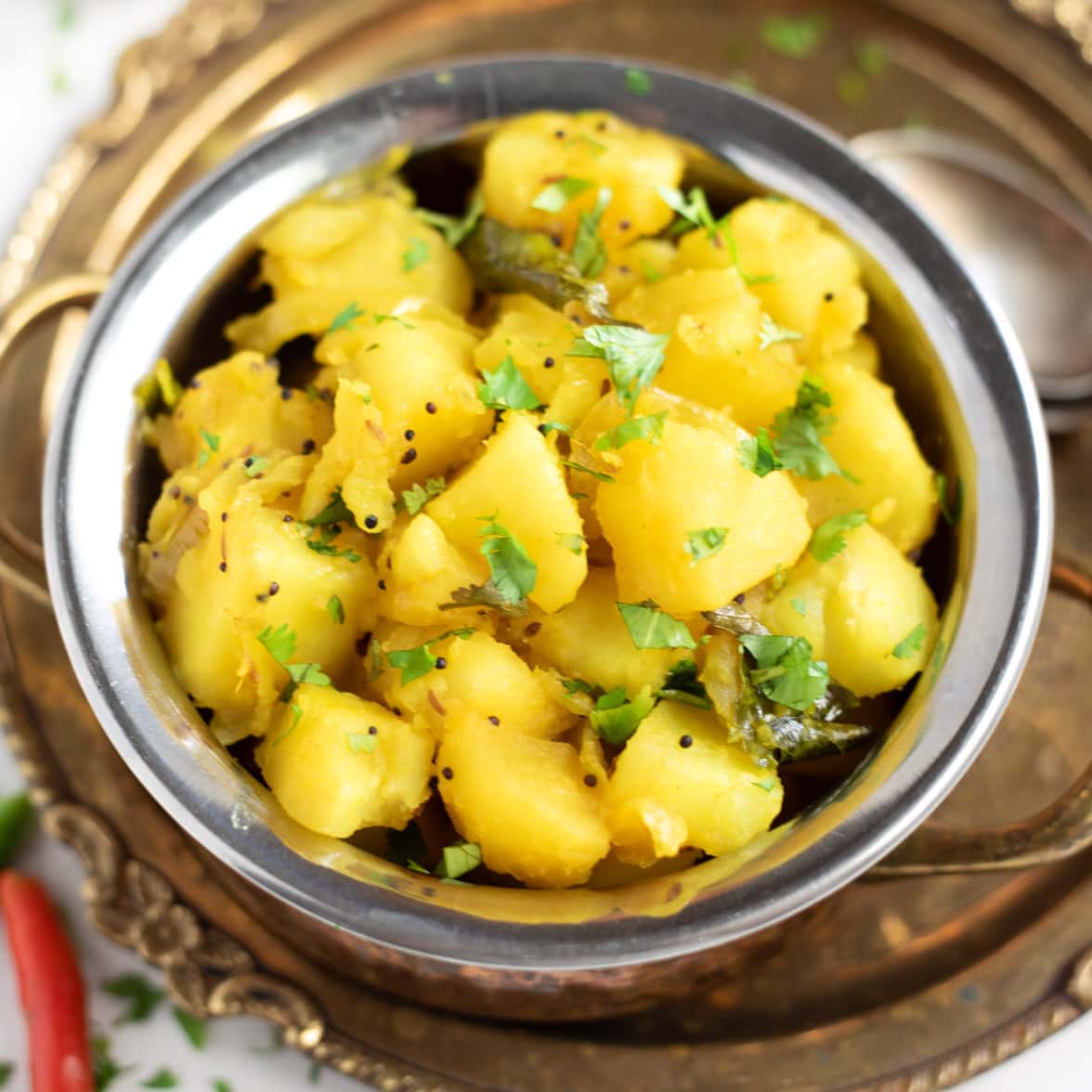 This delicious Potato Masala is so easy to make as a one-pot dish. These vegan potatoes can be used as a stuffing for the South Indian favorite, Masala Dosa, or as the popular Maharashtrian Batata Bhaji to pair with poori. Also, great to add to sandwiches or wraps!
Methi Matar Malai
Methi Matar Malai is a smooth, rich and delicious curry made in a white gravy along with fenugreek leaves, green peas, & cashews. This rich creamy curry pairs well with naan or rice!
Aloo Beans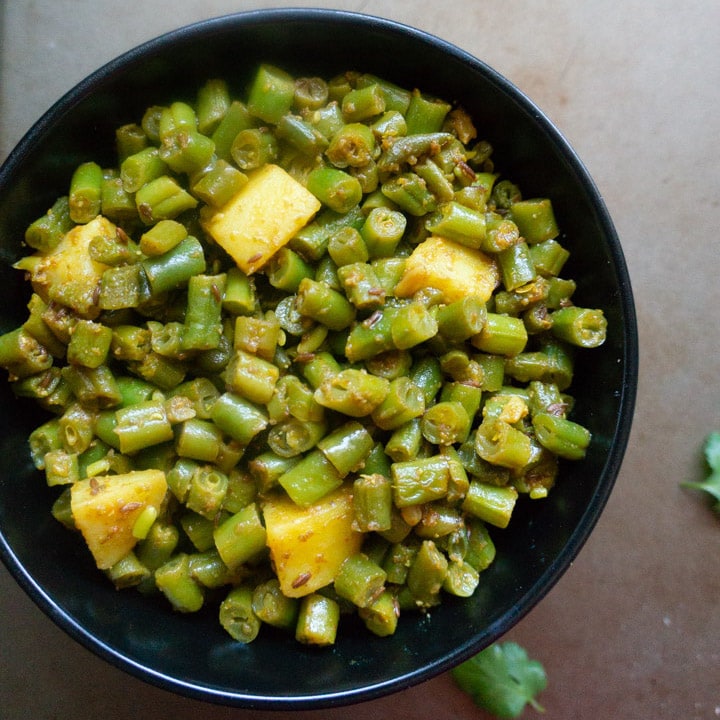 Easy Aloo Beans or Indian Green Beans Curry recipe prepared with cumin, garlic and spices in just 15 minutes. Vegan & Gluten free vegetable side dish.
Gujarati Kadhi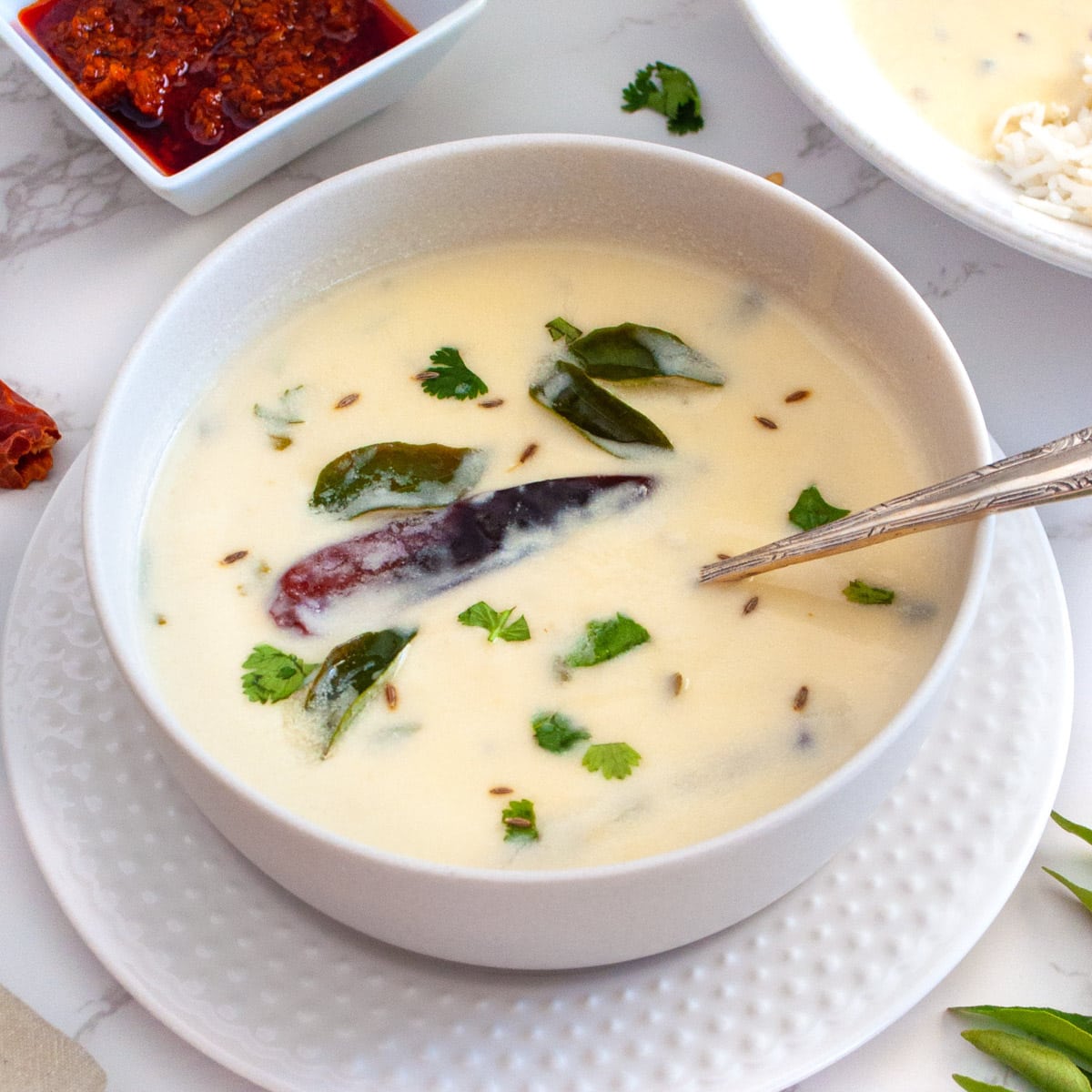 This Gujarati Kadhi is a delectable thin yogurt-based meal with a sweet and sour flavor that will blow your mind. It's quick, fuss-free, and comforting. This traditional kadhi can be served as a soup or with rice.
Vegetable Korma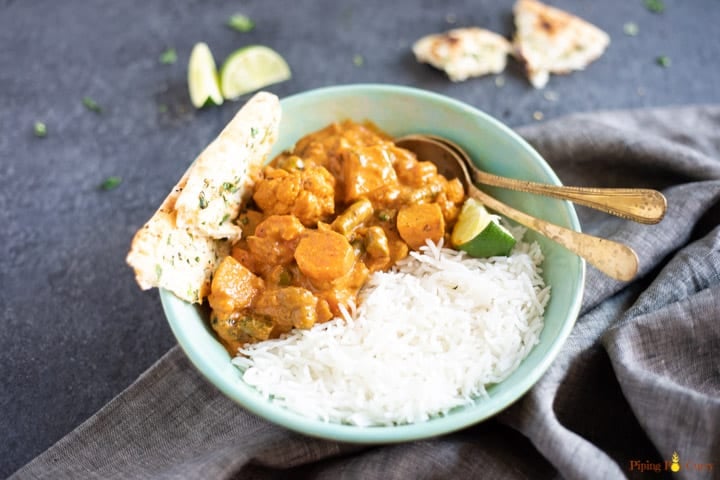 Easy restaurant-style Vegetable Korma curry is a perfect blend of vegetables with a creamy coconut based sauce. A vegan & gluten free curry that pairs perfectly with naan or rice.
Mumbai Pav Bhaji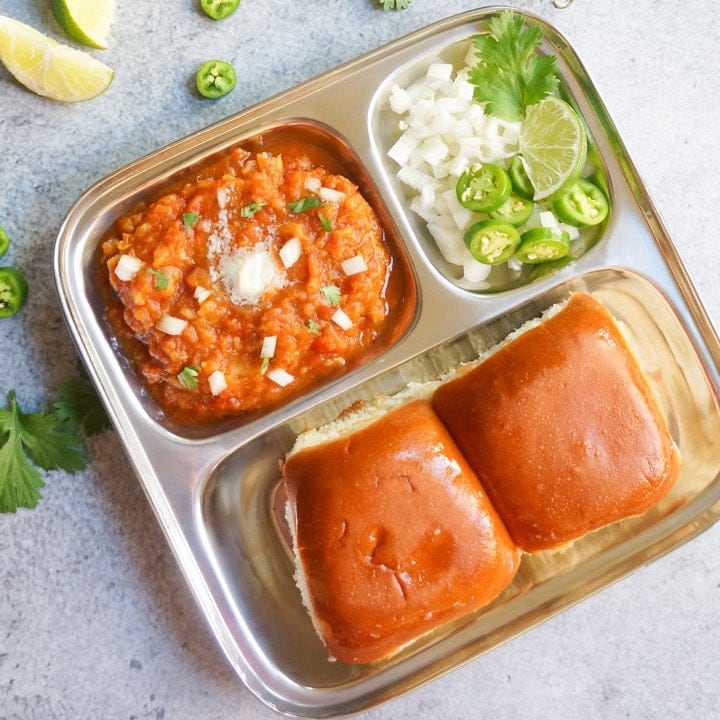 An easy one-pot recipe for the most popular Indian street food, Pav Bhaji. It is a spiced mashed vegetable curry topped with chopped onions, cilantro, lime and enjoyed with dinner rolls.
Dahi Aloo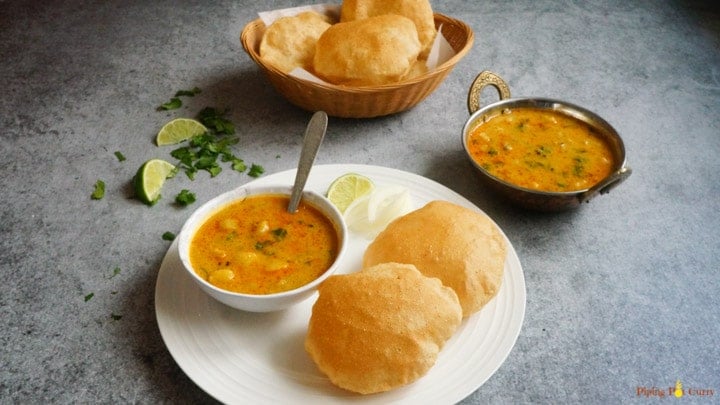 An easy and delicious comfort food with minimal ingredients. Dahi Aloo is made with just two main ingredients, potatoes and yogurt, tempered with cumin seeds, ginger and flavorful spices.
Paneer Jalfrezi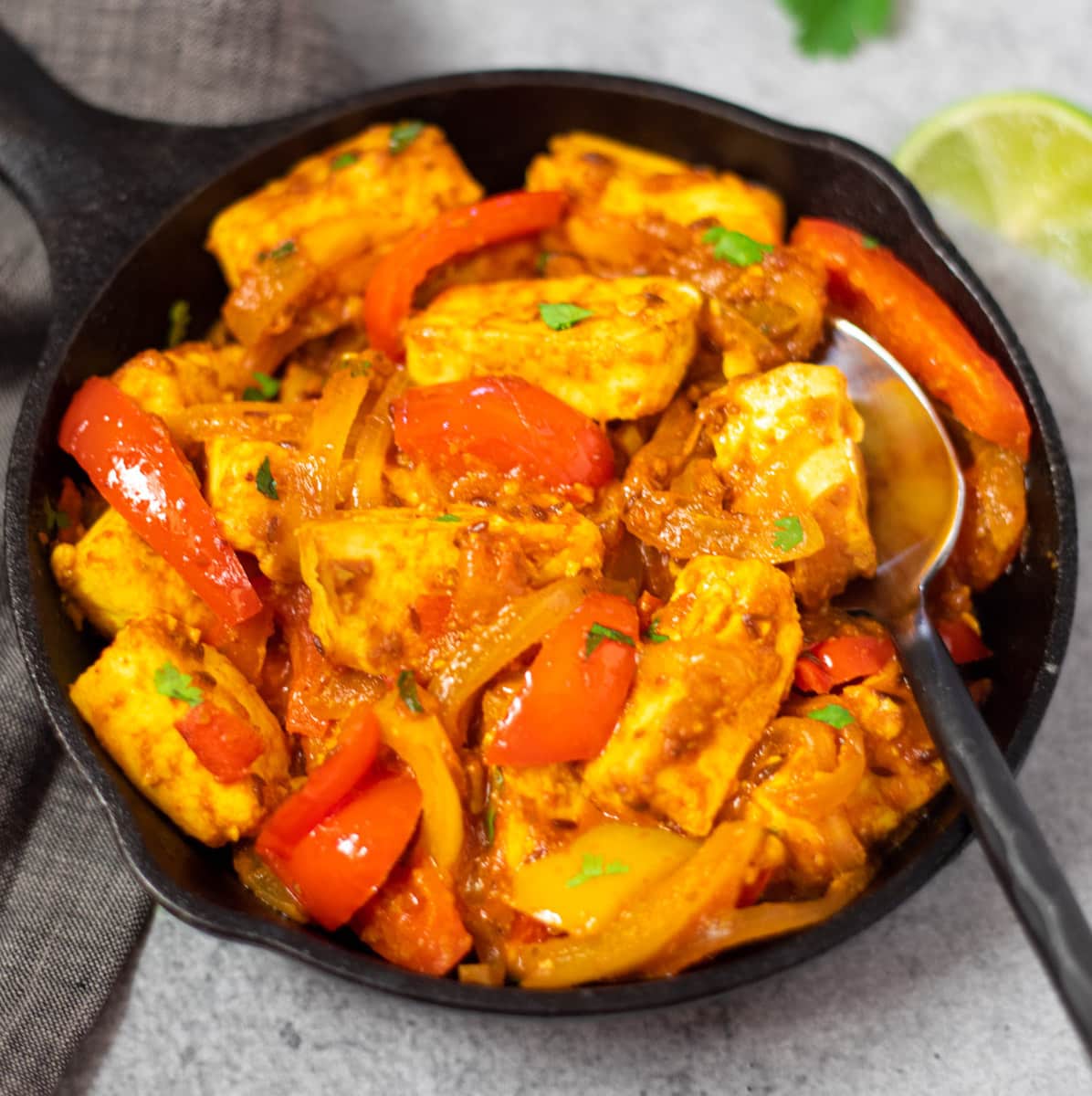 Paneer Jalfrezi is a delicious stir-fry curry that has the heavenly combination of paneer with peppers. This vegetarian restaurant style dish can be made within 20 minutes and is a perfect accompaniment for naan.
Aloo Shimla Mirch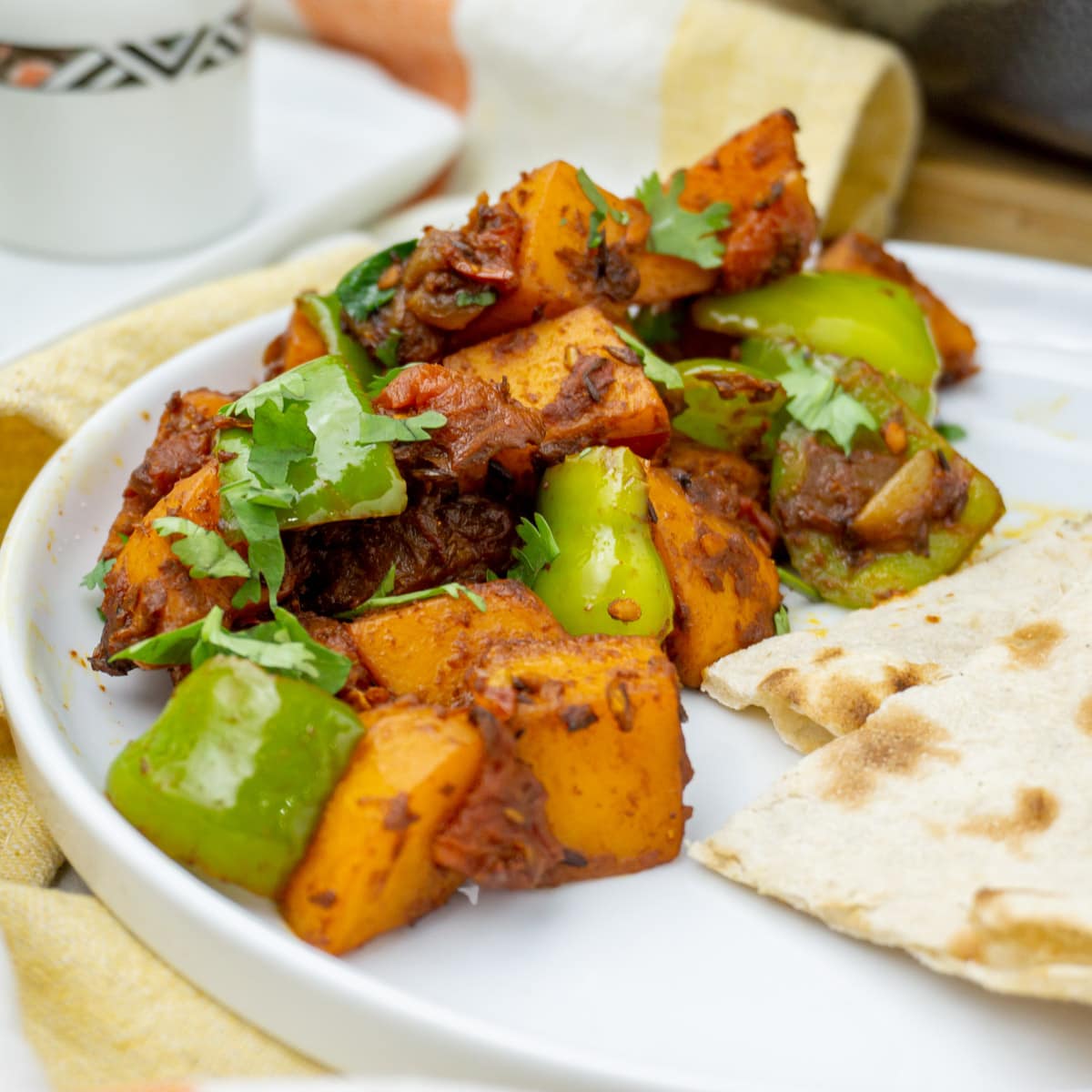 Aloo Shimla Mirch, also called Aloo Capsicum, is an Indian bell pepper & potato stir fry. This simple and quick recipe can be made in just 20 minutes.
Sprouts Curry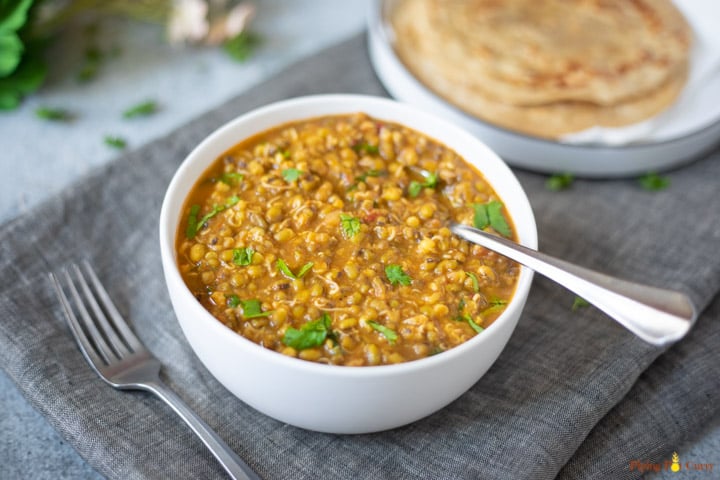 Sprouted green lentils curry packed full of nutrition made in the instant pot or stovetop. Mung bean sprouts cooked in an onion-tomato sauce with ginger, garlic and aromatic spices. This curry goes perfectly with roti, paratha or rice.
Chicken, Egg & Seafood Recipes
Chicken Tikka Masala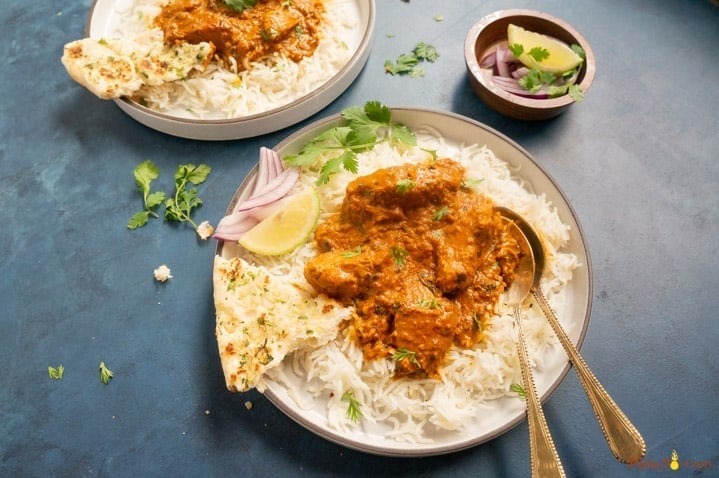 Flavorful and aromatic Instant Pot Chicken Tikka Masala made with marinated tender chicken cooked in a creamy sauce. This restaurant quality chicken curry is so easy to make in the pressure cooker. Make it along with rice pot-in-pot for a complete meal.
Egg Curry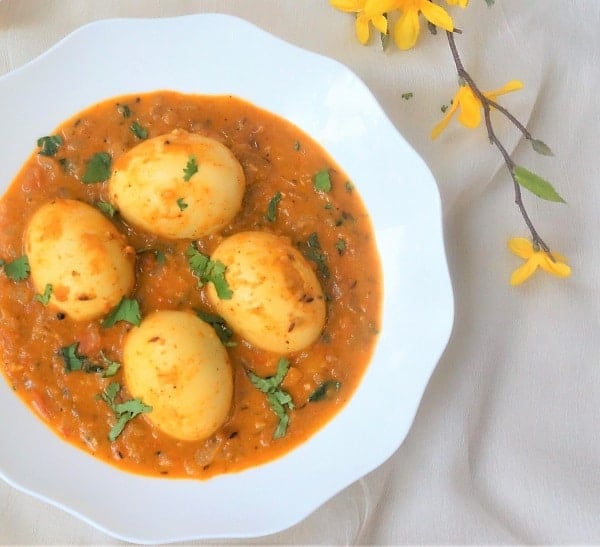 Egg curry made by adding boiled eggs to a curry sauce, along with coconut milk to give a flavorful protein-rich dish. Pair it with rice, naan or roti to make a complete meal.
Coconut Chicken Curry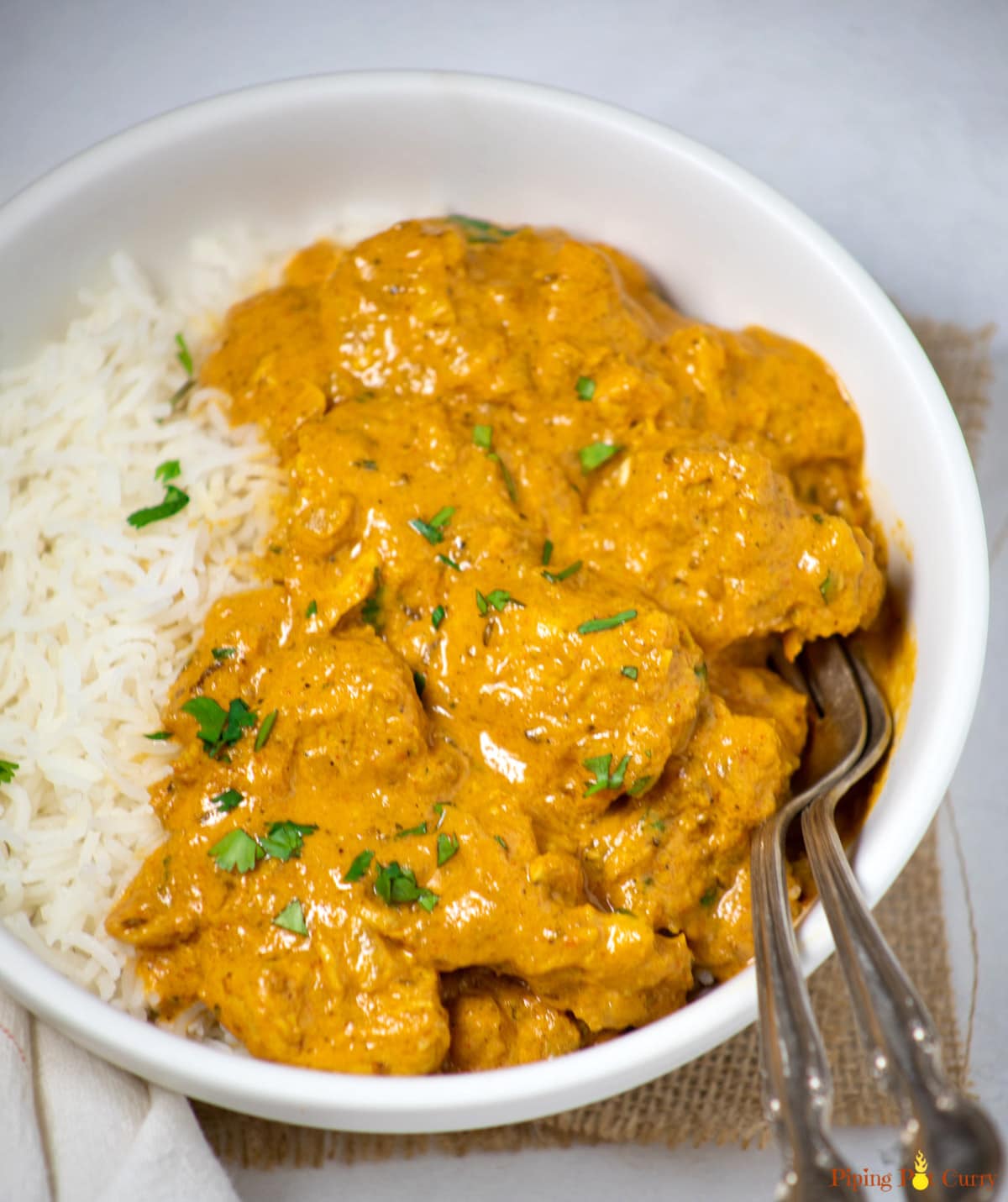 Easy & healthy Indian Coconut Chicken Curry made in just 20 minutes! This is simple chicken curry is made with ginger, garlic, onions alongside flavorful spices, and finished with creamy coconut milk.
Mom's Chicken Curry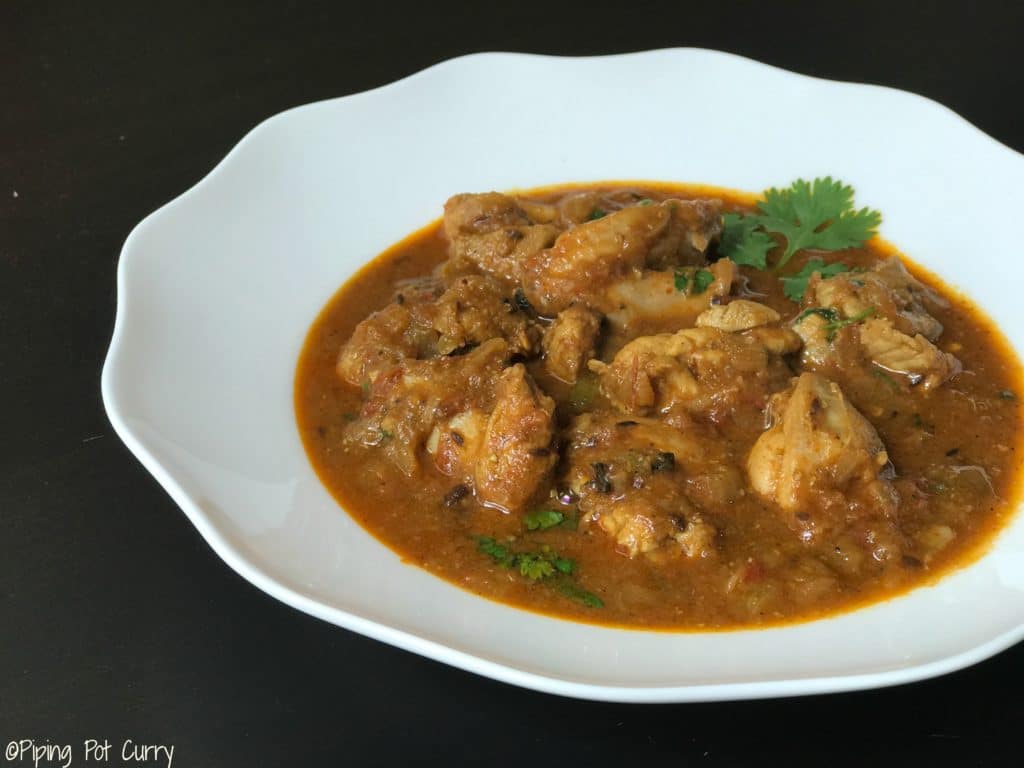 This recipe is close to my heart. It is my mom's authentic chicken curry made in a simple onion-tomato gravy with the aroma of whole spices.
Keema Matar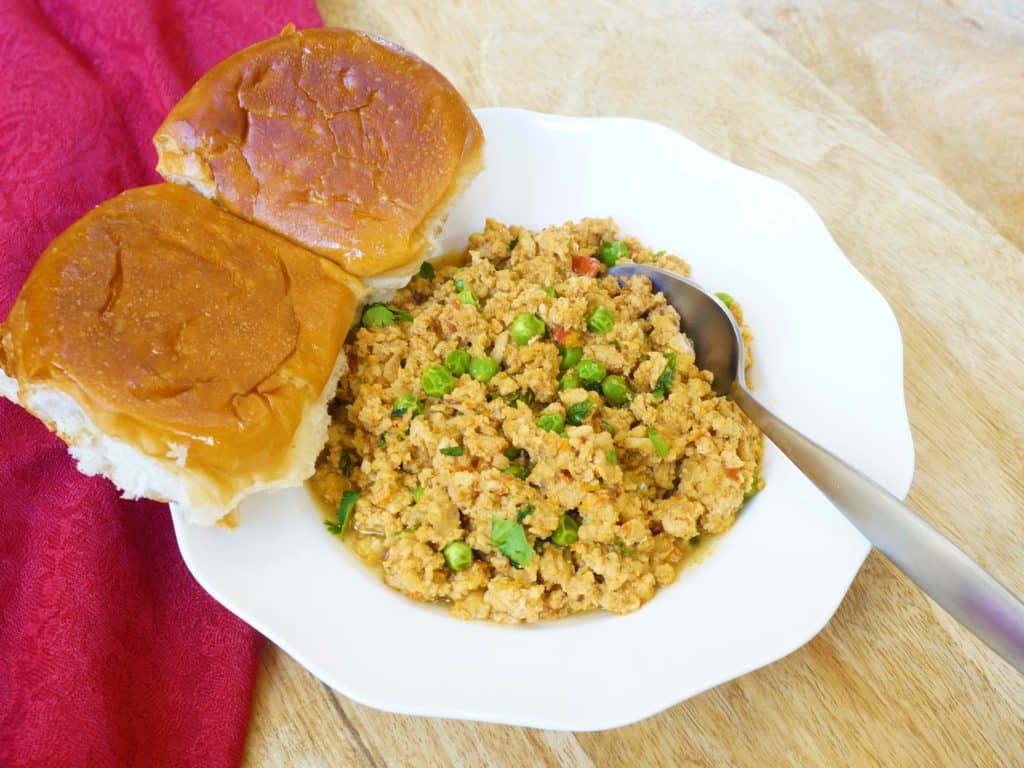 Keema Matar (Ground Chicken Curry) cooked with onions, tomatoes, ginger, garlic and wonderful whole spices. A quick and delicious dinner for weeknights.
Coconut Shrimp Curry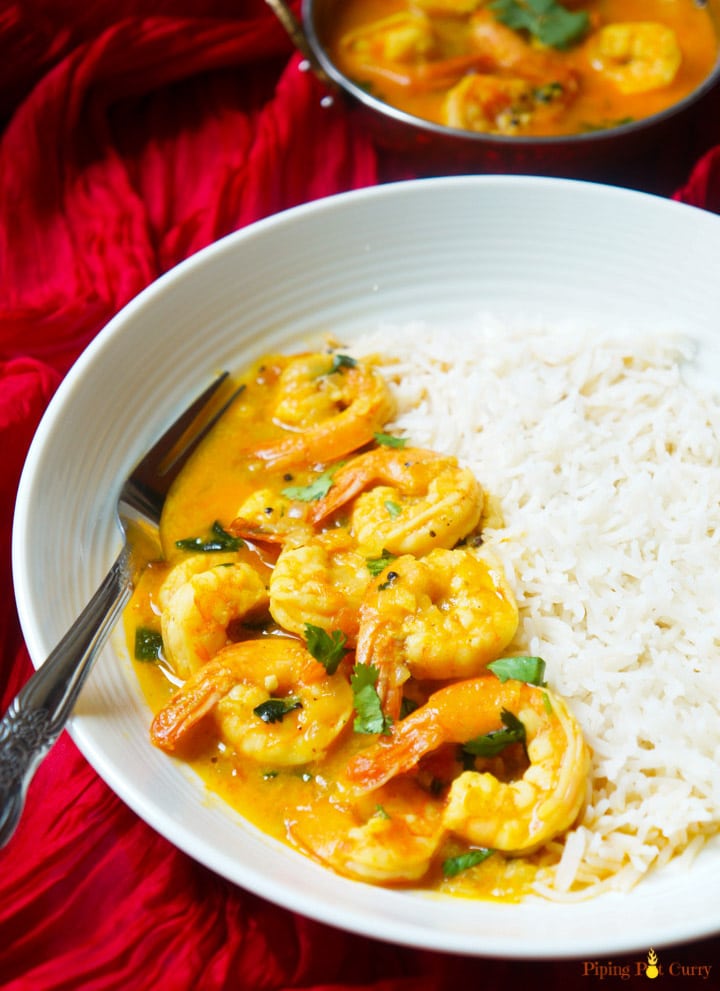 Delicious and easy Coconut Shrimp Curry made in the pressure cooker in just 20 minutes. This is a simple Indian shrimp curry made with ginger, garlic, onions, tomatoes along with flavorful spices, and finished with coconut milk.
Chicken Korma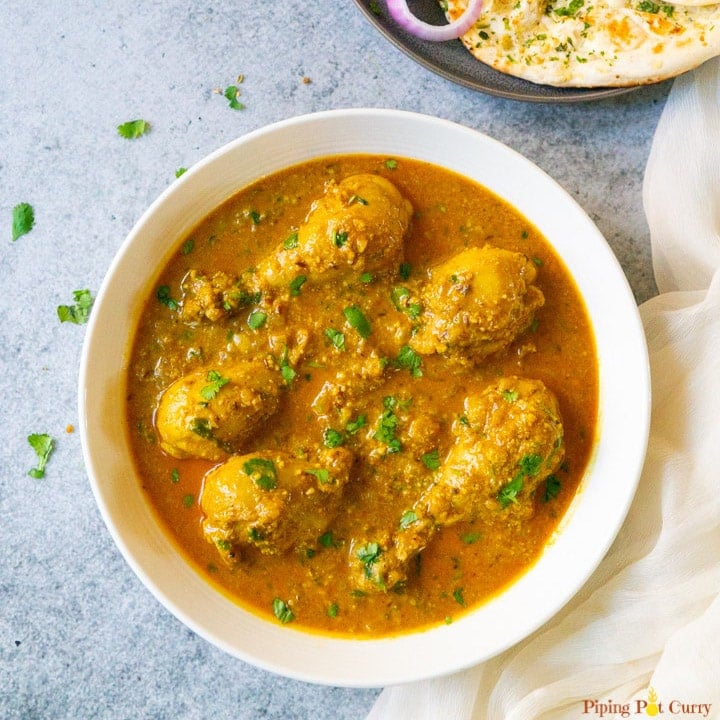 Chicken marinated in yogurt and spices, then cooked with lots of onions and finished with cashew paste for a creamy rich texture. This restaurant style chicken korma is quick and easy to make in the pressure cooker.
Butter Chicken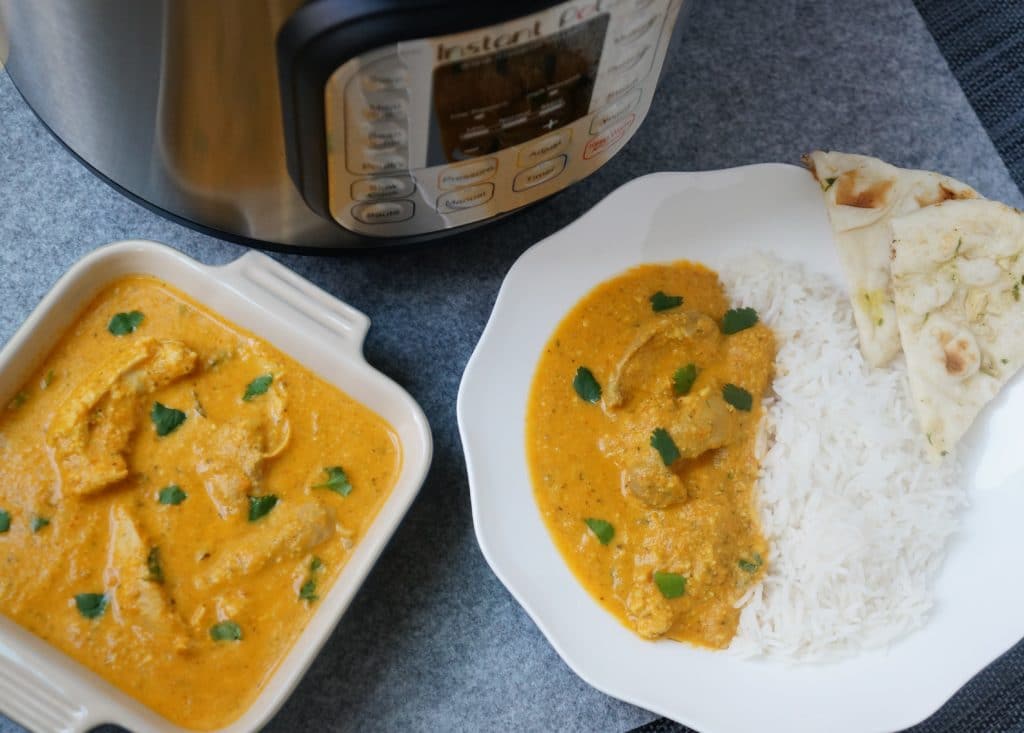 A creamy and delicious Butter chicken or Murgh Makhani. Chicken cooked in a mildly spiced tomato gravy with aromatic ginger, garlic and spices.
I hope you have found your favorite Indian curry recipe to make! Let me know what you are most excited to make, and when you make it, don't forget to tag #pipingpotcurry.
Is your favorite curry missing from this list? Leave a comment below to let me know your requests!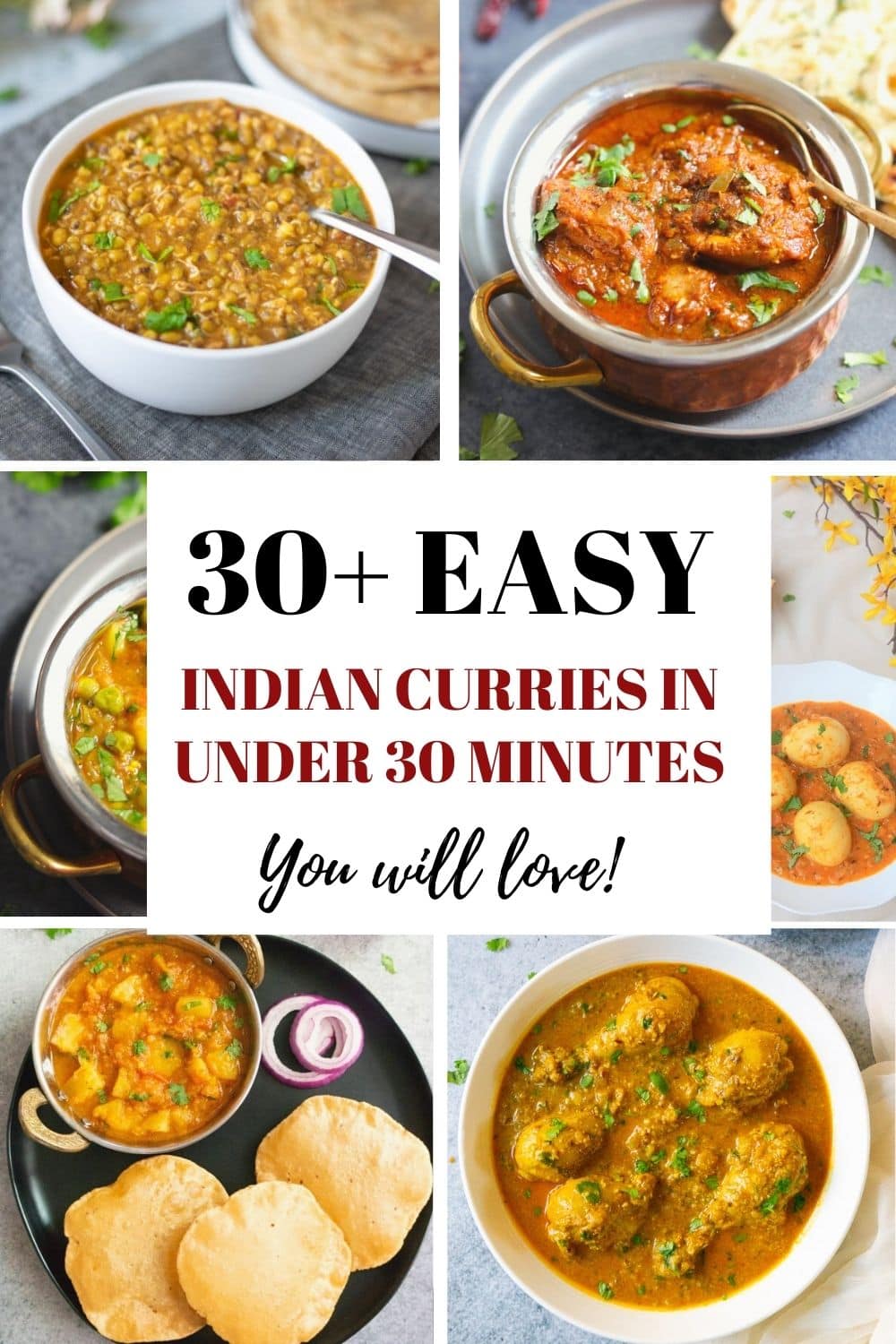 Don't forget to check out these collections: