Paneer Butter Masala, a favorite at Indian restaurants, made in the Instant Pot or a traditional Pressure Cooker. This dish is also popularly known as Paneer Makhani.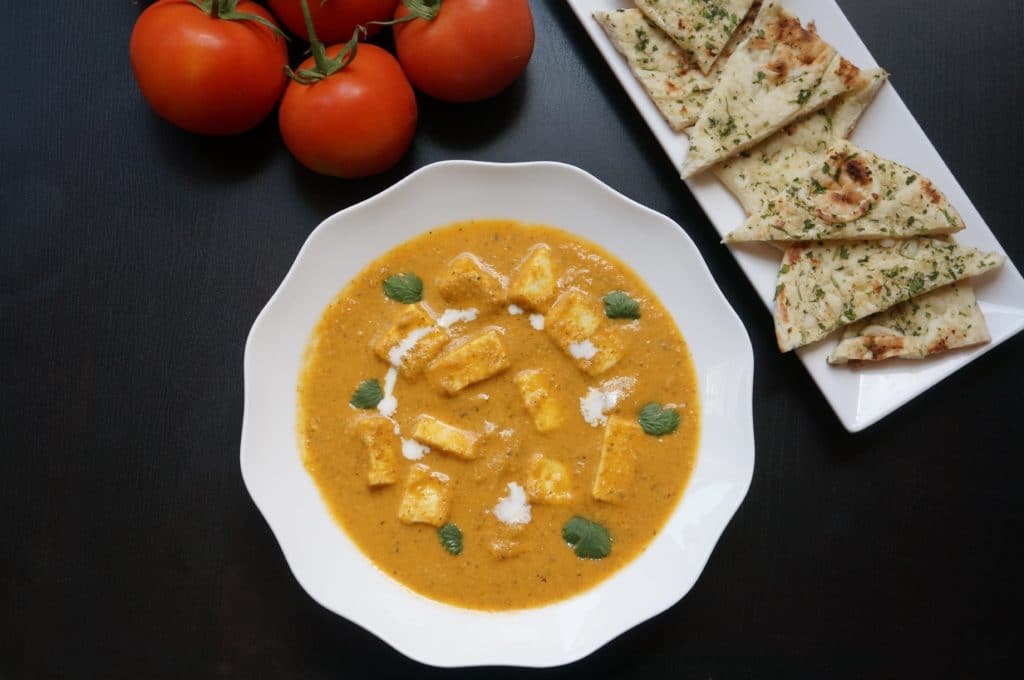 Paneer Butter Masala has chunks of paneer or cottage cheese cooked in a mildly spiced onion tomato gravy. It is so smooth and creamy that you will not want to stop eating it. My daughter is a very very picky eater and has repeatedly requested this paneer dish, so I can attest that it is very kid friendly.
If you like paneer, check out other instant pot curry recipes – Palak Paneer, Paneer Tikka Masala and Matar Paneer.
How to make Instant Pot Paneer Butter Masala? – A different preparation
The preparation for this paneer butter masala is very different than the usual onion-tomato gravy. Usually to make gravy, we first sauté onions and then sauté tomatoes. However this one is done in a completely different way.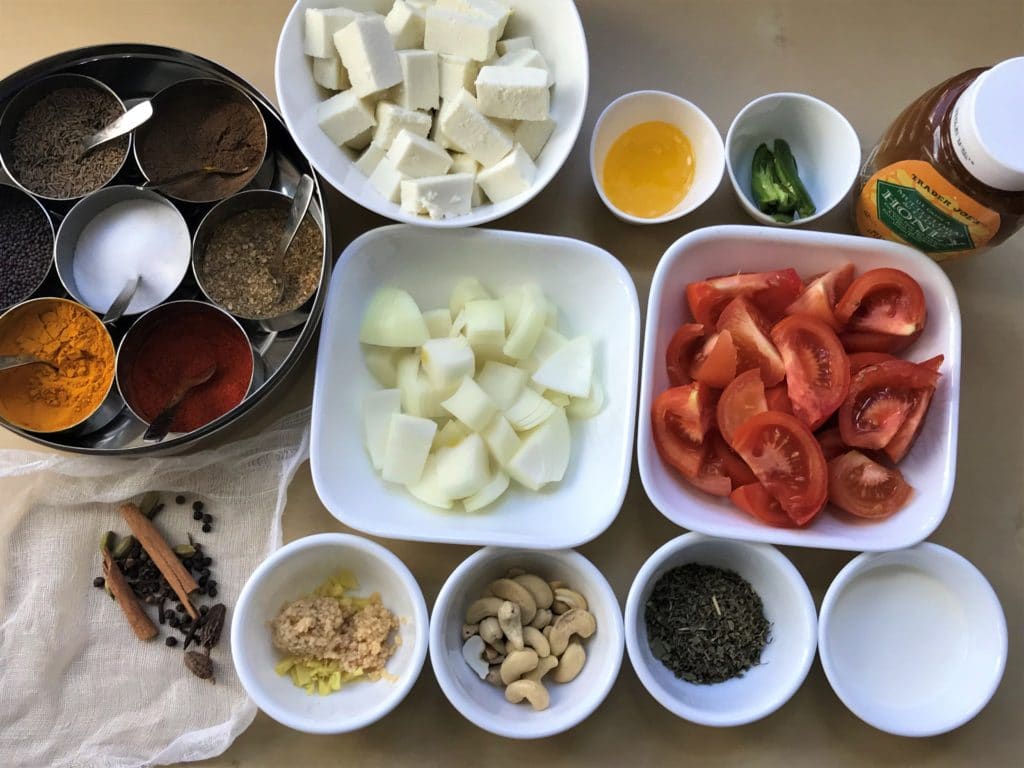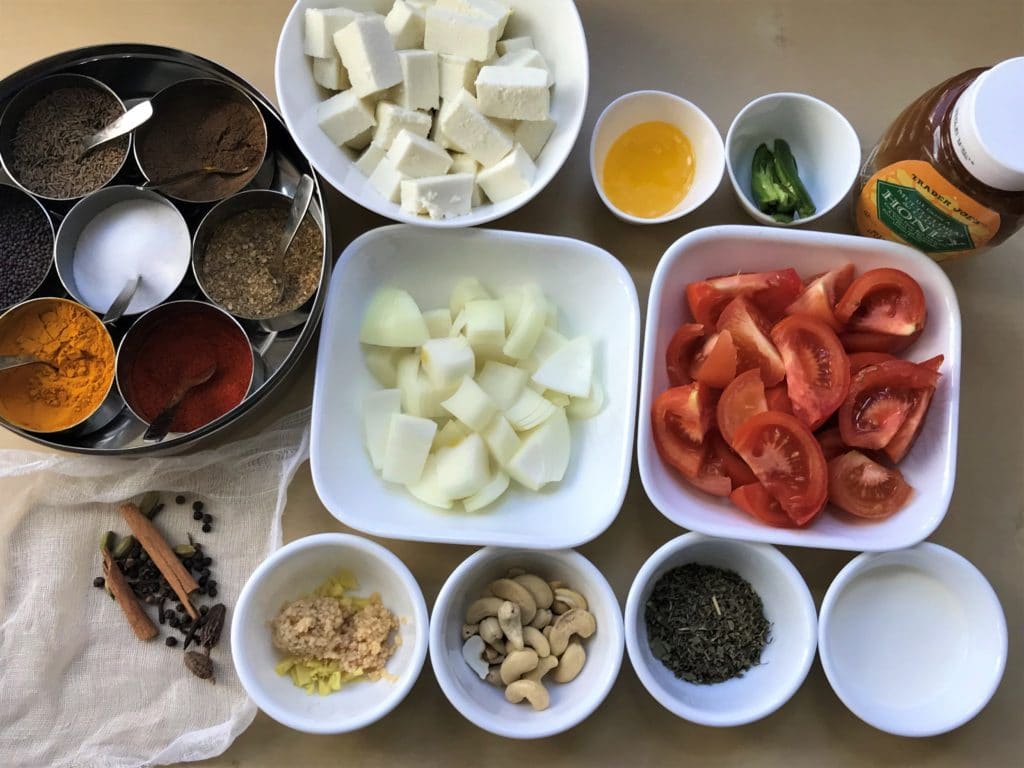 Add all the ingredients, except paneer, cream and honey in the instant pot and pressure cook for 8 minutes. You don't need to finely chop the onions and tomatoes, as we are going to blend them later. This is also the reason, I suggest to add the whole spices in a pouch made from thin cheesecloth or a spice bag. This helps to get the flavor, but you can also remove it before blending.
Then blend the cooked ingredients using an immersion blender or in a regular blender. I used my immersion blender, which I could use directly in the pot. If using a regular blender, you would have to pour the contents into the blender and may need to let them cool before blending. Then pour them back to the instant pot after blending. The gravy is now ready. Add cream, honey and paneer chunks. Stir and let the curry rest for 5 minutes.
Paneer butter masala is ready. Garnish with some kasoori methi or cilantro and enjoy with naan, roti or rice.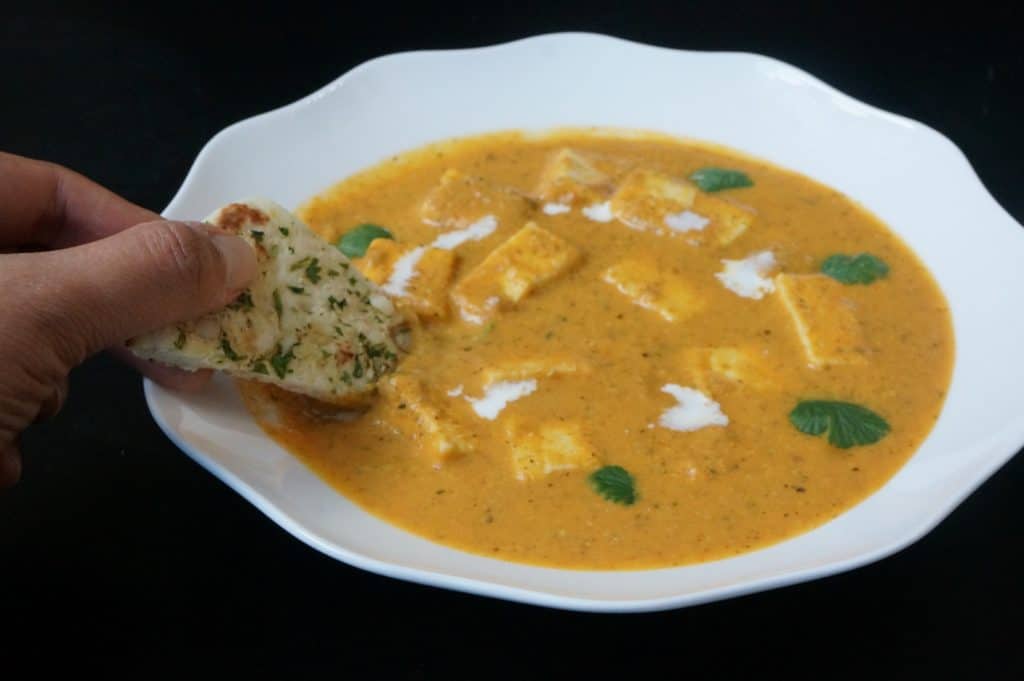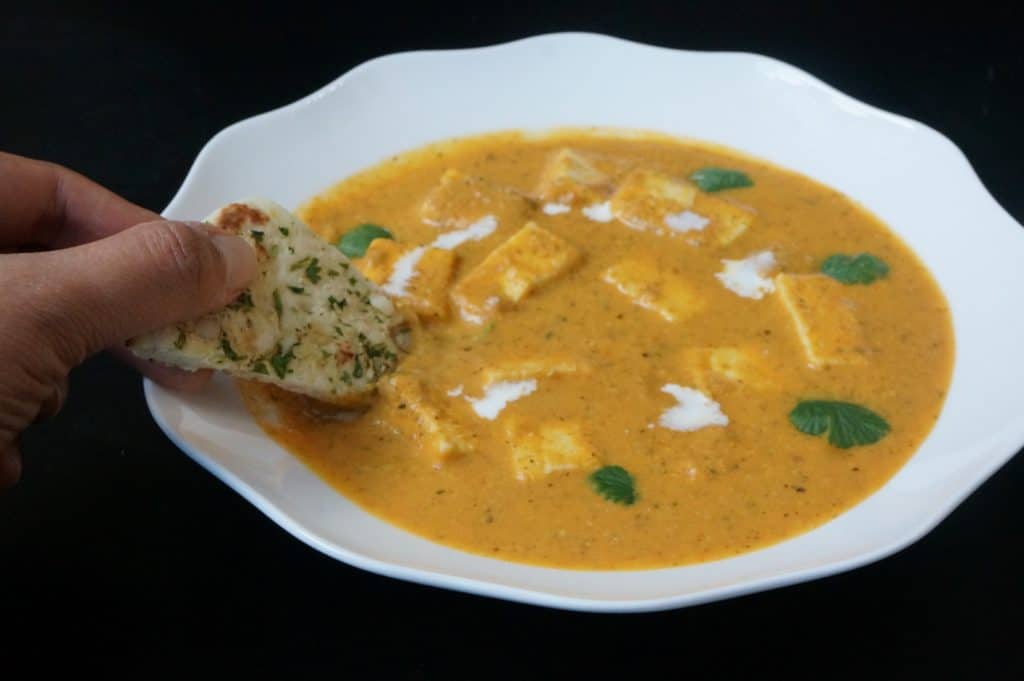 Isn't it a lovely color? And the most easy dish to prepare? This is my go to dish when I have not done much preparation…and oh, perfect to serve if you have guests coming over.
Love this gravy? Make it a dip with naan and serve it as an appetizer. This used to be a complimentary appetizer served at an Indian restaurant I frequently visited in Chicago.
This gravy also freezes well. Prepare in advance and freeze. Then when needed, defrost, give a boil and add chunks of paneer. And why only paneer, you can add green peas & paneer to make matar paneer or add green peas & sliced mushrooms to make mushroom matar. See notes for variations.
Don't forget to check out my post on 23 Best Instant Pot Indian Recipes.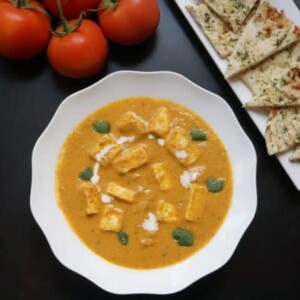 Paneer Butter Masala – Instant Pot Pressure Cooker
Chunks of paneer or cottage cheese cooked in a mildly spiced tomato gravy. This Paneer Butter Masala is so delicious and very easy to make in the instant pot.
Ingredients
Instructions
Make a spice pouch by adding the whole spices to a cheesecloth. Tie it such that the spices cannot come out of it.

Except paneer, cream and honey, add all ingredients and spice pouch to the Instant Pot including the spices. Close lid with vent in sealing position.

Set the instant pot to manual or pressure cook mode on high pressure for 8 minutes.

After the instant pot beeps, release the pressure naturally.

Remove the spice pouch carefully. Blend the contents in the instant pot with an immersion blender or regular blender to a smooth paste. If using regular blender, you may need to cool the ingredients before blending. Get the contents back to the instant pot.

Add the cream and honey. Stir into the sauce.

Add paneer chunks. Stir them into the sauce and let it rest for 5 minutes. You can cover with a glass lid.

Paneer Butter Masala is ready to be served. Garnish with dry fenugreek leaves or cilantro.
Video
Notes
Don't have a spice bag: If you dont have a spice bag, you can skip the whole spices, and add about a teaspoon of Garam Masala (adjust to taste) at the end.
Freezing: This gravy freezes well. Skip adding the paneer and keep this sauce handy to prepare this or other curries.
Variations:
Matar Paneer / Mushroom Matar / Roasted Cauliflower – You can also add different veggies to this sauce and make delicious curries. All of the veggies can be added after making the sauce. Simmer for 3-4 minutes on saute mode to cook the veggies.
Butter Chicken or Murgh Makhani – You can also cook butter chicken with this recipe. Add chicken thigh pieces on top of the other ingredients before pressure cooking. Cook for 10 minutes at high pressure. Remove chicken and cut into 2-3 inch size pieces. Add back to the sauce. Voila, butter chicken is ready! (Update: Butter Chicken Recipe here)
Love this gravy? Make it a dip with naan and serve it as an appetizer.
Vegan: To make this curry vegan, replace cream with coconut cream and paneer with tofu or vegetables.
Make it a meal: Cook white basmati rice pot-in-pot (PIP) when pressure cooking the curry. Check measurements here.
Inspired by recipe from thegirlthatmadeitall.
Nutrition
Serving:
331
g
Calories:
302
kcal
Carbohydrates:
24.69
g
Protein:
17.16
g
Fat:
16.57
g
Saturated Fat:
6.987
g
Cholesterol:
37
mg
Sodium:
1041
mg
Potassium:
655
mg
Fiber:
4.5
g
Sugar:
13.2
g
Vitamin A:
3800
IU
Vitamin C:
52
mg
Calcium:
180
mg
Iron:
2.9
mg
Check out other Instant Pot Curries you might enjoy: