Looking for easy Indian Appetizers? Check out these 25+ delectable appetizers. Here you will find a variety of vegetarian and chicken/meat Indian starters for your next party!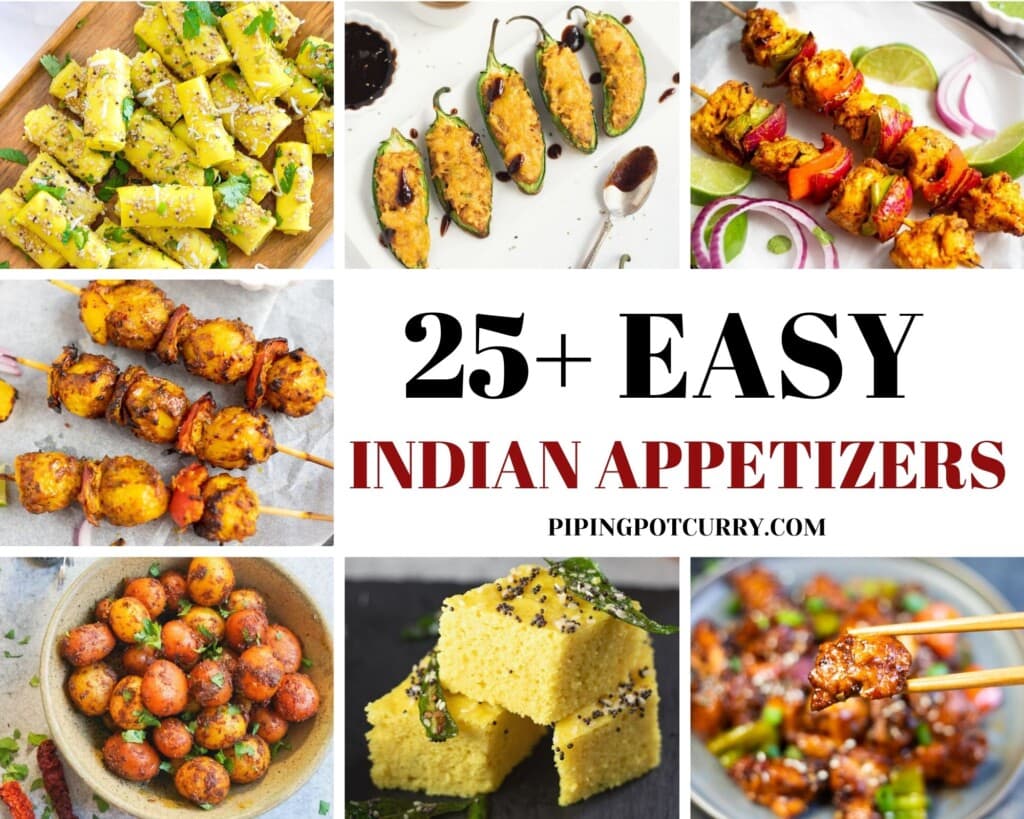 Indian cuisine is among the most delicious and distinctive of any cuisine in the world. While Indian curries are popular worldwide, Indian appetizers are just as delicious and make excellent starters.
Below you will find a variety of homemade vegan, vegetarian and meat (non-vegetarian) starters. They are spicy, hearty, and so flavorful. And even with the list of spices that usually go in Indian food, these starters are easy to make.
I have also included finger foods in the list below. There are appetizer recipes with paneer, potato, chicken, chaat, and more; from North India, South India, Gujarat, and Maharashtra. They are perfect to serve at any party or potluck for a crowd.
Impress your family and guests with these mouthwatering Indian appetizers like Spicy Bombay Potatoes cooked in the Instant Pot, Potato Fritter Sliders, Tandoori Gobi made in the Air Fryer, and many more. Hope you enjoy them!
Vegetarian Appetizers
Tandoori Aloo Tikka
A delicious appetizer perfect to serve to a crowd. Baby potatoes marinated in a delightful combination of yogurt and spices, threaded to skewers and cooked to create this heavenly appetizer. You can make this tandoori aloo tikka in the oven or air-fryer.
Paneer Puffs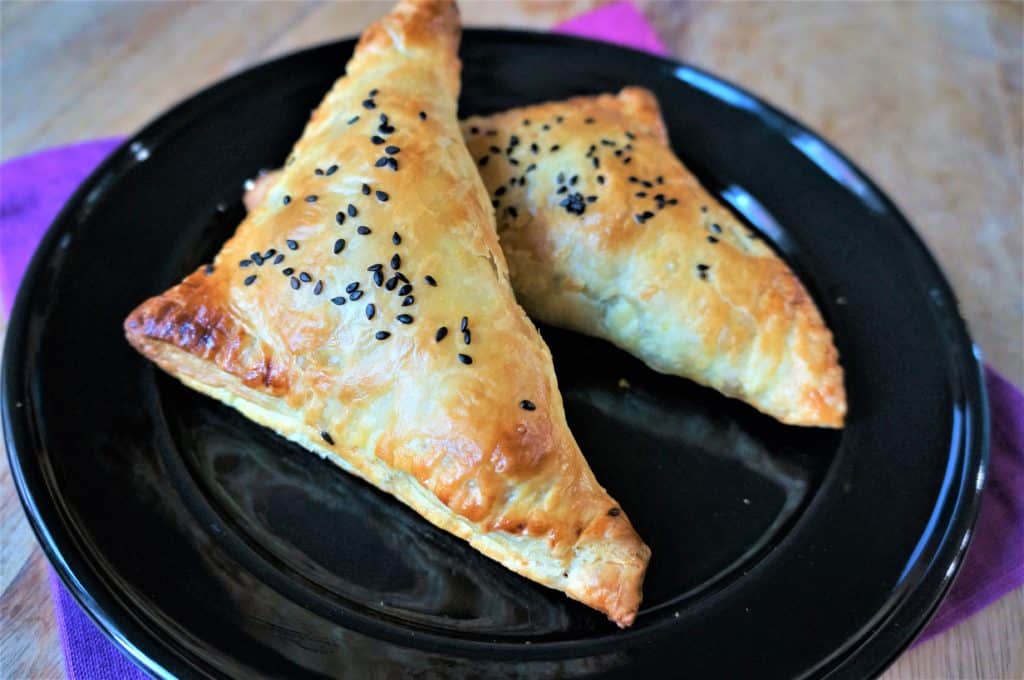 Paneer Puff Pastry Turnovers with a flaky golden crust and spicy flavorful paneer filling. Perfect appetizer for a party that can be prepared ahead of time. So easy and delicious!
Sabudana Vada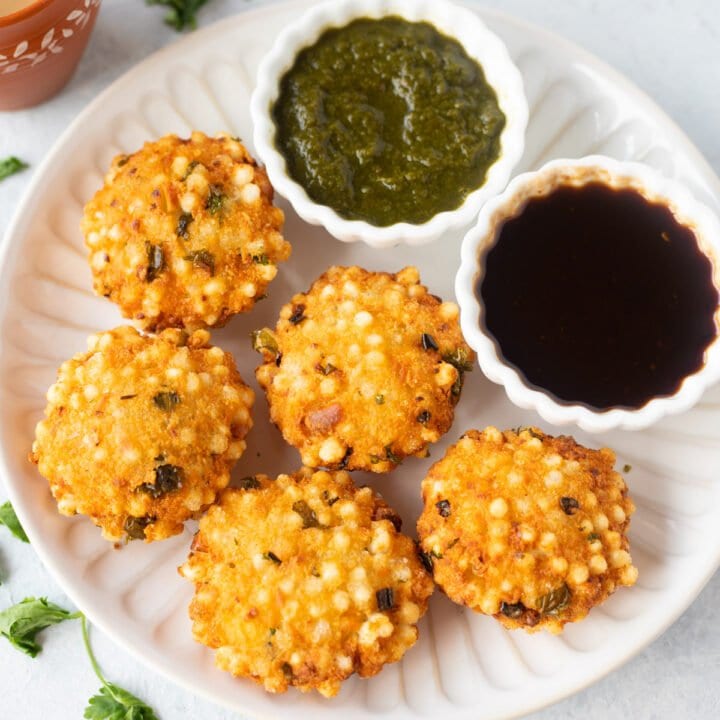 A vegan snack made from tapioca pearls (sago), potatoes, peanuts, herbs and spices. These sabudana vada are addictive!
Paneer Pakora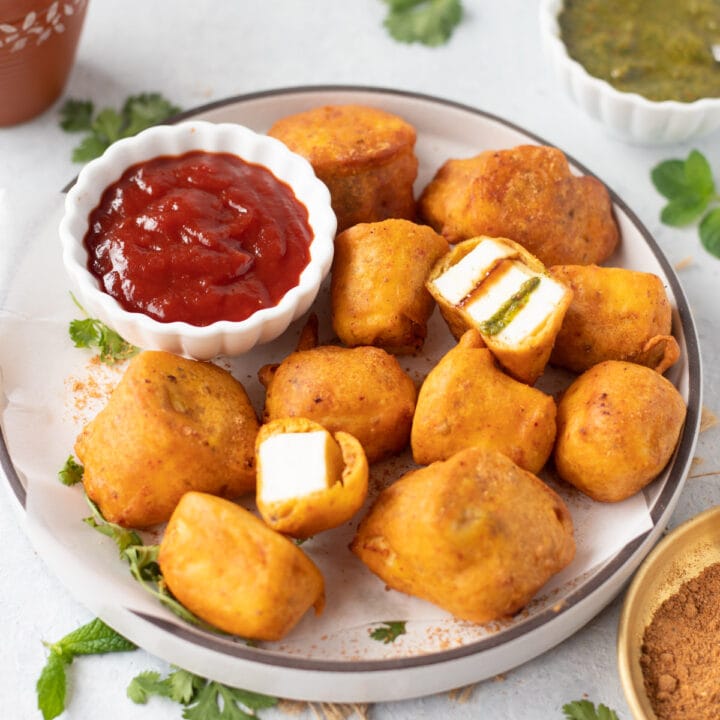 Paneer pakora is a popular Indian snack in which soft paneer (Indian cottage cheese) pieces are deep-fried after being coated in a spiced gram flour batter. These paneer fritters have a crispy exterior and a soft interior.
Air Fryer cauliflower with Cilantro Yogurt Sauce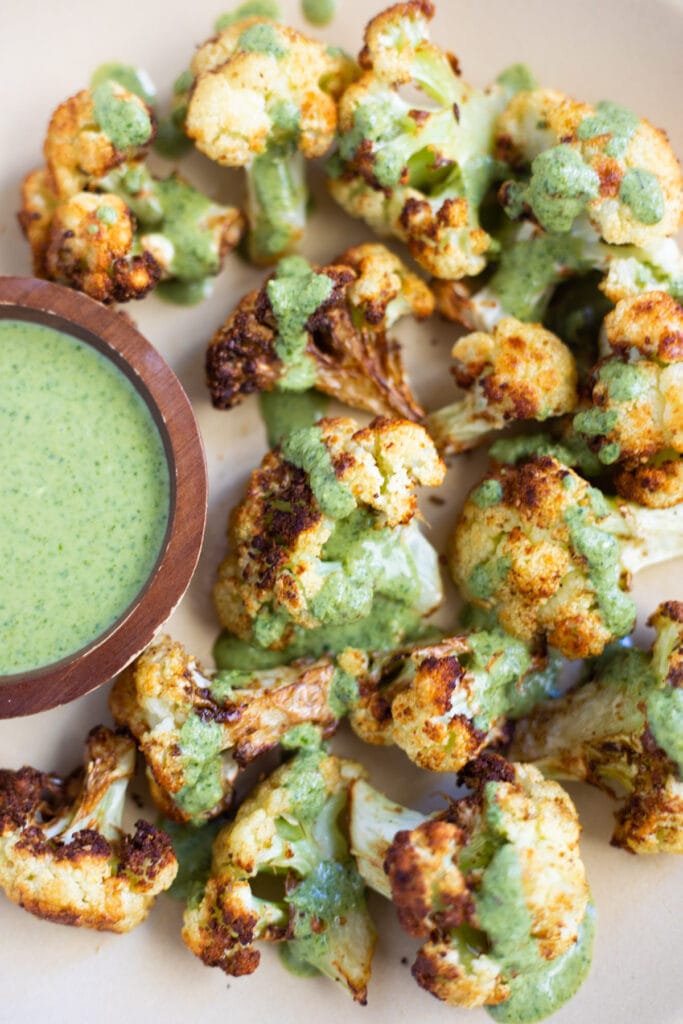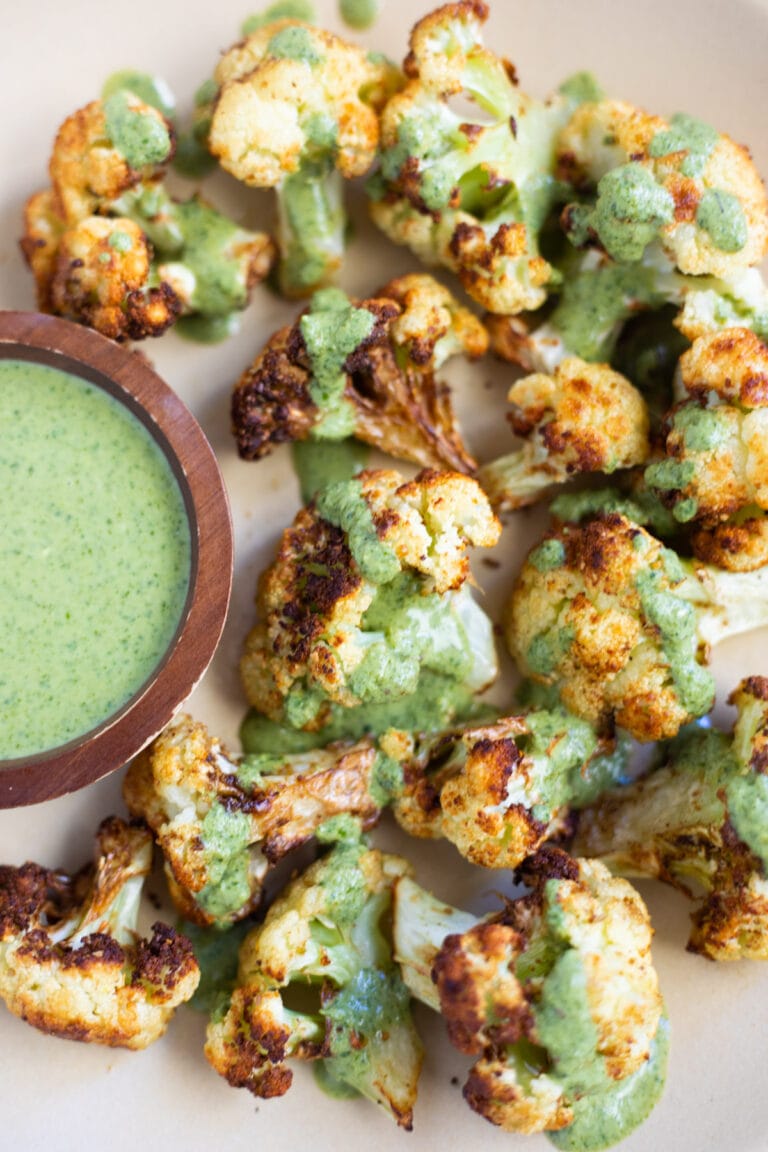 This Air Fryer Cauliflower seasoned with spices is so easy to make and amazingly delicious topped with cilantro yogurt sauce. Enjoy as a wonderful low carb side dish or appetizer.
Spicy Bombay Potatoes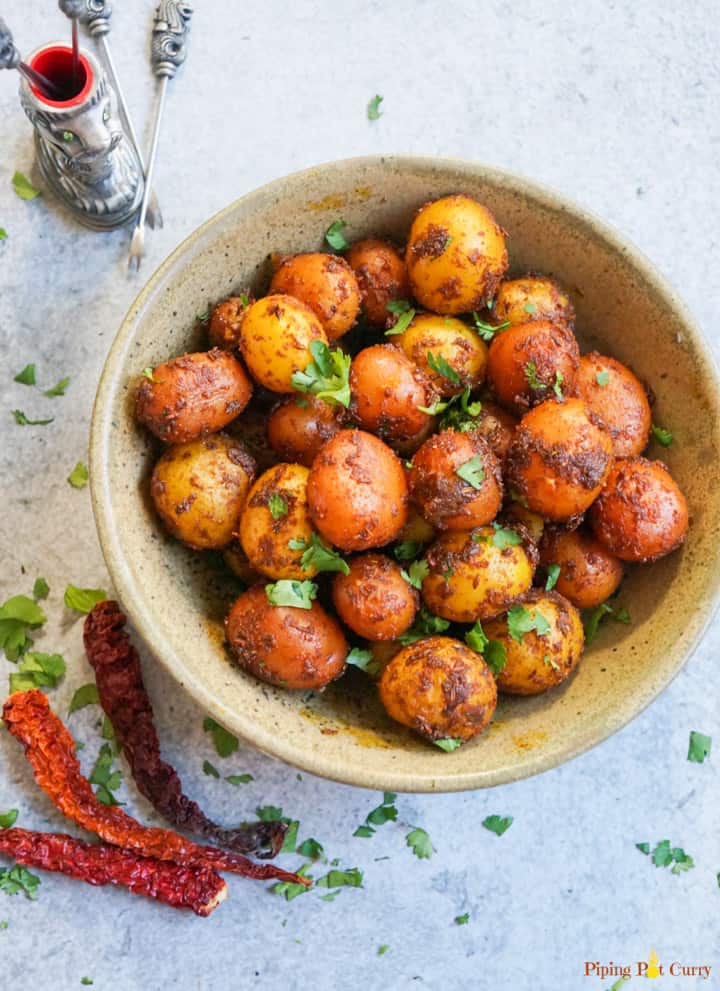 Baby Potatoes cooked with aromatic spices are perfect to serve as an appetizer or a side dish. These delicious and easy Bombay Potatoes take just 20 minutes to make in the Instant Pot or on stovetop. Vegan & Gluten-free.
Samosa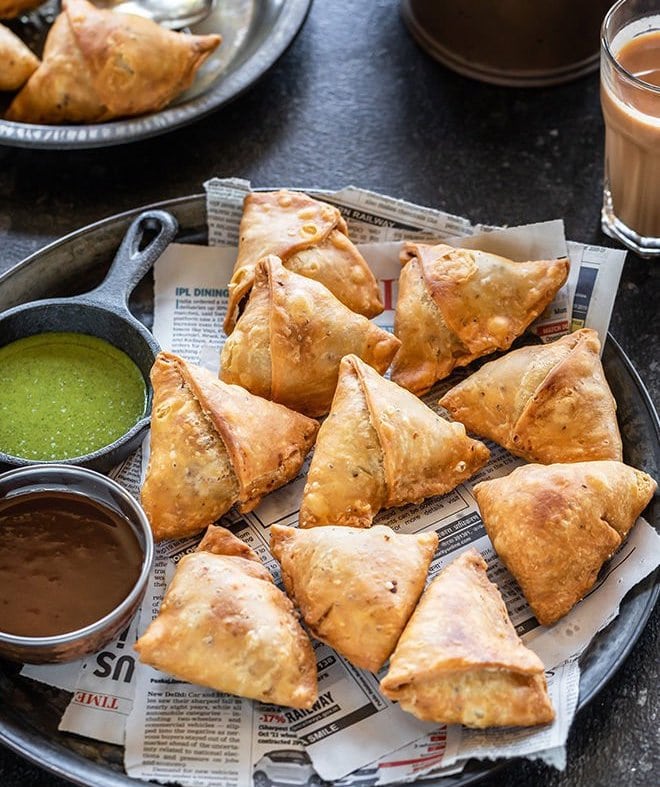 By Cook with Manali
The most popular Indian appetizer for any party. Here is the recipe for perfect homemade flaky and crispy samosas.
Air Fryer Tandoori Gobi / Cauliflower Tikka Bites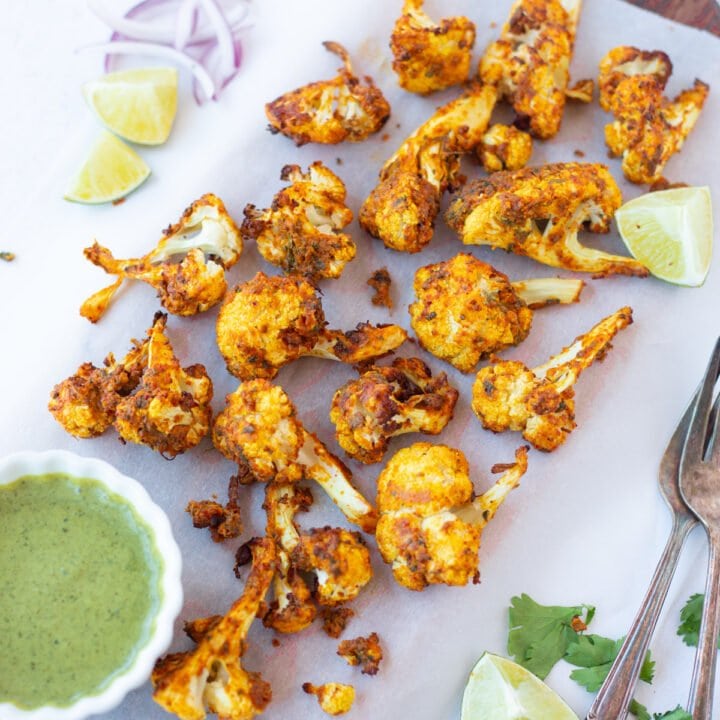 Air Fryer Tandoori Gobi or Cauliflower Tikka Bites is a great snack or appetizer. Healthy, easy and full of flavor. Perfect for entertaining.
Potato Fritter Sliders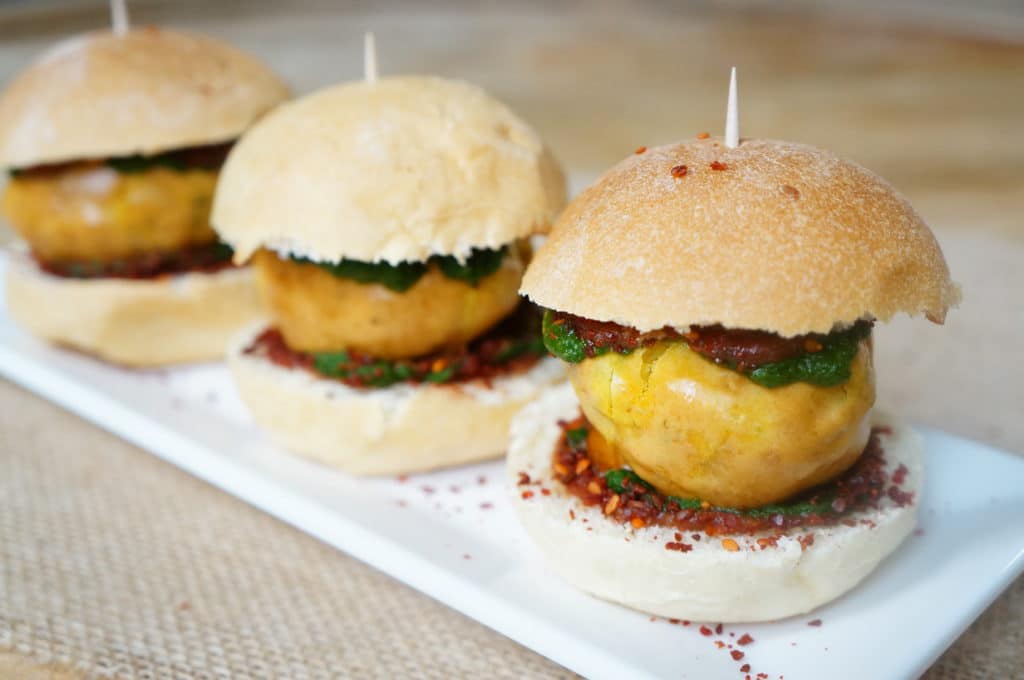 Potato Fritter Sliders is a party twist of the humble Mumbai street food, Vada Pav. A fried potato fritter is stuffed in between dinner rolls or mini burger buns, along with sweet and spicy sauces or chutney.
Dahi Papdi Chaat (Indian Street Food)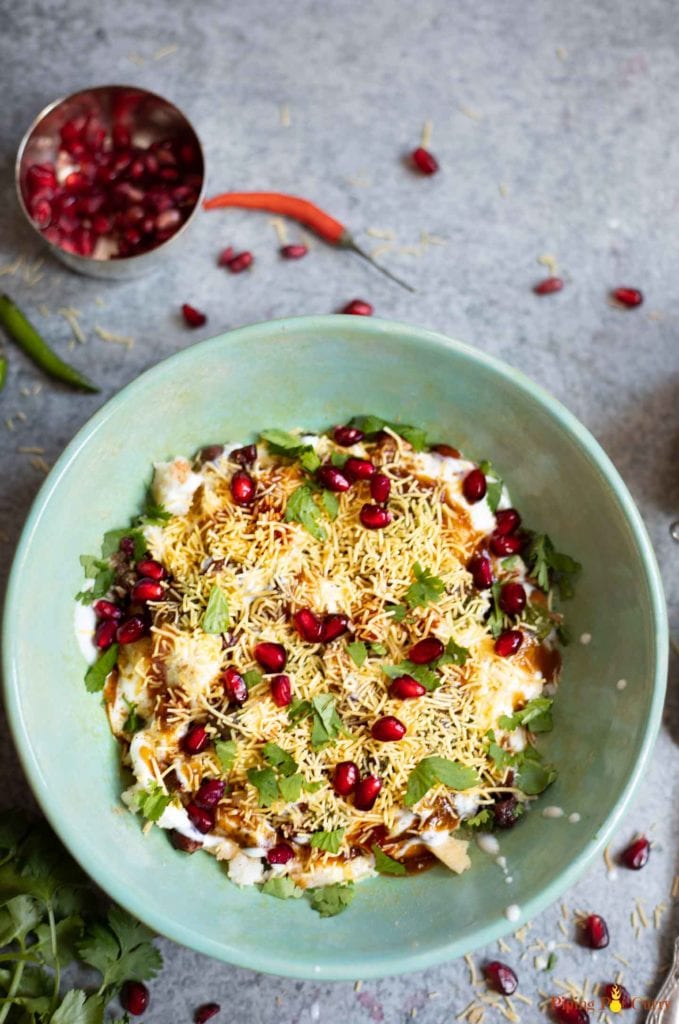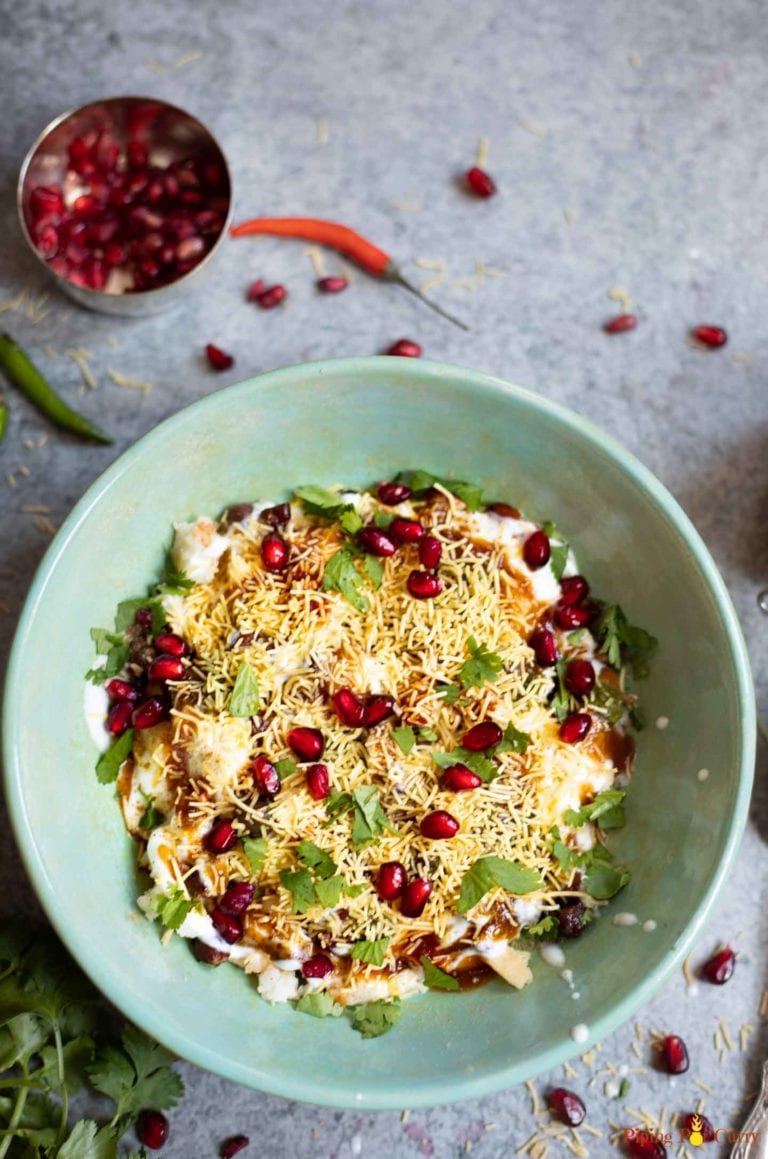 A famous Delhi street food, Dahi Papdi Chat, is a crispy sweet, spicy, and tangy chaat that packs a whole lot of flavor.
Gobi Pakora gobi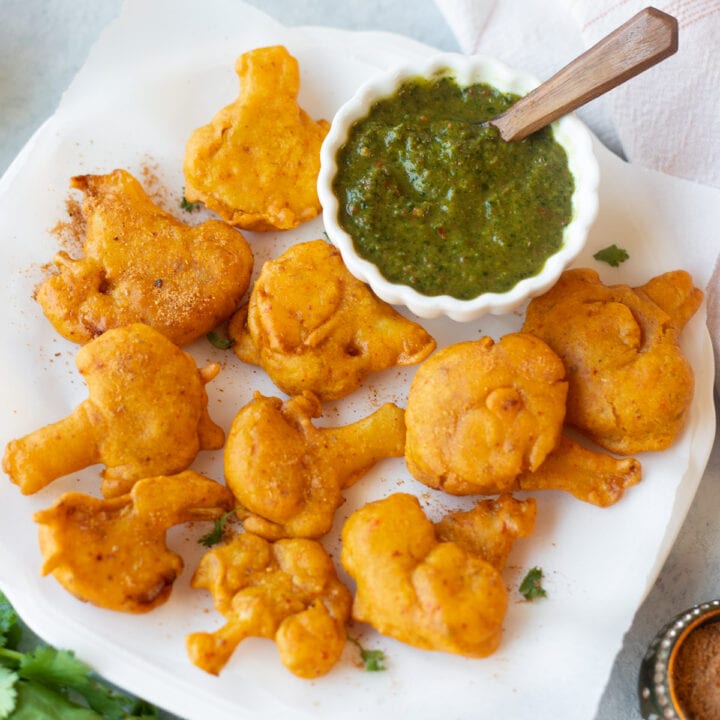 These golden-brown, crisp Gobi ke pakode are coated in an Indian spiced gram flour batter. These Cauliflower Pakoras make a wonderful appetizer or snack to share when paired with green chutney or ketchup!
Mint Cilantro Chutney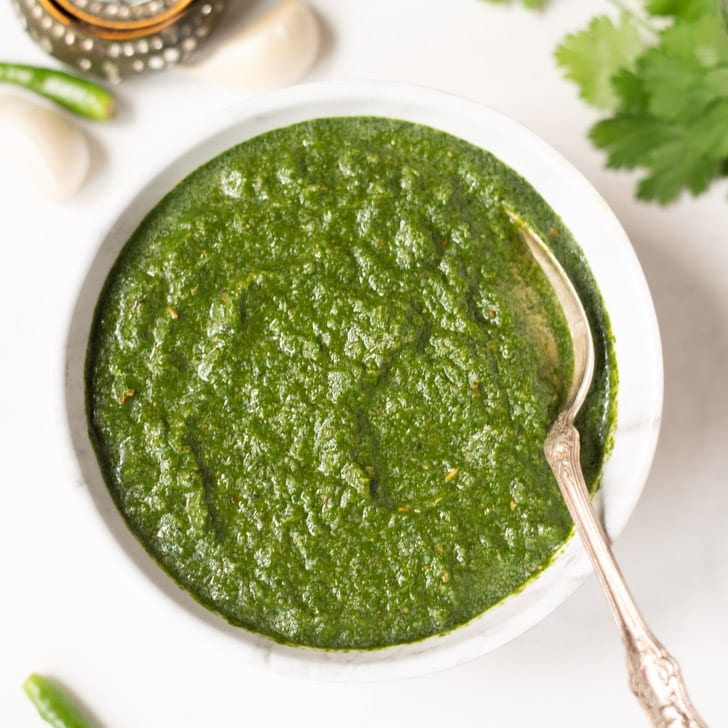 A cool, spicy and tangy green mint cilantro chutney is a must try accompaniment to Indian food such as samosa, chaat, kebabs and sandwiches. This Indian green sauce is so versatile, and can be varied with simple ingredients!
Dahi Vada (Dahi Bhalla Chaat)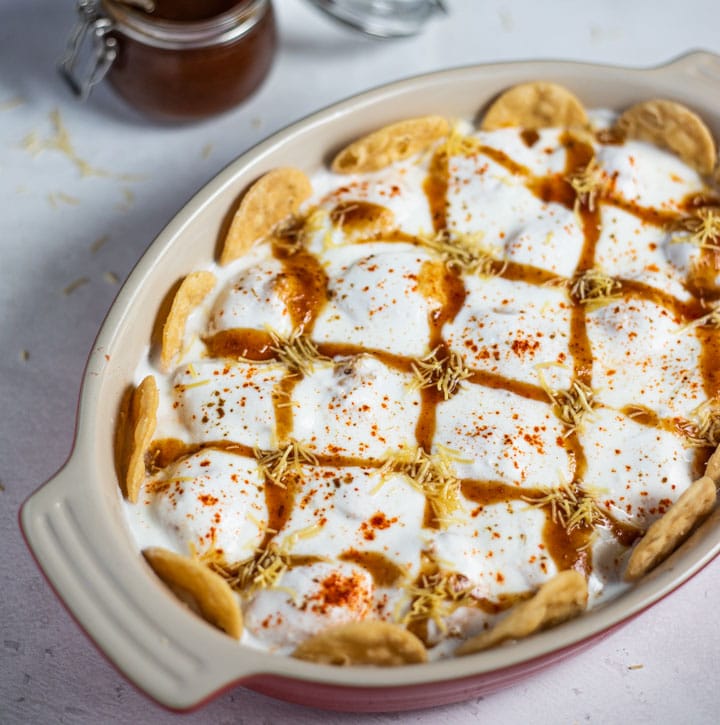 This favorite Dahi Vada or Dahi Bhalla recipe has the softest lentil fritters drenched in creamy yogurt and topped with sweet and spicy chutneys.
Sev Puri (Indian Street Food)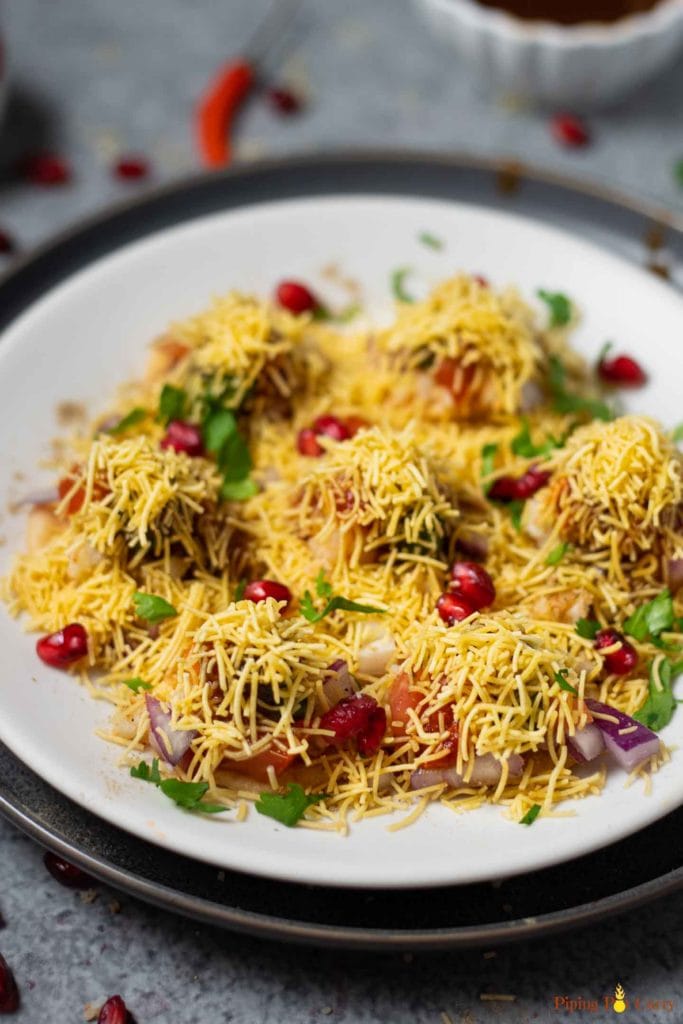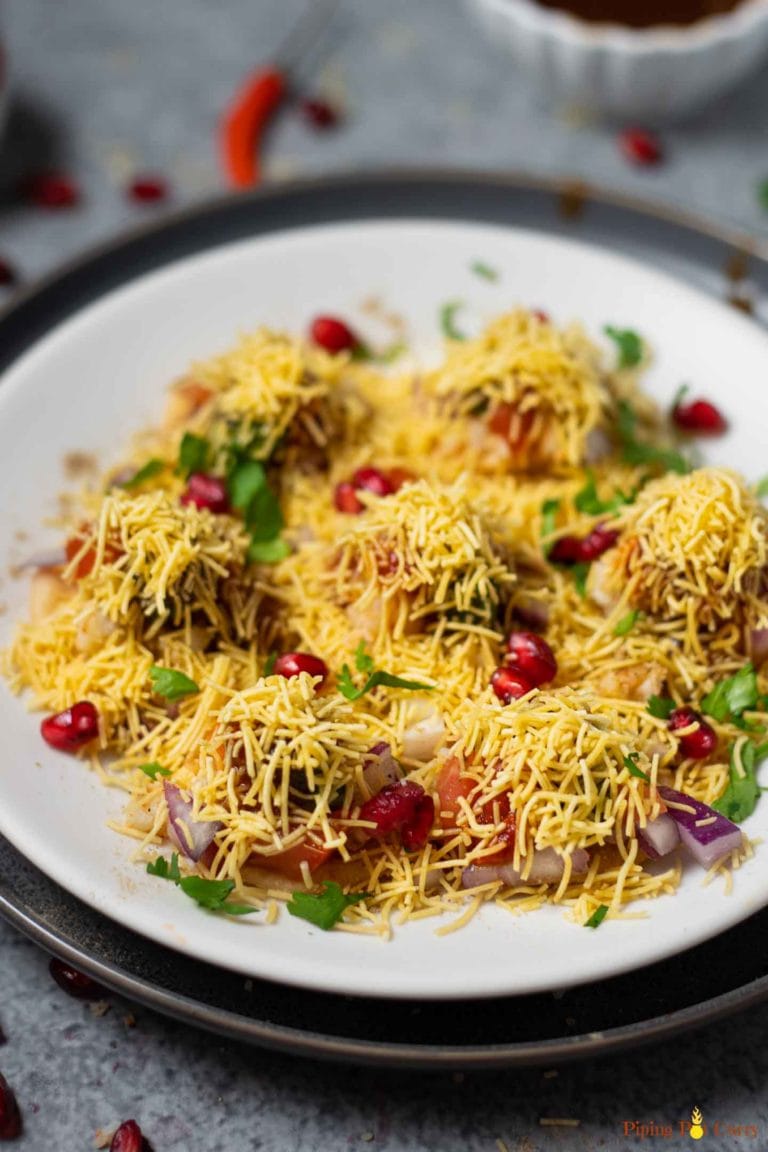 A popular Mumbai street food, Sev Puri is a sweet, spicy, and tangy chaat. Sev Puri is made with crispy puri (whole wheat crackers) topped with potatoes, onions, tomatoes, and a variety of chutneys, and finished with sev (thin gram flour noodles).
Cheesy Samosa Jalapeno Poppers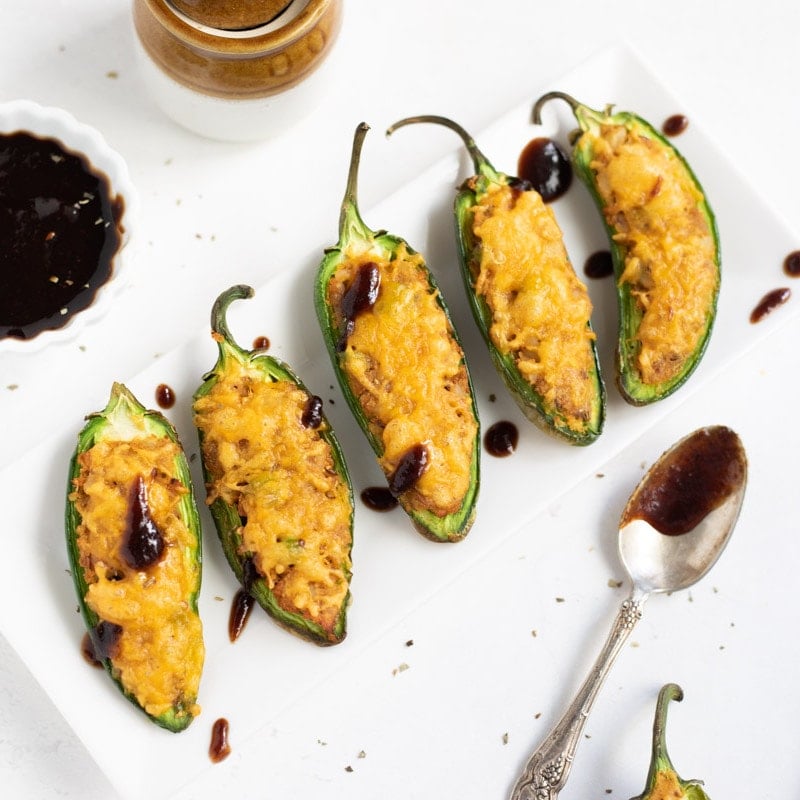 Cheesy Samosa Jalapeno Poppers is an Indian fusion party appetizer. This is a vegetarian and gluten-free snack for the samosa lovers.
Baingan Pakora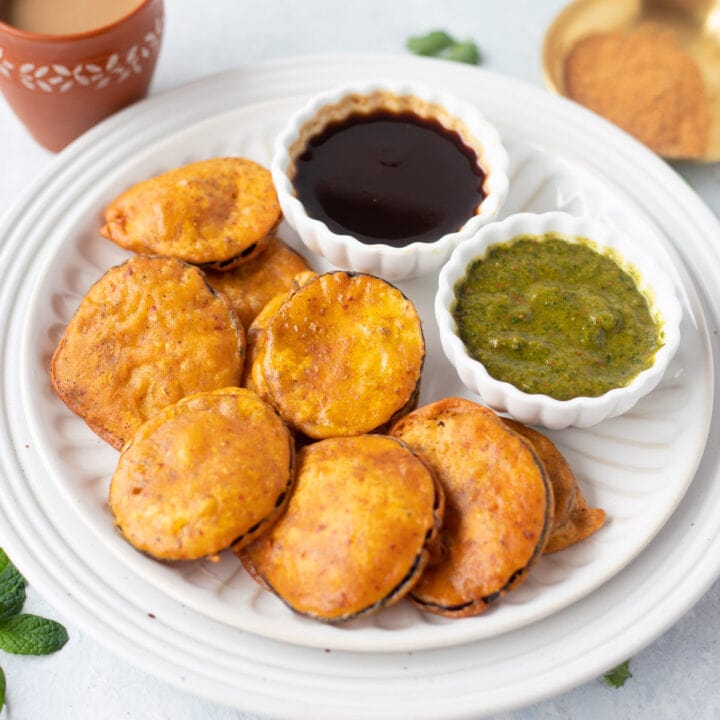 Eggplant/ baingan pakora is a classic fritter in which thin slices of eggplant are dunked in a spiced gram flour batter and fried till golden. Enjoy this vegan and gluten-free snack any time of the day!
Gujarati Khandvi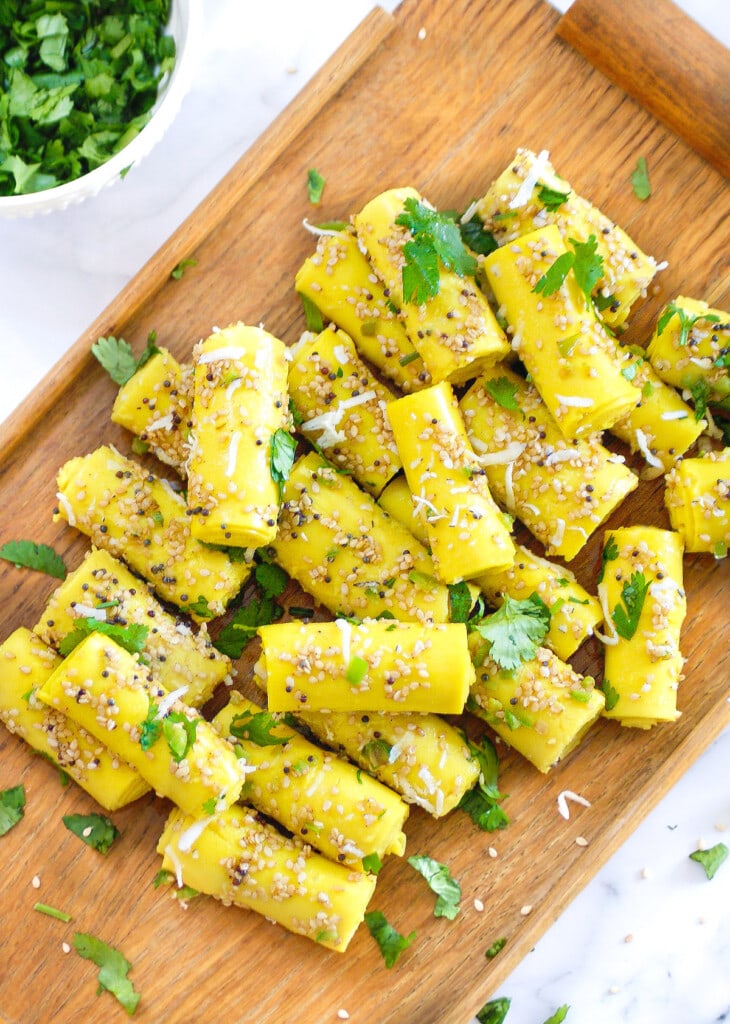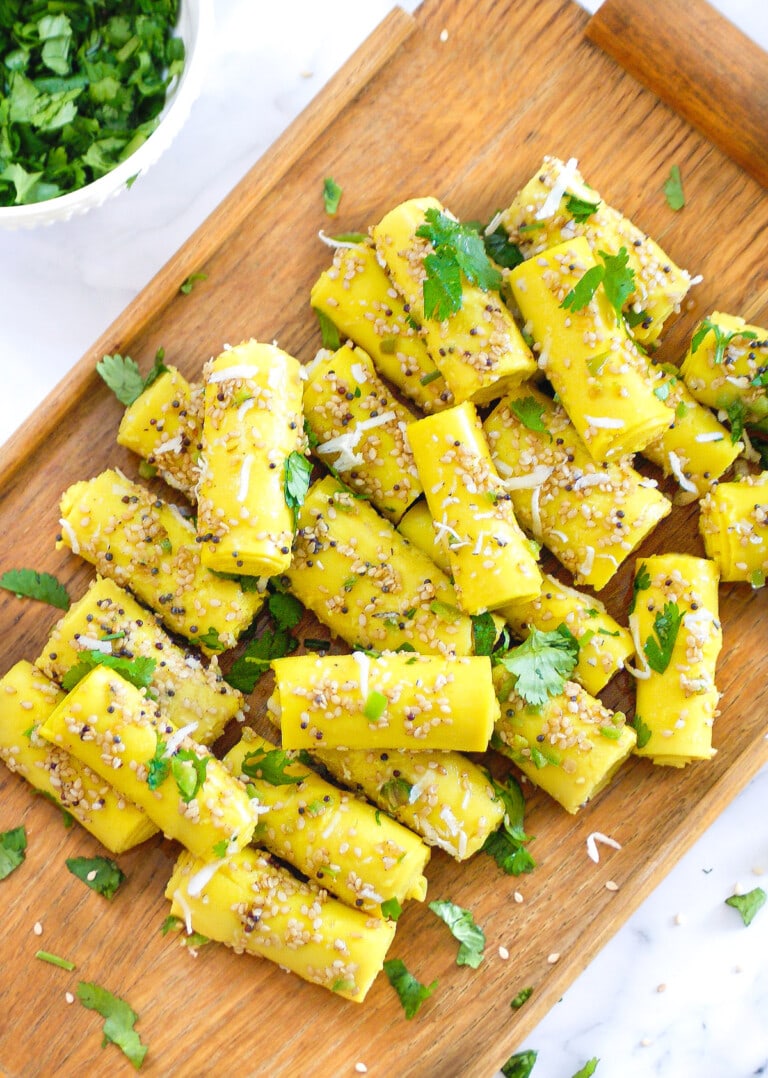 These melts in the mouth, soft and flavorful rolls are made with gram flour and then tempered with mustard seeds, sesame seeds and garnished with cilantro and coconut.
Chili Garlic Potatoes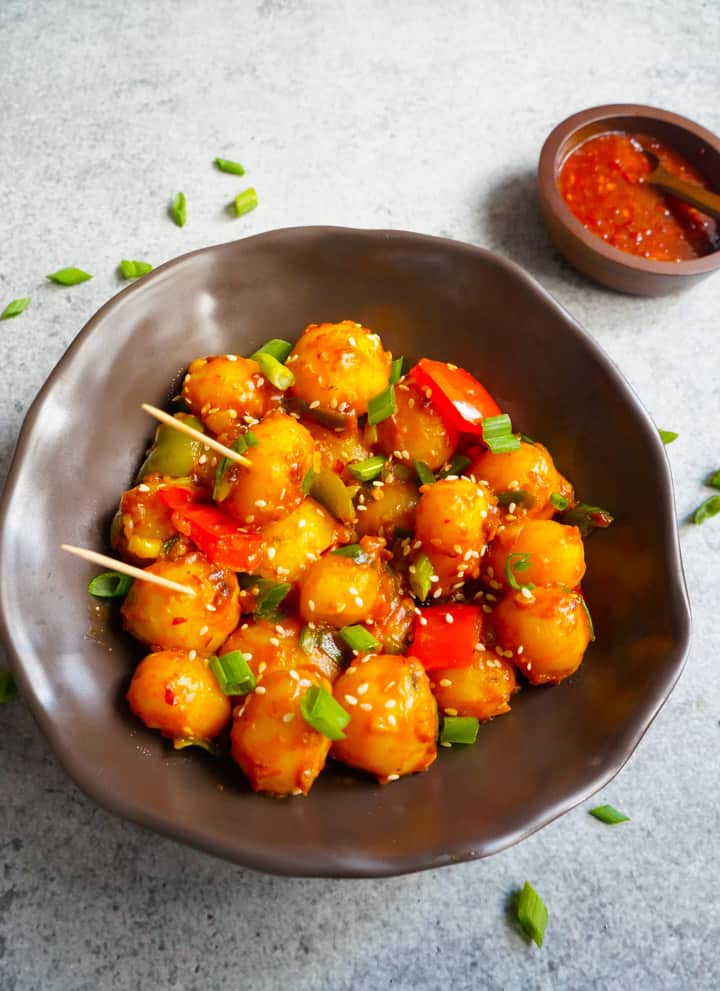 Flavorful and easy Garlic Chili Potatoes are a popular Indochinese snack. Made with steamed potatoes, garlic, chili sauce and honey, sprinkled with green onions and sesame seeds. Enjoy them as an appetizer or side!
Rava Dhokla – Instant Pot & Stovetop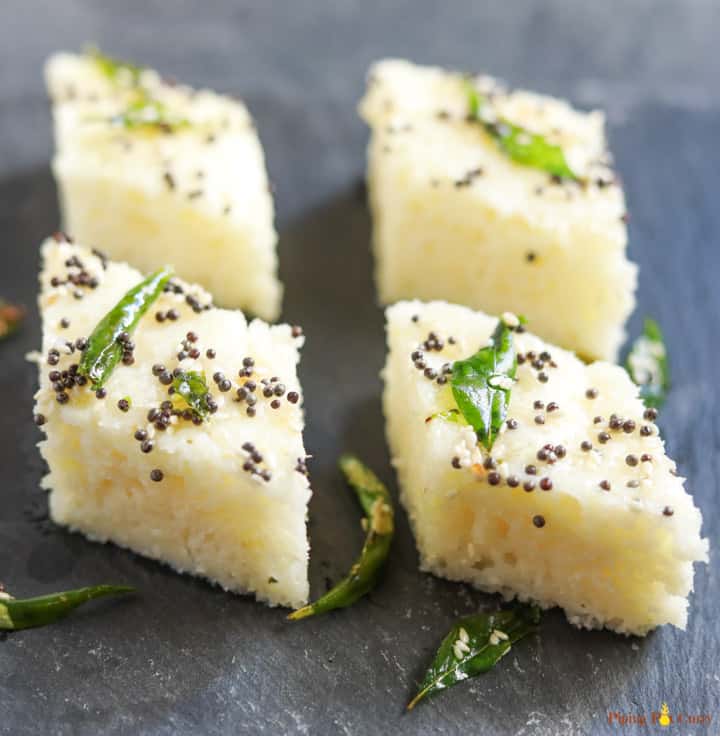 Soft and fluffy Rava Dhokla made in the Instant Pot and stovetop. These delicious savory semolina cakes are a popular Gujarati delicacy, perfect to enjoy for breakfast or snack!
Tandoori Paneer Naan Pizza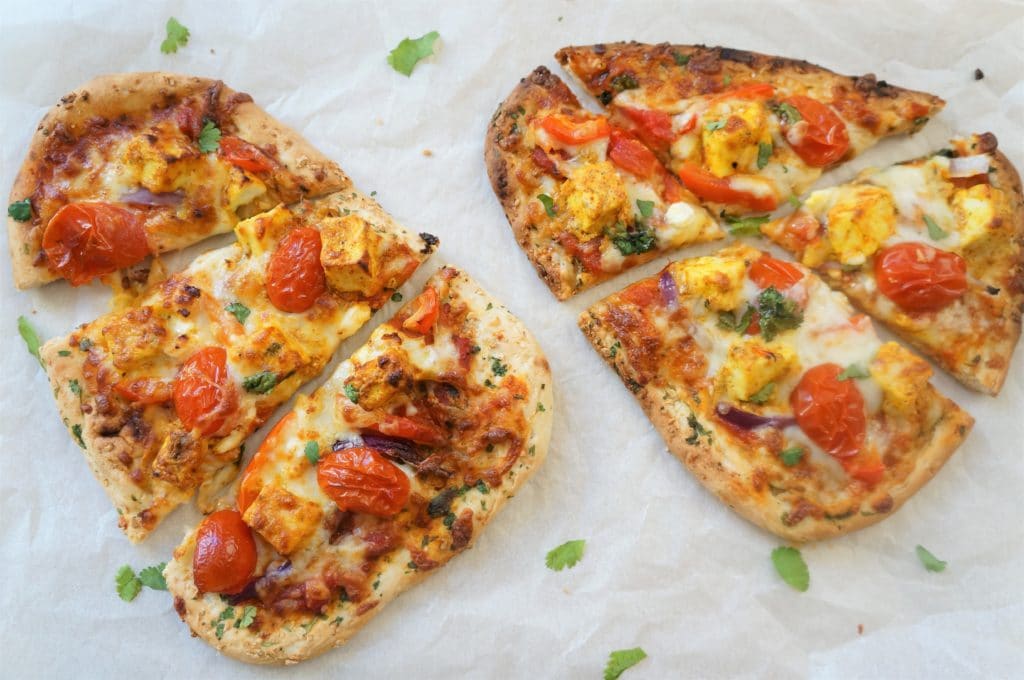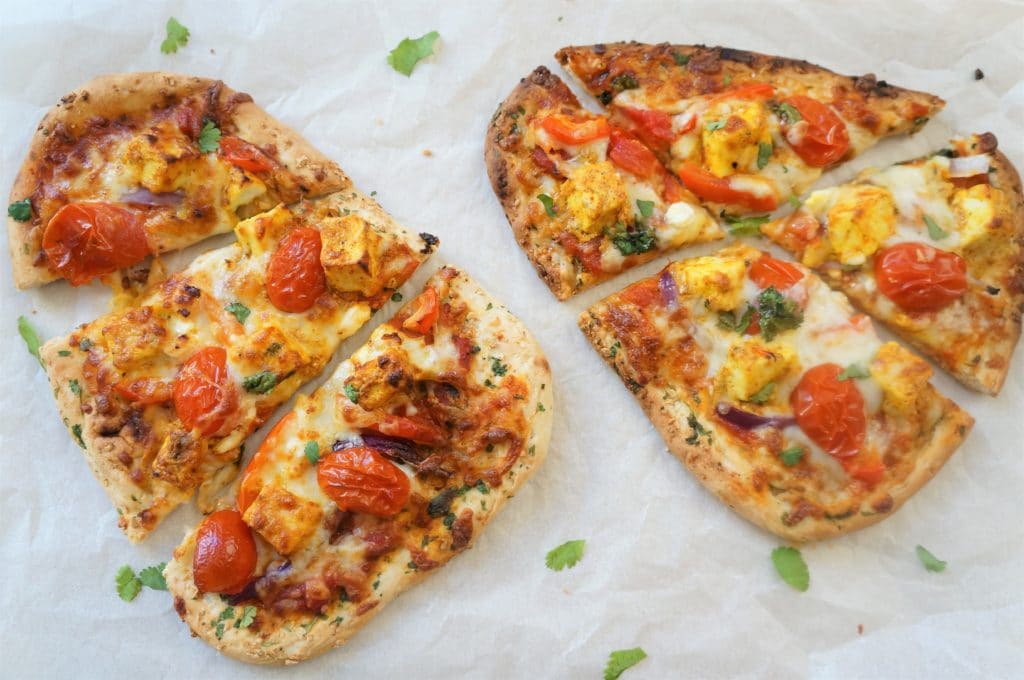 Tandoori Paneer Naan Pizza is a fusion indian appetizer made with marinated paneer, red peppers, onions and tomatoes. Vegetarian, quick, easy and convenient. Vary it with toppings of your choice.
Instant Khaman Dhokla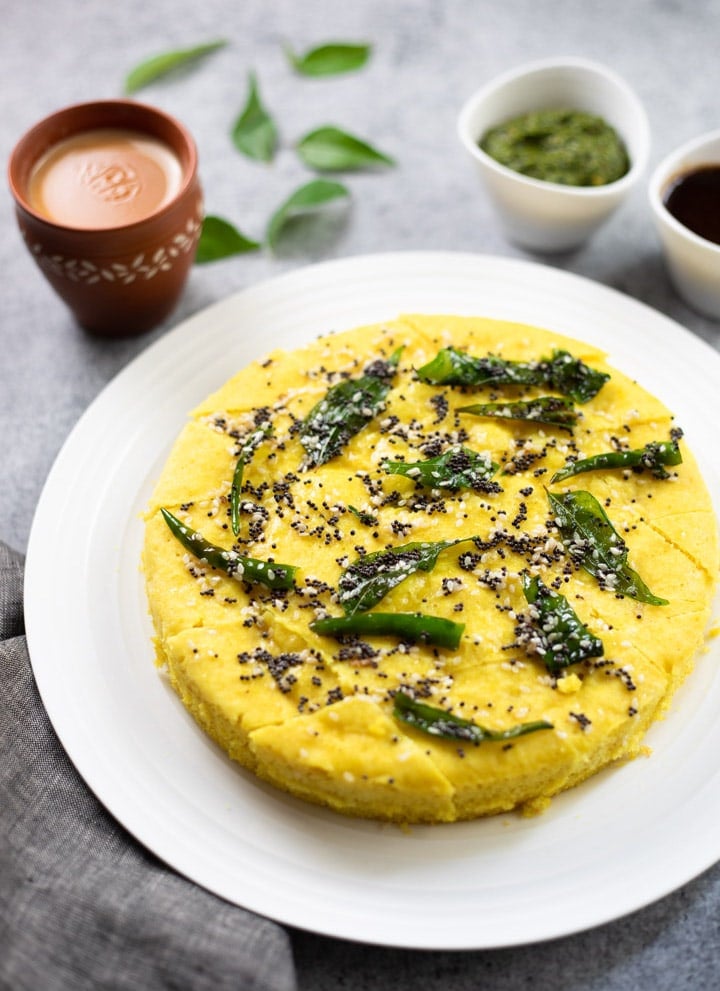 These delicious steamed savory chickpea flour cakes are a popular Gujarati delicacy, perfect to enjoy for breakfast or snack!
Kala Chana Chaat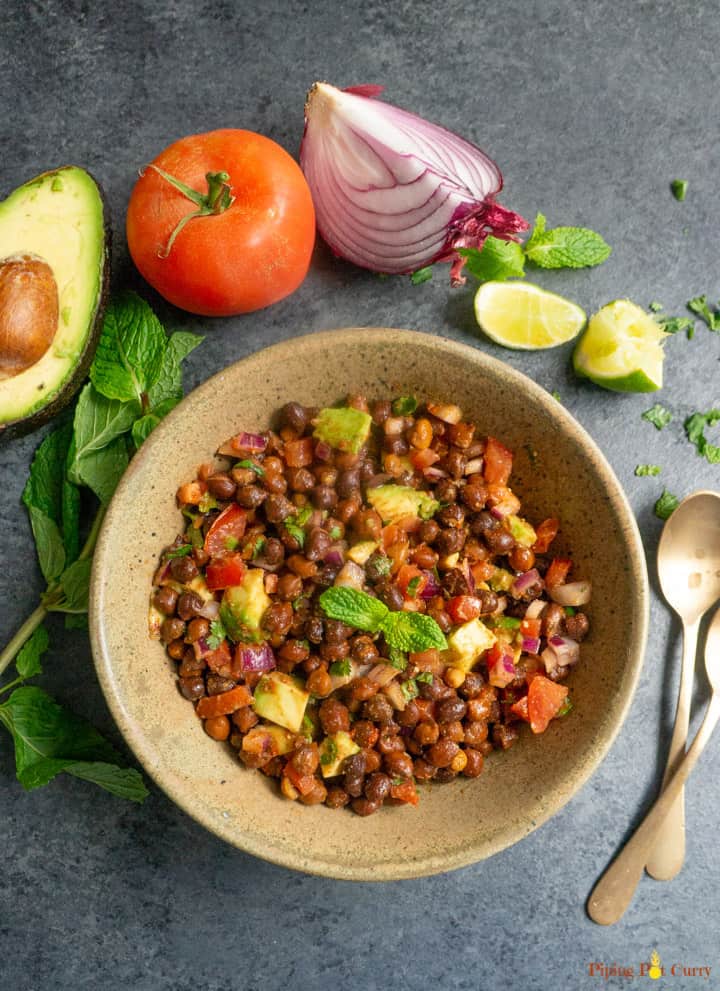 Kala Chana Chaat, is a nutrition-packed Black Chickpea Salad made with black chickpeas, crunchy onions, tomatoes, avocado and spices.
Spicy Masala Corn on the Cobb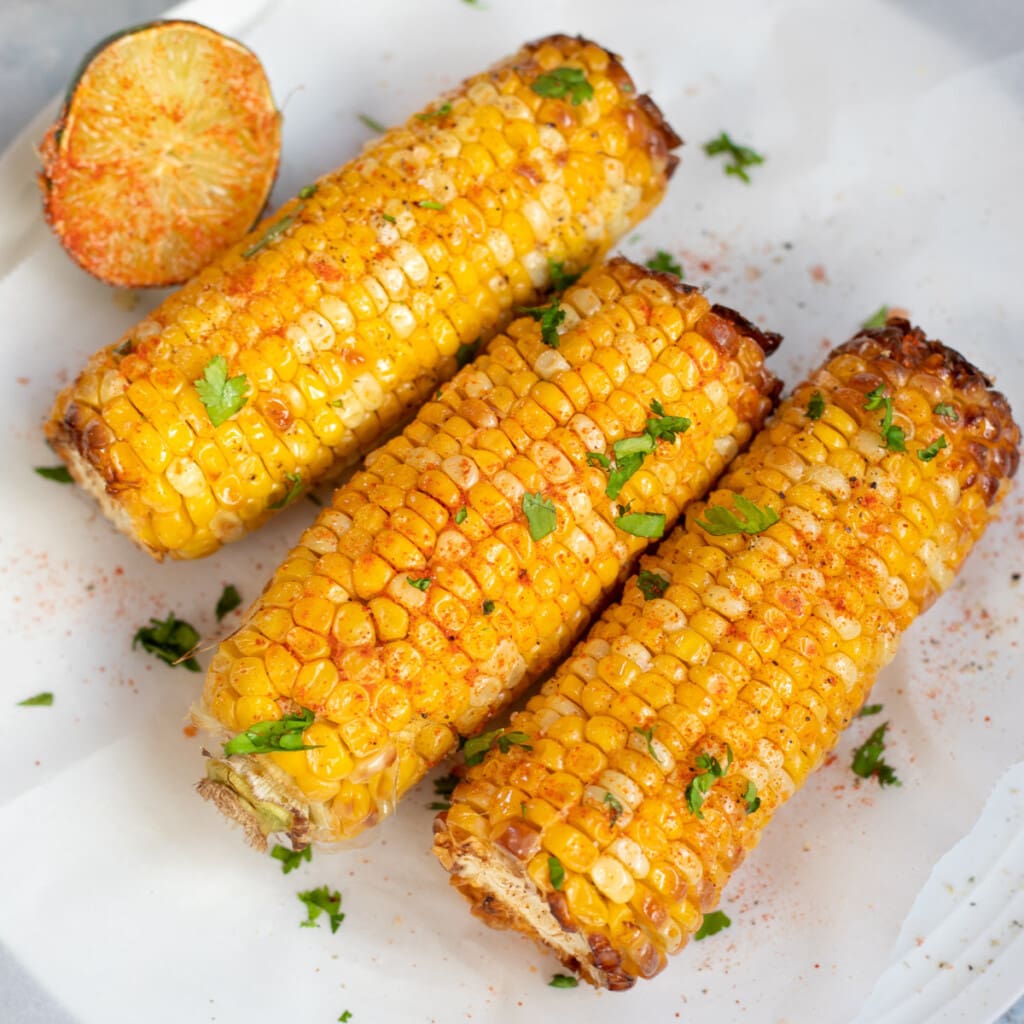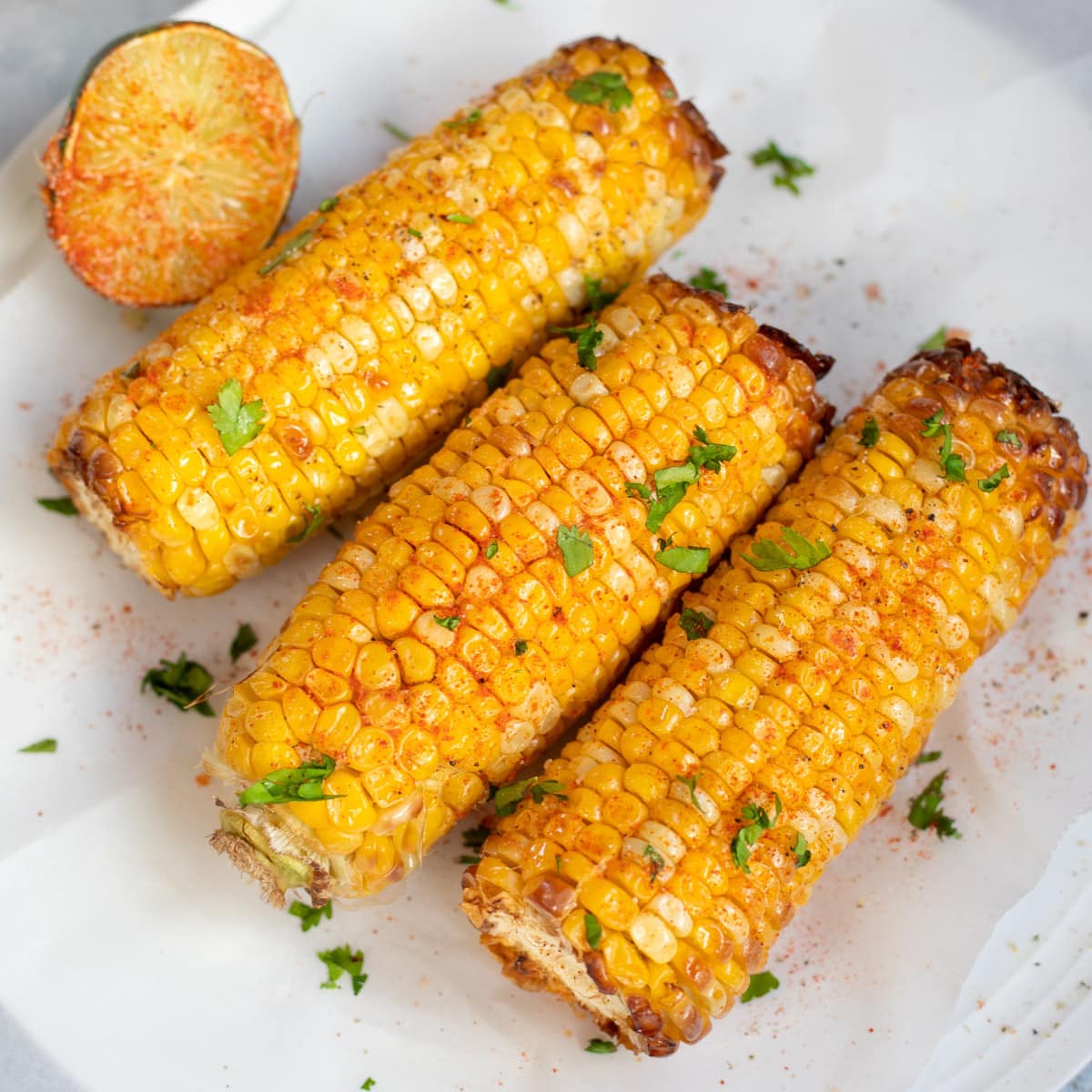 This grilled spicy Air Fryer Corn on the Cob is so easy to make and so good! Spice it up the way you like, and enjoy as an appetizer, snack or side!
Non- Vegetarian Starters
Chicken Tikka Kebab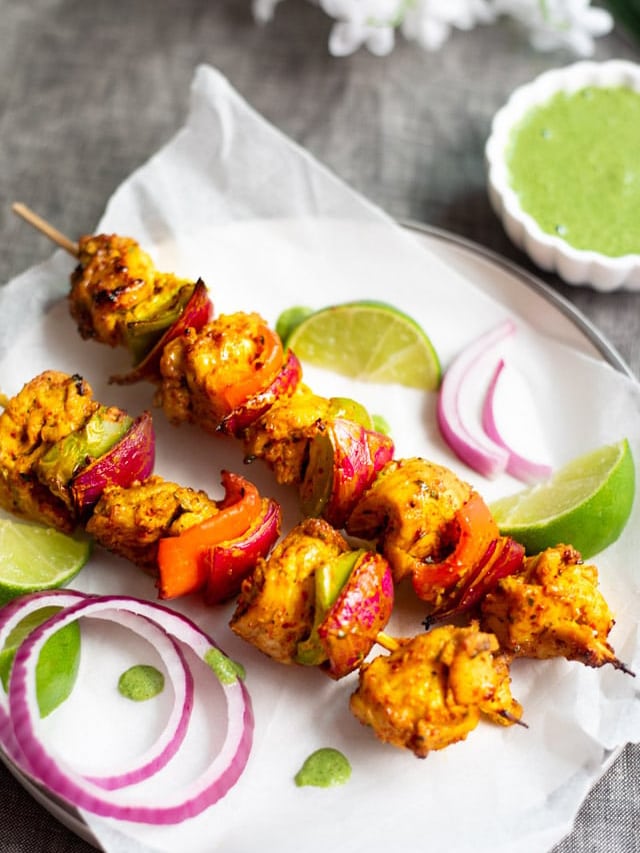 Chicken Tikka Kebab is a delicious appetizer that is packed with flavor. It starts with chicken pieces marinated in yogurt along with lime juice and aromatic spices, then threaded onto skewers and cooked to create a delicious appetizer. Make it in the air fryer or oven to serve at the gathering, or include it into your meal prep for the week!
Tandoori Chicken Wings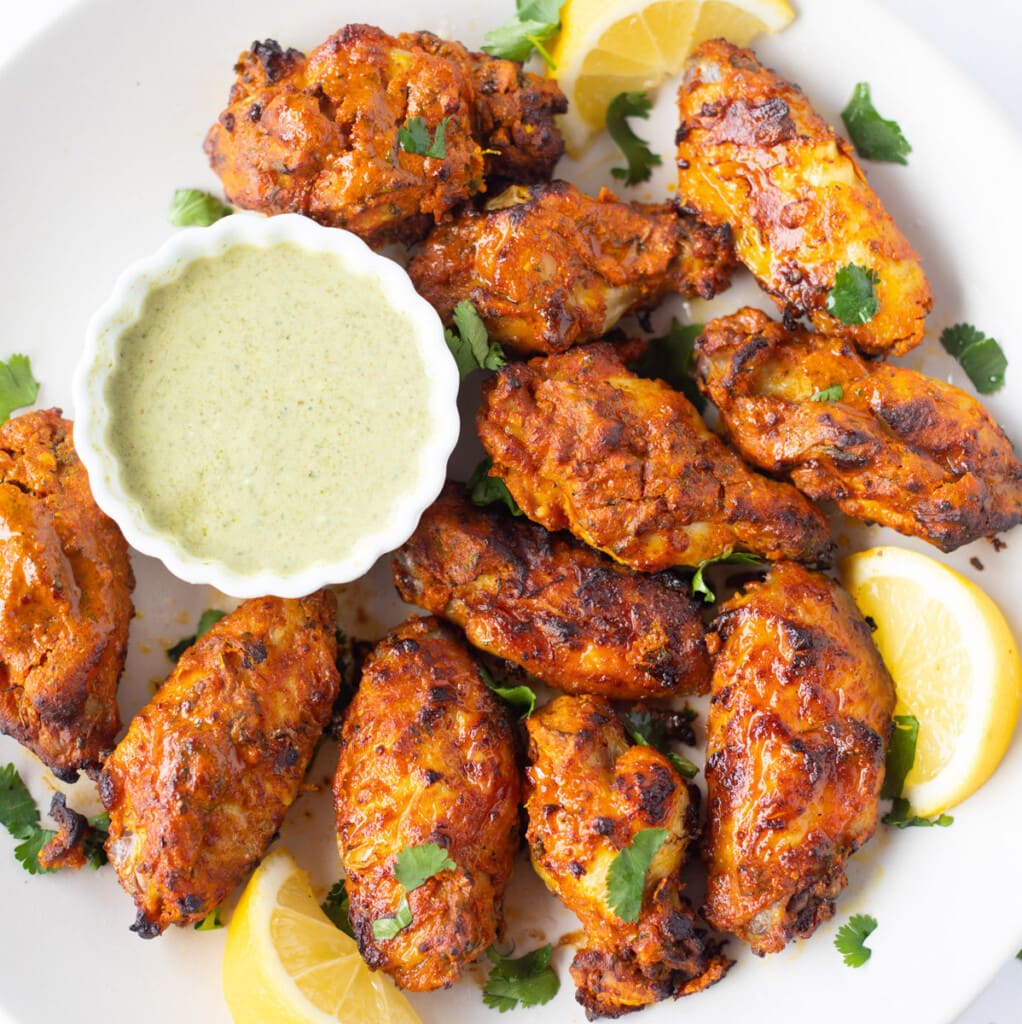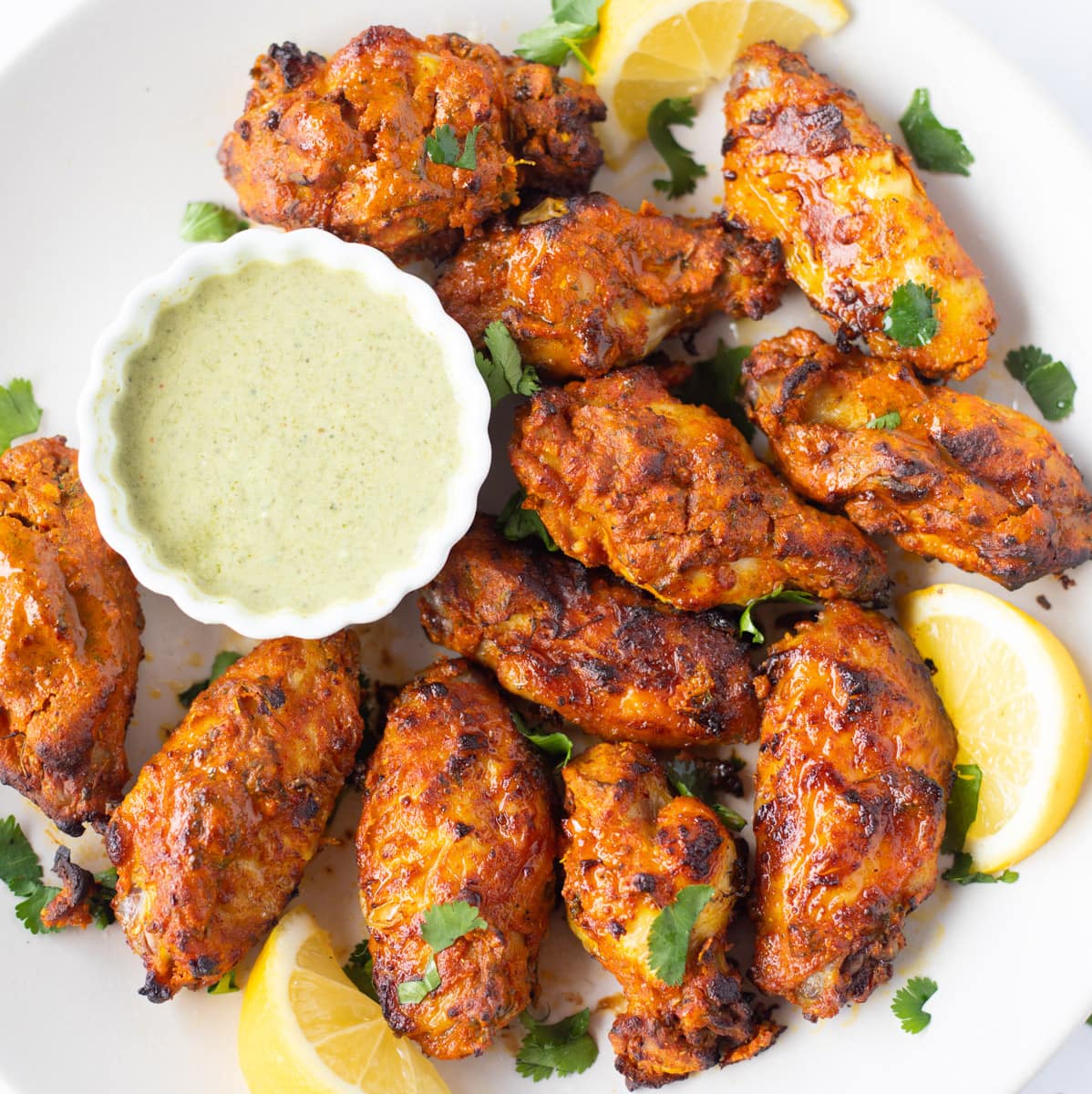 These smoky Tandoori chicken wings, marinated in Indian spices and yogurt and grilled to perfection, are the perfect appetizer for any party! The wings are succulent and juicy on the inside and crispy on the outside.
Chili Chicken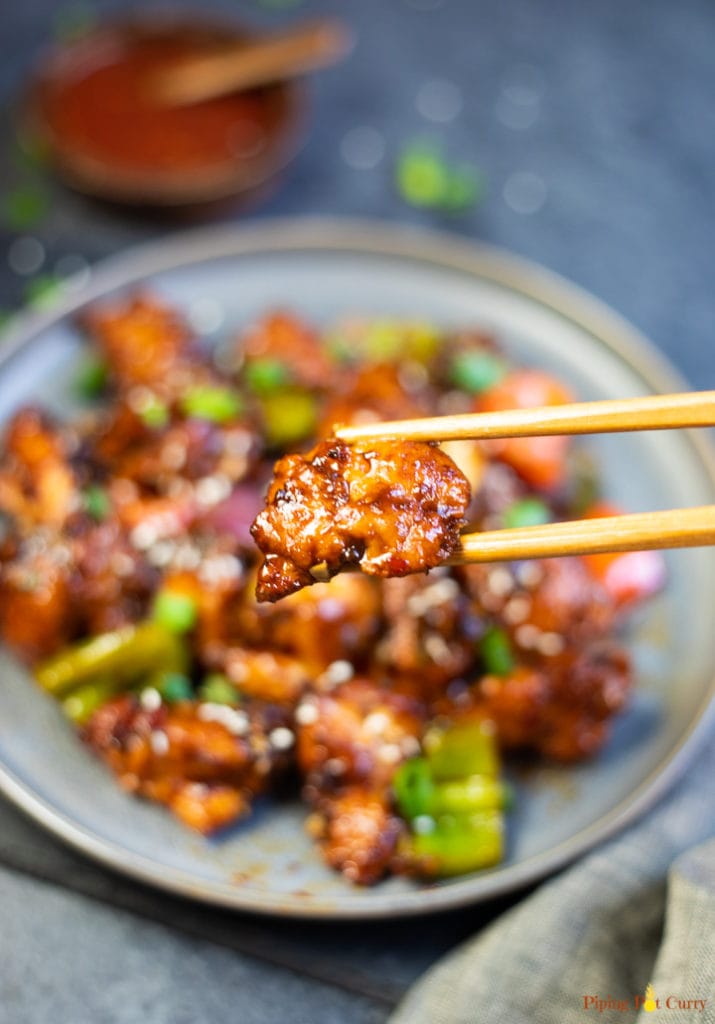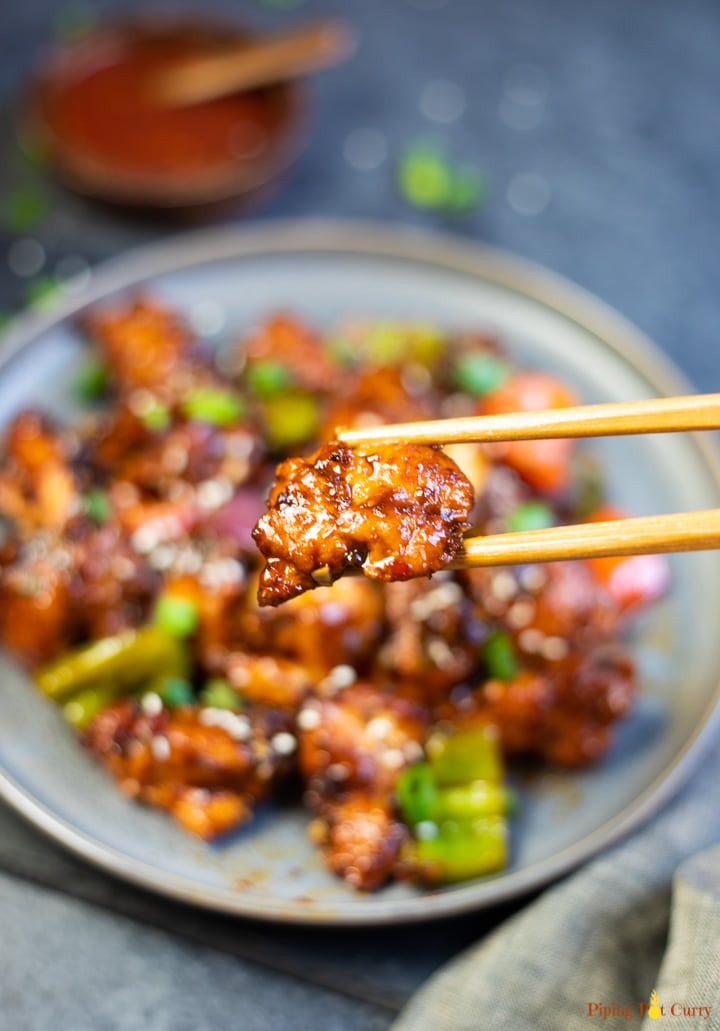 Crispy and flavorful Chilli Chicken recipe. Boneless chicken is marinated in chinese sauces, fried until crispy, this is stir fried with lots of ginger, garlic, onions, bell peppers and sauces.
Tandoori Chicken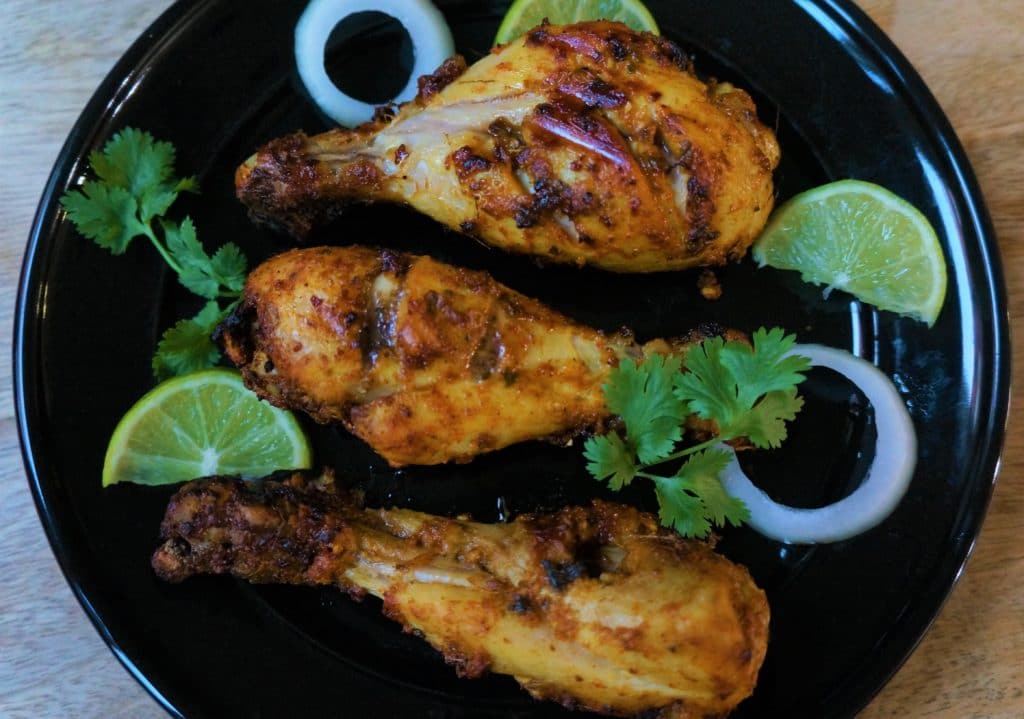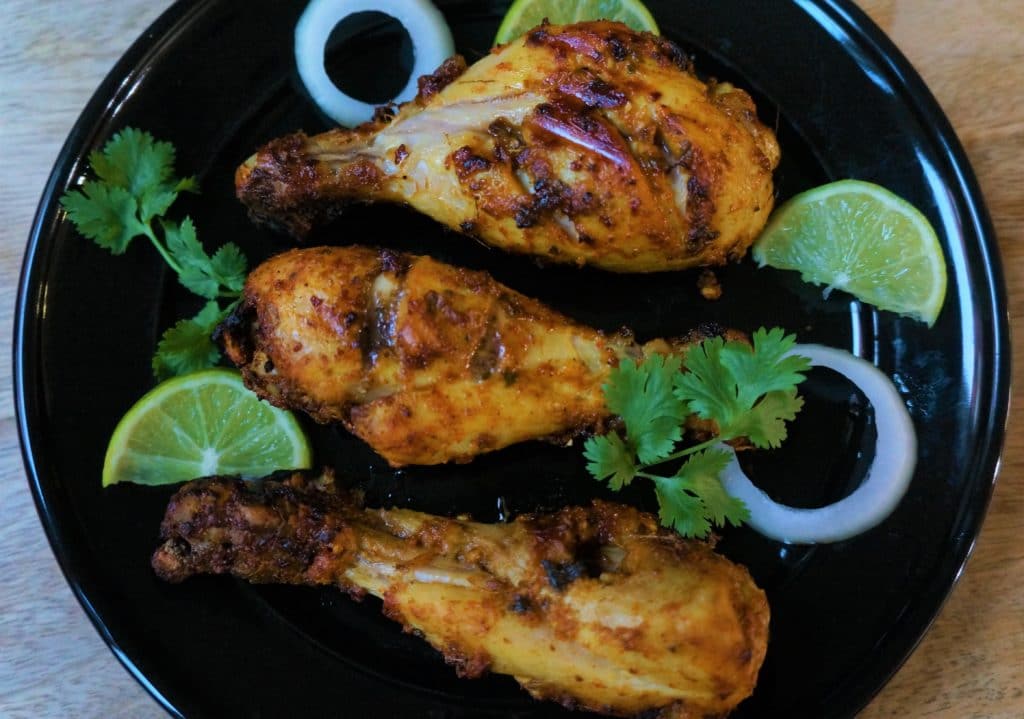 Tandoori Chicken is a flavor packed spicy dish from the Indian subcontinent popular all over the world. Chicken is marinated in yogurt, ginger, garlic, spices and lemon juice, then grilled in the air fryer or oven.
Chicken 65
By Simmer to Slimmer
Crispy on the outside, tangy and juicy Chicken 65 is the most delicious chicken starter! This healthier air fried version of the classic Indian-style appetizer is so good that it will disappear in seconds!
Shami Kebab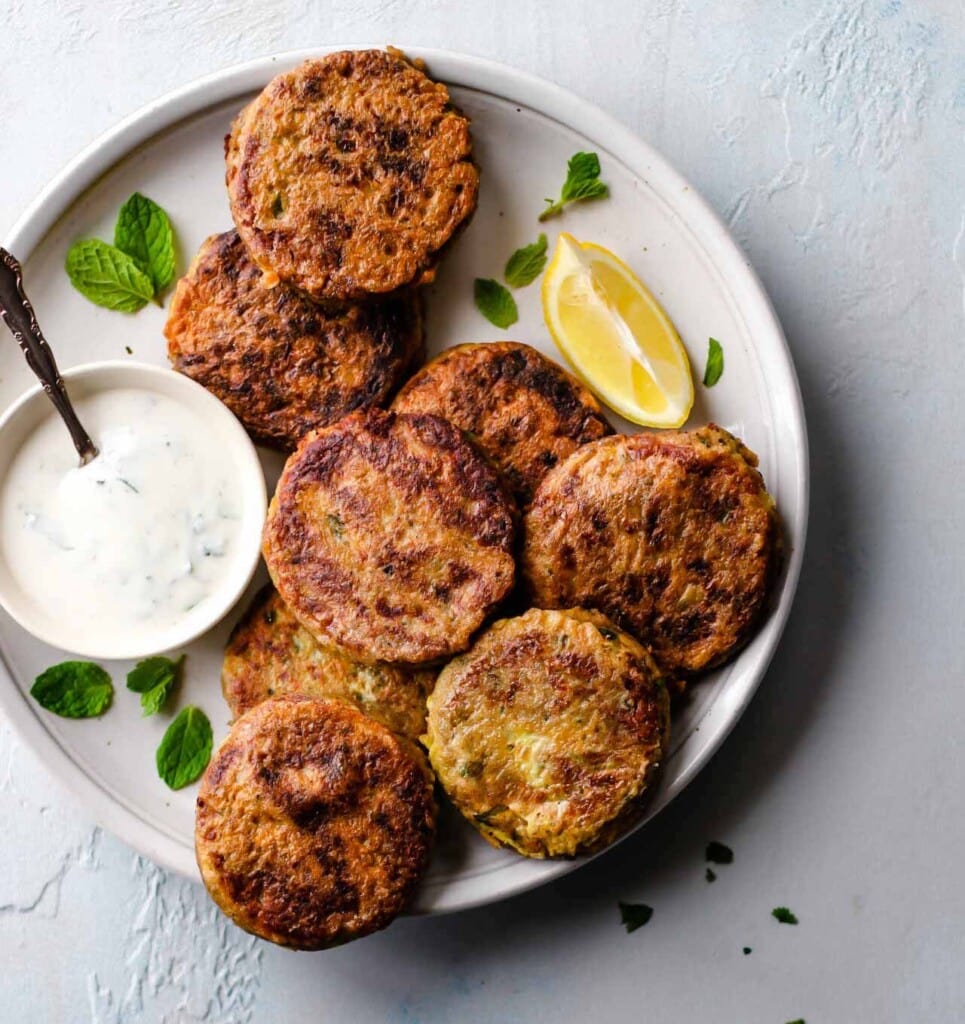 By Tea for Turmeric
Shami kebab are tender patties made with beef and chana dal (yellow split peas), and then dipped in eggs and pan-fried. These kebabs are kid-friendly, naturally gluten-free, and wholesome!
I hope you add these quick and easy Indian Appetizers to your menu. Let us know which one you're most excited to make, and share this roundup with your friends, and when you make it, don't forget to tag #pipingpotcurry.
Check out: