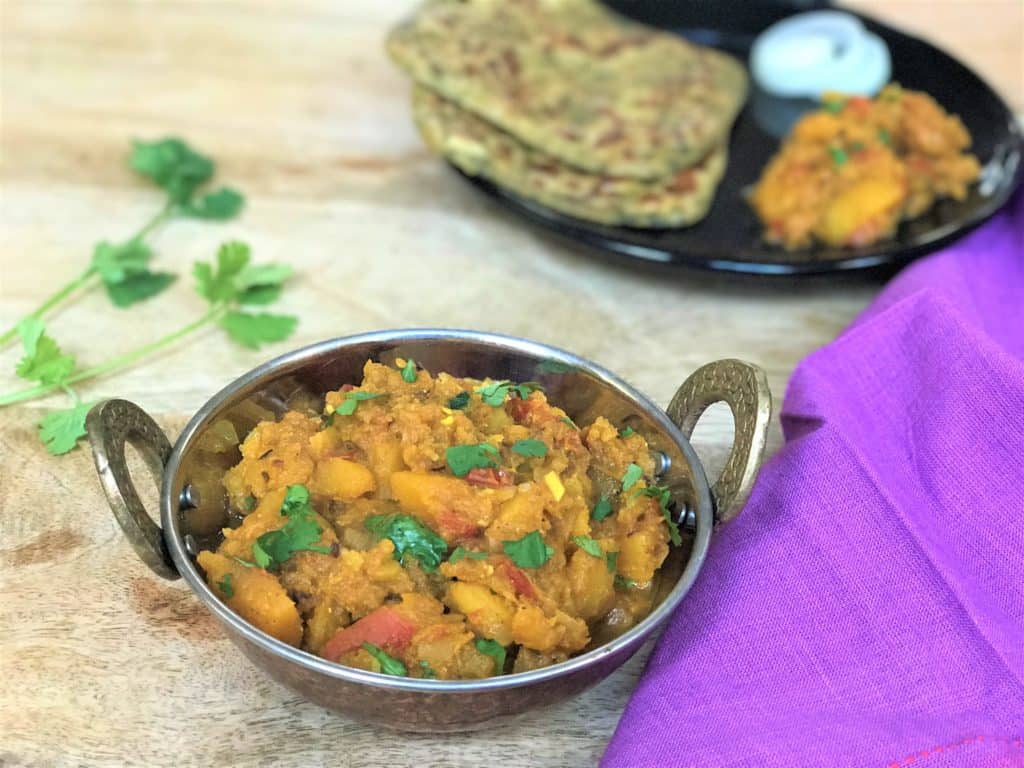 Punjabi style sweet and sour pumpkin curry that goes best with pooris (fried Indian flatbread) or parathas made in a pressure cooker or instant pot | Kaddu ki Subzi | Punjabi Pethe ki Subzi 
Is it pumpkin season yet?  Oh…yes! Fall is here and we are enjoying the abundance of pumpkins in our grocery stores.
I am going to share a very simple North Indian pumpkin curry. It has the sweetness of pumpkin, spiciness of the Indian spices and tanginess of the dry mango powder or lemon juice. Pick out those kabocha squash or butternut squash and try this easy curry in your instant pot.
Pumpkin is also known as kaddu or petha in Hindi, so another name for this delicious curry is kaddu ki subzi. Pair this pumpkin curry with something spicy. Enjoy it with paratha or naan, or even better with poori.
Another way I have been using all the pumpkins is making pumpkin puree, which can be used in a variety of dishes. I have used it in pancakes, parathas, and pie's already.
The bright orange color of pumpkin easily gives away that pumpkin is loaded with an important antioxidant, beta-carotene. Beta-carotene is converted to vitamin A in the body. In the conversion to vitamin A, beta carotene performs many important functions in overall health. A diet rich in foods containing beta-carotene may reduce the risk of developing certain types of cancer and offers protect against heart disease. Beta-carotene offers protection against other diseases as well as some degenerative aspects of aging.
Pumpkins also have loads of fiber, and they are low in calories. Hence they are a great way to include fiber rich vegetables in your diet.
How to make Pumpkin Curry in Instant Pot?
I used butternut squash for this recipe, but you could use the large orange pumpkins or kabocha squash as well. The hardest part of this recipe is peeling the pumpkin. I use a peeler to peel the pumpkin and then cut it into pieces. You don't have to cut very small pieces as after pressure cooking, we are going to mash the pumpkin.
Cook this pumpkin curry in ghee.  It adds tremendously to the taste. You can also make ghee at home in the instant pot, see recipe here. To make this vegan, use your favorite plant based oil.
Start with heating the pressure cooker and sauteing cumin seeds, onion, chilies, ginger and garlic. Once they start to change color, add the tomato, spice, pumpkin pieces and some water.
That is it, now close the pressure cooker and cook on high pressure for 5 minutes.  Once the cooking is done, quick release the pressure.  Pumpkin should be cooked.  Add the tanginess with dry mango powder or lemon juice. If the pumpkin is not as sweet, then add some sugar, but this is completely optional.
You can choose to eat the pumpkin curry as is or you can mash some pieces using a masher. I prefer the in between, so I mash some pieces but not all.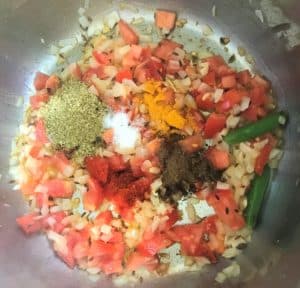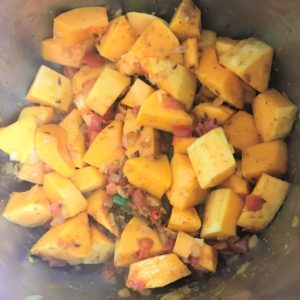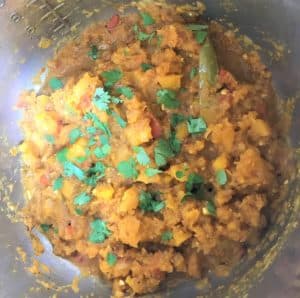 If there is any residual water, which may happen depending on the pumpkin, you can change to saute mode and cook for couple of minutes.  Garnish with cilantro and enjoy!
I enjoyed this pumpkin curry with methi or fenugreek parathas for lunch 🙂
Enjoy this easy and delicious Pumpkin Curry.  And don't forget to let me know how you liked it.  Leave a comment, share it on our facebook page or instagram with #pipingpotcurry.
If you like this recipe, you might like the below curries made in a pressure cooker:
Follow our Facebook page to get more such recipes.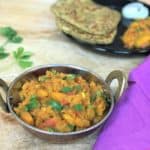 Pumpkin Curry - Instant Pot / Pressure Cooker
Punjabi style sweet and sour pumpkin curry that goes best with pooris (fried Indian flatbread) or parathas, made in the pressure cooker.
Instructions
Start the instant pot in SAUTE mode and heat oil in it. Add cumin seeds and saute for 30 seconds.

Add green chili, onions, ginger and garlic paste and saute for 2 minutes.

Add cut pumpkin pieces and water. Mix well. Press Cancel and close the instant pot lid with vent in sealing position.

Set instant pot to MANUAL or pressure cook for 5 minutes at high pressure.

When the instant pot beeps, do a quick pressure release manually.

Add dry mango powder, sugar and mix with the pumpkin. You can eat this curry as is or mash some of the cooked pumpkin pieces with a masher in the pot.

If you prefer a dry consistency, change setting to SAUTE mode and cook for couple of minutes.

Garnish with cilantro and pumpkin curry is ready to be enjoyed with parathas or naan.
Nutrition Facts
Pumpkin Curry - Instant Pot / Pressure Cooker
Amount Per Serving (227 g)
Calories 89
Calories from Fat 30
% Daily Value*
Total Fat 3.37g 5%
Cholesterol 8mg 3%
Sodium 588mg 25%
Potassium 690mg 20%
Total Carbohydrates 15.28g 5%
Protein 2.53g 5%
* Percent Daily Values are based on a 2000 calorie diet.
Note: Nutrition values are my best estimates. If you rely on them for your diet, use your preferred nutrition calculator. 
Pin it for later: 
Disclosure: This post contains affiliate links, which means I can earn a small commission if you purchase through the link at no additional cost to you. Thank you for your support!