You don't have to eat Indian side dishes at a restaurant to enjoy them. There are numerous easy sides, such as rice and roti, that you can prepare at home. This collection of Indian side dish recipes is ideal for any one who is a fan of Indian cuisine!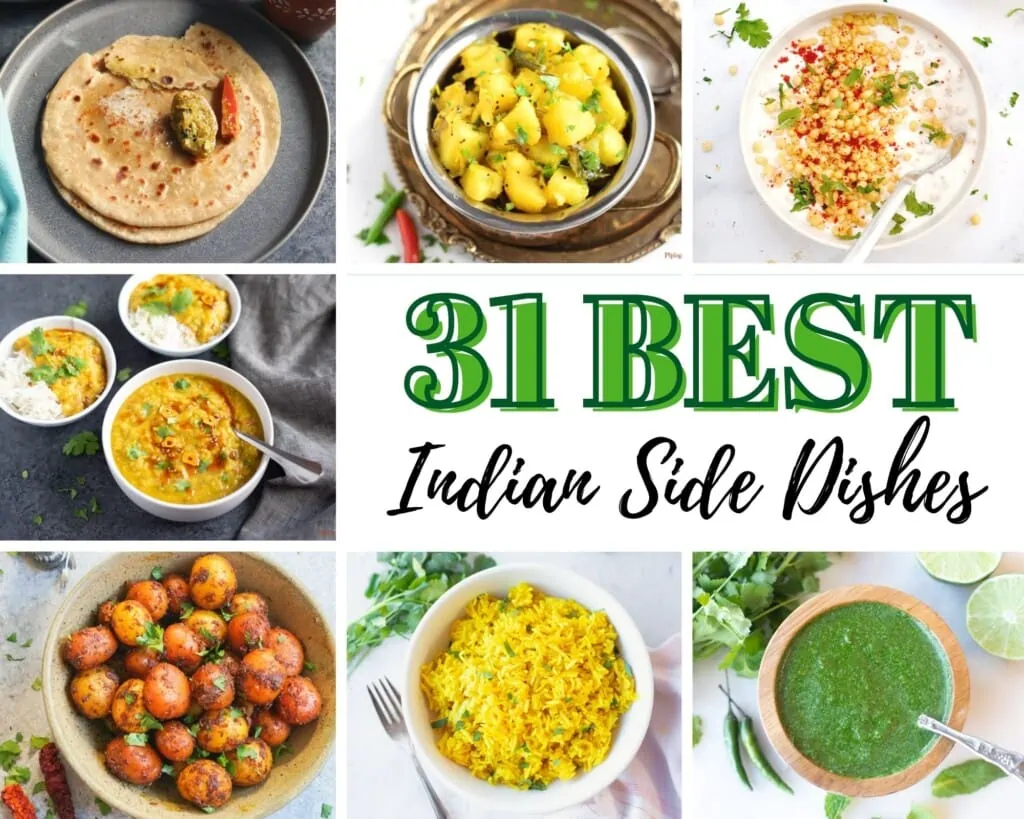 ''Curry'' is the one term that comes to mind when people think about Indian food, despite its diversity.
This is likely the most common myth but Indian cuisine goes beyond curry and offers an incredible variety of wholesome side dishes.
There is most likely no other cuisine in the world that includes as many healthy and diverse vegetables and spices. Almost all menus feature a variety of foods, such as rice, chapatis, dal, vegetables, raita, salads, and more.
Jump to:
Is It Difficult to Cook Indian Food?
In most cases, making Indian food at home appears tough because we are unfamiliar with many of the components and may not have them on hand.
It's also because we automatically assume a recipe with a laundry list of ingredients will be difficult to recreate.
And since we are inexperienced with Indian cuisine, we have no idea what the names represent. It is difficult to identify ingredients when there are so many of them.
However most Indian dishes are easy to make at home. Some Indian dishes can indeed be challenging to cook or might have a longer process. This can also be due to the availability of proper tools and equipment.
But there is no way you should not try making these dishes yourself at home.
How to Make Indian Cooking Easier?
Here are a few suggestions for creating quick and delicious Indian meals.
Use a good recipe: Start with an authentic recipe. It is best to choose an Indian side dish that appeals to you and look for a recipe that appears simple enough for you to try.
Use a few spices to start: It is a fact that Indian cuisine uses an infinite number of spices. But you don't have to use them all. The easiest approach to get started with Indian cooking is to start with a simple recipe that only calls for two or three spices, and then expand your spice collection from there. Grouping the spices together helps you to get organized. Most spices are available at Walmart, Trader Joes, Whole Foods, Amazon and of course at the Indian grocery stores.
Cooking Method: Choose a cooking method that you are familiar with; this will make things easier. Let's not go overboard and try a culinary method you're uncomfortable with for your first time.
Use of Pressure Cooker: For cooking, use a Pressure Cooker or Instant pot instead. They not only save some time but also give great results for Indian side dishes. And these help you to create one pot dishes and therefore you have less to clean up after!
Make Extra: If you go through the trouble of making a curry, you should have enough left over for another meal. Saves time and effort!
Practice and Patience: Start slow with one dish at a time but remember to be patient and don't get disheartened if you fail in the first instance! And as you progress and get confident, you will be a Pro in no time!
Now let's go through the variety of Indian side dishes. I have grouped them together for convenience.
Rice
Rice is one of India's staple side dishes. It is widely consumed throughout the country, along with various regional cuisines. Rice, whether savory or sweet, makes its way to the dinner table in some form or another.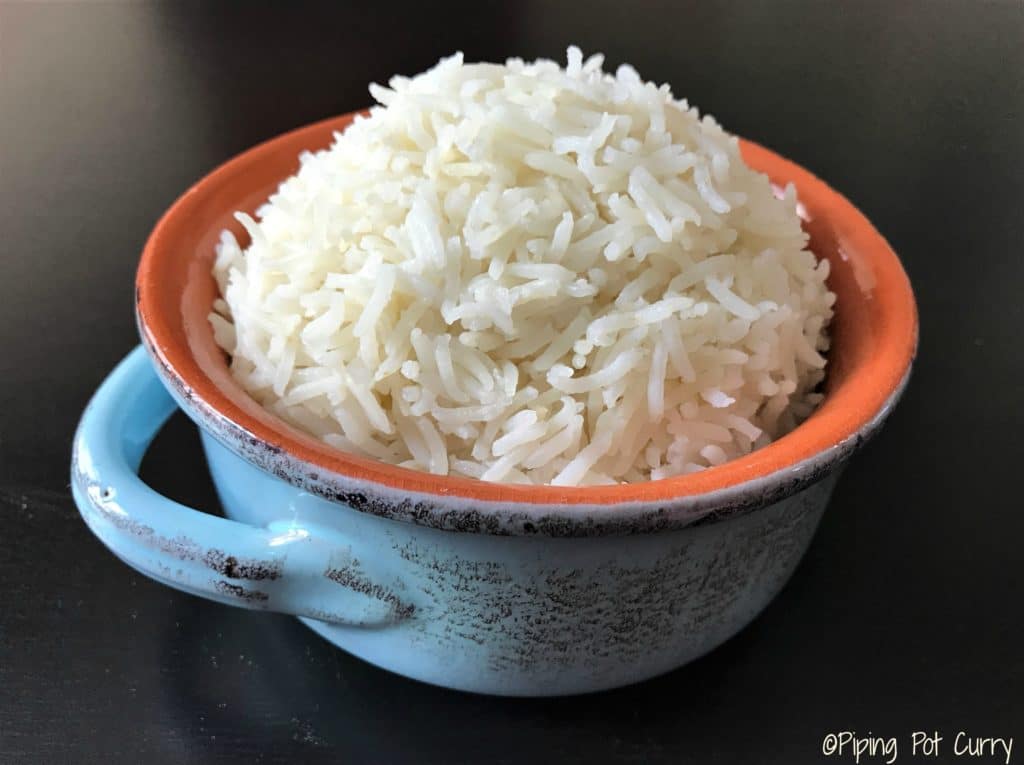 One of the best side dish to Indian food is simple fragrant basmati rice. Basmati rice is the long, slender-grained aromatic rice that you find at restaurants. Cook this rice to perfection on the stovetop or in the pressure cooker.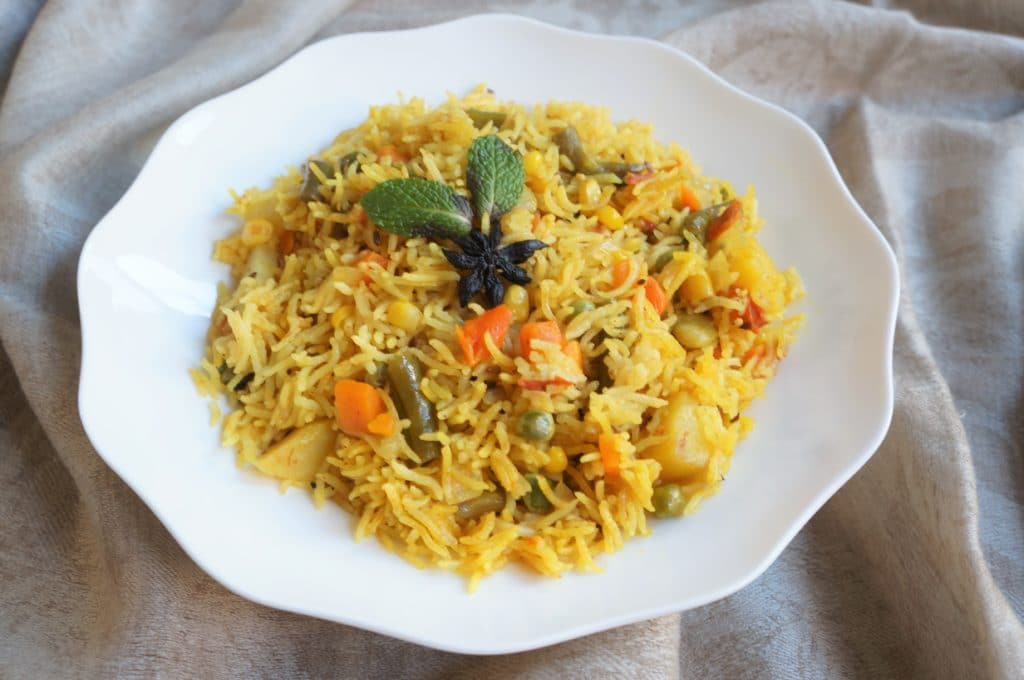 Vegetable Rice Pulao is an easy one pot dish made with rice mixed with a variety of vegetables and mildly flavored with spices.
You can serve pulao as a side or as a main dish with raita and salad.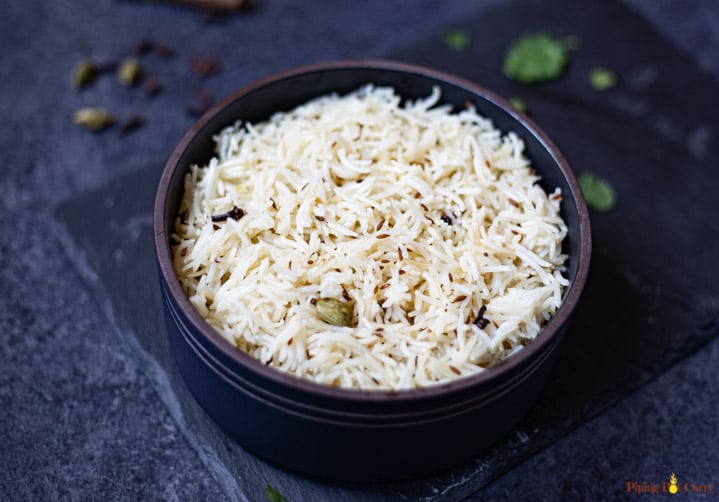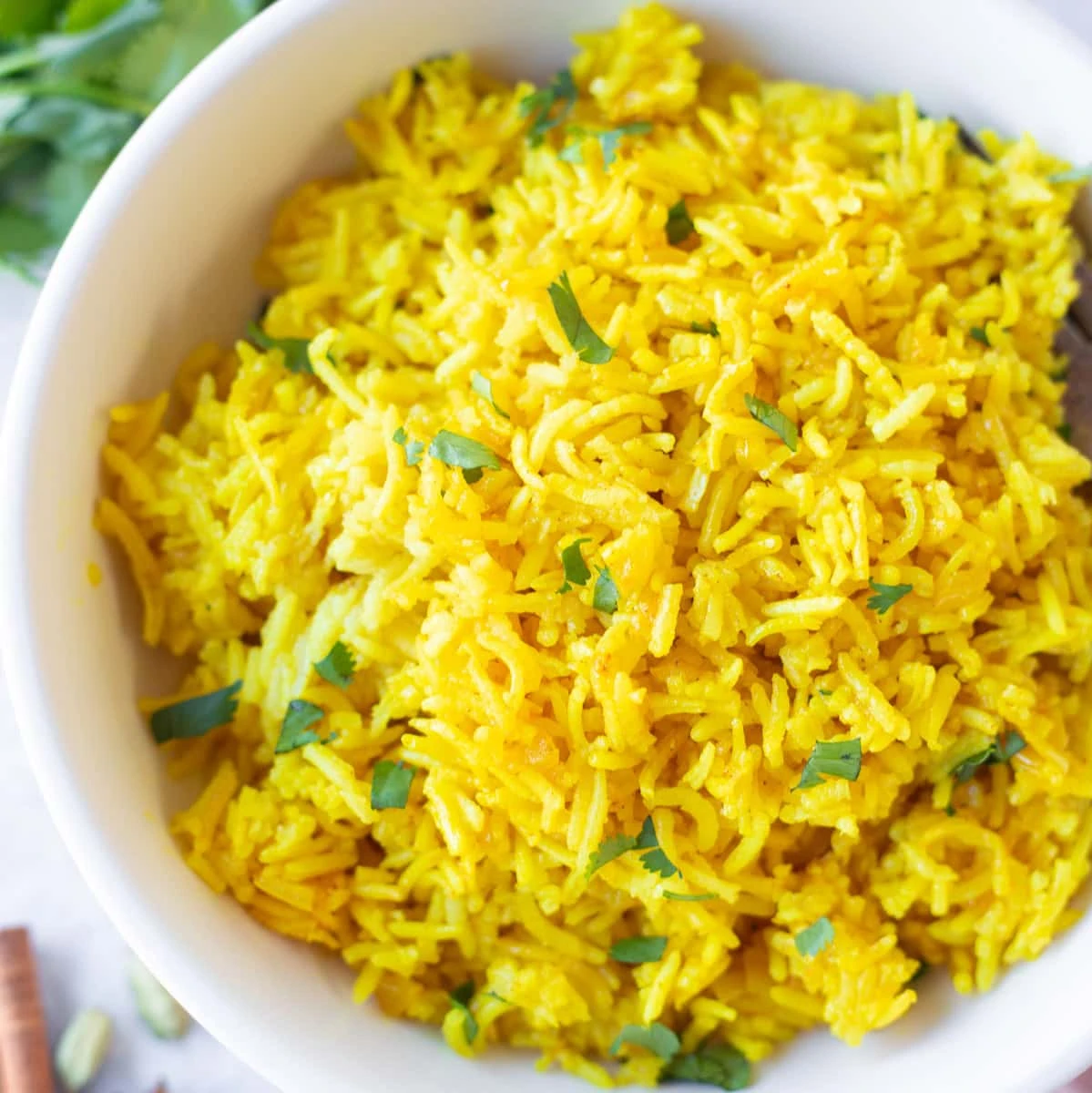 This fragrant and flavorful Indian Turmeric Yellow Rice is a healthy alternative to your regular white rice. Try this easy recipe to learn how to easily make this vibrant rice on the stovetop or in the instant pot.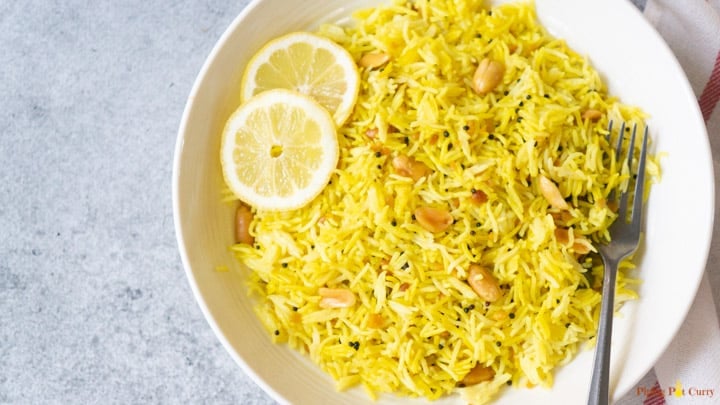 Flavorful, tangy and crunchy Lemon Rice from South India. Aromatic basmati rice flavored with lemon juice, mustard seeds, ginger and topped with roasted peanuts. It takes less than 30 minutes to make this delicious Lemon Rice.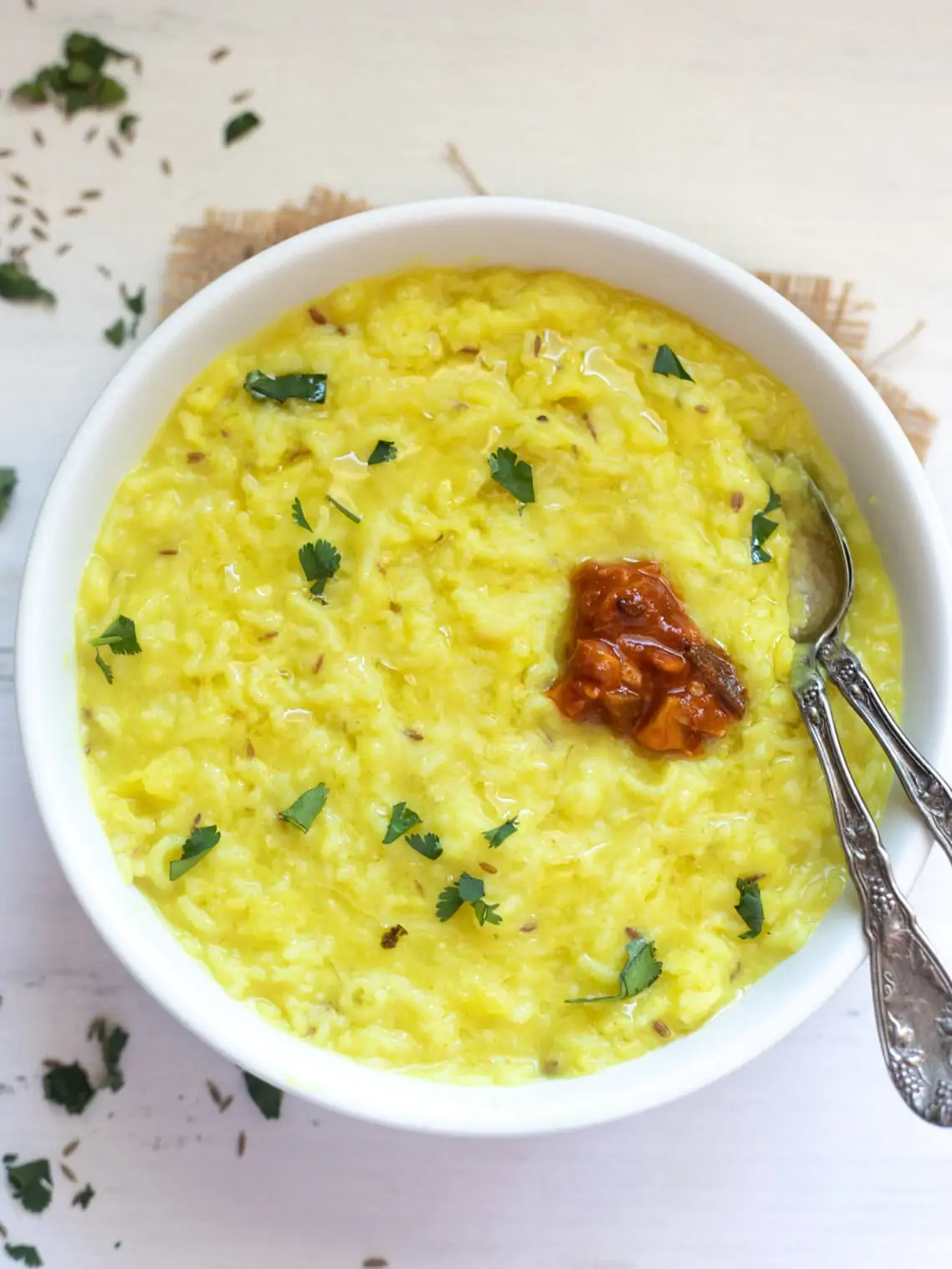 Moong Dal Khichdi, or Kitchari is a simple dish made with rice and lentils, tempered in ghee with cumin seeds and turmeric.
It takes less than 30 minutes to make and is a perfect comfort meal for weeknights or when someone is under the weather!
Check out 25+ Indian Rice Recipes.
Breads
Flatbread, both leavened and unleavened, are a staple of Indian cuisine. Here are some Indian bread varieties that you will enjoy with curry and other sides.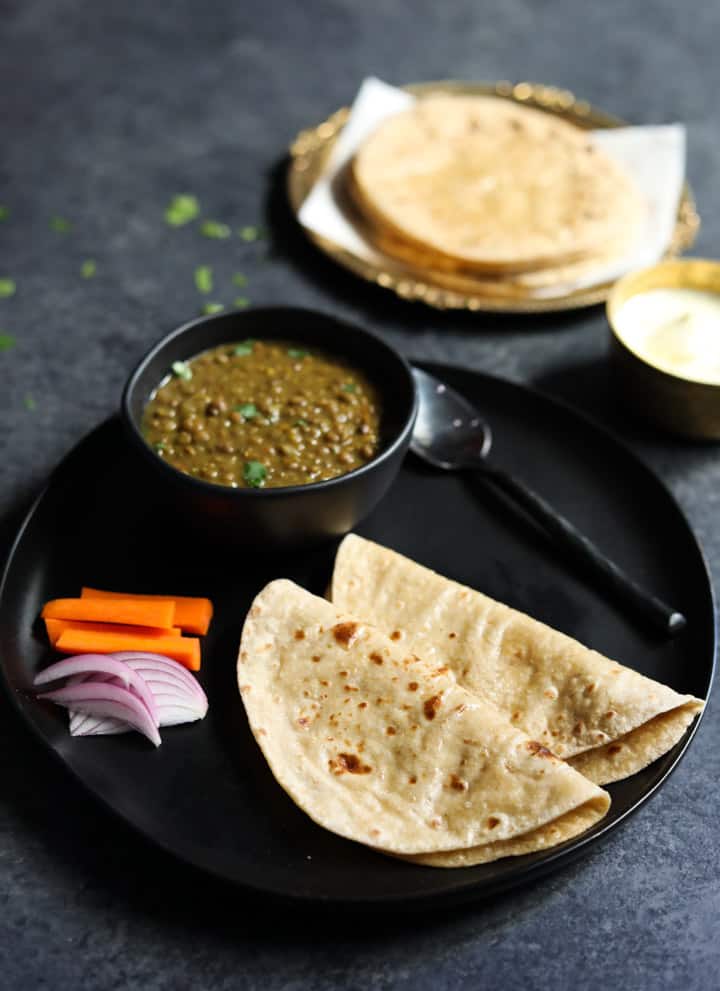 One of the most popular bread in Indian homes is Roti, also known as Chapati or Phulka. This is an unleavened bread, made with whole wheat flour and water, and typically topped with ghee.
This whole wheat Indian flatbread is typically enjoyed as a side with curries or lentils. Roti is a perfect accompaniment to curries as you can scoop the curry with it!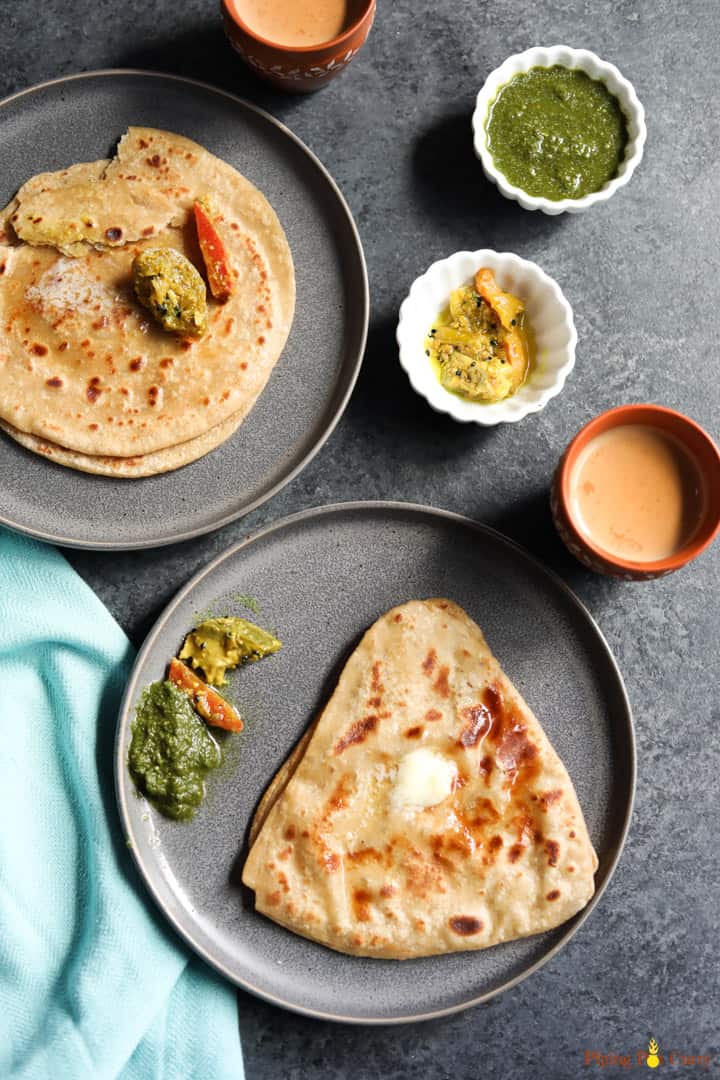 Another popular flatbread popular in North India is Paratha.
Parathas made with the same ingredients as roti, but are thicker, and made by layering and rolling the dough, then cooking on the griddle with ghee or oil.
They are enjoyed with pickle and a hot cup of chai for breakfast or alongside curry and yogurt raita for lunch or dinner.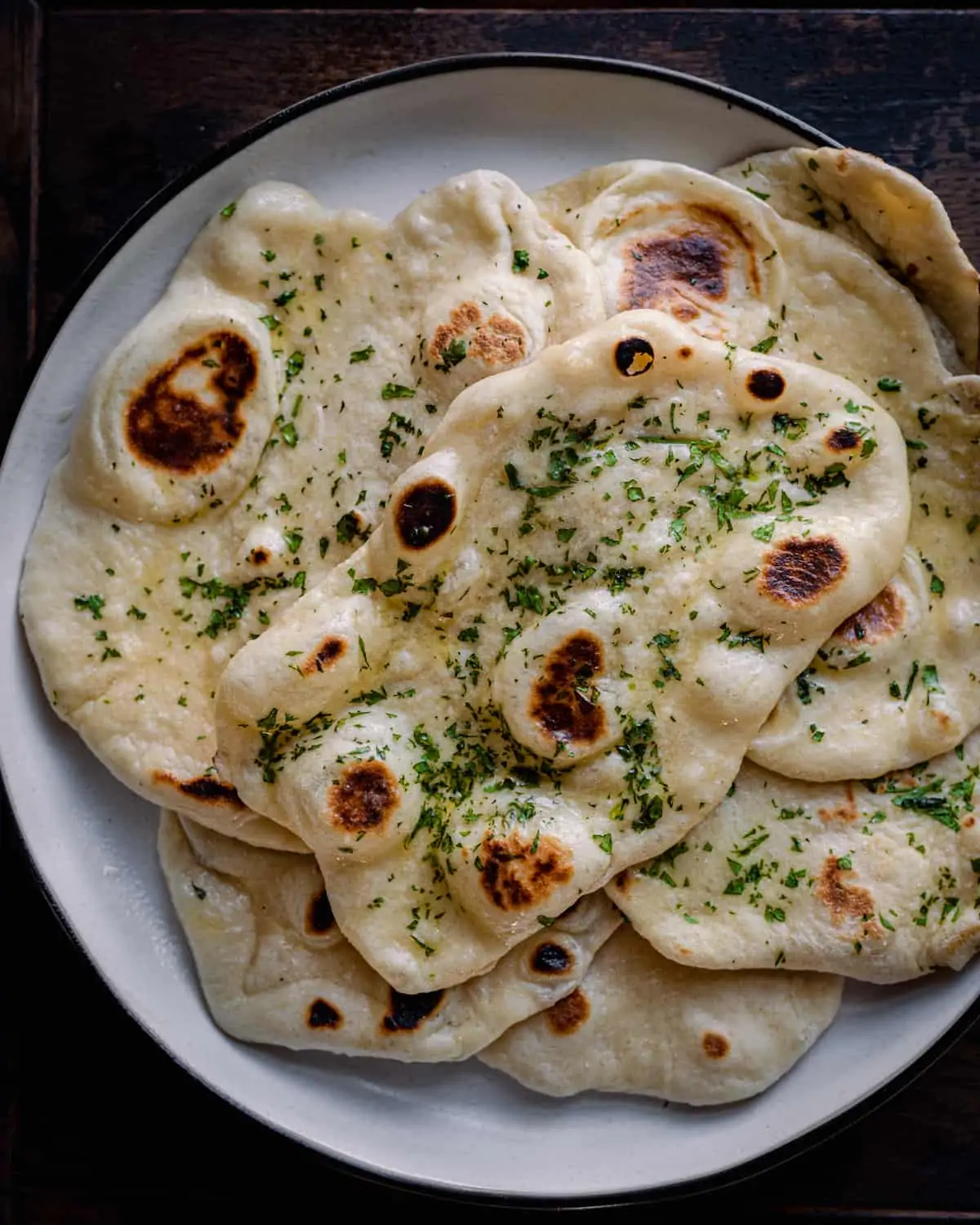 Naan is a popular Indian leavened flatbread, which is mostly enjoyed at restaurants. This vegan version is just as tasty as the regular naan bread.
Naan is thicker than roti, and made with yeast, which gives it the fully soft texture. It's fluffy and pillowy, soft and chewy on the inside but crisp and flaky on the top.
It melts in your mouth and is ideal for scooping up mouthwatering Indian curries and other sides. You can have plain naan or variations such as garlic or cilantro naan.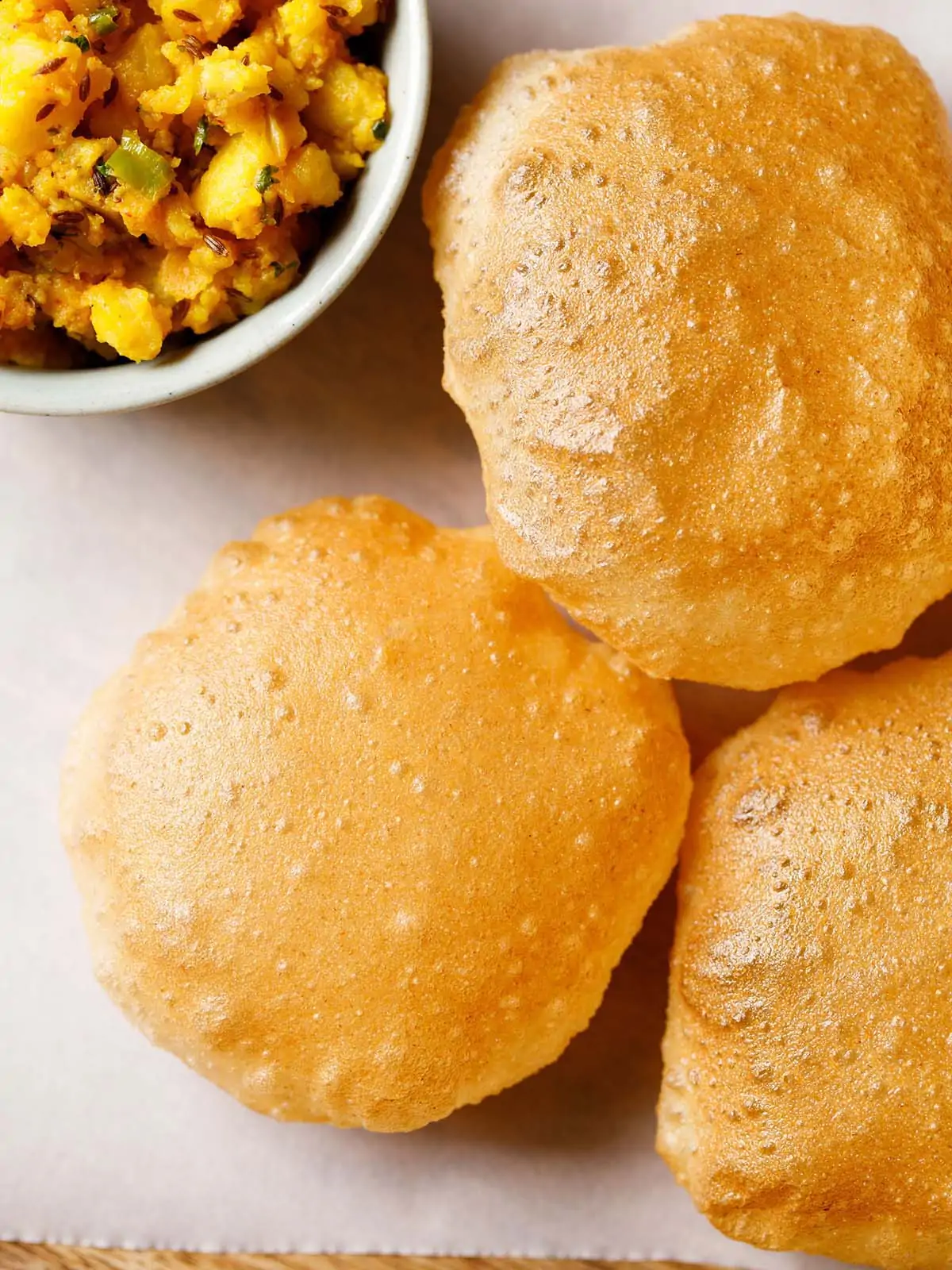 Puri, also known as Poori, is a typical Indian fried bread that goes well with practically any main course.
It's made with whole wheat flour, salt, and water. These are crispy, fluffy, and soft – and you'll enjoy making homemade puri to serve with your favourite dishes!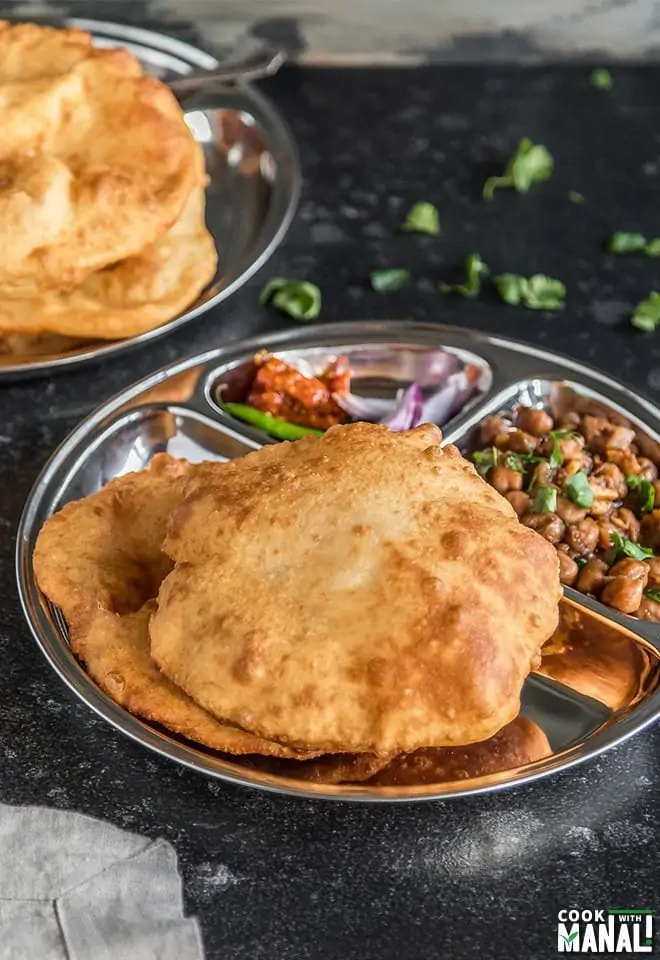 Bhatura is another popular puffed Indian deep-fried bread that goes well with chole (spiced chickpea curry).
It is a traditional North-Indian side that is served with Chana Masala, onion salad and pickles. It's a street food you can't resist.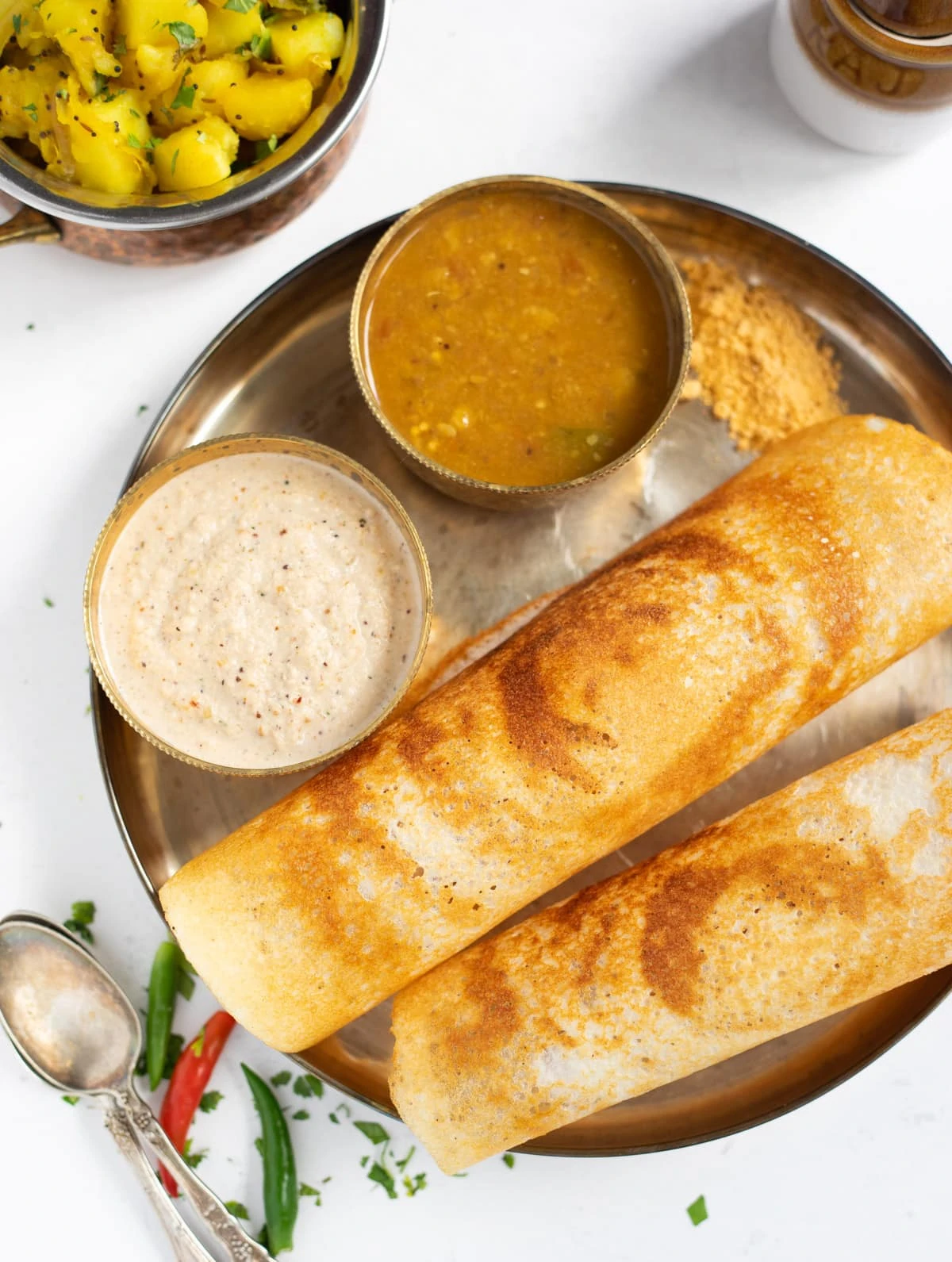 The most popular south Indian bread is dosa. Dosa is a thin crepe made from a batter of lentils and rice.
These crispy thin crepes are a favorite for kids and adults alike. If you have not tried, they are a must try!
Raita, Chutneys & Salads
Chutneys are condiments that add the extra zing to your meal . Although most people are familiar with fruit chutneys such as apricot, and mango, some of the best Indian chutneys are herb-based, such as cilantro and mint.
Raita is frequently served alongside spicy foods. The side is used to make the dish more pleasurable and tasty by cooling it down.
Indian salads are the perfect healthful companion to dry dishes and truly elevate the meal. These are prepared with fresh ingredients and simple dressings.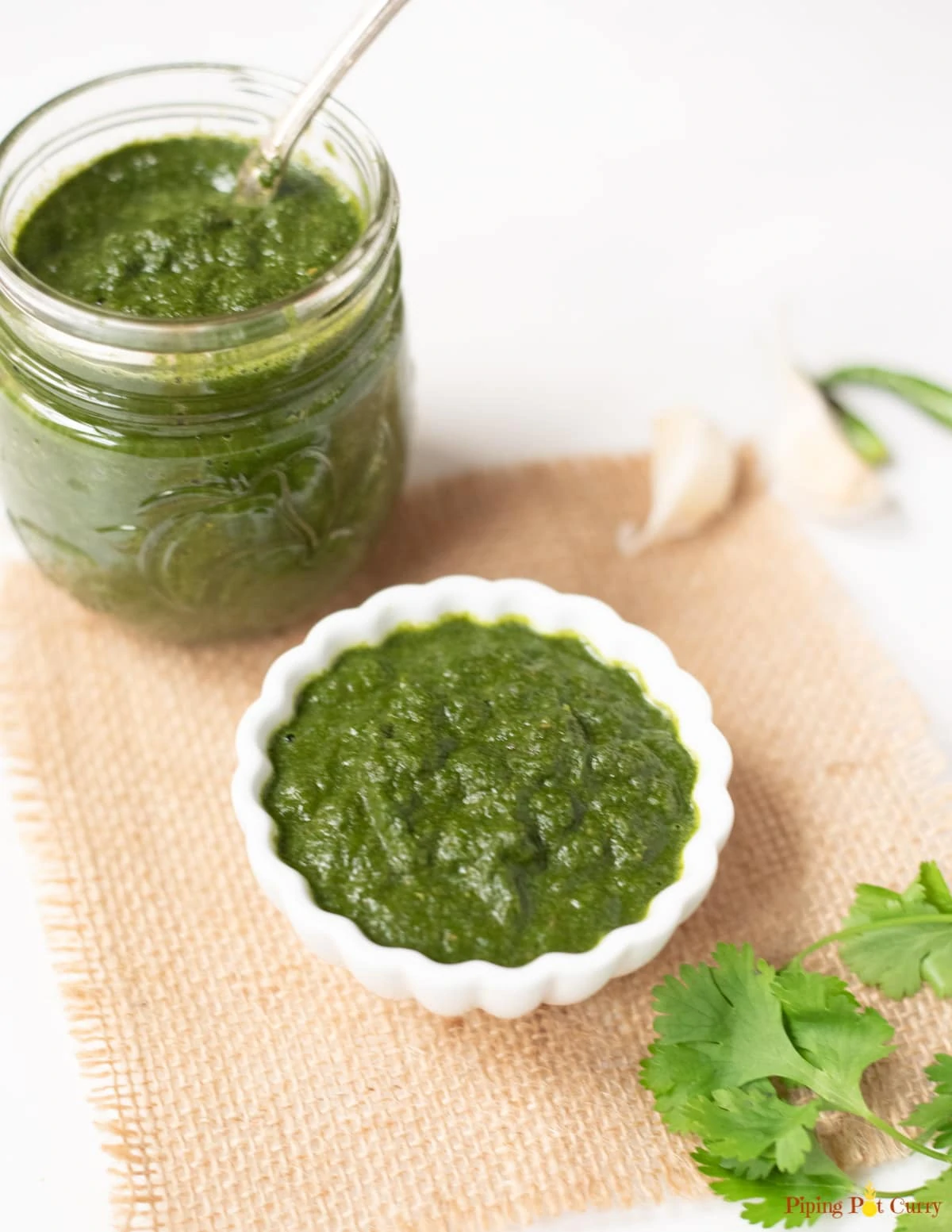 A cool, spicy and tangy green chutney. This no-cook mint cilantro chutney is a must-try accompaniment to Indian food.
Indians not only enjoy this chutney with appetizers such as samosa, chaat, kebabs and sandwiches, but also with their main meals. This Indian green sauce is so versatile, and can be varied with simple ingredients such as tamarind or coconut!
This easy homemade Indian Cucumber Raita is so refreshing. Serve it as an accompaniment to biryani, pulao or any Indian meal.
Made with grated cucumber, yogurt, and flavored with spices, it a perfect easy side dish.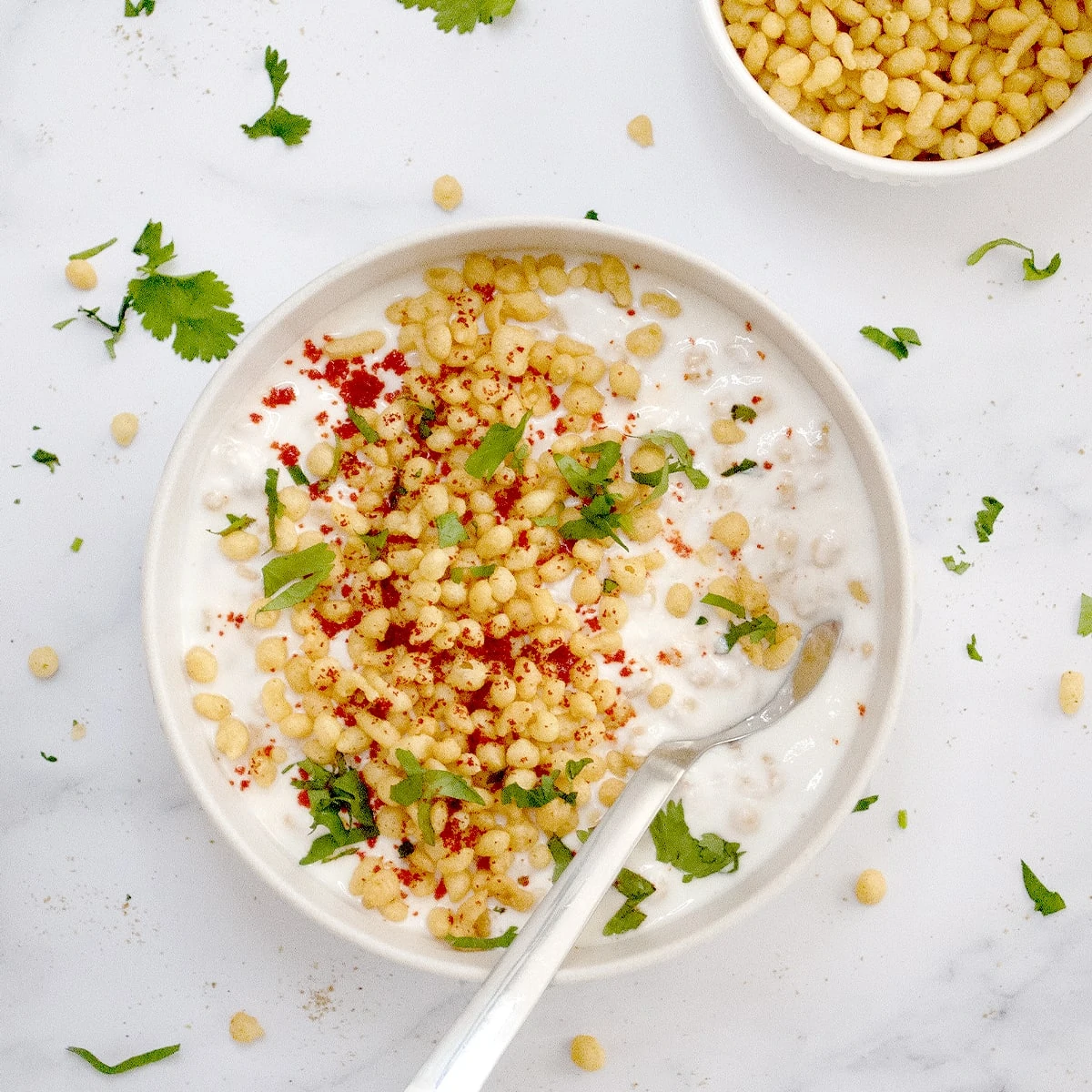 This easy traditional Indian condiment Boondi Raita is so crispy and creamy.
Made with whisked yogurt and flavored with spices. It is gluten-free and goes well as a side with any Indian meal.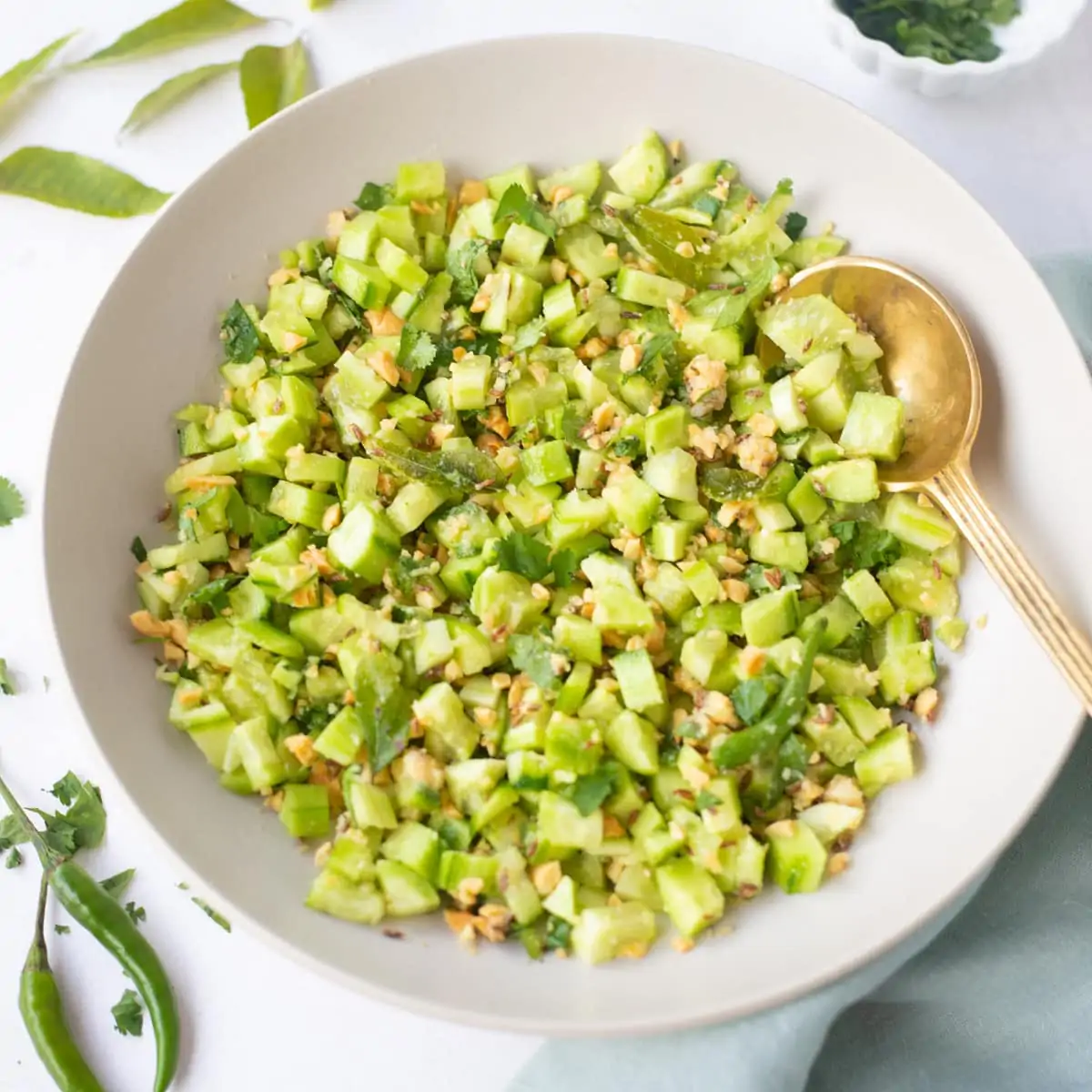 Kakdi Koshimbir, also known as Khamang Kakdi, is a simple, easy to make, refreshing Indian cucumber salad bursting with crunch and flavor.
This hydrating, low-carb recipe can be made in just 15 minutes, and is a delicious vegetarian and gluten-free side dish!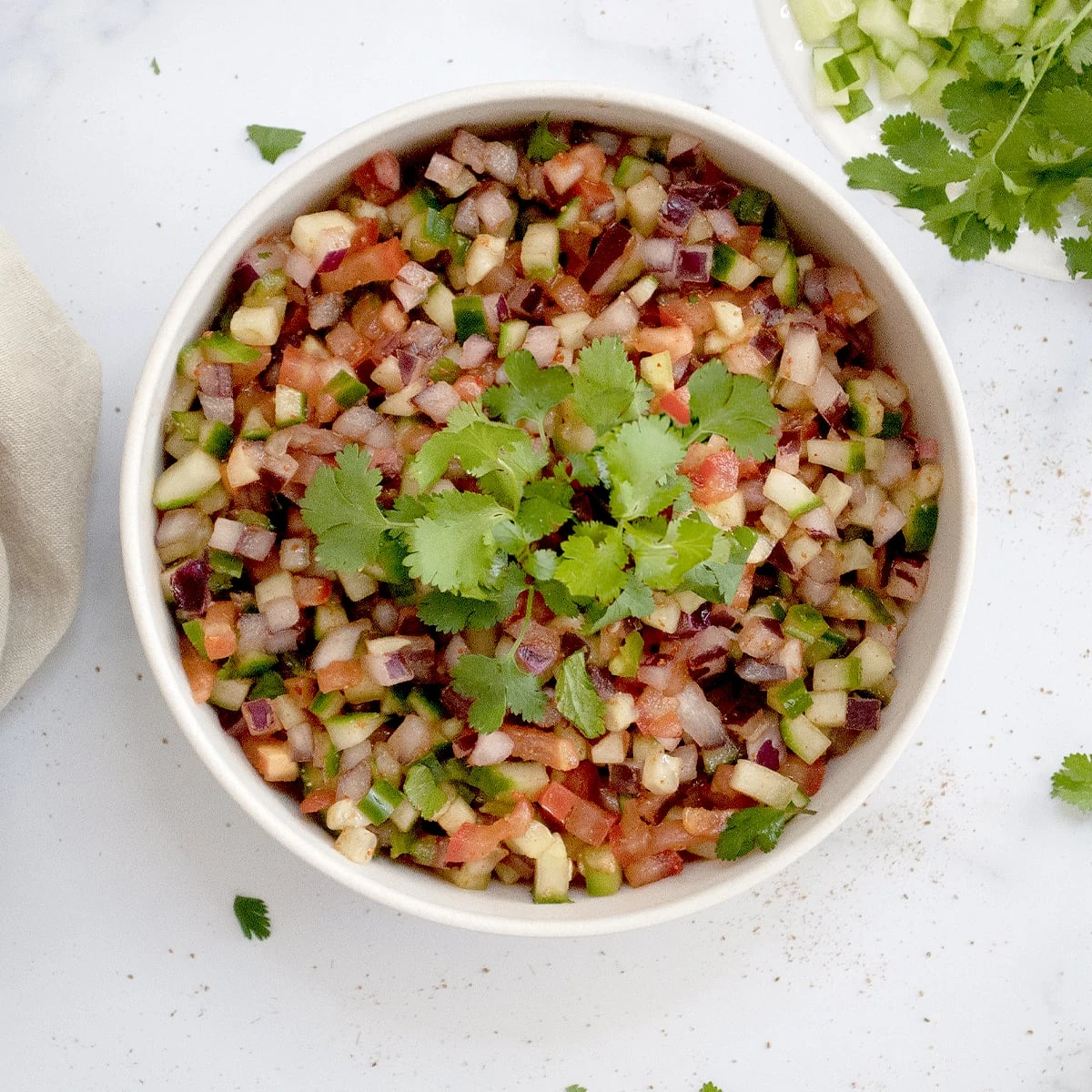 This healthy satisfying Kachumber salad is so easy and refreshing. Made with chopped onions, tomatoes, cucumbers and seasoned with spices, serve it as a side with any Indian food. It is vegan, oil-free, and gluten-free.
Check out 12 Indian Salad Recipes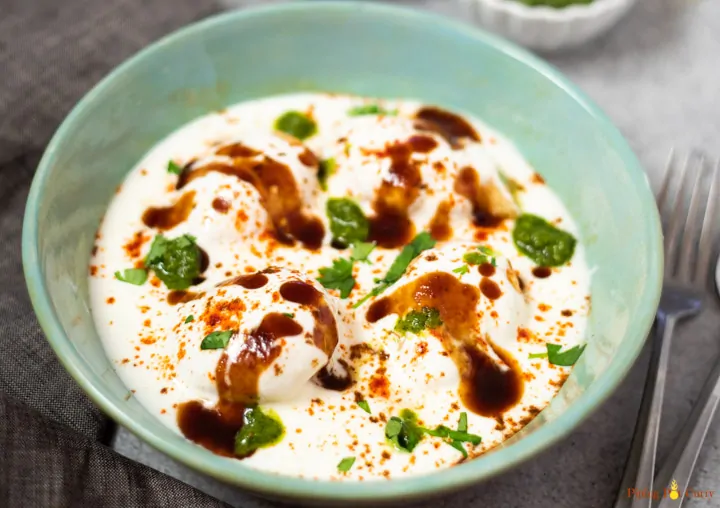 Dahi Vada or Dahi Bhalla is a North Indian favorite side dish. This is usually served on special occasions.
It has the softest lentil fritters drenched in creamy yogurt and topped with sweet and spicy chutneys. This popular yogurt side dish is loved by all and is a perfect inclusion to any festive menu!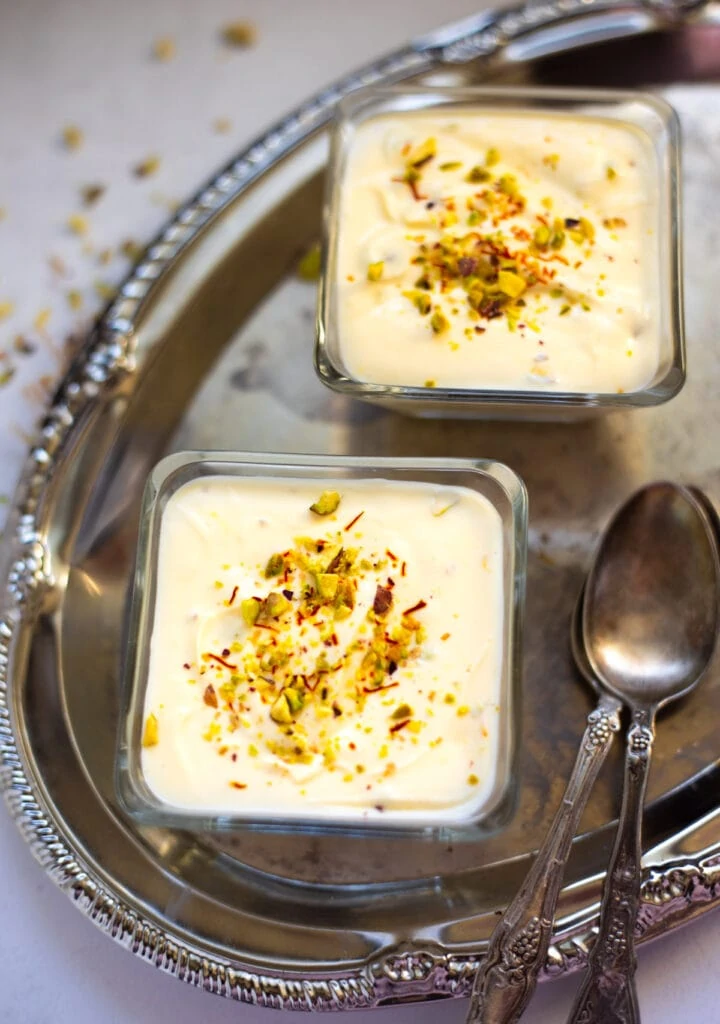 Shrikhand, a refreshing & sweet Indian side or dessert. Creamy smooth yogurt is mixed with sugar and cardamom, and garnished with saffron and pistachios to make this luscious Kesar Elaichi Shrikhand.
Shrikhand with puri is a favorite combination served on special occasions in the western states of India.
Potato, Veggies and Greens
Pairing main dishes with healthy vegetable sides is a great way to boost the nutrition in your meals. Indian spices like garam masala take potato and vegetable side dishes to new heights boasting great flavor profiles and adding some heat and eccentricity.
Greens make excellent side dishes when cooked dry or as a gravy. The most common green is spinach, but mustard or other greens like Fenugreek (methi) can also be used. "Palak" refers to spinach in particular.
If you like potatoes, this is going to be your new favorite side dish - Bombay Potatoes or Masala Aloo.
Baby Potatoes cooked with aromatic spices, perfect to serve as a side dish. These delicious and easy spicy Bombay Potatoes take just 20 minutes to make.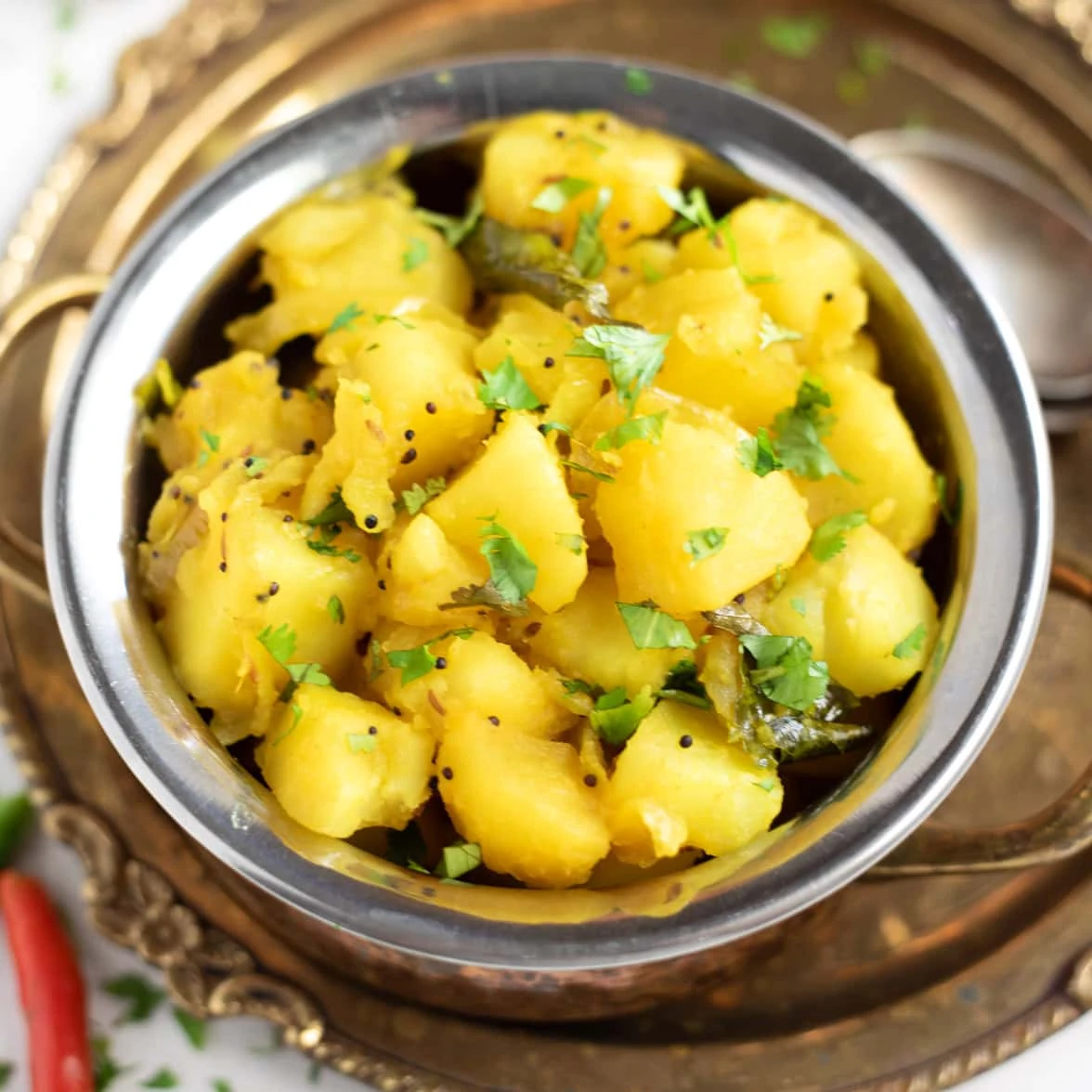 This delicious Potato Masala is so easy to make as a one-pot dish in the instant pot or stovetop.
These vegan potatoes can be used as a stuffing for the South Indian favorite, Masala Dosa, or as the popular Maharashtrian Batata Bhaji to pair with poori.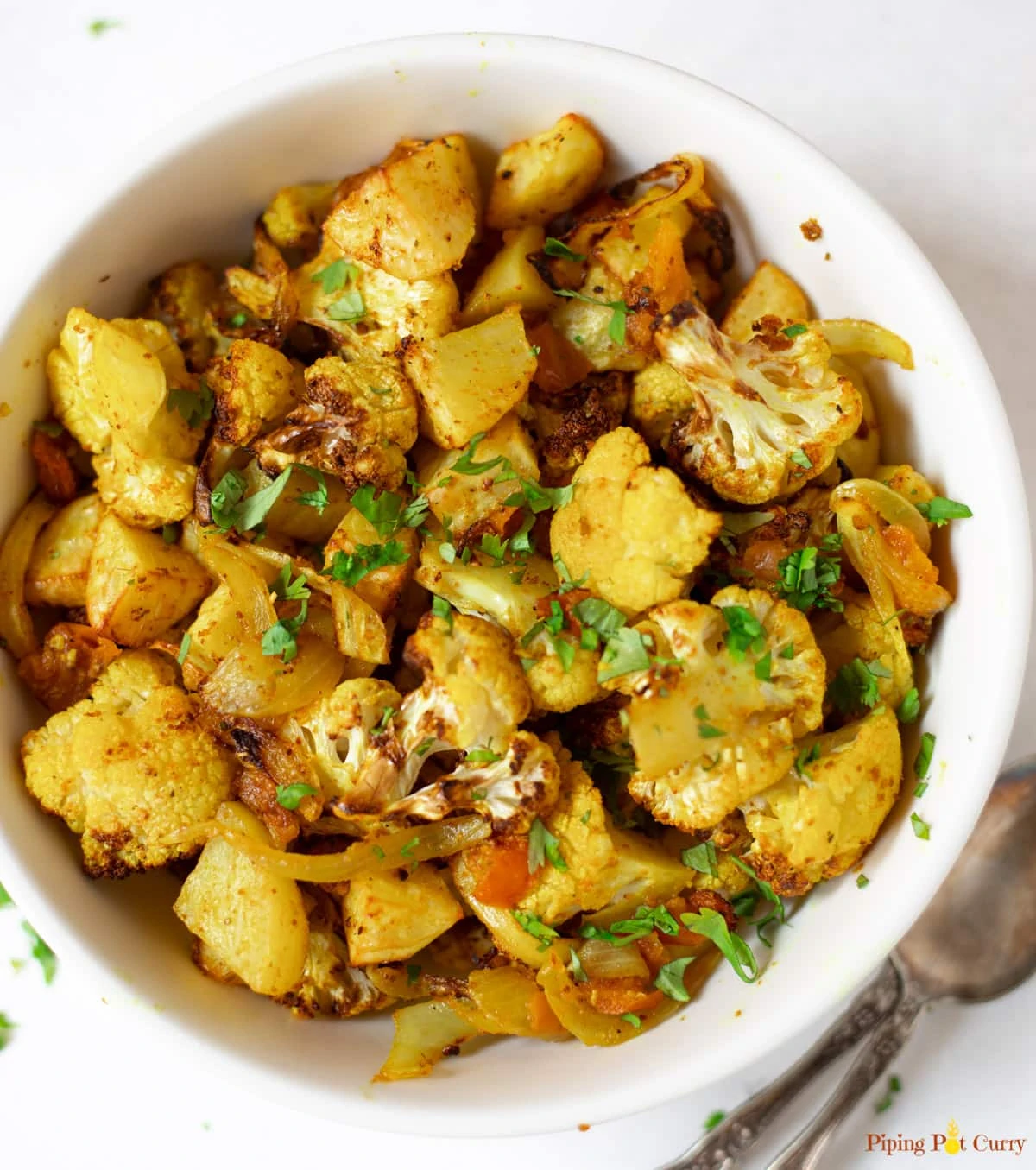 This Roasted Aloo Gobi is a wonderful easy side dish to your Indian meal.
All you need to do is toss cauliflower and potatoes in spices, and roast in the air-fryer or oven, and you have the perfect Indian veggie dish. No mushy cauliflower and takes less than 20 minutes to put together!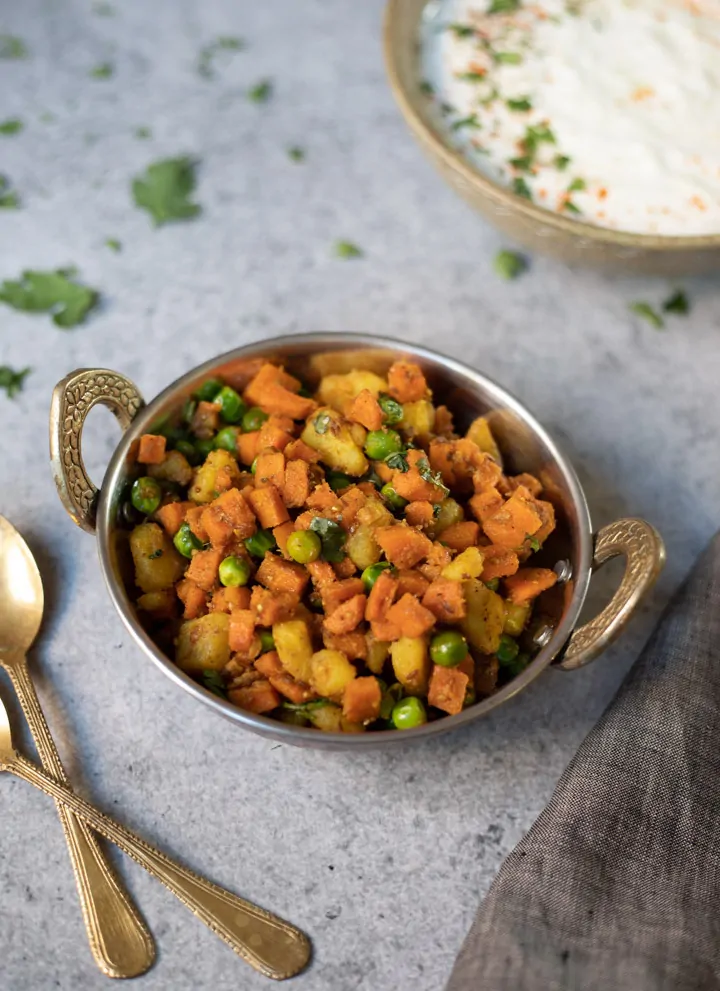 A simple, nutritious, and quick stir fry with potatoes, carrots and green peas, called Aloo Gajar Matar.
This Punjabi-style dry curry is perfect for a delicious weeknight dinner. Vegan & Gluten-Free!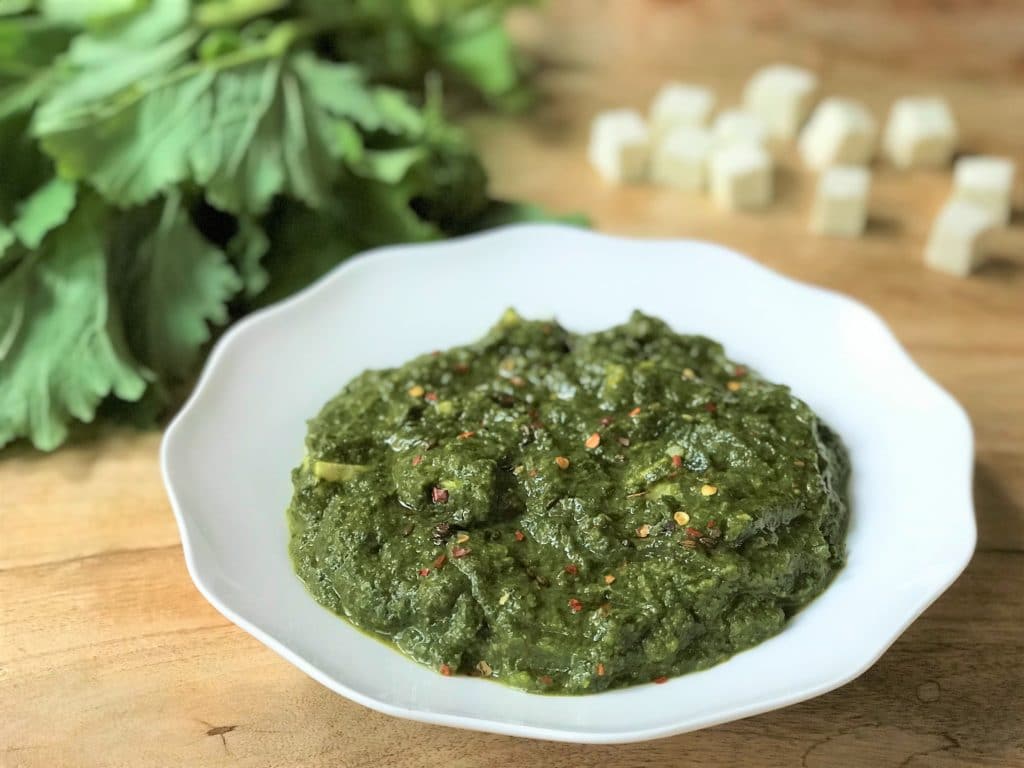 Saag Paneer is the authentic North Indian favorite side dish.
It is made with cooking mustard leaves and spinach with spices and cottage cheese, which makes it a delicious and nutritious dish. Make it in less than 30 minutes with this quick and easy one-pot recipe.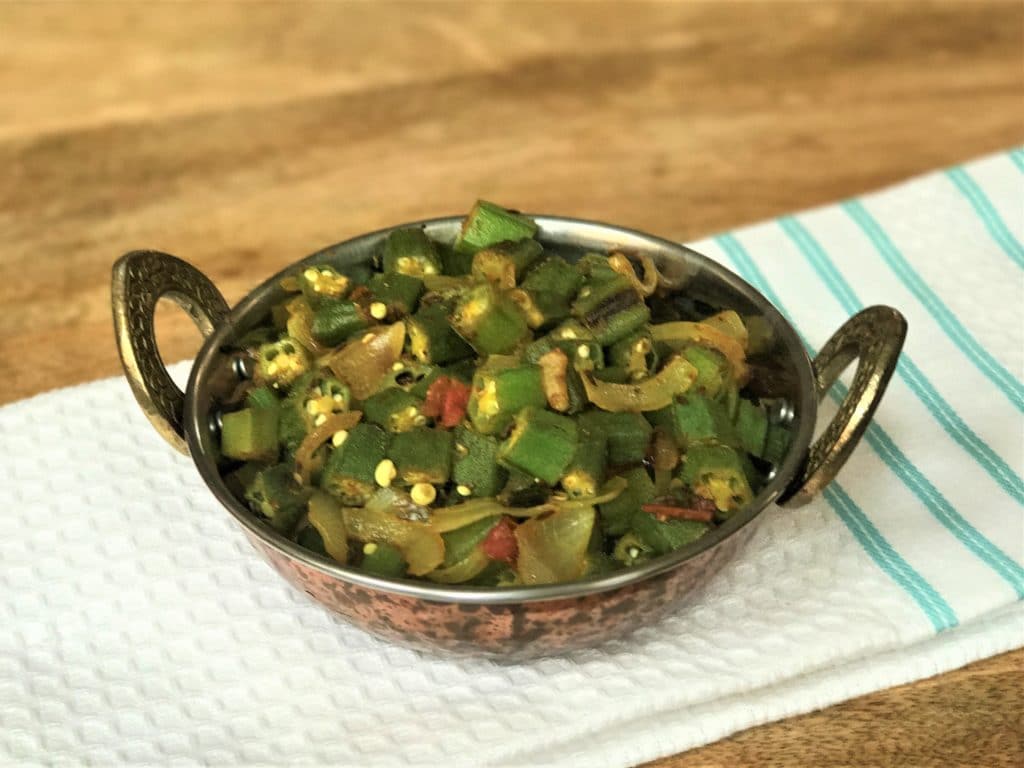 A North Indian favorite, Bhindi Masala. Okra cooked with onions, tomato, garlic and spices.
Even though many might not like okra, but Indians have perfected how to cook it with no slimy texture of okra.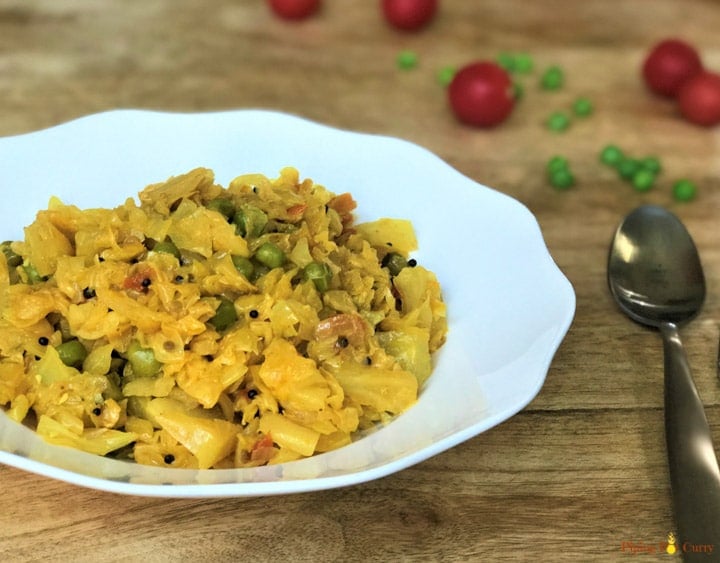 Cabbage and Green Peas cooked with garlic, tomato and spices. This simple homestyle side dish is vegan and gluten-free, and can be made low carb/ keto-friendly by skipping green peas.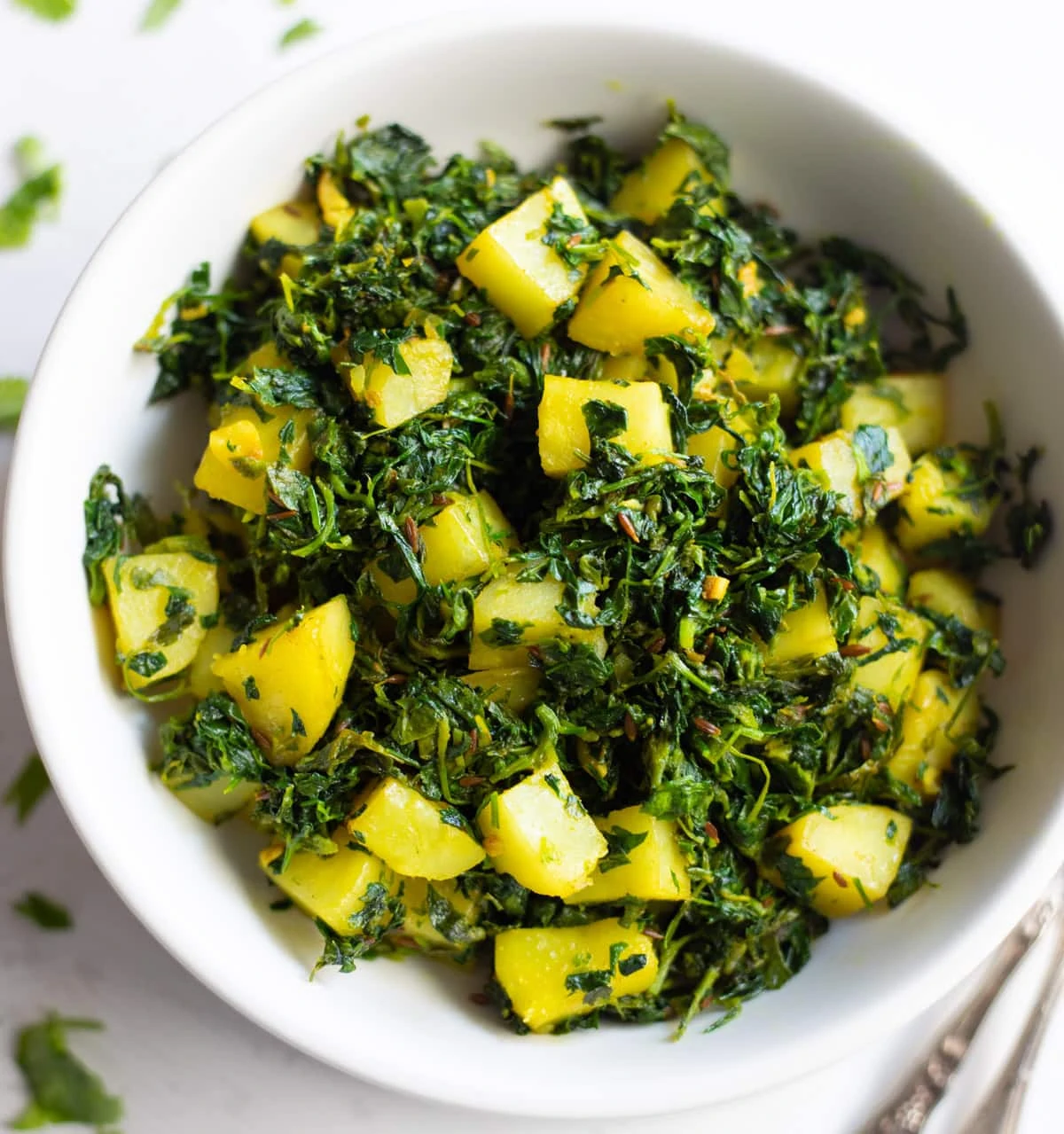 Aloo Methi is a simple Indian stir-fry packed with lots of flavor and nutrition.
Sautéed in mild spices, Aloo (Potato) and Methi (Fenugreek leaves) is a wonderful accompaniment to your meal.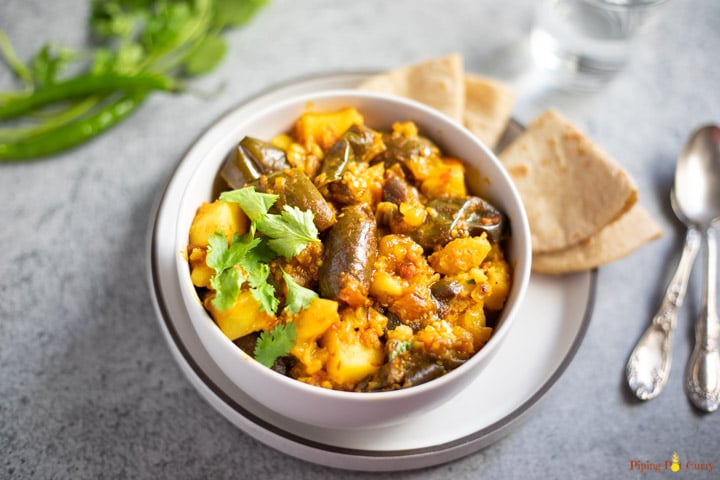 Aloo Baingan Masala is an easy curry made with potatoes, eggplants, and aromatic spices.
A vegan and gluten-free Potato & Eggplant Curry that is a perfect side with roti, naan or parathas.
Dal (Lentils)
Dal in Hindi means 'lentils', and it encompasses all lentil soups in Indian cuisine. The lentils are usually combined with water, turmeric, and salt before being cooked to perfection. You can actually cook a different dal everyday and even combine a couple varieties for an exotic taste.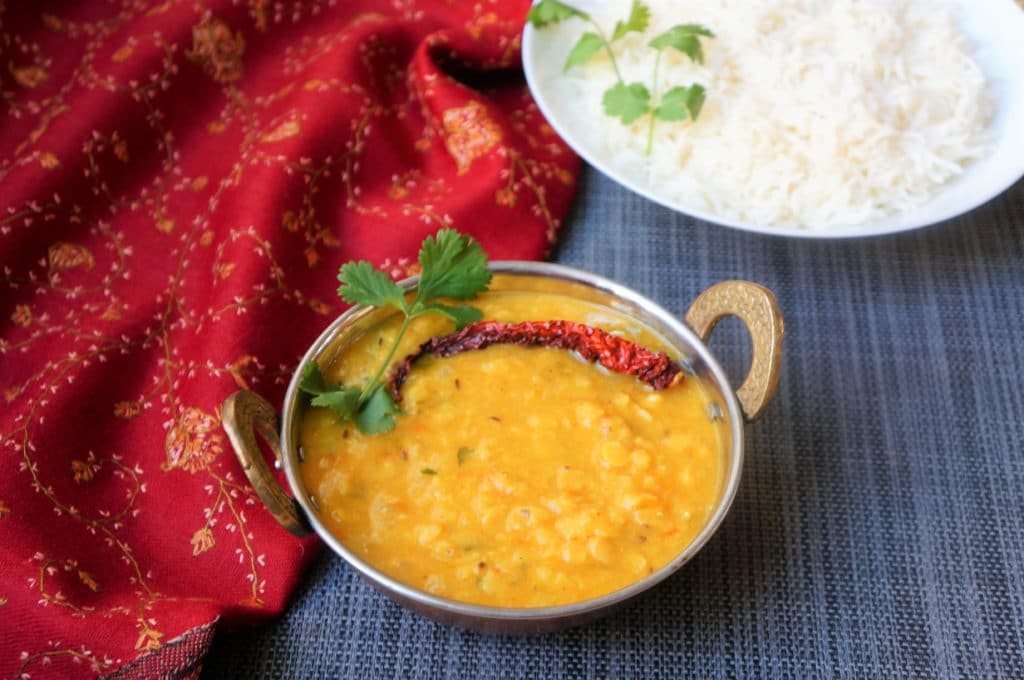 Dal and Rice is the most delicious Indian comfort food.
Toor dal or Yellow Split Pigeon Pea cooked with onions, tomatoes and flavorful spices is one of the most prepared dal soup in Indian homes.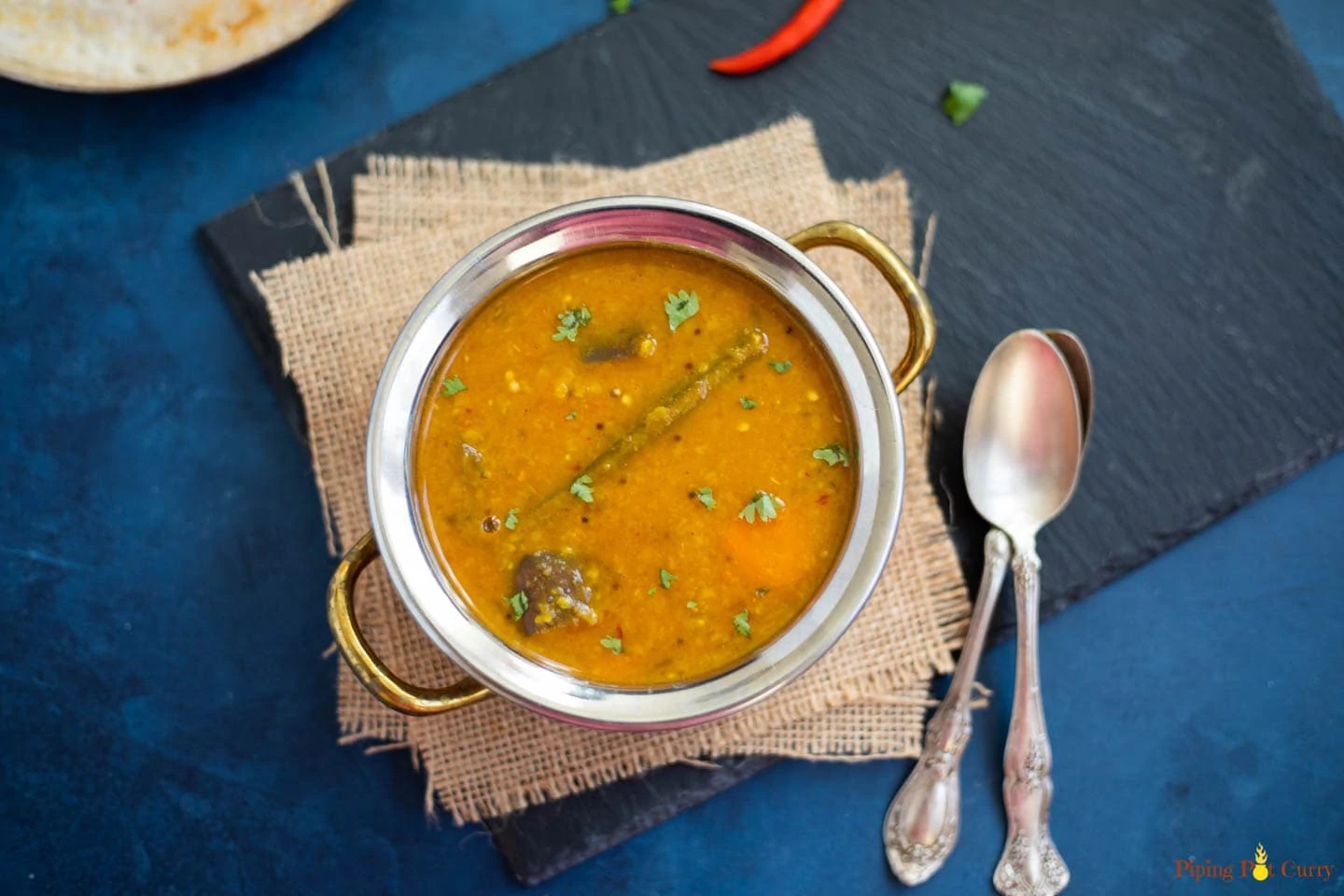 Sambar is a South Indian version of toor dal, typically enjoyed with idli, dosa or rice. Because of it's benefits and wonderful taste, it is popular all over India.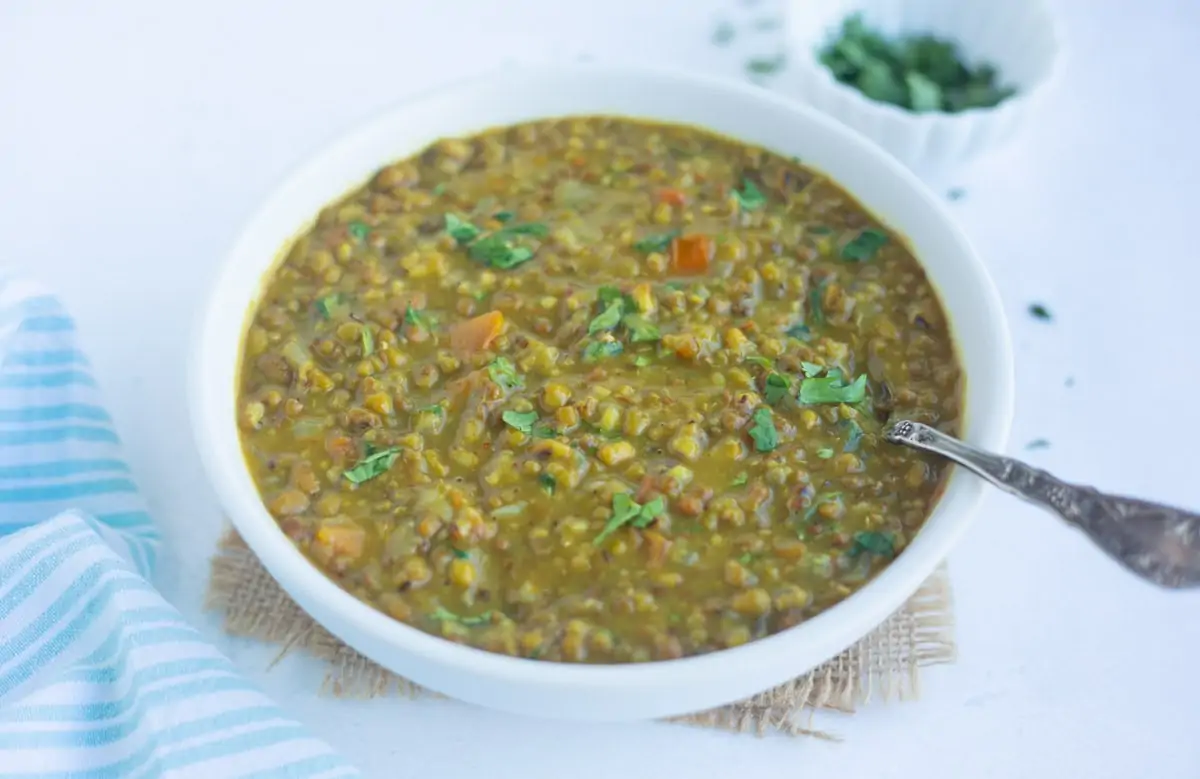 Wholesome Green Moong Dal is a delicious creamy lentil soup, that is so easy and quick to make in a pressure cooker.
Made with mung beans, onions, tomatoes and aromatic spices, this vegan mung bean curry is protein-packed comforting meal with rice.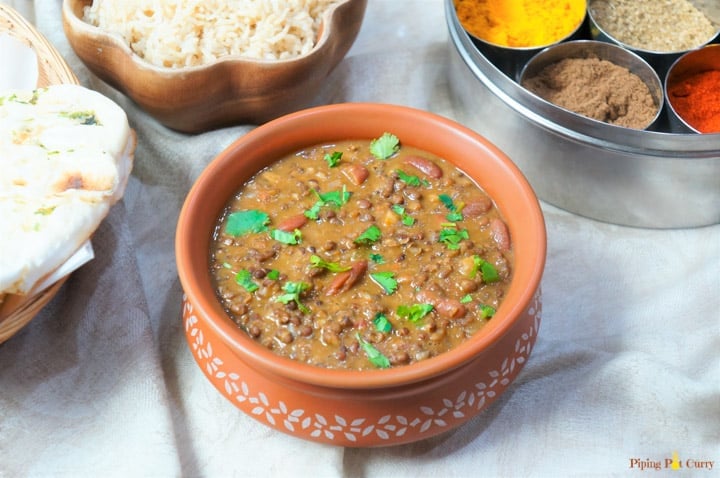 One of the most popular North Indian dal to order at restaurants is Dal Makhani. It translates to Buttery Lentils.
This restaurant-style Dal Makhani is rich, creamy and flavorful. Dal Makhani goes really well with basmati rice and naan.
Check out 25+ Indian Lentil & Bean Recipes
Crispy
A typical Indian thali is not complete without the pakora and the papadums. These add a crunchy texture to your meal!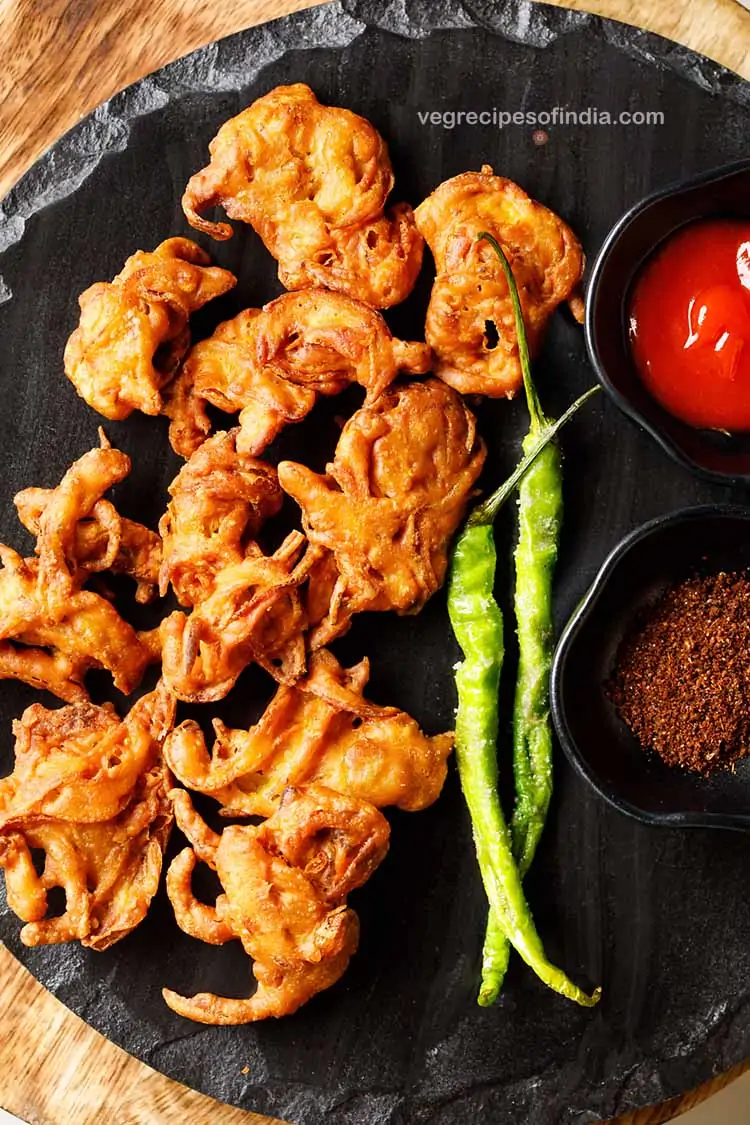 Onion pakoda are essentially gram flour (besan) based onion fritters. You can even use chickpea flour to make these.
These are a popular Indian street food. Onion pakoda, like many Indian recipes, is prepared differently in different parts of the country. It's an easy-to-make snack or side.
We hope we've inspired you with this fabulous list to try some of these easy-to-make Indian side dishes at home. Your family and friends will be blown away, and you'll be surprised at how simple it can be!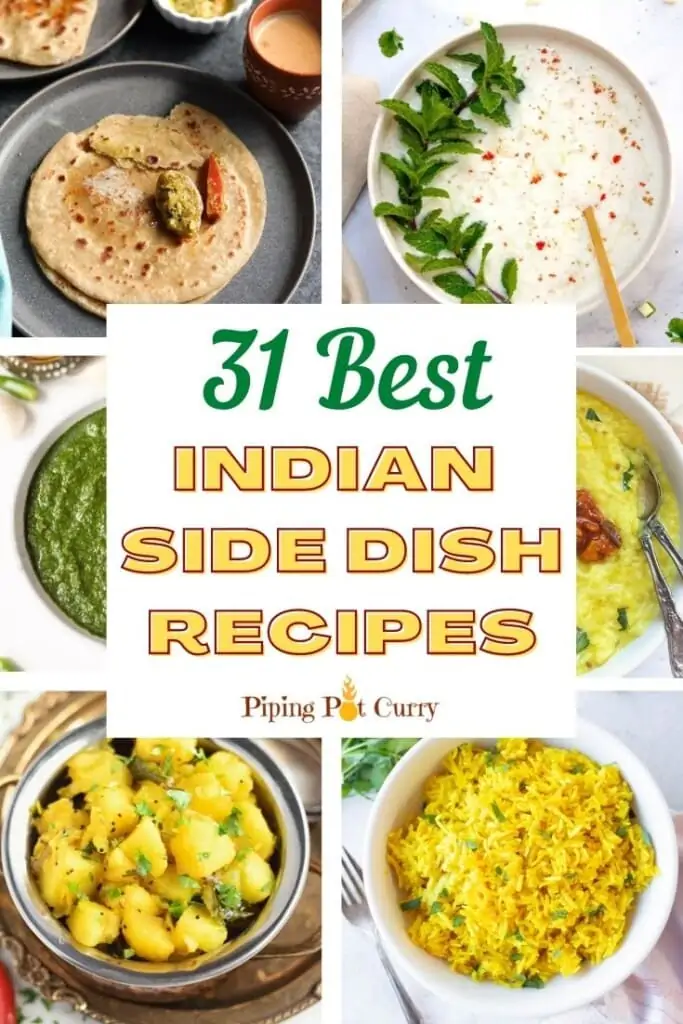 Check out: