Find our family favorites and must-buys at Trader Joe's in this shopping list. I will share my favorites from pantry staples and snacks, to sauces, produce, frozen and healthy foods!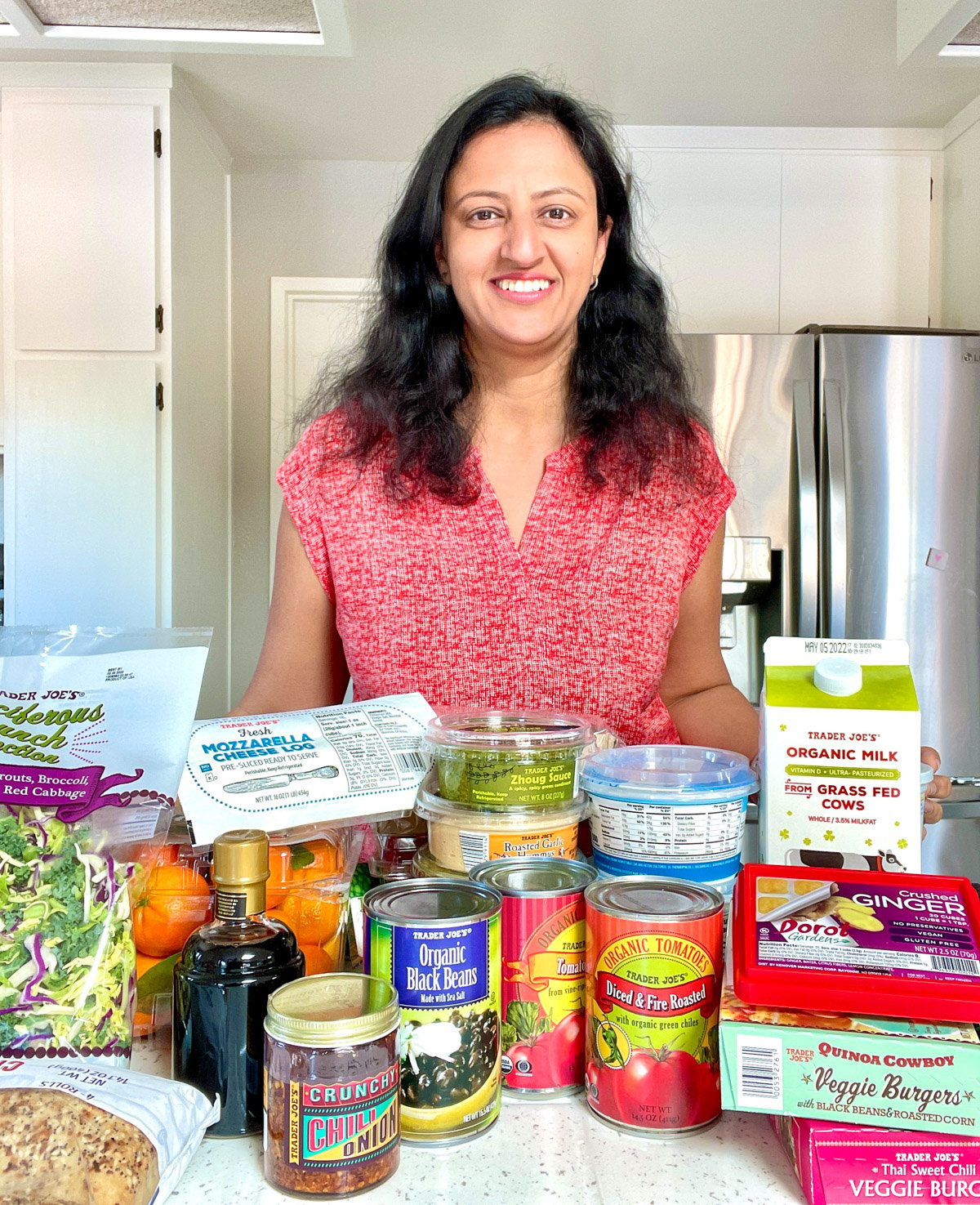 Whenever I share about my Trader Joe's haul on Instagram stories, I get a so many questions about the things I love to buy there.
Trader Joe's is one of my favorite places to get weekly grocery. I love that we can not only get produce and dairy, but also so many unique products from around the world that are so flavorful. And they are so reasonable!
So I am finally sharing my must-haves list here. Do bookmark this page, as I plan to keep updating it as I find new products we love!
I love to go for grocery shopping in person. Yes, I know most of you have switched to shopping online. But I love to find new products to try, and also it inspires me to create new recipes.
Also, Trader Joes does not have an online option. So all the more reason to step into the store for grocery shopping 😊
Table of Contents
Snacks
Organic Elote Corn Chip Dippers – They are like Fritos, with the Elote seasoning. They are perfect to enjoy with salsa or guacamole. $2.29/9.75oz
Trail Mix Crackers – These make for a perfect snack. They are sweet, savory, crunchy, all at the same time. $2.49/4.5oz.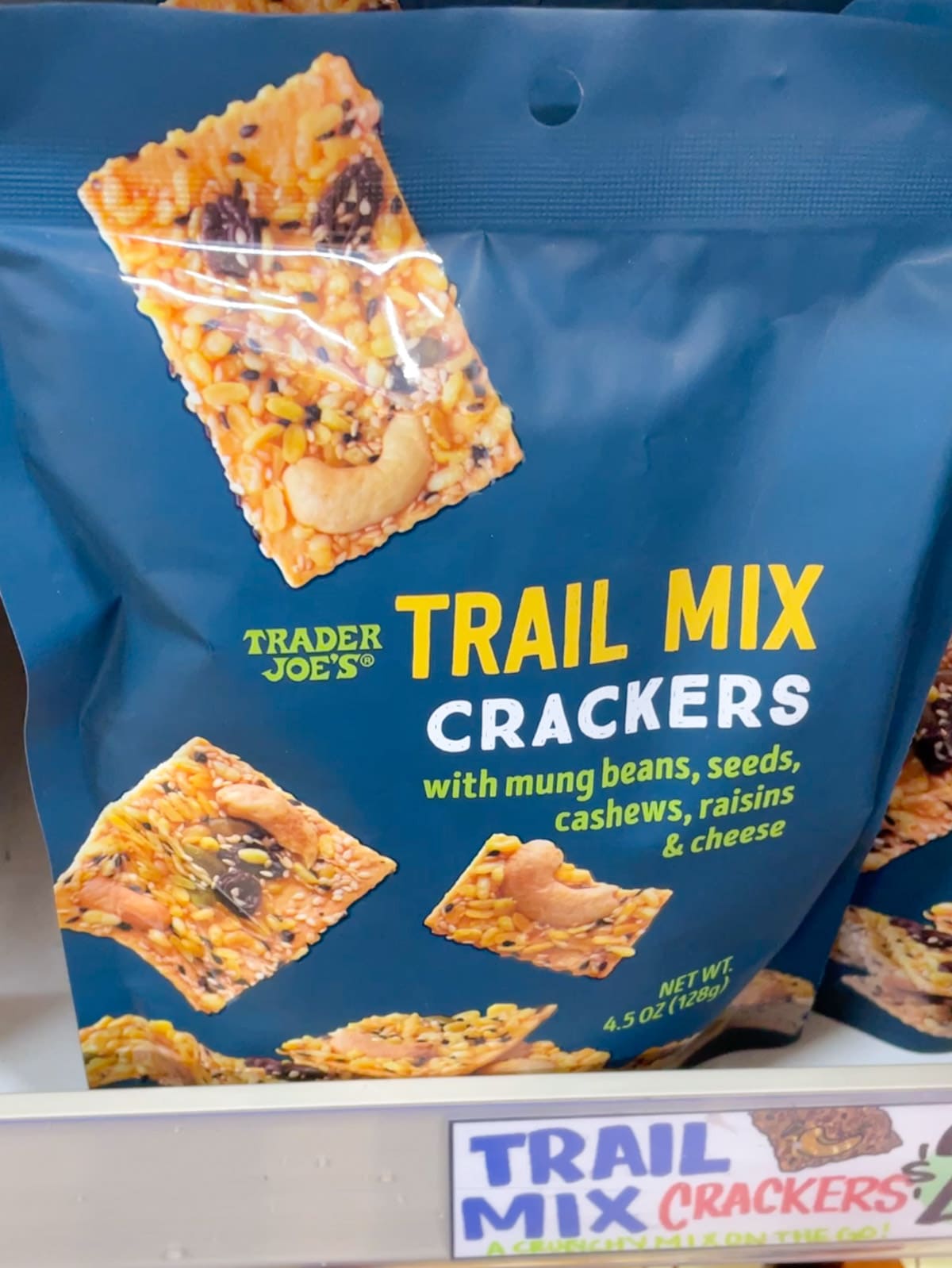 Spicy Chakri Mix – This Indian-style snack mix, called namkeen, is so good – crunchy and spicy. This mix has chickpea and rice flour sticks, peanuts, and more crunchies, mixed with spices. $3.29/7oz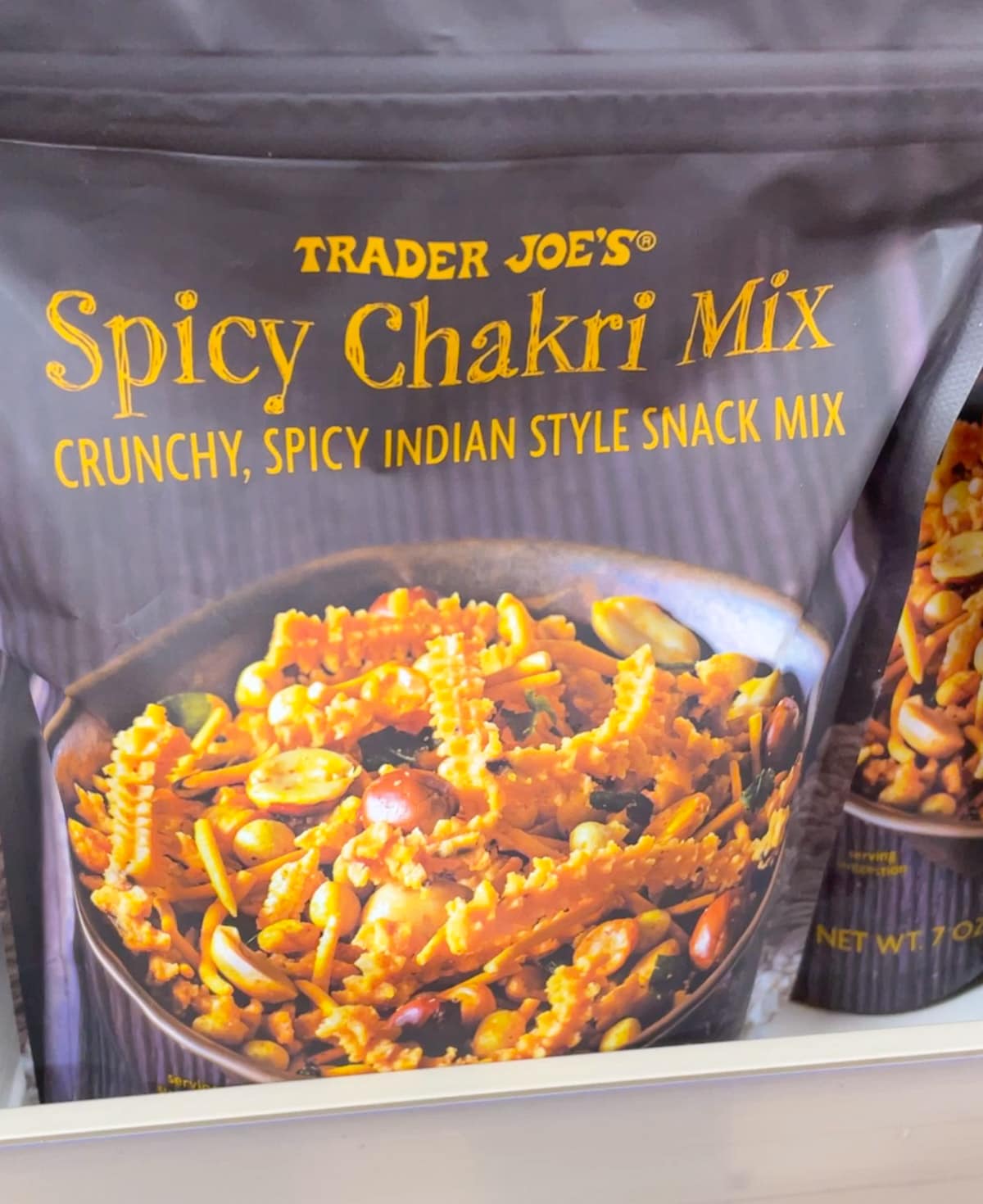 Sour Cream & Onion Rings – You will love this healthy variation made using red lentils and rice meal. These baked snacks are gluten free, and wonderfully crunchy. $1.99/2.5oz
Everything But The Bagel Kettle Cooked Potato Chips – As you might have figured out, we love everything but the bagel seasoning. So why not combine that with kettle cooked potato chips, and have a n amazing snack! $2.49/7oz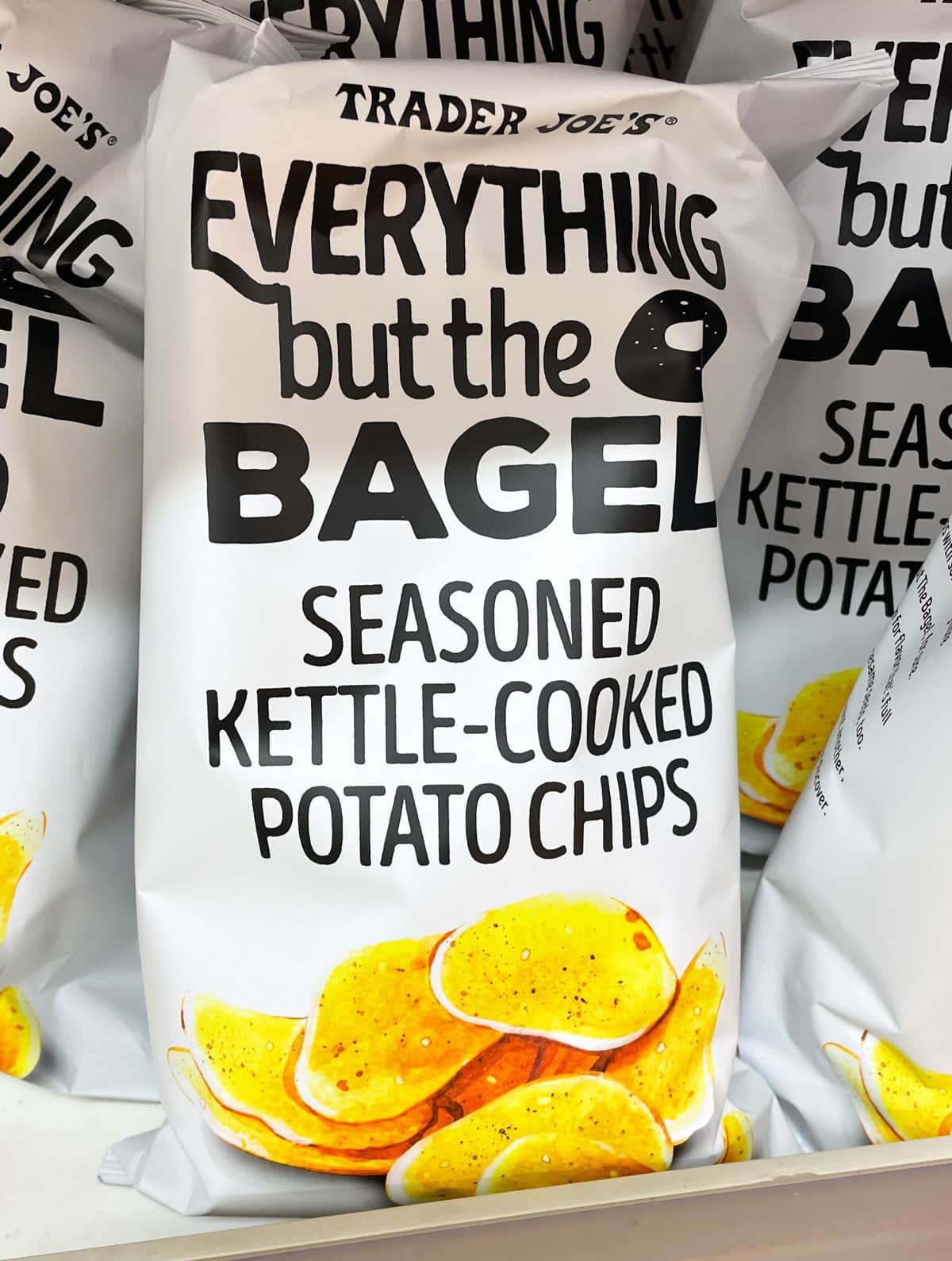 Baked
Ezekiel Sprouted Bread – This is one bread with very clean ingredients. It was suggested to me by a follower on Instagram. You might want to freeze it, as it does not keep too long on the counter. But this is totally worth it if you are trying to eat healthy.
Brioche – My kids love this brioche as is, and I love it to make bread pudding.
Chocolate Chip Pain Au Lait – Pain Au Lait translates to "Milk Bread", which is these sweet, moist, brioche-like rolls. I want to say my kids love it again, but actually I love this one just as much.
Everything Ciabatta Rolls – If you enjoy the Everything Seasoning, you are going to love these ciabatta rolls. They are coated with sea salt, dried onions & garlic, along with sesame and poppy seeds. They are just perfect to make sandwiches.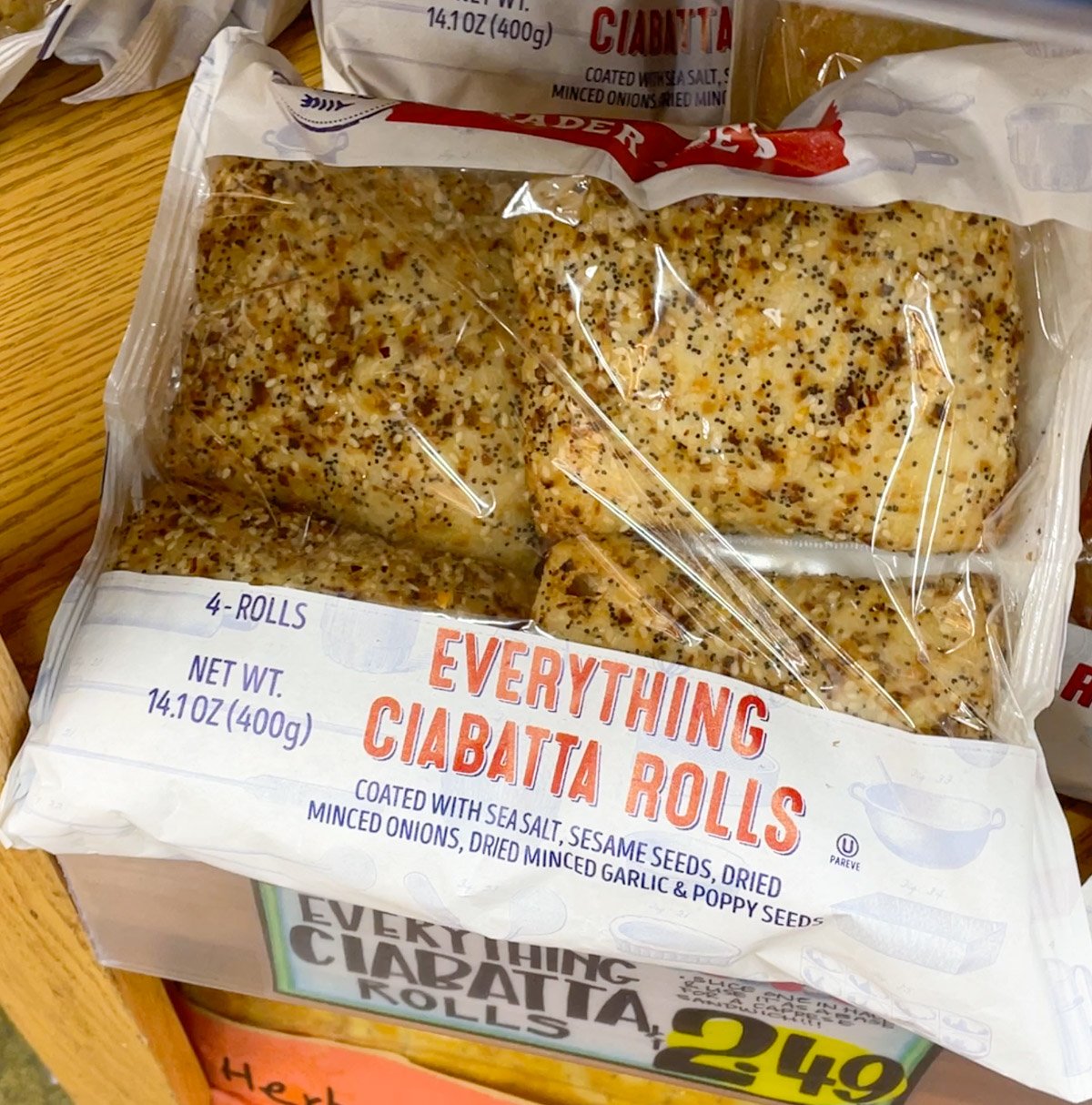 Everything Bagels – These bagels coated with seeds, onion, garlic and salt add so much flavor. They are perfect to enjoy for breakfast and snack.
Corn & Wheat Tortilla – These mini tortillas are soft and delicious – just perfect for tacos. They have minimal ingredients, great flavor of corn, yet flexible to make rolls or wraps.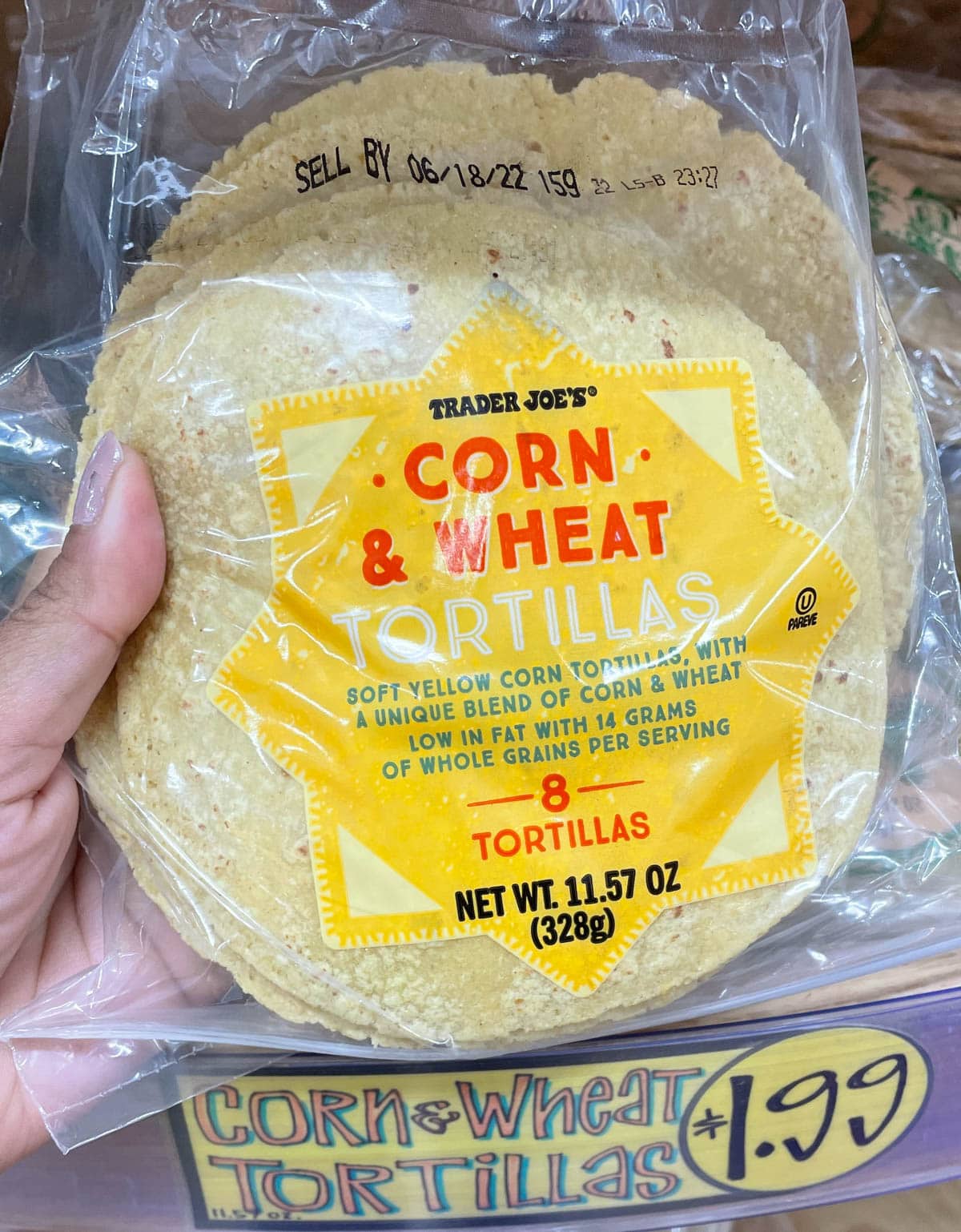 Frozen
Dorot Crushed Garlic & Ginger Cubes – I love these cubes to make cooking easier. They are frozen in single serve trays, which means you can pop one out and add it to your curry or stir fry. I always stash a couple extra boxes in the freezer!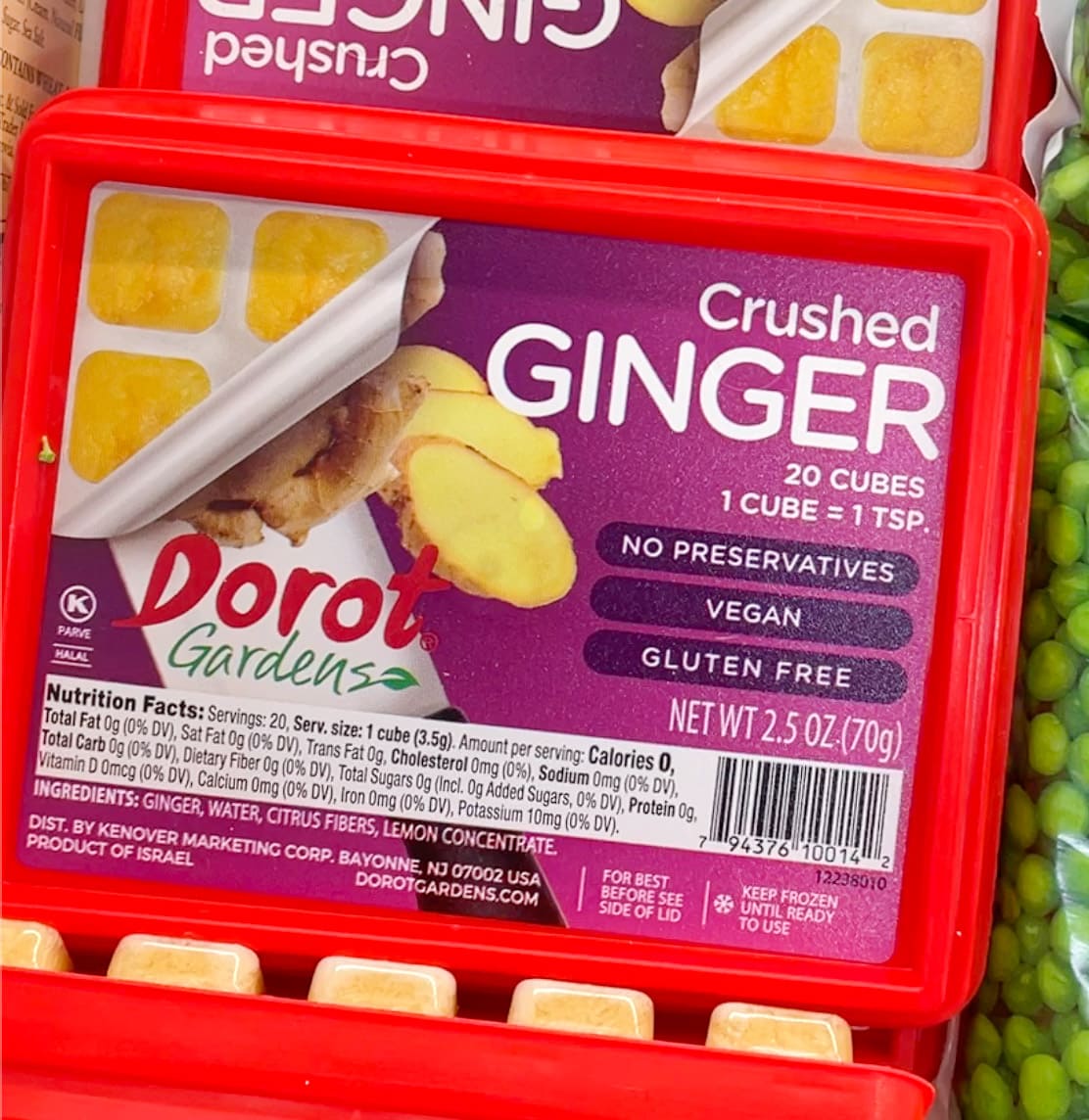 Masala Veggie Burgers: These Indian spiced burgers are are delicious. The patties are made with potatoes, carrots, corn, bell pepper, along with fragrant spices. $2.50 for 4.
Quinoa Cowboy Veggie Burgers – These burgers are a favorite. They re made with multi-color quinoa (red, white, and black), black beans, corn, red peppers, and lots of seasonings. As a caution, these are soft, so they are not great to heat on the grill, but perfect to heat in a pan or the air fryer! $3.69 for 4.
Thai Chili Burgers – This is a fairly new find suggested by a friend. They are a great variation to the traditional burger patty. These are made from rice, carrots, onions, bell peppers, water chestnuts, mushrooms, etc.
Garlic Naan – I love garlic naan, but am never inclined to spend the time to make them. These ones at trader joes are just perfect to satisfy my cravings. They can be quickly heated in the air fryer, oven or on the stovetop. $2.29 for 4.
Falafel – When you want a delish meal, and have no time to cook, these falafels come in handy. Pair them with garlic hummus and pita pockets along with salad.
I am also sharing some frozen produce items I love:
Petite Green Peas
Edmame
Spinach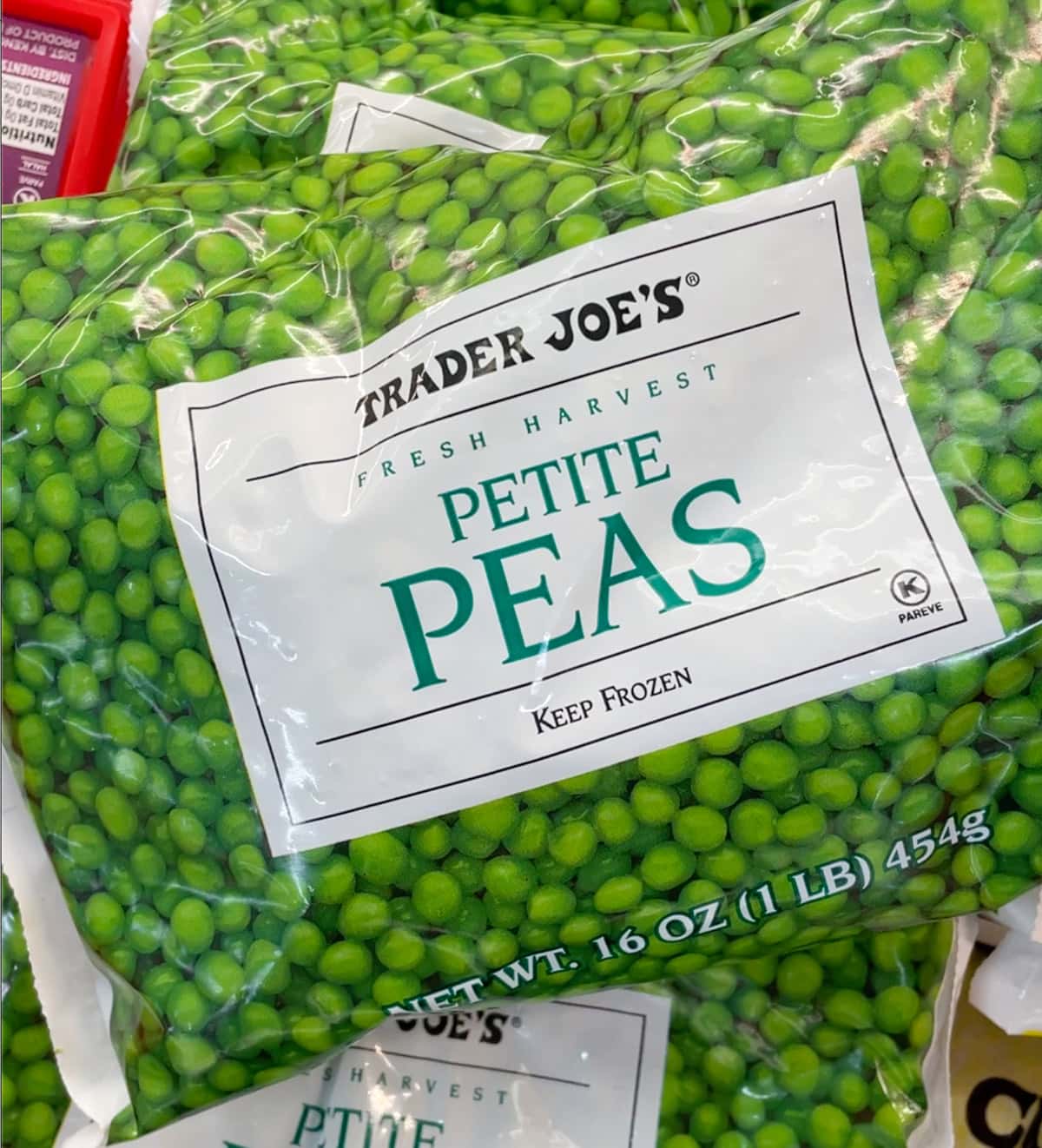 Here are some desserts that we enjoy:
Hold the cone (or Hold the Dairy for a vegan version) – These are mini ice-cream cones to satisfy those sweet cravings.
Dips, Sauces & Spices
Zhoug Sauce (pronounced ZOOg) – This cilantro-based sauce is originally from Yemen, but is very similar to Indian green cilantro chutney. The couple of differences is the use of oil and cardamom in this sauce.
It is slightly spicy, but so vibrant and flavorful and goes well with – really anything. I use it as a spread on toast or in sandwiches and wraps, and use it as a dip for appetizers. 2.99/8oz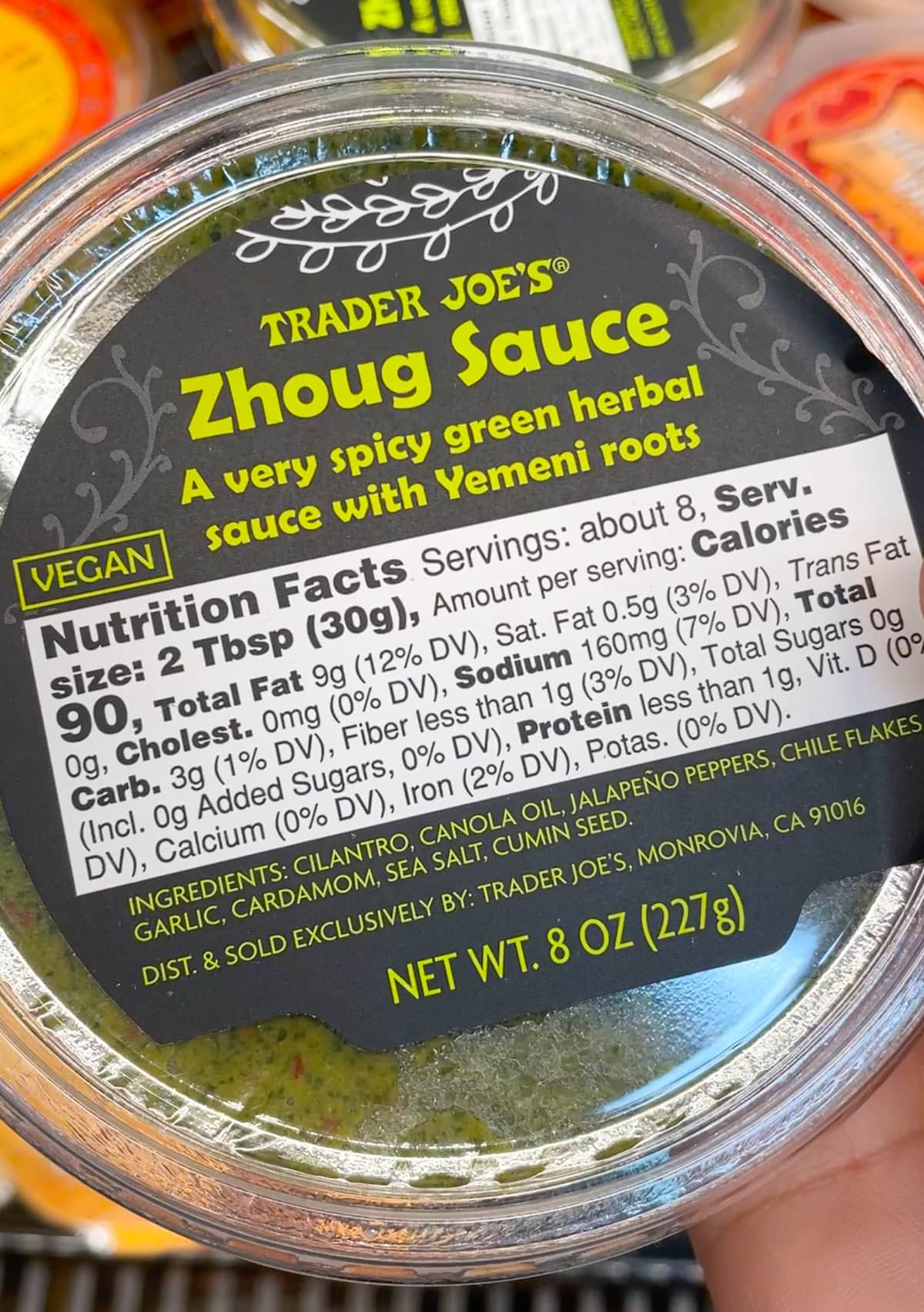 Roasted Garlic Hummus – This is my favorite hummus at Trader joes. With the extra rich flavor from the roasted garlic, it is thick and creamy. Perfect to enjoy with some pita chips.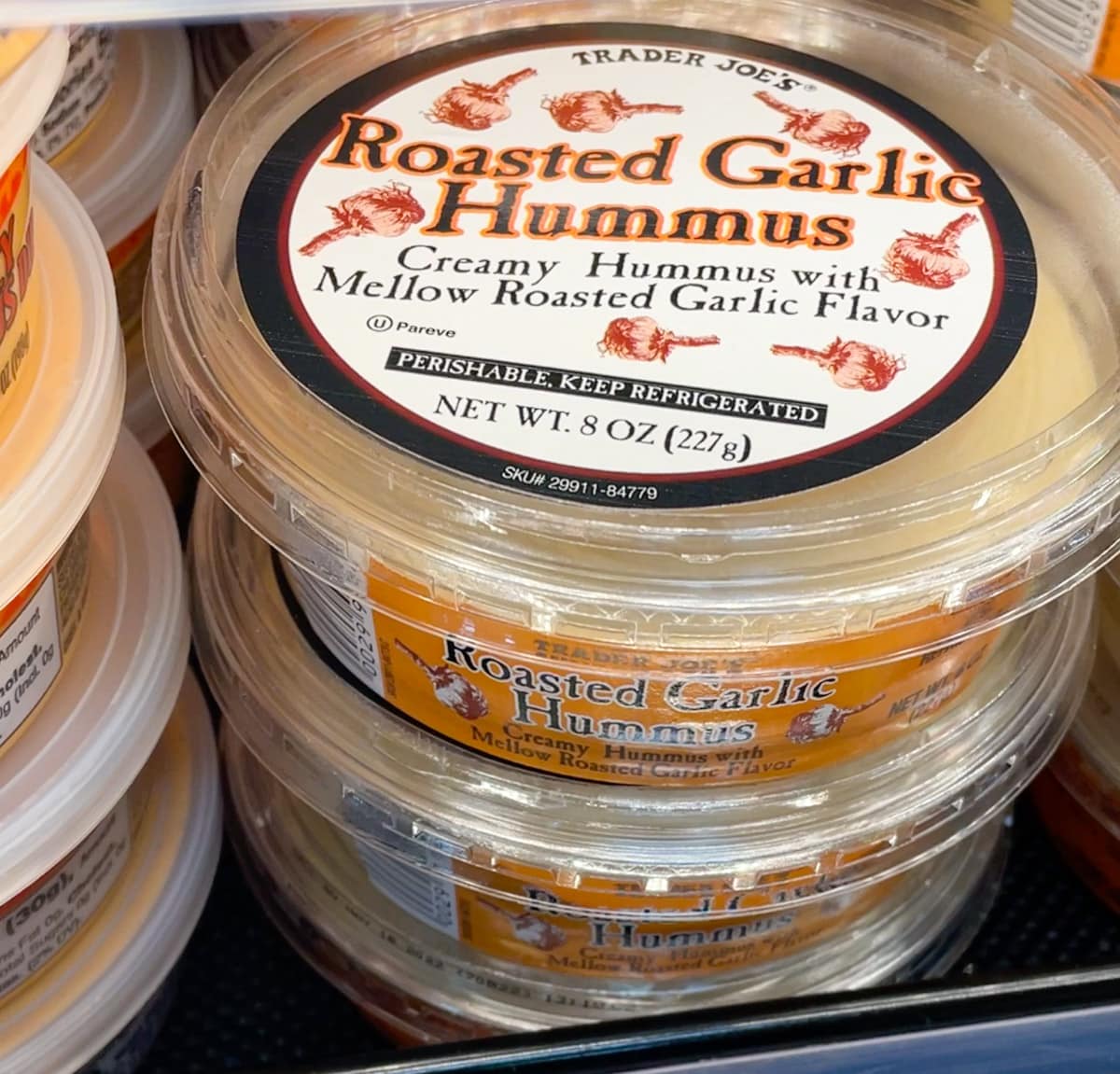 Everything but the Bagel Greek Style Yogurt Dip – This dip has been a favorite with kids. The combination of two favorites – greek yogurt and everything seasoning.
Chili Onion Crunch – This chili onion oil has become our favorite. It is similar to hot chili oil, with added onions and garlic.
You can add it on anything to spice it up. Top it on pasta, rice, lentils, sups, or use was a dip for bread.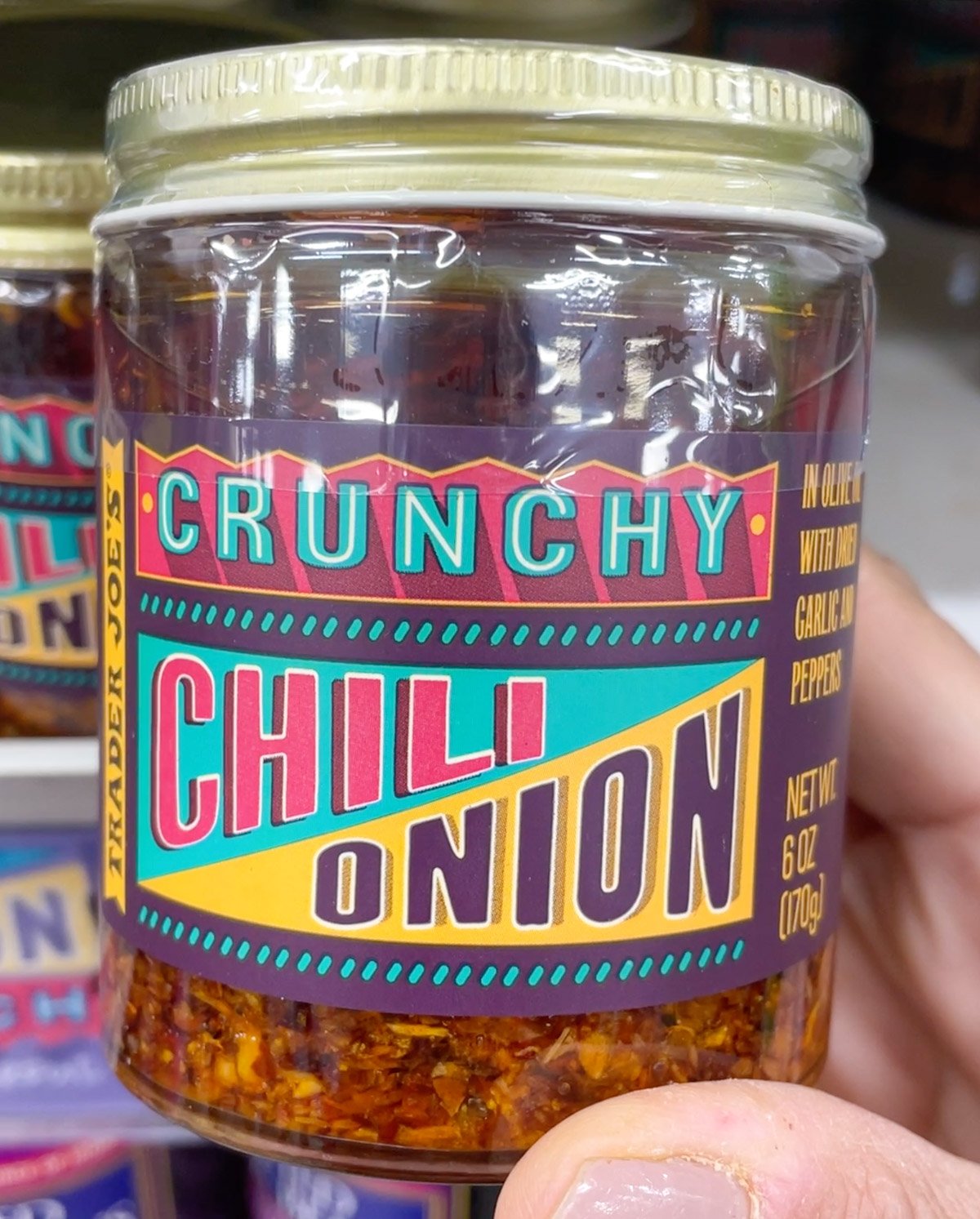 Chili Lime Seasoning – This seasoning blend has chili peppers, lime, and salt. It is similar to Tajin. We love it on top of salads, chicken, roasted corn or even fruits such as mango and pineapple!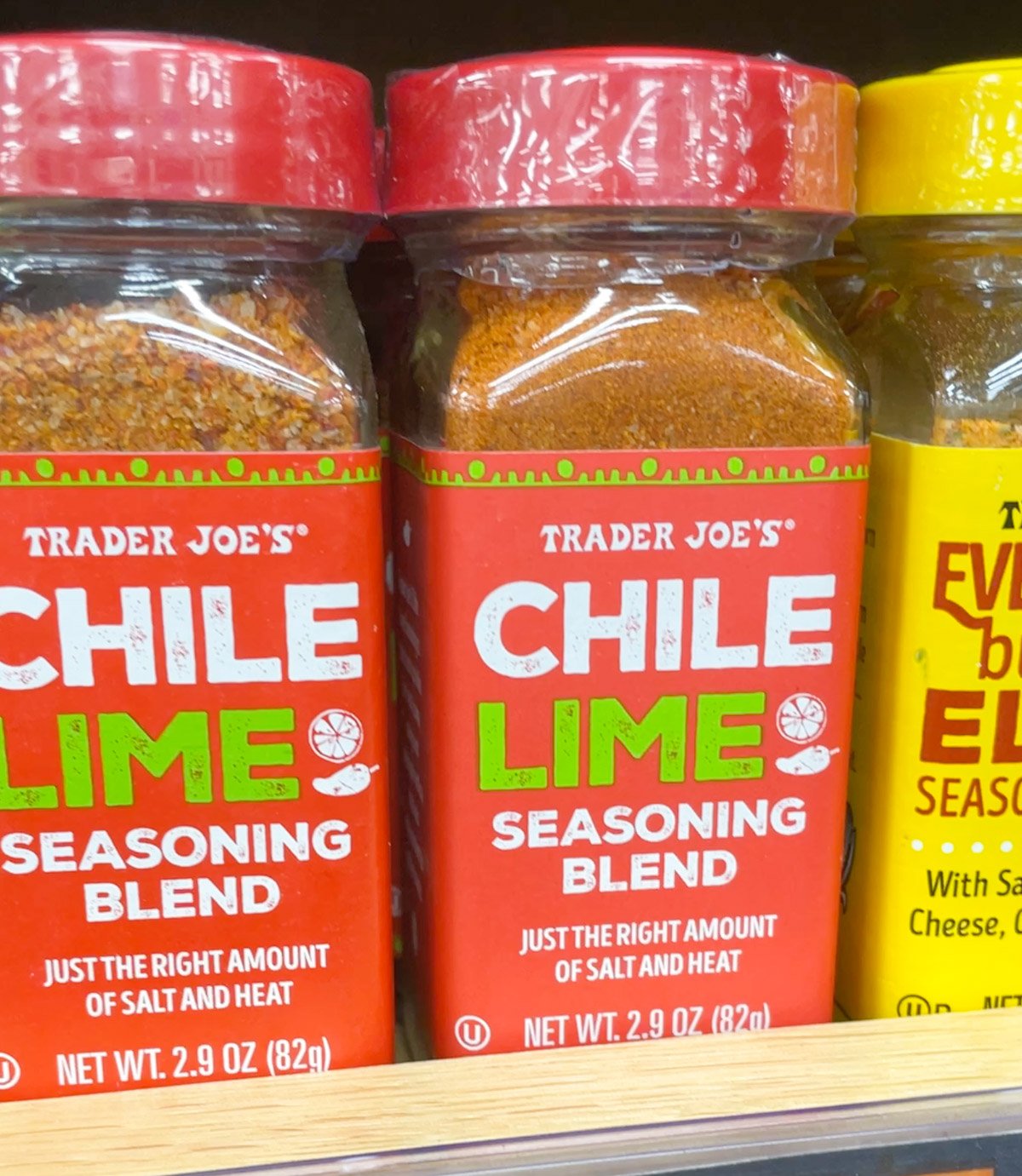 Everything but the bagel seasoning – This is a favorite seasoning. We love to top it on egg salad sandwich or avocado toast.
Pantry Staples
Greek Chickpeas (with parsley and cumin) – These flavored chickpeas have all the ingredients for a good hummus minus the tahini. These are great to add to salads or enjoy as a side dish.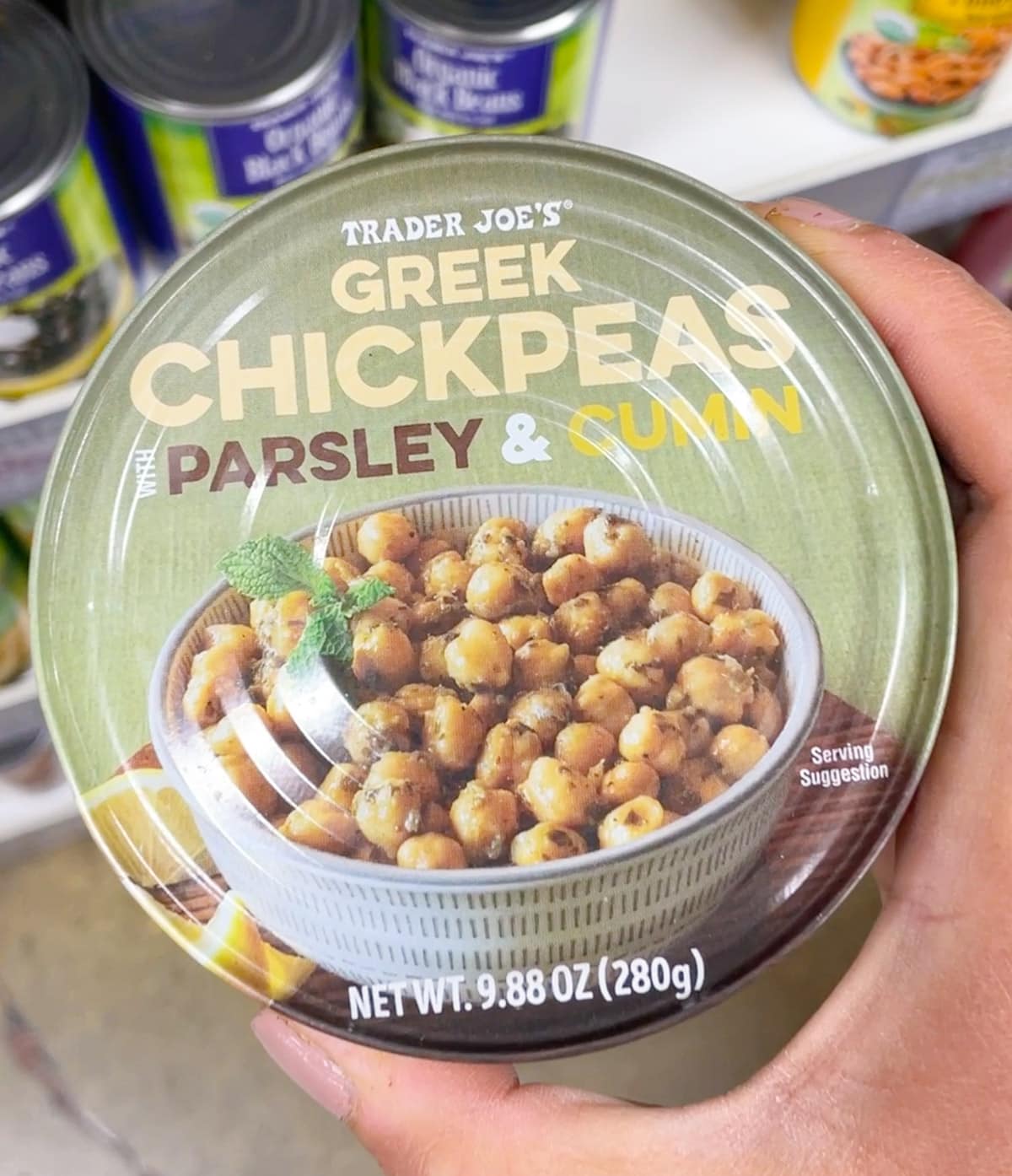 Tahini Sauce – Of course, it is fairly easy to make tahini at home. However if you want to buy tahini, we love this one from Trader Joes. Use it in hummus or make a lemon tahini sauce.
Below I am listing the regular staples I always keep in my pantry:
Canned black beans
Canned chickpeas
Canned tomatoes
Italian tomato paste
Pasta – Spaghetti, Penne
Gnocchi
Agave Syrup
Maple Syrup
Cocoa Almond Spread
Refrigerated
Organic A2 Milk
Greek Yogurt
Plain Whole Milk Yogurt
Fresh Tangerine juice
Shredded Cheese
Cheese Slices
Marinated Fresh Mozzarella – These mozzarella balls are marinated in olive oil and herbs such as basil. They are perfect to pair with bread, or add to salads or pasta.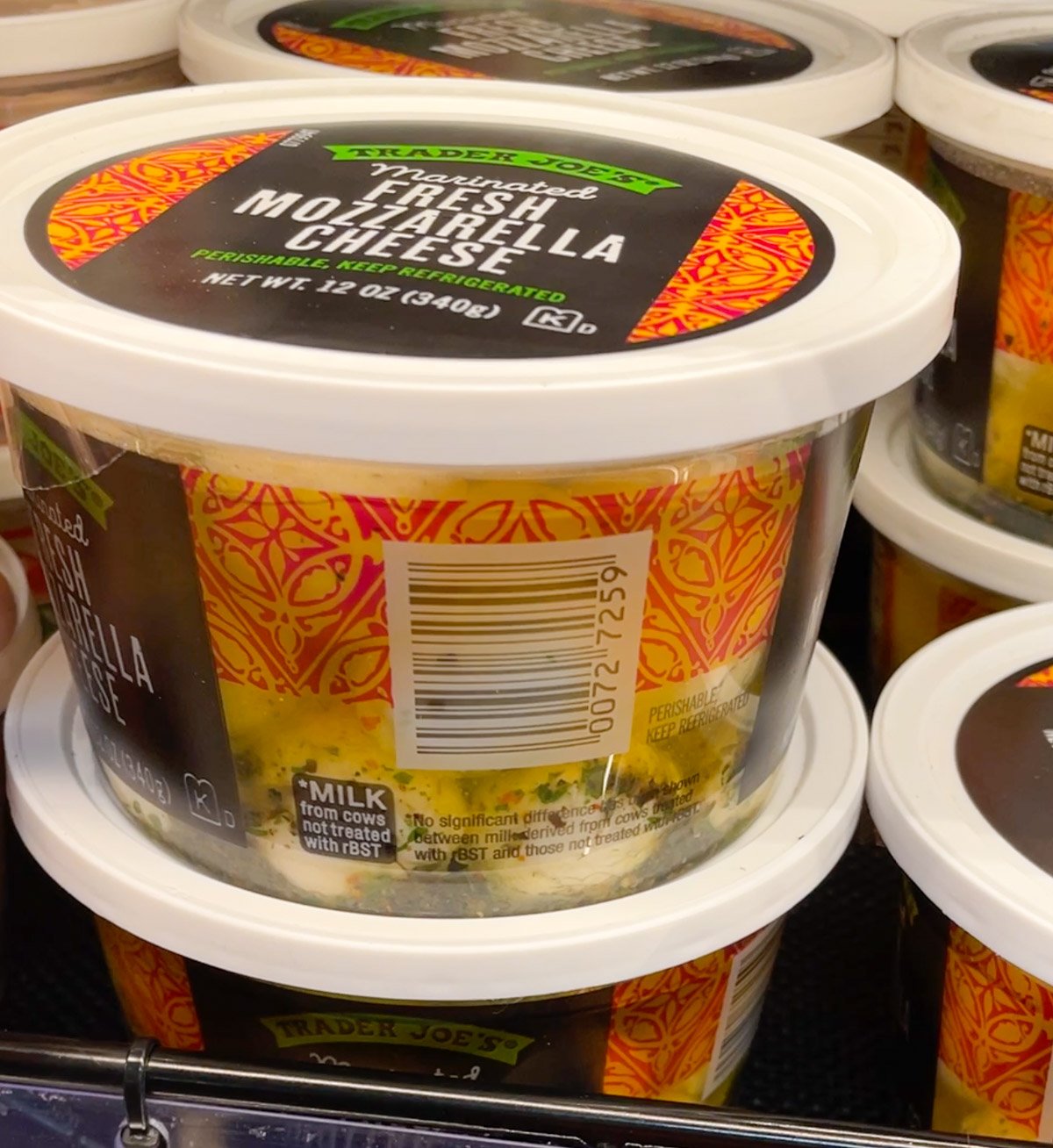 Sliced Mozzarella – We love these to make sandwiches or a delicious Caprese salad.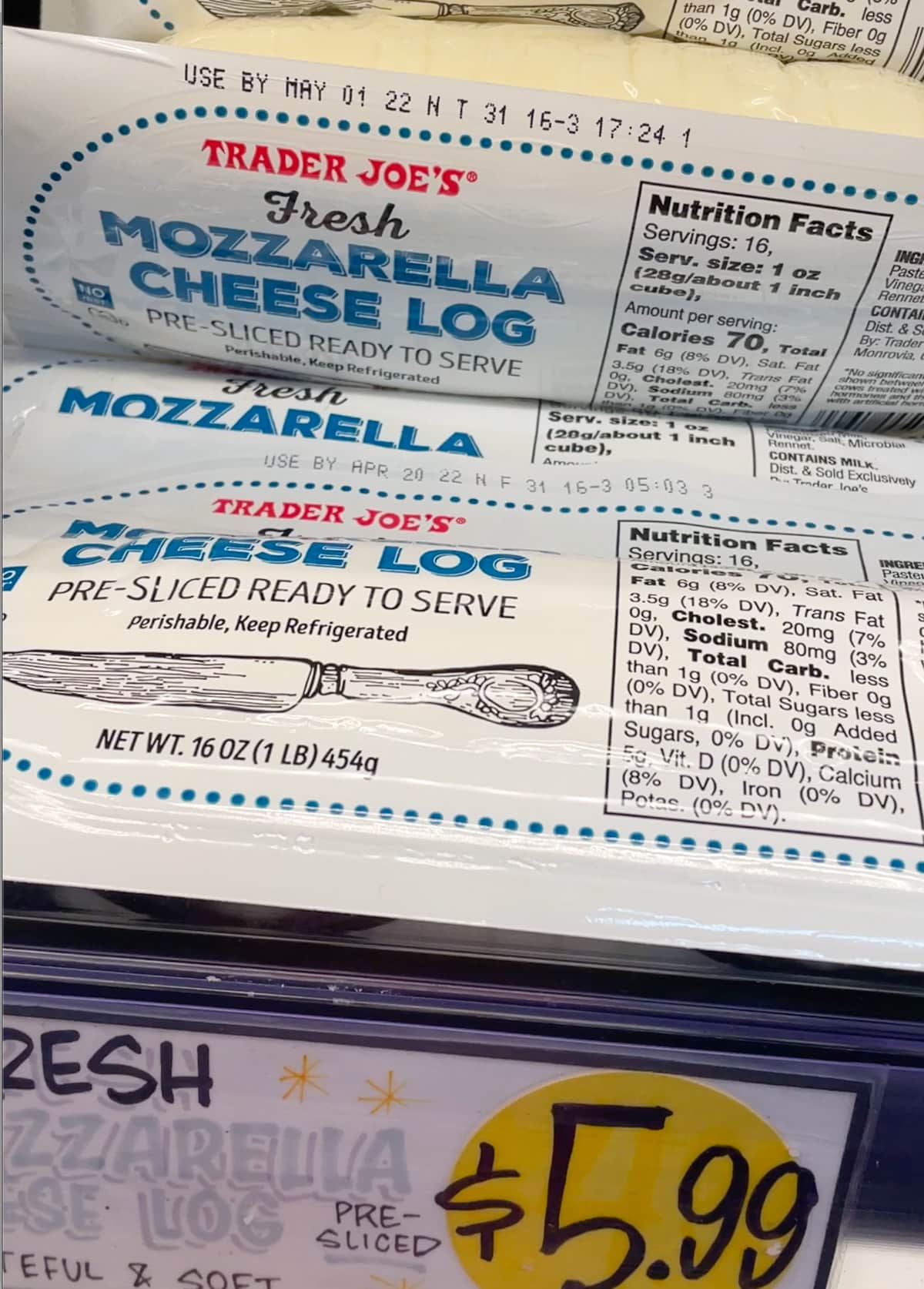 Organic Sprouted Tofu – This comes in twin packs, and is made with sprouted soybeans. which are perfectly sized for 2 meals. $1.99/15.5oz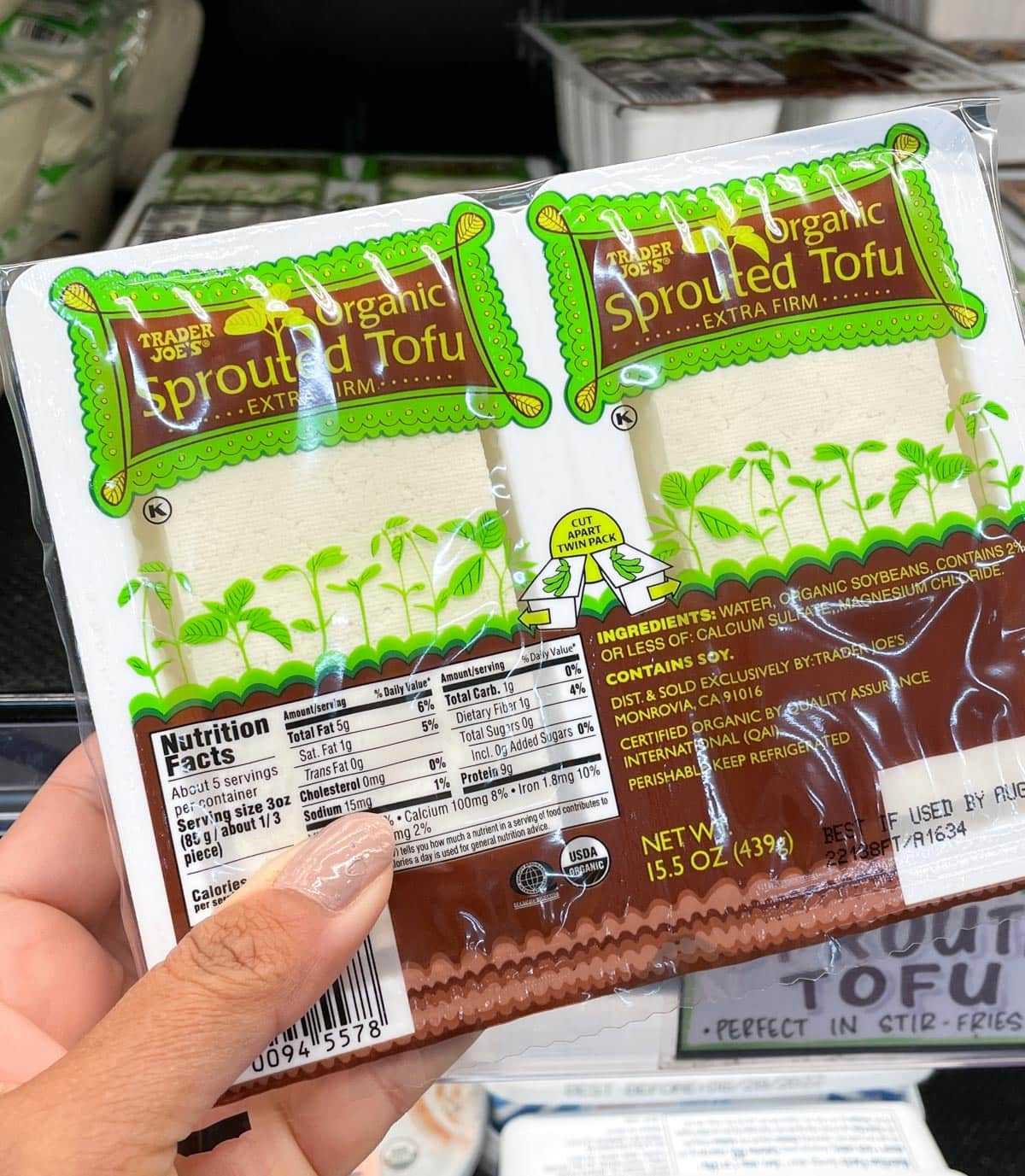 Produce
They have GREAT prices on organic products, so I always buy organic if they have it. I'm particularly uptight about buying organic for anything on the Dirty Dozen list and for anything without a peel.
Cauliflower
Broccoli
Carrots
Cucumbers
Celery
Baby Bella Mushrooms
Romaine Lettuce
Mixed Greens
Arugula
Spinach
Brussels sprouts
Pre-shredded Brussels Sprouts
Cruciferous Crunch Mix
Bell Peppers
Mini Sweet Peppers
Eggplant
Zucchini
Sweet Potatoes
Baby Potatoes
Onions
Tomatoes
Cilantro
Salad kits – Mediterranean, Southwestern
Fruits
Apple
Grapes
Berries
Bananas
Avocado (mini)
Limes & Lemons
Champagne Grapes
I hope you find this list useful when you shop at Trader Joe's. Do come back as I will be updating this list periodically.
Okay, now you tell me! What are your Trader Joe's Must-Haves?
In case you are wondering, this is not a sponsored post.