Seriously, do you love cooking? Do your friends and family always love your creations? Why not share your love for cooking with the world and guess what….Make some money while doing that!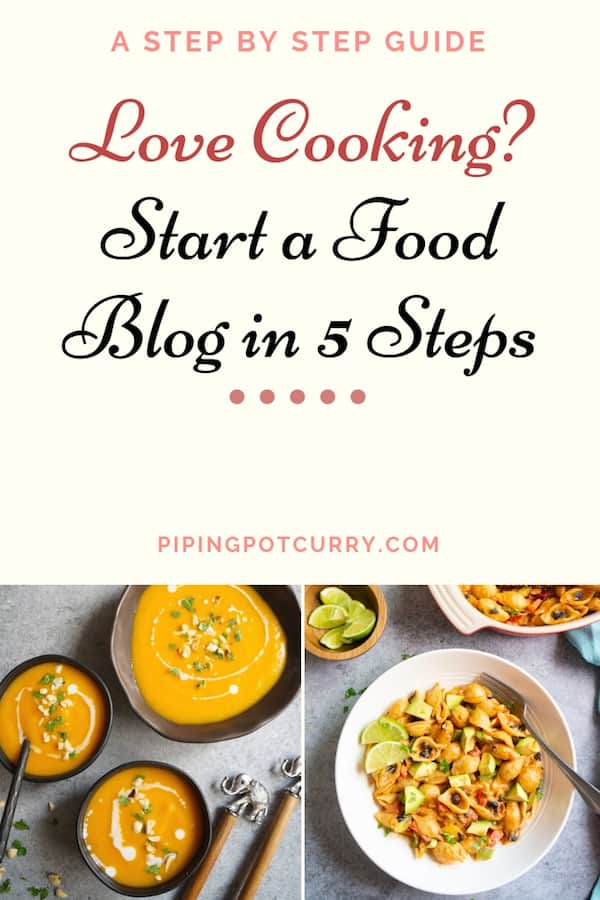 Whether you are starting out and are thinking of this as a side career or want to go big bang….The first step is starting a blog!
Don't hesitate. There are many resources to help you do that. I started my blog just through online tutorials and reading blogging tips. So I am sharing what I did with you to make your journey easier.
A couple of things you will certainly need to start a food blog are –
A computer to write the blog
A good phone/camera to take amazing pictures/videos of your creations. This is another key to success, and you will be pleased to know that you don't have to be an expert already. Food photography can be learned.
Okay…so this is the first in the series of blogging resources. I will be posting these regularly.
Five steps to start a food blog
Here is how I went by starting my blog…
Find you niche
Choose a domain name
Hosting the domain name
Install WordPress
Customize your blog
1) Find your niche
This is not a must-do step, but I highly highly recommend it. There are many food bloggers out there, so if you want to make a space for yourself….FOCUS is important. Whether you focus on baking or Indian food or vegan or keto food….you get the idea. A focus or niche helps you distinguish yourself and have a following. My focus has been recipes using our loved gadgets in the kitchen, starting with electric pressure cookers. Find your niche, this will also help with the next step of choosing a domain name. That said, don't let this bog you down, and do not start the blog. A tip is to err on the side of general rather than specific, in case you decide to change directions later!
2) Choose a Domain name
Brainstorm what you want your domain name to be. For the newbies, a domain name is your blog's name. My blog's domain name is pipingpotcurry.com. I wanted to have something catchy and related to Indian food.
There is a little pressure, similar to naming your baby. But the best is to brainstorm ideas with your family and friends. Make a list. Go to Bluehost and search if the domain name is available. The domain search page is available from the top menu under Hosting -> Domains. Below is the form and type your options to check what is available.
Tips for choosing a domain name:
Keep it simple and easy to remember. Don't use numbers or dashes; only use letters in your domain name.
Choose a .com domain extension. Don't use .biz, .info, .co, or any other extensions. By default, your readers will expect a .com extension, and you do want them to be able to find your blog easily.
Usually, a domain name is about $15 a year. You might sometimes see a domain name available for $800 or even $5000. Don't buy it, it just means that someone has bought that domain and is waiting to make a profit.

Note: You can get a domain name from other places, such as GoDaddy. I prefer Bluehost as a one-stop shop.
3) Hosting the domain name
Once you have a domain name, the next step is hosting your website. Hosting is like renting space on the web to display your blog. When starting initially, Bluehost is best as they have great rates (read budget-friendly at $2.95 a month), and they also give you your domain name free for a year if you host with them. I chose the cheapest plan with shared hosting and paid for three years in bulk. I also like that Bluehost has 24/7 support so that you can call them anytime with a question.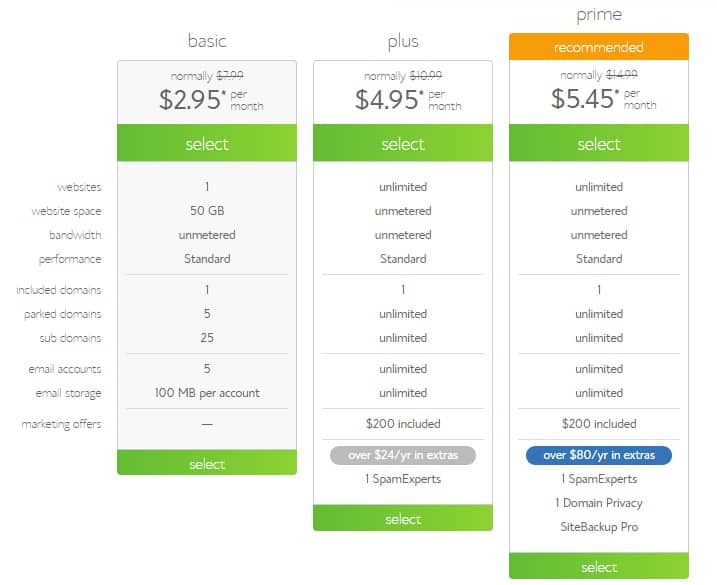 Even if you got your domain name from another site, you can register with Bluehost and select the "I have a domain name" option.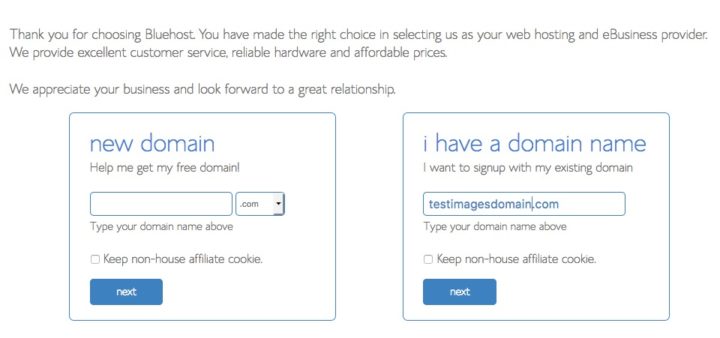 Next, you can select your package information on Bluehost. If you have extra money to spare, select Sitelock Security and Site Backup Pro to keep your information and blog secure.
Note: You will see other hosting options, such as wordpress.com or blogger. Don't choose them! Even though you get free hosting, your domain name will have WordPress in the name. For e.g. piping.wordpress.com. Not so elegant…isn't it? Also, using these options can limit your money-making ability, as most advertiser and affiliate networks do not work with them. Self-hosting is the way to go if you are serious about blogging. It also gives you flexibility with the design of your blog.
Update August 2018: I have changed my hosting to Cloudways to improve the speed of my blog as the traffic has increased. The hosting on Cloudways is very reasonable. Check them out. (Note: to start out Bluehost was great, as it was extremely cheap and worked when with less traffic)
Update March 2023: As the website has grown, I have changed my hosting to BigScoots, which is based in the US and provides better support.
4) Install WordPress
The next step is to start blogging. Now for that, you need blogging software. WordPress is a blogging software. It's the software that I use for pipingpotcurry.com. It is easy to install and use. And above all, it is free. Who doesn't like free?
Login to Bluehost and go to the Website section. Click on "Install WordPress"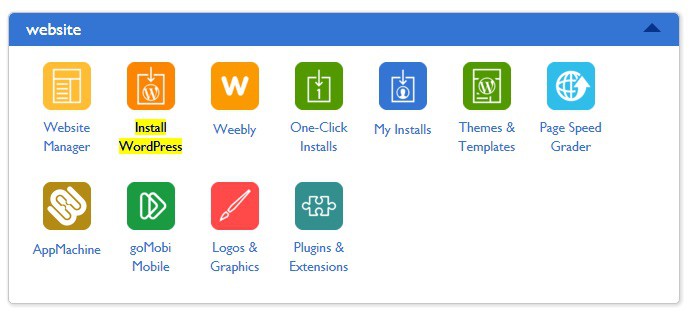 I know this seems daunting if you have not worked with computers much. You can call Bluehost, and they will help to take you through the steps.
5) Customize your blog
Okay…so your website is up and running. Congratulations! Pat yourself on your back.
But it is blank. Before you start cooking and want to post something, install a theme and some useful plugins. Once your blog is self-hosted, you can add bells and whistles. The design is provided through the theme, and additional functionality is provided by plugins. I will talk more about plugins in another post.
At this point, you should have access to the WordPress Dashboard for your blog. It should be at yourdomainname.com/wp-admin, and you will use the login information you entered when setting up WordPress.
Choosing a WordPress Theme
A theme is a template that will determine how your site will look. WordPress is very flexible, and you can make your site look any way you want. A theme helps give the groundwork for the look and feel of your site.
Things to consider when selecting a theme:
Look and feel or design
Responsive so that it will work well on any device
Customer Support
I started with a free theme. You can find free themes here. Themes are also available on your WordPress site under Appearances. But if you have some extra money, getting a professional theme is a great investment. Some options are:
The Genesis Framework by Studiopress – Many child themes have worked well for food bloggers on the Genesis framework. Some are Foodie Pro, Cravings Pro, and Brunch Pro Theme.
The Thesis Theme by DIYThemes
Elegant Themes
Kadence Theme – These have become popular n 2022, so check out if you like this theme.
There are a lot of options when choosing a theme, however, don't get hung up on getting the best. You can always change the theme with a little extra work.
Update August 2018: I have changed the theme on my blog to Seasoned Pro. This theme is from the same company Feast Design, which has the popular Foodie Pro theme.
Update August 2022: I have installed Feast Plugin, which gives updates to Feast themes on a regular basis. Do check if you get the plugin; all the Feast themes are included with it.
Once you have the theme, you will also want to create a logo for your site. You can use free software like Canva to create a logo or pay someone on Fiverr a minimal $5-$10 to get a logo designed. I created a logo myself. It is not the best, but I can live with it now.
At this point, you might want to write the basic pages on the blog –
Contact – How can your readers reach you? Create an email with your blog name. My email is pipingpotcurry@gmail.com
About – Tell the world your story and why they might be interested in your blog.
Privacy Policy – A basic note for legal purposes.
Finally, the step you have been waiting for….START COOKING & WRITING.
One more thing to mention with food blogging is that you will need to gain good photography skills. But that is for another time. I don't want to overwhelm you right now.
Trivia question for you…what is the most important thing in blogging?
Dedication – The don't give up attitude! Blogging does not pay much in days or months, it could take a year or more. So be consistent and keep posting. And yes, remember – if the content is good, the readers will follow.
Most important, enjoy blogging!
Additional Resources
If you use the above information and start a blog, do leave a comment. I would love to hear about it and share it!
Disclosure: This post contains affiliate links. When I find a great product or service, I like to share it with my readers. Some of the products may have affiliate links, so I can earn a small commission if you purchase through the link. Thank you for your support!