This Quinoa Khichdi is wholesome comfort food that will fulfill your hunger within minutes. Made with quinoa, lentils, veggies, and spices, this quinoa dal khichdi is a one-pot nutritious meal that can be made in less than 30 minutes.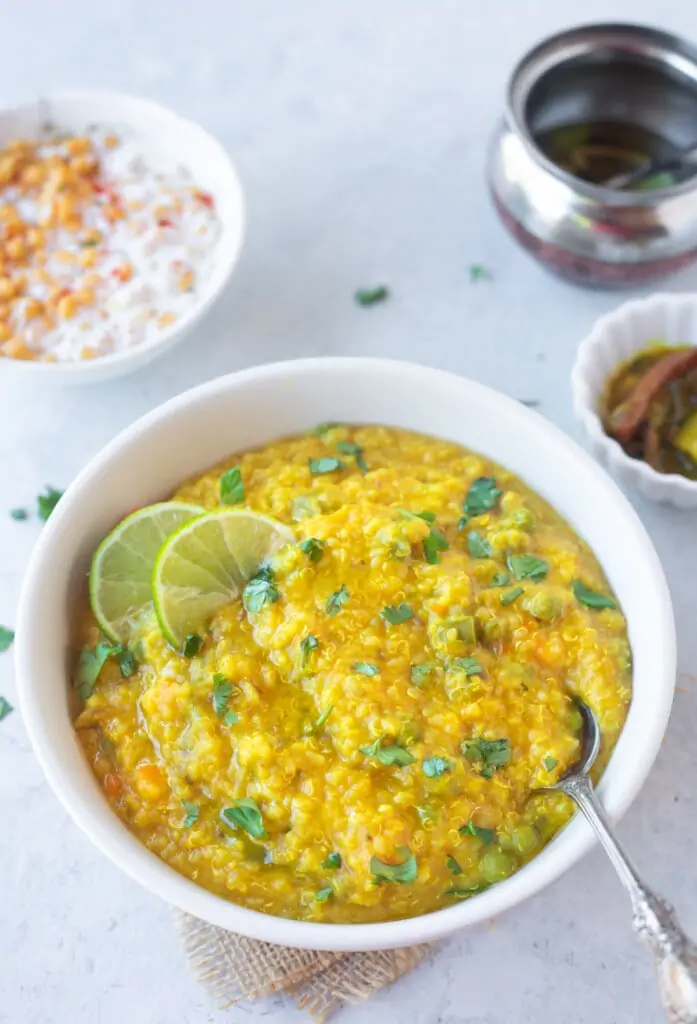 This one-bowl vegetable Quinoa khichdi is one of the best Indian quinoa recipes. It is also called masala quinoa khichdi. One-pot meals are a staple in my home. It is easier to make and there is no pile of dishes to clean after.
Being an Indian, khichdi was a comfort food growing up. It is was the best food to eat when we fell sick or when my mother wanted to fix us a quick but wholesome meal.
It is also a great choice for my girls as it is easy to eat and is packed with veggies. You can either mash the veggies or let them be as is while feeding little kids.
I have previously shared two khichdi recipes made with rice - The basic moong dal Khichdi and Lentil Vegetable Masala Khichdi. So this time, I am varying the recipe by using quinoa in place of rice to make the khichdi even more protein-rich.
Why you will love this Quinoa Khichdi
A one-pot comfort meal ready in 30 minutes
Healthy and wholesome
Vegetarian, gluten and nut-free
Packed with the nutrition of all healthy ingredients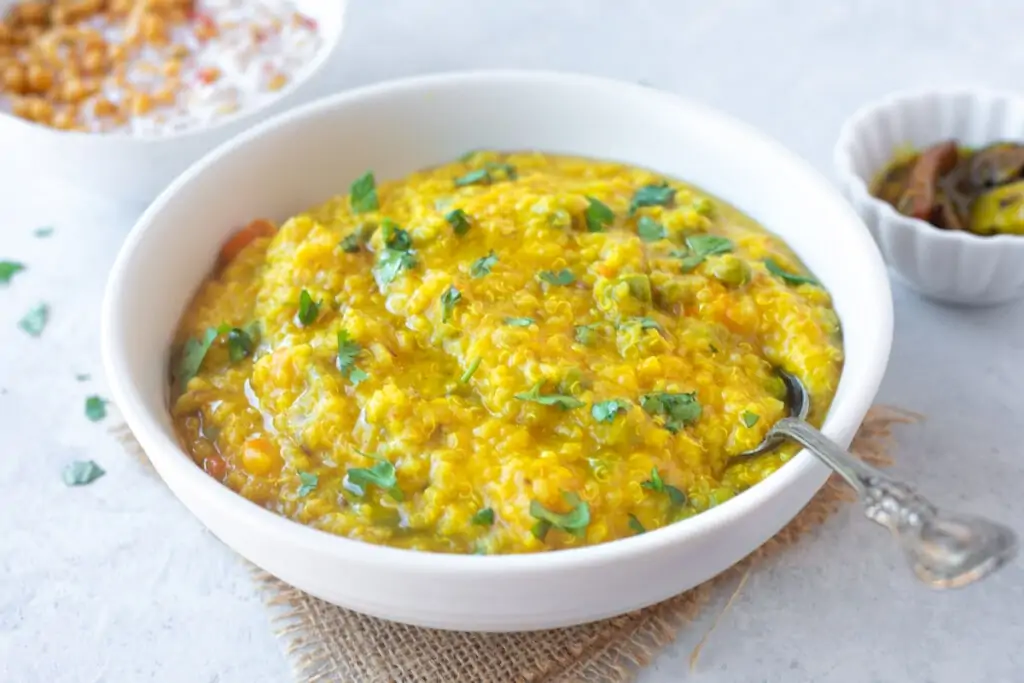 Ingredients
Here is the list of ingredients I have used in this quinoa khichdi recipe.
Quinoa: Also known as superfood, quinoa has a high protein and fiber content and good source of antioxidants. It is also gluten-free.
Moong Dal: It is rich in nutrients, and also very light and easy to digest. You can use other split lentils such as split green lentils or toor dal in this recipe too.
Aromatics & Spices: I have used very basic spices - ginger, cumin, turmeric powder, red chilli powder (optional).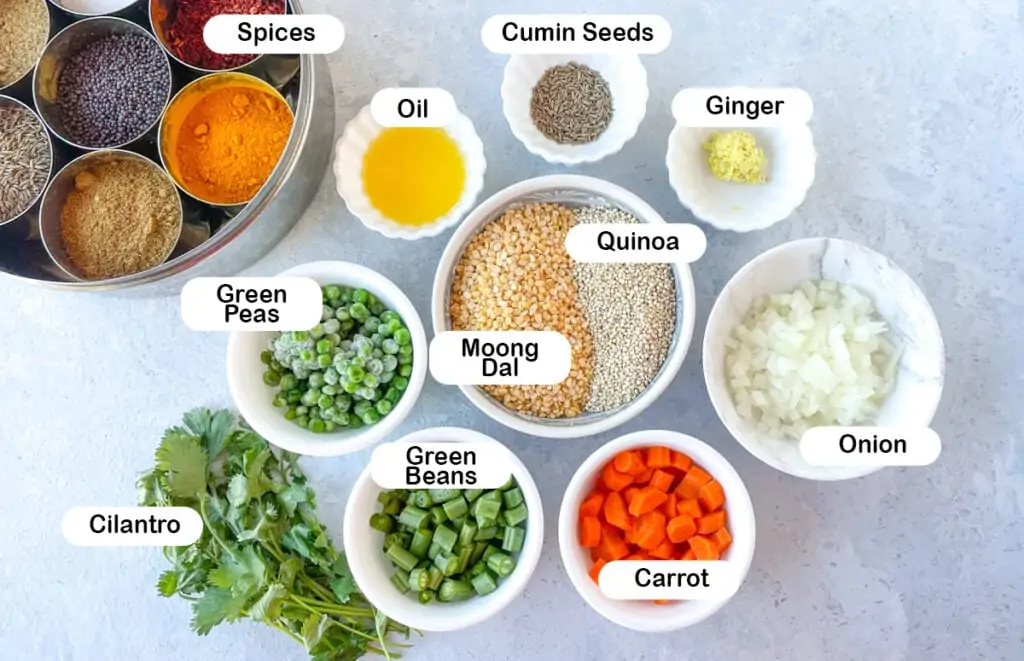 Veggies: I have used the popular veggies like onion, carrots, green beans and green peas. You can use other veggies that you might have on hand as well.
Ghee/oil: I highly recommend using ghee in this khichdi. You can make ghee in your instant pot using the recipe here. For a vegan version, skip the ghee and use your favorite plant based oil.
How to make?
The method to make this khichdi is very similar to my Masala Khichdi recipe made with rice.
Rinse the dal and quinoa in a colander. You can also soak them for 10-15 minutes while you prepare the other ingredients.
Heat ghee/oil in the instant pot and add cumin seeds, let them splutter.
Then add asafoetida along with chopped onions and grated ginger. Cook them well till the onions turn translucent.
Add the chopped veggies and spices. Then add the lentils, quinoa and water and mix them well with the veggies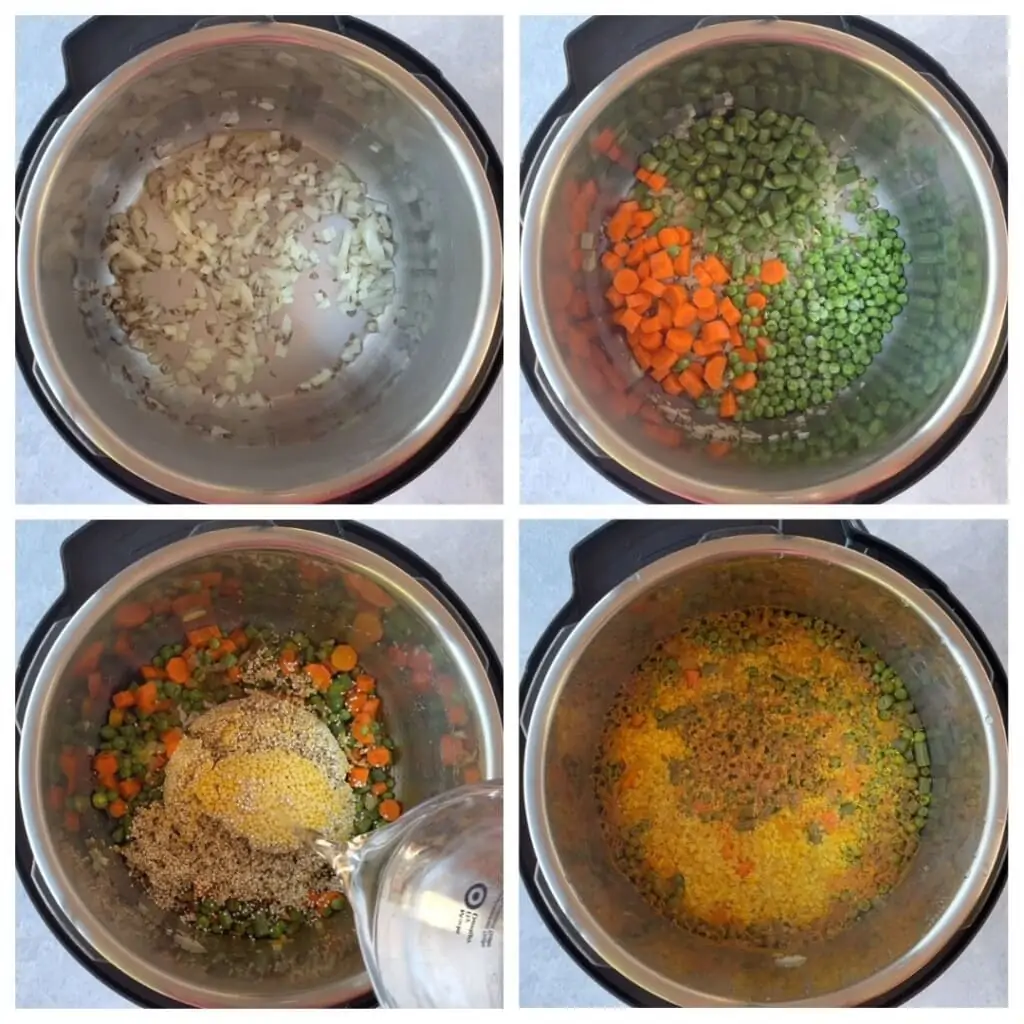 Close the lid and set the instant pot to pressure cook.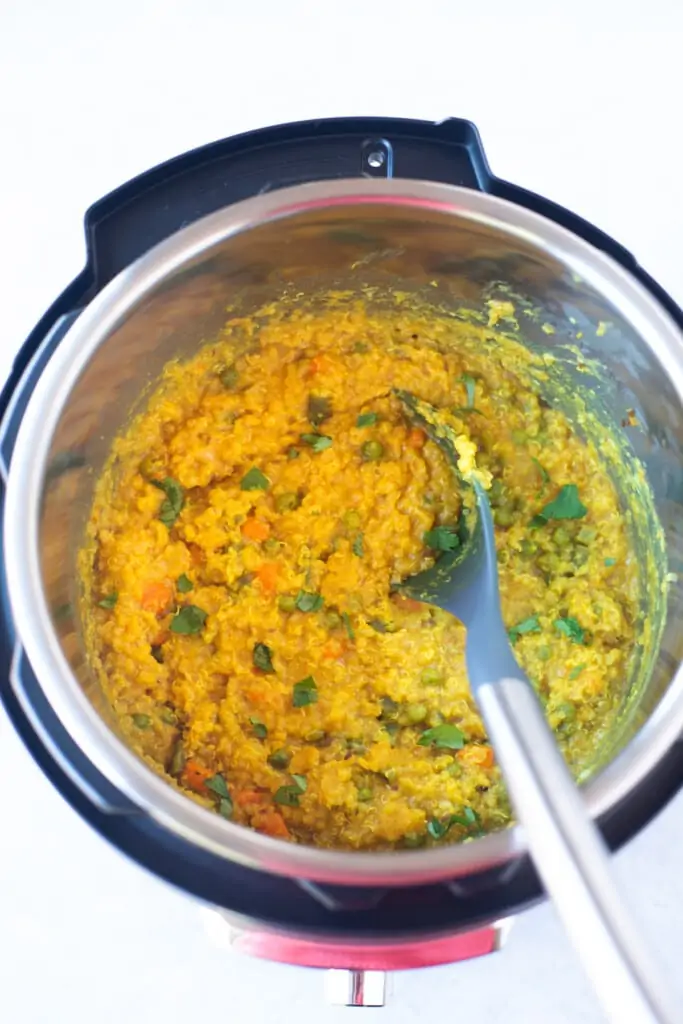 Once the instant pot beeps, let the pressure release naturally for 10 minutes and then open the lid.
Garnish with fresh chopped cilantro and add a dollop of ghee before serving it. I also like to add a little lime juice for some tanginess in this khichdi.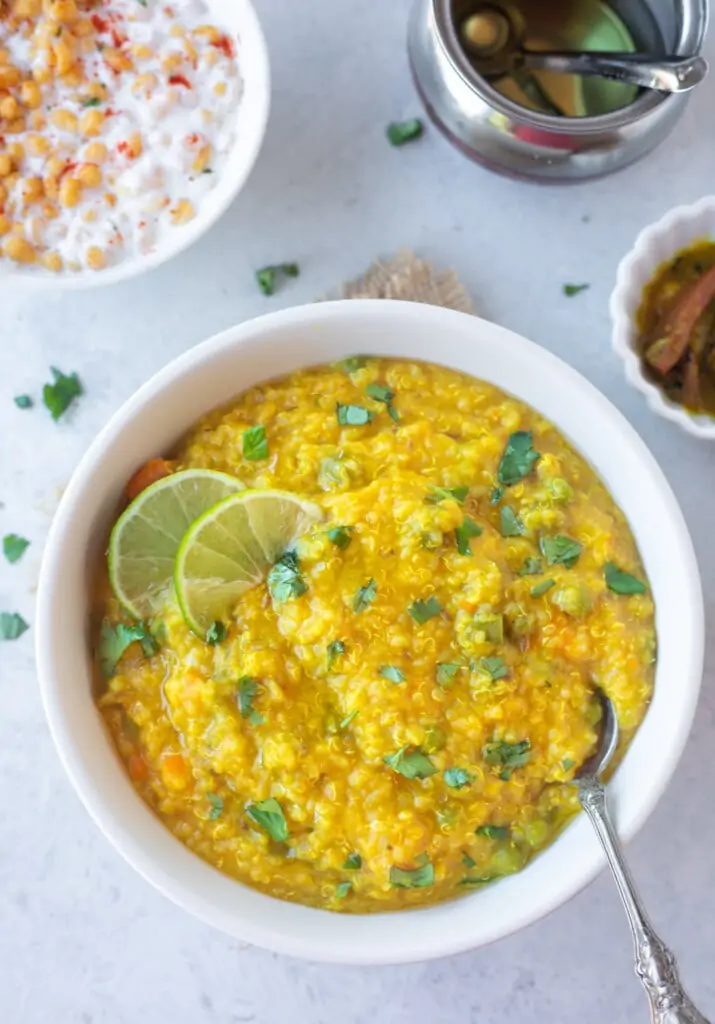 Stovetop version
Follow the same steps as above to prep the khichdi. Then pressure cook for about 3 whistles and let the pressure naturally.
How to serve?
Enjoy Khichdi with mango pickle and yogurt on the side. Papad and buttermilk (masala chaas) also pair well along with khichdi.
Khichdi tastes best when it is warm.
Common Questions
How to store leftover khichdi?
Yes, you can store leftovers for up to 2-3 days in the refrigerator. Let the khichdi cool down, then store in an airtight container.
How to reheat this khichdi?
Khichdi soaked all the liquid and gets dry when stored. So add a few tablespoons of water per serving before heating to the bowl. Then microwave for 1-2 minutes (varies by quantity). You can also reheat in a pan on stovetop.
Is quinoa khichdi good for weight loss?
This khichdi has all healthy ingredients - quinoa, lentils & vegetables. So it is very healthy and great to nourish the body. Eat the right amount to get the best results.
More quinoa recipes:
If you like this khichdi, try some more quinoa recipes:
Tried this recipe?
Give a rating by clicking the ★ below
Quinoa Khichdi
This Quinoa Khichdi is wholesome comfort food that will fulfill your hunger within minutes. Made with quinoa, lentils, veggies, and spices, this quinoa dal khichdi is a one-pot nutritious meal that can be made in less than 30 minutes.
Ingredients
Vegetables
½

cup

Green Beans

cut into small pieces

½

cup

Carrot

cut into small pieces

½

cup

Green peas

I used frozen
Instructions
Add quinoa and moong dal to a colander and rinse with water until the water runs clear.

Start the instant pot on Sauté mode and heat ghee in it. Add cumin seeds and let them cook for 30 seconds. Then add asafoetida. Then add onions and ginger. Let them cook for 2-3 minutes.

Add all the vegetables and spices. Stir them well.

Add the lentils, quinoa and water. Stir them well with the veggies.

Close the instant pot lid, and change the setting to manual or pressure cook mode for 4 minutes at high pressure with vent in sealing position.

When the instant pot beeps, do a 10 minute NPR. This means release the pressure manually 10 minutes after the instant pot beeps.

Garnish with cilantro. Khichdi is ready to serve. Serve in bowls topped with a dollop of ghee, along with a side of papad and pickle.
Stovetop Pressure Cooker Method
Follow the same steps as above and cook for 3 whistles on medium flame. Let the pressure release naturally.
Notes
Vegan: To make this khichdi vegan, replace ghee with plant based oil or vegan butter of your choice.
Consistency: Khichdi typically has a porridge like consistency. If you like a dry consistency for your khichdi, add less water. If you let the khichdi rest for some time or store it, it soaks up all the liquid. Add hot water as needed to adjust to the right consistency.
Make it spicier: You can add more spice with green chilies or increasing the quantity of cayenne in this khichdi. I kept it mild, so everyone in the family can enjoy it.
Veggies: You can vary the vegetables added to this khichdi. Some options are - zucchini, potato, edamame, corn.
Lentils: I used split yellow moong lentils for this khichdi, you can use split green lentils or toor dal too.
Created: This recipe was created in a 6qt Instant Pot DUO60 Multi-use Pressure Cooker.
Note: Nutrition values are my best estimates. If you rely on them for your diet, use your preferred nutrition calculator.
Nutrition
Calories:
183
kcal
Carbohydrates:
27
g
Protein:
9
g
Fat:
5
g
Saturated Fat:
2
g
Polyunsaturated Fat:
1
g
Monounsaturated Fat:
1
g
Cholesterol:
10
mg
Sodium:
612
mg
Potassium:
446
mg
Fiber:
10
g
Sugar:
4
g
Vitamin A:
2998
IU
Vitamin C:
13
mg
Calcium:
49
mg
Iron:
3
mg