Packed with wholesome nutrition and flavor, this vegan buddha bowl is the perfect hearty vegan meal. Fresh kale, roasted sweet potatoes and chickpeas, quinoa, avocado, and a tangy lemon tahini dressing make this bowl truly delicious.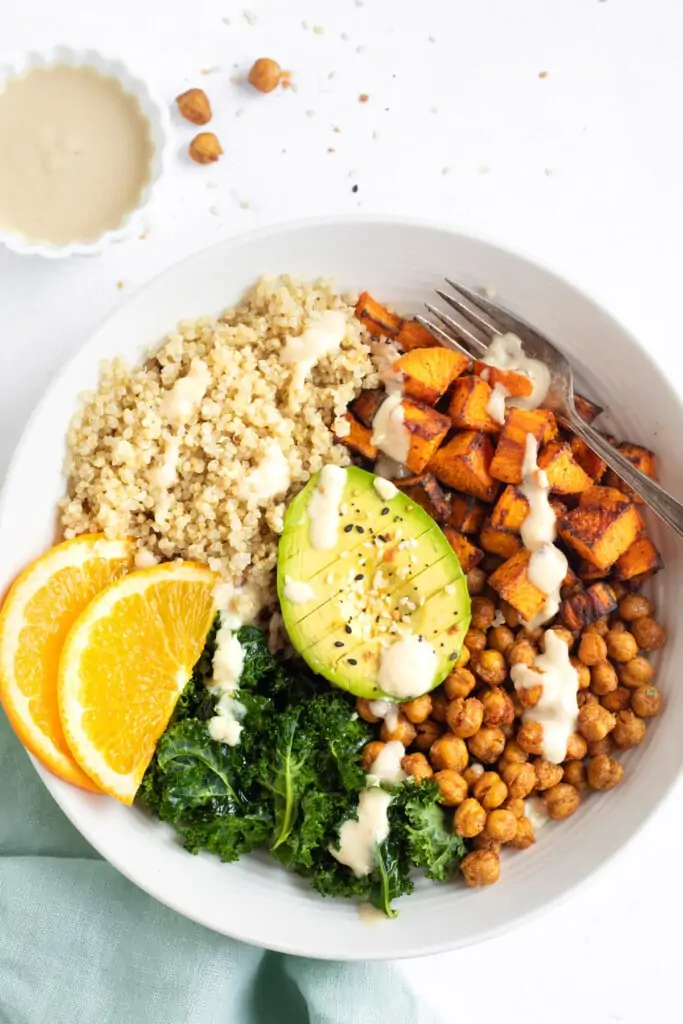 Ridiculously simple but a bowl filled with goodness is the right way to describe this vegan buddha bowl.
Sometimes the most simple ingredients make the best meal. If you want to have your lunch prepped without much active effort, this is a great way to have a healthy meal.
There are multiple parts coming together to make this bowl - veggie(s), protein, grain, leafy greens, fruit(s) and a sauce.
You will love this bowl because:
✔ Vegan and gluten-free
✔ Quick and easy to make in just 30 minutes.
✔ You don't need to work for hours in the kitchen, it can be prepped ahead as part of your weekday meal plan.
✔ Healthy and high protein
✔ Delicious, as multiple ingredients will create an explosion of flavor.
What are Buddha Bowls?
Buddha bowls have become a very popular part of the vegan diet. The origin of the term "Buddha Bowl" is not known, but according to the Urban dictionary, it is a vegetarian one-bowl meal. It is a mix of whole grains such as quinoa, brown rice along with vegetables, and plant-based protein such as chickpeas or tofu.
There are two theories as to how these bowls originated.
The first theory is that Gautam Buddha collected alms in a big bowl where the residents of the village filled with the food they had at home. The second theory is that the Buddha Bowl is healthy, colorful but an overloaded bowl of plant goodness that looks like a laughing Buddha's overflowing belly. But, I personally think that these bowls are an easy way to have a healthy and well-rounded meal.
Buddha bowls are even known as macro bowls, grain bowls, hippie bowls and power bowls.
Ingredients
To make this delicious vegan bowl, I have used the following ingredients:
Quinoa: Also known as the superfood, quinoa is a gluten-free grain that is rich in fiber and plant protein. It is the base for this delicious bowl.
Sweet Potato: They are an excellent source of beta-carotene and anti-oxidants and are the carb portion of the bowl
Chickpeas: A popular plant-based protein that adds crunch to your bowl
Kale: Filled with vitamins and fiber, this leafy vegetable adds the color green to the bowl. I usually chop them and massage them a bit with olive oil to soften its texture.
Avocado: Also known as butter fruit, it is the fruity part of this buddha bowl. I have also used sliced orange in this bowl.
Lemon Tahini Sauce: A creamy sauce that does not need a blender and it goes well with almost everything
Seasonings: I use garlic powder, paprika, cumin, salt and pepper to increase the flavor quotient .
Sprinkles: I added some everything bagel seasoning on top of the avocado for some extra color and flavor.
One of the best things about all these ingredients are that they can be prepped and stored in the refrigerator as part of your weekly meal prep.
How to make?
Prep the sweet potatoes and chickpeas
First, we will start with roasting the veggies. You can roast them in the oven or air fryer. Preheat the oven at 425°F. Take a large baking tray and line it with parchment paper.
Slice the sweet potatoes into small cubes and place them on one side of the tray. Drizzle a bit of olive oil and add the seasonings of salt, pepper and garlic powder and mix them well with the sweet poatoes till they are completely coated with the spice and oil mix.
Then on the other side of the baking tray, add the chickpeas and coat them with the same mix of olive oil and seasonings.
Bake them for 30-35 minutes or until they are roasted and cooked through.
Note: you can also roast sweet potatoes in the air fryer.
Cook the Quinoa
Prep the kale
Then, wash and de-stem the kale leaves and chop them into smaller portions. Massage the chopped leaves with a bit of olive oil to soften the leaves
Mix the Sauce
Take a small mason jar and add some tahini paste, freshly squeezed lemon juice, maple syrup, some minced garlic, salt and little bit of water, not more than 2 tablespoons. Mix well till you get a creamy pourable sauce. Add more water if needed.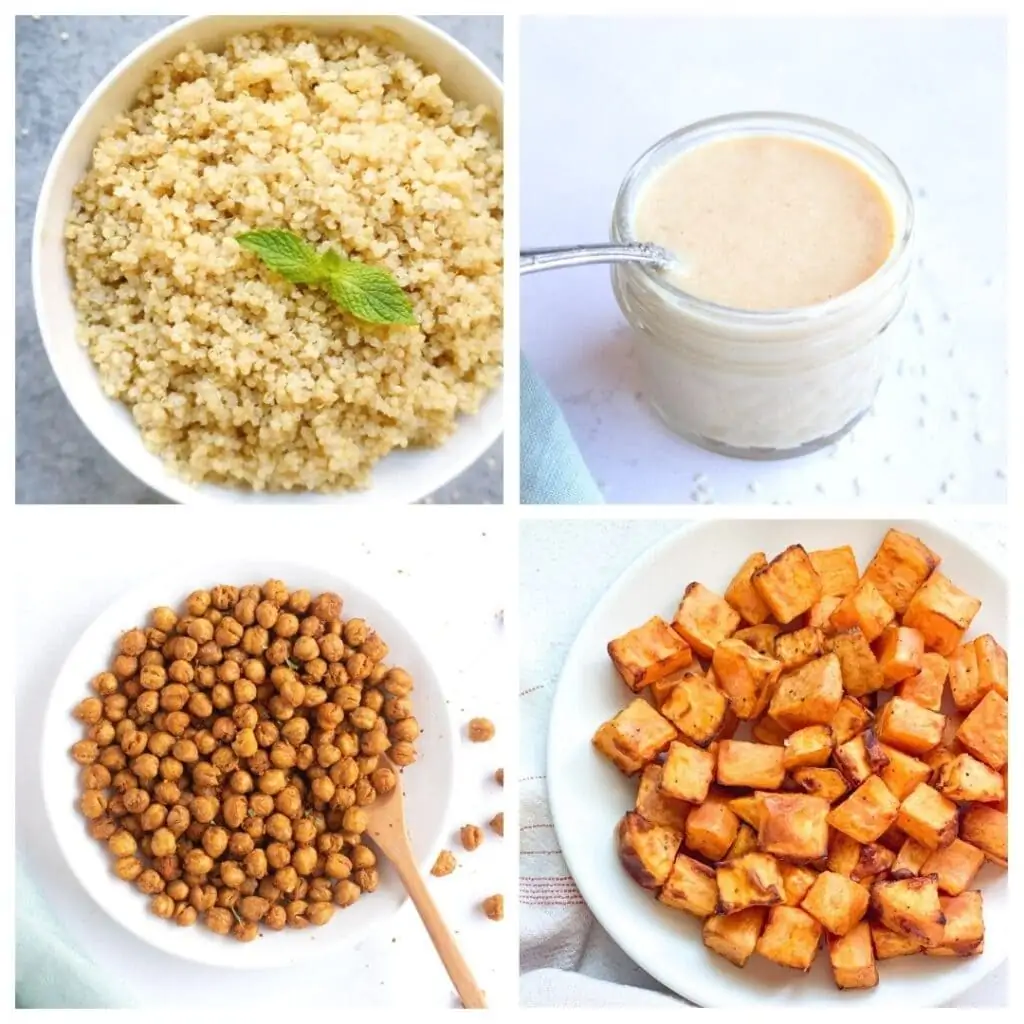 Assembling the Buddha Bowl:
Divide the kale into two bowls and place them on the side and don't overcrowd the kale.
Next divide the cooked quinoa (showing quinoa and brown rice blend in the photos below) along with the roasted sweet potatoes and chickpeas into each bowl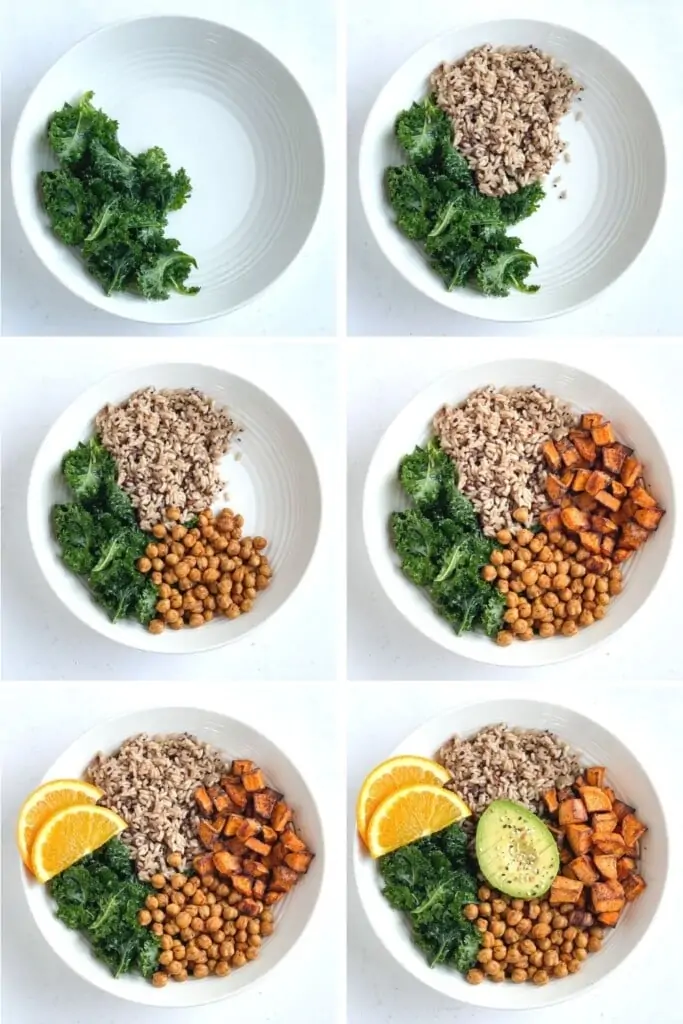 Then add the sliced orange slices and avocado to the top of the bowl. I also added some everything bagel seasoning on top of the avocado.
Drizzle a generous amount of lemon tahini sauce and dig in.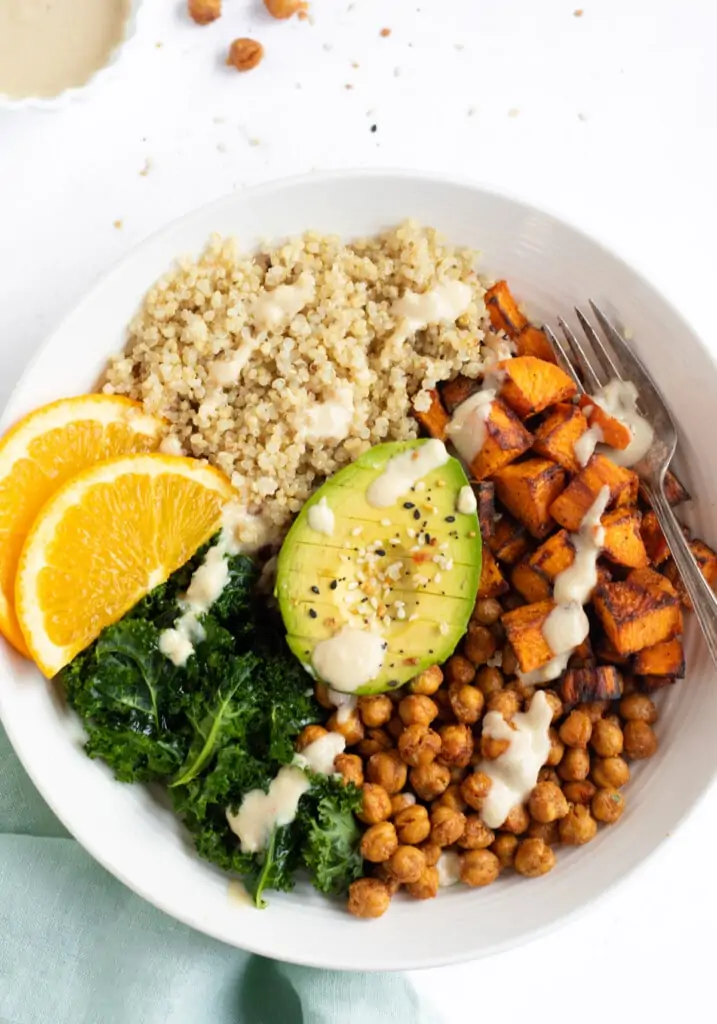 Variations
You can try this recipe as I have detailed above or use a mix of favorite veggies, protein and grain to create your version of this vegan buddha bowl.
Choose your favorite veggie: You can use roasted broccoli, butternut squash, zucchini or mushrooms in place of sweet potato. Even you can add sliced baby tomatoes, shredded purple cabbage, peeled cucumbers and carrots to this bowl. You can steam, saute or grill them as per your taste.
Vary the Grains: If you regularly have red or brown rice as part of your diet, you can substitute them in place of quinoa. Even couscous, bulgur, sorghum or farro will go well with this bowl. eg. Vegan Sorghum Grain Bowl.
Switch the Protein: Even though I have used roasted chickpeas for this recipe, you can replace the same with black beans or white kidney beans.
Change up the sauce: You can vary the ingredients added to the basic tahini, or use a completely different sauce such as garlic yogurt sauce, green mint cilantro sauce, avocado cilantro sauce or my peanut chutney.
Common Questions
Can you make it ahead of time?
The ingredients of this buddha bowl can be made ahead of time. You can cook the quinoa and roast the sweet potatoes before 3 days and store them in the fridge. I like to reheat quickly in the air fryer. You can also just cut the veggies and store them before hand. The lemon tahini dressing can be made a week before and stored. You can do the same with other variations and enjoy different bowls throughout the week.
How to store leftovers?
I would suggest storing the elements separately and mixing them together when you are ready to eat.
How can I change up this vegan bowl?
You can add favorite veggies, grain and proteins of your choice (see ideas in the post above). You can also add some chicken to the bowl if you want a meat version of the buddha bowl.
Hope you enjoy this delicious vegan sweet potato chickpea quinoa buddha bowl.
Some more easy lunch recipes for you:
📖 Recipe
Tried this recipe?
Give a rating by clicking the ★ below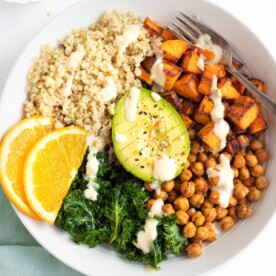 Vegan Sweet Potato Quinoa Buddha Bowl
Packed with wholesome nutrition and flavor, this vegan buddha bowl is the perfect hearty vegan meal. Fresh kale, roasted sweet potatoes and chickpeas, quinoa, avocado, and a tangy lemon tahini dressing make this bowl truly delicious.
Ingredients
1

Sweet potato

peeled and chopped to ½ inch cubes

1 ½

tablespoon

Olive oil

divided

1

cup

Cooked Quinoa

1

can

Chickpeas

rinsed & drained, 15oz

2

cups

Kale leaves

de-stemmed and chopped

1

Avocado

pitted and peeled, sliced

½

Orange

sliced
Instructions
Preheat oven to 425°F. In a large baking tray, place the sweet potatoes on one side. Drizzle ½ tablespoon olive oil and add salt, pepper, and ¼ teaspoon garlic powder. On the other side of the baking tray, add chickpeas. Drizzle ½ tablespoon olive oil and add salt, remaining garlic powder, cumin powder, and paprika. Mix well. Bake for 30-35 minutes until cooked through.

Cook quinoa according to package directions.

Place kale leaves in a large bowl and massage with ½ tablespoon olive oil.

Mix together all the dressing ingredients in a small mason jar.
Assemble the buddha bowls
Divide kale in two serving bowls.

Divide cooked quinoa, brown & red rice into each bowl.

Divide roasted sweet potatoes & chickpeas into each bowl.

Add avocado and orange slices on top. Drizzle with the lemon tahini dressing. Enjoy!
Notes
Prep ahead: Most of the ingredients for this buddha bowl can be prepared ahead to save time.
Cook Quinoa: You can cook the quinoa on the stovetop or follow my recipe to cook quinoa the instant pot.
Roasted Sweet Potatoes: I love to roast sweet potatoes in the air fryer to save time. Here is my recipe for air fryer sweet potatoes.
Chickpeas: If you prefer, you can also saute the chickpeas with the same spices in a pan.
Storing leftovers: You can store leftovers for 1-2 days in the refrigerator in an airtight container.
Note: Nutrition values are my best estimates. If you rely on them for your diet, use your preferred nutrition calculator.
Nutrition
Calories:
814
kcal
Carbohydrates:
98
g
Protein:
25
g
Fat:
40
g
Saturated Fat:
5
g
Polyunsaturated Fat:
10
g
Monounsaturated Fat:
22
g
Sodium:
1030
mg
Potassium:
1865
mg
Fiber:
25
g
Sugar:
11
g
Vitamin A:
23247
IU
Vitamin C:
118
mg
Calcium:
288
mg
Iron:
8
mg